113 Glaciers Reach a 2br with hot tub & pool in Whistler Village (Townhouse)
2 Bedroom(s) | 2 Bathroom(s) | Sleeps 6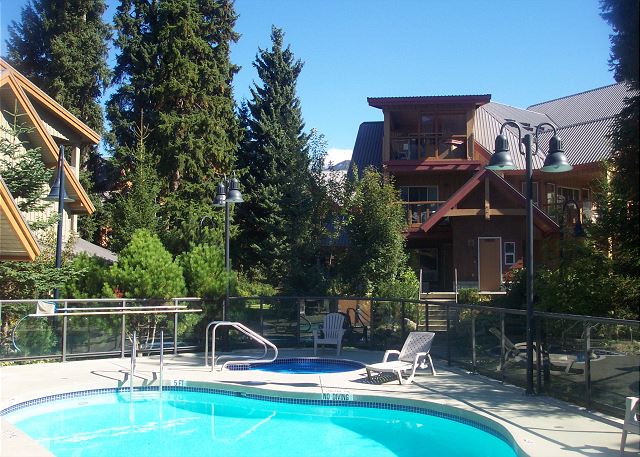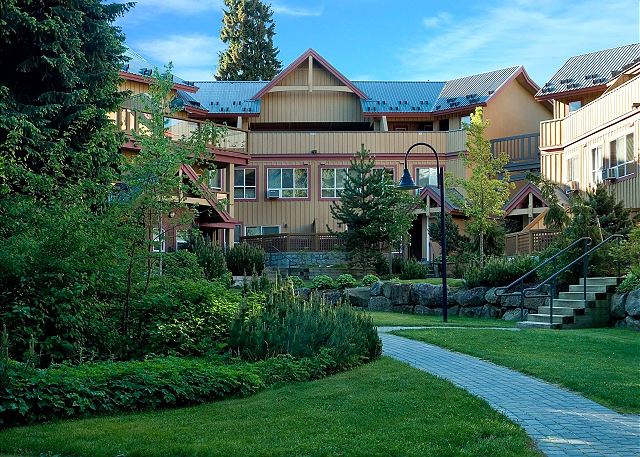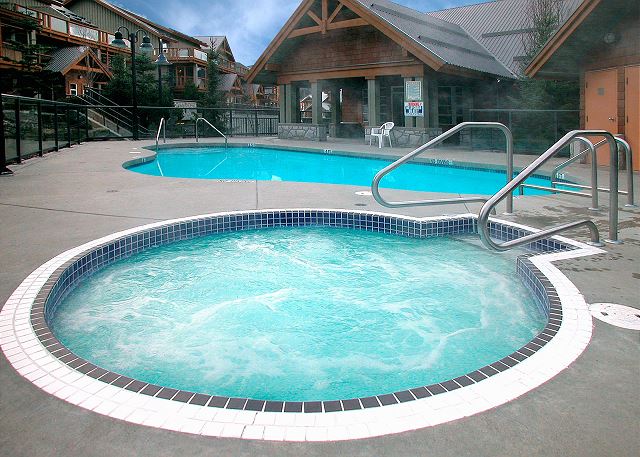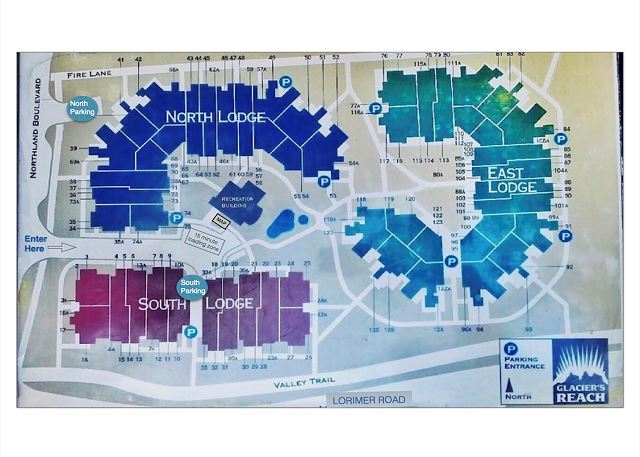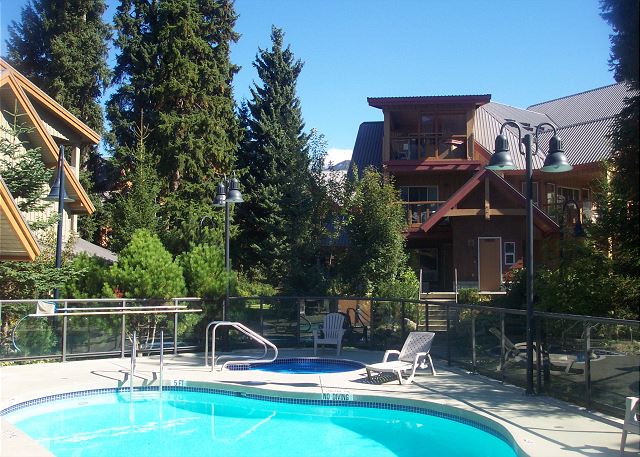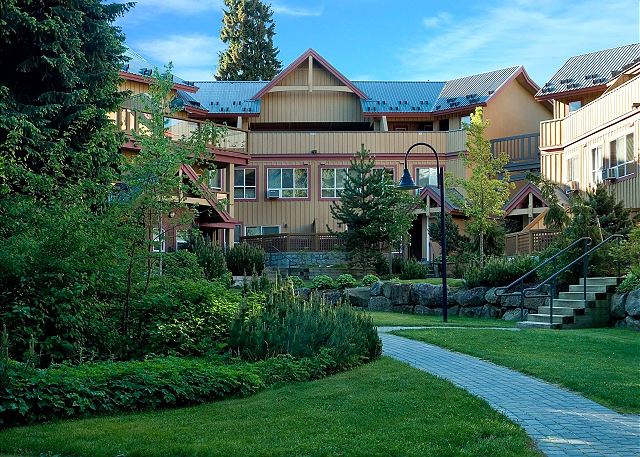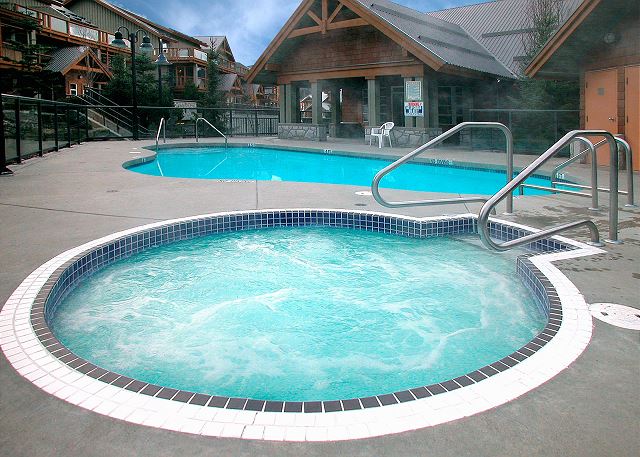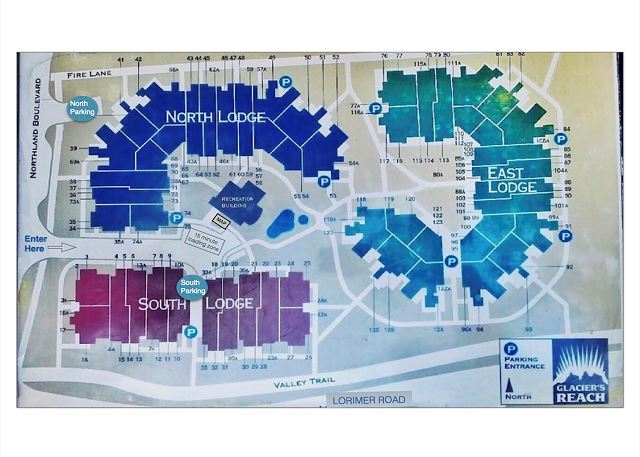 Description
We are proud of our Covid response. We manage several homes at Glaciers Reach and we do our own house keeping, this allows us to ensure that our homes are safe so that our guests can relax. We provide fresh duvet covers and a one-night gap in between nearly all says. In addition to our own enhanced cleaning procedures we provide our guests with disinfectant spray so that you can clean the clean home again if you wish. Life is unpredictable so we offer free cancellation outside of 30 days or in the event of new public health restrictions.



Our homes offer the luxuries you want and the conveniences you expect. They are exceptionally clean, well maintained and fully equipped with kitchen, laundry, Internet, private hot tub, pool, fire, free parking and a fantastic location in Whistler Village.



We have over 3000 guest reviews and a 4.5 star average rating so give us a call toll free atfor help planning your next Whistler Vacation.



Relax in a private hot tub overlooking the inner treed courtyard and pool area. There is a 40" TV in the main area as well as a TV in each bedroom. We hope that you enjoy all of the comforts and amenities of this fully equipped vacation home at Glaciers Reach.



Our guests appreciate the convenience of staying across from the Whistler Market Place and Whistler Olympic Plaza. Here you will find liquor and grocery stores, coffee shops, restaurants, shopping and the start of the picturesque cobblestone village stroll. All of our homes at Glaciers Reach are a ten minute walk or a free shuttle ride to the base of Whistler and Blackcomb mountains.



Some of the recent upgrades to this two bedroom two bathroom townhome include , hot tub and 40 inch TV. Other features include a gas fire place, heated year round pool, shared sauna, AC, free underground parking and high speed internet with Wi-Fi. This vacation home sleeps a maximum of six guests but four is recommended. The bedding consists of a queen bed in one room and a bunk bed with a queen below and a long twin on top in the second and a double pull-out couch. All of our Whistler vacation rentals are professionally managed, well maintained and exceptionally clean.



Let us help plan your next Whistler vacation!



Trevor Chelswick (Owner & Manager since 1999) toll free

Whistler Vacation Rentals, accommodation & lodging at Glaciers Reach
Calendar
September 2021

| S | M | T | W | T | F | S |
| --- | --- | --- | --- | --- | --- | --- |
| | | | 01 | 02 | 03 | 04 |
| 05 | 06 | 07 | 08 | 09 | 10 | 11 |
| 12 | 13 | 14 | 15 | 16 | 17 | 18 |
| 19 | 20 | 21 | 22 | 23 | 24 | 25 |
| 26 | 27 | 28 | 29 | 30 | | |
October 2021

| S | M | T | W | T | F | S |
| --- | --- | --- | --- | --- | --- | --- |
| | | | | | 01 | 02 |
| 03 | 04 | 05 | 06 | 07 | 08 | 09 |
| 10 | 11 | 12 | 13 | 14 | 15 | 16 |
| 17 | 18 | 19 | 20 | 21 | 22 | 23 |
| 24 | 25 | 26 | 27 | 28 | 29 | 30 |
| 31 | | | | | | |
November 2021

| S | M | T | W | T | F | S |
| --- | --- | --- | --- | --- | --- | --- |
| | 01 | 02 | 03 | 04 | 05 | 06 |
| 07 | 08 | 09 | 10 | 11 | 12 | 13 |
| 14 | 15 | 16 | 17 | 18 | 19 | 20 |
| 21 | 22 | 23 | 24 | 25 | 26 | 27 |
| 28 | 29 | 30 | | | | |
December 2021

| S | M | T | W | T | F | S |
| --- | --- | --- | --- | --- | --- | --- |
| | | | 01 | 02 | 03 | 04 |
| 05 | 06 | 07 | 08 | 09 | 10 | 11 |
| 12 | 13 | 14 | 15 | 16 | 17 | 18 |
| 19 | 20 | 21 | 22 | 23 | 24 | 25 |
| 26 | 27 | 28 | 29 | 30 | 31 | |
January 2022

| S | M | T | W | T | F | S |
| --- | --- | --- | --- | --- | --- | --- |
| | | | | | | 01 |
| 02 | 03 | 04 | 05 | 06 | 07 | 08 |
| 09 | 10 | 11 | 12 | 13 | 14 | 15 |
| 16 | 17 | 18 | 19 | 20 | 21 | 22 |
| 23 | 24 | 25 | 26 | 27 | 28 | 29 |
| 30 | 31 | | | | | |
February 2022

| S | M | T | W | T | F | S |
| --- | --- | --- | --- | --- | --- | --- |
| | | 01 | 02 | 03 | 04 | 05 |
| 06 | 07 | 08 | 09 | 10 | 11 | 12 |
| 13 | 14 | 15 | 16 | 17 | 18 | 19 |
| 20 | 21 | 22 | 23 | 24 | 25 | 26 |
| 27 | 28 | | | | | |
March 2022

| S | M | T | W | T | F | S |
| --- | --- | --- | --- | --- | --- | --- |
| | | 01 | 02 | 03 | 04 | 05 |
| 06 | 07 | 08 | 09 | 10 | 11 | 12 |
| 13 | 14 | 15 | 16 | 17 | 18 | 19 |
| 20 | 21 | 22 | 23 | 24 | 25 | 26 |
| 27 | 28 | 29 | 30 | 31 | | |
April 2022

| S | M | T | W | T | F | S |
| --- | --- | --- | --- | --- | --- | --- |
| | | | | | 01 | 02 |
| 03 | 04 | 05 | 06 | 07 | 08 | 09 |
| 10 | 11 | 12 | 13 | 14 | 15 | 16 |
| 17 | 18 | 19 | 20 | 21 | 22 | 23 |
| 24 | 25 | 26 | 27 | 28 | 29 | 30 |
May 2022

| S | M | T | W | T | F | S |
| --- | --- | --- | --- | --- | --- | --- |
| 01 | 02 | 03 | 04 | 05 | 06 | 07 |
| 08 | 09 | 10 | 11 | 12 | 13 | 14 |
| 15 | 16 | 17 | 18 | 19 | 20 | 21 |
| 22 | 23 | 24 | 25 | 26 | 27 | 28 |
| 29 | 30 | 31 | | | | |
June 2022

| S | M | T | W | T | F | S |
| --- | --- | --- | --- | --- | --- | --- |
| | | | 01 | 02 | 03 | 04 |
| 05 | 06 | 07 | 08 | 09 | 10 | 11 |
| 12 | 13 | 14 | 15 | 16 | 17 | 18 |
| 19 | 20 | 21 | 22 | 23 | 24 | 25 |
| 26 | 27 | 28 | 29 | 30 | | |
July 2022

| S | M | T | W | T | F | S |
| --- | --- | --- | --- | --- | --- | --- |
| | | | | | 01 | 02 |
| 03 | 04 | 05 | 06 | 07 | 08 | 09 |
| 10 | 11 | 12 | 13 | 14 | 15 | 16 |
| 17 | 18 | 19 | 20 | 21 | 22 | 23 |
| 24 | 25 | 26 | 27 | 28 | 29 | 30 |
| 31 | | | | | | |
August 2022

| S | M | T | W | T | F | S |
| --- | --- | --- | --- | --- | --- | --- |
| | 01 | 02 | 03 | 04 | 05 | 06 |
| 07 | 08 | 09 | 10 | 11 | 12 | 13 |
| 14 | 15 | 16 | 17 | 18 | 19 | 20 |
| 21 | 22 | 23 | 24 | 25 | 26 | 27 |
| 28 | 29 | 30 | 31 | | | |
Available
Unavailable
Check-In Only
Check-Out Only
Seasonal Rates
| Date Range | Daily | Weekly | Monthly |
| --- | --- | --- | --- |
| 08/23/2021 - 09/06/2021 | $268.00 | N/A | N/A |
| 09/07/2021 - 11/22/2021 | $255.00 | $1,315.80 | $5,450.62 |
| 11/23/2021 - 12/15/2021 | $325.00 | $1,706.25 | N/A |
* Seasonal rates are only estimates and do not reflect taxes or additional fees.
Location
Guest Reviews of
113 Glaciers Reach a 2br with hot tub & pool in Whistler Village
Whistler, BC
---
Vacation Rental Reviews by
stars based on
A very nice and comfortable unit for our weekend stay
Review by
Zhimin J.
We stayed in this unit for our weekend vacation. the size is perfect to a group of 4. All rooms are very clean, enough towels in washrooms, kitchen is very well stocked, hot tub is a big plus, it's on the second floor so gives good privacy. the unit is in the center of the complex, it's very quiet during night so we enjoyed tight sleep. There is liquor store, grocery store, bus stop near by, very convenient. walking distance to the village center and all kinds of restaurants, pubs and bars.
5 out of 5 stars
Family Vacation
Review by
michael c.
This is our 9th year staying in this complex. Trevor our host was a pleasure as always to work with. We look forward to next year already!
5 out of 5 stars
Convenient location
Review by
Great experience even though the mountain got closed due to Covid the property managers and staff were very understanding and helpful. Easy access to grocery and liquor store and having a private the hot tub was nice.
5 out of 5 stars
Winter getaway
Review by
Trevor P.
Terrific location and great apartment with all the required amenities.
4 out of 5 stars
Awesome stay!
Review by
Valerie K.
The appartement was really as describe. I found the beds very comfortables. It was clean and the kitchen was fully equipped. Awesome location. No need for a car once you are there:-)
5 out of 5 stars
Great location and value. Will be back!
Review by
It's our second time at Glacier's reach and we had a great 2-night stay this time. Hot tub in the upper balcony was amazing! Unit was clean and had pretty much everything we needed, including a washer and dryer which we ended up using.
5 out of 5 stars
Glacier Reach Whistler review
Review by
Greer L.
This was a very pleasant experience staying at Glacier Reach or as our kids named "the mountain house" .We were very happy with the location of the rental, it was very roomy and of course you can't deny the perk of your own hot tub own your deck. Checking in and out was a breeze. We will definitely be making this a yearly experience
5 out of 5 stars
Unit 113 was absolutely incredible
Review by
Jace K.
This was one of the best units we've stayed in, and we've stayed in alot! The privacy is perfect the hottub location on the 2nd floor deck is ideal.the cleanliness was 5 stars... I can go on and on but I'll leave it at that.
5 out of 5 stars
Andrea
Review by
ANDREA I.
We were very pleased with this accommodation, we enjoyed the unit, clean, and well organized, everything available, even the snow sledding for my daughter.
5 out of 5 stars
Great stay
Review by
Great stay
5 out of 5 stars
Cozy comfort
Review by
Lovely place, clean and close to all amenities. Trevor is friendly and on top of everything.Loved the room we had as it had a hot tub so nice added bonus to the evening when unwinding after a long day on the mountain. Washer dryer was useful and overall just a comfortable stay.
5 out of 5 stars
Cute, Cozy, Convenient
Review by
Location was handy, in Village North across from Fresh St. Market plaza. We picked this place for the very private hot tub (awesome) and pricing considering being peak season. You have everything you need, has a little dated perhaps retro feel, beds (comfortable) are not queens but full which was ok as 3 of us spread out to each bed, instant heating fireplace and was clean. A 10 min walk to Village ski lifts but there is a courtesy bus stop almost out the door that shortens the trip and drops off at the stairs going down to the Whistler Village Gondolas. The best part was Trevor (owner/operator) who was SUPER responsive, SUPER helpful and generous. 5 star host made it a memorable stay. Thank you Trevor.
4 out of 5 stars
GR 113
Review by
Place was clean, all appliances worked, kitchen was stocked, hot tub worked well on the patio. Bed pillows were not the greatest. Could have used more TP in the bathrooms.
4 out of 5 stars
Perfect Whistler Getaway
Review by
The apartment was clean, comfortable, and close to retail amenities. The barbecue did not work but we loved the hot tub on the patio!
5 out of 5 stars
Great family vacation
Review by
Annie C.
Our family enjoyed the most is the hot tub and we use everyday. We like the location of the unit which is close is 5 mins walk to village. We also like the bunk bed set up. Overall good experience.
5 out of 5 stars
Clean, Great Location
Review by
Condo was clean, kitchen was well equipped with basics, had some problems with the hot tub but quick response and resolution. We stay at Glaciers Reach often as the location is perfect - close to grocery store and bus stop. Short walk into the heart of the village.
5 out of 5 stars
Always clean, and close of everything.
Review by
Great place.
5 out of 5 stars
Great Ski Rental
Review by
This apartment is well situated near the Whistler Village. We walked to the ski hill each morning and the Marketplace is directly across the street. The Apartment is well laid out and we really enjoyed the hot tub after a full day skiing. The couch needs to be professionally cleaned but otherwise the place is spotless. We loved it and we would definitely stay there again.
5 out of 5 stars
Fantastic stay
Review by
Alice L.
Really great accommodation. Comfortable and very well equipped. Excellent location for self catering (close to supermarket), skiing (very short free bus ride) and lost lake park (fantastic for running/ strolling/ wildlife watching). Short walk from all town centre restaurants. Hot tub was fab at the end of the day, and beds were comfortable. Beautiful yet practical and perfectly situated property. Thank you!
5 out of 5 stars
Great Family Rental
Review by
Cathy B.
Great location and property for a long weekend. Close to everything. Unit was clean and great amenities. Only critique is that the dishwasher needs repair/replacement. Very noisy and didn't clean dishes well.
4 out of 5 stars
Whislter
Review by
Nathan B.
Hot was below par, coukd have done with a change. Water was cloudy and foam building up on top. Also tried to contact Trevor a couple of times with no reply!Also no hot tub towels!
3 out of 5 stars
Highly Recommended
Review by
Milan V.
Great location, love hot tub.One small downside is entrance and ski storage.
5 out of 5 stars
Glacier reach awesome review
Review by
Samir S.
Awesome place so Beautiful and spacious. Hot tub nice and private
5 out of 5 stars
perfect!
Review by
Birgit W.
it a perfect place, with all you need - comfortable beds, well equipped kitchen and bathrooms. the jacuzzi was so relaxing in the evening, after each of our 5 days seminar. marketplace with big food store just across the street and to the cute village just 10 minutes walk. we have been 11 people, so we rent three units. this recommendation will be shown three times.
5 out of 5 stars
Great location for summer family holiday
Review by
We enjoyed our family summer stay at Glaciers Reach. The property was in good condition and in a perfect location for easily accessing the amenities in Whistler Village (coffee shops, playgrounds, restaurants, etc.) and the Valley Trail. Trevor was responsive to our requests throughout our stay.
4 out of 5 stars
So, so happy!
Review by
113 Glaciers Reach was in a fantastic location and the public transport to get to the base of Whistler and Blackcomb mountains was just across the road which made getting to the hill every day extremely easy! The unit was very clean and comfortably slept 4 of us, with room for a 5th person if someone was happy to share a bed (plus the sofa which we didn't use!). The master bed was SO COMFY!!! Would absolutely stay again!
5 out of 5 stars
Manager Response:
Glad you liked the beds we replaced the queen beds in many of our homes this fall with this same mattress 🙂 Trevor
Contact Us