51 Glaciers Reach, a 2br with hot tub & pool in Whistler Village (Townhouse)
2 Bedroom(s) | 2.5 Bathroom(s) | Sleeps 7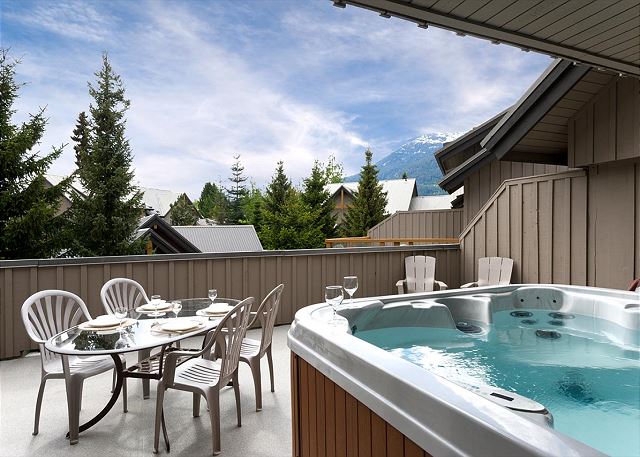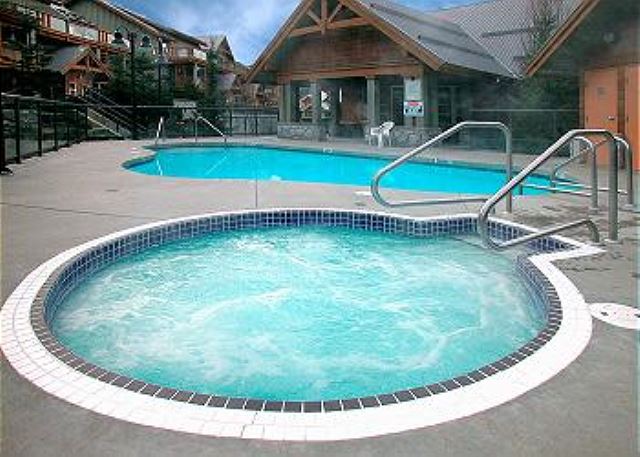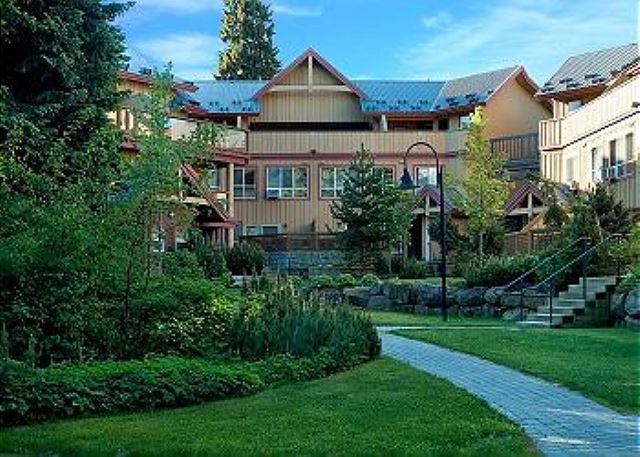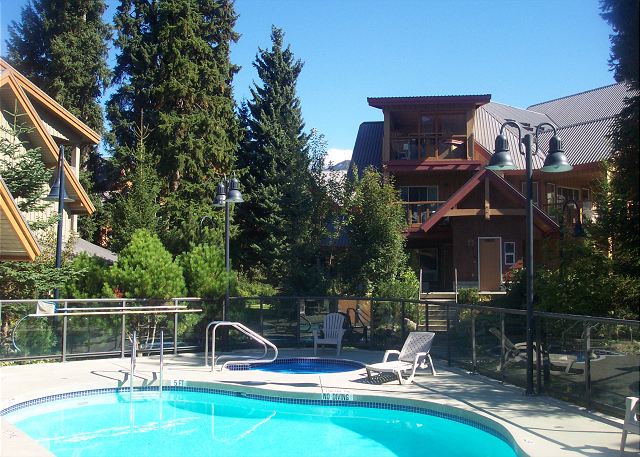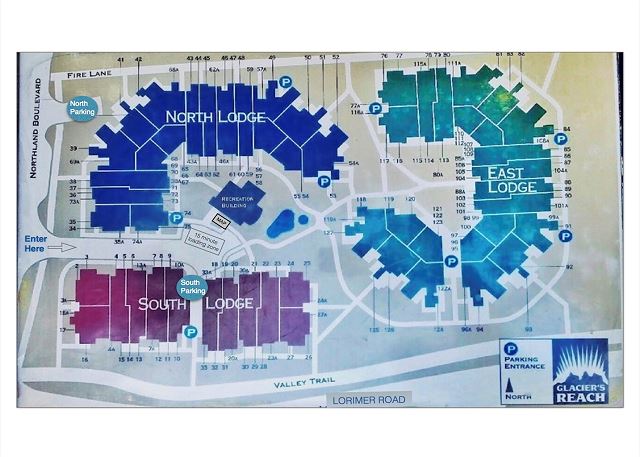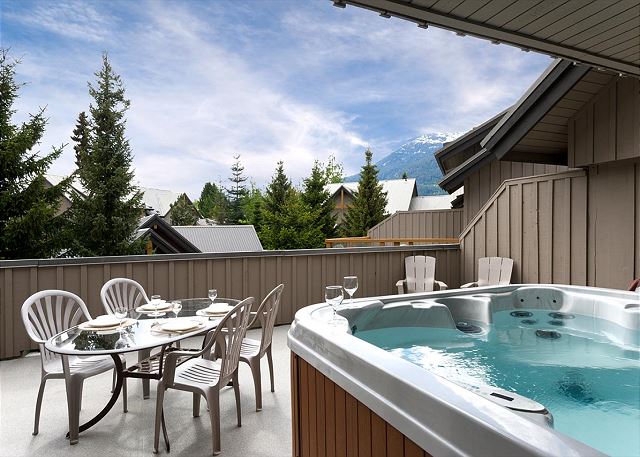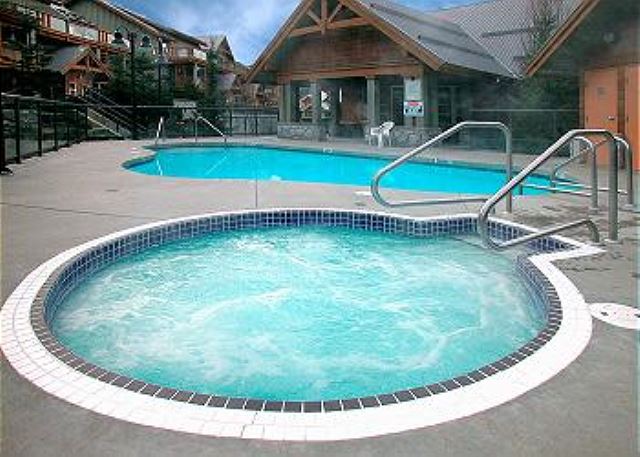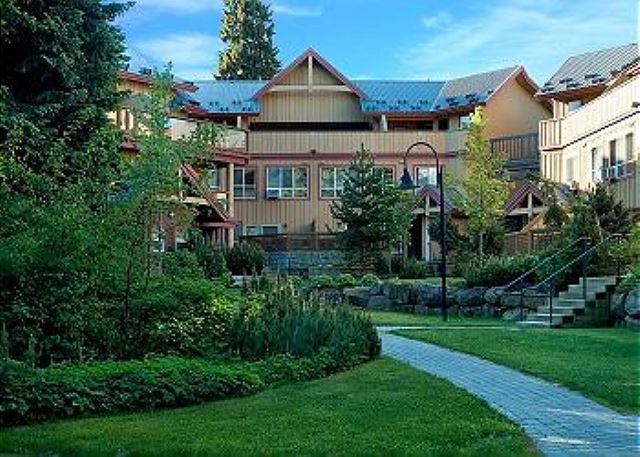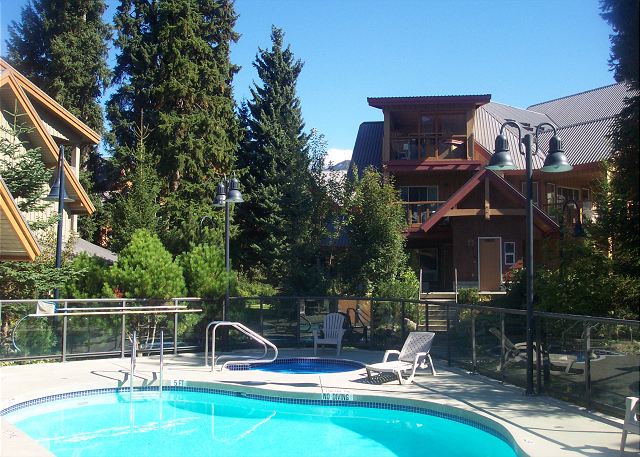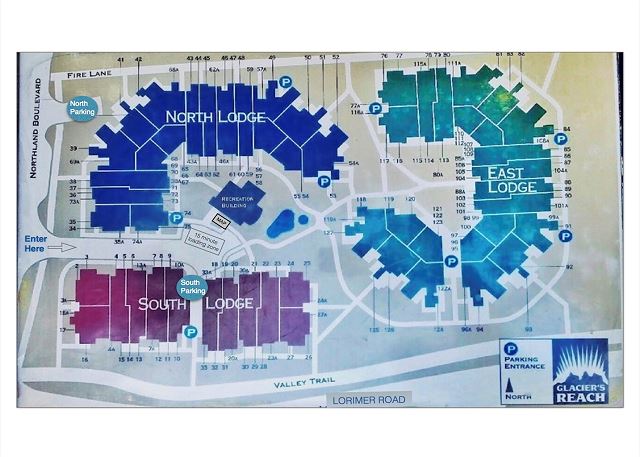 Description
We are proud of our Covid response. We manage several homes at Glaciers Reach and we do our own house keeping, this allows us to ensure that our homes are safe so that our guests can relax. We provide fresh duvet covers and a one-night gap in between nearly all says. In addition to our own enhanced cleaning procedures we provide our guests with disinfectant spray so that you can clean the clean home again if you wish. Life is unpredictable so we offer free cancellation outside of 30 days or in the event of new public health restrictions.



Our homes offer the luxuries you want and the conveniences you expect. They are exceptionally clean, well maintained and fully equipped with Kitchen, Laundry, Internet, Private Hot Tub, Pool, fire place, free parking and a fantastic location in Whistler Village.



We have over 3000 guest reviews and a 4.5 star average rating so give us a call toll free atfor help planning your next Whistler Vacation.



Relax in your own private hot tub located on a huge third floor sundeck with amazing views of Whistler & Blackcomb Mountains. This home has a great layout with three decks, three bathrooms, loft and vaulted ceilings. We hope that you enjoy all of the comforts and amenities of this fully equipped vacation home at Glaciers Reach.



Our guests appreciate the convenience of staying across from the Whistler Market Place which boasts; liquor and grocery stores, Starbucks, restaurants and several shops. All of our homes at Glaciers Reach are a ten minute walk or a free shuttle ride to the base of Whistler and Blackcomb mountains. Everything that Whistler Village offers is at your door step, along the picturesque, cobble-stoned village stroll.



Some of the recent upgrades to this two bedroom two bathroom townhome include; paint, hot tub, mattresses, duvets BBQ and Duvets. Other features include a 45 inch TV / DVD, CD playe, air-conditioning, gas fire place, heated year round pool, shared sauna, free underground parking and high speed internet with Wi-Fi. This vacation home sleeps a maximum of 7 guests but four is recommended. The bedding consists of; a queen bed, a bunk bed with a queen on top and a queen on bottom, a queen sofa bed in the loft and a double sofa bed in the living room. All of our Whistler vacation rentals are professionally managed, well maintained and exceptionally clean.



Let us help plan your next Whistler vacation!



Trevor Chelswick (Owner & Manager since 1999)
Calendar
September 2021

| S | M | T | W | T | F | S |
| --- | --- | --- | --- | --- | --- | --- |
| | | | 01 | 02 | 03 | 04 |
| 05 | 06 | 07 | 08 | 09 | 10 | 11 |
| 12 | 13 | 14 | 15 | 16 | 17 | 18 |
| 19 | 20 | 21 | 22 | 23 | 24 | 25 |
| 26 | 27 | 28 | 29 | 30 | | |
October 2021

| S | M | T | W | T | F | S |
| --- | --- | --- | --- | --- | --- | --- |
| | | | | | 01 | 02 |
| 03 | 04 | 05 | 06 | 07 | 08 | 09 |
| 10 | 11 | 12 | 13 | 14 | 15 | 16 |
| 17 | 18 | 19 | 20 | 21 | 22 | 23 |
| 24 | 25 | 26 | 27 | 28 | 29 | 30 |
| 31 | | | | | | |
November 2021

| S | M | T | W | T | F | S |
| --- | --- | --- | --- | --- | --- | --- |
| | 01 | 02 | 03 | 04 | 05 | 06 |
| 07 | 08 | 09 | 10 | 11 | 12 | 13 |
| 14 | 15 | 16 | 17 | 18 | 19 | 20 |
| 21 | 22 | 23 | 24 | 25 | 26 | 27 |
| 28 | 29 | 30 | | | | |
December 2021

| S | M | T | W | T | F | S |
| --- | --- | --- | --- | --- | --- | --- |
| | | | 01 | 02 | 03 | 04 |
| 05 | 06 | 07 | 08 | 09 | 10 | 11 |
| 12 | 13 | 14 | 15 | 16 | 17 | 18 |
| 19 | 20 | 21 | 22 | 23 | 24 | 25 |
| 26 | 27 | 28 | 29 | 30 | 31 | |
January 2022

| S | M | T | W | T | F | S |
| --- | --- | --- | --- | --- | --- | --- |
| | | | | | | 01 |
| 02 | 03 | 04 | 05 | 06 | 07 | 08 |
| 09 | 10 | 11 | 12 | 13 | 14 | 15 |
| 16 | 17 | 18 | 19 | 20 | 21 | 22 |
| 23 | 24 | 25 | 26 | 27 | 28 | 29 |
| 30 | 31 | | | | | |
February 2022

| S | M | T | W | T | F | S |
| --- | --- | --- | --- | --- | --- | --- |
| | | 01 | 02 | 03 | 04 | 05 |
| 06 | 07 | 08 | 09 | 10 | 11 | 12 |
| 13 | 14 | 15 | 16 | 17 | 18 | 19 |
| 20 | 21 | 22 | 23 | 24 | 25 | 26 |
| 27 | 28 | | | | | |
March 2022

| S | M | T | W | T | F | S |
| --- | --- | --- | --- | --- | --- | --- |
| | | 01 | 02 | 03 | 04 | 05 |
| 06 | 07 | 08 | 09 | 10 | 11 | 12 |
| 13 | 14 | 15 | 16 | 17 | 18 | 19 |
| 20 | 21 | 22 | 23 | 24 | 25 | 26 |
| 27 | 28 | 29 | 30 | 31 | | |
April 2022

| S | M | T | W | T | F | S |
| --- | --- | --- | --- | --- | --- | --- |
| | | | | | 01 | 02 |
| 03 | 04 | 05 | 06 | 07 | 08 | 09 |
| 10 | 11 | 12 | 13 | 14 | 15 | 16 |
| 17 | 18 | 19 | 20 | 21 | 22 | 23 |
| 24 | 25 | 26 | 27 | 28 | 29 | 30 |
May 2022

| S | M | T | W | T | F | S |
| --- | --- | --- | --- | --- | --- | --- |
| 01 | 02 | 03 | 04 | 05 | 06 | 07 |
| 08 | 09 | 10 | 11 | 12 | 13 | 14 |
| 15 | 16 | 17 | 18 | 19 | 20 | 21 |
| 22 | 23 | 24 | 25 | 26 | 27 | 28 |
| 29 | 30 | 31 | | | | |
June 2022

| S | M | T | W | T | F | S |
| --- | --- | --- | --- | --- | --- | --- |
| | | | 01 | 02 | 03 | 04 |
| 05 | 06 | 07 | 08 | 09 | 10 | 11 |
| 12 | 13 | 14 | 15 | 16 | 17 | 18 |
| 19 | 20 | 21 | 22 | 23 | 24 | 25 |
| 26 | 27 | 28 | 29 | 30 | | |
July 2022

| S | M | T | W | T | F | S |
| --- | --- | --- | --- | --- | --- | --- |
| | | | | | 01 | 02 |
| 03 | 04 | 05 | 06 | 07 | 08 | 09 |
| 10 | 11 | 12 | 13 | 14 | 15 | 16 |
| 17 | 18 | 19 | 20 | 21 | 22 | 23 |
| 24 | 25 | 26 | 27 | 28 | 29 | 30 |
| 31 | | | | | | |
August 2022

| S | M | T | W | T | F | S |
| --- | --- | --- | --- | --- | --- | --- |
| | 01 | 02 | 03 | 04 | 05 | 06 |
| 07 | 08 | 09 | 10 | 11 | 12 | 13 |
| 14 | 15 | 16 | 17 | 18 | 19 | 20 |
| 21 | 22 | 23 | 24 | 25 | 26 | 27 |
| 28 | 29 | 30 | 31 | | | |
Available
Unavailable
Check-In Only
Check-Out Only
Seasonal Rates
| Date Range | Daily | Weekly | Monthly |
| --- | --- | --- | --- |
* Seasonal rates are only estimates and do not reflect taxes or additional fees.
Location
Guest Reviews of
51 Glaciers Reach, a 2br with hot tub & pool in Whistler Village
Whistler, BC
---
Vacation Rental Reviews by
stars based on
Great stay, great property.
Review by
Always a great place to stay in Whistler. Close walk to everything, but quiet. Unit is always very clean and layed out well to give everyone their space. Love the roof top private deck and hot tub!
5 out of 5 stars
Our Favorite Unit so far!
Review by
Crystal K.
We stay at Glaciers Reach a few times a year and have tried many of the units. This one was by far our favorite! Its set up so well for families and has tons of space! We highly recommend!!
5 out of 5 stars
Great!
Review by
Great location, and the private hot tub was amazing.
5 out of 5 stars
Unit 51 - 18 Days
Review by
Greg S.
This unit was superb! Very spacious and clean. We spent most of our time on the back patio in the private hot tub which has some views of the mountains. 10/10 would come back again. Thanks Trevor!
5 out of 5 stars
Awesome Patio
Review by
This would be the 2nd time we stayed within Glaciers Reach and was a little disappointed with this particular unit. Great big back patio with hot tub! It was quiet and very private. Cons: Bunkbed-You cannot have kids sleep on the top bunk as it looks like it was broken at some point and someone gave it a "quick fix" I did not feel comfortable putting my 9yr old in the top incase he rolled over and touched the railing which was incorrectly fixed, which would have resulted in him falling off and smashing his head on the bedside table or better yet the window that was right there. I also wished there was more details about the 2nd bedroom being outside the main living area (I presume it can be rented separately during peak times) Had our children been any younger (6&9) this until would not have worked as 1 bedroom is upstairs by the back door/patio/hot tub and the 2nd bedroom is located outside the main entry way. Also some of the electronics ie. Stereo, charging station were broken/not working. However the biggest con I had was the smell. I had a massive asthma attack triggered due to either the cleaning supplies used or a air freshener that we could not find for life or limb!!! Overall I would give this condo a 2.5/5 and mostly just based on the private patio/hot tub
2 out of 5 stars
Anniversary get away
Review by
A great spot to explore the village and relax in the private hot tub. WouldCome again.
4 out of 5 stars
Fantastic Vacation Experience
Review by
Irina G.
Location was excellent. Right on Valley Trail and cross the road from the Village. Vacation home was spacious, kitchen well equipped. Staff was very friendly and accommodating. Brought us necessary supplies during our stay. Hot tub was fantastic bonus during the time when all swimming pools are closed. We had three balconies. In summer time another additional bonus. Enjoyed the view fro the patio.
5 out of 5 stars
Our First Whistler getaway
Review by
Ronald D.
We had an excellent time!! The rental was very clean and comfortable. The kitchen was completely stocked with everything you could think of. The staff was wonderful and helpful. I would highly recommend whistler lodging!!
5 out of 5 stars
Great location, Clean, Well equiped and Spa !
Review by
Family of 4, with 2 young kids. We enjoyed the condo which was big enough for the whole family and was in a great location, just in front of a free shuttle stop to the montain! During the evening, we could have a walk in the village, and get everything we need.
5 out of 5 stars
Everything we could have asked for and more
Review by
Kate C.
My sons and I stayed at Glacier Reach for just under 2 weeks in Jan 2020. The Chalet was beautifully presented , functional and equipped with everything we could possibly need. Information was on hand to orient us to the town and the complex and we knew Trevor and his team were just a phone call away if we needed anything. Location was fabulous and even though it was a busy time of year we heard hardly any noise except the happy mumblings of people like us enjoying hot tubs or the heated pool in the middle of the complex. I cannot recommend this highly enough and will definitely return. Thanks to Trevor and his team for making everything so easy and enjoyable. Cheers. Kate Cvetanovski
5 out of 5 stars
XMAS VACATION 2019
Review by
Geoffrey S.
We stayed at 51 Galcier Reach for a family Xmas holiday skiing in Whistler. It was the third time we have stayed in Whistler over Xmas. The property accommodated 5 of us easy with plenty of space. The accomodation is fitted out great with all you need, it was warm and was home from home over Xmas. Fully recommend the place and Tim is very helpful. Nice having a hot tub, digital tv and all other modcons.
5 out of 5 stars
Worst experience
Review by
Seema M.
I have been staying at this unit for a few years every Sept and this time around we had the worst experience ever. The management was not very helpful. Instead made it seem like the issue never has happened. Internet issues and washer not working. Overall I will never stay with this management company Trevor in the past was great and I have no idea what has happened but Trevor and his crew have lost my business.
1 out of 5 stars
Nice place
Review by
Decent place, carpet getting a bit old, hot tub controls not fully functional and temperature not very hot. Furniture nice and a decent selection of pots, pans and mixing bowls. Need knife sharpener! Beds were comfortable with nice bedding. Washer dryer worked great as did dishwasher.
4 out of 5 stars
very nice
Review by
Hong X.
Nice home for family ! Like the kitchen and the hot tub!
5 out of 5 stars
A great family getaway!
Review by
This was our second time back and we loved the spacious suite! There was plenty of room and unique areas to retreat if you needed space to relax. The hot tub and outdoor eating space on the top floor was wonderful. The unit was clean and well supplied. We would definitely return !
5 out of 5 stars
# 51 Glaciers Reach
Review by
Gary J.
Our family had an awesome time staying at Glaciers Reach. Excellent property, close to everything, accurate description of what to expect, excellent customer service and I would definitely recommend it to others.I have two complaints ;1) The Wifi was hit or miss in # 51 ( My daughter and young family stayed in suite # 119 that I also rented, and their Wifi was excellent. ) 2) The pool needs a thorough cleaning...starting with scrubbing the tiles on upper side of pool. ( Lots of dirt and grit on them. )Other than that, it was excellent all around. Thanks for the stay !!
5 out of 5 stars
A very nice apartment in a very nice area
Review by
Anita C.
This was a lovely comfortable well equipped apartment and contributed to our very enjoyable experience of Whistler.
5 out of 5 stars
Girls Trip
Review by
Marisa F.
We enjoyed out stay! Great location!
4 out of 5 stars
Wonderful location
Review by
David R.
Trevor and his team of professionals made our stay warm and welcoming would recommend this unit to a family looking to relax after a great day on the slopes central to all aminities market village and shuttle.
5 out of 5 stars
Aussie Family Holiday
Review by
Andrew L.
We planned our 1st trip to whistler and were very nervous about booking direct without an agent and not staying in a well know hotel - problem was the Westin etc were $18K+ So after numerous emails and questions we researched Glaciers Reach and decided that #51 suited our family of 5 perfectly for 1/3 of the alternate price. The unit was very clean and we were extremely happy with the description matching what we got. The beds were very comfortable, the big lounge was great for relaxing and the place had everything we needed. We cooked on the BBQ, had roast dinners and never had to worry about something not being there or not working. Wife loved the big capacity washer and dryer as we stayed 2 weeks we needed to wash several loads. The 2.5 bathrooms came in handy and the convenience of this place was awesome. 2 min walk to the shuttle bus with a stop right outside the entrance. Shops were across the road and a short walk to the restaurants. We had excellent follow ups and tips from the managers that saved us alot of money - especially on ski hire. Cant fault this place. Our unit had a big spa on the rear veranda that was private and the unit was very quiet. Even with spa parties going on at other places we never heard anything. Trev was a great host and allowed us a late checkout aswell. Cant recommend this place highly enough - the perfect touch would be a King bed in the main adults bedroom just because thats what we are used too at home. Loved our stay!!!
5 out of 5 stars
Very reasonable with lots of room
Review by
Nice location, excellent view of the mountains from the hot tub. Plenty of room. Short walking distance to Whistler village
4 out of 5 stars
Great time in Whistler!
Review by
James H.
We really enjoyed our time in Whistler and staying on this rental. It gave an upstairs area to the kids to enjoy while we were downstairs. There was plenty of room to spread out. There are 3 decks with this property. We ended up using the big deck only once and didn't manage to use the hot tub - next time. It was nice having a kitchen so we could prepare our meals. Property management was professional. Parking was convenient. One tip, make sure you park at the end in the garage - we ended up making longer trips with the suitcases than we needed to. Thanks again, we'll be back!
5 out of 5 stars
Love this unit
Review by
glen c.
I am a regular visitor to Whistler and have stayed at most town house style units. I love staying at glaciers reach and unit 51 is my favorite one we love the layout and the huge patio.
5 out of 5 stars
Amazing place!
Review by
Gabriela O.
Clean, comfortable, perfect location, beautiful and extremely cozy.
5 out of 5 stars
51 Glaciers Reach Summer Review
Review by
We had a great time at 51 Glaciers Reach. The property was clean and modern with an excellent location in the lower village. The deck is huge and the private hot tub was a treat. The condo is a short walk from the grocery store and liquor store. Our toddler son loved running around the Olympic playground in the mornings when there was no one else around.The property manager was great to deal with and worked to accommodate all our requests.
5 out of 5 stars
Great spot in Whistler
Review by
Really enjoyed our stay at Glaciers Reach, we had everything we needed and more!
5 out of 5 stars
Girls weekend - 40th birthday celebration
Review by
As always, our stay was perfect. I've been to Glaciers Reach 5 times now and it's always exactly what we need. Clean, big space and the private hot tub is the best part. All the girls had comfortable beds and the kitchen is perfect for making meals if wanted. We enjoyed the fireplace at night and love to open the sliding doors on the deck in the morning. Its great that we only have to pack our clothes and everything else is there for us already. It's such a short walk to the village our car never has to leave the garage. I wouldn't stay anywhere else whether it's a group or a couples weekend.
5 out of 5 stars
Great place for a ski weekend
Review by
Greg M.
Our group had a great time at Glaciers Reach. The kitchen had everything we needed and there were plenty of beds. It was also a close walk to the village, and close enough to walk to the ski lifts, although I would recommend checking your skis at the whistler base and carrying your ski boots to save yourself some energy in the morning.
5 out of 5 stars
Nice unit
Review by
Steve B.
Great location. Comfortable and spacious units or two couples. Big deck and great hot tub. Warm and lots of hot water. Good washer and dryer (great for a 2 week stay.
5 out of 5 stars
Fabulous Unit
Review by
This was our sixth trip to Whistler and in the past we have always stayed in a hotel in the village. This was a big change for us, but a positive one. The unit is well equipped and extremely comfortable, close to the shuttle bus to the gondolas and the hot tub is a bonus! It is just across the street from the Marketplace and a small walk into the village. We would definitely stay here again. Trevor was great to deal with. We hope to be back one day.
5 out of 5 stars
Great Place, Close to Everything
Review by
Christopher B.
I had a great stay at 51 Glacier's reach. It has all of the amenities that you need, plenty of space for a large group, and is right across the street from the Whistler marketplace. The kitchen is up to date and the deck with hot tub is very large and overlooks the mountain in clear conditions. The BBQ worked great and all of the electronics were useful, even having iPhone docks for music. I'd highly recommend a stay here.
5 out of 5 stars
Great accommodation
Review by
51 Glacier's Reach was perfect for our family stay. The accommodation was clean, well-stocked, and large enough to give us and our two teenagers enough private space. It is close to the IGA for self-catering and to a free shuttle bus stop for getting to the gondolas / chair lifts.
5 out of 5 stars
Beautiful Place For A White Christmas
Review by
Nicole H.
Perfect location for the essential white Christmas we were hoping for. Location is central and suite is well equipped with everything you need for a home away from home.
5 out of 5 stars
amazing stay
Review by
Emilie G.
Amazing and cozy place. We really liked the fireplace and the hot tub. the location was perfect. Thank You
5 out of 5 stars
Manager Response:
Thank you Emilie, I really like 51 as well. Trevor
Awesome Comfortable and Clean
Review by
Annie N.
A place away from home comfort. Excellent communication with property management company. Lots of towels and supplies in the kitchen for home cooking. Easy to get around. Lots of good sight seeing and good food eateries.
5 out of 5 stars
Manager Response:
Thank you Annie. It is our intention to be the best property management company in town. Trevor
Great Girls Weekend Location
Review by
51 Glaciers Reach was a fantastic spot for our Girls Weekend! Close to Marketplace (Starbucks, liquor store and grocery store), Village and the mountain. Lots of space for the 6 of us and the hot tub was a fabulous bonus. I will definitely look to book this location for future stays in Whistler. Thank you!
4 out of 5 stars
Great place
Review by
Lisa P.
Had a great time
4 out of 5 stars
Awesome comfortable escape
Review by
Barbara A.
Super, great location, well equipped clean. Excellent quick helpful manager service eg. Ran out of propane manager responded instantly on a holiday weekend & had a tank delivered to our door within minutes. Trevor is very helpful. Loved the hot tub & decks. Parking great & safe. Everything is close & walkable. Great views.
5 out of 5 stars
Excellent location and great space
Review by
Donna C.
We had an awesome time with the bike paths right outside our door and good size pool to have a swim and let the kids play. The townhouse had everything we needed and great space for us and the kids. Would stay again.
5 out of 5 stars
Very nice, exactly like photos
Review by
Kirsten T.
This townhouse is exactly as stated in the description. Great location, hot tub on very large deck was very nice with the sunshine (and table to eat at), lots of room to sleep our family of 5, kitchen was great, air conditioning in the blaster bedroom helped with the heat. The pool is on the small side but that was ok as we were so busy we didn't really use it much. Highly recommend this place because of the central location to the Ironman race for spectating and racing and Olympic plaza.
4 out of 5 stars
Awesome
Review by
Great location.
5 out of 5 stars
wow what a great week!
Review by
Jill S.
We love staying at this location! Perfect layout for our family of 4 and enough space to have private time too!
5 out of 5 stars
51 Glacier Reach
Review by
We had a group of 7 of us staying in this unit for a ski weekend. We had plenty of room for all of us. The hot tub and deck for this unit are great. We were able to easily take the shuttle to the bottom of Blackomb and walk across the street to Whistler village restaurants/bars, which was very convenient. You also can't beat the price for Whistler!My only complaint would be that some of the furnishings could be replaced in this unit including the blankets/pillows/pull out couch mattress. But, overall this was a great unit and we would definitely stay again, but would bring our own blankets and pillows for comfort!
4 out of 5 stars
Perfect Whistler Spot
Review by
Greg O.
Really enjoyed our stay - place was spacious, well equipped and in great shape. Quick stroll to village, grocery and every convenience in the market across the street. Shuttle to Whistler base right outside our door. Would book again definitely
5 out of 5 stars
Great unit layout
Review by
Brock M.
Trevor was great to work with and easy to contact. We had a baby with us and another newly married couple. The seperate master quarters were perfect for them and the loft was perfect for us to spread out. We had no problem putting the little one to bed then getting in the hot tub since it wasn't off of the bedroom like in in other units. There weRe a few staples in the unit which really saved since spices and things are so expensive up here. We left some as well. Cons: The beds were really cheap and hard. The trash room and parking took all week to figure out since the property is not marked properly.
4 out of 5 stars
Wonderful Whistler Property
Review by
Stayed here with 6 other adults and we had a great time. Location was very convenient with the grocery store and restaurants and great for the shuttle to the lifts. Everything was very clean and organized for our stay. Kitchen had everything we needed and there was enough seating between the table and bar area. The hot tub was amazing after a day on the slopes. Trevor was quick to respond to all of my questions and went above and beyond to make sure we had a great trip. I would highly recommend this condo to others visiting Whistler.
5 out of 5 stars
Fantastic Place to Stay
Review by
Matt O.
Had the pleasure of staying in this property for 15 nights in January. Very comfortable and nice place to stay in Whistler. The location was excellent just across from the local IGA and right opposite the bus stop to the lifts. It is only a 10 minute walk to the lifts and 5 minutes to all the restaurants and pubs. The Spa on the balcony was a great way to unwind after skiing and was used every night. Trevor the manager of the unit was very easy to communicate with and was a pleasure to deal with. Would not stay anywhere else next time I am in Whistler.
5 out of 5 stars
January in Whistler
Review by
Neil P.
Had a fabulous stay at Glacier Reach with the family. Apartment was well laid out and the spa after a days skiing was just perfect. It was a short walk to catch the shuttle bus and very easy to stroll through the village. Very quiet location and great for families
4 out of 5 stars
Fantastic owner and accommodation.
Review by
joanna d.
We had a brilliant stay at #51. The home had everything we needed, with the sofa bed being an added bonus for our 15 year old who loved having her own space. The real highlights were the hot tub - perfect after a day's skiing - and the owner going above and beyond to help us (allowing us to put our bags in the home and dig out our winter clothes when we arrived and before Sara had even finished the changeover, and - even better - finding us an empty house to leave our luggage in on our last day and use for a shower before heading to the airport!) You would never get this sort of extra attention in a hotel and it was SO appreciated. The shuttle to the lifts was every 10 minutes which made being north of the village no problem, and when we didn't have our ski gear we loved the walk through the village. We will stay at 51 again in a heartbeat. Thanks Trevor and Sara for a great stay!
5 out of 5 stars
December stay at 51 Glacier Reach
Review by
Anthony S.
Our stay here was excellent! The condo itself is within walking distance to the base of whistler and blackcomb albeit probably a 10-15 minute walk. As for the condo, it comfortably slept 6 of us and the hot tub on the top deck was great! Would highly recommend. If there is a downside, it would only be that the condo isn't overly spacious, but honestly when at whistler who wants to stay in the condo too much anyway.
5 out of 5 stars
Fabulous private accommodation
Review by
Huge, newer, secluded, and covered hot tub on the roof. Excellent chaise lounge couch in the living room that you can sprawl on after a day in the village. Well stocked kitchen and comfy beds. Steps away from amenities.
5 out of 5 stars
Ironman Weekend
Review by
Marianne R.
This was our second time staying in this unit; it had some new furniture this year, so that was a pleasant surprise.
5 out of 5 stars
Glacier Reach #51 - great time
Review by
Lisa P.
We are so happy with our stay, it was Clean, comfortable and has what you need. We were happy with the privacy and the large deck. Maybe throw in a hook(6) to hang towels while in the tub. But we were so happy. We didn't use the common pool it hot tub but it was located close by.
5 out of 5 stars
Good Stay.
Review by
Manfred E.
Location good. Overall experience good. A few issues. Ensuite toilet in 51A has a minor leak which is audible. Assigned parking stall in underground garage is extremely narrow. When neighbouring stalls are occupied, its very difficult to open doors on one side of parked vehicle. The unloading area has very few parking stalls. Had to wait on street for turn to unload.
4 out of 5 stars
Decent central location & out of earshot of the village hubbub.
Review by
The Glaciers Reach complex is an almost perfect setting for the immediacy of being able to soak up the Crankworx atmosphere without being too caught up in the noise of the village. Being able to leave the car in the parkade and walk/bike everywhere for the week was a major bonus.The complex also boasts a small pool, which saw brisk trade on an afternoon and fell quiet, much like the rest of the complex, towards bedtime. Good for families with younger kids, although there's not much space around the pool itself for parents to linger (although this is true of most of the other complexes around the village too).As far as we could tell, there's no additional secure storage for bikes - but we didn't ask. 'Secure storage for bikes' is something of an oxymoron for parkades in any case. You might need to figure something else out for bikes if you're looking at staying in this location.
4 out of 5 stars
Good Stay
Review by
Enjoyed our 4 nights in Whistler while biking. Space can be a little tight, especially in the kitchen and living area with the amount of furniture. We did have 5 adults with one sleeping on the sofa sleeper in the loft.
4 out of 5 stars
Whistler in July
Review by
Wayne R.
As described, great location, hot tub on large deck was great.
4 out of 5 stars
Great condo and location!
Review by
We had a wonderful stay in Whistler at Glaciers Reach for 5 days in July. The location of the condo complex can't be beat (less than a 5 minute walk to the village and shops). The condo itself was also fantastic. It fit the 8 people (4 adults/4 kids) comfortably and had all of the amenities we needed plus some (the coffee/cappuccino maker and private hot tub were a nice bonus)! The location of the condo in the complex is steps from the outdoor pool and hot tub. The condo itself was clean and well kept and Trevor the owner was always available for questions or communication if necessary. We would definitely stay again on our next trip out west.
5 out of 5 stars
Awesome stay A+++
Review by
Alexander K.
Great property, wonderfully spaced, full amenities. Best of all: Rooftop hot tub with a view of the mountain ranges. Trevor is a great guy, book with him!
5 out of 5 stars
7 Years and looking forward to next year.
Review by
Susan P.
This was our 7th year staying at Glaciers Reach. We have stayed in a few different units over the years, but 51 is our favorite. Looking forward to our girls trip again next year for our 8th year !
5 out of 5 stars
Great accommodation
Review by
Michelle P.
We had a fantastic holiday in Whistler and the accommodation was perfect. It is a modern spacious accommodation for up to 8 people. The kitchen has everything you need to dine in and the big dining table with benches is perfect for a feast. The place was better than we thought and the terrace with hot tub was a real treat after a long day on the slopes. I couldn't recommend this place enough. Although it's not right in the middle of the village it is an easy few minutes walk and worth it for the standard and value
5 out of 5 stars
An Amazing Snowboarding Trip
Review by
Lea D.
The vacation rental was absolutely everything we needed. There was 8 of us in total that stayed, and although it was a little squishy (which we had expected), everyone had somewhere to comfortably sleep. The unit had been updated from the pictures on the internet (new couches and a large kitchen table). The place was clean, comfortable, and larger than what we had expected. It had three decks, and the deck that had the hot tub was large enough for a small garden. The hot tub was great, and in my opinion, a necessity on a snowboard trip. It was one of the best hot tubs I've been in, with different jets, and mood lights. We snowboarded everyday, and although it was a ten minute walk to the Whistler gondola, we did not mind at all. The walk was just enough to warm you up for the long ride up the mountain. It was nice to be just on the edge of the main area of whistler, but close enough to get there without effort. It was a little disappointing that the communal pool and hot tub were out of order, but it was not a deal-breaker. I will be staying again next year. Hopefully then the pool will be running!
5 out of 5 stars
Lovely family apartment
Review by
Allan B.
Apartment 51 is a lovely apartment and suited our group of six perfectly. It is tastefully furnished with all the necessary amenities to support a skiing holiday. We stayed for 12 nights and will look to return to this particular apartment for at least 14 nights in future. Trevor the manager was excellent to deal with and ensured everything was clean, tidy and working. TV, WiFi, kitchen appliances, hot tub all meant we stayed in more than we had planned. The location is perfect. Close enough to village to access shopping, but far enough away to avoid the noise. Bus stop outside to ski lifts meant less walking in ski boots than many village apartments. Overall an absolute winner for us and we will return.
5 out of 5 stars
Fantastic Condo with Fantastic Owner
Review by
We stayed at 51 Glacier's Reach after Christmas for 5 nights that included New Year's Eve. Trevor was absolutely amazing and the consummate professional. He answered our inquiries promptly, the booking was handled efficiently and he was superb in the follow up to help us book lessons, lift tickets and equipment at a discount and special rates. The unit itself was immaculate. There is ample room with a large bed on the main floor, a large bunk bed in the upstairs bedroom, a pull out bed in the loft adjacent the upper bedroom plus a pull out couch in the main room. The condo is modern and the kitchen comes well equipped. The TV had a good selection of channels and the Wi-Fi worked perfectly. The fireplace was great and the bathrooms well appointed and updated. The highlight of this unit, however, is the large decks off each bedroom, which include a private Jacuzzi on the upper floor. We used it everyday, whether we had skied or not, and it is a huge bonus that most other condos do not offer. There is just no comparison to having your own private hot tub versus schlepping to a communal hot tub. In terms of location, the condo is on the tip of the Upper Village - very convenient if you want to shop at the local IGA for food but about a 10 or 15 minute walk to the base for skiing. There is a regular shuttle service but we walked most times. We stored our skis in Crystal Lodge and rented a few lockers at the same location (small fees) to keep our gear. Overall, it is not too far from the action but far enough away that you are not distracted by all the Village noise. This condo backs onto the tennis club away from streets and was quiet. Parking was fine with ample underground parking. Overall, we would absolutely, 100% recommend Trevor and this condo for anyone. Spacious with all the amenities, quiet and convenient location but close enough the Village to enjoy it with an absolutely superb owner who clearly cares about his business and you enjoying your stay.
5 out of 5 stars
Amazing stay
Review by
The house was perfect for what we wanted. Have not a single complaint and would happily stay there again. Really appreciate Trevor going out on a limb for us and letting us stay there. My mates and I didn't want to leave.
5 out of 5 stars
Brilliant....
Review by
Cushla W.
Thanks Trevor for a great apartment to stay in. It is always a bit of a concern when booking something over the internet to know how it will work out. We were pleasantly surprised. The apartment was perfect for our family or five - the boys loved the hot tub each night after skiing. The kitchen it well equipped and it was warm and comfortable. Nice touches such as DVD's and boardgames made it feel very homely. It was nice and clean and Trevor great to deal with. Thank you.
5 out of 5 stars
Great condo in a fabulous location
Review by
Elaine W.
This condo truly is a great find. The unit has been updated so the photos don't do it justice. The kitchen is small but sufficient and reasonably high end. The bathrooms are great. There is newer furniture there now that is very comfortable. The unit was perfect for two families, with the kids in the bunk room. The kids also loved the hot tub! The location really is ideal - steps from Marketplace and Olympic Plaza but also quiet. We were here to run the Whistler50 relay and the location was close to both hand-off stations. We would definitely recommend this unit and stay here again. Trevor was great to work with.
5 out of 5 stars
Suprisingly Spacious Whistler Apt Stay
Review by
Ryan C.
The apartment was larger than I had imagined and came with a hot tub on the outdoor deck. It was clean and welcoming! The arrival and departure instructions were clear. I loved the location as it was a short walk to the grocery store, bars, and restaurants, yet it was quiet and calm. I would fully recommend this property to any party of 6 to 9 people.
5 out of 5 stars
Great place to stay
Review by
Cody S.
A few mates and I stayed at this place. The location is great for the price. Would definately stay here again.
5 out of 5 stars
Great stay at Glaciers Reach
Review by
Our entire family (adult kids with their significant others) spent a wonderful extended weekend at Glaciers Reach. Accommodations exceeded expectations. The interior photos on website don't do justice to the spacious, well-appointed units. Everything we needed was there and the units (both) were spotless. We'll be staying here again in the future.
5 out of 5 stars
Fantastic Stay!!
Review by
Kim M.
This is the ideal place to stay at Whistler. I don't even want to write a good review as I want to keep this gem a secret! The location is perfect- near grocery store, liquor store, cafes and restaurants and an amazing park for the kids. In the suite, the loft allowed separation between the kids from the adults. Private hottub and deck. Kitchen complete with all you would need. Large BBQ. Cozy feel and quiet too. Photos don't do this place justice. Very nice to deal with the manager Trevor and staff. Loved being in the heart of Whistler- walk to the mountain bases and to all attractions really. parking was included in a safe under ground garage.
5 out of 5 stars
Wonderful vacation!
Review by
Shelley S.
We have stayed at Glaciers Reach many times and it never disappoints! We stayed in unit 51 this time and had more than enough room. 3 adults and four teenagers! The hot tub on the deck is awesome! Location is one of the many reasons why we keep coming back. Trevor is an awesome guy and great to deal with!
5 out of 5 stars
Cousins visiting from Texas in Whistler
Review by
Kevin D.
Place was the perfect size for our two families. I've come here for a couple of years now and this was the best of the best in terms of accommodations. Trevor was awesome in taking care of us and everything was close to what we wanted to do. Will definitely be coming back with more friends next year.
5 out of 5 stars
It was fun
Review by
randy s.
Well equipped, clean and comfortable
4 out of 5 stars
Best rental townhouse in Whistler BC
Review by
Balwinder D.
We had blast 2 couples and lots of privacy and best parking location. Walking was fun threw the village went to Moe Joes night club on Saturday night. meet alot of friendly people. I would recommend couples to enjoy this amazing town house .HOT TUB was awesome on third story of the house.
5 out of 5 stars
Wedding/vacation
Review by
Richard C.
We were there for our daughters wedding, we also combine this beautiful event with a vacation in a lovely spot. This vacation home was the best of the best for us. We had two family's stay (6) we could of had more. We had tons of extra room, a large deck by the hot tub, we we able to host a brunch after the wedding for about 20 people and had lots of room to. Do so. This home with the extra (51a) bedroom was ideal and lovely. We would highly recommend this for a large family gathering. The pool area was great along with the Sauna. The hot tub was nice in the pool area.. The hot tub in the home was a nice spot for an evening relaxing drink before bed. Overall this unit fit our need precisely. We will gladly recommend this to anyone. ( Overall our family rented 4 units for the wedding/vacation and we were all greatly impressed with them. P/s the location is across the street from the local food store and the local liquor store.
5 out of 5 stars
Glacier reach
Review by
Corinne W.
This was a wonerful place to stay
5 out of 5 stars
3rd Annual Girls weekend away!!
Review by
Tanya B.
This is the 2nd year in a row we have now stayed at #51 and it will not be our last!! Perfect location, close enough to the village to experience everything but yet far enough to have some piece and quiet.
5 out of 5 stars
Great Accommodation, Great Location
Review by
Giacomo T.
Well furnished spacious unit. Everything was as advertised. Well equipped with kitchen utensils, cutlery, etc. Great hot tub. Very helpful management staff. We will return!
5 out of 5 stars
Fantastic vacation rental
Review by
raffaele p.
Unit 51 is perfect for a family of 6. There was enough space for all of us (and a bonus to have 2.5 bathrooms).The location was close to shops and restaurants.Our girls enjoyed jumping into the private hot tub every chance they could.Trevor was very professional and prompt in answering all questions and we met Sara the housekeeper on our way out (very nice).We would definitely stay in this unit again.
5 out of 5 stars
Great stay at Glaciers Reach
Review by
Cynthia M.
We would definitely stay again at 51 Glaciers Reach. It was a spacious unit for our group along with walking distance to the village. The extra plus was our own hot tub. We have stayed at other Whistler condo's without their own hot tub and did not realize how awesome it is to come off the slopes and wind down in your own spa.
5 out of 5 stars
Spring break stay 2015
Review by
Cory S.
Trevor and Sara made everything very smooth. Great location, deck and private hot tub were fantastic! Will return and stay longer next time.
4 out of 5 stars
Home away from home
Review by
It was indeed a home away from home! The house was nice, clean and comfortable. The kitchen was fully stocked. There were board games and vcd to keep u entertained. The private hot tub outside in the second floor was the best! It relaxed our muscles after a whole day of snowboarding and skiing. I was kinda upset that both hairdryer were not working. I tried to press the reset button but it didn't work. Anyway, that didn't ruined the vacation and the overall stay..actyally, I can't really say anything bad about this unit; except maybe for the location, it's about 10 mins walk from marketplace and 15 mins from Whistler village; maybe 20 mins from the gondola. It's not that far but I just hate walking..there is a free shuttle that goes around the area if u don't wanna walk. Overall, it was a great stay in GR51. Will definitely come back again!
5 out of 5 stars
Amazing stay
Review by
michael k.
My husband and i had an absolutely wonderful time. The condo was clean warm and comfortable. the kitchen was convienetly stocked with little necessities like seasonings. my favorite part about it was the private hot tub on the balcony couldnt have asked for a better time. HIGHLY RECOMMENDED
5 out of 5 stars
Great vacation spot!
Review by
Evan W.
The condo is amazing and exactly what we needed! My wife and I made the trip up to Whistler and after finding the condo (the location is easy to find but the specific condo is not) it turned out to be everything we wanted. Nice, clean and new with great places to eat and chill and a relaxing hot tub. It was very well stocked in regards to kitchen and bathrooms. I recommend this one as long as you make sure and take time to find it in the complex in the daylight. Trevor was an amazing host who took time to work with us during the stressful holiday season. He is professional and goes the extra mile for his customers.
5 out of 5 stars
Good location
Review by
Andrea C.
Stay here every year. Great relaxing getaway place. very convent from location to dealing with booking and property management.
5 out of 5 stars
Contact Us