54 Glaciers Reach a 2br with hot tub & pool in Whistler Village (Townhouse)
2 Bedroom(s) | 2 Bathroom(s) | Sleeps 6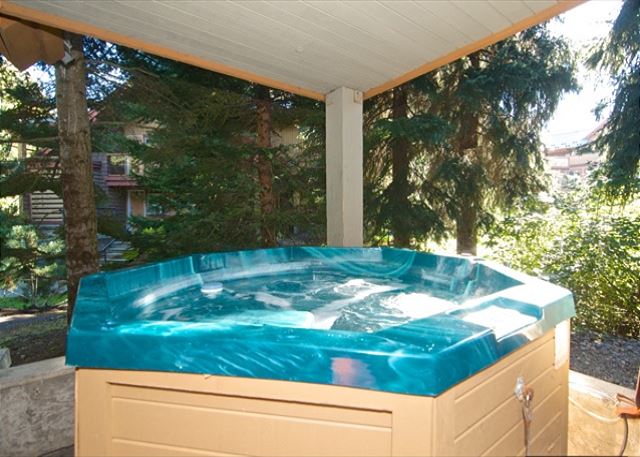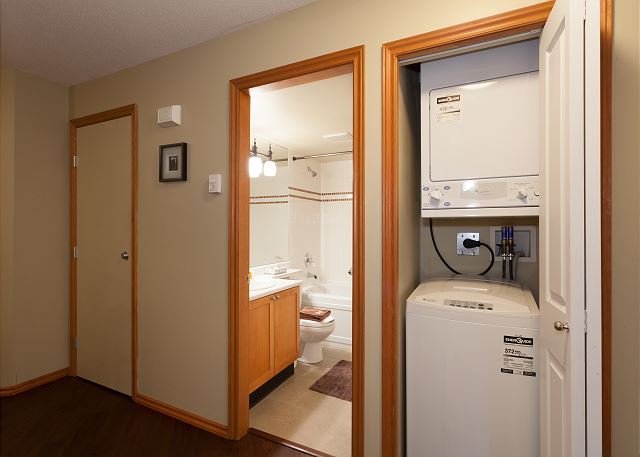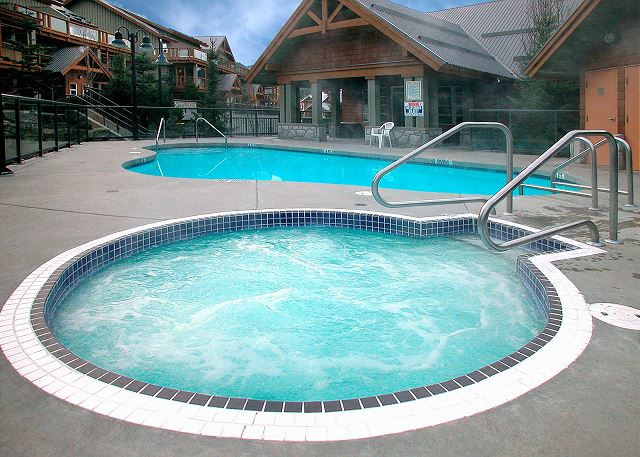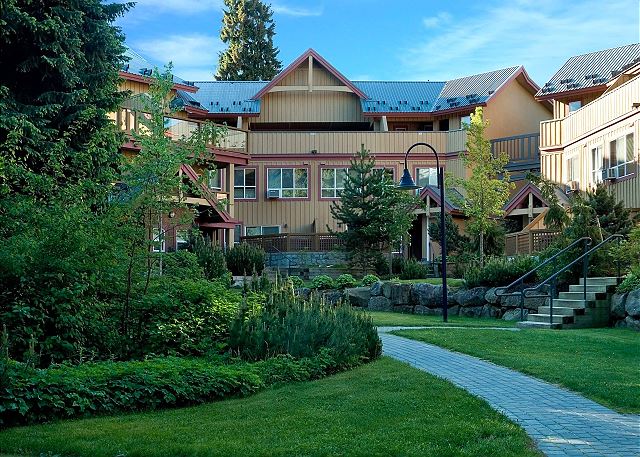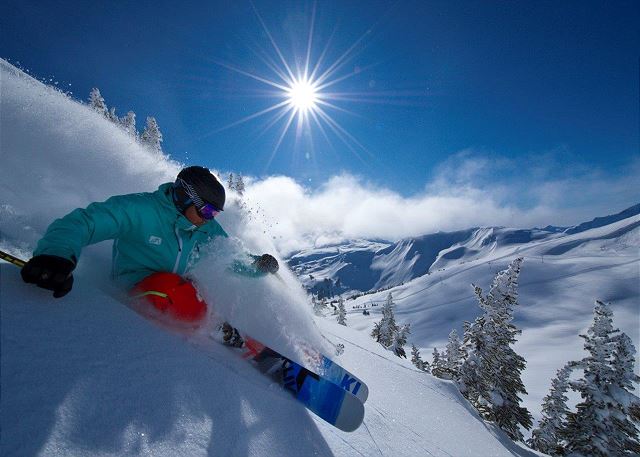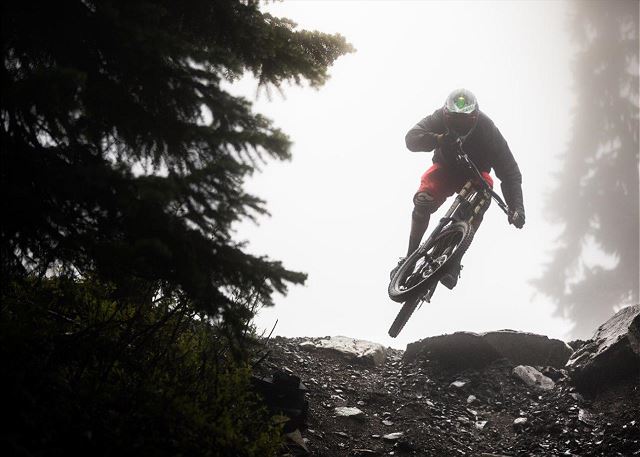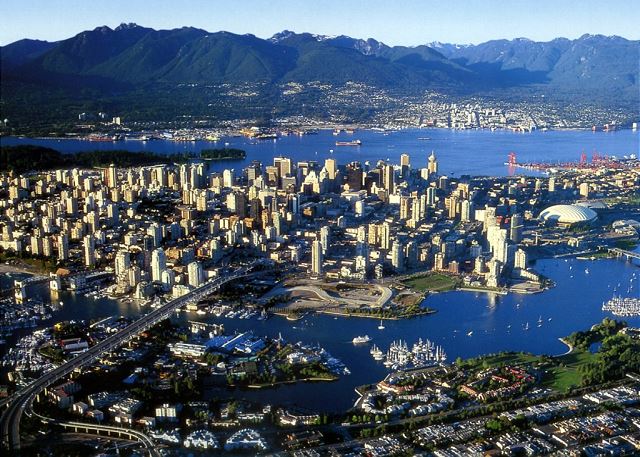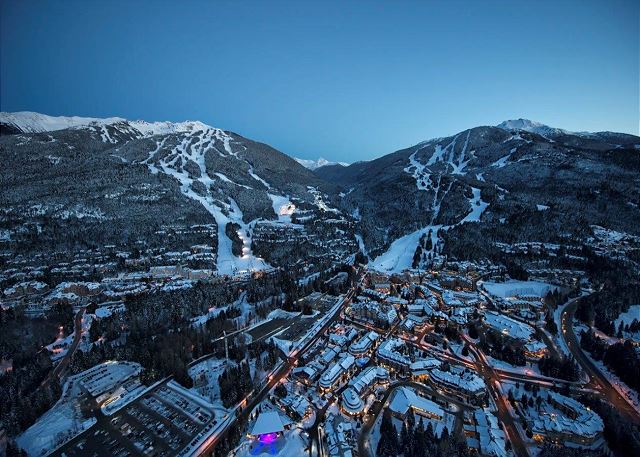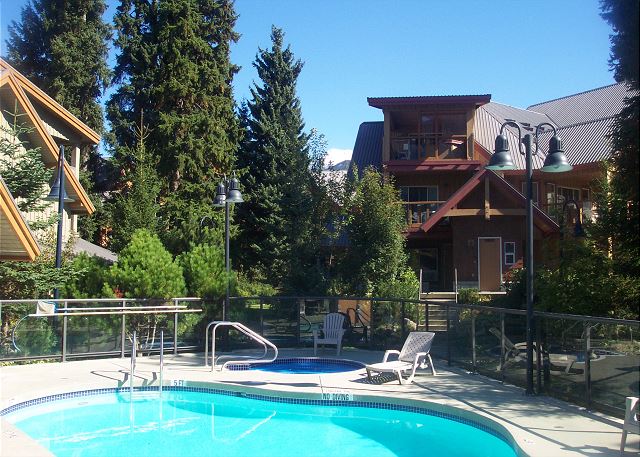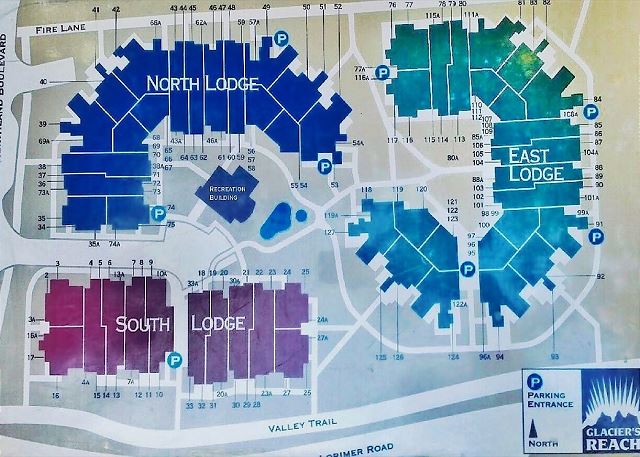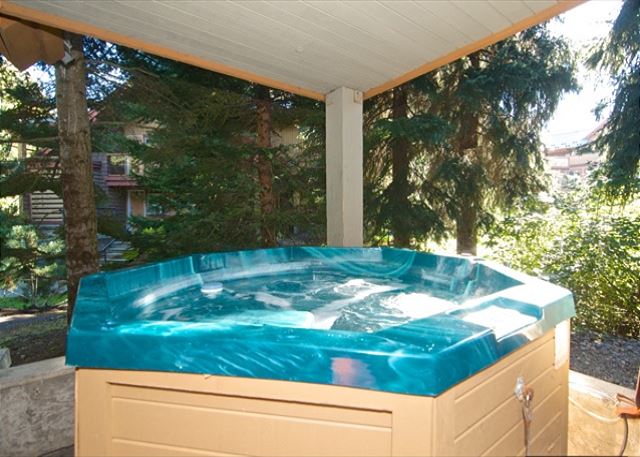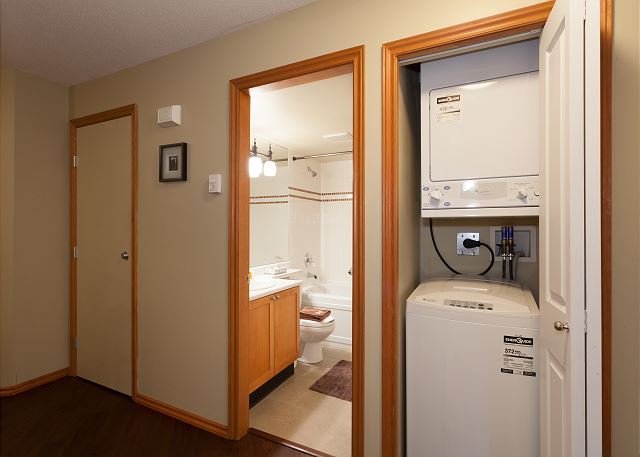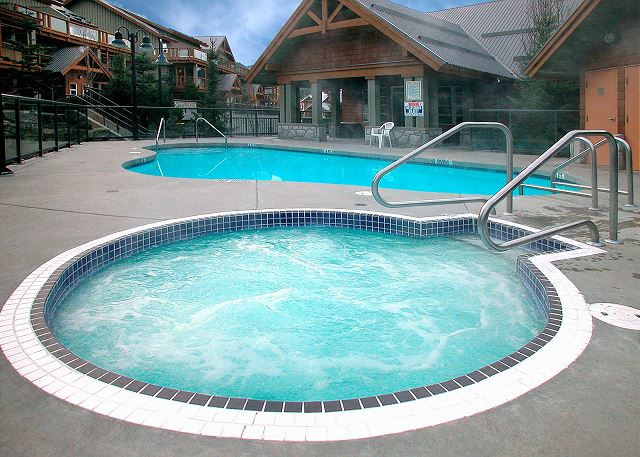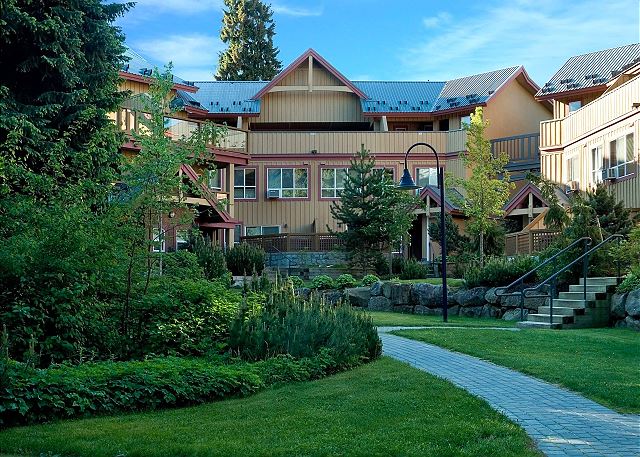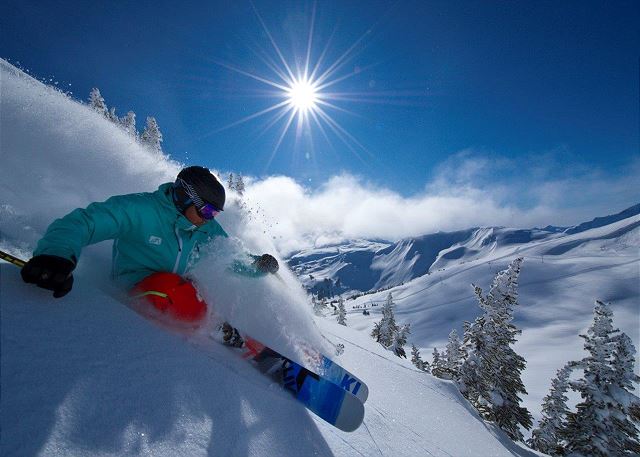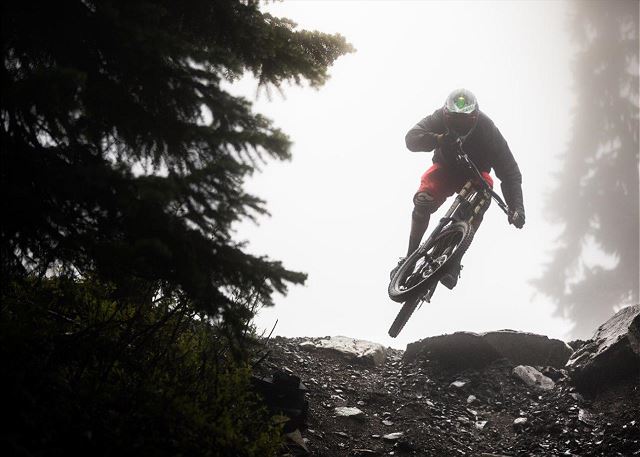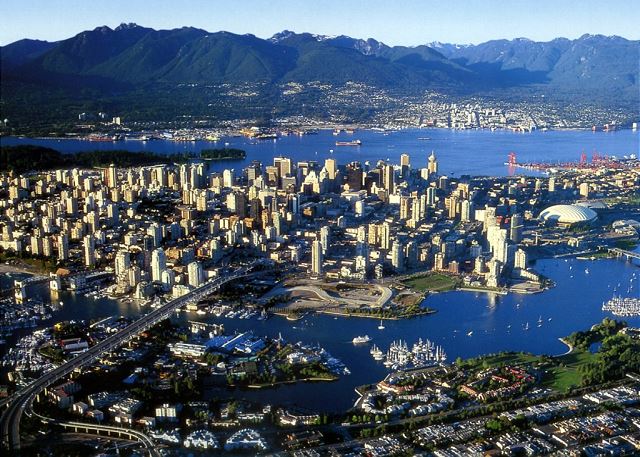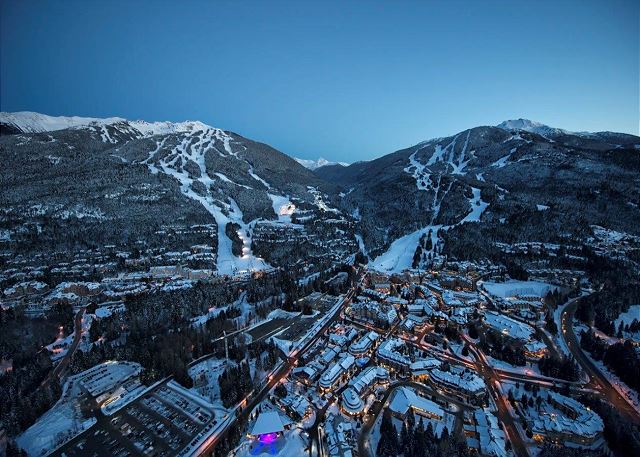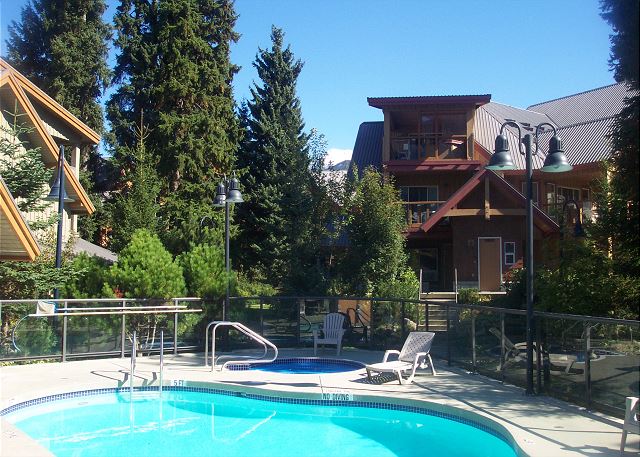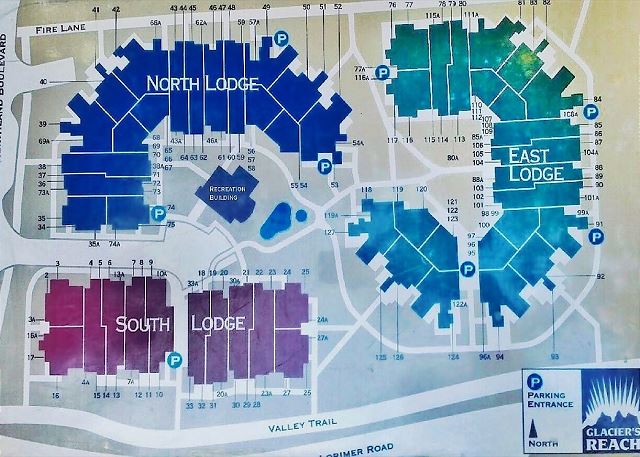 Description
We are proud of our Covid response. We manage several homes at Glaciers Reach and we do our own house keeping, this allows us to ensure that our homes are safe so that our guests can relax. We provide fresh duvet covers and a one-night gap in between nearly all says. In addition to our own enhanced cleaning procedures we provide our guests with disinfectant spray so that you can clean the clean home again if you wish. Life is unpredictable so we offer free cancellation outside of 30 days or in the event of new public health restrictions.



Our homes offer the luxuries you want and the conveniences you expect. They are exceptionally clean, well maintained and fully equipped with Kitchen, Laundry, Internet, Private Hot Tub, Pool, fire place, free parking and a fantastic location in Whistler Village.



We have over 3000 guest reviews and a 4.5 star average rating so give us a call toll free atfor help planning your next Whistler Vacation.



Relax in a private hot tub overlooking the inner treed courtyard and pool area. There is a 40" TV in the main area as well as a TV in each bedroom. We hope that you enjoy all of the comforts and amenities of this fully equipped vacation home at Glaciers Reach.



Our guests appreciate the convenience of staying across from the Whistler Market Place which boasts; liquor and grocery stores, coffee shops, restaurants and several shops. All of our homes at Glaciers Reach are a ten minute walk or a free shuttle ride to the base of Whistler and Blackcomb mountains. Everything that Whistler Village offers is at your door step, along the picturesque, cobble-stoned village stroll.



Some of the recent upgrades to this two bedroom two bathroom townhome include granite countertops, stainless steel appliances, hot tub, BBQ and 40 inch TV. Other features include a gas fire place, heated year round pool, shared sauna, AC, free underground parking and high speed internet with Wi-Fi. This vacation home sleeps a maximum of six guests but four is recommended. The bedding consists of: a queen bed, a bunk bed and a double pull-out couch. All of our Whistler vacation rentals are professionally managed, well maintained and exceptionally clean.



Let us help plan your next Whistler vacation!



Trevor Chelswick (Owner & Manager since 1999)

Whistler Vacation Rentals- Accommodations at Glaciers Reach
Calendar
September 2021

| S | M | T | W | T | F | S |
| --- | --- | --- | --- | --- | --- | --- |
| | | | 01 | 02 | 03 | 04 |
| 05 | 06 | 07 | 08 | 09 | 10 | 11 |
| 12 | 13 | 14 | 15 | 16 | 17 | 18 |
| 19 | 20 | 21 | 22 | 23 | 24 | 25 |
| 26 | 27 | 28 | 29 | 30 | | |
October 2021

| S | M | T | W | T | F | S |
| --- | --- | --- | --- | --- | --- | --- |
| | | | | | 01 | 02 |
| 03 | 04 | 05 | 06 | 07 | 08 | 09 |
| 10 | 11 | 12 | 13 | 14 | 15 | 16 |
| 17 | 18 | 19 | 20 | 21 | 22 | 23 |
| 24 | 25 | 26 | 27 | 28 | 29 | 30 |
| 31 | | | | | | |
November 2021

| S | M | T | W | T | F | S |
| --- | --- | --- | --- | --- | --- | --- |
| | 01 | 02 | 03 | 04 | 05 | 06 |
| 07 | 08 | 09 | 10 | 11 | 12 | 13 |
| 14 | 15 | 16 | 17 | 18 | 19 | 20 |
| 21 | 22 | 23 | 24 | 25 | 26 | 27 |
| 28 | 29 | 30 | | | | |
December 2021

| S | M | T | W | T | F | S |
| --- | --- | --- | --- | --- | --- | --- |
| | | | 01 | 02 | 03 | 04 |
| 05 | 06 | 07 | 08 | 09 | 10 | 11 |
| 12 | 13 | 14 | 15 | 16 | 17 | 18 |
| 19 | 20 | 21 | 22 | 23 | 24 | 25 |
| 26 | 27 | 28 | 29 | 30 | 31 | |
January 2022

| S | M | T | W | T | F | S |
| --- | --- | --- | --- | --- | --- | --- |
| | | | | | | 01 |
| 02 | 03 | 04 | 05 | 06 | 07 | 08 |
| 09 | 10 | 11 | 12 | 13 | 14 | 15 |
| 16 | 17 | 18 | 19 | 20 | 21 | 22 |
| 23 | 24 | 25 | 26 | 27 | 28 | 29 |
| 30 | 31 | | | | | |
February 2022

| S | M | T | W | T | F | S |
| --- | --- | --- | --- | --- | --- | --- |
| | | 01 | 02 | 03 | 04 | 05 |
| 06 | 07 | 08 | 09 | 10 | 11 | 12 |
| 13 | 14 | 15 | 16 | 17 | 18 | 19 |
| 20 | 21 | 22 | 23 | 24 | 25 | 26 |
| 27 | 28 | | | | | |
March 2022

| S | M | T | W | T | F | S |
| --- | --- | --- | --- | --- | --- | --- |
| | | 01 | 02 | 03 | 04 | 05 |
| 06 | 07 | 08 | 09 | 10 | 11 | 12 |
| 13 | 14 | 15 | 16 | 17 | 18 | 19 |
| 20 | 21 | 22 | 23 | 24 | 25 | 26 |
| 27 | 28 | 29 | 30 | 31 | | |
April 2022

| S | M | T | W | T | F | S |
| --- | --- | --- | --- | --- | --- | --- |
| | | | | | 01 | 02 |
| 03 | 04 | 05 | 06 | 07 | 08 | 09 |
| 10 | 11 | 12 | 13 | 14 | 15 | 16 |
| 17 | 18 | 19 | 20 | 21 | 22 | 23 |
| 24 | 25 | 26 | 27 | 28 | 29 | 30 |
May 2022

| S | M | T | W | T | F | S |
| --- | --- | --- | --- | --- | --- | --- |
| 01 | 02 | 03 | 04 | 05 | 06 | 07 |
| 08 | 09 | 10 | 11 | 12 | 13 | 14 |
| 15 | 16 | 17 | 18 | 19 | 20 | 21 |
| 22 | 23 | 24 | 25 | 26 | 27 | 28 |
| 29 | 30 | 31 | | | | |
June 2022

| S | M | T | W | T | F | S |
| --- | --- | --- | --- | --- | --- | --- |
| | | | 01 | 02 | 03 | 04 |
| 05 | 06 | 07 | 08 | 09 | 10 | 11 |
| 12 | 13 | 14 | 15 | 16 | 17 | 18 |
| 19 | 20 | 21 | 22 | 23 | 24 | 25 |
| 26 | 27 | 28 | 29 | 30 | | |
July 2022

| S | M | T | W | T | F | S |
| --- | --- | --- | --- | --- | --- | --- |
| | | | | | 01 | 02 |
| 03 | 04 | 05 | 06 | 07 | 08 | 09 |
| 10 | 11 | 12 | 13 | 14 | 15 | 16 |
| 17 | 18 | 19 | 20 | 21 | 22 | 23 |
| 24 | 25 | 26 | 27 | 28 | 29 | 30 |
| 31 | | | | | | |
August 2022

| S | M | T | W | T | F | S |
| --- | --- | --- | --- | --- | --- | --- |
| | 01 | 02 | 03 | 04 | 05 | 06 |
| 07 | 08 | 09 | 10 | 11 | 12 | 13 |
| 14 | 15 | 16 | 17 | 18 | 19 | 20 |
| 21 | 22 | 23 | 24 | 25 | 26 | 27 |
| 28 | 29 | 30 | 31 | | | |
Available
Unavailable
Check-In Only
Check-Out Only
Seasonal Rates
| Date Range | Daily | Weekly | Monthly |
| --- | --- | --- | --- |
* Seasonal rates are only estimates and do not reflect taxes or additional fees.
Location
Guest Reviews of
54 Glaciers Reach a 2br with hot tub & pool in Whistler Village
Whistler, BC
---
Vacation Rental Reviews by
stars based on
Perfect family vacation condo
Review by
My family of four loved this unit. We used the private hot tub everyday but were right across from the main pool when we wanted to go for a swim. It is a quick walk across the street to get to the village and the grocery store was nice and close. The unit was clean and had comfortable beds. We also liked the layout as the master bedroom was down the hall from the kitchen and kids bedroom. We would definitely stay here again.
5 out of 5 stars
June 2021 Stay
Review by
Lisa F.
· Our suite was much bigger than I thought which was great, staff was super friendly and gave us plenty of heads up time for quite hours, and we absolutely loved having our own hot tub! Room wasn't as clean as I would have liked but it wasn't enough to say anything while we were there.I also slipped on the wet steps to the loading zone and sprained my ankle not sure if there are any signs warning about that but I would put one up if there isn't.
4 out of 5 stars
Very private hot tub in this unit
Review by
Dylan C.
Here's what you need to know... The hot tub is off the back of the unit and very private, that made this an easy win for us. But it's very small, 2 adults, 2 kids, tops. But that beats sharing a common one! Many of the units have the hot tub on the front in the courtyard area where everyone can walk by you, but this one faces into trees. The rest of the unit is nice, it's of course not a 5 star hotel, but not priced like one and more than nice enough for a family to enjoy with TV/fireplace/WiFi and a decent kitchen. Very close to a grocery store, liquor store and other food. A few tiny nitpicks, but I would 100% take this specific unit again. And props to management, they are on the ball.
5 out of 5 stars
Rememberance Day Stay
Review by
Lynne V.
The condo was in lovely condition and very well prepared. The heat was on too high tho so we turned that down (waste of money and heat:). only issue we had is there are no recycling blue bags (somewhere to actually keep and separate recycling into. Also the state of the garbage room was not nice. Some discipline needed there. Other than that it was very well equipped and presented, lovely stay thank you.
5 out of 5 stars
Wonderful Family Getaway
Review by
Erica B.
Can't recommend this rental property enough! Great layout. Lots of space. Bathrooms off of both bedrooms. Personal hot tub. Everything you would want in a Whistler rental. We are a family of 4. Our kids (6 and 4) loved the bunk beds! Great location.
5 out of 5 stars
Favourite place to stay in Whistler
Review by
kelly g.
Trevor is helpful and communicative. #54 was a perfect fit for us, the bedrooms were quite far apart,, making it very private and quiet. The hot tub is perfect, the apartment had everything we needed for our short stay.
5 out of 5 stars
Great Trip, Great Rental
Review by
Stayed here during a recent trip to Whistler to ski with my family. Rental unit had everything needed to cook your own meals and was in a great location to walk to grocery store and the Olympic village. Bus Stop across the street made it easy to get around and back/forth to the ski hill.
5 out of 5 stars
Awesome rental!!
Review by
Burton T.
Quick and easy to book. Roomy compared to traditional hotels
5 out of 5 stars
Whistler Retreat
Review by
John R.
Very Satisfied with ease, location, cleanliness.
4 out of 5 stars
Great vacation in Whistler
Review by
Elizabeth B.
Location is as good as possible. Bus stop across the street, one minute walk, market place is across the street. The condo is in very good condition.
5 out of 5 stars
Winter Wonderland
Review by
Andrea L.
We couldn't have been happier with our accommodations. They were comfortable, we had plenty of room, it was clean and the best location! Thank you so much for letting us enjoy Whistler in your home, it was more than we could have imagined.
5 out of 5 stars
Spacious unit right beside the village
Review by
Buu L.
We had a great time staying at this property. The unit is spacious and has everything we needed. The location is perfect situated right beside the village so you can quickly escape the bustle and relax in the private hot tub. Rental process was very easy. We'll be staying in this unit again in future visits.
5 out of 5 stars
Exceeded expectations! Very cozy, very convenient!
Review by
The perfect base for our Whistler getaway. Fireplace, hot tub, clean and comfortable furniture and beds, kitchen stocked with plates and utensils, one bathroom per bedroom for privacy. Really excellent! Using timed keycodes for door access is supremely convenient: no need to check in or out, no key to lose, each person can come/go whenever they want. The location is great: right across the street from the liquor store and the grocery store. Would recommend!
5 out of 5 stars
Great value and location
Review by
Erin Y.
We recently had a wonderful stay in this unit. It is conveniently located across from the IGA, and right on the #4 shuttle bus route that can drop off at the Whistler Base. We enjoyed cooking meals in the well-appointed kitchen, and going in the hot tub. It took about a day for the hot tub to warm up, so turn it on when you arrive. Trevor was very attentive and helpful, and came to help us with a new propane tank, lighter, and light bulbs for the suite. He noticed that we had children, and brought two sleds for them to borrow. There was plenty of space for two kids, two parents, and two grandparents. This is our third stay in this complex, and we will definitely return again!
4 out of 5 stars
Even better than described!
Review by
Shirley S.
We had adjacent 2-bedroom condos that were just right for our family of 8. Super clean, spacious and completely outfitted. The shower water was blisteringly hot, just perfect for that end of the ski day warm up. The bedding was fresh and crisp, pillows comfy and plentiful. Then, as an added bonus, the owner/manager Trevor was onsite and available with tips and suggestions and help when needed. Very central location, easy to arrive and leave from, opposite the OGA and a short walk to the lifts. All round better than we were hoping for.
5 out of 5 stars
Excellent Location, Immaculate, Private!!!
Review by
Joanne D.
Everything about condo was even better than I expected. Super clean. I think the two patios were more private than most and yet had a view of mountain. Beds very comfortable and plenty of extra pillows. Well stocked with pots, pans, cooking oil, etc. It was perfect distance to village. 5 min. walk to marketplace and cute shops, food, 10 min walk to village square.We parked our vehicle and did not get in again till we left. I planning on booking here again in the future!
5 out of 5 stars
Great vacation property
Review by
Richard H.
The whole apartment was a generous size including a kitchen supplied with a good range of basic day to day things you might need for self catering. The property is a 2 min walk from the supermarket and a further 8 to the bottom of Fitzsimmons lift! Each rental comes with a hot tub which is a great bonus after a full day of boarding. Trev is a great host, supplying you with all the info you will need and making you feel very welcome. When we couldn't get our fire working he was straight over and got it sorted. This is a great venue for your Whistler vacation. Don't bother with anywhere else
5 out of 5 stars
I would stay again.
Review by
Laura H.
Great location. Spacious. Kitchen was nicely equipped with extras like tea, flour, spices etc. Hot tub was not clean. Brown scum and brown water. Fridge made an annoying noise but the caretaker told me it will be replaced. Quiet. Good value
4 out of 5 stars
Glaciers Reach Experience
Review by
Donna M.
Wonderful property in a great location. Protected parking under the units, great hot tub and right across from the Whistler Village market and town stroll. Five minutes drive to the lifts.
5 out of 5 stars
Fantastic property
Review by
Kellie T.
Such a great place to stay, homely and plenty of space with everything we needed for a wonderful week down to tea and sugar! Well appointed and comfortable apartments, clean and tidy property and fabulous location walking distance to everything. The owners were very easy to communicate with and always willing to help via email. The hot tub was a treat!
5 out of 5 stars
whistler weekend
Review by
Julie F.
The condo was great! Clean and well equipped.Good location too.Would not hesitate to stay here again!
5 out of 5 stars
Great place to stay
Review by
This was the great place to stay during my skiing holiday in Whistler.Only small disadvantage was distance from ski fields, but regular shuttle buses are great help.
5 out of 5 stars
Great Location, Wonderful Service, Beautiful Home
Review by
Kenneth Y.
Our group had a wonderful stay at Glacier's Reach located just a few short minutes away from the Whistler Marketplace. Its proximity to the bus stops and marketplace made it easily accessible and convenient 24/7. It's also only a 10 minutes walk away from the Village. The place itself was tidy and clean, with a heartwarming complimentary box sitting atop the table upon our arrival. The trick to opening the door to the balcony is unhinging the lock located at the bottom of the door. The hot tub was also preheated and ready to use any time. Overall, we had a fantastic stay at Glacier's Reach, and we would love to come again!
5 out of 5 stars
Comfortable and good value
Review by
David B.
Overall a very satisfactory stay. Unit is standard ski condo with all necessary amenities. Private hot tub and underground parking are bonus. Close to Marketplace IGA which has everything one could possibly need for dining. Shuttle bus worked well except for powder day - then a complete fail, but walk to lifts was ok. Trevor and staff were very responsive and helpful.
5 out of 5 stars
Perfect stay
Review by
Trisha H.
Spacious and cozy - everything we needed was there. Great location in the village. Made a great girls weekend perfect.
5 out of 5 stars
Lovely Stay
Review by
This was our second time staying here. We loved it so much when we came in the spring that we decided to stay again. The units are always immaculate and the beds are super comfy. The private hot tub is amazing, although now due to noise restrictions you are only allowed to use it until 10pm. All in all, we will stay here again and we love how everything was in such close proximity.
5 out of 5 stars
Great place to stay
Review by
Rick S.
Great location. Clean unit. It was a pleasure staying here.
5 out of 5 stars
Almost home away from home
Review by
Ada C.
We loved the location of the unit. Close to Whistler Village, the dedicated parking spot and the pool. Because of these positives I would be inclined to stay in this unit, if not Glacier's Reach in all my future travel to Whistler. The maintenance woman on site was extremely outgoing. We had a few points of feedback on the unit at time of check out that would greatly improve ones stay, which she listen to intently.
4 out of 5 stars
A belgian family in Whistler.
Review by
Frederic F.
Good organisation for (1) reservation (2)availabilty of access code and keys for parking: every think happened as described, no surprise.Large rooms, very clean, large terasse, materials of good quality, well located in the village (you can do every thing by foot).
5 out of 5 stars
A memorable weekend with team
Review by
Ying L.
We booked last available 2b+2w condo for 6 persons with a very reasonable price during peak season. We glad we did it and we enjoyed a lot. The location is perfect, within 5 mins walking distance to center area but at the same time enjoy the peace. Facility itself is with enough space, full kitchen, laundry, fireplace, hot tub, everything. Beds are comfortable and everything is clean. We enjoyed quite a lot the hot tub at the same time. We recommended this place to a family or a group.
5 out of 5 stars
great spot in whistler village
Review by
nothing fancy. pool heated would have been nice but a very nice condo in a great location, walking distance to everything. highly recommended
4 out of 5 stars
Great location;
Review by
Joyce S.
Amenities were clean and good quality; hot tub soak - very relaxing.
4 out of 5 stars
World ski & snowboard festival
Review by
A generous sized property that ticked all of our boxes and was very clean. Trevor provided excellent service and assistance with a late check in. I would highly recommend.
5 out of 5 stars
Contact Us