AINAMALU 69-9242 (House)
3 Bedroom(s) | 2 Bathroom(s) | Sleeps 6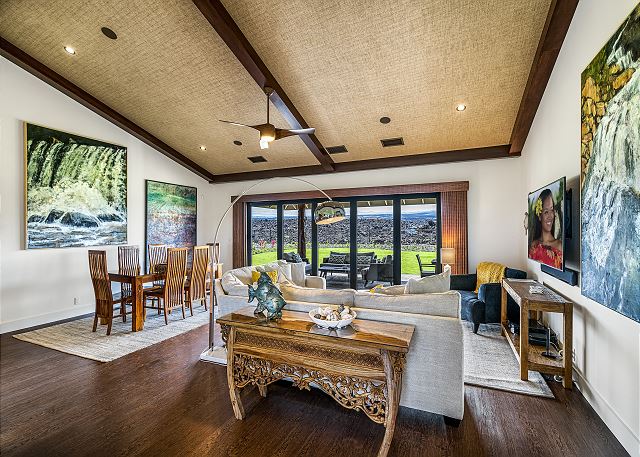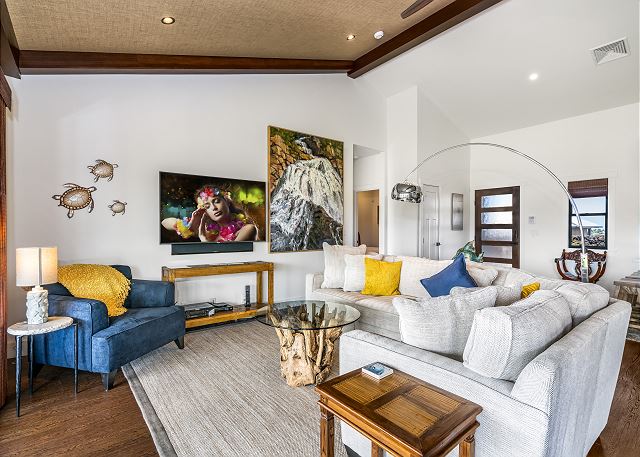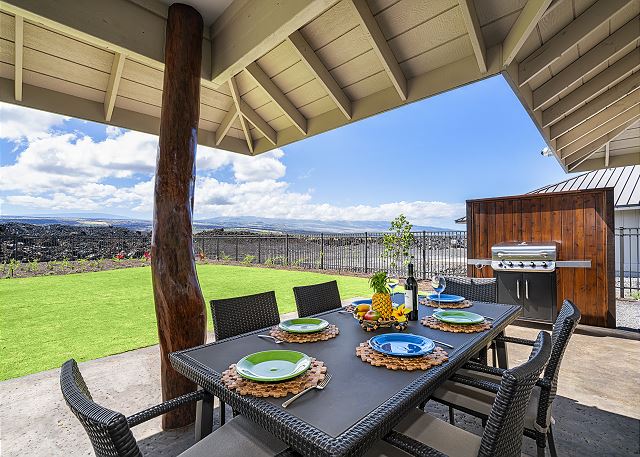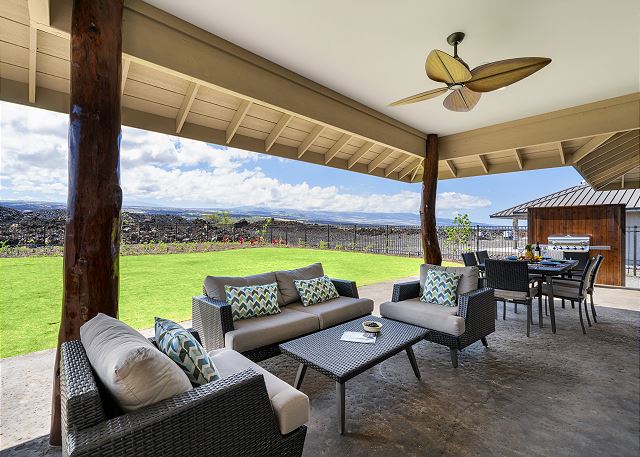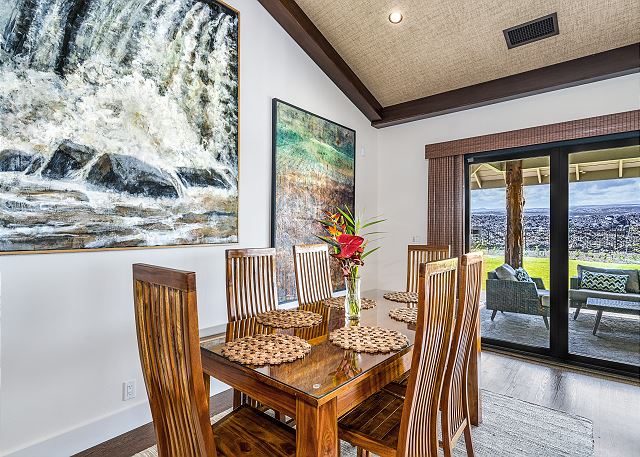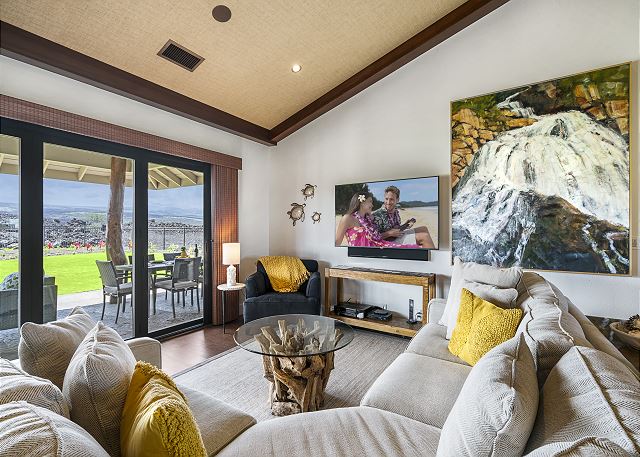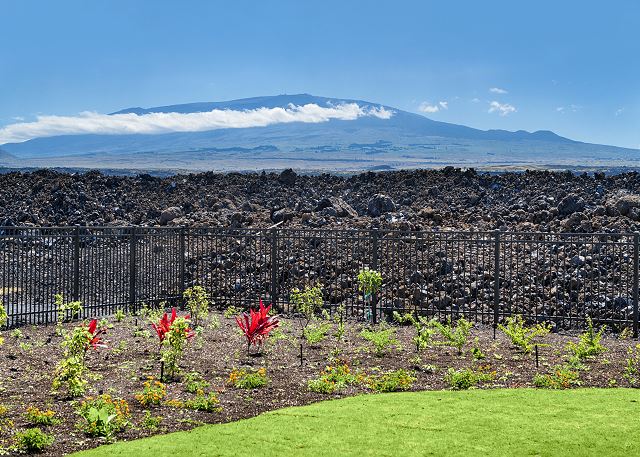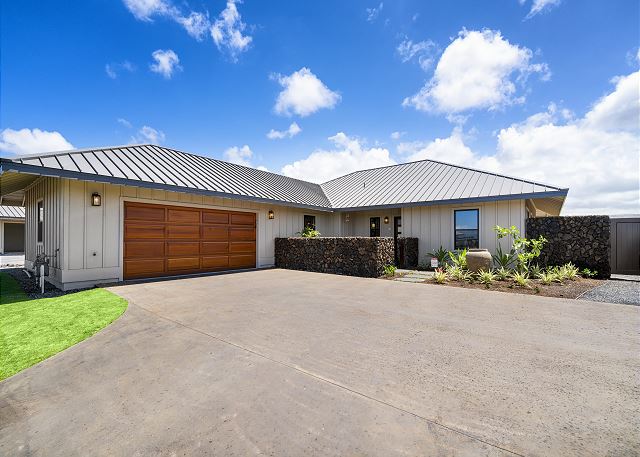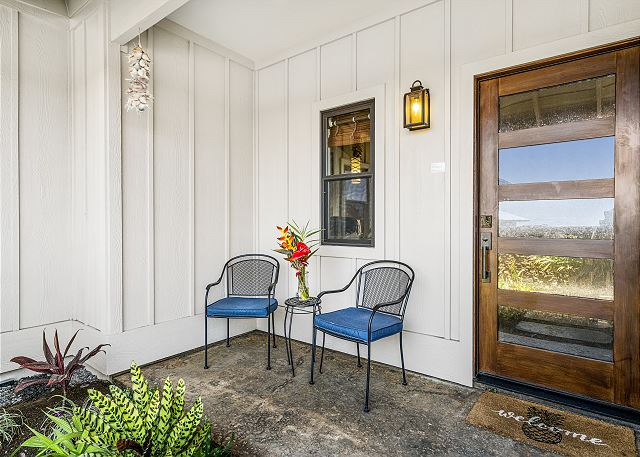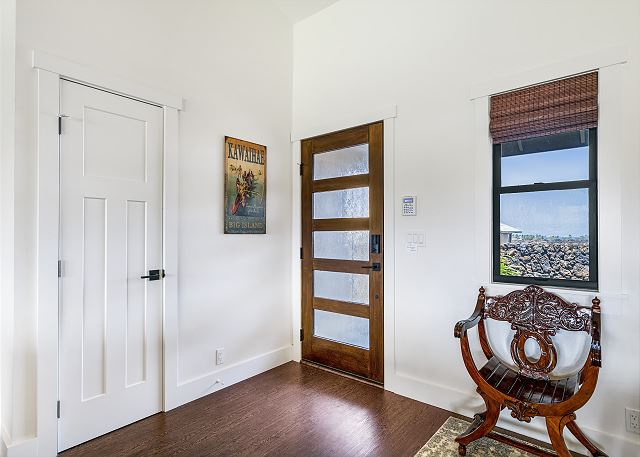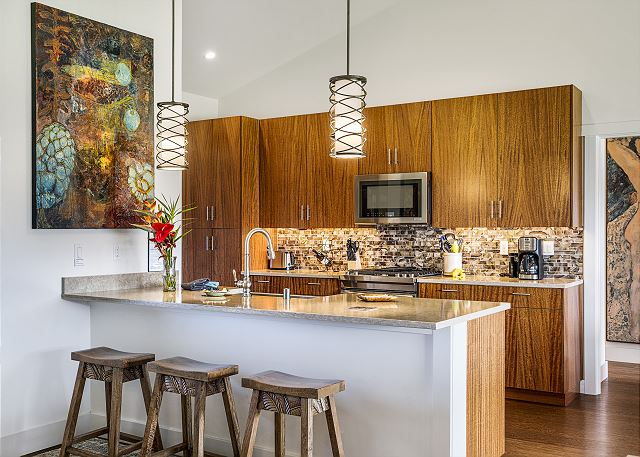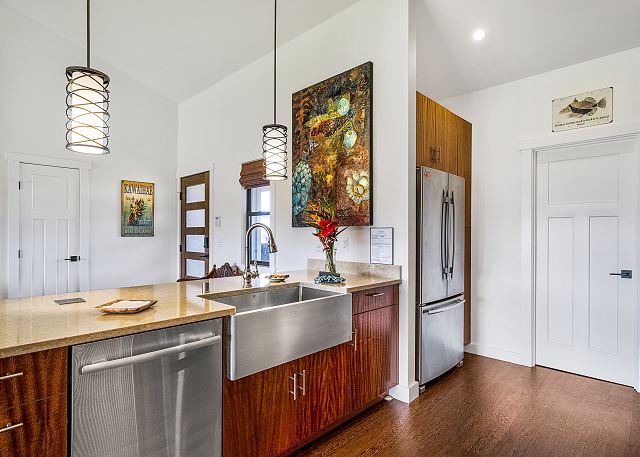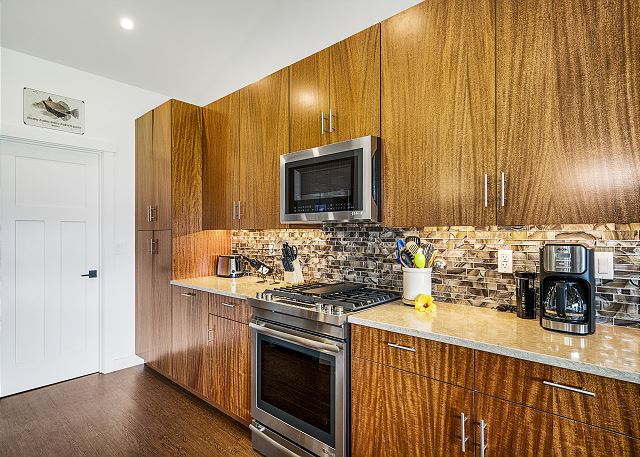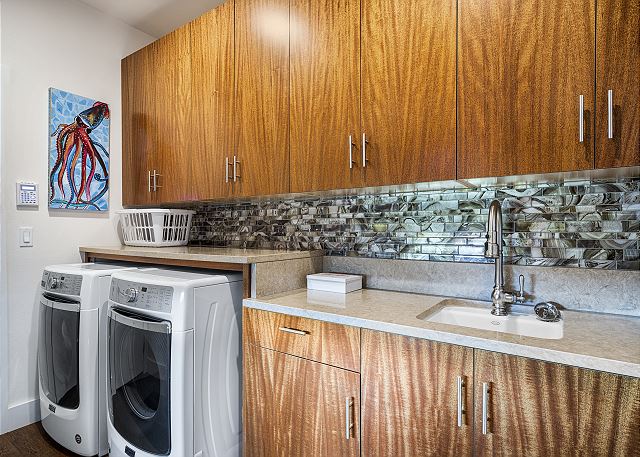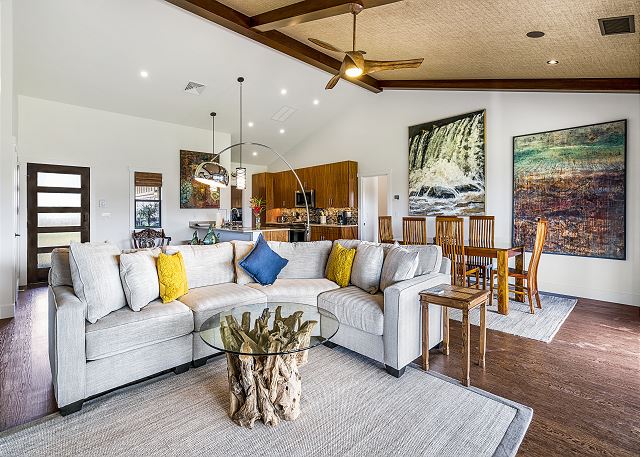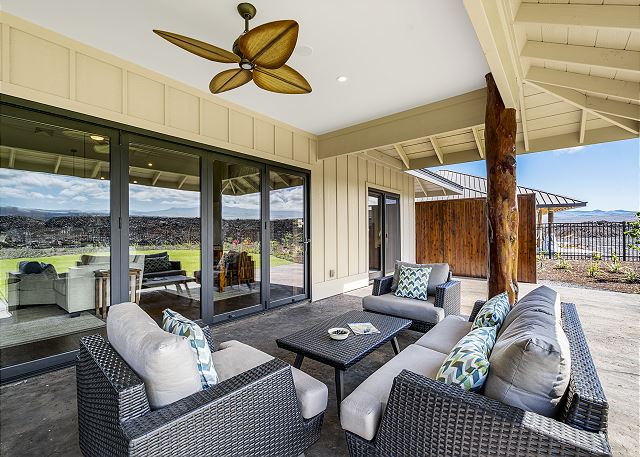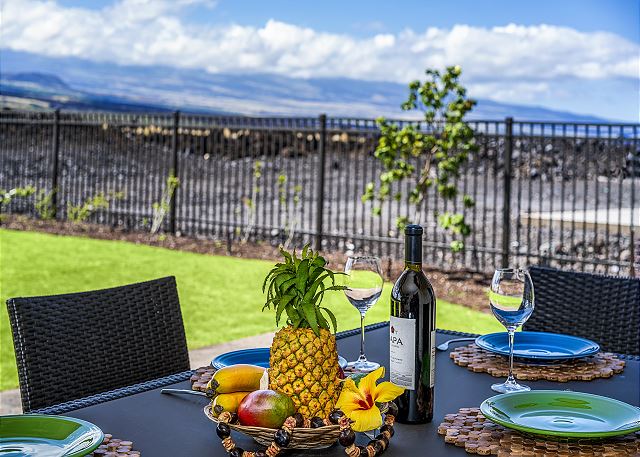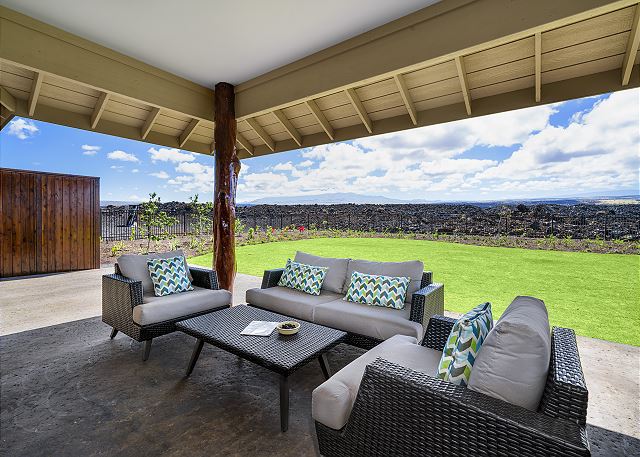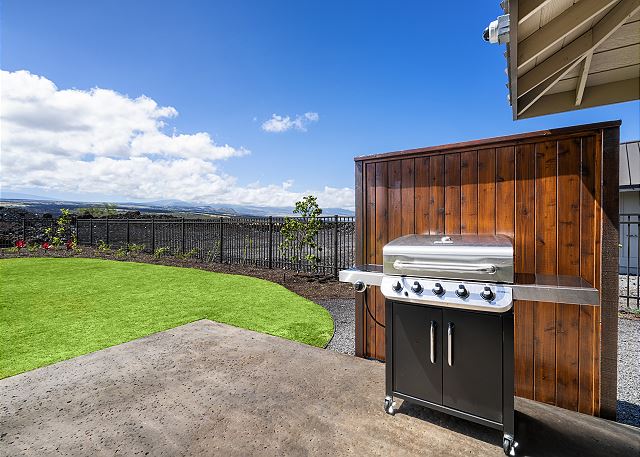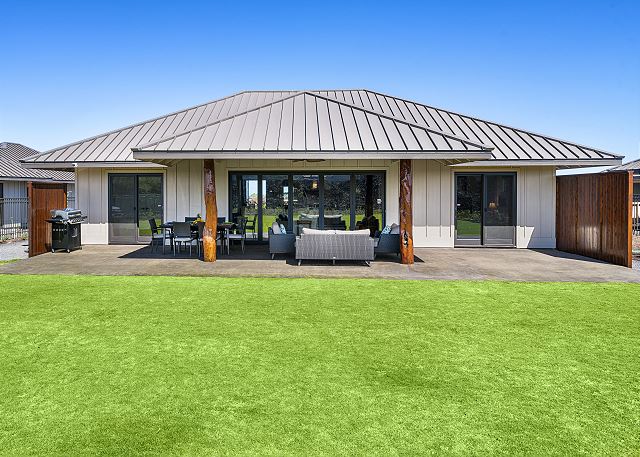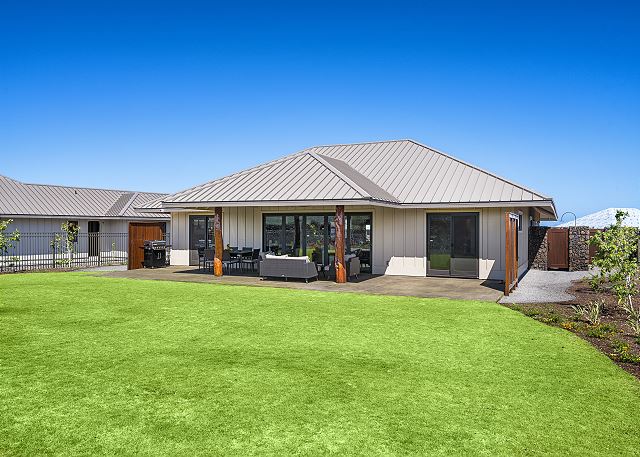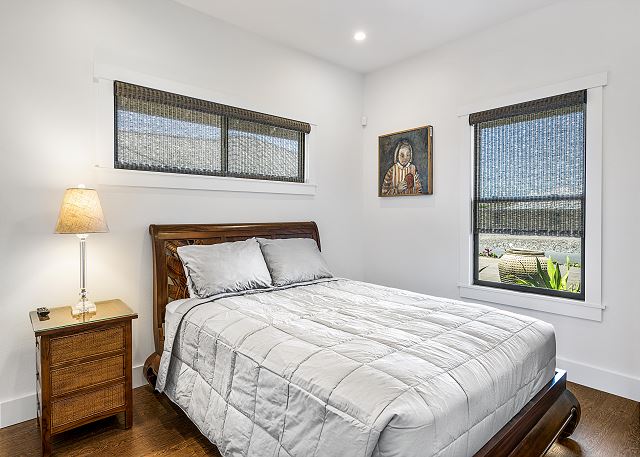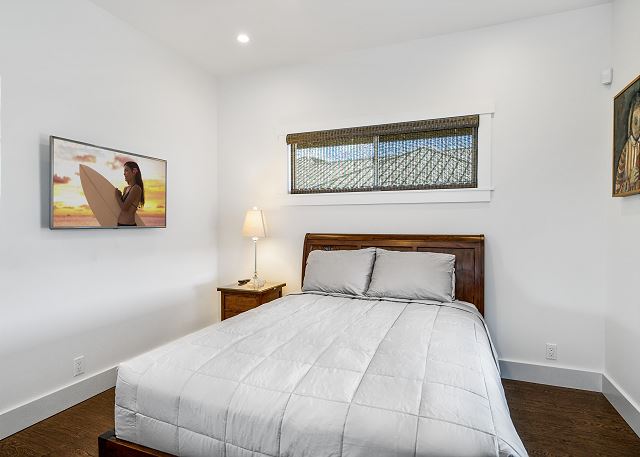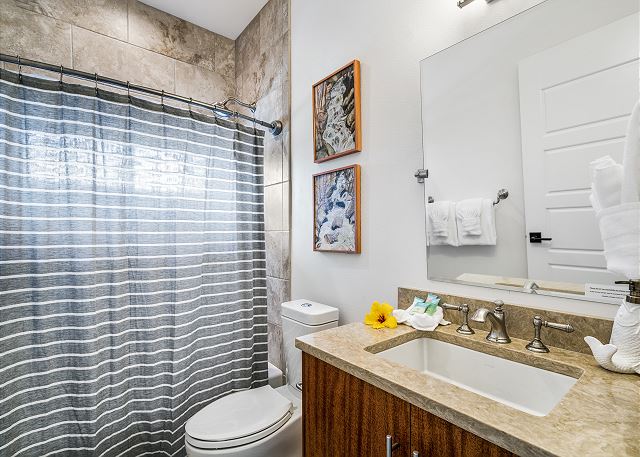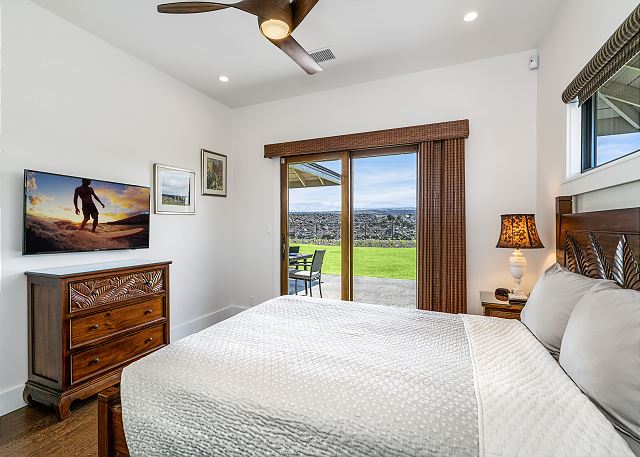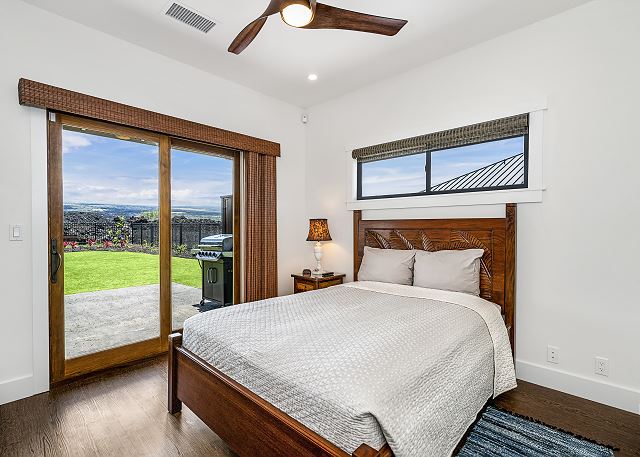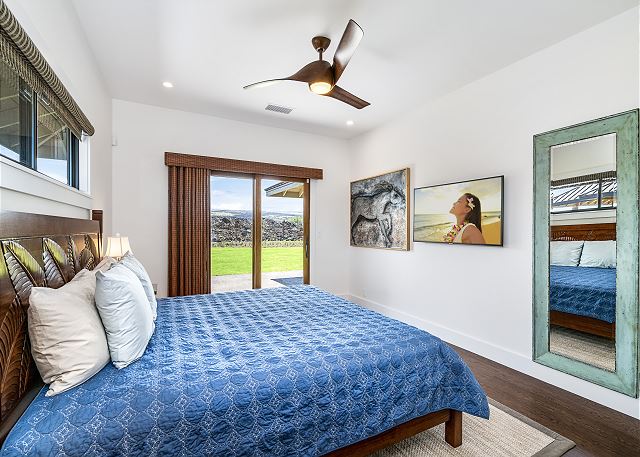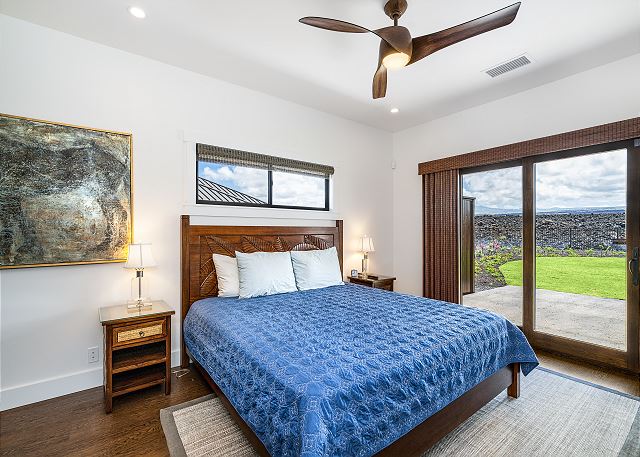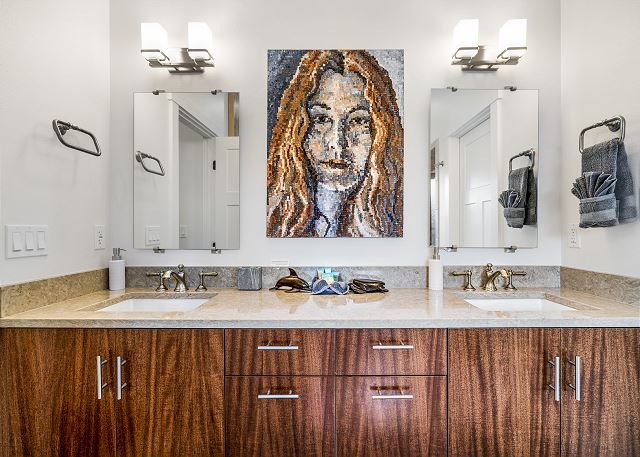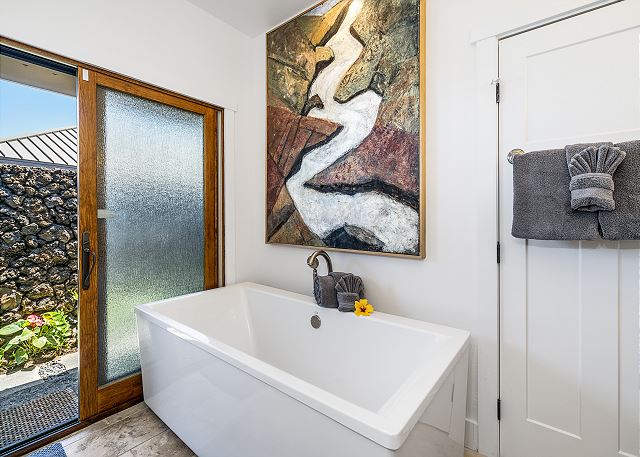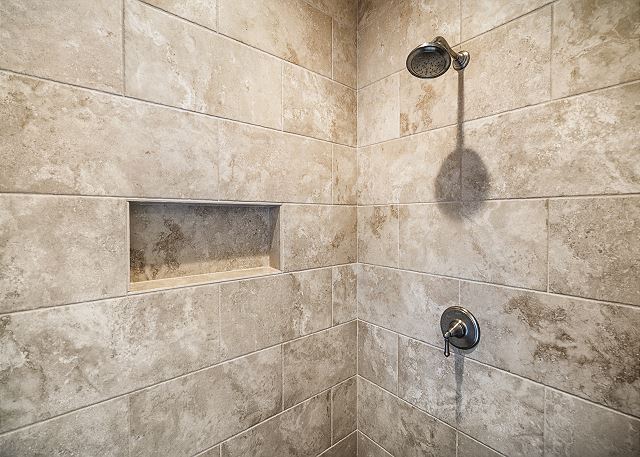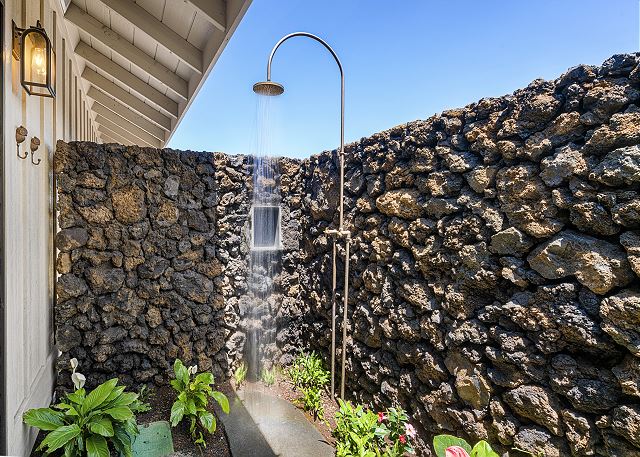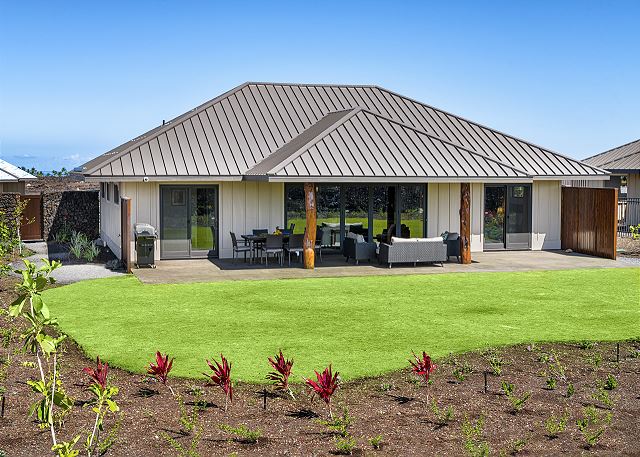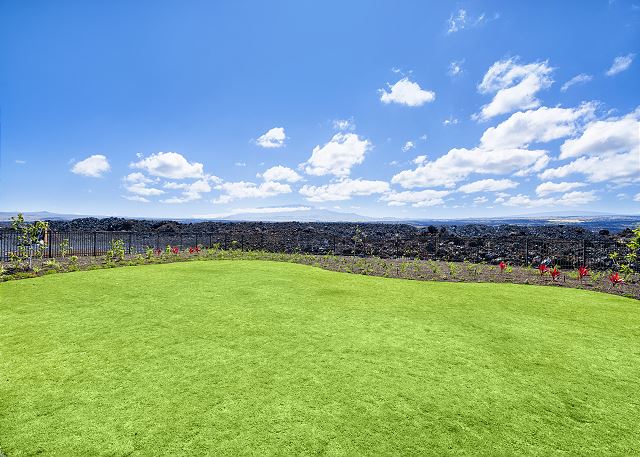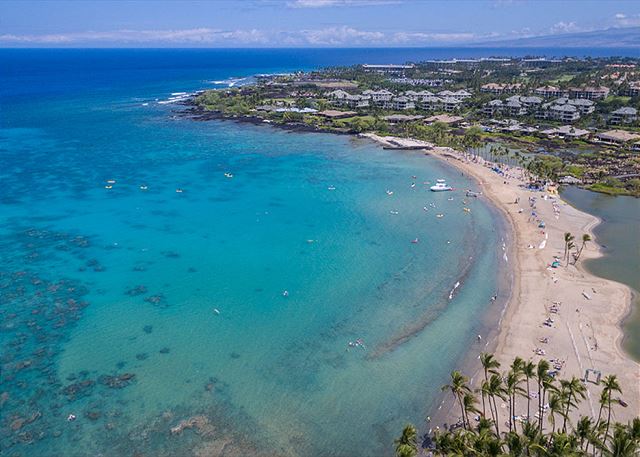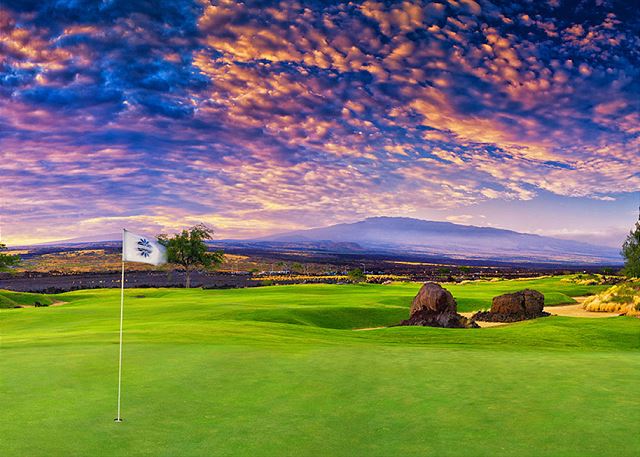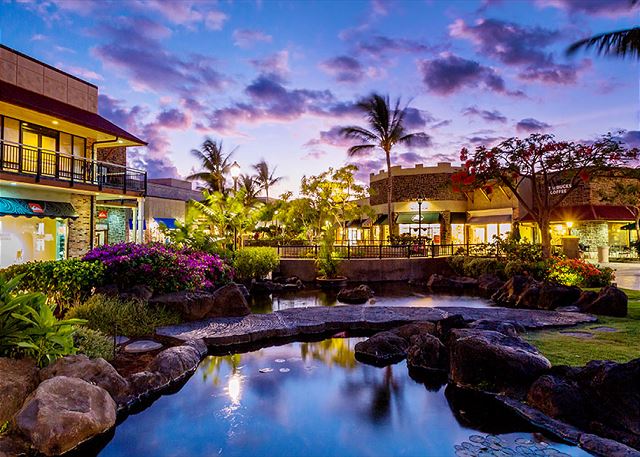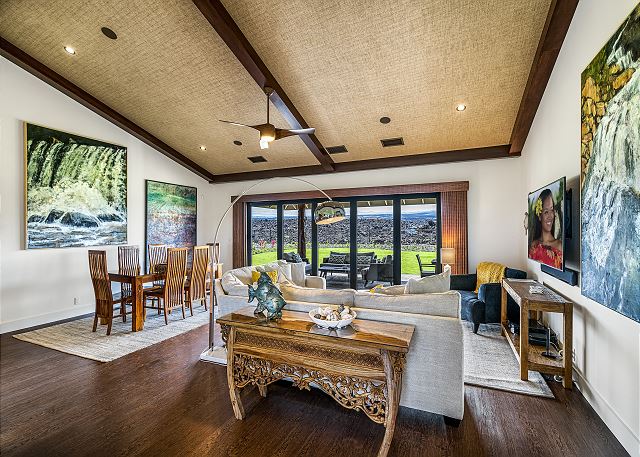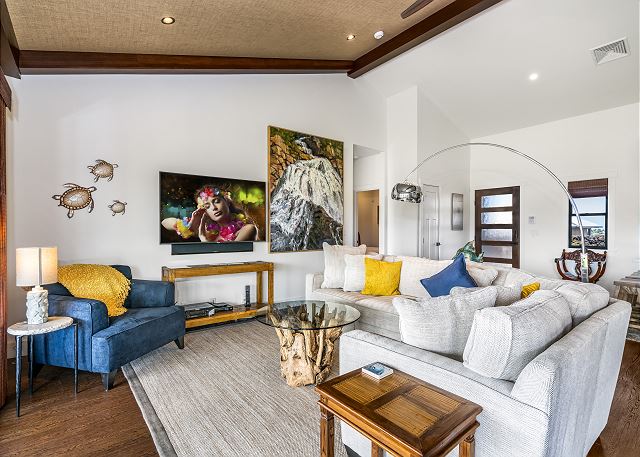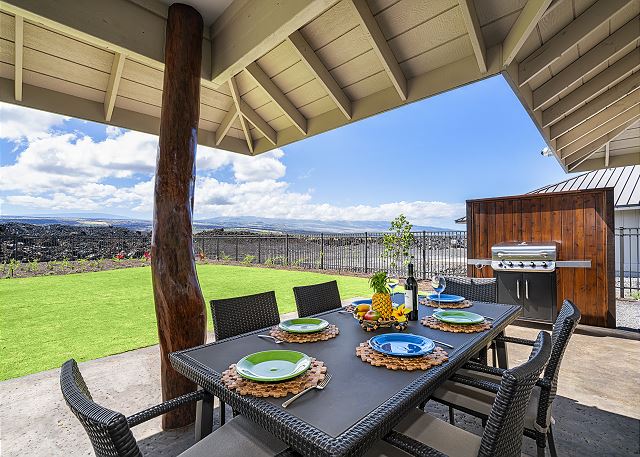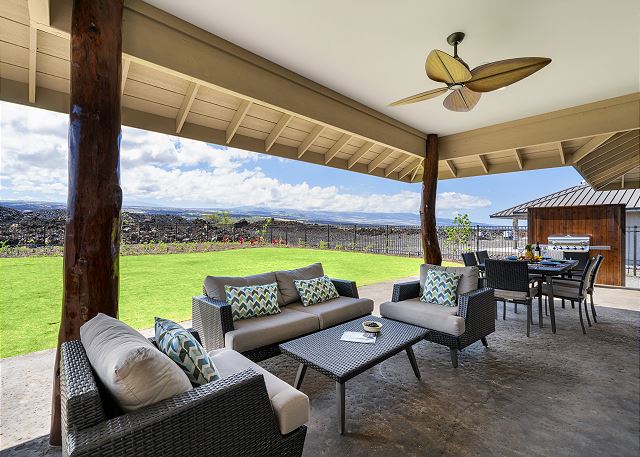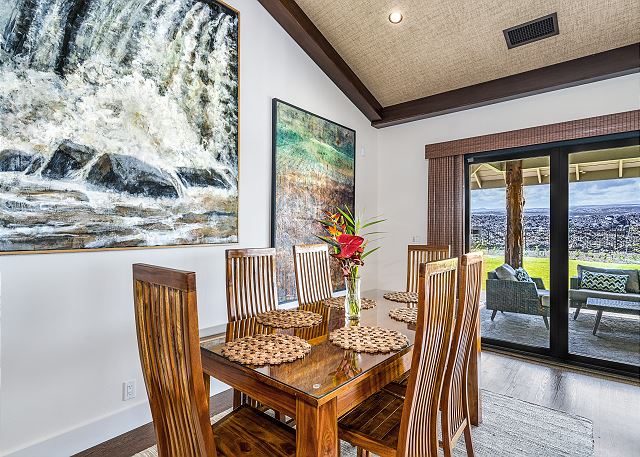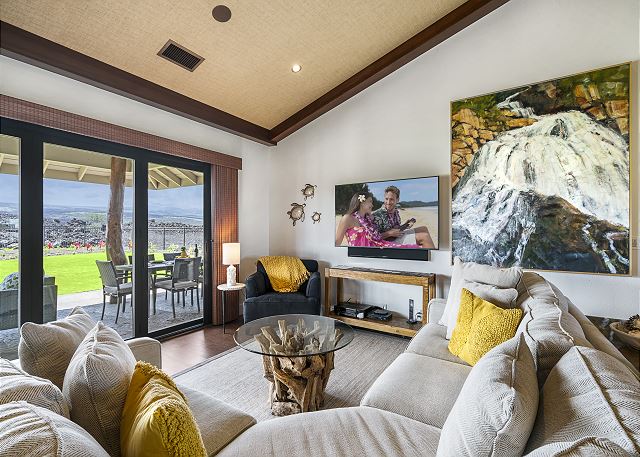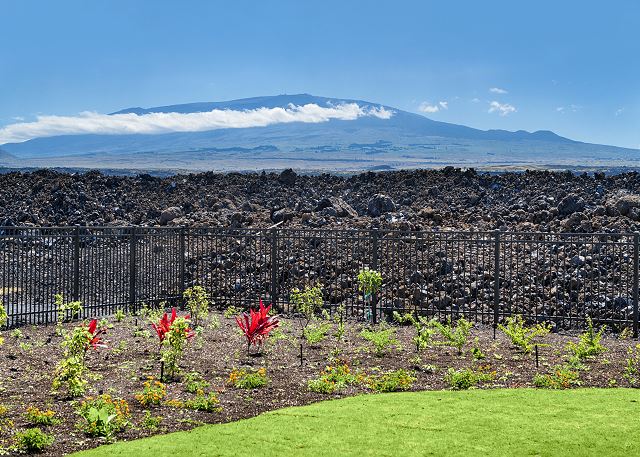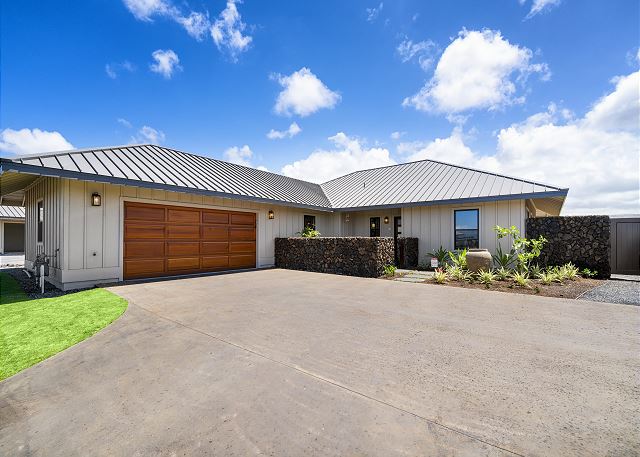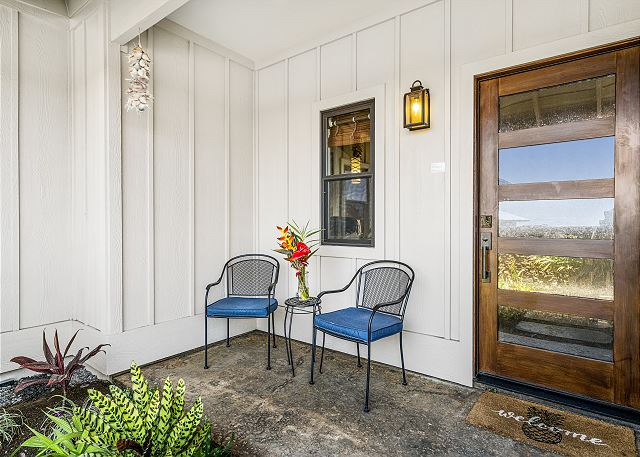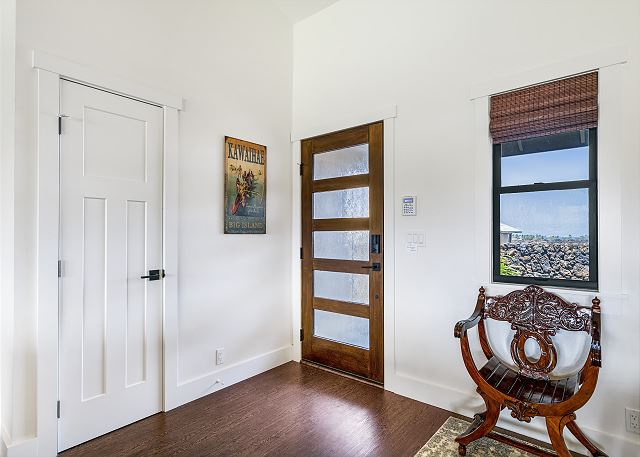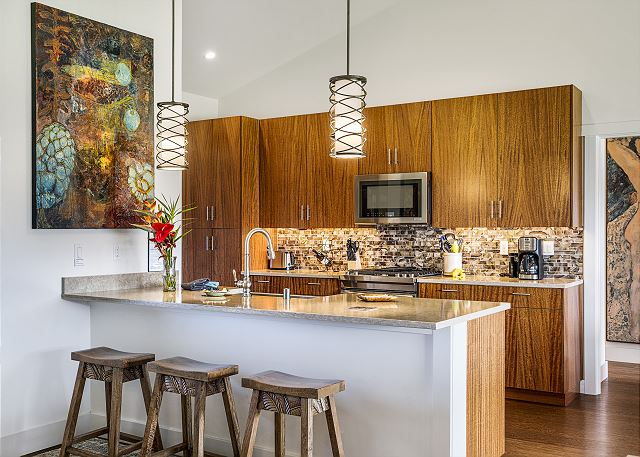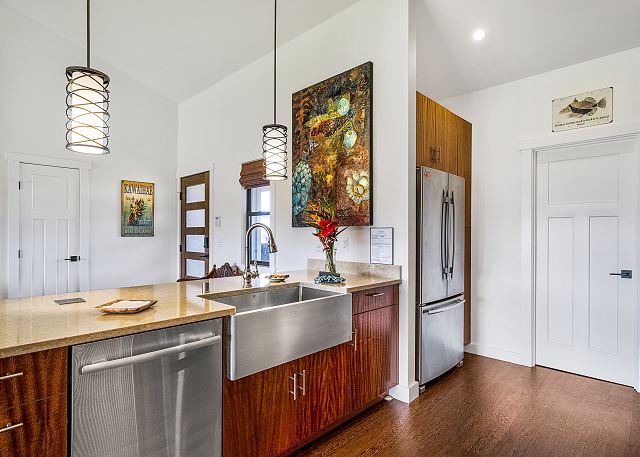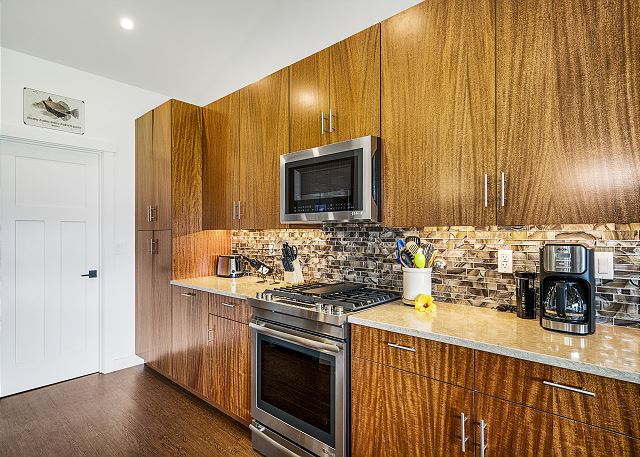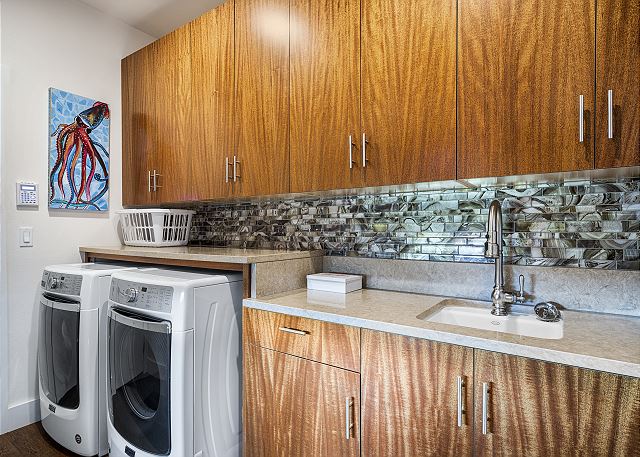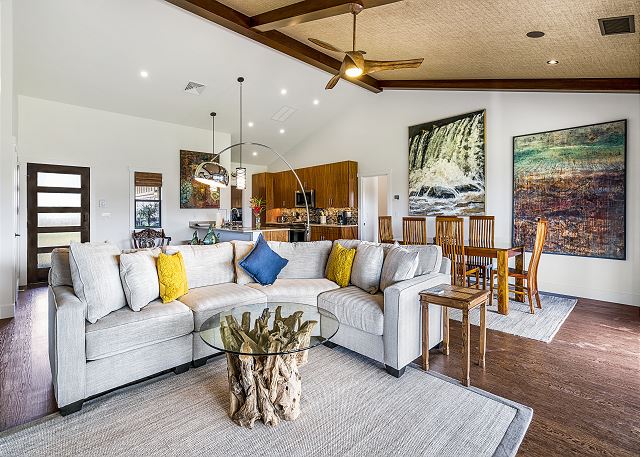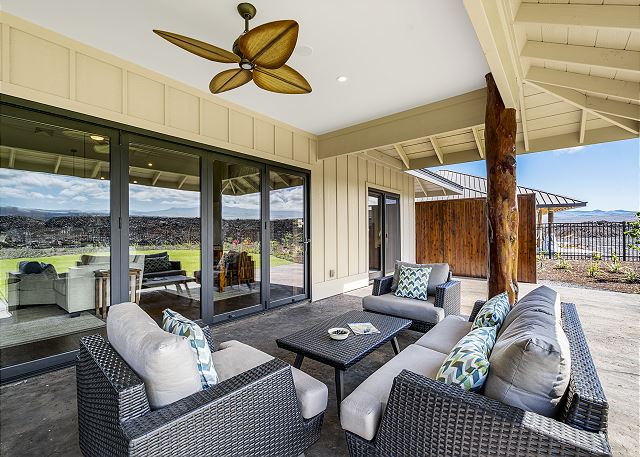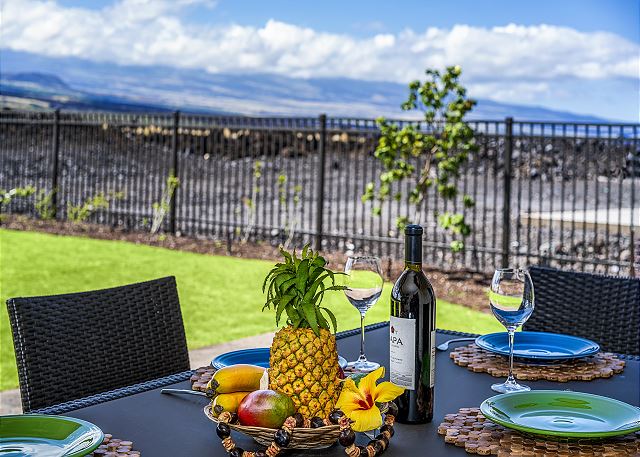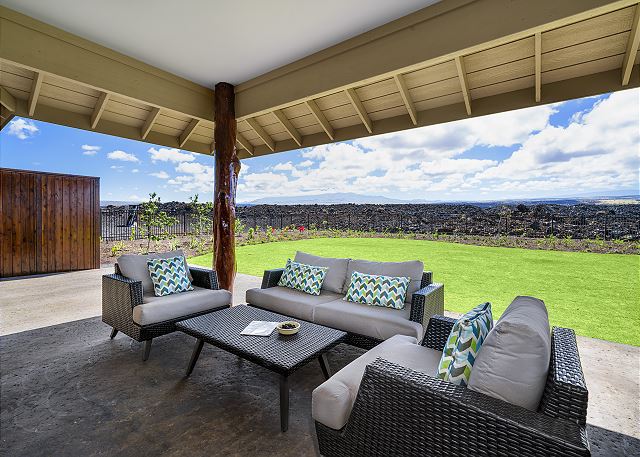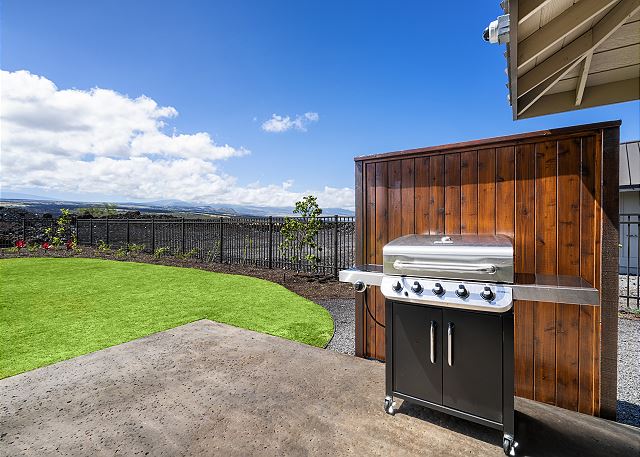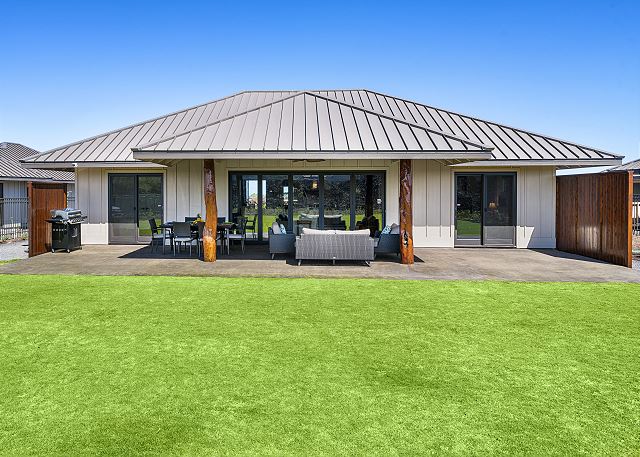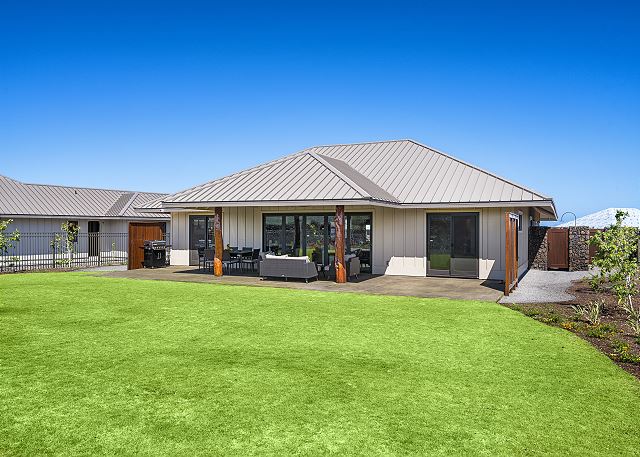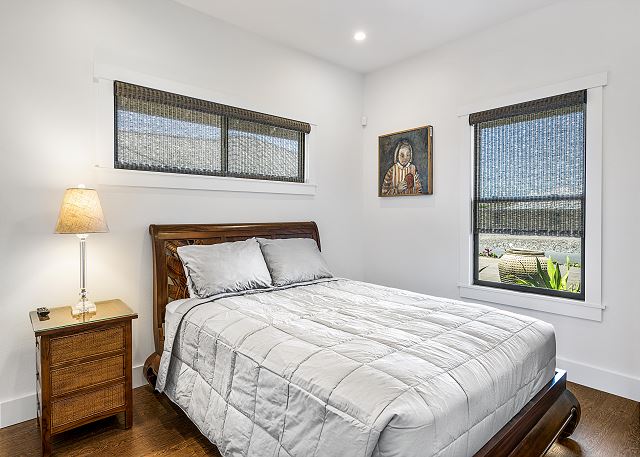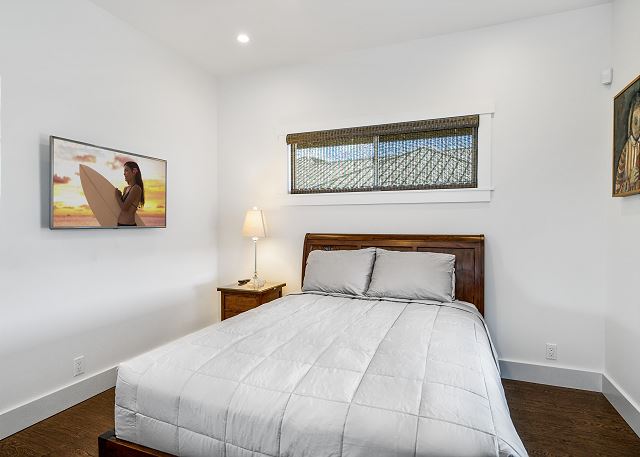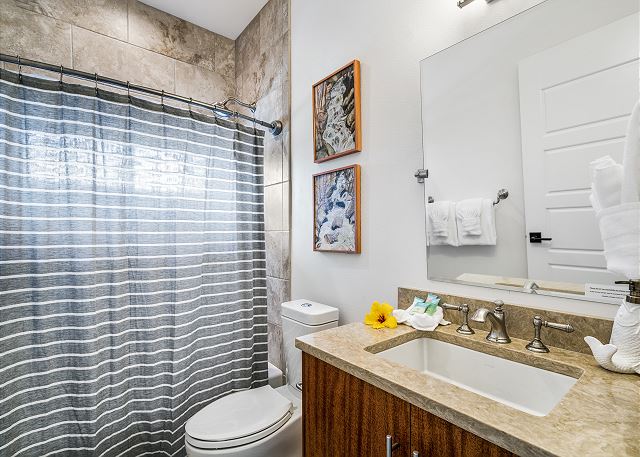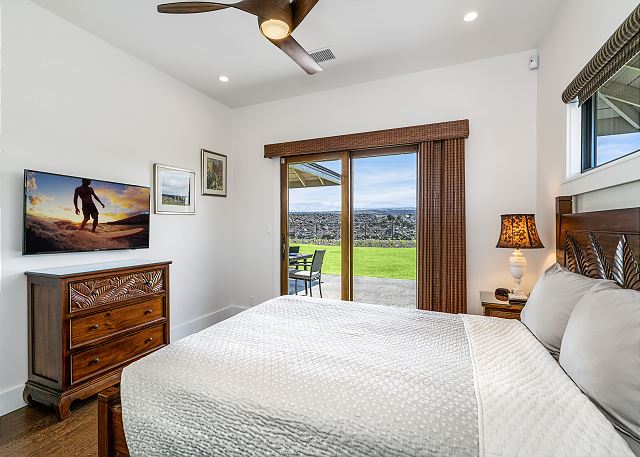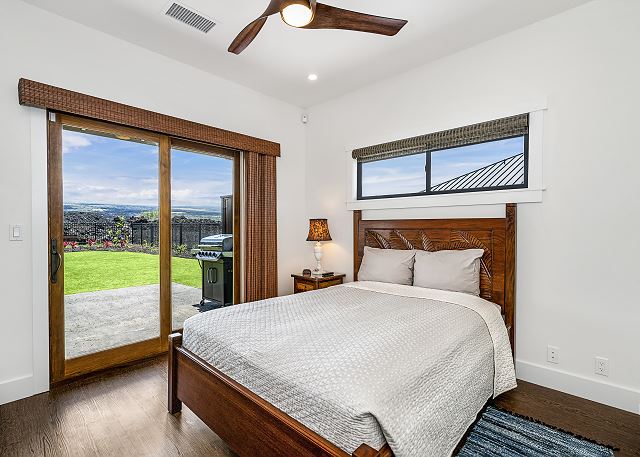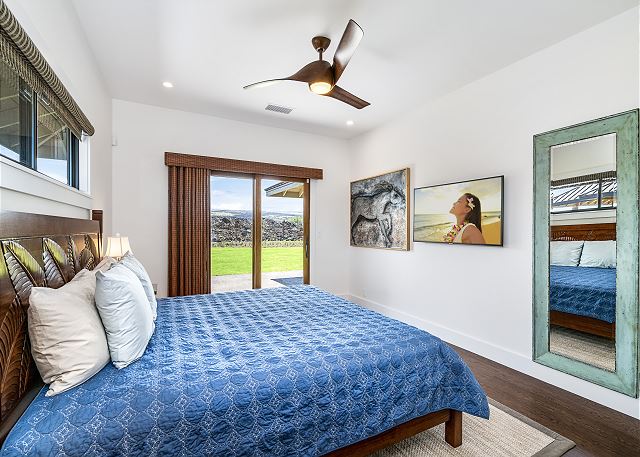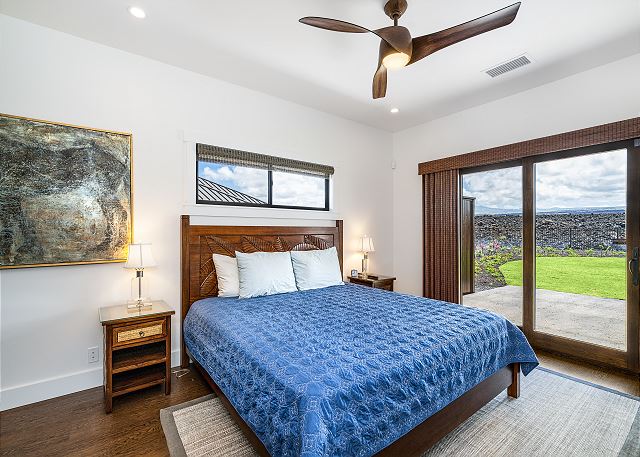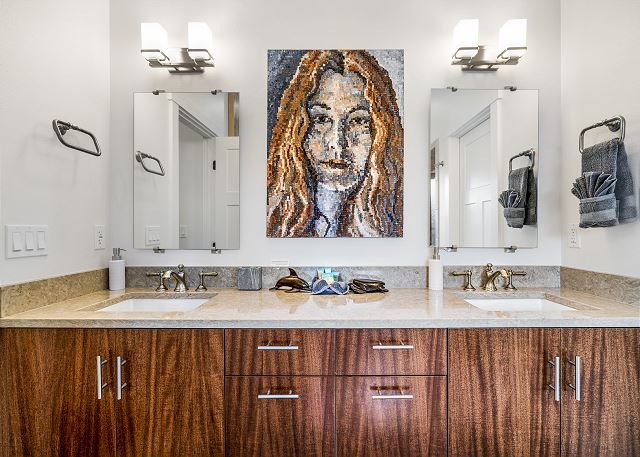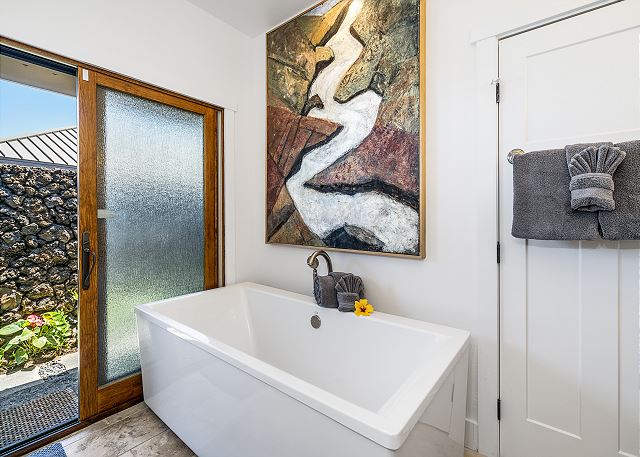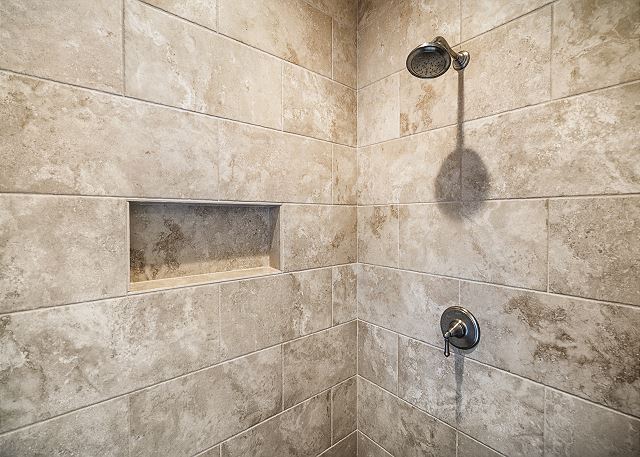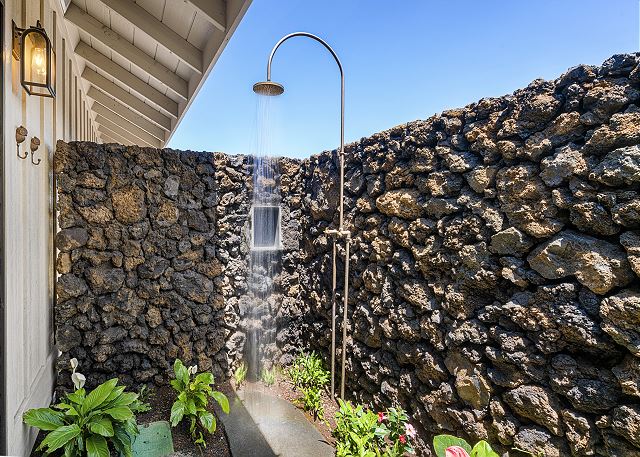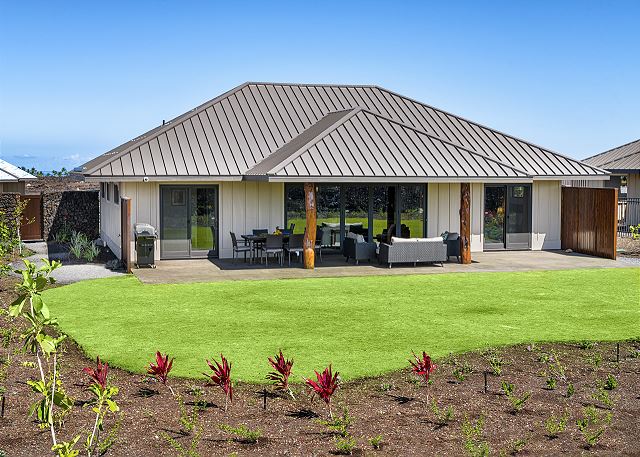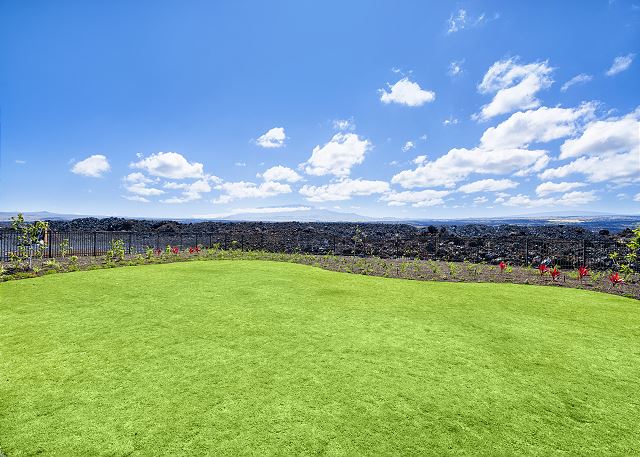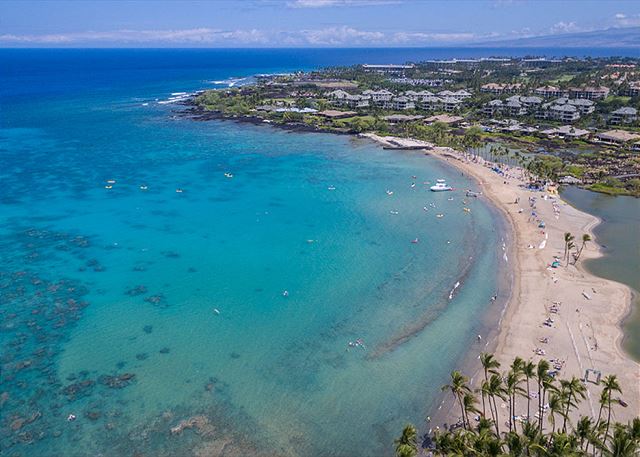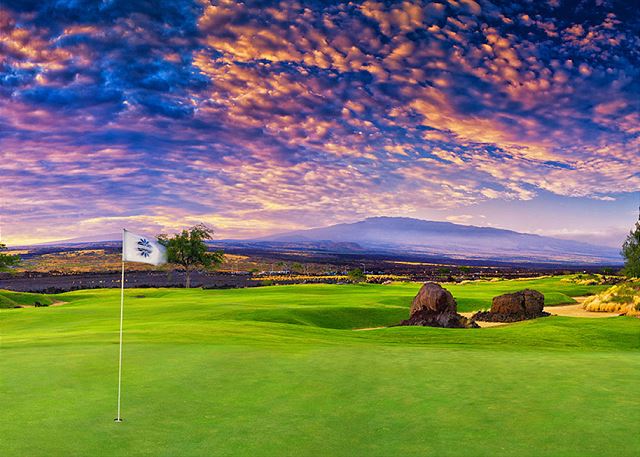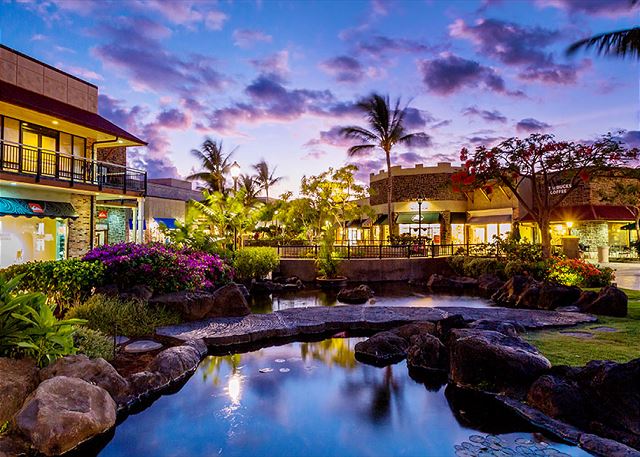 Description
Come and enjoy a luxurious laid-back island living in our new home located in the beautiful new neighborhood in Waikoloa Beach Resort – Ainamalu. This gated community Ainamalu "Protected, Peaceful Land" is the newest resort community in the beautiful Waikoloa Beach Resort, and its desirable Kohala Coast location provides you convenient access to all of the best amenities the Big Island has to offer. Our home has amazing views of Mauna Kea.



Our home has a large lanai for outdoor dining with a gas grill, vaulted ceilings, custom cabinets, quartz kitchen and bath counters. Kohler pluming fixtures, Jenn-Air stainless steel appliances and a gas cook-top. A large master suite with an outdoor tropical shower and large deep tub. 2 guest bedrooms with a full guest bath to share. Large open kitchen, dining and living room for quality family time.



Nearby shops, cafes, bars, galleries and restaurants located at the Queens Market Place and The Kings Shops. Also enjoy fun in the sun at the nearby beach Anaehoomalu Bay. Also, right next to Ainamalu is the King's Course for the best golfing.

To come in the near future is the private on-site club Ainamalu Oasis.



SPECIAL – Spend the day at the Hilton Waikoloa Village, you can buy a discounted DAY PASS to the pool/waterslide or relax at the spa with a SPA PASS. More info will be provided upon booking with us.



This villa is cleaned by a professional cleaning company using EPA approved products for use against COVID-19. And cleaning process is following guidelines received from World Health Organization and the Centers for Disease Control.



Hawaii County ordinance to regulate Short-Term Vacation Rentals application for this property was accepted.



*****WE DO NOT ACCEPT WIRE TRANSFERS*****



HAWAII SHORT TERM VACATION RENTAL #19-376301

HAWAII GE/TAT TAX ID# 189-985-7920-01



TMK 6-9-013-027-0000
Calendar
October 2021

| S | M | T | W | T | F | S |
| --- | --- | --- | --- | --- | --- | --- |
| | | | | | 01 | 02 |
| 03 | 04 | 05 | 06 | 07 | 08 | 09 |
| 10 | 11 | 12 | 13 | 14 | 15 | 16 |
| 17 | 18 | 19 | 20 | 21 | 22 | 23 |
| 24 | 25 | 26 | 27 | 28 | 29 | 30 |
| 31 | | | | | | |
November 2021

| S | M | T | W | T | F | S |
| --- | --- | --- | --- | --- | --- | --- |
| | 01 | 02 | 03 | 04 | 05 | 06 |
| 07 | 08 | 09 | 10 | 11 | 12 | 13 |
| 14 | 15 | 16 | 17 | 18 | 19 | 20 |
| 21 | 22 | 23 | 24 | 25 | 26 | 27 |
| 28 | 29 | 30 | | | | |
December 2021

| S | M | T | W | T | F | S |
| --- | --- | --- | --- | --- | --- | --- |
| | | | 01 | 02 | 03 | 04 |
| 05 | 06 | 07 | 08 | 09 | 10 | 11 |
| 12 | 13 | 14 | 15 | 16 | 17 | 18 |
| 19 | 20 | 21 | 22 | 23 | 24 | 25 |
| 26 | 27 | 28 | 29 | 30 | 31 | |
January 2022

| S | M | T | W | T | F | S |
| --- | --- | --- | --- | --- | --- | --- |
| | | | | | | 01 |
| 02 | 03 | 04 | 05 | 06 | 07 | 08 |
| 09 | 10 | 11 | 12 | 13 | 14 | 15 |
| 16 | 17 | 18 | 19 | 20 | 21 | 22 |
| 23 | 24 | 25 | 26 | 27 | 28 | 29 |
| 30 | 31 | | | | | |
February 2022

| S | M | T | W | T | F | S |
| --- | --- | --- | --- | --- | --- | --- |
| | | 01 | 02 | 03 | 04 | 05 |
| 06 | 07 | 08 | 09 | 10 | 11 | 12 |
| 13 | 14 | 15 | 16 | 17 | 18 | 19 |
| 20 | 21 | 22 | 23 | 24 | 25 | 26 |
| 27 | 28 | | | | | |
March 2022

| S | M | T | W | T | F | S |
| --- | --- | --- | --- | --- | --- | --- |
| | | 01 | 02 | 03 | 04 | 05 |
| 06 | 07 | 08 | 09 | 10 | 11 | 12 |
| 13 | 14 | 15 | 16 | 17 | 18 | 19 |
| 20 | 21 | 22 | 23 | 24 | 25 | 26 |
| 27 | 28 | 29 | 30 | 31 | | |
April 2022

| S | M | T | W | T | F | S |
| --- | --- | --- | --- | --- | --- | --- |
| | | | | | 01 | 02 |
| 03 | 04 | 05 | 06 | 07 | 08 | 09 |
| 10 | 11 | 12 | 13 | 14 | 15 | 16 |
| 17 | 18 | 19 | 20 | 21 | 22 | 23 |
| 24 | 25 | 26 | 27 | 28 | 29 | 30 |
May 2022

| S | M | T | W | T | F | S |
| --- | --- | --- | --- | --- | --- | --- |
| 01 | 02 | 03 | 04 | 05 | 06 | 07 |
| 08 | 09 | 10 | 11 | 12 | 13 | 14 |
| 15 | 16 | 17 | 18 | 19 | 20 | 21 |
| 22 | 23 | 24 | 25 | 26 | 27 | 28 |
| 29 | 30 | 31 | | | | |
June 2022

| S | M | T | W | T | F | S |
| --- | --- | --- | --- | --- | --- | --- |
| | | | 01 | 02 | 03 | 04 |
| 05 | 06 | 07 | 08 | 09 | 10 | 11 |
| 12 | 13 | 14 | 15 | 16 | 17 | 18 |
| 19 | 20 | 21 | 22 | 23 | 24 | 25 |
| 26 | 27 | 28 | 29 | 30 | | |
July 2022

| S | M | T | W | T | F | S |
| --- | --- | --- | --- | --- | --- | --- |
| | | | | | 01 | 02 |
| 03 | 04 | 05 | 06 | 07 | 08 | 09 |
| 10 | 11 | 12 | 13 | 14 | 15 | 16 |
| 17 | 18 | 19 | 20 | 21 | 22 | 23 |
| 24 | 25 | 26 | 27 | 28 | 29 | 30 |
| 31 | | | | | | |
August 2022

| S | M | T | W | T | F | S |
| --- | --- | --- | --- | --- | --- | --- |
| | 01 | 02 | 03 | 04 | 05 | 06 |
| 07 | 08 | 09 | 10 | 11 | 12 | 13 |
| 14 | 15 | 16 | 17 | 18 | 19 | 20 |
| 21 | 22 | 23 | 24 | 25 | 26 | 27 |
| 28 | 29 | 30 | 31 | | | |
September 2022

| S | M | T | W | T | F | S |
| --- | --- | --- | --- | --- | --- | --- |
| | | | | 01 | 02 | 03 |
| 04 | 05 | 06 | 07 | 08 | 09 | 10 |
| 11 | 12 | 13 | 14 | 15 | 16 | 17 |
| 18 | 19 | 20 | 21 | 22 | 23 | 24 |
| 25 | 26 | 27 | 28 | 29 | 30 | |
Available
Unavailable
Check-In Only
Check-Out Only
Seasonal Rates
| Date Range | Daily | Weekly | Monthly |
| --- | --- | --- | --- |
* Seasonal rates are only estimates and do not reflect taxes or additional fees.
Location
Guest Reviews of
AINAMALU 69-9242
Waikoloa, HI
---
Vacation Rental Reviews by
stars based on
Paradise abounds
Review by
Ainamalu 29 was an amazing property. The home and amenities were incredible. No detail was left out. The home was comfortable for every age in our family. Spending time in the yards made the stay even more perfect. Michelle, the property manager, was there to assist us at our every turn including checking in on us to see if we needed anything.I would recommend this home to anyone at any any age. It was that fabulous. We hope to be back very soon. Mahalo.
5 out of 5 stars
A great house on the Big Island
Review by
Anthony D.
We thoroughly enjoyed our stay at this property. It was extremely stylish, clean, and well located. We slept soundly, enjoyed making meals, and watching the sunsets from the patio. Thank you
5 out of 5 stars
Beautiful Home in Great Location
Review by
Mike E.
This new home in the unique and desirable Ainamalu community is central and secluded at the same time. Lots of space and very well appointed. Made us feel at home for our extended stay. Beautiful backyard view of 4 of the 5 Big Island from the Lanai made every morning and evening memorable!
5 out of 5 stars
Great family getaway
Review by
The house is new, bright, clean and well appointed. The location is terrific with convenient access to beautiful beaches, restaurants, family activities, and not too far from the airport. We'd definitely stay again on our next trip to the Big Island.
5 out of 5 stars
Manager Response:
Thank you Tina, We are so happy you loved this brand new tastefully decorated large and lovely home on the Kohala Coast . Please come back soon to enjoy the wonders of the Big Island in our Ainamalu Oasis . Aloha, Kohala Coast Properties Inc
Contact Us