BEAR COVE LAKEFRONT (Cabin / Bungalow)
3 Bedroom(s) | 2 Bathroom(s) | Sleeps 10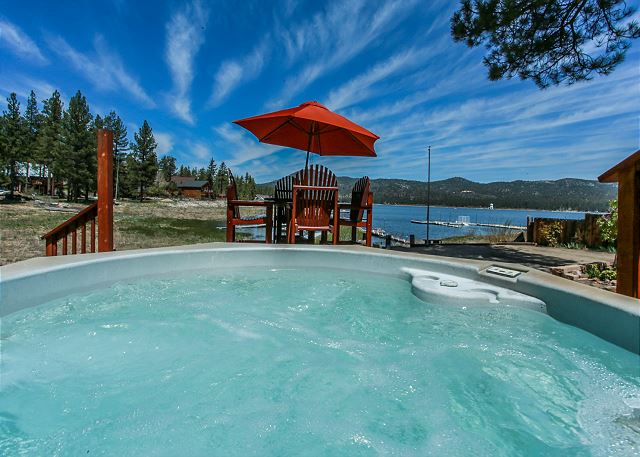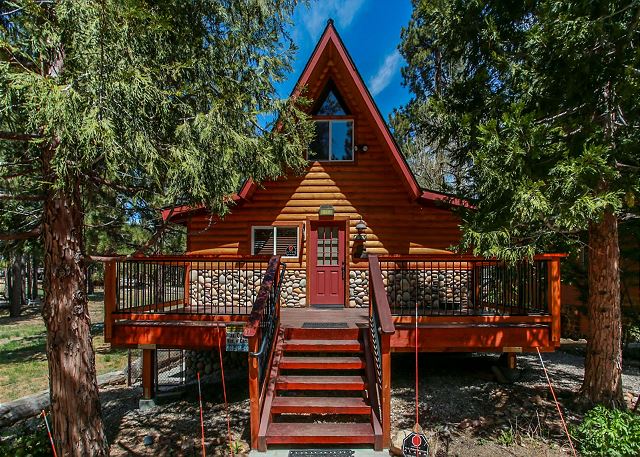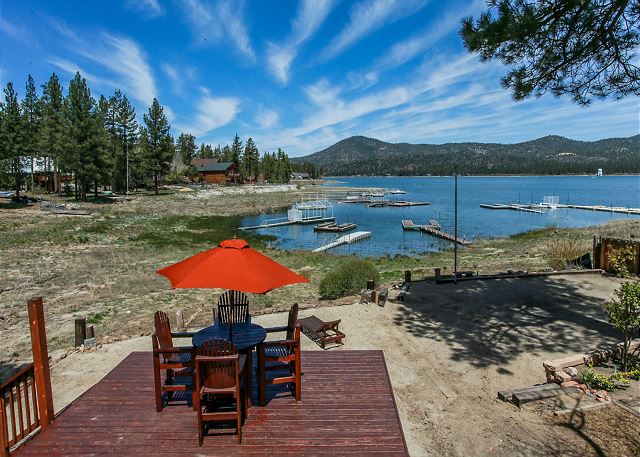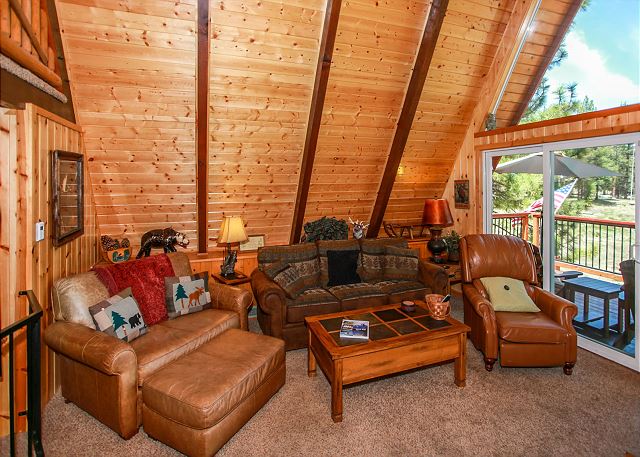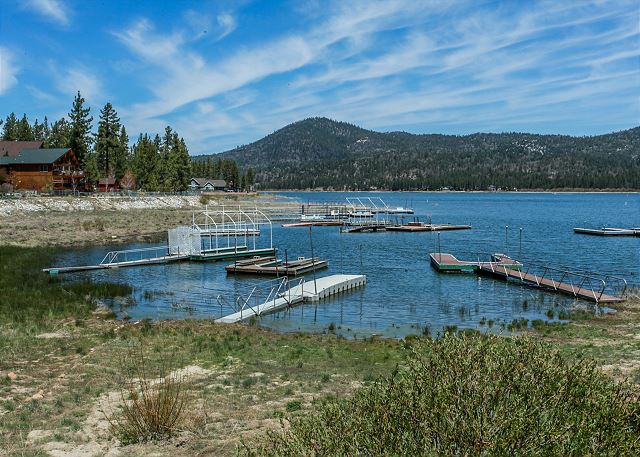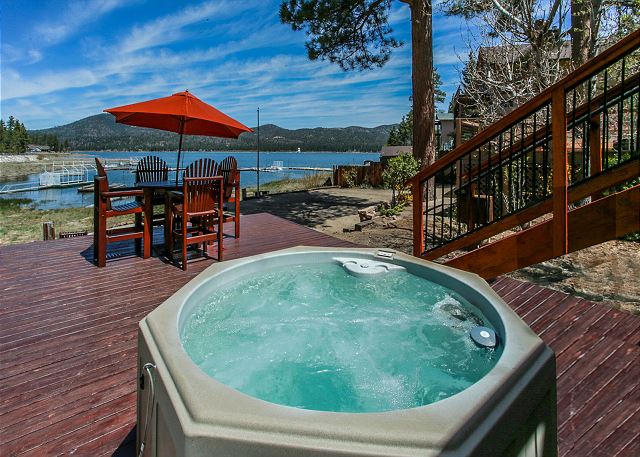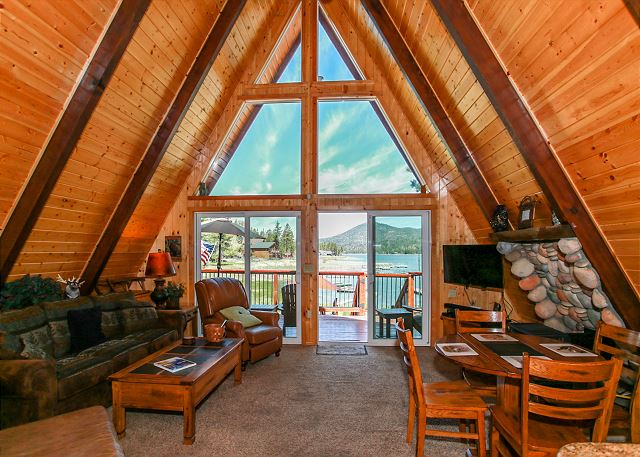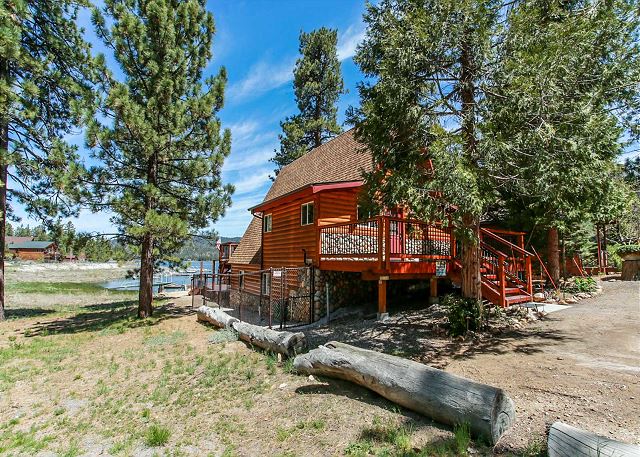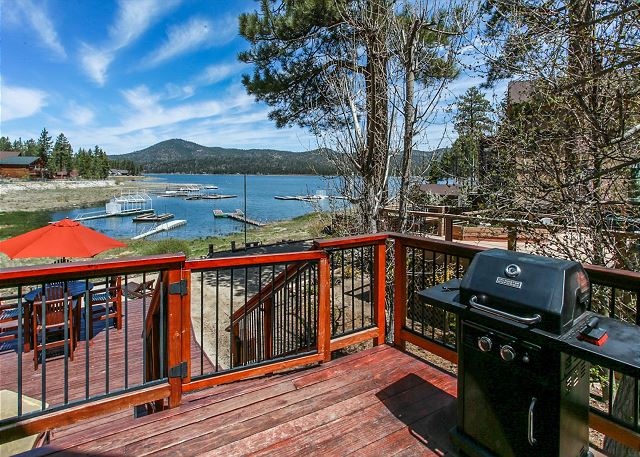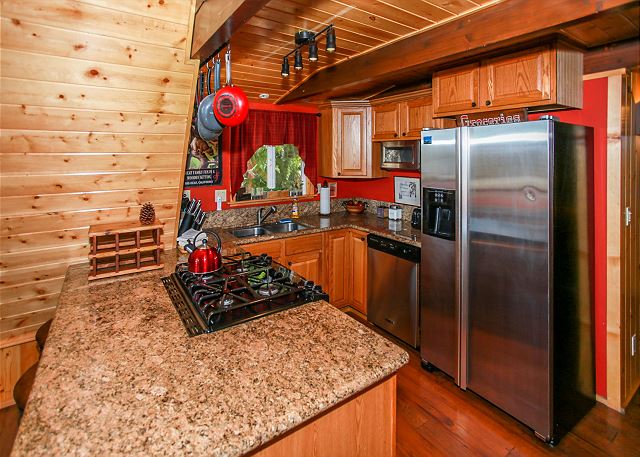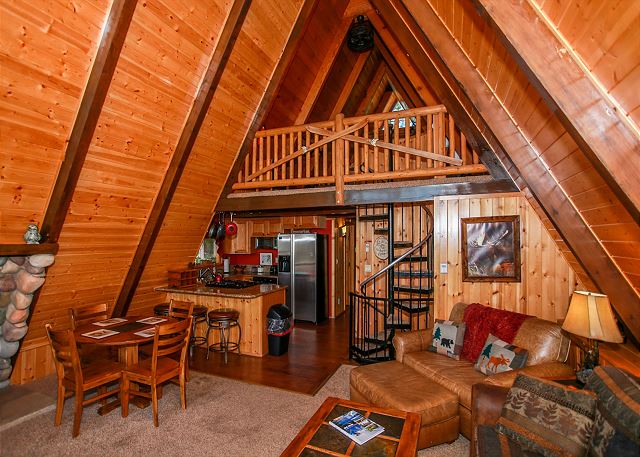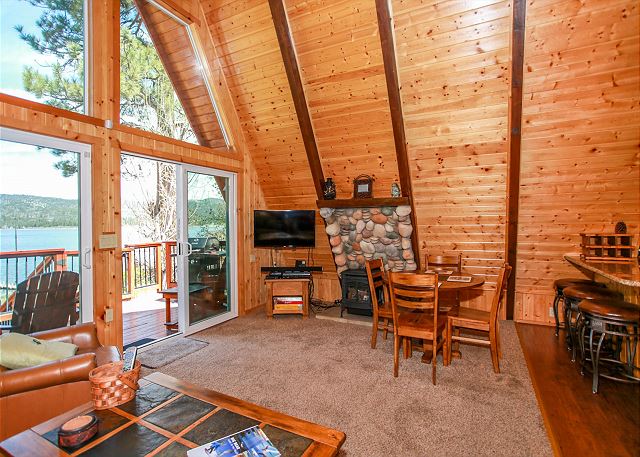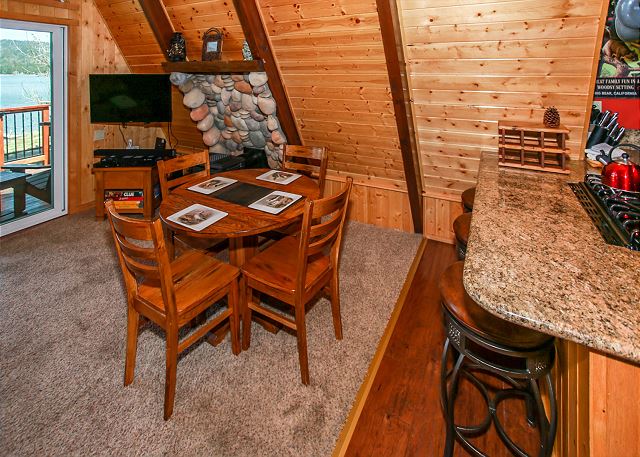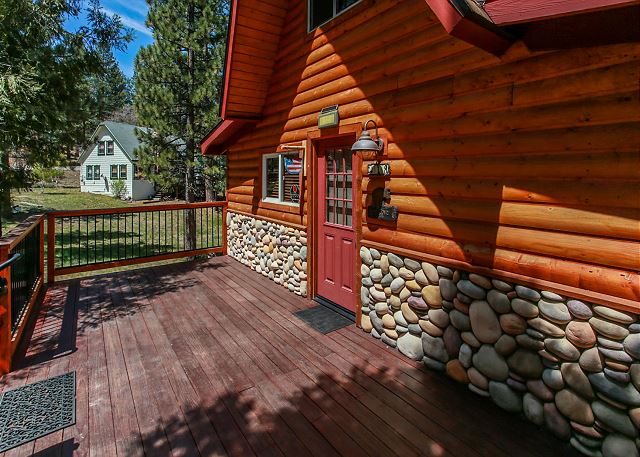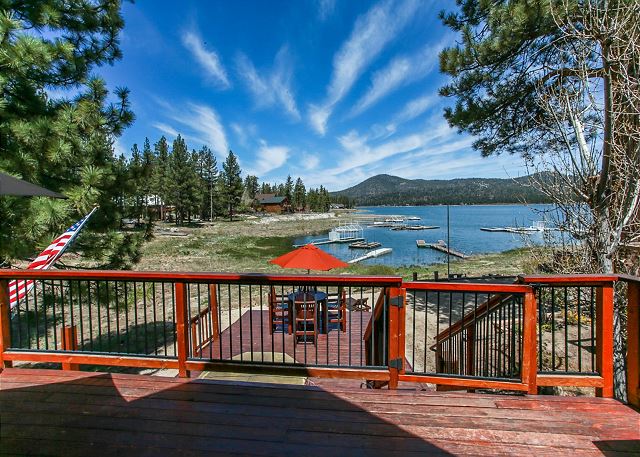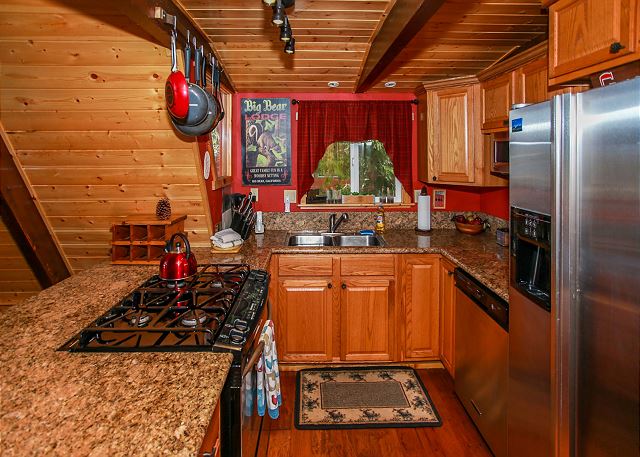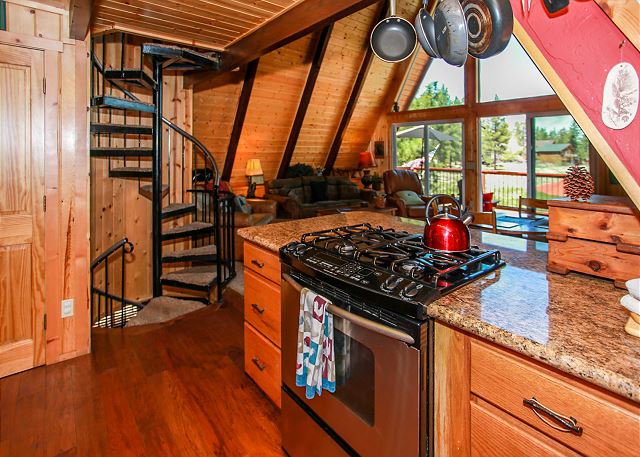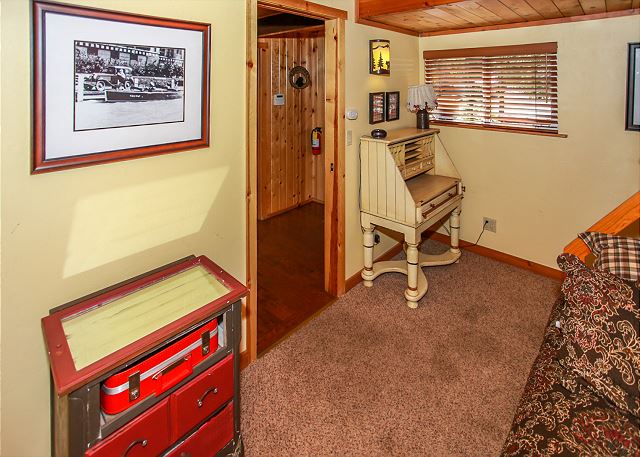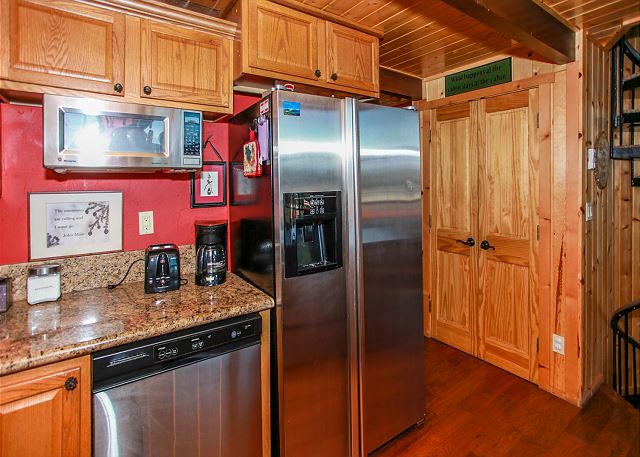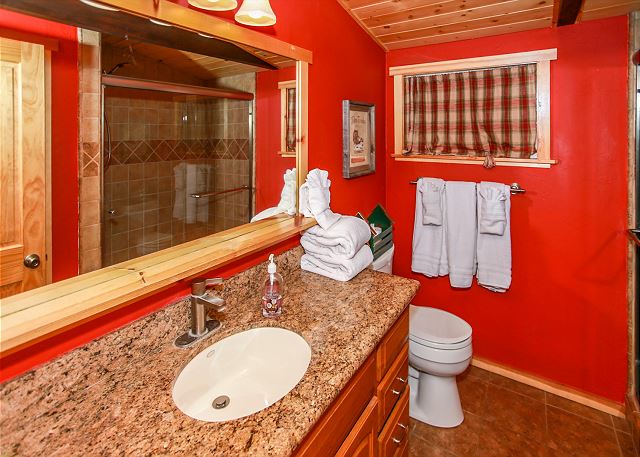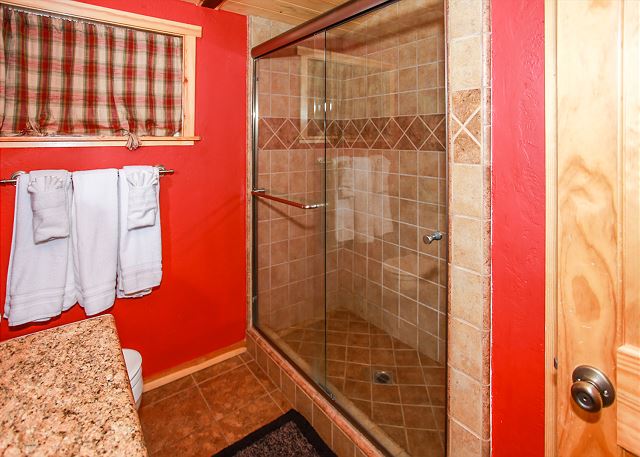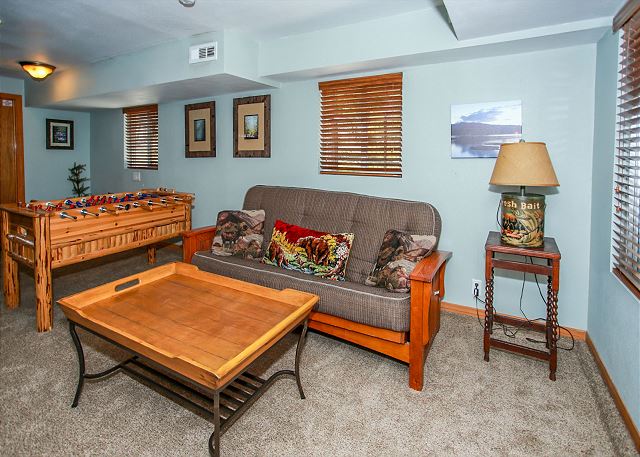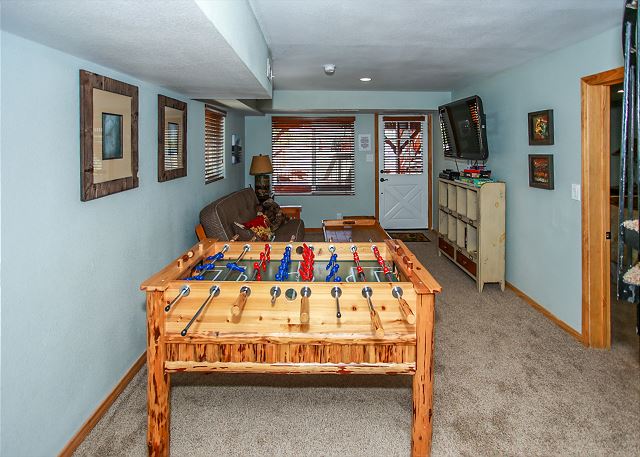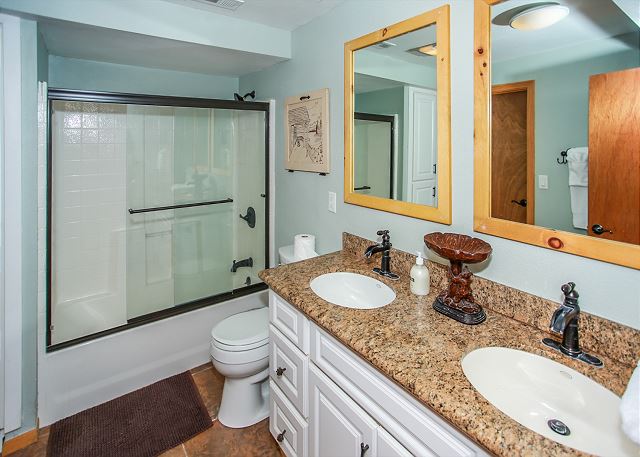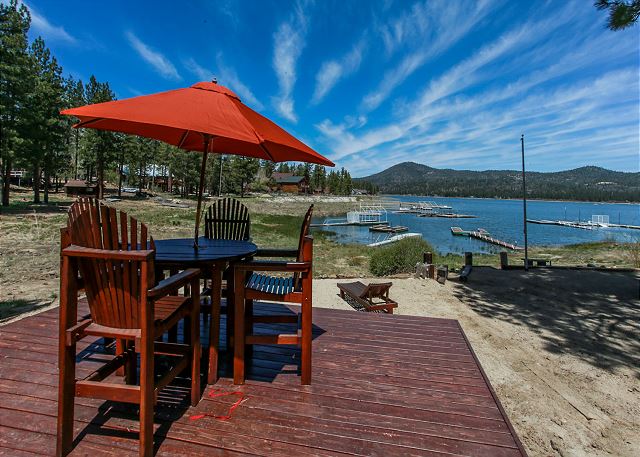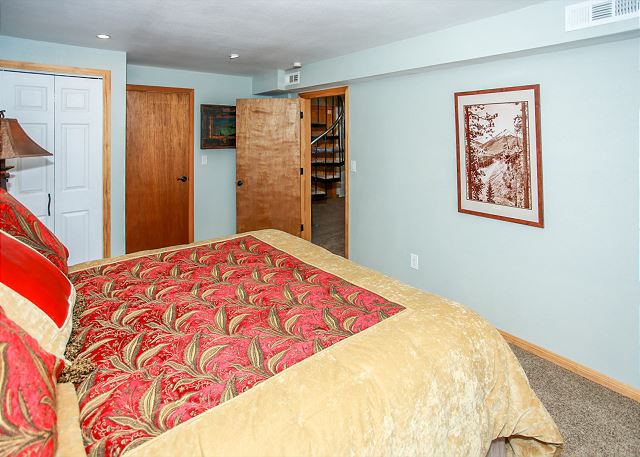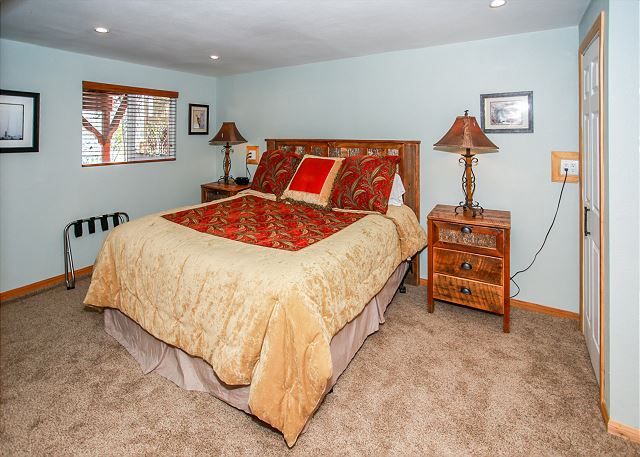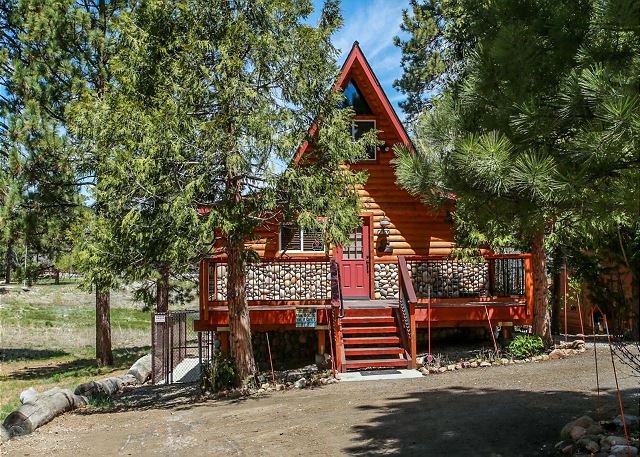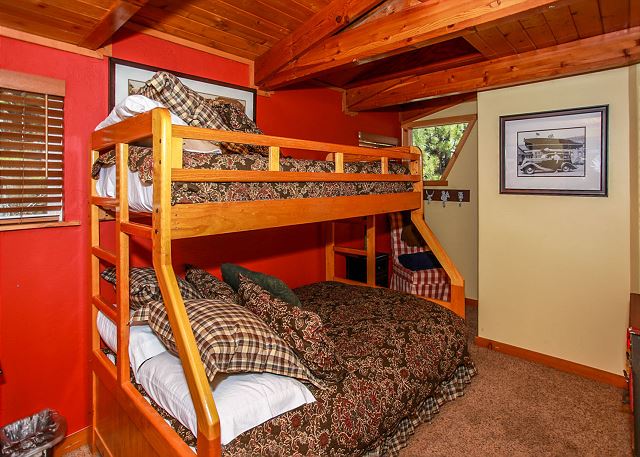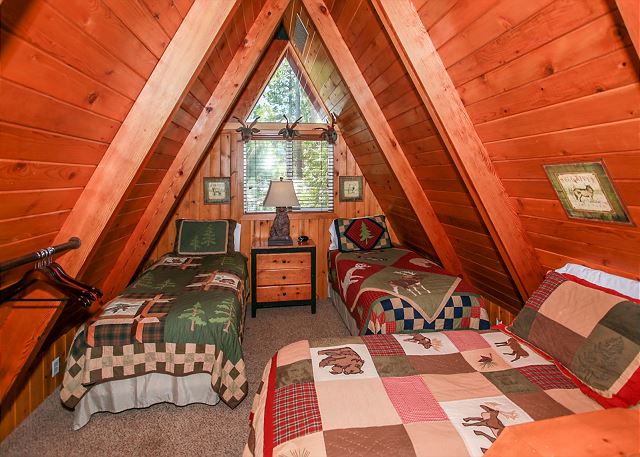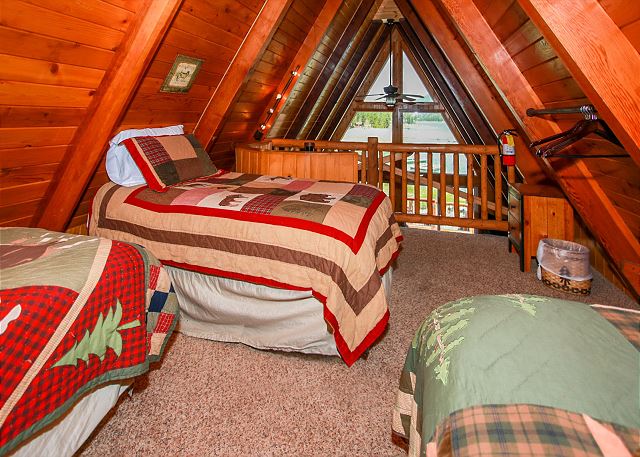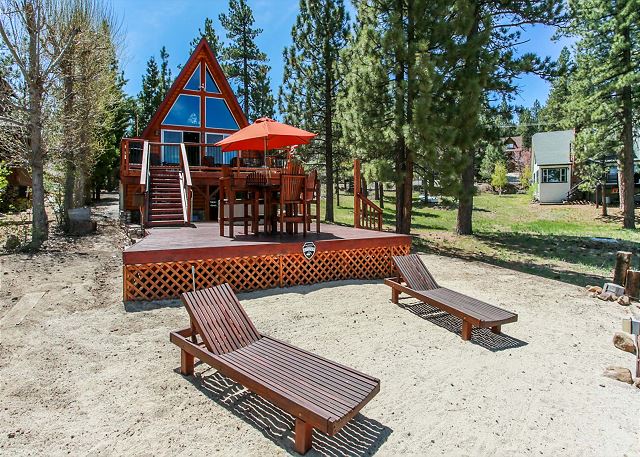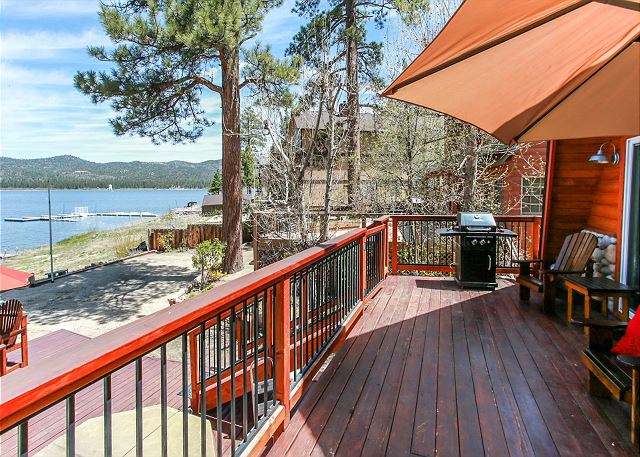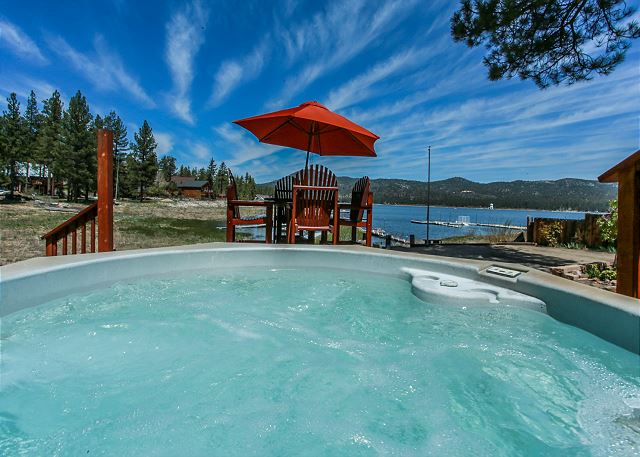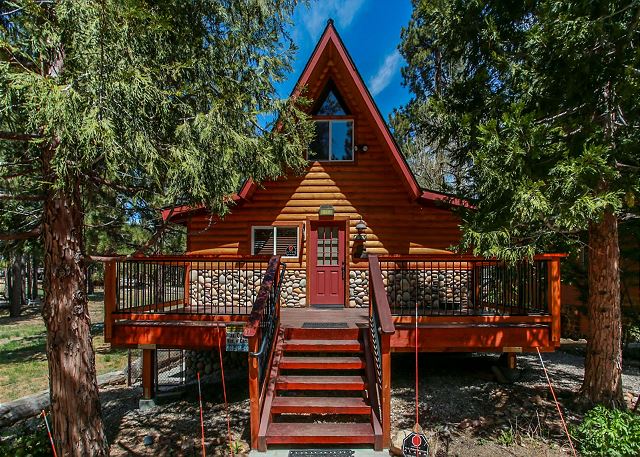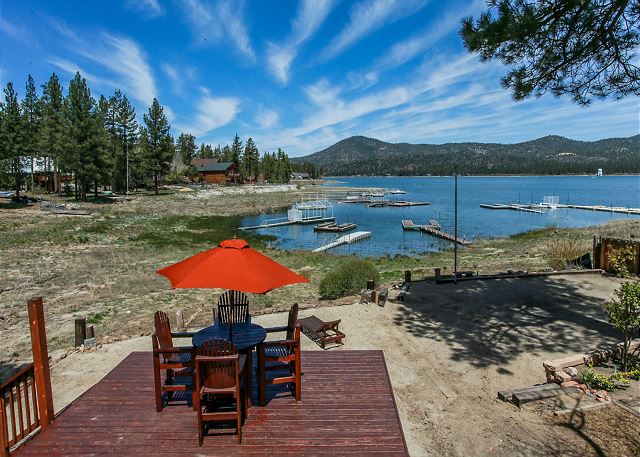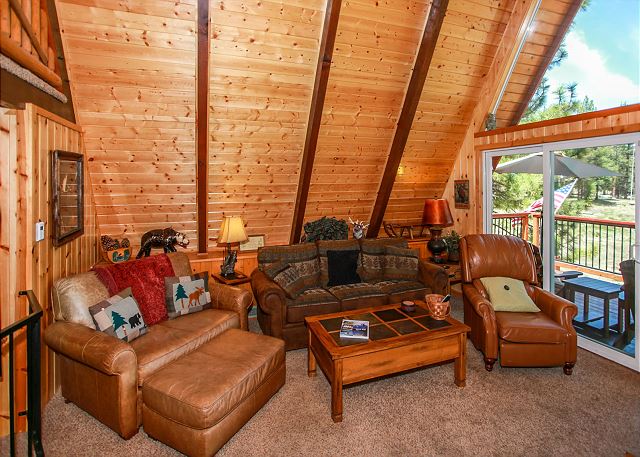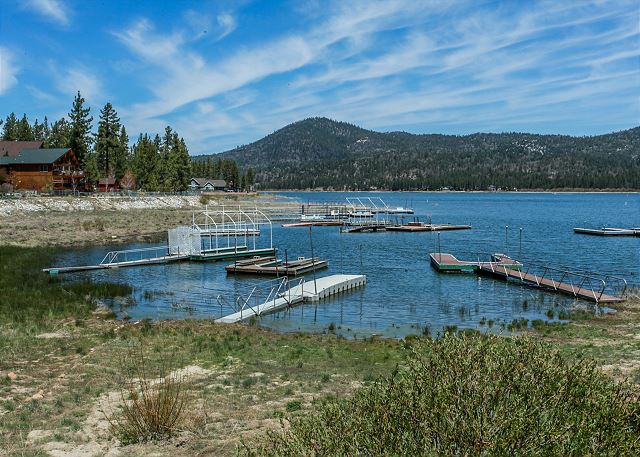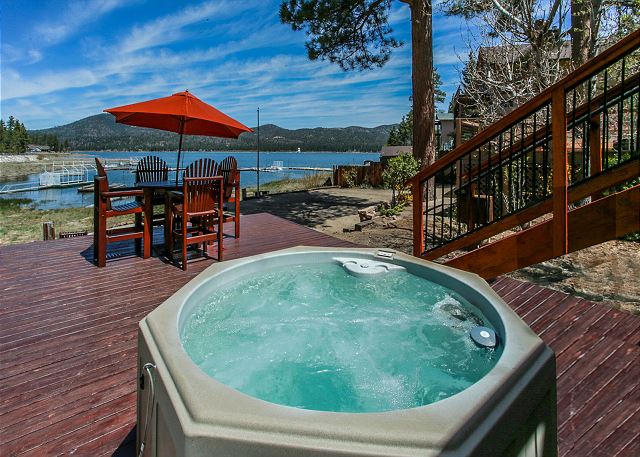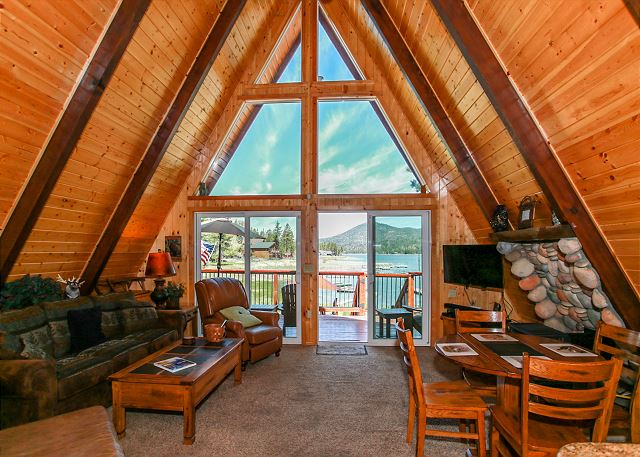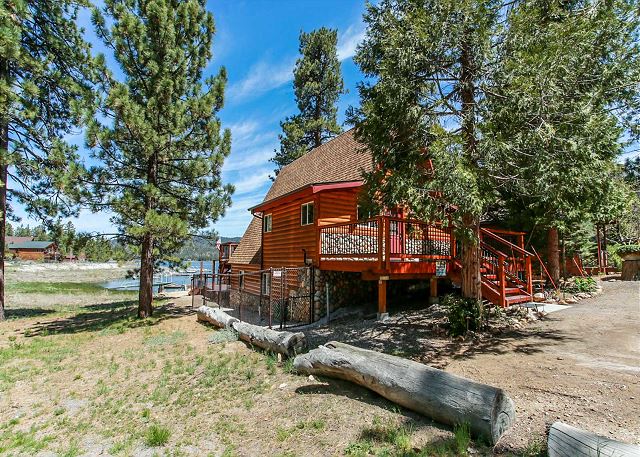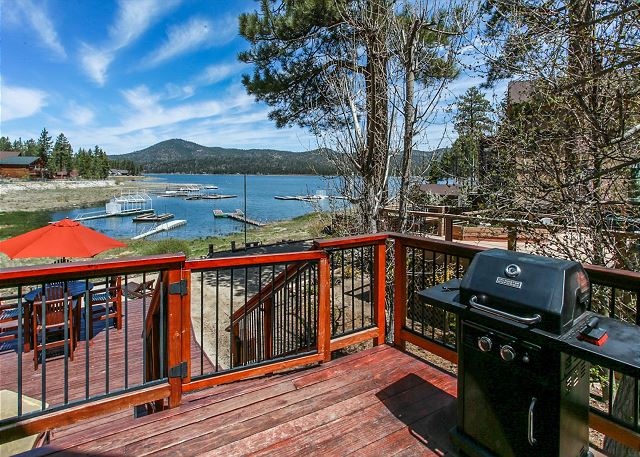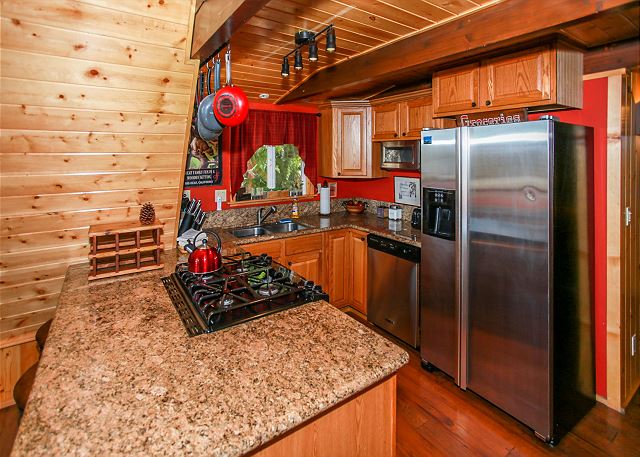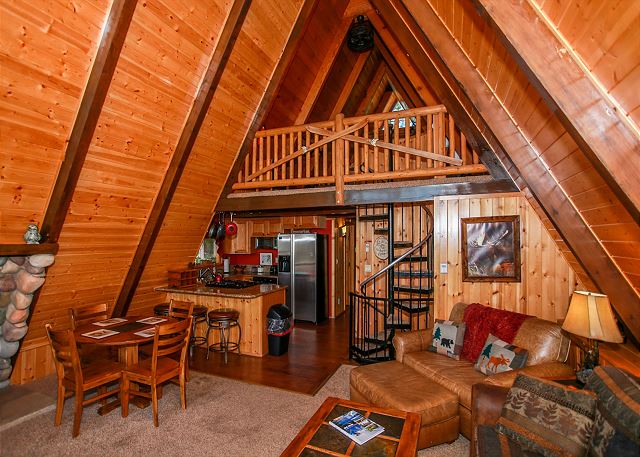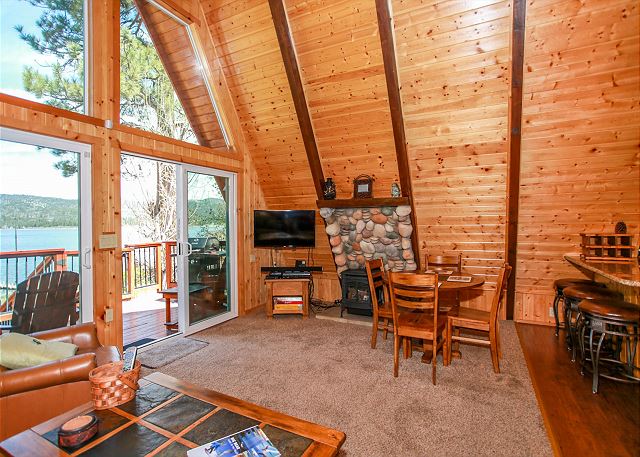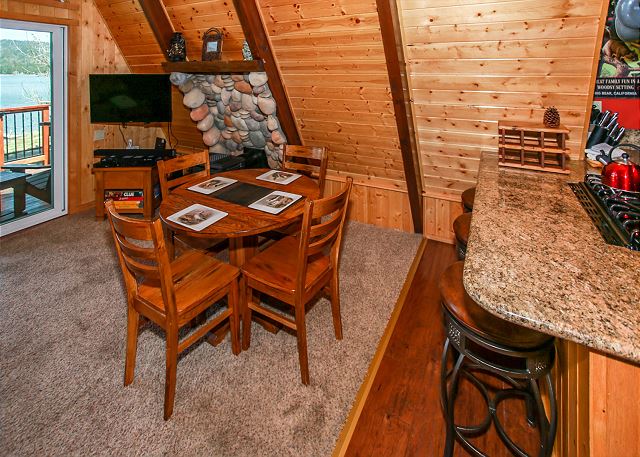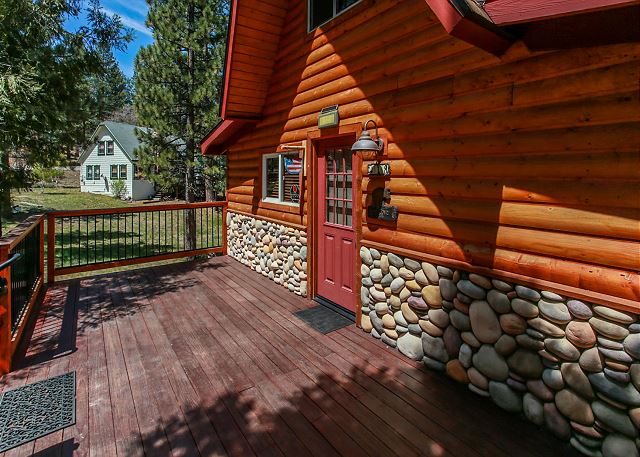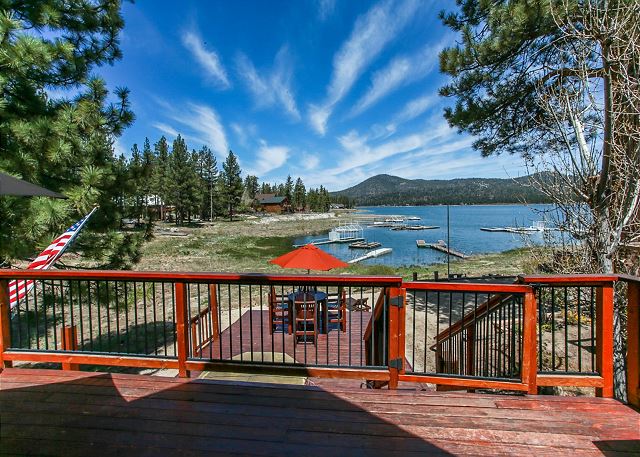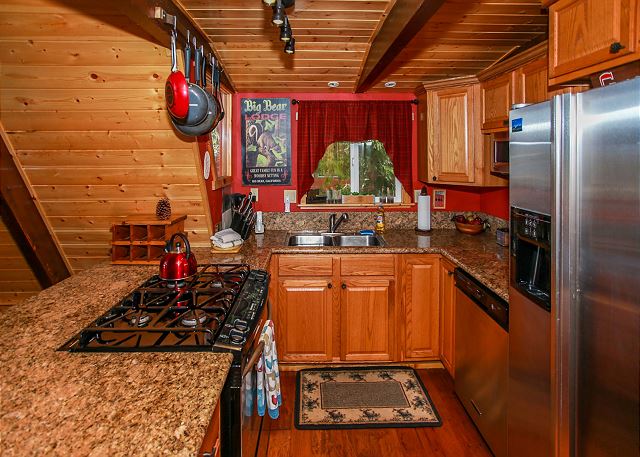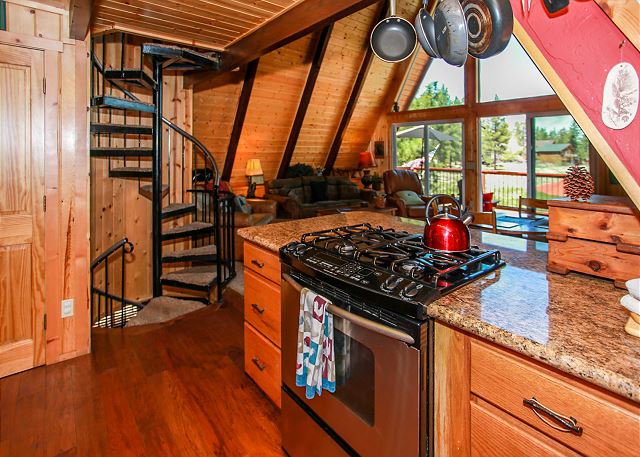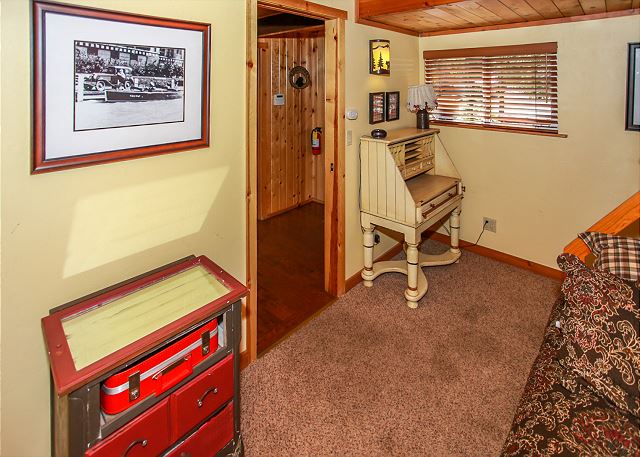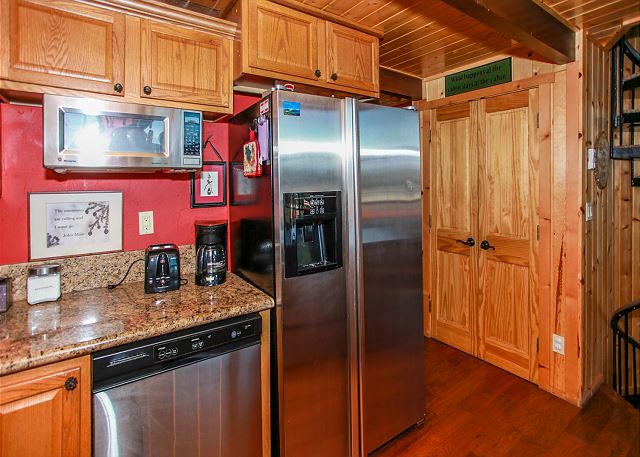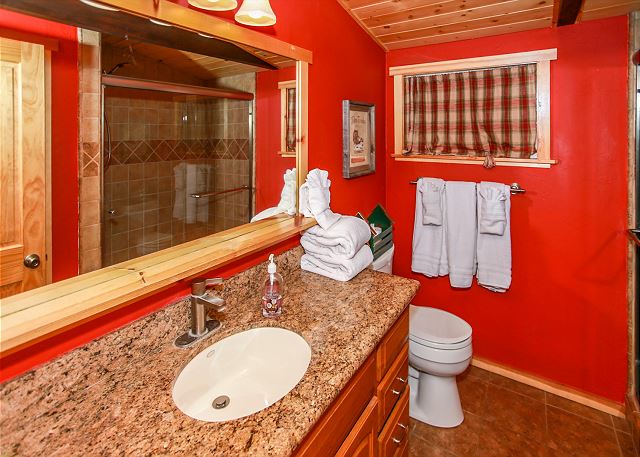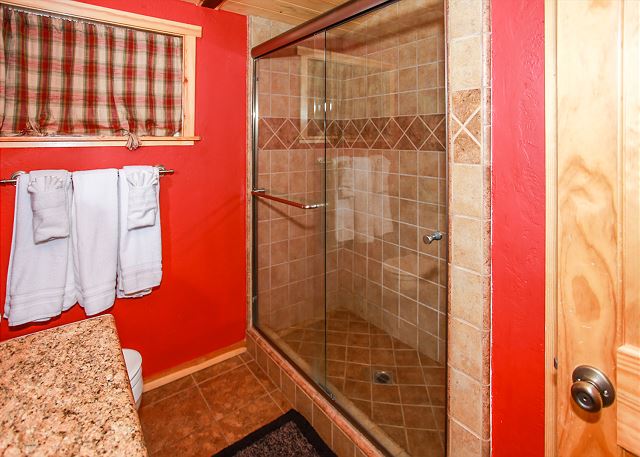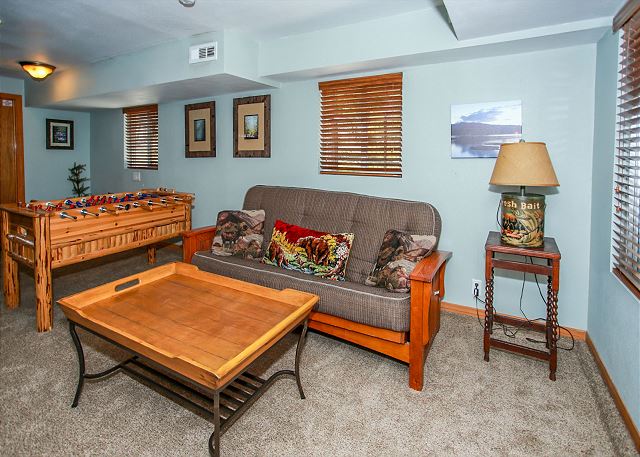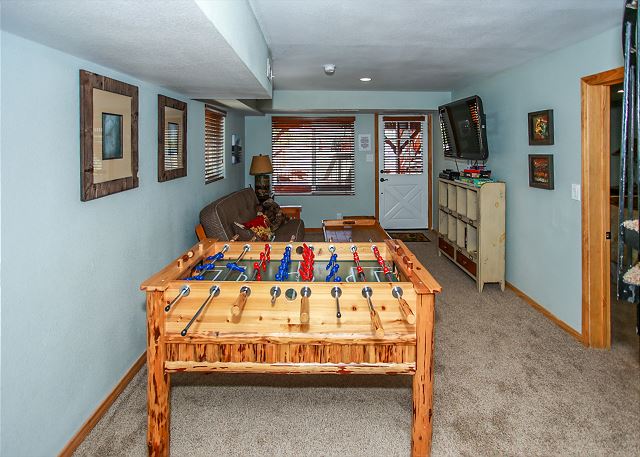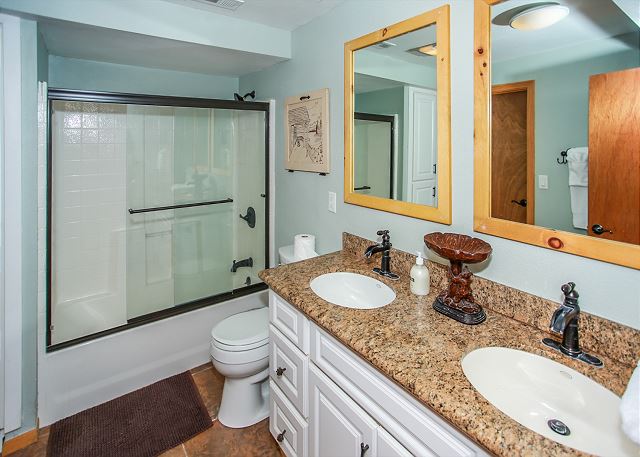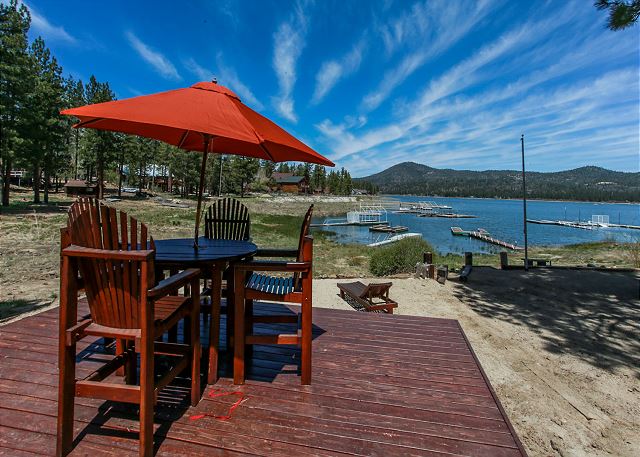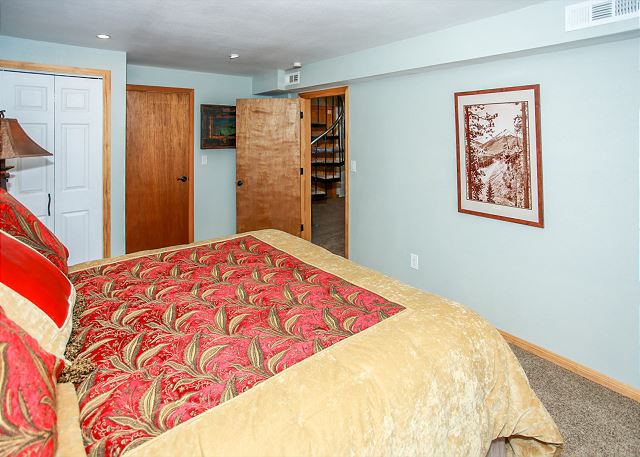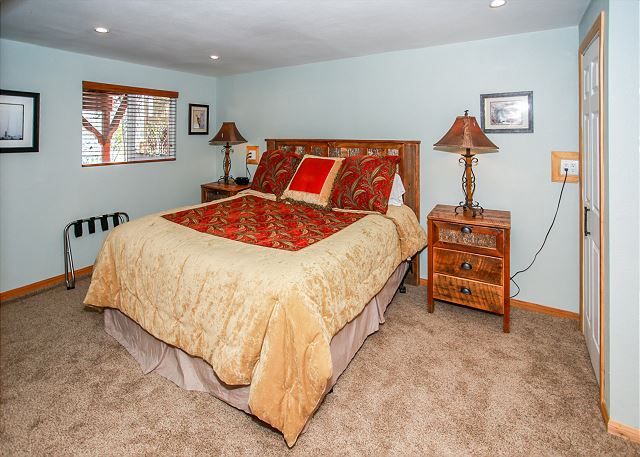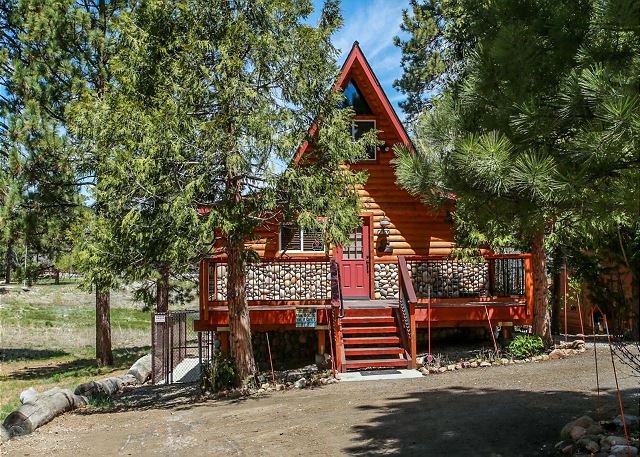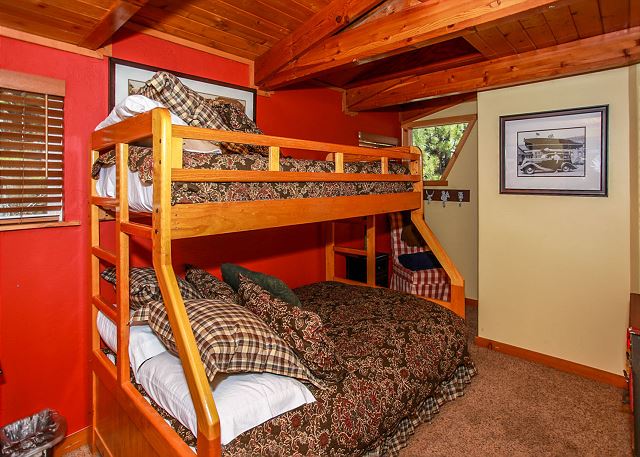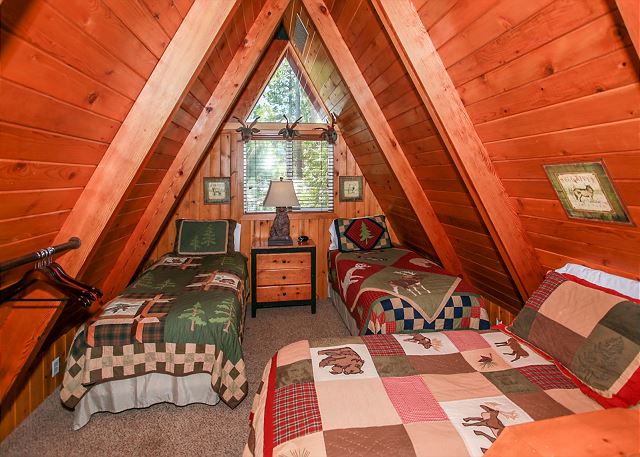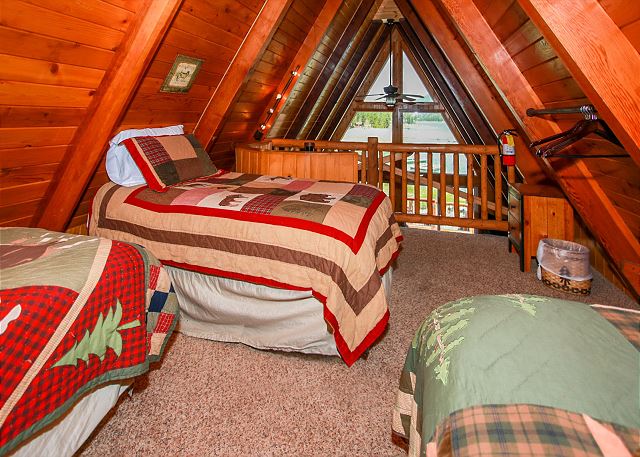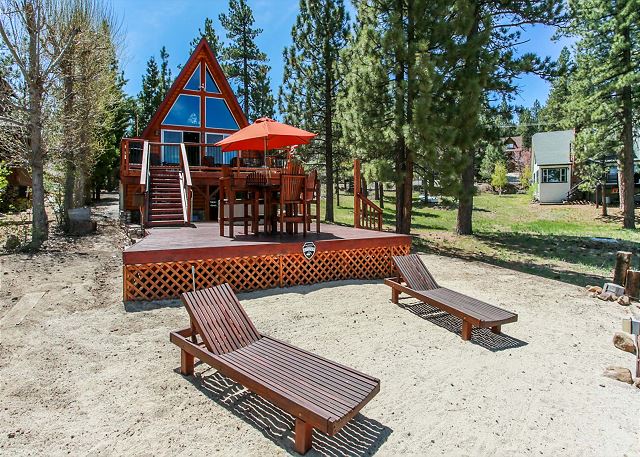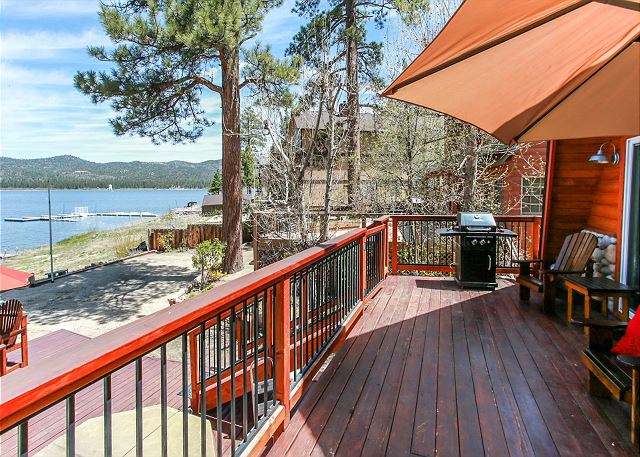 Description
1 FREE KAYAK or BIKE RENTAL plus 15% off remaining rentals for others in your group with this cabin.



"Cozy place with great views ! Had everything we needed . Loved the patio and jacuzzi . Had a nice open space in the back with snow to play in." - Vanessa R. Febuary 2021.



Great Lake location. This adorable cabin has: 3 decks, gas barbecue, a GAME ROOM, private beach and dock, hot tub, three bedrooms, two full size bathrooms, and a fully equipped kitchen, all with granite counter tops.



LOCATION:





Sleeps 10 people - 3 bedroom, 2 bathroom - 3 CAR MAX



Bedroom 1 - King Bed in Master bedroom with private bath (2 ppl.)



Bedroom 2 - Twin over Full Bunk Bed (3 ppl.)



Bedroom 3 - 3 twin Beds in Upstairs LOFT (3 ppl.)



Game room Queen futon sleeper (2 ppl)



Large chair in living room opens into a bed. TWIN. (1 person)





LAKEFRONT

PRIVATE BOAT DOCK

(Water levels may be low)

NEWER HOT TUB

NO washer / dryer

FENCED DOG RUN

3 DECKS with GREAT VIEWS

NEWLY REMODELED

3 BEDROOMS sleeps 10 ppl

2 FLAT SCREEN TV's with DVD players

FOOSBALL

Propane BBQ (please provide your own propane)

Normal coffee pot





Bear Cove is perfect for a romantic getaway or for a vacation with family and friends. A spacious HOT TUB sits on the deck for you to enjoy. Relax beneath the stars or take an early morning walk in this beautiful lakefront neighborhood. Walk along the shore or walk 10-15 minutes to the Village for coffee shops, restaurants, and shopping. It is close to the marina and close to the ski area. It is a 4-minute drive to a recreational area with go carts, bob sleds (Summer and Winter), a large water slide. Inner tube play on hillside in Winter.





NO SMOKING



NO GARAGE ACCESS - 3 CAR MAX



NO AIR CONDITIONING



NO BOAT LAUNCH of any kind, at this property



All linens provided

All homes come with fresh towels and fresh linens and plenty of cozy blankets. Our dedicated cleaning crew has prepared this vacation home for your arrival and will clean upon your departure.



All basic kitchen items provided - NO PANTRY ITEMS!



Fenced dog run adjacent to cabin.

Dog Friendly ($25 per dog per night, 2 dog max)

Pet bed to keep dogs off furniture required.

SORRY, NO CATS WELCOME



LAUNCHING OF BOATS, motorized or not, is NOT ALLOWED at this property. Pleasure Point Marina is right around the corner, where you can launch your boat. (Guests not allowed to access neighboring private docks.)



STRICTLY ENFORCED by BBL CODE ENFORCEMENT

GOOD NEIGHBOR POLICY

RING CAMERA at Front Door

NO PARTIES ALLOWED

10pm NOISE ORDINANCE

3 CAR MAX - NO STREET PARKING

10 ppl MAX



Application # VRR 2021-105488
Calendar
October 2021

| S | M | T | W | T | F | S |
| --- | --- | --- | --- | --- | --- | --- |
| | | | | | 01 | 02 |
| 03 | 04 | 05 | 06 | 07 | 08 | 09 |
| 10 | 11 | 12 | 13 | 14 | 15 | 16 |
| 17 | 18 | 19 | 20 | 21 | 22 | 23 |
| 24 | 25 | 26 | 27 | 28 | 29 | 30 |
| 31 | | | | | | |
November 2021

| S | M | T | W | T | F | S |
| --- | --- | --- | --- | --- | --- | --- |
| | 01 | 02 | 03 | 04 | 05 | 06 |
| 07 | 08 | 09 | 10 | 11 | 12 | 13 |
| 14 | 15 | 16 | 17 | 18 | 19 | 20 |
| 21 | 22 | 23 | 24 | 25 | 26 | 27 |
| 28 | 29 | 30 | | | | |
December 2021

| S | M | T | W | T | F | S |
| --- | --- | --- | --- | --- | --- | --- |
| | | | 01 | 02 | 03 | 04 |
| 05 | 06 | 07 | 08 | 09 | 10 | 11 |
| 12 | 13 | 14 | 15 | 16 | 17 | 18 |
| 19 | 20 | 21 | 22 | 23 | 24 | 25 |
| 26 | 27 | 28 | 29 | 30 | 31 | |
January 2022

| S | M | T | W | T | F | S |
| --- | --- | --- | --- | --- | --- | --- |
| | | | | | | 01 |
| 02 | 03 | 04 | 05 | 06 | 07 | 08 |
| 09 | 10 | 11 | 12 | 13 | 14 | 15 |
| 16 | 17 | 18 | 19 | 20 | 21 | 22 |
| 23 | 24 | 25 | 26 | 27 | 28 | 29 |
| 30 | 31 | | | | | |
February 2022

| S | M | T | W | T | F | S |
| --- | --- | --- | --- | --- | --- | --- |
| | | 01 | 02 | 03 | 04 | 05 |
| 06 | 07 | 08 | 09 | 10 | 11 | 12 |
| 13 | 14 | 15 | 16 | 17 | 18 | 19 |
| 20 | 21 | 22 | 23 | 24 | 25 | 26 |
| 27 | 28 | | | | | |
March 2022

| S | M | T | W | T | F | S |
| --- | --- | --- | --- | --- | --- | --- |
| | | 01 | 02 | 03 | 04 | 05 |
| 06 | 07 | 08 | 09 | 10 | 11 | 12 |
| 13 | 14 | 15 | 16 | 17 | 18 | 19 |
| 20 | 21 | 22 | 23 | 24 | 25 | 26 |
| 27 | 28 | 29 | 30 | 31 | | |
April 2022

| S | M | T | W | T | F | S |
| --- | --- | --- | --- | --- | --- | --- |
| | | | | | 01 | 02 |
| 03 | 04 | 05 | 06 | 07 | 08 | 09 |
| 10 | 11 | 12 | 13 | 14 | 15 | 16 |
| 17 | 18 | 19 | 20 | 21 | 22 | 23 |
| 24 | 25 | 26 | 27 | 28 | 29 | 30 |
May 2022

| S | M | T | W | T | F | S |
| --- | --- | --- | --- | --- | --- | --- |
| 01 | 02 | 03 | 04 | 05 | 06 | 07 |
| 08 | 09 | 10 | 11 | 12 | 13 | 14 |
| 15 | 16 | 17 | 18 | 19 | 20 | 21 |
| 22 | 23 | 24 | 25 | 26 | 27 | 28 |
| 29 | 30 | 31 | | | | |
June 2022

| S | M | T | W | T | F | S |
| --- | --- | --- | --- | --- | --- | --- |
| | | | 01 | 02 | 03 | 04 |
| 05 | 06 | 07 | 08 | 09 | 10 | 11 |
| 12 | 13 | 14 | 15 | 16 | 17 | 18 |
| 19 | 20 | 21 | 22 | 23 | 24 | 25 |
| 26 | 27 | 28 | 29 | 30 | | |
July 2022

| S | M | T | W | T | F | S |
| --- | --- | --- | --- | --- | --- | --- |
| | | | | | 01 | 02 |
| 03 | 04 | 05 | 06 | 07 | 08 | 09 |
| 10 | 11 | 12 | 13 | 14 | 15 | 16 |
| 17 | 18 | 19 | 20 | 21 | 22 | 23 |
| 24 | 25 | 26 | 27 | 28 | 29 | 30 |
| 31 | | | | | | |
August 2022

| S | M | T | W | T | F | S |
| --- | --- | --- | --- | --- | --- | --- |
| | 01 | 02 | 03 | 04 | 05 | 06 |
| 07 | 08 | 09 | 10 | 11 | 12 | 13 |
| 14 | 15 | 16 | 17 | 18 | 19 | 20 |
| 21 | 22 | 23 | 24 | 25 | 26 | 27 |
| 28 | 29 | 30 | 31 | | | |
September 2022

| S | M | T | W | T | F | S |
| --- | --- | --- | --- | --- | --- | --- |
| | | | | 01 | 02 | 03 |
| 04 | 05 | 06 | 07 | 08 | 09 | 10 |
| 11 | 12 | 13 | 14 | 15 | 16 | 17 |
| 18 | 19 | 20 | 21 | 22 | 23 | 24 |
| 25 | 26 | 27 | 28 | 29 | 30 | |
Available
Unavailable
Check-In Only
Check-Out Only
Seasonal Rates
| Date Range | Daily | Weekly | Monthly |
| --- | --- | --- | --- |
* Seasonal rates are only estimates and do not reflect taxes or additional fees.
Location
Guest Reviews of
BEAR COVE LAKEFRONT
Big Bear Lake, CA
---
Vacation Rental Reviews by
stars based on
Beautiful view
Review by
We had a good stay at Beat Cove Lake Front! The cabin is cute and the view is beautiful! The first day it was very hot so we were missing having AC. Because it was hot our son didn't sleep in the loft but slept on the futon in the downstairs living area instead. Downstairs stayed nice and cool the whole time. The weather cooled off and we were able to keep the balcony doors open for the dog and no bugs were coming into the house which was really nice. The jacuzzi is a plus and the kids loved the foosball table as well. cabin is rustic and a few small things could use fixing but overall is was great and we enjoyed our stay.
4 out of 5 stars
Manager Response:
Thank you so much for your positivity! We are happy that you enjoyed your stay and hope that you will return soon. We take pride in being the best vacation rental management company on the mountain and are thankful for your suggestions! -Big Bear Lakefront Cabins Team
Review of Bear Cove Cabin
Review by
Enjoyed our week at the lake!!Cabin was clean upon arrival. The filthy old carpeting needs to go!! The narrow spiral staircase down to Master was a real challenge. The Kitchen was very well stocked with everything!! There was very little lighting in the great room Very dark at night. Made it difficult to play games at night. The front bedromm also had very little lighting. Outside deck and jucuzzi was wonderful. Spider webs on the windows needs to be cleaned by the cleaning crew! I only would not reccomend because of the spiral staircase.
3 out of 5 stars
Manager Response:
Thank you Elaine, we are glad that you enjoyed your stay in this very popular Lakefront cabin with private hot tub. We are please that you found it well stocked and having all of the items that your summer vacation was desiring. The spiral staircase is a unique part of this cabin and we are sorry to hear that it didn't work for you. We do have other Lakefront Cabins with straight stair cases and some with no stairs, if you and your family choose to return again for a vacation on the lake. We will check the carpet and the lighting to ensure that we are providing the best vacation spots on the lake in Big Bear.
Beautiful view of Big Bear Lake
Review by
Fran P.
Our family had a good experience staying at this cabin overall, except the refrigerator went out. We were told that in the mountains the refrigerators took longer to get cold? After 2 days it was clear that the refrigerator was not working and we had to go to the store often and buy ice. Some of our food went bad. We have stayed in the mountains many times before and the refrigerator worked just fine. The hot tub was great with clean water. The decks were nice with a beautiful view. We had a fun birthday celebration for our dad's 90 th Birthday. We had access to the lake and went stand up paddle boarding, kayaking, and boating in inflatable boats. We all had an enjoyable time.
3 out of 5 stars
Manager Response:
So glad you enjoyed the hot tub, the clean hot tub water, the deck and the views. It sounds like you had an amazing weekend! We apologize for the fridge not getting as cold as we desire for our guests. Because of your feedback we were able to address the repair and its back to getting freeing and cold now! We do apologize for the inconvenience and we have reached out to you since to assist you. We do you that you choose to return again and with our return guest discount. Thank you again.
Big Bear Getaway
Review by
Sara B.
Beautiful views, beautiful weather and very fun cabin for my 2 girls to enjoy!
5 out of 5 stars
Almost perfect!
Review by
Eric D.
Overall the property was nice but there were some things that need some attention. Starting with the downstairs bathroom toilet seat cover, it was completely loose my wife was not happy trying to balance herself, that's an easy fix come on. The spiral staircase is an adventure a little narrow. The steps from the outdoor patio deck are loose and can be dangerous if not careful. The Dock was eh! I stayed at a property in Big Bear a few yrs back and for what I paid I felt like it could've been better. It's a cozy place, love the A Frame cabin, good location, near the village, bowling, restaurants, and the weather was awesome. So all in all I had a great time with my family.
4 out of 5 stars
Beautiful property
Review by
Vanessa R.
Cozy place with great views ! Had everything we needed . Loved the patio and jacuzzi . Had a nice open space in the back with snow to play in .
5 out of 5 stars
Amazing experience
Review by
Diana A.
Everything was clean and organized
5 out of 5 stars
We enjoyed our vacation a lot
Review by
don p.
They are professional and easy to deal
5 out of 5 stars
Huge A on Lake.
Review by
When we arrived it was dark, didn't realize where exactly the cabin was when we did it was by flashlight. Front door was jammed came in thru the back door. Woo!!! what a basement!Foosball,tv,master bed w/bath and that was the basement. Main level was thru circular stairway don't drink and try it. Main floor was beautiful plus a dual bunkbed for up to 3!, and the upstairs could accomodate 3 people. Outside jacuzzi and sitting area listening to coyotes howl and loons? Daytime you could wander all over from the forest and meadows, to cool. Great me and the wife loved it.
5 out of 5 stars
Smaller than we expected.
Review by
Pamela C.
Renting, checking in and checking out was very easy. The furniture: recliner, futon, patio table and chair set, and beds could be improved- these were not very comfortable or needed repairs. The living-room sofa and barstools were good. The dining table was very small and maybe the seats could've had pads to make more comfortable. The kitchen was small, but very nice. My only issues were that the refrigerator drawers were loose and had duct tape to hold them together. Once I put veggies inside, I had to carefully pull the drawers to get food out- since the weight made it get stuck. Bathrooms were beautiful and well stocked with nice towels. Spa was wonderful. BBQ was great. The Adirondack chairs and small tables were solid and awesome. A fire pit would have been an welcome addition to the deck! The fireplace was tiny and looked awkward, so we never touched it. The game room was lacking games. It would've been nice to have board games, cards, or a game system. The foosball table was used a few minutes and then no one touched. We looked to buy games in town, and came back empty handed. Luckily we brought 1 game with us. The spiral staircase was very small and some steps were loose. We definitely needed to be cautious going up and down to use the restroom at night! The views from the back deck were beautiful! We loved sitting outside and enjoying the mountain air and sky. The algae covered the water near the deck, but that's not within your control. My comments are meant to be helpful, not to complain. Overall, our family had a wonderful time and adjusted as needed. The issues mentioned effected my view of value for what I paid. I feel the price was steep for the conditions and size. Again, we had a great time and would perhaps stay again in the future if updates to beds were made at least and I could grab dates when the price was less.
4 out of 5 stars
Most memorable experience for the whole family!
Review by
Our families first time to Big Bear and we wanted comfort, beauty, and all the amenities and this house delivered. Right on the lake and close to everything! We cant wait to go back.
5 out of 5 stars
Lovely getaway, but too much promised!
Review by
Chudney R.
We had a lovely visit! The location was perfect on the lake, but upon arrival (during quarantine) there was a man in the house fixing the water heater, the hot tub water was brown and the TVs didn't work. Despite this we loved the house and location for our family getaway. The big issue I had was that they advertised buy 2 nights get the 3rd free, which was NOT honored. I was charge for 3 nights and then reimbursed a fraction of a night stay. I asked multiple time for this issue to be addressed with no response. Even though we had a lovely stay, I would NOT recommend to friends and family.
4 out of 5 stars
Bear Cove Vacation
Review by
We had a great time at Bear Cove. The location is walking distance to the Village (a bit of a walk, but walkable). It is a very well used cabin, nicely maintained, but not a new home. We were there over 4th of July and the atmosphere was active but very pleasant both in the neighborhood and Village. I would agree with another review that there is a spiral stairway to get to the Master, game room and loft. It was fine for our family but if you have difficulty navigating stairs this may be an issue.
5 out of 5 stars
Quiet and peaceful retreat with beautiful views
Review by
Karen G.
A lovely getaway with gorgeous views. Evenings as the sunsets were the best. Everything worked great in the home. The management was very helpful. Perfect location. Close to the village and marina.
5 out of 5 stars
Contact Us