Beautiful Southampton Home w Pool/Jacuzzi Near Beach & Town (House)
4 Bedroom(s) | 3.5 Bathroom(s) | Sleeps 14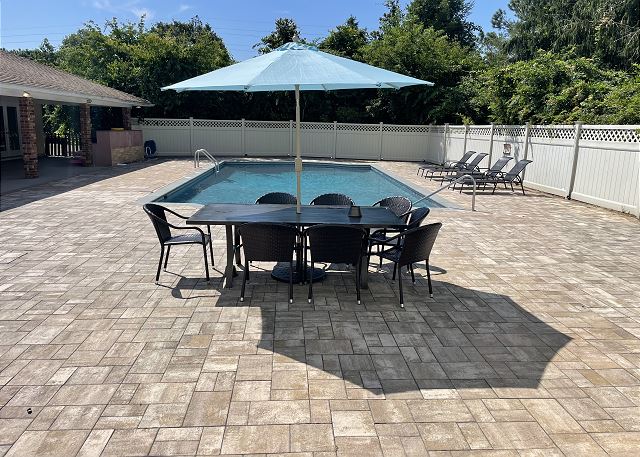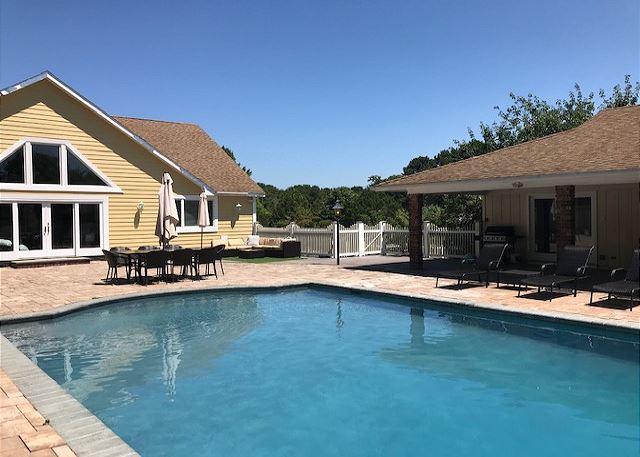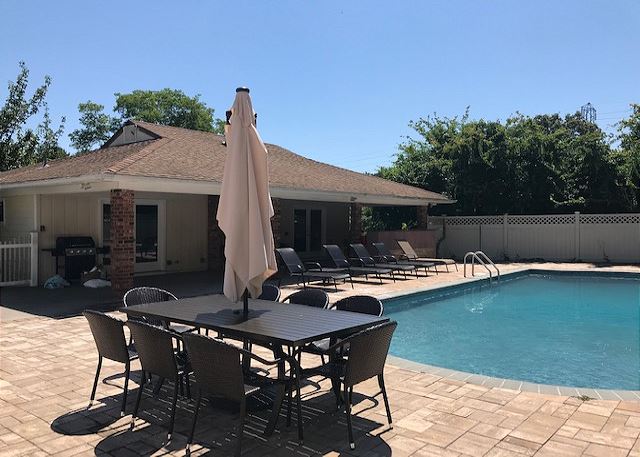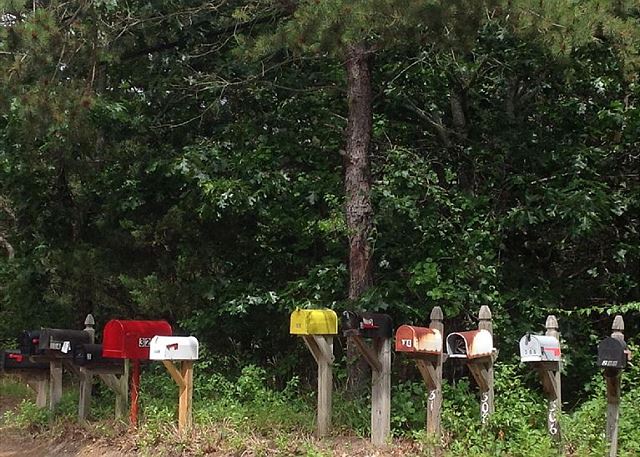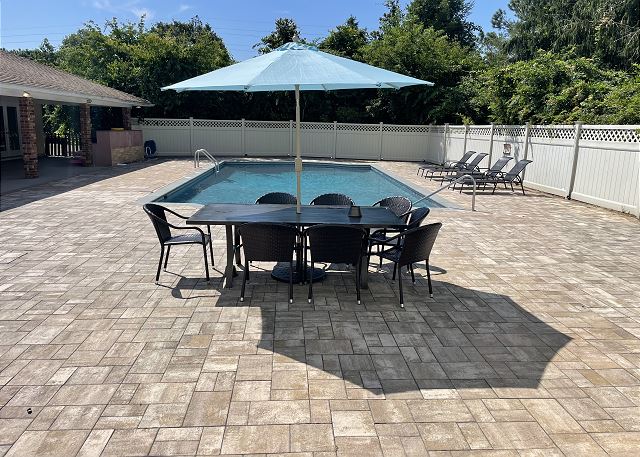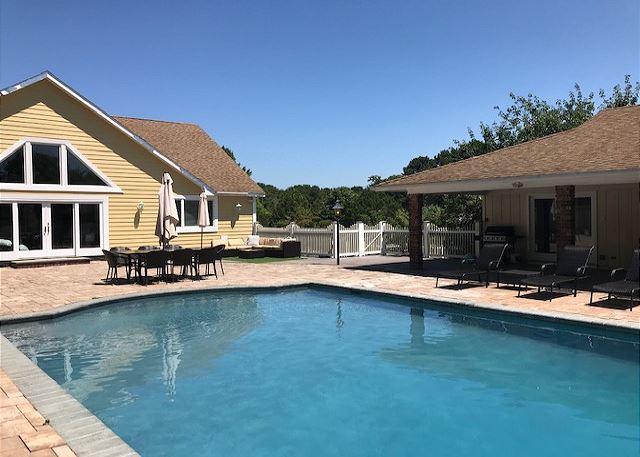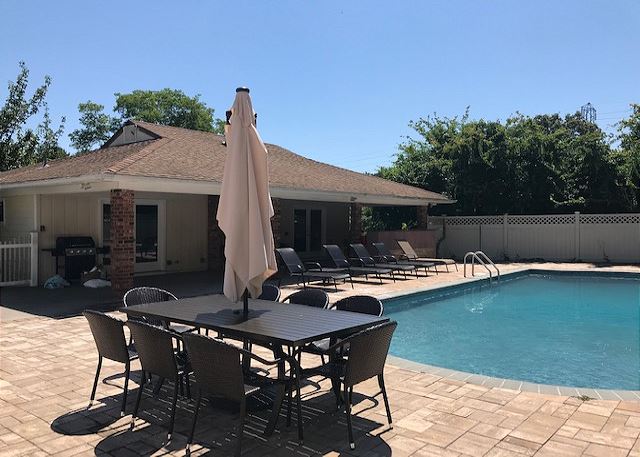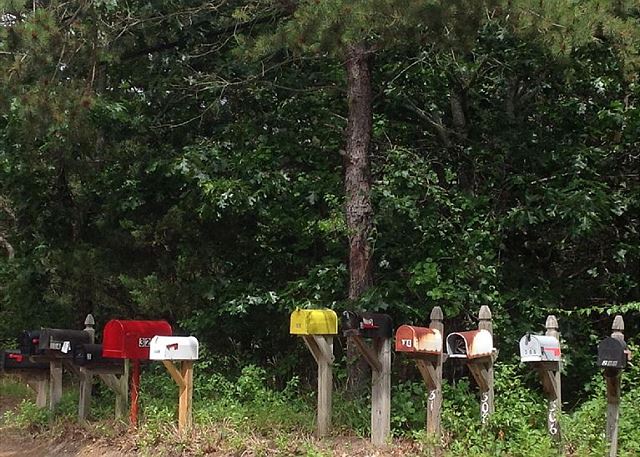 Description
Beautiful Southampton home located in the heart of the Hamptons. Very private with a large pool and jacuzzi. Just a three minute drive to the village with all the wonderful restaurants, clubs and small beaches and town!



Very private with a large pool and large Jacuzzi. The house sleeps 14 and has a pool house with a great ping-pong table, pool table and foosball and bar to enjoy. The kitchen is gorgeous. You're close to everything including Cooper's Beach. If you have been wanting to visit the Hamptons for the first time this house is the perfect choice. Perfectly located in the heart of the Hamptons, just minutes to the village and the beach.



Check out all our beautiful properties ,



The home is clean, stylishly decorated!

(All our homes come complete with everything you need, just bring food & clothing) .

Free wifi and cable TV. Free parking. This home has everything you could possibly want.





Let us know if you need another home for friends and family; we have several other neighboring homes next door to each other in the Hampton's. Check out all our beautiful properties ,

(Monthly rates do not include utilities)
Calendar
September 2021

| S | M | T | W | T | F | S |
| --- | --- | --- | --- | --- | --- | --- |
| | | | 01 | 02 | 03 | 04 |
| 05 | 06 | 07 | 08 | 09 | 10 | 11 |
| 12 | 13 | 14 | 15 | 16 | 17 | 18 |
| 19 | 20 | 21 | 22 | 23 | 24 | 25 |
| 26 | 27 | 28 | 29 | 30 | | |
October 2021

| S | M | T | W | T | F | S |
| --- | --- | --- | --- | --- | --- | --- |
| | | | | | 01 | 02 |
| 03 | 04 | 05 | 06 | 07 | 08 | 09 |
| 10 | 11 | 12 | 13 | 14 | 15 | 16 |
| 17 | 18 | 19 | 20 | 21 | 22 | 23 |
| 24 | 25 | 26 | 27 | 28 | 29 | 30 |
| 31 | | | | | | |
November 2021

| S | M | T | W | T | F | S |
| --- | --- | --- | --- | --- | --- | --- |
| | 01 | 02 | 03 | 04 | 05 | 06 |
| 07 | 08 | 09 | 10 | 11 | 12 | 13 |
| 14 | 15 | 16 | 17 | 18 | 19 | 20 |
| 21 | 22 | 23 | 24 | 25 | 26 | 27 |
| 28 | 29 | 30 | | | | |
December 2021

| S | M | T | W | T | F | S |
| --- | --- | --- | --- | --- | --- | --- |
| | | | 01 | 02 | 03 | 04 |
| 05 | 06 | 07 | 08 | 09 | 10 | 11 |
| 12 | 13 | 14 | 15 | 16 | 17 | 18 |
| 19 | 20 | 21 | 22 | 23 | 24 | 25 |
| 26 | 27 | 28 | 29 | 30 | 31 | |
January 2022

| S | M | T | W | T | F | S |
| --- | --- | --- | --- | --- | --- | --- |
| | | | | | | 01 |
| 02 | 03 | 04 | 05 | 06 | 07 | 08 |
| 09 | 10 | 11 | 12 | 13 | 14 | 15 |
| 16 | 17 | 18 | 19 | 20 | 21 | 22 |
| 23 | 24 | 25 | 26 | 27 | 28 | 29 |
| 30 | 31 | | | | | |
February 2022

| S | M | T | W | T | F | S |
| --- | --- | --- | --- | --- | --- | --- |
| | | 01 | 02 | 03 | 04 | 05 |
| 06 | 07 | 08 | 09 | 10 | 11 | 12 |
| 13 | 14 | 15 | 16 | 17 | 18 | 19 |
| 20 | 21 | 22 | 23 | 24 | 25 | 26 |
| 27 | 28 | | | | | |
March 2022

| S | M | T | W | T | F | S |
| --- | --- | --- | --- | --- | --- | --- |
| | | 01 | 02 | 03 | 04 | 05 |
| 06 | 07 | 08 | 09 | 10 | 11 | 12 |
| 13 | 14 | 15 | 16 | 17 | 18 | 19 |
| 20 | 21 | 22 | 23 | 24 | 25 | 26 |
| 27 | 28 | 29 | 30 | 31 | | |
April 2022

| S | M | T | W | T | F | S |
| --- | --- | --- | --- | --- | --- | --- |
| | | | | | 01 | 02 |
| 03 | 04 | 05 | 06 | 07 | 08 | 09 |
| 10 | 11 | 12 | 13 | 14 | 15 | 16 |
| 17 | 18 | 19 | 20 | 21 | 22 | 23 |
| 24 | 25 | 26 | 27 | 28 | 29 | 30 |
May 2022

| S | M | T | W | T | F | S |
| --- | --- | --- | --- | --- | --- | --- |
| 01 | 02 | 03 | 04 | 05 | 06 | 07 |
| 08 | 09 | 10 | 11 | 12 | 13 | 14 |
| 15 | 16 | 17 | 18 | 19 | 20 | 21 |
| 22 | 23 | 24 | 25 | 26 | 27 | 28 |
| 29 | 30 | 31 | | | | |
June 2022

| S | M | T | W | T | F | S |
| --- | --- | --- | --- | --- | --- | --- |
| | | | 01 | 02 | 03 | 04 |
| 05 | 06 | 07 | 08 | 09 | 10 | 11 |
| 12 | 13 | 14 | 15 | 16 | 17 | 18 |
| 19 | 20 | 21 | 22 | 23 | 24 | 25 |
| 26 | 27 | 28 | 29 | 30 | | |
July 2022

| S | M | T | W | T | F | S |
| --- | --- | --- | --- | --- | --- | --- |
| | | | | | 01 | 02 |
| 03 | 04 | 05 | 06 | 07 | 08 | 09 |
| 10 | 11 | 12 | 13 | 14 | 15 | 16 |
| 17 | 18 | 19 | 20 | 21 | 22 | 23 |
| 24 | 25 | 26 | 27 | 28 | 29 | 30 |
| 31 | | | | | | |
August 2022

| S | M | T | W | T | F | S |
| --- | --- | --- | --- | --- | --- | --- |
| | 01 | 02 | 03 | 04 | 05 | 06 |
| 07 | 08 | 09 | 10 | 11 | 12 | 13 |
| 14 | 15 | 16 | 17 | 18 | 19 | 20 |
| 21 | 22 | 23 | 24 | 25 | 26 | 27 |
| 28 | 29 | 30 | 31 | | | |
Available
Unavailable
Check-In Only
Check-Out Only
Seasonal Rates
| Date Range | Daily | Weekly | Monthly |
| --- | --- | --- | --- |
| 06/20/2021 - 09/05/2021 | $3,137.19 | N/A | N/A |
| 09/06/2021 - 10/10/2021 | $2,616.21 | $6,795.35 | $10,478.10 |
| 10/11/2021 - 05/08/2022 | $2,251.53 | $7,167.74 | $10,106.15 |
| 05/09/2022 - 06/19/2022 | $2,351.95 | $11,521.37 | $38,324.85 |
| 06/20/2022 - 09/04/2022 | $3,137.19 | $10,665.62 | $41,711.01 |
* Seasonal rates are only estimates and do not reflect taxes or additional fees.
Location
Guest Reviews of
Beautiful Southampton Home w Pool/Jacuzzi Near Beach & Town
Southampton, NY
---
Vacation Rental Reviews by
stars based on
South Hampton Bachelorette!
Review by
Edith C.
This house was great for our friends bachelorette party! The house was clean with a larch open kitchen area and room inside for fun games and hangouts. There are 3 full bathrooms in the house so it worked for a large group of girls getting ready to go out. The outside of the house was spacious and the pool was clean and refreshing to swim in. The pool house was also very spacious, but the pull out bed was unfortunately broken during our stay, but luckily there were enough beds to sleep in the house. The pool house also had a bathroom and a shower which was helpful for a big group. The house had plenty of privacy and we did not feel like we would be keeping neighbors awake by playing music out loud. There was a grill outside which was great for BBQ. All in all I would definitely recommend this house for a fun weekend with a big group!
5 out of 5 stars
Overall very nice
Review by
Amanda C.
I want to start by saying overall this place is amazing. There were only a few minor issues with our stay. The first was one of the bar stools had a broken leg already. Also the bed in the master bedroom fell apart when my fiancé just sat to put his pants on. We took everything off the frame and we're able to make a make shift screw as the old screw treading was bald at the beginning making it's impossible to put the bolt on the back. No worries though we got it together and had no issues after. A nice touch to the single bed bedrooms would to add a full body mirror or two. Also we had a mop and broom but no dust pan which would've been great. Lastly som body soap or wash would've been convenient as there wasn't any form of toiletries, though we did bring our own. The out house was a great addition to the property full with activities to do. Overall all the guests loved this property especially my fiancé who's bday we celebrated. We want to definitely book here again during the summer months. Also the hosts are super friendly and responsive. Also very understanding.
4 out of 5 stars
Chic Hamptons Getaway!!
Review by
Leslie M.
We stayed here for my sisters bachelorette party in August, and because of COVID we limited the amount of time we left property..and believe me once you see the property you won't want to leave. The house was spotless. We cooked most of the meals in house. The kitchen was fully functional and came equipped with everything you'd need. We had 10 girls but you could comfortably fit 14. We had running ping pong and pool tournaments, and lounged by the amazing pool and hot tub all day! The pool is much bigger then the picture looks. There was a pool guy who came after it rained, which put us at ease because it showed us that they really take care of the place. They have extra floats if you need them. The patio furniture was brand new and so chic and comfortable. Debbie was really responsive and gives great advise if you need places to go. Location is seriously great - 10 minutes from everything! The only negative about the location was that we brought our bicycles to ride into town from the house and unless your extremely fearless with riding on 27, you'll have to drive past the busy highway. We still got our ride in just couldn't find a way into town. They do allow dogs, which helped some of us ladies who were unable to get sitters. Huge convenience! The neighborhood was nice and quiet and tucked away, which allows you to sit out on the patio until the early mornings talking with your friends without disrupting the neighbors. I would definitely recommend this property to anyone looking to stay in Southampton!!!!
5 out of 5 stars
Great family house
Review by
Clean, updated and spacious. The pool house is a great added bonus - gives everyone room to spread out and have space. Property managers were attentive and helpful.
5 out of 5 stars
Golf weekend...house was perfect
Review by
Brad G.
The house was perfect for our needs...a common area for cooking and hanging out, a pool w/ patio for cooling off and enough beds to sleep 12. We will be back .
5 out of 5 stars
Great for Families!
Review by
Jeana B.
Three families met at this house to experience the Hamptons for the first time. The layout was perfect for adults and children - plenty of space and places to sleep. The kids LOVED the pool! The owners were professional and attentive to our questions. We used the grill and the kitchen, which had everything we needed. The property was quiet and private. I would highly recommend this property for anyone wanting to experience the Hamptons.
5 out of 5 stars
Amazing house for bachelorette parties!
Review by
Samantha K.
This was the perfect house for a large group of girls looking to celebrate (in my case, it was my sister in law's bachelorette party). The pool was a highlight and there was a ton of room to spread out and go swimming. We got to the house early on Thursday (it wasn't ready yet) so we went to Meschutt Beach which was 5 minutes away, clean and beautiful.Another day we took a catamaran around the Long Island sound which was so much fun and they picked us up 5 minutes from the house- very close! Debbie and Ginnie were great and we would definitely rent this house again!
5 out of 5 stars
Highly recommend
Review by
I worked with Debbie and Virginia to rent a house in Southampton for a girls get away. I was planning the trip from California as a few of us were flying in to spend time with our New York friends, and they made the long distance process easy and stress free. The house we rented was even more stunning than the pictures, and easily accommodated/slept our large group. There was a minor hiccup upon arrival that had to do with the guests that stayed at the house before us, but with one quick call, the problem was fixed and we were off to enjoy the weekend. I highly recommend working Debby and Virginia- they have beautiful properties and wonderful customer service- they really go above and beyond
5 out of 5 stars
Overall Nice Stay, But Some Issues...
Review by
We originally booked with these property managers through Airbnb on a different property but they kept moving us around to different locations within the Southampton area. We eventually ended up booking this property direct through their site. The house is exactly as advertised and won't disappoint. Rooms are all a good size. The pool was nice, though it's not heated and was too cold to properly enjoy. We tried using the hot tub but it stopped working half-way through our stay. While the property managers apologized, they did nothing to resolve the issue and we weren't given any sort of compensation for the inconvenience. The property was overall nice and we had a good time, but I do not know if I would book through the company again.
3 out of 5 stars
A Great Spot
Review by
Very nice family vacation with older children coming to visit at their convenience. Large bedrooms, great kitchen, huge pool, and great entertainment pool house.
5 out of 5 stars
Everything was amazing!
Review by
Michelle N.
The house was beautiful, clean and in a great location! Would defiantly recommend this house for future guests!
5 out of 5 stars
Amazing stay!
Review by
Ashley D.
Had 2 wonderful experiences with this company. The first was for my cousin's bachelorette party in summer 2016. We rented a beautiful house in South Hampton and had a great time. We loved the house so much that we decided to reach out to Ginnie & Debbie to book my bachelorette party for summer 2018. They were beyond helpful, answered all of my questions, and were prompt with responses. They were very helpful in accommodating my large party of 17 girls. This time around (summer 2018) we also rented a house in South Hampton from them, but a different one that was also beautiful & clean! It made my bachelorette weekend perfect! We had a great experience and even while we were there, Debbie & Ginnie answered last minute questions via text messages. Highly recommend Luxury Beach Getaway. The house was absolutely beautiful and clean! It was located on a very private block and we felt very safe! Pool was clean and there was even a gorgeous pool house! HIGHLY RECOMMEND this house!
5 out of 5 stars
Contact Us