Colony Villas at Waikoloa Beach Resort #2204 (Condominium)
2 Bedroom(s) | 2.5 Bathroom(s) | Sleeps 6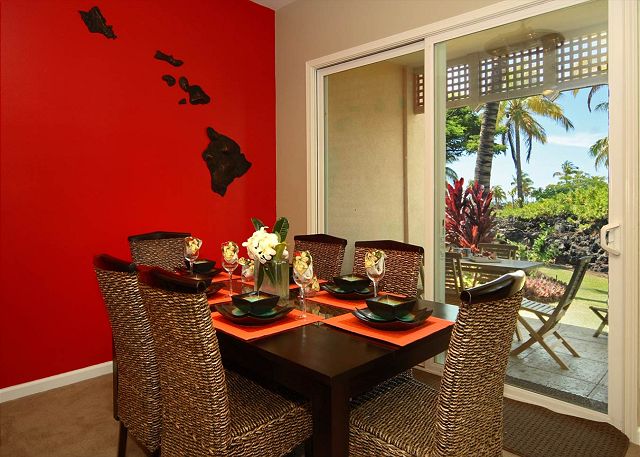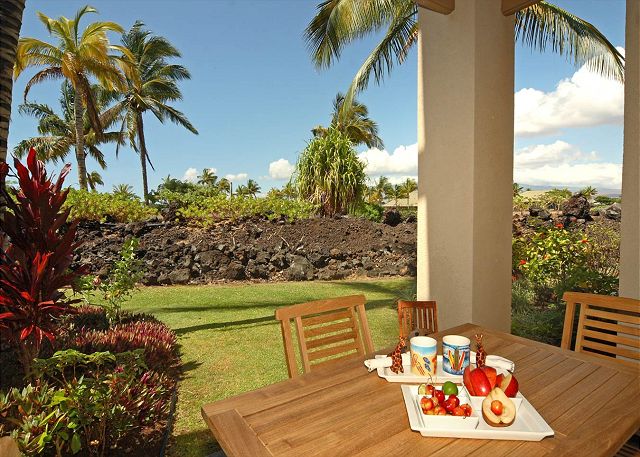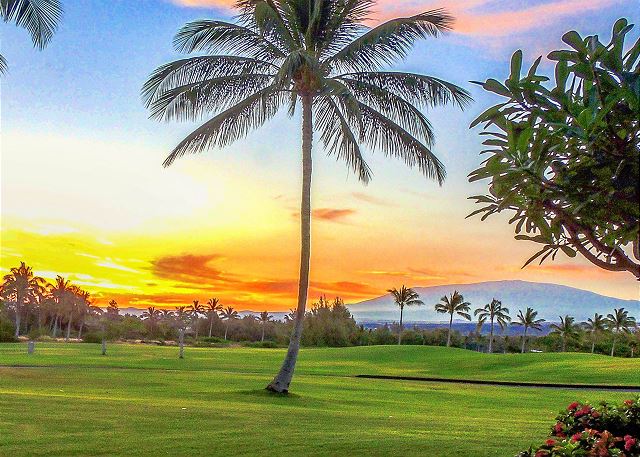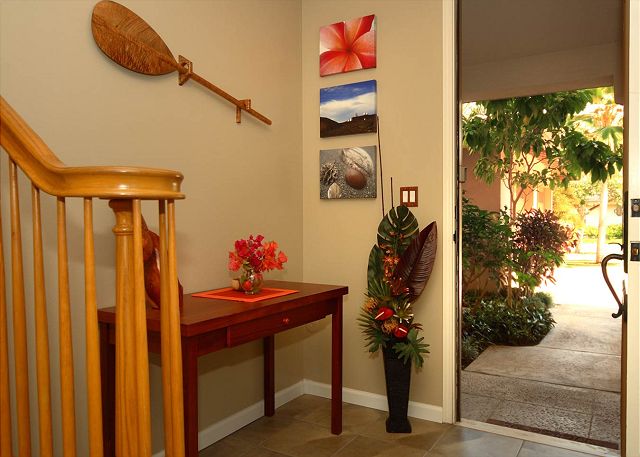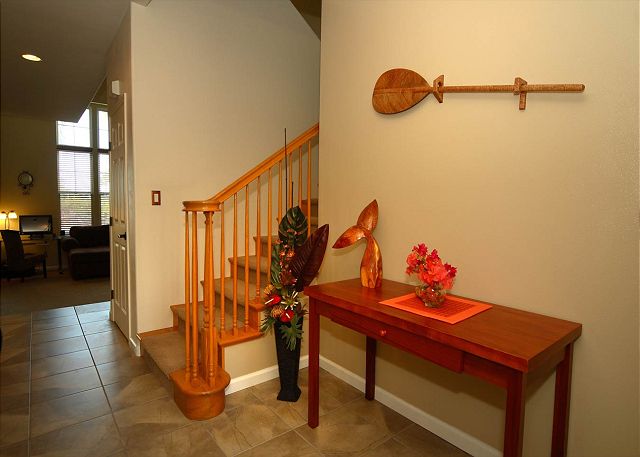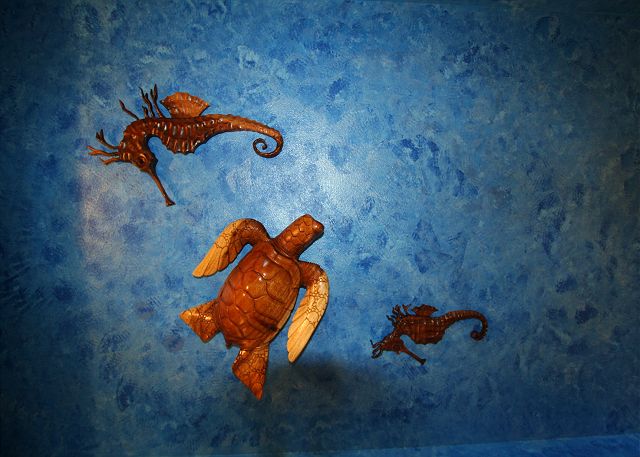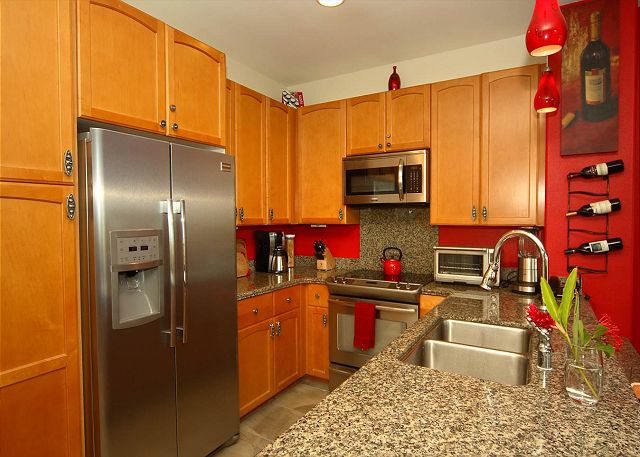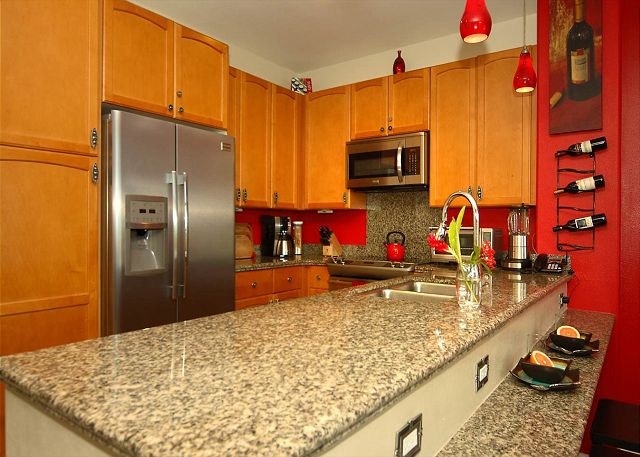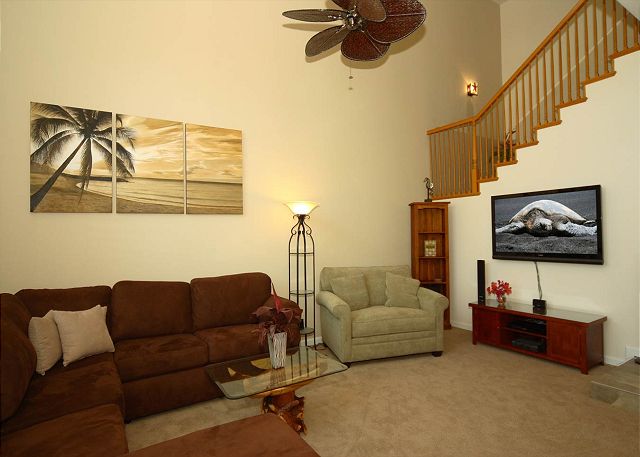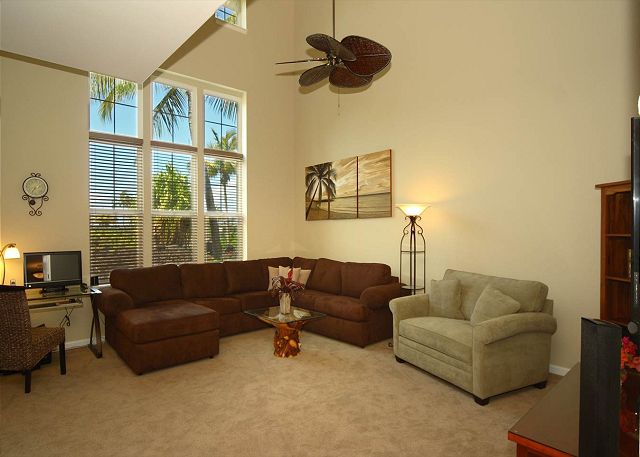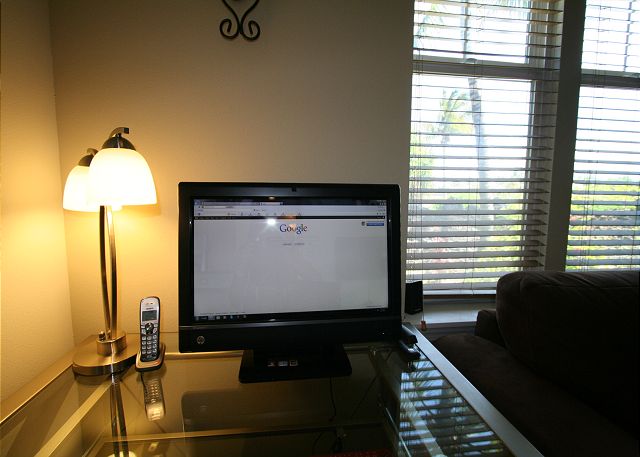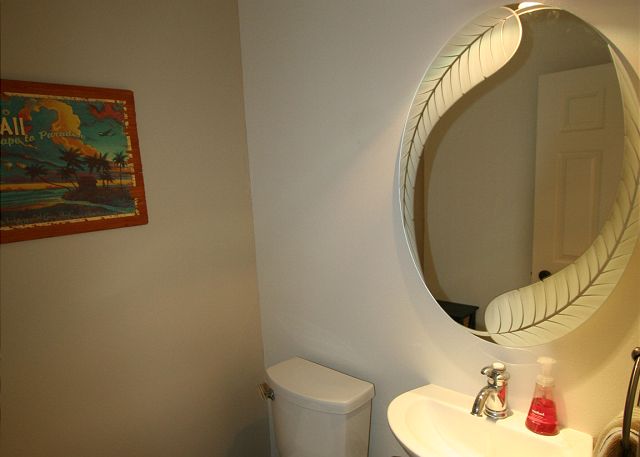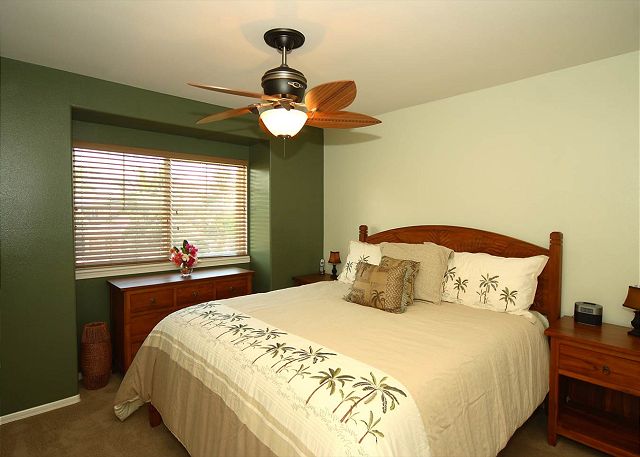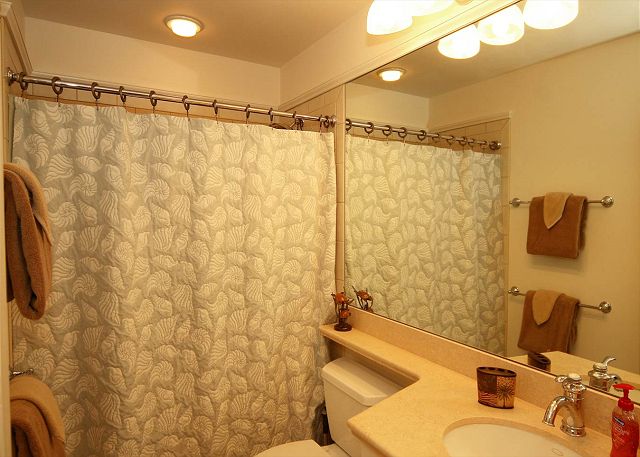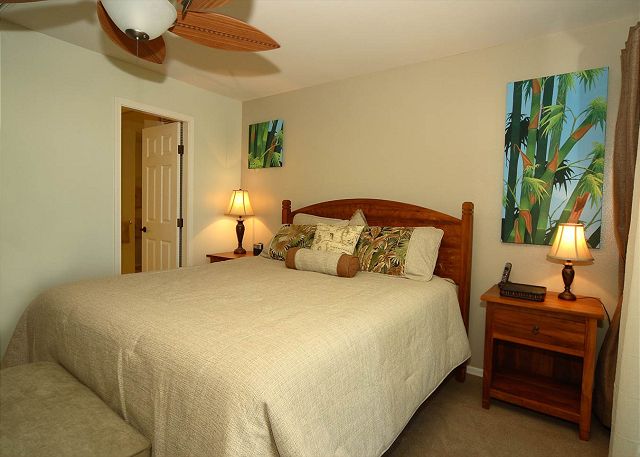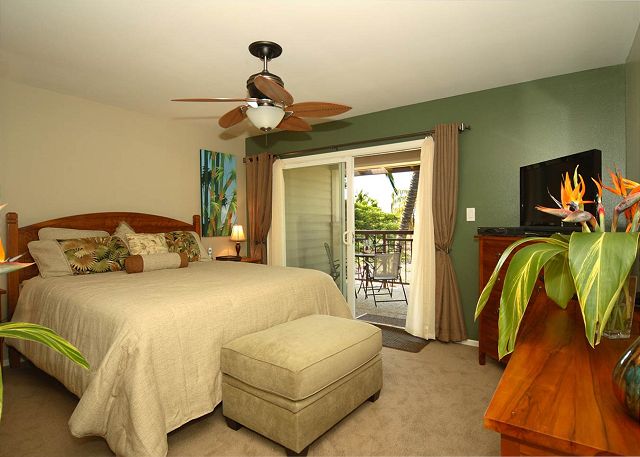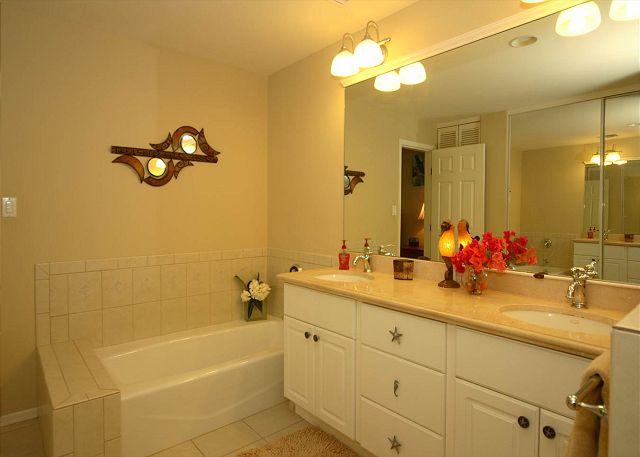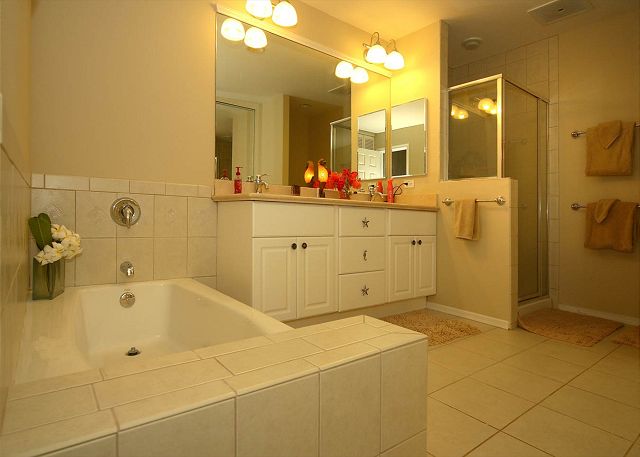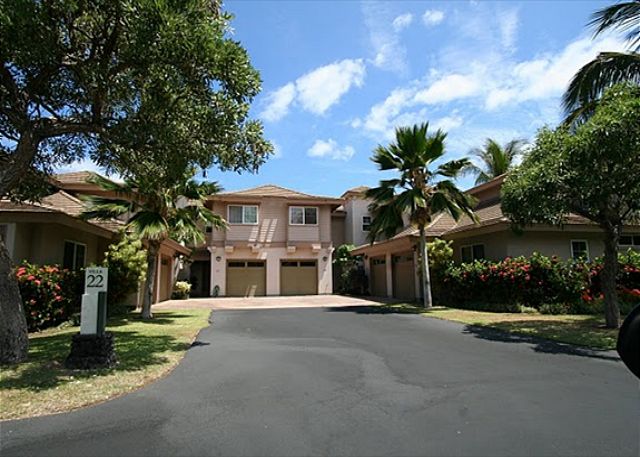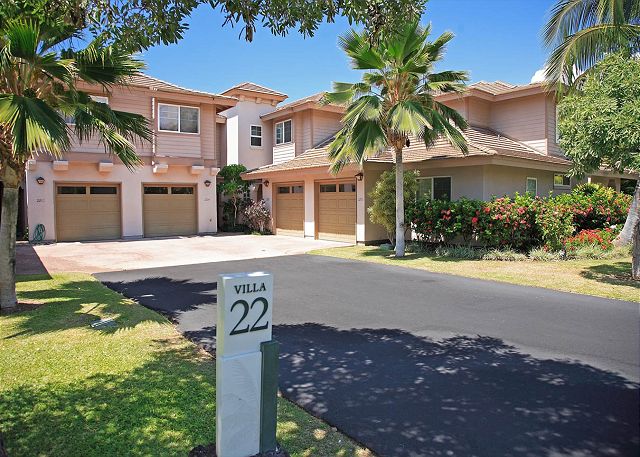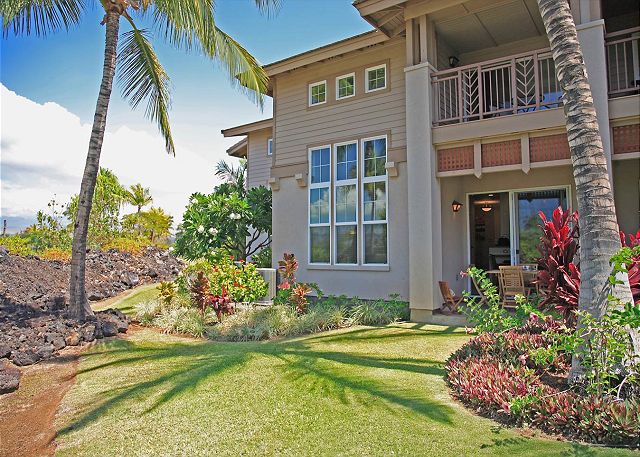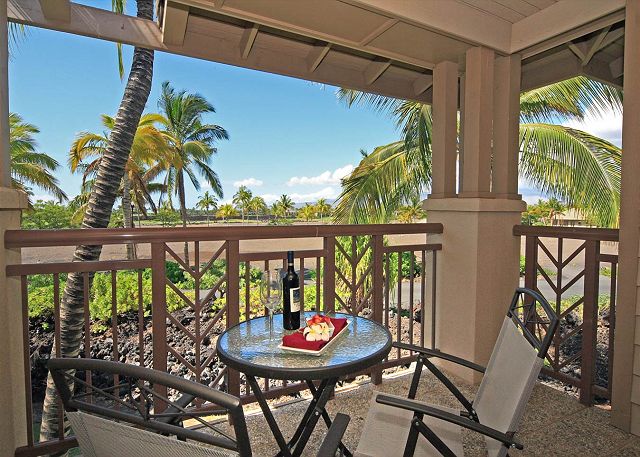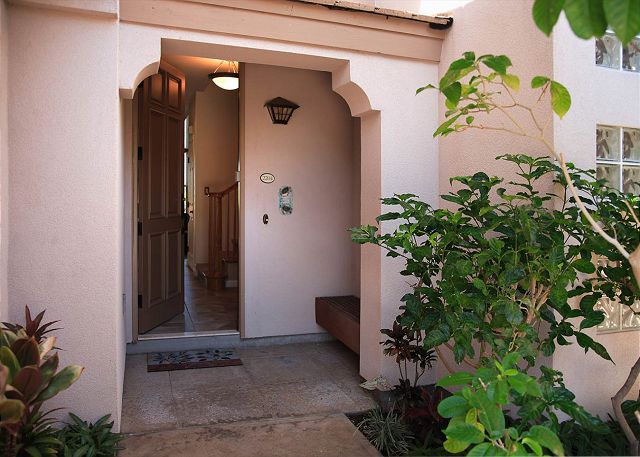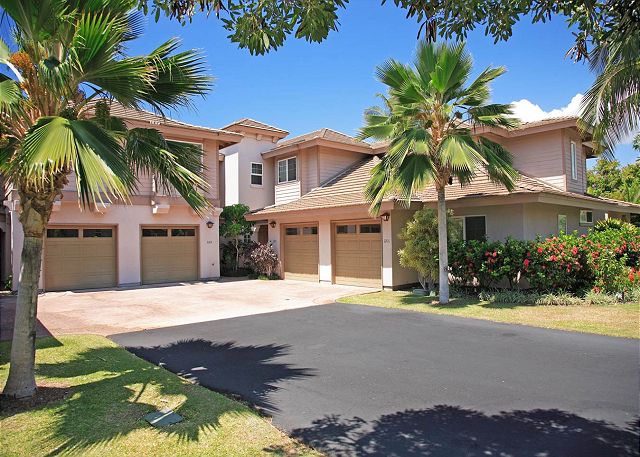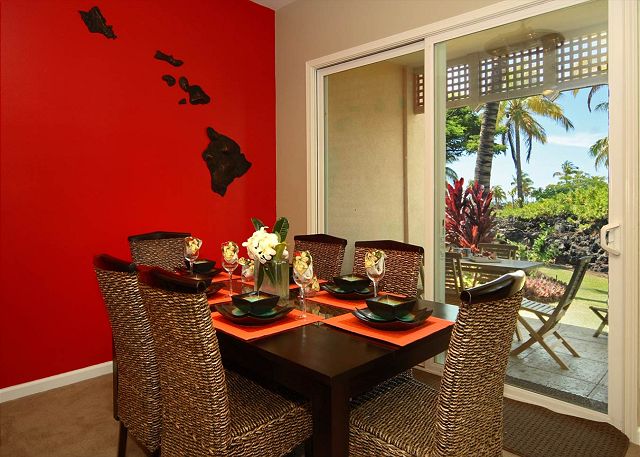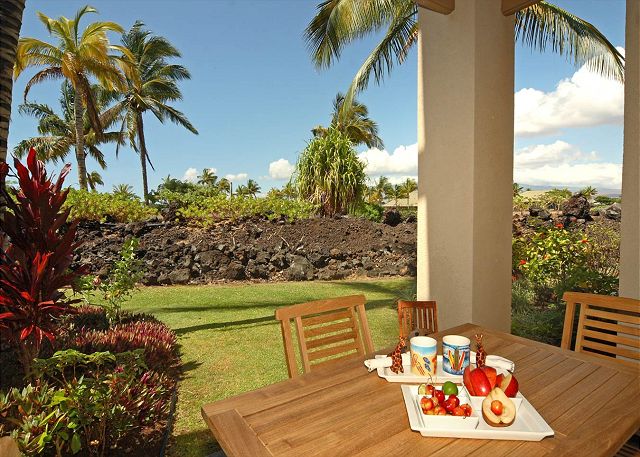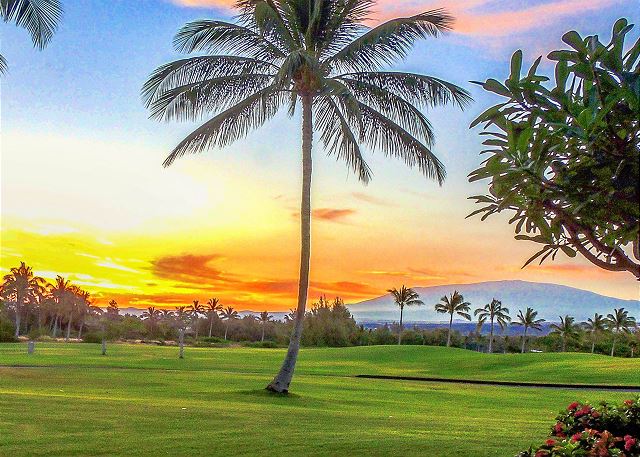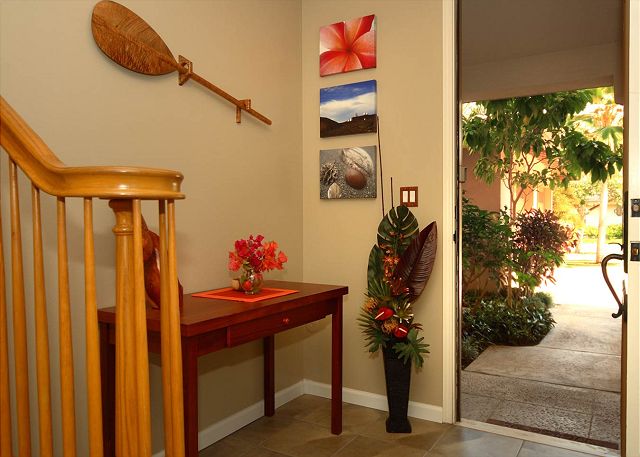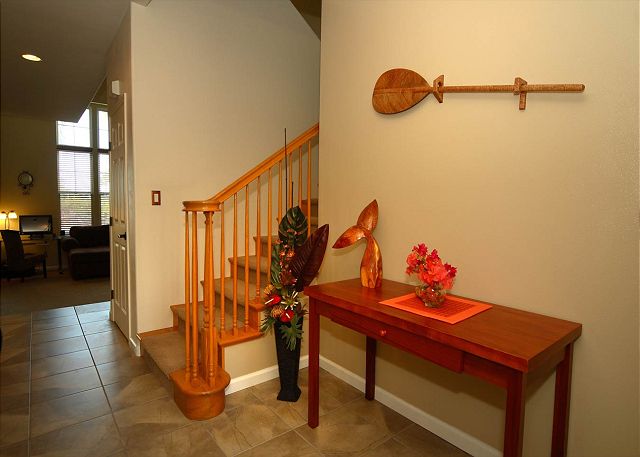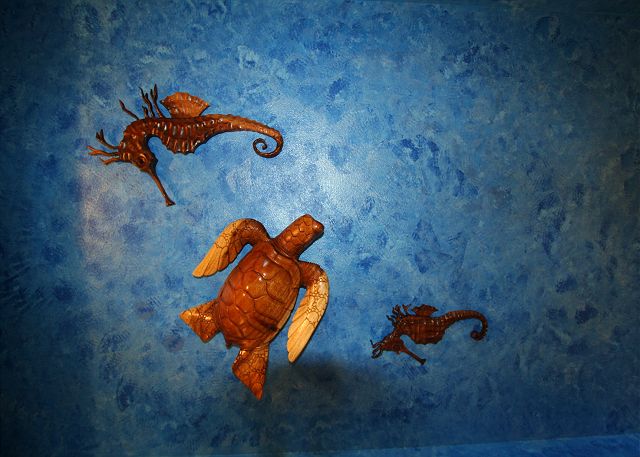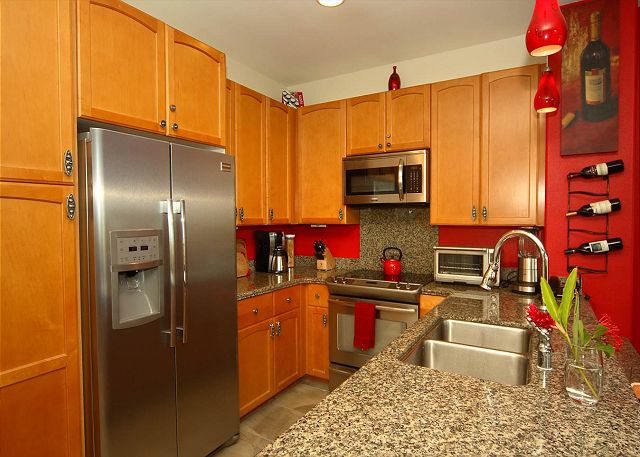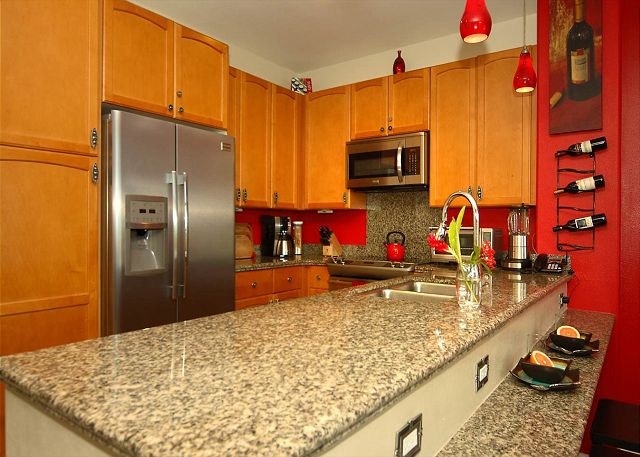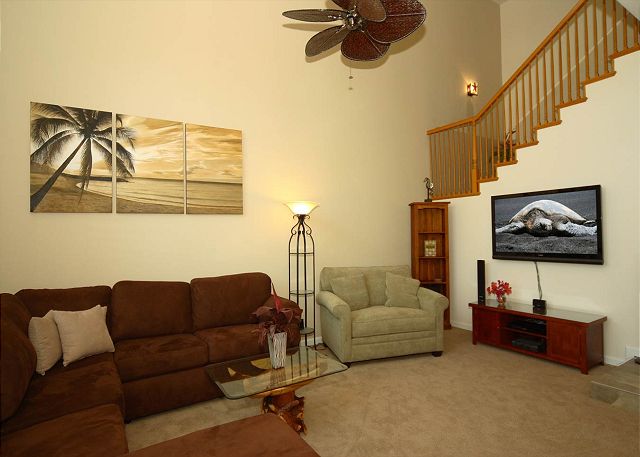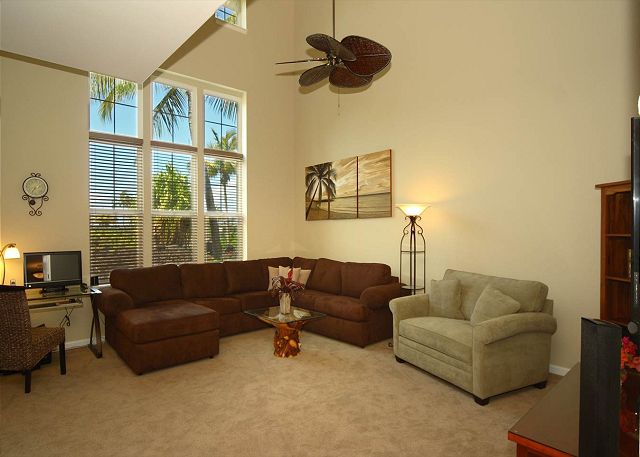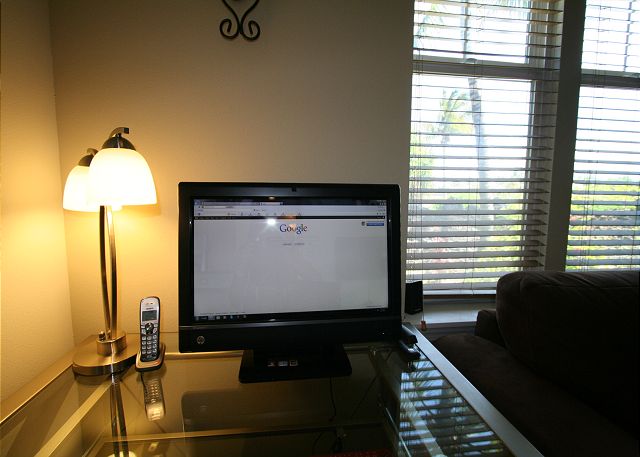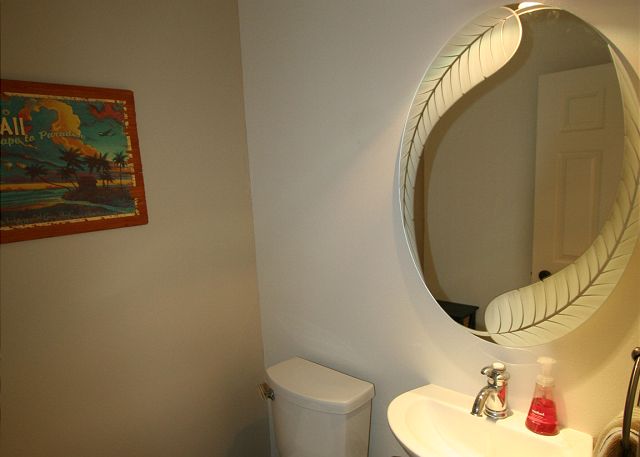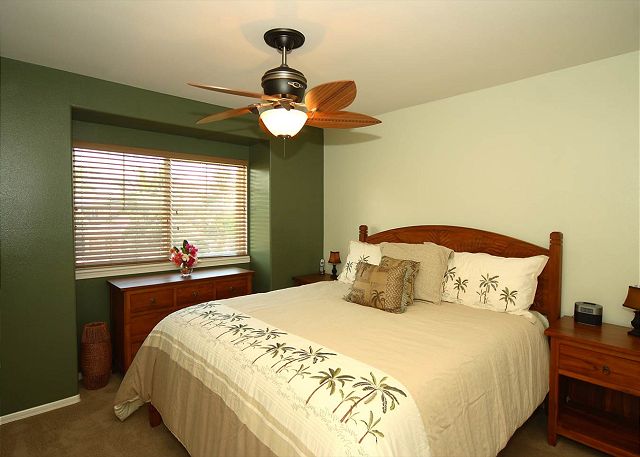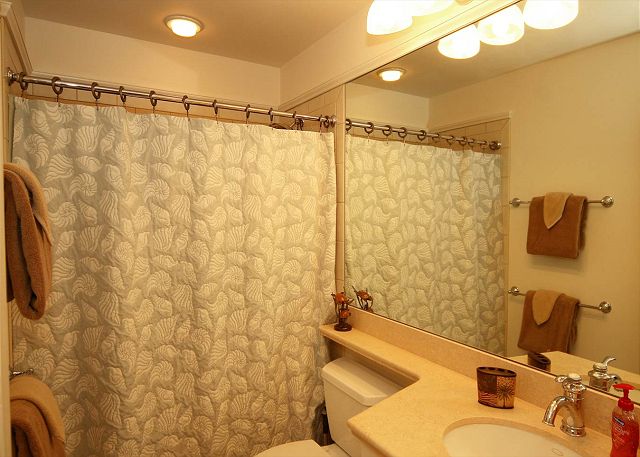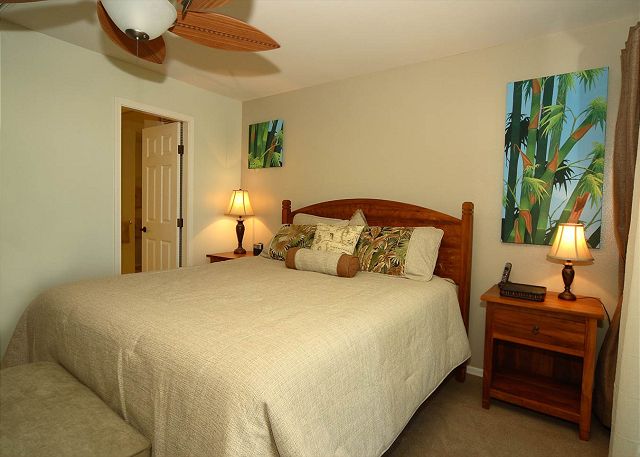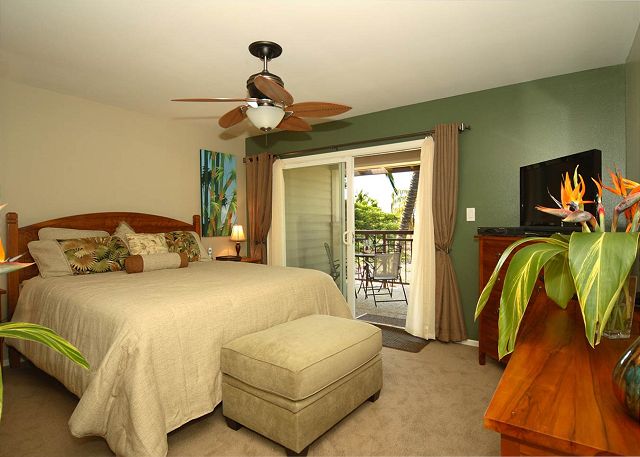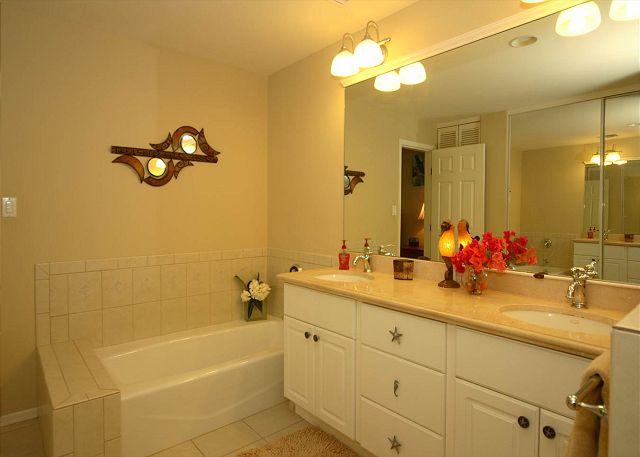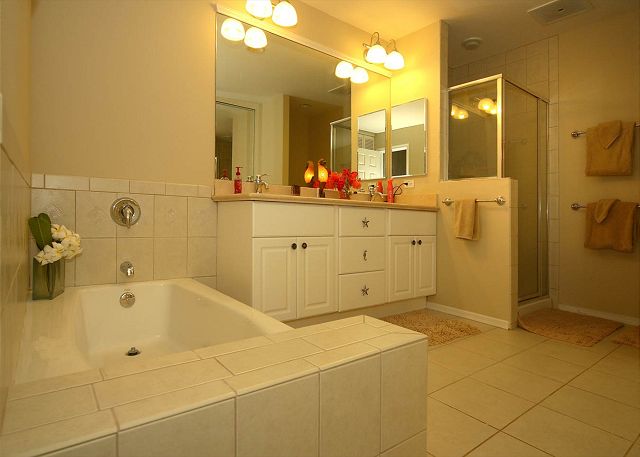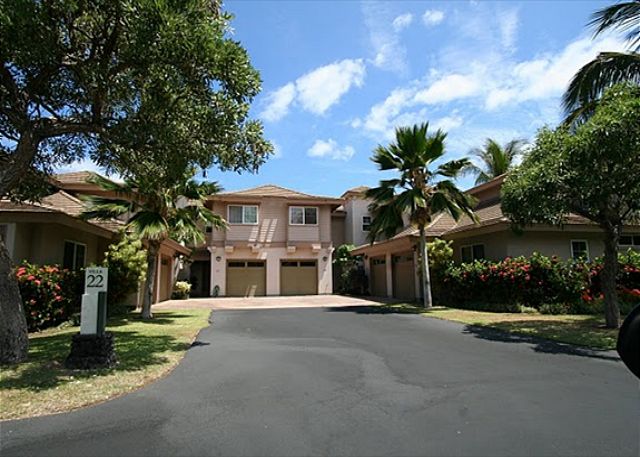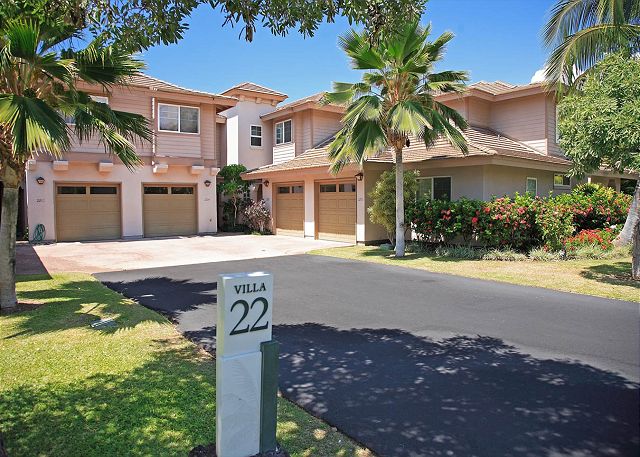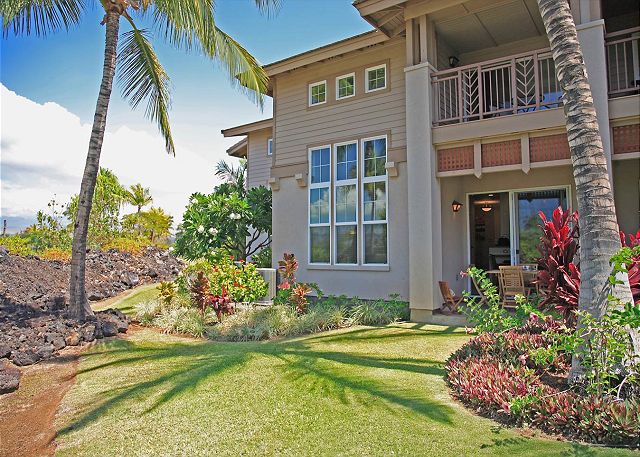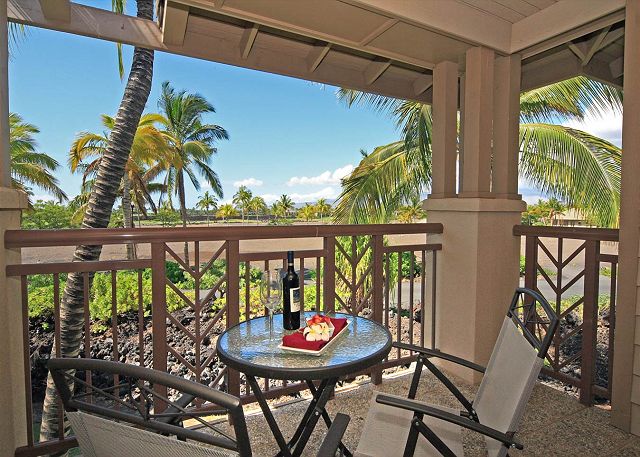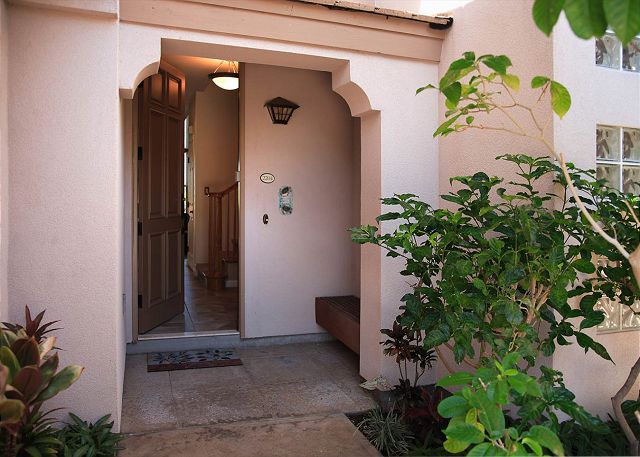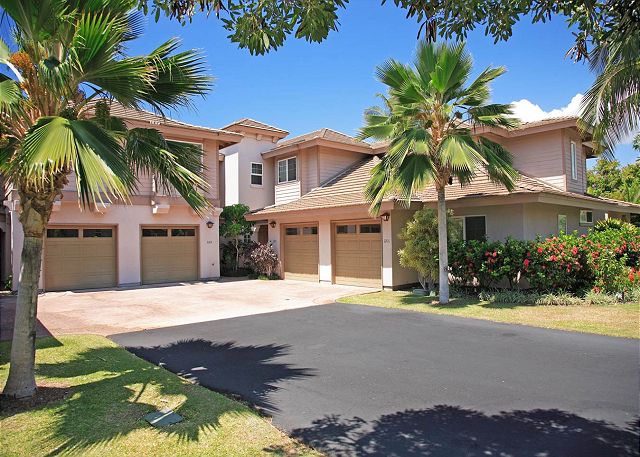 Description
Aloha and welcome to our Big Island getaway. Our Villa was purchased in March of 2011 and is a part of the Waikoloa Colony Villas located within the exclusive Waikoloa Beach Resort. Located just eighteen miles north of the Kona Airport, this premier Resort is known for its central location to beautiful beaches, shopping and upscale dining. If you enjoy golf, there are two courses available within the Waikoloa Beach Resort, the Beach Course and the King's Course.

Colony Villa 2204 has been completely renovated incorporating classic Island style with contemporary comfort. Our philosophy while renovating was simple; create an atmosphere that will leave lasting memories for our guests by investing in our community. That is why you will find original carvings, furnishings, and artwork designed and created by local artists and artisans for your enjoyment. You will find our Villa to be comfortable and quiet with views of swaying palm trees and the Mauna Kea Observatory in the distance. Our Villa is a two story unit; you need not worry about people above or below you. With two private Lanai you can be assured of a shady retreat any time of the day. Ceiling fans adorn every room giving you the option of utilizing the amazing cooling powers of the trade winds.

Beyond the local flair you will notice new tile, carpet and fresh paint. There is a fully equipped kitchen featuring granite countertops and all new, quality appliances. FREE WIFI AND PARKING. If you prefer to dine out, you will find our Villa to be within walking distance to the Hilton, home to Kamuela Provision Company, Kirins and Imari. For those looking for a more casual dining experience there is the Boat Landing Pavilion, Lagoon Spoon and the Lagoon Grille where you can eat while being entertained by the Dolphins of Dolphin Quest.

Continuing on from the Hilton you will discover the Kings Shops with upscale shops and restaurants including Roy's, Merriman's and the Eddie Aikau Restaurant and Surf Museum. You can enjoy live entertainment and cultural events as well. Kiddy corner from the Kings Shops you will find the Queens Marketplace with Hawaiian memorabilia, food court and the Island Gourmet grocery mart.

Centrally located to A Bay, Hapuna and Mauna Kea Beaches and the Puako Petroglyph Archaeological Preserve, whatever your interests; hiking, snorkeling, fishing, sunbathing, horseback riding or visiting the Hawaiian Vanilla Company for High Tea, you will find the Colony Villas to be a premier exclusive resort community.



SPECIAL – Spend the day at the Hilton Waikoloa Village, you can buy a discounted DAY PASS to the pool/waterslide or relax at the spa with a SPA PASS. More info will be provided upon booking with us.



FREE WIFI

FREE PARKING

WASHER AND DRYER

BEACH CHAIRS, COOLER, BEACH TOWELS

BEACH/SWIM GEAR

A/C – CENTRAL AIR

BBQ AT POOL AREA

CLOSE TO POOL, BEACH, SHOPPING AND RESTAURANTS



This villa is cleaned by a professional cleaning company using EPA approved products for use against COVID-19. And cleaning process is following guidelines received from World Health Organization and the Centers for Disease Control.



Hawaii County ordinance to regulate Short-Term Vacation Rentals application for this property was accepted and certificate is pending.



**** WE DO NOT TAKE WIRE/BANK TRANSFERS******



HAWAII SHORT TERM VACATION RENTAL# 19-375817

HAWAII GE/TAT TAX ID# 040-519-0656-01



TMK 6-9-007-035-0130
Calendar
October 2021

| S | M | T | W | T | F | S |
| --- | --- | --- | --- | --- | --- | --- |
| | | | | | 01 | 02 |
| 03 | 04 | 05 | 06 | 07 | 08 | 09 |
| 10 | 11 | 12 | 13 | 14 | 15 | 16 |
| 17 | 18 | 19 | 20 | 21 | 22 | 23 |
| 24 | 25 | 26 | 27 | 28 | 29 | 30 |
| 31 | | | | | | |
November 2021

| S | M | T | W | T | F | S |
| --- | --- | --- | --- | --- | --- | --- |
| | 01 | 02 | 03 | 04 | 05 | 06 |
| 07 | 08 | 09 | 10 | 11 | 12 | 13 |
| 14 | 15 | 16 | 17 | 18 | 19 | 20 |
| 21 | 22 | 23 | 24 | 25 | 26 | 27 |
| 28 | 29 | 30 | | | | |
December 2021

| S | M | T | W | T | F | S |
| --- | --- | --- | --- | --- | --- | --- |
| | | | 01 | 02 | 03 | 04 |
| 05 | 06 | 07 | 08 | 09 | 10 | 11 |
| 12 | 13 | 14 | 15 | 16 | 17 | 18 |
| 19 | 20 | 21 | 22 | 23 | 24 | 25 |
| 26 | 27 | 28 | 29 | 30 | 31 | |
January 2022

| S | M | T | W | T | F | S |
| --- | --- | --- | --- | --- | --- | --- |
| | | | | | | 01 |
| 02 | 03 | 04 | 05 | 06 | 07 | 08 |
| 09 | 10 | 11 | 12 | 13 | 14 | 15 |
| 16 | 17 | 18 | 19 | 20 | 21 | 22 |
| 23 | 24 | 25 | 26 | 27 | 28 | 29 |
| 30 | 31 | | | | | |
February 2022

| S | M | T | W | T | F | S |
| --- | --- | --- | --- | --- | --- | --- |
| | | 01 | 02 | 03 | 04 | 05 |
| 06 | 07 | 08 | 09 | 10 | 11 | 12 |
| 13 | 14 | 15 | 16 | 17 | 18 | 19 |
| 20 | 21 | 22 | 23 | 24 | 25 | 26 |
| 27 | 28 | | | | | |
March 2022

| S | M | T | W | T | F | S |
| --- | --- | --- | --- | --- | --- | --- |
| | | 01 | 02 | 03 | 04 | 05 |
| 06 | 07 | 08 | 09 | 10 | 11 | 12 |
| 13 | 14 | 15 | 16 | 17 | 18 | 19 |
| 20 | 21 | 22 | 23 | 24 | 25 | 26 |
| 27 | 28 | 29 | 30 | 31 | | |
April 2022

| S | M | T | W | T | F | S |
| --- | --- | --- | --- | --- | --- | --- |
| | | | | | 01 | 02 |
| 03 | 04 | 05 | 06 | 07 | 08 | 09 |
| 10 | 11 | 12 | 13 | 14 | 15 | 16 |
| 17 | 18 | 19 | 20 | 21 | 22 | 23 |
| 24 | 25 | 26 | 27 | 28 | 29 | 30 |
May 2022

| S | M | T | W | T | F | S |
| --- | --- | --- | --- | --- | --- | --- |
| 01 | 02 | 03 | 04 | 05 | 06 | 07 |
| 08 | 09 | 10 | 11 | 12 | 13 | 14 |
| 15 | 16 | 17 | 18 | 19 | 20 | 21 |
| 22 | 23 | 24 | 25 | 26 | 27 | 28 |
| 29 | 30 | 31 | | | | |
June 2022

| S | M | T | W | T | F | S |
| --- | --- | --- | --- | --- | --- | --- |
| | | | 01 | 02 | 03 | 04 |
| 05 | 06 | 07 | 08 | 09 | 10 | 11 |
| 12 | 13 | 14 | 15 | 16 | 17 | 18 |
| 19 | 20 | 21 | 22 | 23 | 24 | 25 |
| 26 | 27 | 28 | 29 | 30 | | |
July 2022

| S | M | T | W | T | F | S |
| --- | --- | --- | --- | --- | --- | --- |
| | | | | | 01 | 02 |
| 03 | 04 | 05 | 06 | 07 | 08 | 09 |
| 10 | 11 | 12 | 13 | 14 | 15 | 16 |
| 17 | 18 | 19 | 20 | 21 | 22 | 23 |
| 24 | 25 | 26 | 27 | 28 | 29 | 30 |
| 31 | | | | | | |
August 2022

| S | M | T | W | T | F | S |
| --- | --- | --- | --- | --- | --- | --- |
| | 01 | 02 | 03 | 04 | 05 | 06 |
| 07 | 08 | 09 | 10 | 11 | 12 | 13 |
| 14 | 15 | 16 | 17 | 18 | 19 | 20 |
| 21 | 22 | 23 | 24 | 25 | 26 | 27 |
| 28 | 29 | 30 | 31 | | | |
September 2022

| S | M | T | W | T | F | S |
| --- | --- | --- | --- | --- | --- | --- |
| | | | | 01 | 02 | 03 |
| 04 | 05 | 06 | 07 | 08 | 09 | 10 |
| 11 | 12 | 13 | 14 | 15 | 16 | 17 |
| 18 | 19 | 20 | 21 | 22 | 23 | 24 |
| 25 | 26 | 27 | 28 | 29 | 30 | |
Available
Unavailable
Check-In Only
Check-Out Only
Seasonal Rates
| Date Range | Daily | Weekly | Monthly |
| --- | --- | --- | --- |
* Seasonal rates are only estimates and do not reflect taxes or additional fees.
Location
Guest Reviews of
Colony Villas at Waikoloa Beach Resort #2204
Waikoloa, HI
---
Vacation Rental Reviews by
stars based on
Amazing property. Highly recommend!
Review by
Brittany L.
This was such a fantastic property, perfect place to stay in Kona. It was so comfortable, well equipped, plenty of comfortable seating for the whole family to hang out, carpet made it cozy to come home after long days of playing in the sun! The great kitchen had every appliance & dish & seasoning, plus more, to make it home away from home. There's a closet full of beach gear, child booster seat, bog beach bags to pack your day things like food & snacks, without having to buy unnecessarily. It was such a great place to stay, we will stay here again! The common area pools, bbq's, tennis makes it so all inclusive. Location proximity to Queens market shop is awesome for grabbing quick things you might need. And so close to shave ice in kings shop and as a huge bonus! Also, the app this company uses for guests included every bit of info you needed before & during your trip. It was so easy to get ahold of property manager, with timely quick responses. Thank you, thank you!!
5 out of 5 stars
Big Island Family Vacation
Review by
Conrado V.
It was a lifetime memorable experience.
5 out of 5 stars
Comfy Waikoloa Condo
Review by
James D.
This condo was very clean, comfortable, and well stocked - a great place to eat, sleep and relax when not at the beach or exploring the island. Also, the pool was probably the nicest I have ever experienced at a condo.
5 out of 5 stars
30 Apri-6 May 2019 @ 2204 Waikoloa Colony Villa
Review by
VRA David S.
Superb in all respects.Planning our next visit in January and again. April 2020. Unit 2204 exceeded All expectations . We would have preferred a longer visit. And will do so in 2020Main attraction was vicinity to some excellent golf courses and the very close walking distance to the Beach and Kings coursesRegardsDavid and Pamela -actually from Sydney Australia (not Memphis Tn, although we have been To Memphis a few times )
5 out of 5 stars
Manager Response:
Aloha David and Pamela! Thanks for this great review! We will look forward to your longer stay in 2020. We do give a discount for repeat guests so be sure to ask Michelle. Good Day Mate! 😉
Comfortable and Baby-Friendly
Review by
Autumn Z.
We were skeptical about staying on a golf course- its not usually the way that we like to vacation, but after two other vacation rentals on this ten day vacation I can say this was my favorite. It was super clean, super comfortable and very baby friendly! There was a pack and play and a baby chair, plus kids plates and cups. It was really welcoming. The only thing I disliked was the fact that you had to download an ap to access the codes to the property AND find a email in your inbox to get the key code- it was a little extreme.
5 out of 5 stars
Perfect vacation stay
Review by
Kelly O.
This condo fit our needs perfectly. Very clean with nice beds. Everything was well stocked from kitchen utensils, pans etc.. to beach gear. Pool area was lovely also. i would recommend this property to friends and family.
5 out of 5 stars
Manager Response:
Thank you so much for staying with us! We are so happy you had a great vacation and loved the property. Come back soon! Mahalo, KCP Team
Business trip to Big Island
Review by
It was above average but have had better.
3 out of 5 stars
Extraordinary Vacation
Review by
Alexander B.
Our first stay in Big Island and such a beautiful decorated and over well equipped home !!. This made our vacation perfect. We stayed for 6 nights (2 adults and 2 teenagers). The Colony Villas community is very clean with a nice pool and barbecue area. Beaches are in short driving distance. Highly recommended !
5 out of 5 stars
Great condo"
Review by
Antonio F.
Amazing condo, well furnished, well decorated, like been at home. Just like in the photos!Easy to organize with rental company.Great value for price!
5 out of 5 stars
Simply amazing
Review by
Amy D.
This was, by far, the greatest Hawaii home rental my husband and I have ever experienced. The location was lovely, the home was updated, comfortable, and welcoming. From amenities to appliances to details -- the owners thought of everything. I loved staying in this plush, quiet home.
5 out of 5 stars
Perfect stay
Review by
We had 4 wonderful days at this house near the beach. It was very clean, with many convenience staff and big space for everyone.It was not so easy to go by walk by the beach; so its necessary to use the car.
5 out of 5 stars
Great roomy condo with lots of Amenities
Review by
Robert P.
A very nice place to stay on the west side of the island. Plenty of room and conveniently located near shopping and restaurants within a few minutes walk. The decor was very nice and furniture comfy. Wonderfully quiet at night with birds that wakes you in the morning. Very relaxing place to stay.
5 out of 5 stars
Relaxing vacation
Review by
Me and my family really enjoyed villa 2204. It had everything fromKitchen supply's to bedding and beach towels, all we needed to get was food and drinks. Beautiful villa great location, walking distance to pool and weight room. Management was very reaponsize to all our questions and very helpful. I would recommend villa 2204 to everyone and anybody going to Waikoloa.
5 out of 5 stars
Anniversary
Review by
Our stay was wonderful. So many wonderful amenities provided at this property.
5 out of 5 stars
Amazing stay!
Review by
Katie M.
This was the perfect spot! Everything from the sheets to the details on the silverware was so nice! The most comfortable beds too! We had such a good time we are already planning our next trip. Location was great and the area was very nice.
5 out of 5 stars
Wedding Vacation
Review by
Scott P.
Manager Response:
Awesome! Glad you enjoyed! Mahalo
First Trip to the Big Island
Review by
Michele E.
My husband and I were in Waikoloa for a friend's wedding. All the other guests stayed at the hotel, but we rented this condo - best decision we could have made! This gorgeous unit is fully stocked with cooking essentials, towels, linens, and beach toys. We wanted for nothing. All we had to do was hit Costco, unpack, and enjoy a carefree 9 days on the beach! We're already talking about booking the same place on a return trip. Mahalo!
5 out of 5 stars
Beautiful vacation home
Review by
Ray M.
Everything as described and in great condition, everything provided and very quiet, definitely recommended, look forward to staying there again!
5 out of 5 stars
Great vacation accommodation
Review by
Lori N.
I would recommend this Villa to anyone wanting a clean, stocked, comfortable, and quiet place to stay. It is a place I could live in permanently, if so lucky.
5 out of 5 stars
Very satisfied!!
Review by
Louanne O.
Enjoyed my stay! Very clean and comfortable! I want to do it again:)
5 out of 5 stars
Very nice rental
Review by
jim r.
We stayed at this condo and we very pleased with the location, amenities, pretty much everything. We would definitely stay there again and would recommend it to anyone who wants to rent a place in Hawaii.
5 out of 5 stars
Paradise in Waikoloa
Review by
Susan R.
Our stay was very pleasurable. We definitely will plan to return again.
5 out of 5 stars
Great location, great property, great management professionals!
Review by
Vincenzo C.
We had a great time!The north-east exposure of the property was not ideal, as it had little direct sun light throughout the day, but being in proximity of great beaches and Waikoloa shopping amenities made our vacation an excellent one!
4 out of 5 stars
A comfortable and enjoyable stay in Waikoloa
Review by
The condo was well decorated and furnished, making my son's stay there very comfortable. The kitchen, dining table and living room were conveniently arranged and perfect for eating and entertaining. The beach equipment in the closet also came in very handy (beach chairs, umbrella, boogie boards, beach toys). It was a very enjoyable stay, close to the Queen's Marketplace and King's Shops.
5 out of 5 stars
davatrip
Review by
Mark D.
Would do this again. Like being at home. Great beds.
5 out of 5 stars
A wonderful home away home!
Review by
The condo was beautifully decorated, had lots of high end features (appliances, computer, tv's) and was squeaky clean! Just a wonderful place on a beautiful island. Would highly recommend.
5 out of 5 stars
Wow
Review by
This place was the best stocked rental we've ever stayed in. The decor was gorgeous, the pool was fantastic, the kitchen was stocked with high-end tools, and the closet was full of great beach toys. We had an amazing stay.
5 out of 5 stars
March 2013 Stay at 2204 Colony Villas
Review by
Charles R.
Great place and perfect fit for our group to base its hawaii vacation. We'll be back when we can.
5 out of 5 stars
Great spot
Review by
Came for a wedding with a small group and we had a great time. Couldn't have asked for more!
5 out of 5 stars
Great property in a great location!
Review by
We had a lovely stay at this condo from Feb 2-9/13. This was absolutely one of the best-stocked condos we have ever stayed in, in terms of kitchen spices, supplies etc. Made for some delectable meals! The pool area and BBQs were well maintained and very nice, and the property staff were also very friendly. The condo itself was very spacious with nice furniture and appliances etc. Having the desktop computer and printer was also a bonus as we could print out our boarding passes for the return flight home! The beds and linens were also very comfortable. The location was very quiet -- we didn't hear any traffic noise, or noise from other units, or even from other rooms within the condo (great for when our daughter went to bed earlier than us!). It was a short walk to the Hilton where our convention was (about 15 minutes), about 25-30 minutes to the Marriot where we attended a luau, and about 30-35 to Queen's shops if you walk all around the ring road (a bit shorter if you cut straight across through the golf course). We also walked to A-bay beach one day along the oceanfront path in front of the Hilton etc. and that was about 45 minutes, a bit rocky in some sections though. The only downsides of our stay were that we had to leave! Minor things: The door handle to the downstairs storage closet (well stocked with boogie boards, beach chairs, coolers, etc.) was loose and kept falling off. Also, the pack & play we had rented for our daughter was not there when we arrived, but was quickly delivered after an email to the propety managers. Thanks everyone for a great vacation! We would definitely return here again.
5 out of 5 stars
Excellent service and a great place!
Review by
Randall O.
Loved the place! It was clean and well appointed. Service was great and we will both recommend the place and be back again!
5 out of 5 stars
Holiday Getaway @
Review by
Exactly what we were hoping for-a quiet retreat with excellent decor and amenities! Mahalo!
5 out of 5 stars
First trip to Kona
Review by
Tara C.
We especially enjoyed the quality of the bed, it was just like being at home in our own comfy bed. The kitchen was well equipped and we made use of the blender. Loved the ice maker in the fridge, however the fridge was set so cold it froze some of our produce. We turned it down a few degrees. The kitchen was stocked with coffee, filters, spices and condiments, which we really appreciated! We hope to come back with family and friends and stay longer next time. The pool and community BBQ were nice to have. We enjoyed the computer and used it every morning while we planned our day. The condo was a good location for exploring the north end of the island and close to some shops and restaurants. Cushions for the hard chairs would have made it perfect. Mahalo.
5 out of 5 stars
home away from home
Review by
It was nice to be away from the traffic. We were within waking distance of the shops. The pool and hot tub were awesome. One night they fill the gas for the grills so there was no propane to grill. Just need to check ahead of time. The unit stated sleeps 8. We had 6 and one had to sleep awkwardly on the couch. Only floor space left! Even so we would definitely contact kohala coast properties again first for our big island stay. It truly was our home away from home.Aloha and mahola.
5 out of 5 stars
Very happy guests
Review by
Pualilia P.
We were very happy staying here for three nights and wish we could have stayed longer. We would have except the unit was previously booked. Very clean. Decorated beautifully. Well stocked home and kitchen. Preparing meals in the kitchen was fun and inspiring. The elevated open kitchen made me feel like I was on a cooking show. The bed was very comfortable and linens were extremely soft; we slept soundly. Location of this condo is private as the lanai looks out towards Kohala and empty lots next door. We live in Kona and this was our Wedding Anniversary Get-Away. We brought our beach cruisers with us and had a great time biking around Waikoloa and enjoying the beach, shops and restaurants. The pool at the Waikoloa Colony Villas is very nice; and we did use the gas BBQ there, very convenient. We will return for sure!
5 out of 5 stars
Great Place to Stay
Review by
Patrick N.
We loved our stay and visit to the Big Island. We would stay there again and not not wait to come back. This is now our favorite island.
5 out of 5 stars
Another Day in Paradice
Review by
Sam E.
We had never undertaken a Condo rental before and had never taken a vacation of this type before (30 days in an exotic location). Our fears lasted through the early negotiation on location and price, but then it became obvious that Kohala Coast Properties were a very professional Organization and that the Property Managers Marisa & Alesia were wonderful and attentive individuals who only wished to serve us as new clients. We loved working with them and we loved unit 2204 at the Colony Villas for its location (a little away from the main hussle and bustle of Wiakoloa Beach Resort), and for all its amenities. Hawai'i is a wonderful/magical Island and Waikoloa Beach and Village are a great place to enjoy the magic. We will go back and we will work with Kohala Properities to ensure a positive outcome for our time in Hawai'i. I rate them five stars.
5 out of 5 stars
Exceptionally awesome!
Review by
Chris K.
We had a great relaxing stay in this modern condo with all the amenities to play, cook, snorkel, and party. Great location and access to beaches and island. Overall wise decision.
5 out of 5 stars
great trip
Review by
Ross M.
we enjoyed our visit, condo was fantastic it met all our expectations we will be back, enjoyed the weather and the big island
5 out of 5 stars
Great place in Waikoloa
Review by
Harold B.
We stayed here in December with our two young children and had a great time. The property is well maintained with new appliances and comfortable beds and the gated complex is also very well maintained. There were some good recommendations from the management folks and we had a great stay. It is not a beach front property, but it's a 3 - 5 minute drive to A Bay and 15 minutes to Hapuna. Overall, perfect for us and we hope to come back.
5 out of 5 stars
November 2011
Review by
April U.
The place was really great. Furnished well and all amenities were fantastic..I would highly recommend this particular vacation rental. Nice quiet location but within a good distance from the area's restaurants and shops.
4 out of 5 stars
Excellent condo
Review by
Brenda B.
We had a great stay at the Waikoloa Beach Resort. Our condo at the Colony Villas was beyond our expectations. Thanks Marisa for your help with the internet, etc.
5 out of 5 stars
Contact Us