Crescent Shores #902 North (Condo)
3 Bedroom(s) | 3 Bathroom(s) | Sleeps 10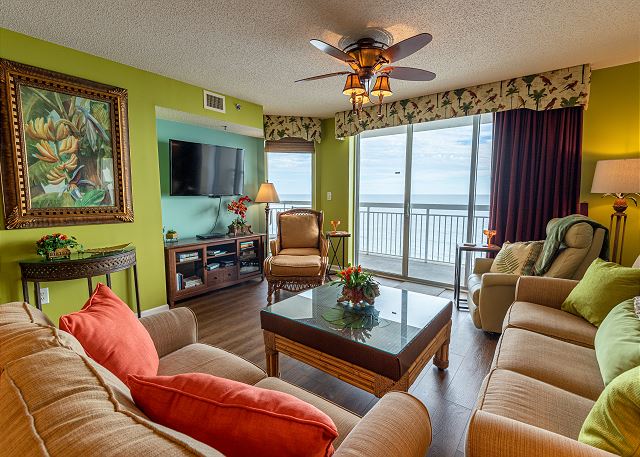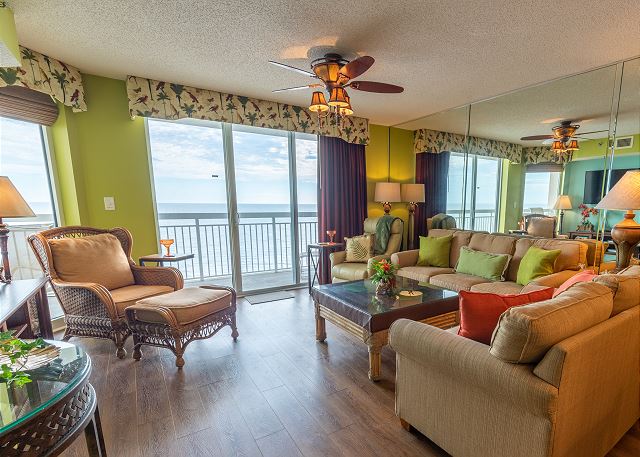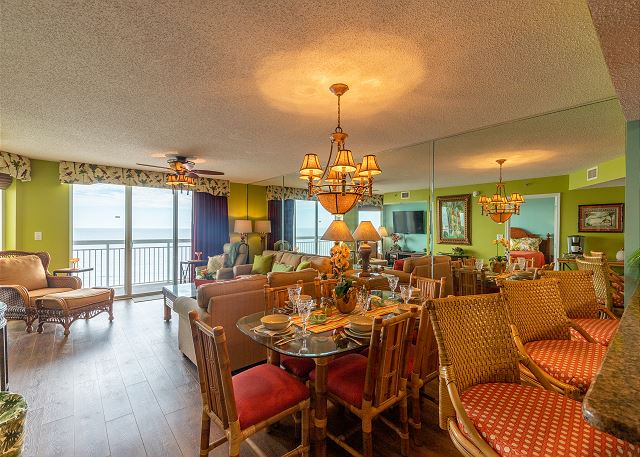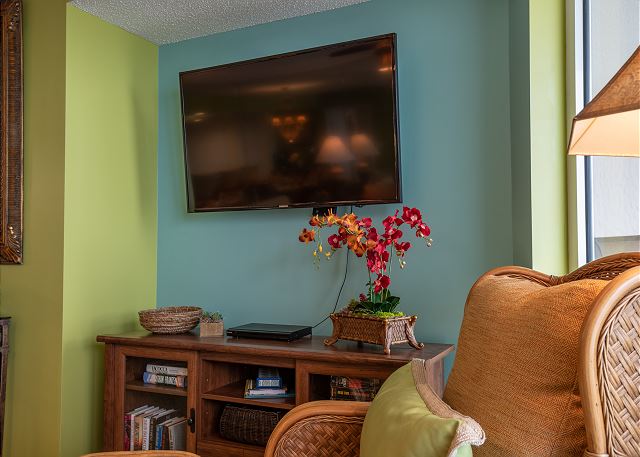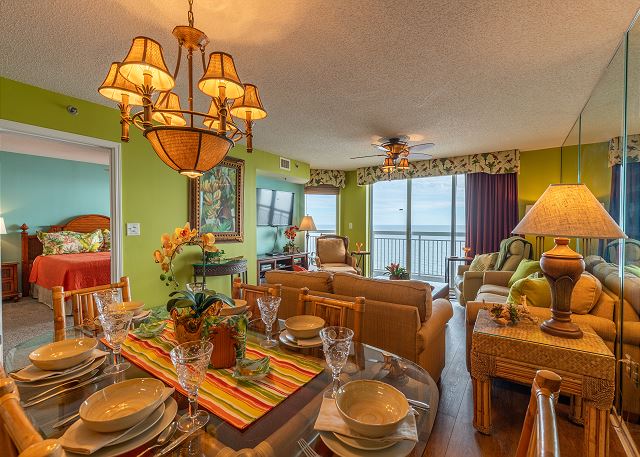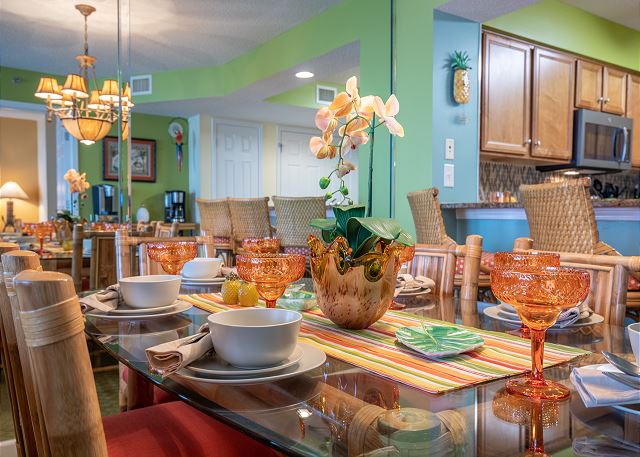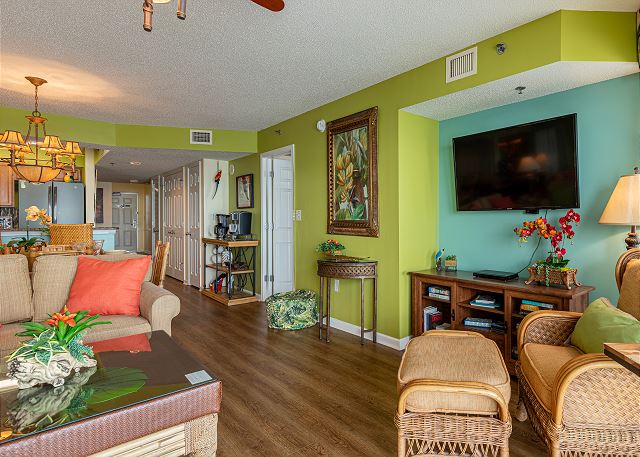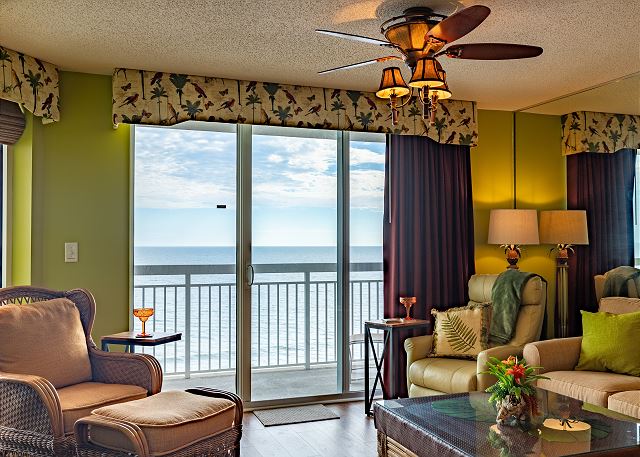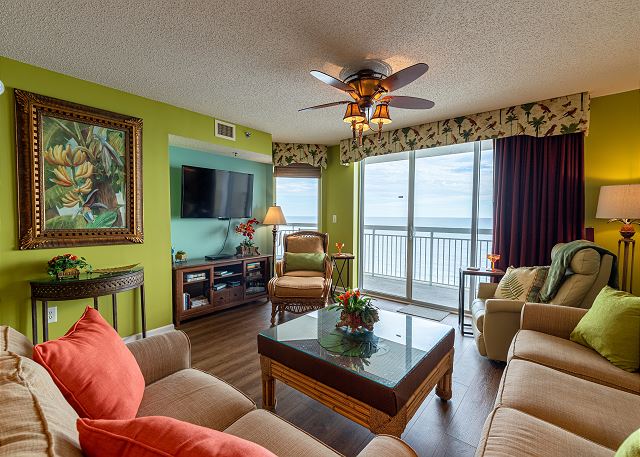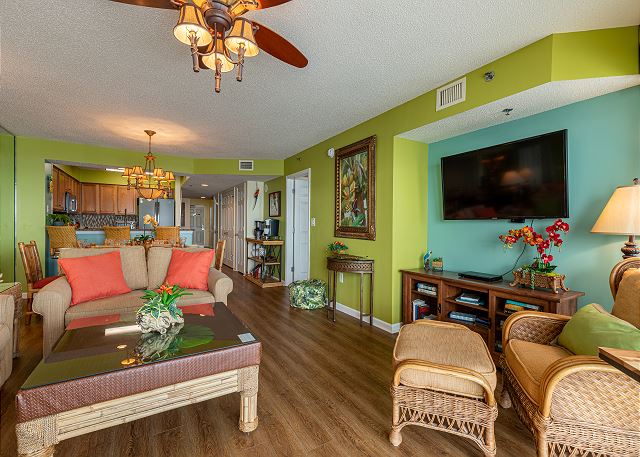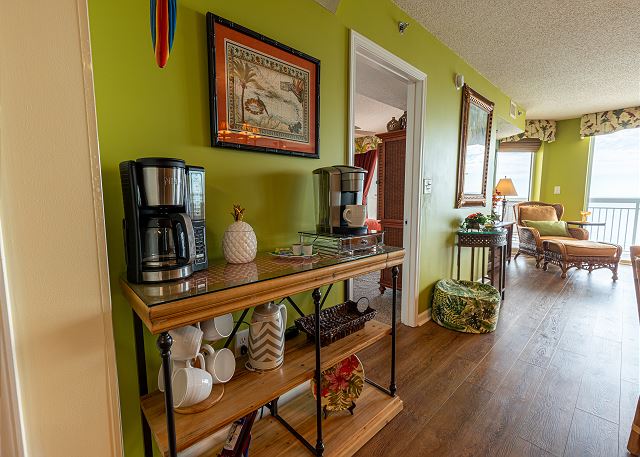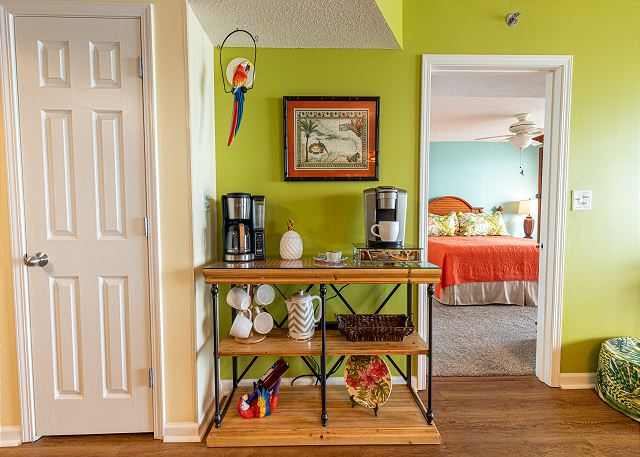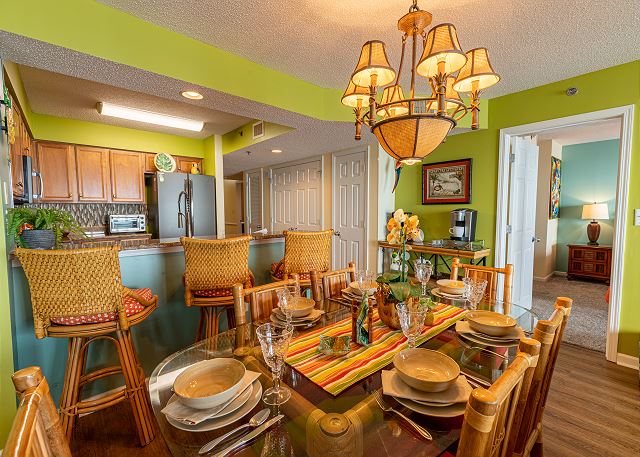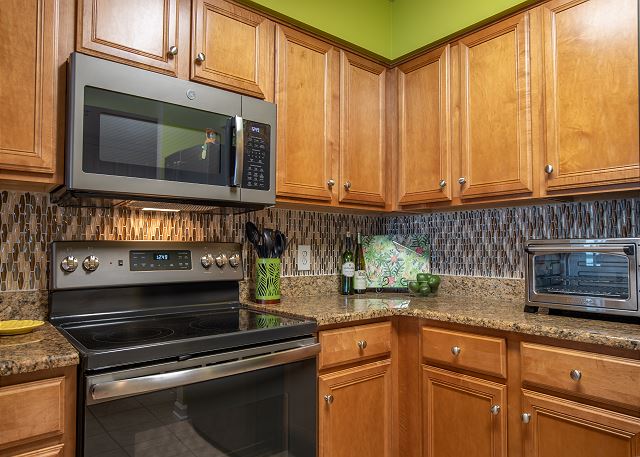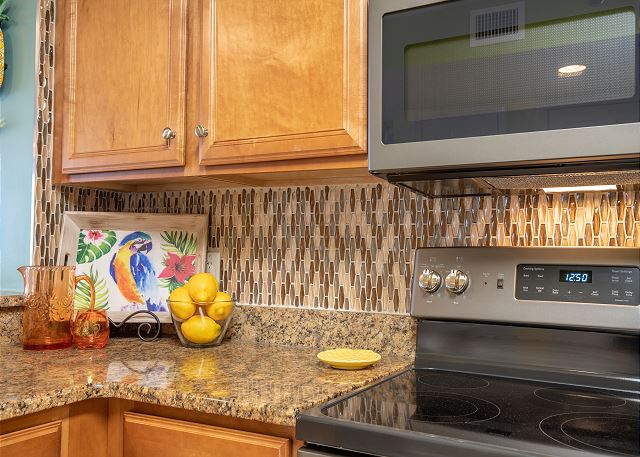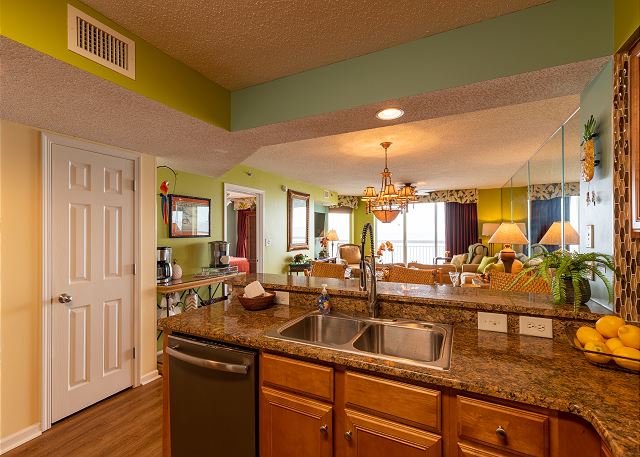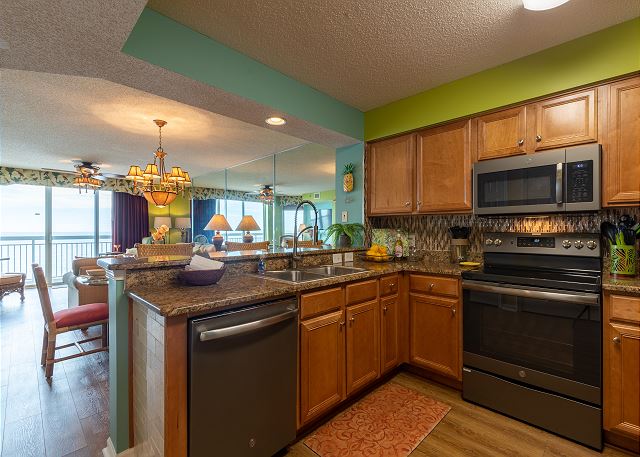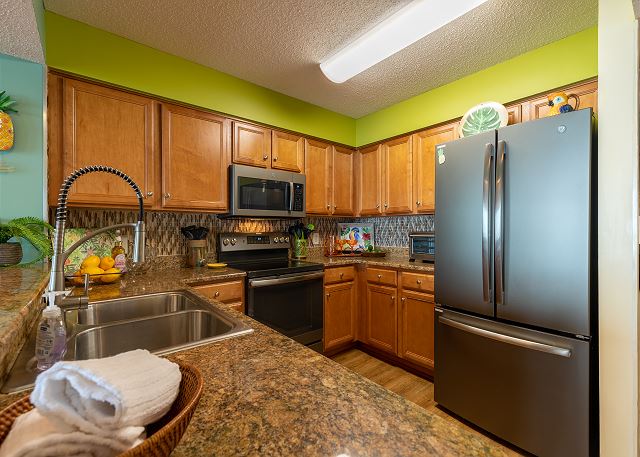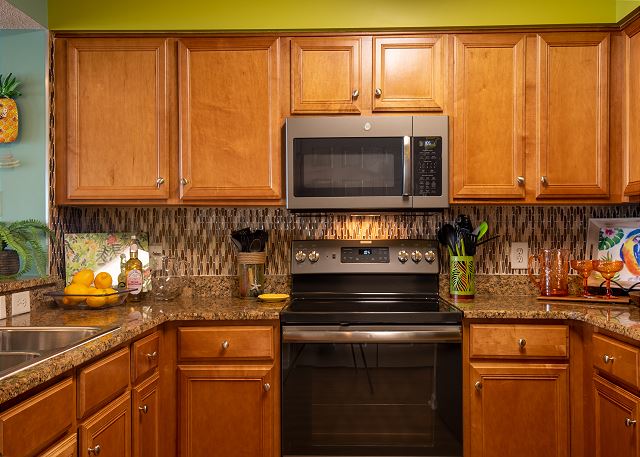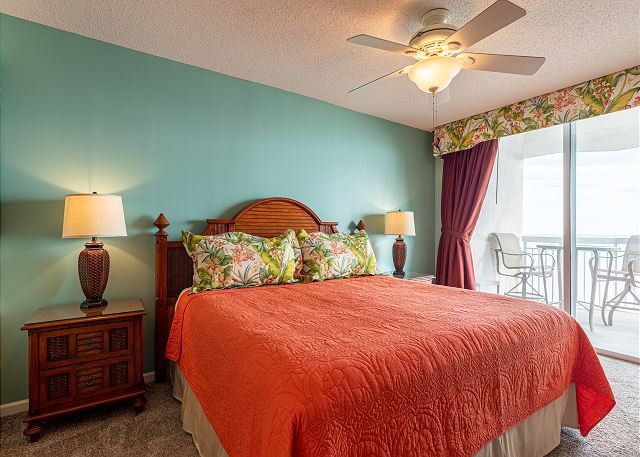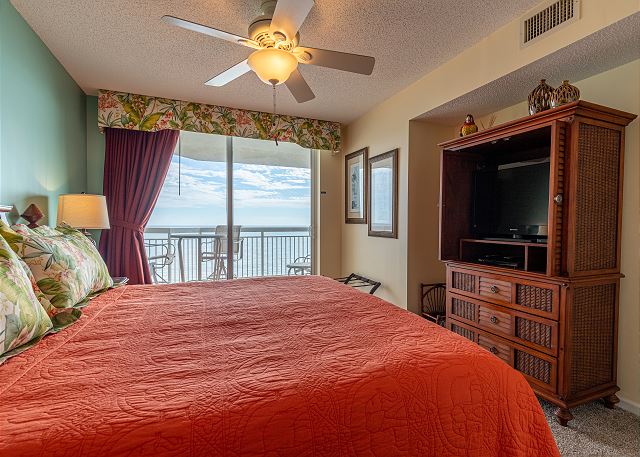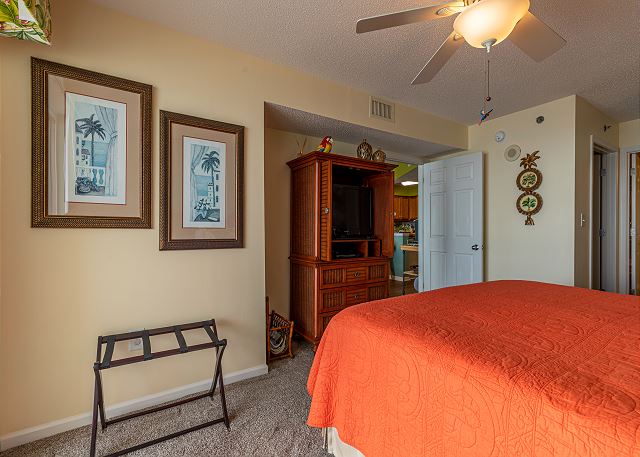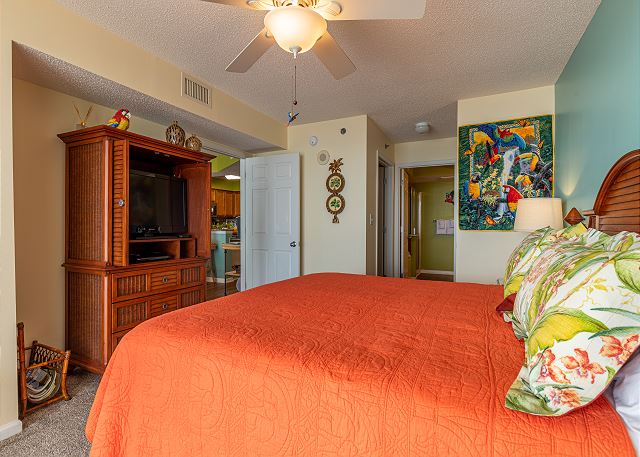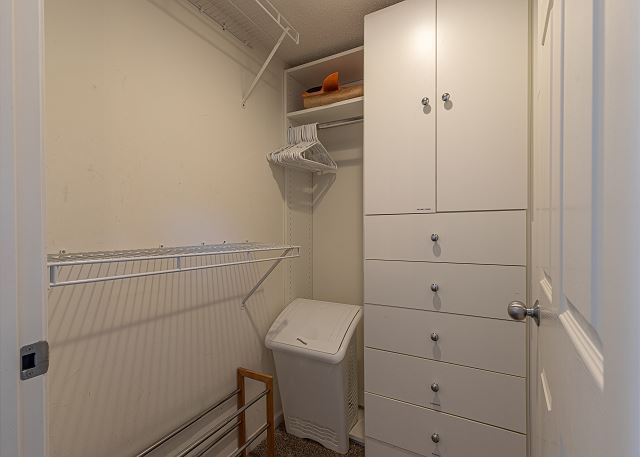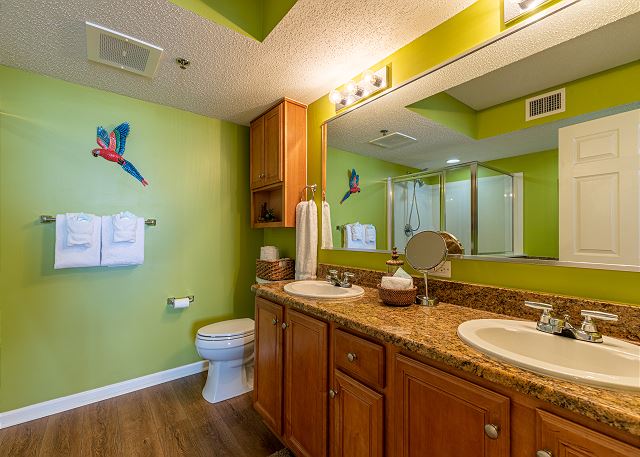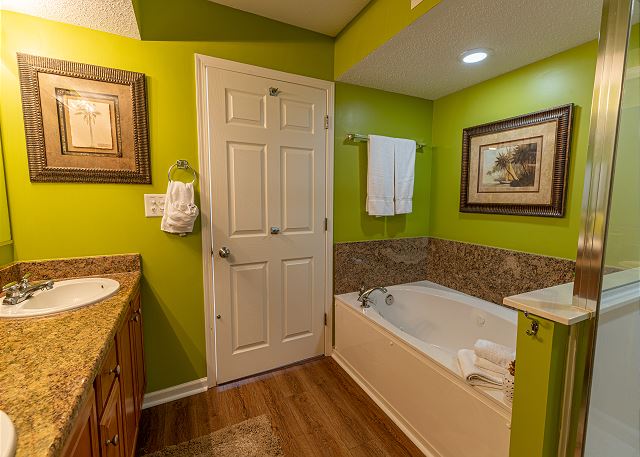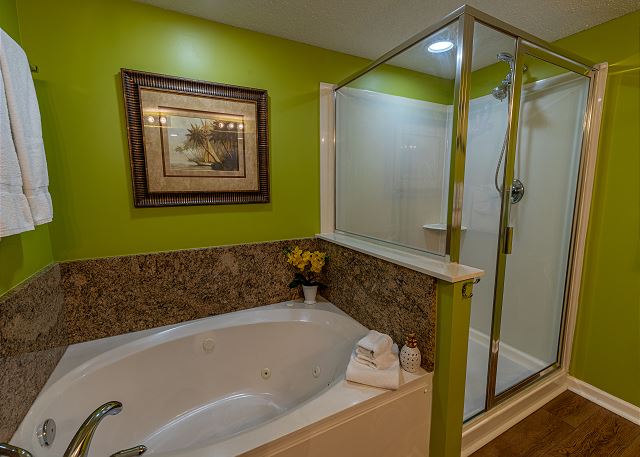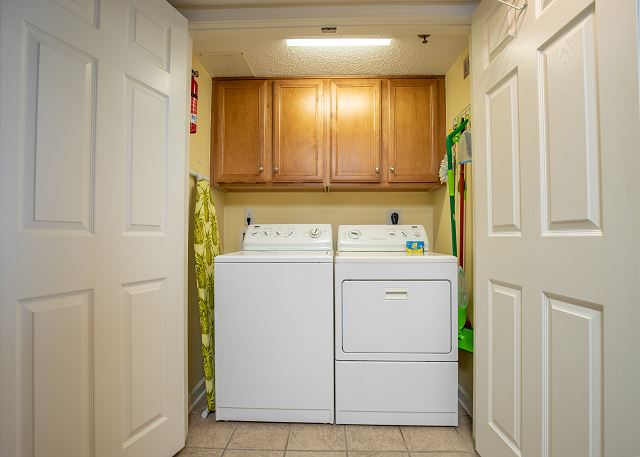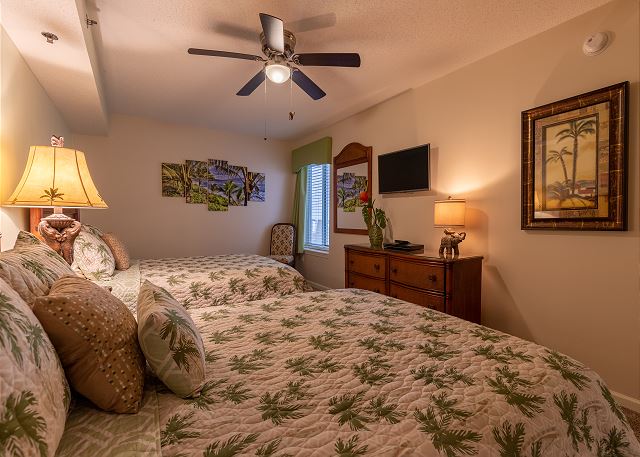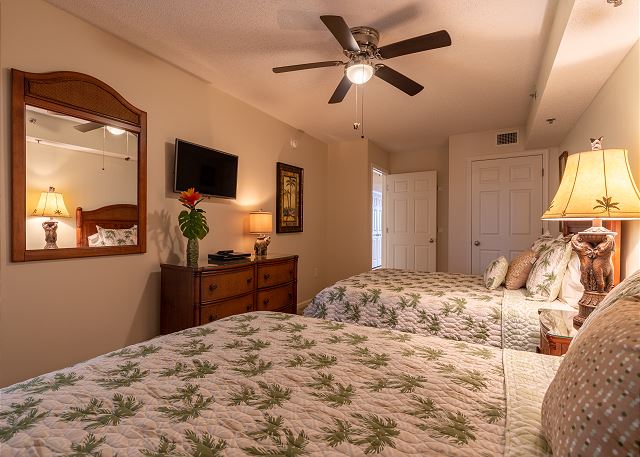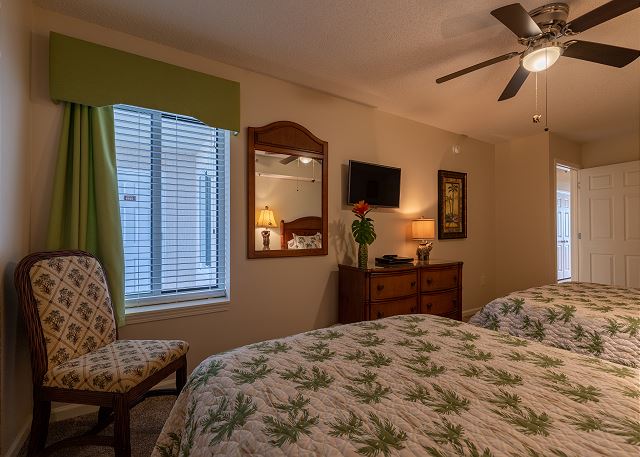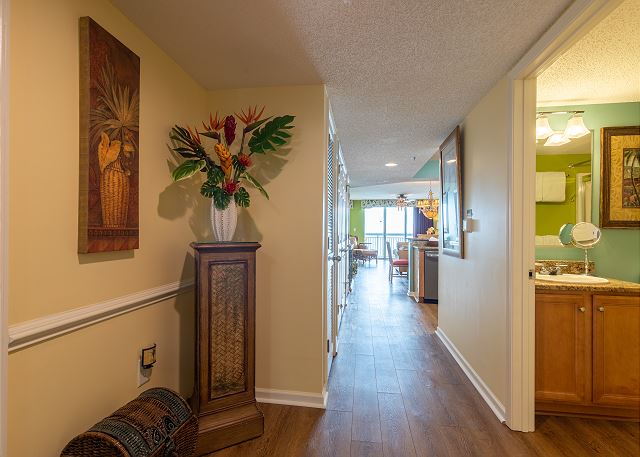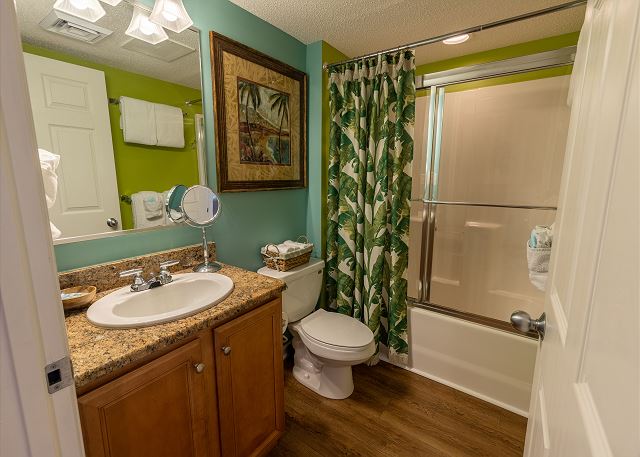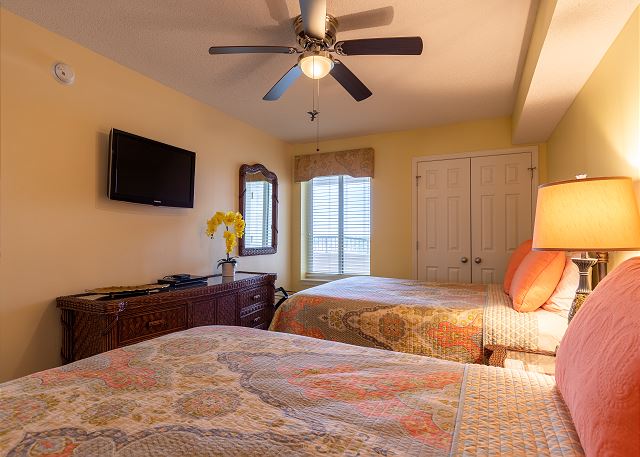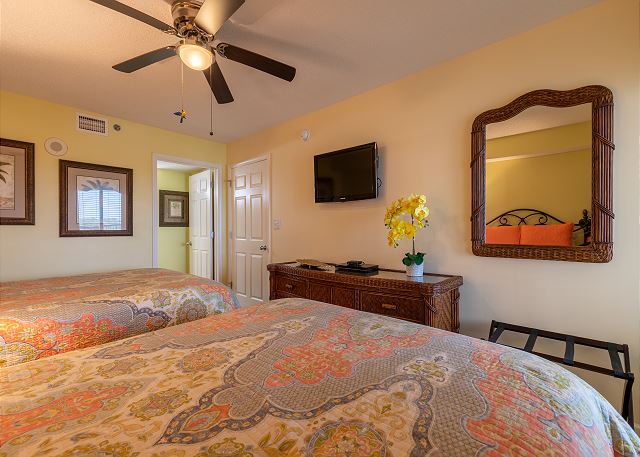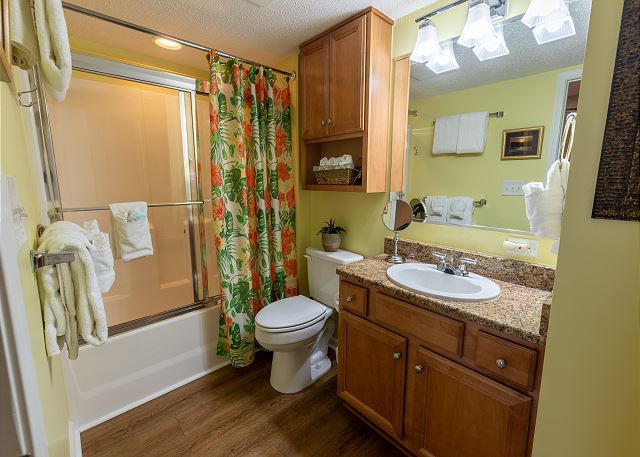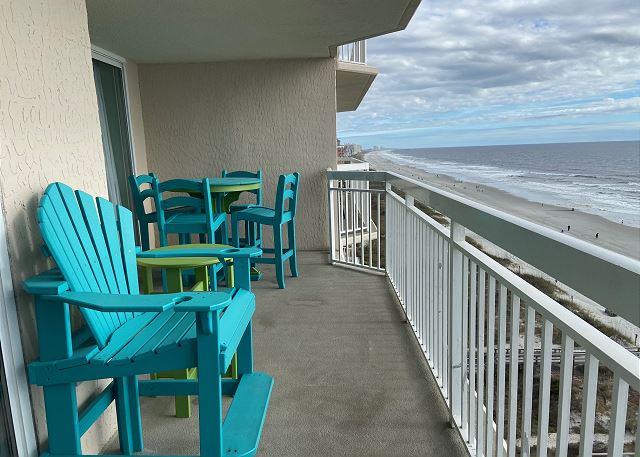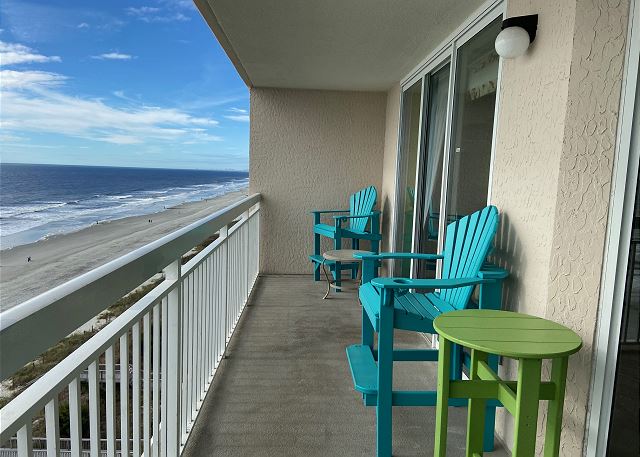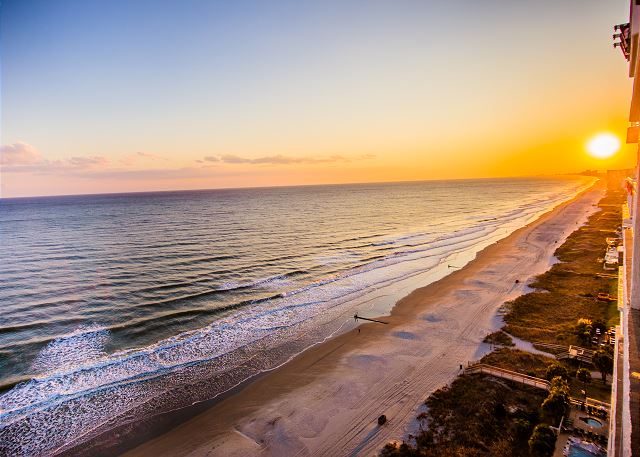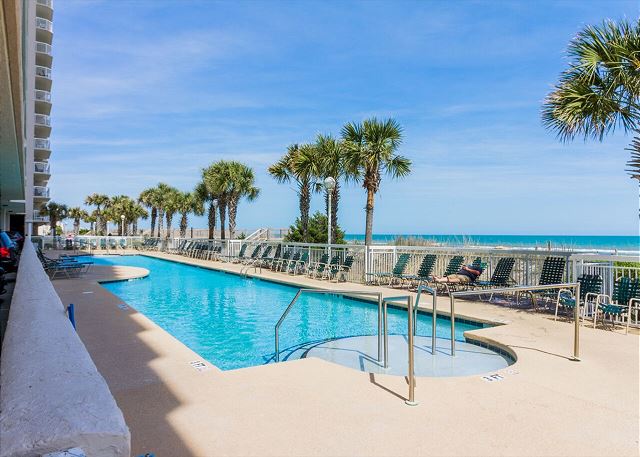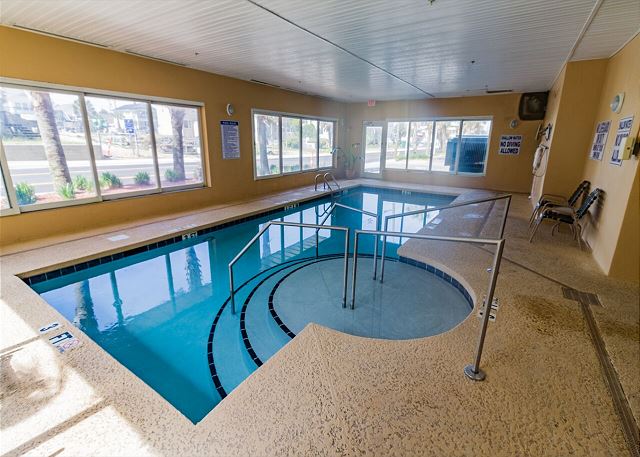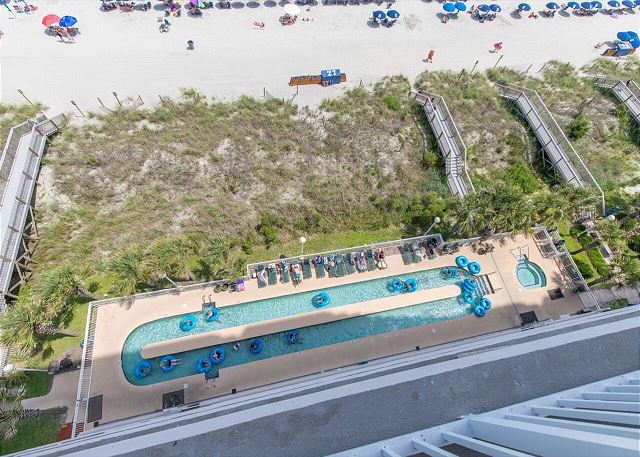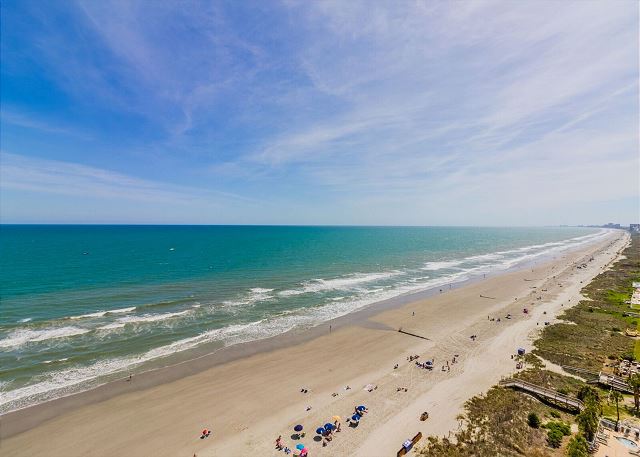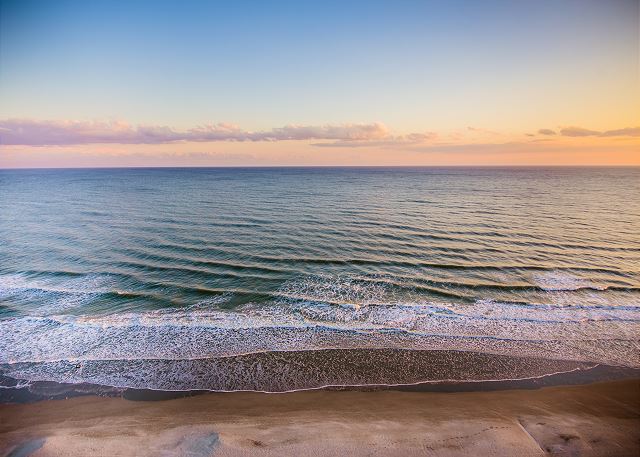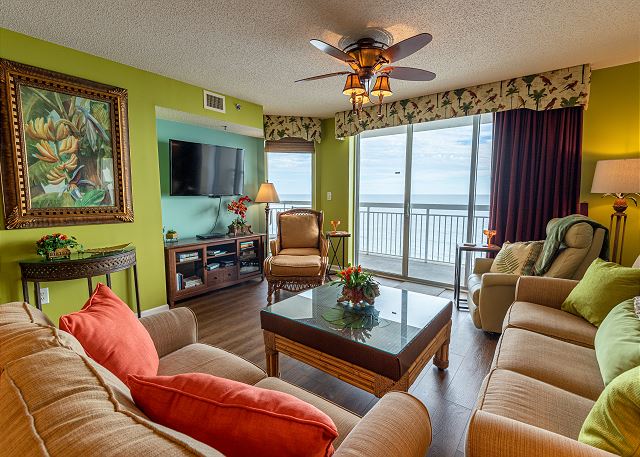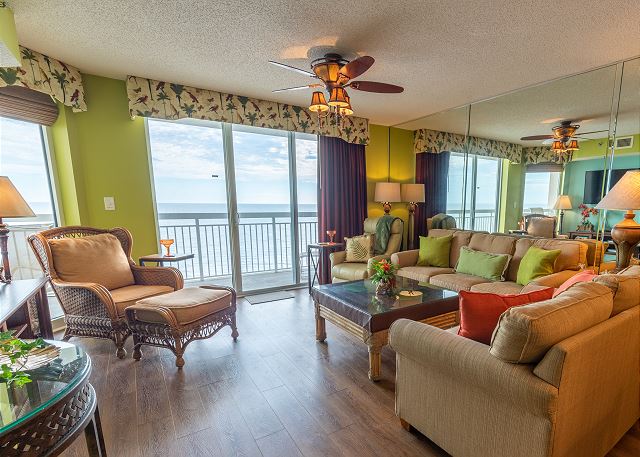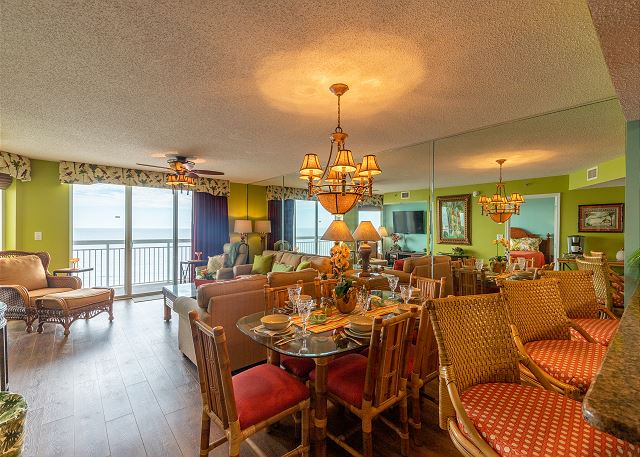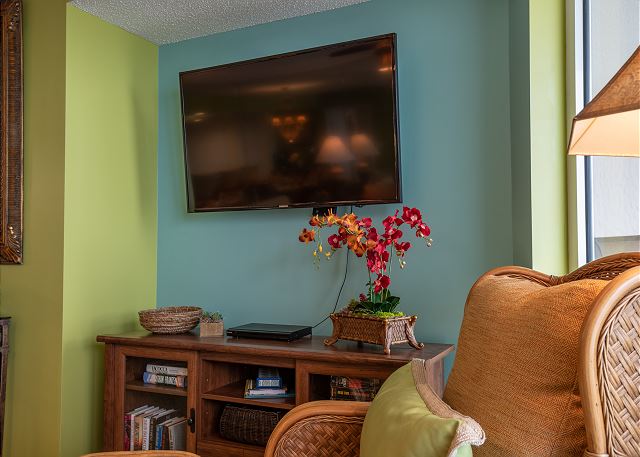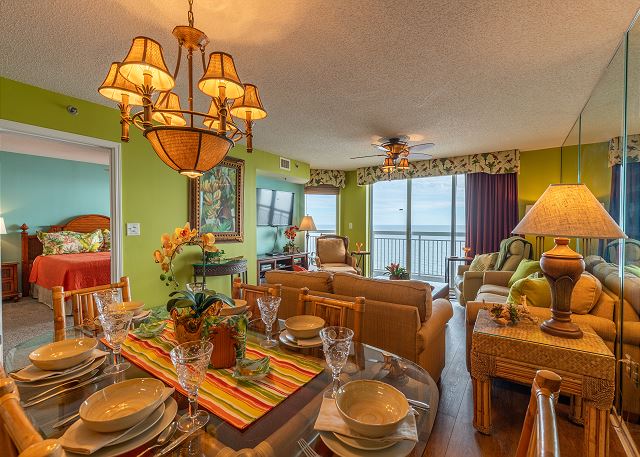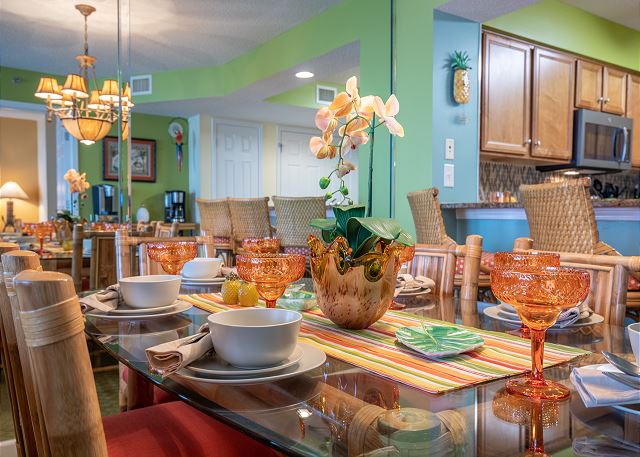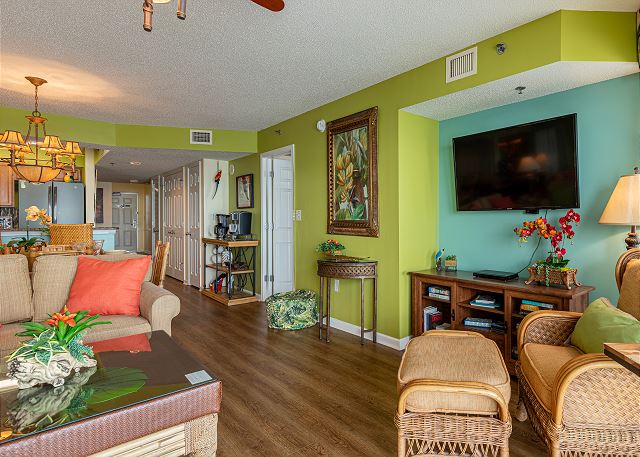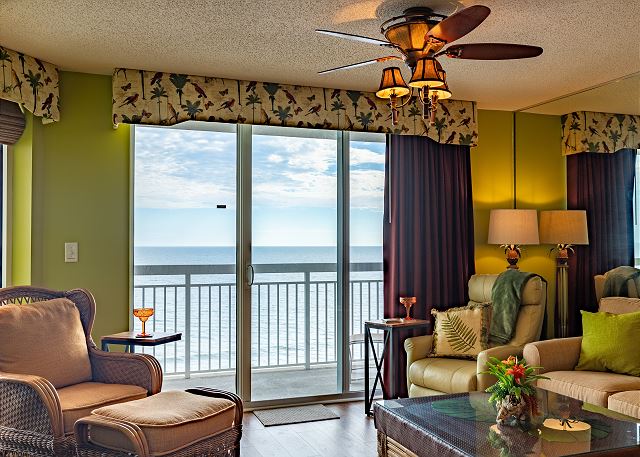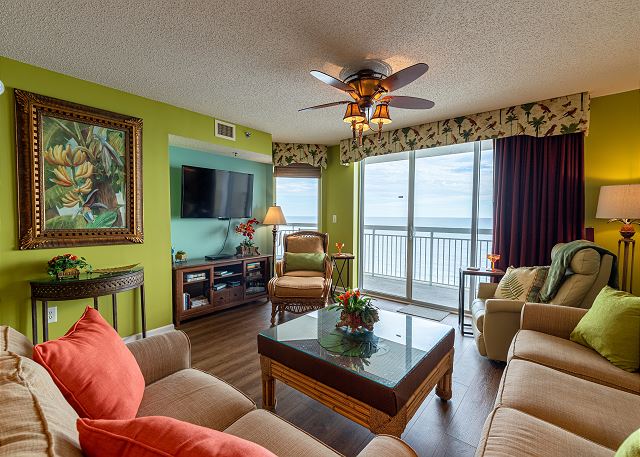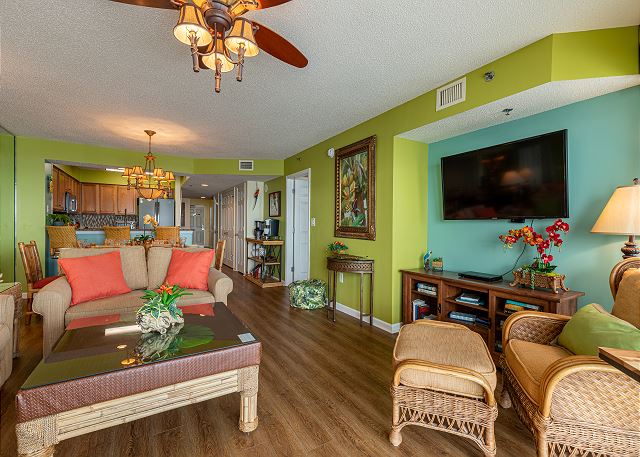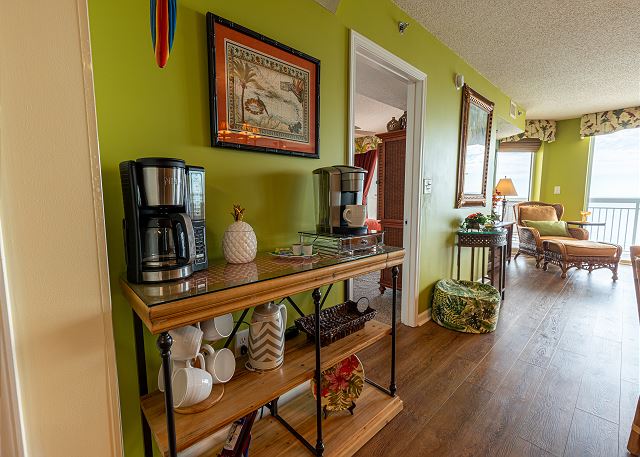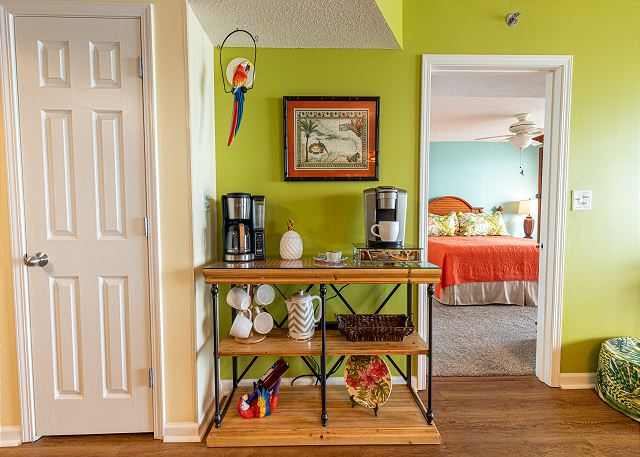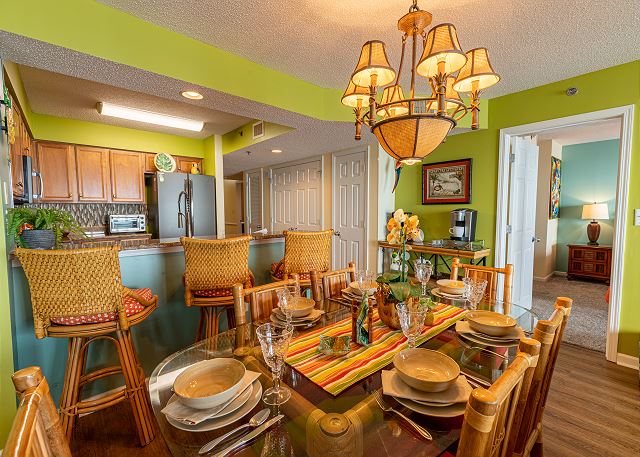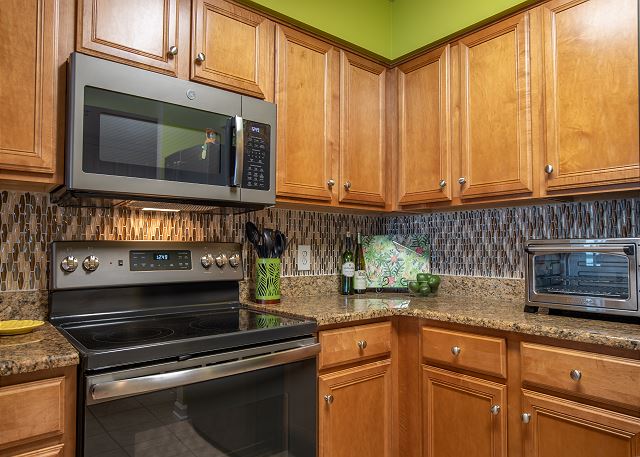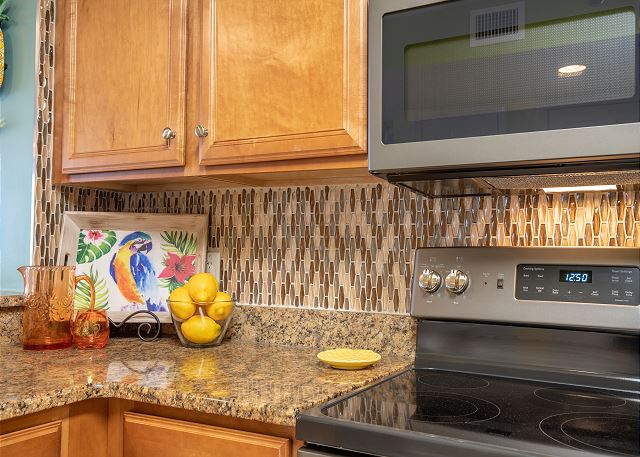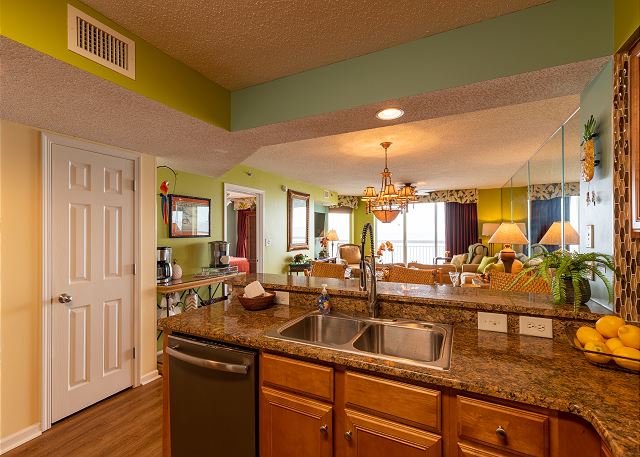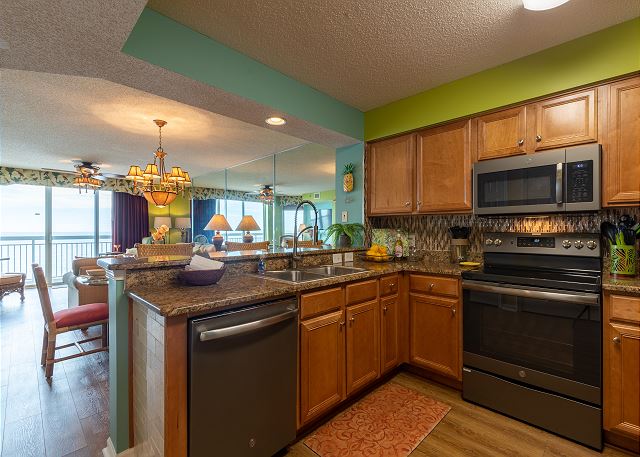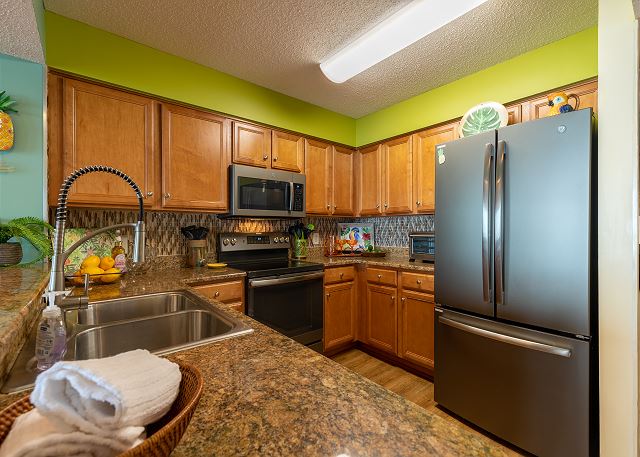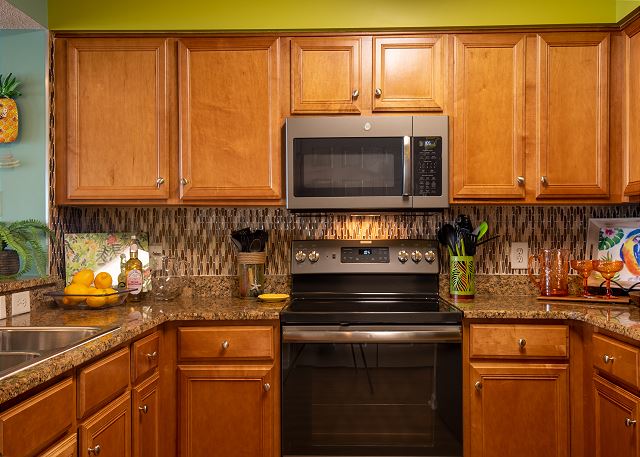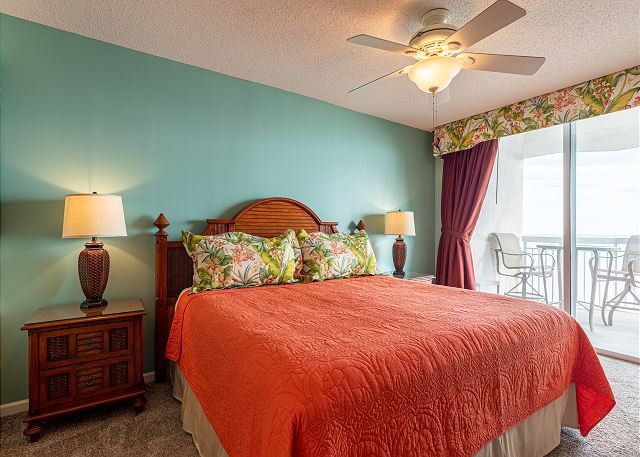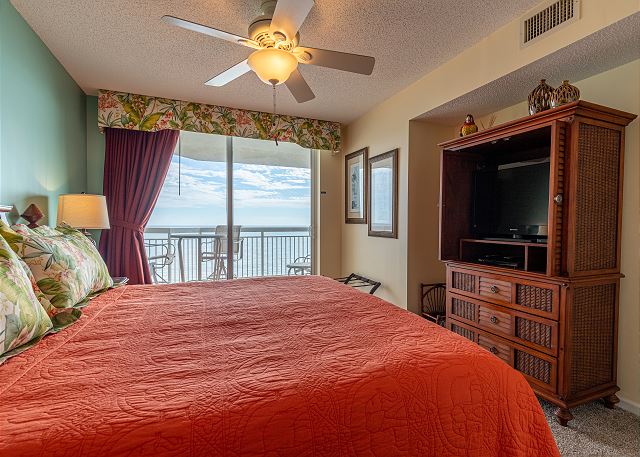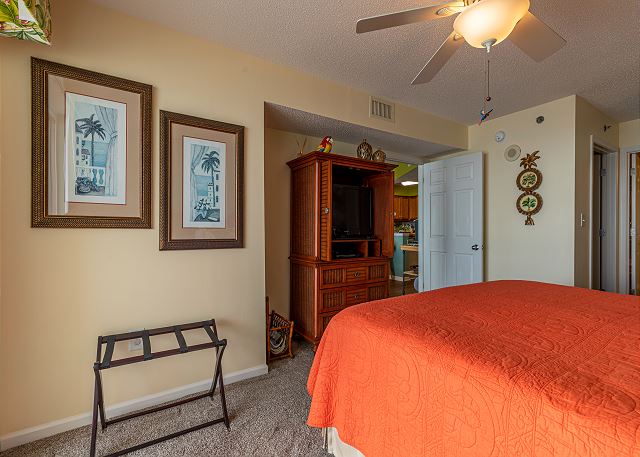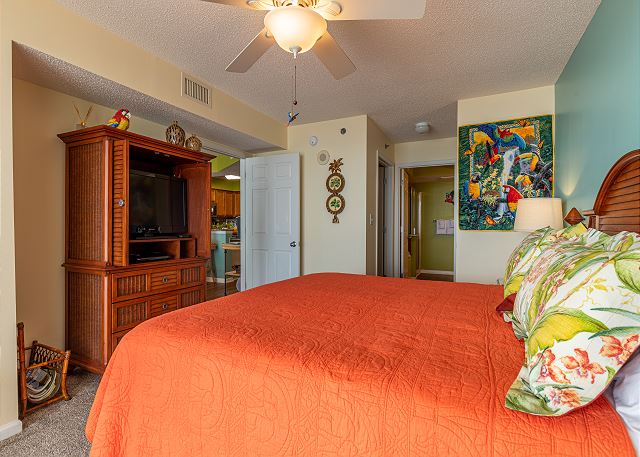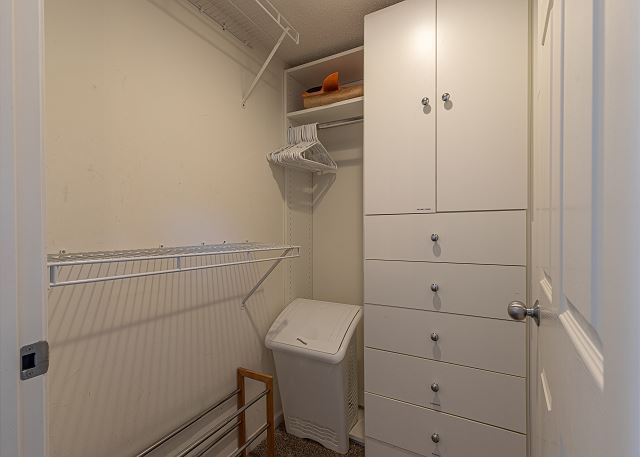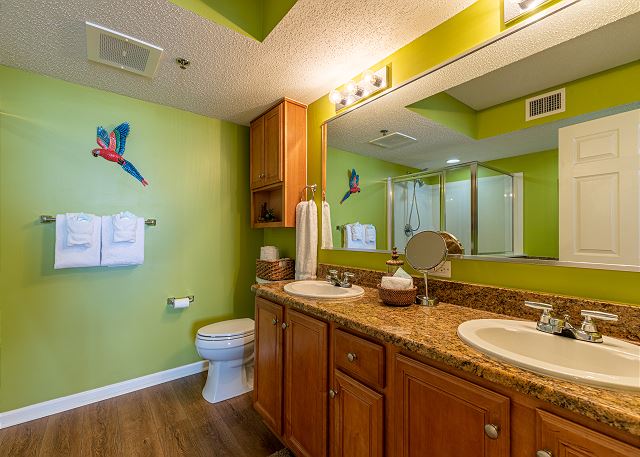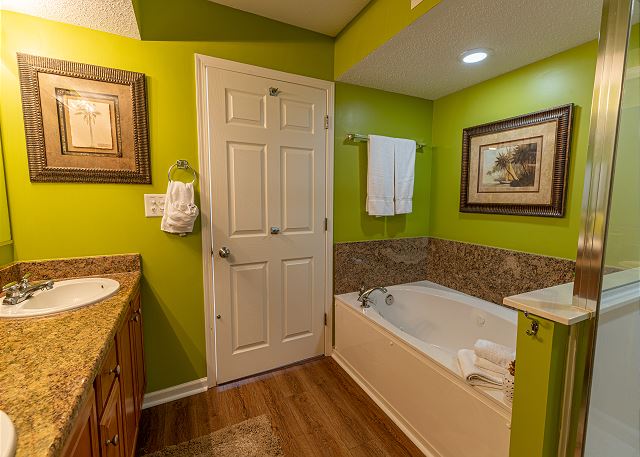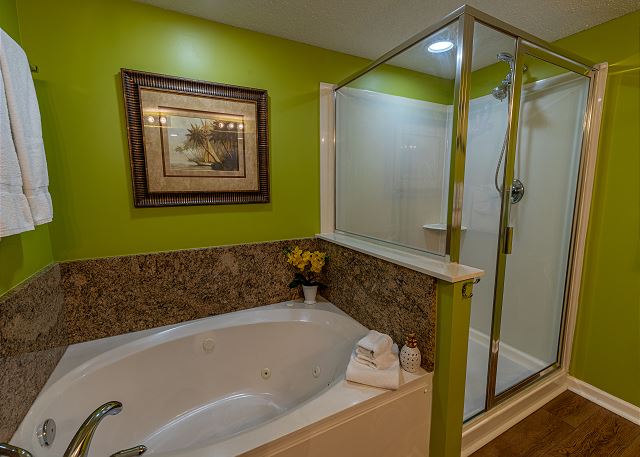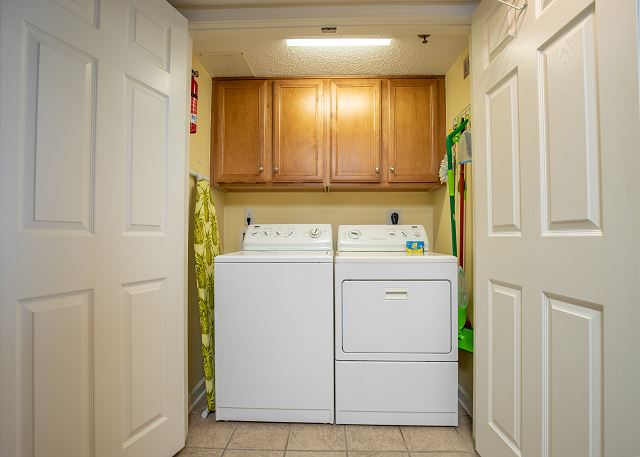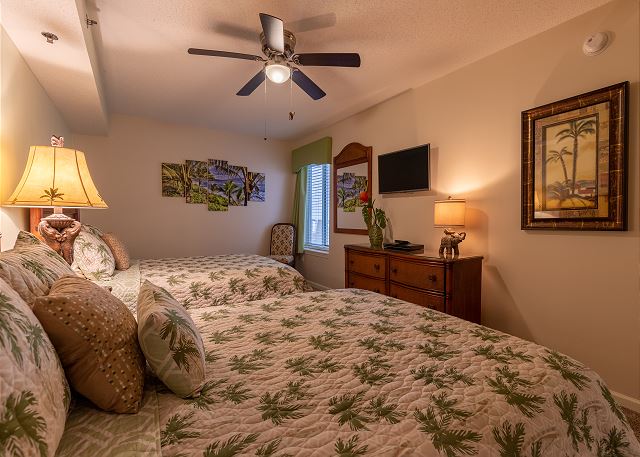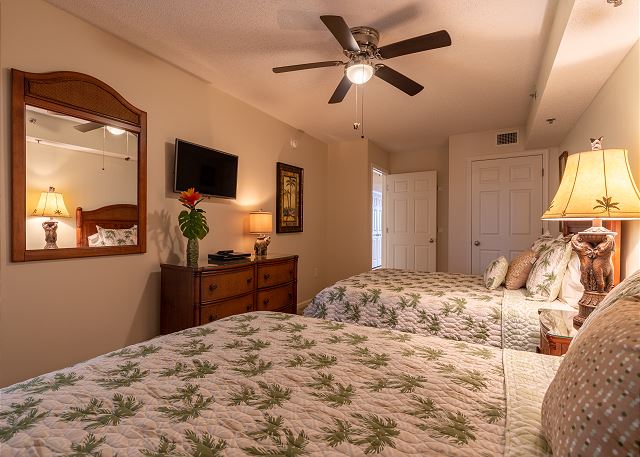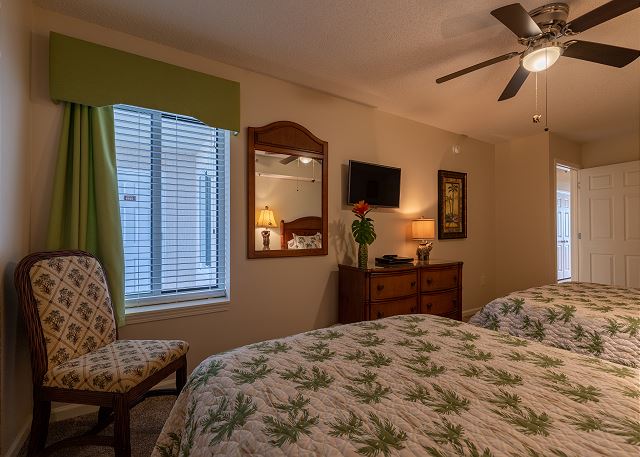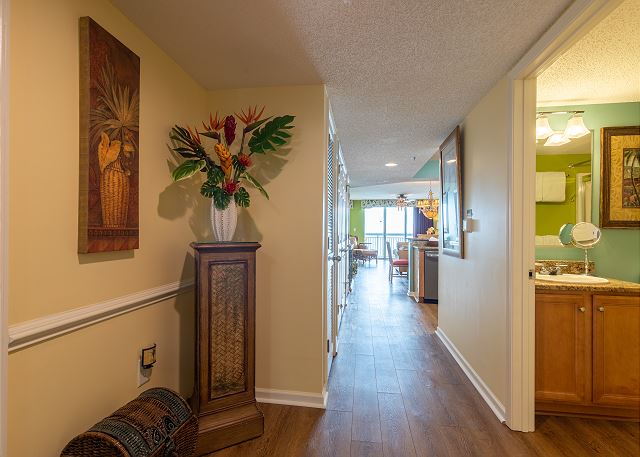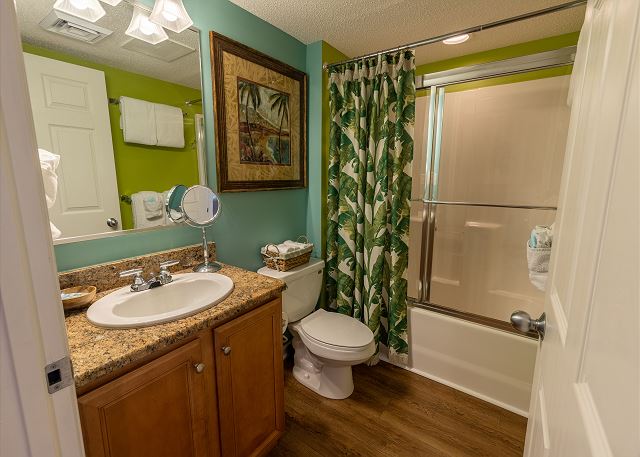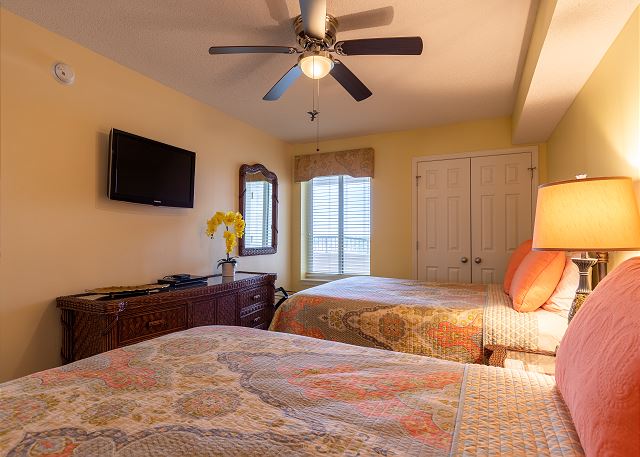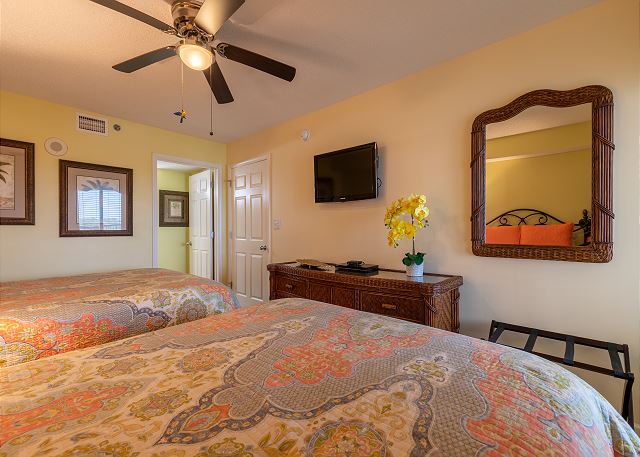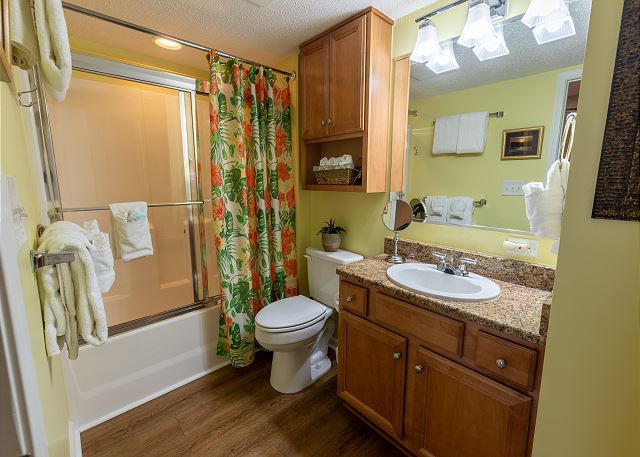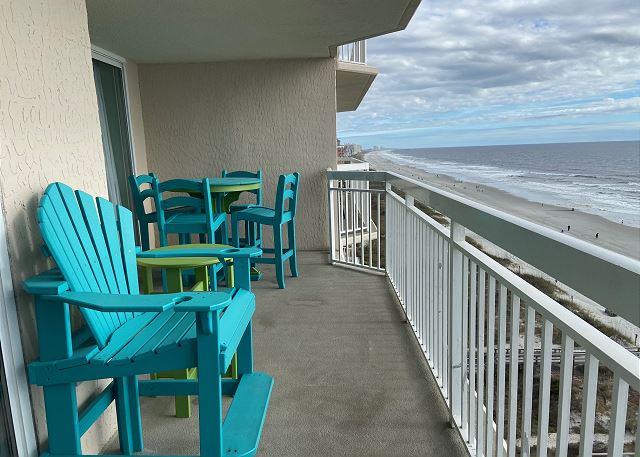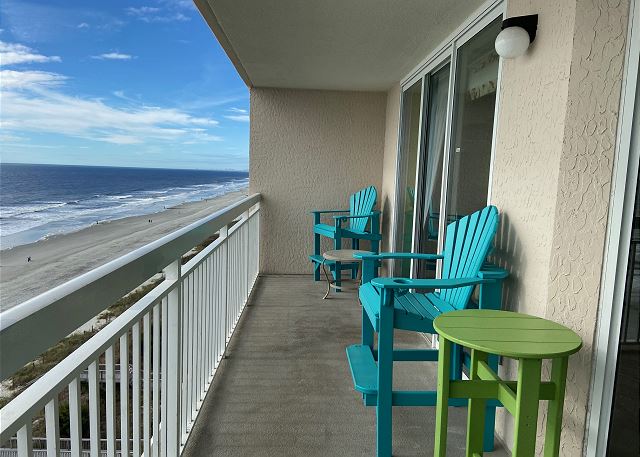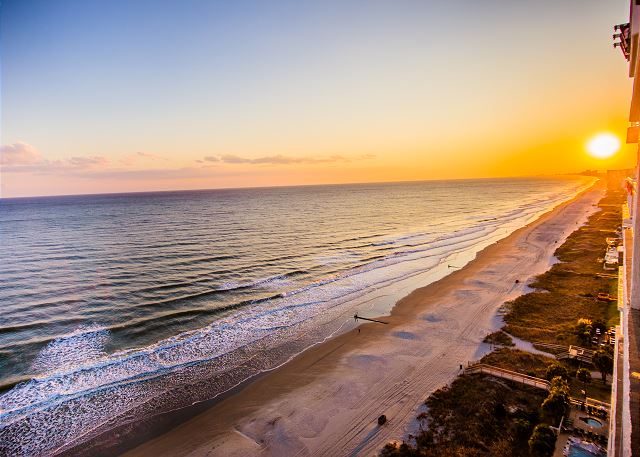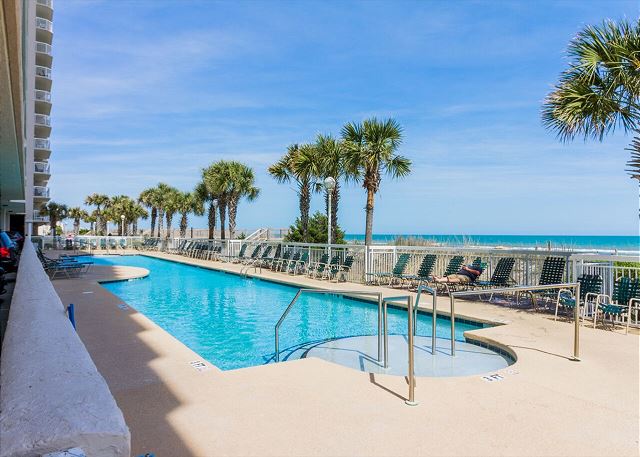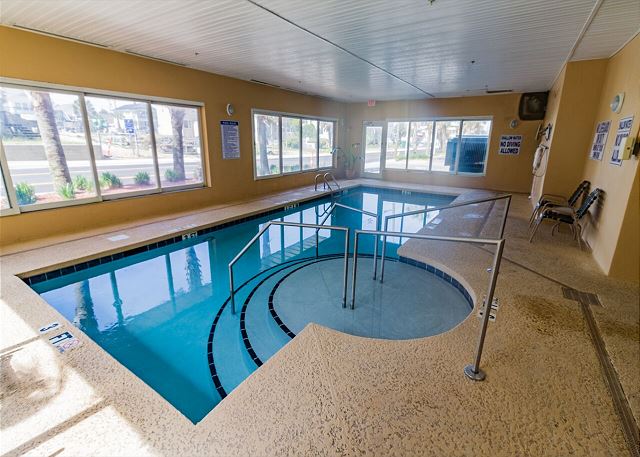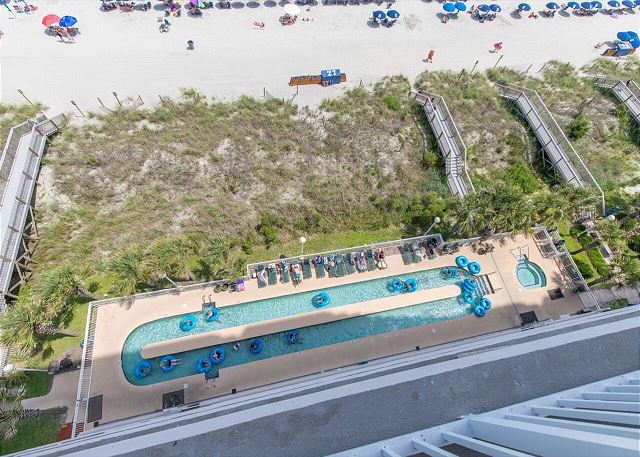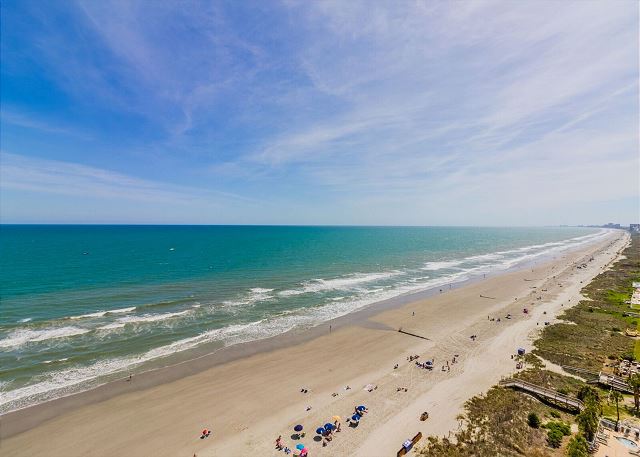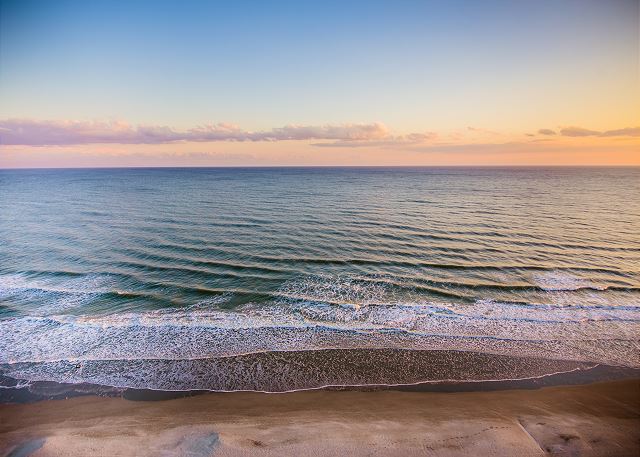 Description
This beautiful three bedroom three bath oceanfront condo in Crescent Shores is ready for you. The 26 foot ninth floor balcony gives stunning views of the beautiful Atlantic Ocean and the white sandy coastline and is accessible from both the living room and the master bedroom.

The well-appointed kitchen offers granite countertops, and new slate appliances include an electric range, refrigerator/freezer with ice maker, microwave,dishwasher, as well as a full-size washer and dryer off the kitchen. The cabinets are well stocked with plenty of dishes, glasses and silverware. Additional appliances include a toaster oven, electric griddle, large crock pot, 2 blenders, a hand mixer, pots, pans and baking dishes round out this chef's gourmet kitchen.

The coffee bar moves coffee making out of the kitchen, allowing guests to serve themselves without interrupting the cook. A Ninja 12 cup coffee pot, a Keurig large reservoir single cup maker and an electric kettle are all available on the coffee bar. The removable reservoirs on the coffee pots make the relocation from the kitchen to the coffee bar a breeze.

The living room features a mirrored wall that doubles the oceanfront view. Plenty of comfortable furniture provides seating for viewing the 50" smart flat screen, cable TV, and DVD player. Free wireless internet access is available in the unit.

A dining table for 6 and a 3-seat breakfast bar offers plenty of room for your group to eat together.

The oceanfront master bedroom offers a king-size bed, 2 nightstands and flat screen TV. A walk-in closet leads to the master bath with granite counters and his and hers sinks. An oversized stand up shower with an outstanding shower head along with a jetted whirlpool tub awaits you.

Each of the two guest bedrooms offers 2 queen beds and their own bathrooms. Each bathroom offers tub/shower combos, as well as conveniences such as multiple towel racks and retractable clothes lines.

Bedrooms include ceiling fans, suitcase stands, new bedding, pillows and blankets. Beds are encased in waterproof protectors covered by quality mattress pads and made prior to your arrival. Linens are included in your rental. Guest bedrooms have flat screen TVs and DVD players.

This 1700 square foot unit is tastefully decorated. Much of the furniture pieces are island style with bamboo and rattan inlays. A tropical theme is carried through the artwork, fabrics, floral arrangements and lighting. The foyer, kitchen, dining, living areas and baths offer beautiful wood floors, while bedrooms are carpeted. All flooring was replaced in May 2019.

Changes in 2018 include--New heating/air conditioning unit and water heater. Custom drapes on the sliding glass doors, new range, microwave, dishwasher and refrigerator, glass tile kitchen backsplash, many light fixtures, a new leather recliner and side tables were added to the living room and the entire unit was repainted. The owner has upgraded this unit substantially in 2018 with a focus on making it as welcoming and practical as possible, adding many touches like hanging hooks in each bedroom for towels and beachwear.

The large oceanfront balcony (26') has a tall table with 4 tall chairs and 2 regular height chairs with tables

The amenities at Crescent Shores include outdoor pool, 2 hot tubs, lazy river, kiddie pool, charcoal cooking grills, heated indoor pool, outdoor showers and a fitness area. A parking garage offers covered parking. On site security is also provided.

BEACH ACCESS: A short boardwalk over the dunes and you have arrived for fun in the sun! Beach umbrellas and chairs are available for rent directly in front of the condo on the beach. Other adventures are also available for purchase directly on the beach.

OUT AND ABOUT: Next door is Molly Darcy's an oceanfront pub with indoor and outdoor seating, bar and pool tables. Within walking distance are a beachwear store, convenience store and an ice cream stand & grill. Barefoot Landing is close by, with the Alabama Theater, House Of Blues, Alligator Adventure, Duplin Winery plus over 100 shops
Calendar
October 2021

| S | M | T | W | T | F | S |
| --- | --- | --- | --- | --- | --- | --- |
| | | | | | 01 | 02 |
| 03 | 04 | 05 | 06 | 07 | 08 | 09 |
| 10 | 11 | 12 | 13 | 14 | 15 | 16 |
| 17 | 18 | 19 | 20 | 21 | 22 | 23 |
| 24 | 25 | 26 | 27 | 28 | 29 | 30 |
| 31 | | | | | | |
November 2021

| S | M | T | W | T | F | S |
| --- | --- | --- | --- | --- | --- | --- |
| | 01 | 02 | 03 | 04 | 05 | 06 |
| 07 | 08 | 09 | 10 | 11 | 12 | 13 |
| 14 | 15 | 16 | 17 | 18 | 19 | 20 |
| 21 | 22 | 23 | 24 | 25 | 26 | 27 |
| 28 | 29 | 30 | | | | |
December 2021

| S | M | T | W | T | F | S |
| --- | --- | --- | --- | --- | --- | --- |
| | | | 01 | 02 | 03 | 04 |
| 05 | 06 | 07 | 08 | 09 | 10 | 11 |
| 12 | 13 | 14 | 15 | 16 | 17 | 18 |
| 19 | 20 | 21 | 22 | 23 | 24 | 25 |
| 26 | 27 | 28 | 29 | 30 | 31 | |
January 2022

| S | M | T | W | T | F | S |
| --- | --- | --- | --- | --- | --- | --- |
| | | | | | | 01 |
| 02 | 03 | 04 | 05 | 06 | 07 | 08 |
| 09 | 10 | 11 | 12 | 13 | 14 | 15 |
| 16 | 17 | 18 | 19 | 20 | 21 | 22 |
| 23 | 24 | 25 | 26 | 27 | 28 | 29 |
| 30 | 31 | | | | | |
February 2022

| S | M | T | W | T | F | S |
| --- | --- | --- | --- | --- | --- | --- |
| | | 01 | 02 | 03 | 04 | 05 |
| 06 | 07 | 08 | 09 | 10 | 11 | 12 |
| 13 | 14 | 15 | 16 | 17 | 18 | 19 |
| 20 | 21 | 22 | 23 | 24 | 25 | 26 |
| 27 | 28 | | | | | |
March 2022

| S | M | T | W | T | F | S |
| --- | --- | --- | --- | --- | --- | --- |
| | | 01 | 02 | 03 | 04 | 05 |
| 06 | 07 | 08 | 09 | 10 | 11 | 12 |
| 13 | 14 | 15 | 16 | 17 | 18 | 19 |
| 20 | 21 | 22 | 23 | 24 | 25 | 26 |
| 27 | 28 | 29 | 30 | 31 | | |
April 2022

| S | M | T | W | T | F | S |
| --- | --- | --- | --- | --- | --- | --- |
| | | | | | 01 | 02 |
| 03 | 04 | 05 | 06 | 07 | 08 | 09 |
| 10 | 11 | 12 | 13 | 14 | 15 | 16 |
| 17 | 18 | 19 | 20 | 21 | 22 | 23 |
| 24 | 25 | 26 | 27 | 28 | 29 | 30 |
May 2022

| S | M | T | W | T | F | S |
| --- | --- | --- | --- | --- | --- | --- |
| 01 | 02 | 03 | 04 | 05 | 06 | 07 |
| 08 | 09 | 10 | 11 | 12 | 13 | 14 |
| 15 | 16 | 17 | 18 | 19 | 20 | 21 |
| 22 | 23 | 24 | 25 | 26 | 27 | 28 |
| 29 | 30 | 31 | | | | |
June 2022

| S | M | T | W | T | F | S |
| --- | --- | --- | --- | --- | --- | --- |
| | | | 01 | 02 | 03 | 04 |
| 05 | 06 | 07 | 08 | 09 | 10 | 11 |
| 12 | 13 | 14 | 15 | 16 | 17 | 18 |
| 19 | 20 | 21 | 22 | 23 | 24 | 25 |
| 26 | 27 | 28 | 29 | 30 | | |
July 2022

| S | M | T | W | T | F | S |
| --- | --- | --- | --- | --- | --- | --- |
| | | | | | 01 | 02 |
| 03 | 04 | 05 | 06 | 07 | 08 | 09 |
| 10 | 11 | 12 | 13 | 14 | 15 | 16 |
| 17 | 18 | 19 | 20 | 21 | 22 | 23 |
| 24 | 25 | 26 | 27 | 28 | 29 | 30 |
| 31 | | | | | | |
August 2022

| S | M | T | W | T | F | S |
| --- | --- | --- | --- | --- | --- | --- |
| | 01 | 02 | 03 | 04 | 05 | 06 |
| 07 | 08 | 09 | 10 | 11 | 12 | 13 |
| 14 | 15 | 16 | 17 | 18 | 19 | 20 |
| 21 | 22 | 23 | 24 | 25 | 26 | 27 |
| 28 | 29 | 30 | 31 | | | |
September 2022

| S | M | T | W | T | F | S |
| --- | --- | --- | --- | --- | --- | --- |
| | | | | 01 | 02 | 03 |
| 04 | 05 | 06 | 07 | 08 | 09 | 10 |
| 11 | 12 | 13 | 14 | 15 | 16 | 17 |
| 18 | 19 | 20 | 21 | 22 | 23 | 24 |
| 25 | 26 | 27 | 28 | 29 | 30 | |
Available
Unavailable
Check-In Only
Check-Out Only
Seasonal Rates
| Date Range | Daily | Weekly | Monthly |
| --- | --- | --- | --- |
* Seasonal rates are only estimates and do not reflect taxes or additional fees.
Location
Guest Reviews of
Crescent Shores #902 North
North Myrtle Beach, SC
---
Vacation Rental Reviews by
stars based on
Beautiful place
Review by
Ed A.
This is one of the nicest places we stayed at the last 10 was well kept Ed up and had everything you needed.The balcony was a big hit with the chairs sitting high up enjoying the waves.Will stay there again
5 out of 5 stars
Perfect Layout and Location!
Review by
Leigh K.
I've stayed in nearly every North Myrtle Beach condo complex, from Cherry Grove to Windy Hill. This was one of the very best units I've stayed in (and close to the best!). I'm always concerned about how comfortable the beds will be since some rentals use cheap mattresses. The master bed was a DREAM! There were plenty of extra pillows and blankets.The condo decor was upscale and beautiful, yet completely comfortable and relaxing.I brought my two teens here and they each brought a friend. Having three full bathrooms and five beds was fabulous. The view was beautiful and beach access was a breeze.The air conditioning worked well throughout the entire unit. All other appliances worked well. Wifi isn't great, so I wouldn't plan to come here to work. I considered this my "unplugged" time anyway, so it didn't matter for me on this trip. If you plan to stream movies, work, or play video games online, look elsewhere.The one problem we had was that the key was VERY hard to turn in the lock. I was the only one in the group who could make it work. This was ok since I stayed at the unit a lot, but it could be problematic if you have a lot of people coming and going at different times. Also, the deadbolt didn't work at all. There was a swing bar latch to secure the door for safety. Since the public can access the breezeways, though, a working deadbolt would've been nice.Common areas of the complex were very clean and indoor areas were air-conditioned.My kids used and loved the indoor pool, outdoor pool, lazy river, and gym. We visited over Labor Day weekend and none of the areas were crowded at all.The unit's kitchen was well-stocked with everything one needs. The unit was very clean on arrival. I did have to wipe down the countertops since they were gritty - but it seemed like cleaning-product-type-grit and not sand or dirt. A quick wipe with a damp paper towel cleared it away.Overall a fabulous place
5 out of 5 stars
Manager Response:
Hi, Leigh. Thank you kindly for taking time from your busy schedule to leave your feedback on your recent stay at our Crescent Shores 902 property. We are delighted to hear that you and your guests had a nice, enjoyable stay while you were here. This is a very cozy unit that accommodates all guests well. We would love to welcome you back again in the future for your next beach vacation. Reach out to us directly when you're ready to book. Take care and we will see you soon!
This is N Myrtle Beach's best accommodations
Review by
Tony A.
This rental looks and feels like I've arrived at my second home or a good friend's house. Not a rental property. I would measure this property to 5 star hotels on an island. The owners have obviously put their heart and soul into ensuring that their guests are welcomed by the ambiance and attention to detail. Just about every item that you may want or need is available. It is close to dining if that is desired, but if saving $$ and home cooking is your thing, I would bet that every cooking tool is included in the immaculate rental. The wood flooring, the renovated baths, the comfortable outdoor furniture made me feel that I have chosen well. I have fully enjoyed my week here and I miss it already. Not all condos on this property/building have the same amenities as this one. I plan on choosing this condo for all future stays, and recommend this one to all that will listen.
5 out of 5 stars
Manager Response:
Hi, Tony. We thank you kindly for providing your feedback on your stay at our Crescent Shores 902 unit, which is a great unit might I add. We are glad to hear you think the same. We love repeat guests and look forward to welcoming you back again next time. Take care and see you soon!
Beautiful Condo with a beautiful view!
Review by
Heather B.
We had an amazing time. Plenty of space and everything we needed.
5 out of 5 stars
Manager Response:
Great to hear you and your guests had an amazing time at our Crescent Shores 902 unit, Heather. Come back to visit with us anytime. Take care!
Family Vacation
Review by
Brittney B.
Unit as described. Well maintained, clean and comfortable for our group of 6. Great location. We loved going around the corner to Mr G for ice cream. I really can't think of anything negative but if I'm trying to name one it would be that we had to wait a while on the elevators. Which is totally out of anyone's control due to the business of the building. This is definitely not a deal breaker and will 100% try to stay here again!
5 out of 5 stars
Manager Response:
Hi, Brittney. We thank you kindly for this review, and are happy to hear our Crescent Shores 902 property suited your vacation needs. Sorry the elevators were inconvenient as this does tend to be annoying, but thankful you didn't let it ruin your stay. Reach out when you're ready to book again as we will be more than glad to welcome you back. Take care!
Girls Time Away
Review by
Susan S.
Condo was exactly like described and pictured. Loved the kitchen with all the cooking pots and utensils. View was amazing, spent lots of time out there watching the ocean. We would definitely stay here again. !!
5 out of 5 stars
Manager Response:
Thank you for the great review. So glad that you appreciated all of the super details the owner has contributed to make this the ultimate destination for a beach vacation. The 9th floor views are complimentary with every stay!!! Thanks again and hurry back.
Great rental property
Review by
Rich L.
Just wanted to write a quick review. My family vacations every year at different locations along the east coast. This was by far one of our favorite spots and this condo rental was great. The space was very clean. The decorating and layout was very nice. Somebody went crazy with a label maker and labelled all of the remote and light switches with what devices or lights they controlled. It actually helped quite a bit. There was a little note book that all of the previous renters wrote a review of there stay in and it was nice to read those memories (we also left a note in there). The owner also left a folder of things to do and places to visit which was nice. All in all, I would have to say this was one of the better vacation rentals we have ever stayed in. I would highly recommend it and we will probably try to book it again at some point.
5 out of 5 stars
Manager Response:
WOW!!! Thank you for the stellar review! The owner will be beaming with pride that everything went exactly as planned -- happy guests means happy review! We appreciate the detailed compliments and hope that North Myrtle Beach will be on your short list for best East Coast places to visit. Please share your great experience with friends and family and we look forward to hearing from you again.
Beautiful Condo
Review by
Elizabeth Baldridge M.
All of family including grown children and grandchildren enjoyed our stay immensely.
5 out of 5 stars
Manager Response:
Perfect 5 out of 5 review! We are overjoyed you and your family enjoyed your stay immensely! Looking forward to your next stay with us.
Clean, Beautiful, Ocean Front
Review by
Our family has been visiting Myrtle Beach every other year for the past 25 years. Crescent Shores #902 North is our new favorite place to stay. The condo is well maintained, very clean and beautifully decorated. The property managers, as well as, the staff on site are friendly and helpful. We will defiantly be returning!
5 out of 5 stars
Manager Response:
Thank you Thank you Thank you!!!! Welcome to the Owner Direct Vacation Rentals family! We can't wait for your next visit!
No Cold or Snow, Just Beautiful Views!
Review by
Craig and Kathy G.
This condo is great—very clean! We are snowbirds and have rented this condo for three months for the past two years and we have it booked for next year. It has everything you need—well equipped kitchen, comfortable beds, great tv's, and the view is awesome. We love the balcony that overlooks the ocean with its high top table and chairs so your view is not obstructed by the railing. The owners are excellent in keeping the condo updated—new kitchen appliances, new paint, back splash in the kitchen, new bedding, new furnace and air conditioner. The management company is easy to work with and their linens are wonderful. The location is great close to restaurants and entertainment. Looking forward to next year!
5 out of 5 stars
Manager Response:
WOW! Thank you for that perfect score! We are happy when everything goes right and we can pat ourselves on the back for making another travel group as happy as possible. Every detail you mentioned is what we would want to highlight for others to be able to make their vacation destination, Crescent Shores #902. It's even better coming from a satisfied guest than just reading it on the web-site description. As you mentioned, mild winters on our SC beaches can be the perfect escape from the harsh weather of home -- it can be the ideal home away from home. The owner of this unit has impeccable taste and welcomes their guest to a great experience, winter or summer. Thank you again for sharing.
Great place to stay!
Review by
This condo is perfect. Great location in N. Myrtle Beach. Close to a nice variety of restaurants and shopping. It has everything; kitchen well supplied, the beds very comfortable (slept great),more than enough towels, great ninth floor ocean view and the décor has been updated and is bright and fun. (I love the parrots.) A nice tropical flavor. The owners have definitely seen that our stay was comfortable and enjoyable. Thank you. We will definitely return.
5 out of 5 stars
Manager Response:
Thank you for this great review! We do have amazing owners that think of everything in their condos for thiers guests! We appreciate all your great notes and look forward to your next stay!
Jarrett Campbell
Review by
Jarrett C.
Had a great time. The accommodations were great. Very clean and well stocked with everything to make for a great stay.
5 out of 5 stars
Manager Response:
Thank you for taking a minute to leave a great review. The attention to detail is a top priority to this owner and they will be proud that you had a wonderful stay in their condo. There are more plans underway for a few more upgrades and improvements this fall. The Crescent Shores complex is a favorite destination because of the location and amenities. There are restaurants, shopping, entertainment venues and attractions, as well as limitless golf courses to please everyone in the group, and all within five to ten minutes drive of our great little beach town. You cannot go wrong with a relaxing stay at this beautiful vacation resort. Thanks again for choosing to stay with us at ODVR.
Beautiful View
Review by
Kelly W.
Fantastic place to stay!
5 out of 5 stars
Manager Response:
Thank you for that short and sweet review. It's the easiest way to say that you had a wonderful time and the owner will be delighted that the condo met your expectations. This Crescent Shores gem offers guest the best of ocean front luxury and comforts. Like they say, "it's all in the details" and this condo is newly remodeled and well stocked with essentials to make your stay a first class experience. The location of Crescent Shores makes it a family favorite because of the great poolside and gym amenities, as well as, a local restaurant, souvenir shop and ice cream stand on each corner, just close enough to talk a stroll and get back to the beach in minutes. Thank you kindly for the excellent review marks and let us know when you are ready to return.
Exceeds Expectations!! Amazingly clean with a feeling of Home
Review by
Carolyn B.
The check-in was hassle free, which we needed after a long trip. The mgmt company was very efficient. The owners left detailed information that answered all of our questions about the condo, i.e. WiFi, fans, lights, etc.There were so many personal touches that made us feel right at home. It was very clean, decor was exactly as pictured and furniture was very substantial. The beds were very comfortable, rooms nicely decorated , kitchen had everything we needed to prepare meals, location was great, with a restaurant next door and a spectacular view. This was a perfect location right on the beach. The kids loved the lazy river! If you're looking for a place to relax, enjoy the morning sunrise and more, this is it. I would strongly recommend this property and we will definitely be back! The owners and the management company attended to every detail which made our vacation fun and easy.
5 out of 5 stars
Manager Response:
We certainly appreciate the 5 star review for this condo and the kind praise about our staff at ODVR. We are grateful to hear positive feedback when we get it right and have helped to create wonderful beach memories for our guests. The owner has worked hard this season to remodel and update this condo and it shows in every aspect. The spaciousness of this condo allows everyone to have room to congregate in the family area for meals or retreat to their own quarters for a little relaxation time. The huge balcony offers enough room for idling away with a book or a sunset meal at the best seat in the house. Crescent Shores is a top tier resort complex with all of the extras to make everyone happy in the group, young and old. Thank you for sharing your family experience with us and we hope you will return to our great little beach town.
Great place, great view, great time.
Review by
Judith L.
Rental properties are not always what pictured or described, this one is. We had everything we needed in the kitchen, the beds were very comfortable and I am picky about my bathroom and it was nice and clean. The entire condo was very clean. The owners have added a personal touch that made you feel "at home". Location is great as it is away from the more crowded areas of Myrtle Beach, and still convenient to restaurants, shopping and activities. Parasailing activity right there on the beach. 9th floor view is great. We are looking forward to returning and bringing more family and friends.
5 out of 5 stars
Manager Response:
Thank you for the perfect review. The owner will be thrilled that you found everything to be "GREAT" and that the details they have put into creating the perfect beach getaway were appreciated. The pictures for this condo were just taken in June this year, so what you see is exactly what you get, and then some. The condo has been completely refreshed with new paint, new bedding, and newly re-stocked with kitchen necessities. Your thoughtful description of the area is exactly what every guest wants to know about the Crescent Shores location -- that the complex is in the heart of all that our great little beach town has to offer. Crescent Shores does provide the best family friendly amenities, too, from outdoor and indoor pools, to gym and grilling stations. We hope you will be back and with more family and friends.
Pleasant home base for vacation
Review by
Tim and Lynn A.
The condo was wonderful - clean, nicely decorated and furnished well. We had no concerns at all about our lodging during our stay which allowed us to just enjoy our surroundings and our vacation. Loved the location - close to a convenience store, ice cream and a pub/restaurant. Short drive to Barefoot Landing and downtown North Myrtle Beach.
5 out of 5 stars
Manager Response:
Thank you for this great and detailed review! We are very lucky to manage this great property with great owners. They make a point to make sure their guests have everything they need when guests visit. Looking forward to your next stay.
Contact Us