FAIRWAY VILLAS F6 (Villa)
3 Bedroom(s) | 3 Bathroom(s) | Sleeps 6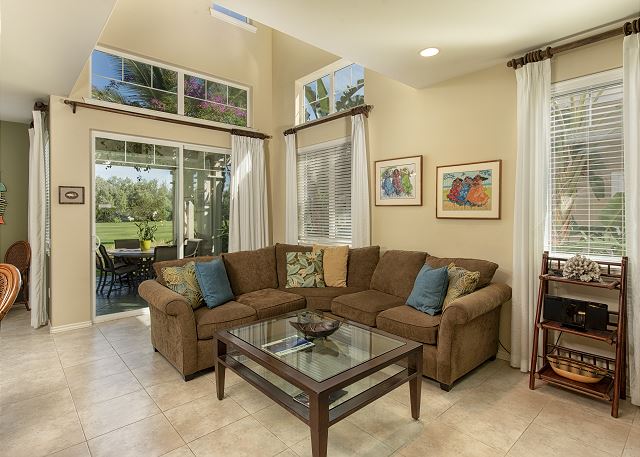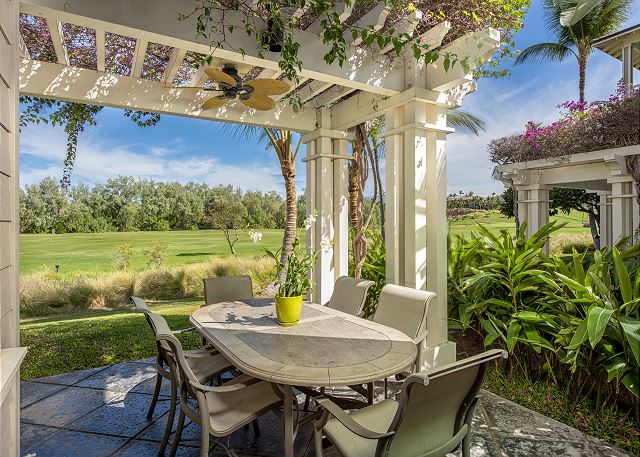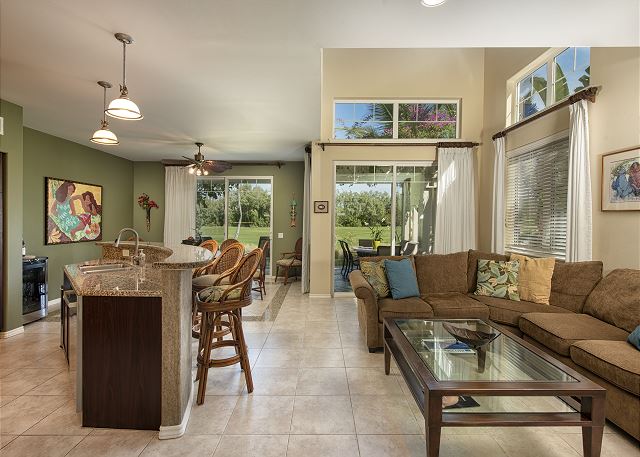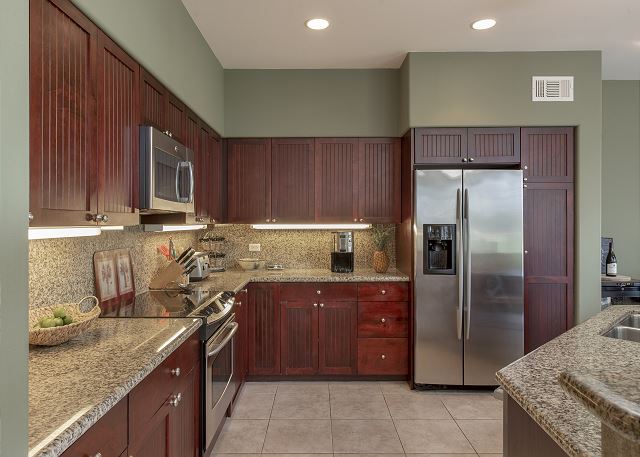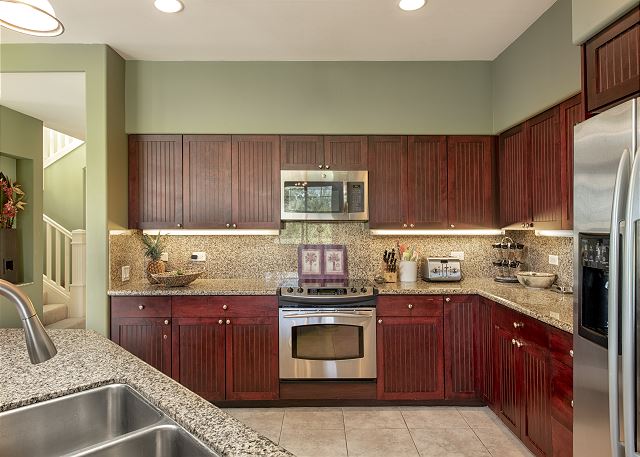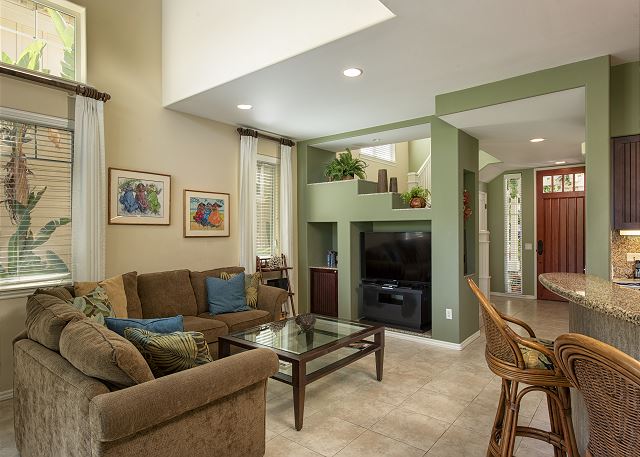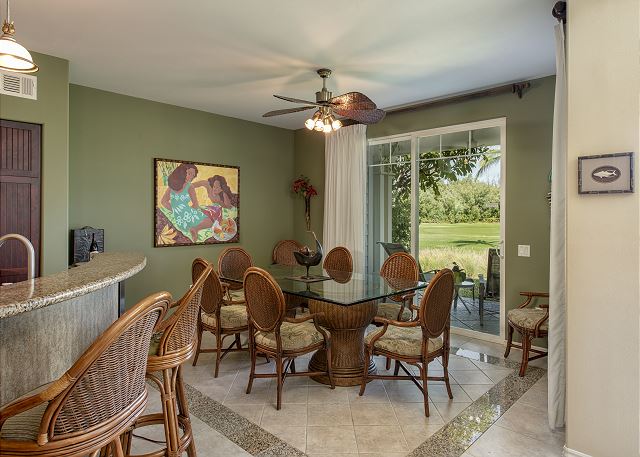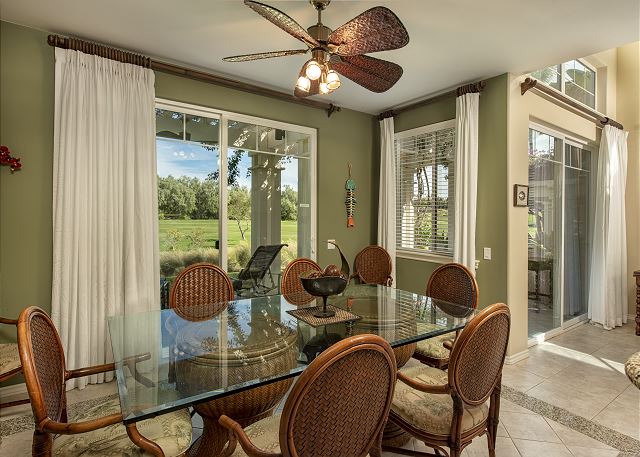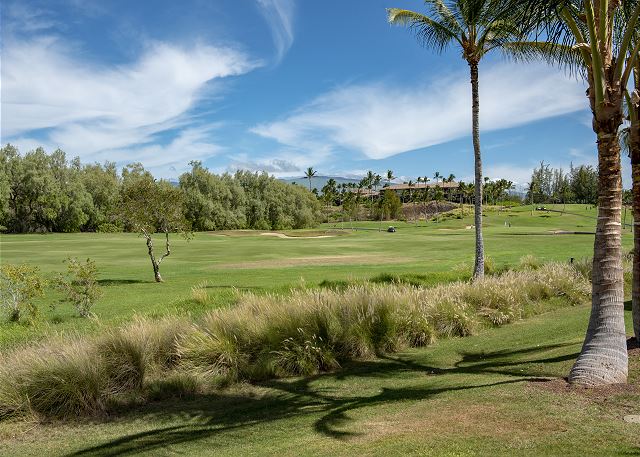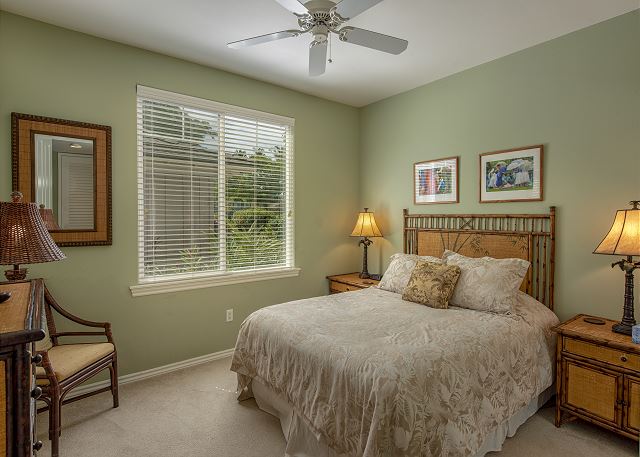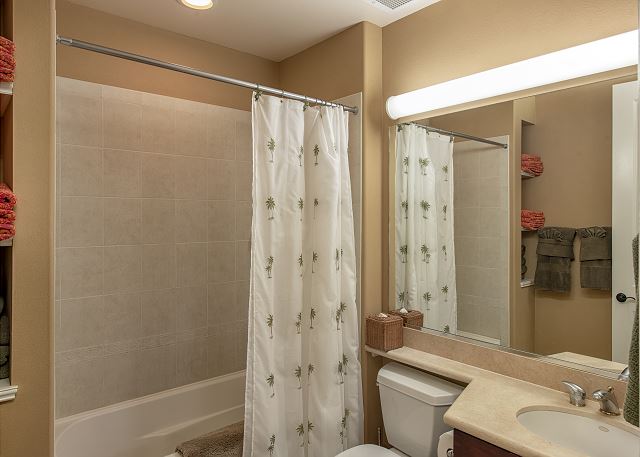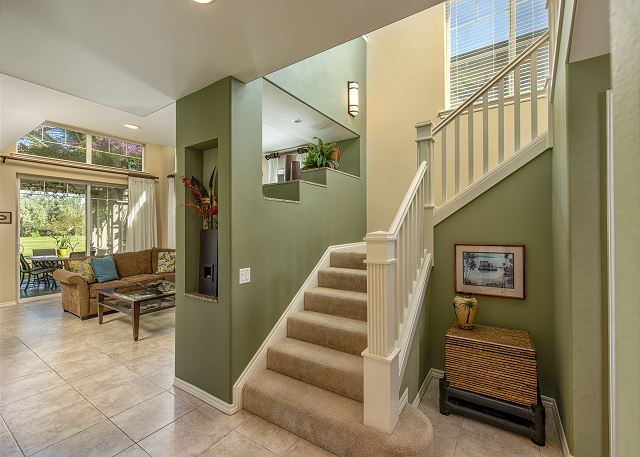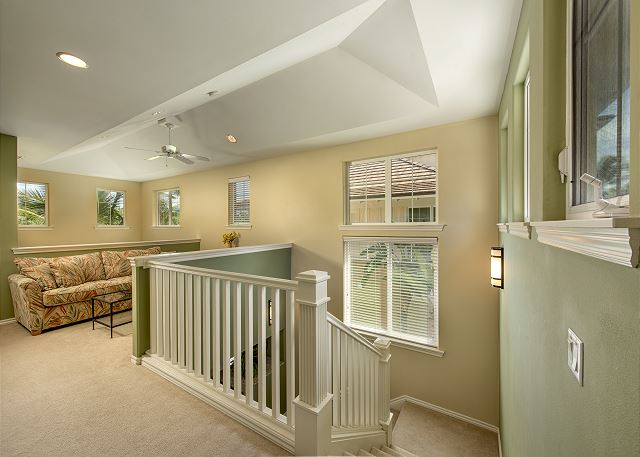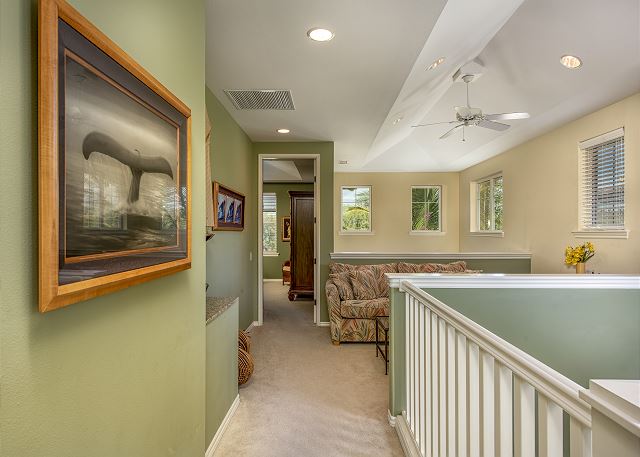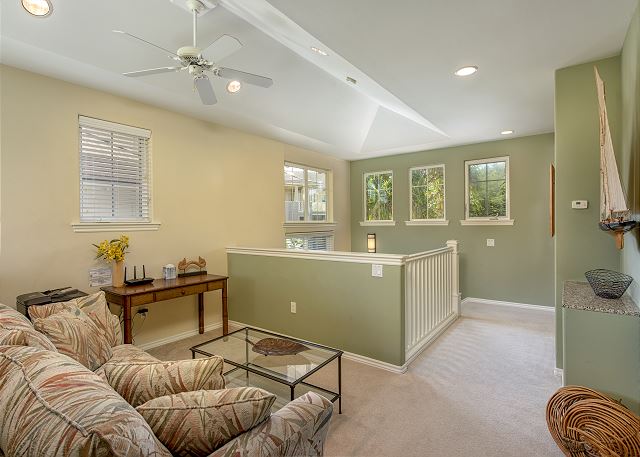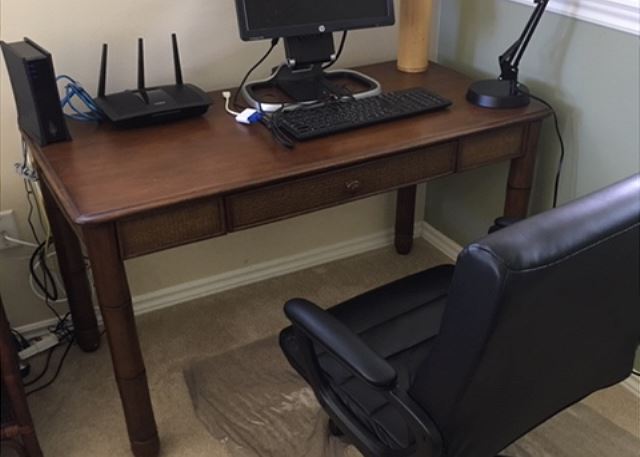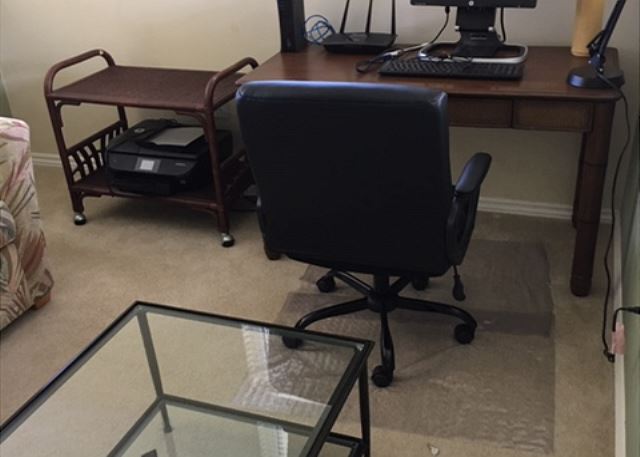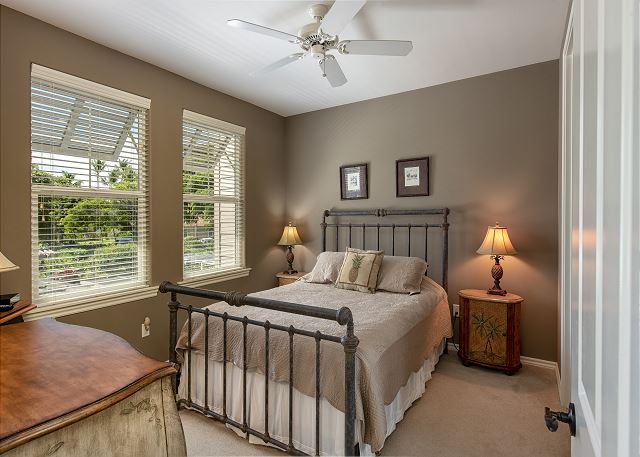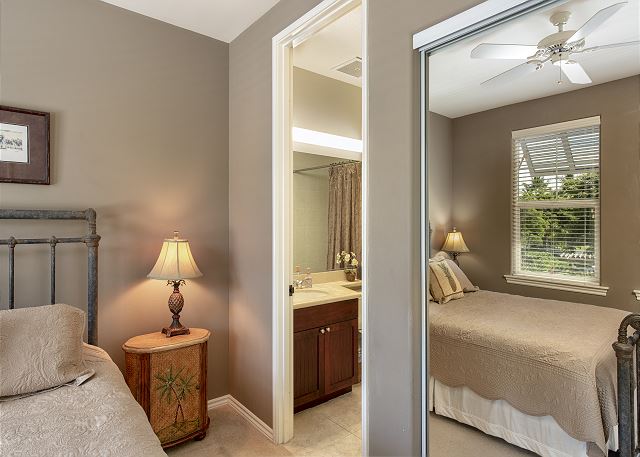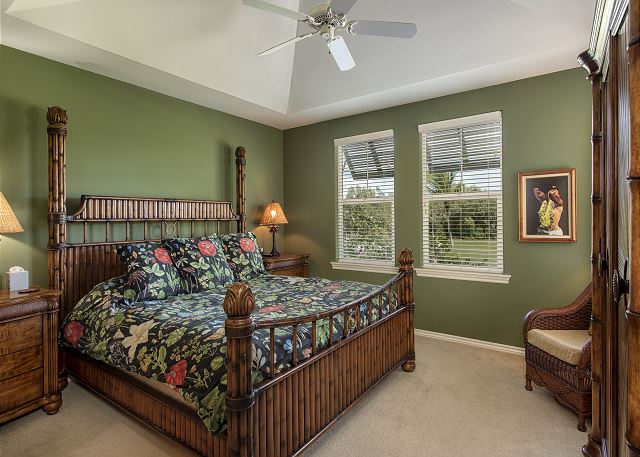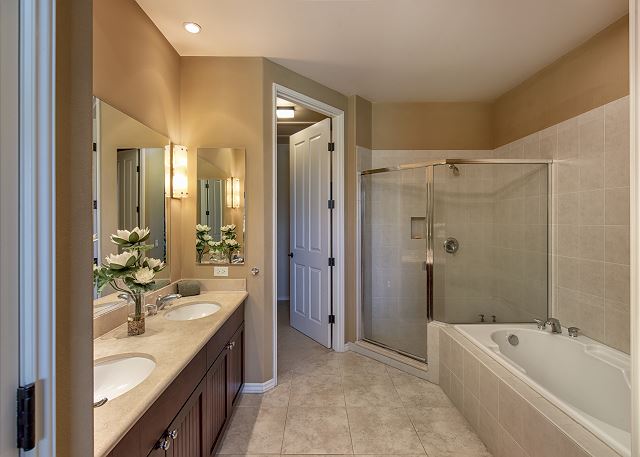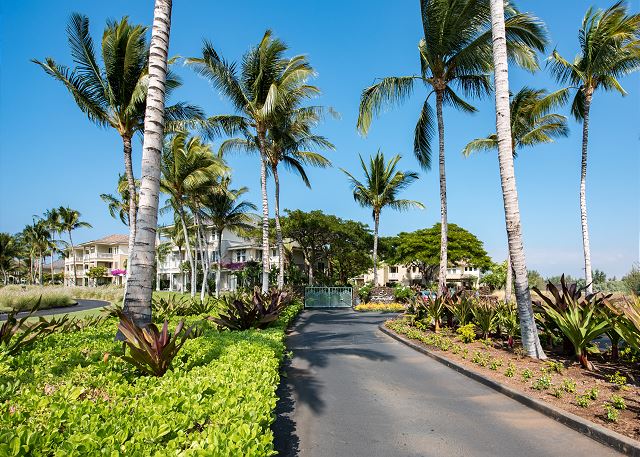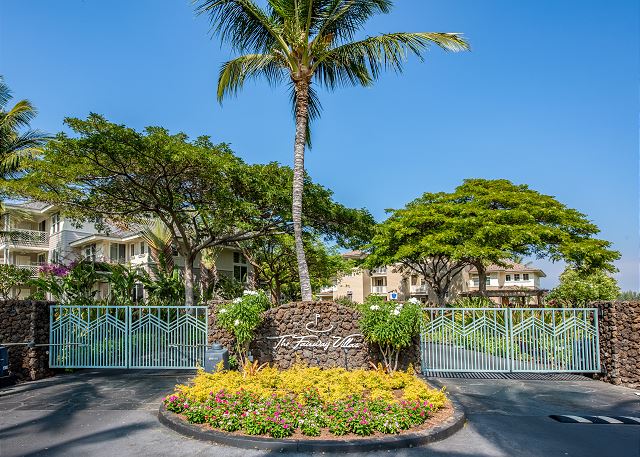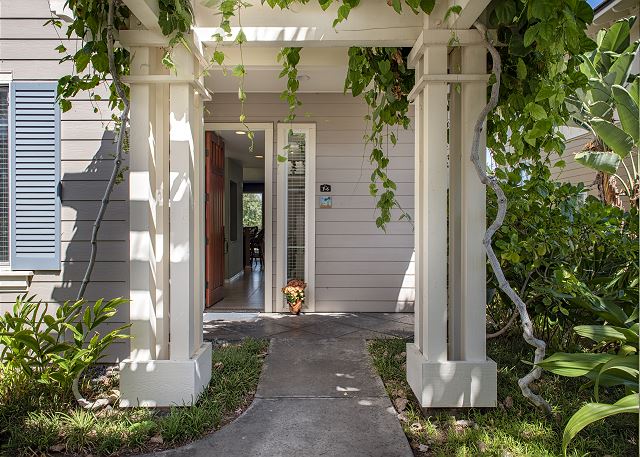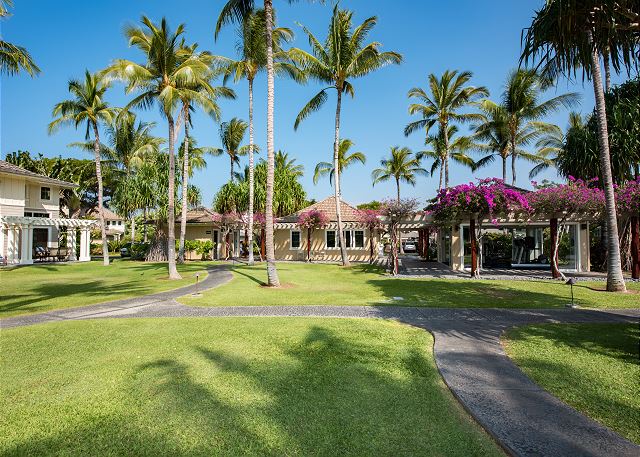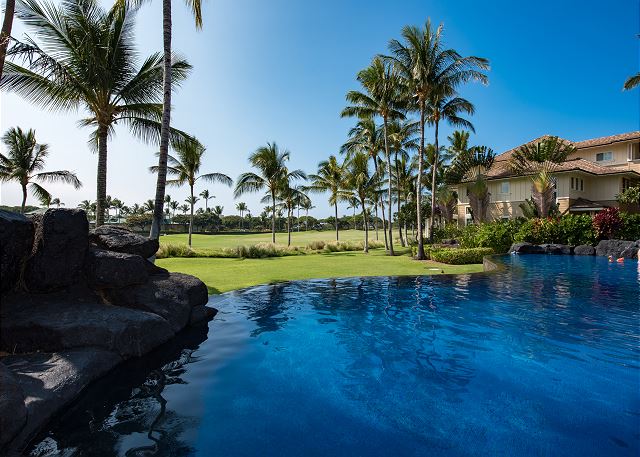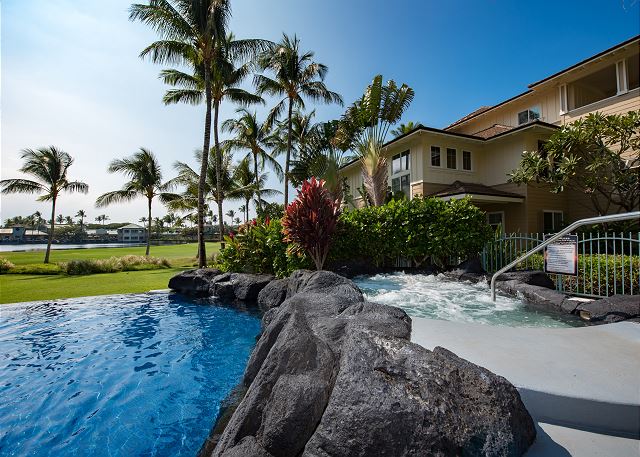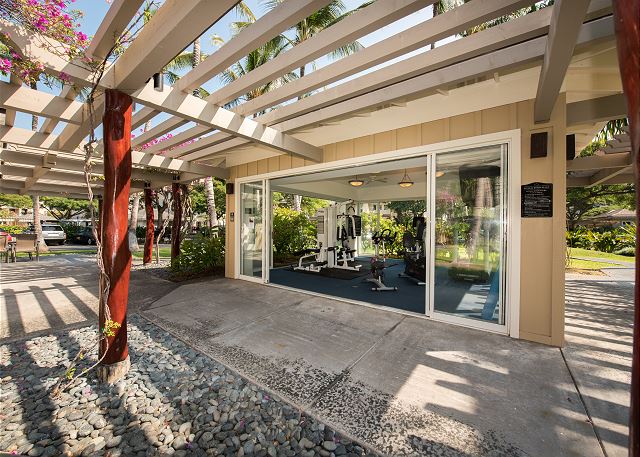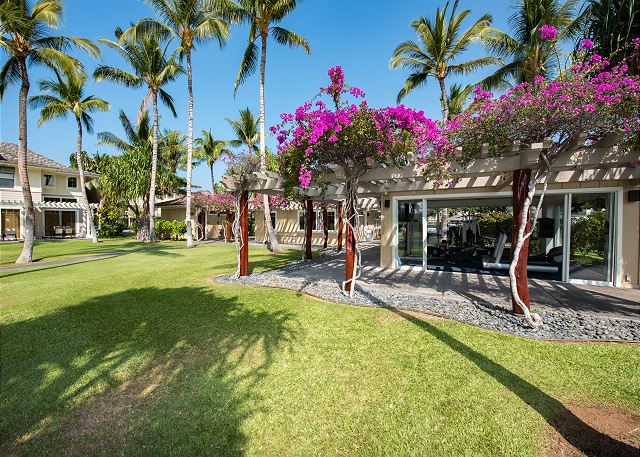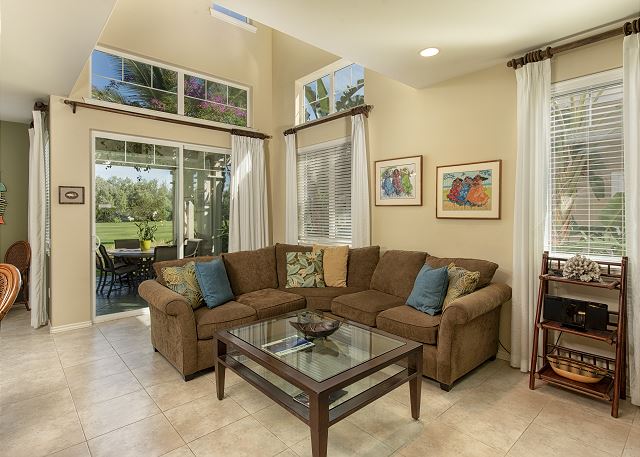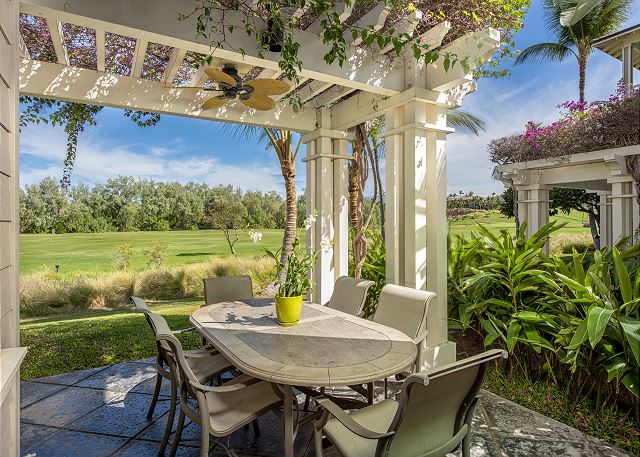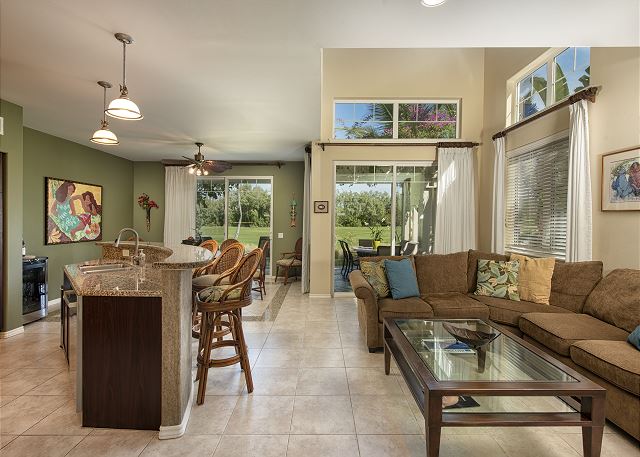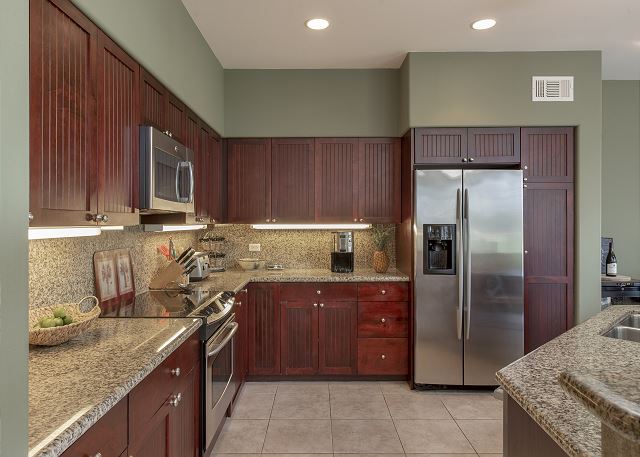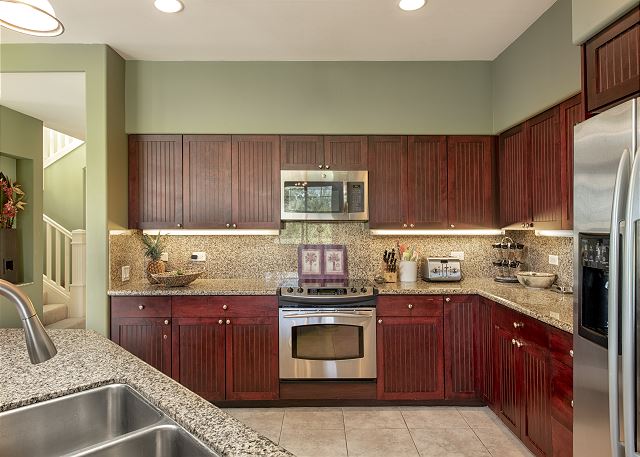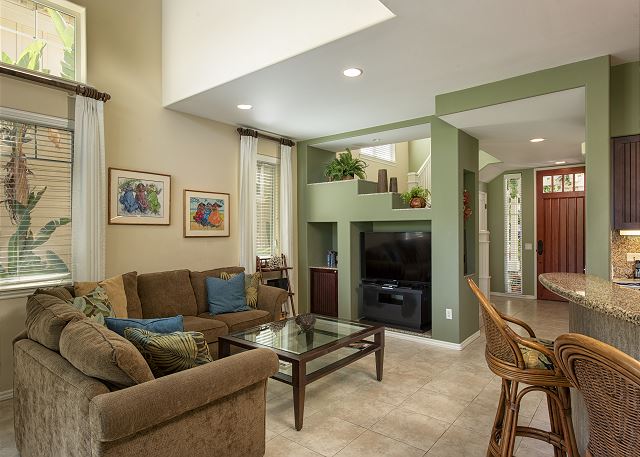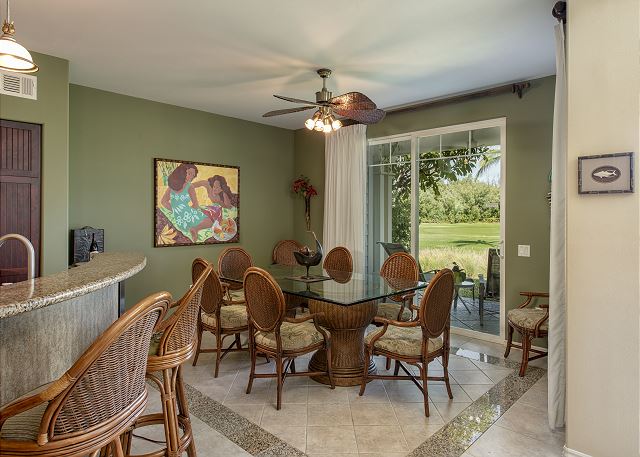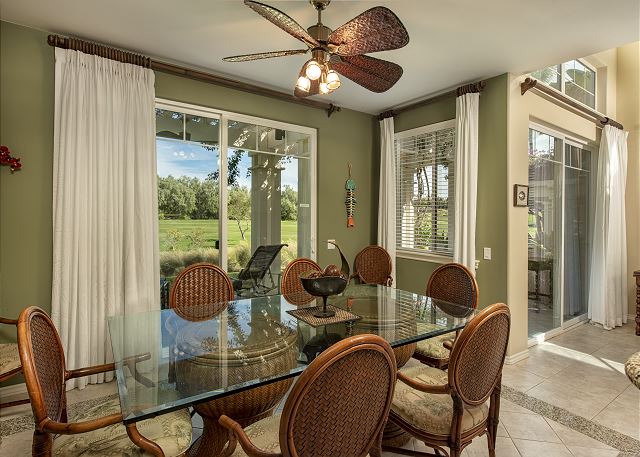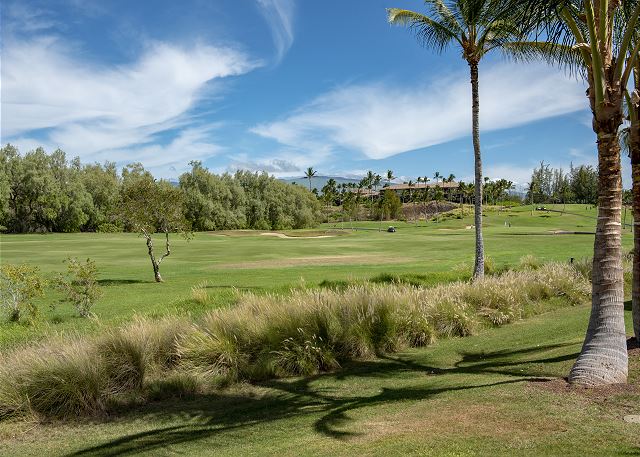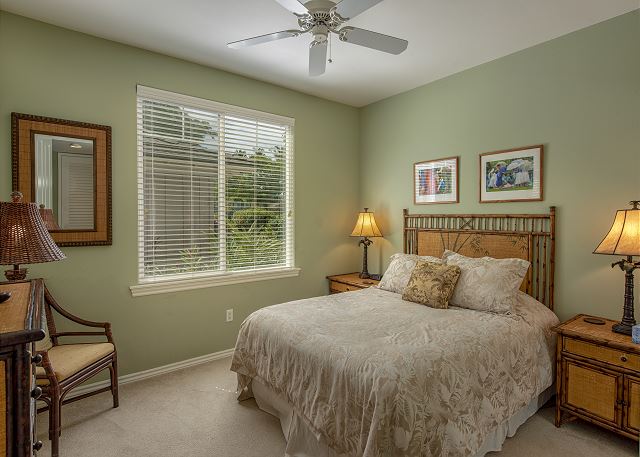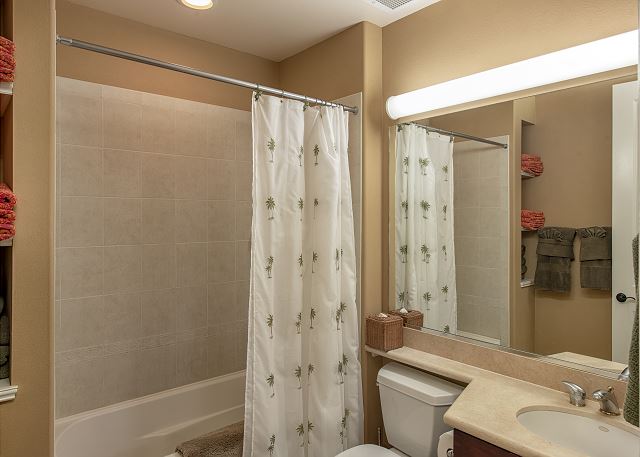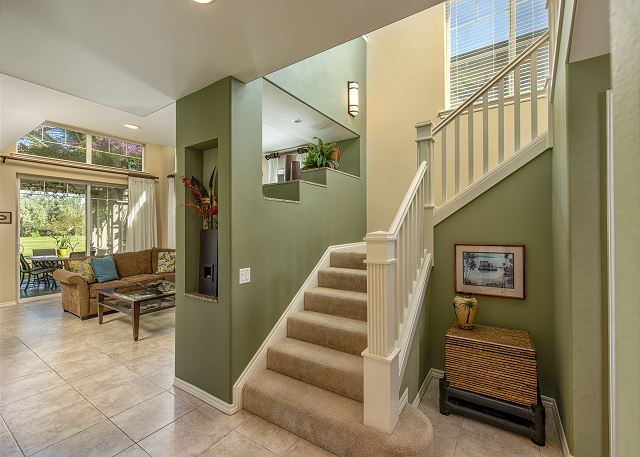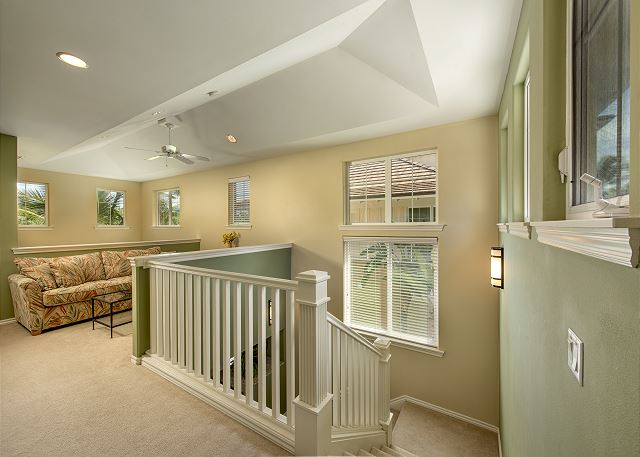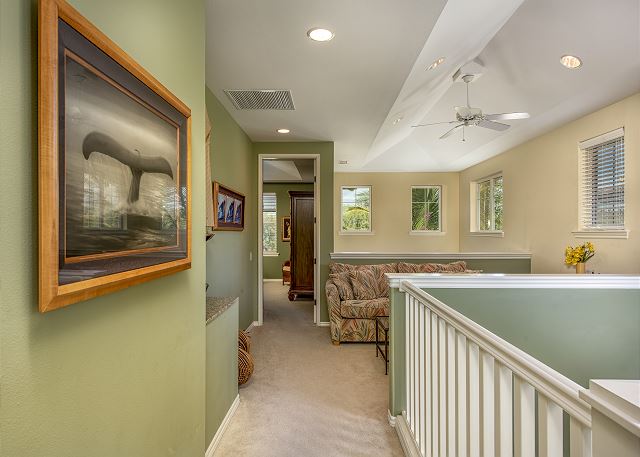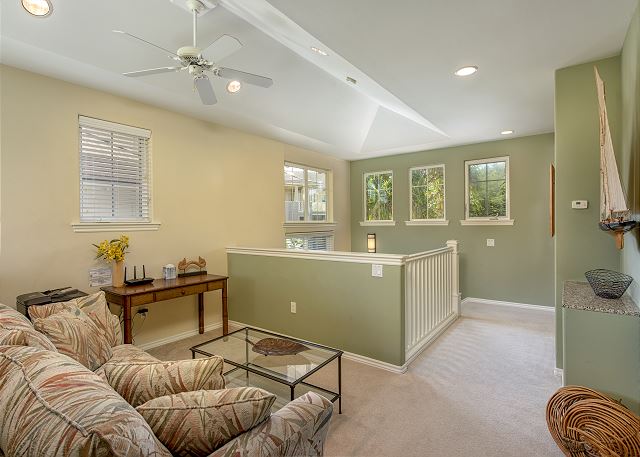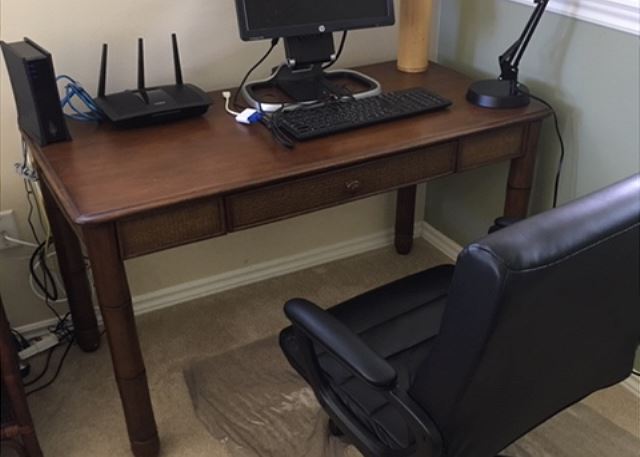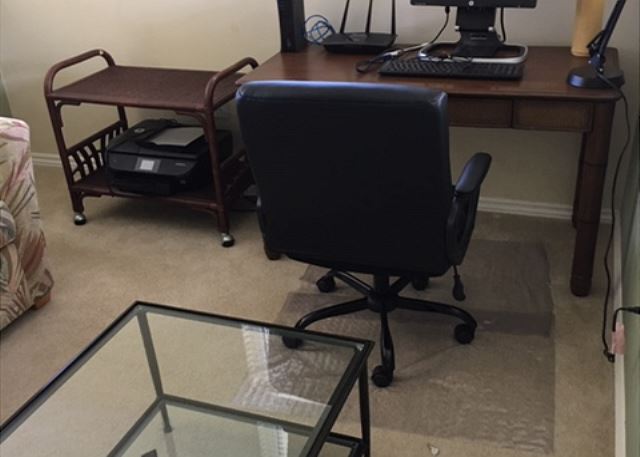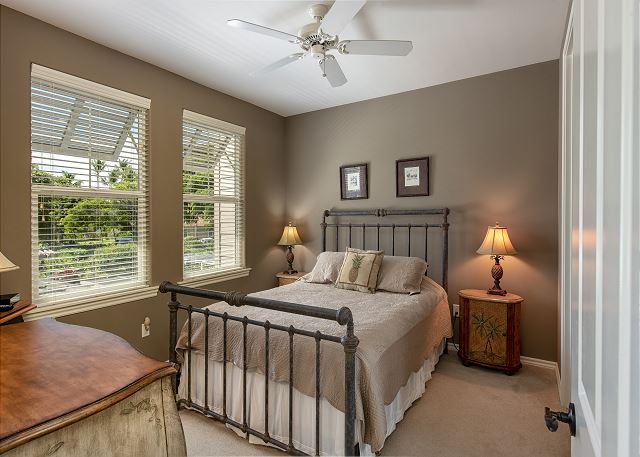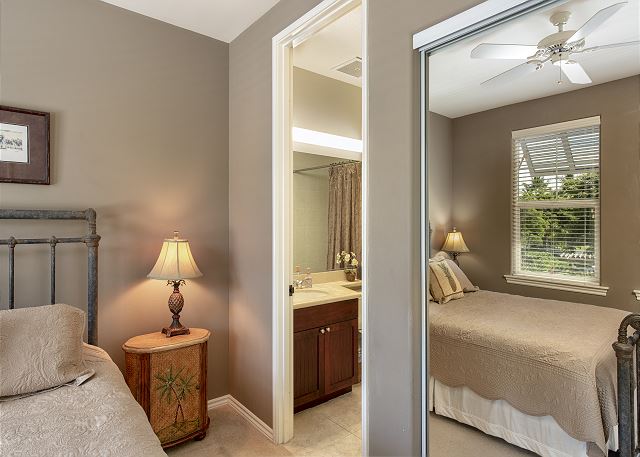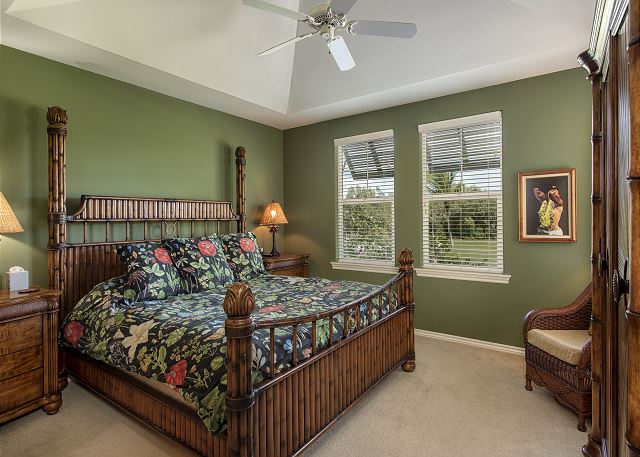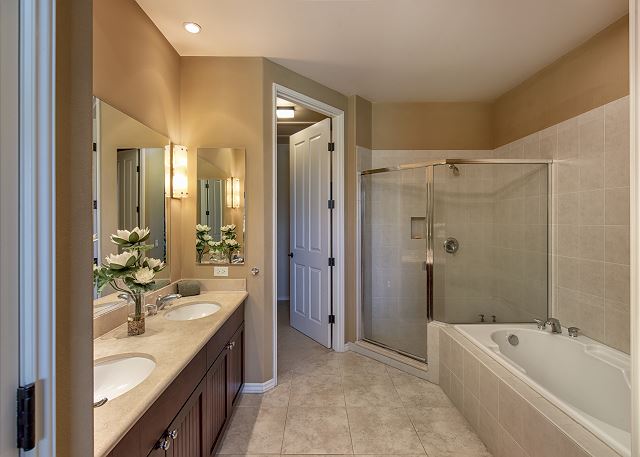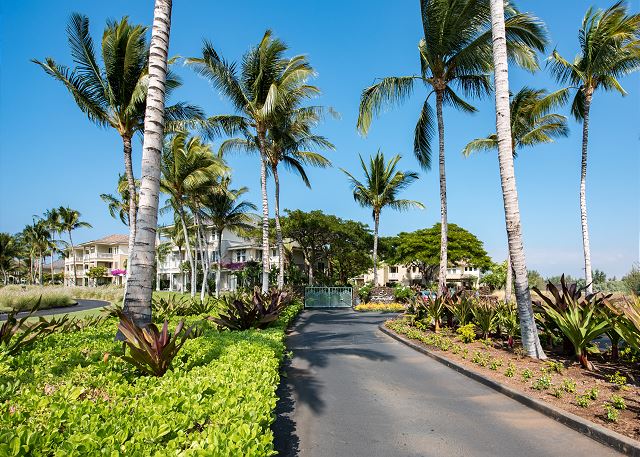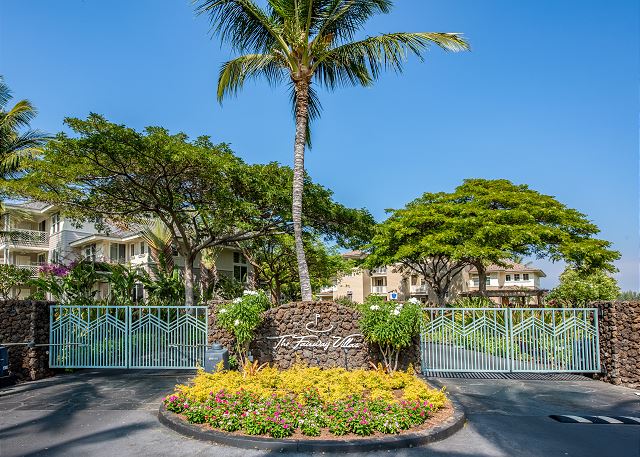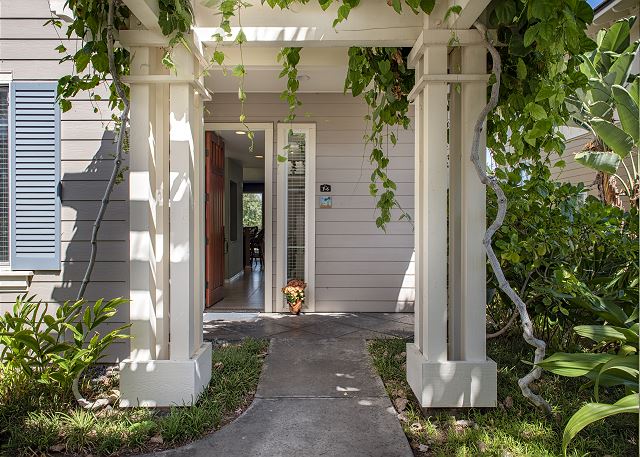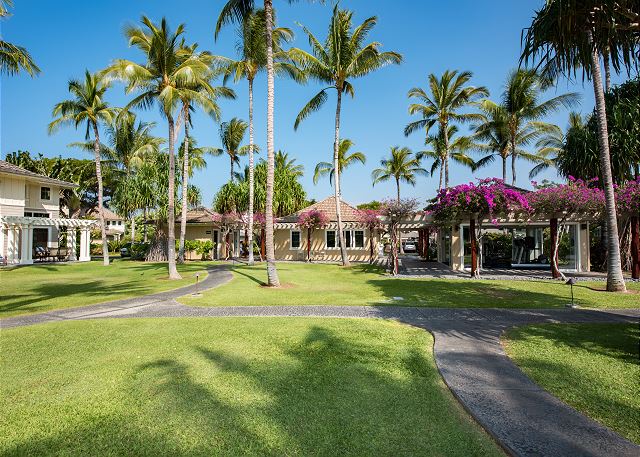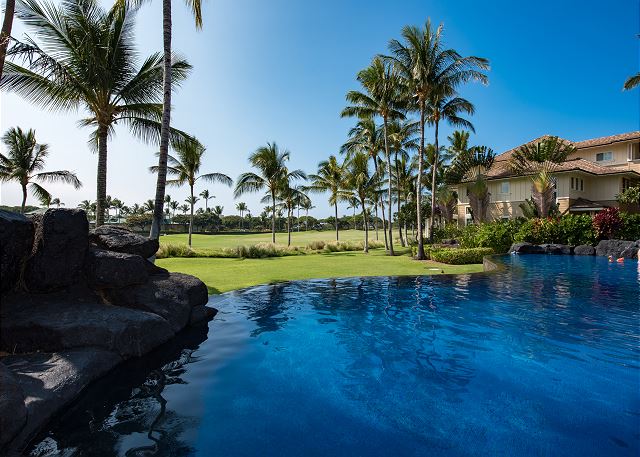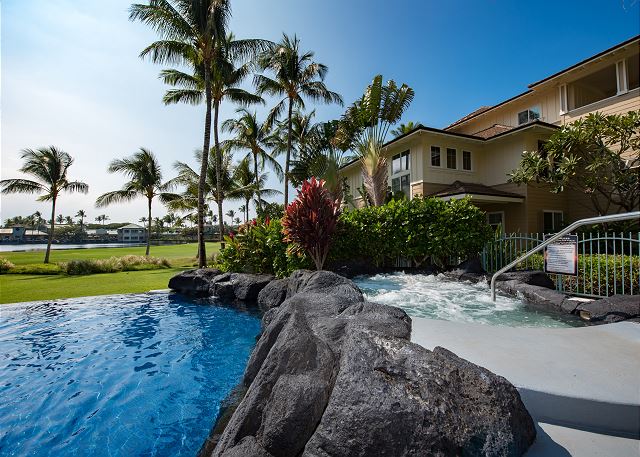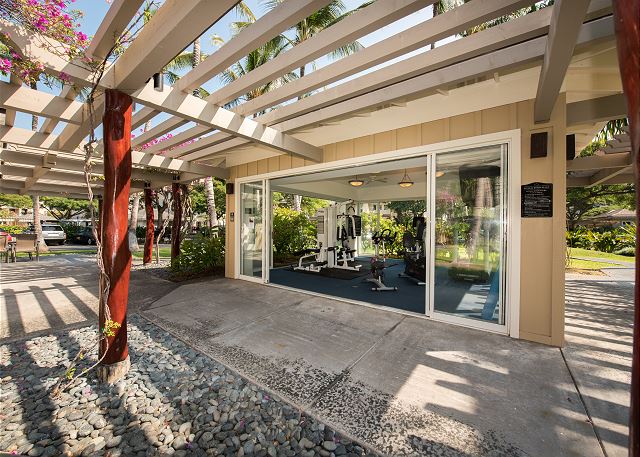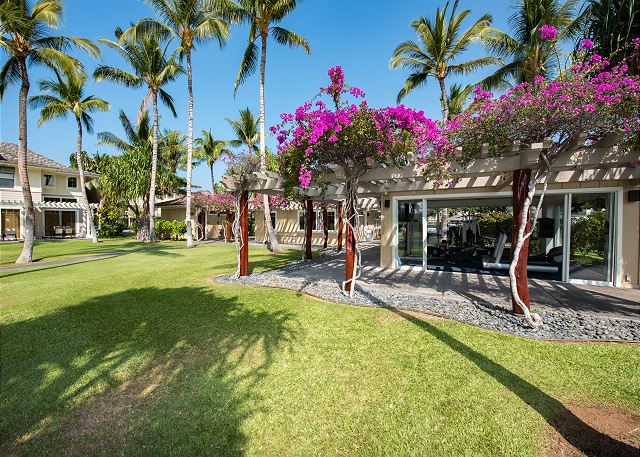 Description
Waikoloa Fairway Villa F6 is the ultimate getaway with merged indoor/outdoor living spaces and our 3 bedroom and 3 bath townhome is perfect for up to six guests. Our well-maintained end unit has lots of light and breezes. We have high-end furniture, amazing gallery art work throughout our home for you to enjoy.

The main living area boasts an open floor plan, making the home perfect for entertaining or relaxing with family and friends. The living room has a flat screen TV to enjoy. The kitchen is spacious, with stainless steel appliances, granite countertops and bar. And kitchen is fully-equipped with high quality items, there is a dining table with seats for eight and three additional seats at the breakfast bar. A large wrap-around lanai is accessed from the living room or the dining room, with patio table with seating for six and 2 lounge chairs with amazing view of golf course, Kohala volcano and sunset skies framed by coconut palms.

Master suite that features a king-size bed, built-in walk in closet and a flat screen TV. The master bath is spacious and offers dual sinks, walk-in shower and a bathtub. Two additional bedrooms; one; downstairs has queen beds and a private bathroom in the hallway and offers a flat screen TV, the bedroom upstairs offers a queen-sized bed with attached bathroom with a flat screen TV and built-in closet. The loft area offers a queen size sleeper sofa and reading area.

Fairway Villas offers an infinity-edge pool, hot tub, central BBQ area, upgraded fitness center, social room with sharing library, game table.



Located just a few minutes' walk down the street is Kings' Shops and across the street from Kings' Shops is the Queens' Marketplace, complete with food court, art galleries, sushi, creamery ice cream, Macaroni Grill, Island Gourmet Market, Starbucks, and many other shops, daily local entertainment, classes, cultural events and golf.



You are a short drive or walk to the famous Anaehoomalu Bay (A-Bay) beach with all the joys of white sand, trees, snorkeling, and more.



SPECIAL – Spend the day at the Hilton Waikoloa Village, you can buy a discounted DAY PASS to the pool/waterslide or relax at the spa with a SPA PASS. More info will be provided upon booking with us.



FREE WIFI

FREE PARKING

WASHER AND DRYER

BEACH CHAIRS, COOLER, BEACH TOWELS

BEACH/SWIM GEAR

A/C – CENTRAL AIR

BBQ AT POOL AREA

CLOSE TO POOL, BEACH, SHOPPING AND RESTAURANTS



This villa is cleaned by a professional cleaning company using EPA approved products for use against COVID-19. And cleaning process is following guidelines received from World Health Organization and the Centers for Disease Control.



Hawaii County ordinance to regulate Short-Term Vacation Rentals application for this property was accepted and certificate is pending.



*****WE DO NOT ACCEPT WIRE TRANSFERS*****

HAWAII SHORT TERM VACATION RENTAL# 19-375931

HAWAII GE/TAT TAX ID# 205-378-3552-01



TMK 6-9-008-003-0064
Calendar
October 2021

| S | M | T | W | T | F | S |
| --- | --- | --- | --- | --- | --- | --- |
| | | | | | 01 | 02 |
| 03 | 04 | 05 | 06 | 07 | 08 | 09 |
| 10 | 11 | 12 | 13 | 14 | 15 | 16 |
| 17 | 18 | 19 | 20 | 21 | 22 | 23 |
| 24 | 25 | 26 | 27 | 28 | 29 | 30 |
| 31 | | | | | | |
November 2021

| S | M | T | W | T | F | S |
| --- | --- | --- | --- | --- | --- | --- |
| | 01 | 02 | 03 | 04 | 05 | 06 |
| 07 | 08 | 09 | 10 | 11 | 12 | 13 |
| 14 | 15 | 16 | 17 | 18 | 19 | 20 |
| 21 | 22 | 23 | 24 | 25 | 26 | 27 |
| 28 | 29 | 30 | | | | |
December 2021

| S | M | T | W | T | F | S |
| --- | --- | --- | --- | --- | --- | --- |
| | | | 01 | 02 | 03 | 04 |
| 05 | 06 | 07 | 08 | 09 | 10 | 11 |
| 12 | 13 | 14 | 15 | 16 | 17 | 18 |
| 19 | 20 | 21 | 22 | 23 | 24 | 25 |
| 26 | 27 | 28 | 29 | 30 | 31 | |
January 2022

| S | M | T | W | T | F | S |
| --- | --- | --- | --- | --- | --- | --- |
| | | | | | | 01 |
| 02 | 03 | 04 | 05 | 06 | 07 | 08 |
| 09 | 10 | 11 | 12 | 13 | 14 | 15 |
| 16 | 17 | 18 | 19 | 20 | 21 | 22 |
| 23 | 24 | 25 | 26 | 27 | 28 | 29 |
| 30 | 31 | | | | | |
February 2022

| S | M | T | W | T | F | S |
| --- | --- | --- | --- | --- | --- | --- |
| | | 01 | 02 | 03 | 04 | 05 |
| 06 | 07 | 08 | 09 | 10 | 11 | 12 |
| 13 | 14 | 15 | 16 | 17 | 18 | 19 |
| 20 | 21 | 22 | 23 | 24 | 25 | 26 |
| 27 | 28 | | | | | |
March 2022

| S | M | T | W | T | F | S |
| --- | --- | --- | --- | --- | --- | --- |
| | | 01 | 02 | 03 | 04 | 05 |
| 06 | 07 | 08 | 09 | 10 | 11 | 12 |
| 13 | 14 | 15 | 16 | 17 | 18 | 19 |
| 20 | 21 | 22 | 23 | 24 | 25 | 26 |
| 27 | 28 | 29 | 30 | 31 | | |
April 2022

| S | M | T | W | T | F | S |
| --- | --- | --- | --- | --- | --- | --- |
| | | | | | 01 | 02 |
| 03 | 04 | 05 | 06 | 07 | 08 | 09 |
| 10 | 11 | 12 | 13 | 14 | 15 | 16 |
| 17 | 18 | 19 | 20 | 21 | 22 | 23 |
| 24 | 25 | 26 | 27 | 28 | 29 | 30 |
May 2022

| S | M | T | W | T | F | S |
| --- | --- | --- | --- | --- | --- | --- |
| 01 | 02 | 03 | 04 | 05 | 06 | 07 |
| 08 | 09 | 10 | 11 | 12 | 13 | 14 |
| 15 | 16 | 17 | 18 | 19 | 20 | 21 |
| 22 | 23 | 24 | 25 | 26 | 27 | 28 |
| 29 | 30 | 31 | | | | |
June 2022

| S | M | T | W | T | F | S |
| --- | --- | --- | --- | --- | --- | --- |
| | | | 01 | 02 | 03 | 04 |
| 05 | 06 | 07 | 08 | 09 | 10 | 11 |
| 12 | 13 | 14 | 15 | 16 | 17 | 18 |
| 19 | 20 | 21 | 22 | 23 | 24 | 25 |
| 26 | 27 | 28 | 29 | 30 | | |
July 2022

| S | M | T | W | T | F | S |
| --- | --- | --- | --- | --- | --- | --- |
| | | | | | 01 | 02 |
| 03 | 04 | 05 | 06 | 07 | 08 | 09 |
| 10 | 11 | 12 | 13 | 14 | 15 | 16 |
| 17 | 18 | 19 | 20 | 21 | 22 | 23 |
| 24 | 25 | 26 | 27 | 28 | 29 | 30 |
| 31 | | | | | | |
August 2022

| S | M | T | W | T | F | S |
| --- | --- | --- | --- | --- | --- | --- |
| | 01 | 02 | 03 | 04 | 05 | 06 |
| 07 | 08 | 09 | 10 | 11 | 12 | 13 |
| 14 | 15 | 16 | 17 | 18 | 19 | 20 |
| 21 | 22 | 23 | 24 | 25 | 26 | 27 |
| 28 | 29 | 30 | 31 | | | |
September 2022

| S | M | T | W | T | F | S |
| --- | --- | --- | --- | --- | --- | --- |
| | | | | 01 | 02 | 03 |
| 04 | 05 | 06 | 07 | 08 | 09 | 10 |
| 11 | 12 | 13 | 14 | 15 | 16 | 17 |
| 18 | 19 | 20 | 21 | 22 | 23 | 24 |
| 25 | 26 | 27 | 28 | 29 | 30 | |
Available
Unavailable
Check-In Only
Check-Out Only
Seasonal Rates
| Date Range | Daily | Weekly | Monthly |
| --- | --- | --- | --- |
* Seasonal rates are only estimates and do not reflect taxes or additional fees.
Location
Guest Reviews of
FAIRWAY VILLAS F6
Waikoloa, HI
---
Vacation Rental Reviews by
stars based on
Great location!
Review by
Courtney B.
This location is great for families and those who may chose not to have transportation for the trip. There is plenty within walking distance and many paid excursions do pick up at the shops by the condo. Comfortably fit 6 people (adults) without any issues during our stay.
5 out of 5 stars
Beautiful well appointed end unit
Review by
Badri S.
We stayed here for the month of December. This place was a welcome relief during covid times. The unit was clean with a lot of amenities especially in the kitchen. We also had enough beach accessories like umbrellas, chairs, boogie board etc. high speed internet was a plus as well. The grounds are in excellent condition with and infinity pool and lots of green space. A call out to Michelle, the property manager who quickly handled any concerns. One small nit, the master bed is super uncomfortable and needs to be replaced at some point.
5 out of 5 stars
Review of F6
Review by
Thomas H.
A great place. It was just as described. We enjoyed our stay there. We called the management staff once with a few questions. They were very responsive and helpful.
5 out of 5 stars
Exceeded Expectations!
Review by
Alexander D N.
Villa F6 is convenient to all locations and activities. It is nicely furnished and well stocked with linens, towels, etc.
2 out of 5 stars
Perfect Spot
Review by
Great location. Beautifully furnished with everything imaginable -- cooking utensils and equipment, beach chairs. Also great service by the rental agent.
5 out of 5 stars
Wonderful Big Island stay
Review by
Frank K.
Great two weeks at Waikoloa with family close to good dining and whale viewing from shore in a clean beautiful condo at Fairways Villas.
5 out of 5 stars
Great stay
Review by
Ronald W.
Top notch.
5 out of 5 stars
Family trip
Review by
Our family of five stayed in this very well appointed home for a little over a week. All necessary amenities, such as kitchen utensils and spices, and beach goodies were available and in good condition. All we needed was clothing and sunblock!
5 out of 5 stars
Great vacation and beautiful home.
Review by
Dan L.
We loved our time here and your home had everything we needed for our large family. Relaxing on the lanai was peaceful and just relaxing after a long day exploring the island.
5 out of 5 stars
Contact Us