Fairway Villas Waikoloa J21 (Villa)
2 Bedroom(s) | 2 Bathroom(s) | Sleeps 6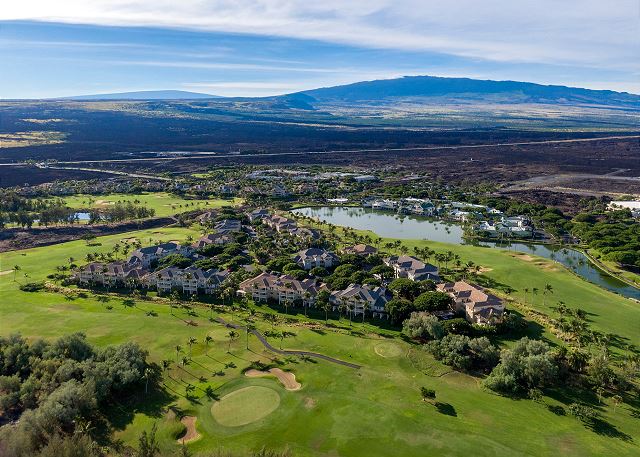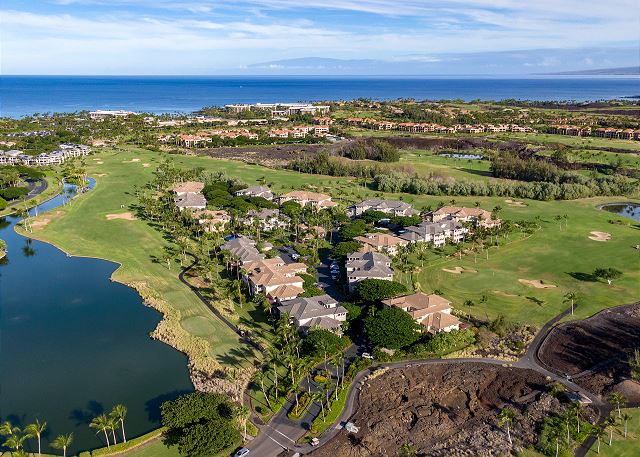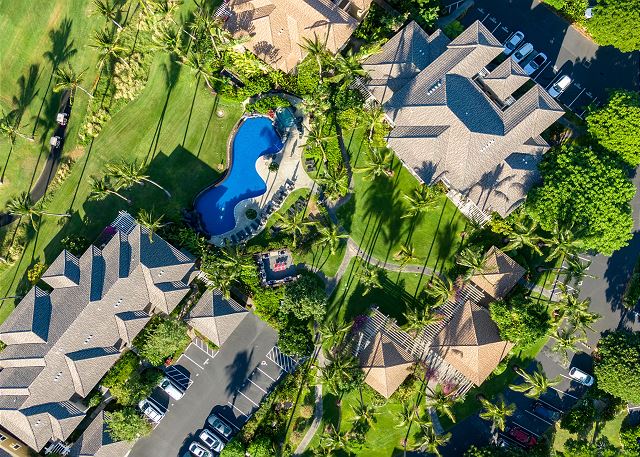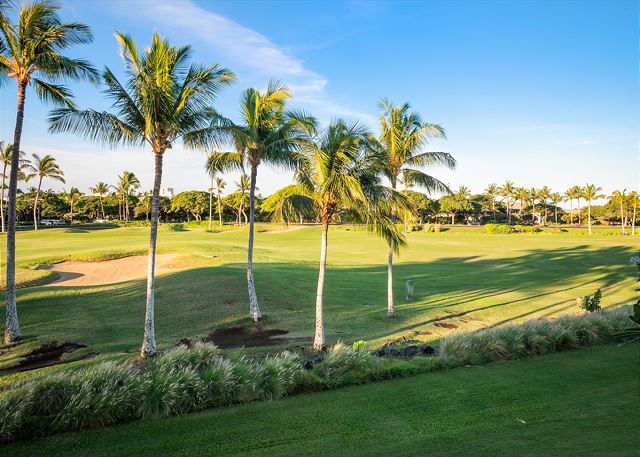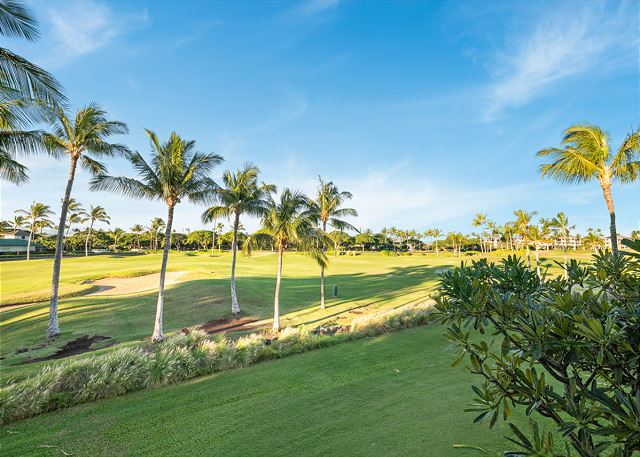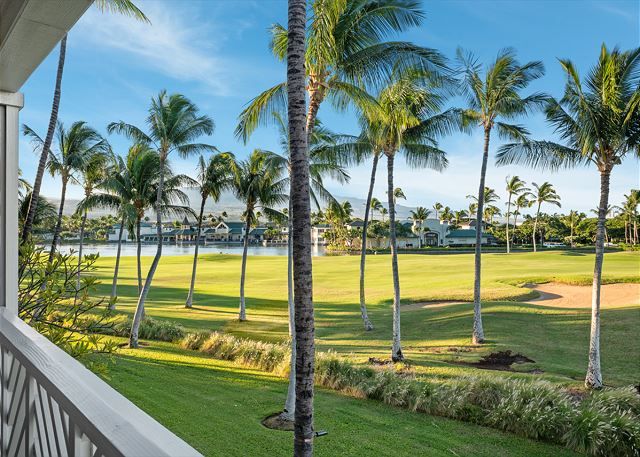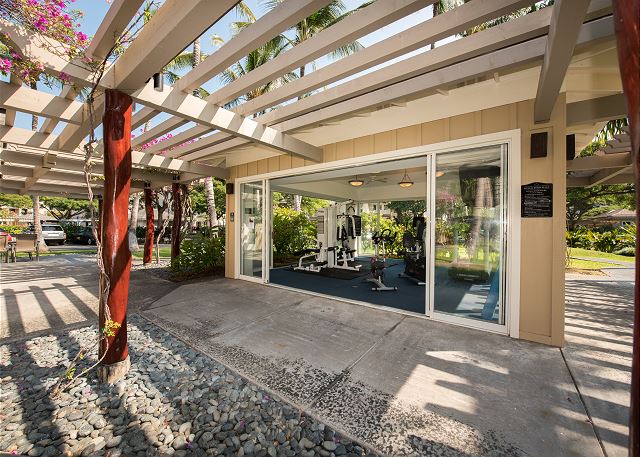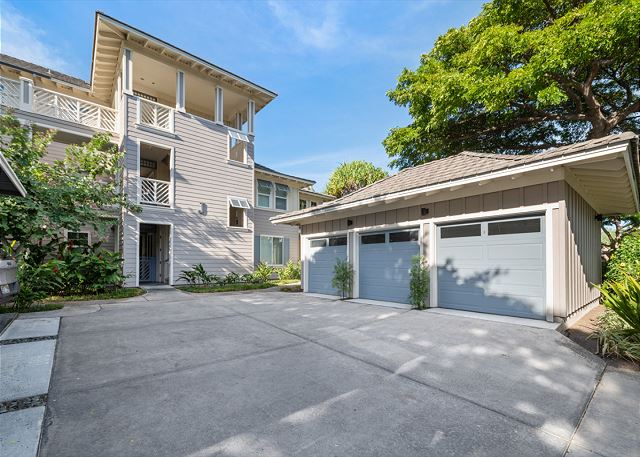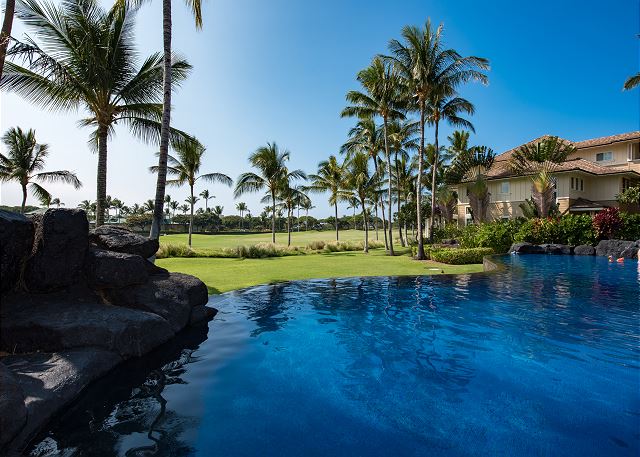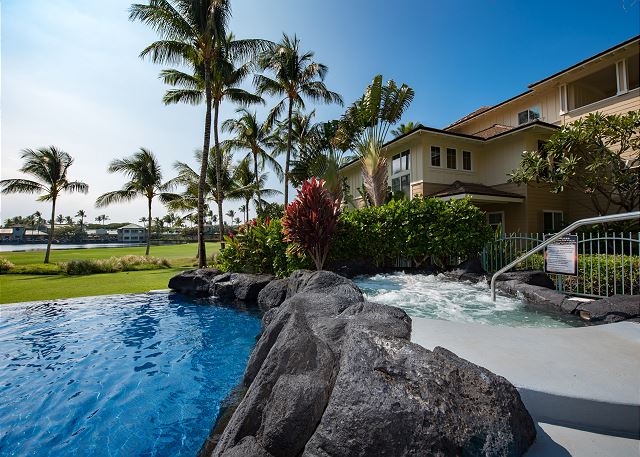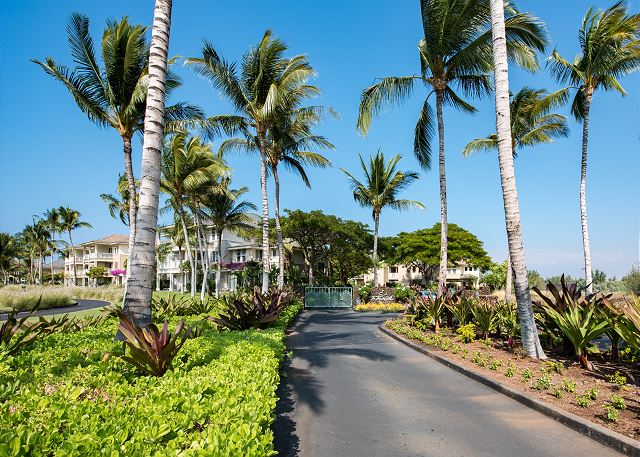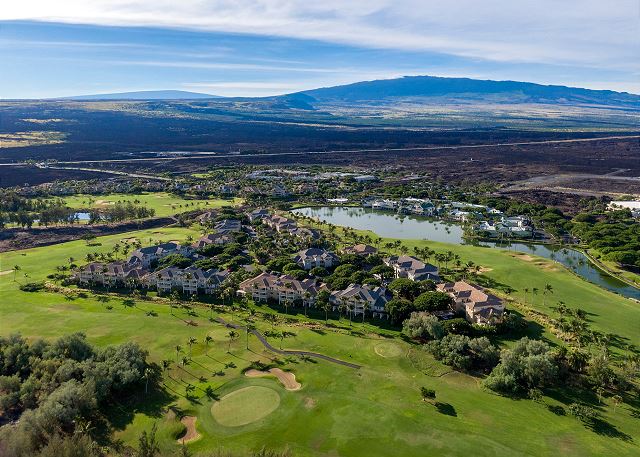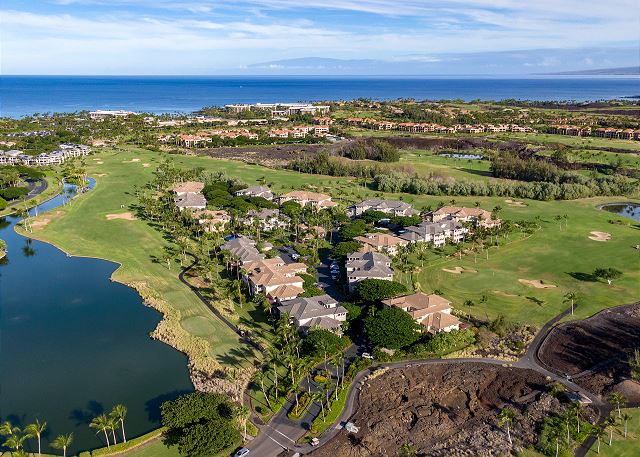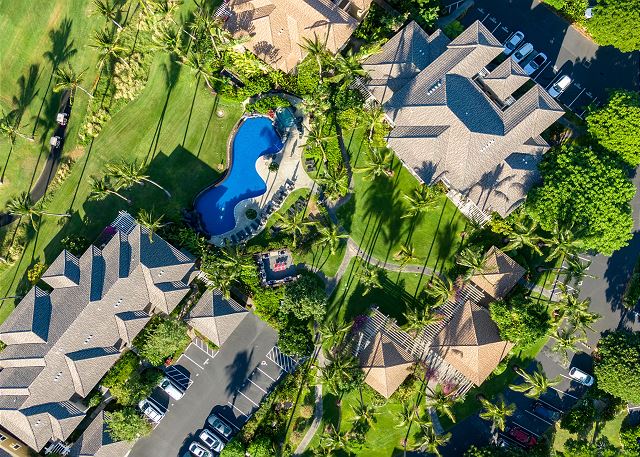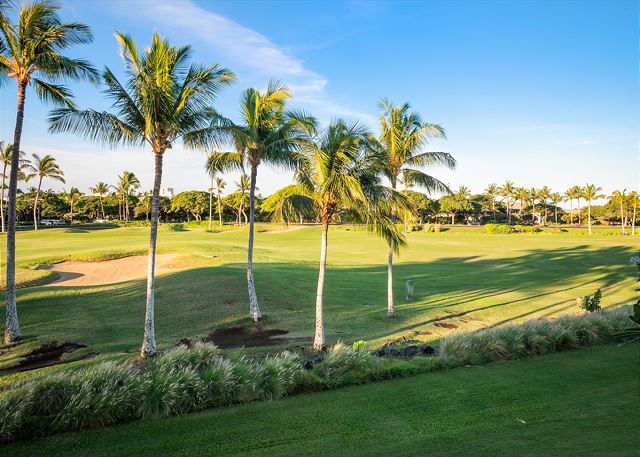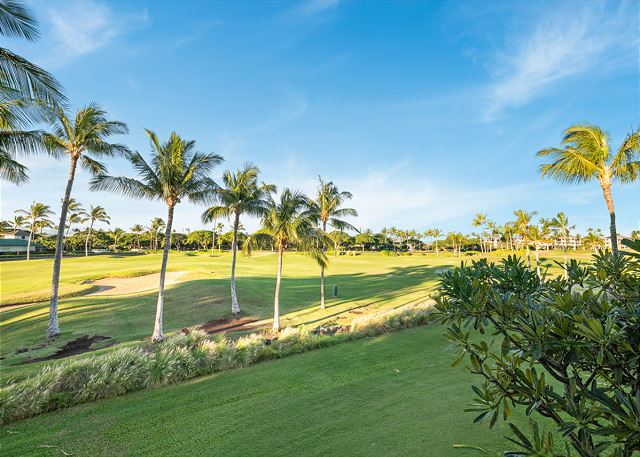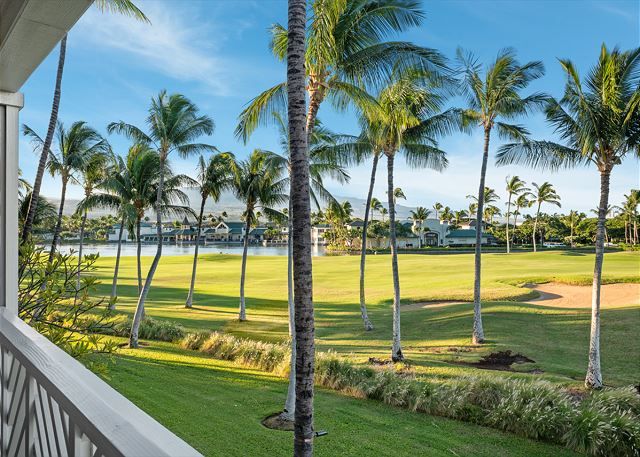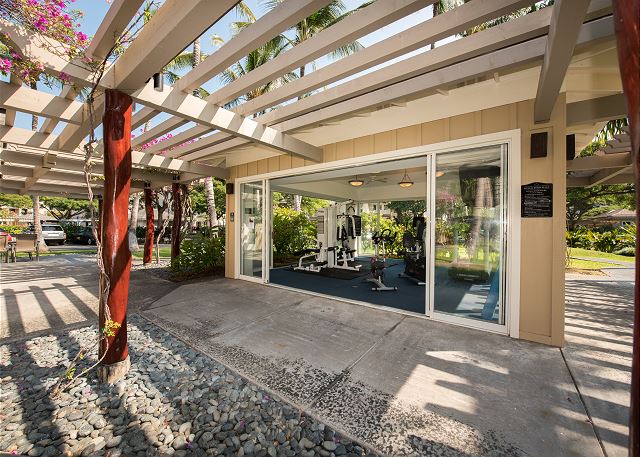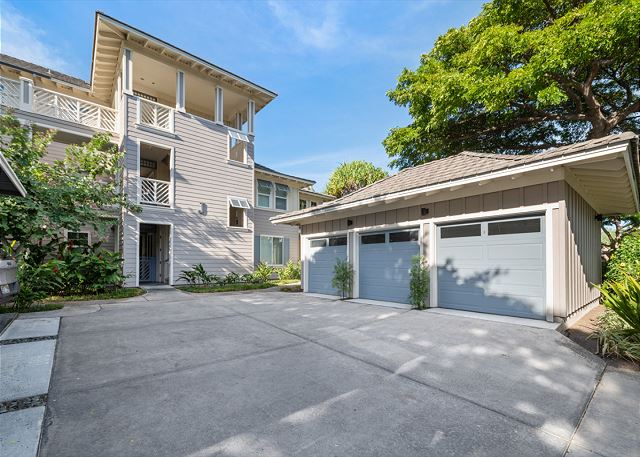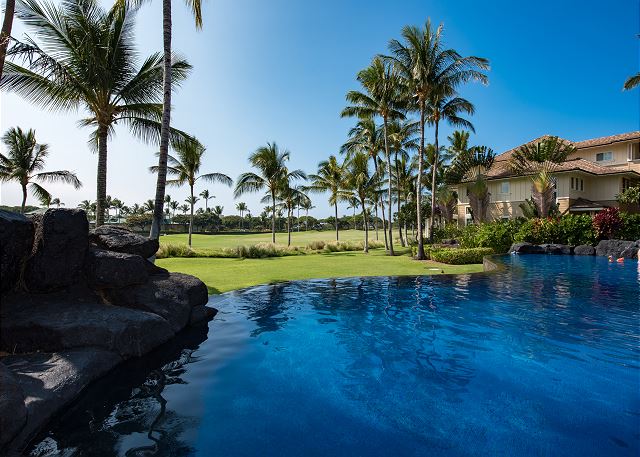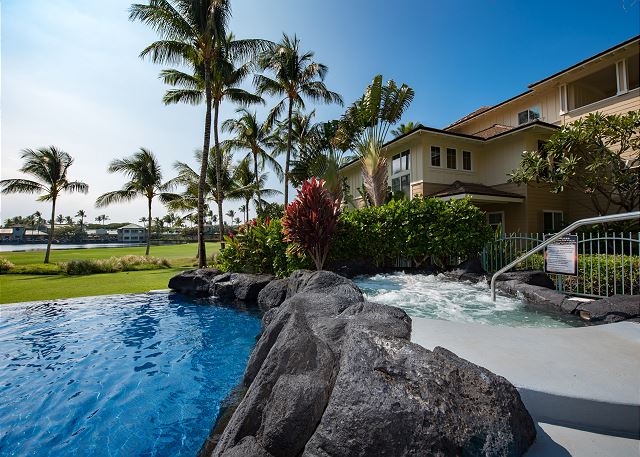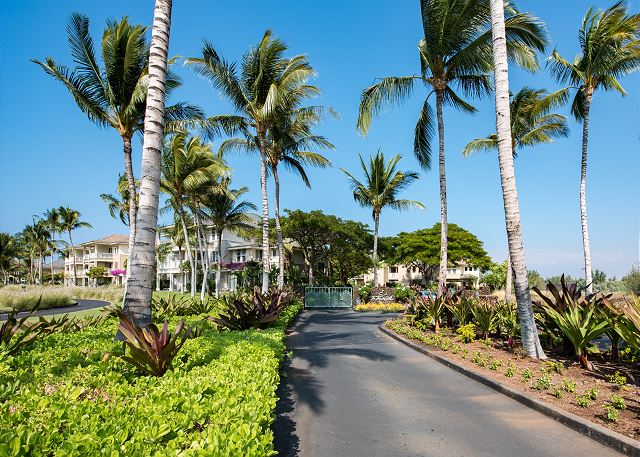 Description
Welcome to our NEW 2 bedroom, 2 bath villa located in Fairway Villas in Waikoloa Beach Resort with discounted GOLD GOLF KINGS' CLUB MEMBERSHIP.

Our island style themed villas is fully equipped and ready for your vacation!! The master bedroom has a king bed, walk in closet and a full master bath. The guest bedroom has 2 twin beds that upon request can be converted to a king bed and a full guest bathroom right next to it. The dining area has dining for 6 and 3 bar stools at counter. Living room has a NEW large sleeper sofa (pull out to a queen bed) NEW love seat and a NEW 50" flat screen tv. You can enjoy your meals and the beautiful on the lanai as well with seating for 4. Villa has central air conditioning, a washer and dryer, beach gear, FREE WIFI and RESERVED COVERED PARKING STALL.



Unit includes discounted GOLD GOLF KINGS' CLUB MEMBERSHIP. Included are discounted green fees at Waikoloa Beach Course - $75.00 per person plus tax before 9:30 a.m. - $50.00 per person plus tax after 9:30 a.m. - and Rental Clubs $25.00 per set plus tax.



The Fairway Villas Waikoloa offers guest - infinity pool overlooking the King's Lake, a BBQ with a picnic area, and a fitness center.

Our villa is in walking distance to both the Queen's Marketplace and King's Shops for dining out options and shopping. Great snorkeling and swimming can be found nearby (10 minute walk from condo) at Anaeho'omalu Bay (A-Bay). Also nearby, is the ancient petroglyph trails.

Waikoloa Beach Resort has 2 golf courses - the Beach Course designed by Robert Trent Jones, Jr., and the King's Course designed by Tom Weiskopf.



SPECIAL – Spend the day at the Hilton Waikoloa Village, you can buy a discounted DAY PASS to the pool/waterslide or relax at the spa with a SPA PASS. More info will be provided upon booking with us.



GOLF DISCOUNT

FREE WIFI

FREE PARKING

WASHER AND DRYER

ELEVATOR

BEACH CHAIRS, COOLER, BEACH TOWELS

BEACH/SWIM GEAR

A/C – CENTRAL AIR

BBQ AT POOL AREA

CLOSE TO POOL, BEACH, SHOPPING AND RESTAURANTS



We look forward to your booking a stay in our villa, Mahalo!!



This villa is cleaned by a professional cleaning company using EPA approved products for use against COVID-19. And cleaning process is following guidelines received from World Health Organization and the Centers for Disease Control.



Hawaii County ordinance to regulate Short-Term Vacation Rentals application for this property was accepted.



+++++WE DO NOT ACCEPT WIRE TRANSFERS++++++



HAWAII SHORT TERM VACATION RENTAL# 19-362752

HAWAII GE/TAT TAX ID# 165-733-4272-01



TMK 6-9-008-003-0115
Calendar
October 2021

| S | M | T | W | T | F | S |
| --- | --- | --- | --- | --- | --- | --- |
| | | | | | 01 | 02 |
| 03 | 04 | 05 | 06 | 07 | 08 | 09 |
| 10 | 11 | 12 | 13 | 14 | 15 | 16 |
| 17 | 18 | 19 | 20 | 21 | 22 | 23 |
| 24 | 25 | 26 | 27 | 28 | 29 | 30 |
| 31 | | | | | | |
November 2021

| S | M | T | W | T | F | S |
| --- | --- | --- | --- | --- | --- | --- |
| | 01 | 02 | 03 | 04 | 05 | 06 |
| 07 | 08 | 09 | 10 | 11 | 12 | 13 |
| 14 | 15 | 16 | 17 | 18 | 19 | 20 |
| 21 | 22 | 23 | 24 | 25 | 26 | 27 |
| 28 | 29 | 30 | | | | |
December 2021

| S | M | T | W | T | F | S |
| --- | --- | --- | --- | --- | --- | --- |
| | | | 01 | 02 | 03 | 04 |
| 05 | 06 | 07 | 08 | 09 | 10 | 11 |
| 12 | 13 | 14 | 15 | 16 | 17 | 18 |
| 19 | 20 | 21 | 22 | 23 | 24 | 25 |
| 26 | 27 | 28 | 29 | 30 | 31 | |
January 2022

| S | M | T | W | T | F | S |
| --- | --- | --- | --- | --- | --- | --- |
| | | | | | | 01 |
| 02 | 03 | 04 | 05 | 06 | 07 | 08 |
| 09 | 10 | 11 | 12 | 13 | 14 | 15 |
| 16 | 17 | 18 | 19 | 20 | 21 | 22 |
| 23 | 24 | 25 | 26 | 27 | 28 | 29 |
| 30 | 31 | | | | | |
February 2022

| S | M | T | W | T | F | S |
| --- | --- | --- | --- | --- | --- | --- |
| | | 01 | 02 | 03 | 04 | 05 |
| 06 | 07 | 08 | 09 | 10 | 11 | 12 |
| 13 | 14 | 15 | 16 | 17 | 18 | 19 |
| 20 | 21 | 22 | 23 | 24 | 25 | 26 |
| 27 | 28 | | | | | |
March 2022

| S | M | T | W | T | F | S |
| --- | --- | --- | --- | --- | --- | --- |
| | | 01 | 02 | 03 | 04 | 05 |
| 06 | 07 | 08 | 09 | 10 | 11 | 12 |
| 13 | 14 | 15 | 16 | 17 | 18 | 19 |
| 20 | 21 | 22 | 23 | 24 | 25 | 26 |
| 27 | 28 | 29 | 30 | 31 | | |
April 2022

| S | M | T | W | T | F | S |
| --- | --- | --- | --- | --- | --- | --- |
| | | | | | 01 | 02 |
| 03 | 04 | 05 | 06 | 07 | 08 | 09 |
| 10 | 11 | 12 | 13 | 14 | 15 | 16 |
| 17 | 18 | 19 | 20 | 21 | 22 | 23 |
| 24 | 25 | 26 | 27 | 28 | 29 | 30 |
May 2022

| S | M | T | W | T | F | S |
| --- | --- | --- | --- | --- | --- | --- |
| 01 | 02 | 03 | 04 | 05 | 06 | 07 |
| 08 | 09 | 10 | 11 | 12 | 13 | 14 |
| 15 | 16 | 17 | 18 | 19 | 20 | 21 |
| 22 | 23 | 24 | 25 | 26 | 27 | 28 |
| 29 | 30 | 31 | | | | |
June 2022

| S | M | T | W | T | F | S |
| --- | --- | --- | --- | --- | --- | --- |
| | | | 01 | 02 | 03 | 04 |
| 05 | 06 | 07 | 08 | 09 | 10 | 11 |
| 12 | 13 | 14 | 15 | 16 | 17 | 18 |
| 19 | 20 | 21 | 22 | 23 | 24 | 25 |
| 26 | 27 | 28 | 29 | 30 | | |
July 2022

| S | M | T | W | T | F | S |
| --- | --- | --- | --- | --- | --- | --- |
| | | | | | 01 | 02 |
| 03 | 04 | 05 | 06 | 07 | 08 | 09 |
| 10 | 11 | 12 | 13 | 14 | 15 | 16 |
| 17 | 18 | 19 | 20 | 21 | 22 | 23 |
| 24 | 25 | 26 | 27 | 28 | 29 | 30 |
| 31 | | | | | | |
August 2022

| S | M | T | W | T | F | S |
| --- | --- | --- | --- | --- | --- | --- |
| | 01 | 02 | 03 | 04 | 05 | 06 |
| 07 | 08 | 09 | 10 | 11 | 12 | 13 |
| 14 | 15 | 16 | 17 | 18 | 19 | 20 |
| 21 | 22 | 23 | 24 | 25 | 26 | 27 |
| 28 | 29 | 30 | 31 | | | |
September 2022

| S | M | T | W | T | F | S |
| --- | --- | --- | --- | --- | --- | --- |
| | | | | 01 | 02 | 03 |
| 04 | 05 | 06 | 07 | 08 | 09 | 10 |
| 11 | 12 | 13 | 14 | 15 | 16 | 17 |
| 18 | 19 | 20 | 21 | 22 | 23 | 24 |
| 25 | 26 | 27 | 28 | 29 | 30 | |
Available
Unavailable
Check-In Only
Check-Out Only
Seasonal Rates
| Date Range | Daily | Weekly | Monthly |
| --- | --- | --- | --- |
* Seasonal rates are only estimates and do not reflect taxes or additional fees.
Location
Guest Reviews of
Fairway Villas Waikoloa J21
Waikoloa, HI
---
Vacation Rental Reviews by
stars based on
Great Location - Love the Kohala Coast
Review by
We have come annually to Waikoloa for over 20 years now so it is easy to compare this unit to others nearby. The unit was clean and beds were comfortable. However, the living room furniture, while clean and pretty, were not very comfortable. We had difficulties with access to the internet, but the property managers were very attentive and prompt to fix. We are foodies and part of our enjoyment while on vacation is to cook. The kitchen had the basics but were not of good quality and missing some items we would have enjoyed - such as a microplane and a muffin pan. One of the reasons we selected this unit was because it provided the "golf package" and that was super. It is hard to rate most activities and restaurants because of the coronavirus pandemic that closed everything down during our stay. We know that the Kohala Coast can be so spectacular - whether it is snorkeling, historic sites, beaches, restaurants etc. We will definitely return another time.
4 out of 5 stars
Golf course condo J21
Review by
Great location
4 out of 5 stars
J21 - Great Golf Course Location, Convenient, Clean Property
Review by
Steven T.
This property was clean and included a sofa bed in family room, 1 King in master bedroom, 2 twins in second bedroom, fully stocked kitchen, refrigerator that makes ice, medium size cooler, beach towels, beach umbrella, 4 beach chairs, small shampoo/conditioner/lotion for each bathroom, dish soap/sponge, dishwasher pods, replacement garbage bags, reusable shopping bags (Hawaii grocery stores charge you for bags, so it's nice to have these to go shopping)and regular towels. FYI: Grocery shopping at nearby Queens Market place is a bit pricey for regular grocery items, and somewhat limited. The main beach in the area is only a two minute drive out the main entrance. The other hotels Hilton and Marriott are just about 1 mile away. You can walk to the ancient petroglyphs just outside the entrance to Fairway Villas. We were managing an event at the Hilton Waikoloa Village, so it was very convenient to stay with the extra rooms at a fraction of the cost of getting two rooms at a hotel.
5 out of 5 stars
Descanso confortable
Review by
LEONOR FABIOLA S.
Placenteras confortables y seguras vacaciones!
5 out of 5 stars
Waikoloa Stay
Review by
Absolute gem! We loved everything about our stay here. Really appreciated the fact that the owners provided a cooler and beach chairs/umbrella!Location, decorvetc. was perfect!One suggestion would be that they repaint the number onThe parking stall as it was faded and not obvious.
5 out of 5 stars
Fantastic Fairview Villa
Review by
Bob J.
Great. Clean, well appointed property. Everything in working order. Comfortable furniture. Very good location in complex, quiet, good parking. Pool, hot tub and workout area clean and well maintained. Grounds well maintained and extremely pretty. Staff friendly and cordial. Very good customer service from manager. Surrounding area was very clean and customer friendly with fantastic shopping areas, restaurants and other accommodations for vacationers. Lanai views were exceptional.
5 out of 5 stars
Contact Us