Garnett's Way (PA) (House)
5 Bedroom(s) | 4.5 Bathroom(s) | Sleeps 12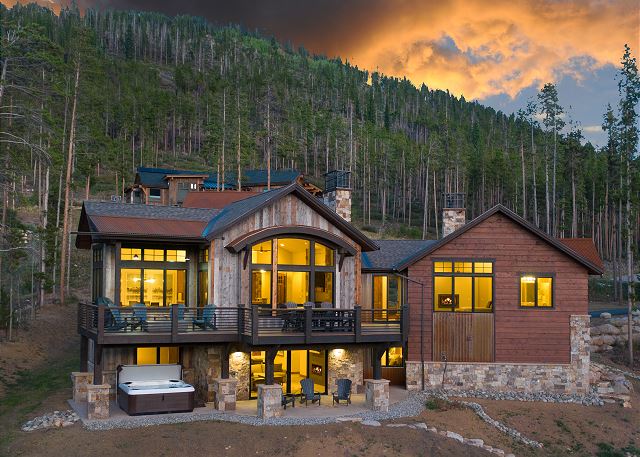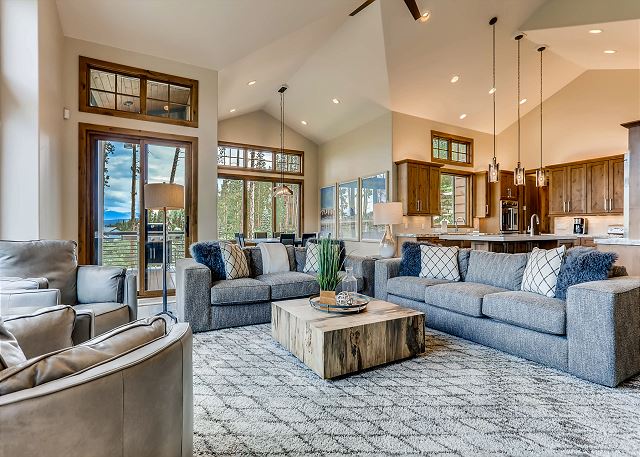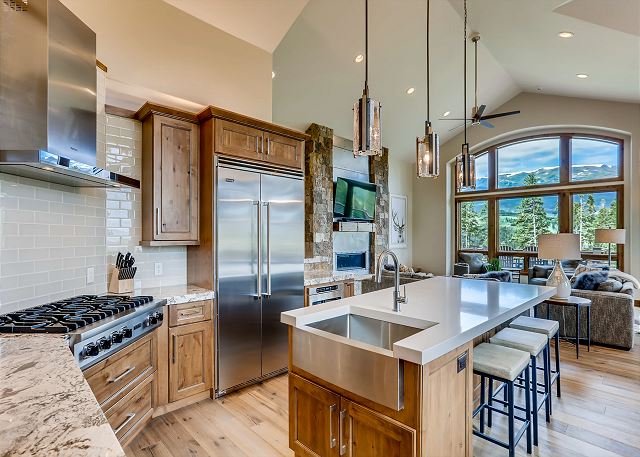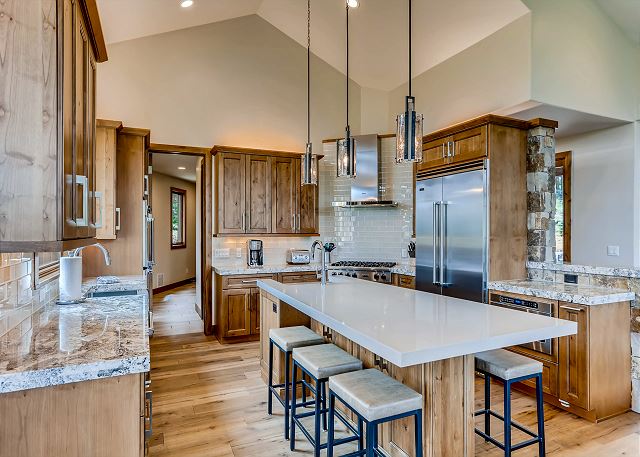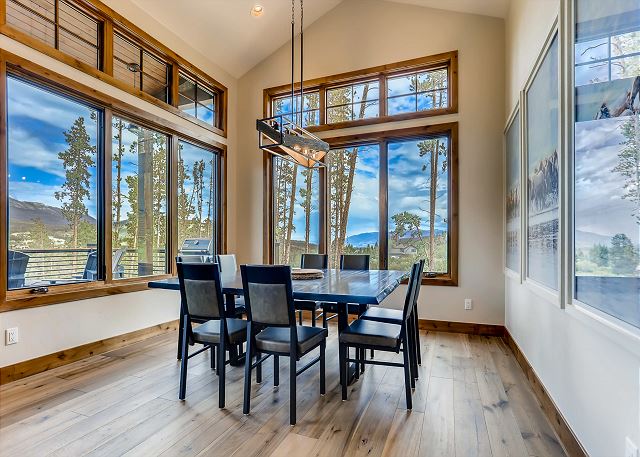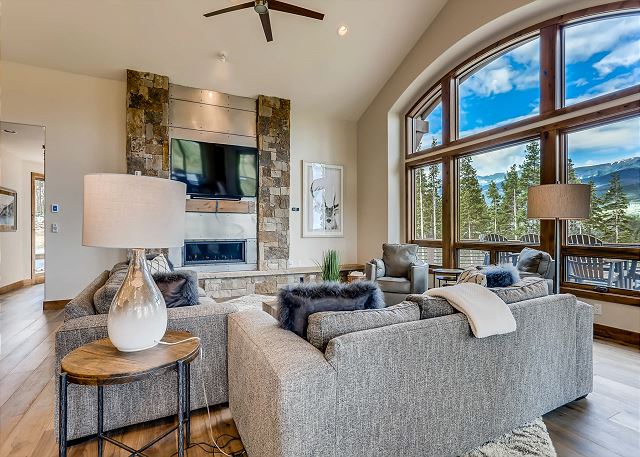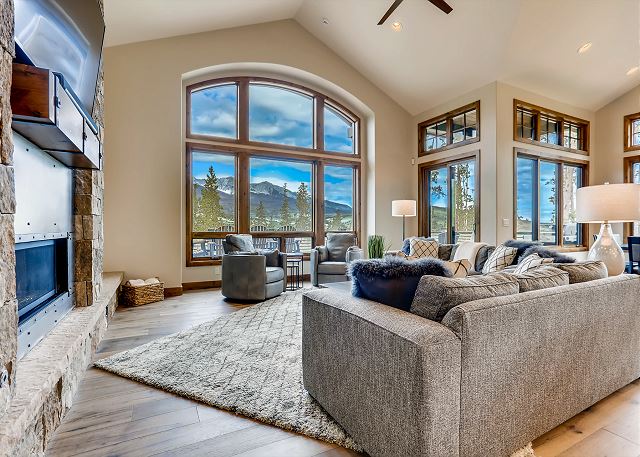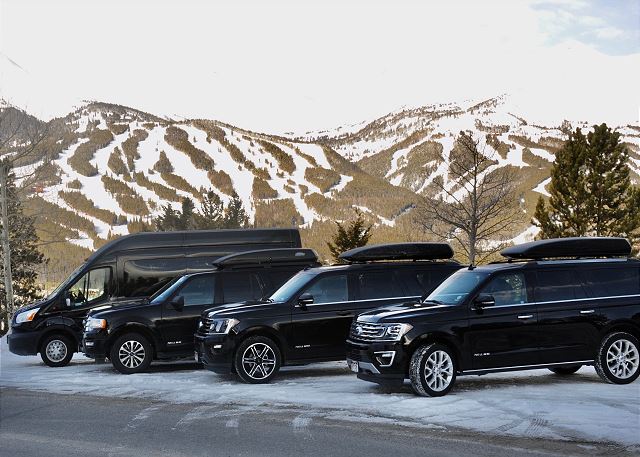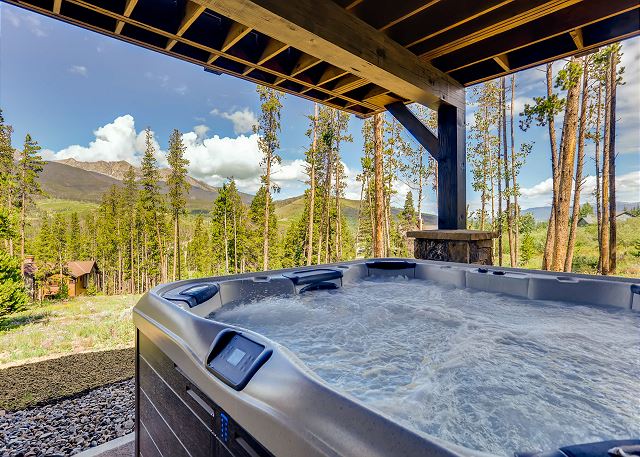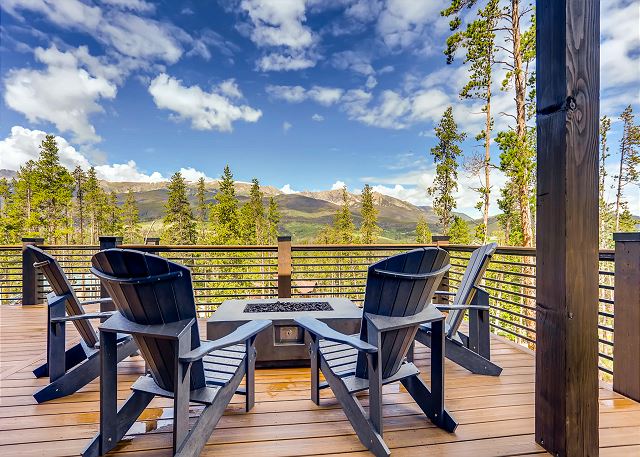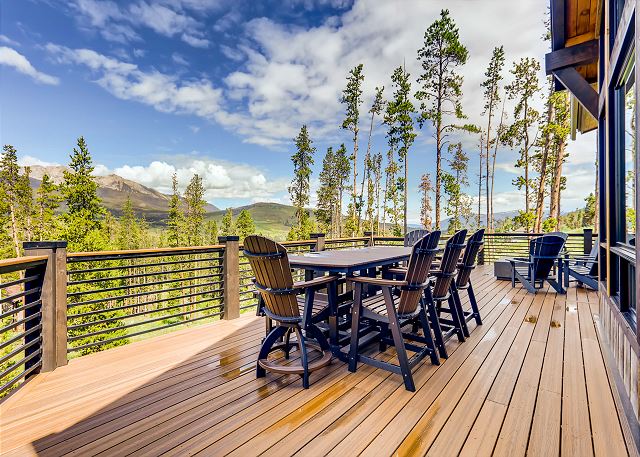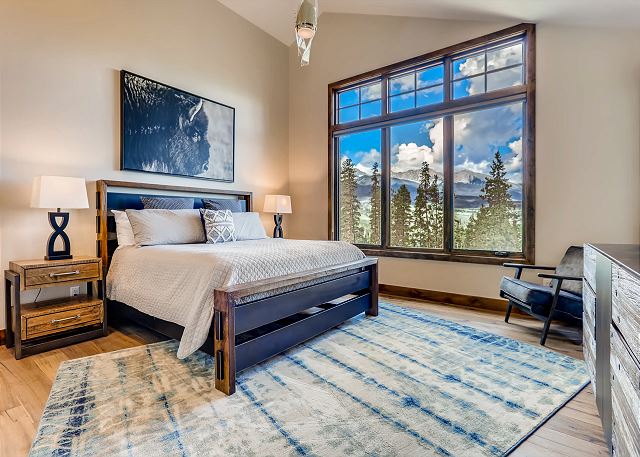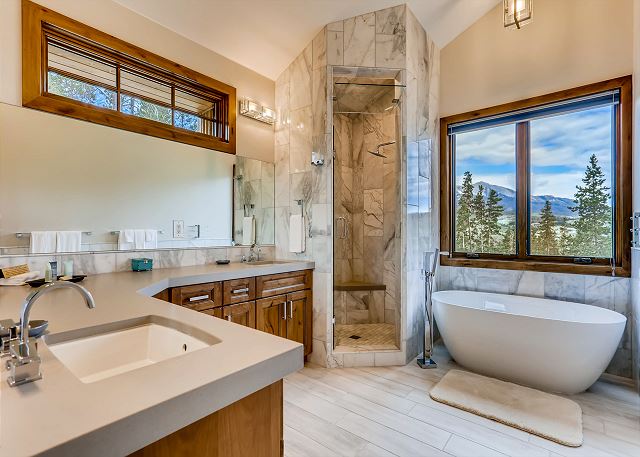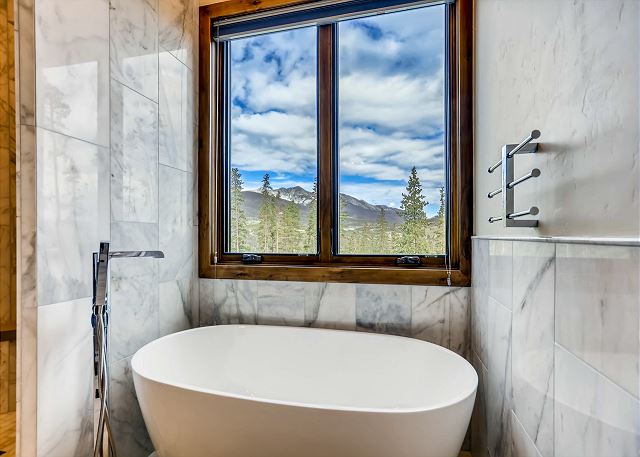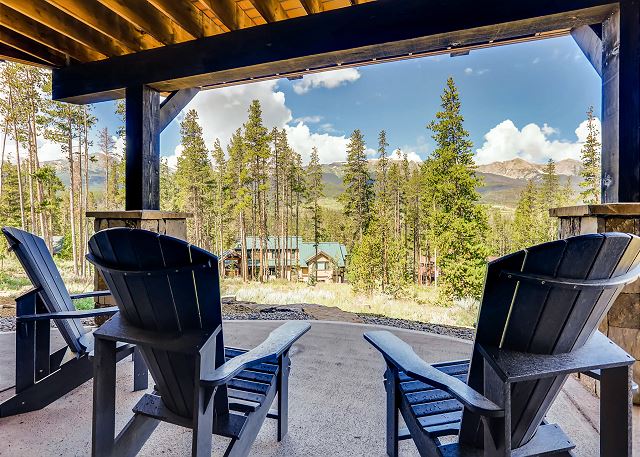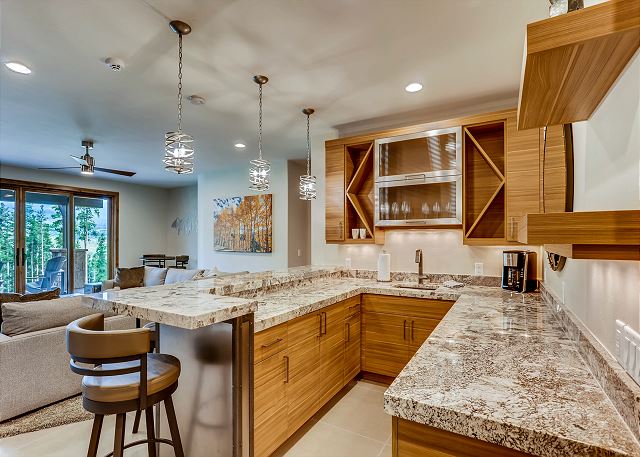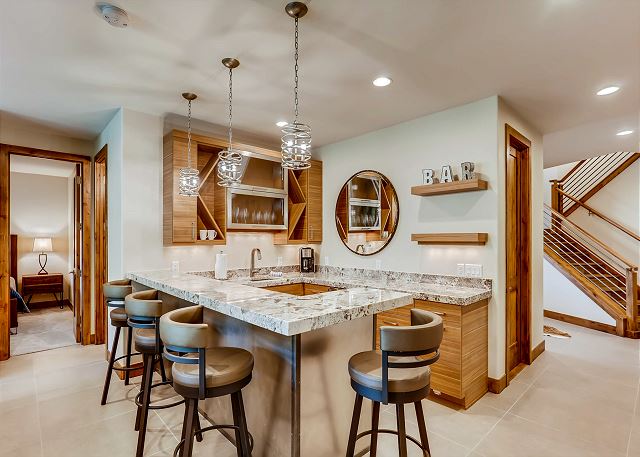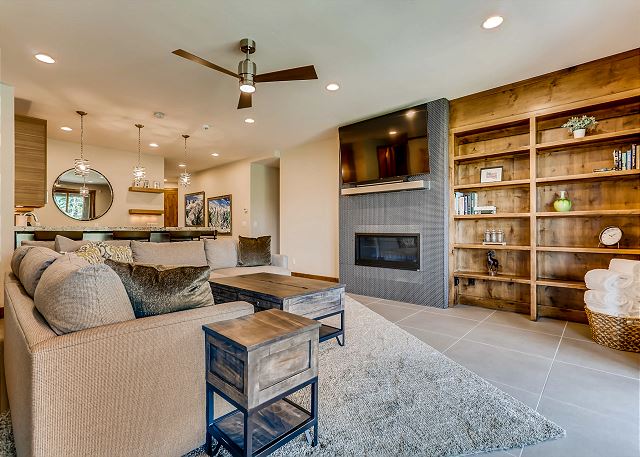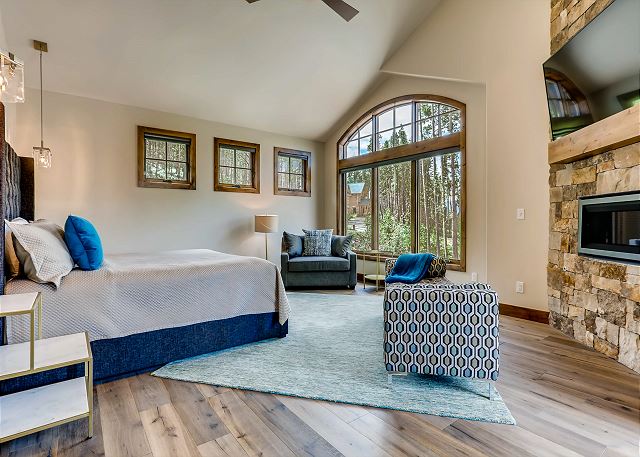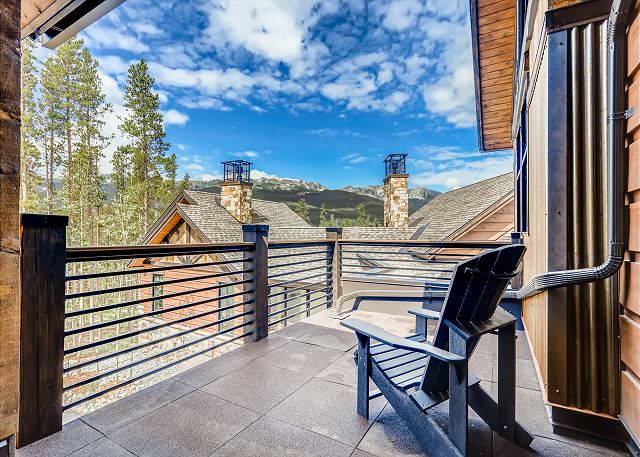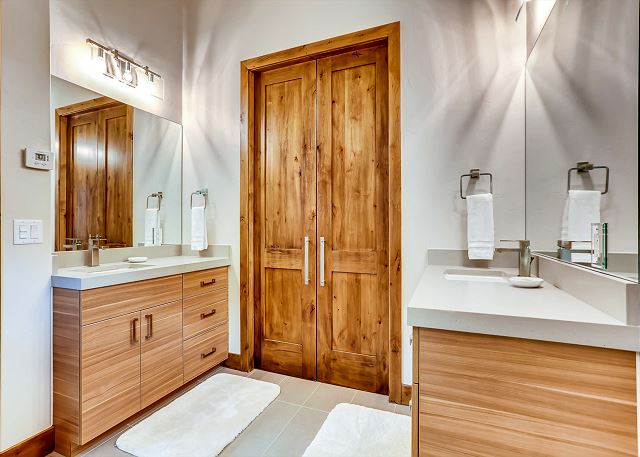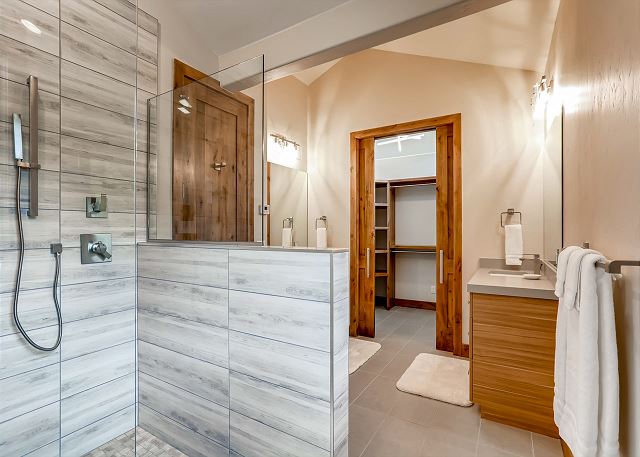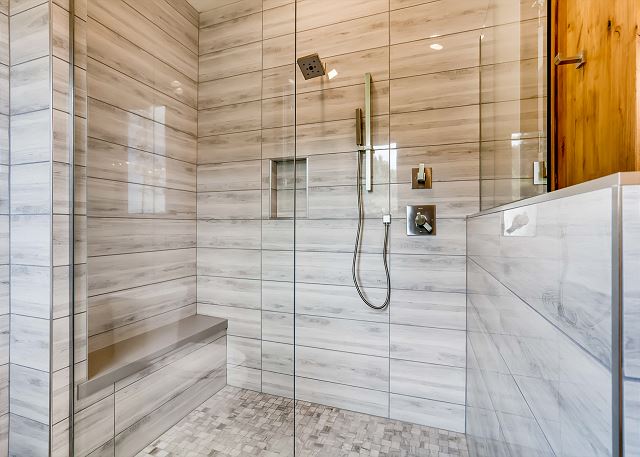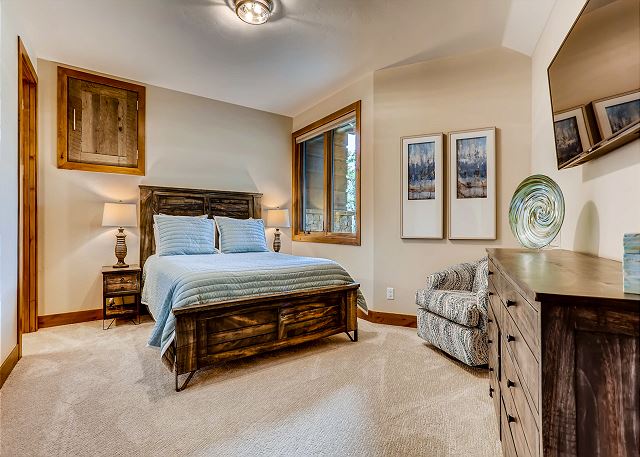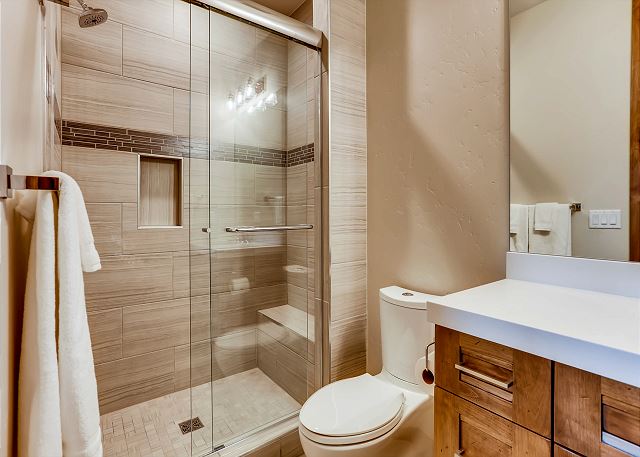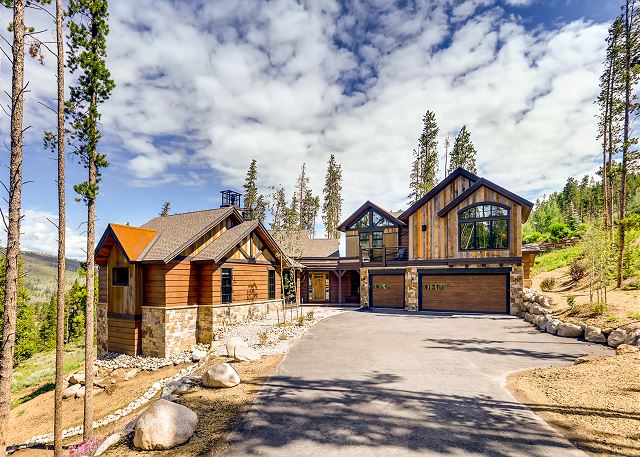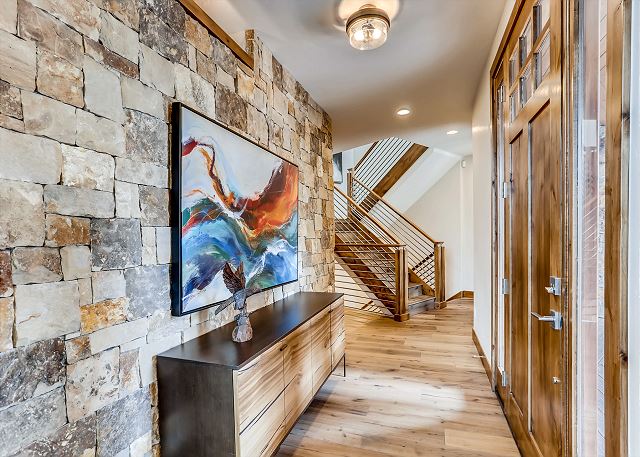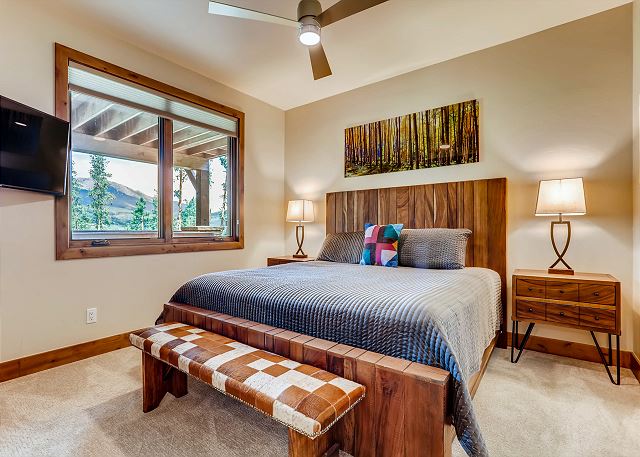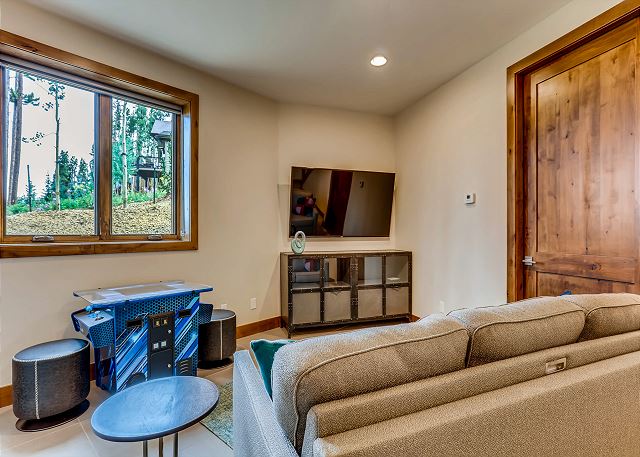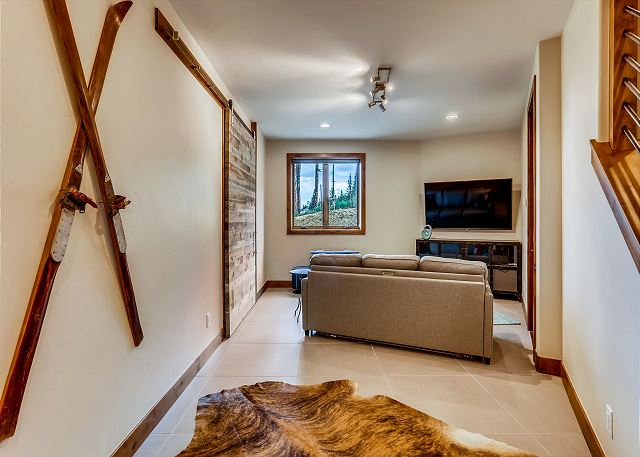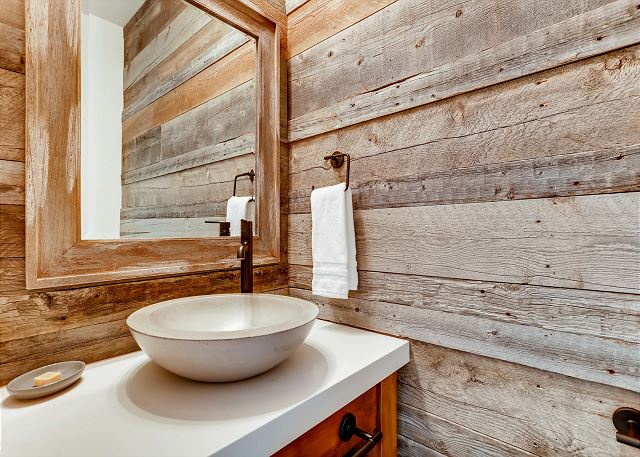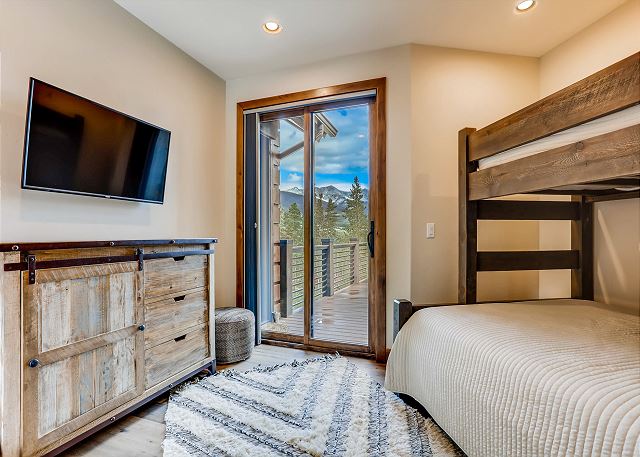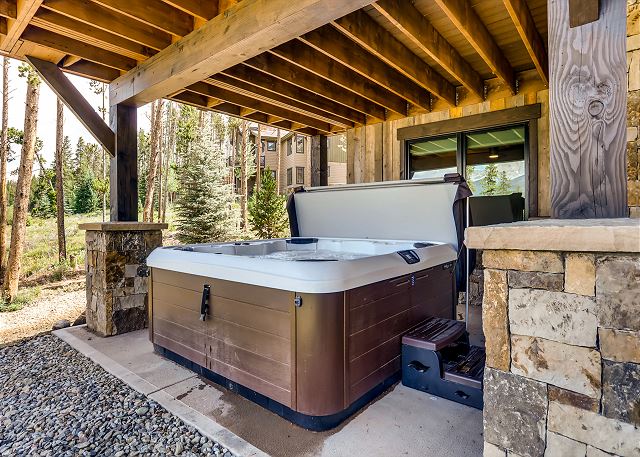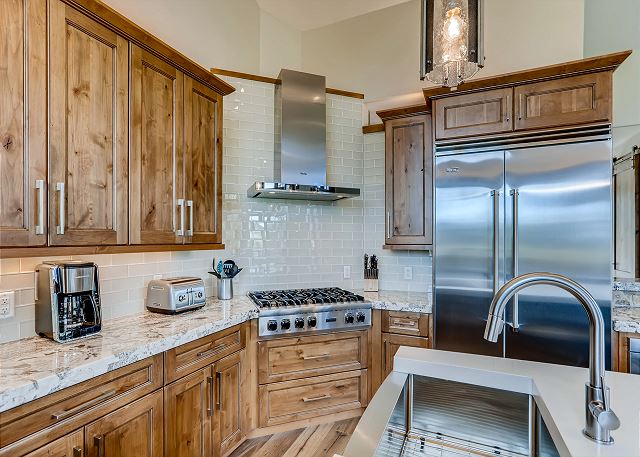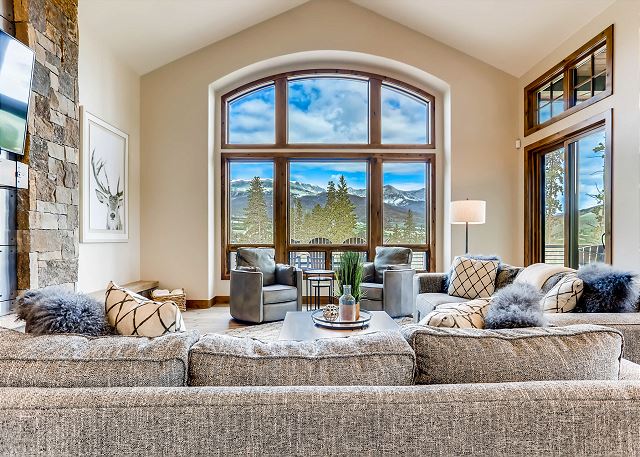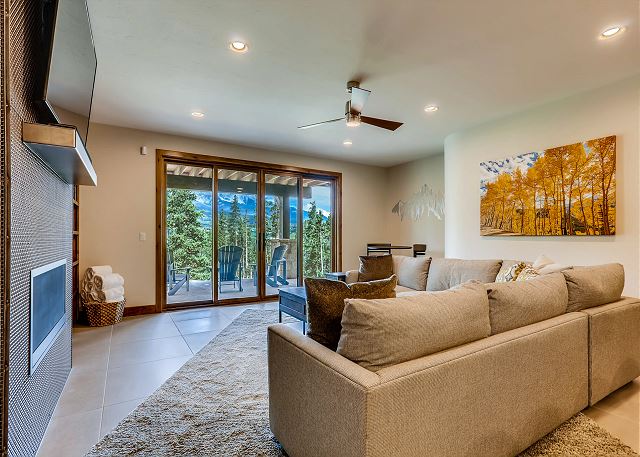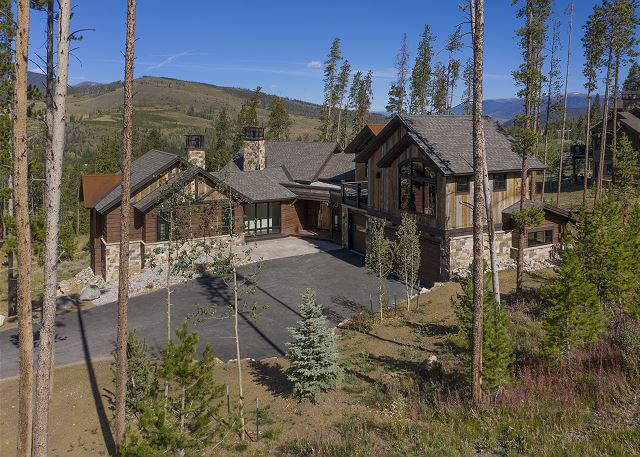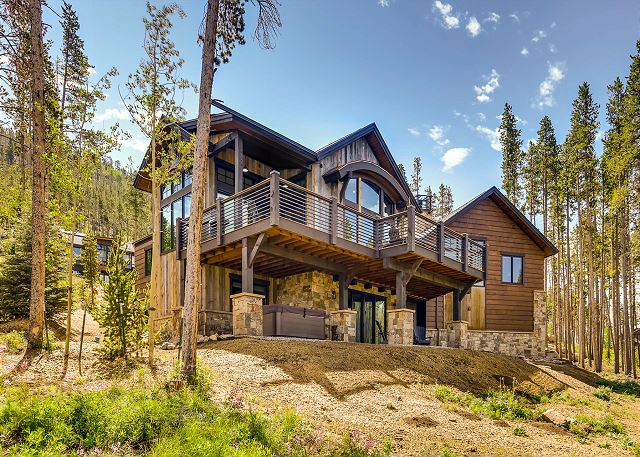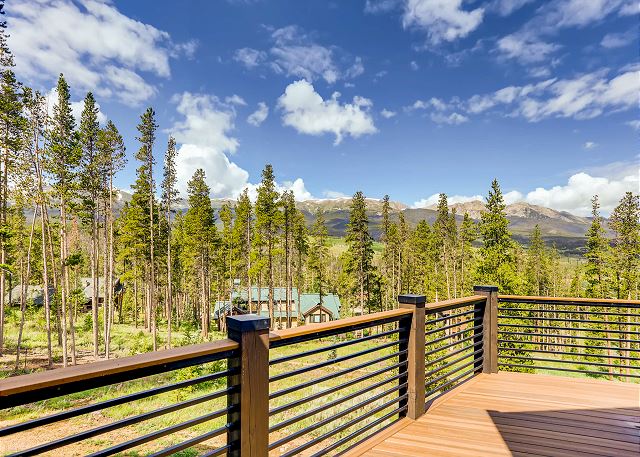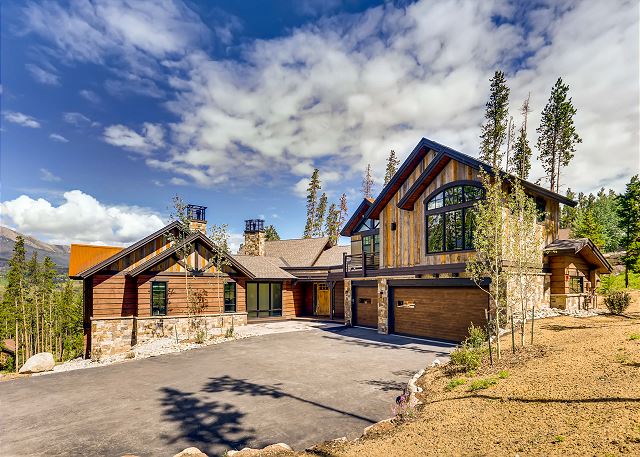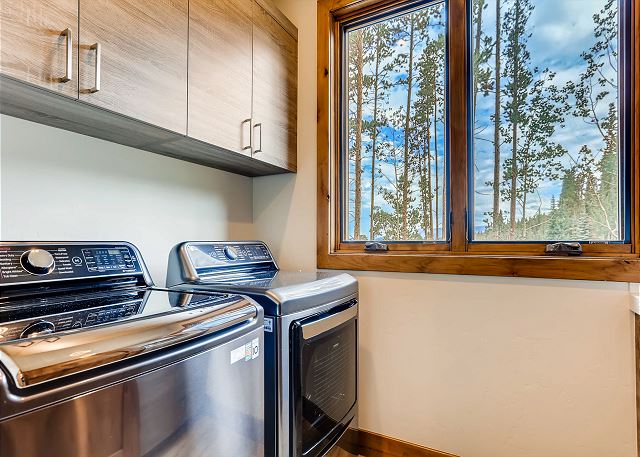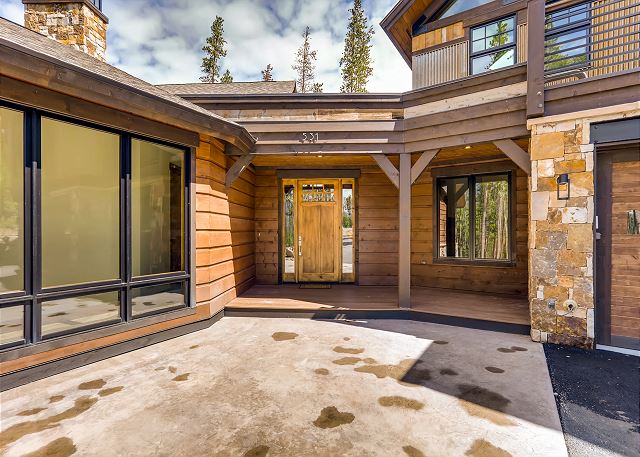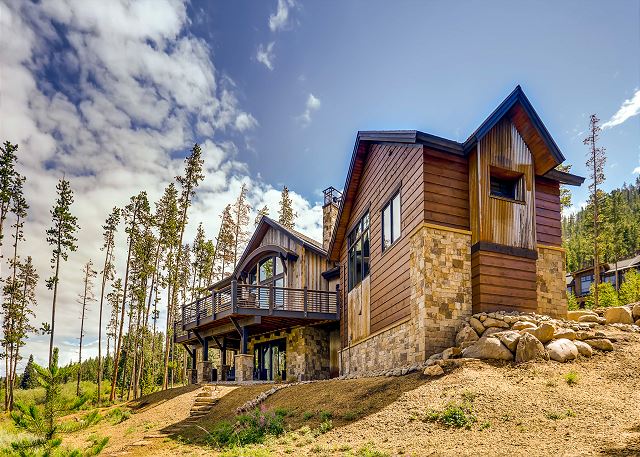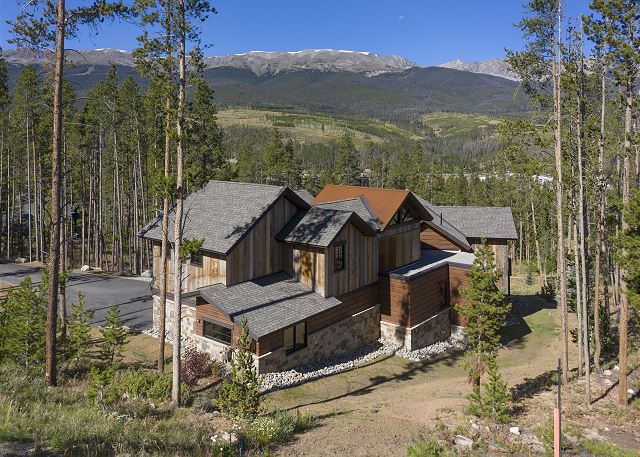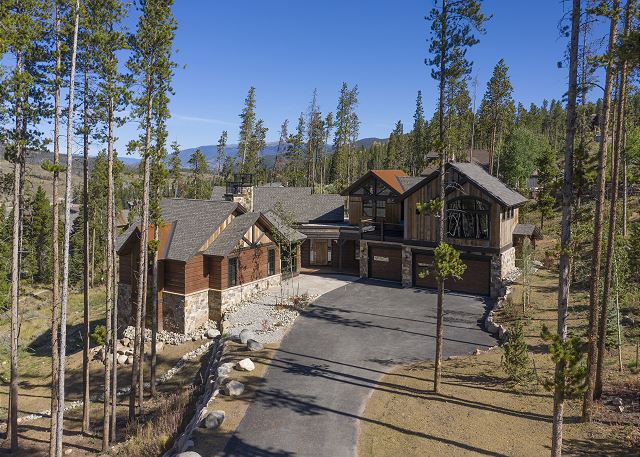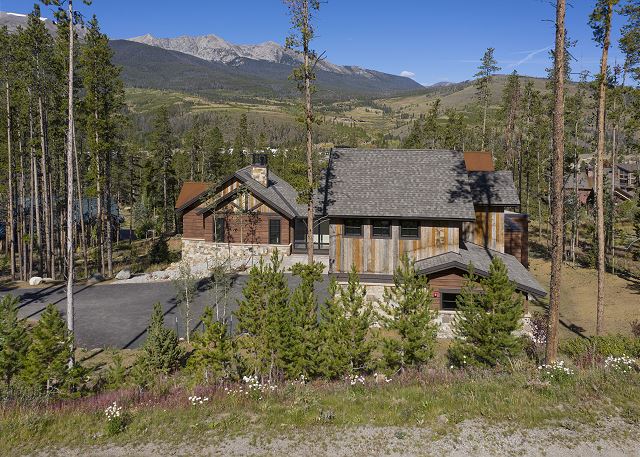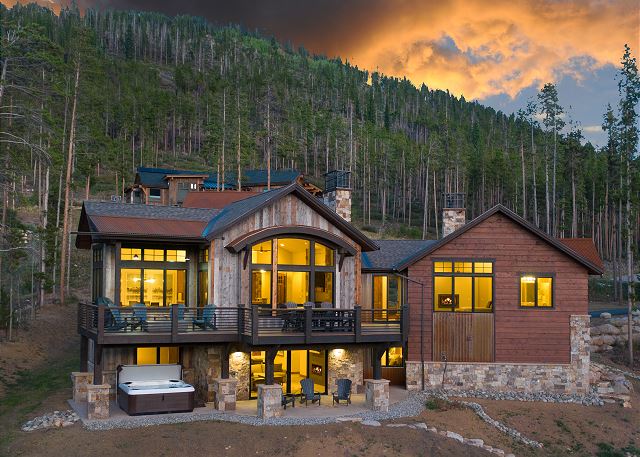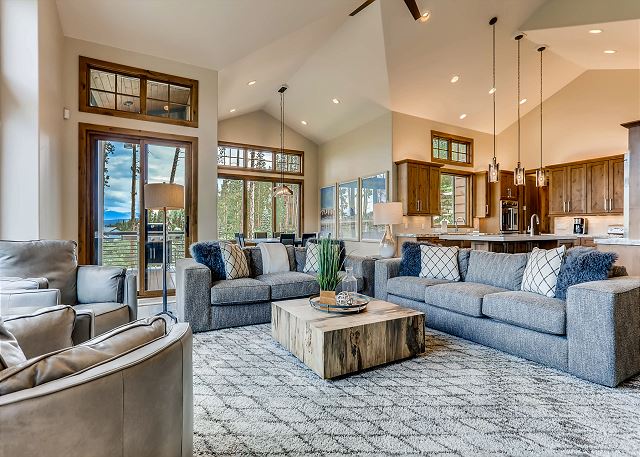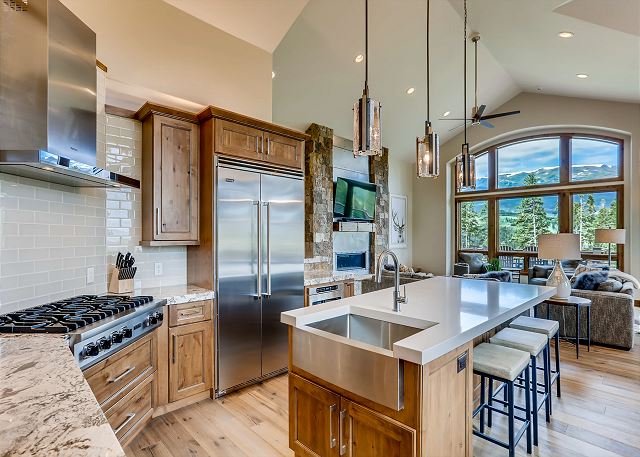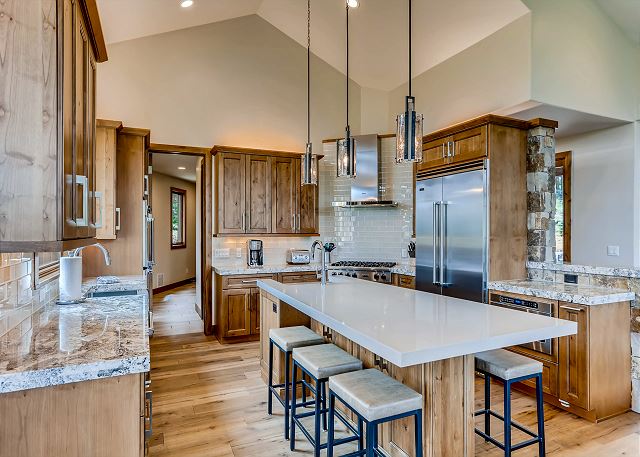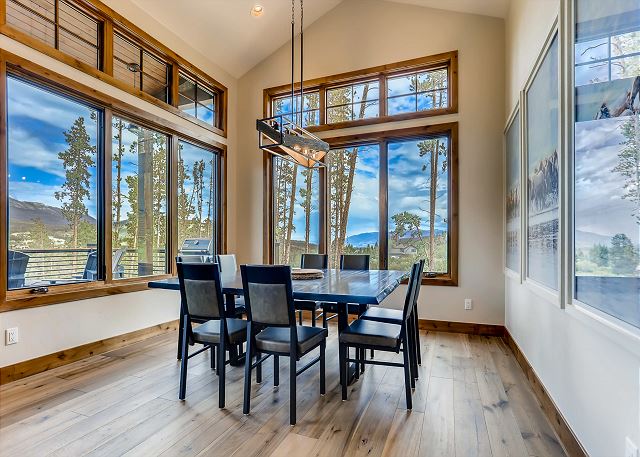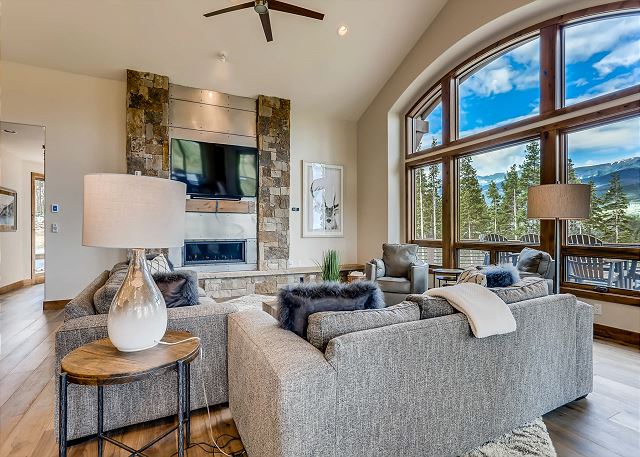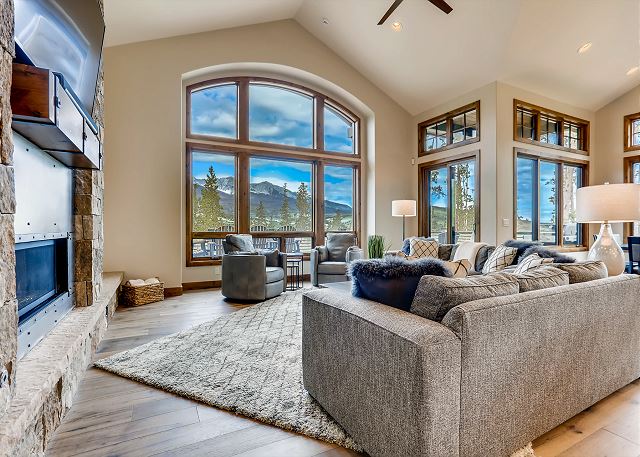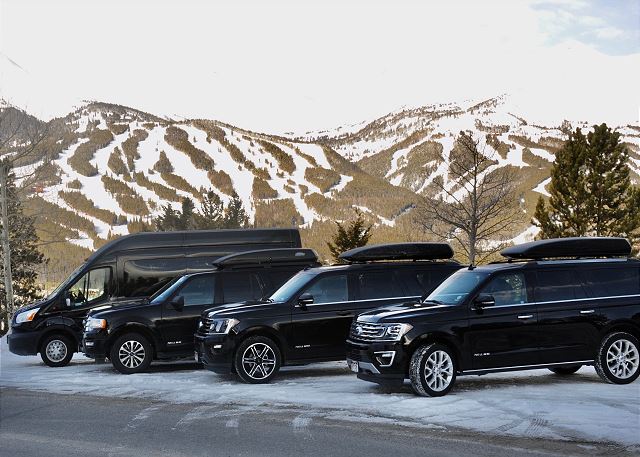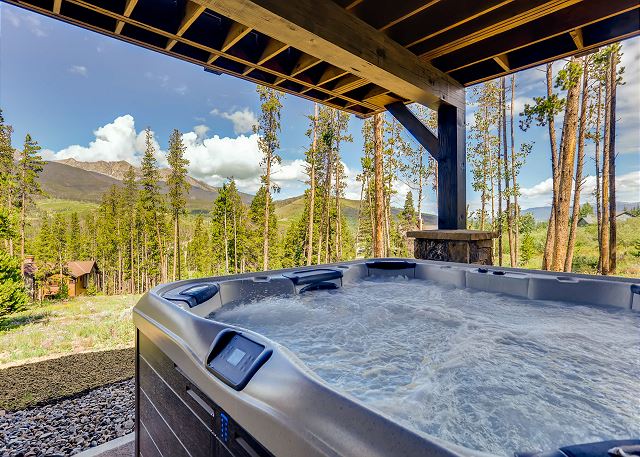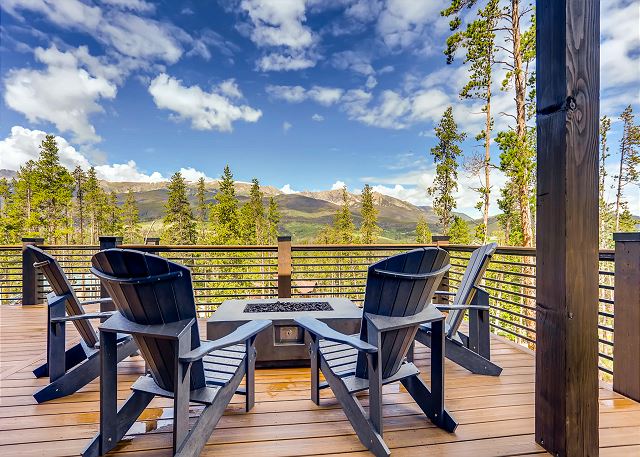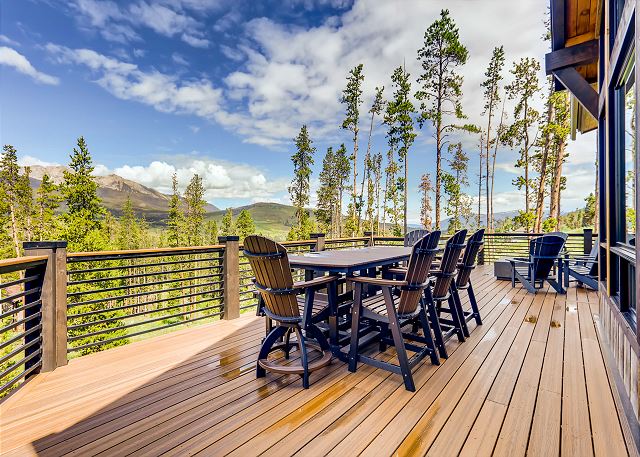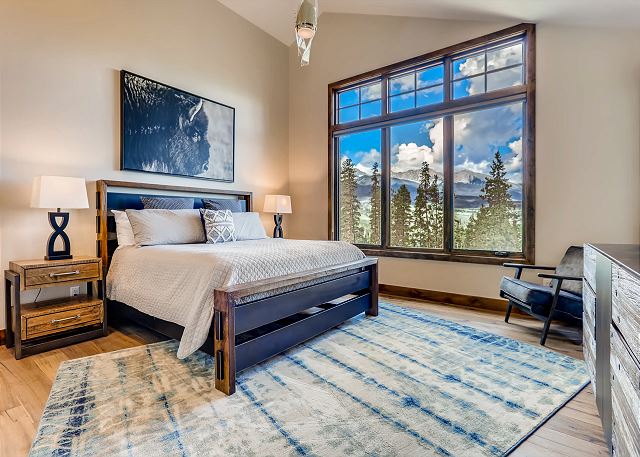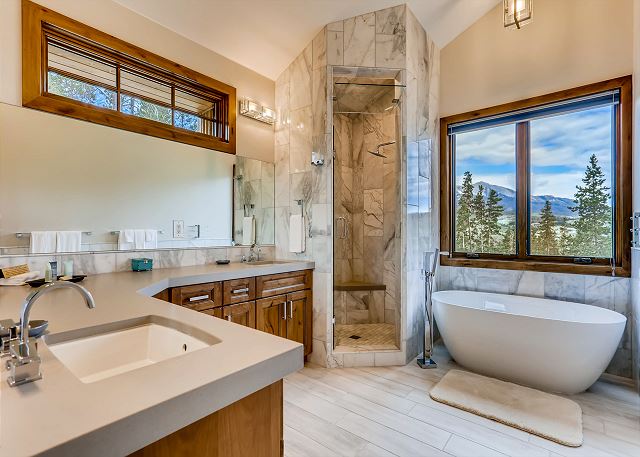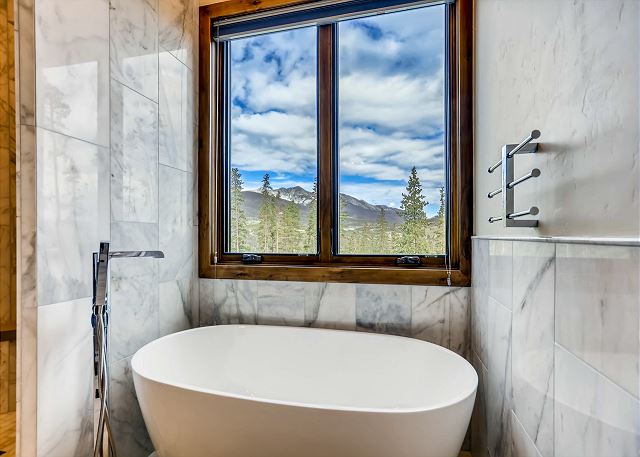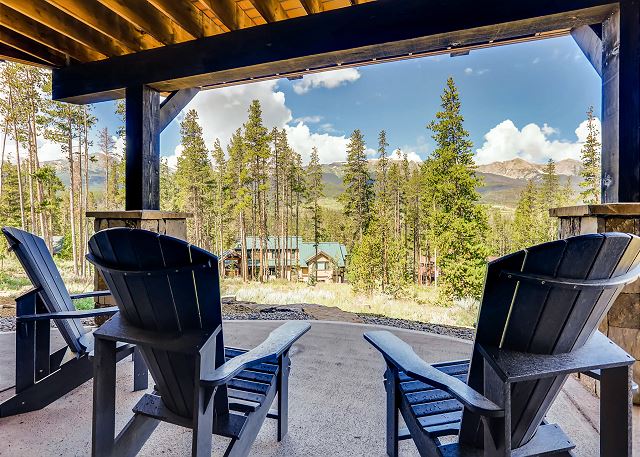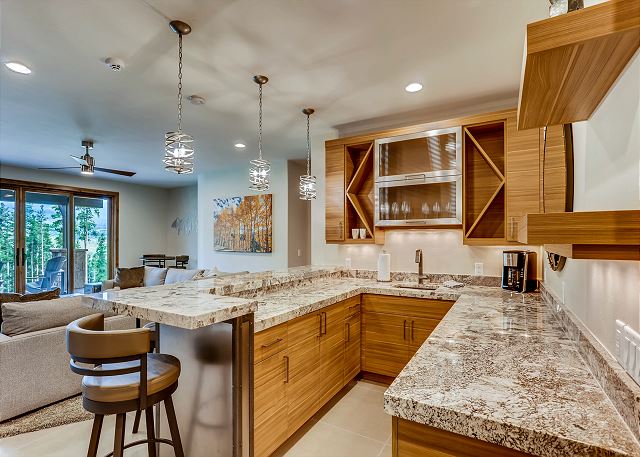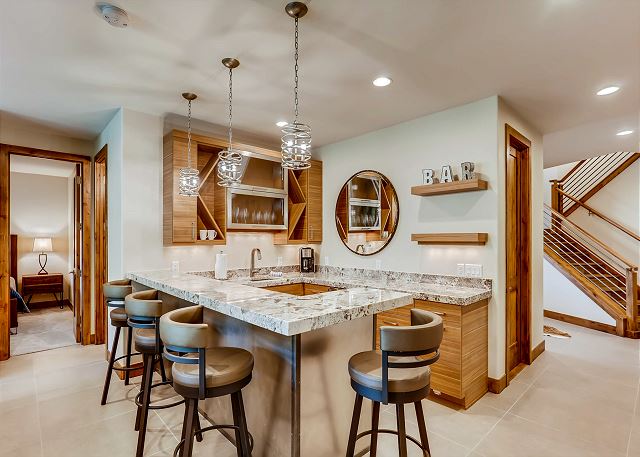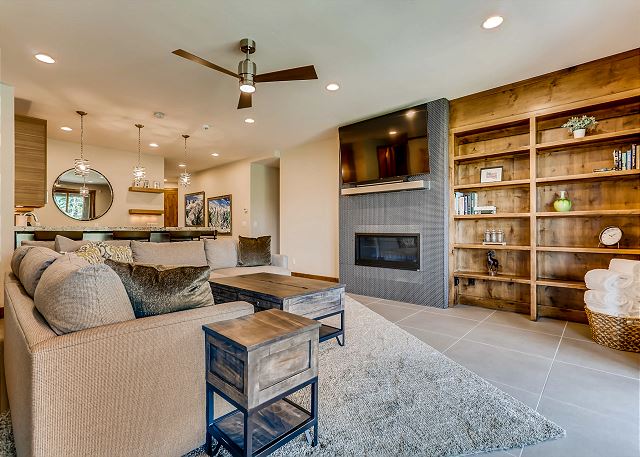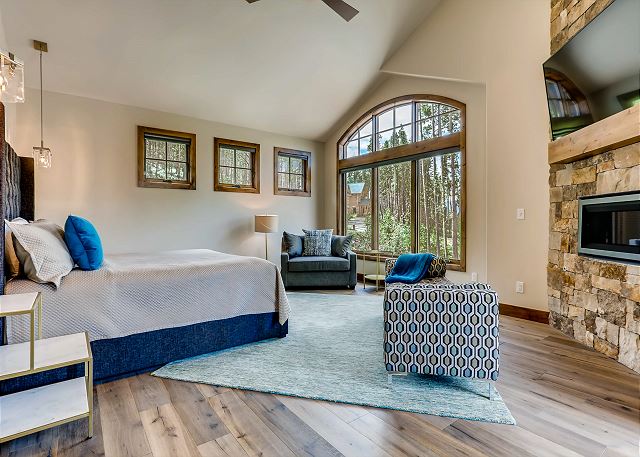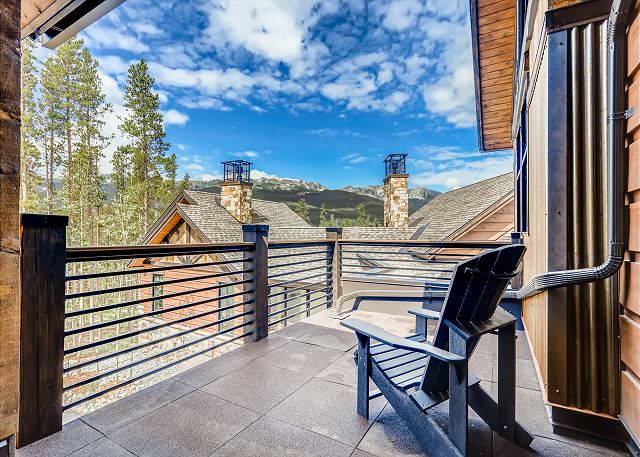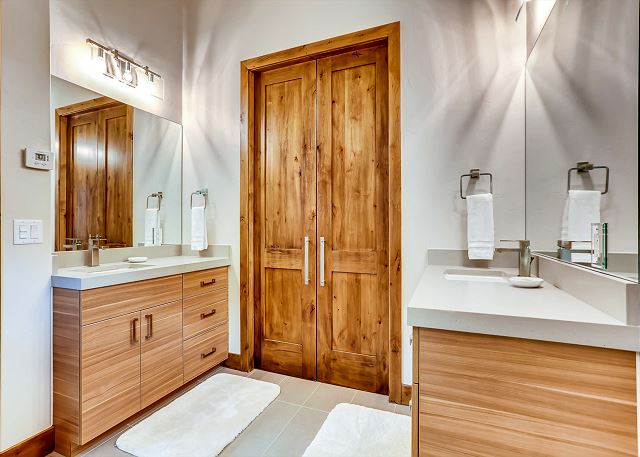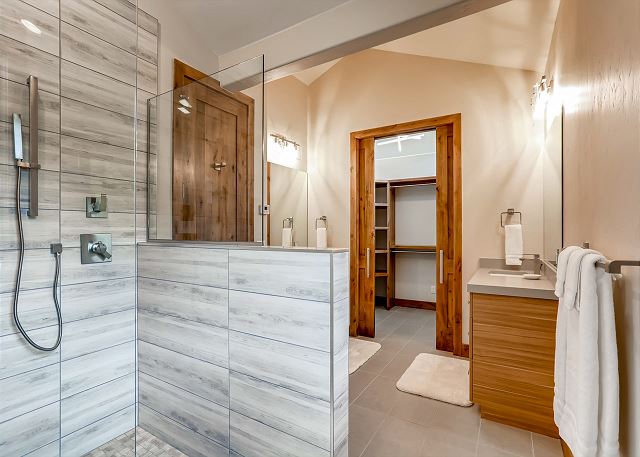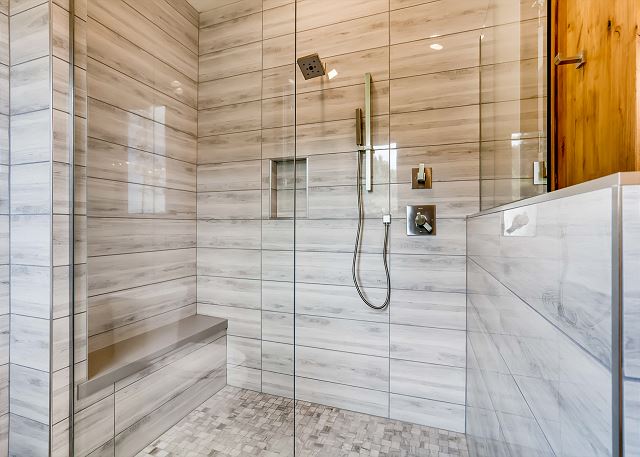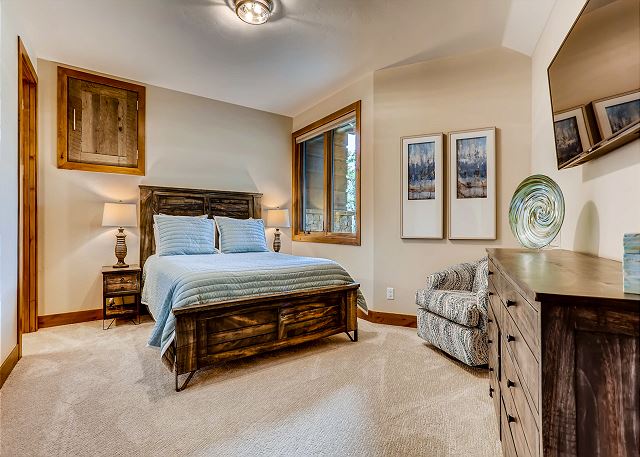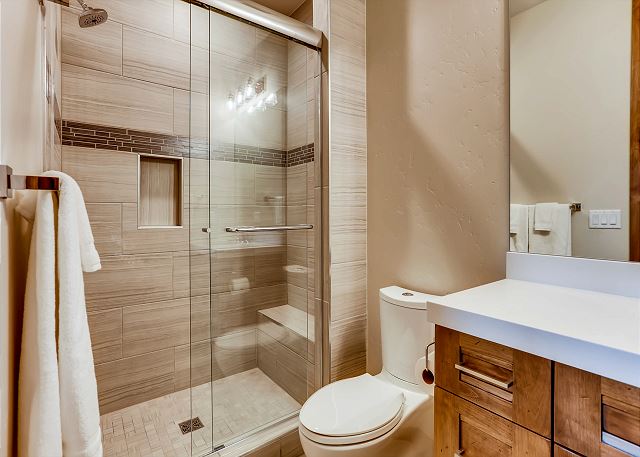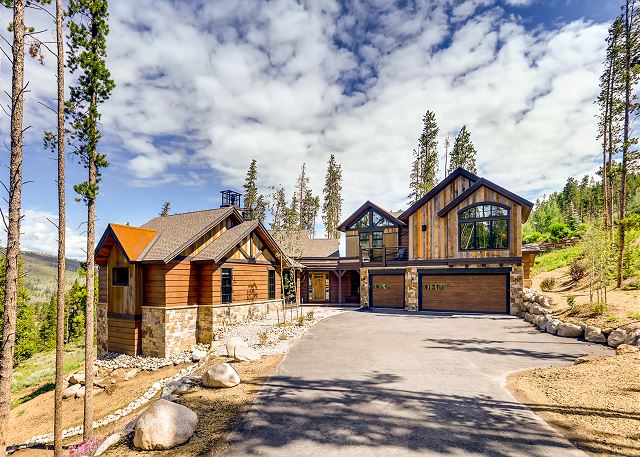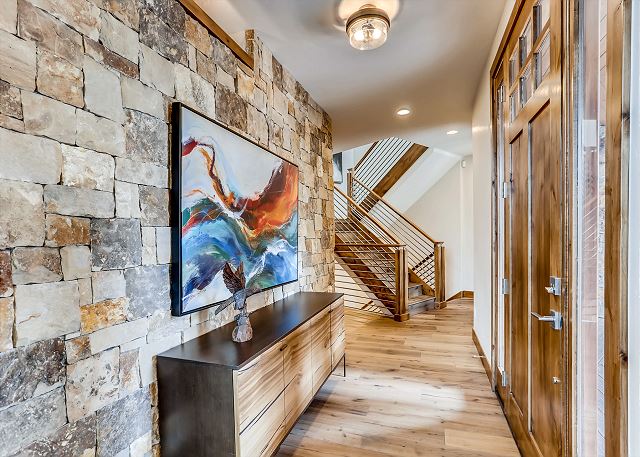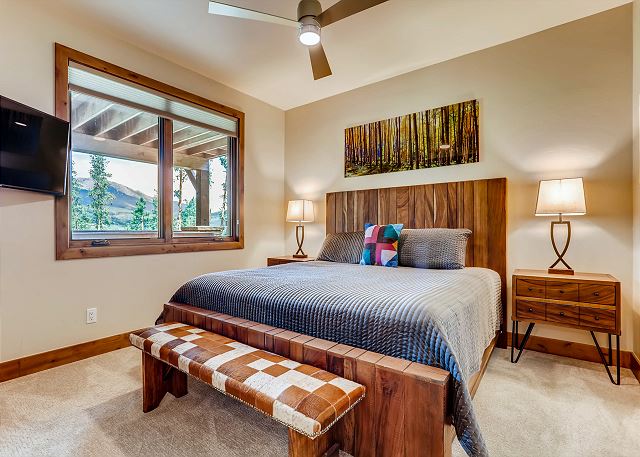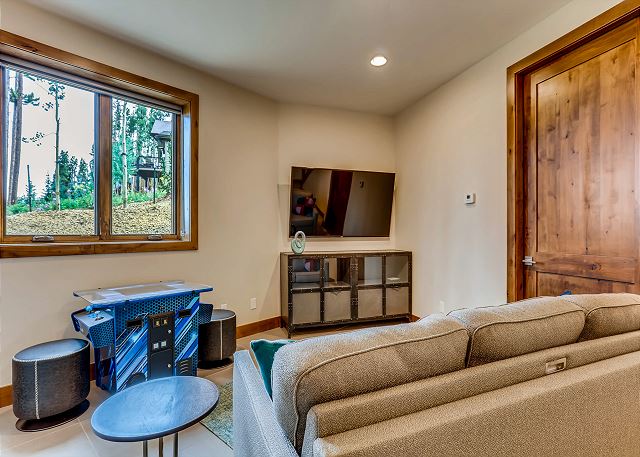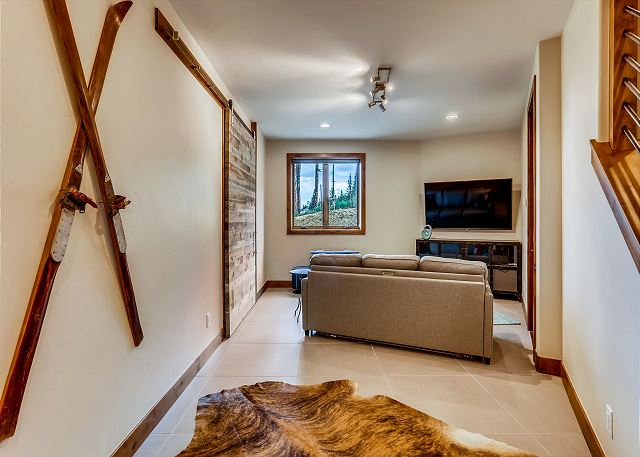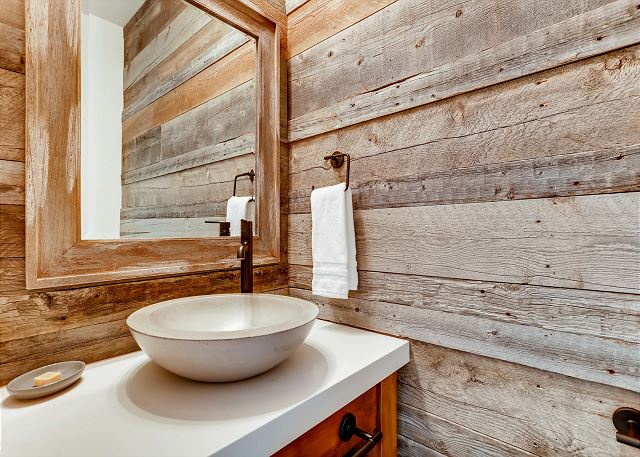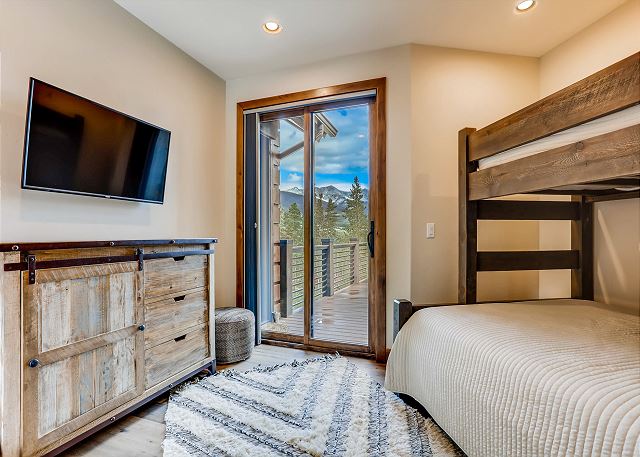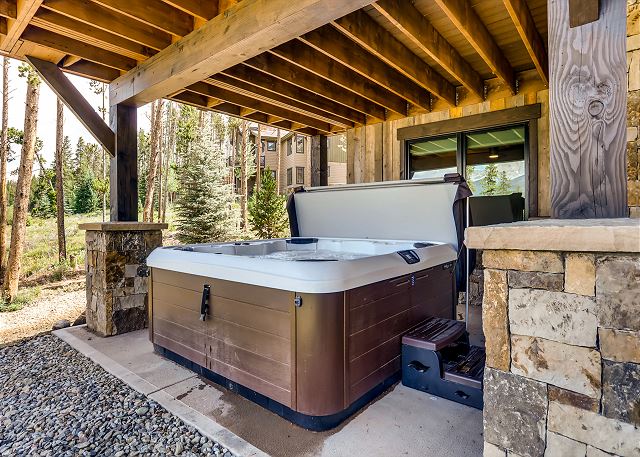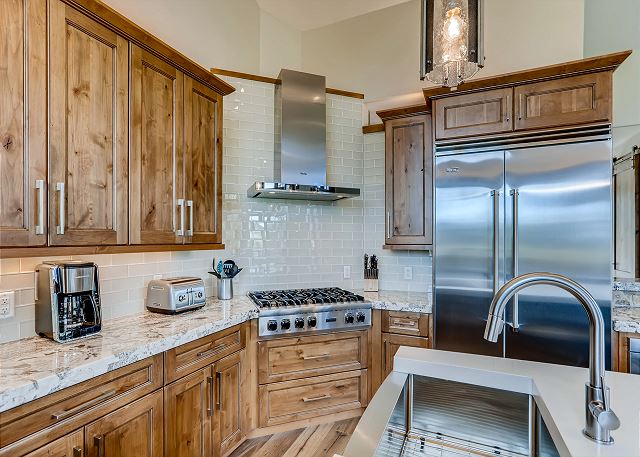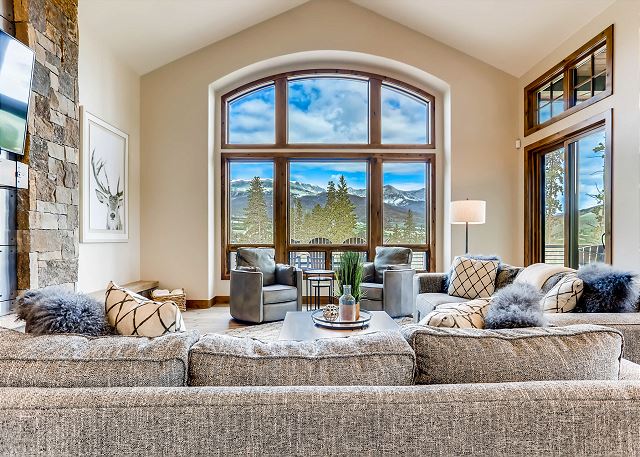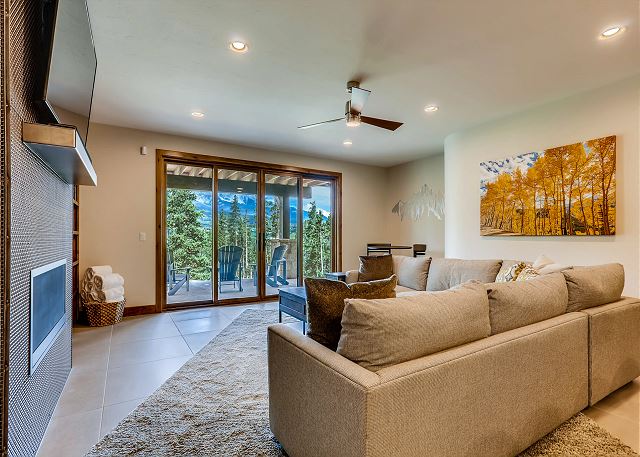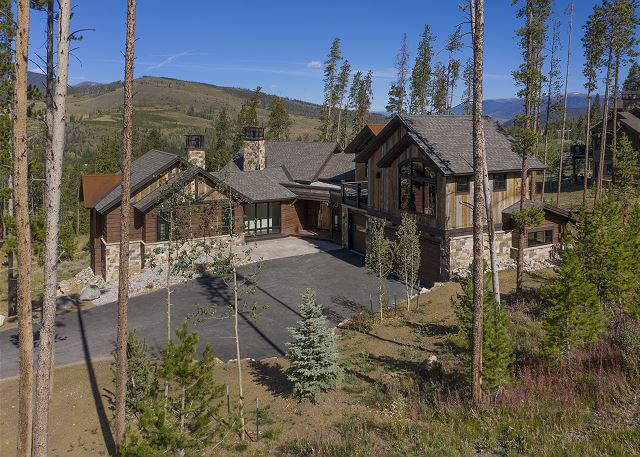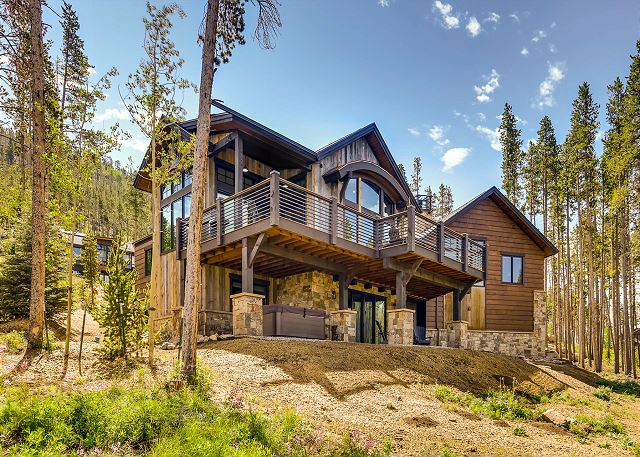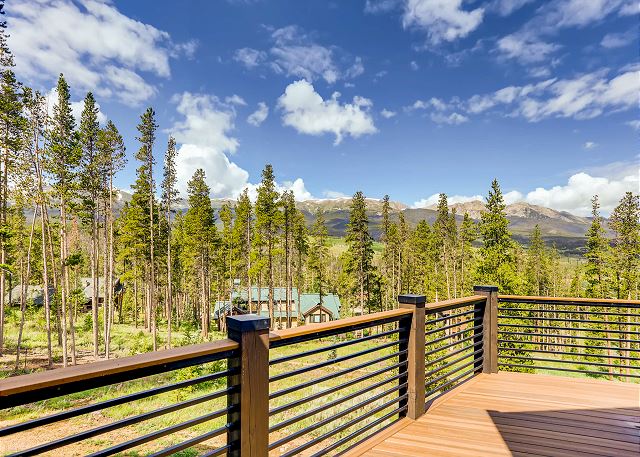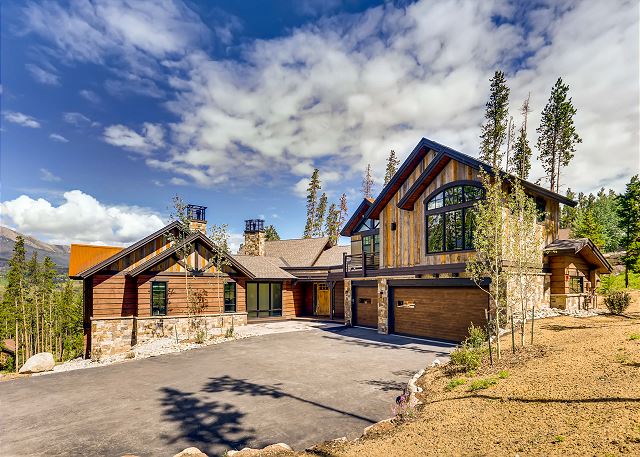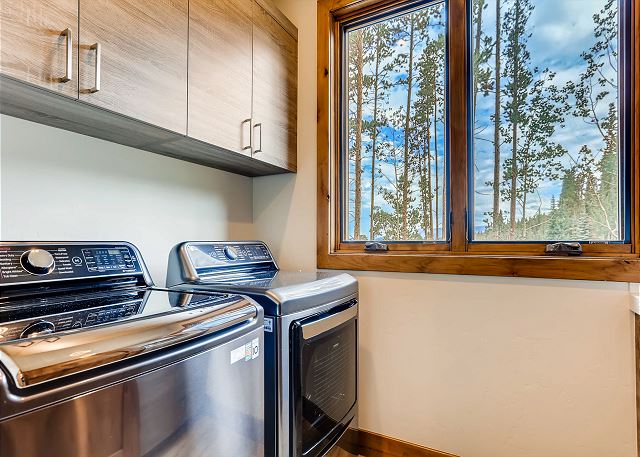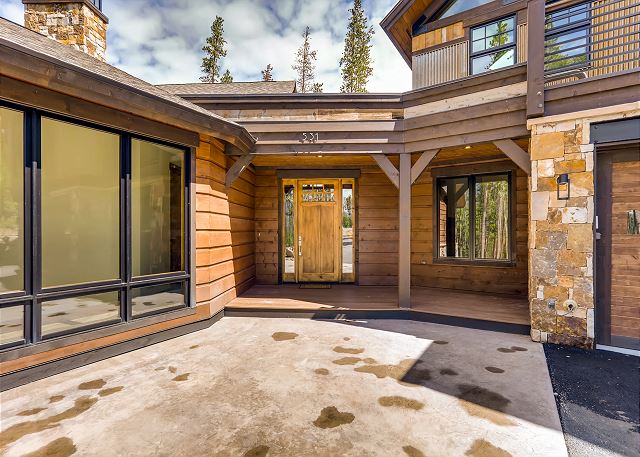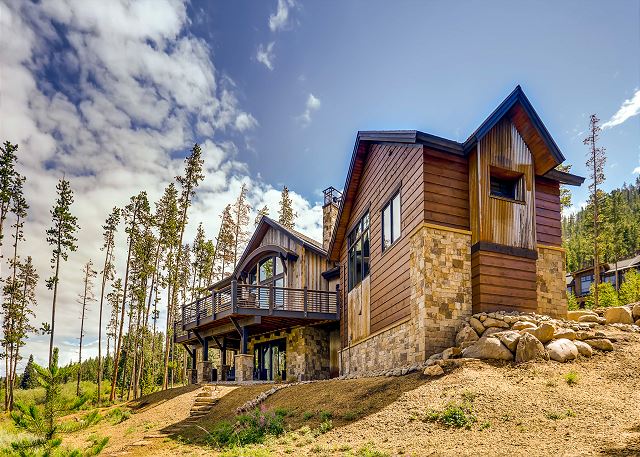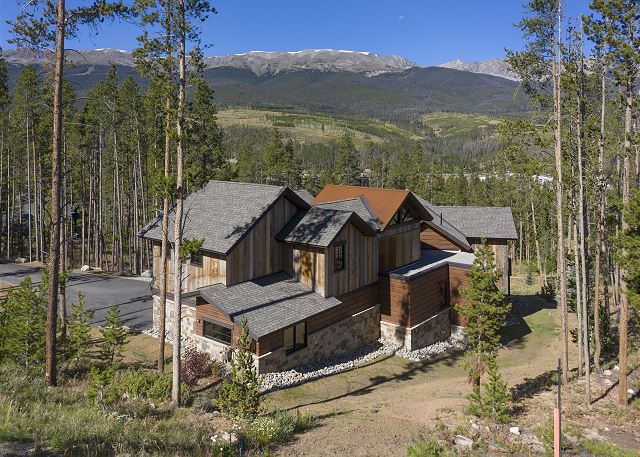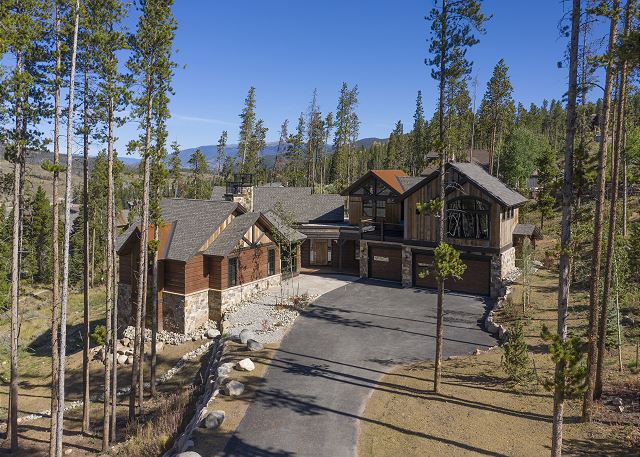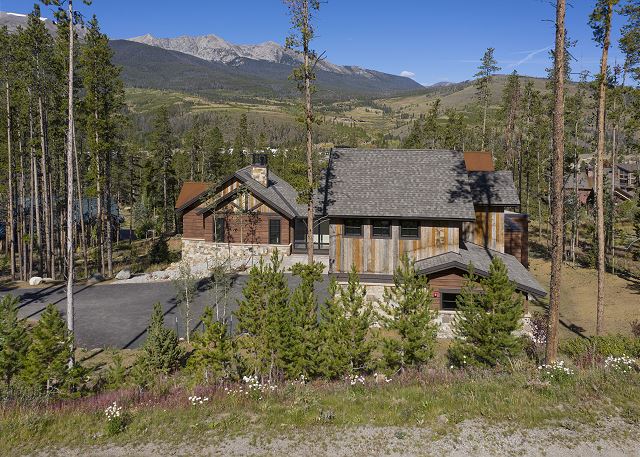 Description
Welcome to Garnett's Way, a magnificent 5-bedroom home in the sought-after Highlands of Breckenridge featuring privacy, spacious living areas and elegance inside & out. Textured stonework and stylish accents offer a unique and welcoming space to unwind. Other highlights include a gourmet kitchen, den with wet bar, spacious bedroom suites, deck with gas fire pit and private outdoor hot tub on the lower level patio.



The alluring modern architecture of Garnett's Way will draw you through the front door into the spacious and open Main Level combining the Kitchen, Dining Area and Great Room. The professional-grade kitchen features 2 large farm-style sinks, six-burner gas cooktop, double ovens and a large island with seating for 6. The adjacent Dining Area seats 8 at the table and is surrounded by windows. After dinner, retreat to the spacious yet cozy Great Room and relax in front of the gas fireplace or enjoy a new movie on the large TV. The Main Level also features a convenient half-bath, a sizeable pantry available with storage for the week's provisions, a laundry room with washer, dryer and large sink and mudroom with space to store everyone's gear.



In the summer months, utilize the vast deck situated off of the Great Room and savor the crisp mountain air. Dine al fresco at the outdoor dining table – or simply kick back in an Adirondack chair and watch the sun set behind the mountain peaks while sitting beside the gas fire pit. A BBQ gas grill is available for year-round use.



Retreat to the lower level and discover endless entertainment. At the bottom of the stairs you'll find a cozy den with TV, cocktail arcade game table and a closet full of fun games – there is something for everyone! Beyond the den is the lower level living area complete with large sectional sofa, gas fireplace, TV and beautiful wet bar complete with bar refrigerator, coffeemaker and sink. The hot tub is located through the sliding glass doors.



Offering mountain elegance, spacious accommodations and located a short drive to Main Street, Garnett's Way is an exceptional retreat any time of year – spend a week here and create memories that will last a lifetime.



Garnett's Way is on the 2021/22 Paragon Guest Courtesy Winter Shuttle. Operations run from mid-November through mid-April between the hours of 7:30 AM until 5:30 PM. Transportation runs throughout the Town of Breckenridge. Please inquire within for additional details.



EVERYDAY ESSENTIALS

Winter Shuttle!

Professionally Cleaned & Sanitized Prior to All Arrivals

Wireless Internet

24/7 local support

Washer & Dryer

Three bay heated garage with parking for 5 cars total

Paragon's personal care amenities – shampoo, conditioner, lotion, locally made specialty soaps



ABOUT THE AREA

Located in the exclusive Highlands of Breckenridge, Garnett's Way is a convenient six-minute drive to Main Street's many dining options, shopping and family-friendly activities. Return to Garnett's Way and enjoy the private and quiet surroundings. The legendary ski slopes of the Breckenridge Ski Resort are a mere 2.5 miles away for your enjoyment and exploration as well.



The popular Flume Trail sits right below the lower level patio and offers extensive hiking, biking or walking opportunities at your fingertips!



IMPORTANT POLICIES

4-WHEEL DRIVE REQUIRED in winter months

With regret, no pets please

Paragon Lodging in Breckenridge Colorado is the SOLE authorized Property Manager and Rental Agent for Garnett's Way. Paragon Lodging enforces an age policy of 25 years old. Families with children are welcome. We regret, we do not accept college groups.

Town of Breckenridge Business License Nos:

Paragon Lodging: 33007

Garnett's Way: 746810002
Calendar
October 2021

| S | M | T | W | T | F | S |
| --- | --- | --- | --- | --- | --- | --- |
| | | | | | 01 | 02 |
| 03 | 04 | 05 | 06 | 07 | 08 | 09 |
| 10 | 11 | 12 | 13 | 14 | 15 | 16 |
| 17 | 18 | 19 | 20 | 21 | 22 | 23 |
| 24 | 25 | 26 | 27 | 28 | 29 | 30 |
| 31 | | | | | | |
November 2021

| S | M | T | W | T | F | S |
| --- | --- | --- | --- | --- | --- | --- |
| | 01 | 02 | 03 | 04 | 05 | 06 |
| 07 | 08 | 09 | 10 | 11 | 12 | 13 |
| 14 | 15 | 16 | 17 | 18 | 19 | 20 |
| 21 | 22 | 23 | 24 | 25 | 26 | 27 |
| 28 | 29 | 30 | | | | |
December 2021

| S | M | T | W | T | F | S |
| --- | --- | --- | --- | --- | --- | --- |
| | | | 01 | 02 | 03 | 04 |
| 05 | 06 | 07 | 08 | 09 | 10 | 11 |
| 12 | 13 | 14 | 15 | 16 | 17 | 18 |
| 19 | 20 | 21 | 22 | 23 | 24 | 25 |
| 26 | 27 | 28 | 29 | 30 | 31 | |
January 2022

| S | M | T | W | T | F | S |
| --- | --- | --- | --- | --- | --- | --- |
| | | | | | | 01 |
| 02 | 03 | 04 | 05 | 06 | 07 | 08 |
| 09 | 10 | 11 | 12 | 13 | 14 | 15 |
| 16 | 17 | 18 | 19 | 20 | 21 | 22 |
| 23 | 24 | 25 | 26 | 27 | 28 | 29 |
| 30 | 31 | | | | | |
February 2022

| S | M | T | W | T | F | S |
| --- | --- | --- | --- | --- | --- | --- |
| | | 01 | 02 | 03 | 04 | 05 |
| 06 | 07 | 08 | 09 | 10 | 11 | 12 |
| 13 | 14 | 15 | 16 | 17 | 18 | 19 |
| 20 | 21 | 22 | 23 | 24 | 25 | 26 |
| 27 | 28 | | | | | |
March 2022

| S | M | T | W | T | F | S |
| --- | --- | --- | --- | --- | --- | --- |
| | | 01 | 02 | 03 | 04 | 05 |
| 06 | 07 | 08 | 09 | 10 | 11 | 12 |
| 13 | 14 | 15 | 16 | 17 | 18 | 19 |
| 20 | 21 | 22 | 23 | 24 | 25 | 26 |
| 27 | 28 | 29 | 30 | 31 | | |
April 2022

| S | M | T | W | T | F | S |
| --- | --- | --- | --- | --- | --- | --- |
| | | | | | 01 | 02 |
| 03 | 04 | 05 | 06 | 07 | 08 | 09 |
| 10 | 11 | 12 | 13 | 14 | 15 | 16 |
| 17 | 18 | 19 | 20 | 21 | 22 | 23 |
| 24 | 25 | 26 | 27 | 28 | 29 | 30 |
May 2022

| S | M | T | W | T | F | S |
| --- | --- | --- | --- | --- | --- | --- |
| 01 | 02 | 03 | 04 | 05 | 06 | 07 |
| 08 | 09 | 10 | 11 | 12 | 13 | 14 |
| 15 | 16 | 17 | 18 | 19 | 20 | 21 |
| 22 | 23 | 24 | 25 | 26 | 27 | 28 |
| 29 | 30 | 31 | | | | |
June 2022

| S | M | T | W | T | F | S |
| --- | --- | --- | --- | --- | --- | --- |
| | | | 01 | 02 | 03 | 04 |
| 05 | 06 | 07 | 08 | 09 | 10 | 11 |
| 12 | 13 | 14 | 15 | 16 | 17 | 18 |
| 19 | 20 | 21 | 22 | 23 | 24 | 25 |
| 26 | 27 | 28 | 29 | 30 | | |
July 2022

| S | M | T | W | T | F | S |
| --- | --- | --- | --- | --- | --- | --- |
| | | | | | 01 | 02 |
| 03 | 04 | 05 | 06 | 07 | 08 | 09 |
| 10 | 11 | 12 | 13 | 14 | 15 | 16 |
| 17 | 18 | 19 | 20 | 21 | 22 | 23 |
| 24 | 25 | 26 | 27 | 28 | 29 | 30 |
| 31 | | | | | | |
August 2022

| S | M | T | W | T | F | S |
| --- | --- | --- | --- | --- | --- | --- |
| | 01 | 02 | 03 | 04 | 05 | 06 |
| 07 | 08 | 09 | 10 | 11 | 12 | 13 |
| 14 | 15 | 16 | 17 | 18 | 19 | 20 |
| 21 | 22 | 23 | 24 | 25 | 26 | 27 |
| 28 | 29 | 30 | 31 | | | |
September 2022

| S | M | T | W | T | F | S |
| --- | --- | --- | --- | --- | --- | --- |
| | | | | 01 | 02 | 03 |
| 04 | 05 | 06 | 07 | 08 | 09 | 10 |
| 11 | 12 | 13 | 14 | 15 | 16 | 17 |
| 18 | 19 | 20 | 21 | 22 | 23 | 24 |
| 25 | 26 | 27 | 28 | 29 | 30 | |
Available
Unavailable
Check-In Only
Check-Out Only
Seasonal Rates
| Date Range | Daily | Weekly | Monthly |
| --- | --- | --- | --- |
* Seasonal rates are only estimates and do not reflect taxes or additional fees.
Location
Guest Reviews of
Garnett's Way (PA)
Breckenridge, CO
---
Vacation Rental Reviews by
stars based on
Head of Mountains!
Review by
Crystal R.
We really enjoyed this rental property. I loved that it was up to date as far as furniture and design goes. Everything was well cleaned. I'm a stickler on bathrooms and they were pristine. The communication from Paragon Lodging was great too. We didn't have any issues there. The only issue was that we could not get the 3rd floor master fireplace to work, even after we requested help. It would have been nice to use as there was a snow storm of the nice and the setting would have been nice. However, the living room fire place worked with no issues. The outdoor fireplace was a nice touch too. We also used the hot tub and that was a nice way to end the trip! I would definitely book this house again or explore the options they have.
5 out of 5 stars
Manager Response:
Thank you for taking the time to review your stay with us - Garnett's Way is a beautiful home and I am so happy that you were able to enjoy all that it has to offer. We are so sorry that you had issues with the fireplace while you were here. Please come back and see us again soon! -Lauren and The Staff of Paragon Lodging
Garnett Way
Review by
Corey J.
This is a wonderful home with spectacular views of the mountains looking out to the West. Sunsets every evening were gorgeous. The home was like new, clean and luxurious. Highlights include the deck and fire pit, lower level hot tub, and the front porch with chairs to catch the morning sun (the grandkids loved the bench/rocker). The grandkids also loved the downstairs video game room, the giant wooden blocks and floor sized checkers game. There was plenty of room for 3 families to have privacy with separate bedrooms and baths, and the common living areas were great for everyone to be together for meals, TV and games. There is a biking/hiking trail just below the home which saw daily use for morning walks. There is privacy and seclusion in the Highlands, but < 10 minutes to town if needed. The folks at Paragon are top notch and communication with them was easy and helpful thru their App. We hope to stay with Paragon again in the future. Highly recommended.
5 out of 5 stars
Cozy Home
Review by
Vicki B.
This home was perfect. It was spacious and had large windows with stellar views of the mountains. The furniture was comfy with large screen tvs to veg out in front of after a long day of biking & hiking. The rooms were all spacious so we didn't feel on top of each other. The kitchen had all new appliances with plenty of counter space and for gatherings. The deck was nice and large. In fact the Adirondack chairs in front of the fire pit were so comfortable that i almost instantly found myself asleep each time i sat in them. Quite unusual for me. Must have been a combination of fresh mountain air, lots of exercise and the angle of the chairs. We had guests come stay for a night and the lower level was perfect for their little family. Large spacious garage. The only drawback after being there 5 weeks was I would have liked a garage door opener. Hopefully on my next visit they will have one available for us. Overall great home, and location. We will definitely be staying there again.
5 out of 5 stars
Manager Response:
Thank you for taking the time to review your stay with us, Vicki. We are thrilled to hear your feedback and we look forward to greeting you again next summer! We will look into getting a garage door opener for your next stay with us as well. Thank you, Lauren & The Staff of Paragon Lodging
Mountain Luxury and Fun
Review by
We absolutely LOVED our stay here! Two families of four and could've easily had another family join us. We hiked, bikes and ran on all the trails every day. We spent fun days exploring hikes around Breck, Keystone and Vail. The house was so charming, we all wanted nothing more than to come back home in the evenings, cook family meals and enjoy the back deck. It was our favorite place to stay & we've been enjoying the High Country for over 20 years!
5 out of 5 stars
Manager Response:
Sounds like a fantastic mountain vacation, Liz! Thank you for your wonderful review - it was our pleasure to host your group and we look forward to seeing you again next Summer!
Awesome House!
Review by
Jeffrey H.
We had a fabulous Thanksgiving in Breckenridge. We had three families and 11 guests in total (Grandparents + 4 adults + 5 grandkids). House was perfect for all of us. Grandparents stayed in the master on the 2nd floor. One family stayed on the main floor (2 bedrooms) and the other in the basement (2 bedrooms). Worked perfectly. House is brand new and super clean. Would definitely stay again.
5 out of 5 stars
Manager Response:
Happy Holidays to your and your family, Jeffrey. We are thrilled that you had such a fabulous stay at Garnett's Way and decided to visit for the Thanksgiving holiday. It sounds like the layout and bedroom count was the ideal setup for you and your group. Please come back and visit us again soon. - Lennie & The Staff of Paragon Lodging
Elegance in the Mountains!
Review by
Debi F.
This is a fabulous vacation rental! There were 3 families, so the layout was perfect. Since it was basically new construction, everything was in perfect shape. The amenities were awesome. The older kids loved the gaming table and the actual games in the closet. The younger ones really loved those big blocks. Everyone enjoyed the hot tub. The kitchen was well stocked. Mountain views were incredible. We would definitely stay here again.
5 out of 5 stars
Manager Response:
Thank you so much for taking the time to post a first review for Garnett's Way, Debi! What an encouraging start in introducing this lovely home. I'm delighted to share this feedback with the owner and again appreciate your thoughtful review. We are looking forward to hosting you and your family again in the future! - Lennie & The Staff of Paragon Lodging
Contact Us