GlenEagles 17 - 4636 Blackcomb Way (Townhouse)
2 Bedroom(s) | 2 Bathroom(s) | Sleeps 6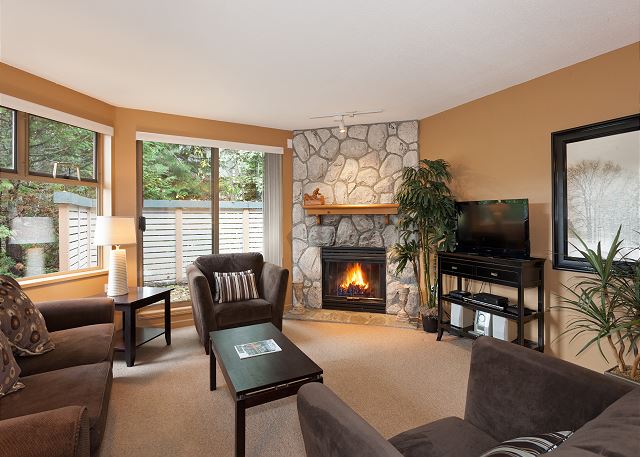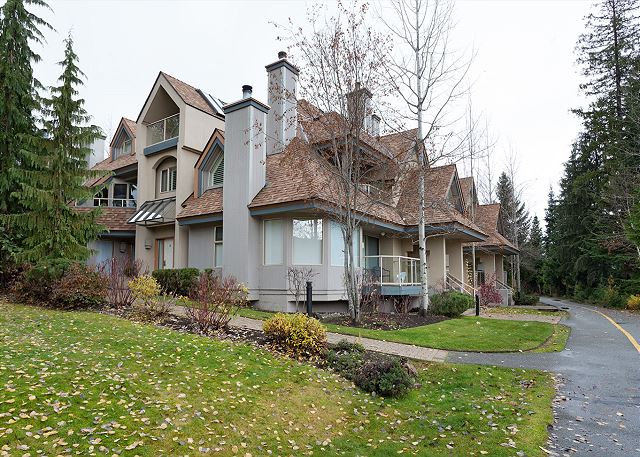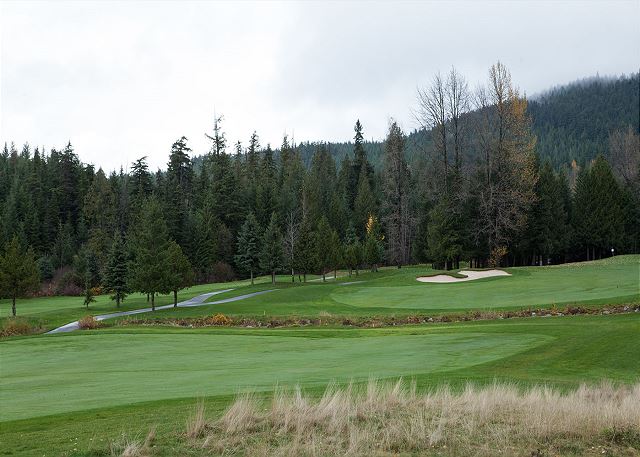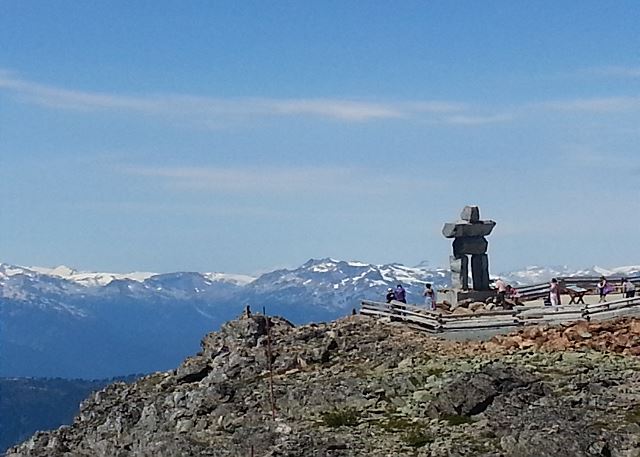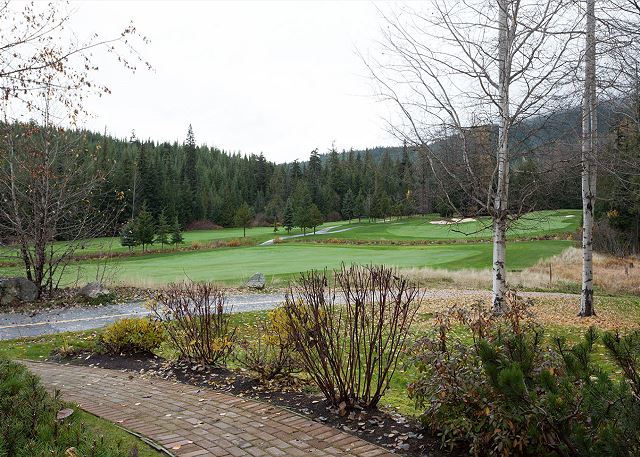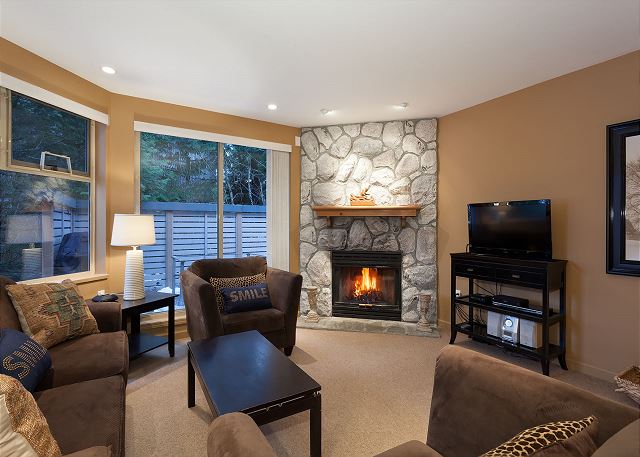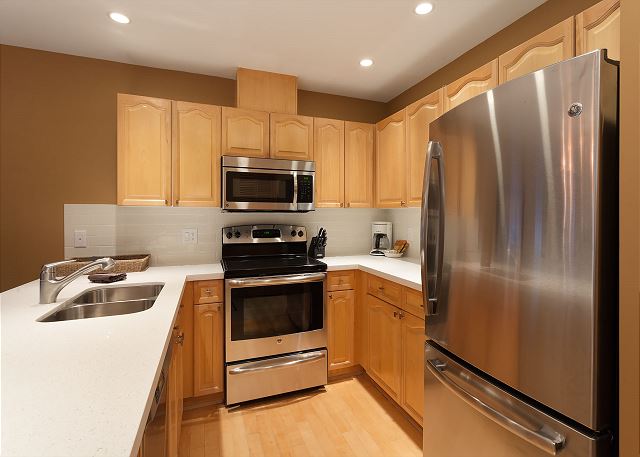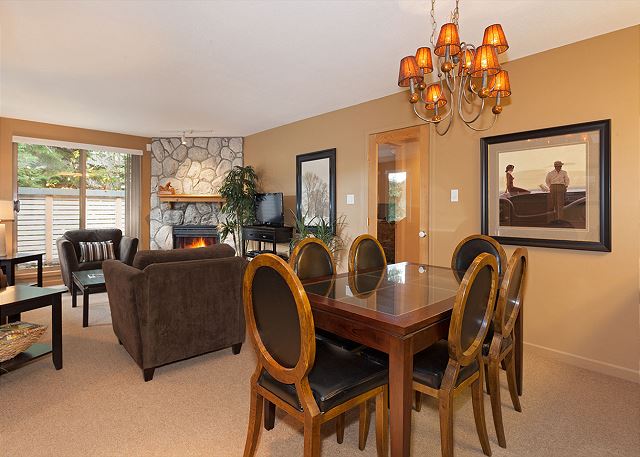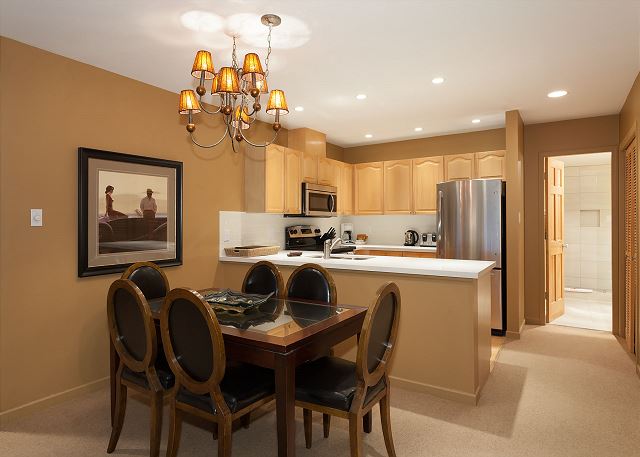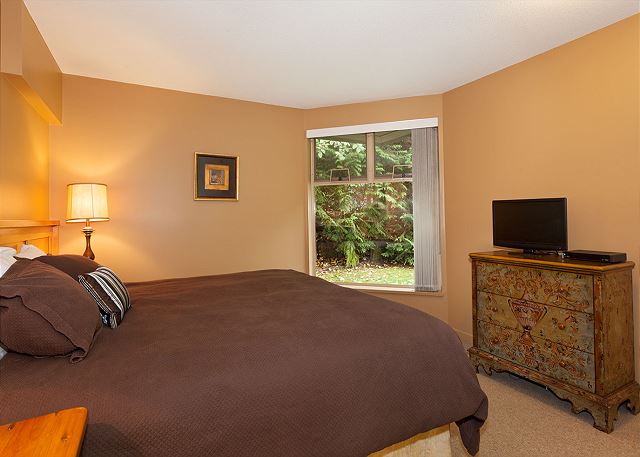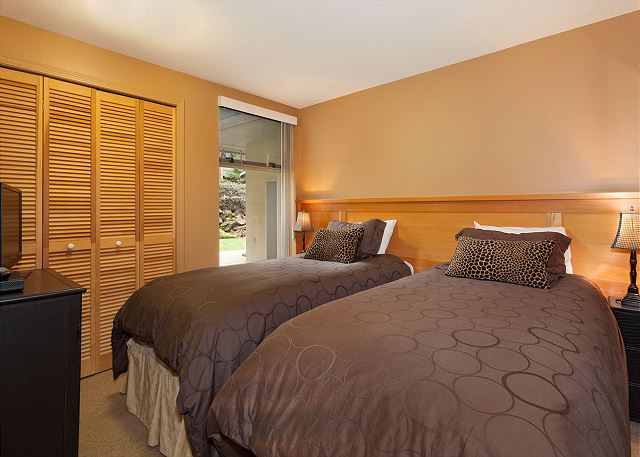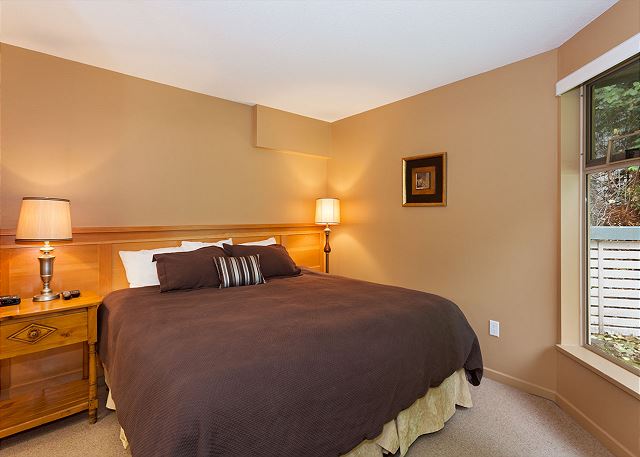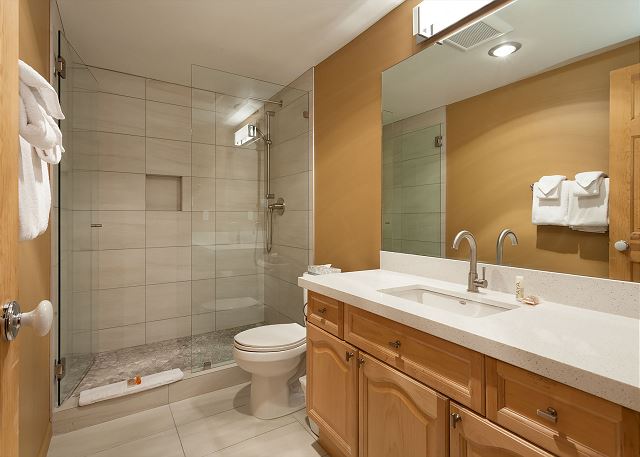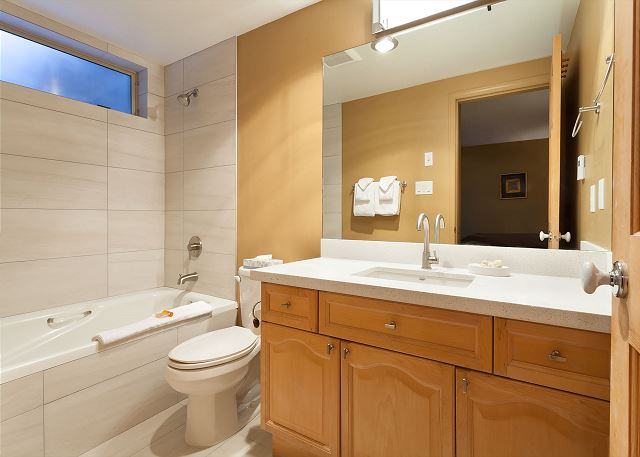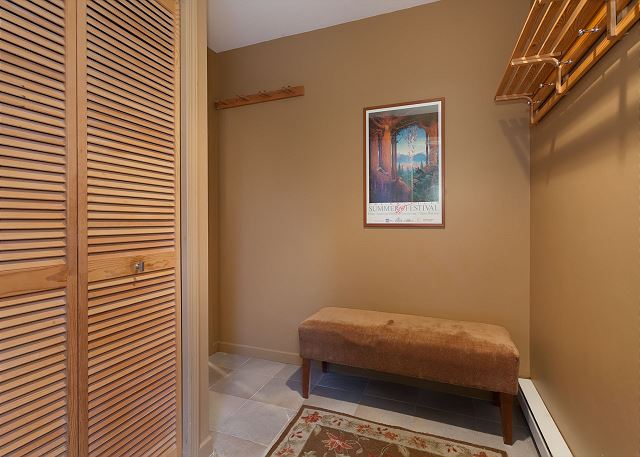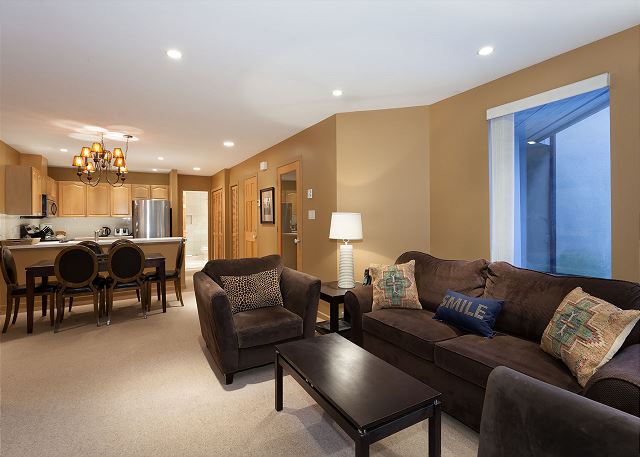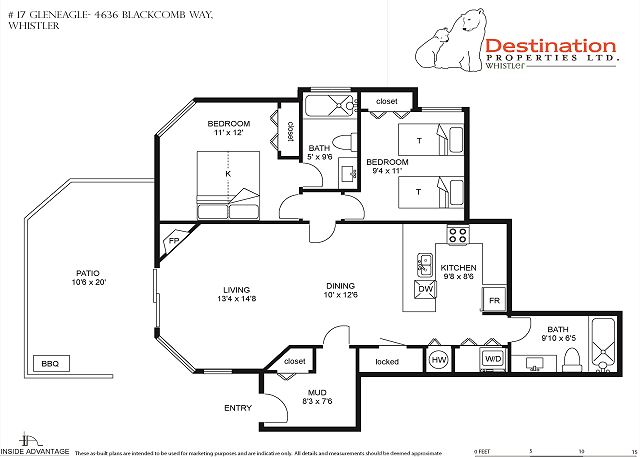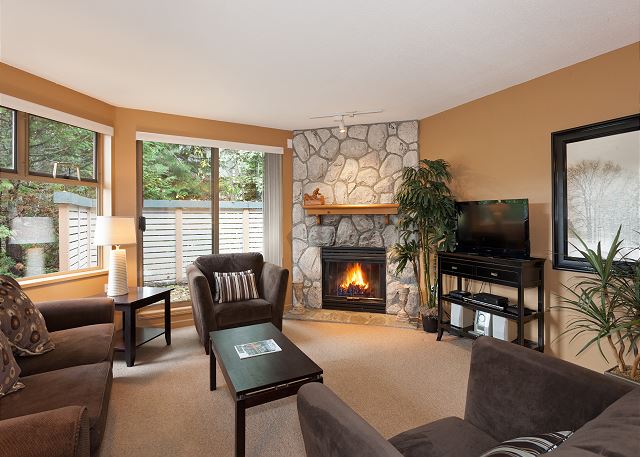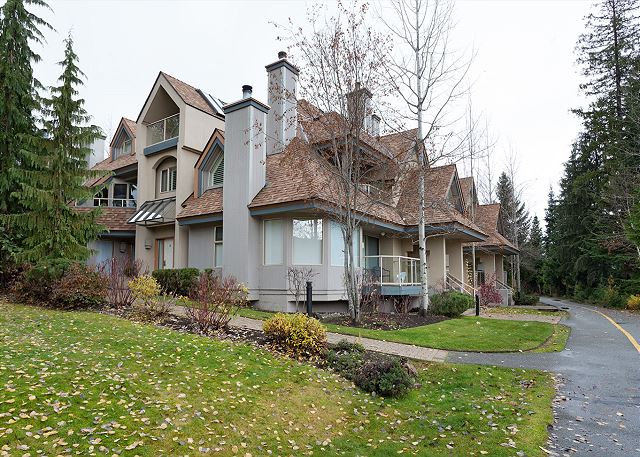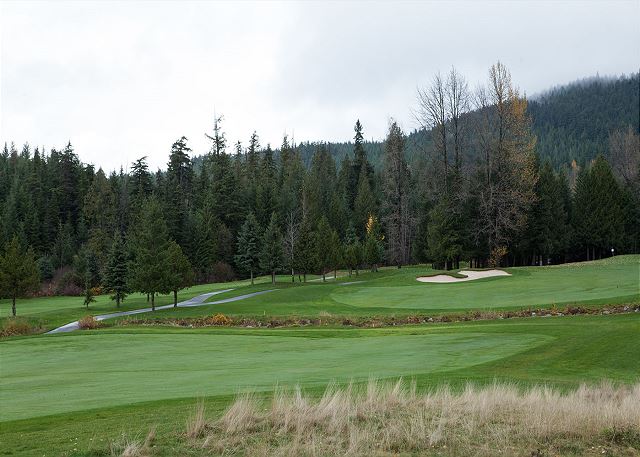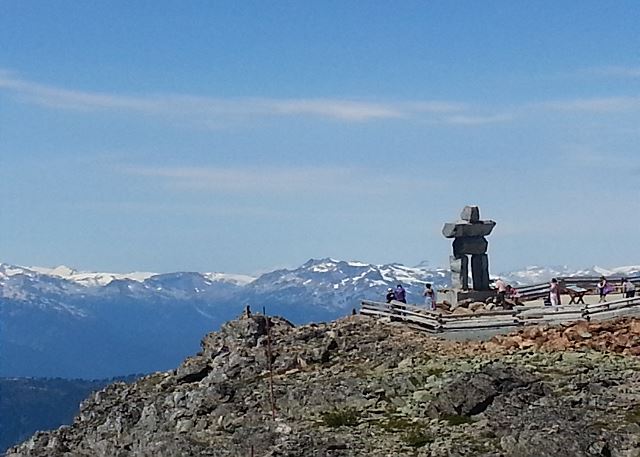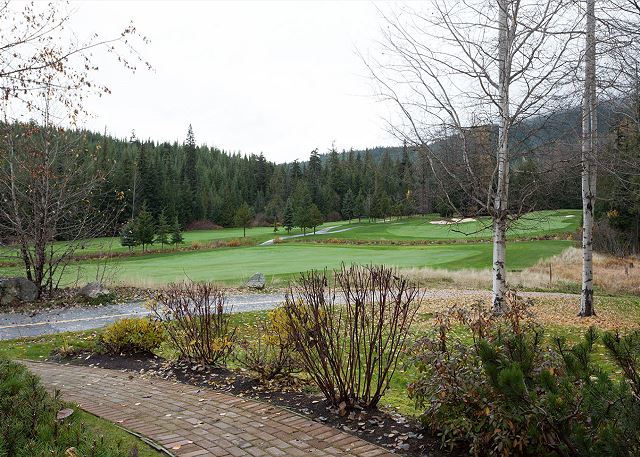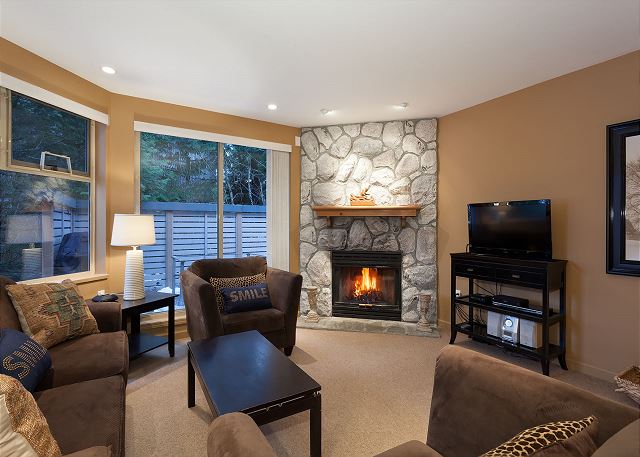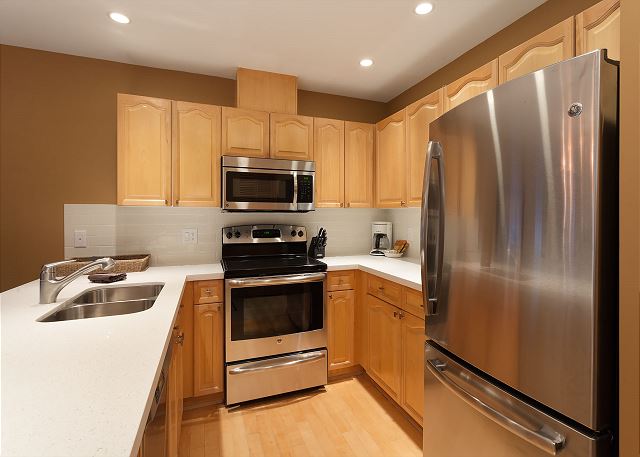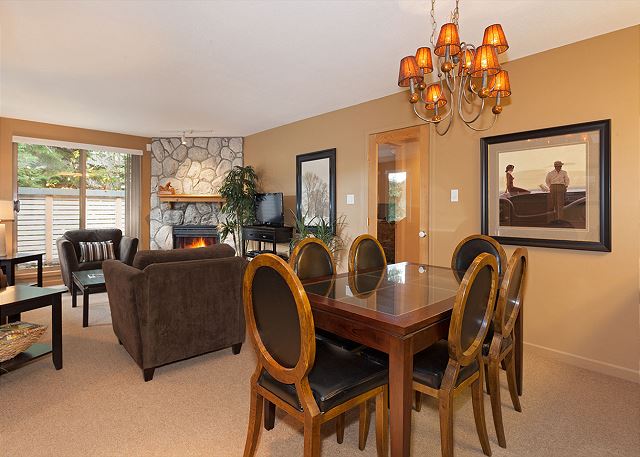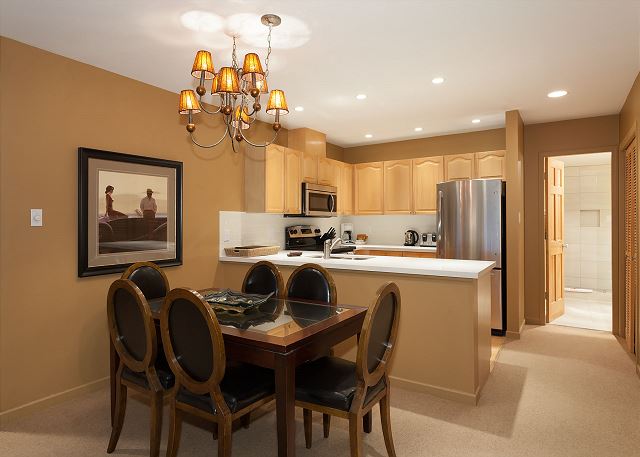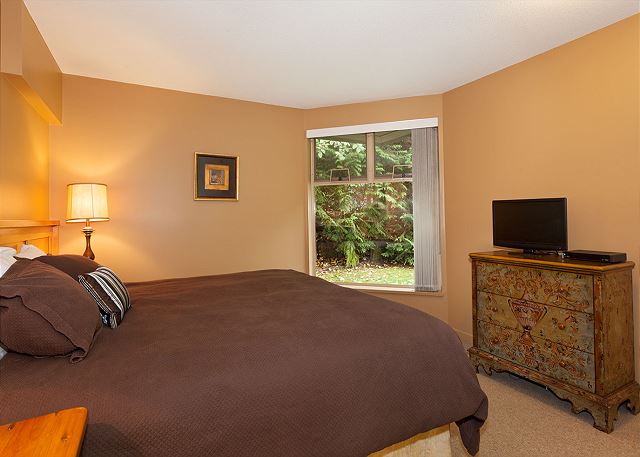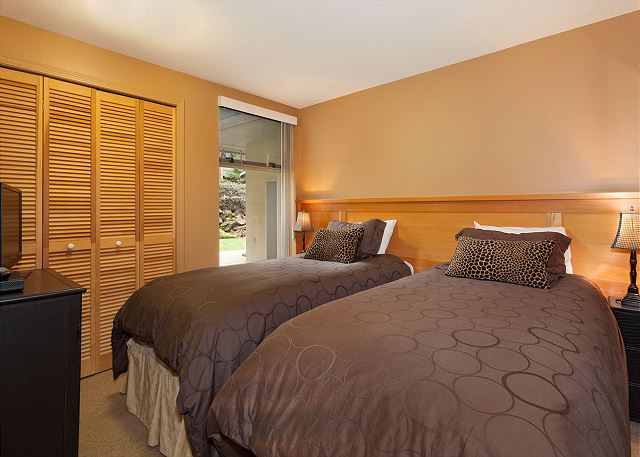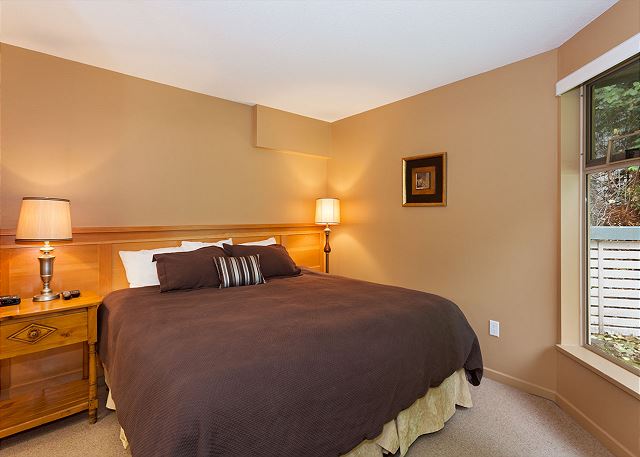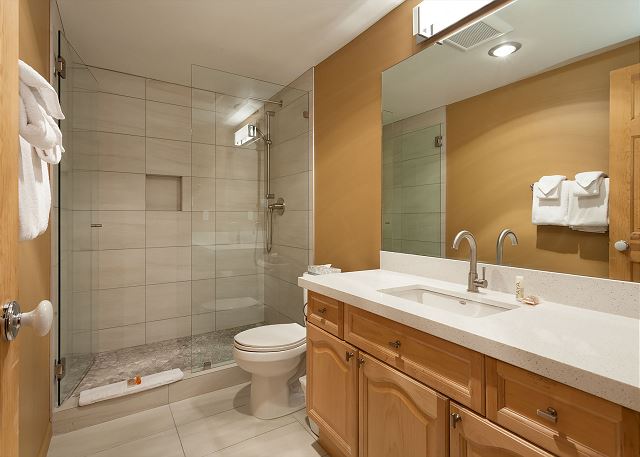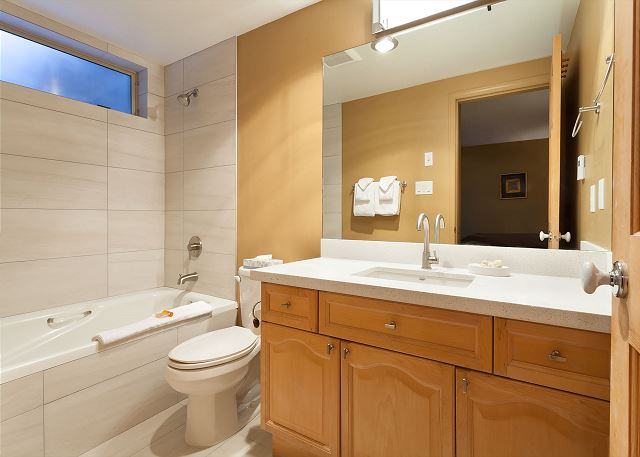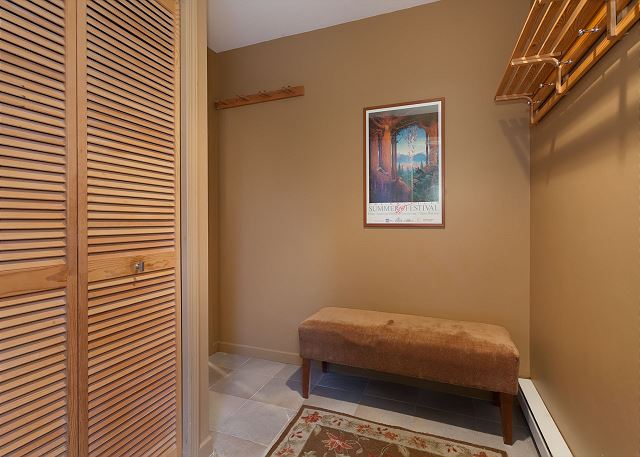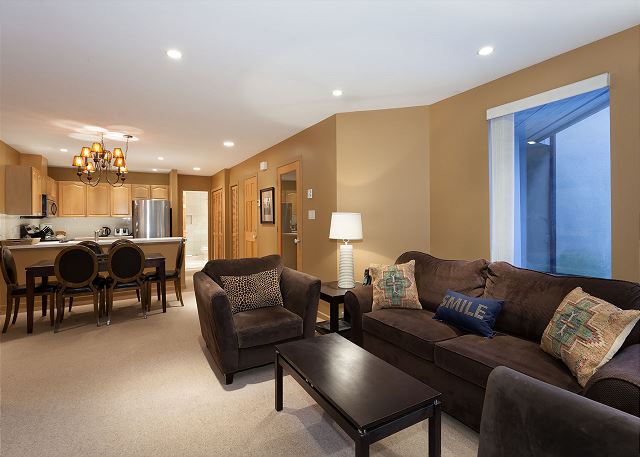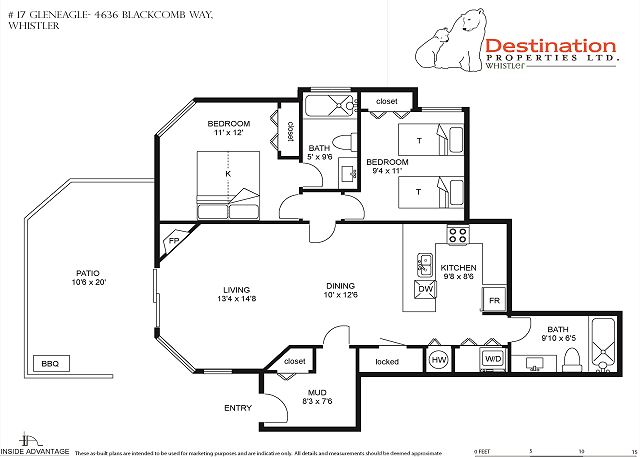 Description
Modern mountain style decor along with a cozy wood fireplace will put your family right at ease each day for your apres moments or pre-activity breakfast take-offs! Two bedroom - two bath, open plan with one level comfort living concept offer all the conveniences of home right here.

Kitchen fully equipped with breakfast bar, dining table for 6, along with BBQ on the spacious outdoor patio is perfect for your meals at home. Dishwasher, microwave, full fridge and stove and all the convenience of small appliances at your disposal.

Generous living area comfortably furnished with modern flat screen TV, free wifi and DVD player opens to the patio. The wood fireplace tops off the space with a cozy spot for every evening you stay in!



Your family or group will enjoy the flexible bedding situation with superior linens and mattresses. You have your choice of either two kings, four singles or one king and two singles! Pull out sofabed in living area provides for additional sleeping capacity for your growing family.

Master bedroom equipped with TV and ensuite with jetted tub. (king/twin split bedding) (Verify preference at booking) Second bedroom (king/twin split) (verify preference at booking)



Washer/dryer in townhome, good entry for equipment storage.



The location is second to none while located on the valley trail itself, and the first fairway of the Chateau Golf Course, you can also enjoy a short two minute walk to the Four Seasons for a night cap, or steps from the front door to the village shuttle. This location does not disappoint for the quiet family who still wants to be close to it all. NO PETS PLEASE
Calendar
October 2021

| S | M | T | W | T | F | S |
| --- | --- | --- | --- | --- | --- | --- |
| | | | | | 01 | 02 |
| 03 | 04 | 05 | 06 | 07 | 08 | 09 |
| 10 | 11 | 12 | 13 | 14 | 15 | 16 |
| 17 | 18 | 19 | 20 | 21 | 22 | 23 |
| 24 | 25 | 26 | 27 | 28 | 29 | 30 |
| 31 | | | | | | |
November 2021

| S | M | T | W | T | F | S |
| --- | --- | --- | --- | --- | --- | --- |
| | 01 | 02 | 03 | 04 | 05 | 06 |
| 07 | 08 | 09 | 10 | 11 | 12 | 13 |
| 14 | 15 | 16 | 17 | 18 | 19 | 20 |
| 21 | 22 | 23 | 24 | 25 | 26 | 27 |
| 28 | 29 | 30 | | | | |
December 2021

| S | M | T | W | T | F | S |
| --- | --- | --- | --- | --- | --- | --- |
| | | | 01 | 02 | 03 | 04 |
| 05 | 06 | 07 | 08 | 09 | 10 | 11 |
| 12 | 13 | 14 | 15 | 16 | 17 | 18 |
| 19 | 20 | 21 | 22 | 23 | 24 | 25 |
| 26 | 27 | 28 | 29 | 30 | 31 | |
January 2022

| S | M | T | W | T | F | S |
| --- | --- | --- | --- | --- | --- | --- |
| | | | | | | 01 |
| 02 | 03 | 04 | 05 | 06 | 07 | 08 |
| 09 | 10 | 11 | 12 | 13 | 14 | 15 |
| 16 | 17 | 18 | 19 | 20 | 21 | 22 |
| 23 | 24 | 25 | 26 | 27 | 28 | 29 |
| 30 | 31 | | | | | |
February 2022

| S | M | T | W | T | F | S |
| --- | --- | --- | --- | --- | --- | --- |
| | | 01 | 02 | 03 | 04 | 05 |
| 06 | 07 | 08 | 09 | 10 | 11 | 12 |
| 13 | 14 | 15 | 16 | 17 | 18 | 19 |
| 20 | 21 | 22 | 23 | 24 | 25 | 26 |
| 27 | 28 | | | | | |
March 2022

| S | M | T | W | T | F | S |
| --- | --- | --- | --- | --- | --- | --- |
| | | 01 | 02 | 03 | 04 | 05 |
| 06 | 07 | 08 | 09 | 10 | 11 | 12 |
| 13 | 14 | 15 | 16 | 17 | 18 | 19 |
| 20 | 21 | 22 | 23 | 24 | 25 | 26 |
| 27 | 28 | 29 | 30 | 31 | | |
April 2022

| S | M | T | W | T | F | S |
| --- | --- | --- | --- | --- | --- | --- |
| | | | | | 01 | 02 |
| 03 | 04 | 05 | 06 | 07 | 08 | 09 |
| 10 | 11 | 12 | 13 | 14 | 15 | 16 |
| 17 | 18 | 19 | 20 | 21 | 22 | 23 |
| 24 | 25 | 26 | 27 | 28 | 29 | 30 |
May 2022

| S | M | T | W | T | F | S |
| --- | --- | --- | --- | --- | --- | --- |
| 01 | 02 | 03 | 04 | 05 | 06 | 07 |
| 08 | 09 | 10 | 11 | 12 | 13 | 14 |
| 15 | 16 | 17 | 18 | 19 | 20 | 21 |
| 22 | 23 | 24 | 25 | 26 | 27 | 28 |
| 29 | 30 | 31 | | | | |
June 2022

| S | M | T | W | T | F | S |
| --- | --- | --- | --- | --- | --- | --- |
| | | | 01 | 02 | 03 | 04 |
| 05 | 06 | 07 | 08 | 09 | 10 | 11 |
| 12 | 13 | 14 | 15 | 16 | 17 | 18 |
| 19 | 20 | 21 | 22 | 23 | 24 | 25 |
| 26 | 27 | 28 | 29 | 30 | | |
July 2022

| S | M | T | W | T | F | S |
| --- | --- | --- | --- | --- | --- | --- |
| | | | | | 01 | 02 |
| 03 | 04 | 05 | 06 | 07 | 08 | 09 |
| 10 | 11 | 12 | 13 | 14 | 15 | 16 |
| 17 | 18 | 19 | 20 | 21 | 22 | 23 |
| 24 | 25 | 26 | 27 | 28 | 29 | 30 |
| 31 | | | | | | |
August 2022

| S | M | T | W | T | F | S |
| --- | --- | --- | --- | --- | --- | --- |
| | 01 | 02 | 03 | 04 | 05 | 06 |
| 07 | 08 | 09 | 10 | 11 | 12 | 13 |
| 14 | 15 | 16 | 17 | 18 | 19 | 20 |
| 21 | 22 | 23 | 24 | 25 | 26 | 27 |
| 28 | 29 | 30 | 31 | | | |
September 2022

| S | M | T | W | T | F | S |
| --- | --- | --- | --- | --- | --- | --- |
| | | | | 01 | 02 | 03 |
| 04 | 05 | 06 | 07 | 08 | 09 | 10 |
| 11 | 12 | 13 | 14 | 15 | 16 | 17 |
| 18 | 19 | 20 | 21 | 22 | 23 | 24 |
| 25 | 26 | 27 | 28 | 29 | 30 | |
Available
Unavailable
Check-In Only
Check-Out Only
Seasonal Rates
| Date Range | Daily | Weekly | Monthly |
| --- | --- | --- | --- |
* Seasonal rates are only estimates and do not reflect taxes or additional fees.
Location
Guest Reviews of
GlenEagles 17 - 4636 Blackcomb Way
Whistler, BC
---
Vacation Rental Reviews by
stars based on
Enjoyable stay !!
Review by
Rashi D.
The place was very clean, the kitchen was well equipped, beds were very comfortable. It was a 4 min walk to the free shuttle bus, 20 mins walk to the village and a 10 mins walk to Lost lake. We would definitely recommend this place.
5 out of 5 stars
Whistler Summer Vacation
Review by
Doug E.
We were very happy with our Townhome.
5 out of 5 stars
Great Winter Location!
Review by
Michelle S.
This is the second time we've stayed in this apartment, and we're glad to have been back. It's in a fabulous spot, alongside the Four Seasons golf course in N Whistler Village. Buses to and from the village run regularly from a stop just outside the entrance to the complex, stopping at ski lift bases along the way. We used both bedrooms and the sofa bed very comfortably; the heated lobby is great for drying out kit; and the kitchen was well-equipped for all our self-catering needs. The apartment is in need of a little updating, but that didn't prevent us having a wonderful time here. Can highly recommend =-)
5 out of 5 stars
Sawyer@whistler
Review by
Scott N.
Good Fun
4 out of 5 stars
Great place to stay with children
Review by
Olga N.
We had a very nice stay there during Victoria long weekend. Lots of things to do and places to go around, beautiful location, and neighbourhood is kids friendly. Management was on call and very helpful. Would love to return someday. Thanks Gillian!
5 out of 5 stars
Very nice Townhome near shuttle bus to mountains
Review by
Gary L.
Gillian was a great host. Description was accurate. Townhome includes washer/dryer. Fully equipped kitchen, with updated appliances. Includes a gas grill on patio worked well. For our 12 day stay we cooked most meals there. Very clean. 1-2 block wall to free shuttle bus to mountain gondolas. Location was very quiet.
5 out of 5 stars
Snowboard trip
Review by
diane m.
Marvelous
5 out of 5 stars
May Long Weekend
Review by
Nice quiet location
5 out of 5 stars
Great house
Review by
Mauricio P.
Great house, great time. The only problem we had was with the location. At the website it showed 2 differents adresses. One much closer to the village.
4 out of 5 stars
Perfect Ski Destination!
Review by
This is a lovely, quiet property, well positioned near the bus stop for the bottom of the Gondolas. There's underground parking included, and a very helpful property management agent, Gillian.
5 out of 5 stars
Been there 2 times and it's perfect
Review by
We've been there twice and this place is perfect. Clean and 1-2 mintutws drive from blackomb. A bus stop is just beside the condo if you don't have a car. Definitly a good choice.
5 out of 5 stars
A very nice stay
Review by
Timothy W.
I have stayed for Christmas night, and have experienced the best service. The Owner (or manager) was so nice. I have received two emails and two text messages telling me where to find the property and how to get in.....The property was clean. The place is in a good location, it was easy for me to find pubs around.
5 out of 5 stars
Great place...thanks!
Review by
Greg D.
Good communication, clean place, great location...thanks for the stay!
5 out of 5 stars
Cosy, comfortable stay
Review by
Kevin O.
Our stay was perfect. We really enjoyed the apartment, it is spacious, has a great kitchen, comfortable beds - everything you need. The location was perfect too, very quiet but close enough to Blackcomb and just a 15min walk to Whistler village. We will definitely stay again - amazing value.
5 out of 5 stars
Amazing stay
Review by
Dhapher (Sammuel) A.
Everything from the staff to the property was amazing.Pet friendly which is a plus. Overall I'd give it an A rating. It would be an A+ but due to location I had to drive quite a bit.
5 out of 5 stars
Great property, close to both Blackcomb and Whistler lifts
Review by
Pritesh A.
The property was a good size for the 4 of us. Two bedrooms with twin beds and a sofa bed. Two bathrooms, one with shower and the other shower + bathtub. Full kitchen amenities. The property was clean and comfortable. The bus stop is a 5 min walk. Heating was great, enough storage for 4 snowboarders. All in all it was perfect, Gillian was also very responsive to our enquiries.
5 out of 5 stars
Beautiful apartment, shame about the extra costs
Review by
The apartment is lovely - beautifully furnished. But we objected to a $135 cleaning fee which was added to the rental cost. Its in the small print but I hadn't noticed it when I booked. To have a caveat saying they'll be an extra charge if the apartment is left very dirty is acceptable but I didn't feel a blanket charge of $135 per let is. We were only there 2 nights and did not leave it dirty.
3 out of 5 stars
A nice stay
Review by
Beautiful location for a family or a group of friends. Right by the golf course, and about a 15min walk to the village. Place was in good condition and clean. Had a nice patio in the backyard. Only down side was that the king size bed was just two twin beds pushed together, however was not too bad. Would book again.
4 out of 5 stars
Contact Us