Monte Video (PA-212274) (House)
4 Bedroom(s) | 4.5 Bathroom(s) | Sleeps 10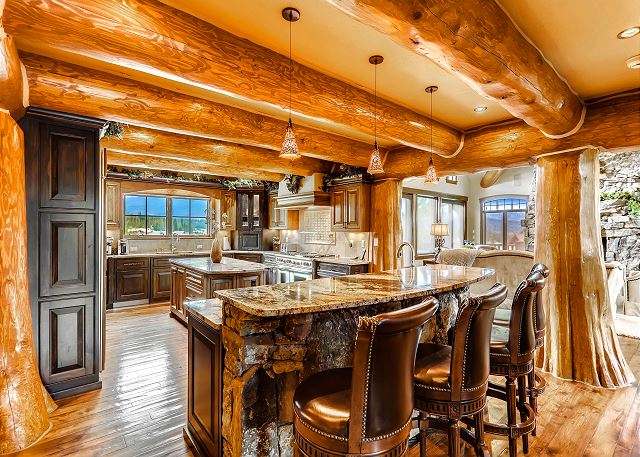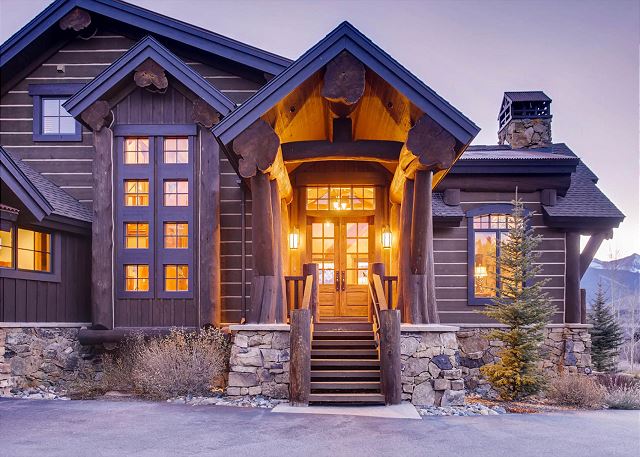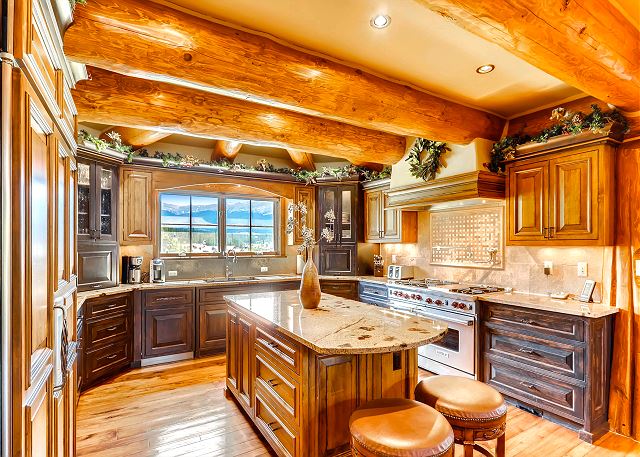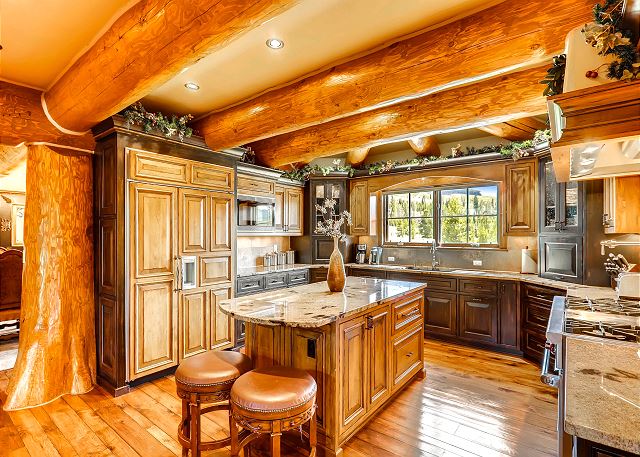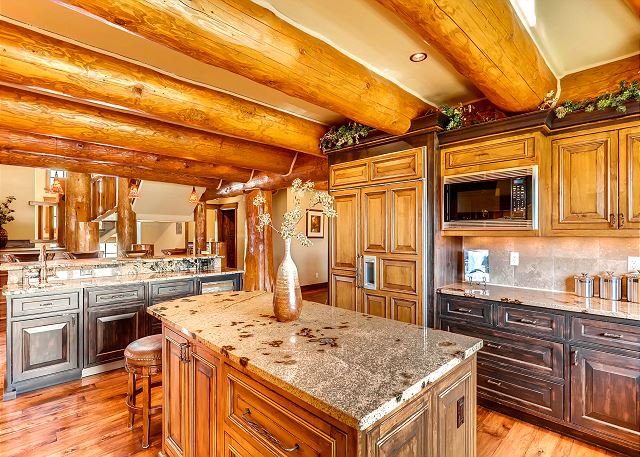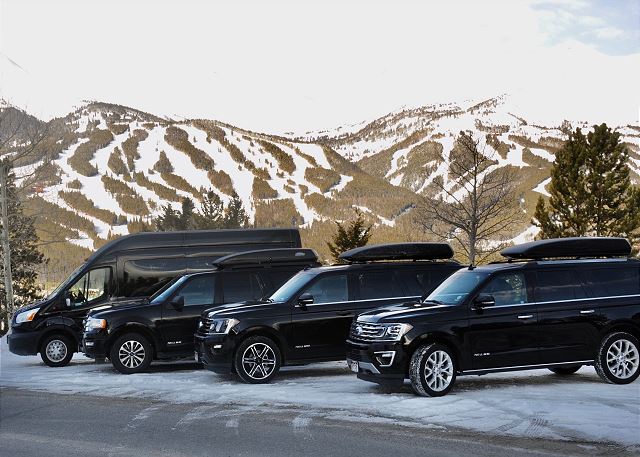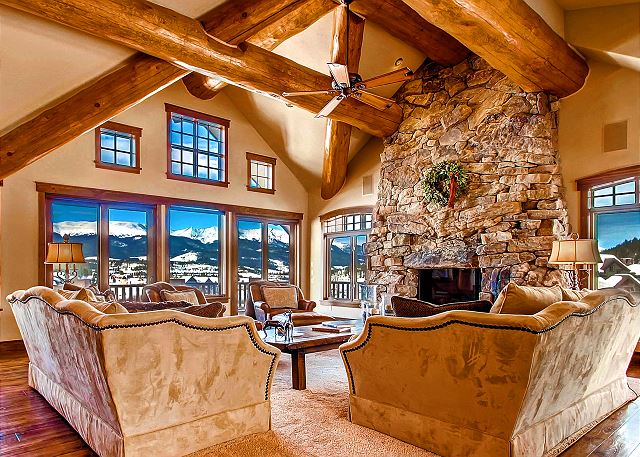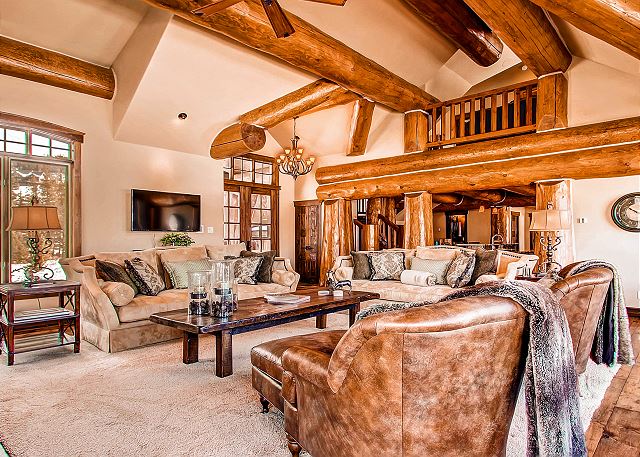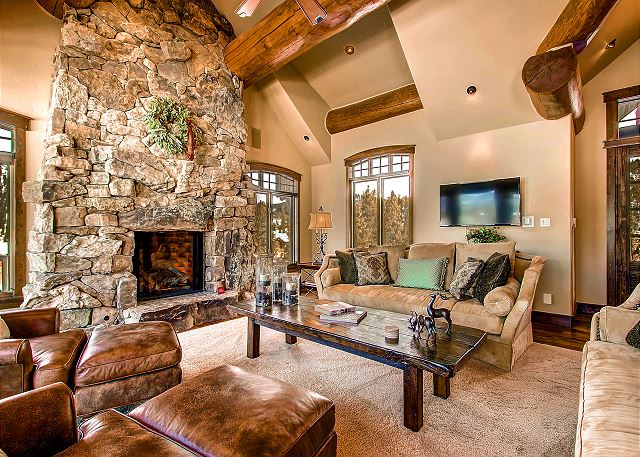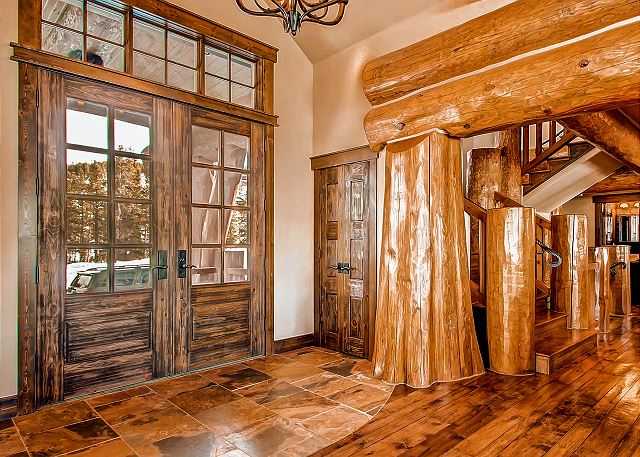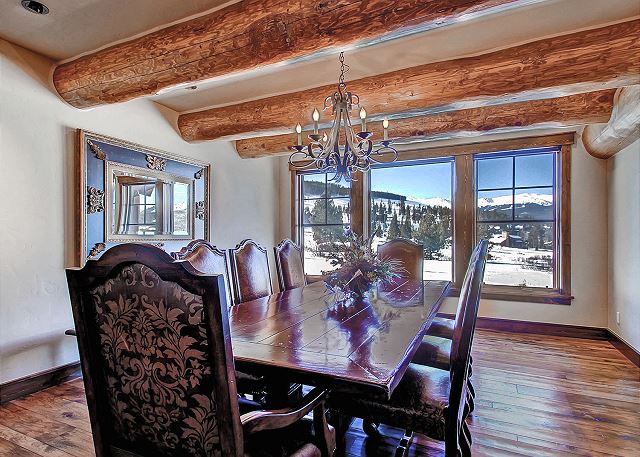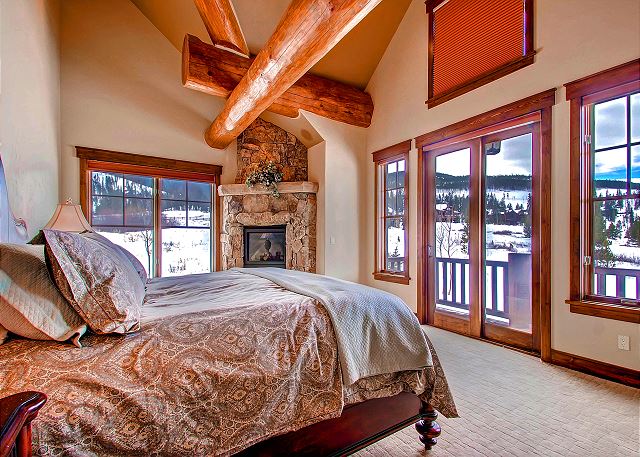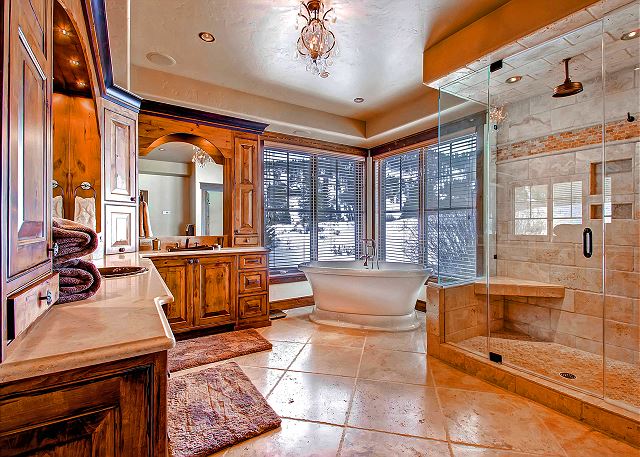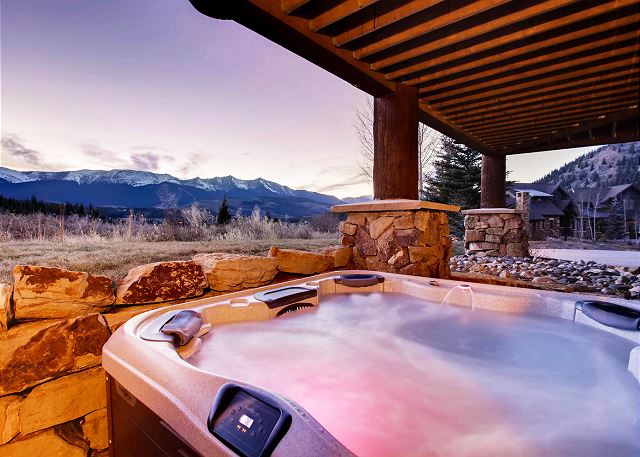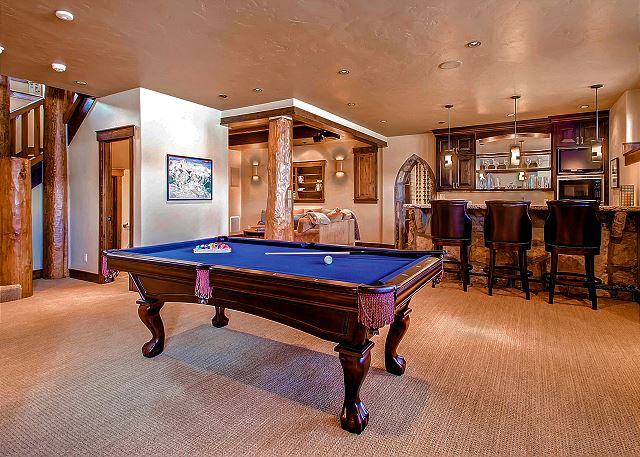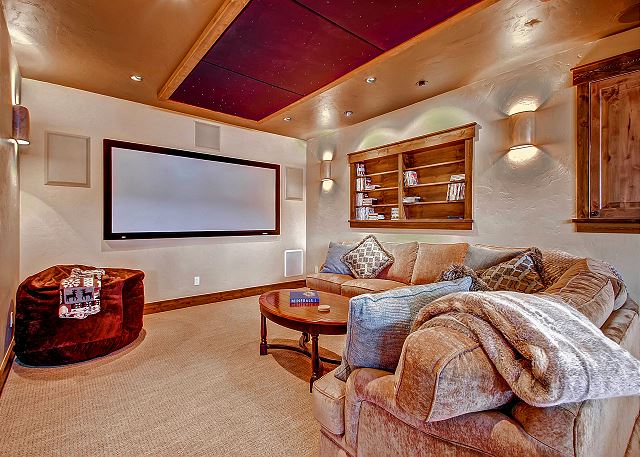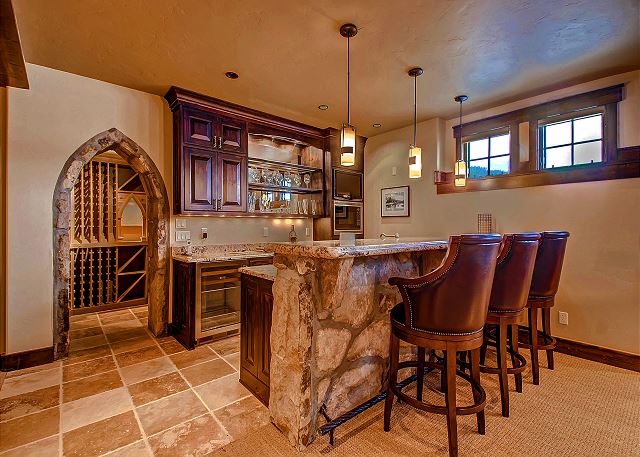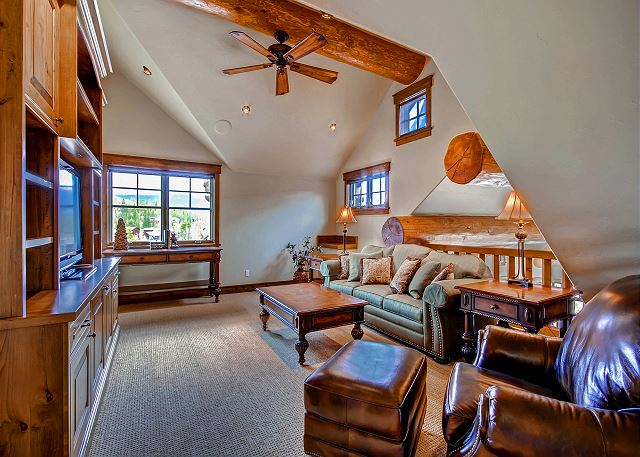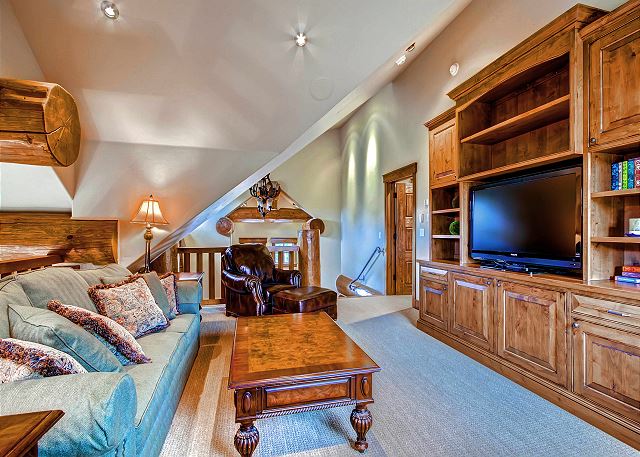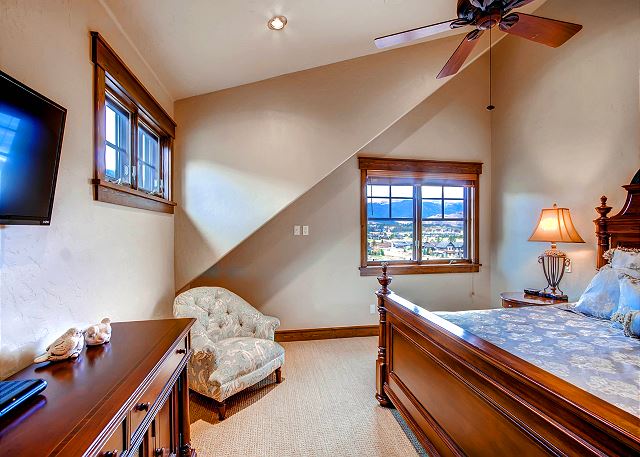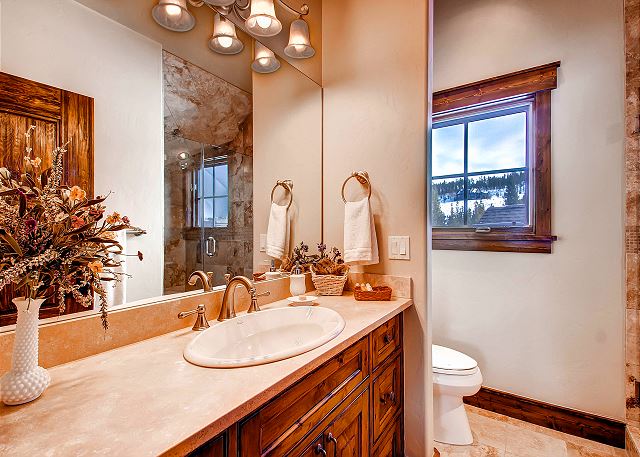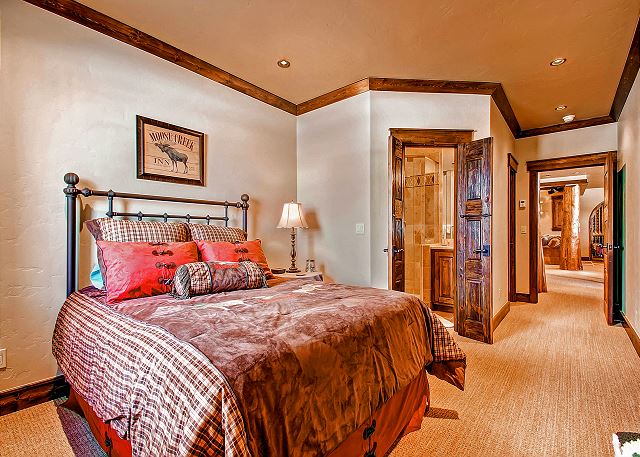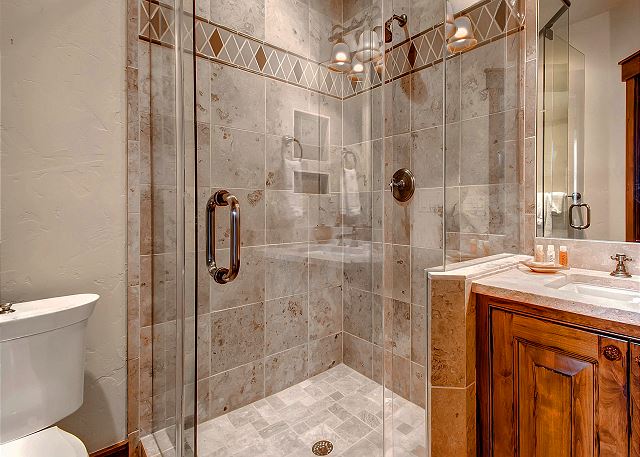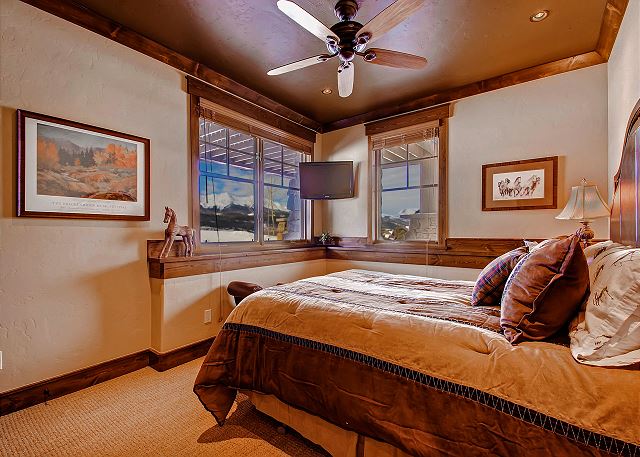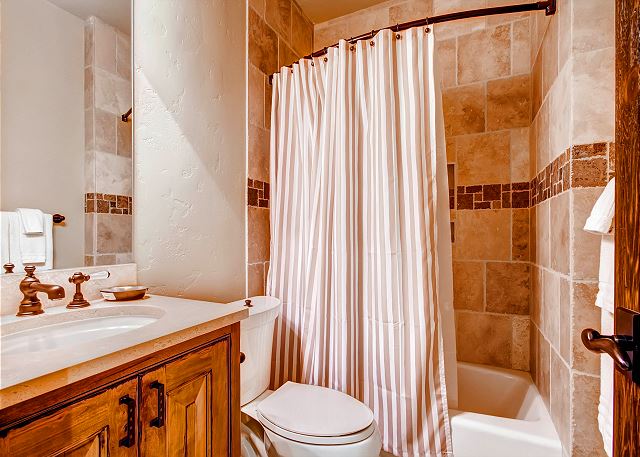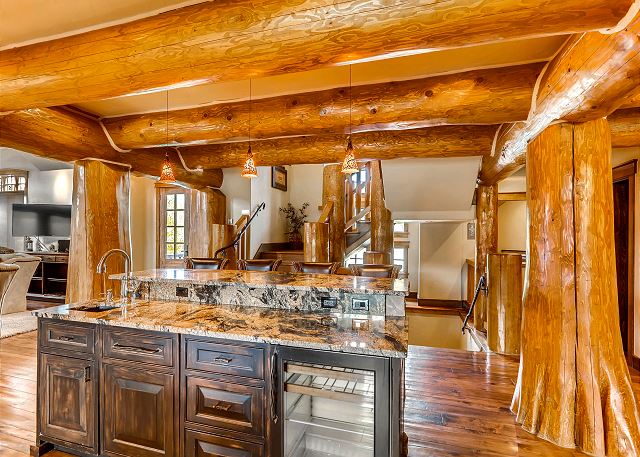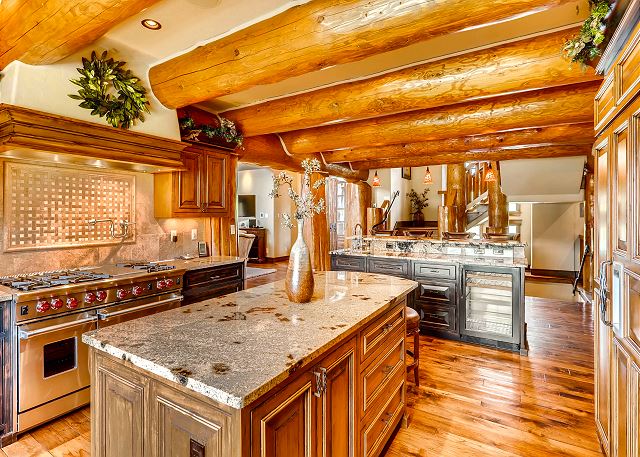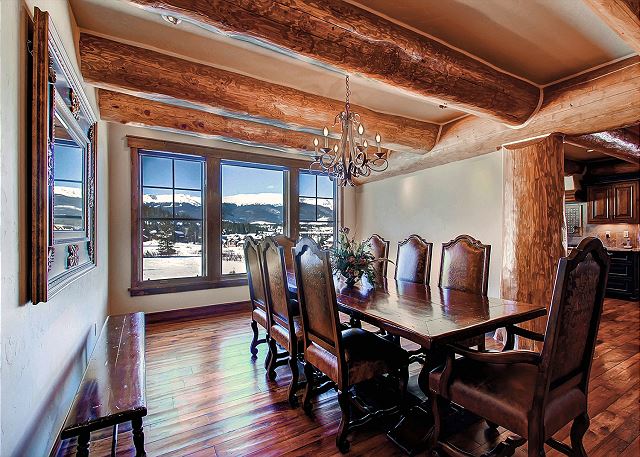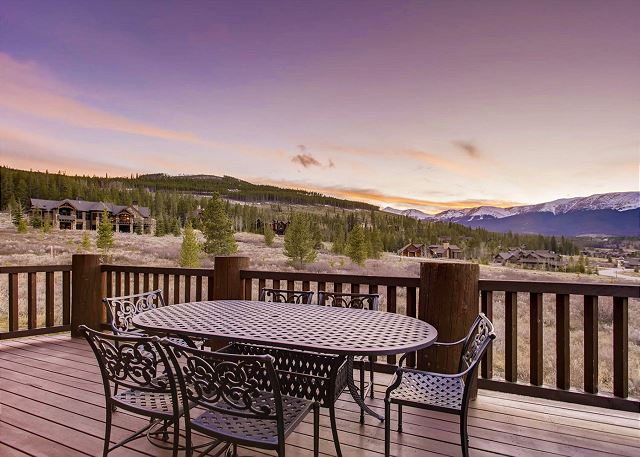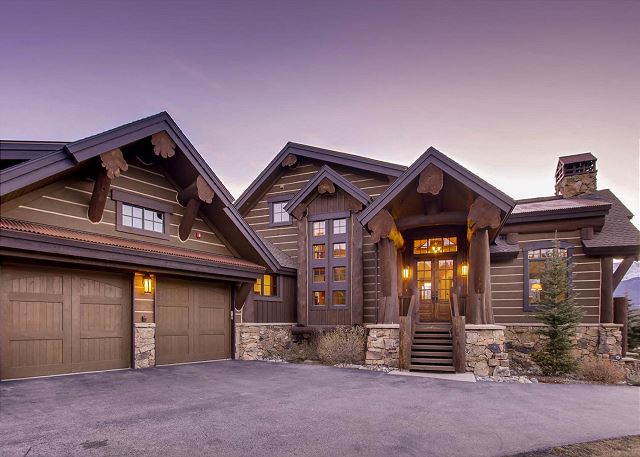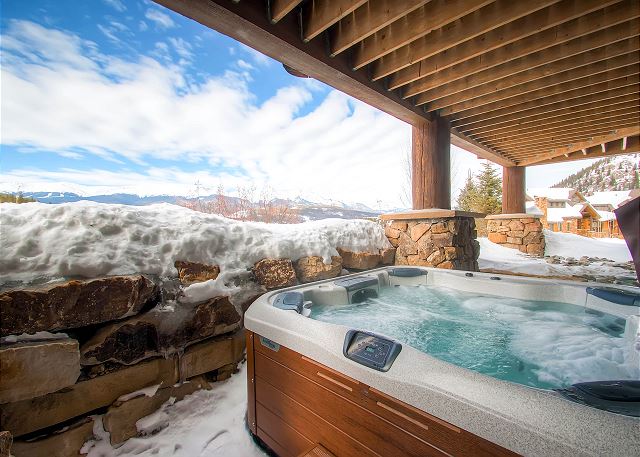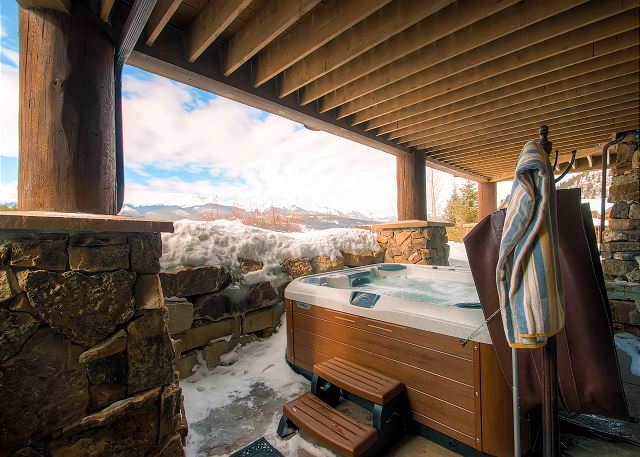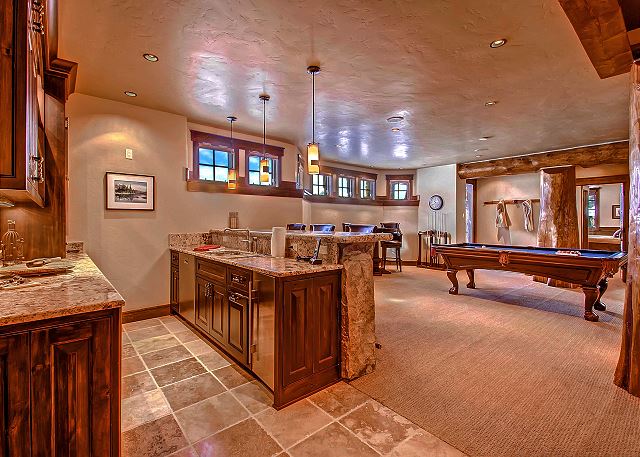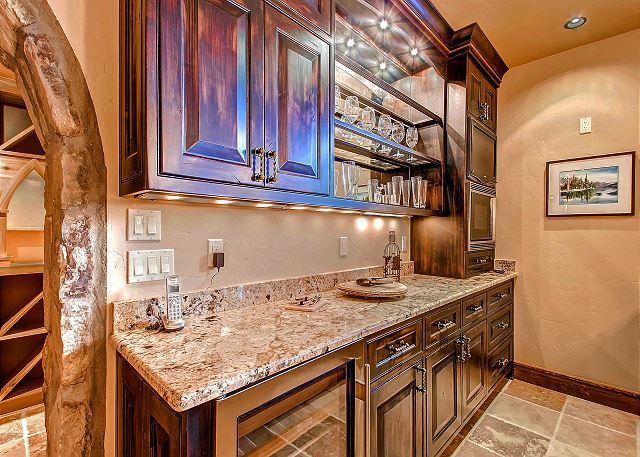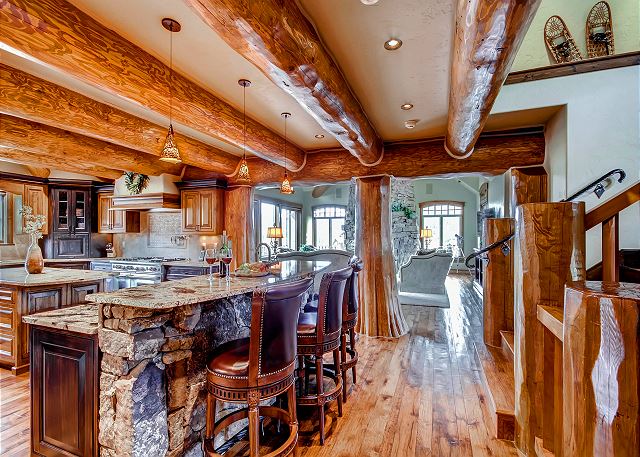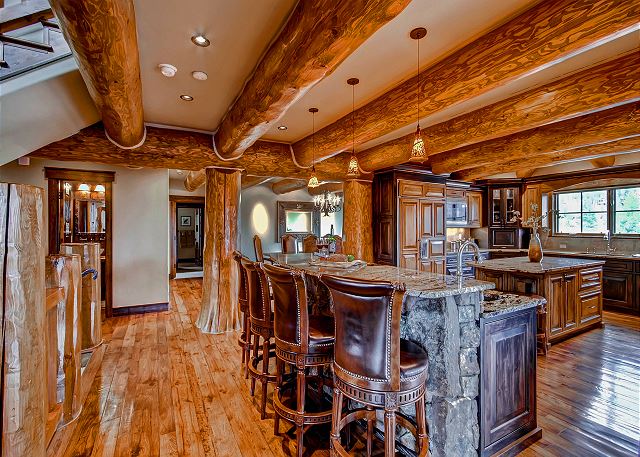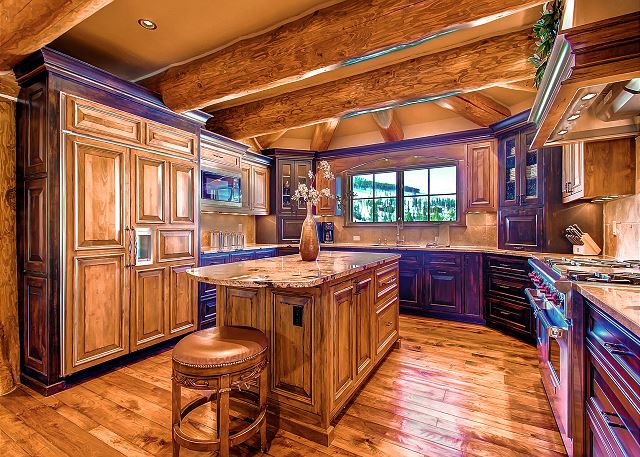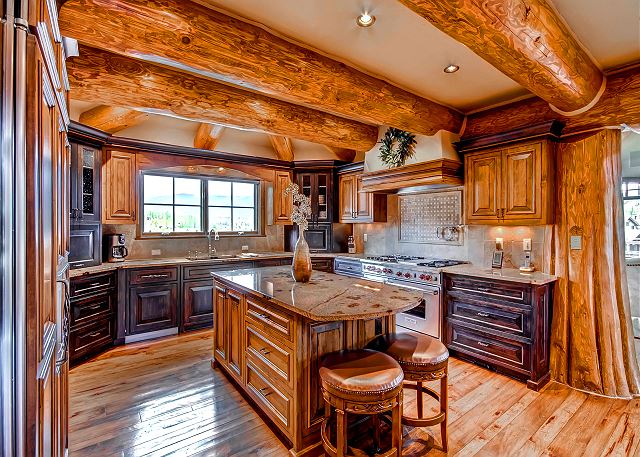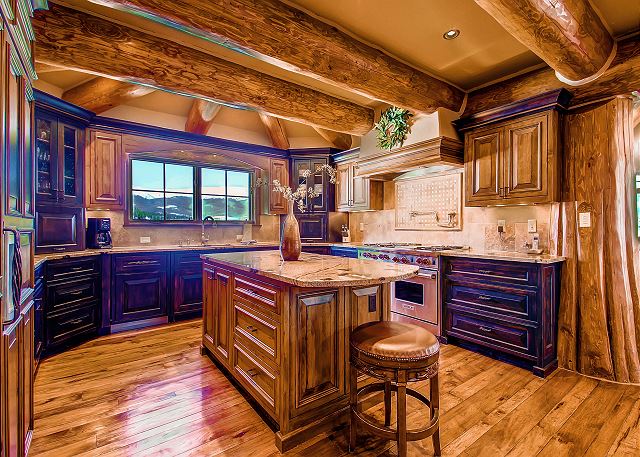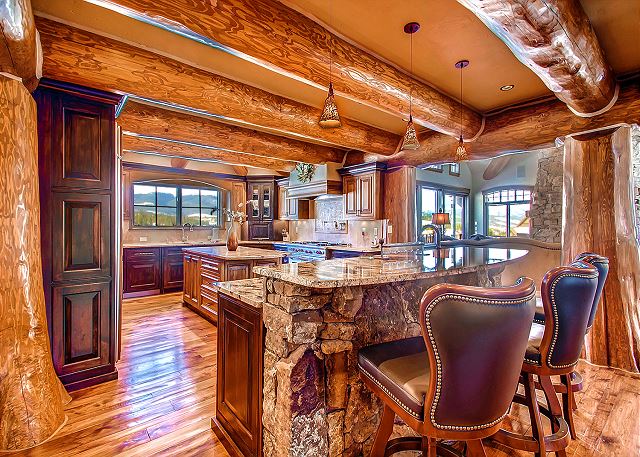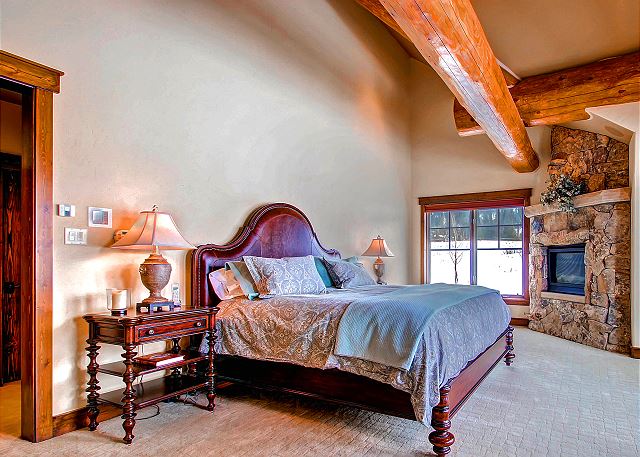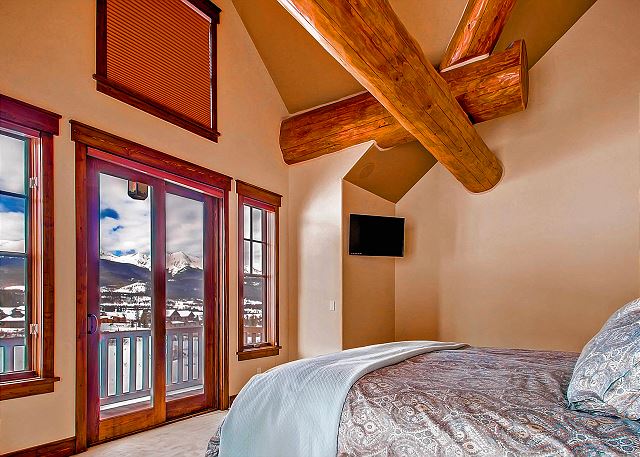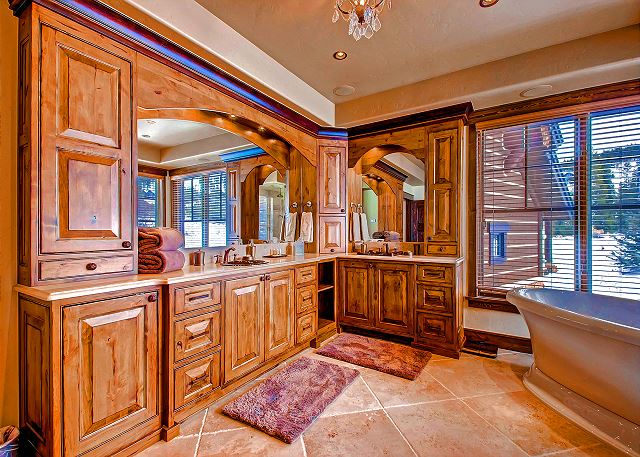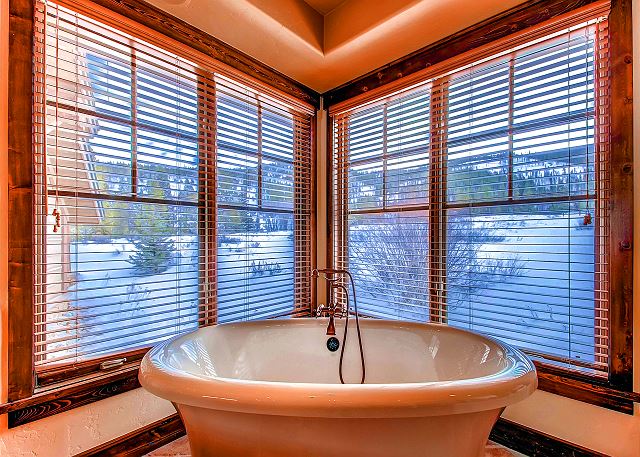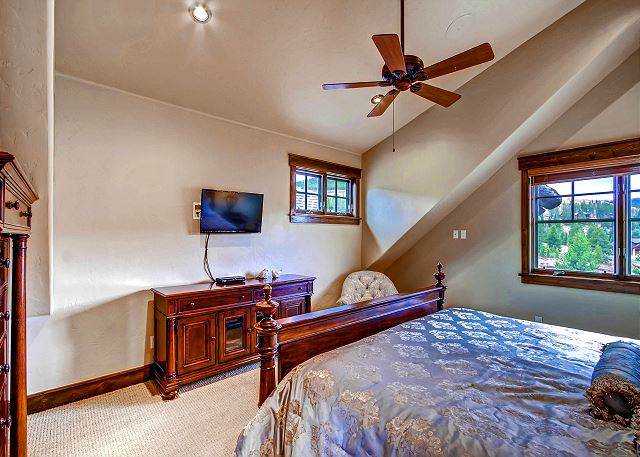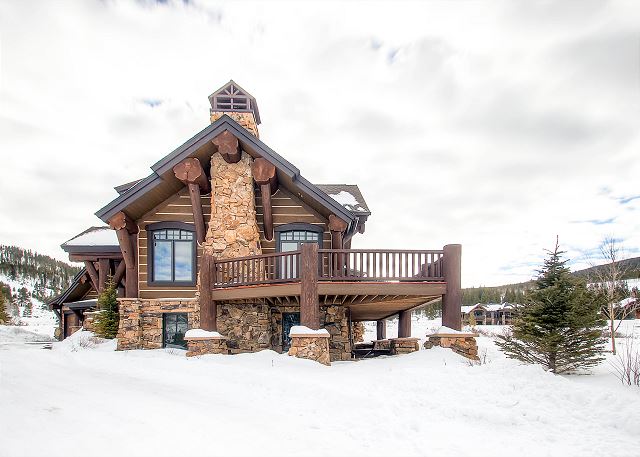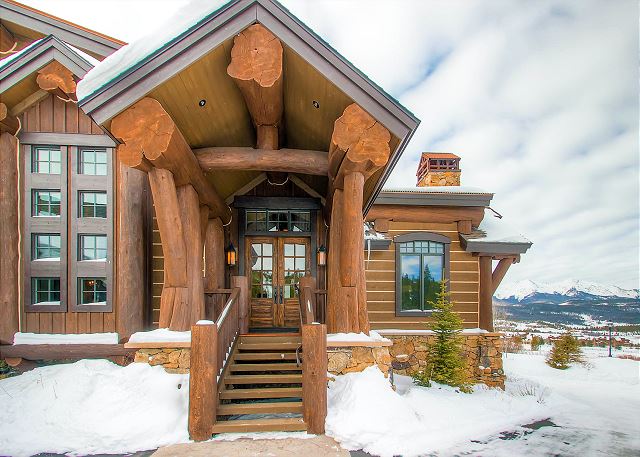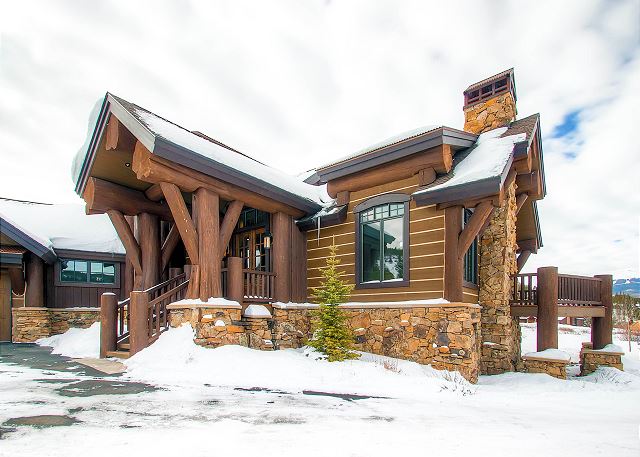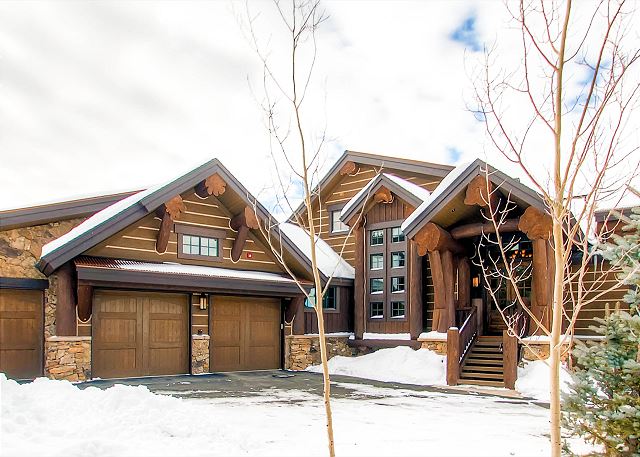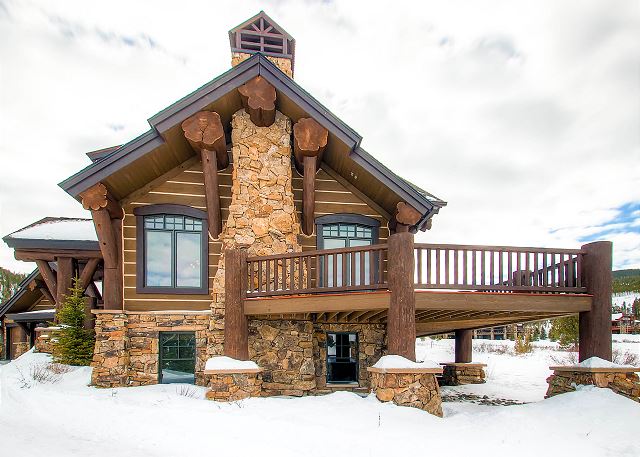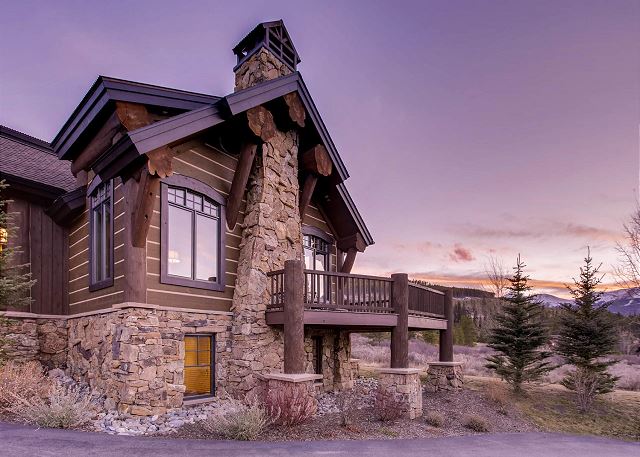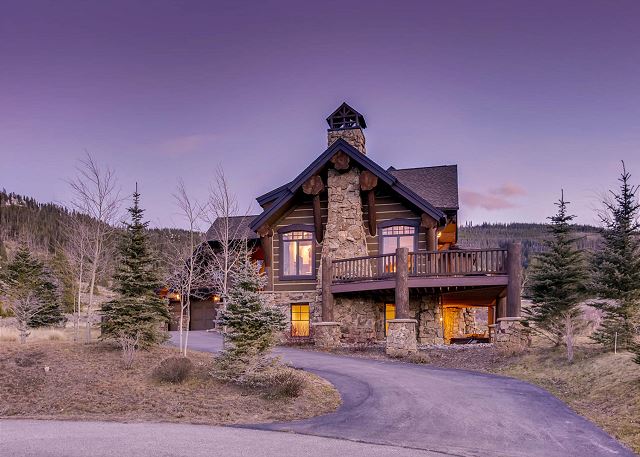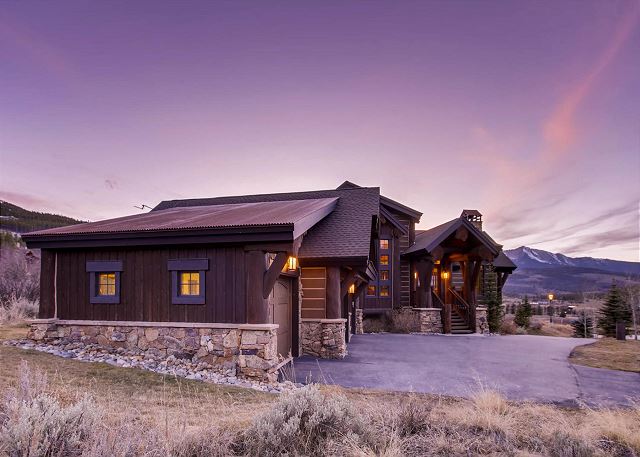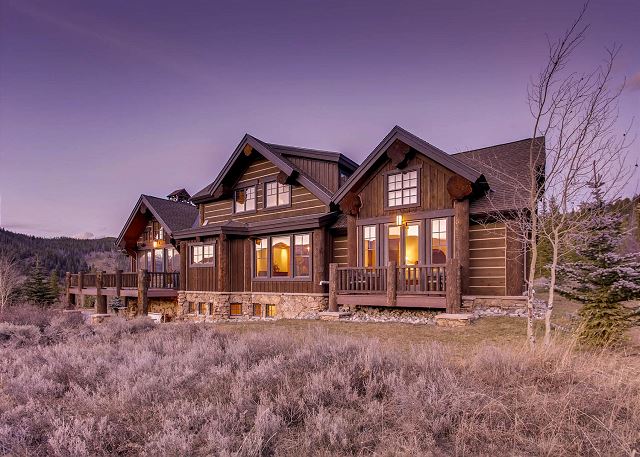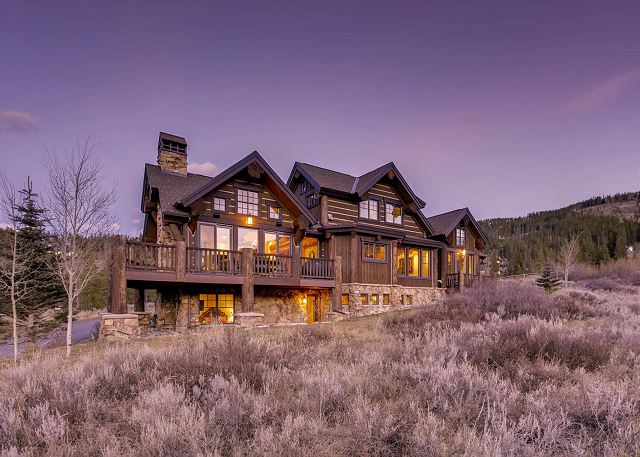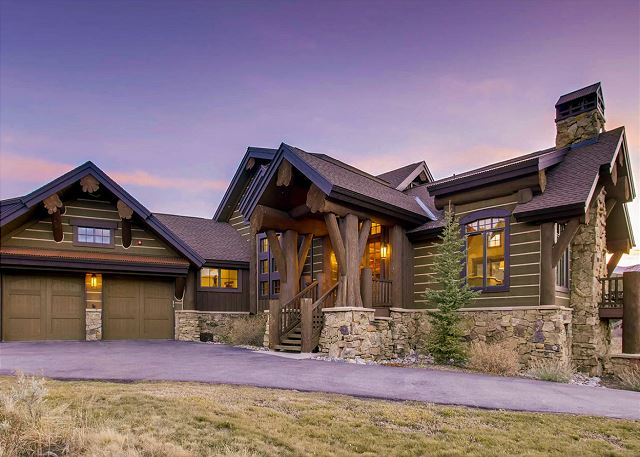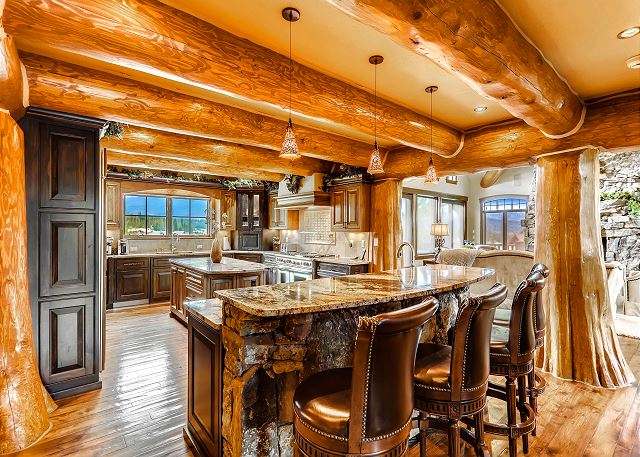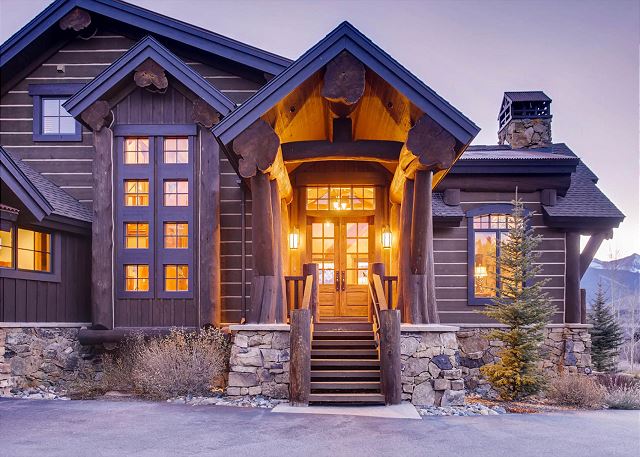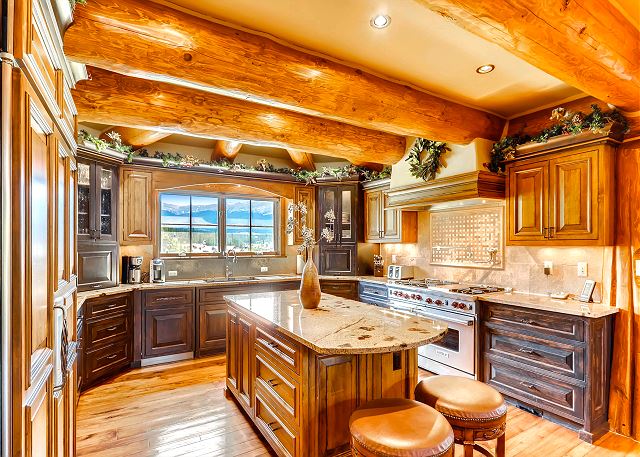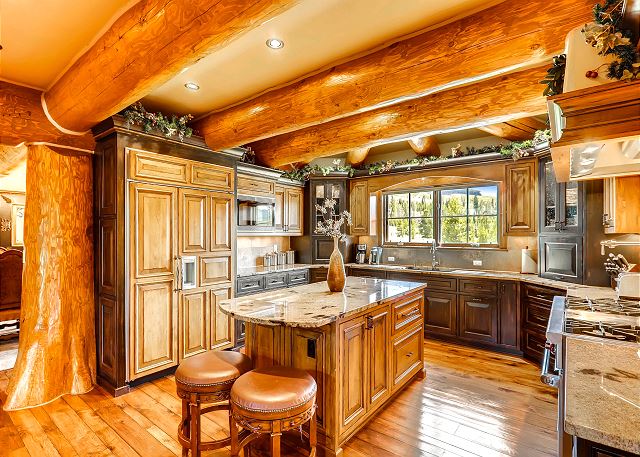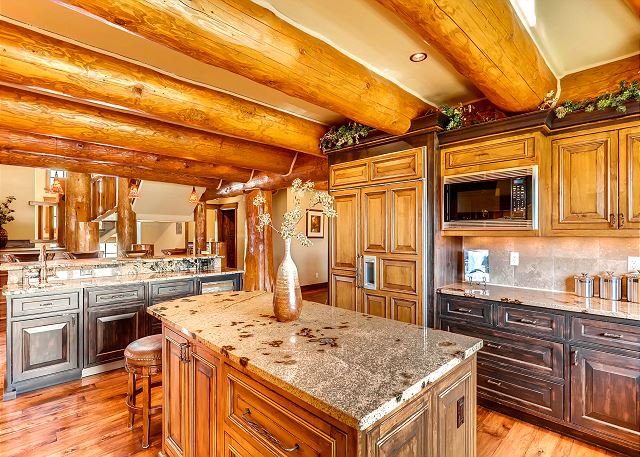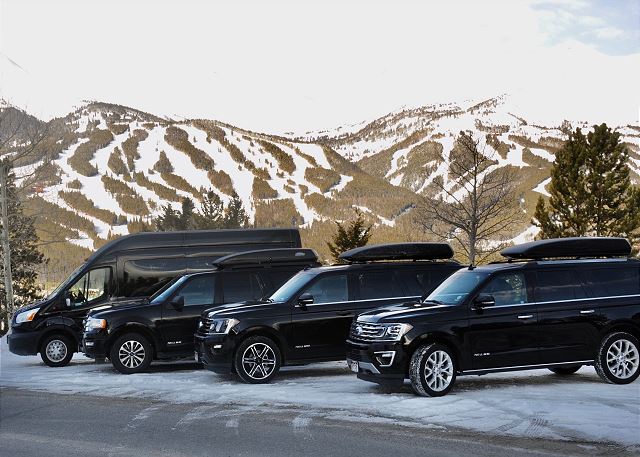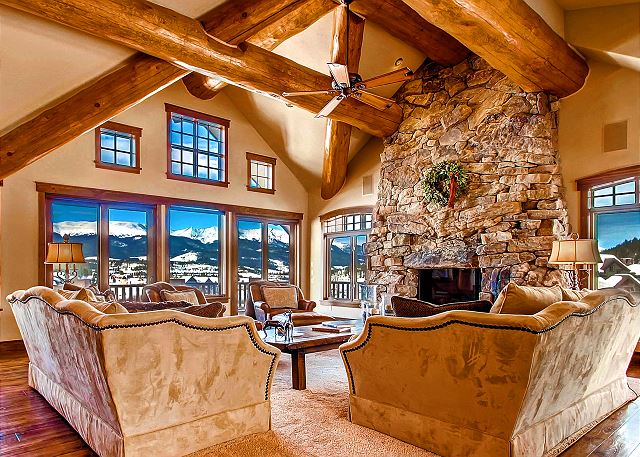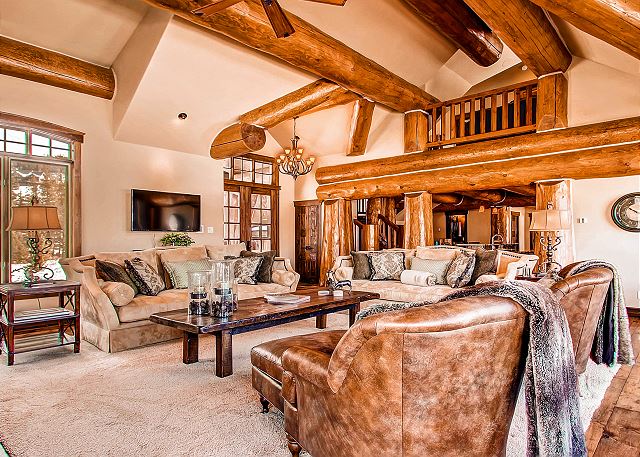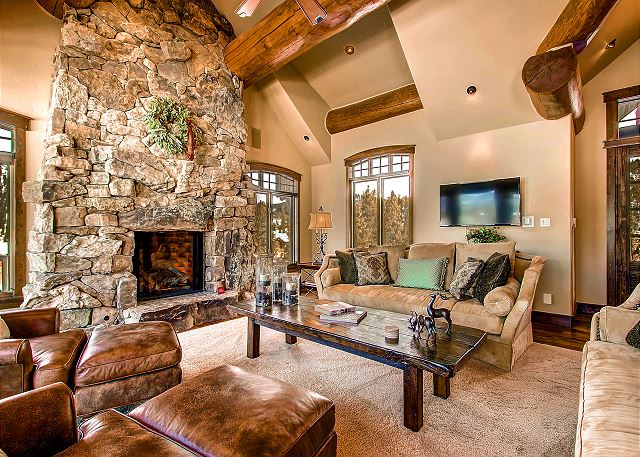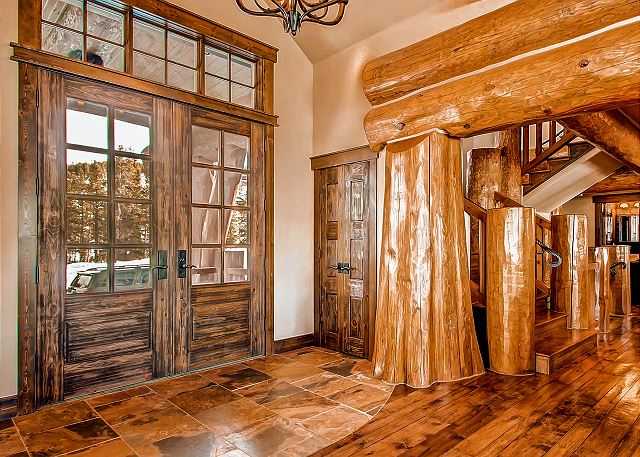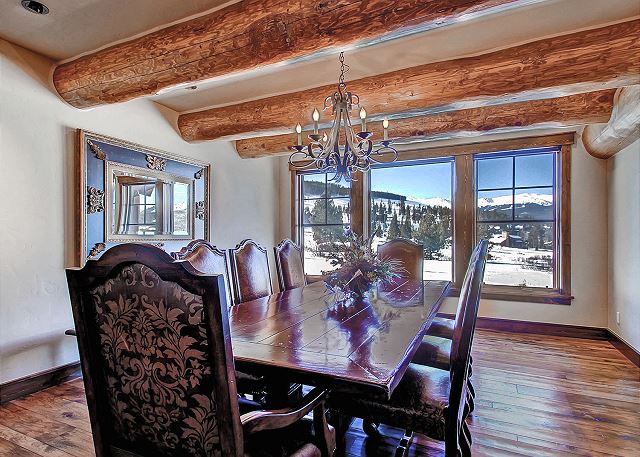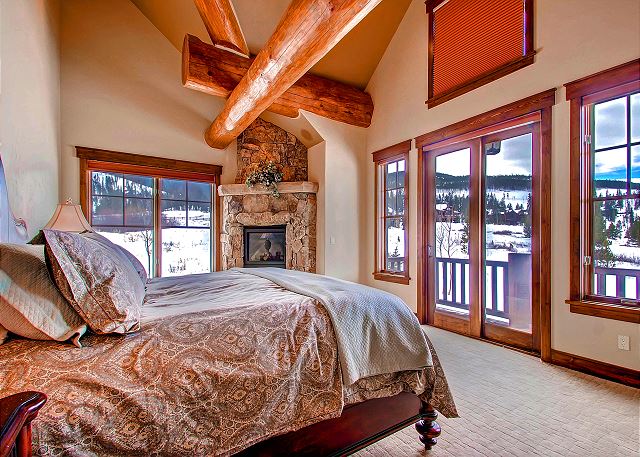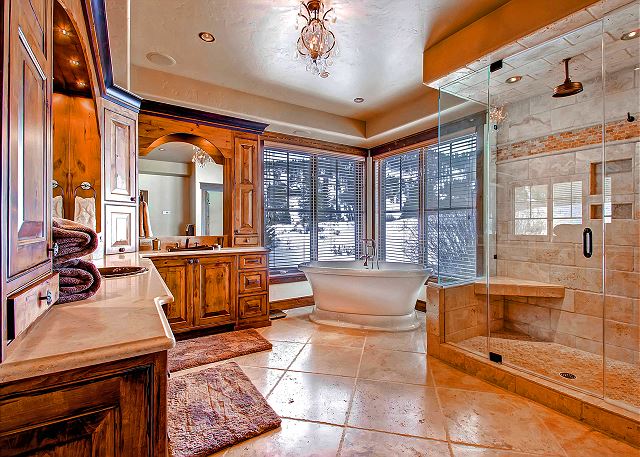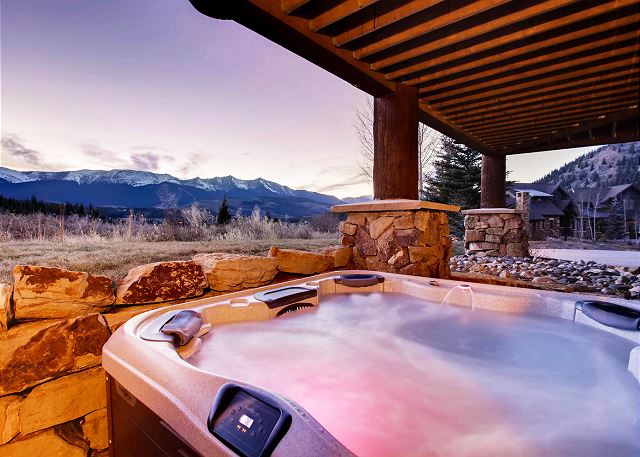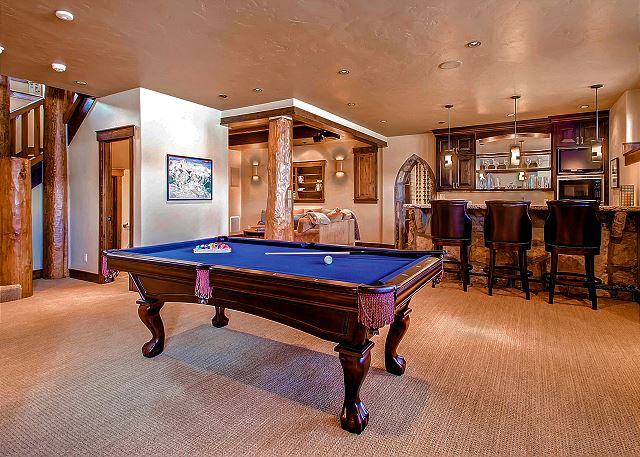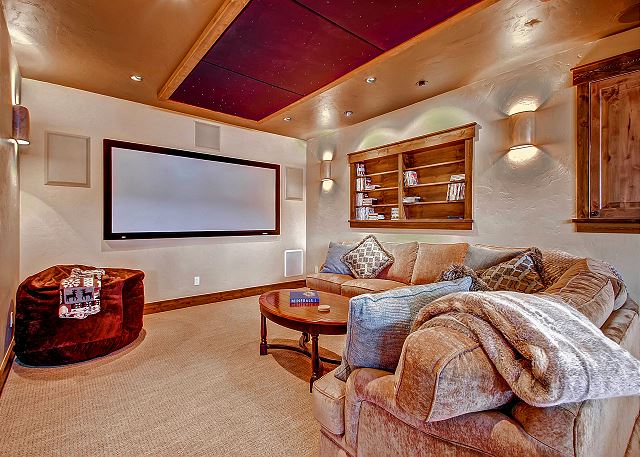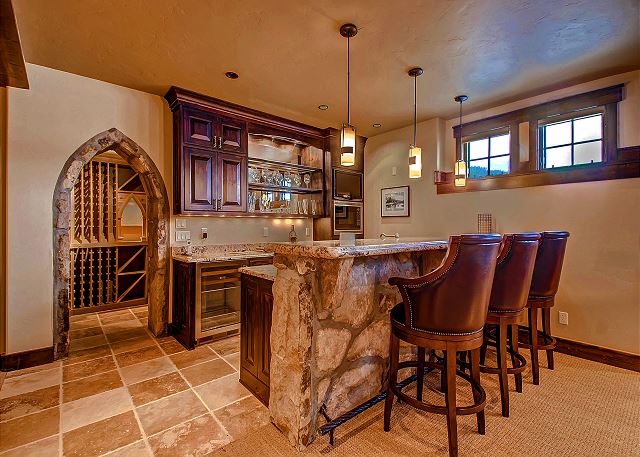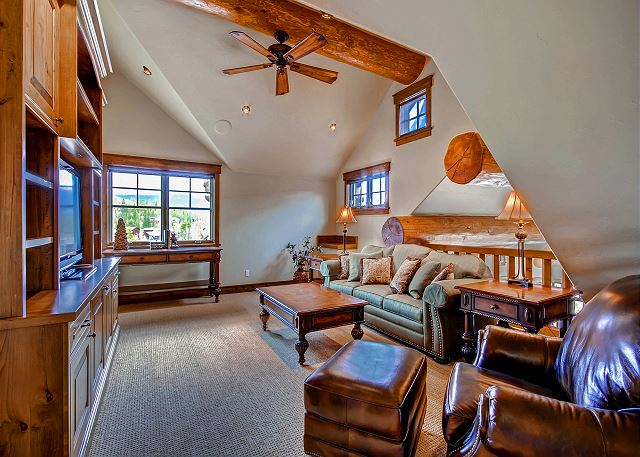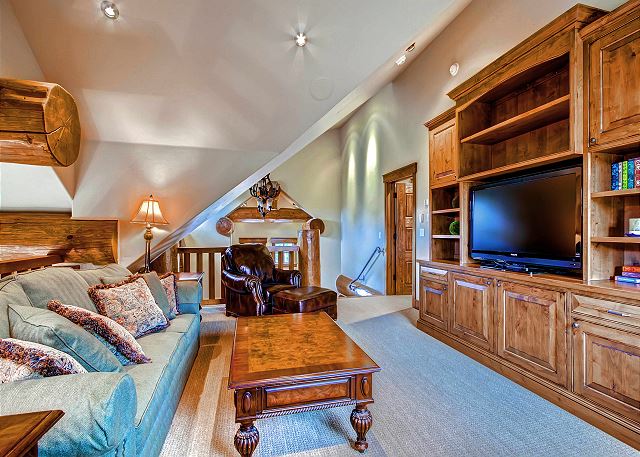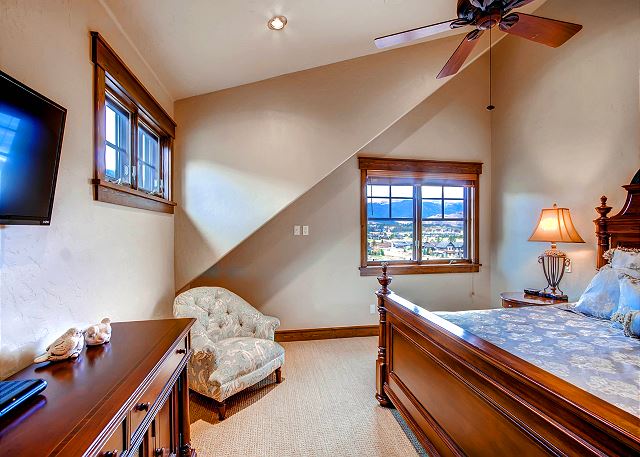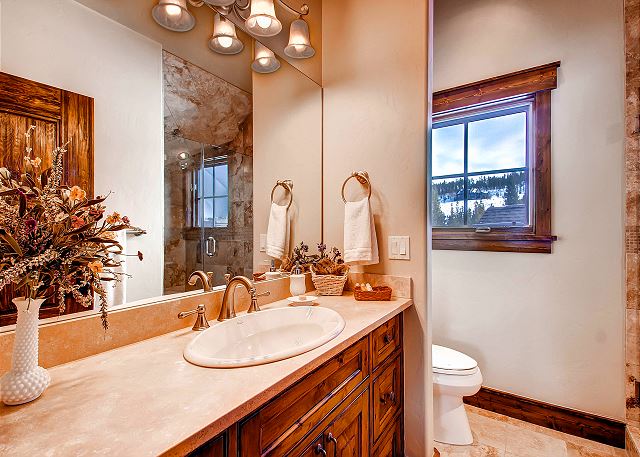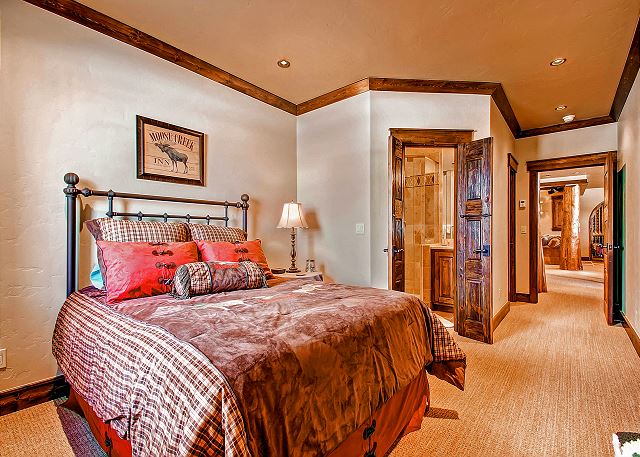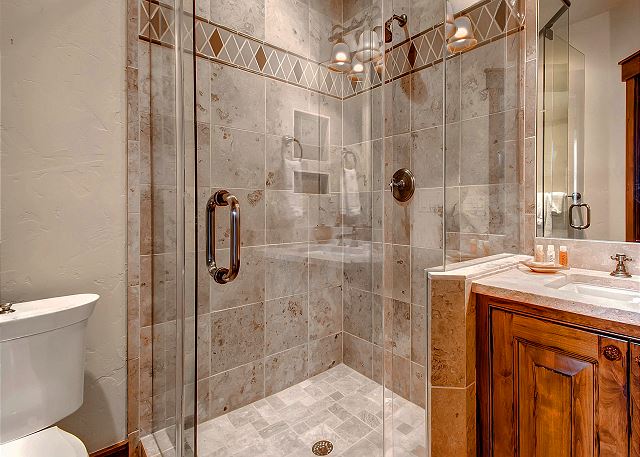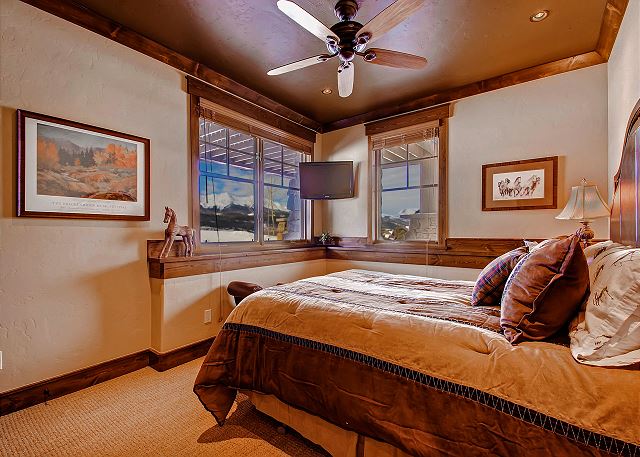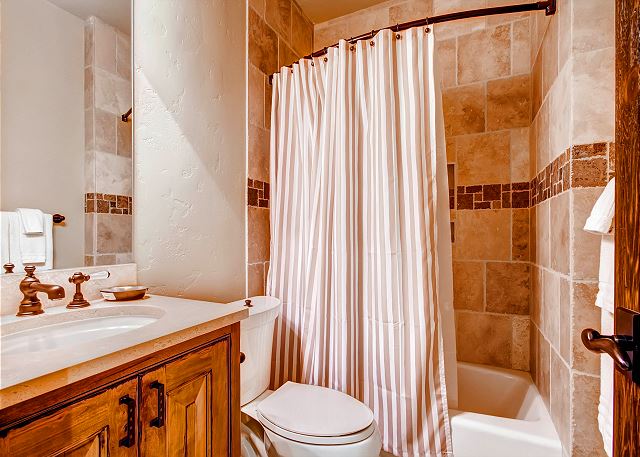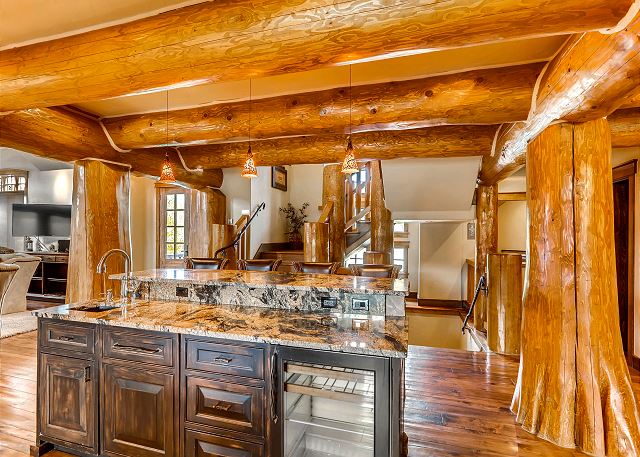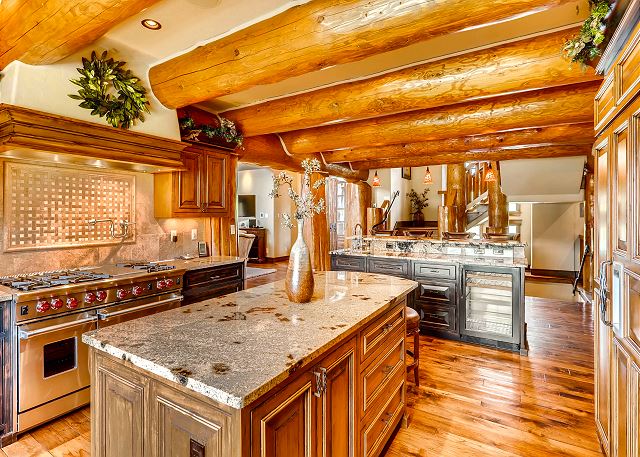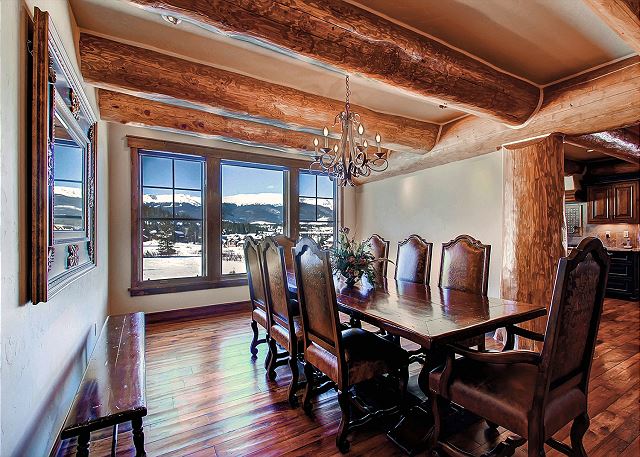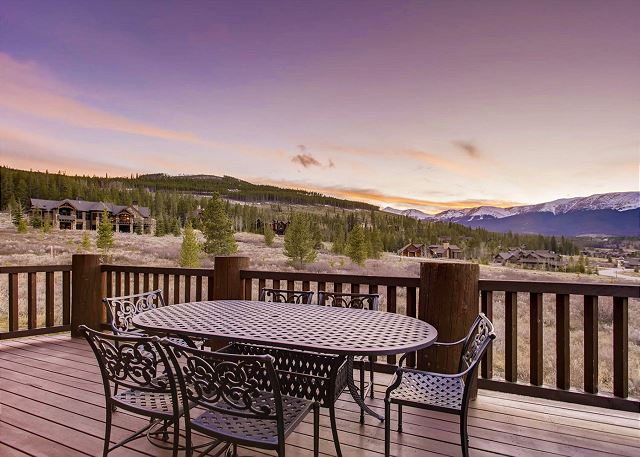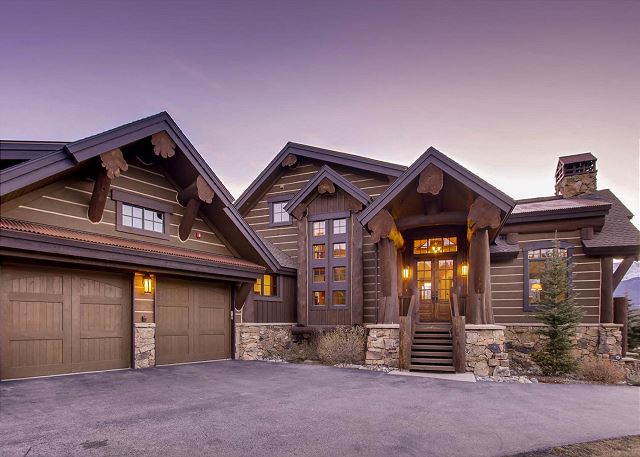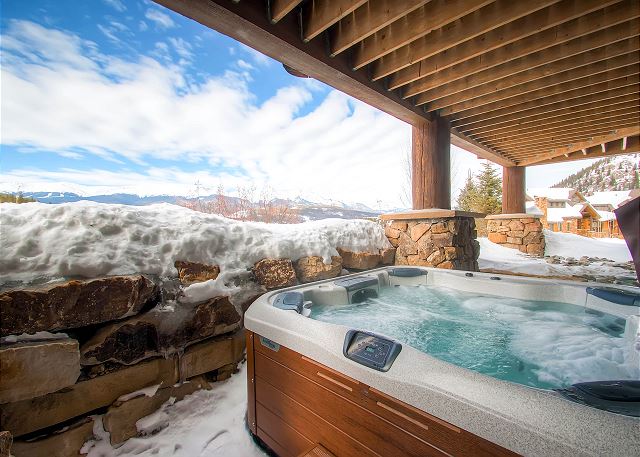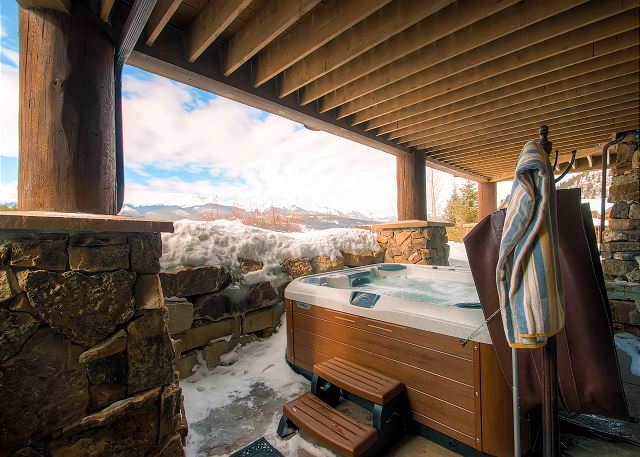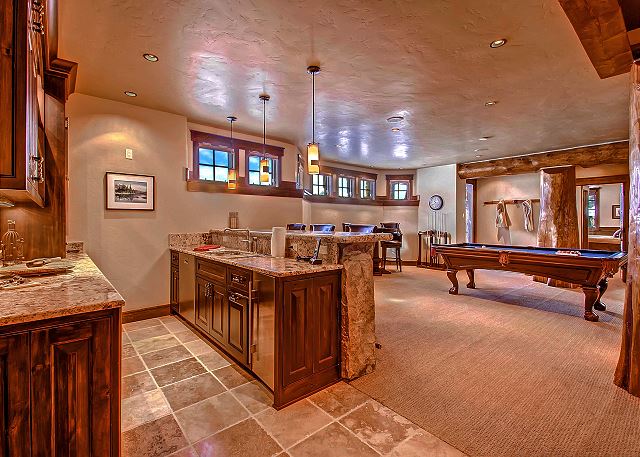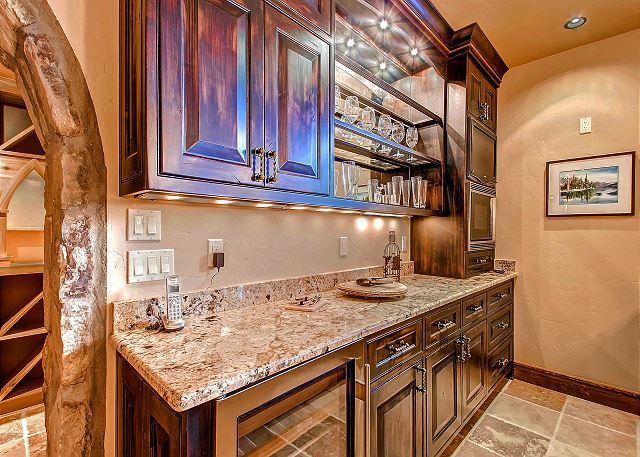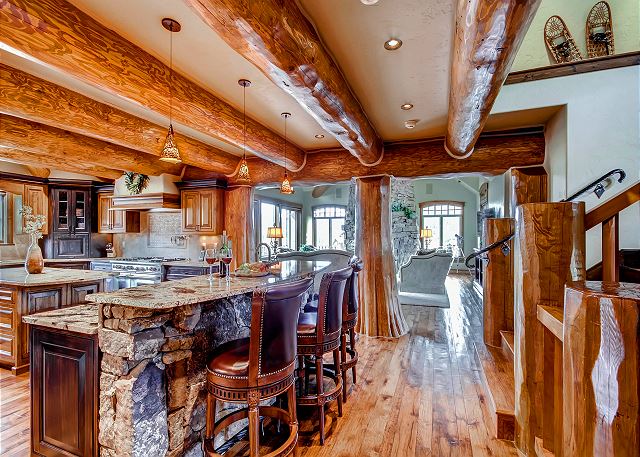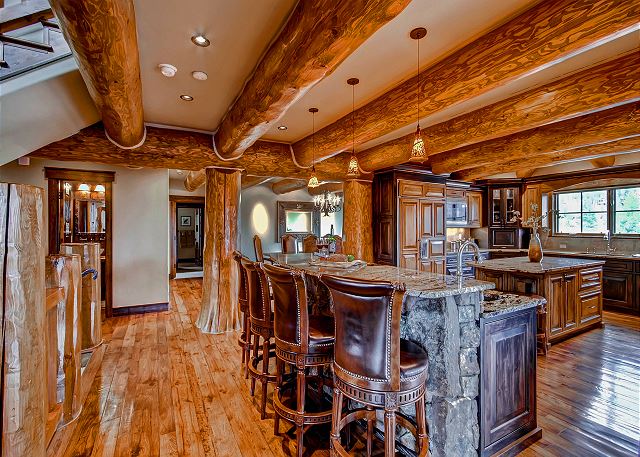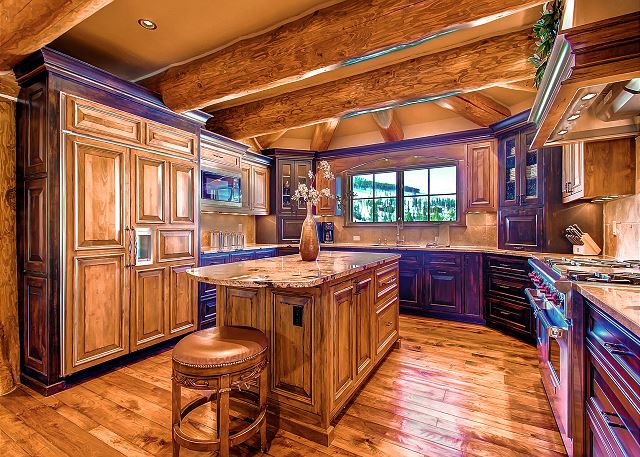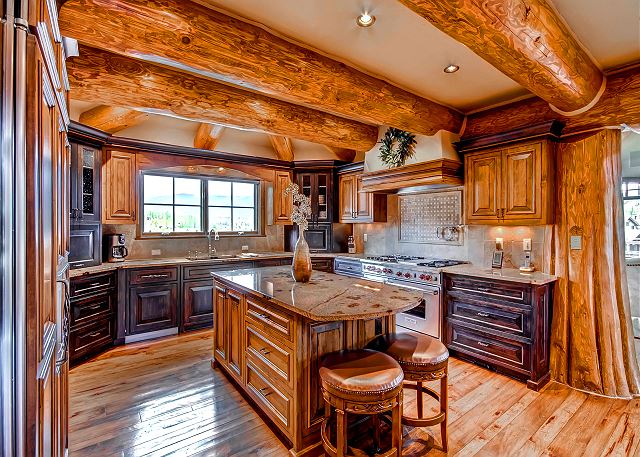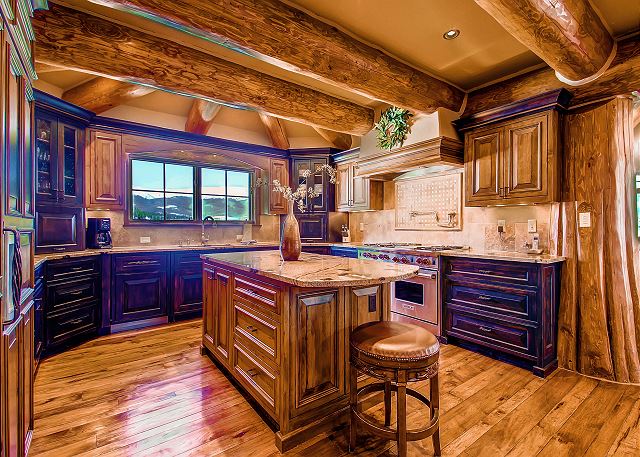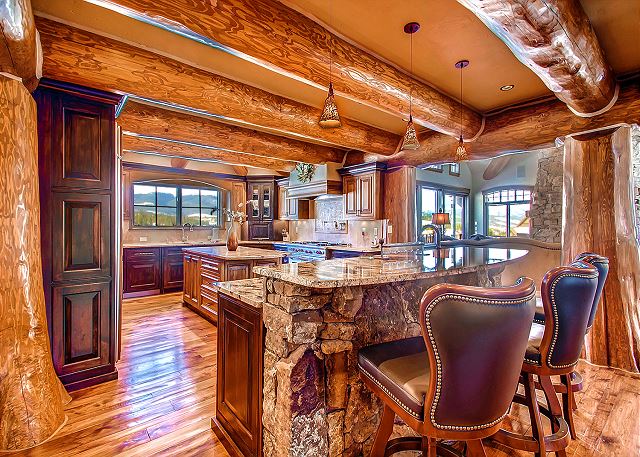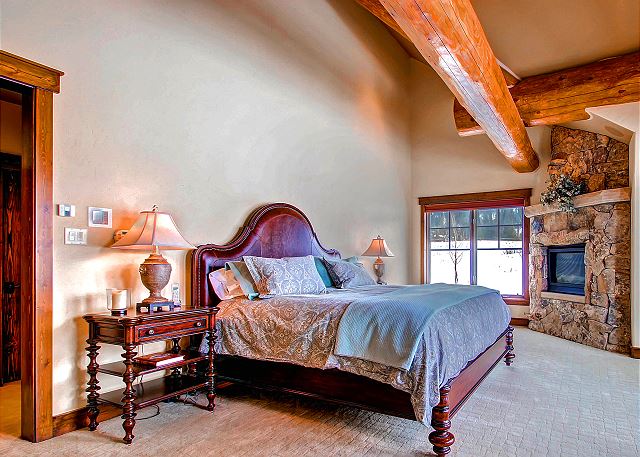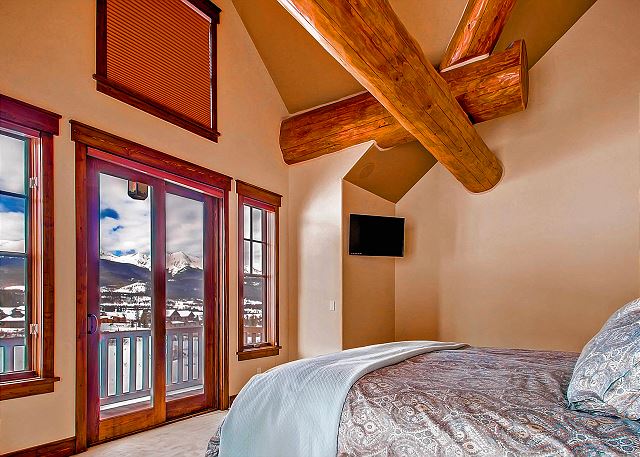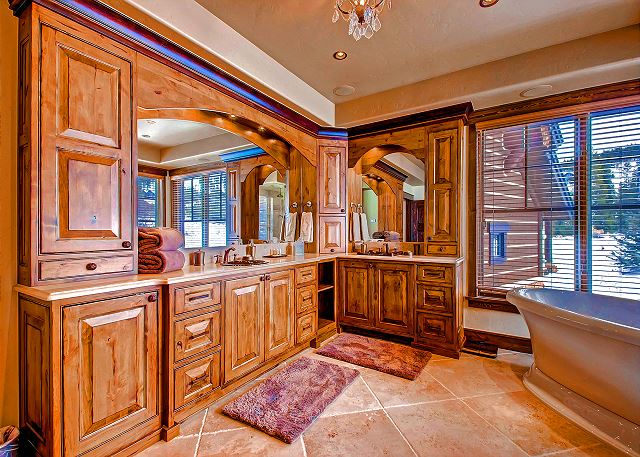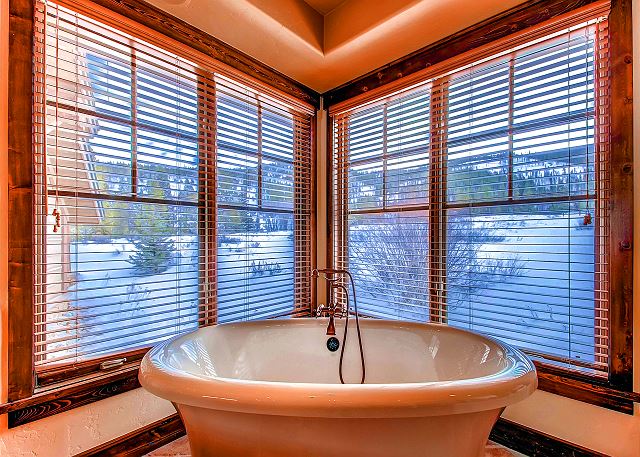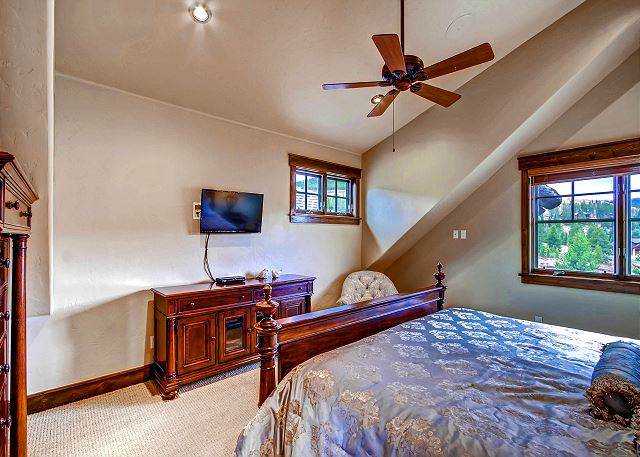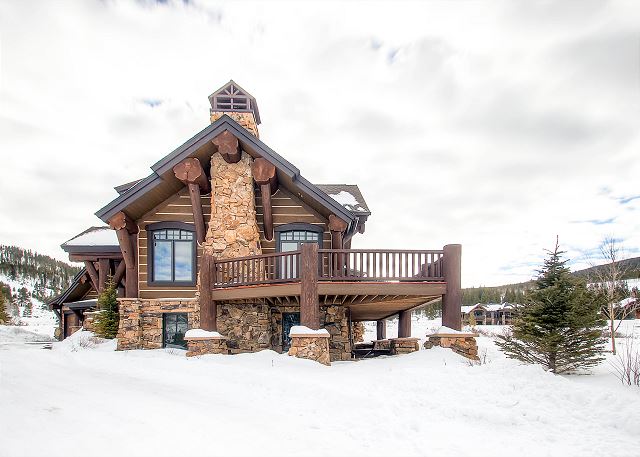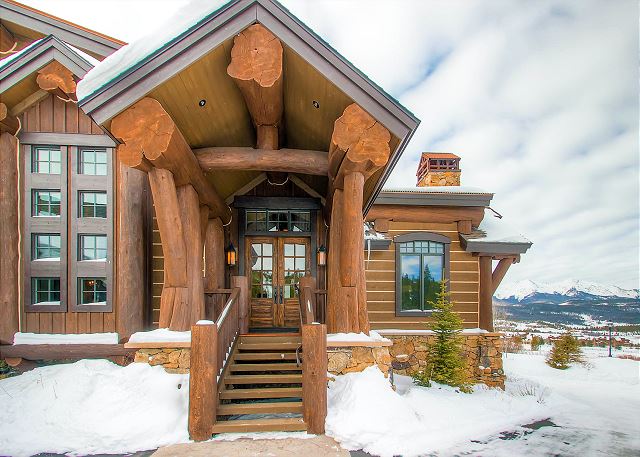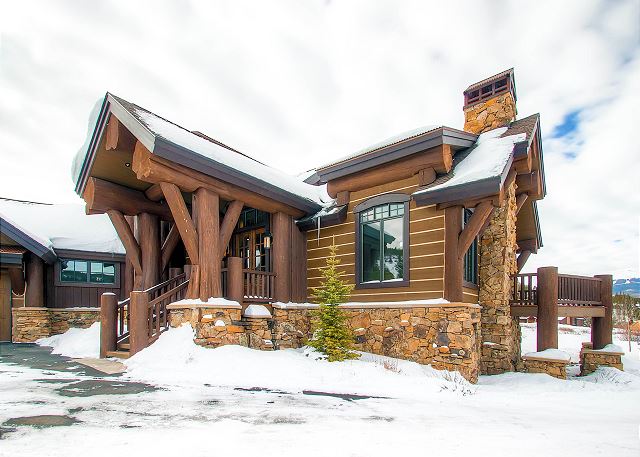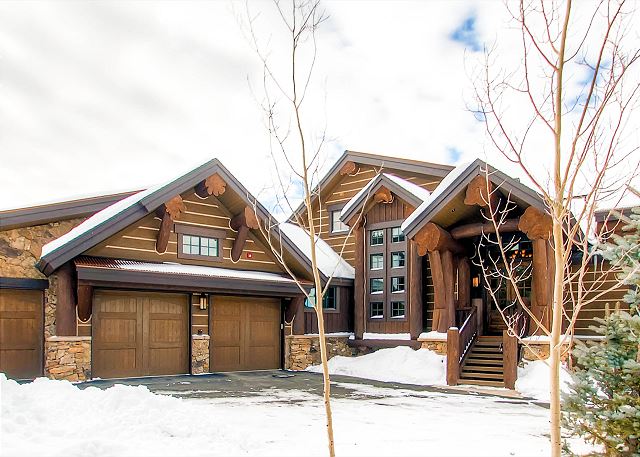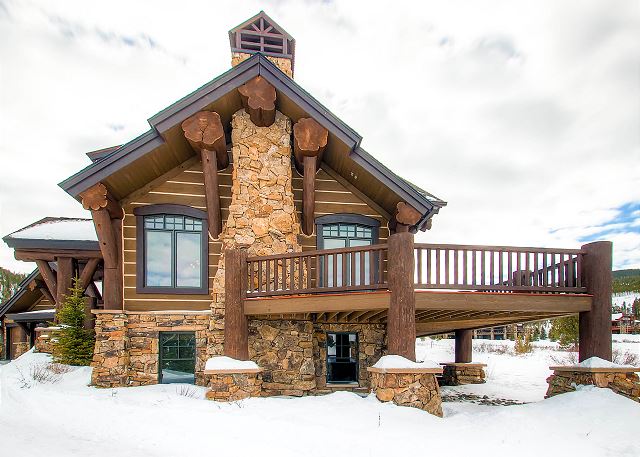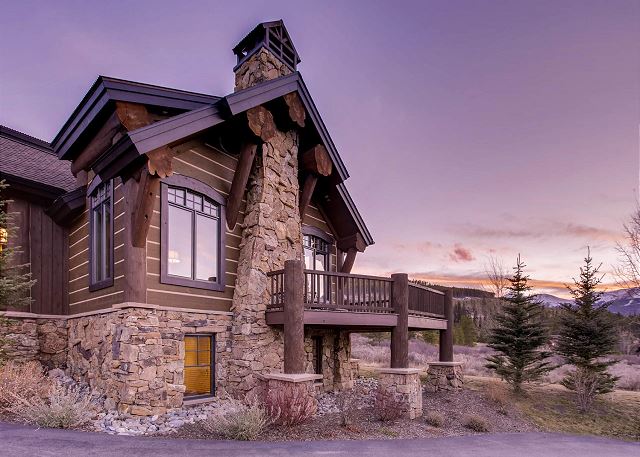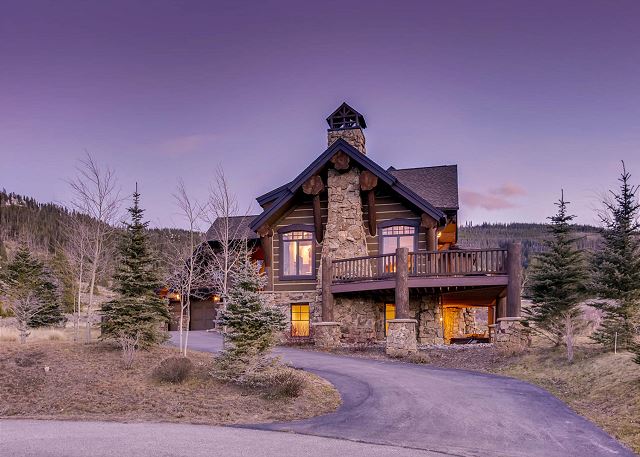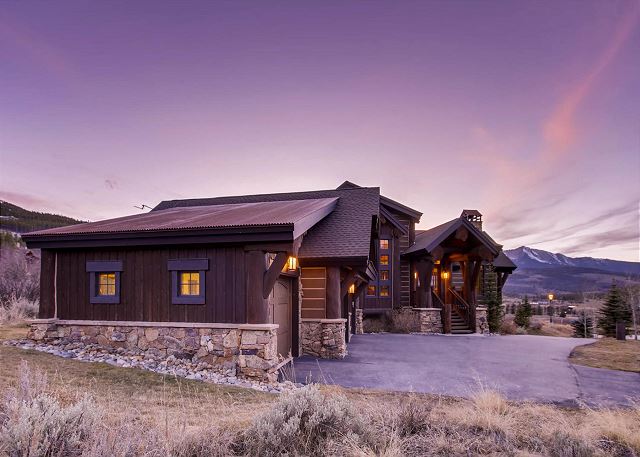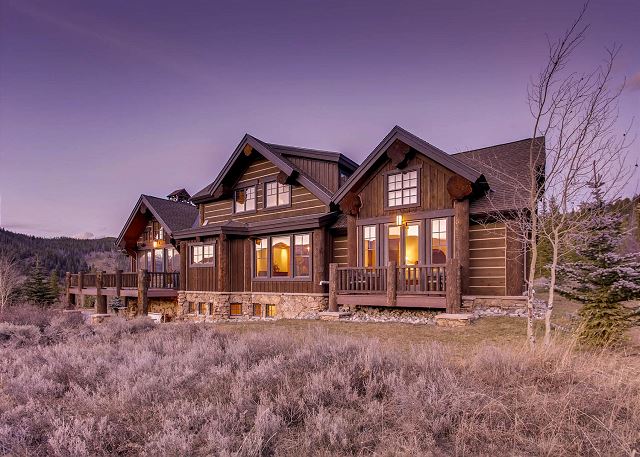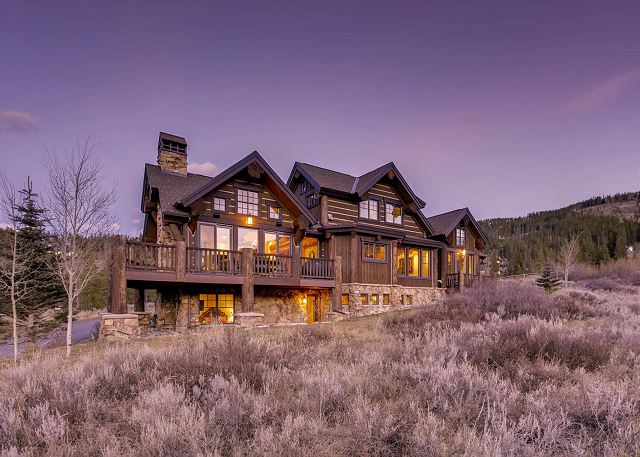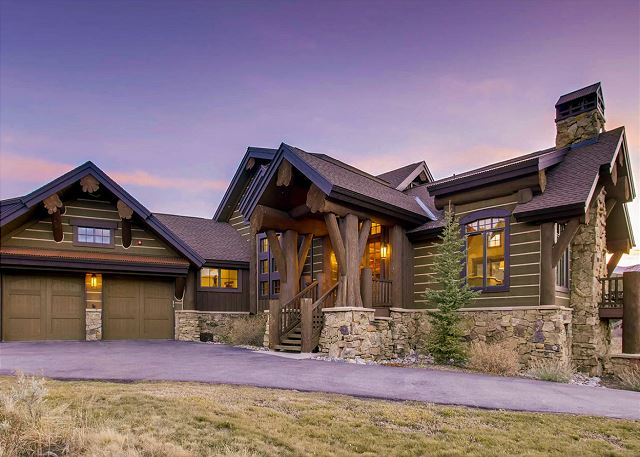 Description
Welcome to Monte Video, an exquisite and private retreat set in the Highlands of Breckenridge. Enjoy expansive mountain views by day and dazzling stars and constellations by night. The unique post-and-beam architecture and plush interior design throughout the home will not go unnoticed – nor will the sought-after amenities such as professional-grade kitchen, spacious bedroom suites, den with billiards, wet bar & theater screen and private outdoor hot tub.



Enter through the front entrance into the Great Room where expansive mountain views will greet you at the door. The Great Room features large windows, high ceilings, gas fireplace with beautiful stone hearth, TV and sliding glass doors to access the deck. In the Summer months, take advantage of the outdoor lounge furniture positioned perfectly to enjoy the panoramic mountain views.



From the Great Room, enter into the professional-grade Kitchen complete with a Wolf 6-burner gas stove & double oven, granite countertops and 2 islands – one for meal prep and the other for gathering around and watching the chefs busy at work! There is also a wine refrigerator and bar-style seating. When dinner is ready, retreat to the nearby Dining Room with seating for 8.



The Ten Mile King Suite is situated on the Main Level and features a King Bed, TV, gas fireplace, private balcony and spacious ensuite bath. The to-die-for ensuite bath features a large vanity with two sinks, jetted bathtub and separate walk-in waterfall shower.



The Upper Level is home to the Majestic Mountains King Bedroom Suite and Loft overlooking the Great Room. The Loft features a queen sleeper sofa and TV, making the Upper Level a great space for a family with children.

Retreat to the Lower Level and host a lively happy hour at the full bar complete with dishwasher, microwave and bar-style seating. Play a game of billiards or sink into the cozy sofa and watch a movie on the overhead projection screen. Access the private outdoor hot tub located on the lower level patio. Two of the bedroom suites and a powder bath reside on the lower level as well.



Monte Video is a luxurious retreat any time of year – create everlasting memories while enjoying majestic mountain views, privacy and sought-after amenities in this stunning mountain home.



Monte Video is on the 2021/22 Paragon Guest Courtesy Winter Shuttle. Operations run from mid-November through mid-April between the hours of 7:30 AM until 5:30 PM. Transportation runs throughout the Town of Breckenridge. Please inquire within for additional details.



QUICK FACTS

4 Bedroom | 4.5 Bath | Sleeps 10

5700 square foot home on three luxurious levels



EVERYDAY ESSENTIALS

Winter Shuttle!

Professionally Cleaned & Sanitized Prior to All Arrivals

Wireless Internet

24/7 local support

Washer & Dryer

Three bay heated garage with parking for 5 cars total

Paragon's personal care amenities – shampoo, conditioner, lotion, locally made specialty soaps



ABOUT THE AREA

Located in Highlands Park overlooking the Breckenridge Golf Course on a private cul-de-sac, Monte Video is a convenient ten-minute drive to Main Street's many dining options, shopping and family-friendly activities. Return to Monte Video and enjoy the private & quiet surroundings and panoramic views. The legendary ski slopes of the Breckenridge Ski Resort are six miles away for your enjoyment and exploration and the Breckenridge Golf Club / Nordic Center is less than 3 minutes from Monte Video.



IMPORTANT POLICIES

4-WHEEL DRIVE REQUIRED in winter months

With regret, no pets please

Paragon Lodging in Breckenridge Colorado is the SOLE authorized Property Manager and Rental Agent for Monte Video. Paragon Lodging enforces an age policy of 25 years old. Families with children are welcome. We regret, we do not accept college groups.

Town of Breckenridge Business License No's:

Paragon Lodging: 33007

Monte Video: 46278002
Calendar
October 2021

| S | M | T | W | T | F | S |
| --- | --- | --- | --- | --- | --- | --- |
| | | | | | 01 | 02 |
| 03 | 04 | 05 | 06 | 07 | 08 | 09 |
| 10 | 11 | 12 | 13 | 14 | 15 | 16 |
| 17 | 18 | 19 | 20 | 21 | 22 | 23 |
| 24 | 25 | 26 | 27 | 28 | 29 | 30 |
| 31 | | | | | | |
November 2021

| S | M | T | W | T | F | S |
| --- | --- | --- | --- | --- | --- | --- |
| | 01 | 02 | 03 | 04 | 05 | 06 |
| 07 | 08 | 09 | 10 | 11 | 12 | 13 |
| 14 | 15 | 16 | 17 | 18 | 19 | 20 |
| 21 | 22 | 23 | 24 | 25 | 26 | 27 |
| 28 | 29 | 30 | | | | |
December 2021

| S | M | T | W | T | F | S |
| --- | --- | --- | --- | --- | --- | --- |
| | | | 01 | 02 | 03 | 04 |
| 05 | 06 | 07 | 08 | 09 | 10 | 11 |
| 12 | 13 | 14 | 15 | 16 | 17 | 18 |
| 19 | 20 | 21 | 22 | 23 | 24 | 25 |
| 26 | 27 | 28 | 29 | 30 | 31 | |
January 2022

| S | M | T | W | T | F | S |
| --- | --- | --- | --- | --- | --- | --- |
| | | | | | | 01 |
| 02 | 03 | 04 | 05 | 06 | 07 | 08 |
| 09 | 10 | 11 | 12 | 13 | 14 | 15 |
| 16 | 17 | 18 | 19 | 20 | 21 | 22 |
| 23 | 24 | 25 | 26 | 27 | 28 | 29 |
| 30 | 31 | | | | | |
February 2022

| S | M | T | W | T | F | S |
| --- | --- | --- | --- | --- | --- | --- |
| | | 01 | 02 | 03 | 04 | 05 |
| 06 | 07 | 08 | 09 | 10 | 11 | 12 |
| 13 | 14 | 15 | 16 | 17 | 18 | 19 |
| 20 | 21 | 22 | 23 | 24 | 25 | 26 |
| 27 | 28 | | | | | |
March 2022

| S | M | T | W | T | F | S |
| --- | --- | --- | --- | --- | --- | --- |
| | | 01 | 02 | 03 | 04 | 05 |
| 06 | 07 | 08 | 09 | 10 | 11 | 12 |
| 13 | 14 | 15 | 16 | 17 | 18 | 19 |
| 20 | 21 | 22 | 23 | 24 | 25 | 26 |
| 27 | 28 | 29 | 30 | 31 | | |
April 2022

| S | M | T | W | T | F | S |
| --- | --- | --- | --- | --- | --- | --- |
| | | | | | 01 | 02 |
| 03 | 04 | 05 | 06 | 07 | 08 | 09 |
| 10 | 11 | 12 | 13 | 14 | 15 | 16 |
| 17 | 18 | 19 | 20 | 21 | 22 | 23 |
| 24 | 25 | 26 | 27 | 28 | 29 | 30 |
May 2022

| S | M | T | W | T | F | S |
| --- | --- | --- | --- | --- | --- | --- |
| 01 | 02 | 03 | 04 | 05 | 06 | 07 |
| 08 | 09 | 10 | 11 | 12 | 13 | 14 |
| 15 | 16 | 17 | 18 | 19 | 20 | 21 |
| 22 | 23 | 24 | 25 | 26 | 27 | 28 |
| 29 | 30 | 31 | | | | |
June 2022

| S | M | T | W | T | F | S |
| --- | --- | --- | --- | --- | --- | --- |
| | | | 01 | 02 | 03 | 04 |
| 05 | 06 | 07 | 08 | 09 | 10 | 11 |
| 12 | 13 | 14 | 15 | 16 | 17 | 18 |
| 19 | 20 | 21 | 22 | 23 | 24 | 25 |
| 26 | 27 | 28 | 29 | 30 | | |
July 2022

| S | M | T | W | T | F | S |
| --- | --- | --- | --- | --- | --- | --- |
| | | | | | 01 | 02 |
| 03 | 04 | 05 | 06 | 07 | 08 | 09 |
| 10 | 11 | 12 | 13 | 14 | 15 | 16 |
| 17 | 18 | 19 | 20 | 21 | 22 | 23 |
| 24 | 25 | 26 | 27 | 28 | 29 | 30 |
| 31 | | | | | | |
August 2022

| S | M | T | W | T | F | S |
| --- | --- | --- | --- | --- | --- | --- |
| | 01 | 02 | 03 | 04 | 05 | 06 |
| 07 | 08 | 09 | 10 | 11 | 12 | 13 |
| 14 | 15 | 16 | 17 | 18 | 19 | 20 |
| 21 | 22 | 23 | 24 | 25 | 26 | 27 |
| 28 | 29 | 30 | 31 | | | |
September 2022

| S | M | T | W | T | F | S |
| --- | --- | --- | --- | --- | --- | --- |
| | | | | 01 | 02 | 03 |
| 04 | 05 | 06 | 07 | 08 | 09 | 10 |
| 11 | 12 | 13 | 14 | 15 | 16 | 17 |
| 18 | 19 | 20 | 21 | 22 | 23 | 24 |
| 25 | 26 | 27 | 28 | 29 | 30 | |
Available
Unavailable
Check-In Only
Check-Out Only
Seasonal Rates
| Date Range | Daily | Weekly | Monthly |
| --- | --- | --- | --- |
* Seasonal rates are only estimates and do not reflect taxes or additional fees.
Location
Guest Reviews of
Monte Video (PA-212274)
Breckenridge, CO
---
Vacation Rental Reviews by
stars based on
Absolutely Beautiful!
Review by
Christine F.
We wanted to take our kids and grandkids to a special place to celebrate our 31st Wedding Anniversary and boy, did we pick the right place!!Monte Video is a lovely home, surrounded by wildflowers and beautiful mountains. Upon entering, we noticed the amazing floor to ceiling windows giving us the perfect view of our surroundings along with a beautiful stone fireplace. as we looked around this very spacious hope we noticed that the way each level was set up was perfect for our 3 families to have our own separate space when we retired in the evening or even to take a quiet nap in the afternoon. the kitchen was large enough for us all to pick some counter space and do our own meal prep, The dining room table, large enough to fit our family of 9 with plenty of elbow room to share. The town of Breckenridge was filled with friendly people and plenty of great food. If your looking for a place to spend some quality time with family and enjoy the outdoors this home in this beautiful town would be the perfect place! Also. Paragon Lodging is a wonderful company to work with, they helped us with the rescheduling of our vacation due to covid and were eager to help us out with an early check in when they heard our very unhappy grandson in the background crying.Thank you Paragon & Breckenridge for a wonderful vacation.
5 out of 5 stars
Manager Response:
Christine, first off, Happy Anniversary!! We are delighted that you chose to celebrate your special milestone with us. It was an absolute pleasure to welcome you to Breckenridge and thank you for taking the time to review your stay. We hope to greet you again soon! -Lauren & The Staff of Paragon Lodging
Monte Video
Review by
Kelly L.
This home was fabulous!! My family had a wonderful time staying here. The house was very clean and very well maintained. The views were spectacular. It was a perfect location for everything that we did. Can't wait to come back!!!!!!
5 out of 5 stars
Lovely Stay
Review by
Monte Video was great. The place looks even better in person. The downstairs area with the bar and pool table was larger than I had anticipated.Beautiful open areas upstairs make it simple to lounge with the family while meals were prepared in an amazing and fully stocked kitchen.A true 4 person hot tub as well as the steam shower and tub in the master bedroom provided this water lover with hours of relaxation.Paragon was extremely easy to deal with. Great experience with the entire rental process.In summary, this is a great place to form more family memories.
5 out of 5 stars
Perfect Winter Vacation in Summit County
Review by
Steve T.
From check-in to departure, our experience with Paragon Lodging was top notch. Monte Video is a beautiful home in a quiet neighborhood just a short drive from Breckenridge. Well-appointed with a spacious interior, comfortable beds, plenty of towels, heated floors, and a true cook's kitchen made it difficult to leave in the morning for the slopes! We prepared all our evening meals in and played pool, cards, soaked in the hot tub, watched movies in the home theater and relaxed. There was no reason to be anywhere else! Could not have been better!
5 out of 5 stars
Manager Response:
Steve, it sounds like you had a spectacular vacation - thank you for taking the time to review your stay with us. We look forward to greeting you in Breckenridge again soon! -Lauren McLoughlin
Great Family Getaway!
Review by
Phillip L.
Our group of 9 had a great week at Monte Video! Large, beautiful, modern, clean accommodations in a beautiful setting! We had a couple of minor issues with the ice maker and entertainment equipment that were promptly attended to by the folks at Paragon, who were very attentive and helpful. Have rented numerous places in Breck and this was one of the best!
5 out of 5 stars
Family Christmas at Monte Video
Review by
Ed and Elaine B.
For the second year, we had a fabulous family Christmas week at Monte Video in Breckenridge. The Paragon Team was extremely accommodating and responded to anything we needed, even making an exception to accept a lost box on Christmas Eve. The home is beautiful and very well maintained. The kitchen is equipped with everything needed for special Christmas meals. The layout was perfect for our family of seven and the description of the bedrooms accurate. The hot tub was clean and easy to use. One of the greatest reasons for our return were the Christmas decorations, presumably done by the owner. We arrived and didn't have to do anything to make it feel like Christmas. The Black Mountain Limo partnership made transportation to and from the slopes seamless and the drivers were great, especially, the owner Worth.
5 out of 5 stars
Manager Response:
Thank you for staying with us a second time, Elaine. It is great to hear that you were able to utilize the awesome services from Black Mountain Limo and that we responded and accommodated your every expectation. We hope you and your family have a spectacular 2020 and that we will have the privilege of hosting you again for your third Christmas! - Lennie & The Staff of Paragon Lodging
Great!
Review by
Jorge M.
We had a great time!, the house is beautiful , and the service was great, the only thing that that house need is a humidor
5 out of 5 stars
Manager Response:
Dear Jorge, Thank you for taking the time to review your recent stay with us. We're thrilled that you enjoyed your time at Monte Video and the accommodations met your needs. Unfortunately, we do not provide humidifiers due to sanitation concerns, however, we work closely with a local company that can deliver these types of items to the home prior to your arrival - just touch base with us next time you're planning your trip and we'll set you up! It was our pleasure to have you as our guest and we hope to greet you in Breckenridge again soon! -Lauren and The Staff of Paragon Lodging
Credence Health Care
Review by
Credence H.
Fantastic home Very well stocked and thought out
5 out of 5 stars
Excellent stay
Review by
Brenton K.
House was beautiful. Amazing details and so well maintained.
5 out of 5 stars
Manager Response:
Thank you, Brenton - Monte Video is a spectacular property and you can't beat the views! We are so happy you had a nice time - come back and see us again soon!
Upscale, gorgeous, luxurious, lovely home.
Review by
Edith F.
Our family of 10, 8 adults and 2 toddlers, celebrated our 2nd Family Reunion in Breckenridge for 5 days in early October. This home was perfect and even better than the one we stayed in last year. The amenities were amazing. The basement had a movie theater and a wine cellar behind the bar. We truly enjoyed hanging out in the basement and had a great use of the pool table and hot tub. The entire house was very clean. We spent our quiet mornings relaxing and just admiring the beauty of the Mountain View's from the living room with a massive rock fireplace. The gourmet kitchen was impressive with high end appliances. We only encountered 2 issues: the door leading to the hot tub was very hard to close. The other was a broken plastic bowl which we had to tape. They probably need to provide glass mixing bowls instead of plastic for such an elegant home. Otherwise, I would rate this property with 5 stars.
5 out of 5 stars
Manager Response:
Hi Edith, we are so happy to hear your wonderful review of Monte Video! Sounds like your had a very special time with your family. Thank you for notifying us about the mixing bowls - we have replaced them. We apologize for the inconvenience of having to use broken plastic bowls. During future stays, please do not hesitate to bring this to our attention right away (in this case, we would have delivered a new set of mixing bowls to the home right away). We hope you'll return to Monte Video next year for your 3rd Family Reunion! Thank you, Lauren & The Staff of Paragon Lodging
Monte Video
Review by
Tommie S.
We were there for a wedding. We enjoyed our stay there at the home. It had everything needed to cook and grill out. Beautiful area and the home is beautiful also!
5 out of 5 stars
Manager Response:
Thank you, Tommie - come back and see us again soon!
Family Summer Vacay
Review by
Lindsay K.
Wonderful house with plenty of room for our families!!! Would definitely stay again!!!
5 out of 5 stars
Breck 2k17
Review by
Renee P.
We had a great time and the house was wonderful! We had to drive everywhere but other than that we were pleased
5 out of 5 stars
Manager Response:
Hi Renee! Thank you for taking the time to review your recent stay with us - we're so happy you enjoyed Monte Video, it is a wonderful property! Its location does require some driving to get to activities however a complementary winter shuttle service is available for the 2017-18 winter season so that guests don't have to deal with parking. Next time, please contact us so that we can find a home that fits your needs that puts you within walking distance of activities so that you do not have to drive. We look forward to seeing you again soon!
Monte Video
Review by
Could not nave been better!
5 out of 5 stars
Manager Response:
Thanks Renee!!
Winter getaway
Review by
David E.
Enjoyable!
5 out of 5 stars
Manager Response:
Thanks David - we hope to see you in Breck again soon!
Wonderful getaway!
Review by
Loved the house, just as described, plenty of space, upscale decor, and bonus, it was decorated for holidays! Kitchen is a chef's dream, furniture extremely comfortable and more than enough space, yet still felt intimate! Do need better instructions for media center and master bath, could have enjoyed more if knew how to work with better instructions. Paragon was excellent, really appreciated the app provided and added services such as free shuttle rides to town. Grocery service thru Breck and Call was only negative experience, huge fees and prices higher for items, etc. Home is in very quiet area and was beautiful to watch the snow fall. Mountain views were beautiful! Master bath has steam shower and wonderful soaking tub, just need instructions on how to use. Loved the stay and would definitely recommend and will be back!
5 out of 5 stars
Monte Video was amazing
Review by
Thomas R.
Outside the hustle and commotion of main street, but very easy to get to and close to amenities. Beautiful, upscale home with massive interior log beams. Clearly set up for entertaining with a chef's kitchen and open interior. Clean, well-maintained, and in a quiet neighborhood.
5 out of 5 stars
Impeccably Appointed Home
Review by
Robert K.
Monte Video cuts no corners in the amenities offered in the home. Wolf appliances, a top of the line sound system, flat-screen TVs in every room (even if they were rarely on). The furniture was beyond comfortable, as were the beds. Truly mountain chic.I can't even imagine what this home would cost in/near Vail or Aspen. You are far enough removed from town to have space and privacy, but close enough to be there in 10 minutes.We thought this would be a "one time" visit to get family and grandkids together and now we are plotting our return to the same property.
5 out of 5 stars
Manager Response:
Dear Robert, Thank you for your review on Monte Video. It is a spectacular luxury home that frequently gets overlooked because it a few miles from town and you cant beat the views of the mountains. We hope to see you and your family again soon in Breckenridge. Johna and the Staff at Paragon Lodging
Monte Vista
Review by
Linda N.
Ski party
Review by
George D.
Great home was the center of our vacation!
Review by
Beautiful home....the architecture, views, layout, kitchen, furniture + decor...everything! Spent lots of time just relaxing inside and enjoying the home. The views were breathtaking! The kitchen was a treat to cook in. Great mud room for kids to de-gear after sledding on small hill in backyard. Perfect location for us--had debated between downtown or further out. Glad we went with a bit out of town-- It was quite busy in town over Christmas break that we were thankful for our peaceful retreat away from the hussle. Drive to town was less than 10 min even with over a foot of new snow the day we got in. And there's snowshoeing trails less than 5 min away which were real fun- enable your GPS app on your phone because there seemed to be twice as many trails heading different directions than were on our trail map! (Groomed Nordic trails are within 1-2 blocks of the house that you can purchase a trail pass for but we didn't try them) Fit our family of 4 and visiting family of 6 perfectly. Also, Paragon Lodging made check-in and out real easy and were very responsive/ knowledgeable when we phoned with questions during our stay. Highly recommend this home.
5 out of 5 stars
MONTE VIDEO
Review by
Brenda S.
We had a great time in this home! was very thought out and nothing was missing at all! home is gorgeous and nicely done.Location is close to Breckenridge so only takes a few minutes. Would rent this home again!
5 out of 5 stars
Breckenridge Colorado
Review by
Our fifth year to Breckenridge and our fourth year with Paragon Lodging. They are so wonderful. The properties are great and I love working with them.
5 out of 5 stars
Contact Us