Point View Place (PA) (House)
5 Bedroom(s) | 6.5 Bathroom(s) | Sleeps 10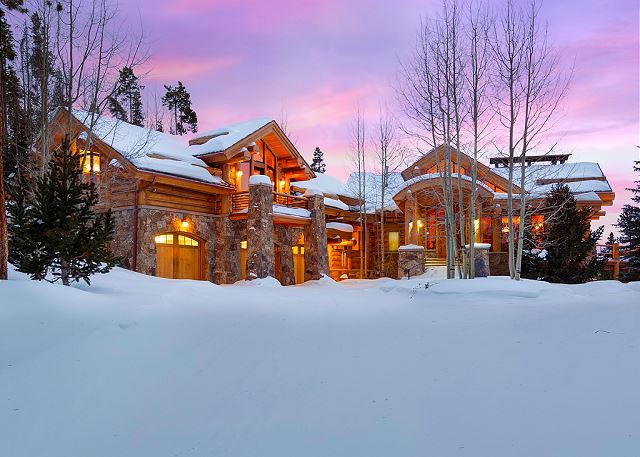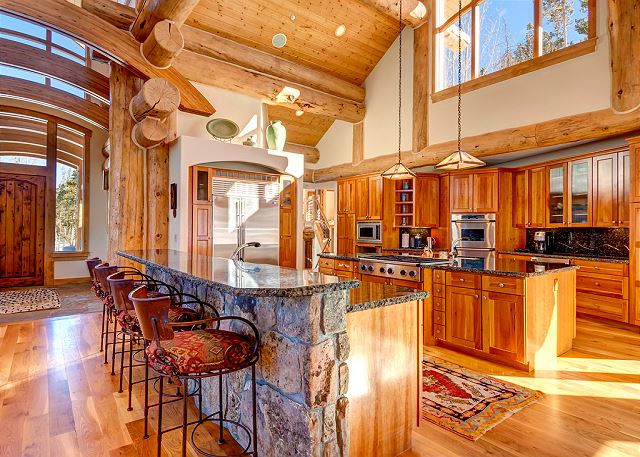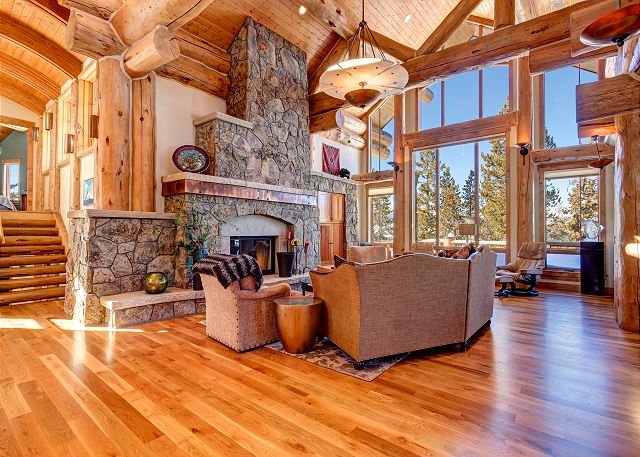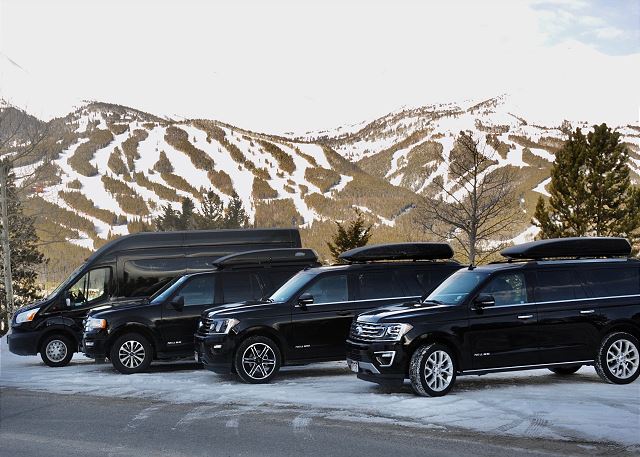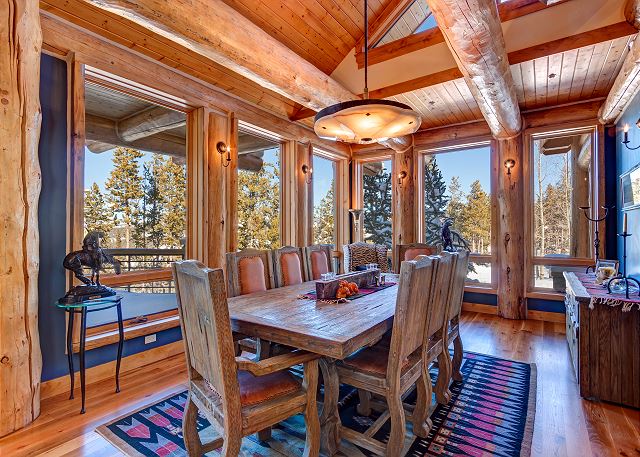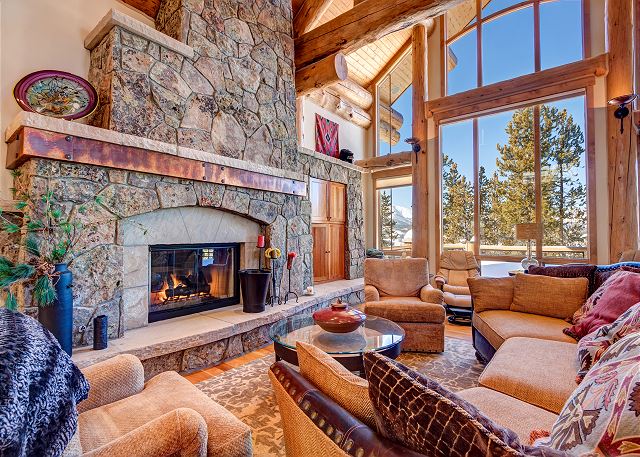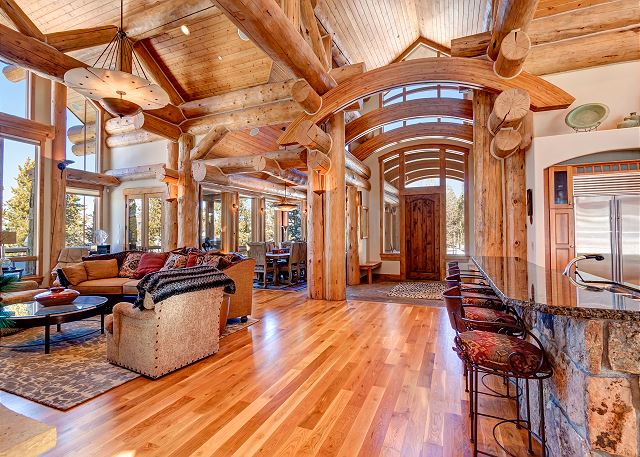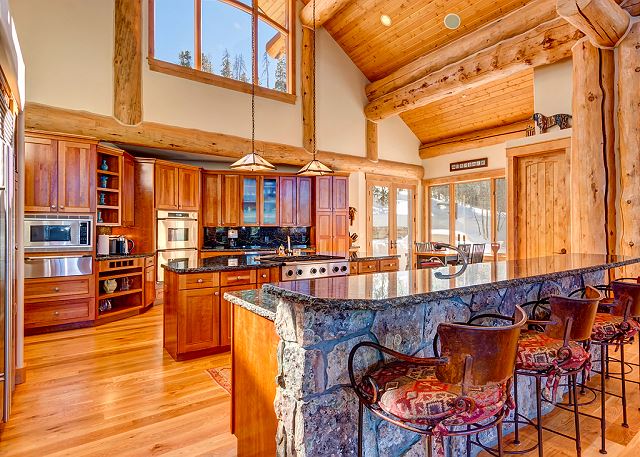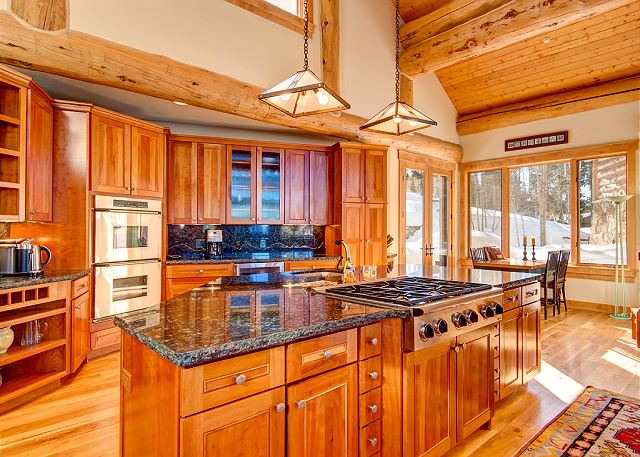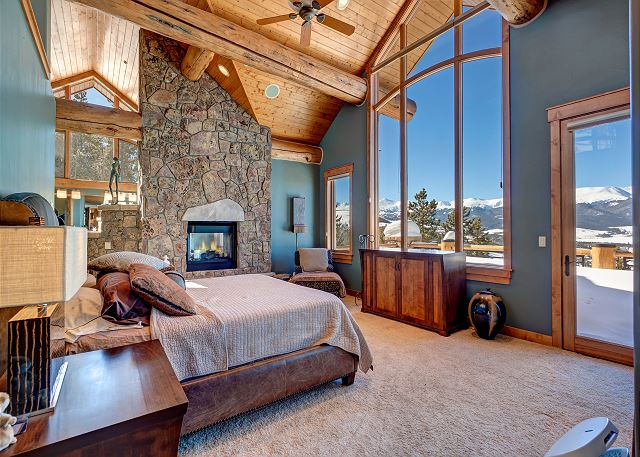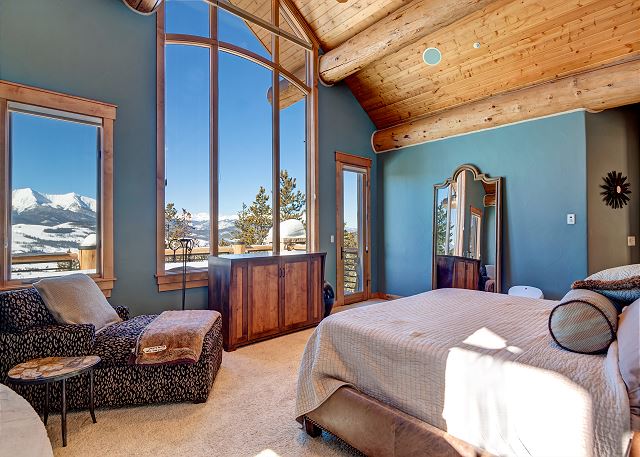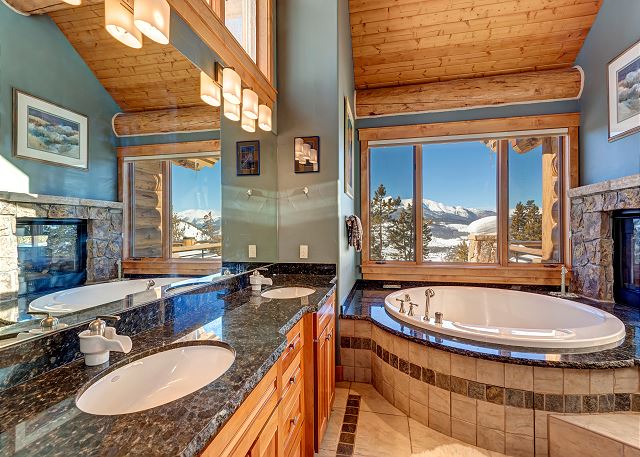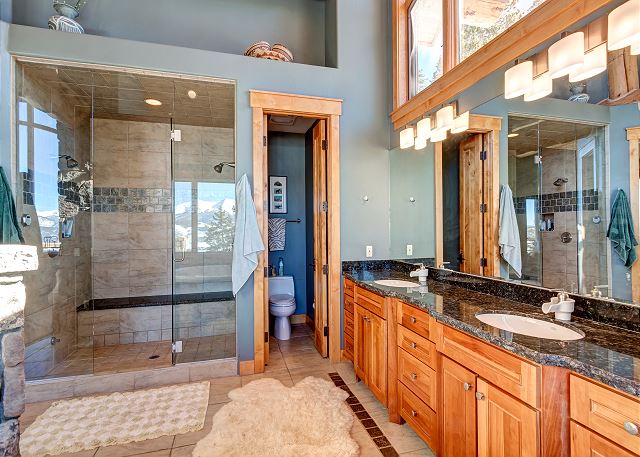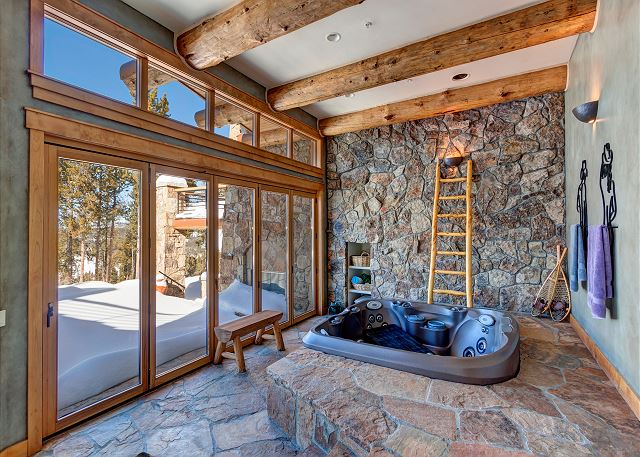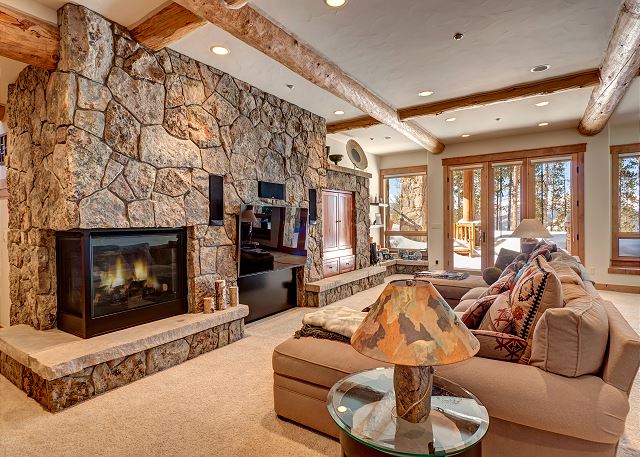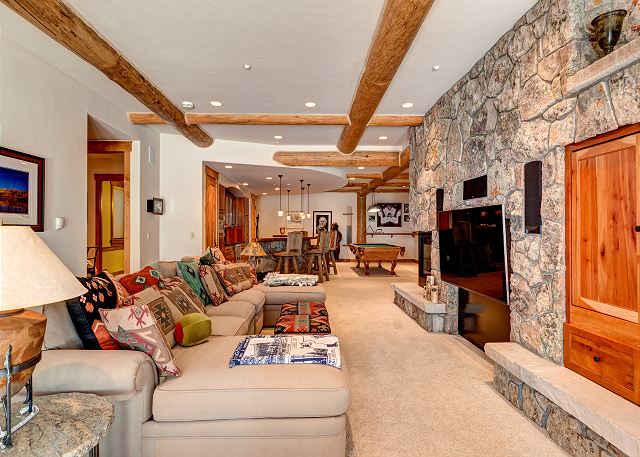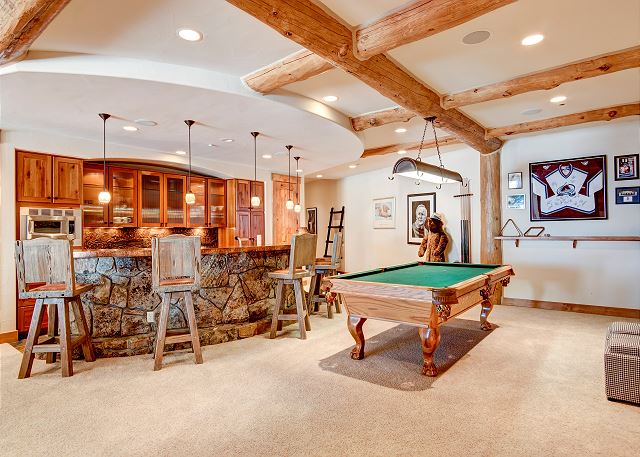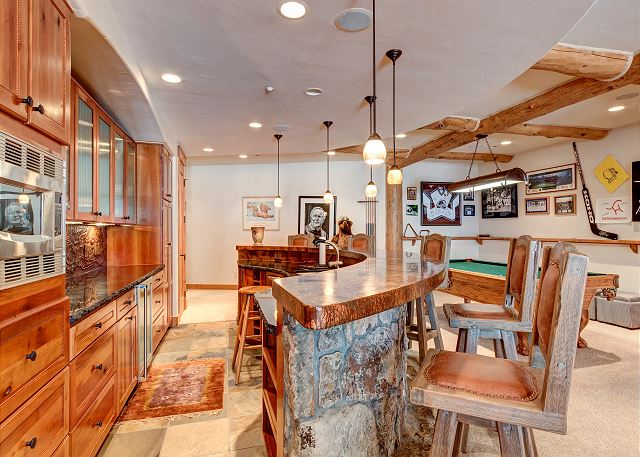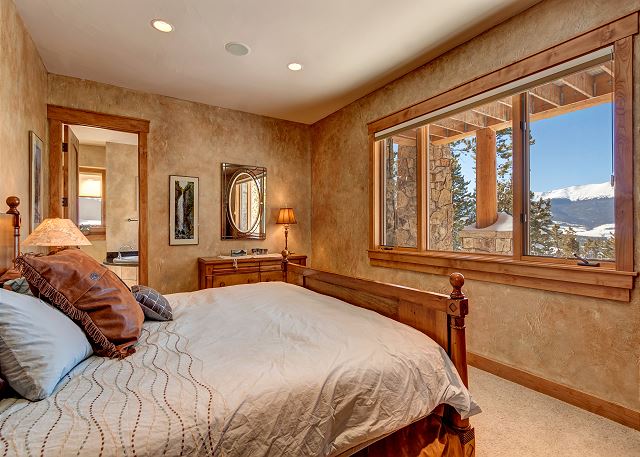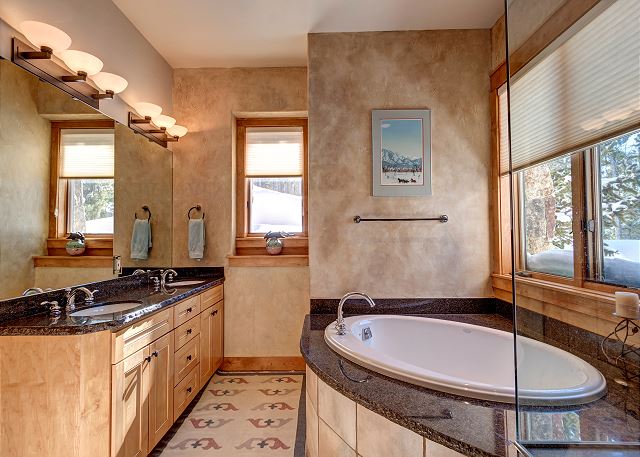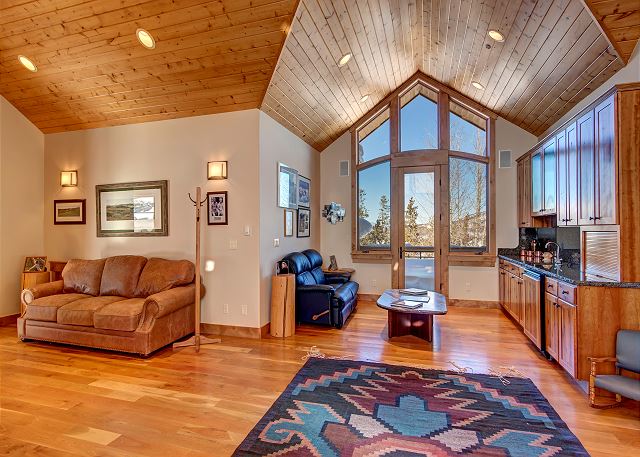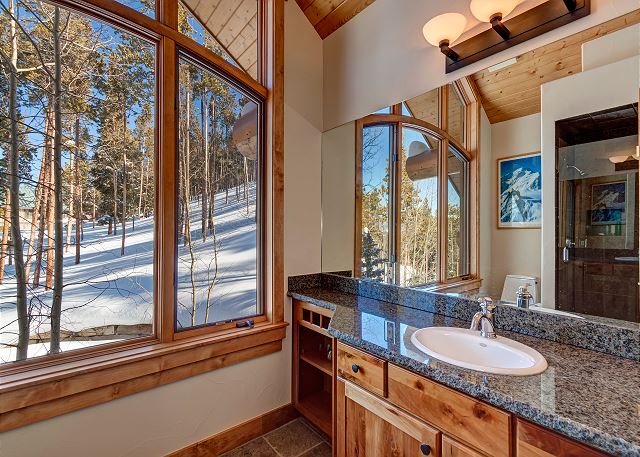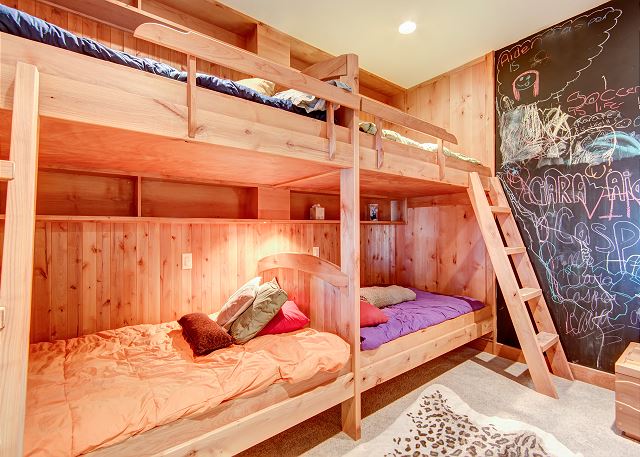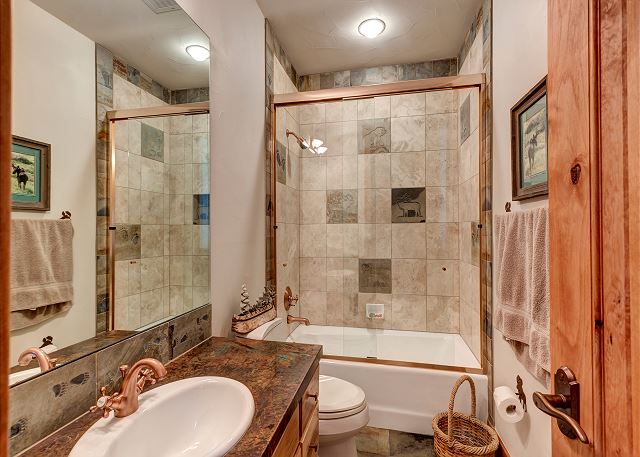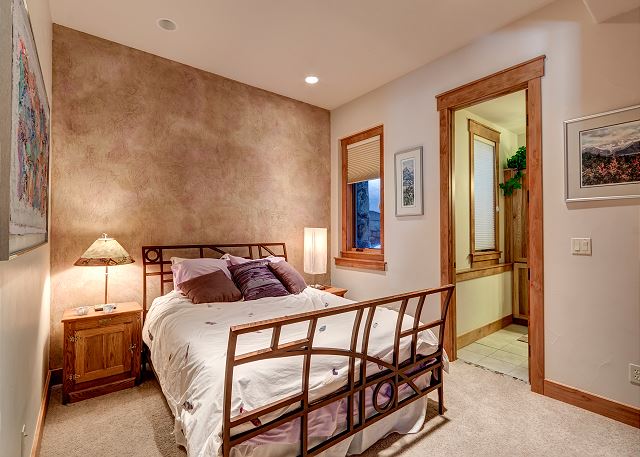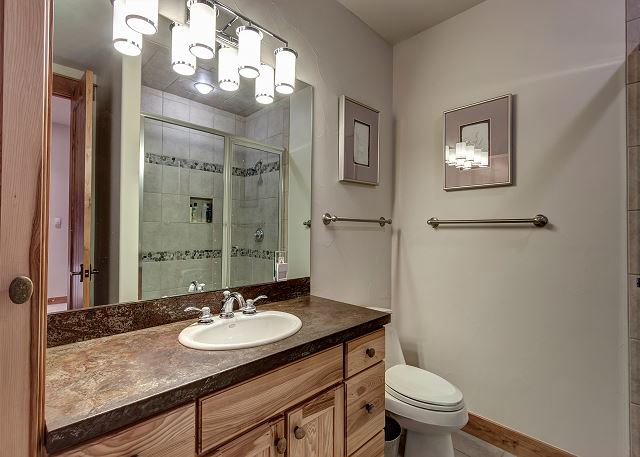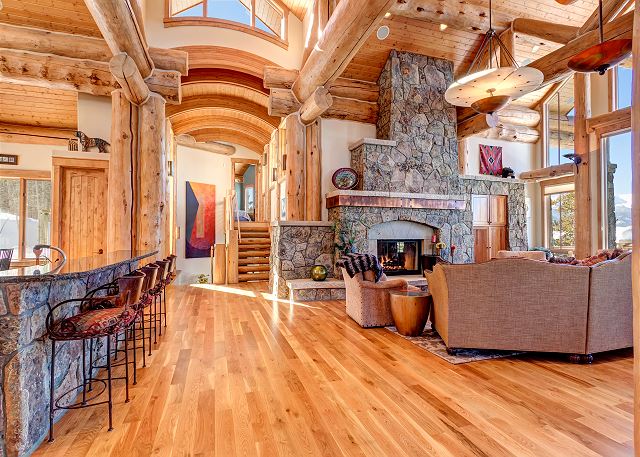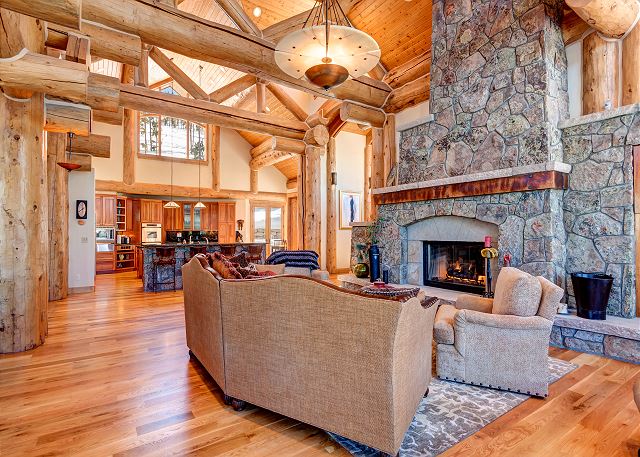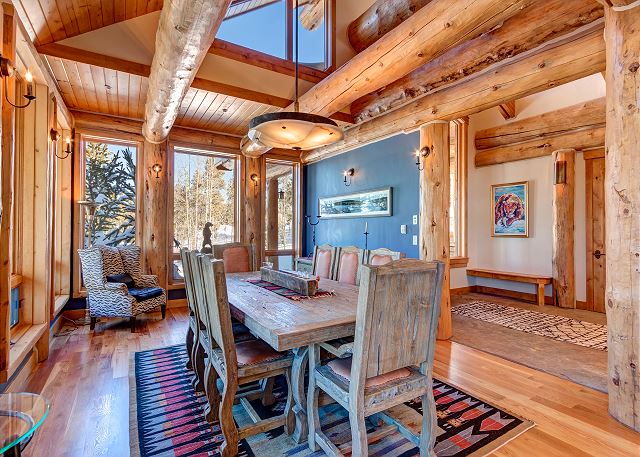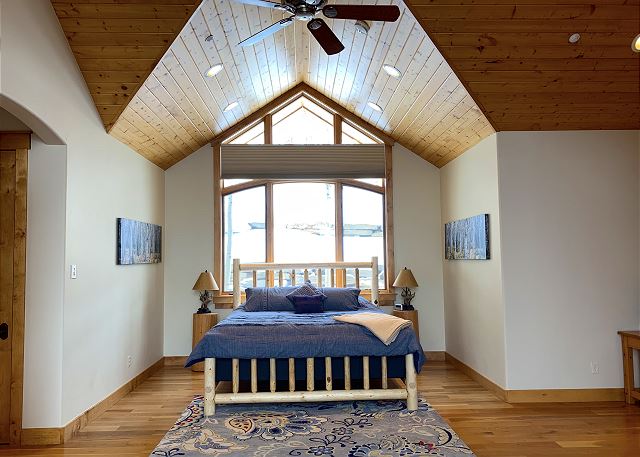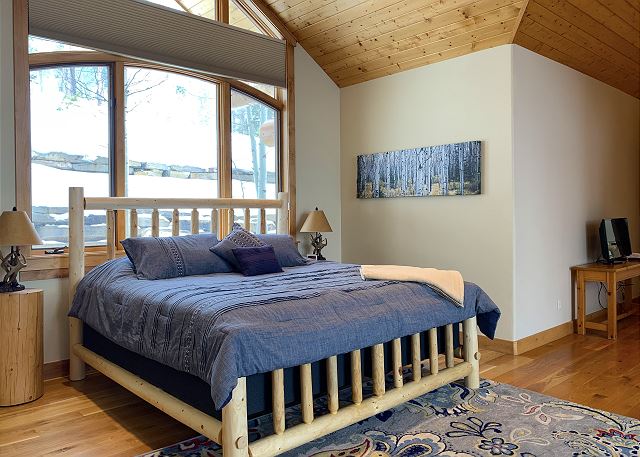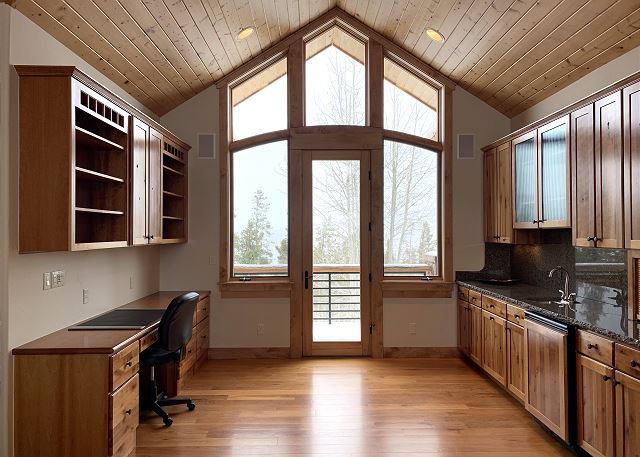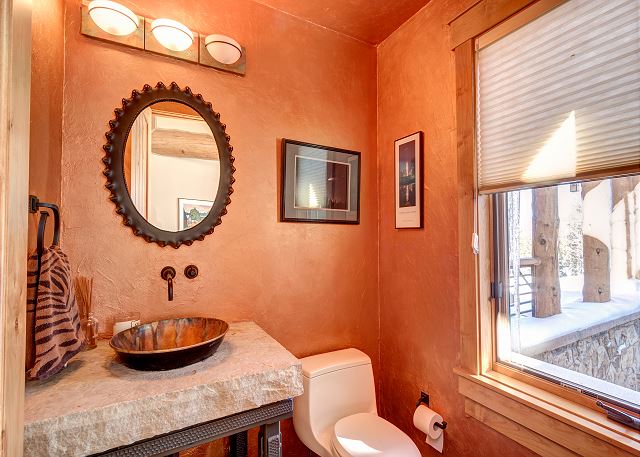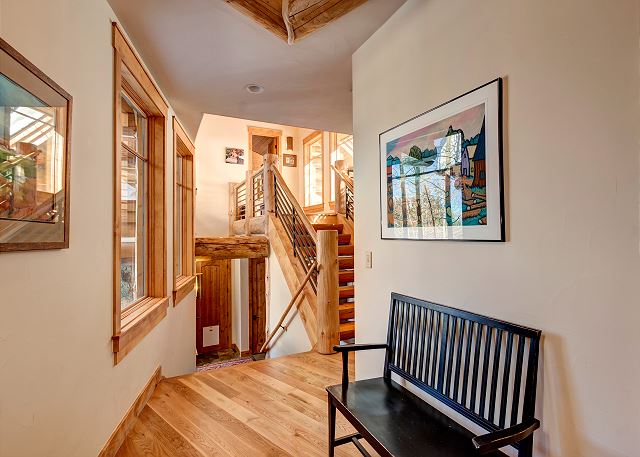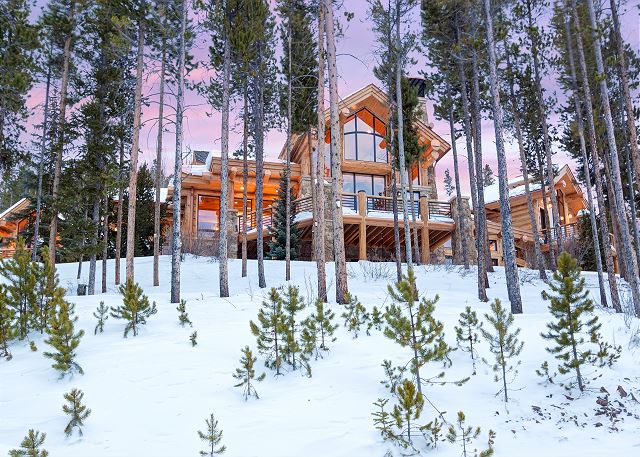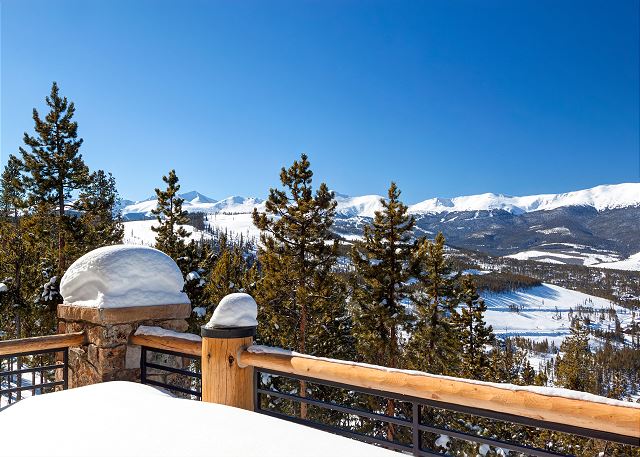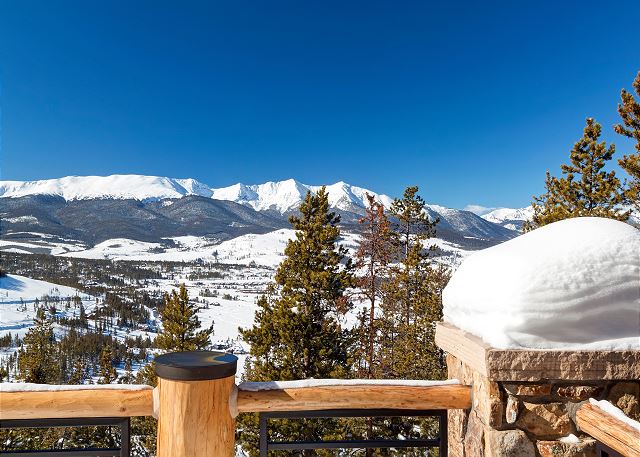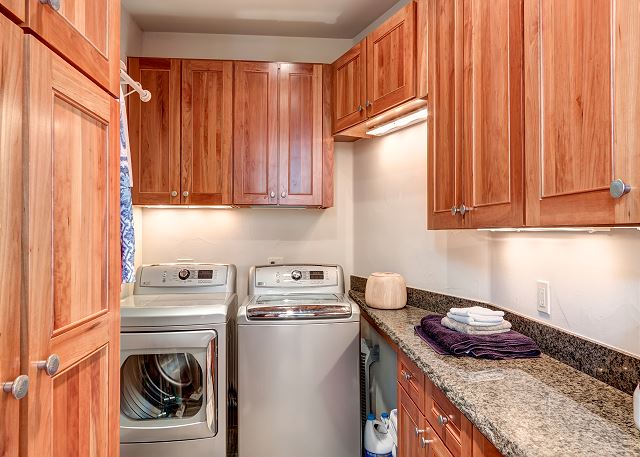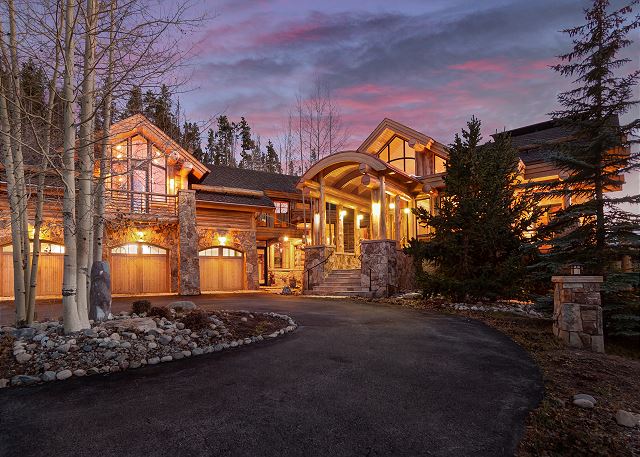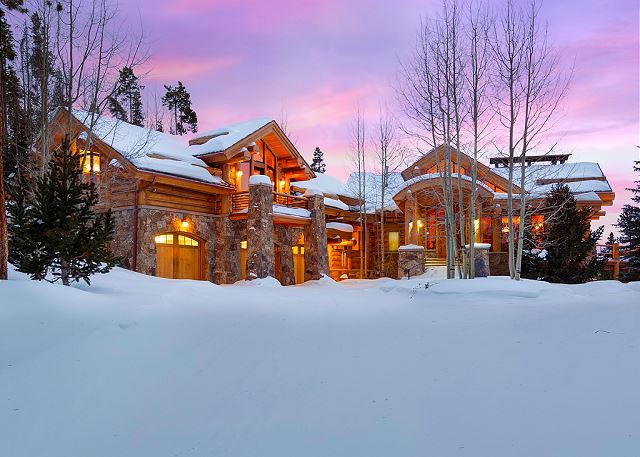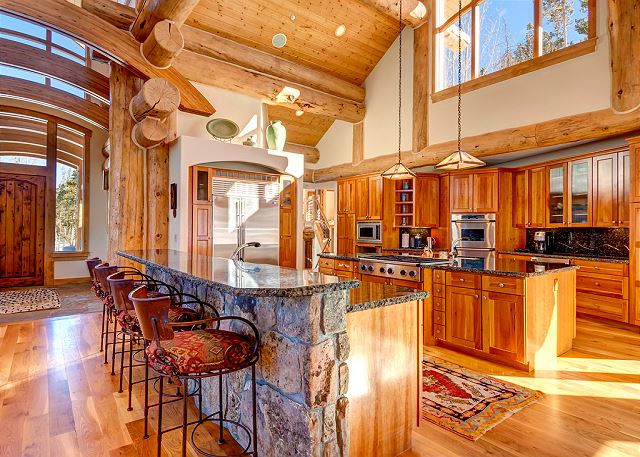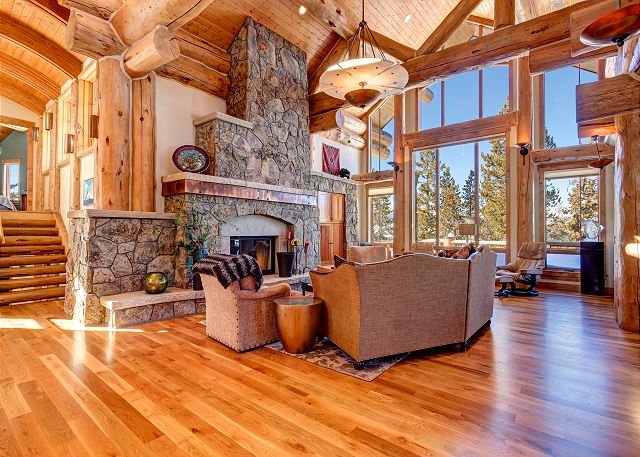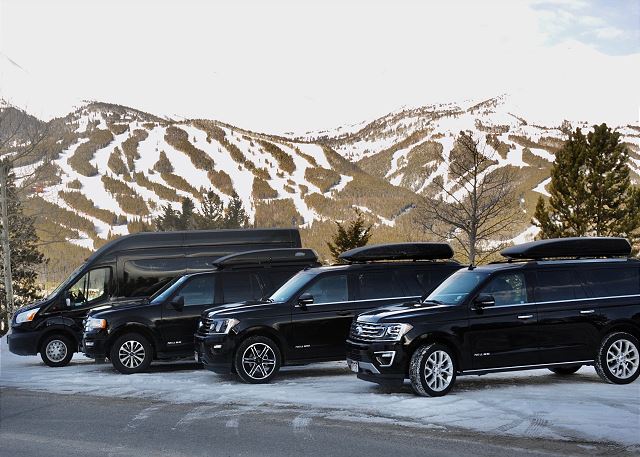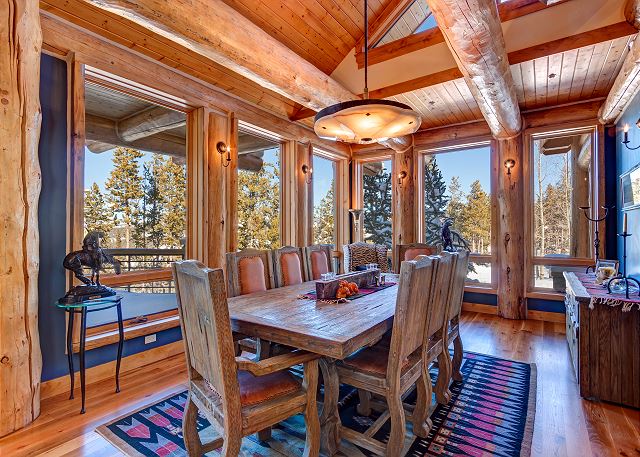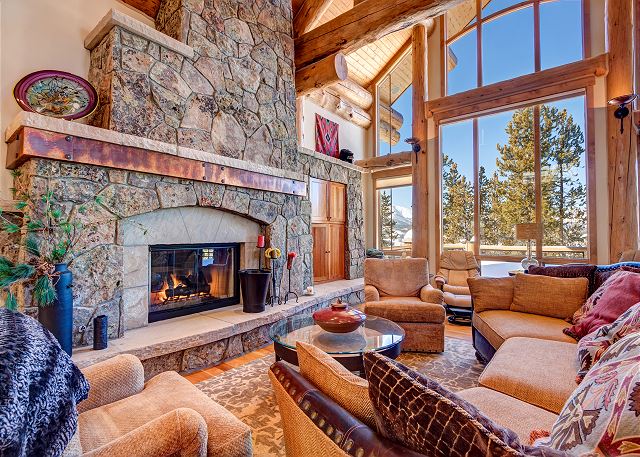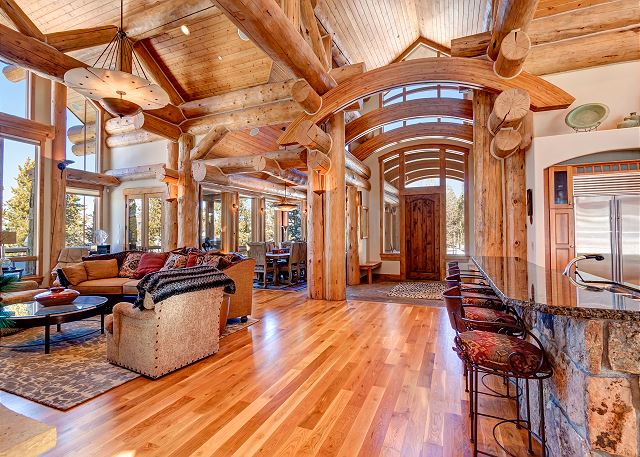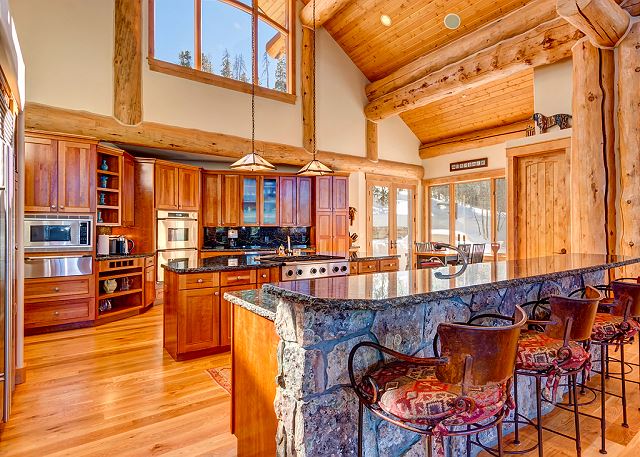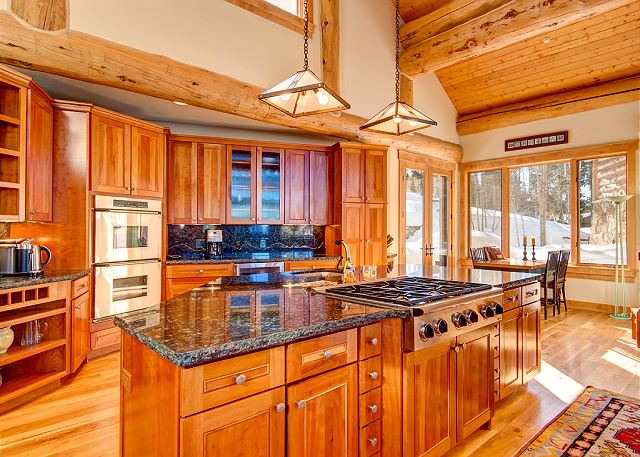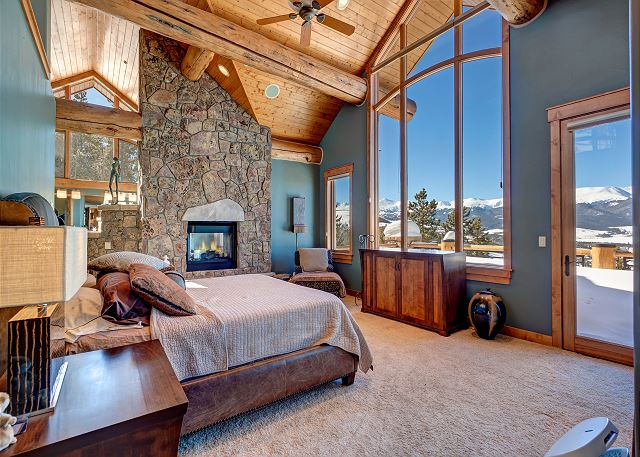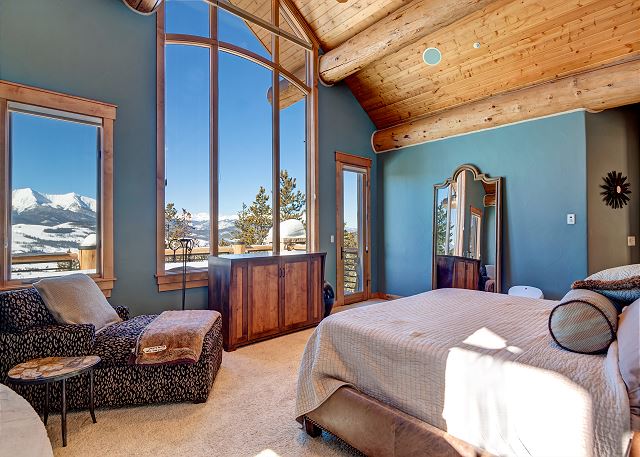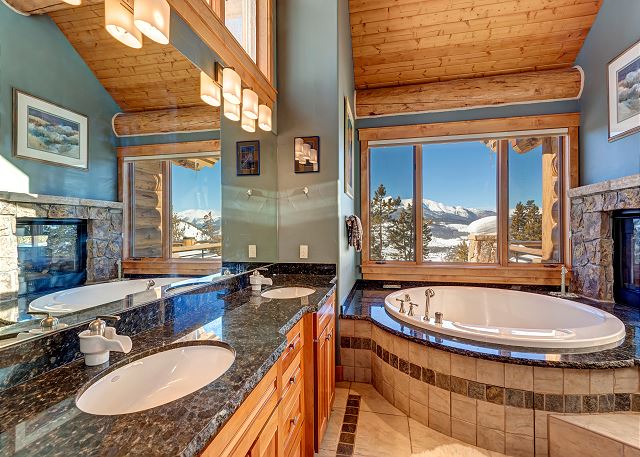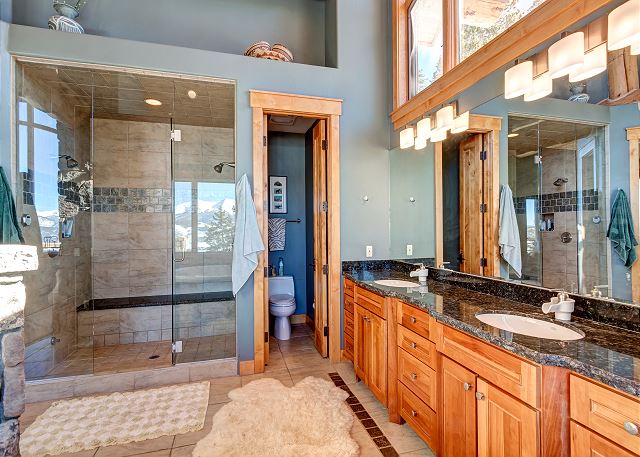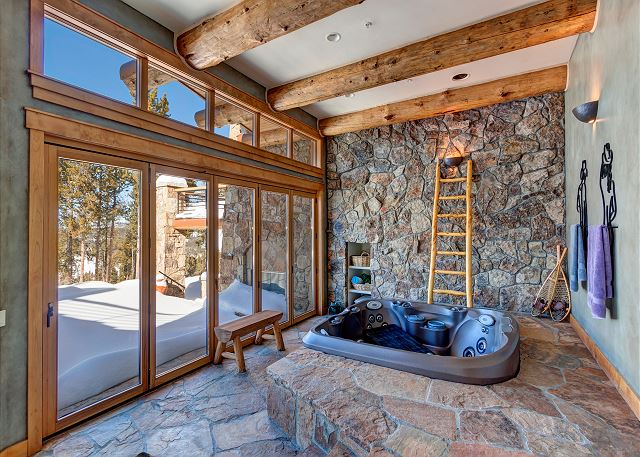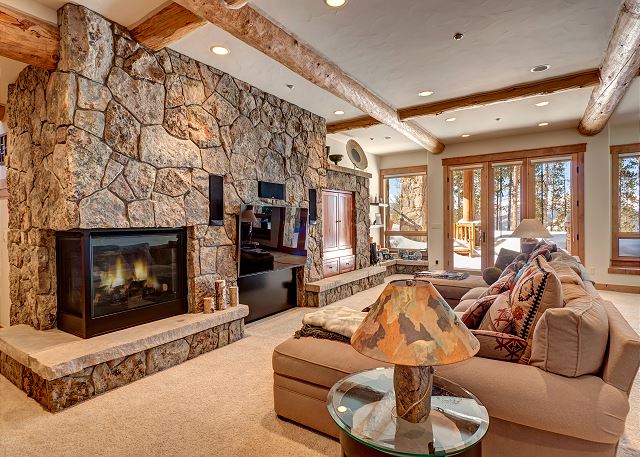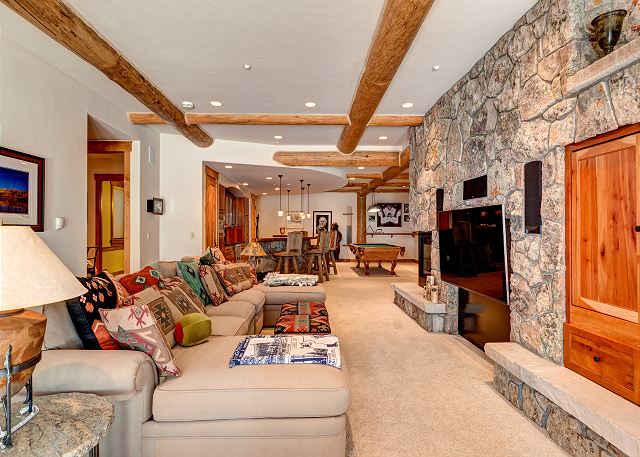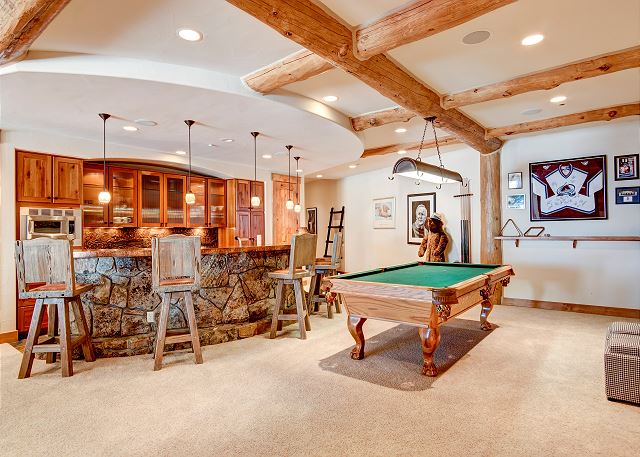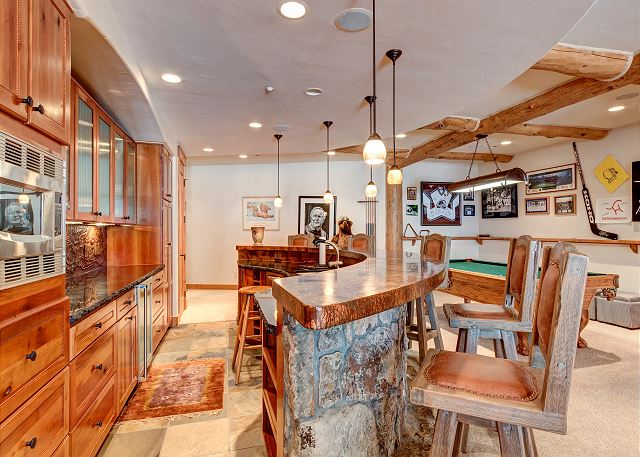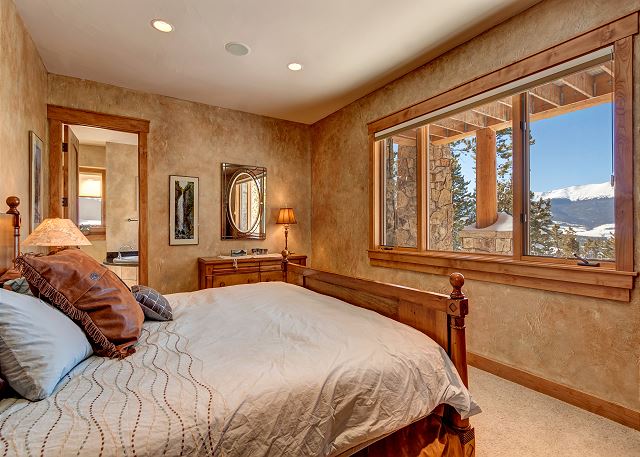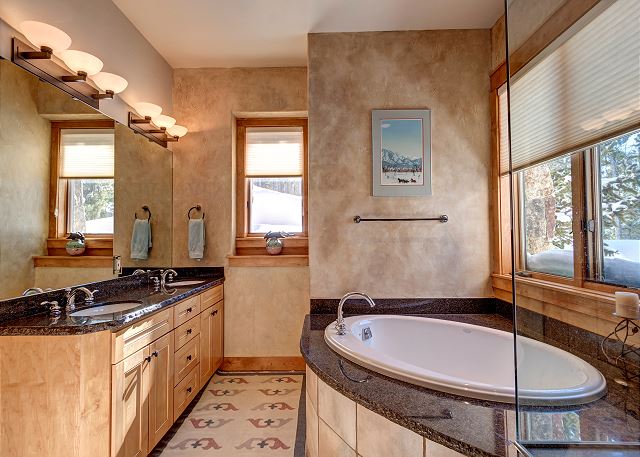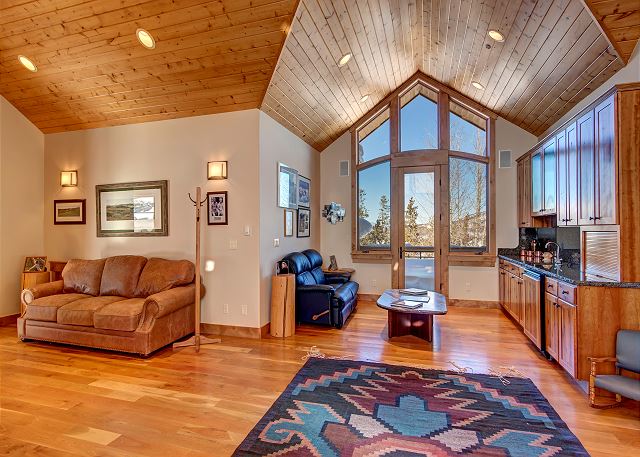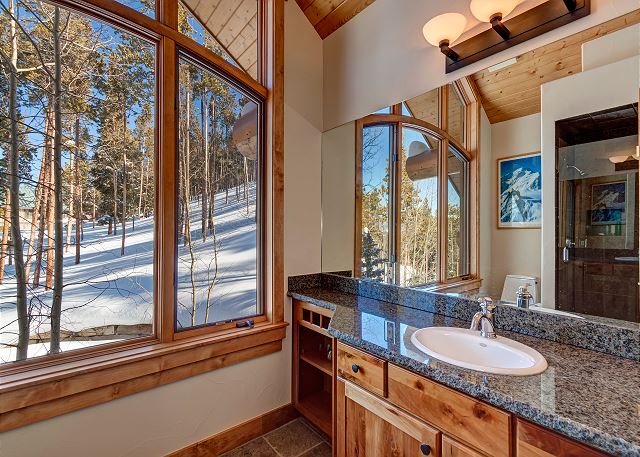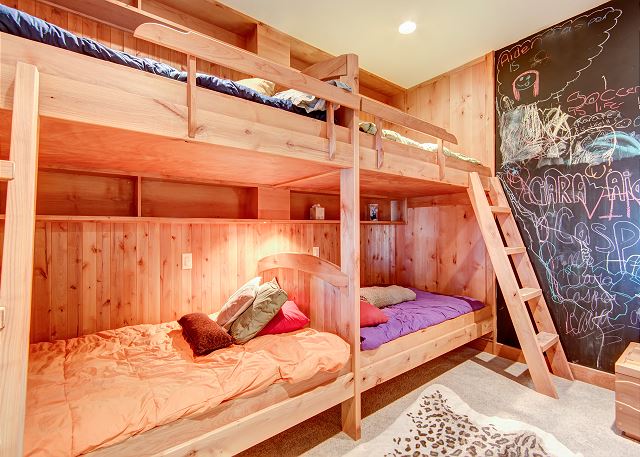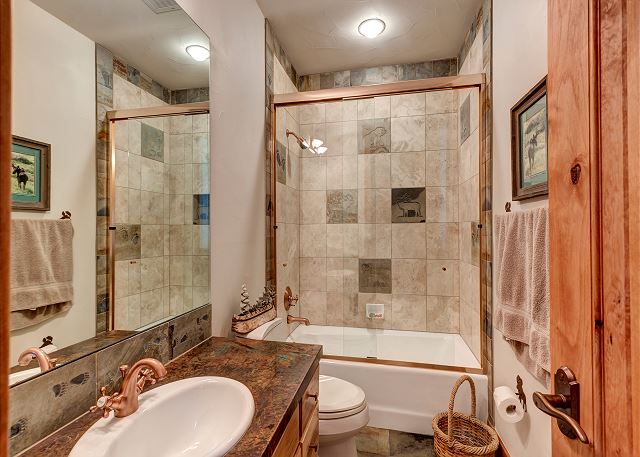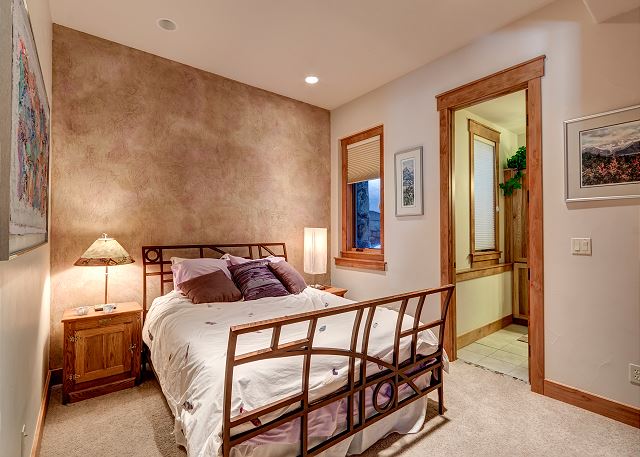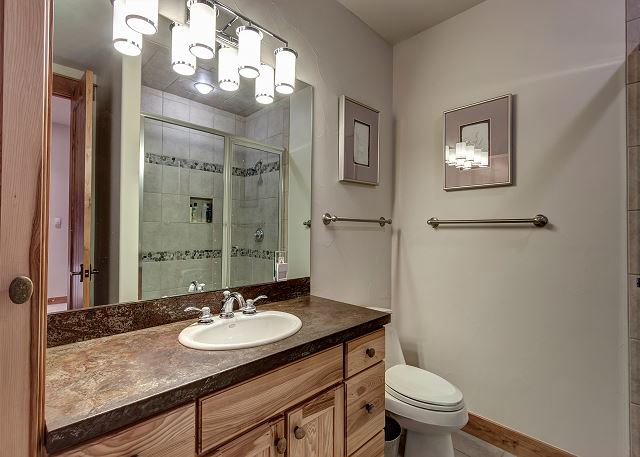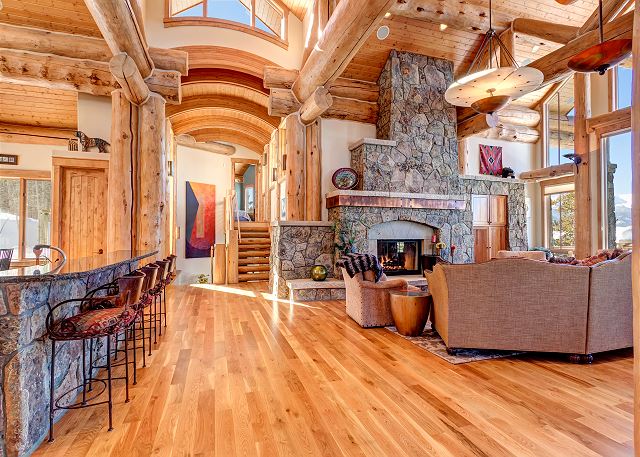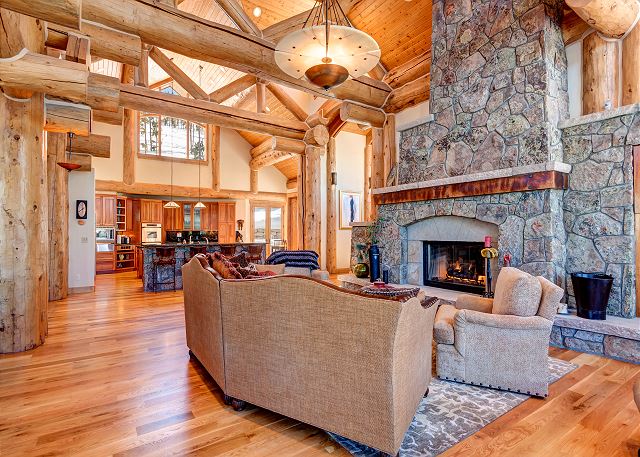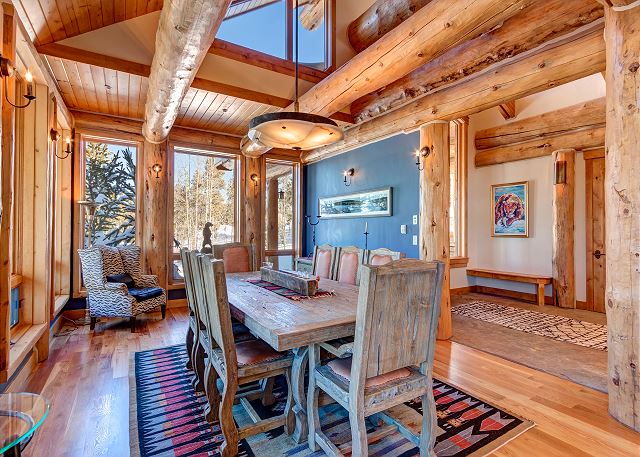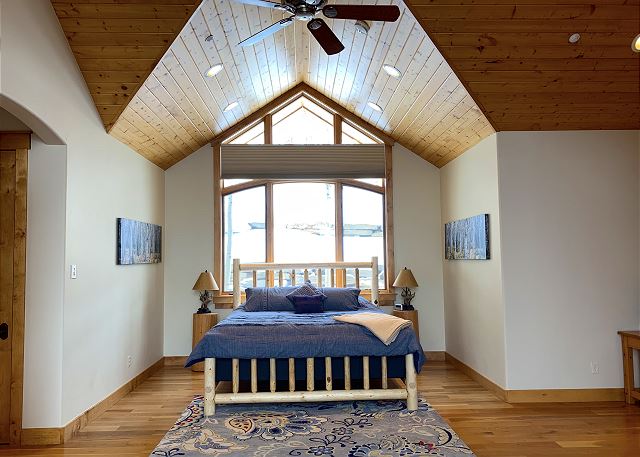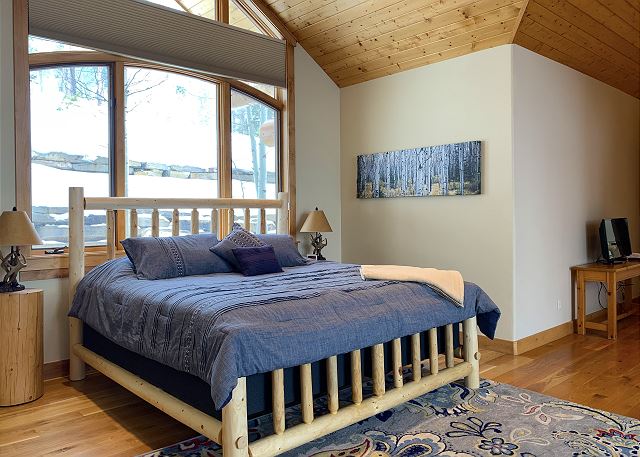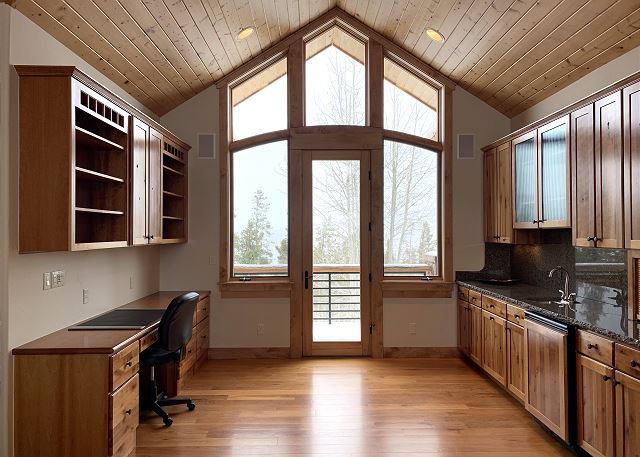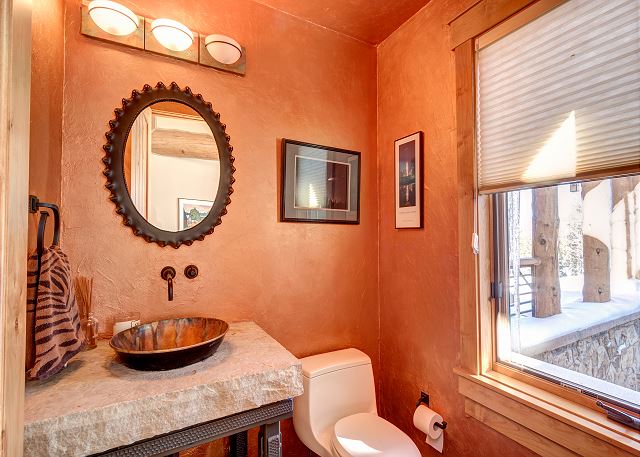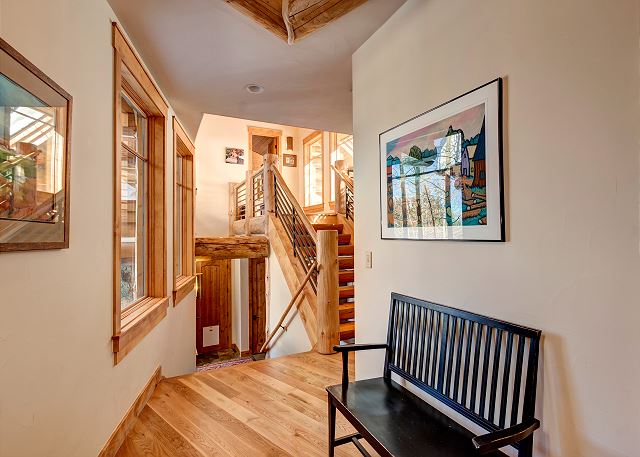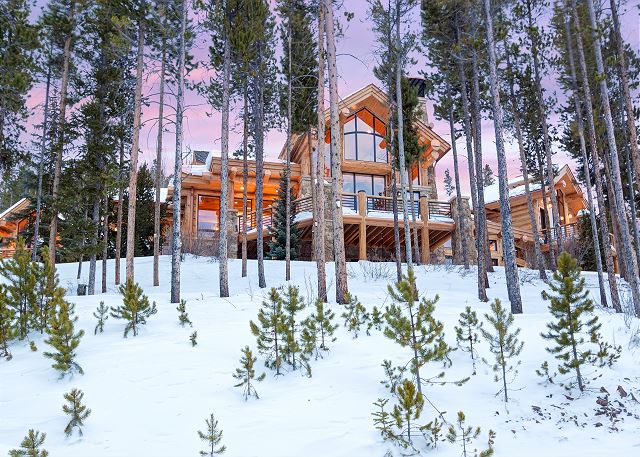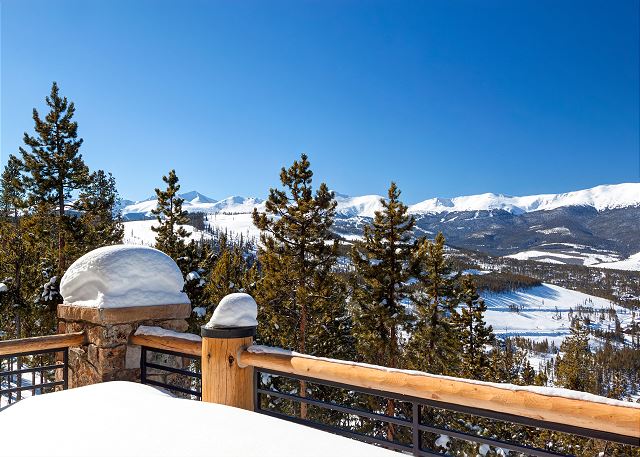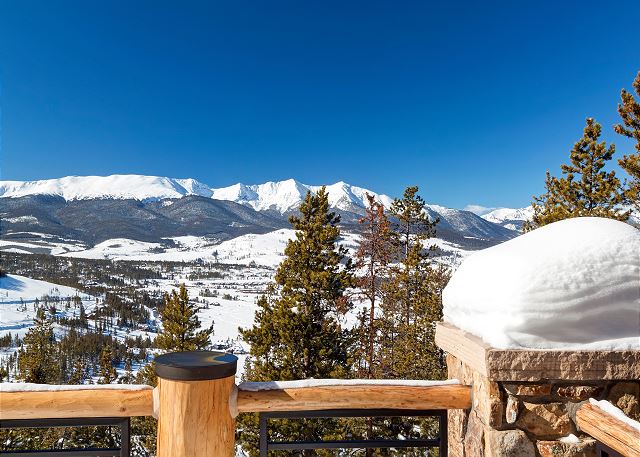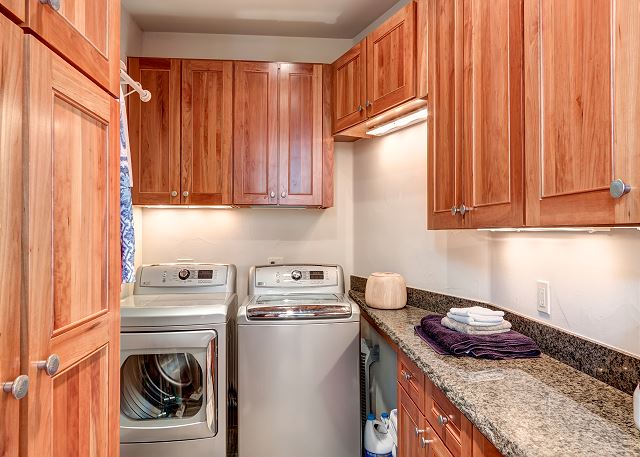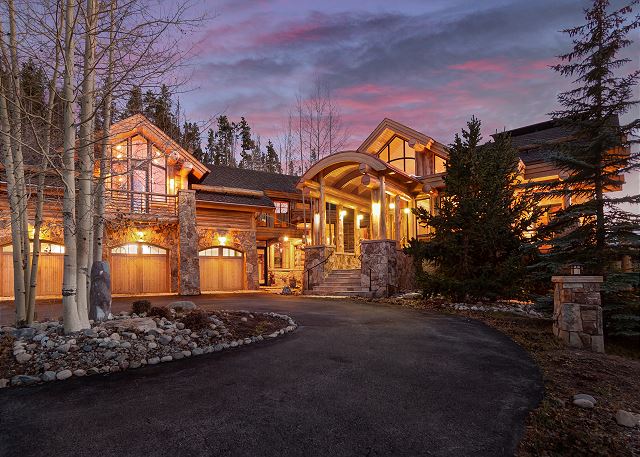 Description
Point View Place is on the 2021/22 Paragon Guest Courtesy Winter Shuttle. Operations run from mid-November through mid-April between the hours of 7:30 AM until 5:30 PM. Transportation runs throughout the Town of Breckenridge. Please inquire within for additional details.



Situated in the distinguished Summit Estates, you'll experience a warm welcome every time you arrive at this rustic and elegant log home. Its privileged position atop Point View Drive will leave you admiring the striking views of the 10-Mile, Keystone and Williams Fork mountain ranges. Seclusion on 2 private acres, yet convenient to town and the Breckenridge Golf Course.



Photos of the newly added private office are coming soon!



Winner of Log Home of the Year across the United States in 2003



5 Bedrooms, 6 bathrooms, 2 powder baths, conveniently laid out over 7,281 square feet



A heated 3-bay garage is available for your exclusive use



Utilize the entry space from the garage for coats, shoes, and outside gear



Lustrous wood floors lead you to the gourmet kitchen and open concept great room



Take in sweeping mountain views from the floor to ceiling windows throughout the entire home



The fully stocked kitchen is equipped with ample counter space, premium stainless steel appliances, dual ovens, 6 burner gas stove, breakfast table and bar providing seating for 8



Across from the kitchen, you'll find a spacious dining table for 8 to 10



Greet the outdoors by accessing the spacious deck from the great room



Visit the upper level wing from the great room to the main master suite



Point View King Suite delivers breathtaking views, king-sized bed, TV, two-sided gas fireplace, brilliant ensuite bathroom with dual shower heads, steamer, and dual sinks. Regretfully, the bathtub cannot be used.



Enter the mid-level wing of the home to find the secondary king suite and private hot tub overlooking more incredible views



Lookout Point Secondary King Suite is complete with king bed, TV, and ensuite bathroom providing oversized soaking tub, standing shower, and dual sinks



Venture to the lowest level of the home to enjoy a cozy media room with large screen TV, full bar with fridge, microwave, and billiards table



Experience additional views from the lower patio



Relax after your Colorado adventure in the private hot tub



Find the main hubs for Sonos and Xfinity in the entertaining media room



For additional guests, the den sofa pulls out into a queen sleeper



Across from the media room find the Ascent Bunk and Apex Queen suites



Ascent Bunk sleeps 4 in two custom built full bunks with ensuite full bathroom



Apex Queen sleeps 2 in one queen bed and ensuite ¾ bathroom with standing shower



The uppermost level above the garage features the Crest Family Suite.



The Crest Family Suite is furnished with a king bed, full over full size bunk bed, ensuite ¾ bathroom, cozy sofa, TV and mini kitchen



Washer and Dryer



Barbecue gas grill located on upper level deck



Wireless Internet is provided



Professionally Cleaned & Sanitized Prior to All Arrivals



With regrets, no pets, please



Including the use of the 3-bay garage, PARKING FOR 5 VEHICLES MAX



4-WHEEL DRIVE REQUIRED IN WINTER MONTHS



Point View Place allows small intimate weddings and events with prior approval and additional contract. Please Note: ALL events and weddings no matter the size are required to pay a non-refundable event fee to be determined based on size of event.



Paragon's personal care amenities – shampoo, conditioner, lotion, locally made specialty soaps



Paragon Lodging in Breckenridge Colorado is the SOLE authorized Property Manager and Rental Agent for Point View Place. Paragon Lodging enforces an age policy of 25 years old. Families with children are welcome. We regret, we do not accept college groups.



Paragon Lodging does not advertise Point View Place on Craigslist



Paragon Lodging Town of Breckenridge Business License No: 33007

Point View Place Summit County Business License No: BCA-72105
Calendar
October 2021

| S | M | T | W | T | F | S |
| --- | --- | --- | --- | --- | --- | --- |
| | | | | | 01 | 02 |
| 03 | 04 | 05 | 06 | 07 | 08 | 09 |
| 10 | 11 | 12 | 13 | 14 | 15 | 16 |
| 17 | 18 | 19 | 20 | 21 | 22 | 23 |
| 24 | 25 | 26 | 27 | 28 | 29 | 30 |
| 31 | | | | | | |
November 2021

| S | M | T | W | T | F | S |
| --- | --- | --- | --- | --- | --- | --- |
| | 01 | 02 | 03 | 04 | 05 | 06 |
| 07 | 08 | 09 | 10 | 11 | 12 | 13 |
| 14 | 15 | 16 | 17 | 18 | 19 | 20 |
| 21 | 22 | 23 | 24 | 25 | 26 | 27 |
| 28 | 29 | 30 | | | | |
December 2021

| S | M | T | W | T | F | S |
| --- | --- | --- | --- | --- | --- | --- |
| | | | 01 | 02 | 03 | 04 |
| 05 | 06 | 07 | 08 | 09 | 10 | 11 |
| 12 | 13 | 14 | 15 | 16 | 17 | 18 |
| 19 | 20 | 21 | 22 | 23 | 24 | 25 |
| 26 | 27 | 28 | 29 | 30 | 31 | |
January 2022

| S | M | T | W | T | F | S |
| --- | --- | --- | --- | --- | --- | --- |
| | | | | | | 01 |
| 02 | 03 | 04 | 05 | 06 | 07 | 08 |
| 09 | 10 | 11 | 12 | 13 | 14 | 15 |
| 16 | 17 | 18 | 19 | 20 | 21 | 22 |
| 23 | 24 | 25 | 26 | 27 | 28 | 29 |
| 30 | 31 | | | | | |
February 2022

| S | M | T | W | T | F | S |
| --- | --- | --- | --- | --- | --- | --- |
| | | 01 | 02 | 03 | 04 | 05 |
| 06 | 07 | 08 | 09 | 10 | 11 | 12 |
| 13 | 14 | 15 | 16 | 17 | 18 | 19 |
| 20 | 21 | 22 | 23 | 24 | 25 | 26 |
| 27 | 28 | | | | | |
March 2022

| S | M | T | W | T | F | S |
| --- | --- | --- | --- | --- | --- | --- |
| | | 01 | 02 | 03 | 04 | 05 |
| 06 | 07 | 08 | 09 | 10 | 11 | 12 |
| 13 | 14 | 15 | 16 | 17 | 18 | 19 |
| 20 | 21 | 22 | 23 | 24 | 25 | 26 |
| 27 | 28 | 29 | 30 | 31 | | |
April 2022

| S | M | T | W | T | F | S |
| --- | --- | --- | --- | --- | --- | --- |
| | | | | | 01 | 02 |
| 03 | 04 | 05 | 06 | 07 | 08 | 09 |
| 10 | 11 | 12 | 13 | 14 | 15 | 16 |
| 17 | 18 | 19 | 20 | 21 | 22 | 23 |
| 24 | 25 | 26 | 27 | 28 | 29 | 30 |
May 2022

| S | M | T | W | T | F | S |
| --- | --- | --- | --- | --- | --- | --- |
| 01 | 02 | 03 | 04 | 05 | 06 | 07 |
| 08 | 09 | 10 | 11 | 12 | 13 | 14 |
| 15 | 16 | 17 | 18 | 19 | 20 | 21 |
| 22 | 23 | 24 | 25 | 26 | 27 | 28 |
| 29 | 30 | 31 | | | | |
June 2022

| S | M | T | W | T | F | S |
| --- | --- | --- | --- | --- | --- | --- |
| | | | 01 | 02 | 03 | 04 |
| 05 | 06 | 07 | 08 | 09 | 10 | 11 |
| 12 | 13 | 14 | 15 | 16 | 17 | 18 |
| 19 | 20 | 21 | 22 | 23 | 24 | 25 |
| 26 | 27 | 28 | 29 | 30 | | |
July 2022

| S | M | T | W | T | F | S |
| --- | --- | --- | --- | --- | --- | --- |
| | | | | | 01 | 02 |
| 03 | 04 | 05 | 06 | 07 | 08 | 09 |
| 10 | 11 | 12 | 13 | 14 | 15 | 16 |
| 17 | 18 | 19 | 20 | 21 | 22 | 23 |
| 24 | 25 | 26 | 27 | 28 | 29 | 30 |
| 31 | | | | | | |
August 2022

| S | M | T | W | T | F | S |
| --- | --- | --- | --- | --- | --- | --- |
| | 01 | 02 | 03 | 04 | 05 | 06 |
| 07 | 08 | 09 | 10 | 11 | 12 | 13 |
| 14 | 15 | 16 | 17 | 18 | 19 | 20 |
| 21 | 22 | 23 | 24 | 25 | 26 | 27 |
| 28 | 29 | 30 | 31 | | | |
September 2022

| S | M | T | W | T | F | S |
| --- | --- | --- | --- | --- | --- | --- |
| | | | | 01 | 02 | 03 |
| 04 | 05 | 06 | 07 | 08 | 09 | 10 |
| 11 | 12 | 13 | 14 | 15 | 16 | 17 |
| 18 | 19 | 20 | 21 | 22 | 23 | 24 |
| 25 | 26 | 27 | 28 | 29 | 30 | |
Available
Unavailable
Check-In Only
Check-Out Only
Seasonal Rates
| Date Range | Daily | Weekly | Monthly |
| --- | --- | --- | --- |
* Seasonal rates are only estimates and do not reflect taxes or additional fees.
Location
Guest Reviews of
Point View Place (PA)
Breckenridge, CO
---
Vacation Rental Reviews by
stars based on
Family getaway meets intimate Wedding Celebration
Review by
Keatin H.
Our families have never visited the beautiful state of Colorado and let me tell you, it took their breath away! (Elevation pun intended) We decided to celebrate our intimate wedding at the point view place and we couldn't have picked a more dreamy home to celebrate the weekend! Paragon was extremely accommodating and the home was equipped with everything you could think of. Our family is already planning our next trip out to point view place!
5 out of 5 stars
Unforgettable family vacation
Review by
Estefania F.
We had an amazing family vacation and wedding reception at this property, the house has everything you could need to have an amazing time, views from the property through the mountains are beyond beauty we will never forget this trip, waking up in the master bedroom to the view of the mountains is an indescribable feeling...
5 out of 5 stars
Manager Response:
A very Happy Congratulations on the wedding, Estefania. What a joy that you could spend such a special event, in an incredible home, with the most magnificent of views in the backdrop! I love that the entire experience was indescribable! We hope you'll find another reason to come visit us again soon! We wish you and your family a very happy holiday season. - Lennie & The Staff of Paragon Lodging
Beautiful Home, Amazing Wedding
Review by
Carole V.
We stayed a long weekend at Point View Pace for my wedding. This home is stunning! Beautiful log home with a view of the entire 10 mile range. Our families stayed with us and there was more than enough room for everyone. We got married on the back patio with a perfect back drop of mountain views. We didn't want leave. This home does not disappoint in any way. We would definitely stay here again and again.
5 out of 5 stars
Manager Response:
Congratulations on your wedding, Christine! What a perfect time of the year to celebrate such a special occasion and with the added bonus of never-ending mountain views and enough room for your entire group. Such a harmonious way to spend a weekend in Breckenridge. We are extremely delighted you shared such a perfect experience with us. We look forward to hosting you again and again! - Lennie & The Staff of Paragon Lodging
Contact Us