Rustic Timber Lodge (PA-212527) (House)
4 Bedroom(s) | 3.5 Bathroom(s) | Sleeps 9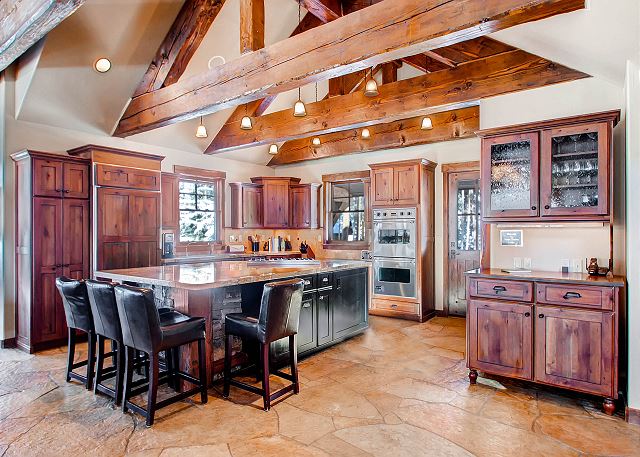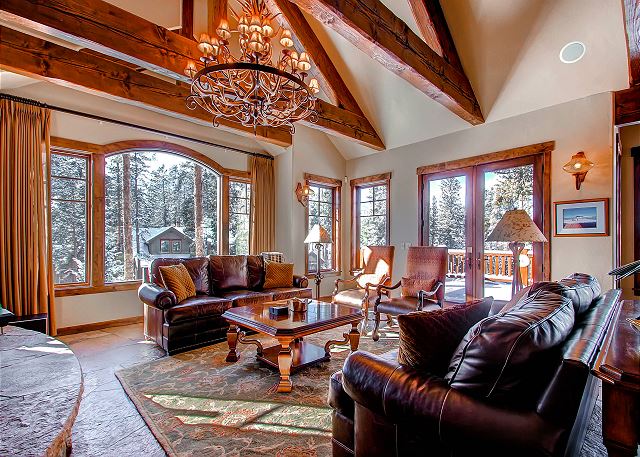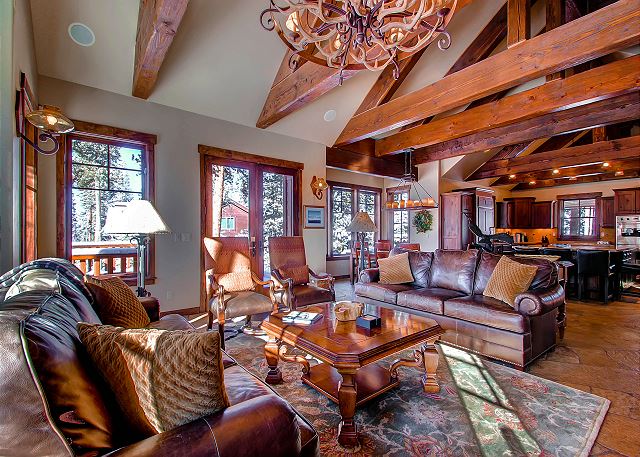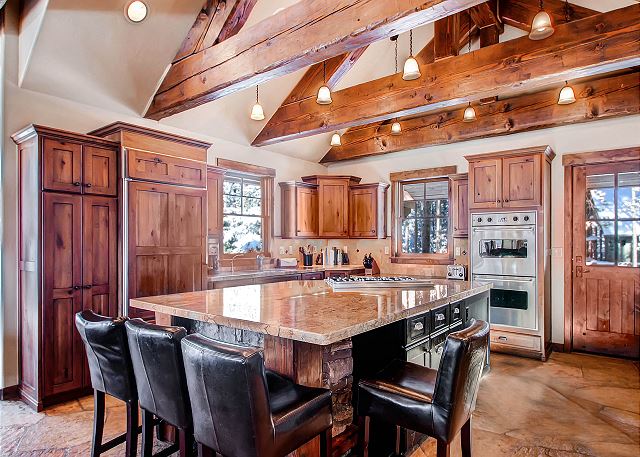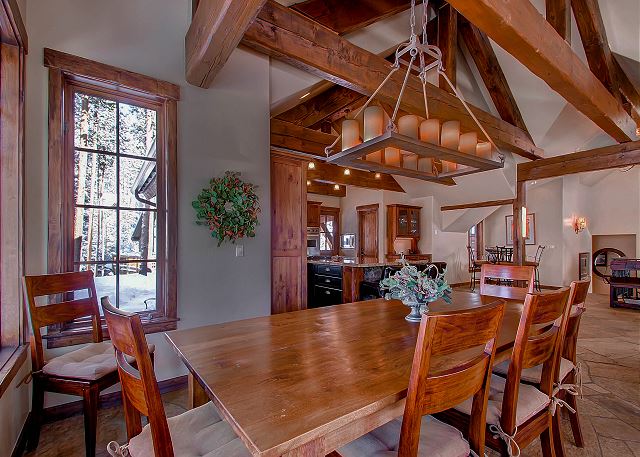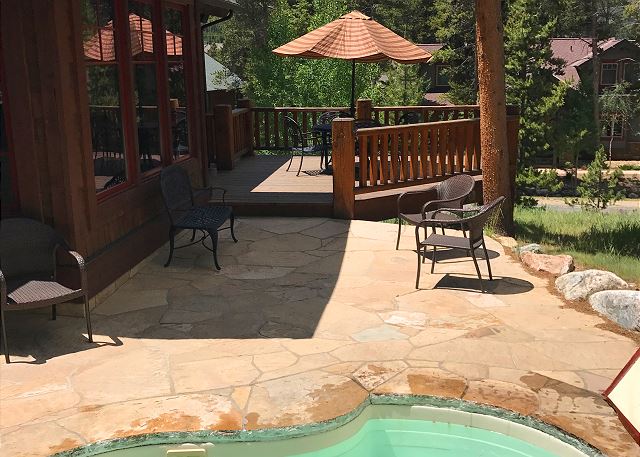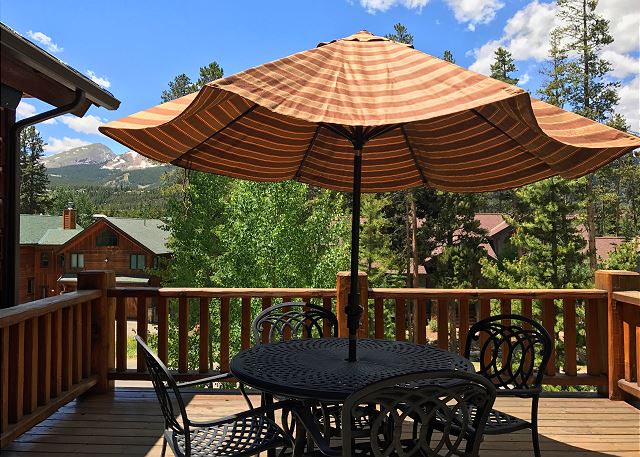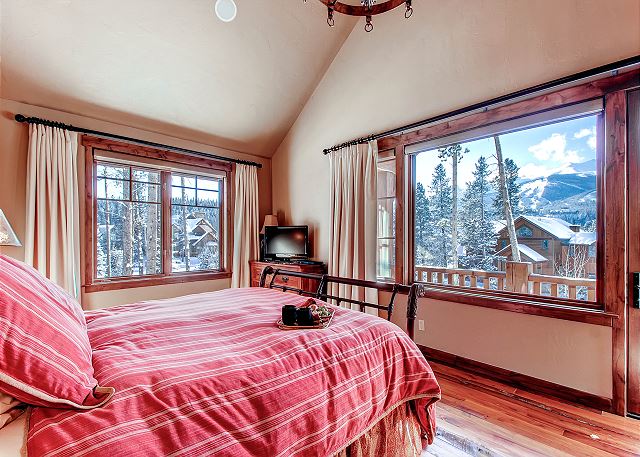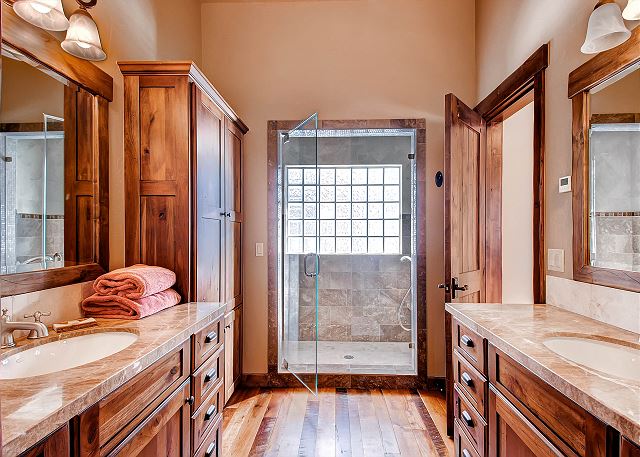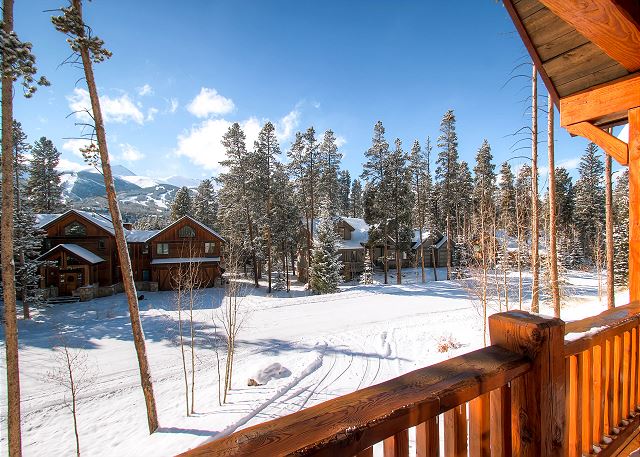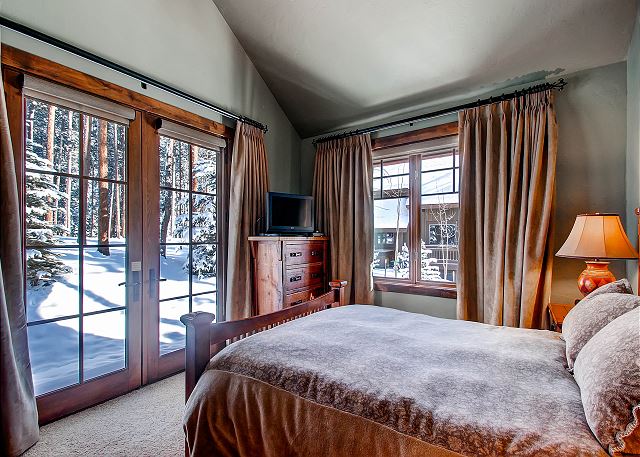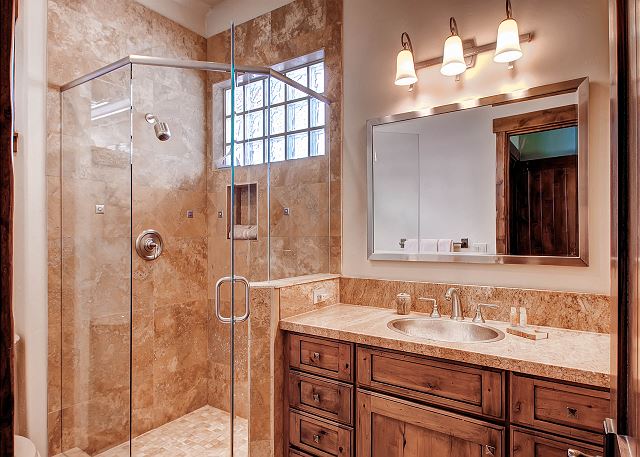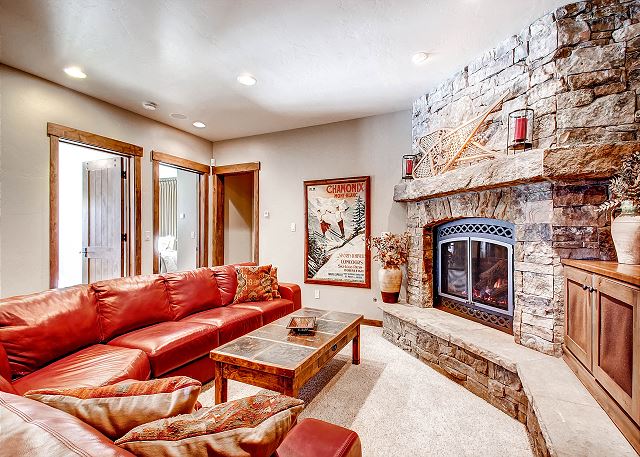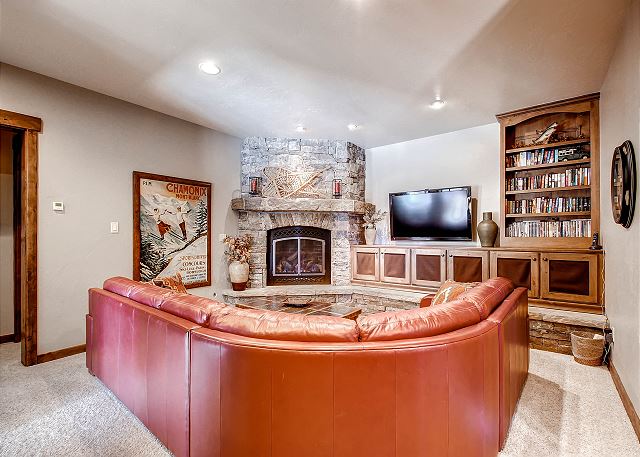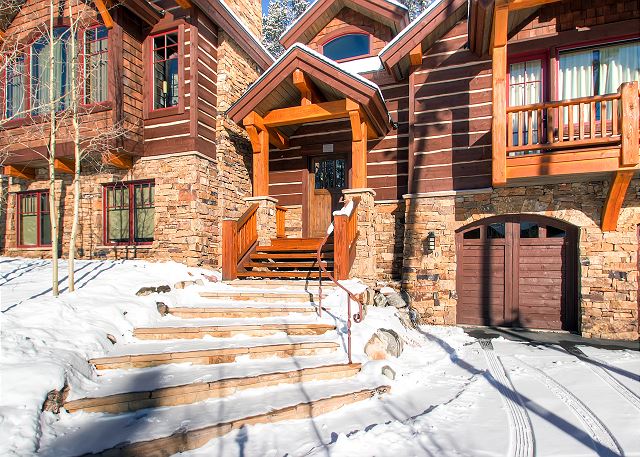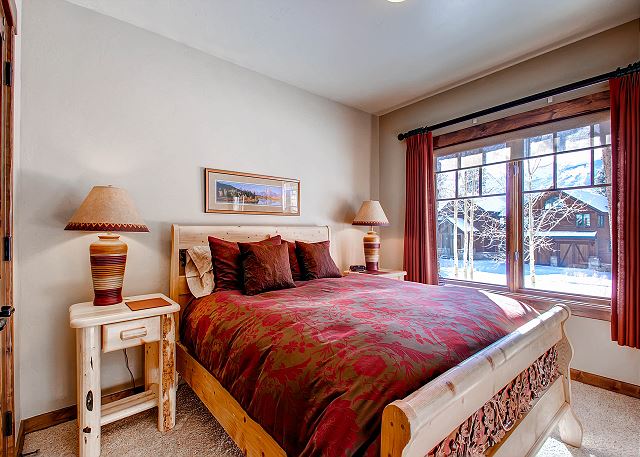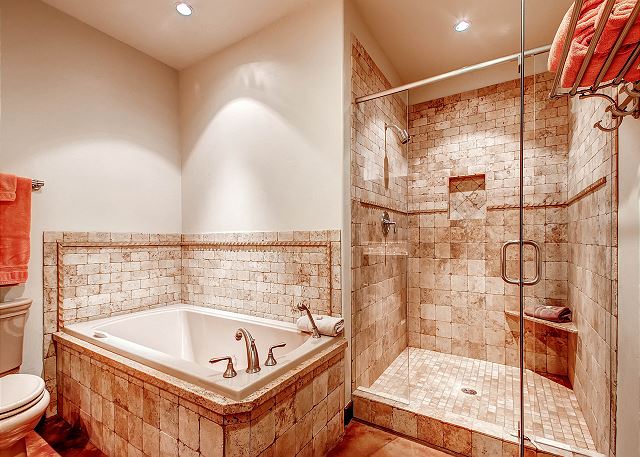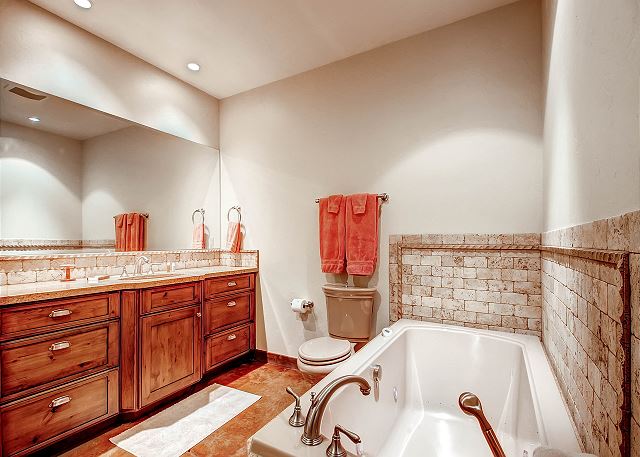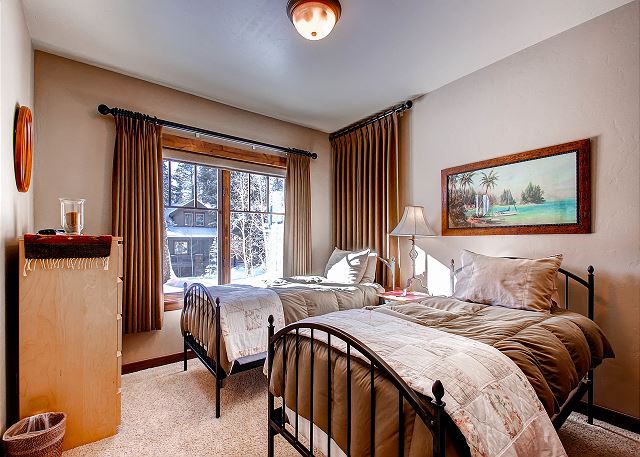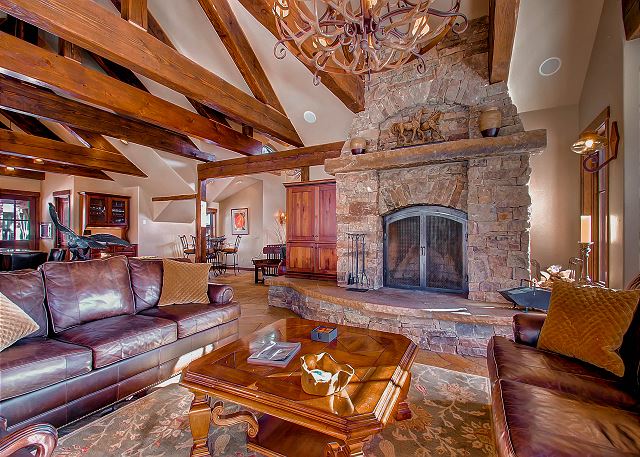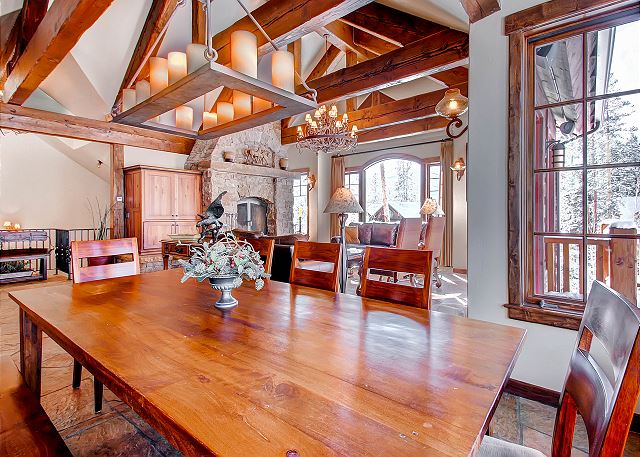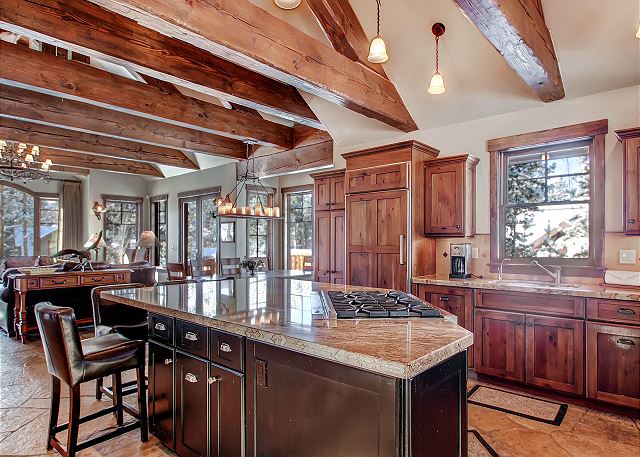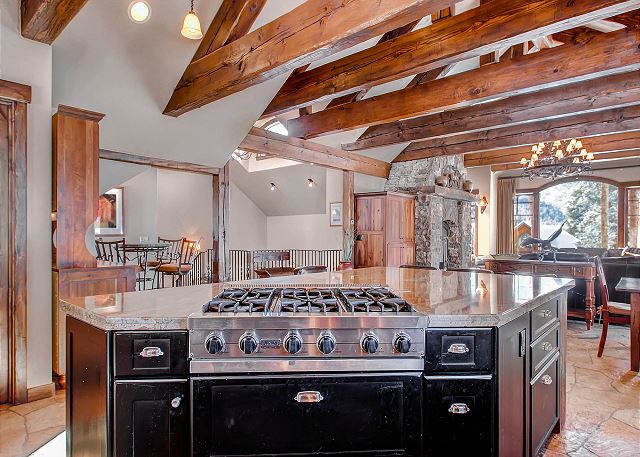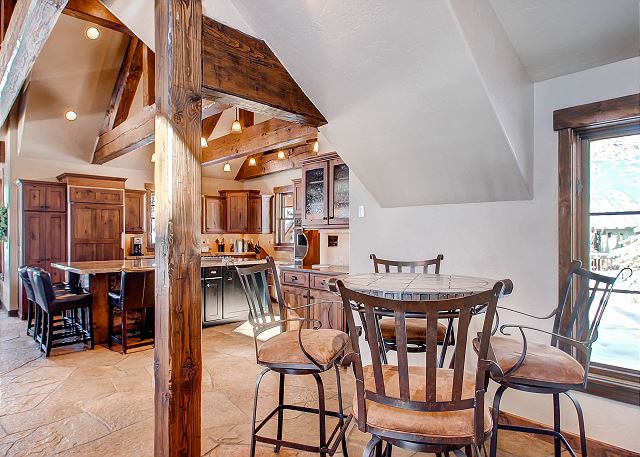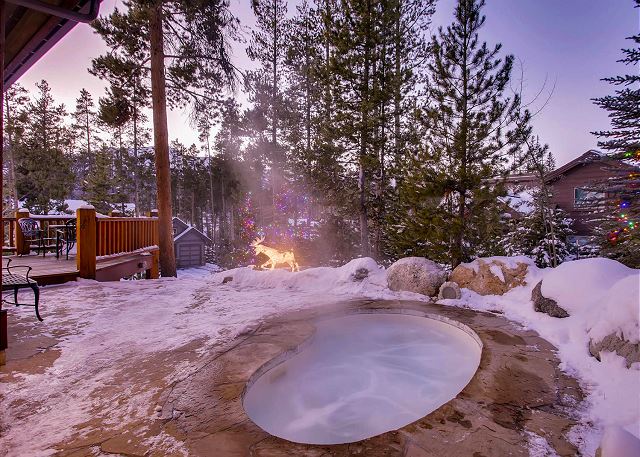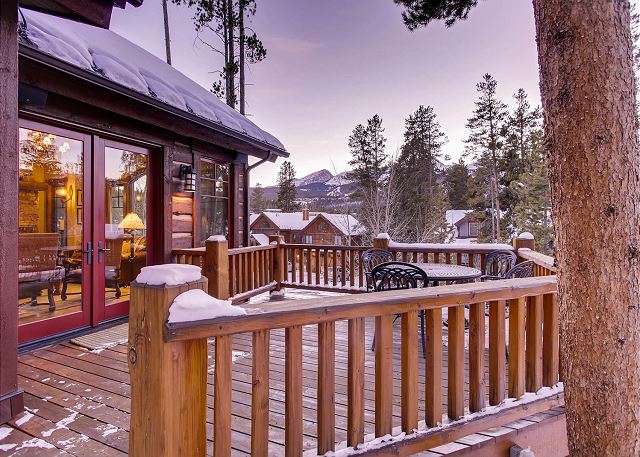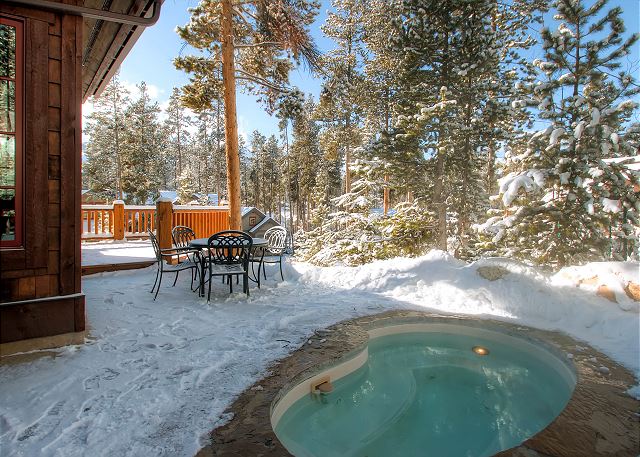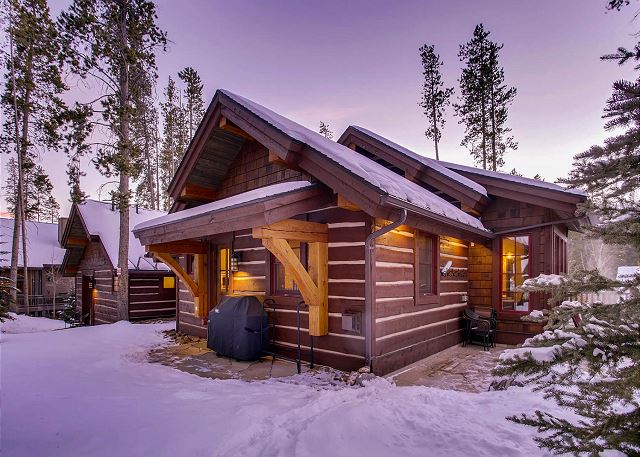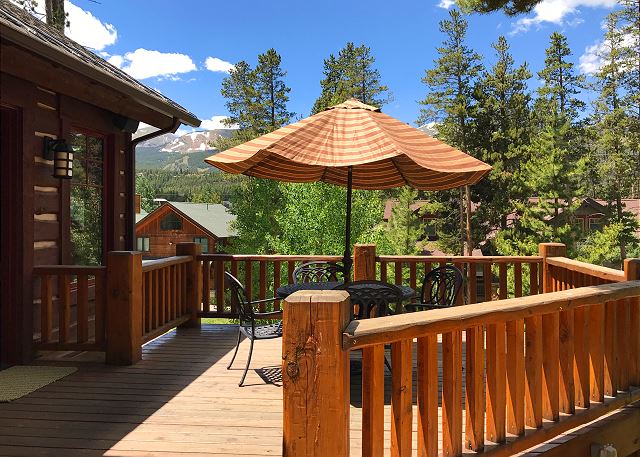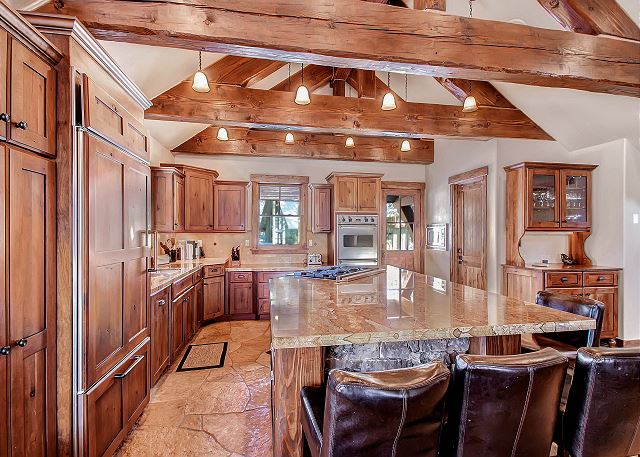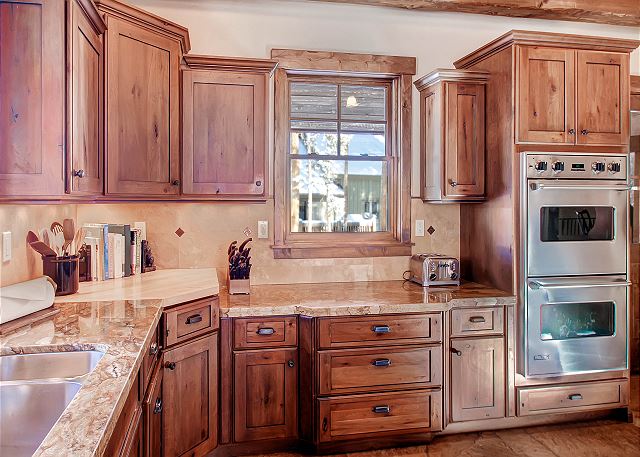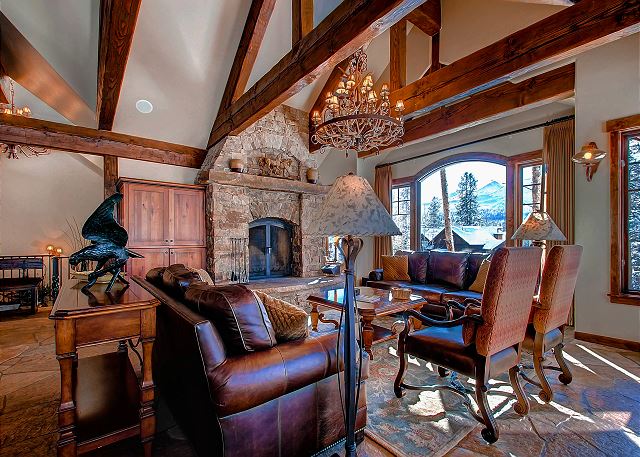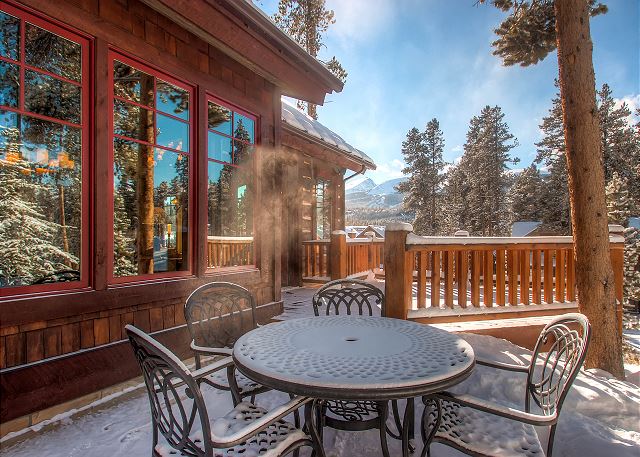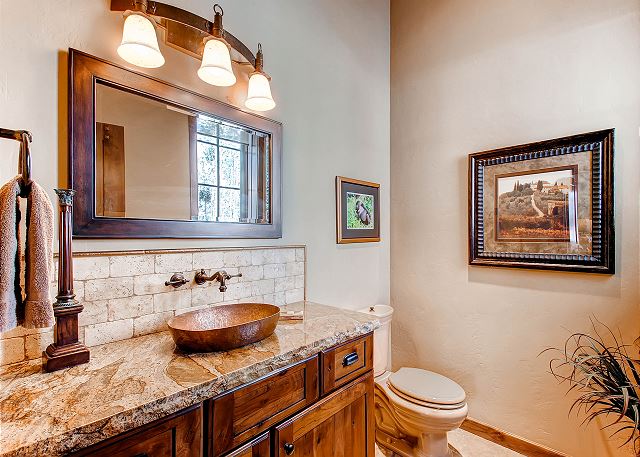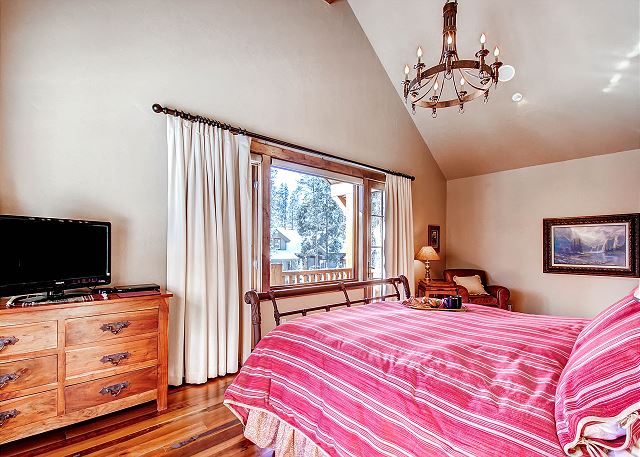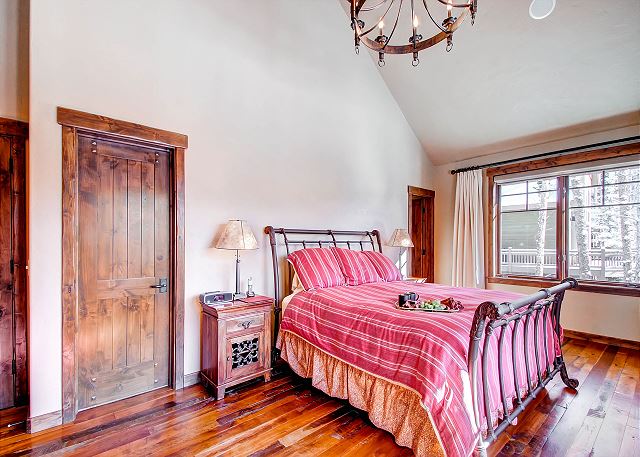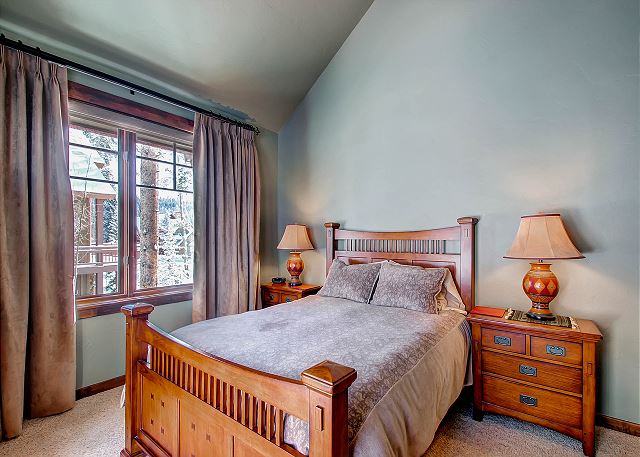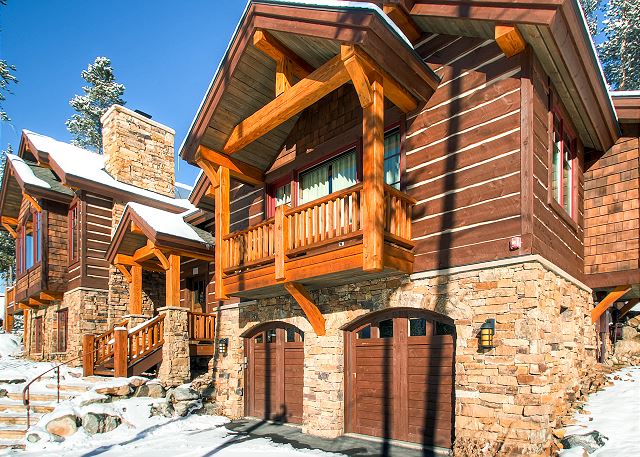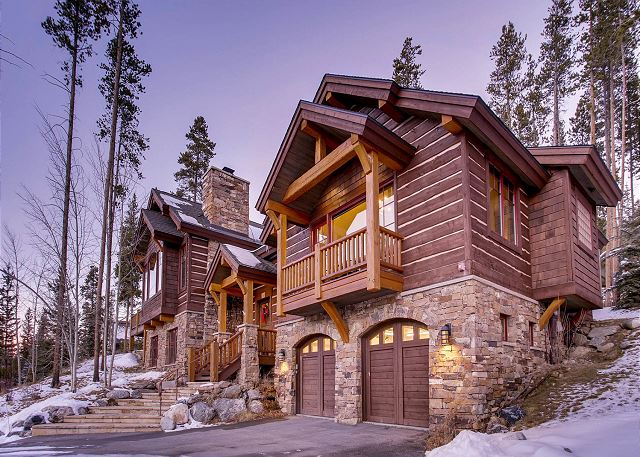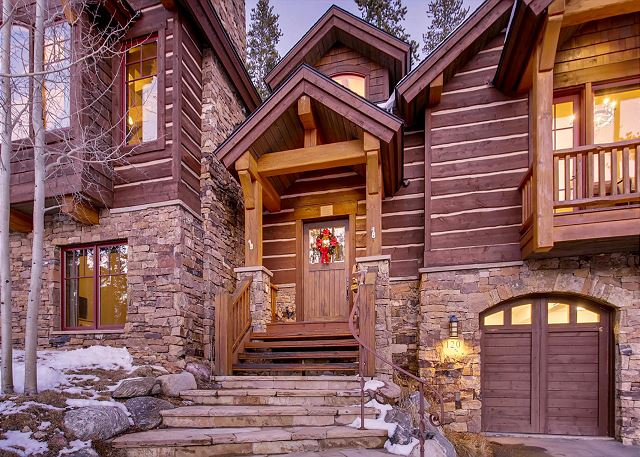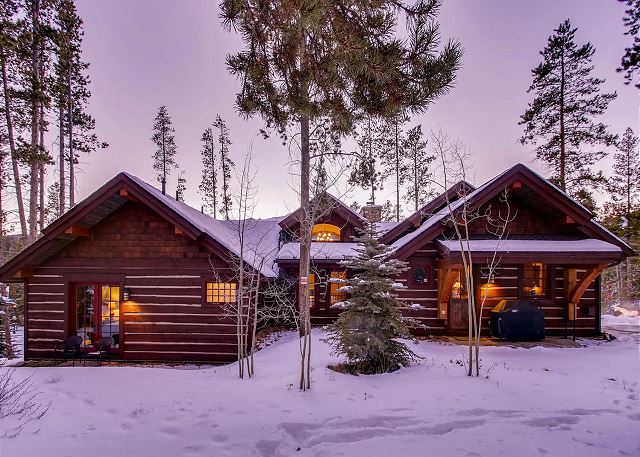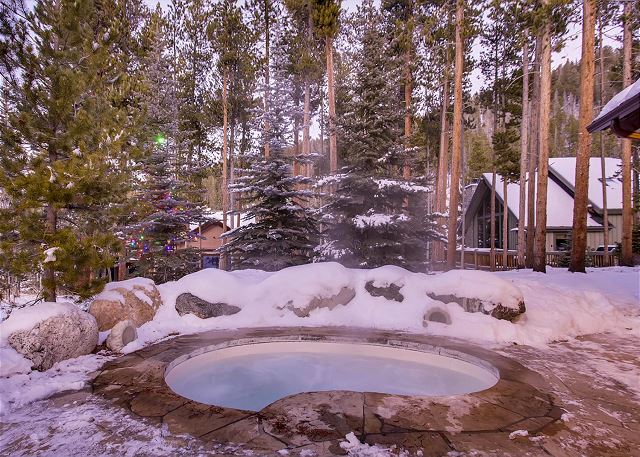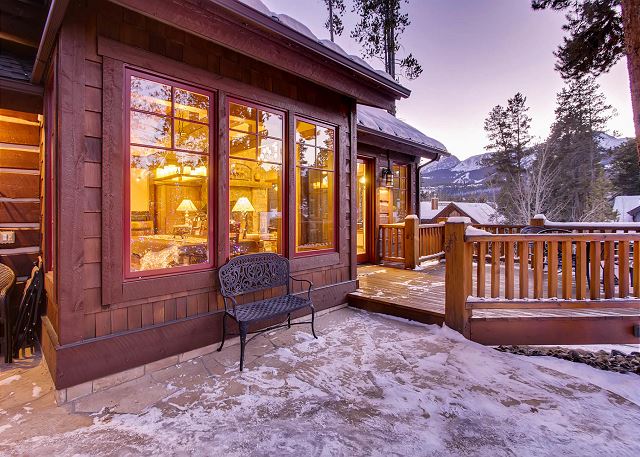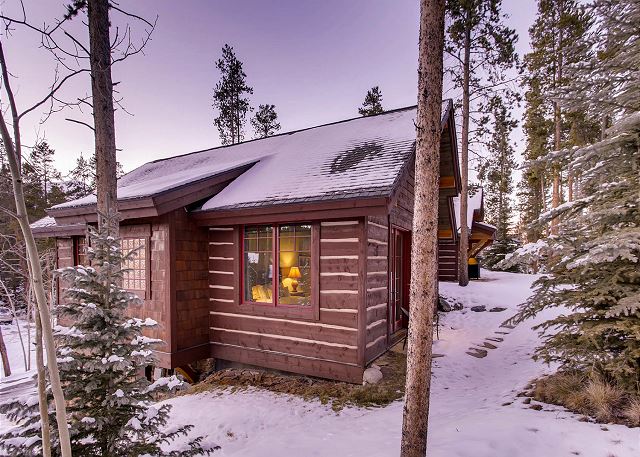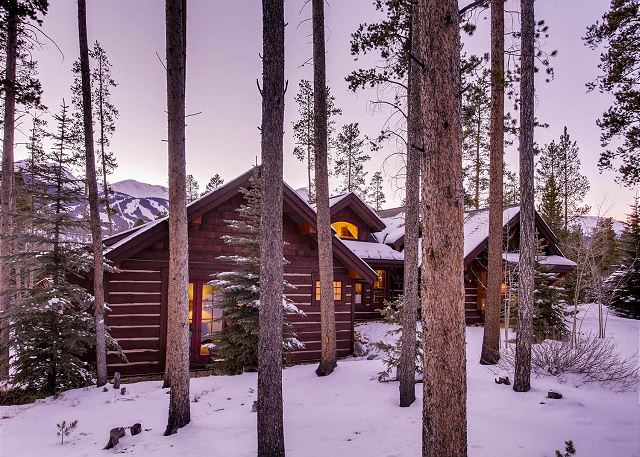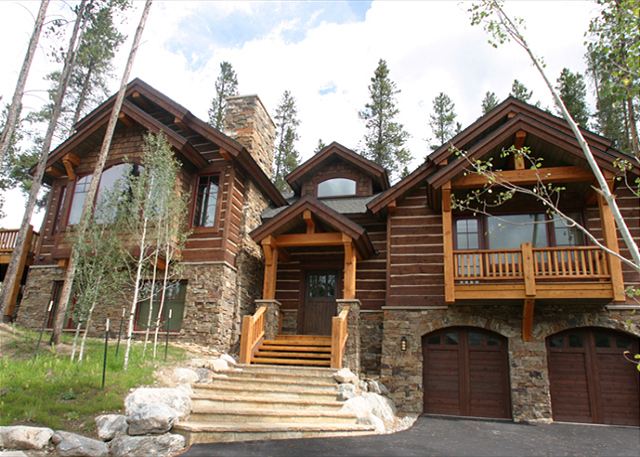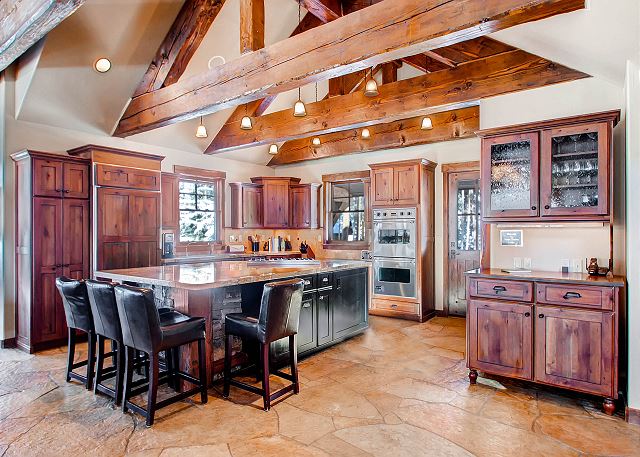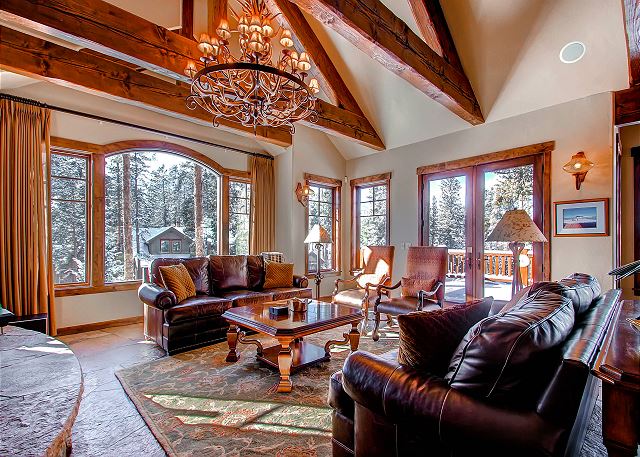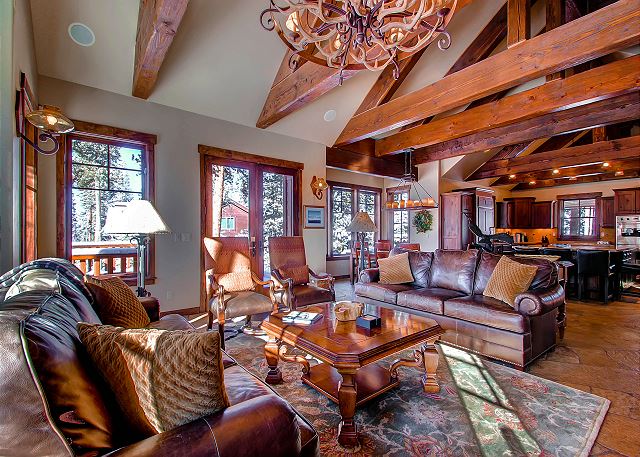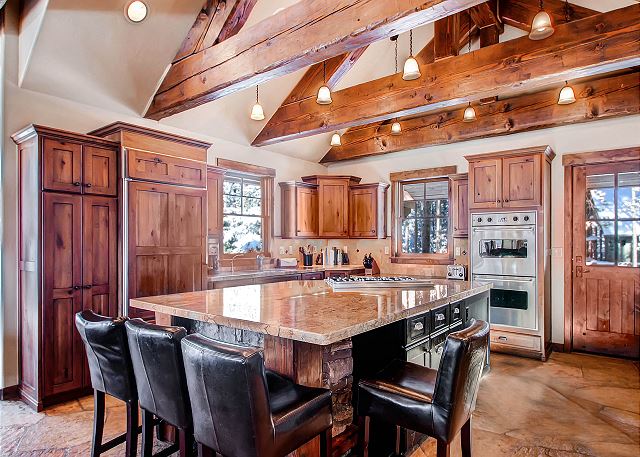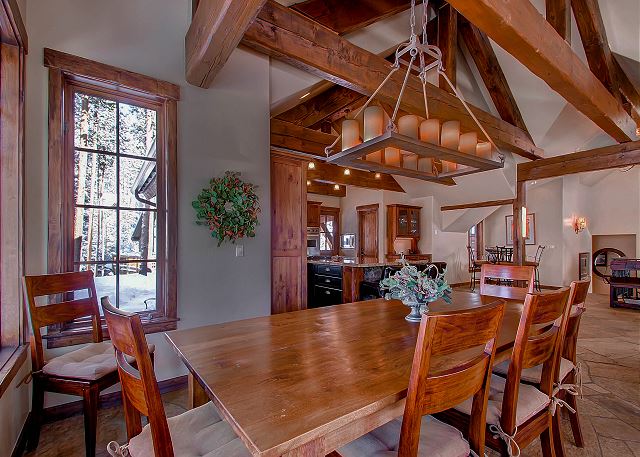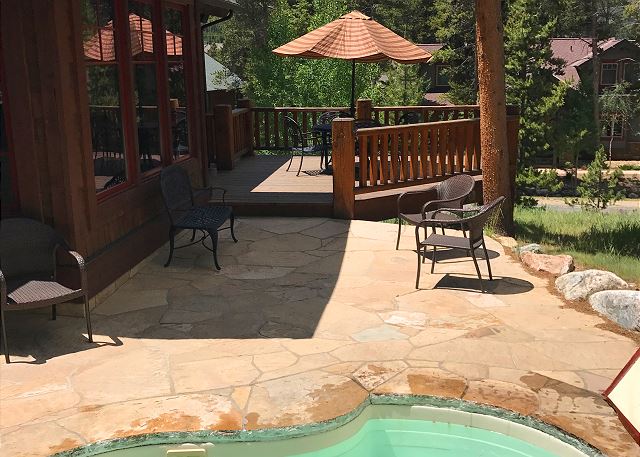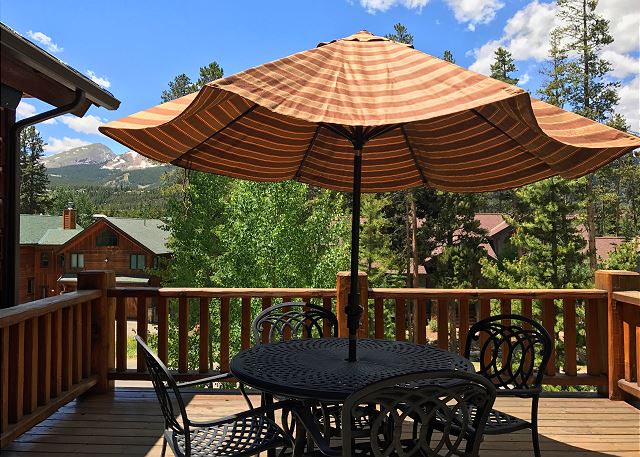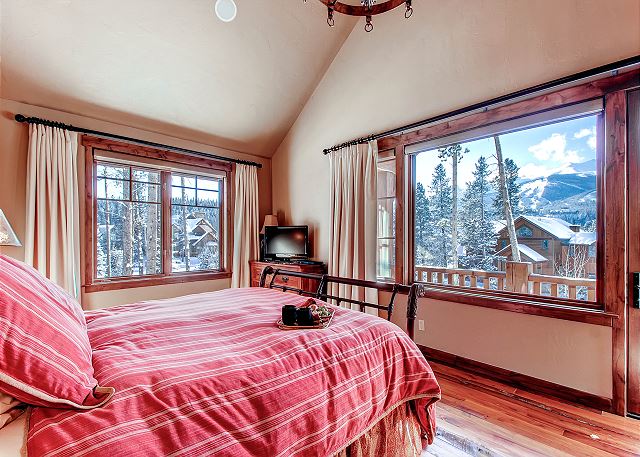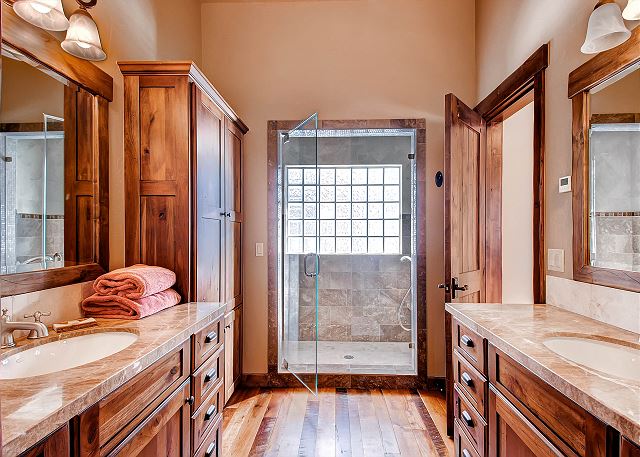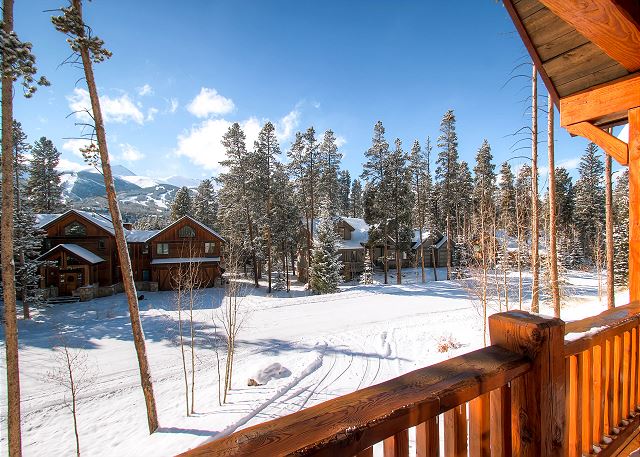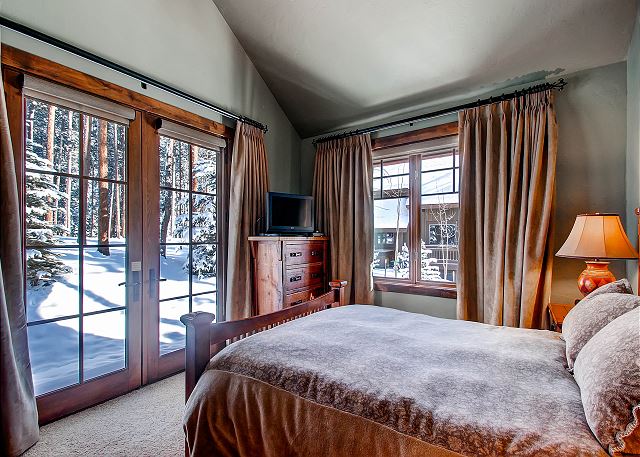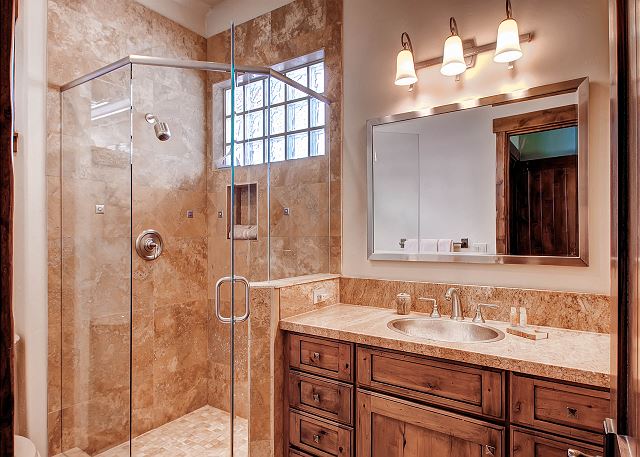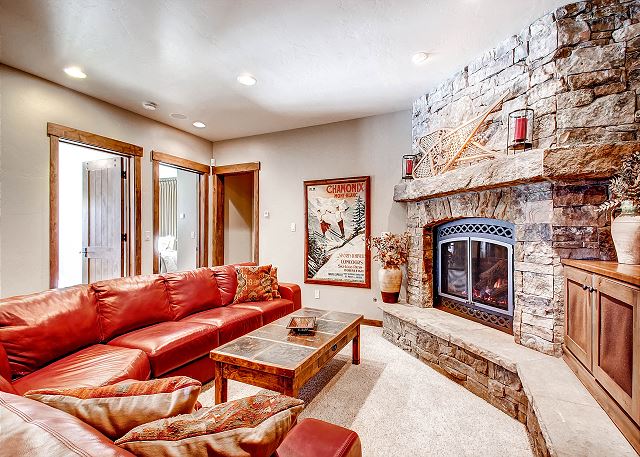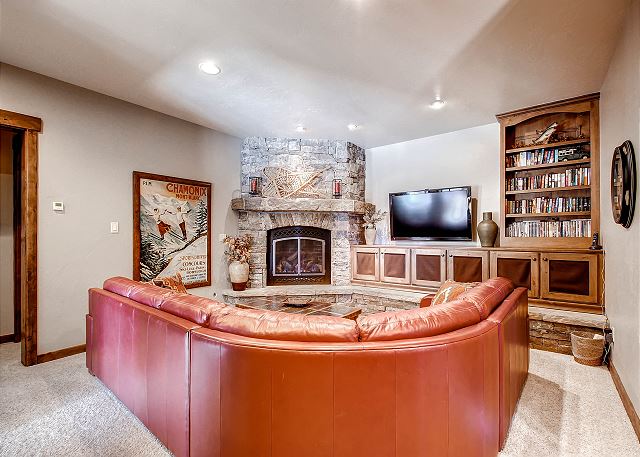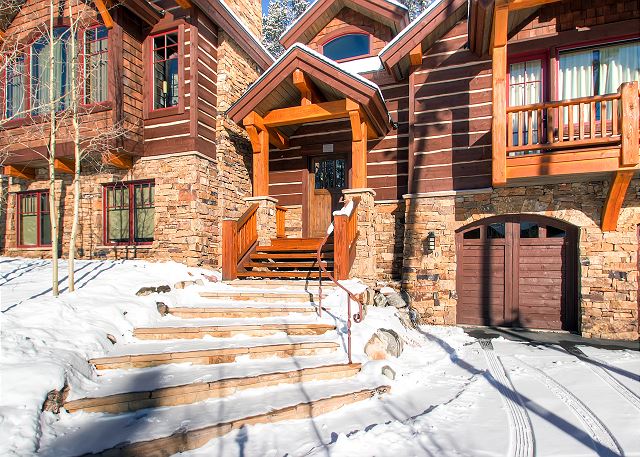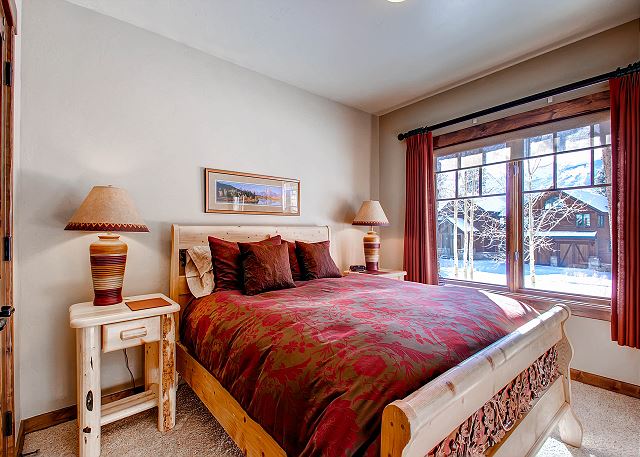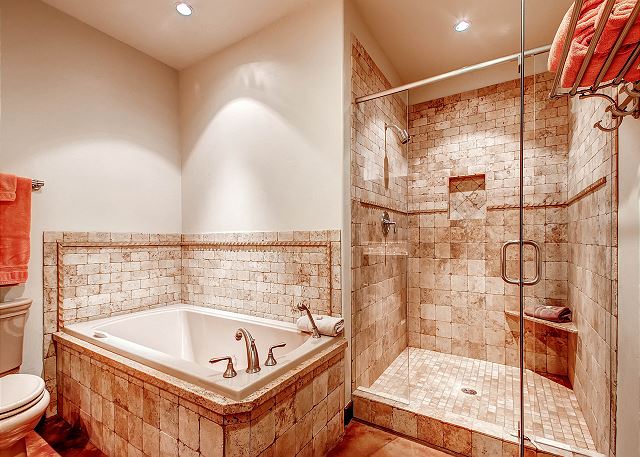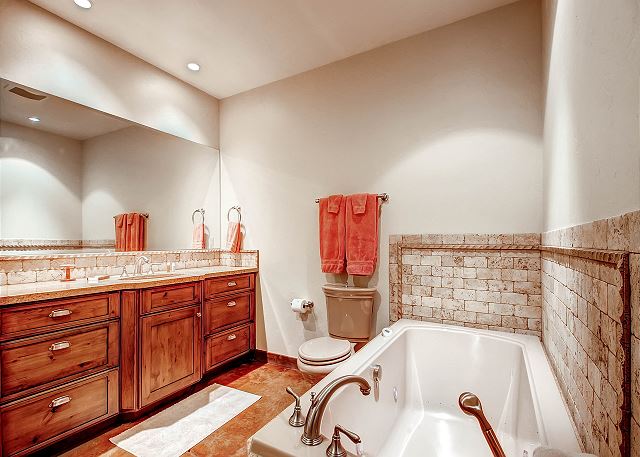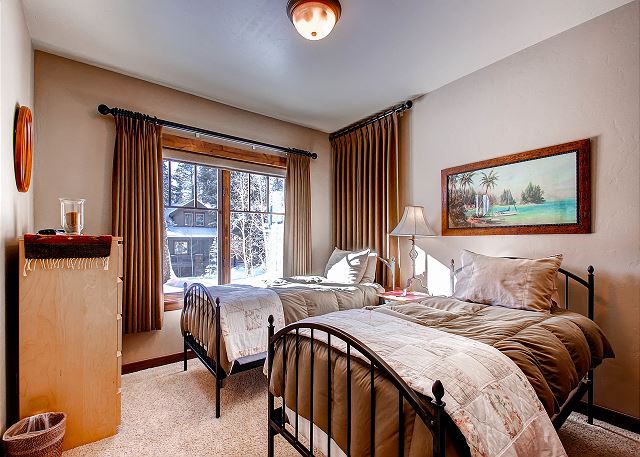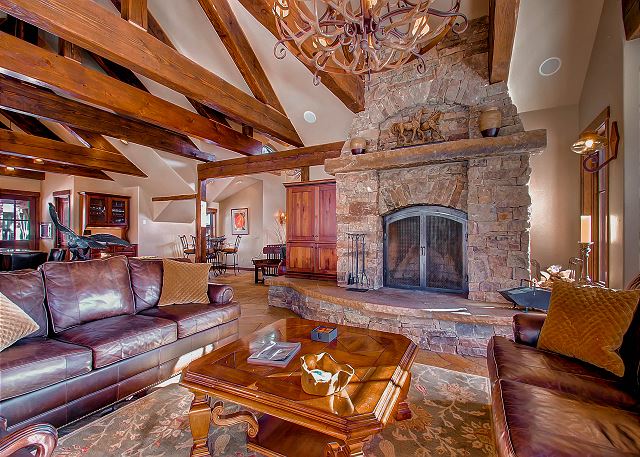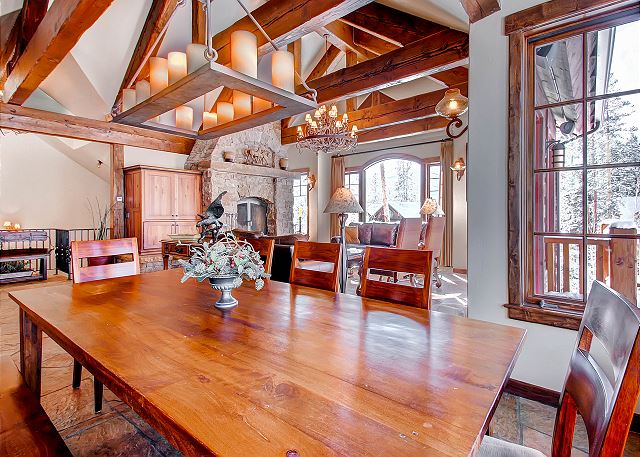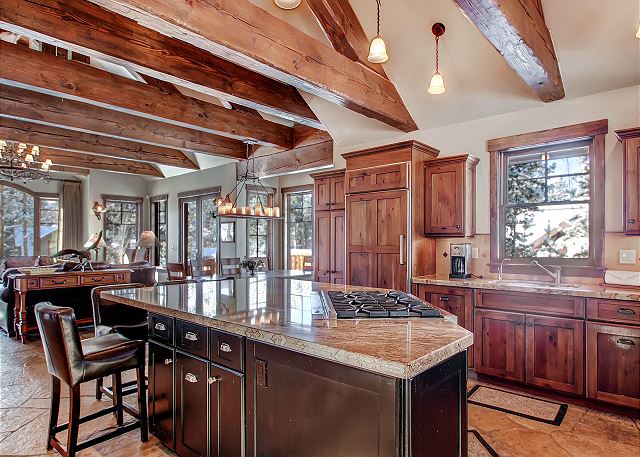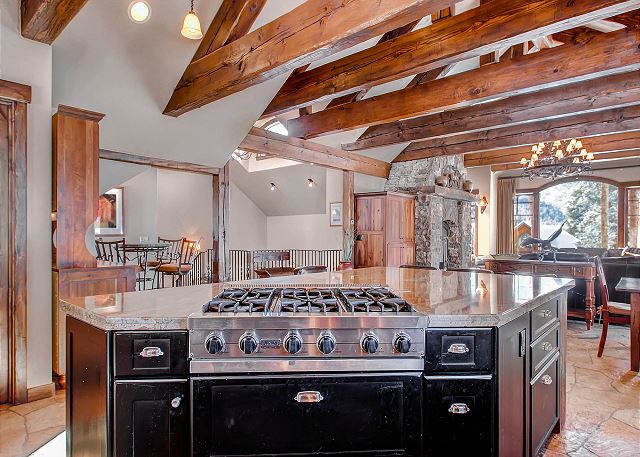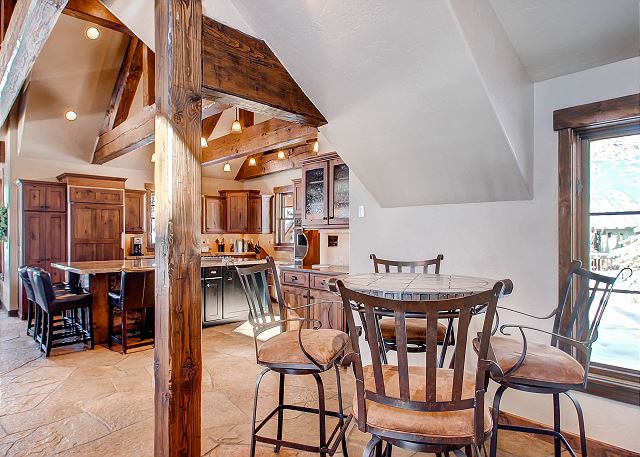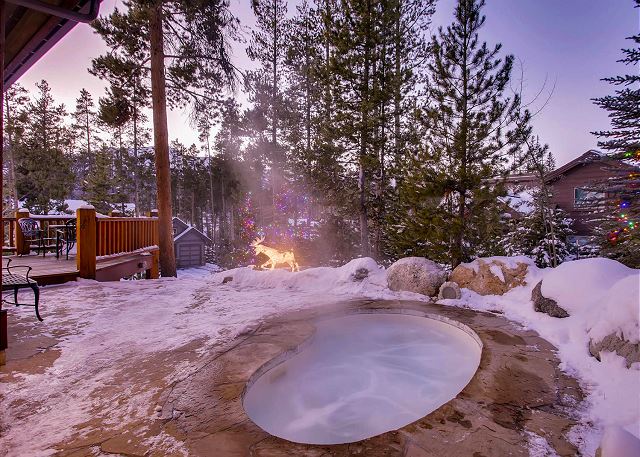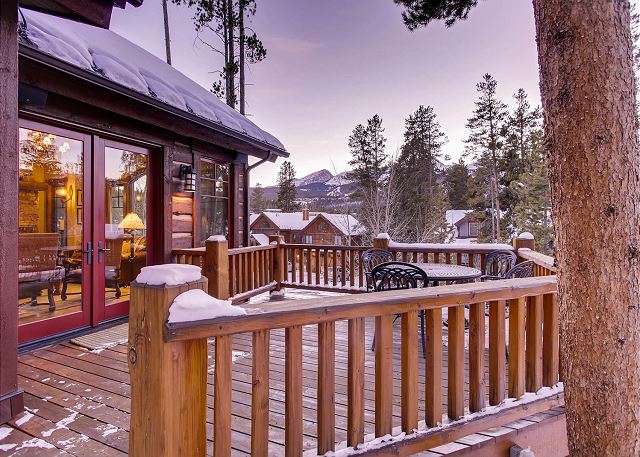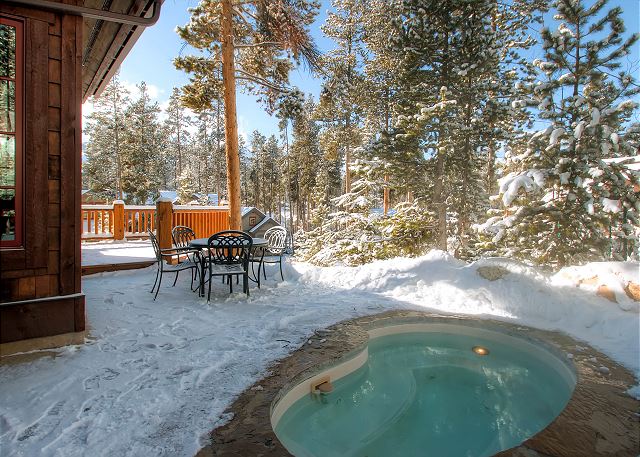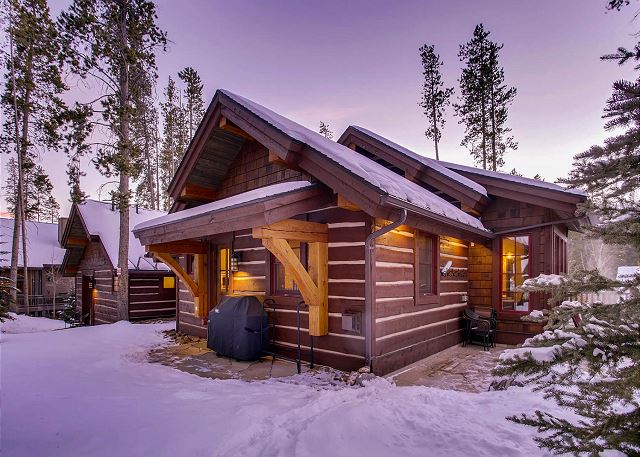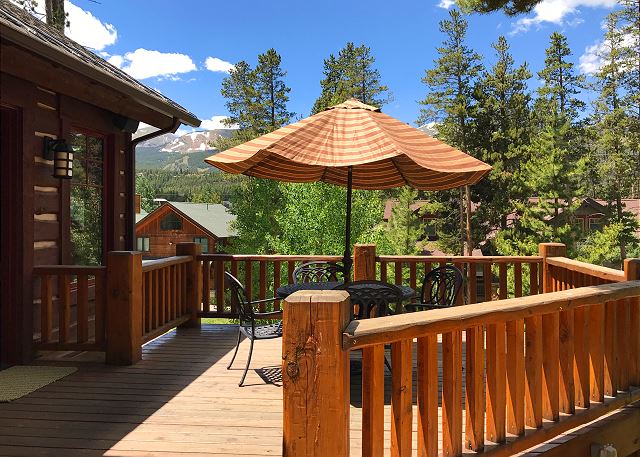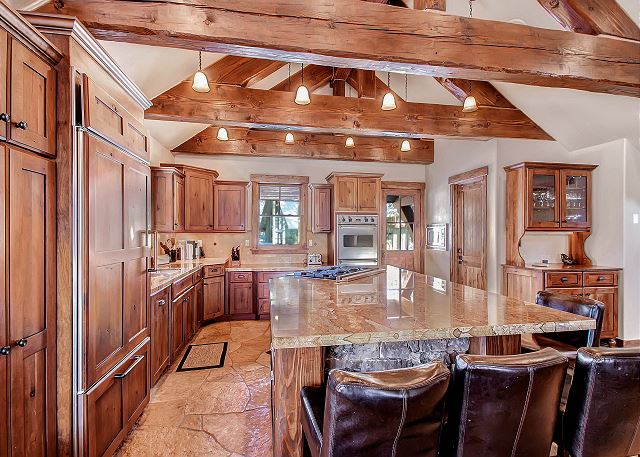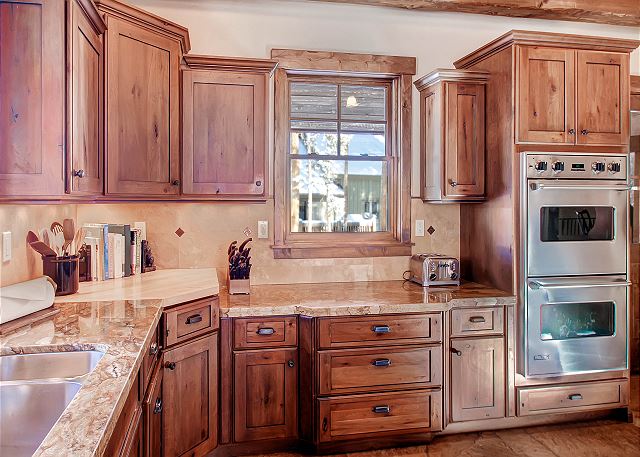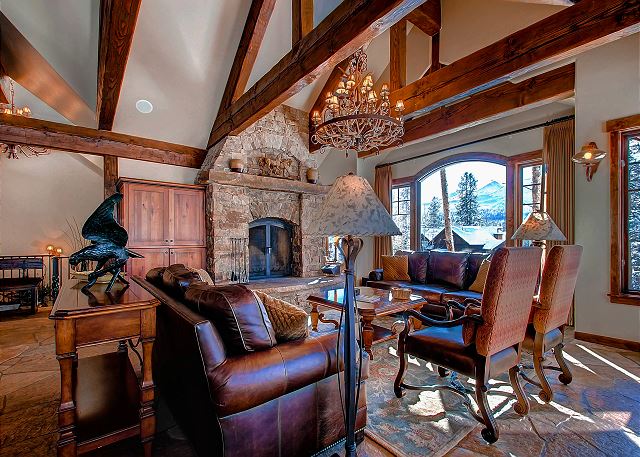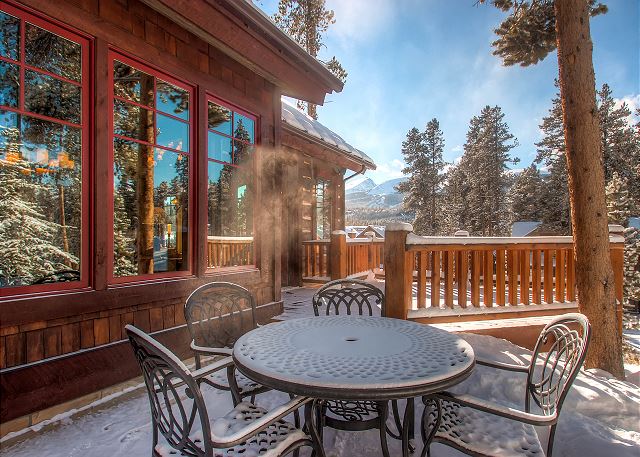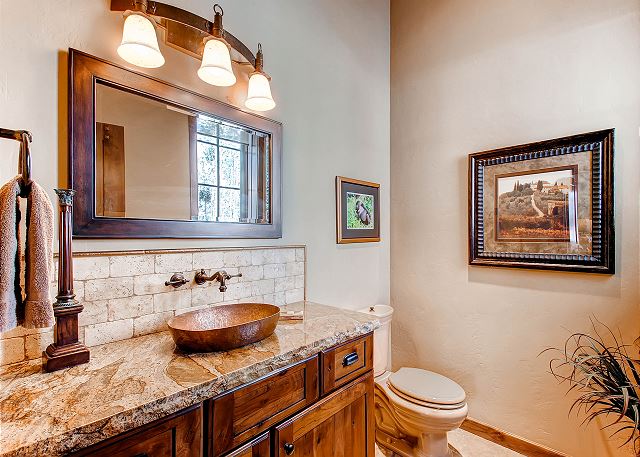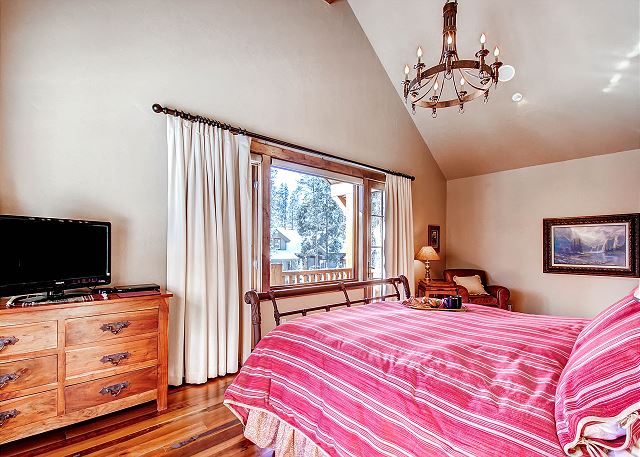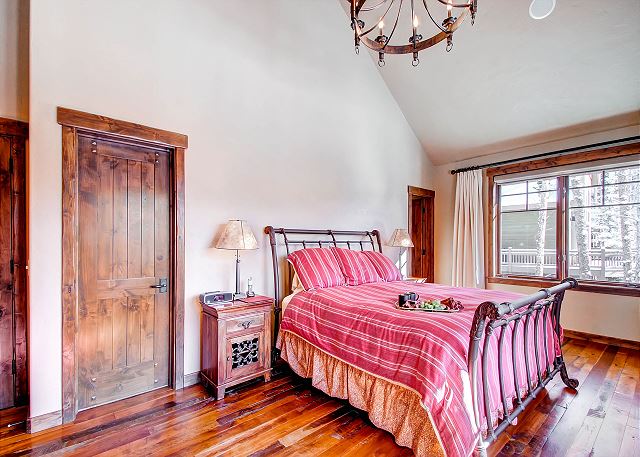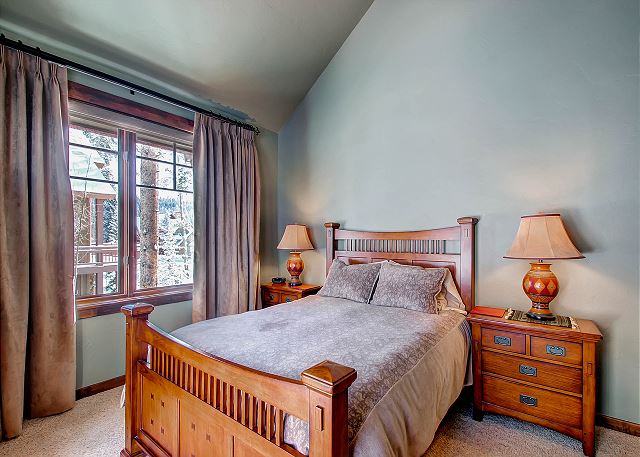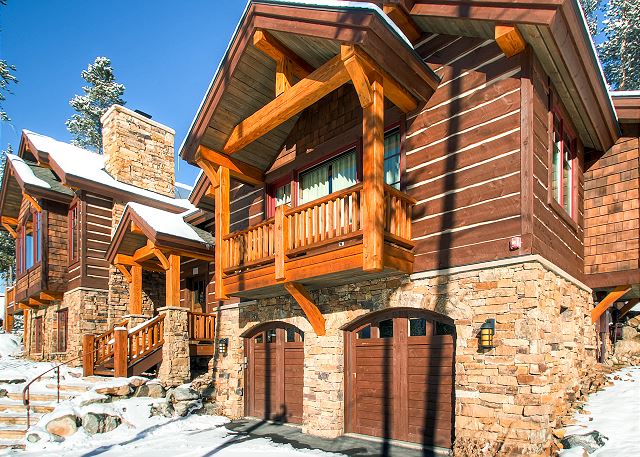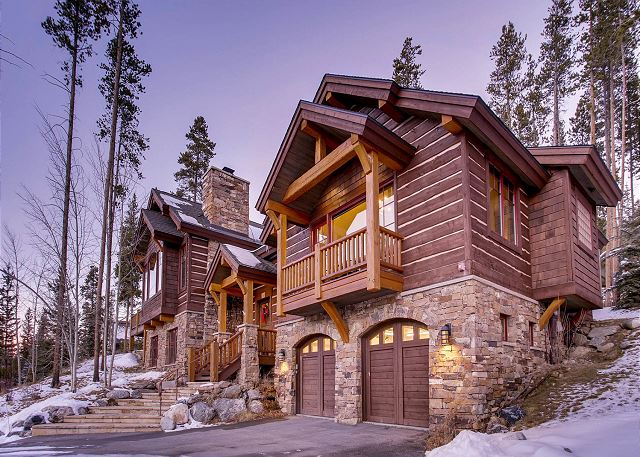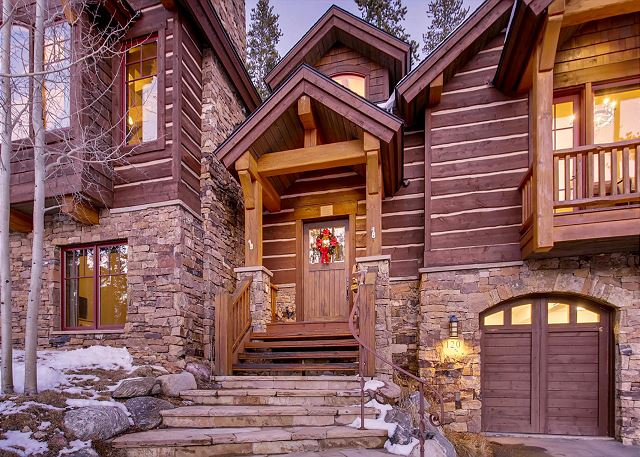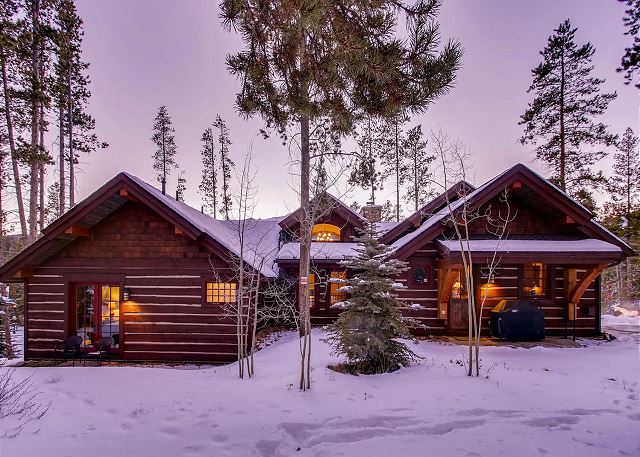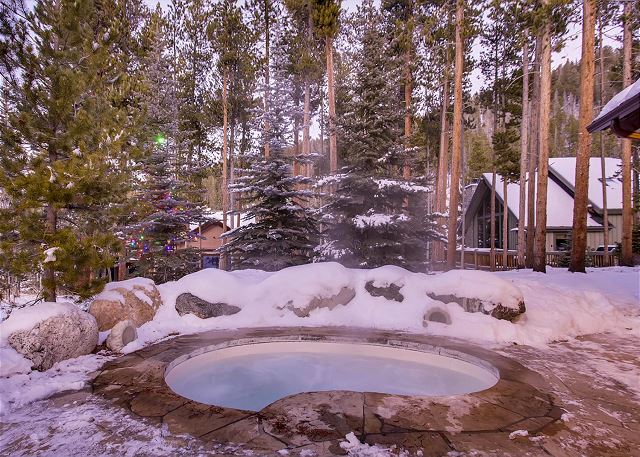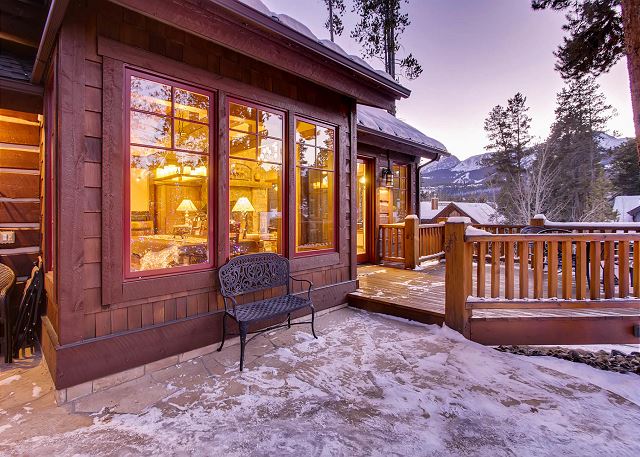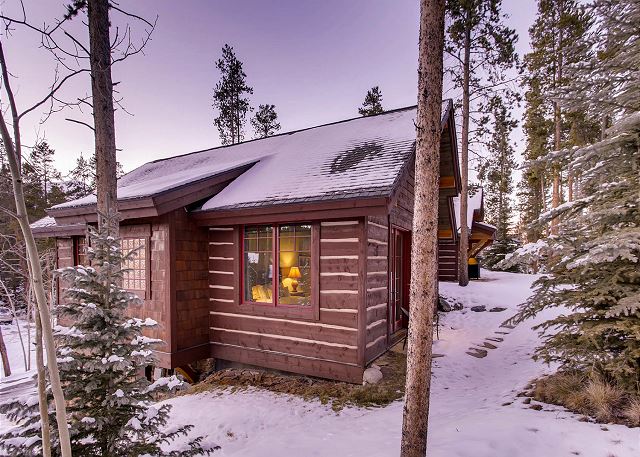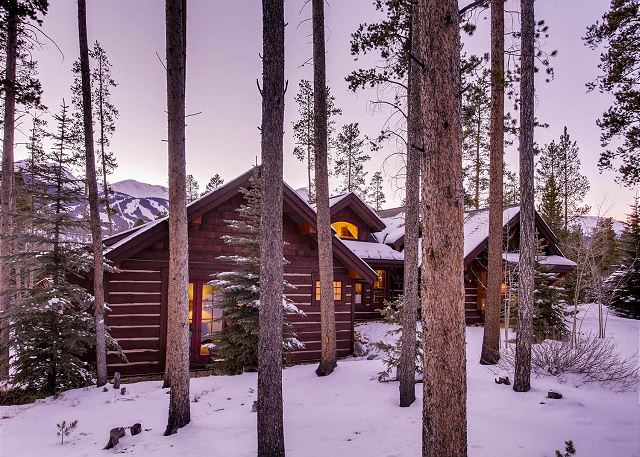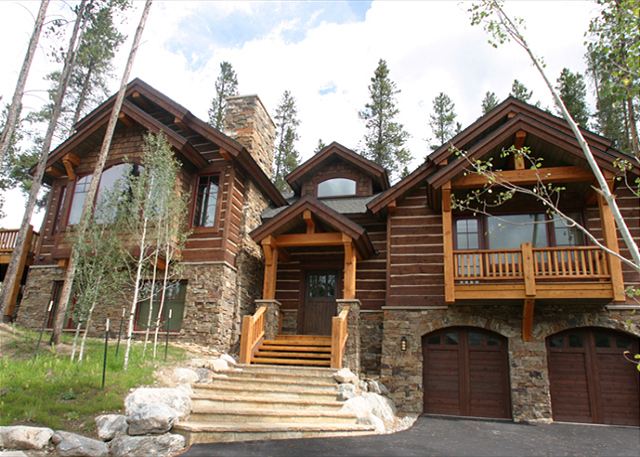 Description
Beautifully situated on a hillside in the exclusive Sunbeam Estates neighborhood sits Rustic Timber Lodge. This authentic Colorado lodge boasts spectacular mountain views and spacious living, inside and out. The alluring amenities such as the private outdoor hot tub, open floor plan, gourmet kitchen and large bedroom suites keep guests coming back again and again.



Once inside Rustic Timber Lodge, you'll discover a thoughtfully designed lodge complete with warm and inviting Tuscan-style décor, luxurious furnishings and modern appliances. The Great Room, Dining Area and Kitchen occupy the uppermost level under vaulted ceilings surrounded by windows allowing natural light to spill in throughout the day. The Great Room features a stunning stone hearth with wood-burning fireplace, TV and large picture window featuring expansive views of the Breckenridge Ski Resort. Step through double-doors to find the deck with outdoor dining (summer months) and the in-ground hot tub.



The custom Gourmet Kitchen features an expansive island with 4 leather barstools – the perfect place to gather around and serve up tantalizing meals after adventure-packed days. Professional appliances including a six-burner gas cooktop and double-ovens complete this impressive kitchen. A BBQ gas grill awaits just outside the rear of the kitchen, making it easy for the chef to step outside to flip the burgers! Adjacent to the kitchen is a convenient breakfast nook with bistro-style table.



The powder bath and two bedroom suites are located down a partial flight of stairs from the upper level. The Tree Top View King Suite features a king bed, reading nook, TV, private balcony and incredible views of Peak 8. It doesn't stop there, the ensuite bath features two vanities and large steam shower. Next door, the Woodland Queen Bedroom features a queen bed, TV, private ensuite bath (with shower) and double doors that lead to a small deck.



The lower level of Rustic Timber Lodge will be a popular gathering space as well – the Den features a cozy sectional sofa large TV and gas fireplace. The remaining two bedrooms are located on this level as well, sharing a bathroom. Down one more level you'll find the washer and dryer, plenty of storage space for everyone's gear and access to the garage.



EVERYDAY ESSENTIALS

Professionally Cleaned & Sanitized Prior to All Arrivals

Wireless Internet

24/7 local support

Washer & Dryer

Two bay heated garage with parking for 4 cars total

Paragon's personal care amenities – shampoo, conditioner, lotion, locally made specialty soaps



ABOUT THE AREA

Rustic Timber Lodge is located in the Sunbeam Estates neighborhood, just a couple blocks off of the south end of Breck's Main Street. This quiet neighborhood offers easy access to all that Breckenridge has to offer by foot. You can easily access the slopes by catching the shuttle from the Ice Skating Rink, just down the road. Hikers and Bikers will love the easy access to a variety of trails nearby as well!



Paragon homes Clare's in Town & Chelsea House are also located nearby – reserve all three homes for a larger gathering like a family reunion!



IMPORTANT POLICIES

4-WHEEL DRIVE REQUIRED in winter months

With regret, no pets please

Paragon Lodging in Breckenridge Colorado is the SOLE authorized Property Manager and Rental Agent for Rustic Timber Lodge. Paragon Lodging enforces an age policy of 25 years old. Families with children are welcome. We regret, we do not accept college groups.

Town of Breckenridge Business License Numbers:

Paragon Lodging: 33007

Rustic Timber Lodge: 396140002
Calendar
October 2021

| S | M | T | W | T | F | S |
| --- | --- | --- | --- | --- | --- | --- |
| | | | | | 01 | 02 |
| 03 | 04 | 05 | 06 | 07 | 08 | 09 |
| 10 | 11 | 12 | 13 | 14 | 15 | 16 |
| 17 | 18 | 19 | 20 | 21 | 22 | 23 |
| 24 | 25 | 26 | 27 | 28 | 29 | 30 |
| 31 | | | | | | |
November 2021

| S | M | T | W | T | F | S |
| --- | --- | --- | --- | --- | --- | --- |
| | 01 | 02 | 03 | 04 | 05 | 06 |
| 07 | 08 | 09 | 10 | 11 | 12 | 13 |
| 14 | 15 | 16 | 17 | 18 | 19 | 20 |
| 21 | 22 | 23 | 24 | 25 | 26 | 27 |
| 28 | 29 | 30 | | | | |
December 2021

| S | M | T | W | T | F | S |
| --- | --- | --- | --- | --- | --- | --- |
| | | | 01 | 02 | 03 | 04 |
| 05 | 06 | 07 | 08 | 09 | 10 | 11 |
| 12 | 13 | 14 | 15 | 16 | 17 | 18 |
| 19 | 20 | 21 | 22 | 23 | 24 | 25 |
| 26 | 27 | 28 | 29 | 30 | 31 | |
January 2022

| S | M | T | W | T | F | S |
| --- | --- | --- | --- | --- | --- | --- |
| | | | | | | 01 |
| 02 | 03 | 04 | 05 | 06 | 07 | 08 |
| 09 | 10 | 11 | 12 | 13 | 14 | 15 |
| 16 | 17 | 18 | 19 | 20 | 21 | 22 |
| 23 | 24 | 25 | 26 | 27 | 28 | 29 |
| 30 | 31 | | | | | |
February 2022

| S | M | T | W | T | F | S |
| --- | --- | --- | --- | --- | --- | --- |
| | | 01 | 02 | 03 | 04 | 05 |
| 06 | 07 | 08 | 09 | 10 | 11 | 12 |
| 13 | 14 | 15 | 16 | 17 | 18 | 19 |
| 20 | 21 | 22 | 23 | 24 | 25 | 26 |
| 27 | 28 | | | | | |
March 2022

| S | M | T | W | T | F | S |
| --- | --- | --- | --- | --- | --- | --- |
| | | 01 | 02 | 03 | 04 | 05 |
| 06 | 07 | 08 | 09 | 10 | 11 | 12 |
| 13 | 14 | 15 | 16 | 17 | 18 | 19 |
| 20 | 21 | 22 | 23 | 24 | 25 | 26 |
| 27 | 28 | 29 | 30 | 31 | | |
April 2022

| S | M | T | W | T | F | S |
| --- | --- | --- | --- | --- | --- | --- |
| | | | | | 01 | 02 |
| 03 | 04 | 05 | 06 | 07 | 08 | 09 |
| 10 | 11 | 12 | 13 | 14 | 15 | 16 |
| 17 | 18 | 19 | 20 | 21 | 22 | 23 |
| 24 | 25 | 26 | 27 | 28 | 29 | 30 |
May 2022

| S | M | T | W | T | F | S |
| --- | --- | --- | --- | --- | --- | --- |
| 01 | 02 | 03 | 04 | 05 | 06 | 07 |
| 08 | 09 | 10 | 11 | 12 | 13 | 14 |
| 15 | 16 | 17 | 18 | 19 | 20 | 21 |
| 22 | 23 | 24 | 25 | 26 | 27 | 28 |
| 29 | 30 | 31 | | | | |
June 2022

| S | M | T | W | T | F | S |
| --- | --- | --- | --- | --- | --- | --- |
| | | | 01 | 02 | 03 | 04 |
| 05 | 06 | 07 | 08 | 09 | 10 | 11 |
| 12 | 13 | 14 | 15 | 16 | 17 | 18 |
| 19 | 20 | 21 | 22 | 23 | 24 | 25 |
| 26 | 27 | 28 | 29 | 30 | | |
July 2022

| S | M | T | W | T | F | S |
| --- | --- | --- | --- | --- | --- | --- |
| | | | | | 01 | 02 |
| 03 | 04 | 05 | 06 | 07 | 08 | 09 |
| 10 | 11 | 12 | 13 | 14 | 15 | 16 |
| 17 | 18 | 19 | 20 | 21 | 22 | 23 |
| 24 | 25 | 26 | 27 | 28 | 29 | 30 |
| 31 | | | | | | |
August 2022

| S | M | T | W | T | F | S |
| --- | --- | --- | --- | --- | --- | --- |
| | 01 | 02 | 03 | 04 | 05 | 06 |
| 07 | 08 | 09 | 10 | 11 | 12 | 13 |
| 14 | 15 | 16 | 17 | 18 | 19 | 20 |
| 21 | 22 | 23 | 24 | 25 | 26 | 27 |
| 28 | 29 | 30 | 31 | | | |
September 2022

| S | M | T | W | T | F | S |
| --- | --- | --- | --- | --- | --- | --- |
| | | | | 01 | 02 | 03 |
| 04 | 05 | 06 | 07 | 08 | 09 | 10 |
| 11 | 12 | 13 | 14 | 15 | 16 | 17 |
| 18 | 19 | 20 | 21 | 22 | 23 | 24 |
| 25 | 26 | 27 | 28 | 29 | 30 | |
Available
Unavailable
Check-In Only
Check-Out Only
Seasonal Rates
| Date Range | Daily | Weekly | Monthly |
| --- | --- | --- | --- |
* Seasonal rates are only estimates and do not reflect taxes or additional fees.
Location
Guest Reviews of
Rustic Timber Lodge (PA-212527)
Breckenridge, CO
---
Vacation Rental Reviews by
stars based on
Rustic Timber Lodge - The Perfect family getaway!
Review by
Rustic Timber Lodge was an amazing home - perfect for our multi-generational family get together! The staff was friendly and helpful during our check-in. Great, fully stocked kitchen, comfortable beds, and spacious bathrooms. The location is close to town, but yet private. We will definitely be back!
5 out of 5 stars
Outstanding Sevice As Usual
Review by
Dan T.
We stayed again with Paragon Lodging. We have been renting with Paragon for 20 years and have never experienced a problem. The homes are well appointed, beautiful and clean. We highly recommend Paragon and their friendly staff.
5 out of 5 stars
Manager Response:
Hello Dan, It was our pleasure to have you as our guests and we're so happy that Rustic Timber Lode was a good fit for your group. We look forward to greeting you again soon. -Lauren & The Staff of Paragon Lodging
Rustic Timber Lodge
Review by
Benjamin N.
Extremely nice home that is well and tastefully furnished. Excellent location near park and town.
5 out of 5 stars
Perfect
Review by
Perfect in every way. Pristine condition. Comfortable beds. Handy location to the wonderful village of Breckenridge. Enjoyed the hot tub. Saw the fox daily. Fires in the massive fireplace were tremendous. So much fun. Only warning would be that it's a split foyer with lots of steps. Not recommended for those with physical disabilities. Paragon was overly attentive to 2 issues we had. Garage door and toilet. Someone was there within minutes taking care of it. The value for what we paid and what we experienced we're spot on. Excellent.
5 out of 5 stars
Beautiful property
Review by
Eight of us enjoyed this beautiful property while skiing Breckenridge. The house was very comfortable, with great beds, down pillows, and heated floors for the cold mornings. The hot tub was enjoyed by all, and the kitchen had all we needed to prepare and enjoy family meals. It was less than a 5 minute drive to drop off kids at the ski school, so very convenient, without the congestion of being in a condo. The team at Paragon were great to work with.
5 out of 5 stars
Manager Response:
Thank you, Lyle - we're happy to hear that you had a nice time! We hope to see you again soon!
Breck Ski
Review by
DAVID T.
House was awesome. Check in and check out was smooth and easy
5 out of 5 stars
Rustic Timbers
Review by
Bob E.
As expected the house, location, staff, weather etc was superb!
5 out of 5 stars
Manager Response:
Thanks Robert!!
Awesome stay in Breckenridge
Review by
Cheryl R.
We had a blast & everyone in our group loved the house that we picked. The location was fine. We walked to town. Love love loved it!!
5 out of 5 stars
Manager Response:
Thank you, Cheryl! We're so happy you had a nice time at the Rustic Timber Lodge! We hope you'll come back and see us again soon -Lauren and The Staff of Paragon Lodging
Rustic Timber Lodge
Review by
We had a wonderful time in a beautiful home.
5 out of 5 stars
120 Klack review
Review by
Jim W.
We loved the views from this property and it was close to town. We visited at the end of July and it was a little hot on the first night and we were surprised to learn there wasn't any air conditioning, which is apparently normal for these homes, but we're from Texas and thought everyone had A/C. 🙂 The only thing we really had trouble with was the hot tub... it wasn't hot the first day and then seemed to get too hot after it was fixed. The upstairs master bedroom was really nice and the other bedroom was okay, too, but the bed was a little lumpy. There is a downstairs area with bedrooms that we used for our kids that is nice but the bedrooms are a little cramped. The oven settings have worn off and are difficult to read but other than that we liked the kitchen and it had all the utensils and things that we needed. The outdoor grill worked nicely. All in all, a very nice place to vacation.
4 out of 5 stars
Beautiful home with stunning views and close proximity to Main St
Review by
Margarita T.
This is our second stay in Rustic Timber Lodge. It's well-appointed and extremely comfortable for a multi-family trip. The view was stunning from the house and walking distance to Main Street. I couldn't ask for a better home to spend our summer, family vacation. I can't wait to come back.
5 out of 5 stars
rustic timber in january
Review by
Warren P.
Perfect location, exceptional property, & plenty of room.
5 out of 5 stars
Amazing Home - Wonderful Vacation!
Review by
Rustic Timber Lodge was a beautiful and amazing home in a great neighborhood within walking distance to the town of Breckenridge, but still nestled back in the pines enough to feel secluded. Our family vacation was perfect as a result of being able to stay in this beautifully appointed home. Thank you so much!
5 out of 5 stars
Beautiful home and beautiful location!!
Review by
Micah G.
We loved it so much we stayed 3 extra days! I'm bound and determined to move there.
5 out of 5 stars
Family Ski Trip
Review by
Matt P.
This was my second time renting with paragon. It's the only way to stay in Breckenridge. We will definitely be back next season.We had a wonderful time.
5 out of 5 stars
Breck Luxury Escape
Review by
Jill H.
We had the perfect stay at Rustic Timber. It was an above average comfortable home.... well appointed in all aspects of a luxury rental and a perfect location for our family. This is our second stay with Paragon lodging and they are wonderful. They jump through hoops to make their guests feel like they are staying at a luxury five star resort.
5 out of 5 stars
A Breckenridge Wedding Retreat
Review by
Randall B.
A great place for our extended family stay. The house enabled our sons/significant others the space for privacy, yet was spectacular for social interaction!
5 out of 5 stars
Rustic Timber Lodge
Review by
The Rustic Timber Lodge exceeded my family's expectations by far. The home was top of the line, with plenty of space for a large group of people to spread out and relax. The house is within walking distance from downtown Breckenridge as well as hiking trails. Paragon Lodging was professional and easy to work with. We would definitely stay again!
5 out of 5 stars
Breck 2013
Review by
David T.
Fantastic time. Plan to repeat next summer.
5 out of 5 stars
A unique and beautiful home for your stay in Breckenridge
Review by
Robert C.
This home is beautiful, built and kept to very high standards. Besides this, the rental agency (Paragon) makes certain the cleaning, equipment and items needed for an extended stay are provided and in place.
5 out of 5 stars
Always a pleasure to stay at a Paragon property.
Review by
Larry K.
There is nothing new and nothing different from the a past as I continue thank Krista for over a decade of continued good experiences and for her friendship, kindness, and accommodations. All of your staff also warrants kudos for their prompt, thorough, and courteous response when responding to questions and requests. Thanks for everything.
5 out of 5 stars
Rustic Timber
Review by
Michael H.
Fabulous Winter Getaway
Review by
The house was a great place to relax and enjoy the beautiful winter scenery. Rooms were comfy and appiances top of the line! Even the little grandchildren were able to run around in bare feet due to the warm floors! Beautiful neighborhhod.
5 out of 5 stars
Escaped the heat from Texas!!
Review by
Mike G.
Loved the fact that it was so close to a park, dog park and baseball field. The grandkids loved that. Fabulous kitchen!! This was our third year to stay there and were very satisfied.
5 out of 5 stars
Contact Us