Summit at Shockhill (PA) (House)
7 Bedroom(s) | 7.5 Bathroom(s) | Sleeps 16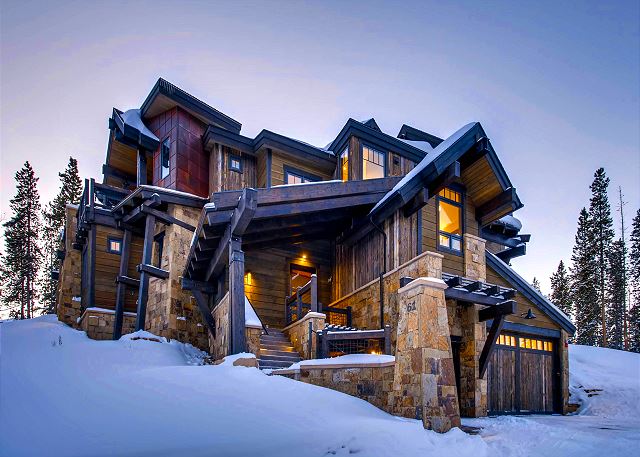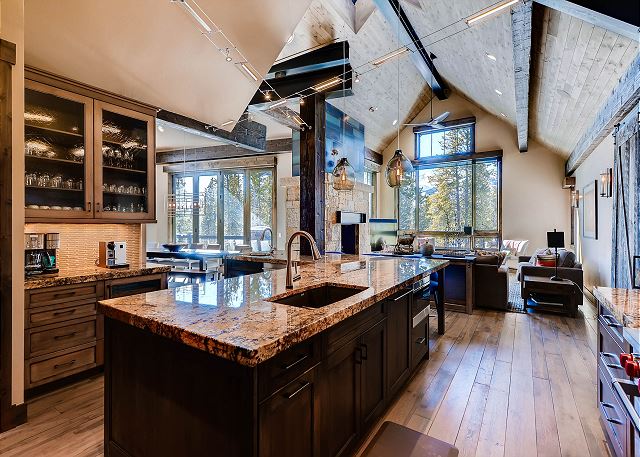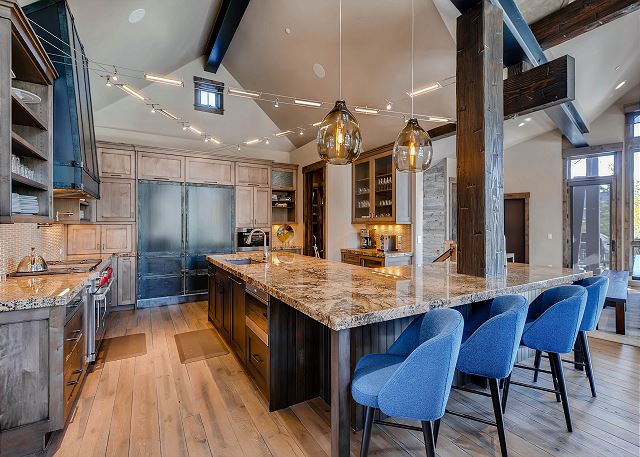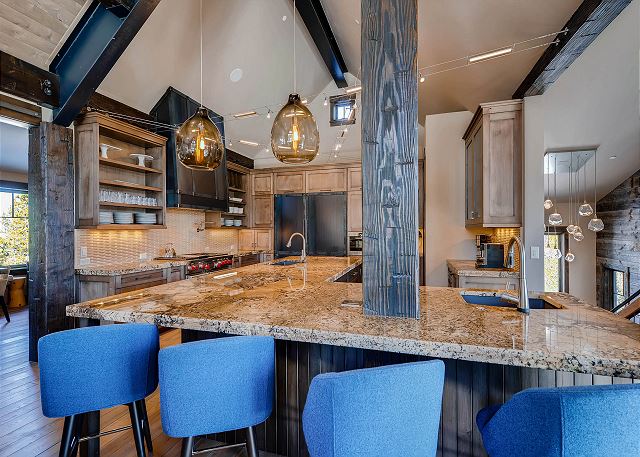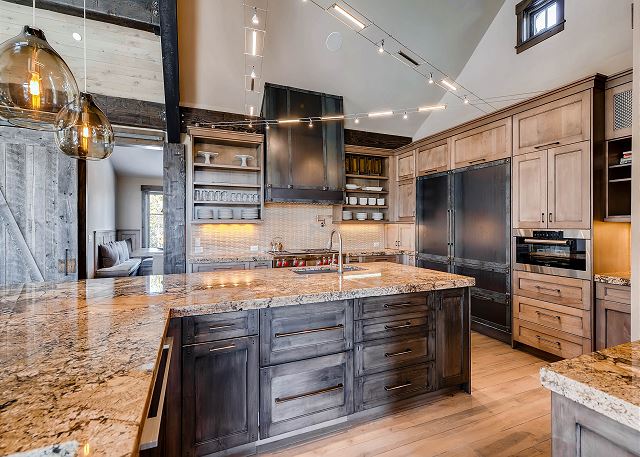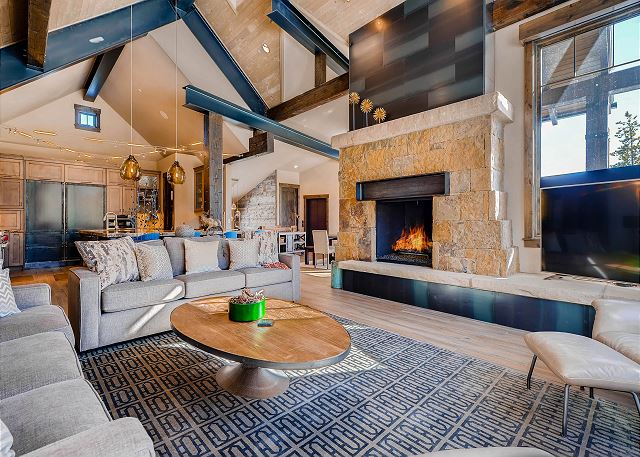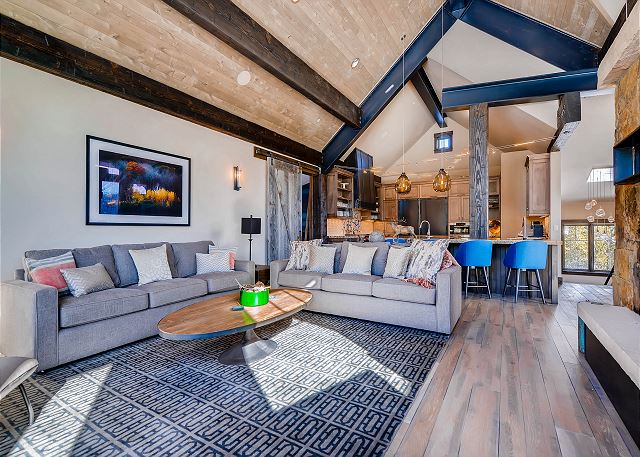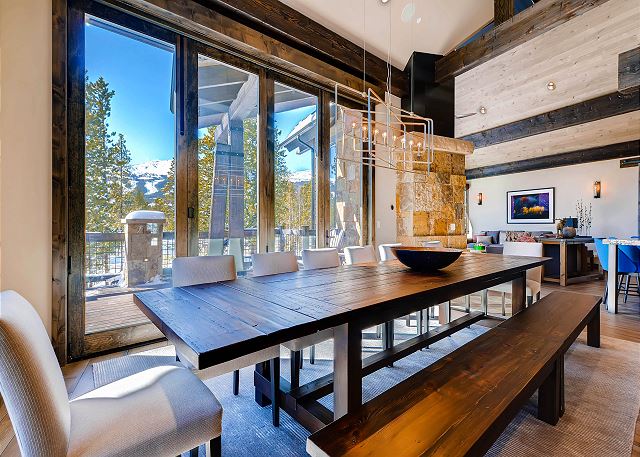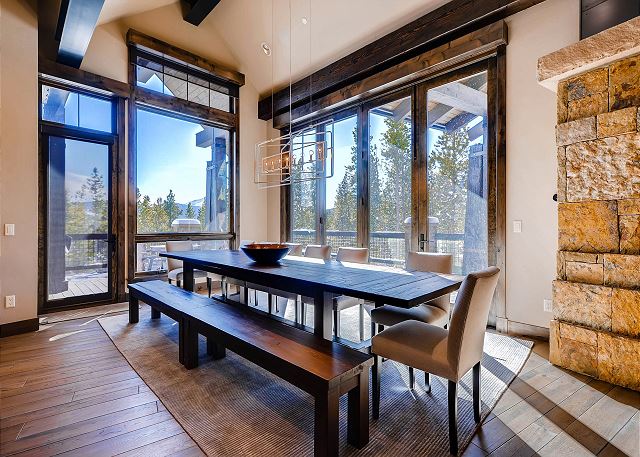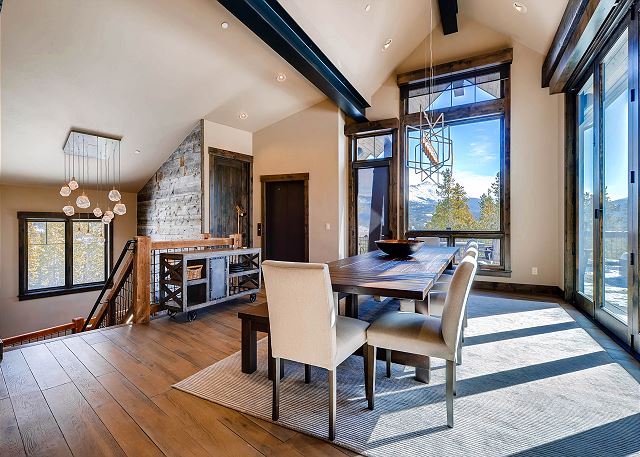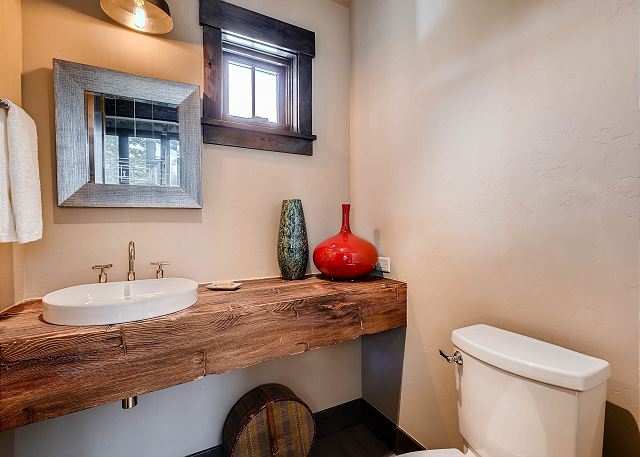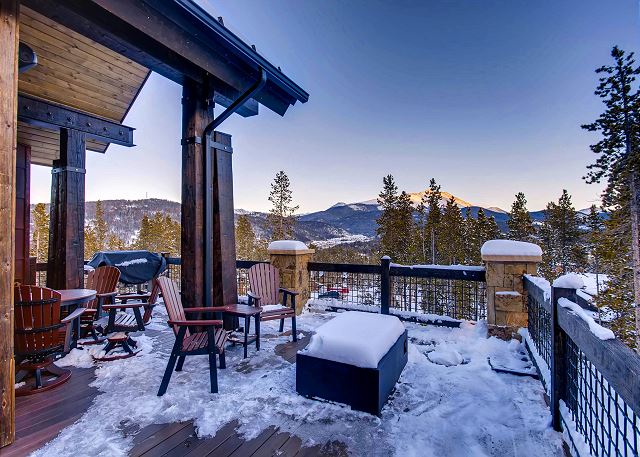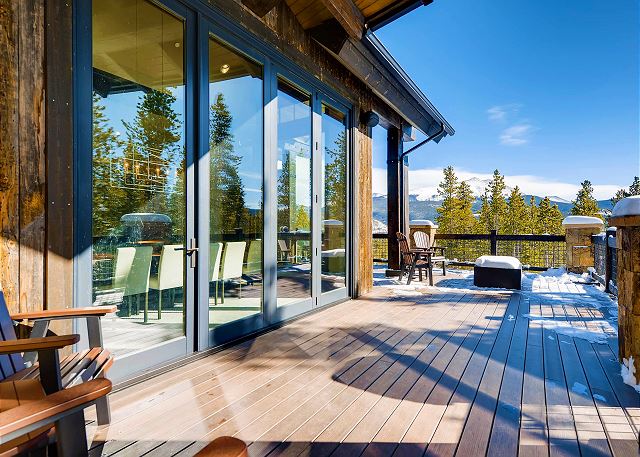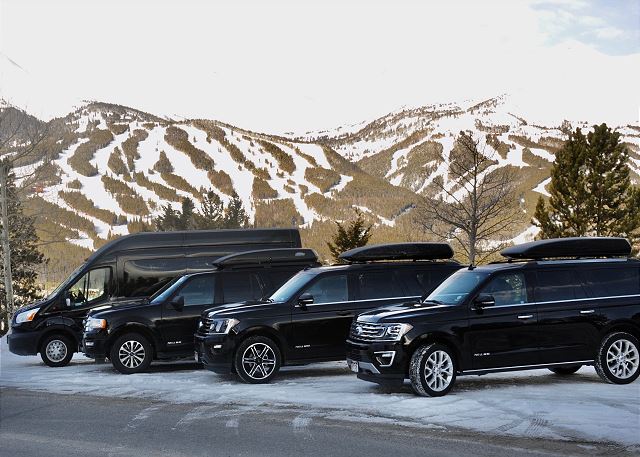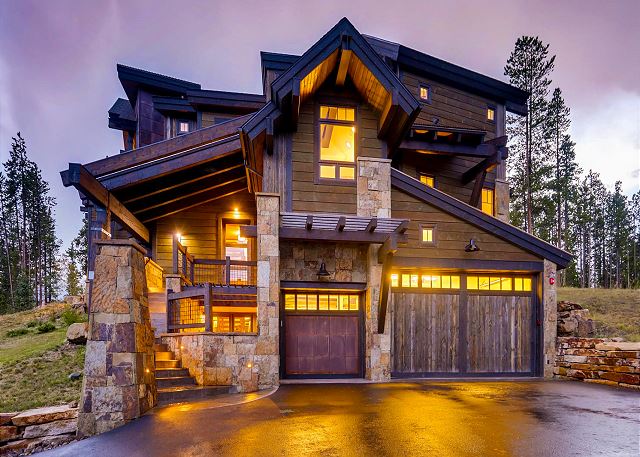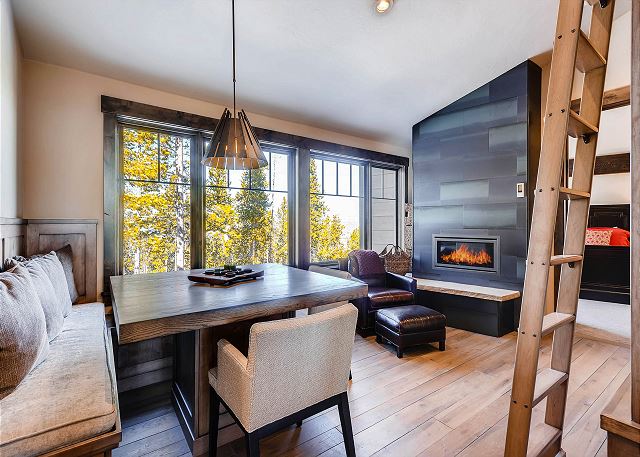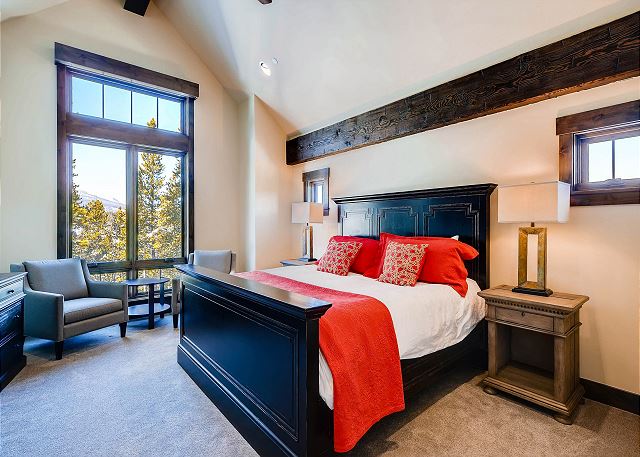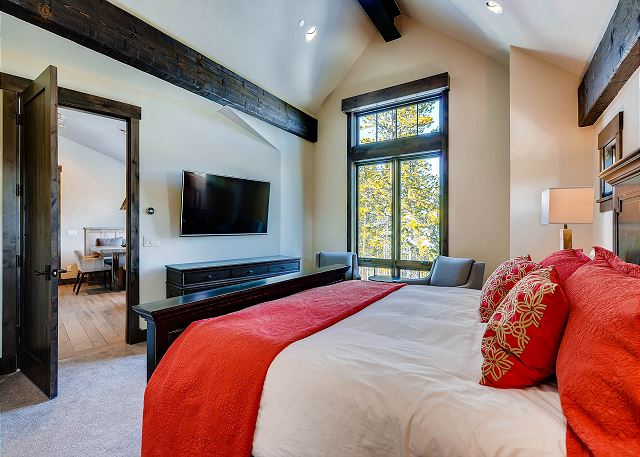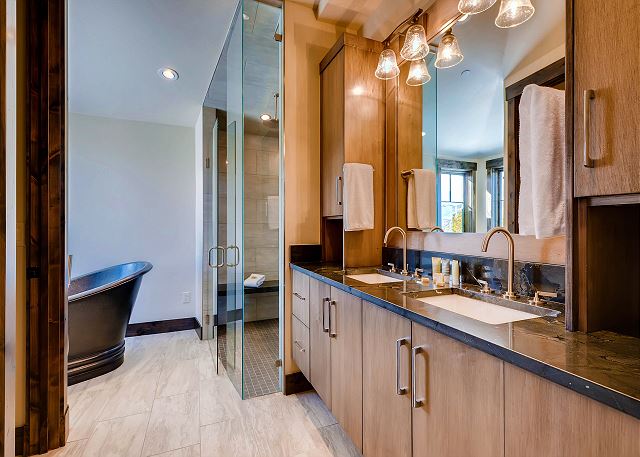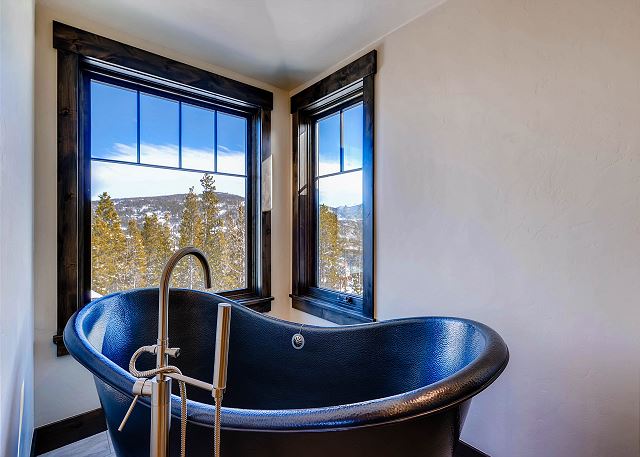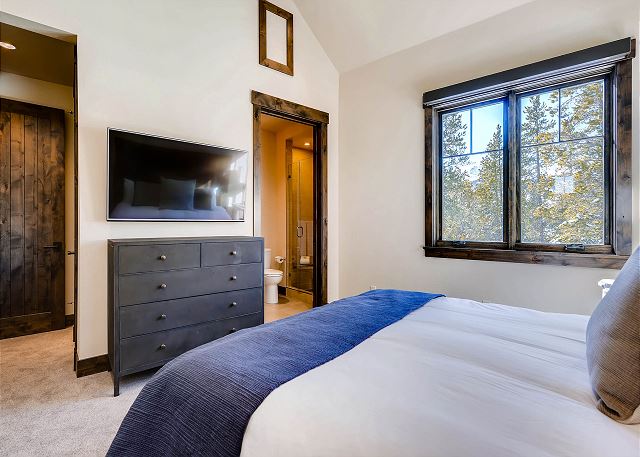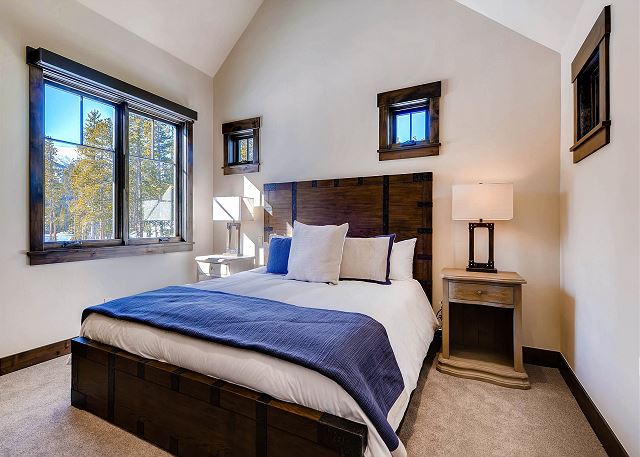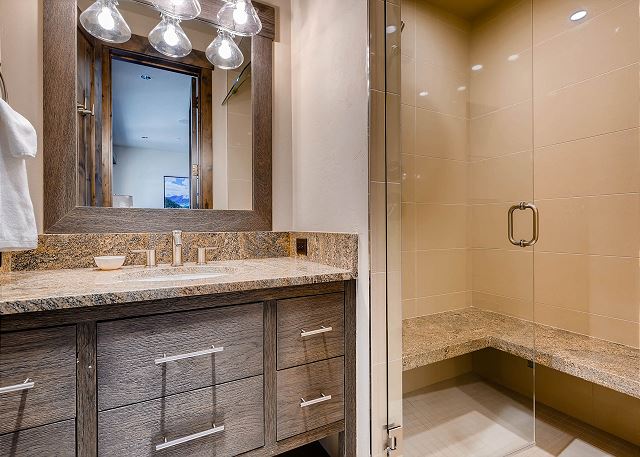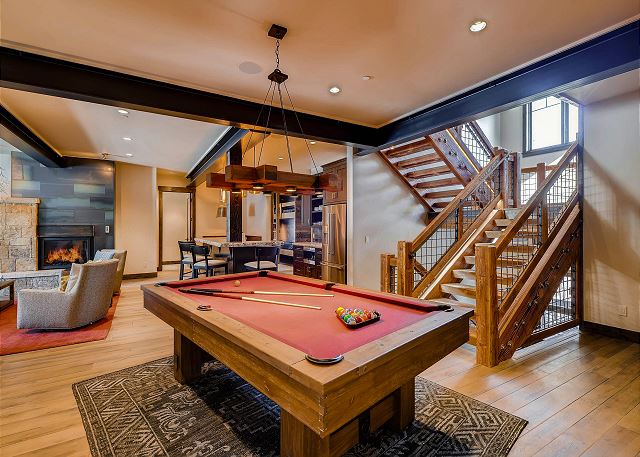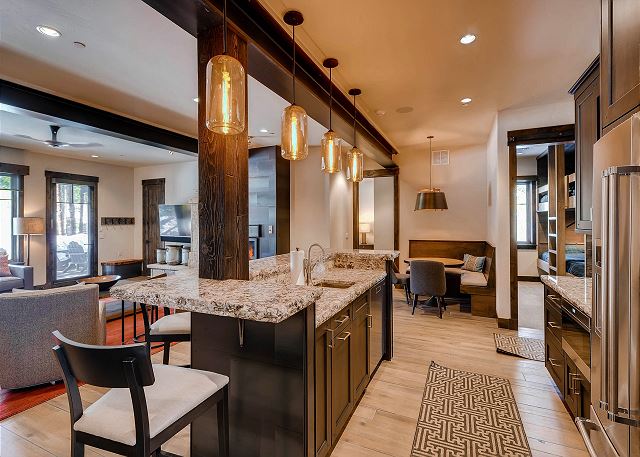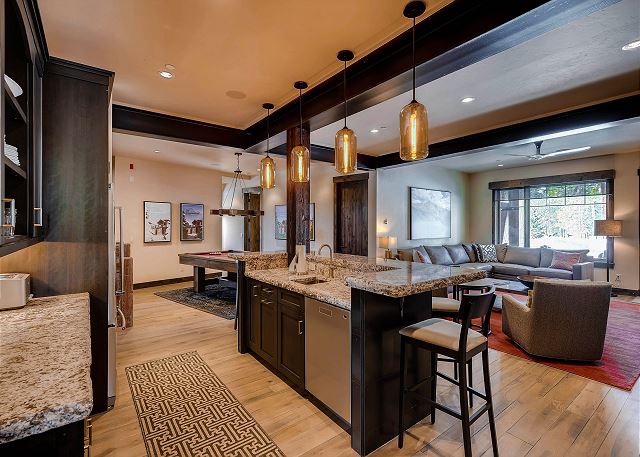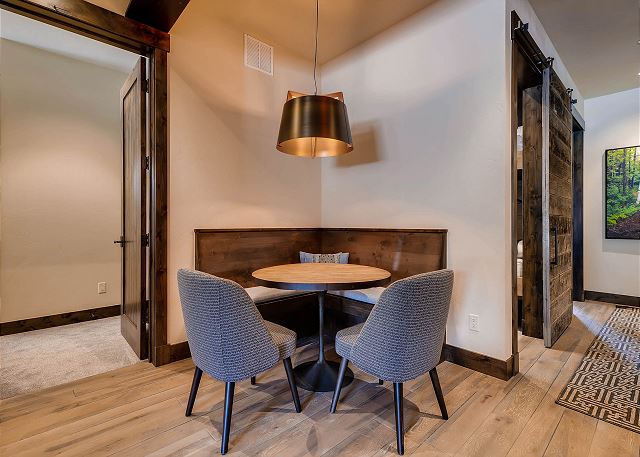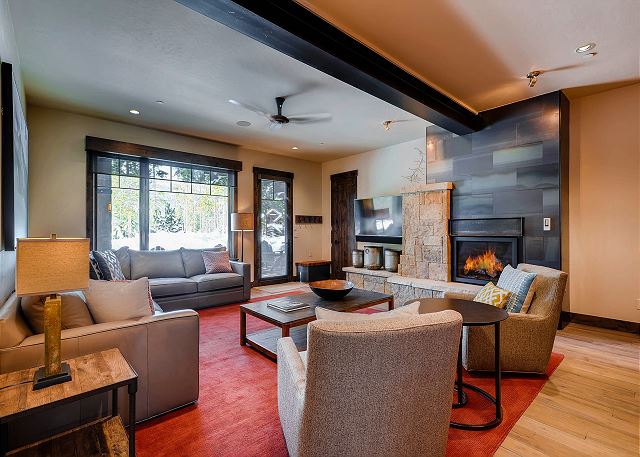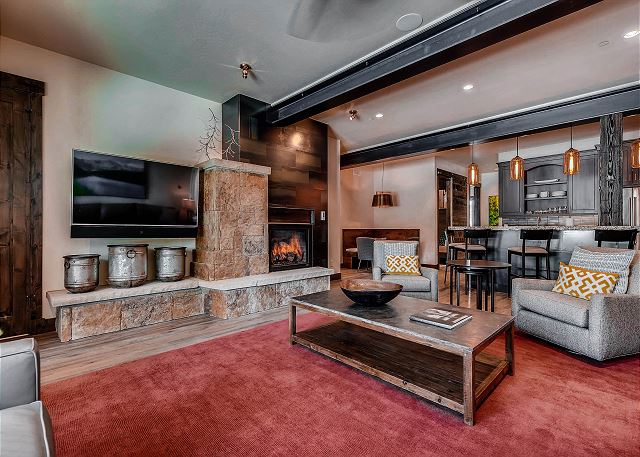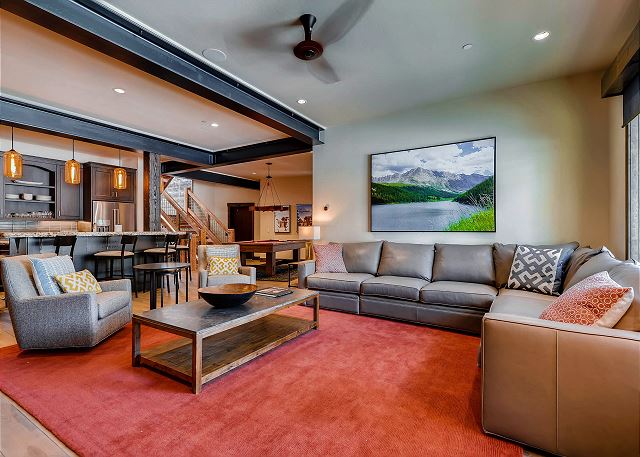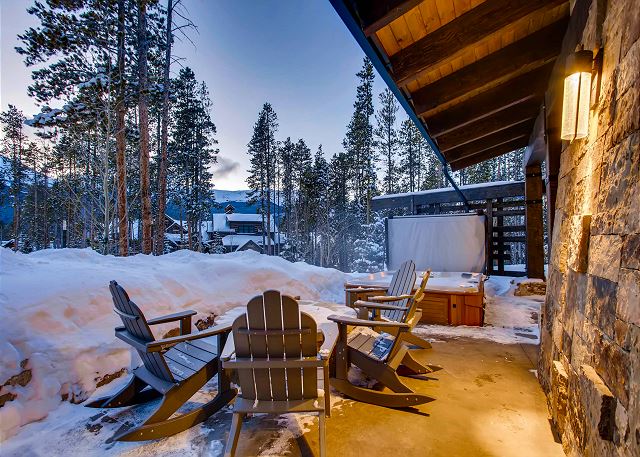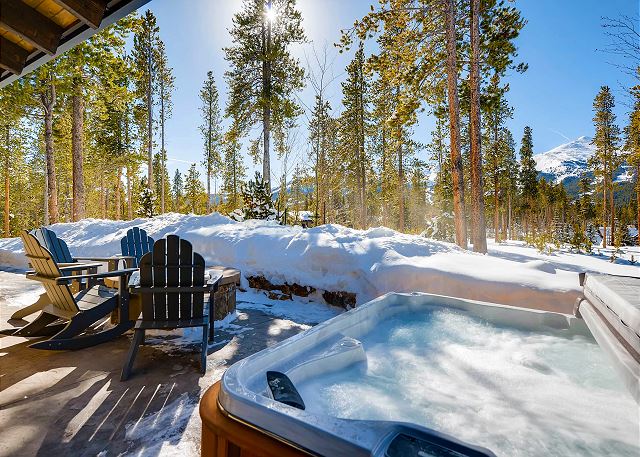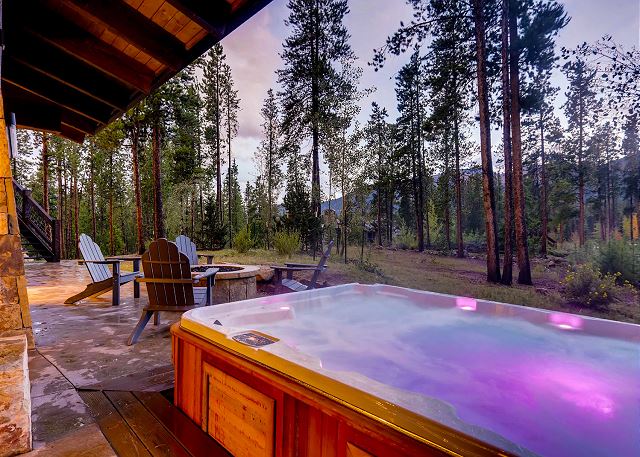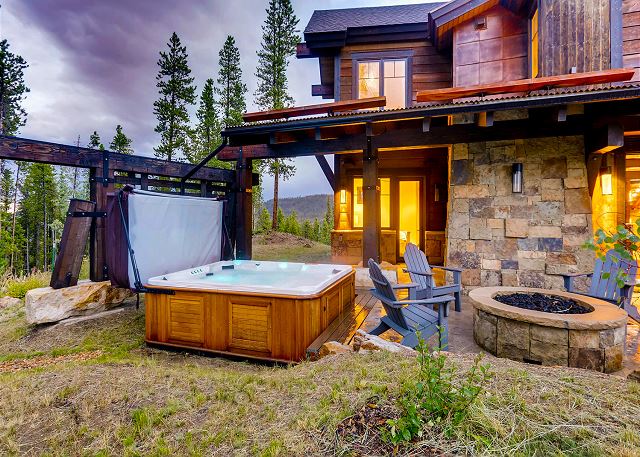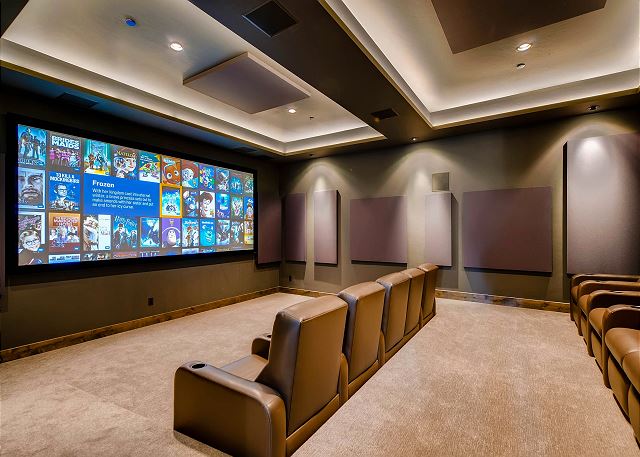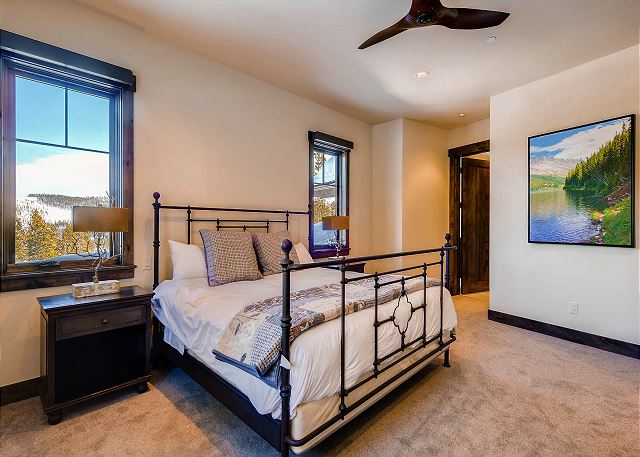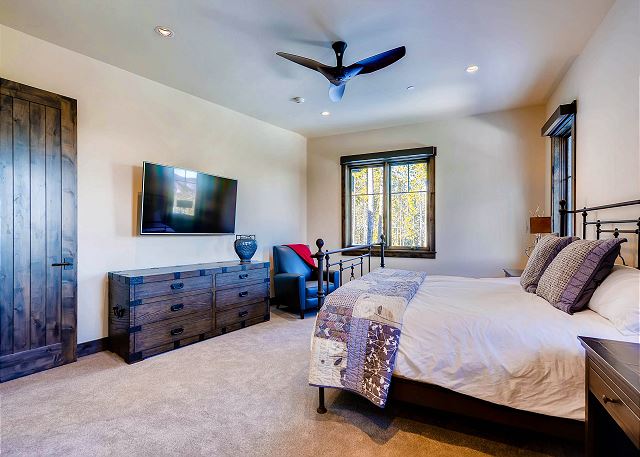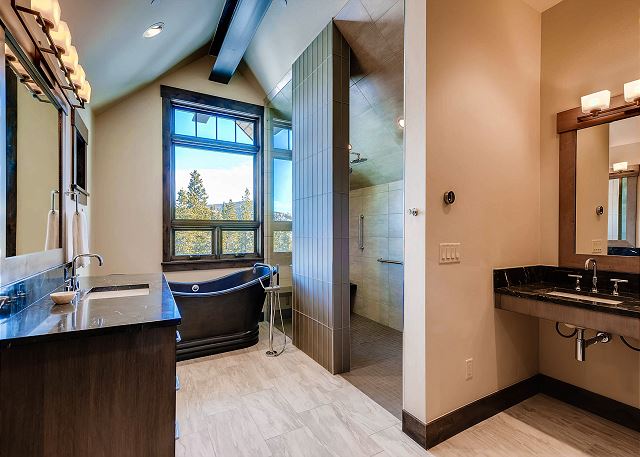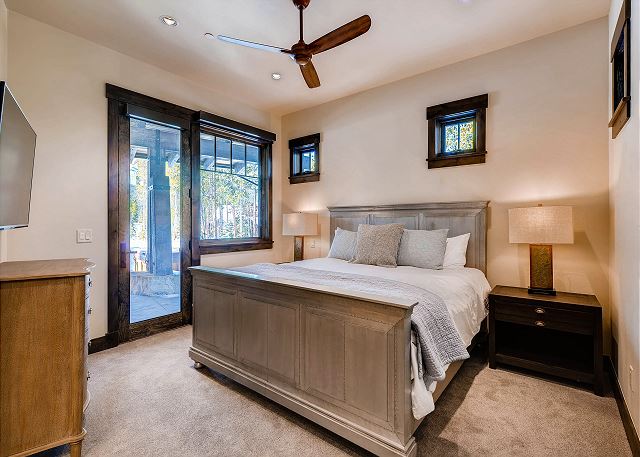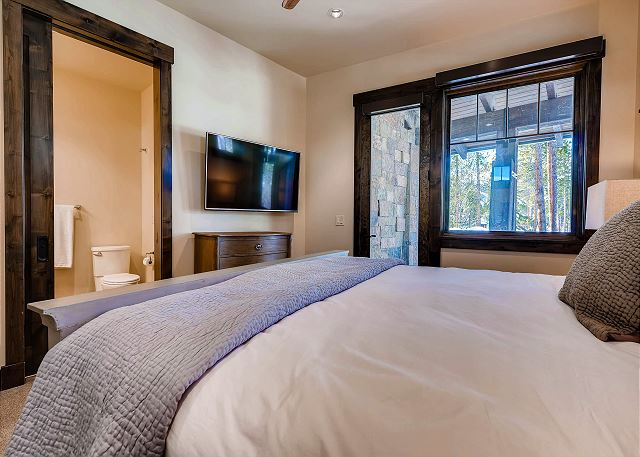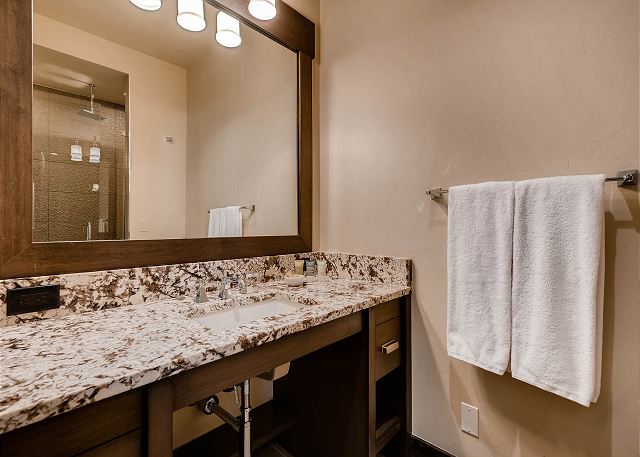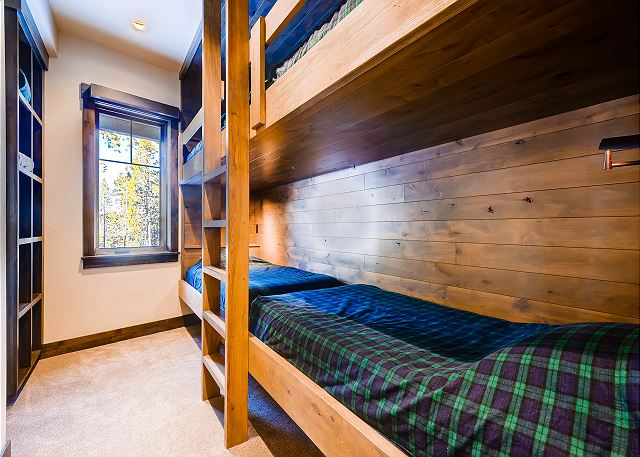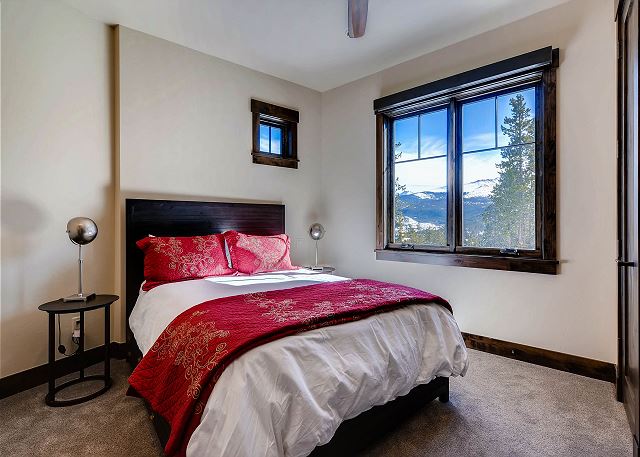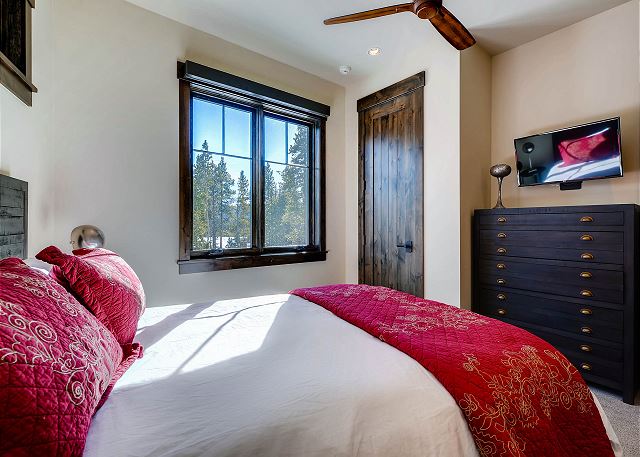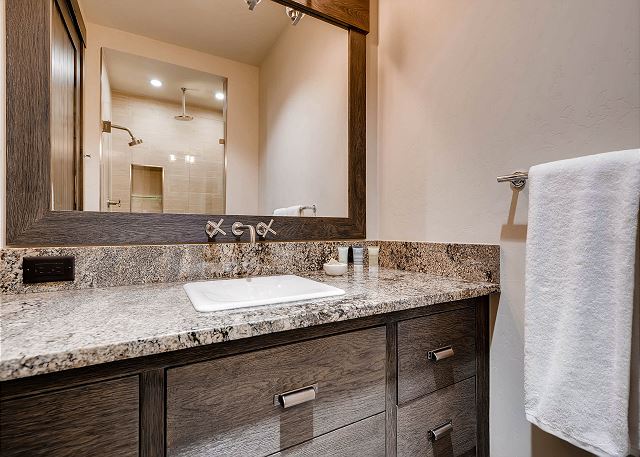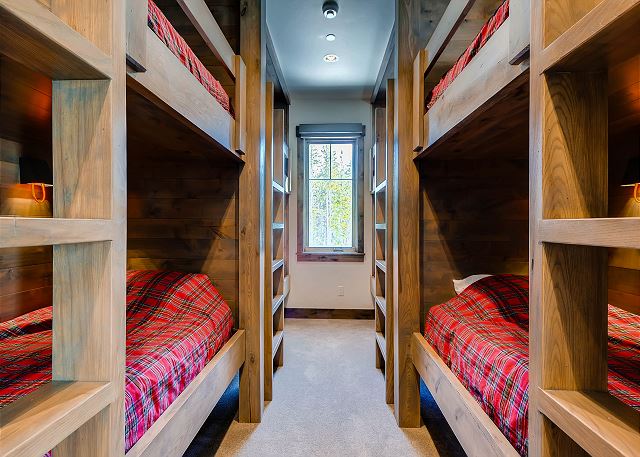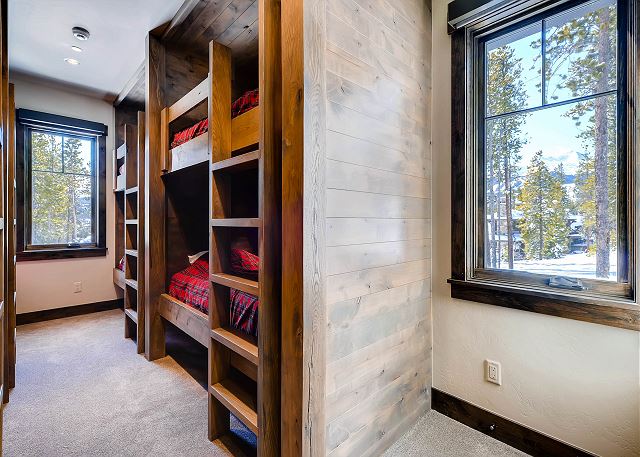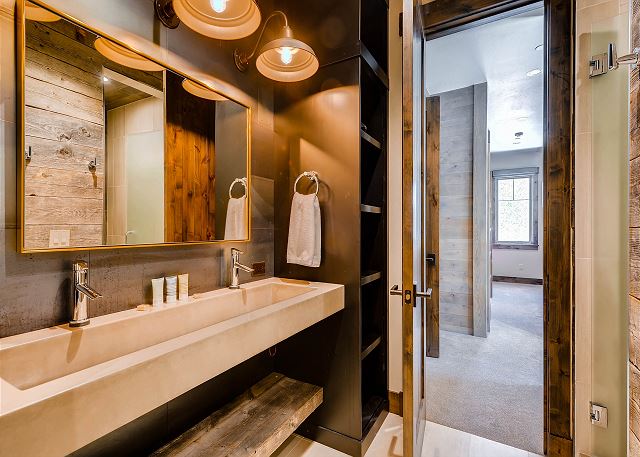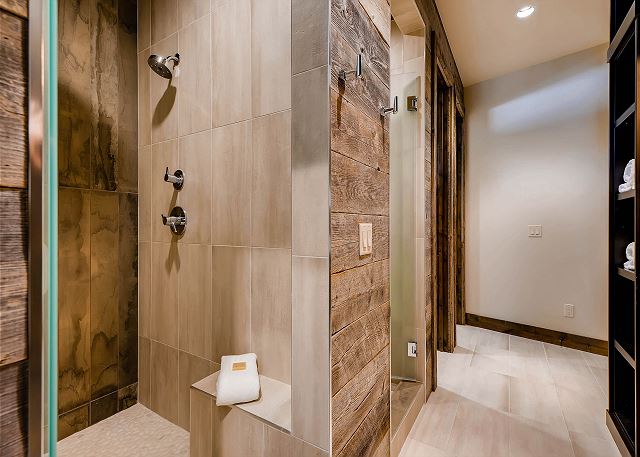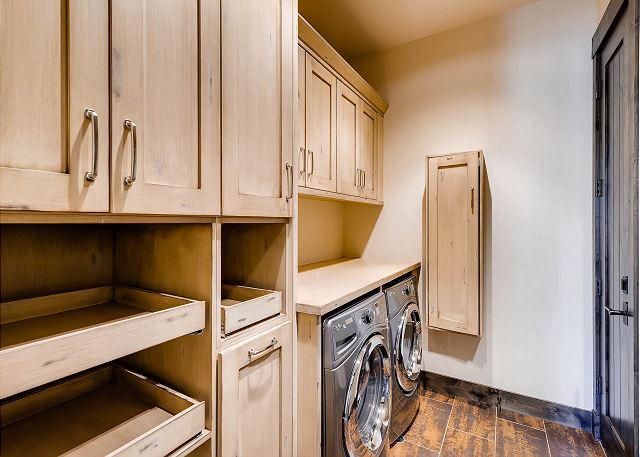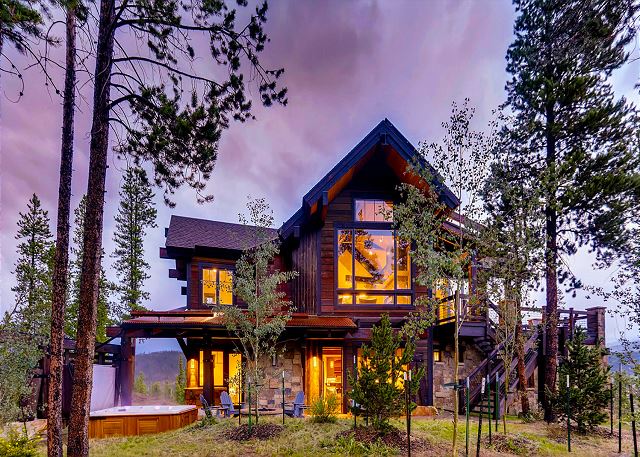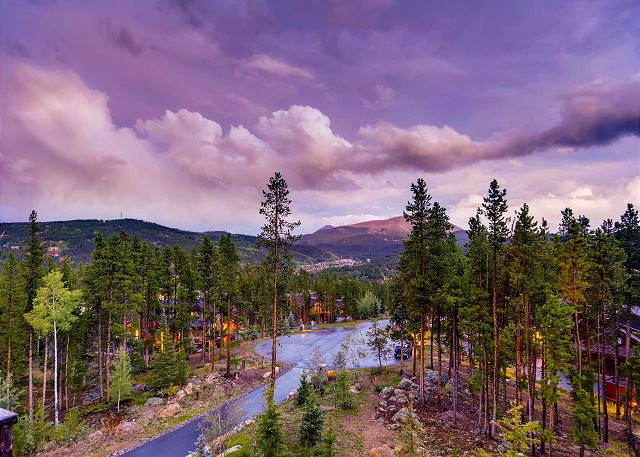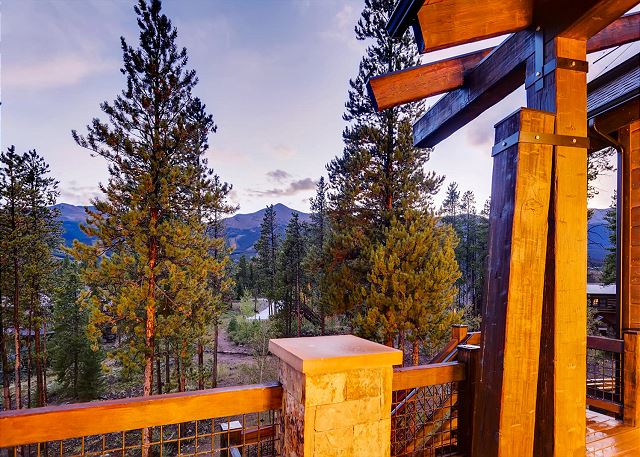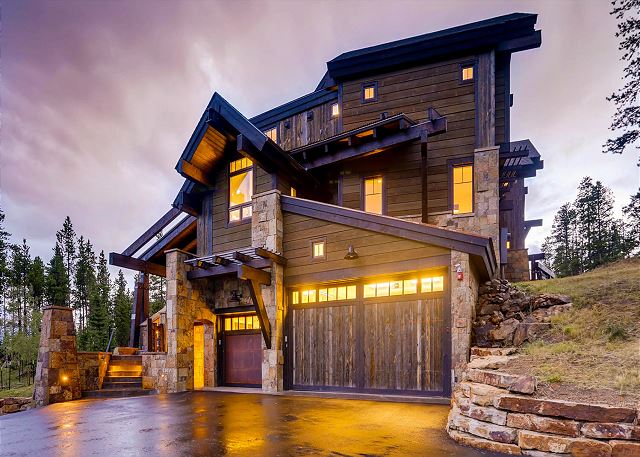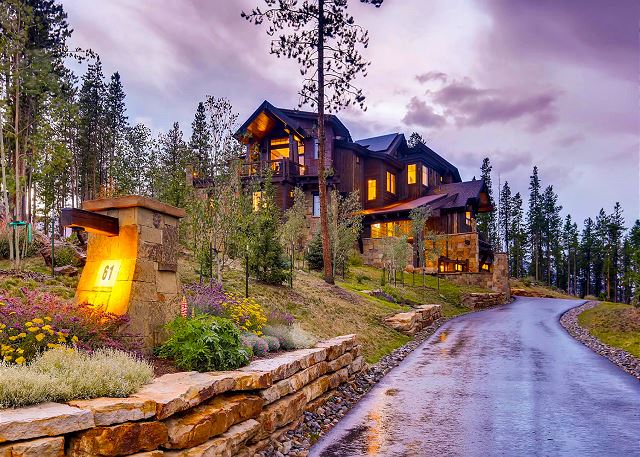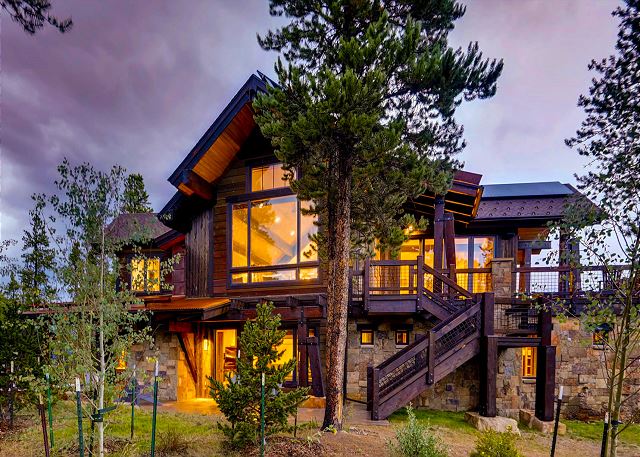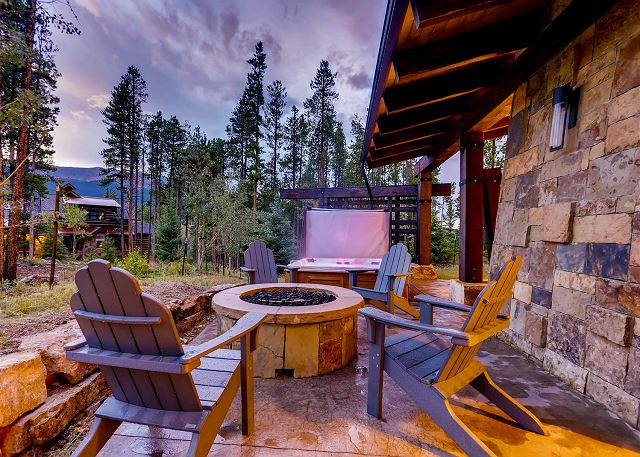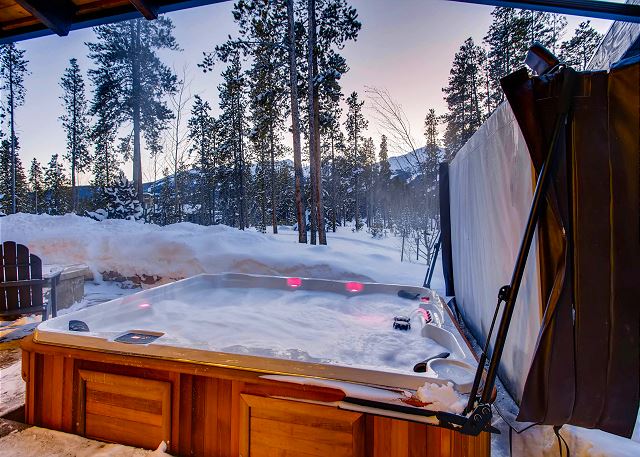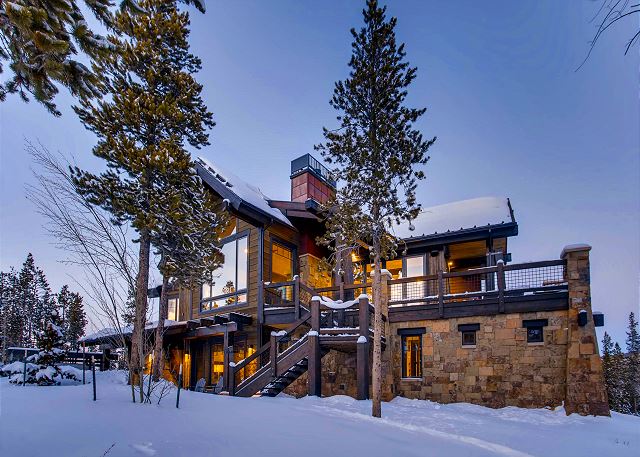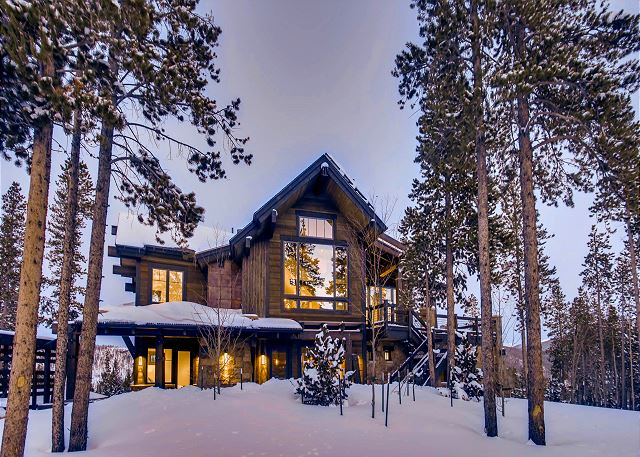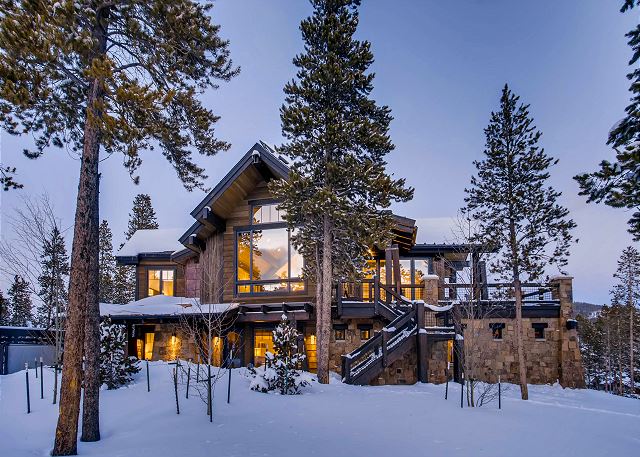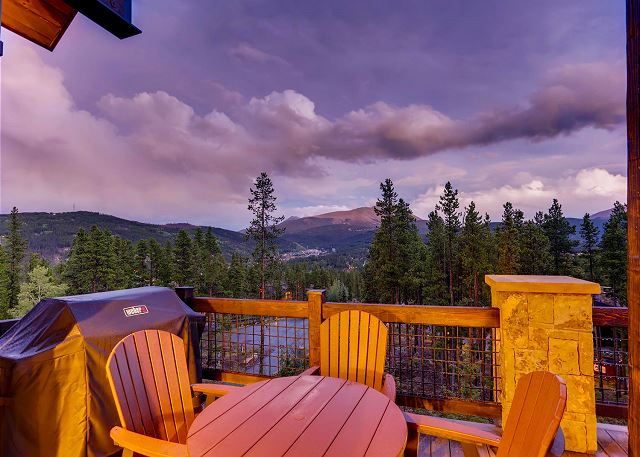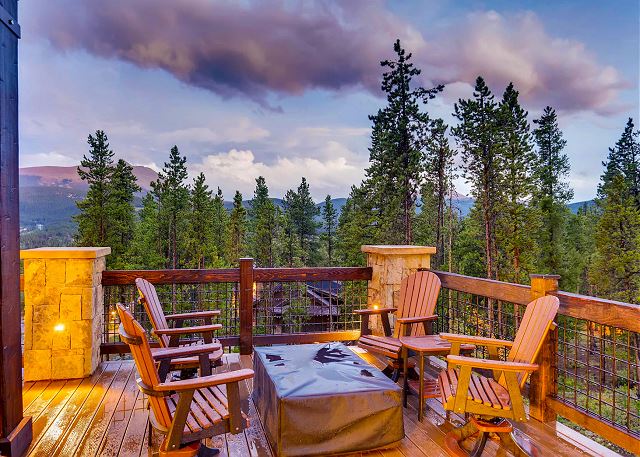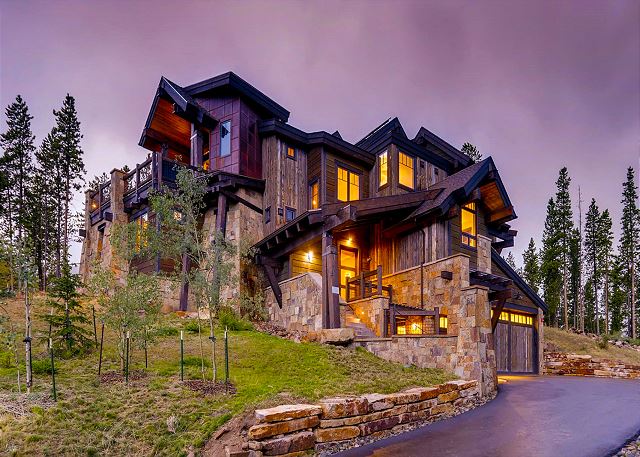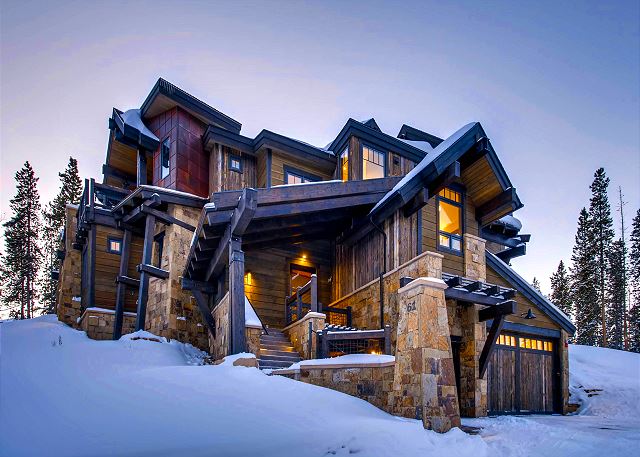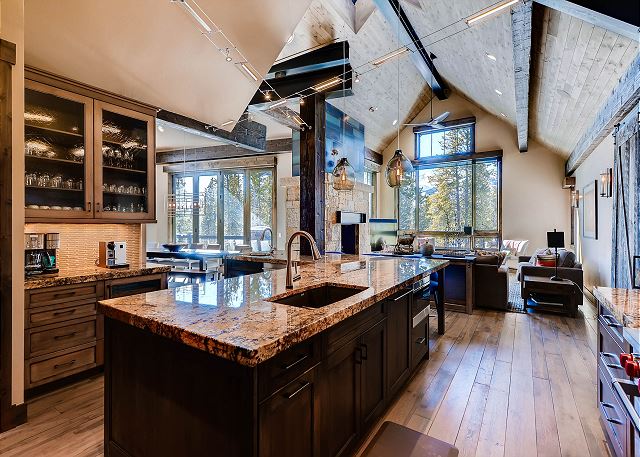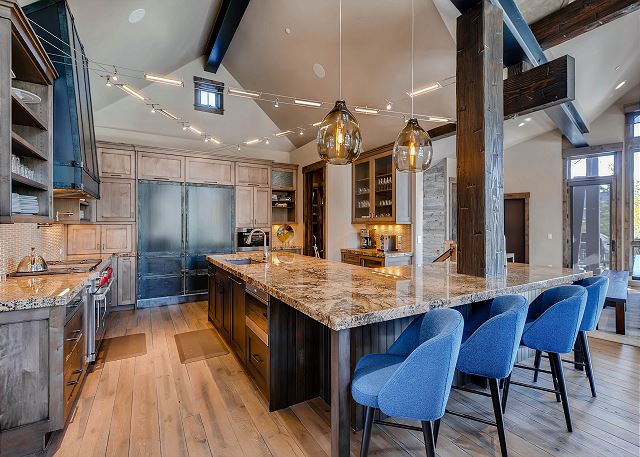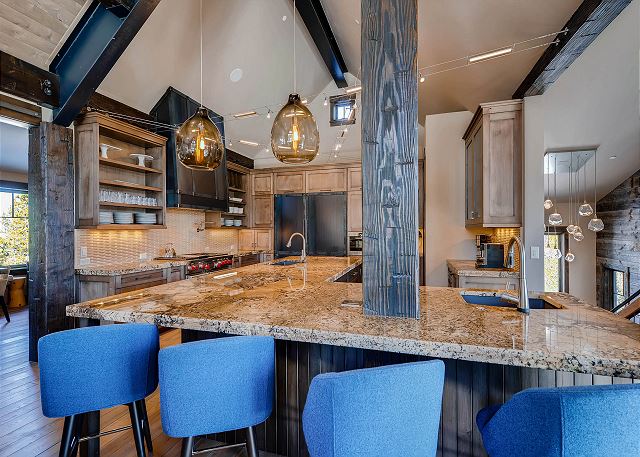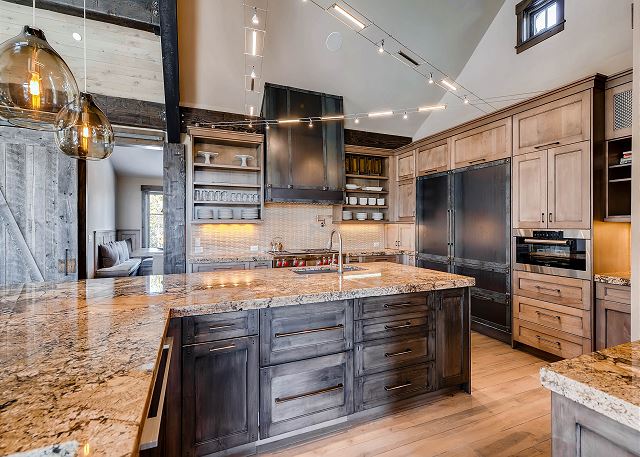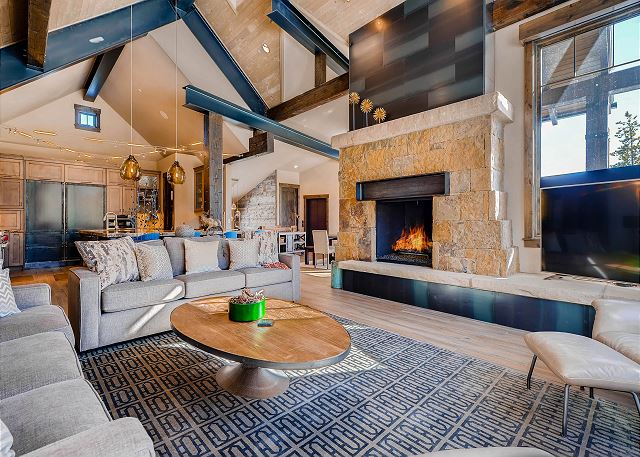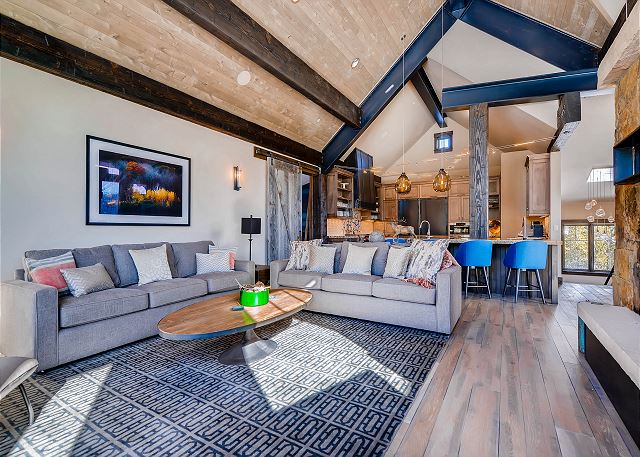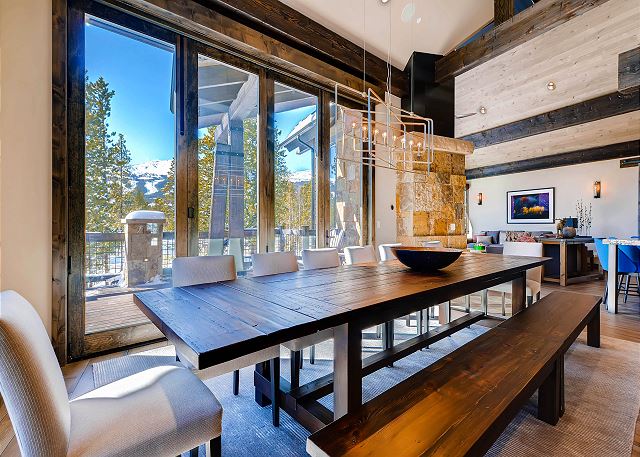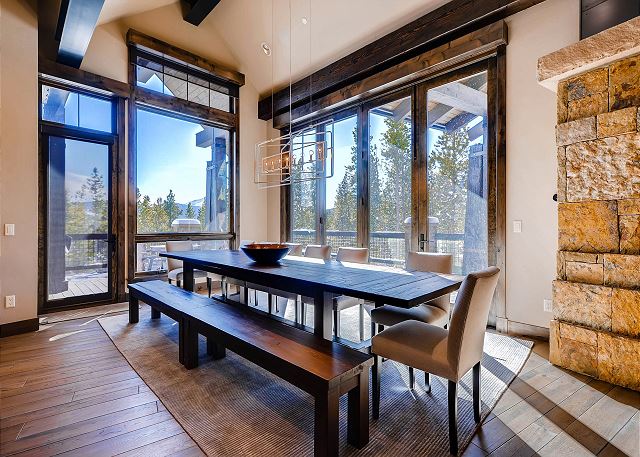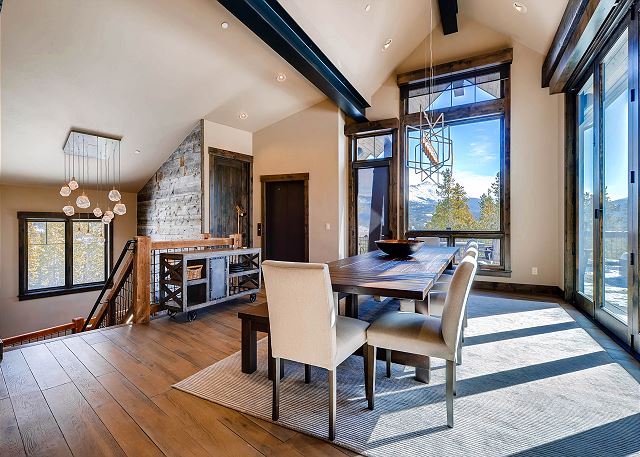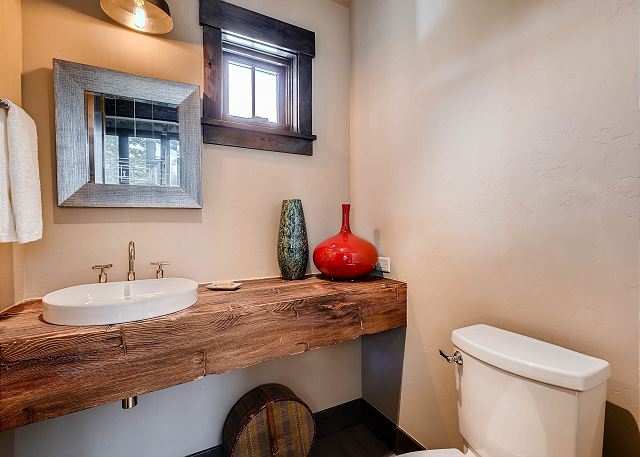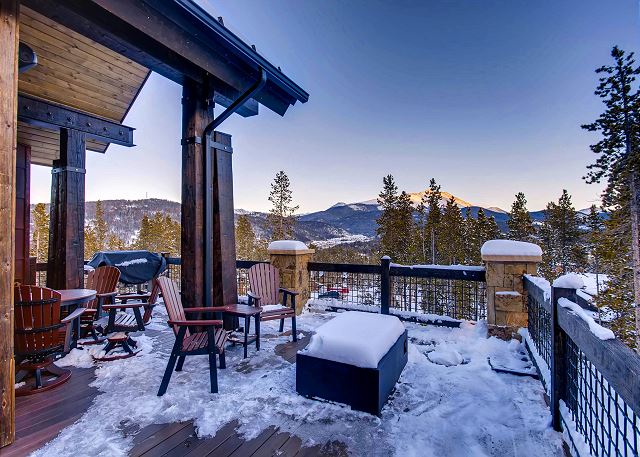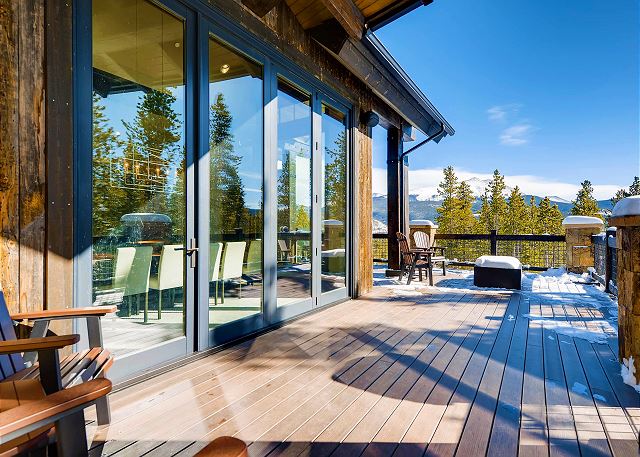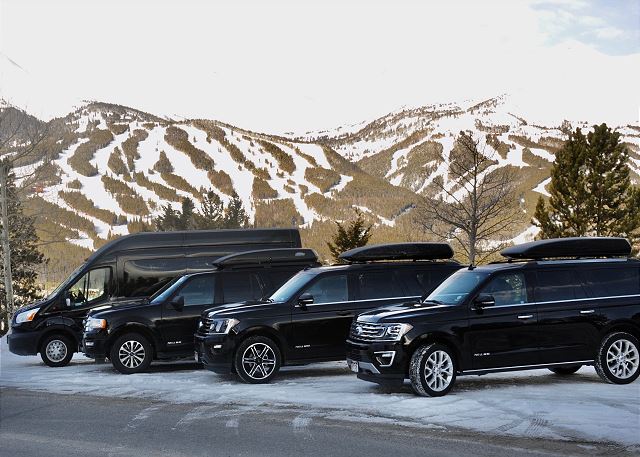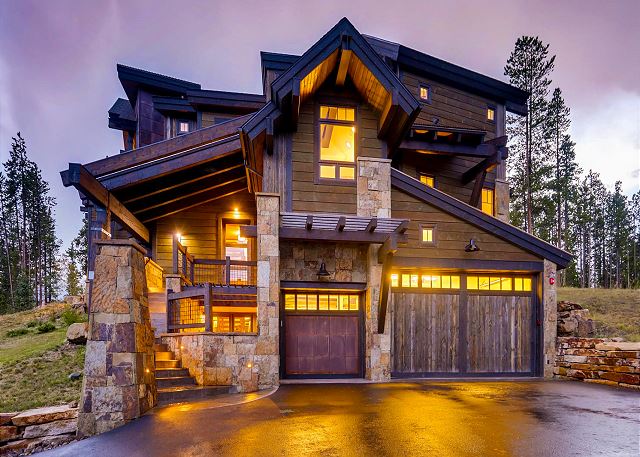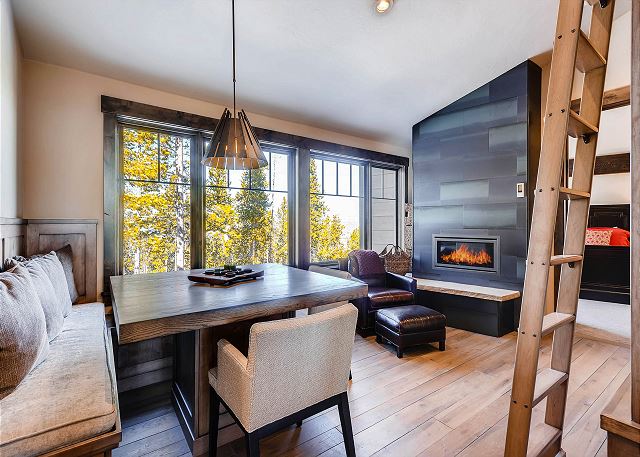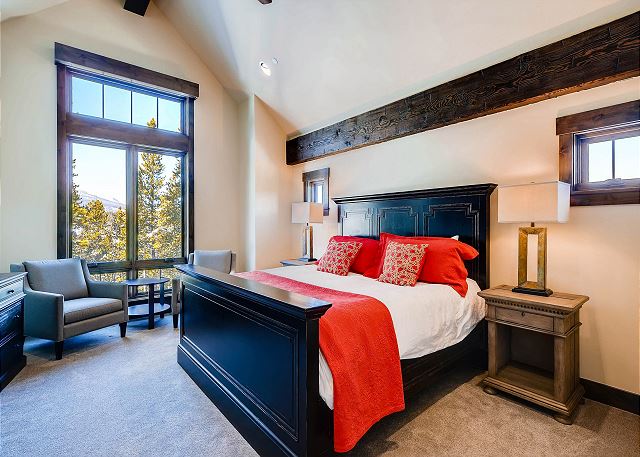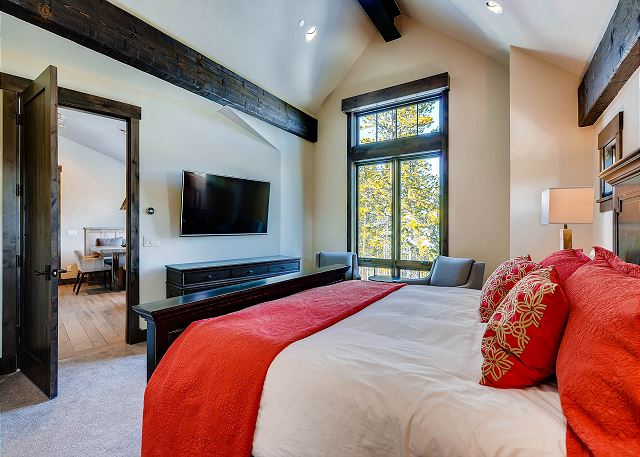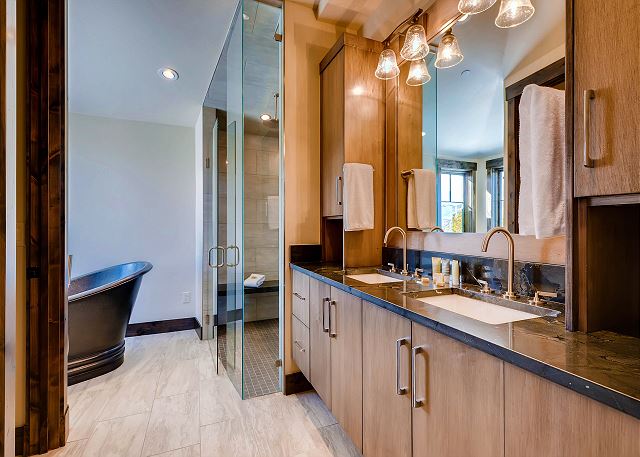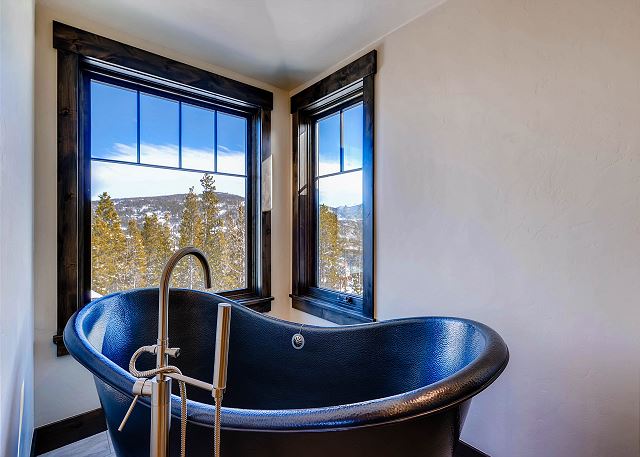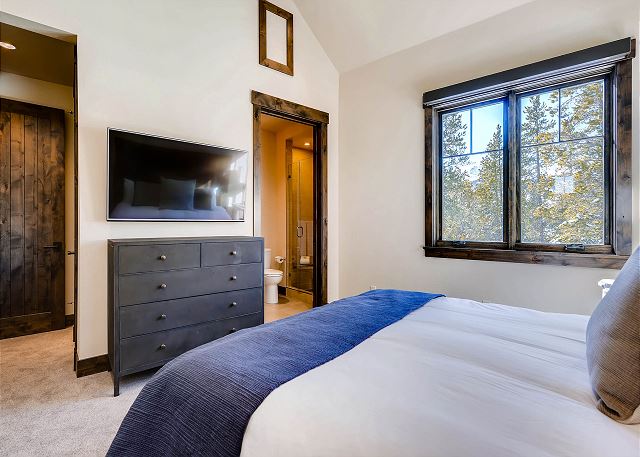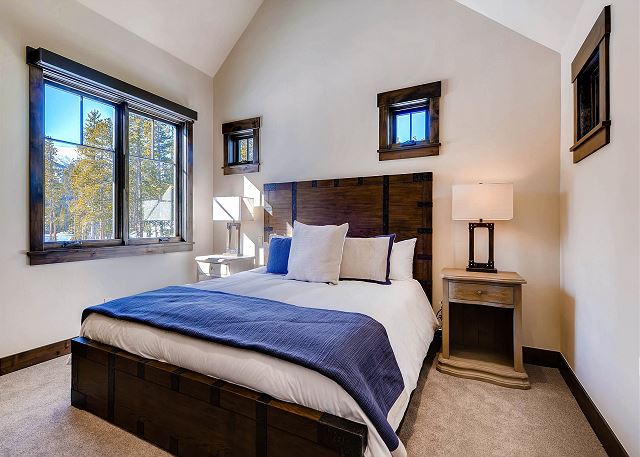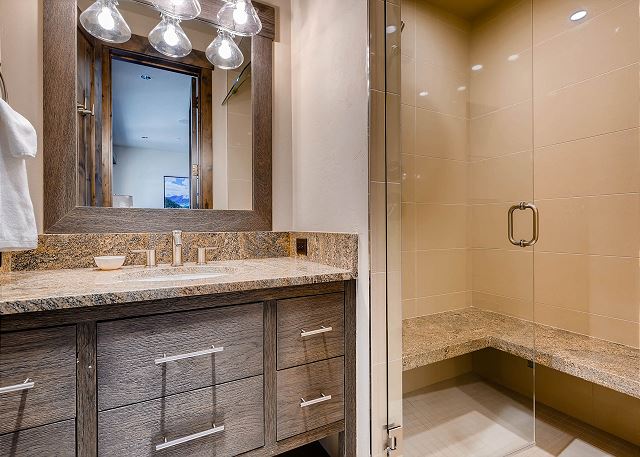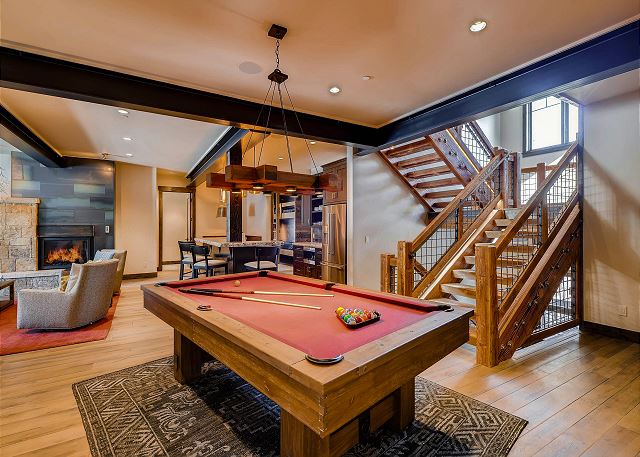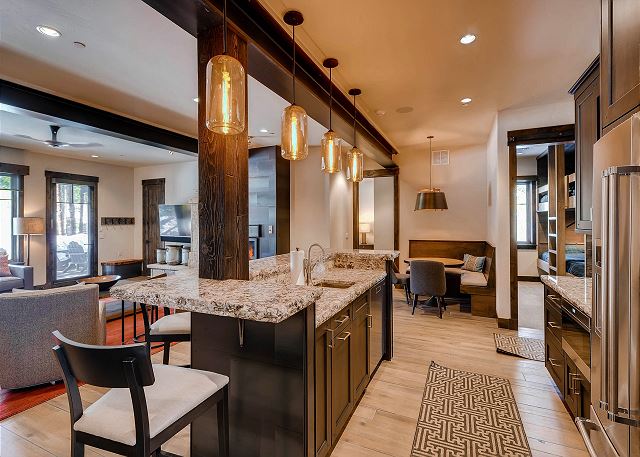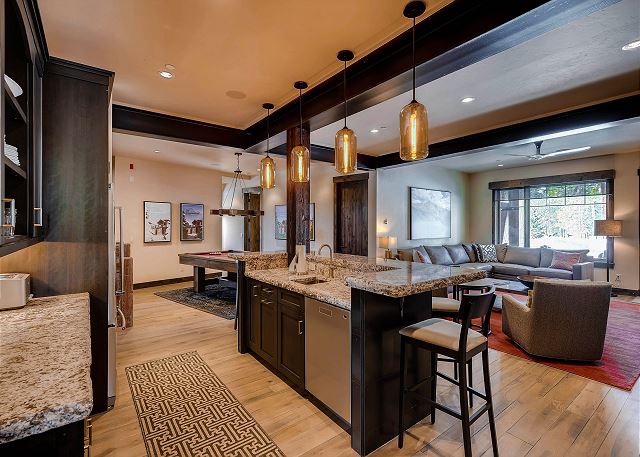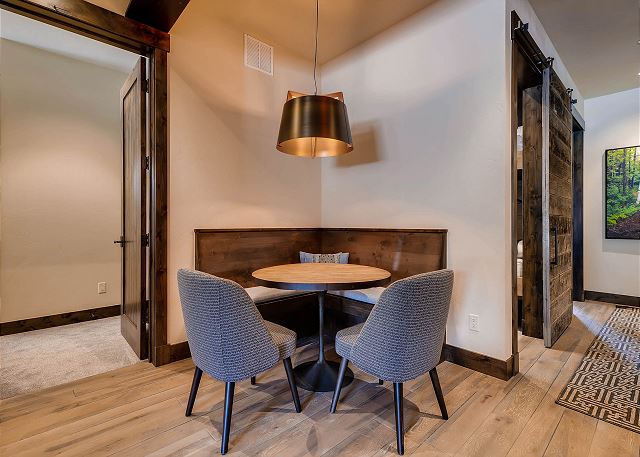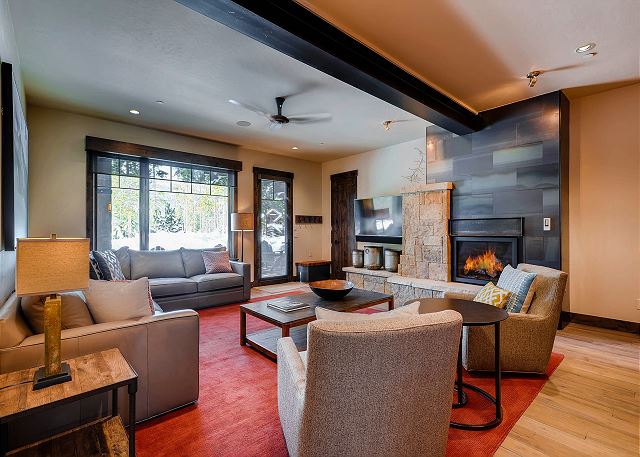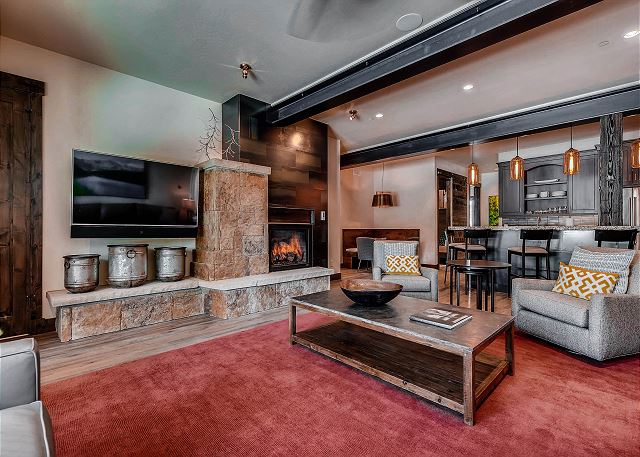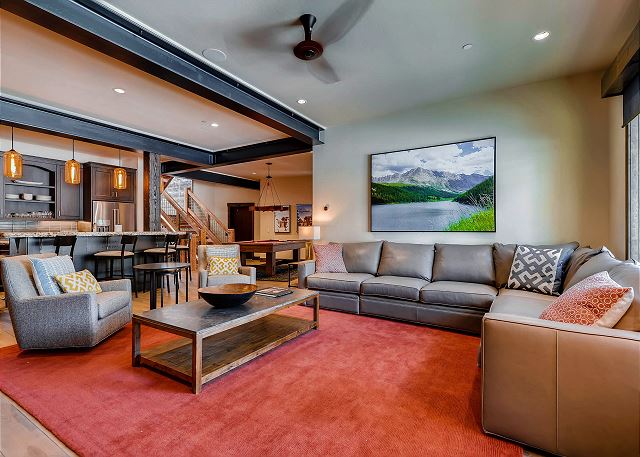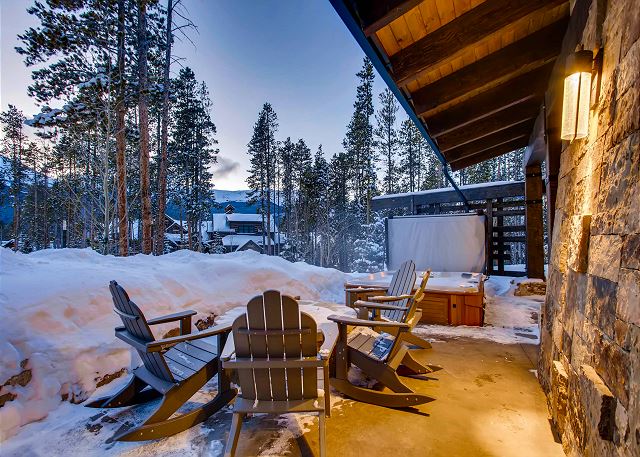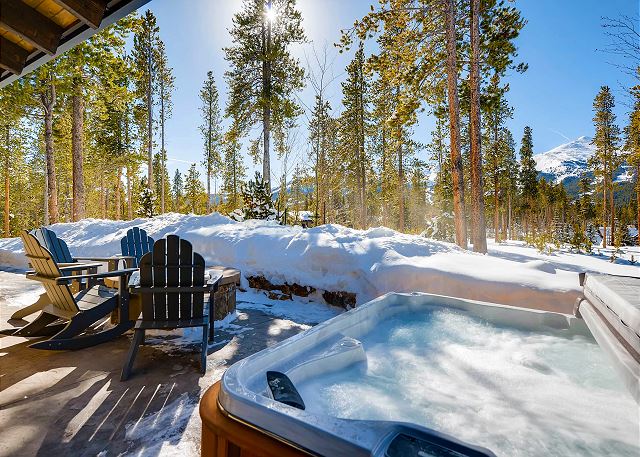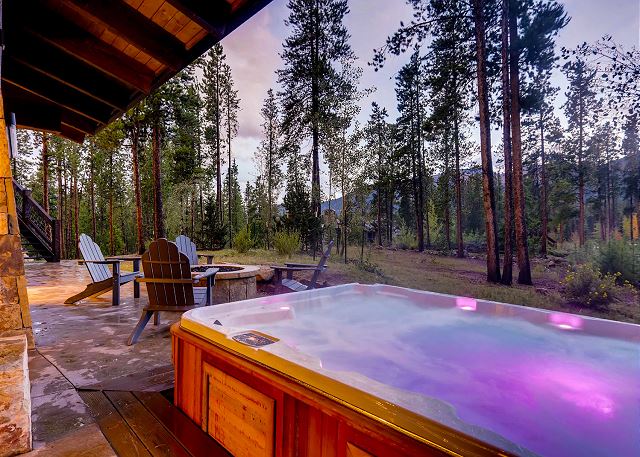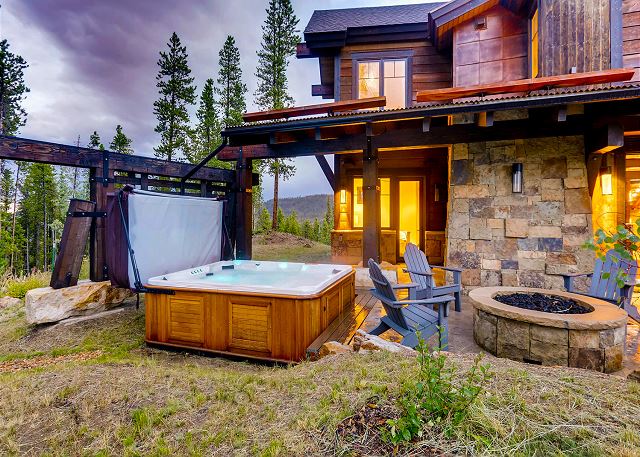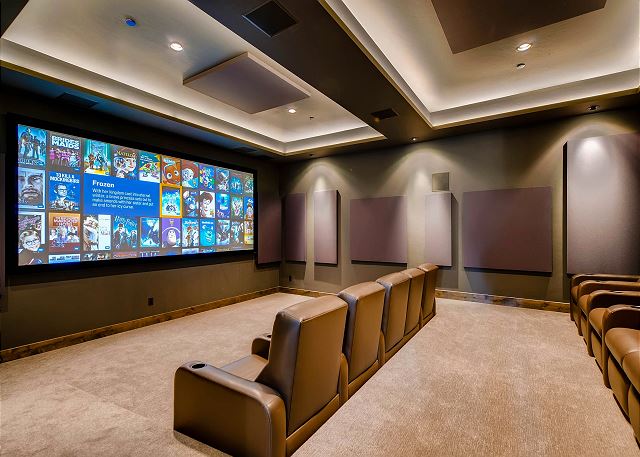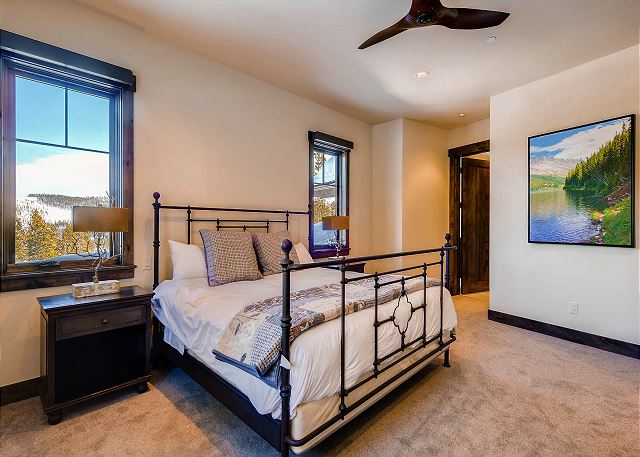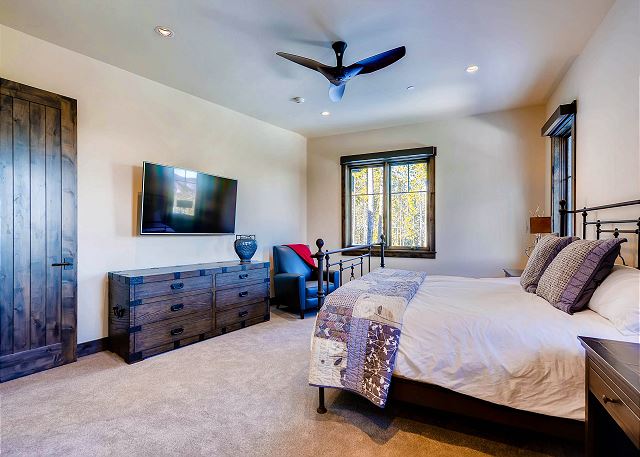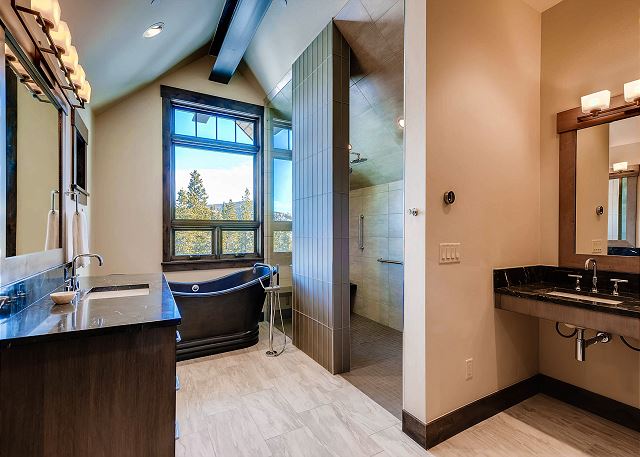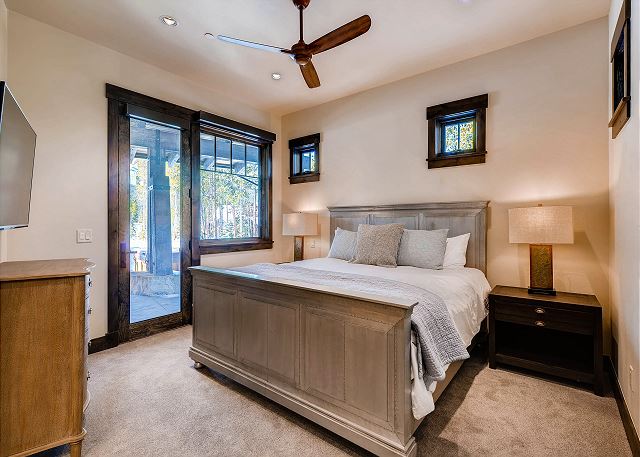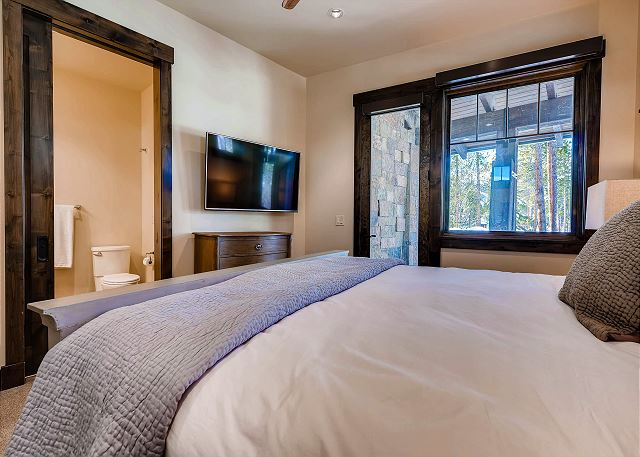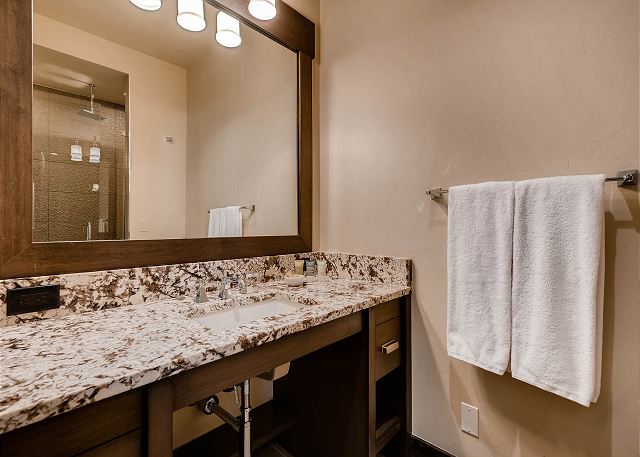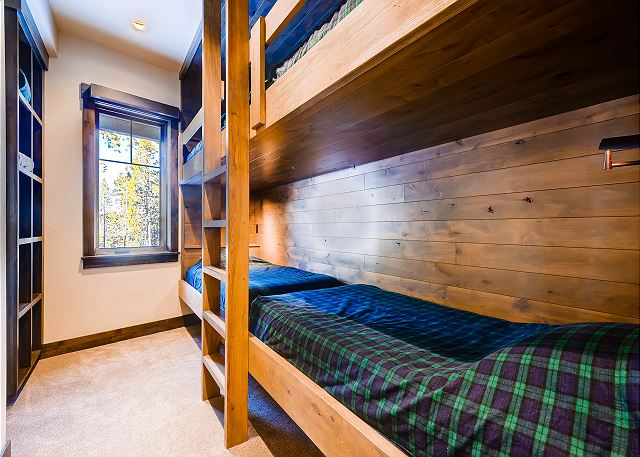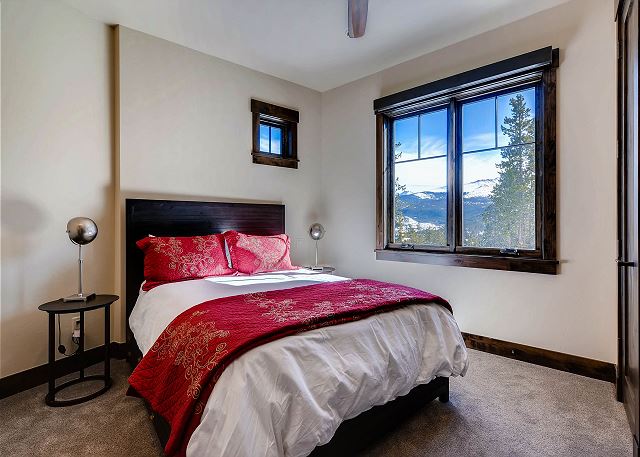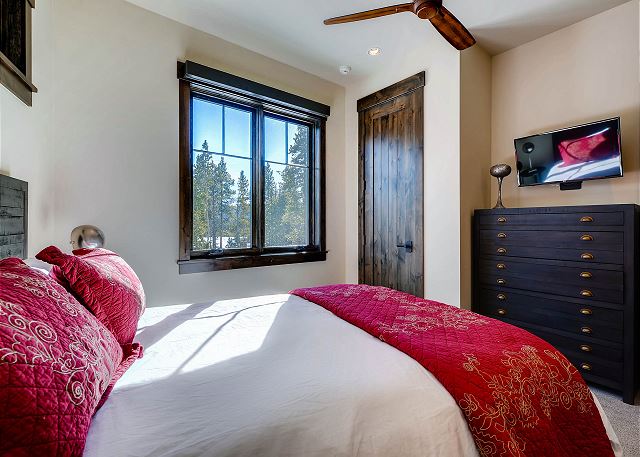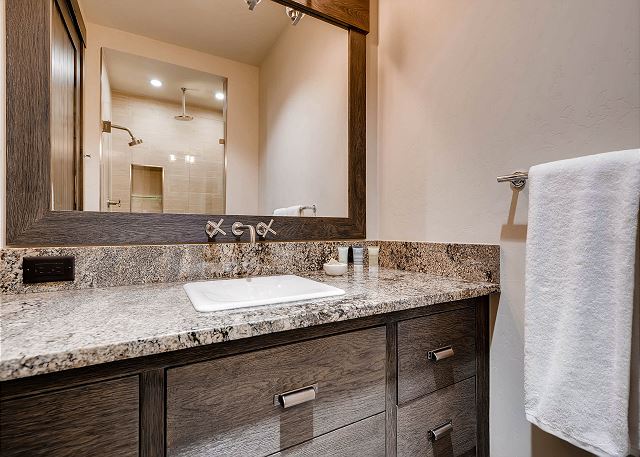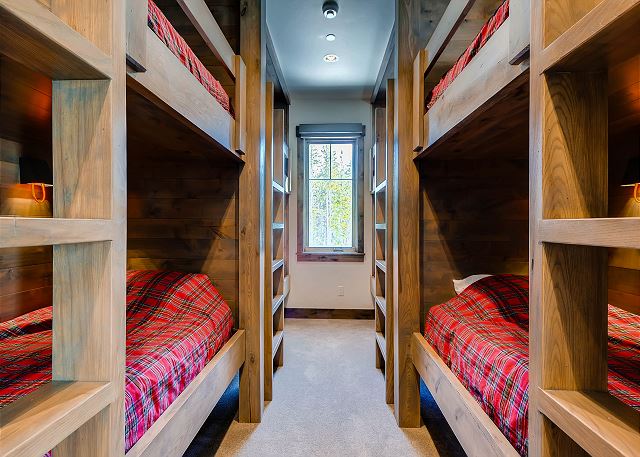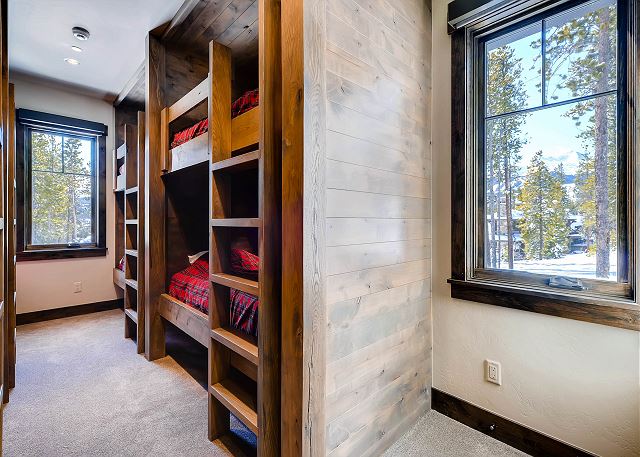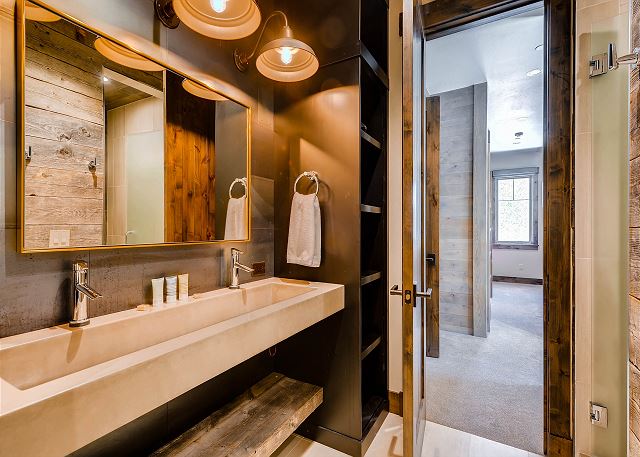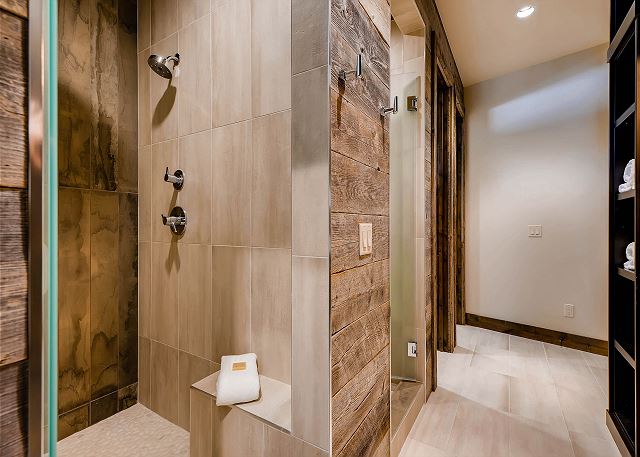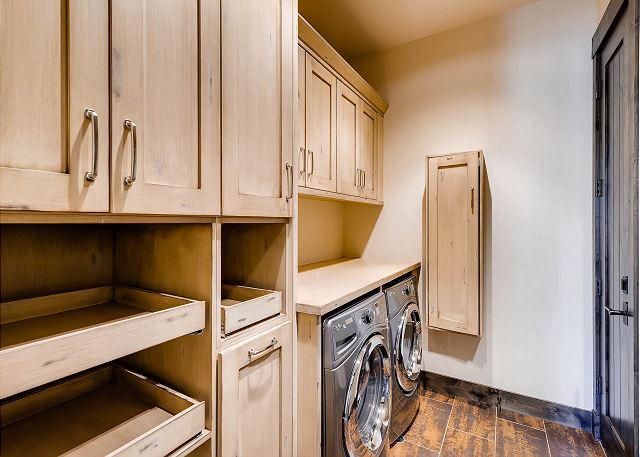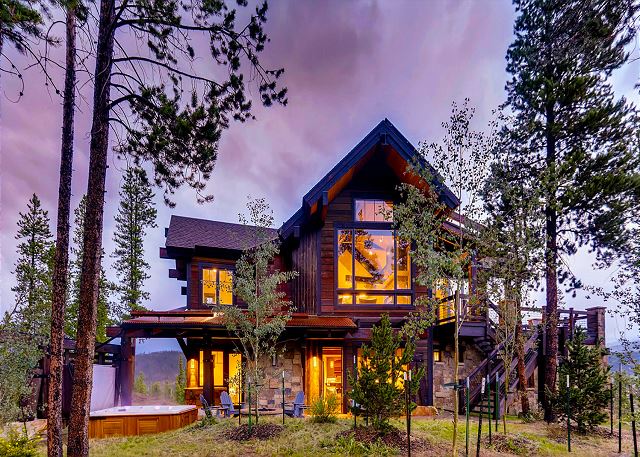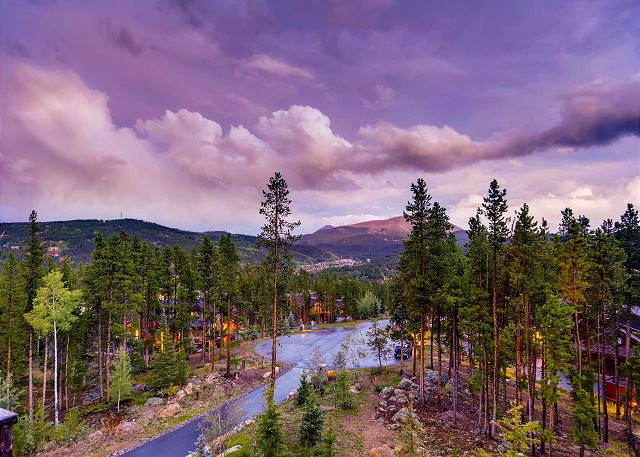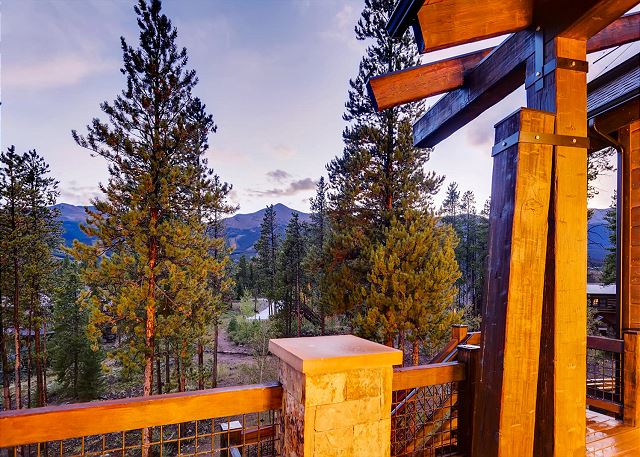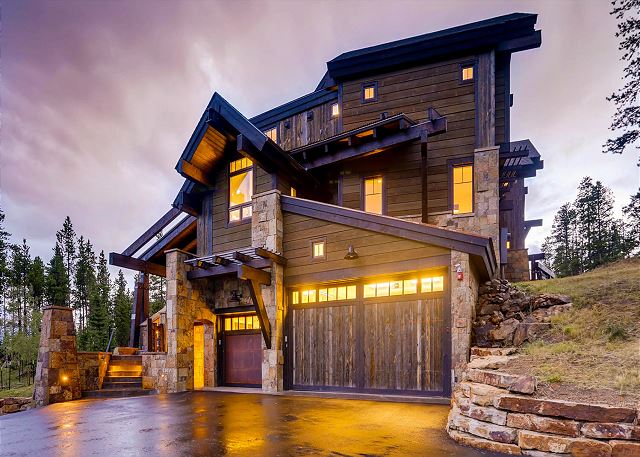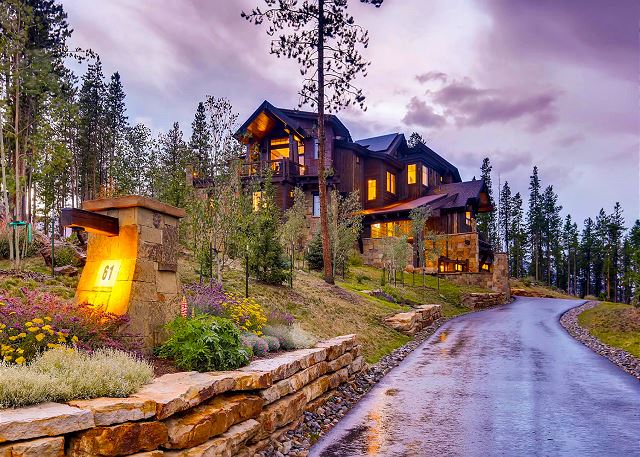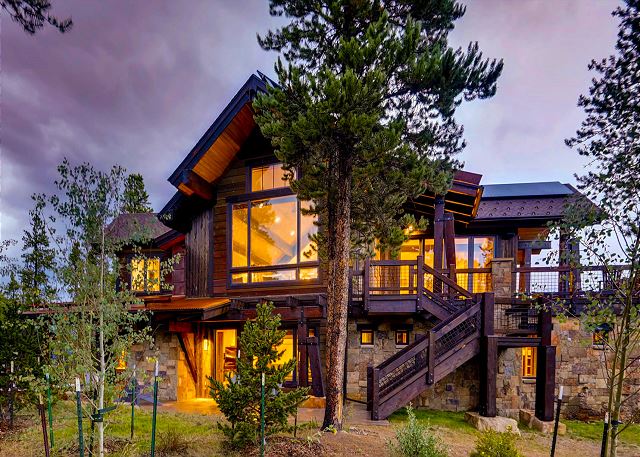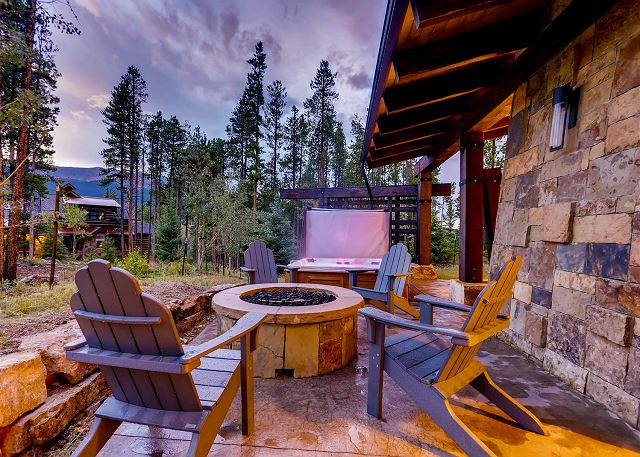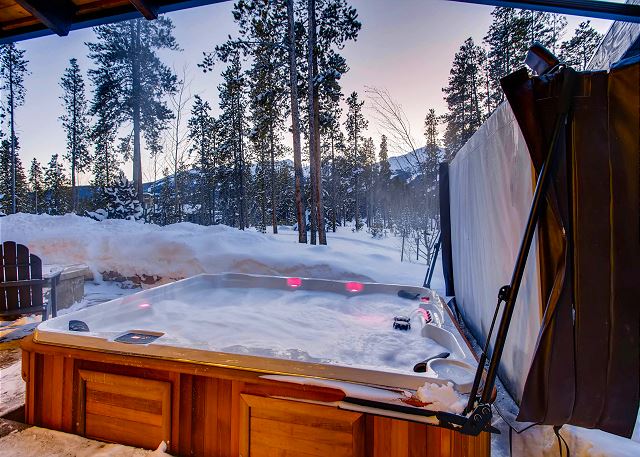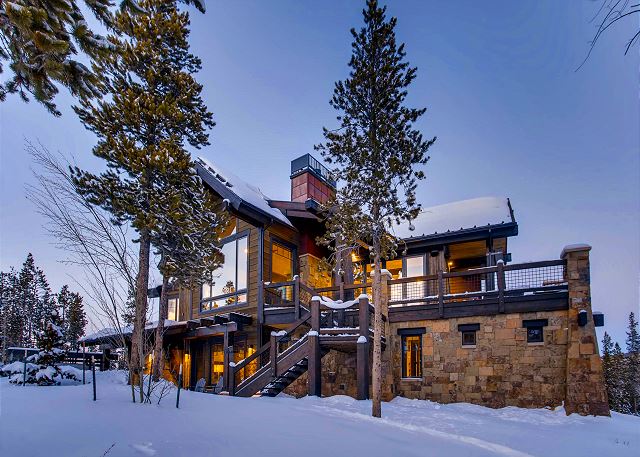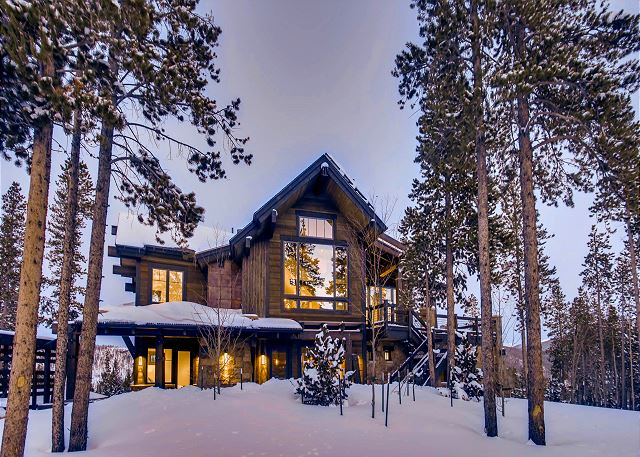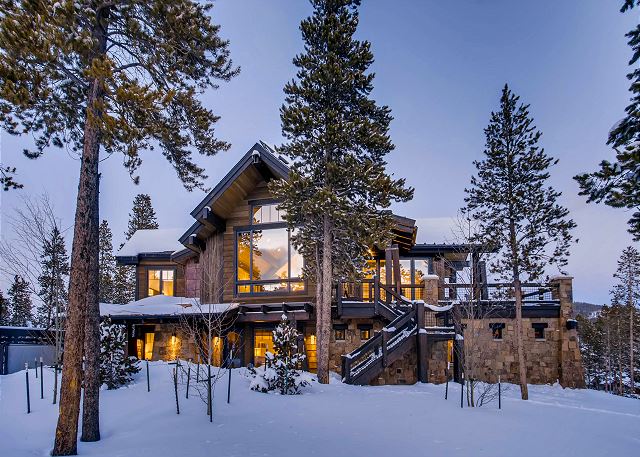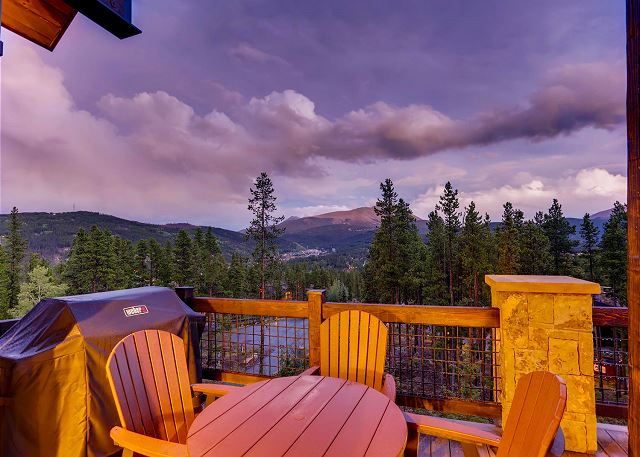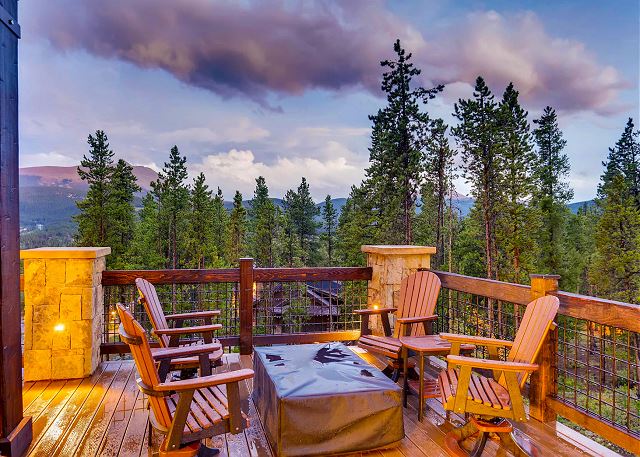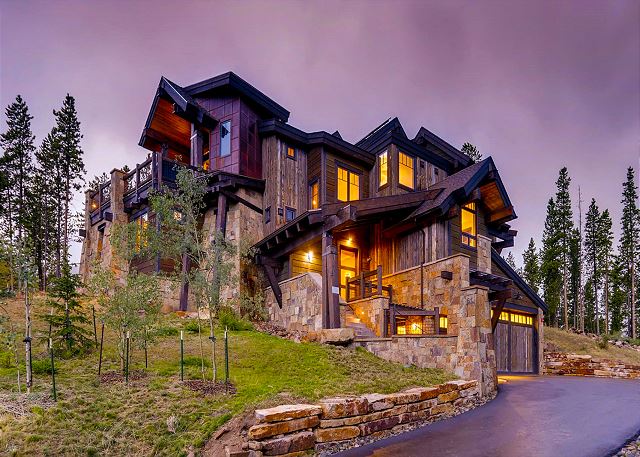 Description
Experience mountain living as you've never before at Summit at Shock Hill. This ultra-exclusive mountain home is situated in the Shock Hill neighborhood of Breckenridge and represents luxury living at its finest. Summit at Shock Hill is a custom-built marvel combining modern architecture, stylish alpine design, deluxe entertainment and over-the-top amenities including a theatre room, rec room with billiards & wet bar, large bedrooms suites, private outdoor hot tub and stunning mountain views. After a day of exhilarating mountain adventures, you'll be eager to return to this upscale mountain home and revel in all of its offerings.



Bright and welcoming with vaulted ceilings and impeccable finishes, the Upper Level is the hub of the home and thoughtfully combines the Gourmet Kitchen, Dining Area and Great Room. Textured stonework, exposed hand-scraped wooden beams and boutique-style lighting offer upscale accents that complement the modern décor. Take in the gorgeous mountain views through the floor to ceiling windows or relax on the sofa and catch up with family and friends beside the gas fireplace. The dining table comfortably seats 14 in bench and chair combination seating. Bring the outdoors in with the accordion-style doors that fully open to the upper deck where you'll find outdoor seating and a gas fire pit.



Kids and adults alike will love the mid-level Rec Room, ideal for evening entertainment. Get a friendly game of billiards going, enjoy a drink at the wet bar and watch your favorite sports team on the TV. The large sectional sofa provides plenty of space to spread out and relax beside the fire! Step out onto the patio for an evening soak in the outdoor hot tub or gather around the gas fire pit!



Summit at Shock Hill is on the 2021/2022 Paragon Guest Courtesy Winter Shuttle. Operations run from mid-November through mid-April between the hours of 7:30 AM to 5:30 PM. Transportation runs throughout the Town of Breckenridge.



QUICK FACTS

7,500 Square Feet on Three Luxurious Levels

Located at 9,758 feet above sea level



EVERYDAY ESSENTIALS

Professionally Cleaned & Sanitized Prior to All Arrivals

Wireless Internet

24/7 local support

Elevator available for guest use accessing all 3 levels

2 Washers & Dryers

Three bay heated garage with parking for 5 cars total

Paragon's personal care amenities – shampoo, conditioner, lotion, locally made specialty soaps



ABOUT THE AREA

Located in the exclusive Shock Hill neighborhood of Breckenridge, Summit at Shock Hill offers convenient access to the Mid Station Gondola Stop (8 minute walk) which will whisk skiers and riders to the legendary slopes of Breckenridge in minutes! Not a skier? No problem! The Gondola is also a fun and convenient way to commute to Breck's Main Street for an afternoon of shopping and lunch without having to deal with parking. Summit at Shock Hill is located 1 mile from Breck's Main Street.



Summit at Shock Hill is near Chalet du Soleil (8 bedrooms). Reserve both homes for a family reunion or a small wedding!



CONSTRUCTION NOTE: Please note that there is construction on the lot behind Summit at Shock Hill



IMPORTANT POLICIES

4-WHEEL DRIVE REQUIRED in winter months

Summit at Shock Hill allows small intimate weddings and events with prior approval and additional contract. Please Note: ALL events and weddings no matter the size are required to pay a non-refundable event fee to be determined based on size of event.

With regret, no pets please

Paragon Lodging in Breckenridge Colorado is the SOLE authorized Property Manager and Rental Agent for Summit at Shock Hill. Paragon Lodging enforces an age policy of 25 years old. Families with children are welcome. We regret, we do not accept college groups.

Paragon Lodging does not advertise Summit at Shock Hill on Craigslist

Paragon Lodging Town of Breckenridge Business License No: 33007

Summit at Shock Hill Town of Breckenridge Business License No: 448540003
Calendar
October 2021

| S | M | T | W | T | F | S |
| --- | --- | --- | --- | --- | --- | --- |
| | | | | | 01 | 02 |
| 03 | 04 | 05 | 06 | 07 | 08 | 09 |
| 10 | 11 | 12 | 13 | 14 | 15 | 16 |
| 17 | 18 | 19 | 20 | 21 | 22 | 23 |
| 24 | 25 | 26 | 27 | 28 | 29 | 30 |
| 31 | | | | | | |
November 2021

| S | M | T | W | T | F | S |
| --- | --- | --- | --- | --- | --- | --- |
| | 01 | 02 | 03 | 04 | 05 | 06 |
| 07 | 08 | 09 | 10 | 11 | 12 | 13 |
| 14 | 15 | 16 | 17 | 18 | 19 | 20 |
| 21 | 22 | 23 | 24 | 25 | 26 | 27 |
| 28 | 29 | 30 | | | | |
December 2021

| S | M | T | W | T | F | S |
| --- | --- | --- | --- | --- | --- | --- |
| | | | 01 | 02 | 03 | 04 |
| 05 | 06 | 07 | 08 | 09 | 10 | 11 |
| 12 | 13 | 14 | 15 | 16 | 17 | 18 |
| 19 | 20 | 21 | 22 | 23 | 24 | 25 |
| 26 | 27 | 28 | 29 | 30 | 31 | |
January 2022

| S | M | T | W | T | F | S |
| --- | --- | --- | --- | --- | --- | --- |
| | | | | | | 01 |
| 02 | 03 | 04 | 05 | 06 | 07 | 08 |
| 09 | 10 | 11 | 12 | 13 | 14 | 15 |
| 16 | 17 | 18 | 19 | 20 | 21 | 22 |
| 23 | 24 | 25 | 26 | 27 | 28 | 29 |
| 30 | 31 | | | | | |
February 2022

| S | M | T | W | T | F | S |
| --- | --- | --- | --- | --- | --- | --- |
| | | 01 | 02 | 03 | 04 | 05 |
| 06 | 07 | 08 | 09 | 10 | 11 | 12 |
| 13 | 14 | 15 | 16 | 17 | 18 | 19 |
| 20 | 21 | 22 | 23 | 24 | 25 | 26 |
| 27 | 28 | | | | | |
March 2022

| S | M | T | W | T | F | S |
| --- | --- | --- | --- | --- | --- | --- |
| | | 01 | 02 | 03 | 04 | 05 |
| 06 | 07 | 08 | 09 | 10 | 11 | 12 |
| 13 | 14 | 15 | 16 | 17 | 18 | 19 |
| 20 | 21 | 22 | 23 | 24 | 25 | 26 |
| 27 | 28 | 29 | 30 | 31 | | |
April 2022

| S | M | T | W | T | F | S |
| --- | --- | --- | --- | --- | --- | --- |
| | | | | | 01 | 02 |
| 03 | 04 | 05 | 06 | 07 | 08 | 09 |
| 10 | 11 | 12 | 13 | 14 | 15 | 16 |
| 17 | 18 | 19 | 20 | 21 | 22 | 23 |
| 24 | 25 | 26 | 27 | 28 | 29 | 30 |
May 2022

| S | M | T | W | T | F | S |
| --- | --- | --- | --- | --- | --- | --- |
| 01 | 02 | 03 | 04 | 05 | 06 | 07 |
| 08 | 09 | 10 | 11 | 12 | 13 | 14 |
| 15 | 16 | 17 | 18 | 19 | 20 | 21 |
| 22 | 23 | 24 | 25 | 26 | 27 | 28 |
| 29 | 30 | 31 | | | | |
June 2022

| S | M | T | W | T | F | S |
| --- | --- | --- | --- | --- | --- | --- |
| | | | 01 | 02 | 03 | 04 |
| 05 | 06 | 07 | 08 | 09 | 10 | 11 |
| 12 | 13 | 14 | 15 | 16 | 17 | 18 |
| 19 | 20 | 21 | 22 | 23 | 24 | 25 |
| 26 | 27 | 28 | 29 | 30 | | |
July 2022

| S | M | T | W | T | F | S |
| --- | --- | --- | --- | --- | --- | --- |
| | | | | | 01 | 02 |
| 03 | 04 | 05 | 06 | 07 | 08 | 09 |
| 10 | 11 | 12 | 13 | 14 | 15 | 16 |
| 17 | 18 | 19 | 20 | 21 | 22 | 23 |
| 24 | 25 | 26 | 27 | 28 | 29 | 30 |
| 31 | | | | | | |
August 2022

| S | M | T | W | T | F | S |
| --- | --- | --- | --- | --- | --- | --- |
| | 01 | 02 | 03 | 04 | 05 | 06 |
| 07 | 08 | 09 | 10 | 11 | 12 | 13 |
| 14 | 15 | 16 | 17 | 18 | 19 | 20 |
| 21 | 22 | 23 | 24 | 25 | 26 | 27 |
| 28 | 29 | 30 | 31 | | | |
September 2022

| S | M | T | W | T | F | S |
| --- | --- | --- | --- | --- | --- | --- |
| | | | | 01 | 02 | 03 |
| 04 | 05 | 06 | 07 | 08 | 09 | 10 |
| 11 | 12 | 13 | 14 | 15 | 16 | 17 |
| 18 | 19 | 20 | 21 | 22 | 23 | 24 |
| 25 | 26 | 27 | 28 | 29 | 30 | |
Available
Unavailable
Check-In Only
Check-Out Only
Seasonal Rates
| Date Range | Daily | Weekly | Monthly |
| --- | --- | --- | --- |
* Seasonal rates are only estimates and do not reflect taxes or additional fees.
Location
Guest Reviews of
Summit at Shockhill (PA)
Breckenridge, CO
---
Vacation Rental Reviews by
stars based on
Spectacular New Vacation Home for 3 Generations of Family
Review by
Kris H.
The Summit at Shock Hill is a fabulous home in the perfect location. The kitchen is fully equipped for making gourmet meals. The views are stunning. You can walk to the Gondola and easily get to the Adventure center or the town. The mattresses were comfortable. Having 7 bedrooms with 5 masters with 5 En-suite baths was perfect. The bunk rooms were so nice as well. We loved the theater. Having the game room with second kitchen on floor 2 and the main living with 2 masters on level 3 worked out great. We enjoyed the fireplaces, hot tub, fire pit, and communing on one of the 2 decks. We would love to stay in this spectacular home again.
5 out of 5 stars
Outstanding Experience at the Summit
Review by
Paragon made our stay seamless. Everything was wonderful. We had one small issue with a fireplace and they sent someone out to check it immediately...on a SUNDAY!!! The staff was responsive and knowledgeable. Beautiful home. Beautiful experience!
5 out of 5 stars
Manager Response:
Dear Michael, thank you for taking the time to review your stay, I will certainly be sharing your feedback with our awesome staff! It was a pleasure to host you at Summit and Shock Hill and we look forward to greeting you again sometime! Thank you, Lauren McLoughlin
Celebration of family
Review by
Our stay at The Summit at Shockhill exceeded our expectations and the experience with Paragon property management was excellent. The home met all our family's needs: space to spread out, comfortable places to gather, beautiful views for contemplation, well-equipped kitchen(s), and a convenient location. The home is exceptionally well kept. We hope to return to this beautiful home again soon!
5 out of 5 stars
Amaazzingg
Review by
Eduardo M.
Reeally nice house, fuulll extras, really confortaablee and with all u can need and more!
5 out of 5 stars
A wonderful home for large groups
Review by
Jen M.
We gathered 15 of our closest friends at the house for my husband's 50th birthday. It's the perfect property for this kind of event! The house is both comfortable and very well appointed, with ample living and gathering space to spend time together - but everyone also had their own private space as well. The kitchen has everything you would possibly need and plenty of space for many hands to pitch in for meals. One of our priorities was good outdoor space to enjoy the beautiful Breckenridge summer. The house did not disappoint with both the upper deck and lower patio and hot tub. A favorite of our whole crowd was the full wall of windows that open up to the upper deck for a full indoor/outdoor living experience. We would recommend this property to anyone and look forward to our return!
5 out of 5 stars
Manager Response:
Happy Birthday to your husband, Jen! It sounds like it turned out to be the perfect birthday retreat. Thanks for you insightful review and for sharing your experience with us! We hope you'll come back again soon for another special occasion. - Lennie & The Staff of Paragon Lodging
Family Getaway
Review by
Kari B.
Gorgeous, spacious and comfortable property. The pictures were amazing, but seeing it in person was on a whole different level of quality! From the kitchen, deck, pool table and views, it couldn't have been any better than what we experienced. A once-in-a-lifetime experience for sure!
5 out of 5 stars
Manager Response:
Wow! What an exciting way to conclude on a family getaway, Kari! It's so thoughtful of you to express your thoughts and feelings and allow Paragon to be part of your memories. We are thrilled you decided to try out Summit at Shockhil. Come back soon, and we promise you'll have lifetime experiences again and again! - Lennie & The Staff of Paragon Lodging
Breck19
Review by
John G.
Outstanding
5 out of 5 stars
Manager Response:
Every so often, one word explains it all! Thanks again for staying with us, John. We hope to host you again in the near future! - Lennie & The Staff of Paragon Lodging
BEST HOME YET!
Review by
Mary N.
Our stay at The Summit at Shockhill was awesome! The home is perfect for a large family or many couples with children. It'a a modern home but very cozy and warm feeling. It has every amenity imaginable from a theater room to a hot tub, a kitchen built for serving large groups, a gigantic dining table, 2 dishwashers, plus clothes washer & dryers throughout the home, a large 3 car garage, and beautifully decorated. Any question or concern was delt with immediately by Paragon Lodging. I can't recommend this home or Paragon more highly! Both were unbelievably incredible and staying here is a must! We just loved our week here! Don't pass The Summit at Shockhill up!
5 out of 5 stars
Manager Response:
Sounds like a great vacation, Mary! Thank you so much for this thoughtful and kind review. I'm happy to hear that everytime you stay with us, it just gets better and better! Can't wait to see which home you choose next! - Lennie & The Staff of Paragon Lodging
Summit Stay Early Summer
Review by
Elizabeth N.
An amazing stay in Breck, with the perfect location for summer activities. We have stayed in numerous luxury rentals and Summit at Shock Hill is hands down the best! The home laid out perfectly for our multi family gathering, with a level devoted to the teens and young adults while the "grown ups" lounged separately. The bedrooms are fantastic and bunk rooms ideal; elevator is handy not only for those needing a little assistance but also to take luggage and groceries from the ground floor to third floor while you are adapting to Breckenridge altitude. The kitchen...a cook's dream. Every item and implement you can imagine is well organized and at hand. Stay at home and enjoy the hot tub, theater room, fire pit, views, trails around the neighborhood, or venture out to the gondola or a short drive to town. Perfect location for our summer outings.The Paragon Team always provides exceptional service and is available to answer questions or take care of any issues.Would we stay again? Yes!
5 out of 5 stars
Manager Response:
What a beautiful way to start my Monday, Elizabeth! It's refreshing to read your detailed review and know that the home suited your every need in a vacation rental. I'll certainly pass this on to the other team members at Paragon. Our sincerest thanks for this kind review. We will be thrilled and delighted to greet you and your family again soon! - Lennie & The Staff of Paragon Lodging
Family Reunion 2019
Review by
Enjoyable time had by all from age 5-82!! 16 of us loved the accommodations. Plenty of usable, functional and fun space with never stepping on each other's toes. Slept great in the fresh mountain air with the windows open nightly! Loved the automatic blinds. Had some minor issues with IT and the theatre room movie player not working and the hot tub cover hinge was broken, but all minor enough to not deter the fun whatsoever. Would highly recommend Summit at Shockhill!!!! Check the dates on arrival as we were first week in June and gondolas and several other things in town were not up and running yet.
5 out of 5 stars
Manager Response:
What a great range of ages to travel with, and to top it off, you really did choose a functional and fun space! Happy to hear you were able to visit us in our beautiful month of June, William. Thanks to your insightful review, we have since remedied the hot tub cover hinge as well as the issue within the theatre room. Again, thank you for taking the time to let us know how we are doing. This keeps us moving forward in the right direction. Please come back and visit us again very soon, William. – Lennie and The Staff of Paragon Lodging
Beautiful house for a large group
Review by
Kevin W.
The house is fantastic - lots of bedrooms and beds, plenty of space to spread out. The house is new and has high end fixtures throughout. Walking distance to the gondola, albeit a 10-minute somewhat uphill walk. The large 9-person jacuzzi was a hit with our group, as was the huge and well equipped kitchen. Overall a wonderful stay.
5 out of 5 stars
Wonderful!
Review by
Mark K.
5 stars! Great location, plenty of room, movie theater, hot tub, pool table, steam shower and high end amenities! What more could you ask for on a guys ski getaway!
5 out of 5 stars
SNATCH 2019!
Review by
Chris P.
Outstanding, our 5th year renting and as always, everything was perfect, responsive service and handled any issues we had instantly
5 out of 5 stars
Manager Response:
Dear Chris, Thank you for taking the time to review your stay with us. It is our pleasure to host your group year after year and we're thrilled to hear your feedback. We look forward to seeing you in Breckenridge again next year. Thank you, Lauren and The Staff of Paragon Lodging
Winter weekend retreat
Review by
Erica F.
We gathered 11 friends for a long weekend reunion in Breckenridge, and this home was the perfect setting - gorgeous spaces, a kitchen where everyone could congregate and cook, comfortable bedrooms and cozy places to hang out and catch up! The hot tub under the stars and snow was amazing!
5 out of 5 stars
Manager Response:
Dear Erica, Thank you for taking the time to review your stay at Summit at Shockhill. We are so happy that the home worked so well for your group and we hope that you'll come back again soon! Thank you, Lauren McLoughlin / Marketing Manager
Gorgeous Home and Amazing Stay
Review by
Rikara T.
We rented this home to host an small, intimate wedding. We have to say this house was perfect! We had enough space to host everyone without feeling crowded. The kitchen and dining room table are to die for. Not to mention the dining windows/doors that fully open so you can enjoy the outdoors while being indoors. This home had all of the wonderful and luxury amenities we were looking for, and we definitely took advantage of the amazing sound system. I would definitely recommend this home for anyone looking for a fun getaway with friends - we had 19 adults stay here with plenty of room - or for anyone looking to have a small wedding here. We had 28 people in attendance and were able to have the ceremony on the deck and enjoy all levels and spaces of the house. Our weekend stay here and wedding day was an absolute dream due to this amazing property.
5 out of 5 stars
Awesome and Amazing
Review by
Louise K.
We stayed at the home in August and had 9 adults and 7 children...ages 4 months to 14. We used the laundry room upstairs which is part of the Master Suite to put our pack and play for baby which was quiet and away from the activities. The bedrooms were sooo comfortable and spacious! The two living areas were great for us to spread out and chill. The hot tub and theater were great; the kids LOVED the theater to watch movies. We spent a lot of time on the patio by the dining room; coffee in the morning, lunch on the patio and drinks for happy hour with the fire pit going!The management was AMAZING and helped us out immediately with questions!Great home and Rental Company!Paragon rocks!
5 out of 5 stars
Shockhill
Review by
Mike M.
Great place!
4 out of 5 stars
Beautiful Home
Review by
Lisa S.
This home is perfect, from the design to the layout, the amenities, the furnishings, everything is well thought out!We held a small wedding in this house and all the guests were raving about the house as the perfect venue! This house is an extremely comfortable and quiet and can accommodate a large number of guests.
5 out of 5 stars
An Amazing, Wonderful Family getaway
Review by
Christine H.
This home has everything and anything you could want, from the high end kitchen to the audio system, all top notch. The layout allowed adults and kids their own spaces for ultimate in relaxation and games alike. Everyone felt at home and enjoyed the time there.
5 out of 5 stars
Exceptional property and property management company.
Review by
Kevin M.
This home is distinguished by the attention to detail. The home construction and furnishings exceeded our expectations. I will use paragon for our future needs instead of vrbo. Thank you Krista at paragon.
5 out of 5 stars
Manager Response:
Kevin, we are very appreciative of your wonderful review - thank you! We are also thrilled to hear that you enjoyed your stay at Summit at Shockhill - this is a stunning new addition to our portfolio and we just love this home. Yes, please feel free to contact us directly next time you're in the planning stages of a trip to Breckenridge - we're local and very familiar with all of our homes as we visit them often! We'll help you find the perfect match! We're looking forward to greeting you again soon, Lauren & The Staff of Paragon Lodging
Great family weekend
Review by
Debora M.
We all had a great time. Amazing house and experience.
5 out of 5 stars
Manager Response:
Thank you for reviewing your stay, Aaron - Summit at Shockhill is an experience in itself and we're so happy your had a nice time! -Lauren McLoughlin, Project Manager
Contact Us