Upscale Beach House Near Vineyards, Farm Stands, 1.5hrs NYC (Th (House)
2 Bedroom(s) | 2.25 Bathroom(s) | Sleeps 4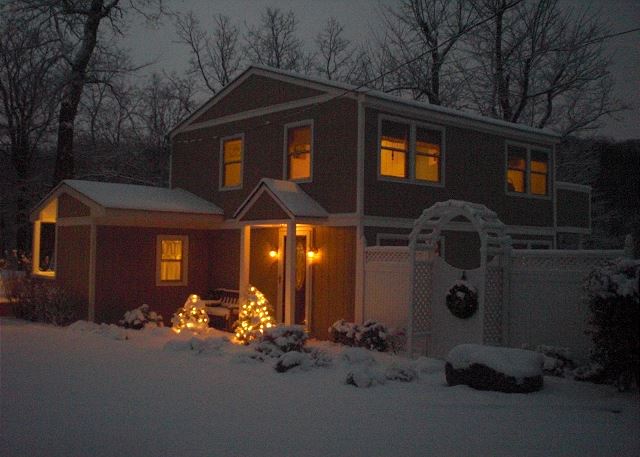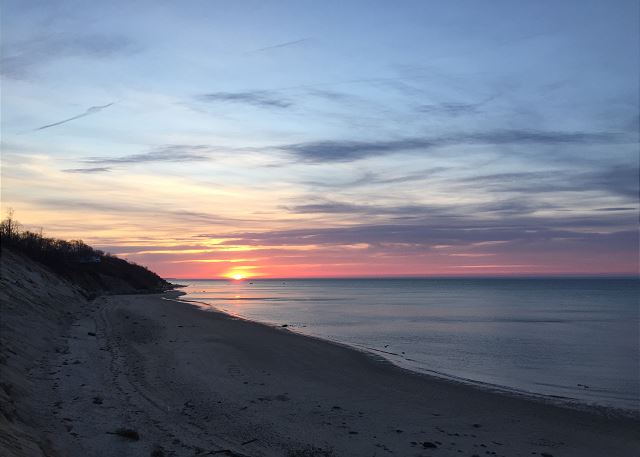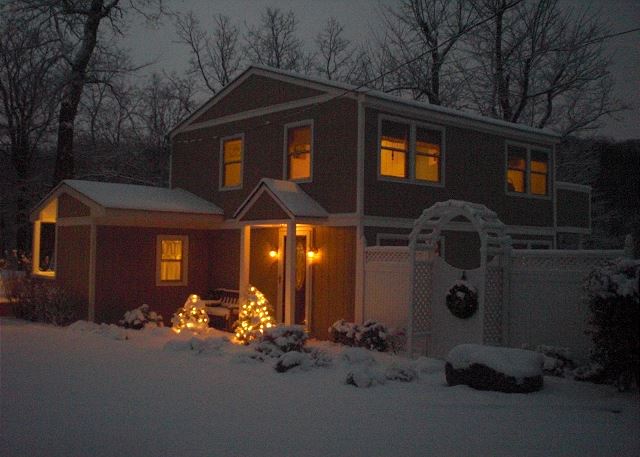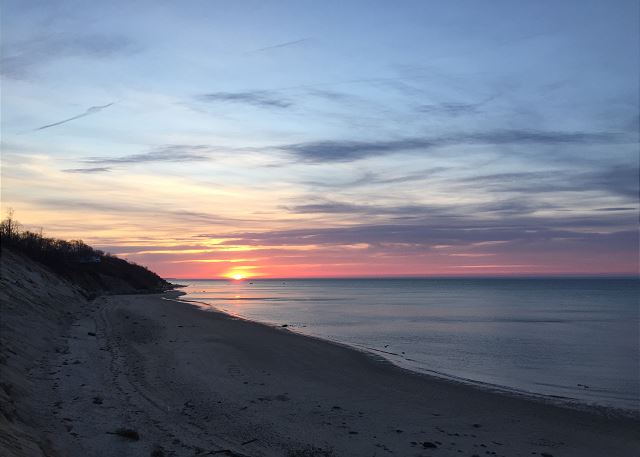 Description
The Dunes is a quaint, rustic beach home that sits perched on top of the beach with outstanding views. The upscale furnishings bring the beachy-feel indoors, with pale blue and green furnishings throughout the home.



This home is a true vacation destination all-year round. You can lay in the sun on your own private beach in the summer months or sit and relax with a glass of wine that you just brought back from your trip to the nearby vineyards.



This is a 2 bedroom home that sleeps 4 people. There is/are:

- a full bathroom

- a jacuzzi tub

- an outdoor hot & cold shower

- a bbq grill

- an outdoor seating area with a fire pit

- a full kitchen

- a dining area



*Please Note: If you are looking for multiple homes that are close by for additional family and/or friends please inquire! We have many other beach homes within close proximity.



When you book a getaway with us, you are guaranteed essential amenities including Wi-Fi and cable TV, but nearly all of our homes also come with kayaks and fishing poles to keep adventure close by. Most homes also come with bikes to see the North Fork from a more personal and intimate view. You are free to explore local destinations including the Hamptons, Greenport, Montauk, and/or Shelter Island. Other close by destinations for your girl's weekend, couple's retreat, or getaway for any occasion include:



- Tanger Outlet Mall

- Vineyards for wine tasting

- Farm stands to support local growers

- five-star restaurants five minutes away

- nature reserves to explore

- a close-knit beach community

- East Wind Day Spa

- Atlantis Marine World

- Splish Splash water park



Enjoy a relaxing getaway with us, Luxury Beach Getaway INC.

Let us know if you need another home for friends and family; we have several other neighboring homes for rent.

(Utilities not included for long stays)
Calendar
September 2021

| S | M | T | W | T | F | S |
| --- | --- | --- | --- | --- | --- | --- |
| | | | 01 | 02 | 03 | 04 |
| 05 | 06 | 07 | 08 | 09 | 10 | 11 |
| 12 | 13 | 14 | 15 | 16 | 17 | 18 |
| 19 | 20 | 21 | 22 | 23 | 24 | 25 |
| 26 | 27 | 28 | 29 | 30 | | |
October 2021

| S | M | T | W | T | F | S |
| --- | --- | --- | --- | --- | --- | --- |
| | | | | | 01 | 02 |
| 03 | 04 | 05 | 06 | 07 | 08 | 09 |
| 10 | 11 | 12 | 13 | 14 | 15 | 16 |
| 17 | 18 | 19 | 20 | 21 | 22 | 23 |
| 24 | 25 | 26 | 27 | 28 | 29 | 30 |
| 31 | | | | | | |
November 2021

| S | M | T | W | T | F | S |
| --- | --- | --- | --- | --- | --- | --- |
| | 01 | 02 | 03 | 04 | 05 | 06 |
| 07 | 08 | 09 | 10 | 11 | 12 | 13 |
| 14 | 15 | 16 | 17 | 18 | 19 | 20 |
| 21 | 22 | 23 | 24 | 25 | 26 | 27 |
| 28 | 29 | 30 | | | | |
December 2021

| S | M | T | W | T | F | S |
| --- | --- | --- | --- | --- | --- | --- |
| | | | 01 | 02 | 03 | 04 |
| 05 | 06 | 07 | 08 | 09 | 10 | 11 |
| 12 | 13 | 14 | 15 | 16 | 17 | 18 |
| 19 | 20 | 21 | 22 | 23 | 24 | 25 |
| 26 | 27 | 28 | 29 | 30 | 31 | |
January 2022

| S | M | T | W | T | F | S |
| --- | --- | --- | --- | --- | --- | --- |
| | | | | | | 01 |
| 02 | 03 | 04 | 05 | 06 | 07 | 08 |
| 09 | 10 | 11 | 12 | 13 | 14 | 15 |
| 16 | 17 | 18 | 19 | 20 | 21 | 22 |
| 23 | 24 | 25 | 26 | 27 | 28 | 29 |
| 30 | 31 | | | | | |
February 2022

| S | M | T | W | T | F | S |
| --- | --- | --- | --- | --- | --- | --- |
| | | 01 | 02 | 03 | 04 | 05 |
| 06 | 07 | 08 | 09 | 10 | 11 | 12 |
| 13 | 14 | 15 | 16 | 17 | 18 | 19 |
| 20 | 21 | 22 | 23 | 24 | 25 | 26 |
| 27 | 28 | | | | | |
March 2022

| S | M | T | W | T | F | S |
| --- | --- | --- | --- | --- | --- | --- |
| | | 01 | 02 | 03 | 04 | 05 |
| 06 | 07 | 08 | 09 | 10 | 11 | 12 |
| 13 | 14 | 15 | 16 | 17 | 18 | 19 |
| 20 | 21 | 22 | 23 | 24 | 25 | 26 |
| 27 | 28 | 29 | 30 | 31 | | |
April 2022

| S | M | T | W | T | F | S |
| --- | --- | --- | --- | --- | --- | --- |
| | | | | | 01 | 02 |
| 03 | 04 | 05 | 06 | 07 | 08 | 09 |
| 10 | 11 | 12 | 13 | 14 | 15 | 16 |
| 17 | 18 | 19 | 20 | 21 | 22 | 23 |
| 24 | 25 | 26 | 27 | 28 | 29 | 30 |
May 2022

| S | M | T | W | T | F | S |
| --- | --- | --- | --- | --- | --- | --- |
| 01 | 02 | 03 | 04 | 05 | 06 | 07 |
| 08 | 09 | 10 | 11 | 12 | 13 | 14 |
| 15 | 16 | 17 | 18 | 19 | 20 | 21 |
| 22 | 23 | 24 | 25 | 26 | 27 | 28 |
| 29 | 30 | 31 | | | | |
June 2022

| S | M | T | W | T | F | S |
| --- | --- | --- | --- | --- | --- | --- |
| | | | 01 | 02 | 03 | 04 |
| 05 | 06 | 07 | 08 | 09 | 10 | 11 |
| 12 | 13 | 14 | 15 | 16 | 17 | 18 |
| 19 | 20 | 21 | 22 | 23 | 24 | 25 |
| 26 | 27 | 28 | 29 | 30 | | |
July 2022

| S | M | T | W | T | F | S |
| --- | --- | --- | --- | --- | --- | --- |
| | | | | | 01 | 02 |
| 03 | 04 | 05 | 06 | 07 | 08 | 09 |
| 10 | 11 | 12 | 13 | 14 | 15 | 16 |
| 17 | 18 | 19 | 20 | 21 | 22 | 23 |
| 24 | 25 | 26 | 27 | 28 | 29 | 30 |
| 31 | | | | | | |
August 2022

| S | M | T | W | T | F | S |
| --- | --- | --- | --- | --- | --- | --- |
| | 01 | 02 | 03 | 04 | 05 | 06 |
| 07 | 08 | 09 | 10 | 11 | 12 | 13 |
| 14 | 15 | 16 | 17 | 18 | 19 | 20 |
| 21 | 22 | 23 | 24 | 25 | 26 | 27 |
| 28 | 29 | 30 | 31 | | | |
Available
Unavailable
Check-In Only
Check-Out Only
Seasonal Rates
| Date Range | Daily | Weekly | Monthly |
| --- | --- | --- | --- |
| 06/20/2021 - 09/05/2021 | $945.31 | N/A | N/A |
| 09/06/2021 - 10/10/2021 | $1,053.28 | $2,835.92 | $6,818.90 |
| 10/11/2021 - 05/08/2022 | $792.79 | $3,163.40 | $5,070.60 |
| 05/09/2022 - 06/19/2022 | $1,053.28 | $4,934.72 | $20,884.48 |
| 06/20/2022 - 09/04/2022 | $540.52 | $4,056.50 | $15,675.01 |
* Seasonal rates are only estimates and do not reflect taxes or additional fees.
Location
Guest Reviews of
Upscale Beach House Near Vineyards, Farm Stands, 1.5hrs NYC (Th
Rocky Point, NY
---
Vacation Rental Reviews by
stars based on
great place
Review by
Mark K.
Amazing spot right on the beach. Super accommodating hosts, well-appointed house, beautiful yard etc. Dog friendly. Would definitely stay again.
5 out of 5 stars
Wonderful home
Review by
Wonderful place to stay with the family. Well thought out spaces and very clean. We had fun on the beach, hanging out in the jacuzzi, by the fire pit, using the marvelous outdoor shower and playing Mrs Pac-Man old school. Perfect stay!
5 out of 5 stars
Love little slice of heaven
Review by
Virginia is very accommodating in looking for the right place for our family for a long weekend. The location is great, a short walk to the beach.
5 out of 5 stars
The Dunes
Review by
The Dunes was a very nice and clean house in Rocky Point. The path to the beach was a challenging for seniors to navigate. We had a great time though.
4 out of 5 stars
Lovely relaxing time in a cosy and nice house
Review by
Theresia S.
Great House. We came for the 2nd time. Loved it the first time (2016). This time some repairs are needed. The white fencedoor is broken and disfunctional.
5 out of 5 stars
Great and quiet simple stay !!!
Review by
Great place. Very secluded and private. Huge backyard and great location to the beach. Even have a great play yard for kids too right on path to beach. We loved it and will definitely come again.
5 out of 5 stars
Beach House Vacation
Review by
This house is adorable and very well maintained. We had everything that we needed to have a great week here. There were just a couple of things that were misleading in the description of the house. The first was that it sleeps 6 and that a cot is available. There are 2 bedrooms that each sleep 2 and a couch. There was no cot. The second is that the house is described as having a private beach. There is a beach down the road from the house that has signs up paying that it is private but it is really a neighborhood beach with lots of people there fishing, camping out, etc. This was not a problem, I just found the description on the website to be misleading. If you think that you are getting access to a truly private beach with this house, you are not.
4 out of 5 stars
wonderful stay
Review by
Tracey F.
Beautiful little cottage right by the beach! The home decor and overall feel makes you want to go home and redecorate! Very warm and welcoming! This will be a yearly get away for sure!! Amazing sunsets and quiet beach was just what I needed!!!
5 out of 5 stars
My favorite House
Review by
Katherine O.
Everything was great!! My dog loves the yard and the beach...a great place to relax and watch the sun set.
5 out of 5 stars
Manager Response:
Hi Katherine: Thanks for your thoroughly enjoyed having you as our guest. Thanks for joining us and we look forward to you again soon!
Everything was great!
Review by
Debbie & Ginny, thank you!
5 out of 5 stars
Wonderful beach house family holiday
Review by
Carolyn M.
This house is gorgeous, so much better than the photos. It's clean and cosy, incredibly well-equipped and has spectacular views. Moments walk from the beautiful quiet beach - a mixture of sand and pebble - and less than an hour's drive from West Hampton and the surrounding public sandy beaches when you want the ocean. So much to do around the area for families - Splish Spkash, the aquarium, plenty of restaurants etc. Debbie & Virginia from Luxury Beachfront Getaway couldn't have been more helpful, we can't wait to go back!
5 out of 5 stars
A Great Getaway'
Review by
Debbie F.
We had a wonderful experience at the Dunes Beach House! As a caretaker for my mother I really need some time away, but couldn't be gone for very long. Renting the Dunes Beach House for a long weekend was the perfect option. I was able to relax in a home away from home and was even able to invite my Long Island family over for a barbecue. The house was spacious, nicely decorated, and immaculately clean. The location was easy to find and convenient for visiting the area or just popping over to the grocery store. I would definitely recommend LuxuryBeachFrontGetaways and the Dunes Beach House.
5 out of 5 stars
Contact Us