Very Large Luxury Beach House AMAZING VIEWS North Fork Hamptons (House)
4 Bedroom(s) | 3.5 Bathroom(s) | Sleeps 10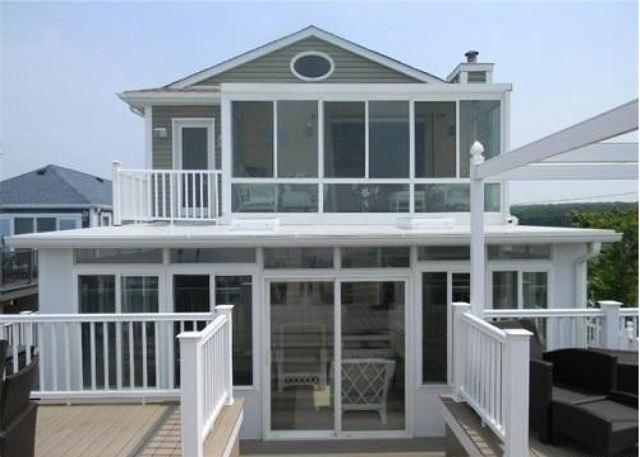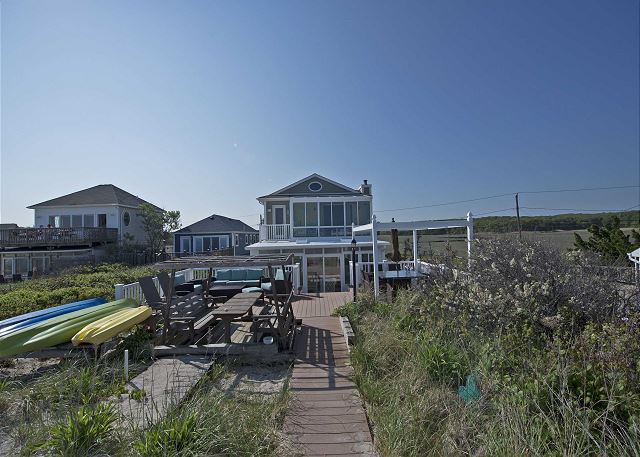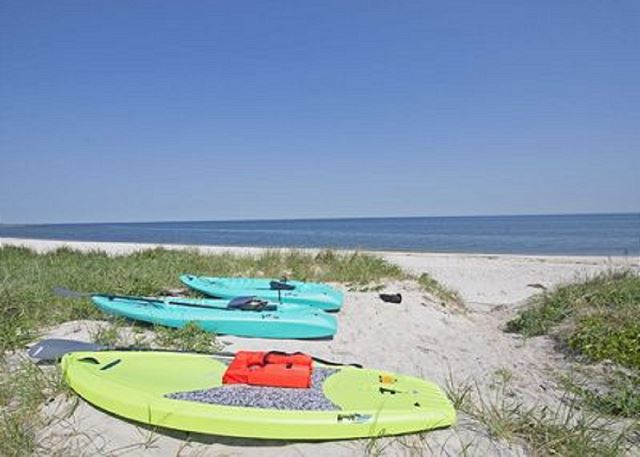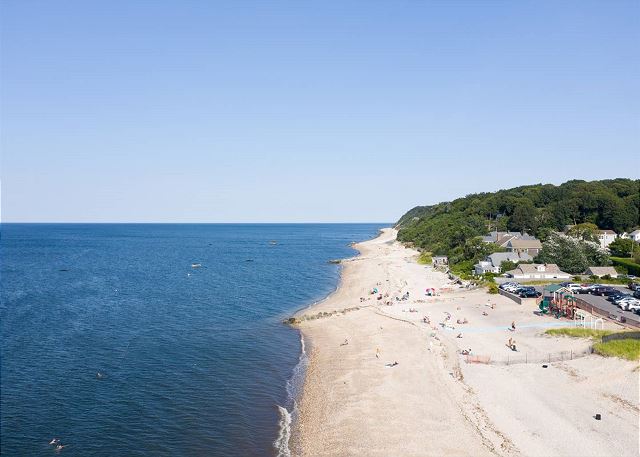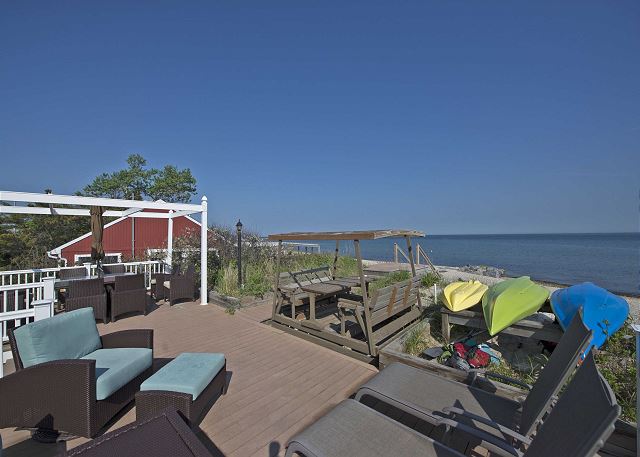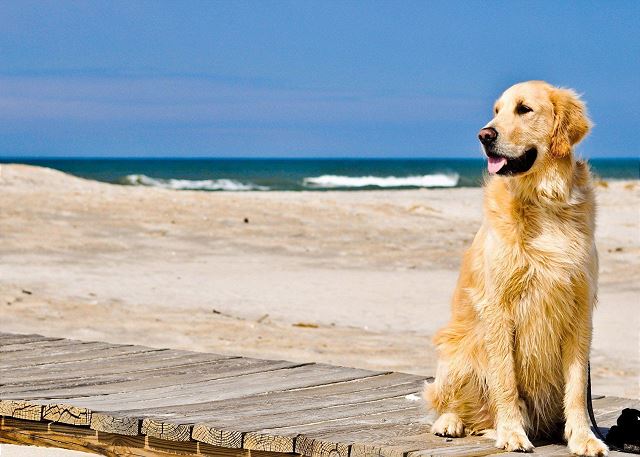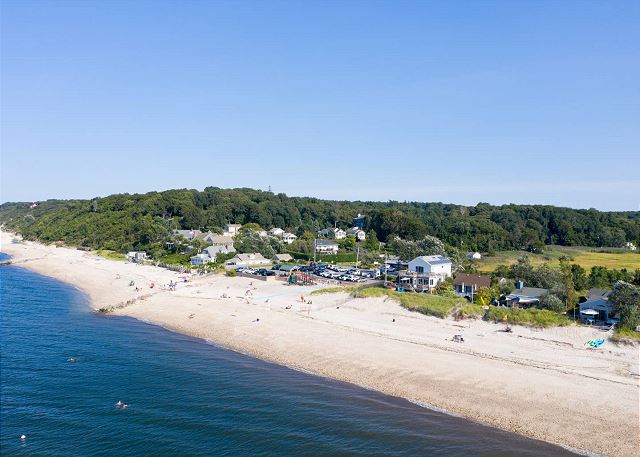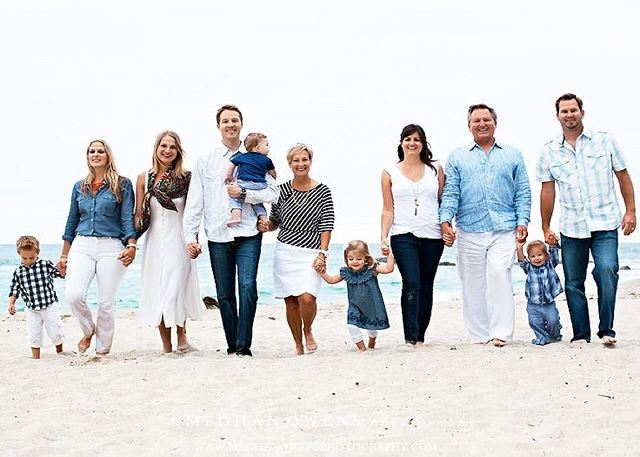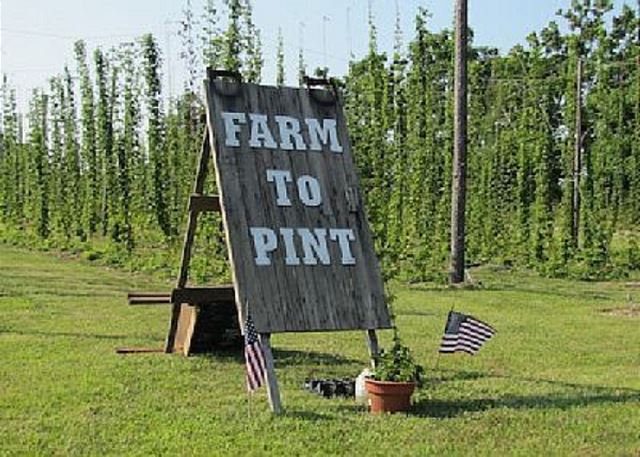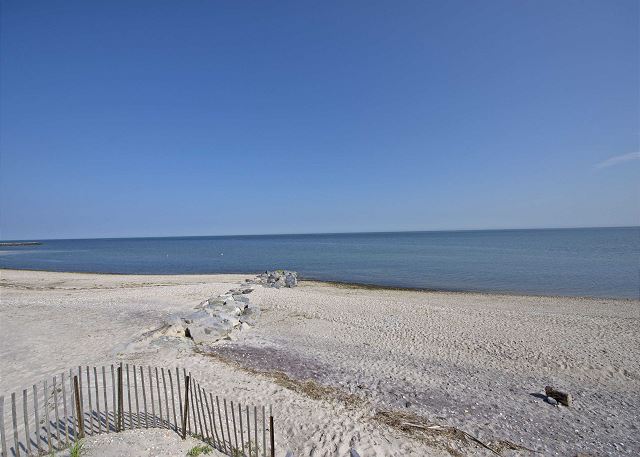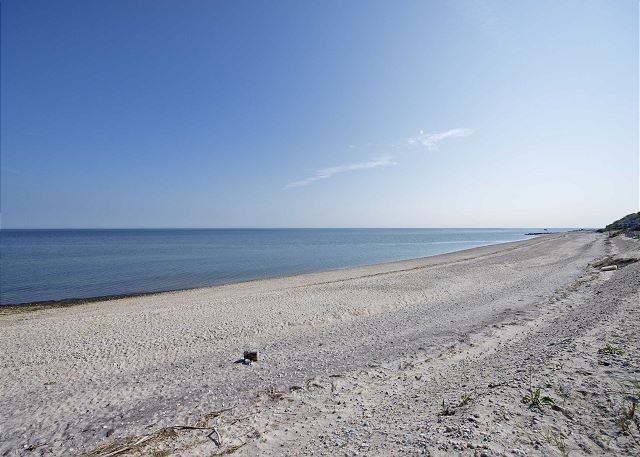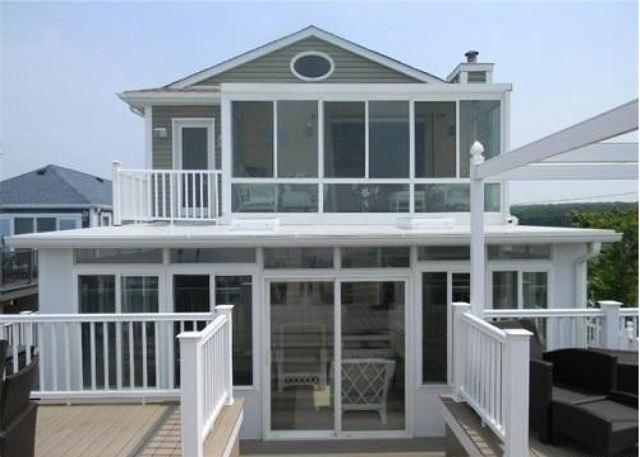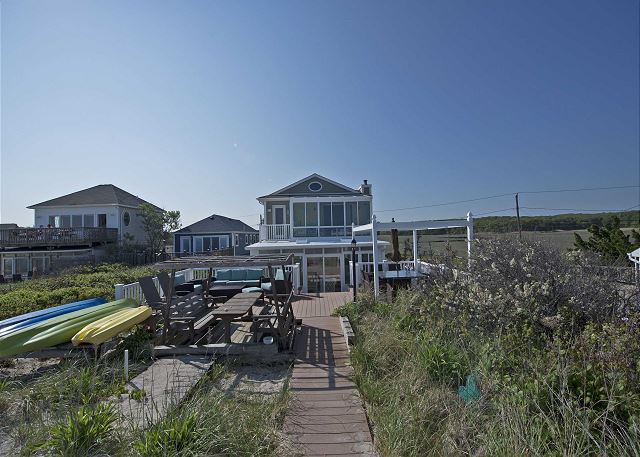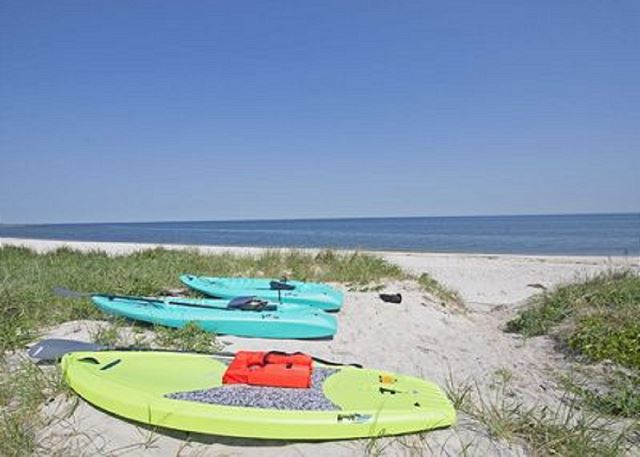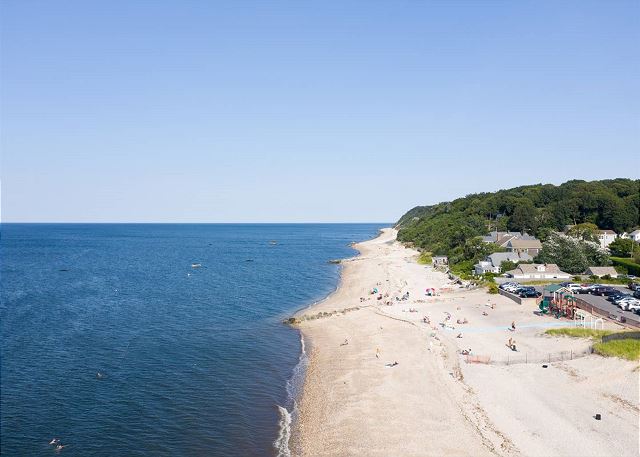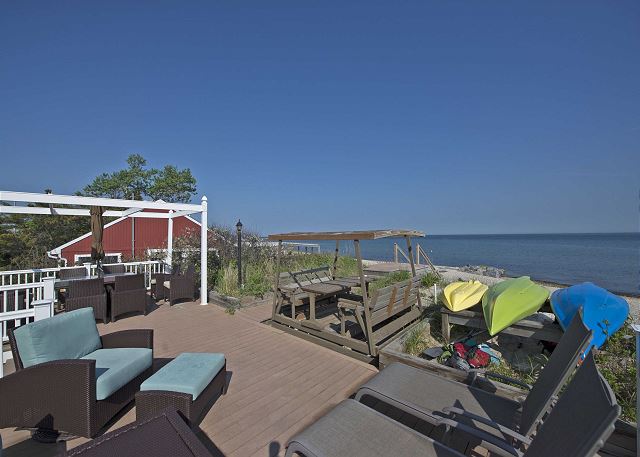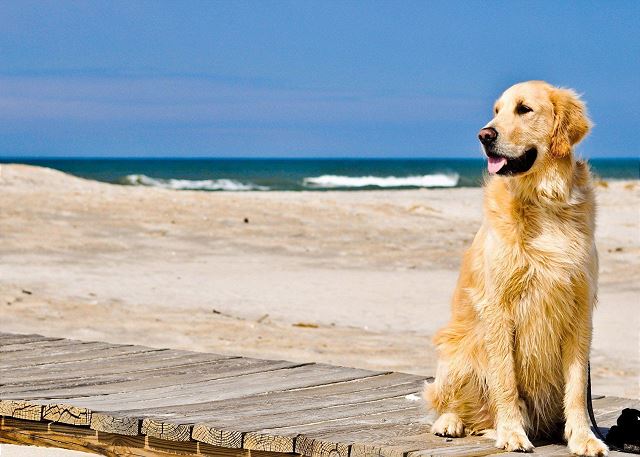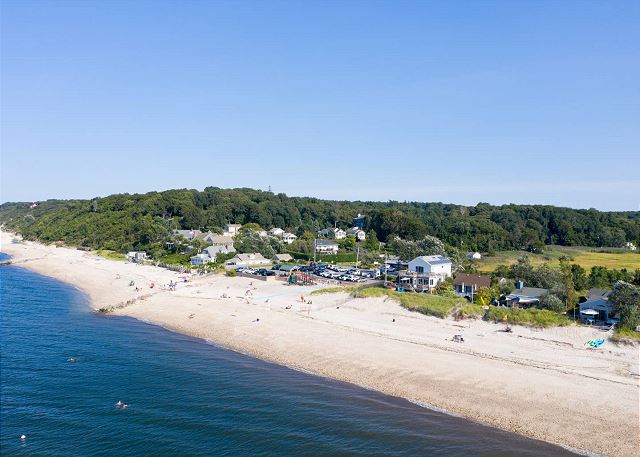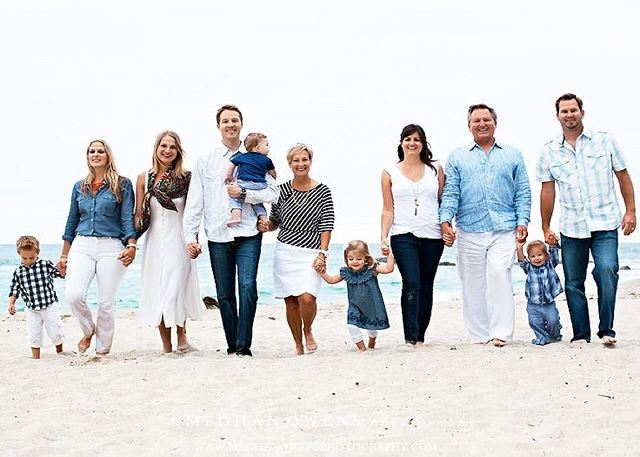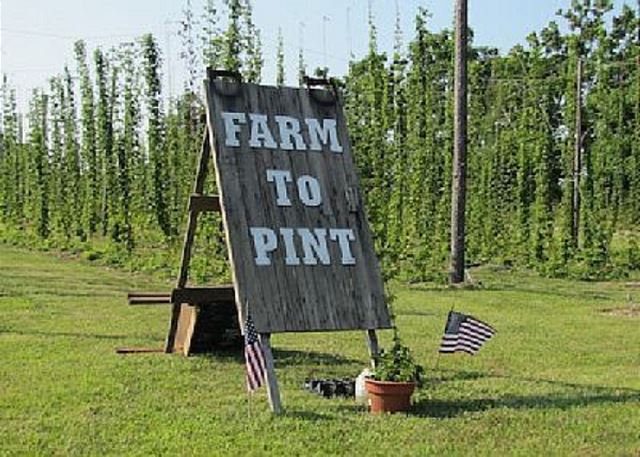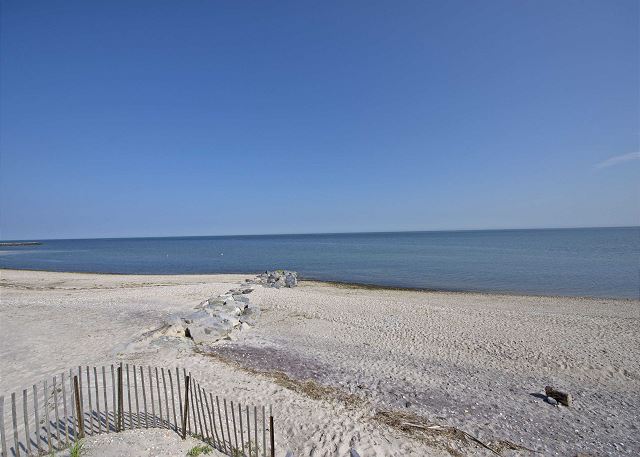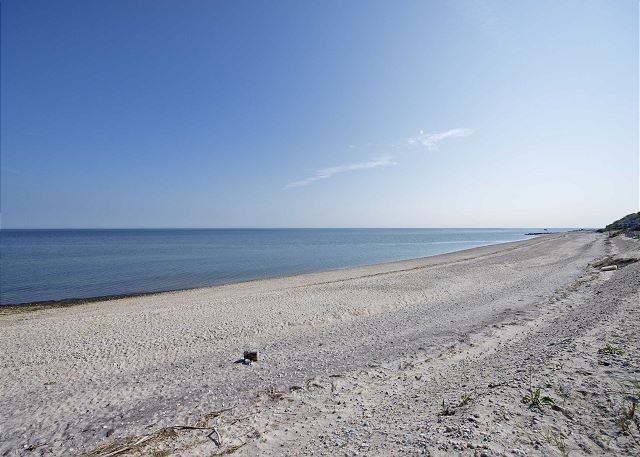 Description
This one of a kind home is spacious with large windows that bring the sun, beach, and impeccable views of the water into the living area. There are beautiful new furnishings within the home. Outside you can enjoy your very own private beach, to be used by no one other than you and your guests. This is the perfect spot for family reunions or getaways.



This is a 4 bedroom home that sleeps 10 people. There is/are:

- 3 and a half bathrooms

- an outdoor jacuzzi

- a jacuzzi tub

- an outdoor hot & cold shower

- two gas fireplaces

- a den/game room

- a large eat-in kitchen with new appliances

- a sunroom/breakfast room with wrap-around windows

- a large dining room table



Please note: Let us know if you need another home for friends and family; we have several other homes on this stretch of the beach.



When you book a getaway with us, you are guaranteed essential amenities including Wi-Fi and cable TV, but nearly all of our homes also come with kayaks and fishing poles to keep adventure close by. Most homes also come with bikes to see the North Fork from a more personal and intimate view. You are free to explore local destinations including the Hamptons, Greenport, Montauk, and/or Shelter Island. Other close by destinations for your girl's weekend, couple's retreat, or getaway for any occasion include:



- Tanger Outlet Mall

- Vineyards for wine tasting

- Farm stands to support local growers

- five-star restaurants five minutes away

- nature reserves to explore

- a close-knit beach community

- East Wind Day Spa

- Atlantis Marine World

- Splish Splash water park



Enjoy a relaxing getaway with us, Luxury Beach Getaway INC.

Let us know if you need another home for friends and family; we have several other neighboring homes for rent.

(Utilities not included for long stays)
Calendar
September 2021

| S | M | T | W | T | F | S |
| --- | --- | --- | --- | --- | --- | --- |
| | | | 01 | 02 | 03 | 04 |
| 05 | 06 | 07 | 08 | 09 | 10 | 11 |
| 12 | 13 | 14 | 15 | 16 | 17 | 18 |
| 19 | 20 | 21 | 22 | 23 | 24 | 25 |
| 26 | 27 | 28 | 29 | 30 | | |
October 2021

| S | M | T | W | T | F | S |
| --- | --- | --- | --- | --- | --- | --- |
| | | | | | 01 | 02 |
| 03 | 04 | 05 | 06 | 07 | 08 | 09 |
| 10 | 11 | 12 | 13 | 14 | 15 | 16 |
| 17 | 18 | 19 | 20 | 21 | 22 | 23 |
| 24 | 25 | 26 | 27 | 28 | 29 | 30 |
| 31 | | | | | | |
November 2021

| S | M | T | W | T | F | S |
| --- | --- | --- | --- | --- | --- | --- |
| | 01 | 02 | 03 | 04 | 05 | 06 |
| 07 | 08 | 09 | 10 | 11 | 12 | 13 |
| 14 | 15 | 16 | 17 | 18 | 19 | 20 |
| 21 | 22 | 23 | 24 | 25 | 26 | 27 |
| 28 | 29 | 30 | | | | |
December 2021

| S | M | T | W | T | F | S |
| --- | --- | --- | --- | --- | --- | --- |
| | | | 01 | 02 | 03 | 04 |
| 05 | 06 | 07 | 08 | 09 | 10 | 11 |
| 12 | 13 | 14 | 15 | 16 | 17 | 18 |
| 19 | 20 | 21 | 22 | 23 | 24 | 25 |
| 26 | 27 | 28 | 29 | 30 | 31 | |
January 2022

| S | M | T | W | T | F | S |
| --- | --- | --- | --- | --- | --- | --- |
| | | | | | | 01 |
| 02 | 03 | 04 | 05 | 06 | 07 | 08 |
| 09 | 10 | 11 | 12 | 13 | 14 | 15 |
| 16 | 17 | 18 | 19 | 20 | 21 | 22 |
| 23 | 24 | 25 | 26 | 27 | 28 | 29 |
| 30 | 31 | | | | | |
February 2022

| S | M | T | W | T | F | S |
| --- | --- | --- | --- | --- | --- | --- |
| | | 01 | 02 | 03 | 04 | 05 |
| 06 | 07 | 08 | 09 | 10 | 11 | 12 |
| 13 | 14 | 15 | 16 | 17 | 18 | 19 |
| 20 | 21 | 22 | 23 | 24 | 25 | 26 |
| 27 | 28 | | | | | |
March 2022

| S | M | T | W | T | F | S |
| --- | --- | --- | --- | --- | --- | --- |
| | | 01 | 02 | 03 | 04 | 05 |
| 06 | 07 | 08 | 09 | 10 | 11 | 12 |
| 13 | 14 | 15 | 16 | 17 | 18 | 19 |
| 20 | 21 | 22 | 23 | 24 | 25 | 26 |
| 27 | 28 | 29 | 30 | 31 | | |
April 2022

| S | M | T | W | T | F | S |
| --- | --- | --- | --- | --- | --- | --- |
| | | | | | 01 | 02 |
| 03 | 04 | 05 | 06 | 07 | 08 | 09 |
| 10 | 11 | 12 | 13 | 14 | 15 | 16 |
| 17 | 18 | 19 | 20 | 21 | 22 | 23 |
| 24 | 25 | 26 | 27 | 28 | 29 | 30 |
May 2022

| S | M | T | W | T | F | S |
| --- | --- | --- | --- | --- | --- | --- |
| 01 | 02 | 03 | 04 | 05 | 06 | 07 |
| 08 | 09 | 10 | 11 | 12 | 13 | 14 |
| 15 | 16 | 17 | 18 | 19 | 20 | 21 |
| 22 | 23 | 24 | 25 | 26 | 27 | 28 |
| 29 | 30 | 31 | | | | |
June 2022

| S | M | T | W | T | F | S |
| --- | --- | --- | --- | --- | --- | --- |
| | | | 01 | 02 | 03 | 04 |
| 05 | 06 | 07 | 08 | 09 | 10 | 11 |
| 12 | 13 | 14 | 15 | 16 | 17 | 18 |
| 19 | 20 | 21 | 22 | 23 | 24 | 25 |
| 26 | 27 | 28 | 29 | 30 | | |
July 2022

| S | M | T | W | T | F | S |
| --- | --- | --- | --- | --- | --- | --- |
| | | | | | 01 | 02 |
| 03 | 04 | 05 | 06 | 07 | 08 | 09 |
| 10 | 11 | 12 | 13 | 14 | 15 | 16 |
| 17 | 18 | 19 | 20 | 21 | 22 | 23 |
| 24 | 25 | 26 | 27 | 28 | 29 | 30 |
| 31 | | | | | | |
August 2022

| S | M | T | W | T | F | S |
| --- | --- | --- | --- | --- | --- | --- |
| | 01 | 02 | 03 | 04 | 05 | 06 |
| 07 | 08 | 09 | 10 | 11 | 12 | 13 |
| 14 | 15 | 16 | 17 | 18 | 19 | 20 |
| 21 | 22 | 23 | 24 | 25 | 26 | 27 |
| 28 | 29 | 30 | 31 | | | |
Available
Unavailable
Check-In Only
Check-Out Only
Seasonal Rates
| Date Range | Daily | Weekly | Monthly |
| --- | --- | --- | --- |
| 06/20/2021 - 09/05/2021 | $2,355.72 | N/A | N/A |
| 09/06/2021 - 10/10/2021 | $2,095.23 | $6,274.37 | $10,478.10 |
| 10/11/2021 - 05/08/2022 | $2,043.14 | $9,698.08 | $9,548.73 |
| 05/09/2022 - 06/19/2022 | $2,195.65 | $10,457.08 | $18,789.32 |
| 06/20/2022 - 09/04/2022 | $2,355.72 | $8,656.45 | $33,375.85 |
* Seasonal rates are only estimates and do not reflect taxes or additional fees.
Location
Guest Reviews of
Very Large Luxury Beach House AMAZING VIEWS North Fork Hamptons
Wading River, NY
---
Vacation Rental Reviews by
stars based on
70 Creek Road
Review by
Anthony F.
Great location, clean and well fitted out..Nice outdoor seating and water view.Virginia was responsive when needed.Cable did not work on any of the TVs.Bathroom with tub could use a shower.
4 out of 5 stars
Wonderful location and service
Review by
Sanam A.
Had the best time at our rental! Quick responses, lovely property, would definitely stay again.
5 out of 5 stars
A+
Review by
Henry N.
We loved it. The place is beautiful. It was all WOWS when we walked in. You have your own private beach. We will definitely return next year.
5 out of 5 stars
Disappointed
Review by
Jerry D.
House had great views, on the beach with water sport activities. However, the house had a few flaws such as: The online listing showed the house included a hot tub, it did not.The online listing showed the house included 3 full baths and 1/2 bath, it did not. There were 2 full baths with shower, I bath with tub but no shower and no 1/2 bath.The bedrooms and bathrooms were extremely small.The lighting was poor, missing or non working light bulbs.Other than the TV in living room others were not working.Fireplaces did not work. Remotes were not available Many TV remotes had missing or expired batteries Dishwasher was not working properly
3 out of 5 stars
Perfect spot for a family celebration
Review by
Our extended family spent 4 lovely days here. The setting was perfect, the beds very comfortable, and the shared spaced roomy. We cooked every night and gathered around the large dining table. The ping pong table was put to good use, too. We especially enjoyed the two sun rooms and outdoor terrace.
5 out of 5 stars
location location location
Review by
easy access to all the region's delights: wineries, farm stands,ciderybest beach location just a stair step away from beautiful deck area
5 out of 5 stars
Great beach house on Long Island Sound
Review by
Brett N.
Right on the water. Lots of room for the family to spread out. The 2 sun rooms were very nice, especially the upper one off the master bedroom.Kids loved using the kayaks and paddle-board.
5 out of 5 stars
Long Island Get Away
Review by
Cara M.
We just spent four beautiful days at this wonderful home in Wading River. It's a very special place where we created so wonderful family memories.My favorite part of the house is the master bedroom which looks out to the water. I had my first cup of coffee there every morning. So peaceful.It was a charming place, and we will definitely be back! Oh and we loved having the ping pong table!
5 out of 5 stars
Perfect private relaxing location
Review by
Loved the house and it's amenities. Beds are comfortable and living space is ample. Pretty outdoor space with nice furniture to relax. There are also kayaks to enjoy the serene beach. House managers Virginia and Deb were helpfully. We would definitely consider this home again if available.
5 out of 5 stars
Clean and Comfortable
Review by
Frederick W.
Clean and Comfortable. A few electrical issues with lights and switches and air hockey table.Quiet location. Great for kids and adults!
4 out of 5 stars
beach house
Review by
Natalia B.
The house is big and clean. Plenty of space for everyone. Very close to water. Nice outdoor space. Beautiful living room/kitchen to spend time there.
5 out of 5 stars
Dream Vacation
Review by
jane w.
The best place ever. Beautiful house on the beach with all one could ever need.
5 out of 5 stars
The catanzarite family 2018 vacation
Review by
Paul C.
We enjoyed the house plenty of room inside to socialize, the deck was a great addition. The master bedroom was very roomy and the view was great. The sunroom was beautiful and the AC was a terrific extra.
5 out of 5 stars
Much needed family beach vacation
Review by
Our extended family of 11 had an amazing time! The adults and kids all had their own space to enjoy. Watching the sunrise from the master bedroom, kayaking on the LI Sound, s'mores around a fire, to air hockey tournaments all made this vacation one for the books! Not to mention the convenience of baiting hollow winery, Long Island vodka and Riverhead Cider House made this vacation great!
5 out of 5 stars
A BEAUTIFUL VACATION RETREAT
Review by
Cathie L.
HOW WONDERFUL IT IS TO WAKE UP WITH THE BEACH IN YOUR OWN BACKYARD!!! WOULD HIGHLY RECOMMEND THIS HOUSE. JUST BEAUTIFUL!!
5 out of 5 stars
Waters Edge Beach House for Thanksgiving
Review by
The property looks just like the photos. The layout was a little funky. 4 bedrooms and 2 baths on the 2nd floor; but 1 bath only has soaking tub so we all showered in the master bathrooms shower. The basement has 2 bedrooms and no bathroom, so they had to come up to main floor for toilet/shower. We lost power 3 times on Thanksgiving day. The first time we called the Property Mgt.; we left a voicemail but never got a call back. While I realize it was Thanksgiving morning, a call back even the next day would have been nice. They never did return our call. We had a great time and would do it again.
5 out of 5 stars
Water's Edge perfect family getaway
Review by
David B.
This was an excellent choice for our family weekend getaway. Beautiful home, clean, well appointed and prime location on the Northfork. Plenty to do in the surrounding area, restaurants, beachfronts, wineries, etc. Ginny and Debbie the property managers take an interest in who they rent to and could not have been more accommodating. Highly recommend this home to large families or friends that need a great escape.
5 out of 5 stars
Contact Us