Villa Cisne (Villa)
4 Bedroom(s) | 4 Bathroom(s) | Sleeps 12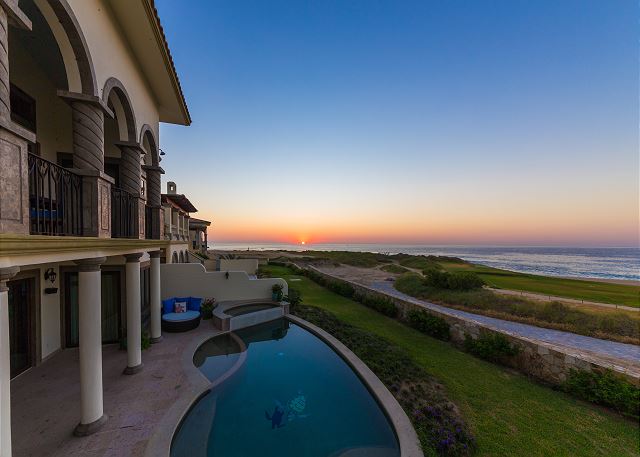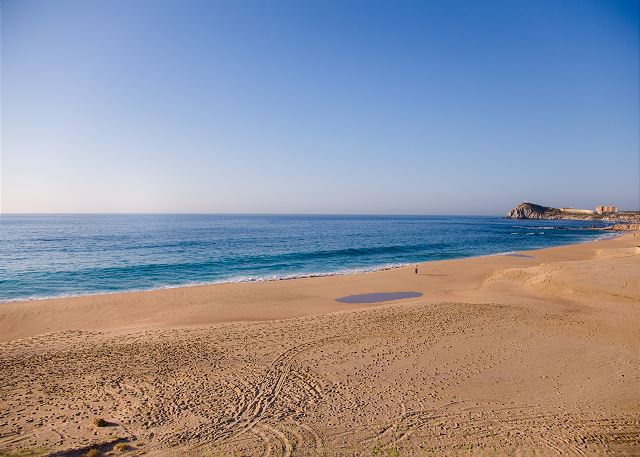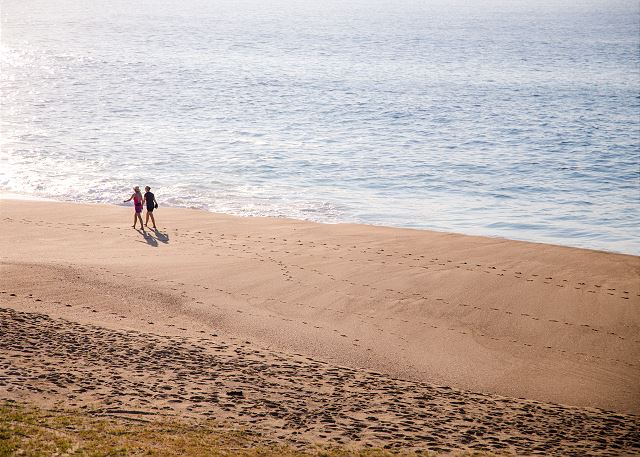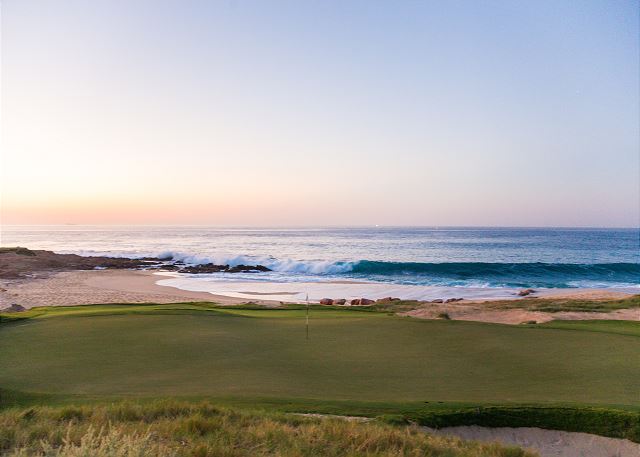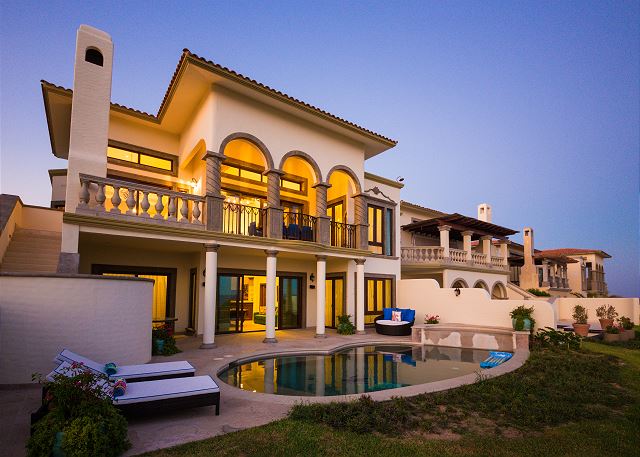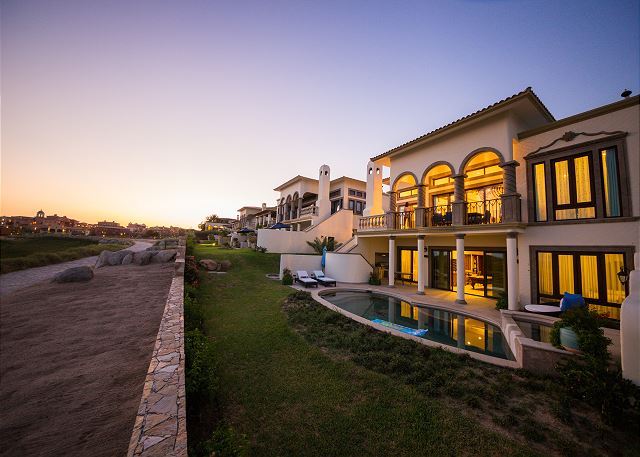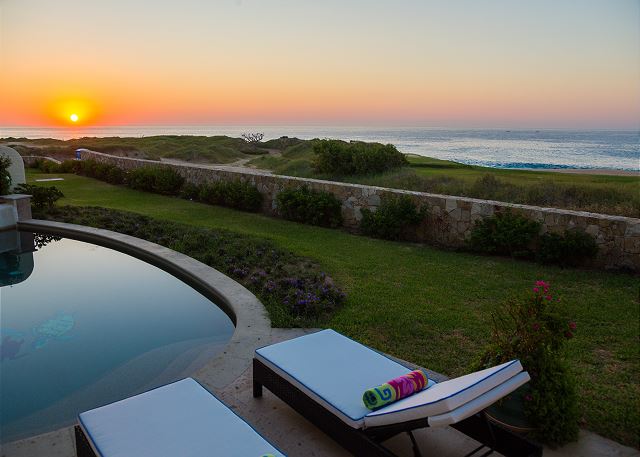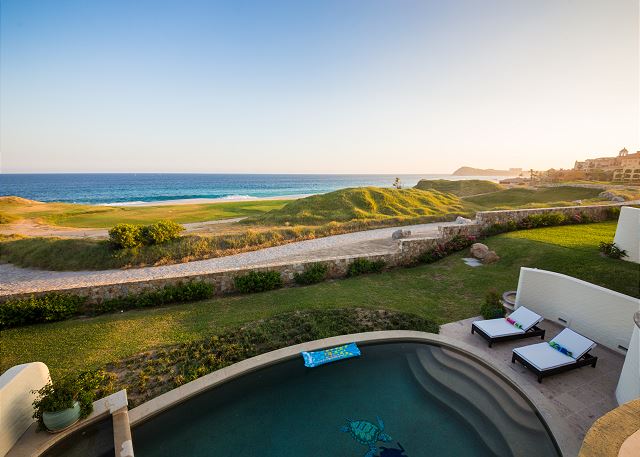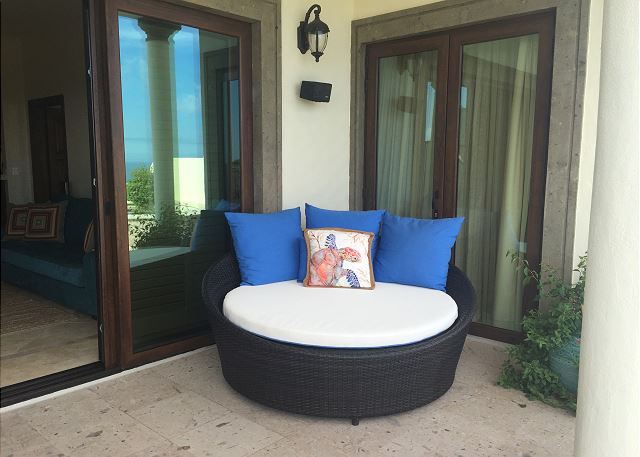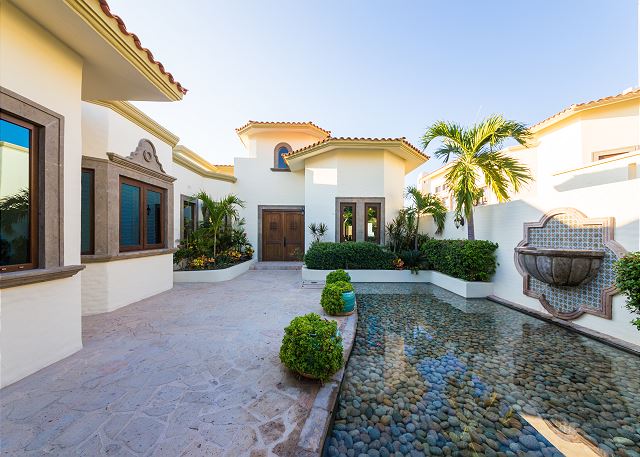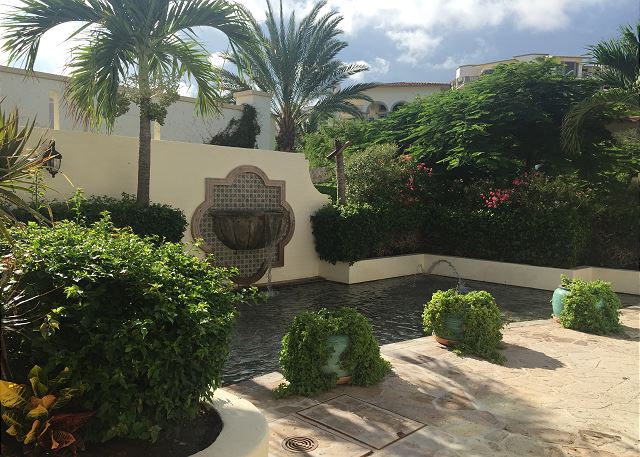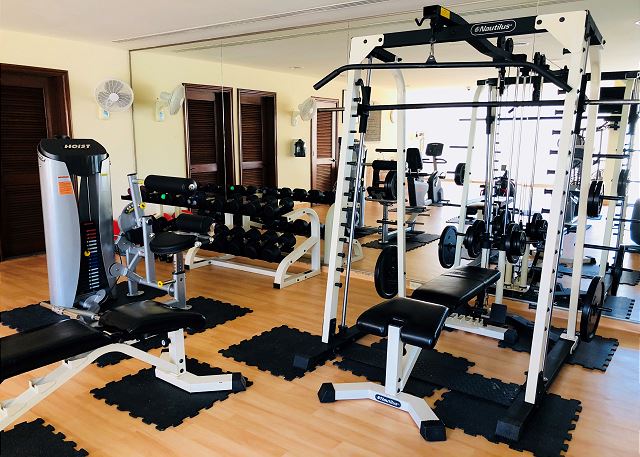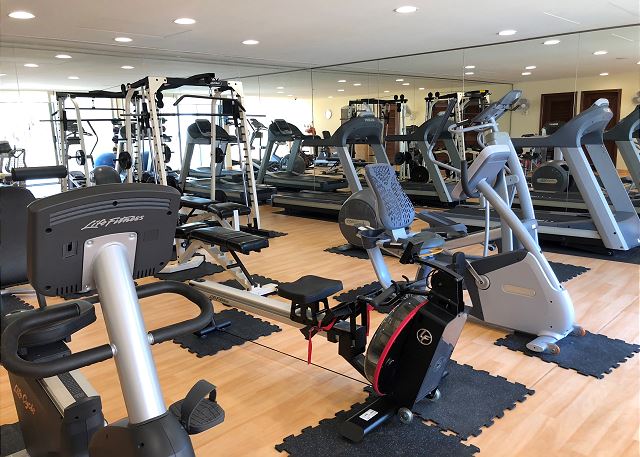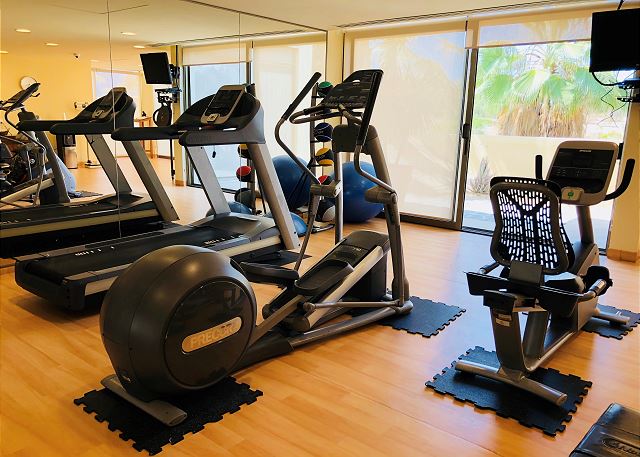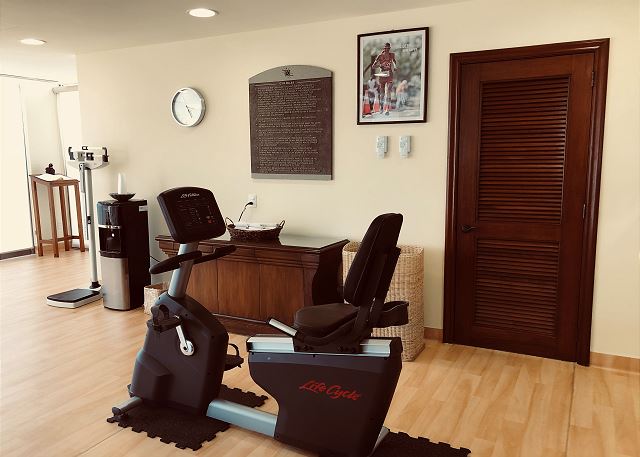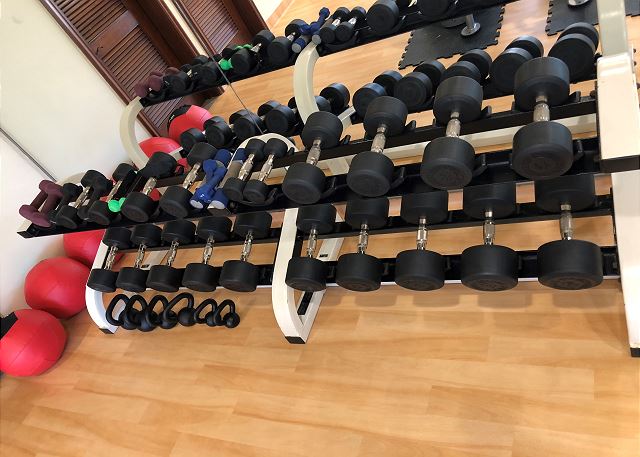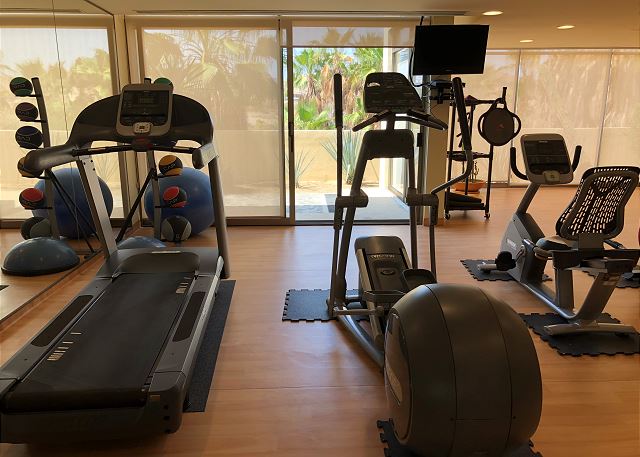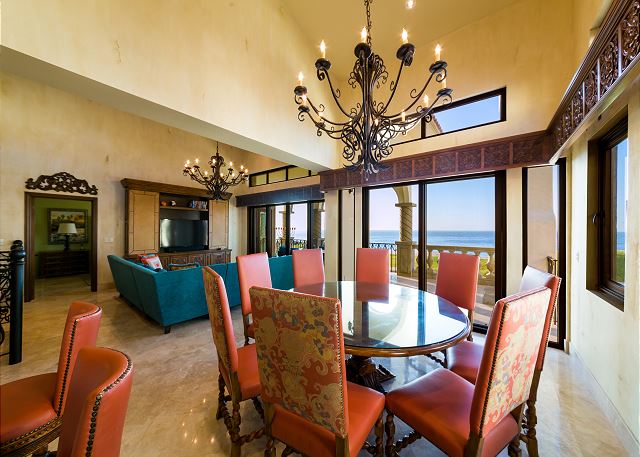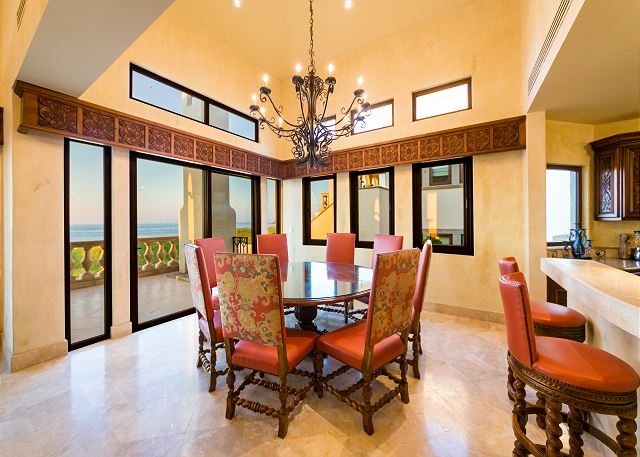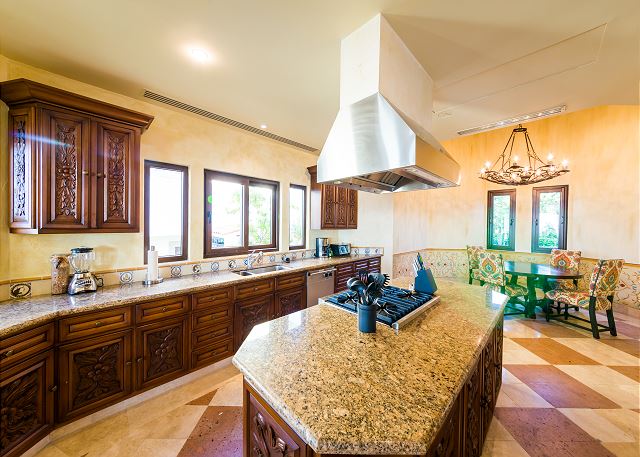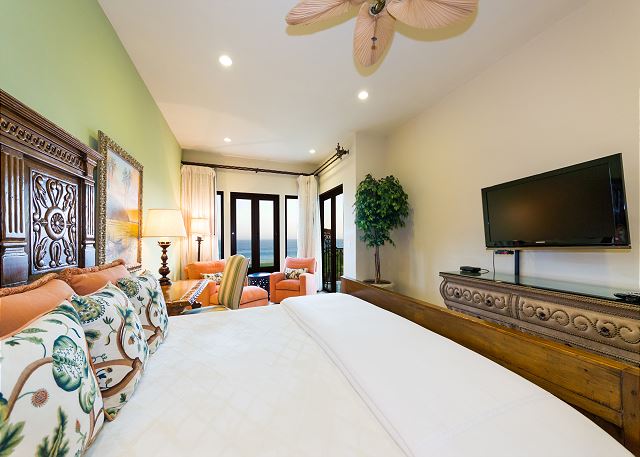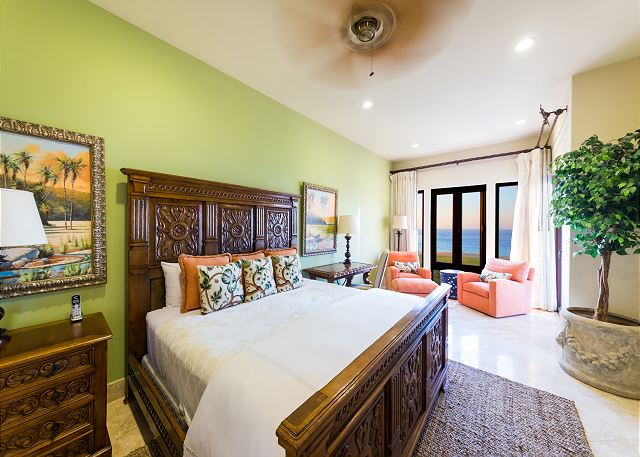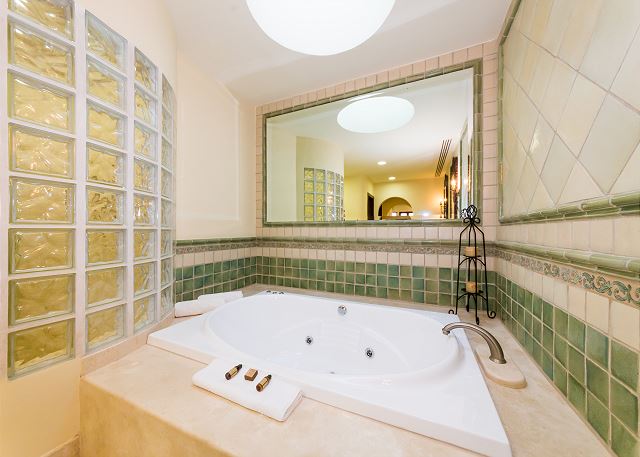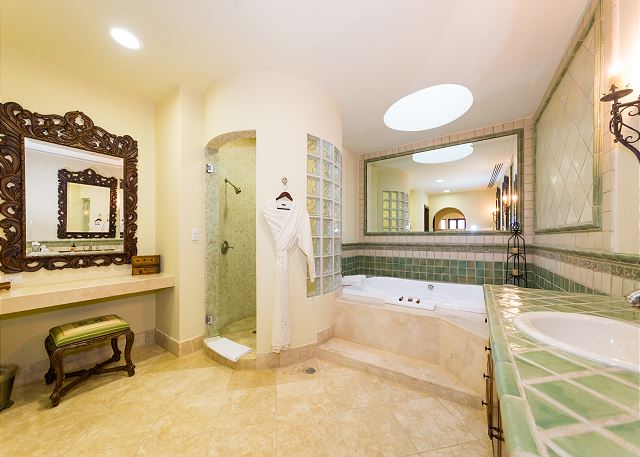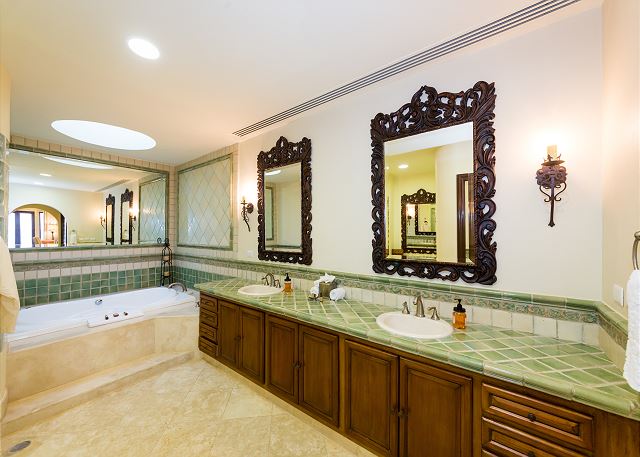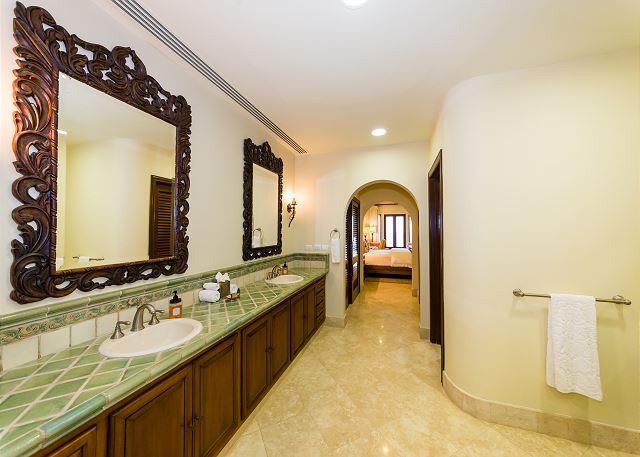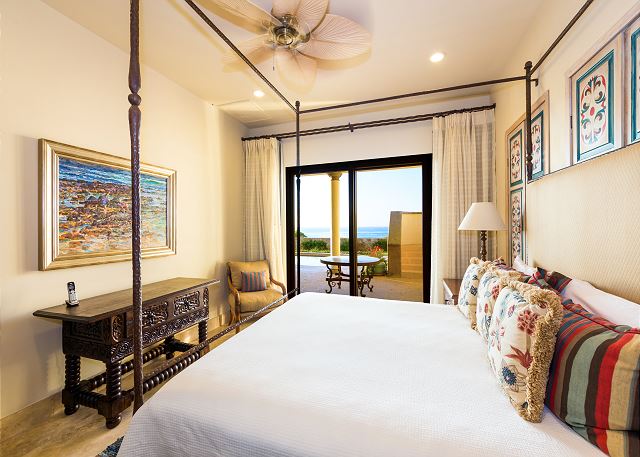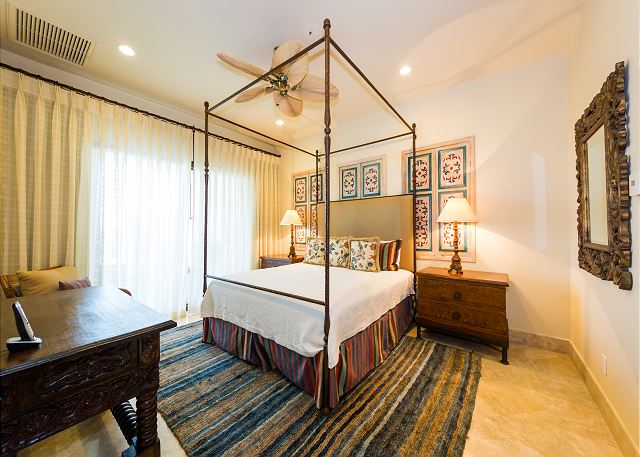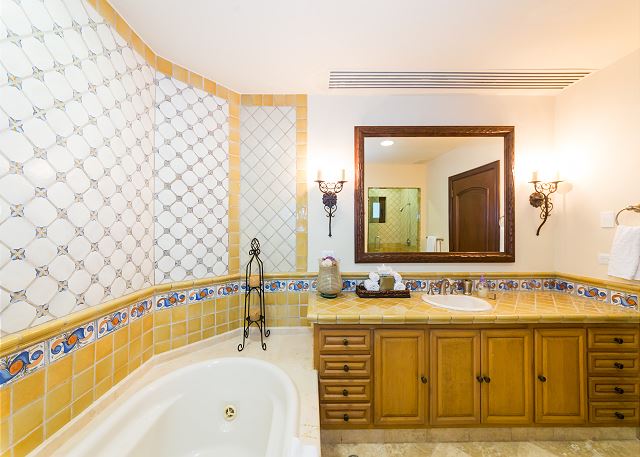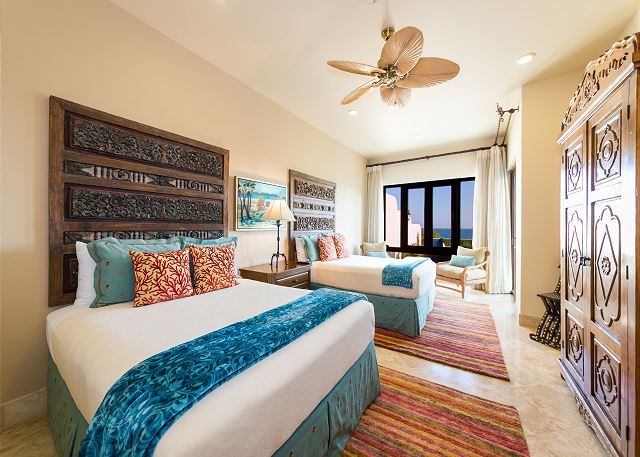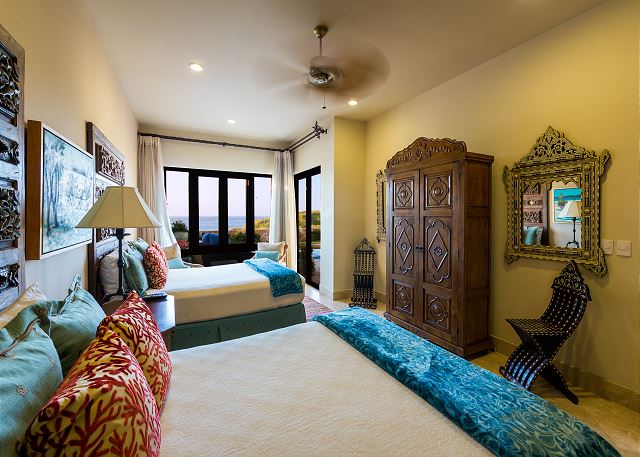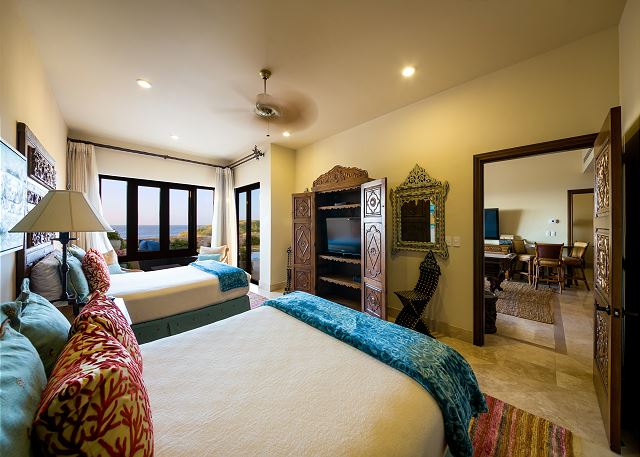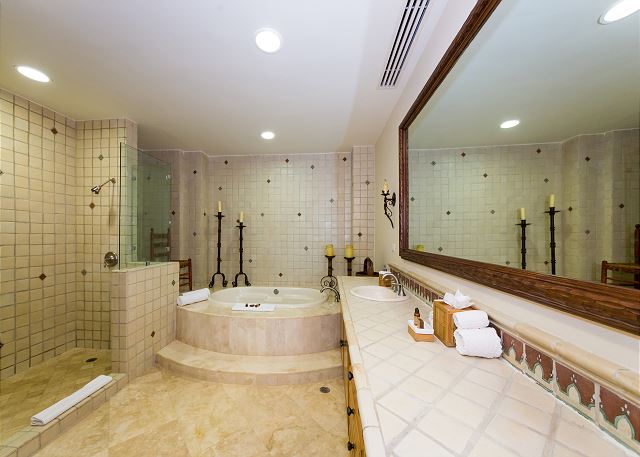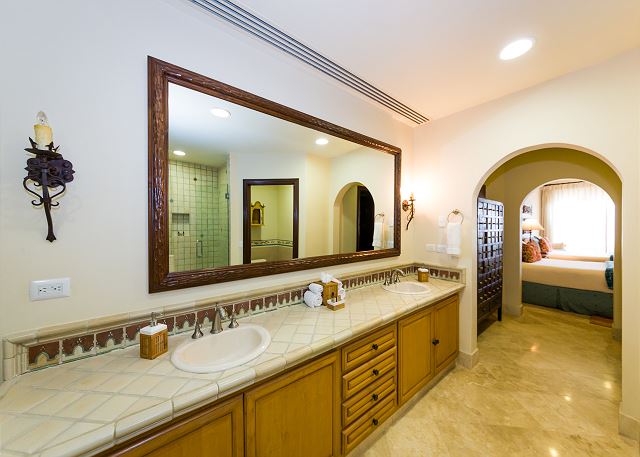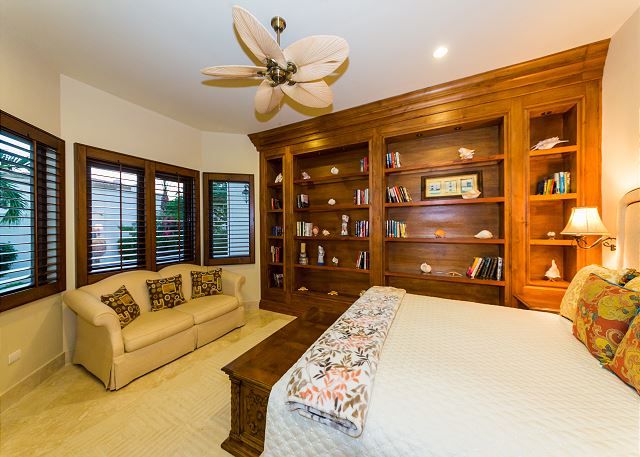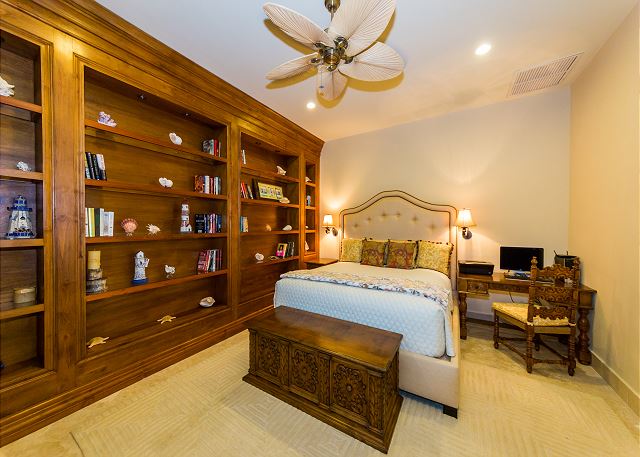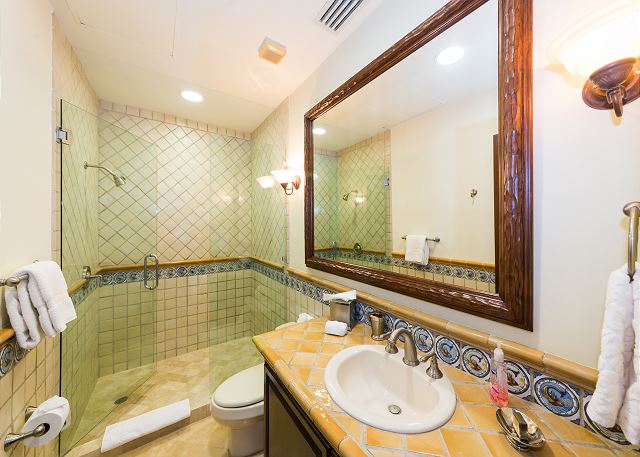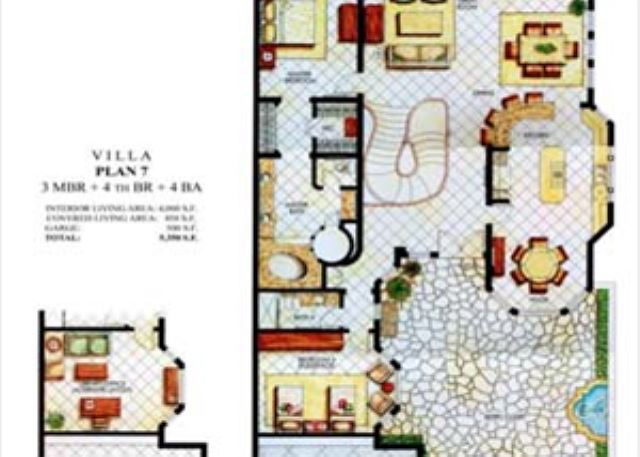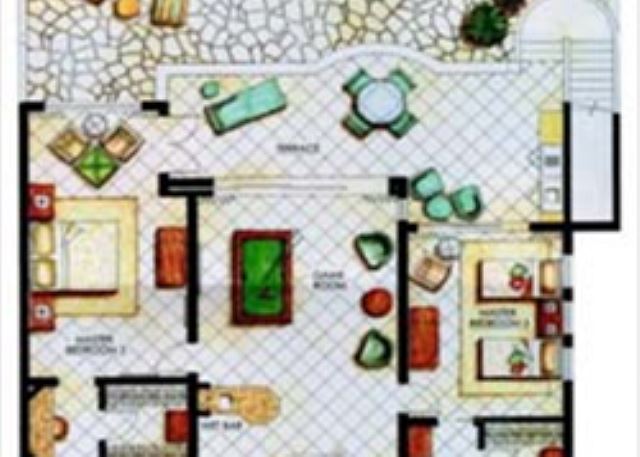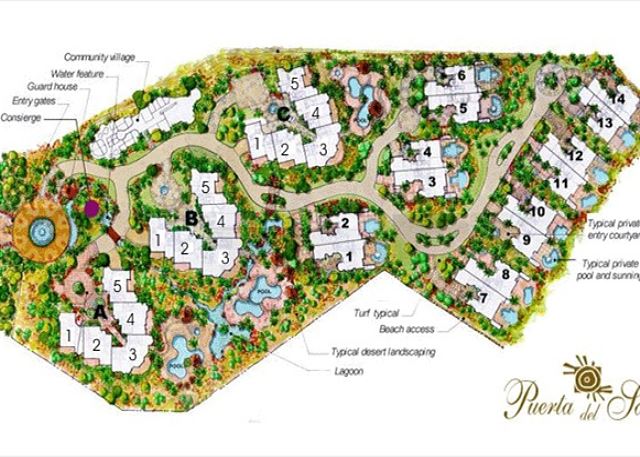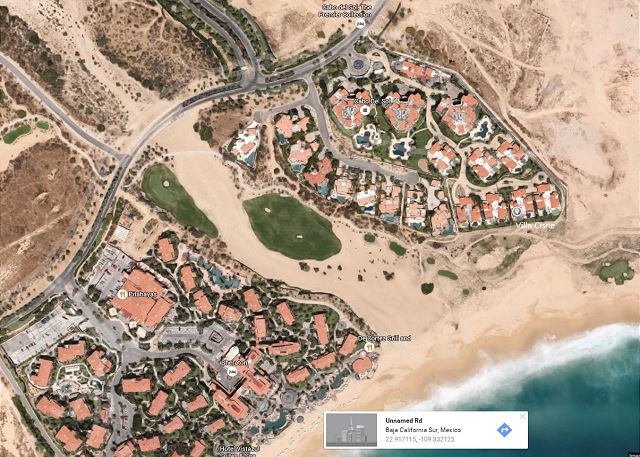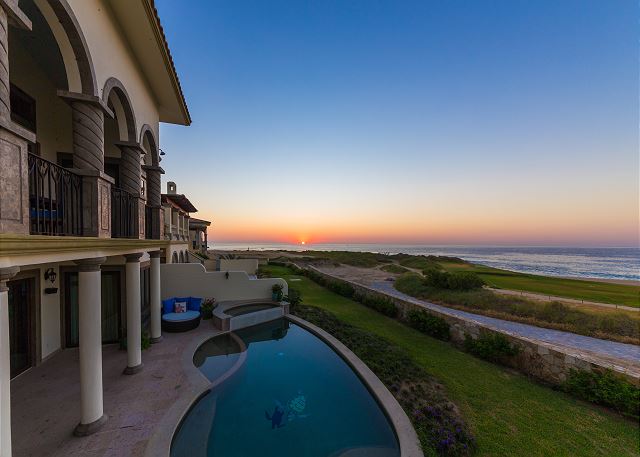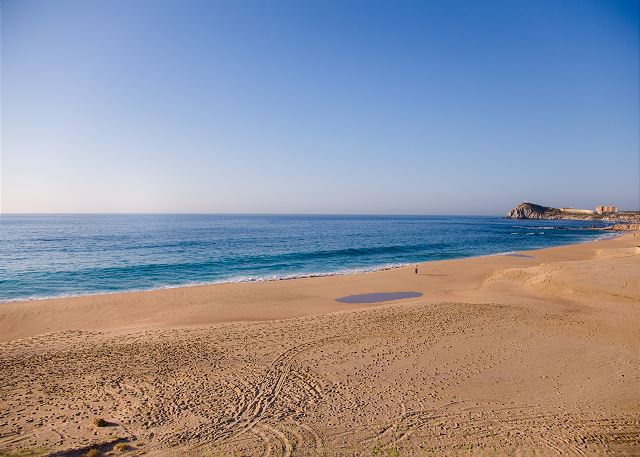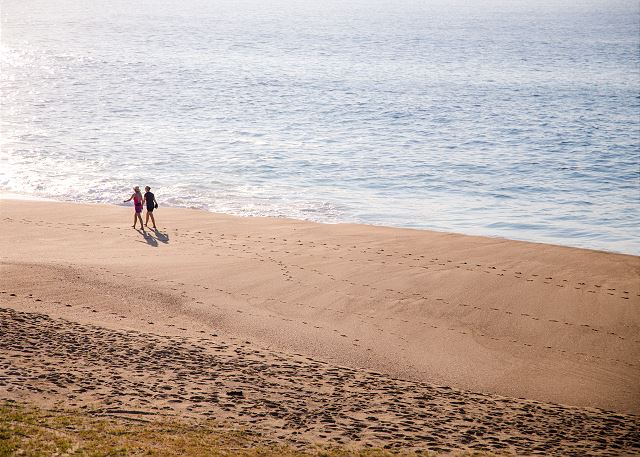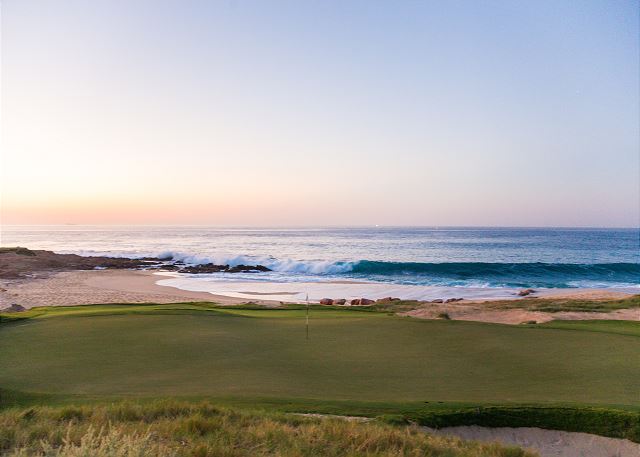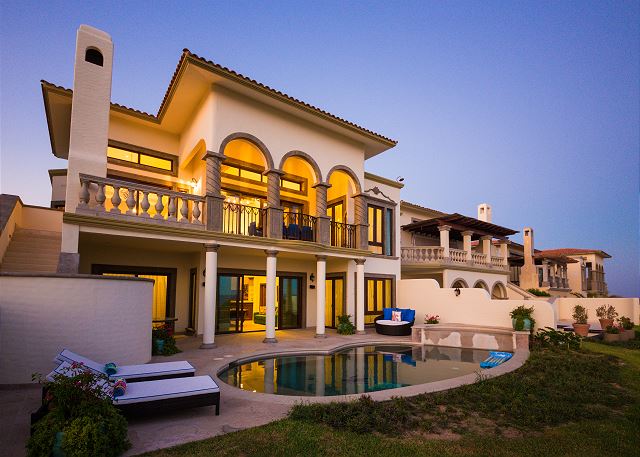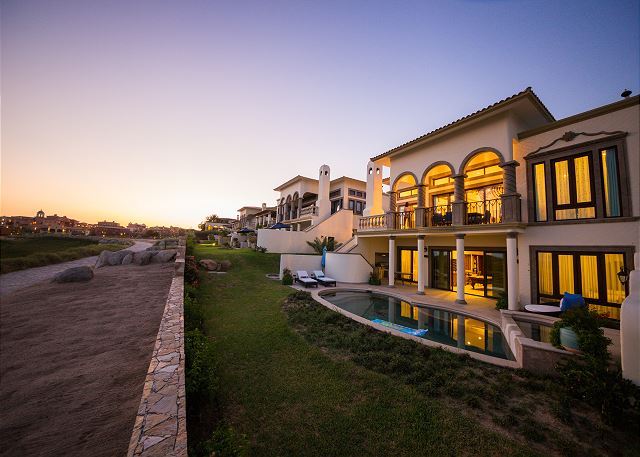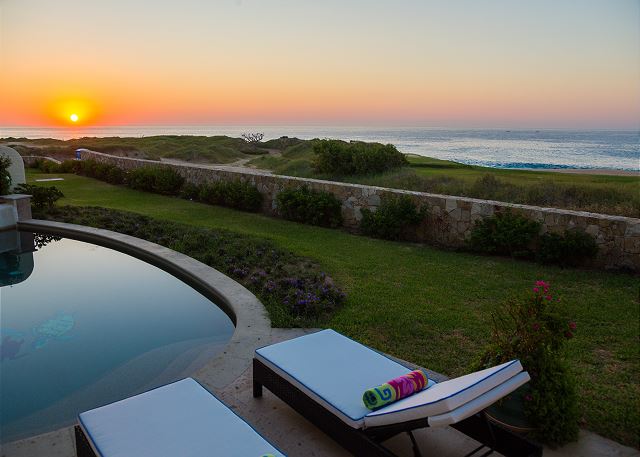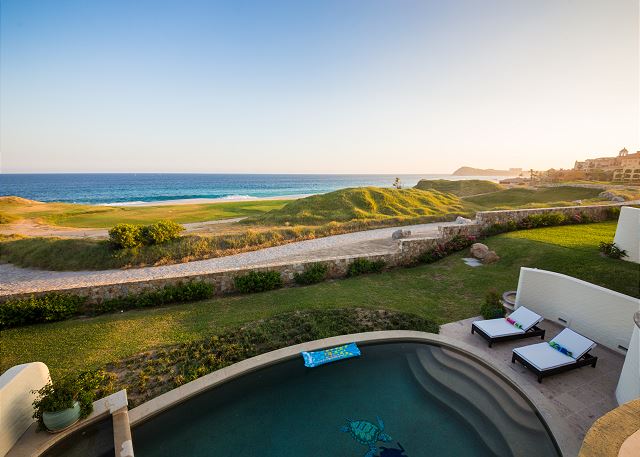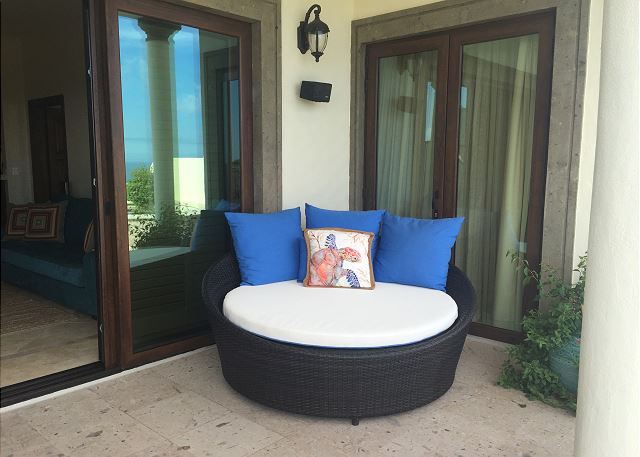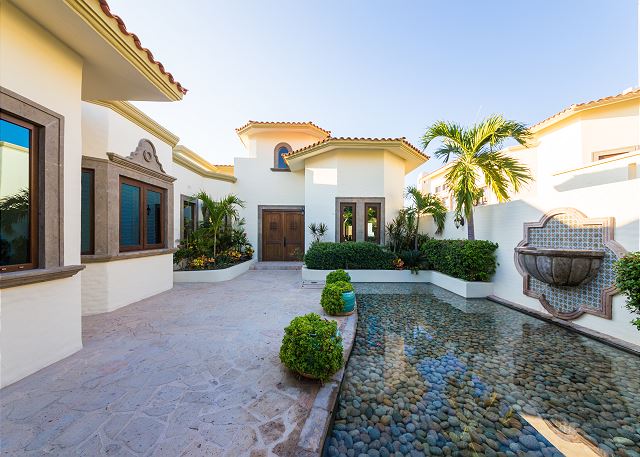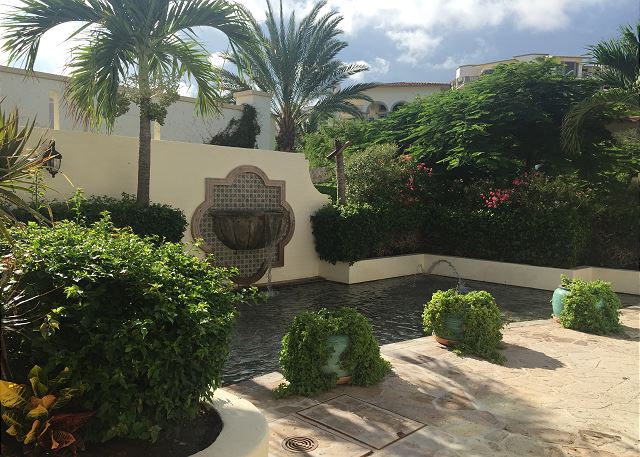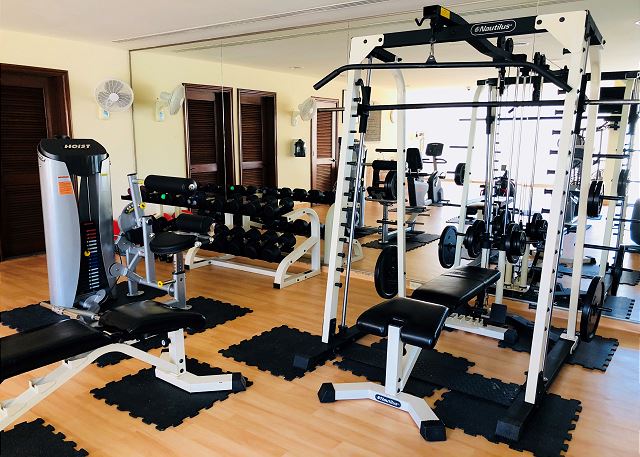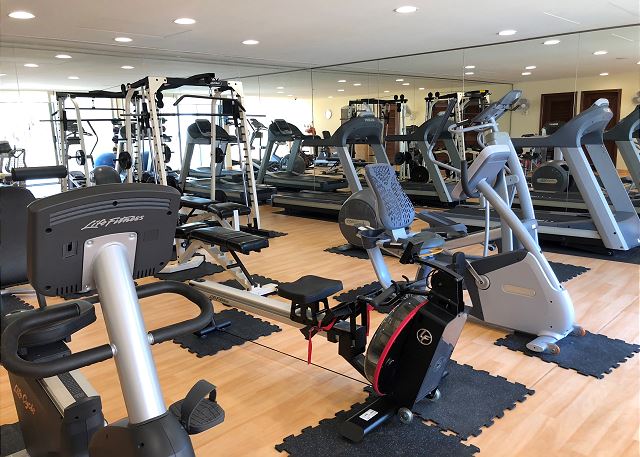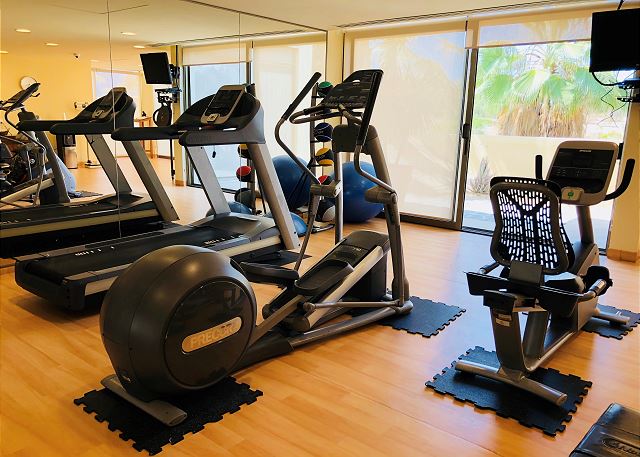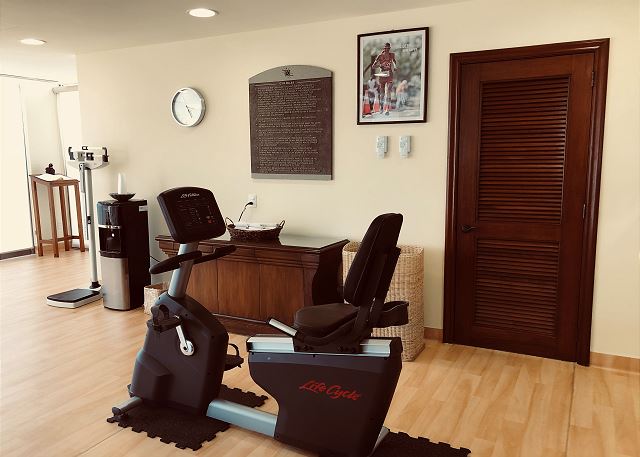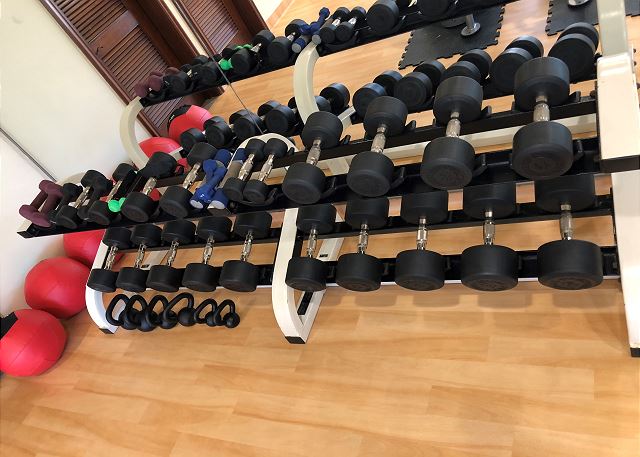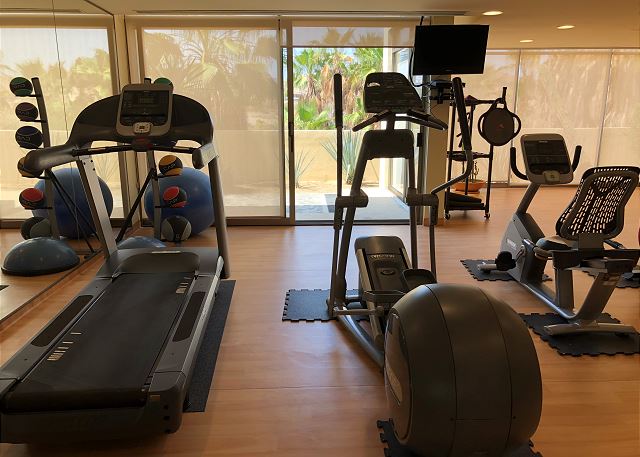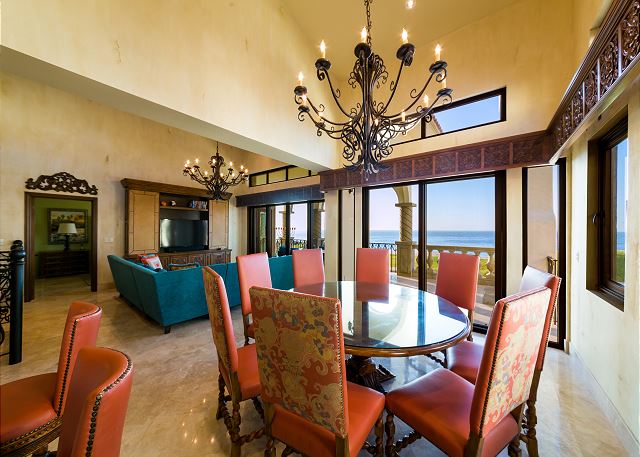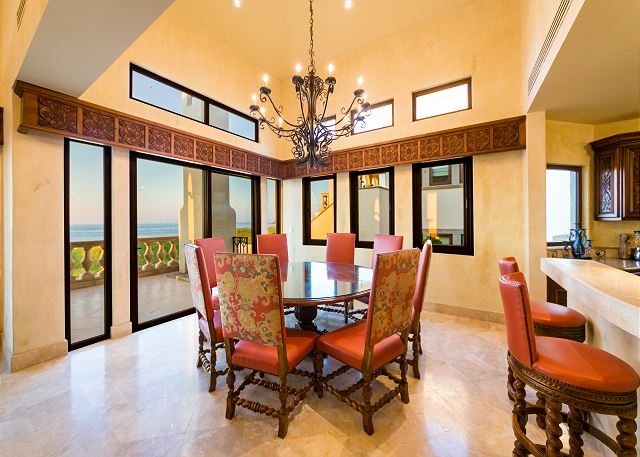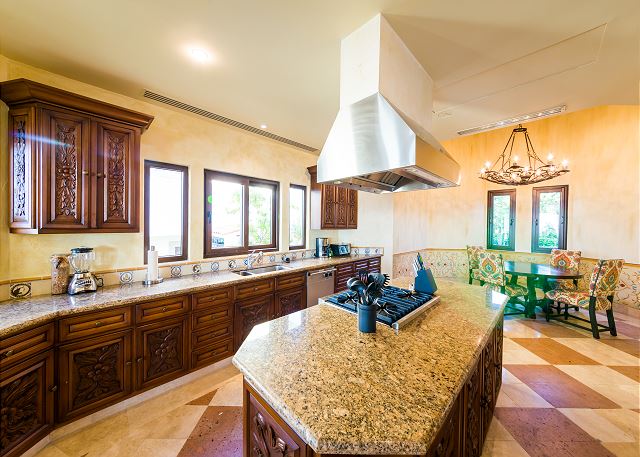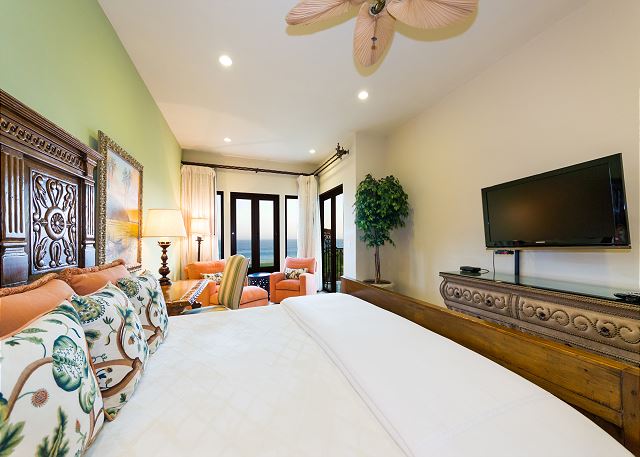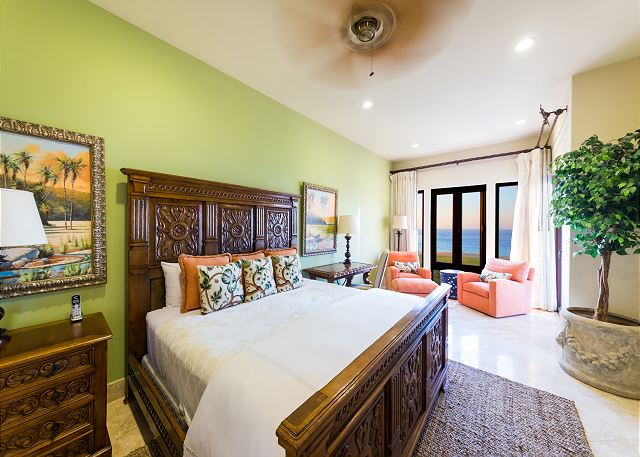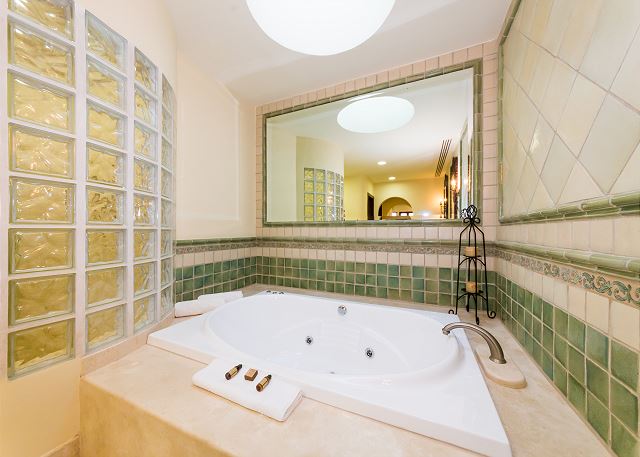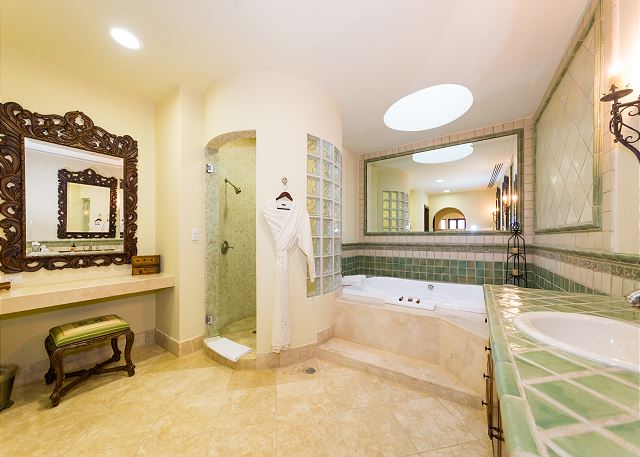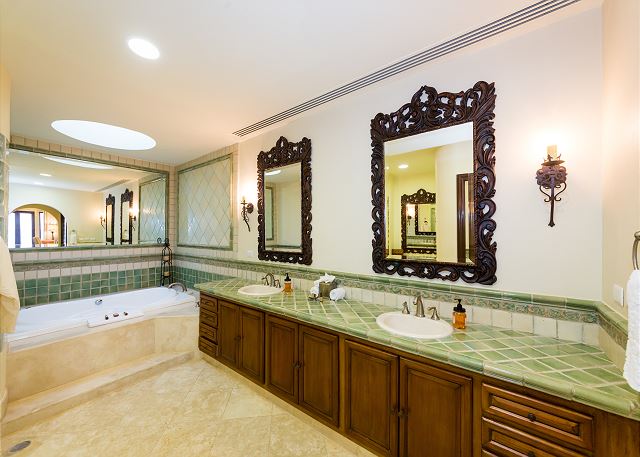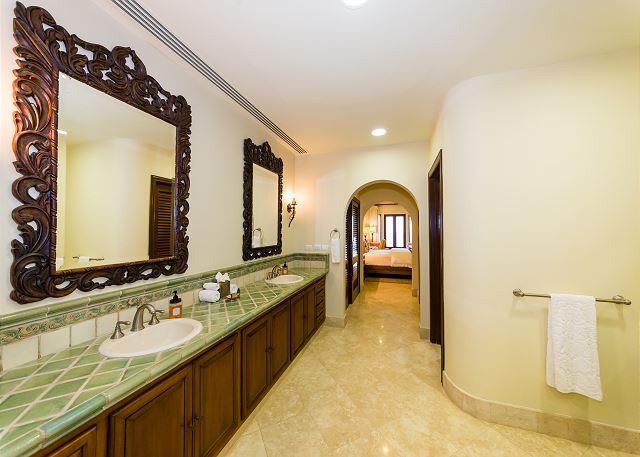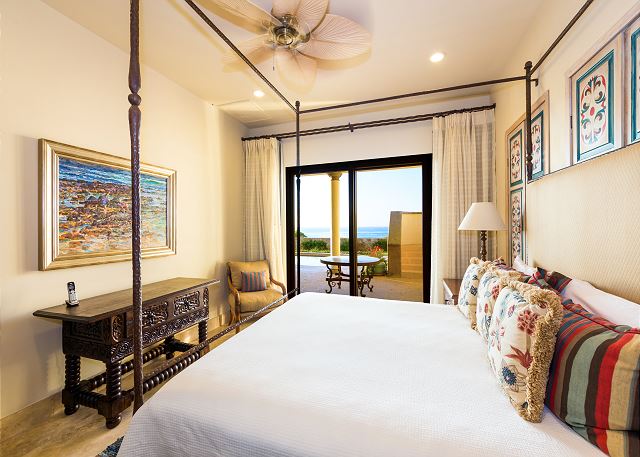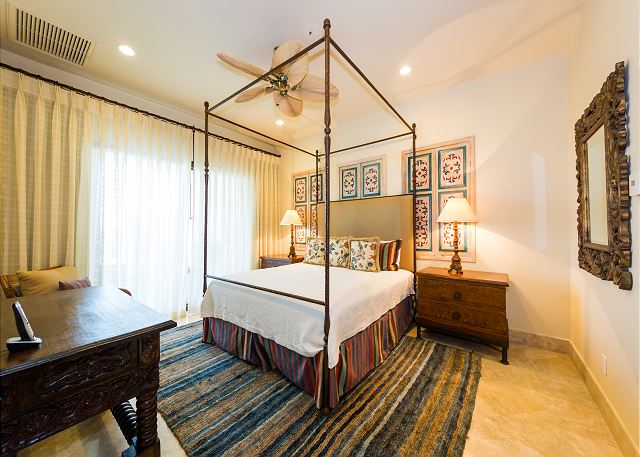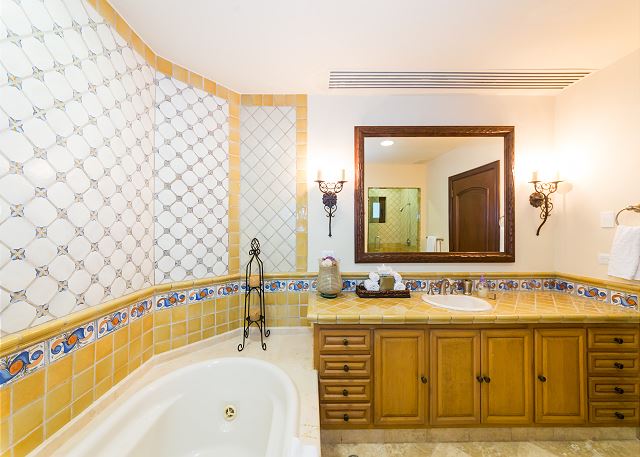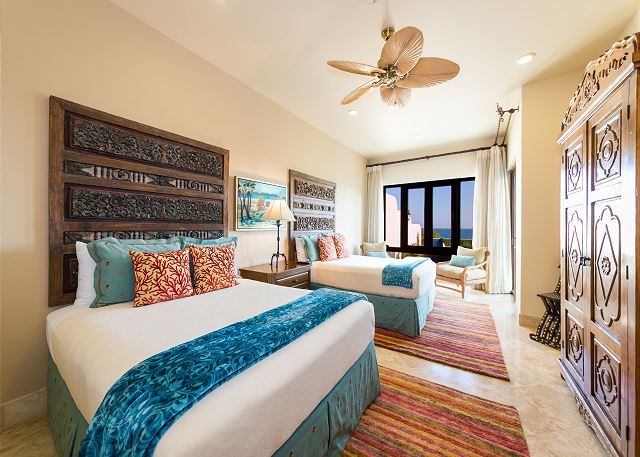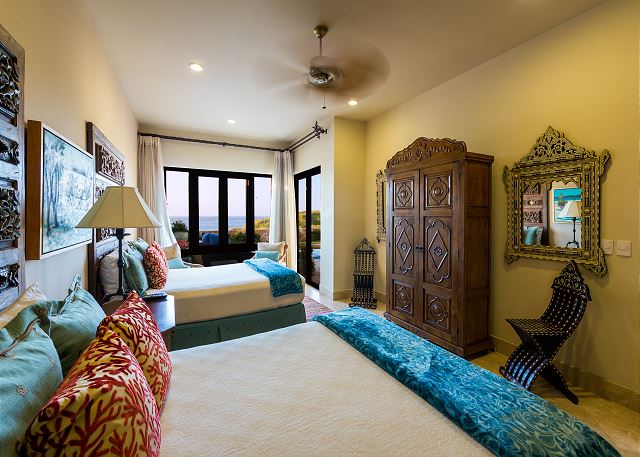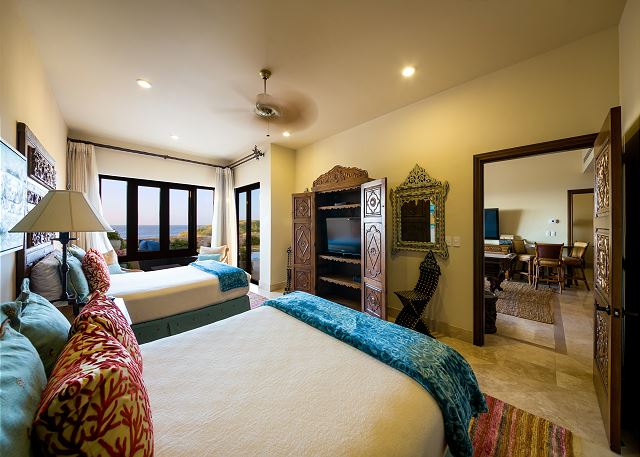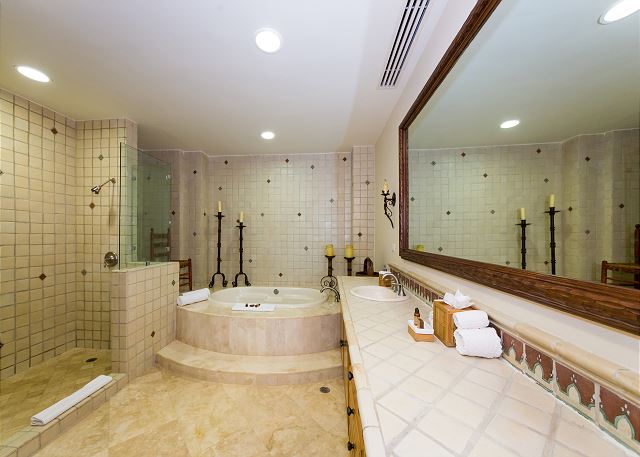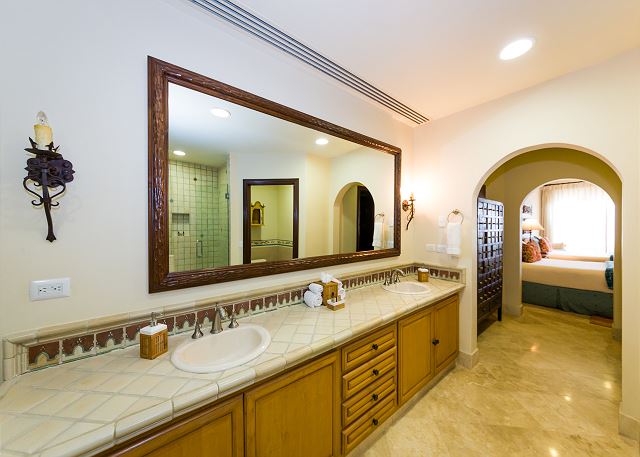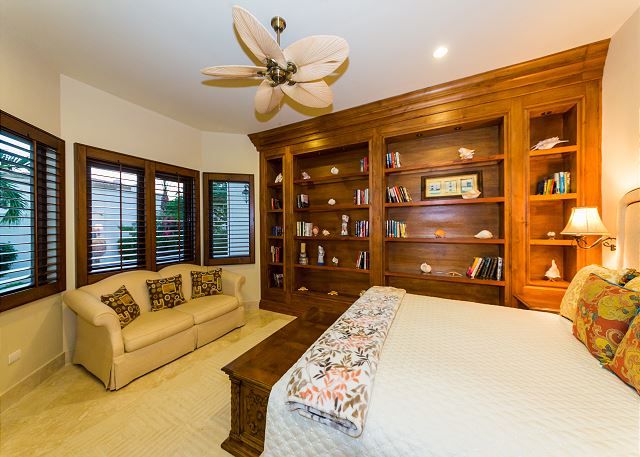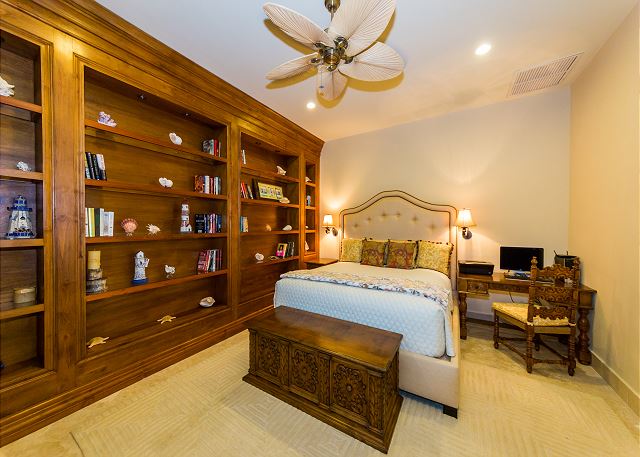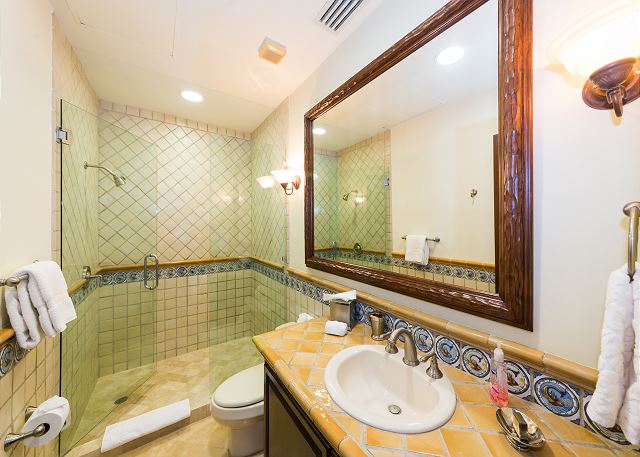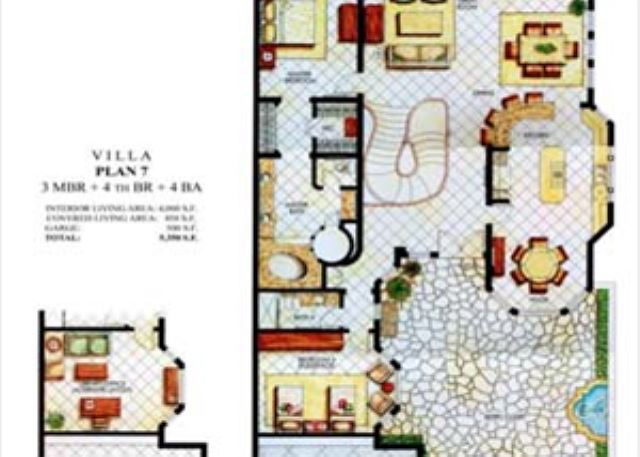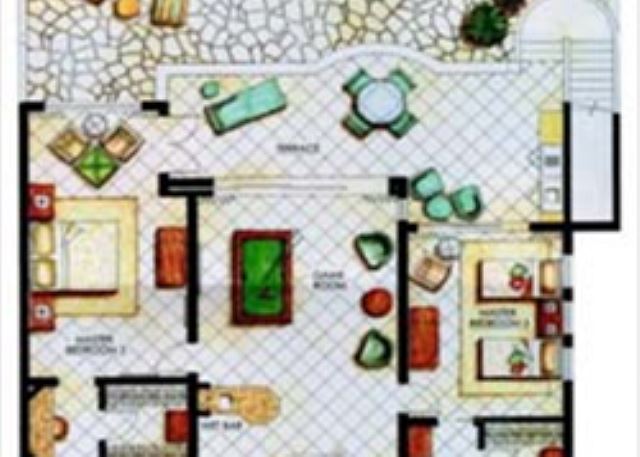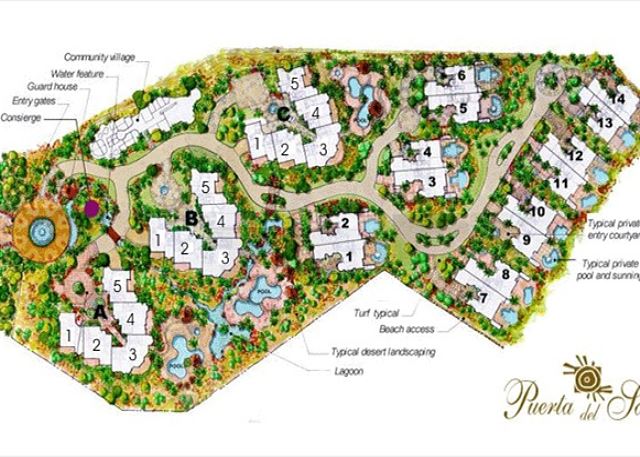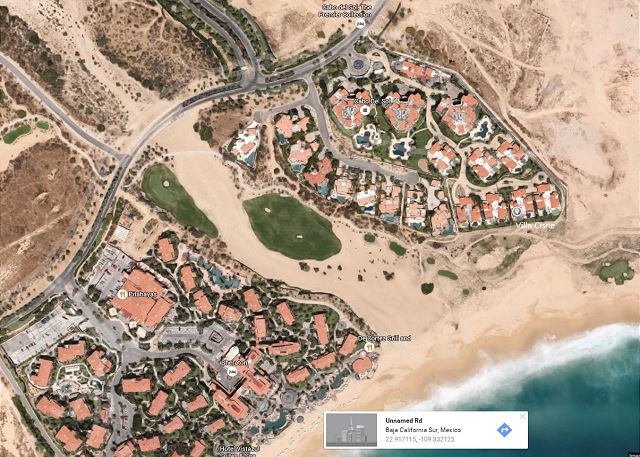 Description
Villa Cisne is a Mexican inspired ocean front villa that has a great view overlooking the Sea of Cortez. This spacious 4 bedroom and 4 bathroom vacation house is perfect for your huge family since it can accommodate a total of 12 guests. It has everything you could ever want in a vacation home.



From the fully equipped modern kitchen where you can satisfy your culinary needs, to the individual bathrooms all with whirlpool tubs, we have it all. Entertain guests in the mini bar, or use the BBQ grill outside if you'd prefer. The choice is yours. Villa Cisne aims to give you the ultimate relaxation you need. The lower media room features a full size pool table and big screen TV.



Guests of this Villa have access to Sheraton Hacienda del Mar and Fiesta Americana Grand resorts as well as the club house at Cabo del Sol. The fitness center is on site at the Puerta del Sol clubhouse.



Included in the rental of this vacation home is daily housekeeping, pre-arrival planning with your dedicated vacation planner and professional concierge services 24 hours a day 7 days a week while you are in Cabo. Refreshing beverages await your arrival. Other services such as pre-stock grocery, babysitting, private chef, private transportation and spa services are available per request. Villa Cisne, your home away from home.



Amenities of Villa Cisne, V11, Puerta del Sol, Cabo del Sol - 4 bedrooms (dual Master Suites), 4 bathrooms, 5,350 square foot villa, sleeps 12 - Master Suite, King bed with jetted tub - 2nd Master Suite, 1 King bed with jetted tub - 3rd bedroom, 2 Queen beds with jetted tub - 4th bedroom, 1 King bed. Pool table. BBQ. Private Pool and Jacuzzi.



The following services and amenities are included in your vacation rental: Daily Housekeeping (with the exception of Mexican holidays) - Pre-arrival Planning - 24 hour Concierge Services - Cleaning and Laundry Supplies - Beach Towels - Non-smoking. For an additional charge the following services and amenities can be added or arranged: Pack n Play and High Chair Available - Grocery pre-stock - In Residence Spa Services - Private Chef Services - Private Transportation - Babysitting.



Distance to:

Los Cabos International Airport: 35 minutes

Cabo San Lucas: 10 minutes

San Jose del Cabo: 20 minutes
Calendar
October 2021

| S | M | T | W | T | F | S |
| --- | --- | --- | --- | --- | --- | --- |
| | | | | | 01 | 02 |
| 03 | 04 | 05 | 06 | 07 | 08 | 09 |
| 10 | 11 | 12 | 13 | 14 | 15 | 16 |
| 17 | 18 | 19 | 20 | 21 | 22 | 23 |
| 24 | 25 | 26 | 27 | 28 | 29 | 30 |
| 31 | | | | | | |
November 2021

| S | M | T | W | T | F | S |
| --- | --- | --- | --- | --- | --- | --- |
| | 01 | 02 | 03 | 04 | 05 | 06 |
| 07 | 08 | 09 | 10 | 11 | 12 | 13 |
| 14 | 15 | 16 | 17 | 18 | 19 | 20 |
| 21 | 22 | 23 | 24 | 25 | 26 | 27 |
| 28 | 29 | 30 | | | | |
December 2021

| S | M | T | W | T | F | S |
| --- | --- | --- | --- | --- | --- | --- |
| | | | 01 | 02 | 03 | 04 |
| 05 | 06 | 07 | 08 | 09 | 10 | 11 |
| 12 | 13 | 14 | 15 | 16 | 17 | 18 |
| 19 | 20 | 21 | 22 | 23 | 24 | 25 |
| 26 | 27 | 28 | 29 | 30 | 31 | |
January 2022

| S | M | T | W | T | F | S |
| --- | --- | --- | --- | --- | --- | --- |
| | | | | | | 01 |
| 02 | 03 | 04 | 05 | 06 | 07 | 08 |
| 09 | 10 | 11 | 12 | 13 | 14 | 15 |
| 16 | 17 | 18 | 19 | 20 | 21 | 22 |
| 23 | 24 | 25 | 26 | 27 | 28 | 29 |
| 30 | 31 | | | | | |
February 2022

| S | M | T | W | T | F | S |
| --- | --- | --- | --- | --- | --- | --- |
| | | 01 | 02 | 03 | 04 | 05 |
| 06 | 07 | 08 | 09 | 10 | 11 | 12 |
| 13 | 14 | 15 | 16 | 17 | 18 | 19 |
| 20 | 21 | 22 | 23 | 24 | 25 | 26 |
| 27 | 28 | | | | | |
March 2022

| S | M | T | W | T | F | S |
| --- | --- | --- | --- | --- | --- | --- |
| | | 01 | 02 | 03 | 04 | 05 |
| 06 | 07 | 08 | 09 | 10 | 11 | 12 |
| 13 | 14 | 15 | 16 | 17 | 18 | 19 |
| 20 | 21 | 22 | 23 | 24 | 25 | 26 |
| 27 | 28 | 29 | 30 | 31 | | |
April 2022

| S | M | T | W | T | F | S |
| --- | --- | --- | --- | --- | --- | --- |
| | | | | | 01 | 02 |
| 03 | 04 | 05 | 06 | 07 | 08 | 09 |
| 10 | 11 | 12 | 13 | 14 | 15 | 16 |
| 17 | 18 | 19 | 20 | 21 | 22 | 23 |
| 24 | 25 | 26 | 27 | 28 | 29 | 30 |
May 2022

| S | M | T | W | T | F | S |
| --- | --- | --- | --- | --- | --- | --- |
| 01 | 02 | 03 | 04 | 05 | 06 | 07 |
| 08 | 09 | 10 | 11 | 12 | 13 | 14 |
| 15 | 16 | 17 | 18 | 19 | 20 | 21 |
| 22 | 23 | 24 | 25 | 26 | 27 | 28 |
| 29 | 30 | 31 | | | | |
June 2022

| S | M | T | W | T | F | S |
| --- | --- | --- | --- | --- | --- | --- |
| | | | 01 | 02 | 03 | 04 |
| 05 | 06 | 07 | 08 | 09 | 10 | 11 |
| 12 | 13 | 14 | 15 | 16 | 17 | 18 |
| 19 | 20 | 21 | 22 | 23 | 24 | 25 |
| 26 | 27 | 28 | 29 | 30 | | |
July 2022

| S | M | T | W | T | F | S |
| --- | --- | --- | --- | --- | --- | --- |
| | | | | | 01 | 02 |
| 03 | 04 | 05 | 06 | 07 | 08 | 09 |
| 10 | 11 | 12 | 13 | 14 | 15 | 16 |
| 17 | 18 | 19 | 20 | 21 | 22 | 23 |
| 24 | 25 | 26 | 27 | 28 | 29 | 30 |
| 31 | | | | | | |
August 2022

| S | M | T | W | T | F | S |
| --- | --- | --- | --- | --- | --- | --- |
| | 01 | 02 | 03 | 04 | 05 | 06 |
| 07 | 08 | 09 | 10 | 11 | 12 | 13 |
| 14 | 15 | 16 | 17 | 18 | 19 | 20 |
| 21 | 22 | 23 | 24 | 25 | 26 | 27 |
| 28 | 29 | 30 | 31 | | | |
September 2022

| S | M | T | W | T | F | S |
| --- | --- | --- | --- | --- | --- | --- |
| | | | | 01 | 02 | 03 |
| 04 | 05 | 06 | 07 | 08 | 09 | 10 |
| 11 | 12 | 13 | 14 | 15 | 16 | 17 |
| 18 | 19 | 20 | 21 | 22 | 23 | 24 |
| 25 | 26 | 27 | 28 | 29 | 30 | |
Available
Unavailable
Check-In Only
Check-Out Only
Seasonal Rates
| Date Range | Daily | Weekly | Monthly |
| --- | --- | --- | --- |
* Seasonal rates are only estimates and do not reflect taxes or additional fees.
Location
Guest Reviews of
Villa Cisne
Cabo San Lucas, BCS
---
Vacation Rental Reviews by
stars based on
Amazing Get-away
Review by
Casey H.
We were three couples in our 40s who wanted to get-away from the Chicago winter. This was our second time renting with LVC, and true to form, it did not disappoint. This time we took more advantage of the services LVC has to offer including the welcome party, private chefs, bartenders, and morning breakfast. All the food and drinks were amazing, fresh and in the whole scope of things, very reasonable. Marco, the on-site Consierge was amazing as always, tending to our every need, checking-in daily, and making sure we had everything to make our vacation perfect. Additionally, the daily housekeeping services are fantastic! The house itself was fantastic, with three master-suites, and sweeping views of the Sea of Cortez and the Cabo del Sol Ocean Course. Even with all of the construction going on in the development, the views were amazing, and will never be obstructed. While we went for long walks every morning, we only left the property once during our stay.. that's how amazing it was!
5 out of 5 stars
Great family time
Review by
This was one of the best family vacations we have ever been on. The attention to detail by everyone was perfect. The house has plenty of space and is perfect walking distance to the beach. Absolutely perfect.
5 out of 5 stars
Family trip to Cabo
Review by
Clayton G.
Thoroughly enjoyed our stay at this beautiful property. We will definitely consider coming back in the near future.
1 out of 5 stars
Contact Us