Villages At Mauna Lani #621 (Condominium)
3 Bedroom(s) | 3.5 Bathroom(s) | Sleeps 6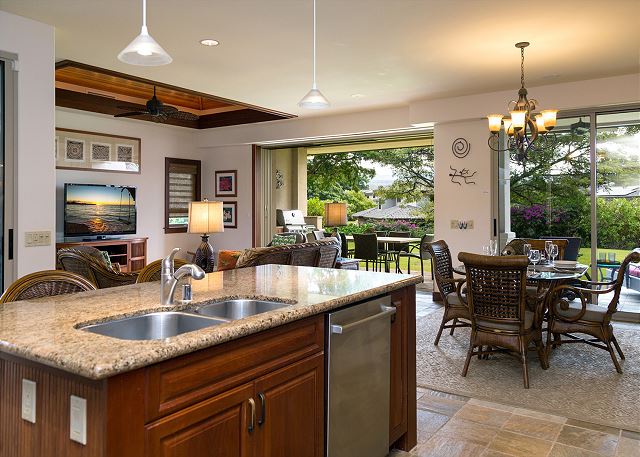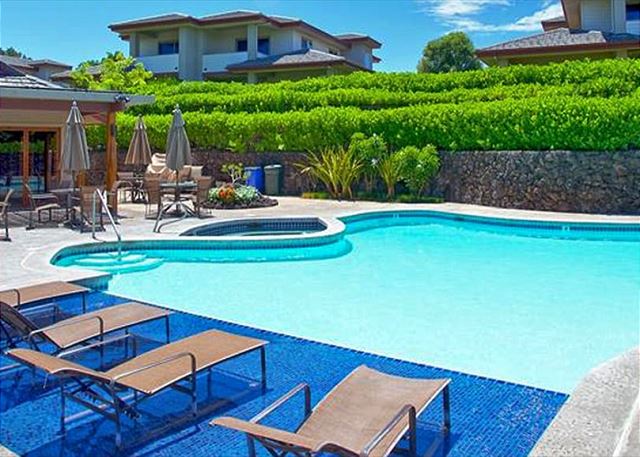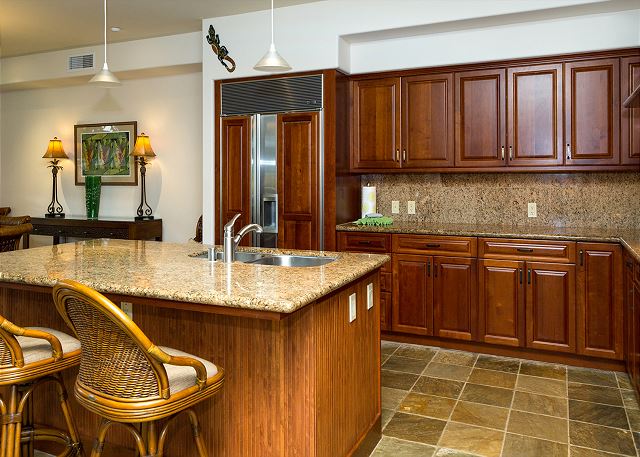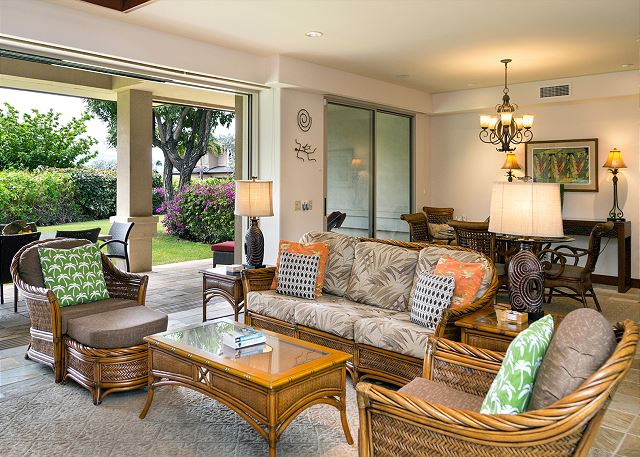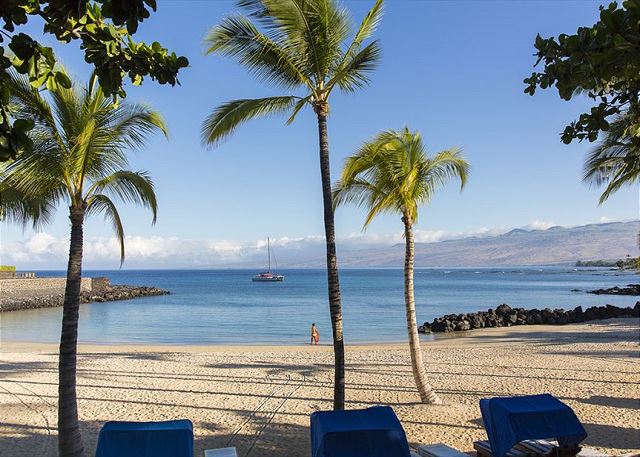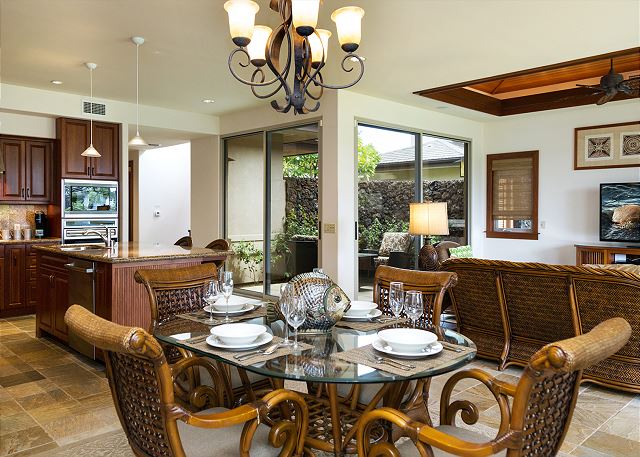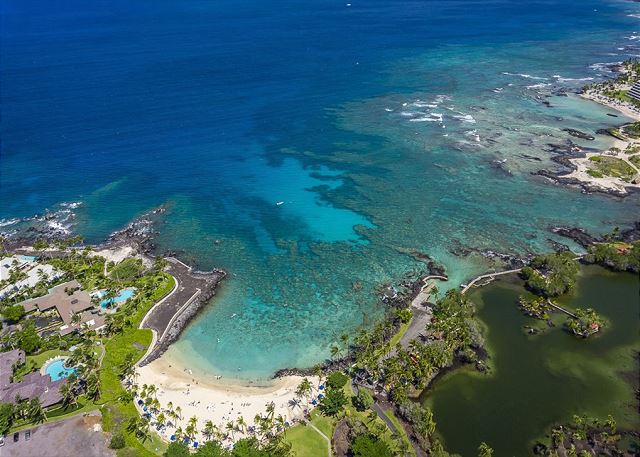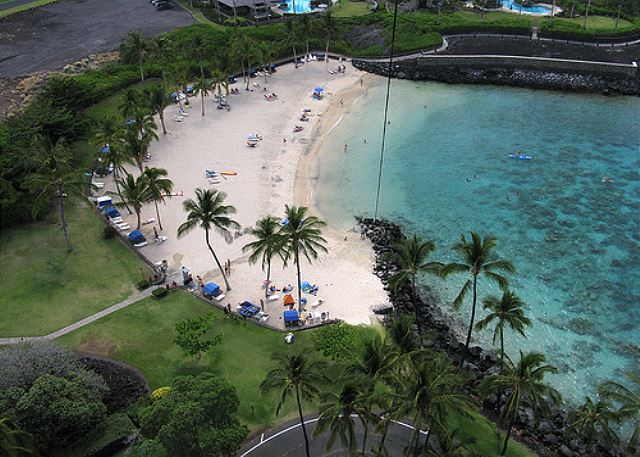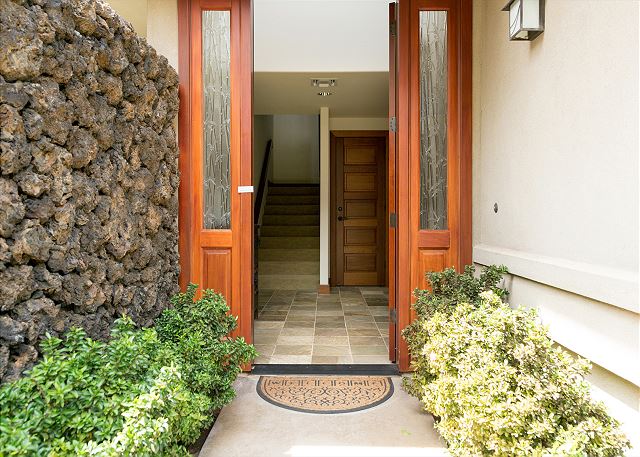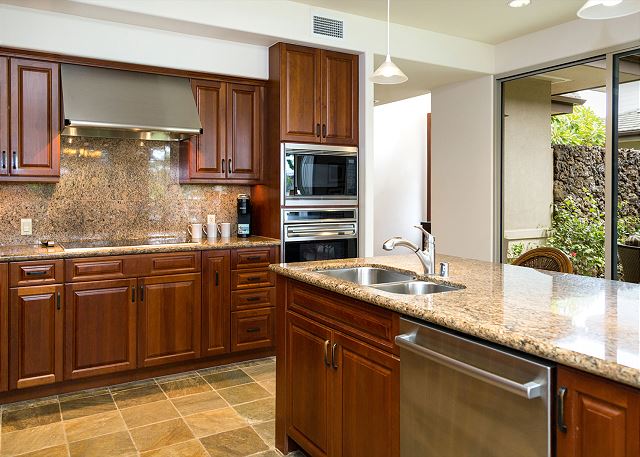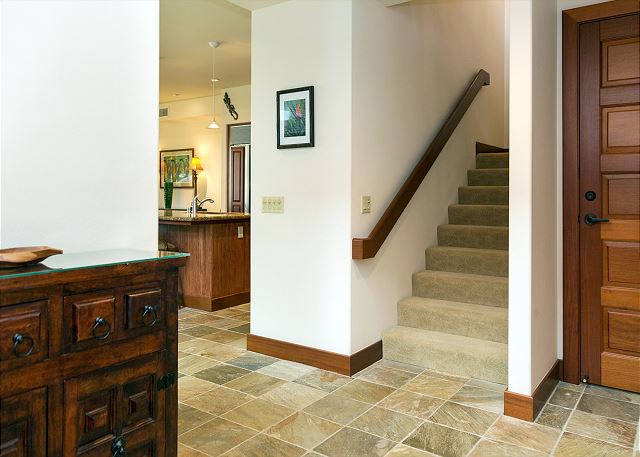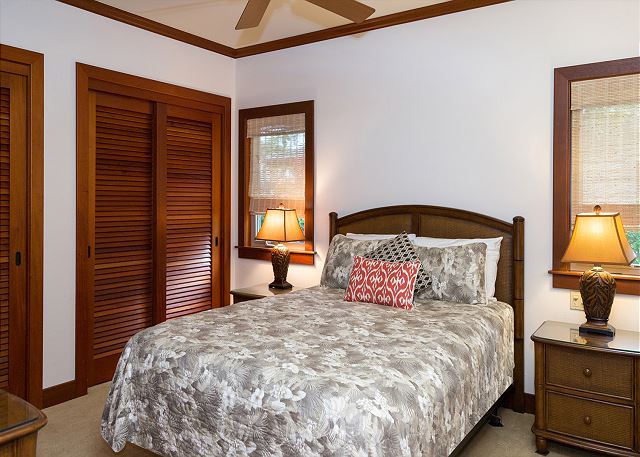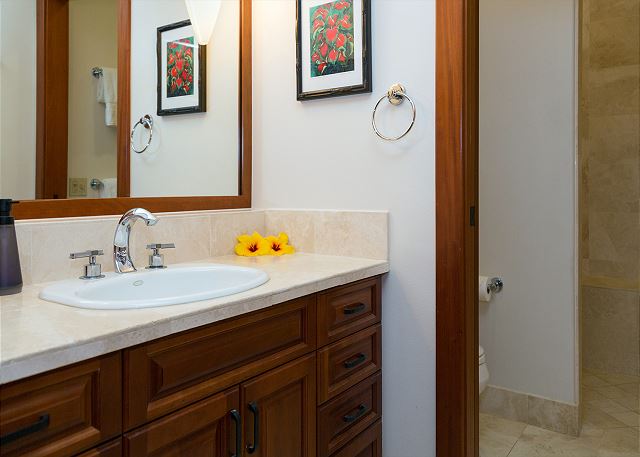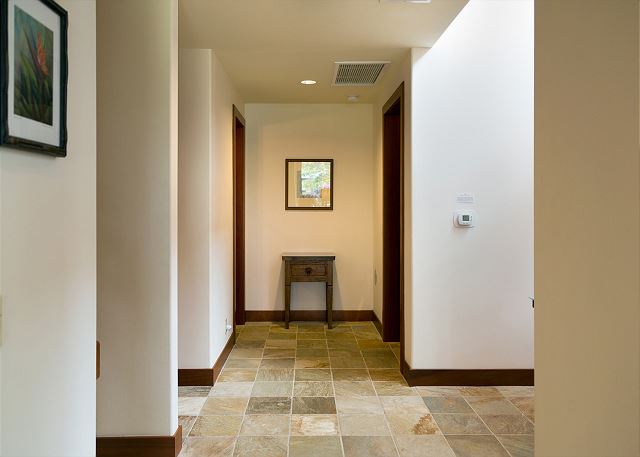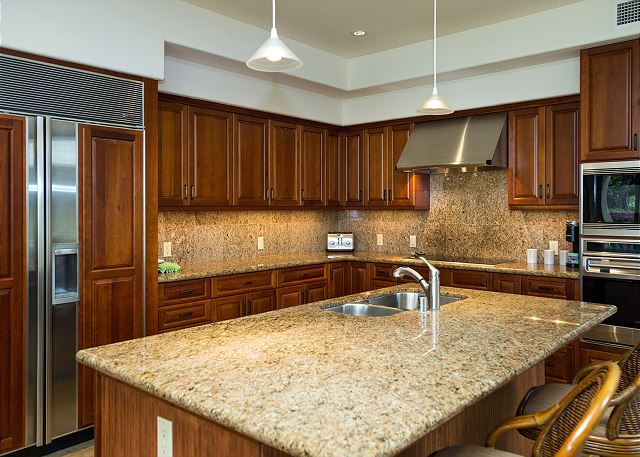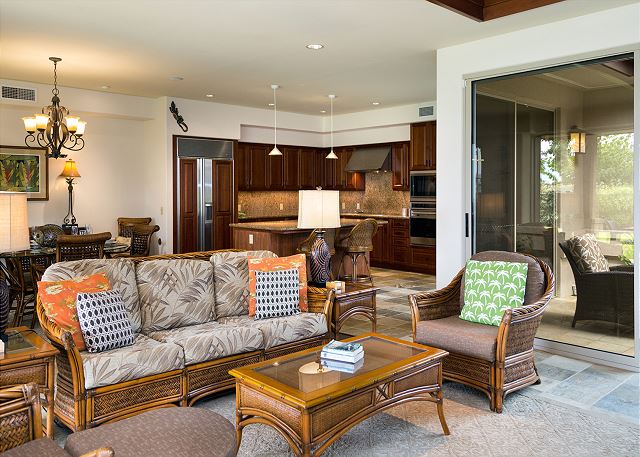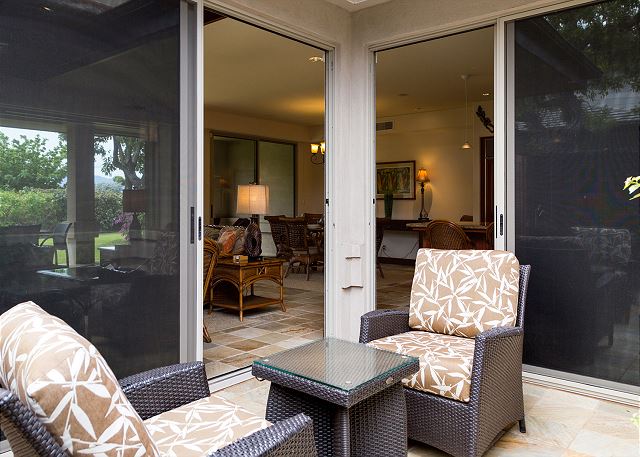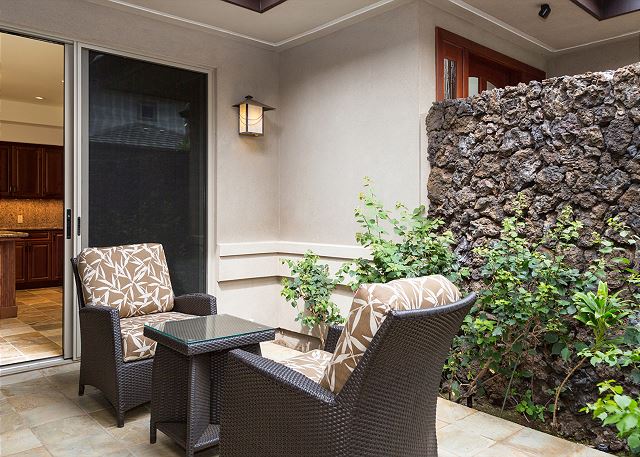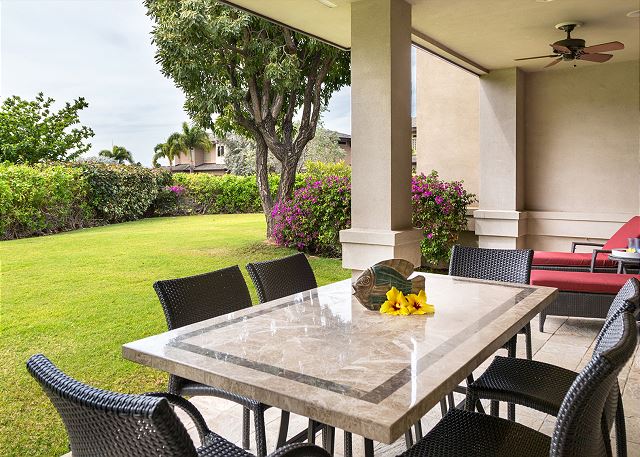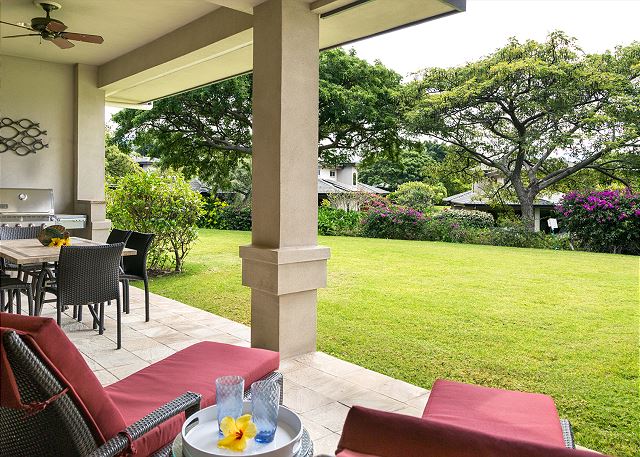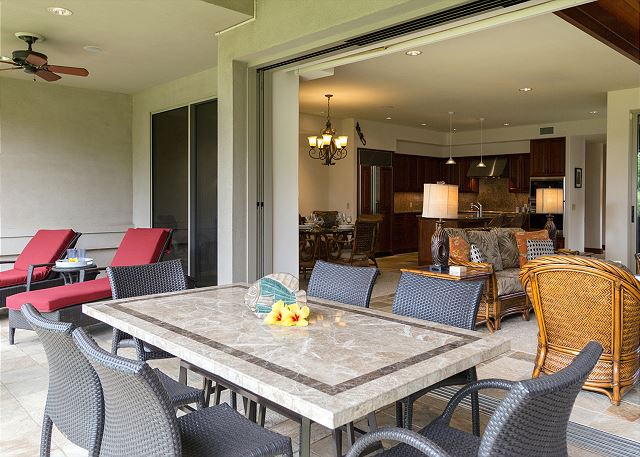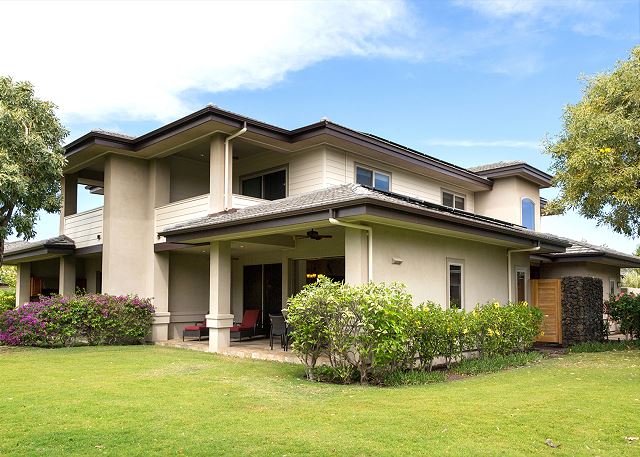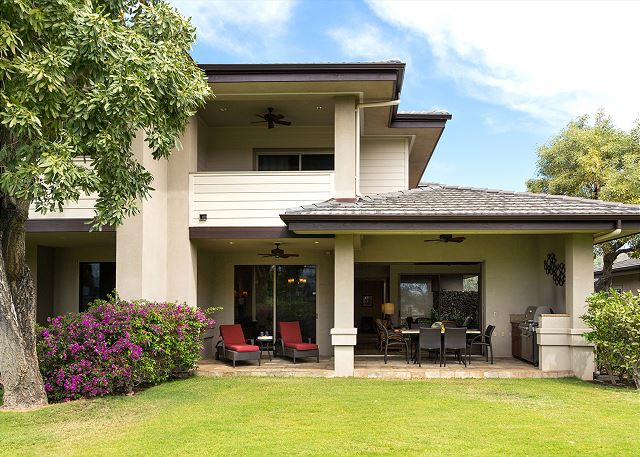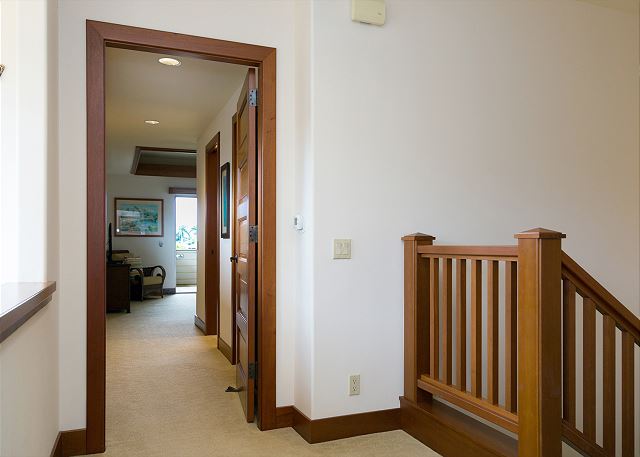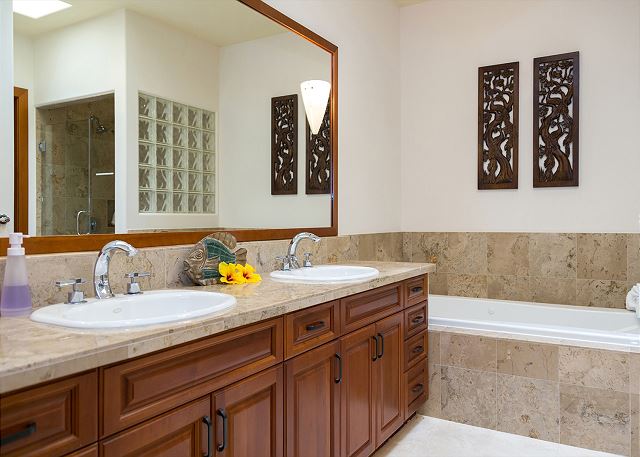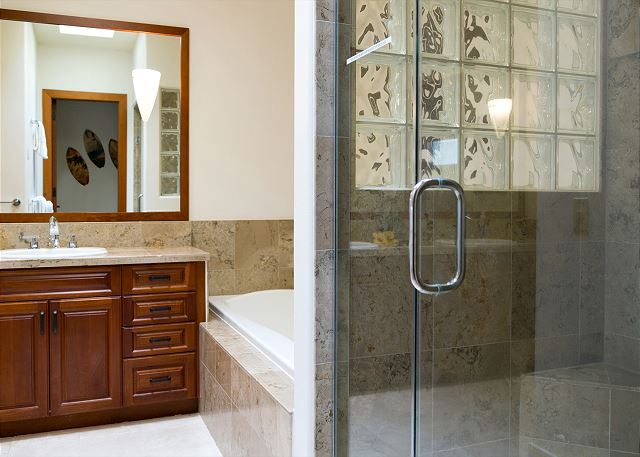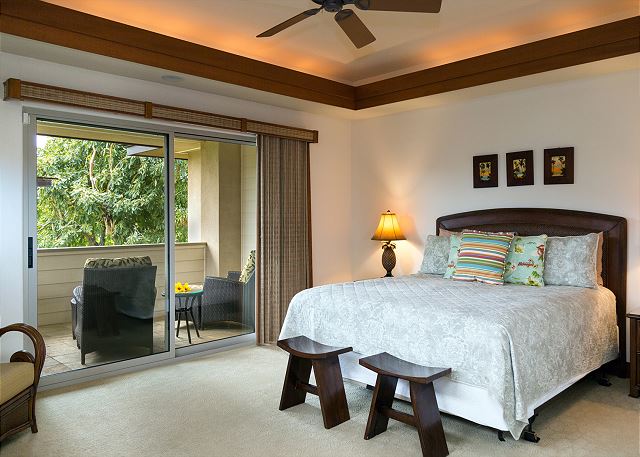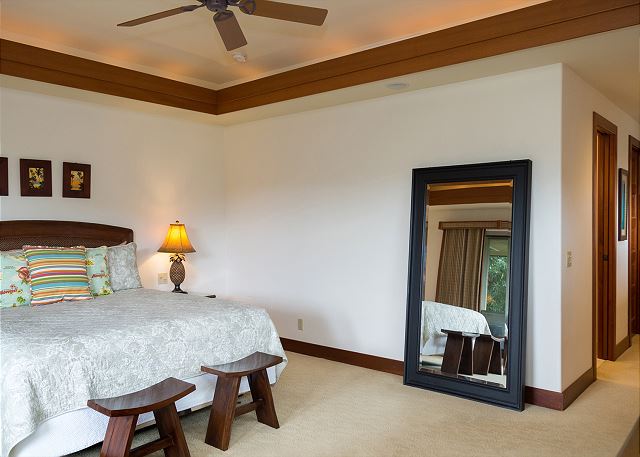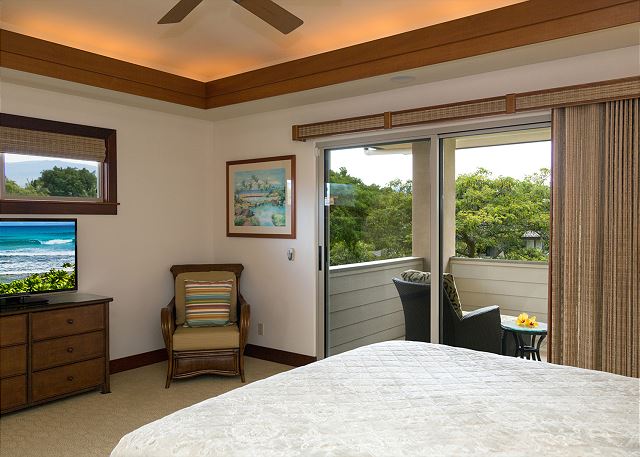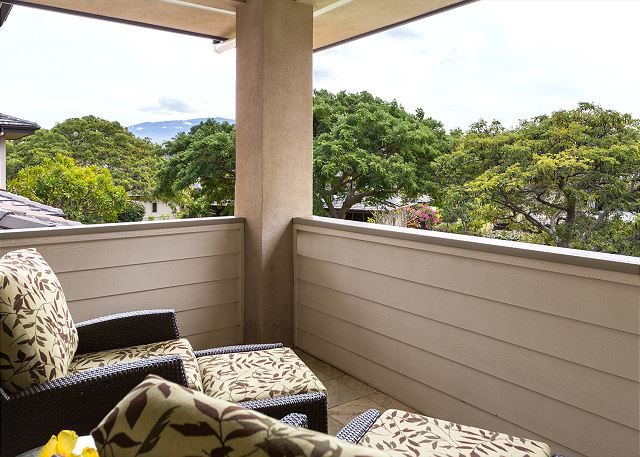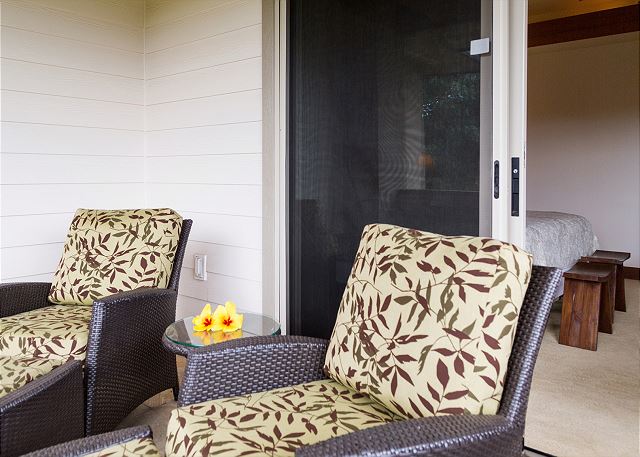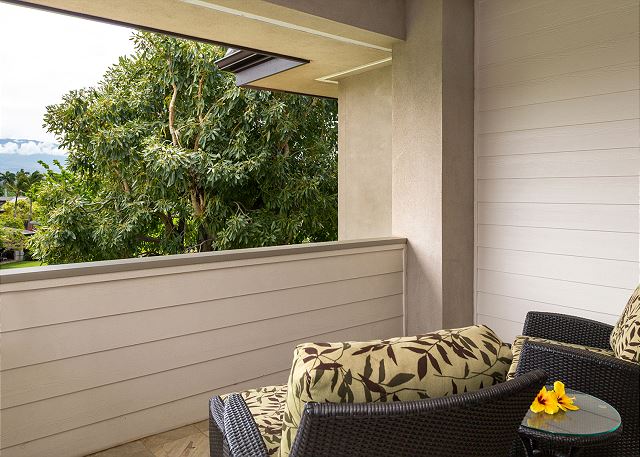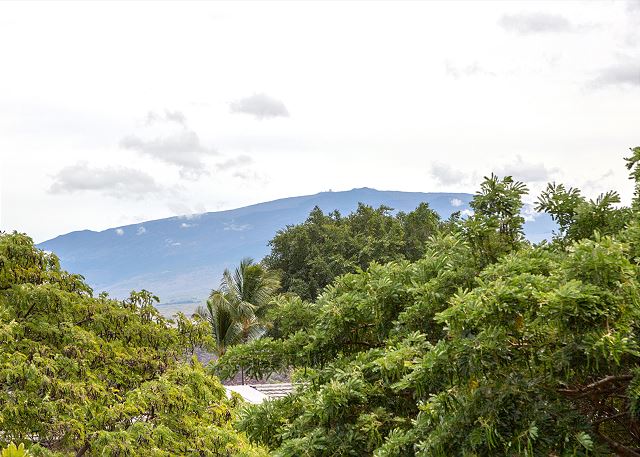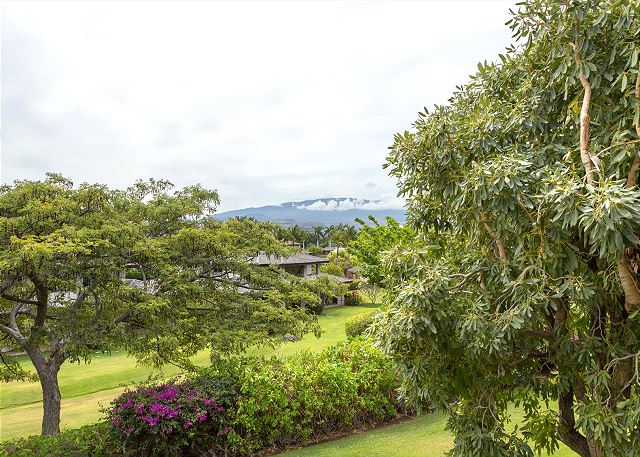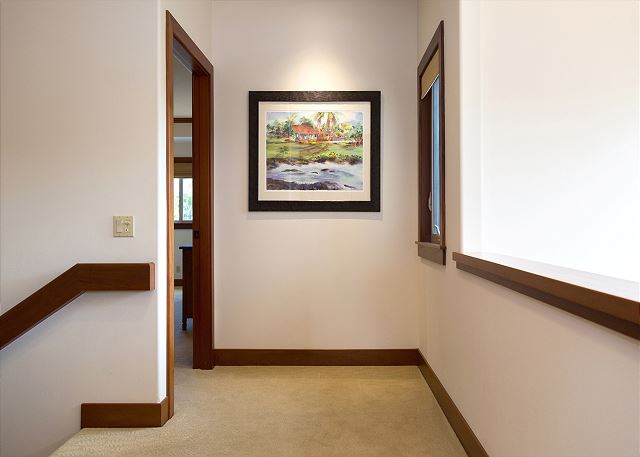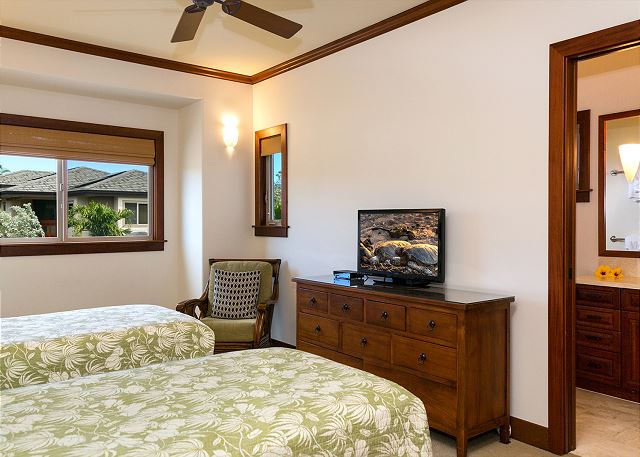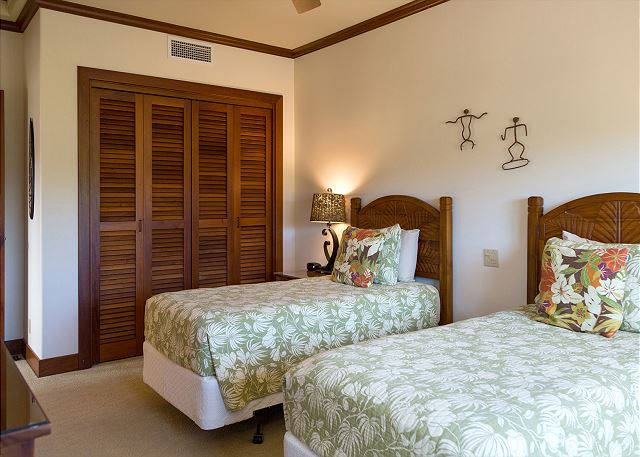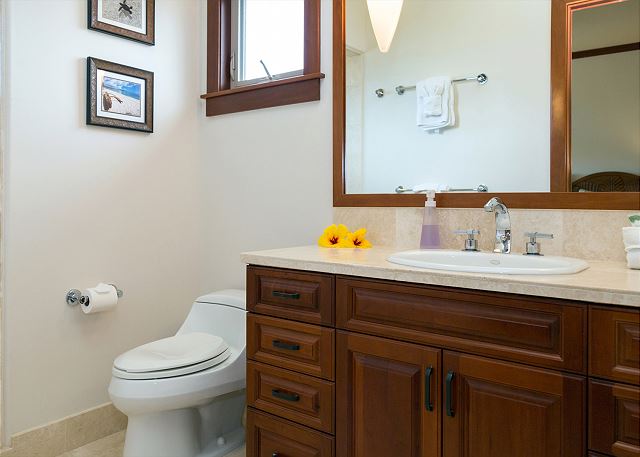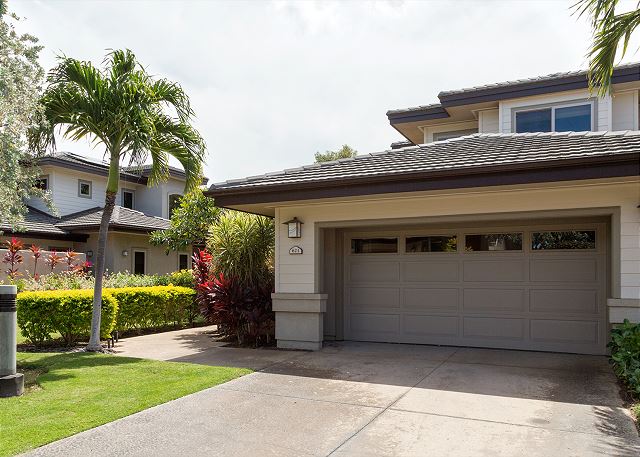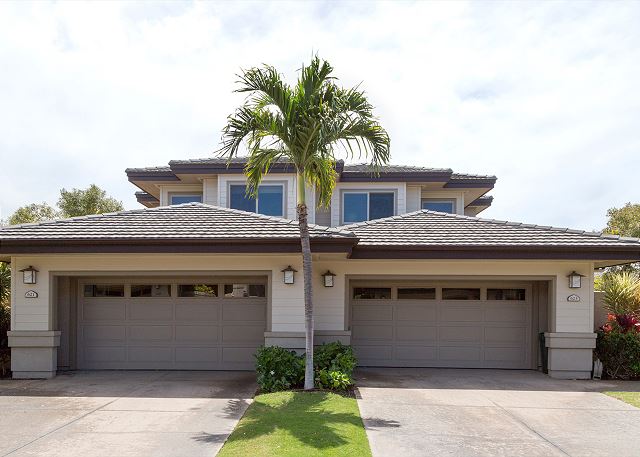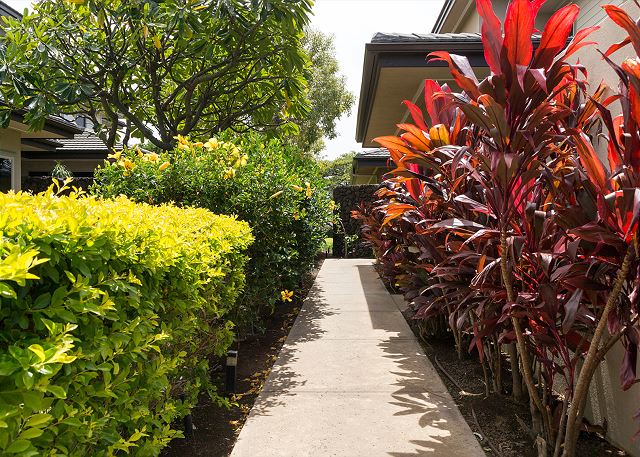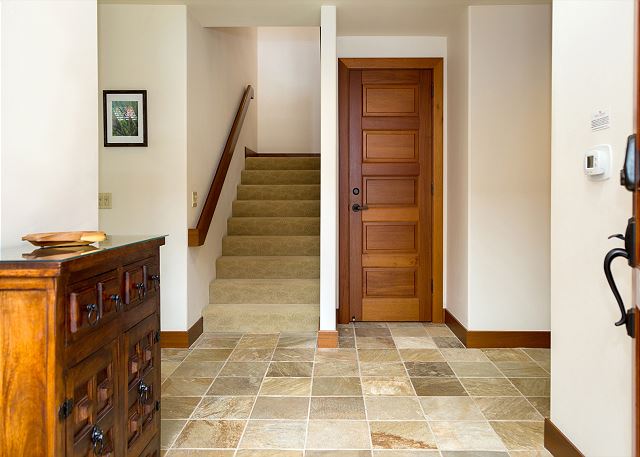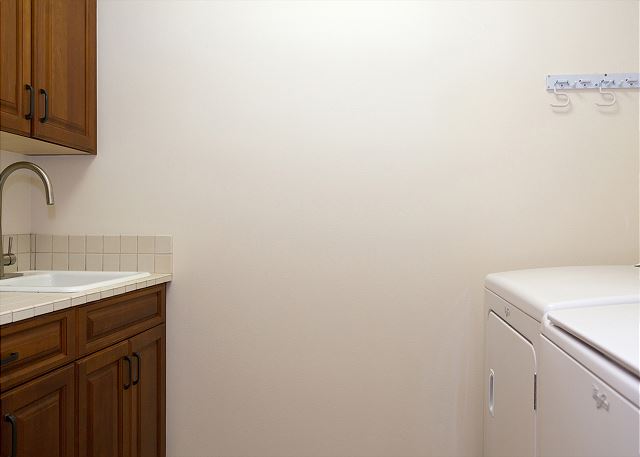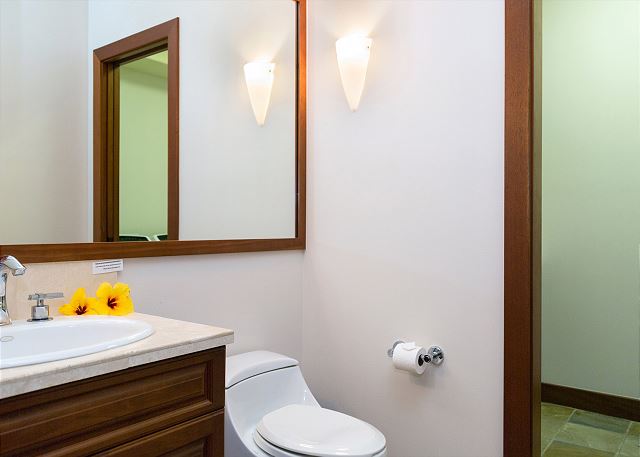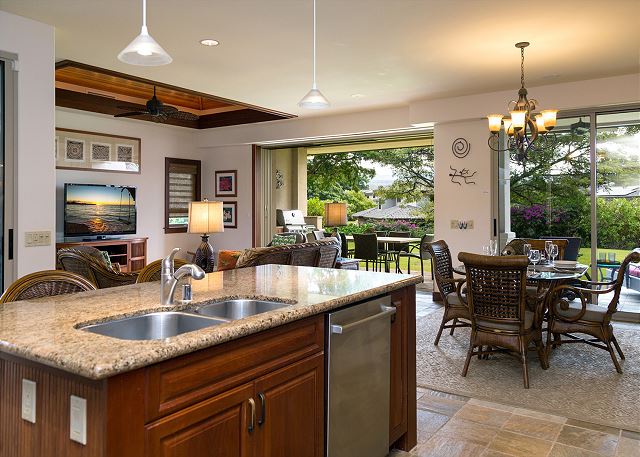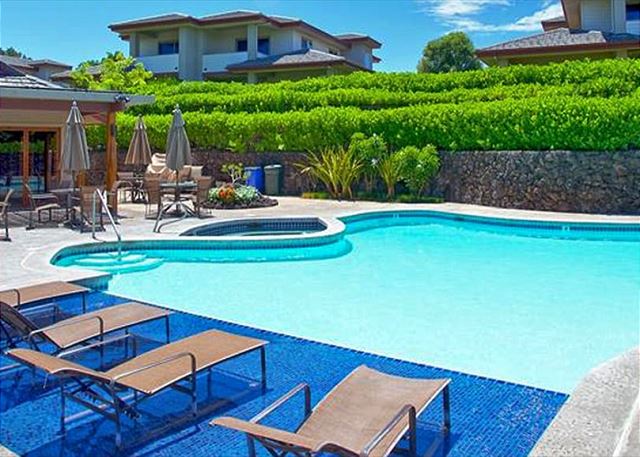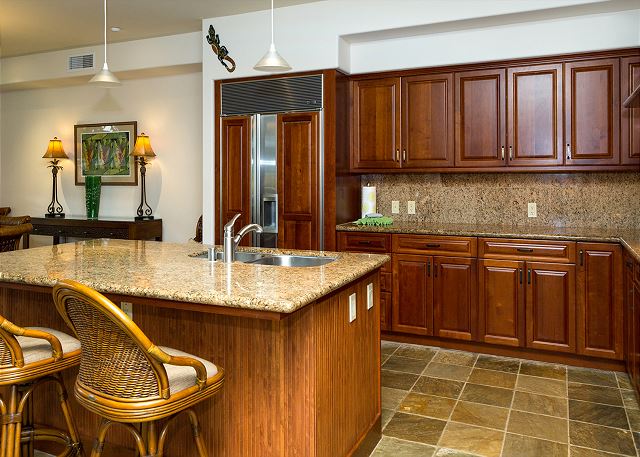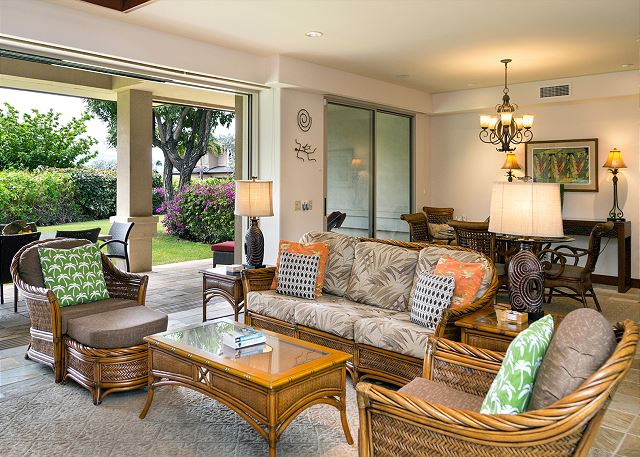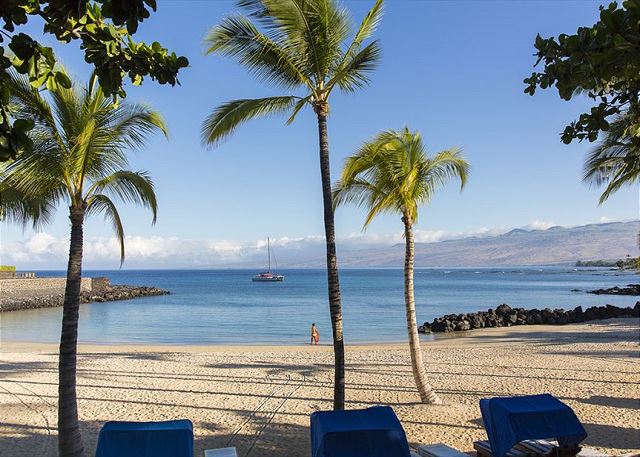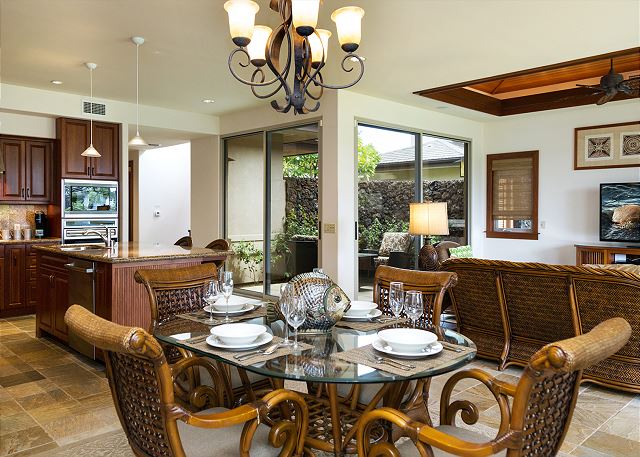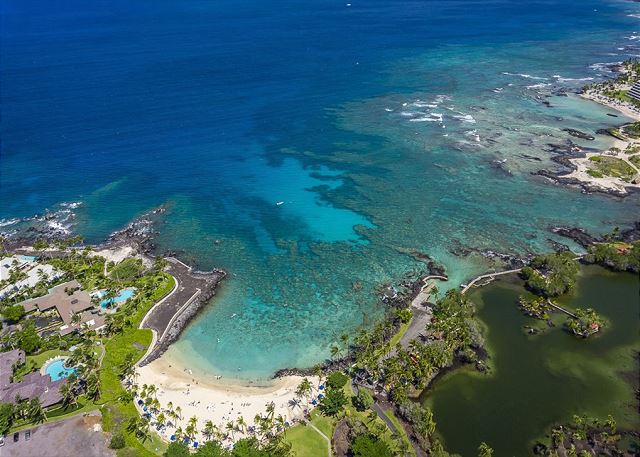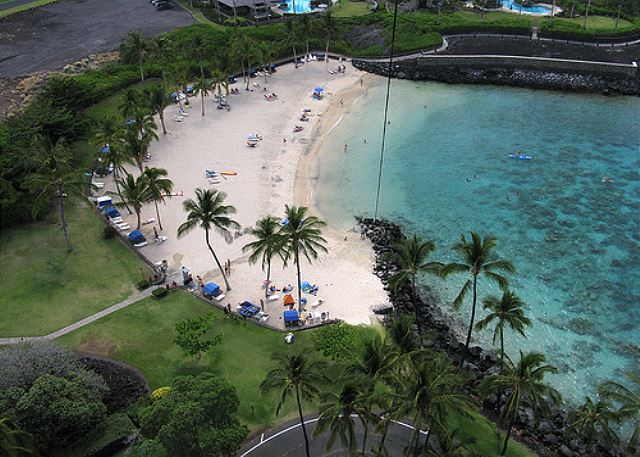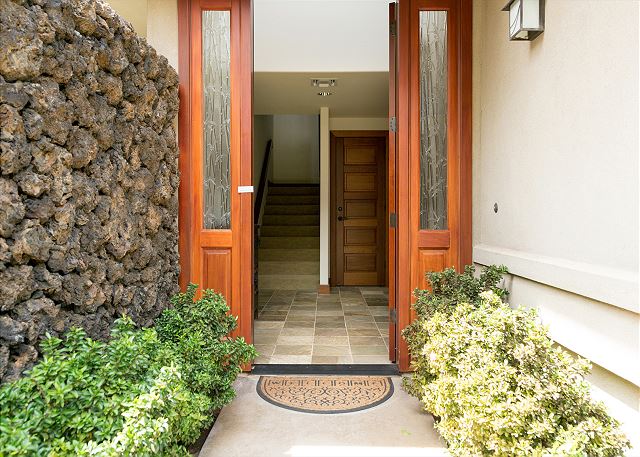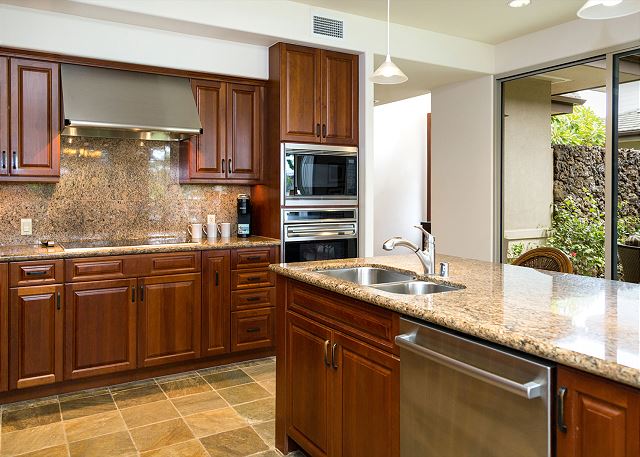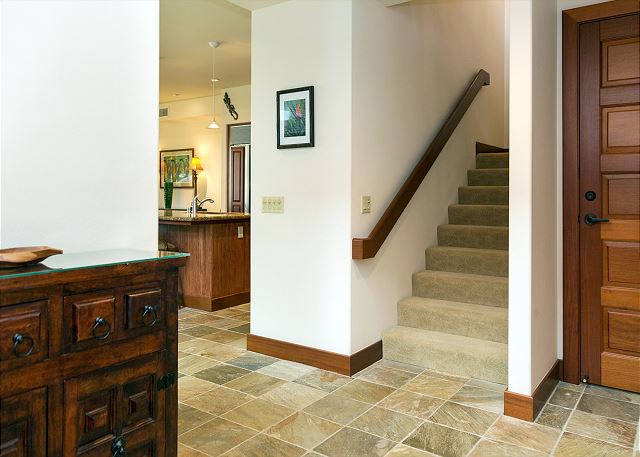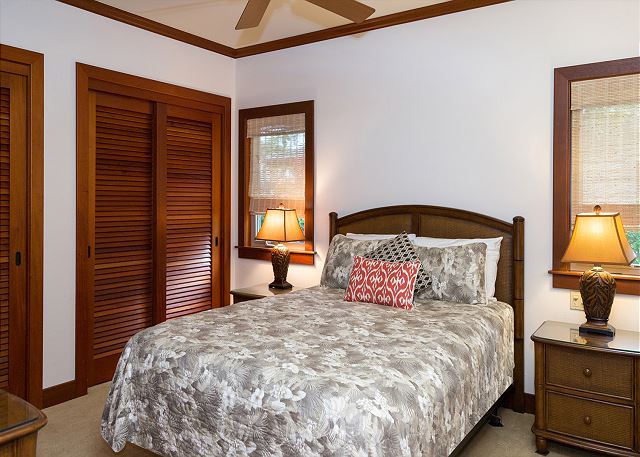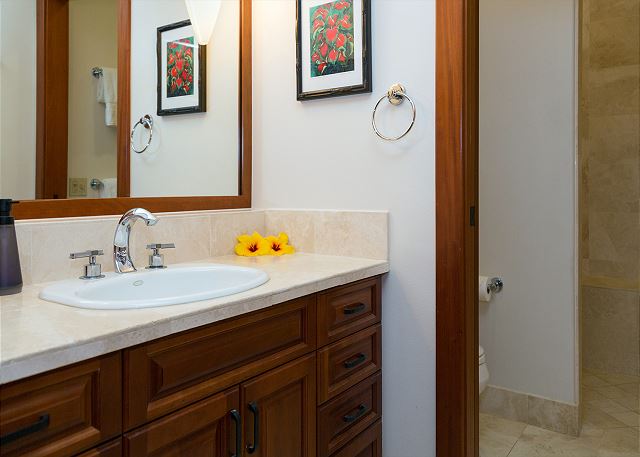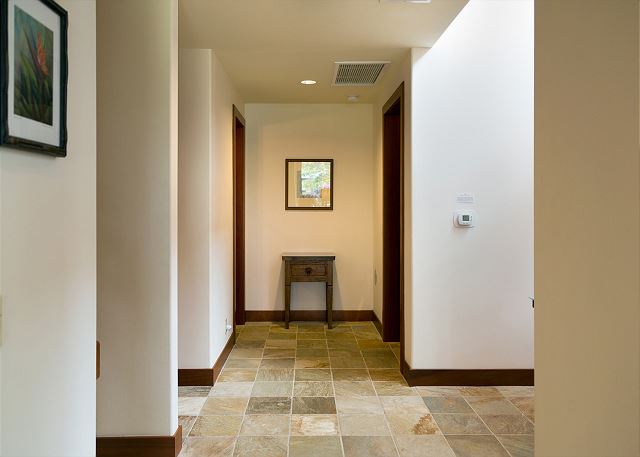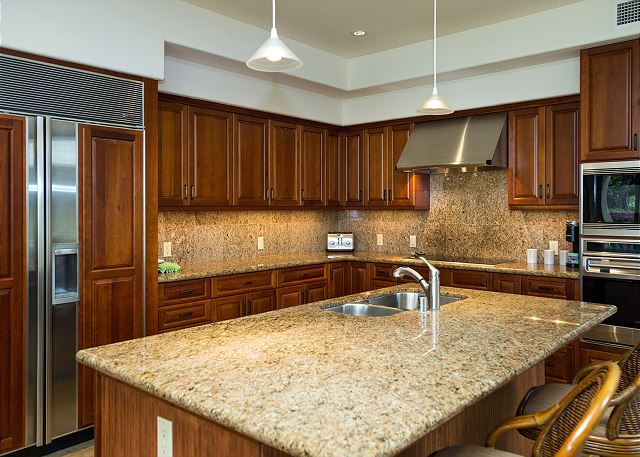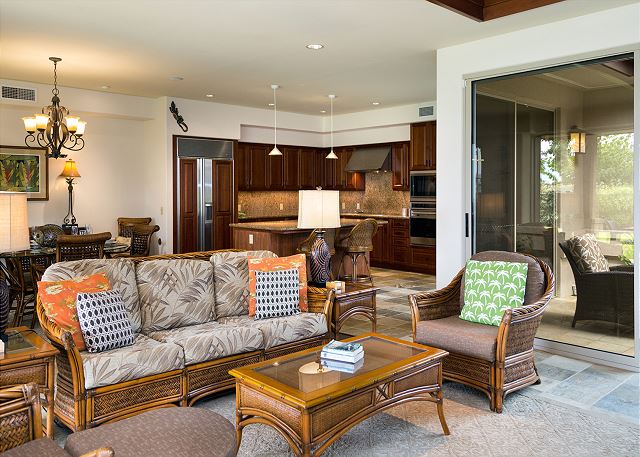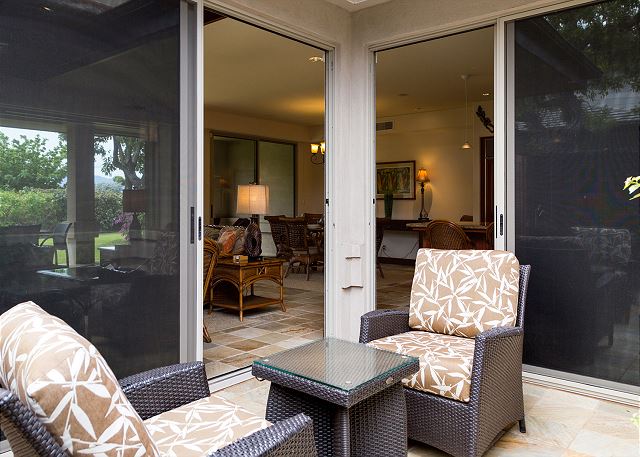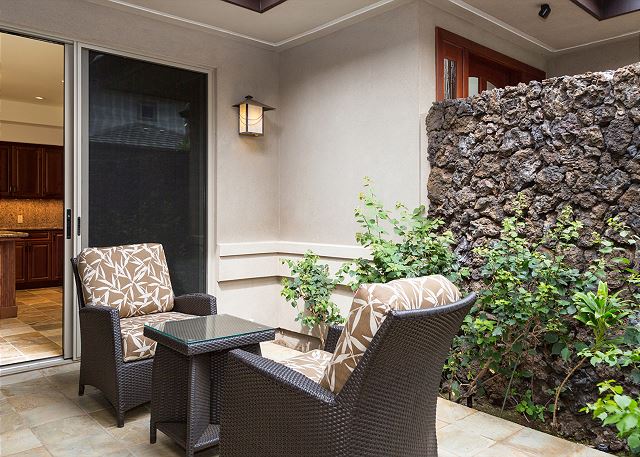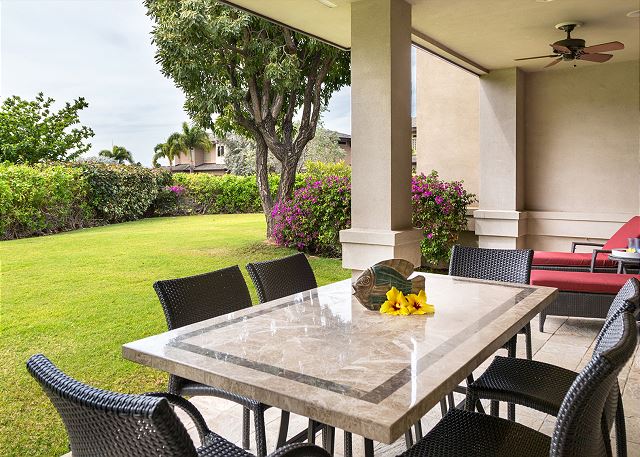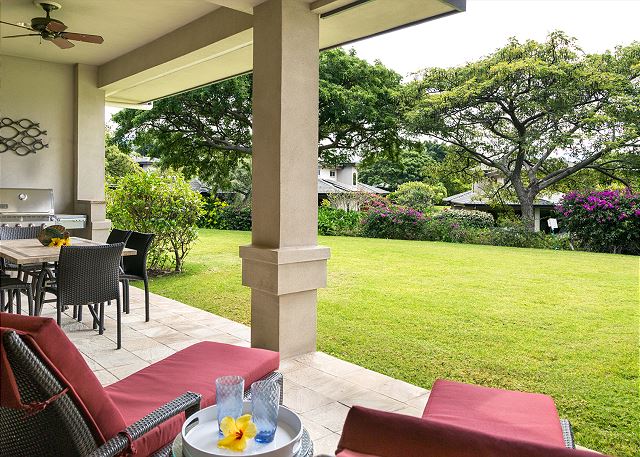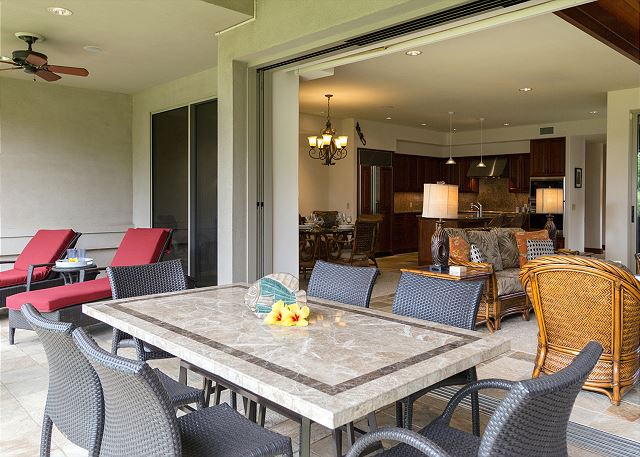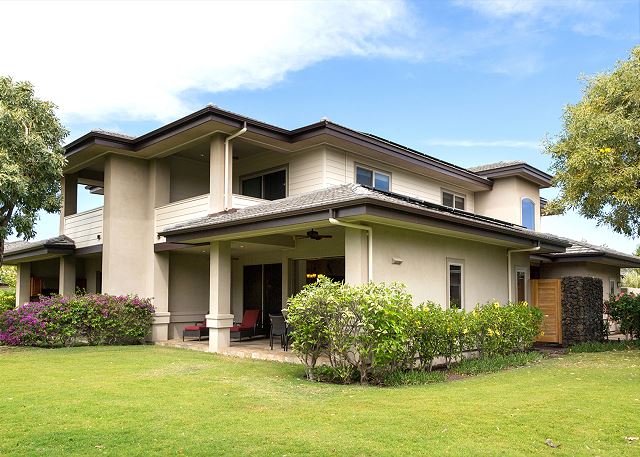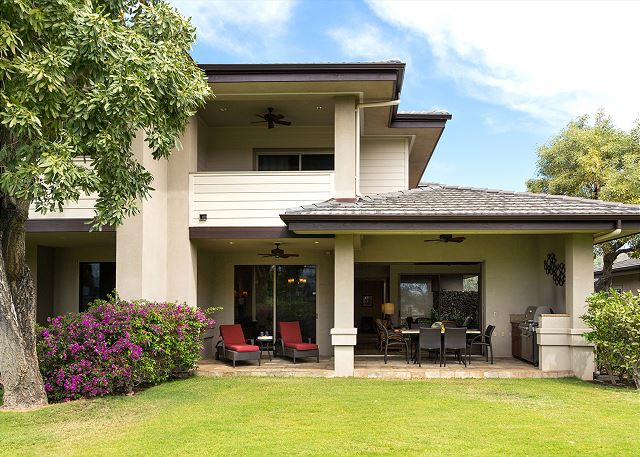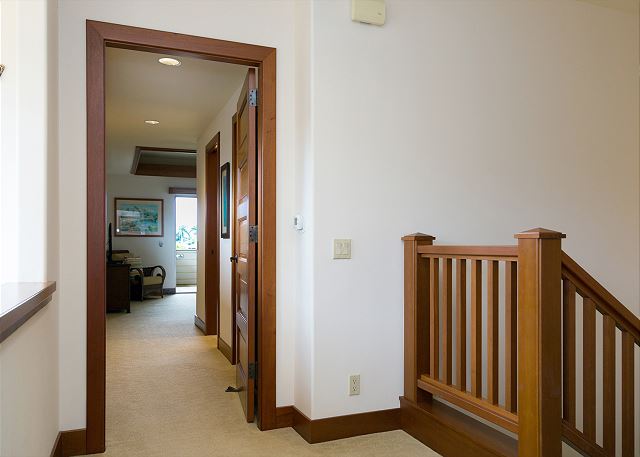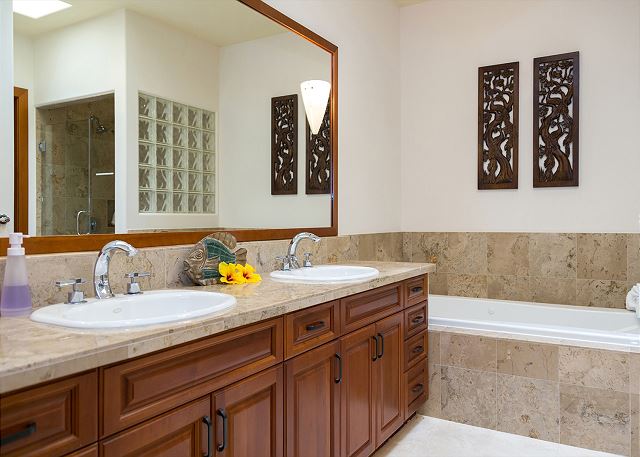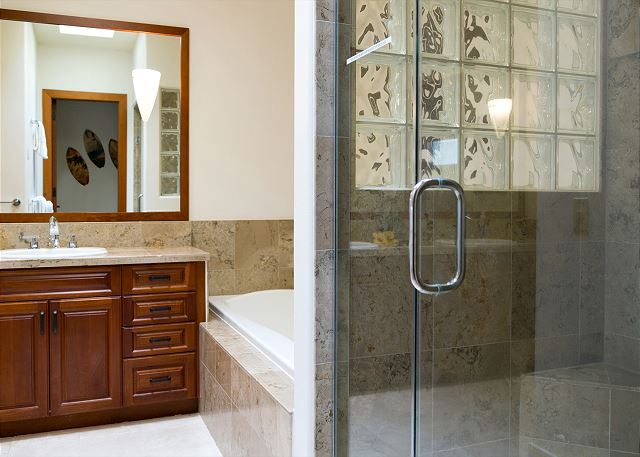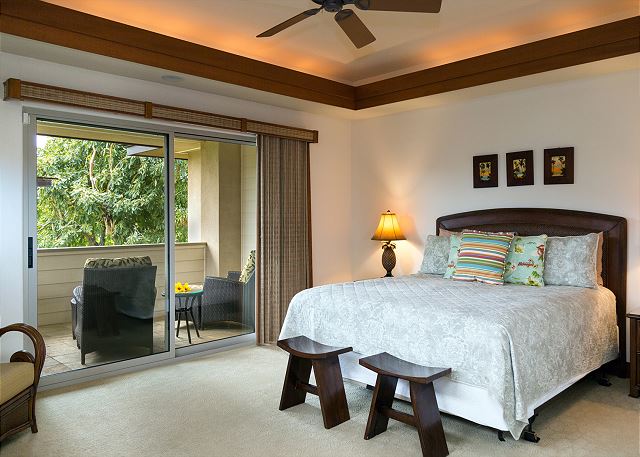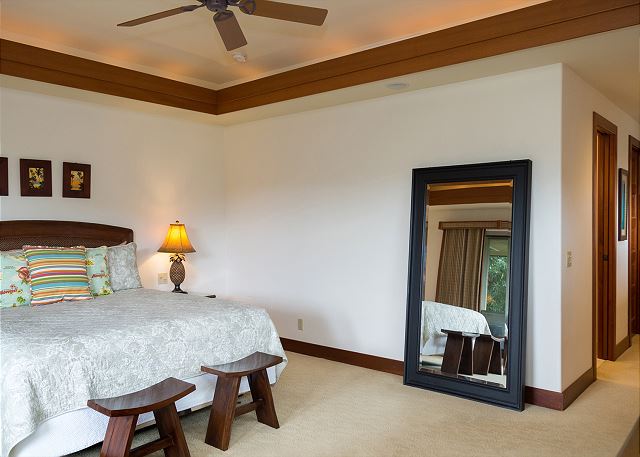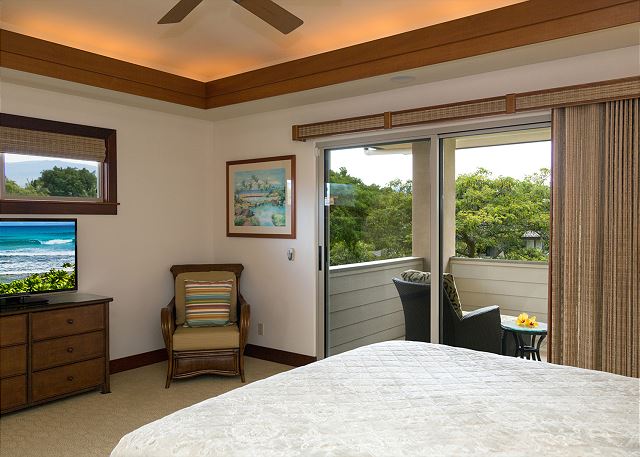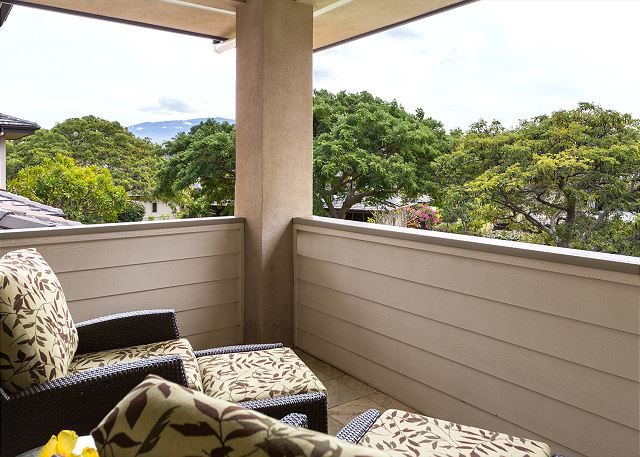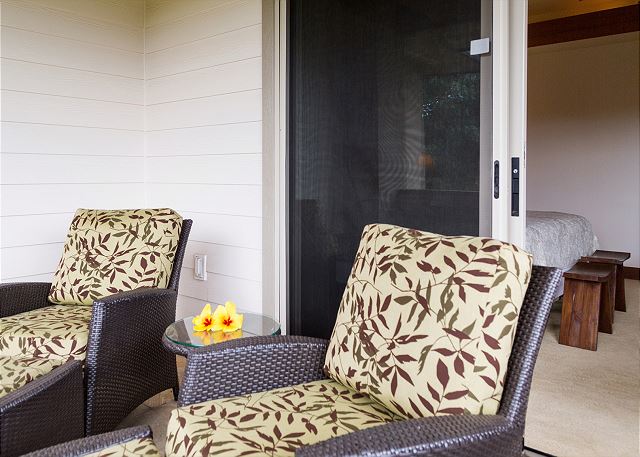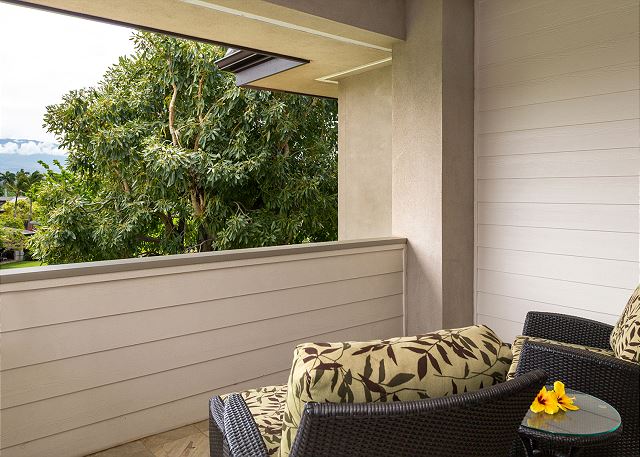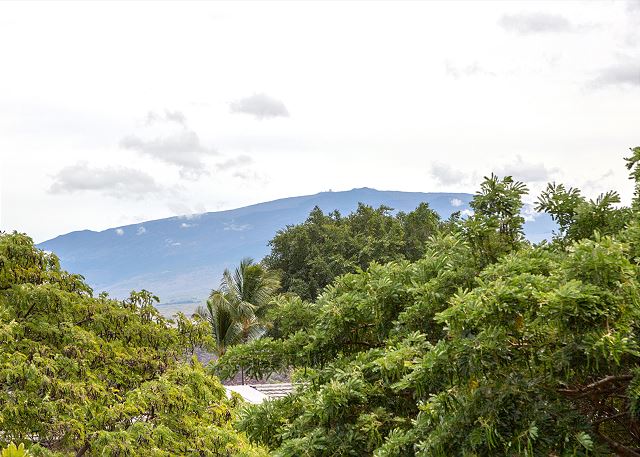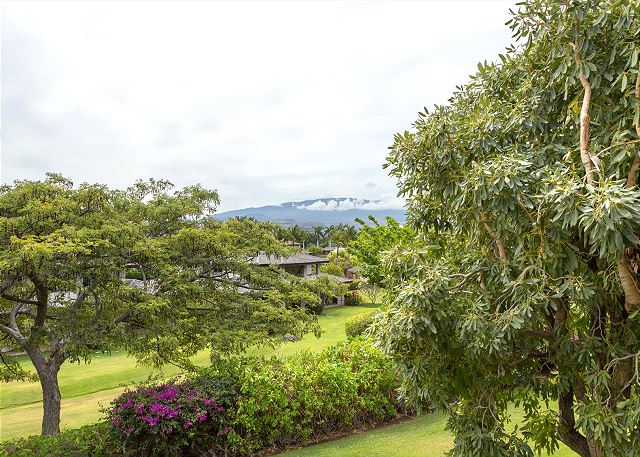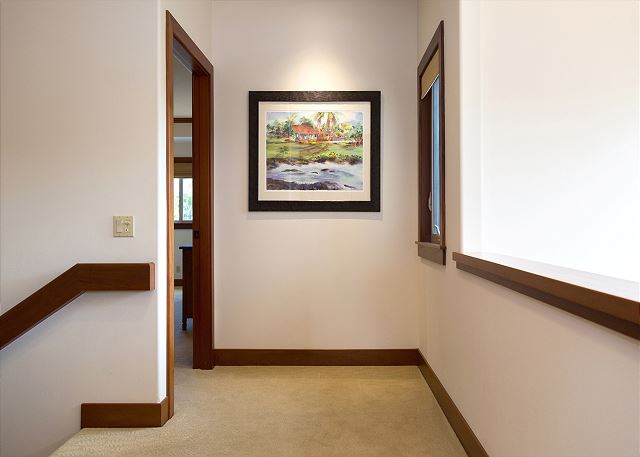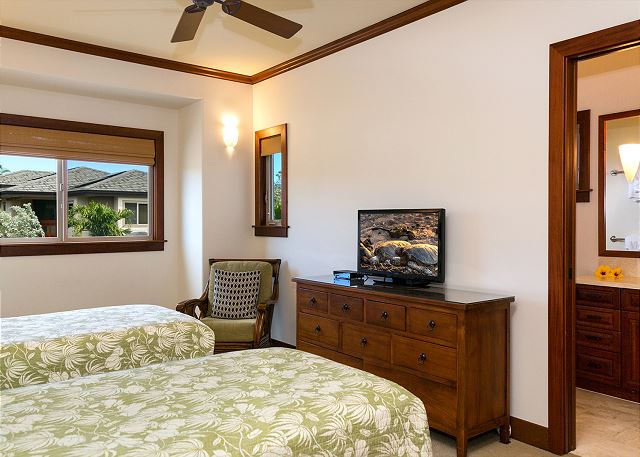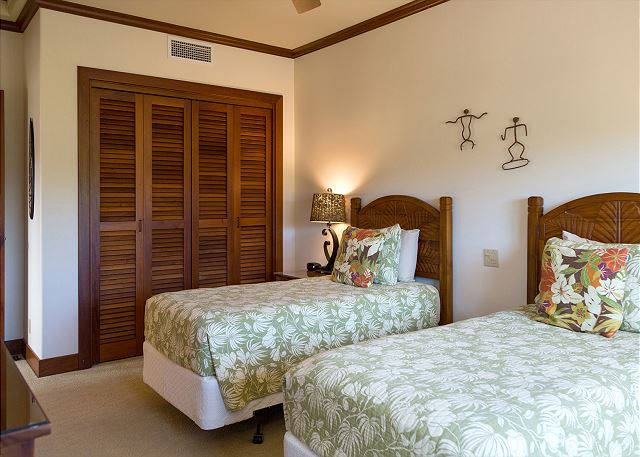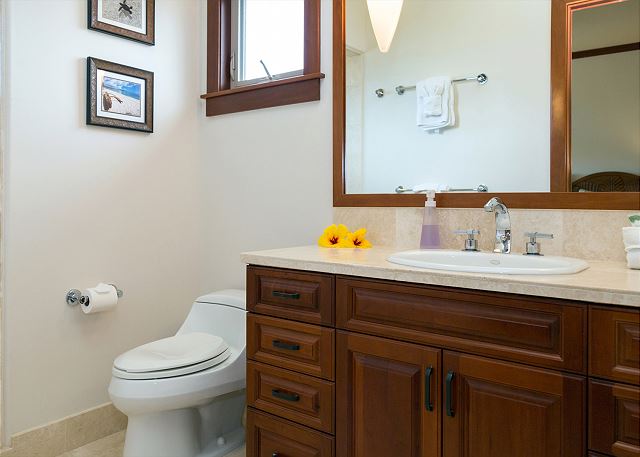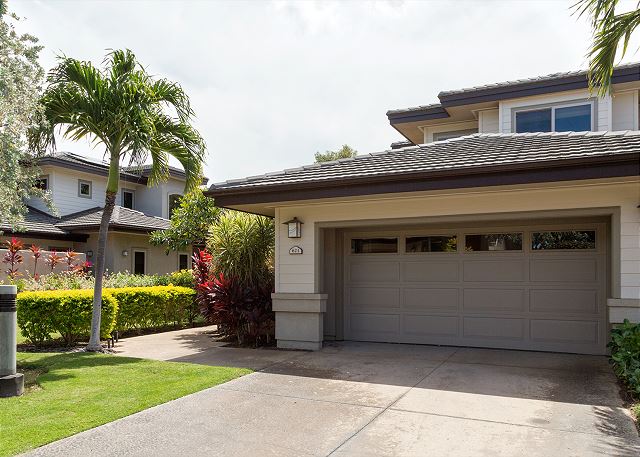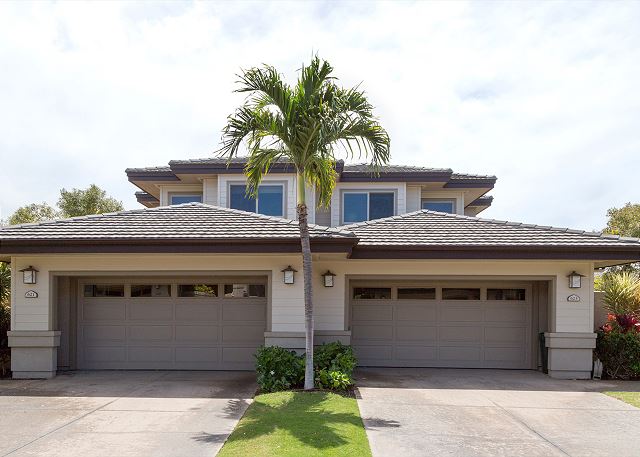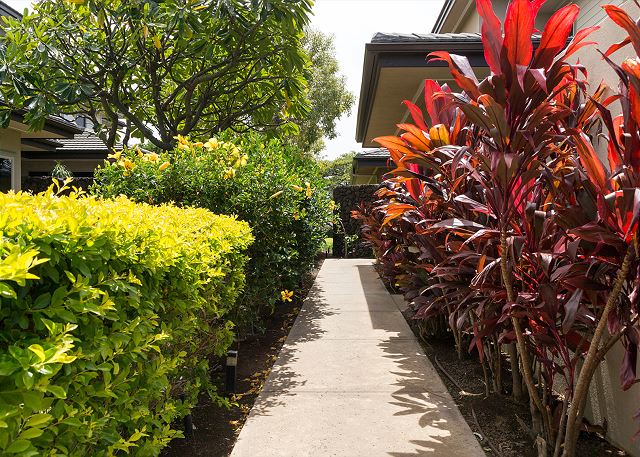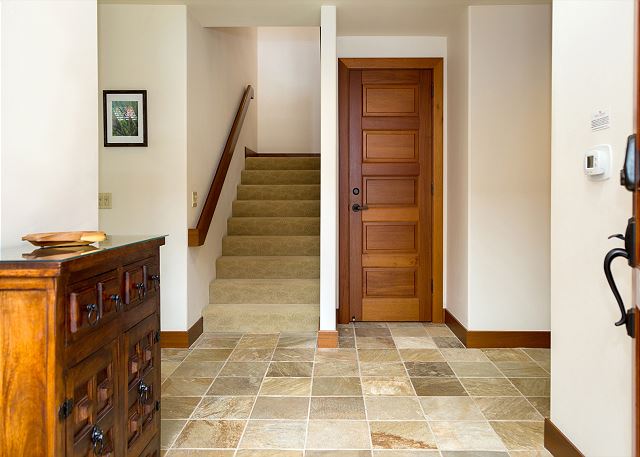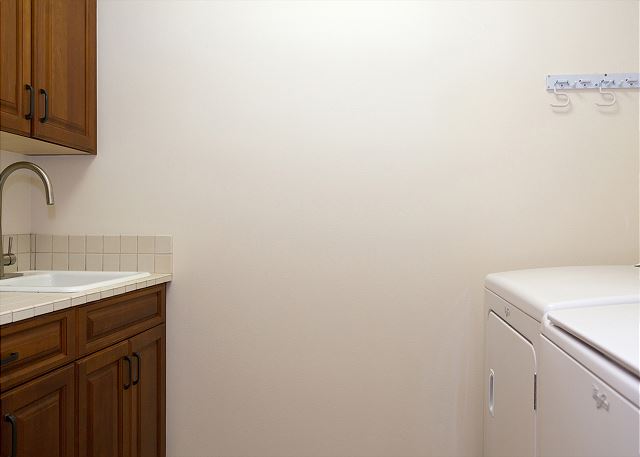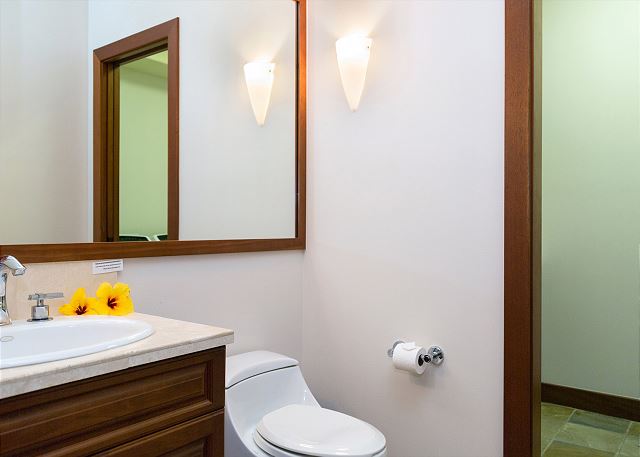 Description
AMAZING PROPERTY!! VERY PRIVATE & VERY SPACIOUS HOME, INCLUDES VIP PASS TO PRIVATE BEACH CLUB.

We invite you to escape to our beautiful Hawaiian hide-away. The luxurious deluxe townhome is located in a private gated community within the lush Mauna Lani resort. Our home is beautifully appointed with new top of the line tropical furnishings. The Lehua layout is an open floor plan with multiple lanai's and fully retractable sliding glass doors to make the most of Hawaii's indoor/outdoor lifestyle. Amenities abound including access to a free form pool and exercise room within the Villages complex, access beach pass to the Private Mauna Lani Beach Club, walking distance to the major Mauna Lani resort hotels, The Shops at Mauna Lani and the Mauna Lani Spa and Fitness Center.



Although gourmet restaurants are a quick stroll away, should you decide to cook your own gourmet meal at home, the kitchen is fully outfitted with everything you will need including stainless steel cookware and appliances, dishwasher drawers, prep island with sink, large Sub Zero refrigerator, granite countertops and on the main lanai, a high end Weber grill.



On the second floor, the spacious master bedroom is furnished with a king sized bed, walk-in closet with built in cabinets, a large en-suite bathroom with double sinks, soaking tub and shower. There is also a flat screen TV with cable access and a comfortably furnished private lanai. The second upstairs bedroom is furnished with two twin beds, en-suite bathroom with shower, large closet and flat screen TV with cable access.



Back on the first floor, the third bedroom is furnished with a queen sized bed, private en-suite bathroom with shower, large closet and flat screen TV with cable access. Across the hall you will find a half bath with an attached laundry room which includes a full sized Fisher Paykel washer and dryer.



There are two lanai's on the first floor. The main lanai is equipped with a high end Weber grill, large dining table that seats 6 – 8 adults, and two luxurious chaise lounges. Additionally outside ceiling fans have been installed to insure that there is always access to a comfortable breeze. The second smaller lanai is located off of the kitchen and is a wonderfully quiet and private spot for morning coffee, afternoon cocktails, reading a book or just passing the time away. Unit includes FREE WIFI and PARKING.



FREE WIFI

FREE PARKING

WASHER AND DRYER

BEACH CHAIRS, COOLER, BEACH TOWELS

BEACH/SWIM GEAR

A/C – CENTRAL AIR

BBQ KITCHEN AT UNIT

CLOSE TO POOL, BEACH, SHOPPING AND RESTAURANTS



This villa is cleaned by a professional cleaning company using EPA approved products for use against COVID-19. And cleaning process is following guidelines received from World Health Organization and the Centers for Disease Control.



Hawaii County ordinance to regulate Short-Term Vacation Rentals application for this property was accepted.



**** WE DO NOT TAKE WIRE/BANK TRANSFERS******



HAWAII SHORT TERM VACATION RENTAL# 19-371194

HAWAII GE/TAT TAX ID# 064-673-5872-01



TMK 6-8-022-004-0120
Calendar
October 2021

| S | M | T | W | T | F | S |
| --- | --- | --- | --- | --- | --- | --- |
| | | | | | 01 | 02 |
| 03 | 04 | 05 | 06 | 07 | 08 | 09 |
| 10 | 11 | 12 | 13 | 14 | 15 | 16 |
| 17 | 18 | 19 | 20 | 21 | 22 | 23 |
| 24 | 25 | 26 | 27 | 28 | 29 | 30 |
| 31 | | | | | | |
November 2021

| S | M | T | W | T | F | S |
| --- | --- | --- | --- | --- | --- | --- |
| | 01 | 02 | 03 | 04 | 05 | 06 |
| 07 | 08 | 09 | 10 | 11 | 12 | 13 |
| 14 | 15 | 16 | 17 | 18 | 19 | 20 |
| 21 | 22 | 23 | 24 | 25 | 26 | 27 |
| 28 | 29 | 30 | | | | |
December 2021

| S | M | T | W | T | F | S |
| --- | --- | --- | --- | --- | --- | --- |
| | | | 01 | 02 | 03 | 04 |
| 05 | 06 | 07 | 08 | 09 | 10 | 11 |
| 12 | 13 | 14 | 15 | 16 | 17 | 18 |
| 19 | 20 | 21 | 22 | 23 | 24 | 25 |
| 26 | 27 | 28 | 29 | 30 | 31 | |
January 2022

| S | M | T | W | T | F | S |
| --- | --- | --- | --- | --- | --- | --- |
| | | | | | | 01 |
| 02 | 03 | 04 | 05 | 06 | 07 | 08 |
| 09 | 10 | 11 | 12 | 13 | 14 | 15 |
| 16 | 17 | 18 | 19 | 20 | 21 | 22 |
| 23 | 24 | 25 | 26 | 27 | 28 | 29 |
| 30 | 31 | | | | | |
February 2022

| S | M | T | W | T | F | S |
| --- | --- | --- | --- | --- | --- | --- |
| | | 01 | 02 | 03 | 04 | 05 |
| 06 | 07 | 08 | 09 | 10 | 11 | 12 |
| 13 | 14 | 15 | 16 | 17 | 18 | 19 |
| 20 | 21 | 22 | 23 | 24 | 25 | 26 |
| 27 | 28 | | | | | |
March 2022

| S | M | T | W | T | F | S |
| --- | --- | --- | --- | --- | --- | --- |
| | | 01 | 02 | 03 | 04 | 05 |
| 06 | 07 | 08 | 09 | 10 | 11 | 12 |
| 13 | 14 | 15 | 16 | 17 | 18 | 19 |
| 20 | 21 | 22 | 23 | 24 | 25 | 26 |
| 27 | 28 | 29 | 30 | 31 | | |
April 2022

| S | M | T | W | T | F | S |
| --- | --- | --- | --- | --- | --- | --- |
| | | | | | 01 | 02 |
| 03 | 04 | 05 | 06 | 07 | 08 | 09 |
| 10 | 11 | 12 | 13 | 14 | 15 | 16 |
| 17 | 18 | 19 | 20 | 21 | 22 | 23 |
| 24 | 25 | 26 | 27 | 28 | 29 | 30 |
May 2022

| S | M | T | W | T | F | S |
| --- | --- | --- | --- | --- | --- | --- |
| 01 | 02 | 03 | 04 | 05 | 06 | 07 |
| 08 | 09 | 10 | 11 | 12 | 13 | 14 |
| 15 | 16 | 17 | 18 | 19 | 20 | 21 |
| 22 | 23 | 24 | 25 | 26 | 27 | 28 |
| 29 | 30 | 31 | | | | |
June 2022

| S | M | T | W | T | F | S |
| --- | --- | --- | --- | --- | --- | --- |
| | | | 01 | 02 | 03 | 04 |
| 05 | 06 | 07 | 08 | 09 | 10 | 11 |
| 12 | 13 | 14 | 15 | 16 | 17 | 18 |
| 19 | 20 | 21 | 22 | 23 | 24 | 25 |
| 26 | 27 | 28 | 29 | 30 | | |
July 2022

| S | M | T | W | T | F | S |
| --- | --- | --- | --- | --- | --- | --- |
| | | | | | 01 | 02 |
| 03 | 04 | 05 | 06 | 07 | 08 | 09 |
| 10 | 11 | 12 | 13 | 14 | 15 | 16 |
| 17 | 18 | 19 | 20 | 21 | 22 | 23 |
| 24 | 25 | 26 | 27 | 28 | 29 | 30 |
| 31 | | | | | | |
August 2022

| S | M | T | W | T | F | S |
| --- | --- | --- | --- | --- | --- | --- |
| | 01 | 02 | 03 | 04 | 05 | 06 |
| 07 | 08 | 09 | 10 | 11 | 12 | 13 |
| 14 | 15 | 16 | 17 | 18 | 19 | 20 |
| 21 | 22 | 23 | 24 | 25 | 26 | 27 |
| 28 | 29 | 30 | 31 | | | |
September 2022

| S | M | T | W | T | F | S |
| --- | --- | --- | --- | --- | --- | --- |
| | | | | 01 | 02 | 03 |
| 04 | 05 | 06 | 07 | 08 | 09 | 10 |
| 11 | 12 | 13 | 14 | 15 | 16 | 17 |
| 18 | 19 | 20 | 21 | 22 | 23 | 24 |
| 25 | 26 | 27 | 28 | 29 | 30 | |
Available
Unavailable
Check-In Only
Check-Out Only
Seasonal Rates
| Date Range | Daily | Weekly | Monthly |
| --- | --- | --- | --- |
* Seasonal rates are only estimates and do not reflect taxes or additional fees.
Location
Guest Reviews of
Villages At Mauna Lani #621
Kamuela, HI
---
Vacation Rental Reviews by
stars based on
Fabulous Vacation Rental
Review by
Steven F.
Really loved this townhome! Hope to be back soon!
5 out of 5 stars
Fantastic Stay!
Review by
VRA Andreas K.
We enjoyed every minute on Big Island and the home could live during our stay. A nice area, nice people and just a super equipped home that was not missing anything!
5 out of 5 stars
Great Home and Location
Review by
Sarah H.
Great location, clean home, beach pass was wonderful to have. We would definitely stay again and recommend this place to anyone. Property management was very helpful throughout the stay. Thanks again!
5 out of 5 stars
Manager Response:
You are so welcome! Villages 621 is such a nice and spacious home away from home. Please return soon!
Look no more Stay here
Review by
Timothy D.
This was our second stay at Mauna Lani Villas. The accommodations are OUTSTANDING! Close to several shopping centers,the private beach is even better!!! Calm waters, beach bar & da food is excellent too. I'll be back & highly recommend you stay at Mauna Lani it will WOW you
5 out of 5 stars
Manager Response:
Thank you Timothy! We really appreciate our guests and want to provide the best experience possible. Please come back soon to stay at Mauna Lani Villages 621. warm Aloha, Kohala Coast Properties inc on the fabulous Big Island.
Thanksgiving in Mauna Lani #621
Review by
VAYCAY Rene C.
A wonderful experience in a beautiful 3 bedroom 3 1/2 bath townhome. Everyone had a great time and experience. The grounds, the pool, the beach club were all terrific. The golf club was beautiful to look at but very pricie. Location was easy to drive to either Kona or Hilo. Can't wait to do it again.
5 out of 5 stars
Vacation
Review by
Excellent property
5 out of 5 stars
january visit
Review by
Paul F.
we come every january and like the villages the best with 3 bedrooms
5 out of 5 stars
Beautiful Big Island Condo
Review by
Greg and Lorraine B.
This property is stunning, from the furnishings to the landscaping. We were very comfortable as each bedroom is like a master with its own bathroom with shower. There is plenty of room to spread out and with our adult children it made our vacation very relaxing. The unit has plenty of beach towels, boogie boards, beach chairs and snorkel gear, the private beach is great although our last day the water was not clear due to the high surf. We loved the barbeque and cooked most evenings. As other reviews mentioned the kitchen did not have any salt & pepper or spices or oil (I imagine they do not want to keep any food items for a period of time due to bugs)but every other vacation rental has had an abundance or spices, oils, sugar, etc. The pool and Jacuzzi was very nice also. Cannot wait to plan our next trip to The Big Island!
5 out of 5 stars
Hawaiian Vacation
Review by
Lisa M.
This was the second unit we have rented in The Villages facility and love it because it is perfectly located among all the activities/restaurants within the Mauna Lani resort. This unit is clean and has been very well maintained. That being said, we do have a few personal suggestions for the owners to consider. First, owners might think about replacing the great room sofa with a section sofa (the room is large and can handle one)for more comfortable seating. The current sofa is small and doesn't allow guests to really stretch out and relax. In addition, this unit really needs some color infused into it. The entire downstairs is brown and since this unit doesn't have a western exposure it can be a bit dark in the afternoon. Finally, give your renters access to the garage. My husband rented a very expensive bike for the week and we didn't have a secure place to put it until we contacted the property management team(which by the way were fantastic). Not sure if we would rent this unit again for these reasons.
4 out of 5 stars
Great House - very spacious
Review by
Gary S.
Overall an excellent stay. Plenty of room for all and well equipped house and kitchen.
5 out of 5 stars
Great stay
Review by
Judy H.
These condos are beautifully decorated and perfect for a family. Beds are comfortable, and they have plenty of towels and beach equipment. We appreciated the snorkeling sets and umbrella. The Beach Club card is a special reason for coming with a beautiful cove, cabanas, and a restaurant. The only thing missing were simple condiments like salt and pepper, mustard, etc. There was nothing in the cabinets, unlike one of the other units we rented last year. The management is most helpful, and offered to reimburse us for these, but we just left them for future guests.
5 out of 5 stars
Paradise found
Review by
Scott M.
Outstanding facilities, home felt like it was our own. Nothing was lacking!!!!??????
5 out of 5 stars
Villages at Mauna Lani #621
Review by
Nancy F.
Truly enjoyed our time at Villages at Mauna Lani #621! Condo was well equipped with everything we needed including lots of beach gear and beach towels. Big bedrooms with lots of closet space, and each bedroom with its own bathroom is a big plus. Lovely, big patio with great bbq, too. Close to store, coffee shop and smoothie shop! We were able to walk most places and were happy to have access to the beach. Would definitely recommend to friends! Thank you for sharing your home with us.
5 out of 5 stars
Great place to stay
Review by
Pamela N.
My husband, my two kids and my mom stayed at the condo for ten days. We found it to be roomy and comfortable. The decor was very tasteful. Each room has its own bathroom which is very nice. The kitchen was very well equipped. The outdoor space is pretty and there is a nice grill. There were four boogie boards available to use and even looked like there was some snorkeling equipment. I loved snorkeling at the beach nearby. This is one of my favorite beaches and the restaurant there is good. We could walk to the Mani Lani shops which was great. My kids enjoyed the pool and hot tub. There was a little exercise room available. We were about ten minutes from Hapuna beach. Overall a great place to enjoy the big island and I would stay there again.
1 out of 5 stars
Beautiful property
Review by
Wendy L.
The property was very clean and very nicely equipped. Plenty of space for my family of six to spread out. I would definitely return again.
5 out of 5 stars
Wonderful Accomodations !
Review by
Gerald E.
This is a beautifully built, maintained and equipped townhouse. It screams quality.No need to drive anywhere, unless you want to. There is a wonderful grocery store a few blocks away with every thing you need, including great, fresh Sushi!Acces to excellent swimming and snorkeling beaches is close at hand. Nice pool and hot tub area within easy walk. Great shopping and restaurants very close as well.The support from the management is very good; friendly and responsive to our needs.This is a first class operation in a secure, beautiful, resort setting.
5 out of 5 stars
Flawless!
Review by
Sandra W.
An wonderful vacation with flawless performance from Kohala Cost
5 out of 5 stars
Machin Family Vacation
Review by
DeDe M.
We had a great time at your home. It was spotless! The only thing that would have made it perfect was more beach stuff and a few more kitchen items. We ended up purchasing an umbrella and tubes for the kids and beach toys that we left so hopefully they will still be there if and when we come next year. Also bought an electric griddle for the kitchen to make pancakes and left it there as well. It would be nice if they had a spice rack with some basic seasonings to use. Other than that I would recommend this house for sure! It was perfect for a family. Wish the pool was a bit bigger but the beach club was awesome. Thank you for opening your home up to use. Hope to see you again next year but for a bit longer stay!
5 out of 5 stars
Best Vacation
Review by
Sharon K.
Excellent. Would love to go back again very soon and stay at least a month.
5 out of 5 stars
family trip to the Big Island
Review by
Our family traveled to the Big Island for a destination wedding. Our stay was for 5 days. We had 6 family member in the unit and had more than enough room. The accommodations were very comfortable but if you were planning on doing any cooking, there were no condiments to be found in the kitchen, so be prepared. Overall, a great stay
5 out of 5 stars
Beautiful condo and perfect for our team.
Review by
Jan S.
We appreciate the special effort to meet our needs and make our stay so exceptional.
5 out of 5 stars
Happy in Mauna Lani
Review by
Sonia M.
The property management company was professional, personable and helpful. We had a couple of issues with ice/water dispenser and BBQ gas, but all got resolved and they were always super friendly and wanting to take care of us. They even offered compensation for fish dinner and water/ice we had to buy as a result. We're still waiting for the cheque to arrive in the mail after 4 weeks, but hopefully it is on its way. I would recommend this complex for any family looking for a gorgeous well-kept resort complex in the area.
5 out of 5 stars
Family Vacation of a Life Time!
Review by
Cindy R.
Fabulous place to stay! Clean, beautiful, with a patio with barbeque and the grass in the yard is like walking on a carpet. There were 3 couples and we all had our own bedroom and bathroom. The master bath had a huge jetted tub. The kitchen was amazing except for a little problem with the ants. Make sure you do not keep any food out on the counters and that all food in the cupboards is sealed tightly. We lost several food items due to attack of the little ants! Very comfortable beds and bedding. Master has a King, one bedroom a Queen and the other 2 twins that we pushed together to make a King. We would definitely stay there again. If you need for anything or have any questions just call or email the office. They were great to work with.
5 out of 5 stars
Great Rental in Paradise
Review by
Don F.
The property was very tastefully decorated in island style. Access to the Mauna Lani beach club was important to us. Great location near resort and fine dining establishments. Just great, all around and a wonderful place for a winter get away.
5 out of 5 stars
Home away from home
Review by
Dawn S.
We loved everything about the stay!!!! It was freaky to see the centipedes but we understand that's island living! We enjoyed the spaciousness and how quiet the condo was. We loved the fact that everyone had a bathroom! We will be back!!!!!
5 out of 5 stars
Hawaii vaca with 11 month old twins
Review by
David K.
We stayed here in October and can't express how great this property is. The house is tastefully decorated with excellent appliances and a fully stocked kitchen with everything you need. We especially liked the sliding doors that open up the living room to the lanai and outdoor reading area. In addition, the balcony from the master bedroom has an incredible view. The Villages at Mauna lani has an excellent pool area that was perfect for our 11 month old twins. The house is also just walking distance from a great supermarket and a number of restaurants which made everything convenient. Finally, the real estate agents (Marisa and Alesia) were incredibly helpful and accommodating. They are extremely quick to respond even during our stay. When I mentioned we were bringing 11 month old twins, they even went as far to put a few toys in the house for our kids to play with. They also helped us obtain a set of pack and plays and high chairs which they put into the unit before we arrived! We love the Big Island (our 4th trip) and will try to rent this place every time we return.
5 out of 5 stars
Contact Us