Vista Waikoloa B-302 (Condominium)
2 Bedroom(s) | 2 Bathroom(s) | Sleeps 4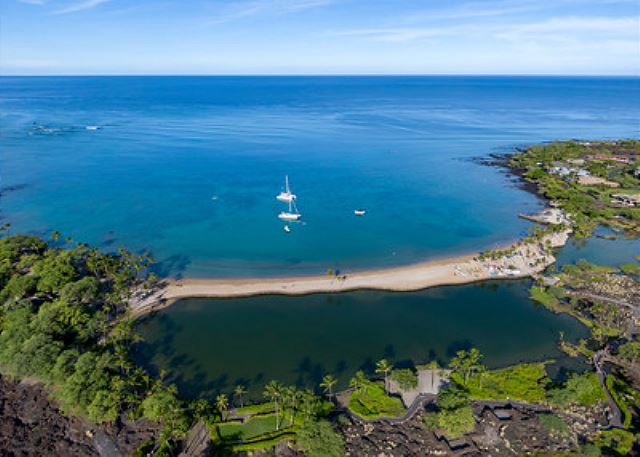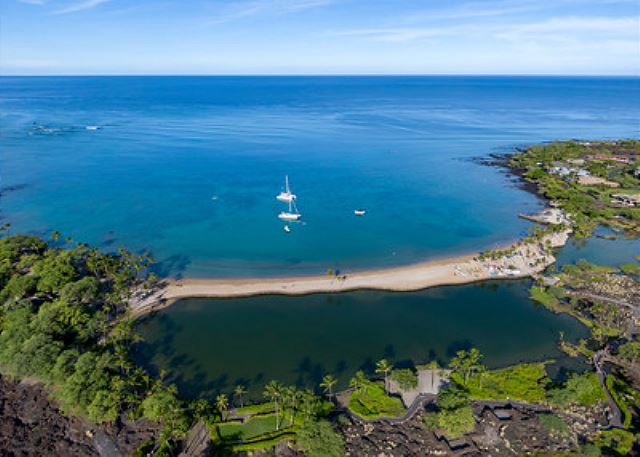 Description
Newly remodeled unit, master bedroom has a king bed, guest bedroom has 2 twins beds that can be converted to a king upon request. Master bath and a guest full bathroom. Queen size sleeper sofa. Fully stocked kitchen with a convection microwave oven and stove top. Dining table seats 6 inside and 4 outside. Great pool views from the lanai. FREE WIFI AND PARKING.



Waikoloa Resort has so much to offer!

The picturesque white sandy beach 'Anaeho'omalu Bay (A-Bay). The largest selection of shopping and dining options on the Kohala Coast. Two luxury shopping centers provide visitors with the opportunity to explore a collection of boutique shops, art galleries, coffee shops and an array of restaurants. Weekly events include live Hawaiian music, hula performances, lei-making, a weekly farmers market and other local crafts.

A gourmet market located within the resort for convenient access to groceries, souvenirs and other essentials.

Two championship golf courses, one with oceanfront settings. As a guest of the resort enjoy a discounted rate and other seasonal specials.

Extensive footpaths transverse the resort grounds providing scenic walking/jogging routes and safe pedestrian access.

The Kings Trail is a well-preserved Hawaiian monument within the resort. Walk in the footsteps of the great King Kamehameha and discover petroglyphs and other Hawaiian artifacts.



SPECIAL – Spend the day at the Hilton Waikoloa Village, you can buy a discounted DAY PASS to the pool/waterslide or relax at the spa with a SPA PASS. More info will be provided upon booking with us.



FREE WIFI

FREE PARKING

WASHER AND DRYER

ELEVATOR

BEACH CHAIRS, COOLER, BEACH TOWELS

BEACH/SWIM GEAR

A/C – CENTRAL AIR

BBQ AT POOL AREA

CLOSE TO POOL, BEACH, SHOPPING AND RESTAURANTS



This villa is cleaned by a professional cleaning company using EPA approved products for use against COVID-19. And cleaning process is following guidelines received from World Health Organization and the Centers for Disease Control.

For our guest that need to do the 14 day quarantine, we can provide grocery pick up and please inquire for more information.

Hawaii County ordinance to regulate Short-Term Vacation Rentals application for this property was accepted.



**** WE DO NOT TAKE WIRE/BANK TRANSFERS******



HAWAII SHORT TERM VACATION RENTAL#

HAWAII GE/TAT TAX ID# 014-217-2160-01



TMK 6-9-007-009-0031
Calendar
October 2021

| S | M | T | W | T | F | S |
| --- | --- | --- | --- | --- | --- | --- |
| | | | | | 01 | 02 |
| 03 | 04 | 05 | 06 | 07 | 08 | 09 |
| 10 | 11 | 12 | 13 | 14 | 15 | 16 |
| 17 | 18 | 19 | 20 | 21 | 22 | 23 |
| 24 | 25 | 26 | 27 | 28 | 29 | 30 |
| 31 | | | | | | |
November 2021

| S | M | T | W | T | F | S |
| --- | --- | --- | --- | --- | --- | --- |
| | 01 | 02 | 03 | 04 | 05 | 06 |
| 07 | 08 | 09 | 10 | 11 | 12 | 13 |
| 14 | 15 | 16 | 17 | 18 | 19 | 20 |
| 21 | 22 | 23 | 24 | 25 | 26 | 27 |
| 28 | 29 | 30 | | | | |
December 2021

| S | M | T | W | T | F | S |
| --- | --- | --- | --- | --- | --- | --- |
| | | | 01 | 02 | 03 | 04 |
| 05 | 06 | 07 | 08 | 09 | 10 | 11 |
| 12 | 13 | 14 | 15 | 16 | 17 | 18 |
| 19 | 20 | 21 | 22 | 23 | 24 | 25 |
| 26 | 27 | 28 | 29 | 30 | 31 | |
January 2022

| S | M | T | W | T | F | S |
| --- | --- | --- | --- | --- | --- | --- |
| | | | | | | 01 |
| 02 | 03 | 04 | 05 | 06 | 07 | 08 |
| 09 | 10 | 11 | 12 | 13 | 14 | 15 |
| 16 | 17 | 18 | 19 | 20 | 21 | 22 |
| 23 | 24 | 25 | 26 | 27 | 28 | 29 |
| 30 | 31 | | | | | |
February 2022

| S | M | T | W | T | F | S |
| --- | --- | --- | --- | --- | --- | --- |
| | | 01 | 02 | 03 | 04 | 05 |
| 06 | 07 | 08 | 09 | 10 | 11 | 12 |
| 13 | 14 | 15 | 16 | 17 | 18 | 19 |
| 20 | 21 | 22 | 23 | 24 | 25 | 26 |
| 27 | 28 | | | | | |
March 2022

| S | M | T | W | T | F | S |
| --- | --- | --- | --- | --- | --- | --- |
| | | 01 | 02 | 03 | 04 | 05 |
| 06 | 07 | 08 | 09 | 10 | 11 | 12 |
| 13 | 14 | 15 | 16 | 17 | 18 | 19 |
| 20 | 21 | 22 | 23 | 24 | 25 | 26 |
| 27 | 28 | 29 | 30 | 31 | | |
April 2022

| S | M | T | W | T | F | S |
| --- | --- | --- | --- | --- | --- | --- |
| | | | | | 01 | 02 |
| 03 | 04 | 05 | 06 | 07 | 08 | 09 |
| 10 | 11 | 12 | 13 | 14 | 15 | 16 |
| 17 | 18 | 19 | 20 | 21 | 22 | 23 |
| 24 | 25 | 26 | 27 | 28 | 29 | 30 |
May 2022

| S | M | T | W | T | F | S |
| --- | --- | --- | --- | --- | --- | --- |
| 01 | 02 | 03 | 04 | 05 | 06 | 07 |
| 08 | 09 | 10 | 11 | 12 | 13 | 14 |
| 15 | 16 | 17 | 18 | 19 | 20 | 21 |
| 22 | 23 | 24 | 25 | 26 | 27 | 28 |
| 29 | 30 | 31 | | | | |
June 2022

| S | M | T | W | T | F | S |
| --- | --- | --- | --- | --- | --- | --- |
| | | | 01 | 02 | 03 | 04 |
| 05 | 06 | 07 | 08 | 09 | 10 | 11 |
| 12 | 13 | 14 | 15 | 16 | 17 | 18 |
| 19 | 20 | 21 | 22 | 23 | 24 | 25 |
| 26 | 27 | 28 | 29 | 30 | | |
July 2022

| S | M | T | W | T | F | S |
| --- | --- | --- | --- | --- | --- | --- |
| | | | | | 01 | 02 |
| 03 | 04 | 05 | 06 | 07 | 08 | 09 |
| 10 | 11 | 12 | 13 | 14 | 15 | 16 |
| 17 | 18 | 19 | 20 | 21 | 22 | 23 |
| 24 | 25 | 26 | 27 | 28 | 29 | 30 |
| 31 | | | | | | |
August 2022

| S | M | T | W | T | F | S |
| --- | --- | --- | --- | --- | --- | --- |
| | 01 | 02 | 03 | 04 | 05 | 06 |
| 07 | 08 | 09 | 10 | 11 | 12 | 13 |
| 14 | 15 | 16 | 17 | 18 | 19 | 20 |
| 21 | 22 | 23 | 24 | 25 | 26 | 27 |
| 28 | 29 | 30 | 31 | | | |
September 2022

| S | M | T | W | T | F | S |
| --- | --- | --- | --- | --- | --- | --- |
| | | | | 01 | 02 | 03 |
| 04 | 05 | 06 | 07 | 08 | 09 | 10 |
| 11 | 12 | 13 | 14 | 15 | 16 | 17 |
| 18 | 19 | 20 | 21 | 22 | 23 | 24 |
| 25 | 26 | 27 | 28 | 29 | 30 | |
Available
Unavailable
Check-In Only
Check-Out Only
Seasonal Rates
| Date Range | Daily | Weekly | Monthly |
| --- | --- | --- | --- |
* Seasonal rates are only estimates and do not reflect taxes or additional fees.
Location
Guest Reviews of
Vista Waikoloa B-302
Waikoloa, HI
---
Vacation Rental Reviews by
stars based on
Hawaiian Paradise
Review by
A wonderful place to stay on the Big Island. Nice condo in the Waikoloa area, easy walk to the beach. Coolers, beach chairs, and snorkel gear to use while we were there was a great bonus. Nice pool and BBQ area. It was great to be with the extended family, but still have our own space. We would definitely come back and stay again!
5 out of 5 stars
First time big island adventure
Review by
Diane M.
The unit was lovely, spacious and we'll set up. We enjoyed the pool and spa. The property was a great base for us to explore the island. We really enjoyed our stay. We did have a little trouble with the lock on the door but we were all good once we got it sorted
5 out of 5 stars
Yes - we would stay again!!
Review by
Tim S.
Fabulous condo. VERY well equipped, we loved the beach equipment. Very nicely decorated throughout and a well equipped kitchen. No complaints. The communal pool and hot tubs were great. The communal barbeques/grills were a big bonus too. Nothing bad to say.
5 out of 5 stars
Everything Perfect at this condo.
Review by
We were satisfied at this condo/Vista Waicoloa B302. Top floor nice view, can see sky & mountain & sea. Waicoloa resort is very safety. We enjoyed taking walk. Highly recommend!
5 out of 5 stars
Modern Rental
Review by
Vickey M.
Clean, modern condo with beautiful lanai. The unit was well stocked. Michelle was great to work with.
5 out of 5 stars
Wonderful time at the Vista
Review by
Suzanne S.
Well equipped rental at the Vista...always a joy to stay in Waikoloa! The condo has basically everything you need for a wonderful stay on the Big Island...anything you need for the beach as well as meal preparation. We were very impressed.
4 out of 5 stars
Best Place so far
Review by
Nalei H.
Celebrating our 29th year travelling together as a party of 4 classmates, we have stayed at many, many hotels/resorts/condos. Vista Waikoloa B-302 was one of our top 2 favorites. The condo was spacious, clean, had lovely views, a very well-stocked kitchen, a wrap around patio to enjoy the outside and overall a pleasant place to relax and enjoy each other's company. Just a few thoughts, it takes a while for the hot water to come on when taking a shower, there is only a convection/microwave oven and a toaster oven, and no tv in the second bedroom. Also, if arriving after dark, it's hard to see the property name since there's no lighting on the sign. These little things should not deter you from staying at this property so enjoy your stay.
5 out of 5 stars
Paradise!
Review by
Vista Waikoloa B-302 was better than the photos indicate. The bed and furnishings were very comfortable and the unit was beautifully decorated. There was just the 2 of us, so we had plenty of room to spread out in the unit. We were pleasantly surprised to see a new lanai table and chairs (than shown on the original HomeAway posting), which is where we spent most of out time. The place was spotless, the view priceless! The 3rd floor unit (no worries, there's an elevator) looks out on the lush, fragrant grounds which are perfectly maintained, with views of the mountain (Mauna Loa or Mauna Kea?) and ocean. There are also 2 very comfy leather recliners for reading and relaxing. Location is within walking distance to the Hilton and a very short drive to the shops, restaurants and beaches of Waikoloa. Beach chairs (4), boogie boards (2), 2 coolers (1 large, 1 small), swim googles and snorkeling gear (not sure how many masks or fins, we didn't use them) are in the lanai closet. There's a watering hose by the recycling area in the parking lot to hose off sand and dirt. All appliances were in perfect working order, and we were pleasantly surprised to find some basic pantry items-spices, oil and vinegar,etc. The plumbing is a bit sluggish and the water highly chlorinated, but I suspect this is the case for most of the resort area, not a deal breaker, certainly. We highly recommend.
5 out of 5 stars
Great stay.
Review by
Lana M.
Excellent location, very clean unit and all facilities working. Great place.
5 out of 5 stars
Beautiful modern condo is affordable for a vacation in paradise.
Review by
Kathleen F.
This is our 2nd stay since we feel so comfortable here: Clean, nice updates, many amenities.
5 out of 5 stars
Great appartement for wonderful vacation.
Review by
Peter R.
Our family just loved the appartement. It was spacious, greatly equipped and modern. Everything was just fantastic, it couldn't be better. And the owner of the appartement was absolutely great, too. The pool was superb for our kids (and for us parents :)), it is really large and contains 2 whirlpools. The appartement is close to the beach and to two shopping malls. We definitely come back!
5 out of 5 stars
Destination Wedding Guest
Review by
Debbie P.
This was a fabulous rental place. I would recommend it to anyone. This unit came well equipped. We never got the chance to use any swim gear available, but the cooler came in handy. I wish it would have laundry soap available, but that was the only down side.
5 out of 5 stars
Very nice condo
Review by
Sibylle K.
This was a lovely rental. Very well appointed, very clean and very well situated. It is close to the pool/hottub, it has a great lanai. The kitchen is well appointed. It is on the top floor, which is very pleasant, and there is an elevator for when you arrive with large suitcases. It is right by the Hilton in Waikoloa and in close proximity of a grocery shop, shopping center, coffee shops and several restaurants (including the great lava lava on A beach) . and even a movie theater. Overall a very pleasant stay. Highly recommended.
5 out of 5 stars
6 days at Vistas Waikoloa B-302
Review by
Superb, clean and relaxing condo on top floor. Spacious and well equipped. Beautifully furnishedOnly missing a proper ovenNice to have beach chairs and boogie boards available at no charge10 minutes walk to the coast trail to A-Bay
5 out of 5 stars
Perfect stay
Review by
Greg S.
Was a great place to stay while on the Big Island. 10 minute walk to A-Bay and easy drive to other fantastic beaches (69 beach rocks!) Beautiful apartment with good size rooms and bathrooms. Loved the deck overlooking the pool, ocean and mountains. Would definitely stay again.
5 out of 5 stars
Beautiful Condo
Review by
First time on the Big Island and couldn't be happier with condo we chose to stay in during our visit. It's a beautiful condo and the location was great. It had everything we needed for our beach stay, I would highly recommend this beauty. We definitely will book again when we return to the Big Island.
5 out of 5 stars
Manager Response:
Thank you so much for staying with us! We are so happy you had a great vacation and loved the property. Come back soon! Mahalo, KCP Team
January-February 2018
Review by
Very enjoyable condo nicely decorated and great location. We have stayed at the Vista complex before and this condo is the nicest one we have been in. Nicely situated on the top floor with a partial ocean view and close to the elevator and parking. We enjoyed the backpack chairs and beach umbrellas. We had some difficulty figuring out the TV and appreciated managements quick response to help us! Nice looking forward lanai furniture but not very comfortable. Be sure to use the Hospitality App for latest updated condo codes.
5 out of 5 stars
Great stay at Vista Waikoloa
Review by
Gary G.
This was our second year in this condo. We love the location. It's close to bbq and pool and we aren't bothered by road noise. The property is in good condition with a couple of minor issues. Pull chain on toilet in guest bathroom disconnected several times. We had a couple of cockroaches to greet us but they weren't around after the first couple of days. We could have used a channel guide for tv. Our biggest complaint is the lack of cushions on the outdoor furniture. We like to sit outside and read and the furniture is very uncomfortable
5 out of 5 stars
Great Location - Excellent Vacation Rental
Review by
Michelle was very accommodating by permitting an early check-in . . . much appreciated!Property is exactly as advertised in the photos, upgraded, clean and very comfortable.Location is excellent, easy walk to Tropics Alehouse for Happy Hour!We would recommend and look forward to returning in the future.
5 out of 5 stars
We loved it!
Review by
Vassy E.
Our family had a wonderful time at Waikaloa Village. The unit was spacious, clean and well kept. The balcony was very big and had a great view of the ocean. As I sat there drinking my morning coffee I was visited quite often by the local birds. The beaches on this side of the island were spectacular. We would drive past the Marriott and the beach parking was right around the corner from there. Driving up the coast you will find many roads to beach accesses and some secluded pristine sandy beaches, most of them uncrowded and full of sea life. I would recommend the unit owners to supply more snorkel gear, since there was only one in the closet. In addition a few boogie boards were be great as well, since it makes no sense for vacationers to buy of bring these items. The only repair I recommended was the master shower because it was quite difficult turning it on and off and looks like a makeshift shower head that's just hanging from ceiling. You may also need to buy enough laundry detergent to wash all six beach towels prior to checkout, since that's what one of the specifics were upon checking out. The unit provided enough for maybe two loads, but towels are very large and washing machine is quite small and takes several loads to complete.There are great places to eat, especially in the shopping center near the condo. We also went to supermarket, Foodland and Costco. Overall it's a place I would visit again, it was paradise. Mahalo
5 out of 5 stars
Perfecct place to stay
Review by
Wonderful place for a get away
5 out of 5 stars
Perfection
Review by
Tom M.
Simply put everything here was perfect. Trust the pictures.Hardly anyone was even at the units so it was very quiet.I should put in something negative to prove the review is thoughtful, but there just isn't anything.The location is great. its 1/3 mile walk to A Bay past the anchialine ponds. Just in the bay is a good entry to some great snorkeling. Those who say A bay isn't great have only gone off the beach at the end of the bay. It's great in the outer bay.Waikoloa is very central to a lot of great beaches, some well known and some only local. Beach 69 (Waialea Bay) now has a parking lot as part of Hapuna SRA. 69 for snorkelling Hapuna for boogey boarding. A trail to Mauna Kea beach where there is great snorkelling. You have to night snorkel with the Manta Rays. Snorkeling is as good as Scuba. Shout out to Blue Wilderness Diving at Queens shop.Also check out beaches south such as Manini'owali Beach.On this end of the island check out hiking down into Pololu Valley (and up the far side) Better than Waipio ValleyMamalahoa Cave #3 on Old Mamaladhoa Highway past Waimea.
5 out of 5 stars
Beautiful Condo....Great Location
Review by
JoAnne K.
We loved this condo. It is beautiful and updated. It has everything you could need from a fully stocked kitchen to beach chairs and umbrella. It is about a 10 minute stroll to shops...or perhaps 15 minutes if you take the beautiful beach trail from the Hilton which is right across the road. It has a large Lani, with some ocean views, and views of the gardens and the pool. Michelle was also super accommodating with an early check in and we arranged a late check out (worth the fee!!)which with our late flight was wonderful.
5 out of 5 stars
Lovely stay!
Review by
Vista B302 is a beautiful unit, and we were very happy there. Beautifully furnished and kept in good condition. The kitchen was lightly stocked with bare essentials. We wondered if staff removes any leftover items between guests, because we certainly left more than was there when we arrived and presume other guests do as well. The location in to pool is wonderful. The location of the Vistas with relation to the beach and shopping is walkable, but we were wishing it was closer. We've finally decided that staying on the beach in Waikoloa is simply out of our price range, but we had fun exploring the various amazing beaches up and down the coast. We stayed at the Vistas with two other families whose units were in the E building. While we didn't experience this in the B building near the pool, our friends (in their 70s) actually received complaints about their noise level from owners of nearby units. They were strangely hostile and avoided direct communication. Honestly, it was disappointing to witness from aged adults. :/ We took away that the Vistas attracts owners who prefer to keep things on the quieter side, so perhaps it's not the best place for large groups. Again, we didn't have any issues when our group met at our unit or at the pool, so if you're considering Vista Waikoloa for your stay, B302 is a lovely choice.
5 out of 5 stars
Great condo for your family vacation to the Big Island!
Review by
Tanya (Toni) B.
The condo was very clean and updated. The kitchen was great. The air conditioner was convenient, but very loud at night. We loved the proximity to the pool and the view from the lanai. It was great having the beach chairs and coolers to use for trips to the beach. It would have been nice to have one more beach/pool towel (there were only 4 towels, but 5 people in our family). The fold out couch worked great for a 4th bed. The toilet in the master bath should be looked at. It often had trouble flushing. Overall, we were very happy with our stay at this property. Thank you!
5 out of 5 stars
Quite comfortable
Review by
Ruth H.
Very nice space in up scale area
5 out of 5 stars
Nice place
Review by
This was our second time staying at a place in the Waikoloa Vista condos. It is a great location for exploring the sunny side of the Big Island. The view from this condo is quite nice, the balcony provides significant extra room for the family to spread out, and the kitchen was well stocked with utensils.
5 out of 5 stars
Fantastic condo for family of 4
Review by
Sabrina Y.
Great location in waikoloa beach area. Would definitely stay here again if visiting the Big Island. Walking distance to Queens Marketplace and Kings shop. Rental property was very clean and nicely furnished. Also provided beach towels, beach chairs, cooler, and mats if you ventured off to the beach. Nice kitchen which has most everything you need if you wanted to cook a meal. This was our first time renting a condo for vacation, and would do it again.
5 out of 5 stars
Amazing Vacation rental
Review by
Wonderful rental in a perfect location!
5 out of 5 stars
Excellent condo and property
Review by
Tamara S.
We loved Vista Waikoloa. The condo was exactly what we wanted and how it was advertised. Great location. Very clean. Well stocked kitchen. We also appreciated the app and used it throughout our 10 day stay. Only small complaint was internet service was slow and spotty at times. We usually like to travel around to new venues and locations, but we're already talking about returning to this property next year.
5 out of 5 stars
Wonderful month
Review by
Gerard L. D.
Accommodations were great. Michelle was excellent
5 out of 5 stars
Wonderful property
Review by
Wonderful property. Clean. Very nicely decorated. Great location.
5 out of 5 stars
A very good experience
Review by
Carol N.
We were very happy with the location, management and condition of this unit. The outdoor patio furniture leaves a bit to be desired but interior was great. We had a wonderful week there. Would recommend this unit.
4 out of 5 stars
great location and codo
Review by
Beautiful lanai and view of the pool. The pool was a perfect temperature and the foliage around the 3rd floor condo made the condo feel like a tree house.
5 out of 5 stars
Contact Us