Vista Waikoloa D-102 (Condominium)
2 Bedroom(s) | 2 Bathroom(s) | Sleeps 6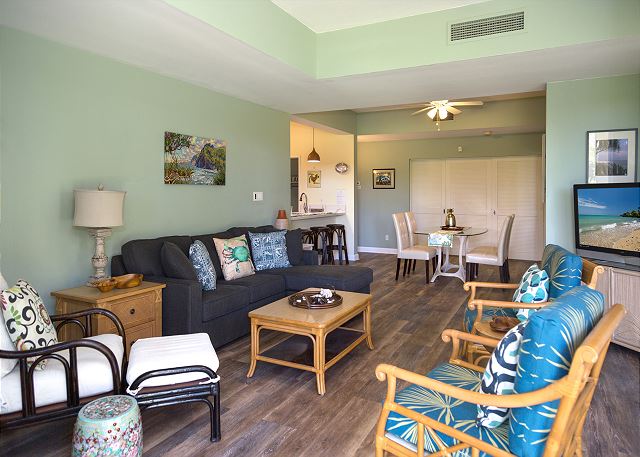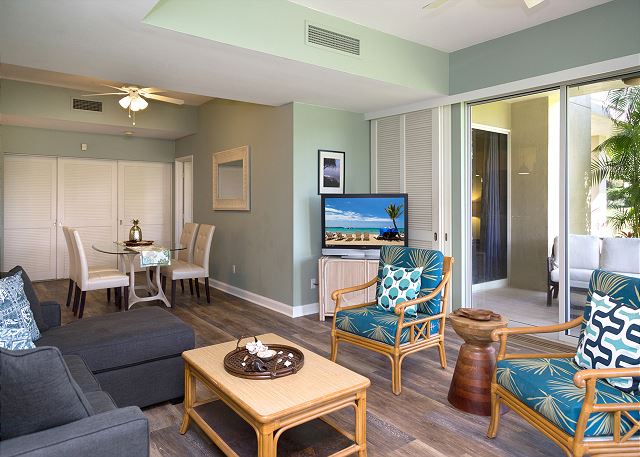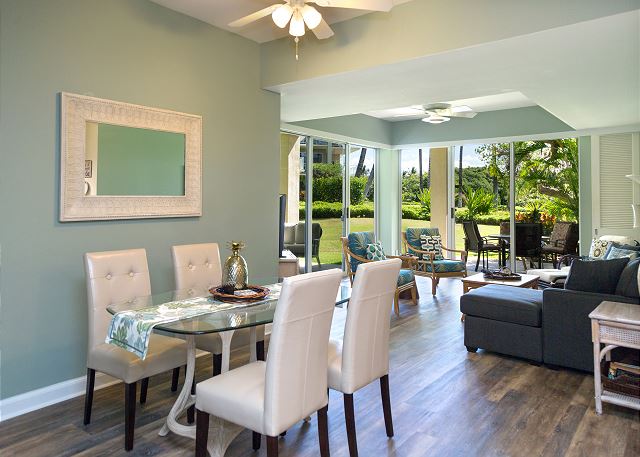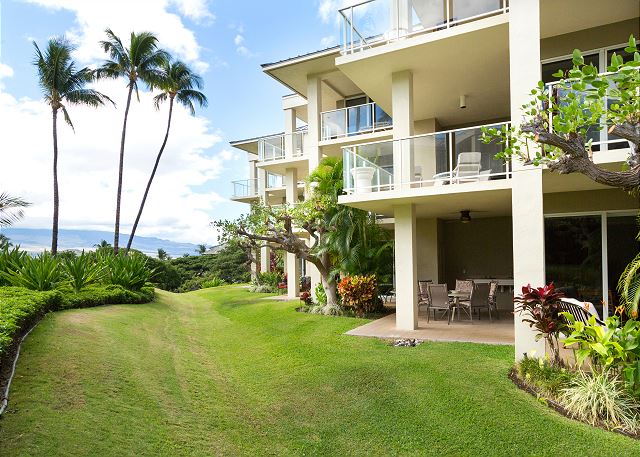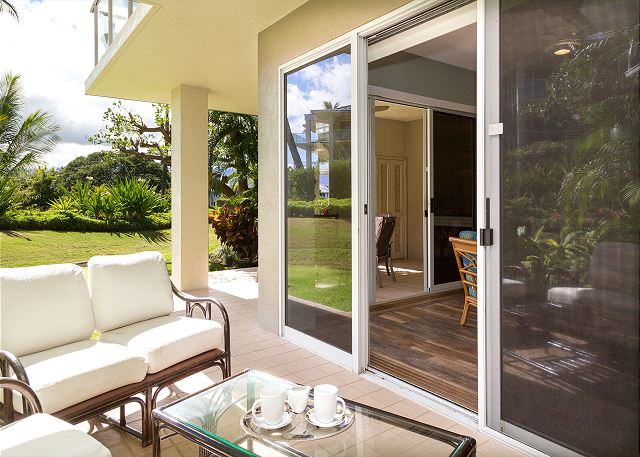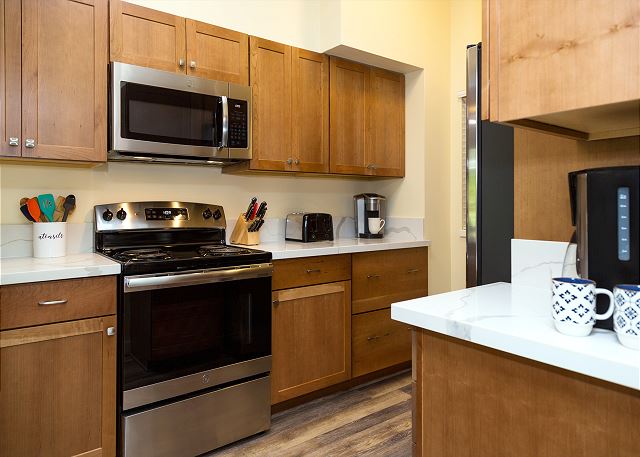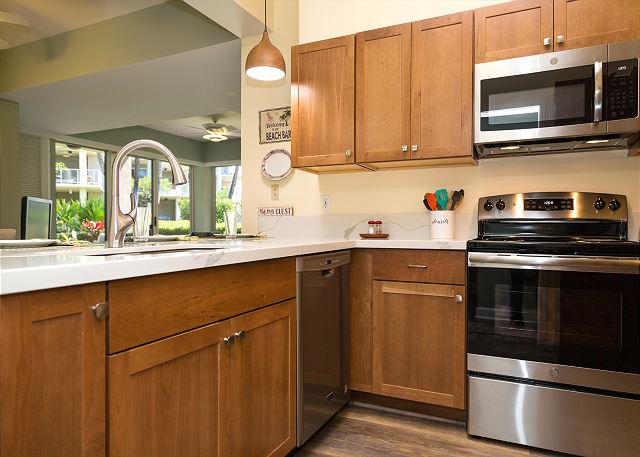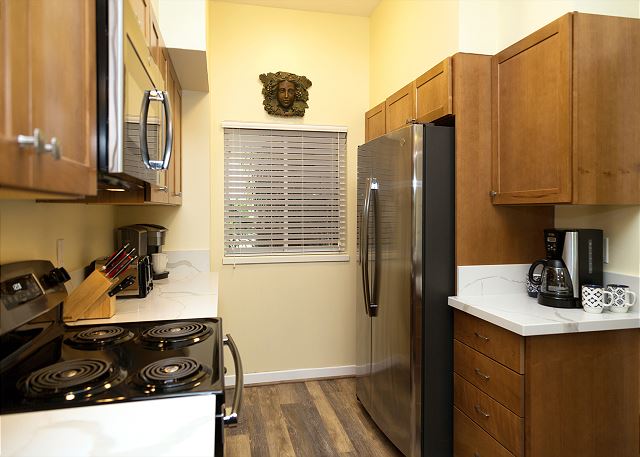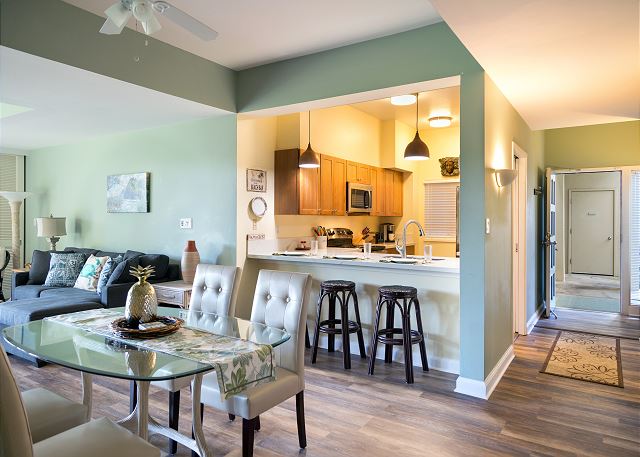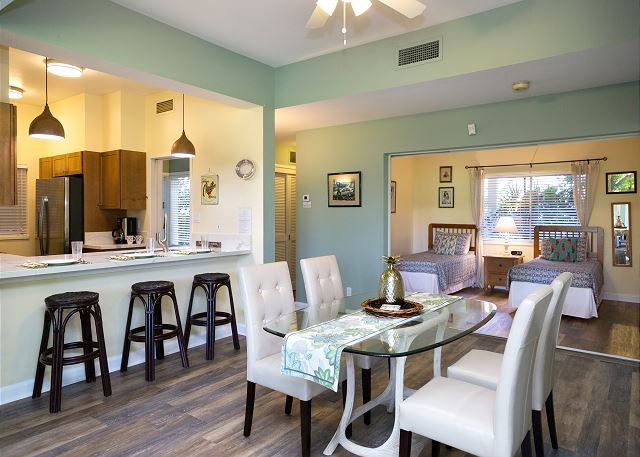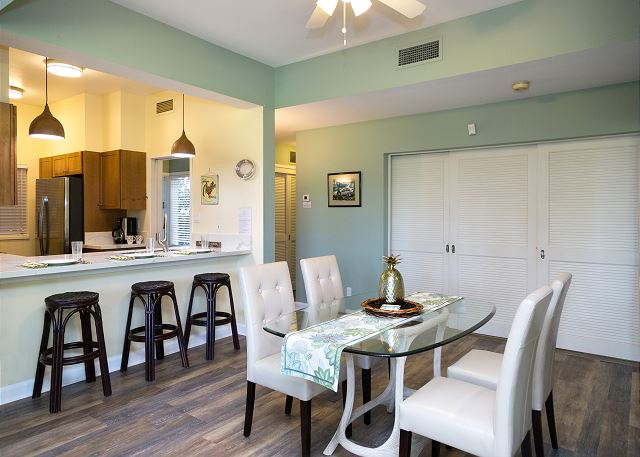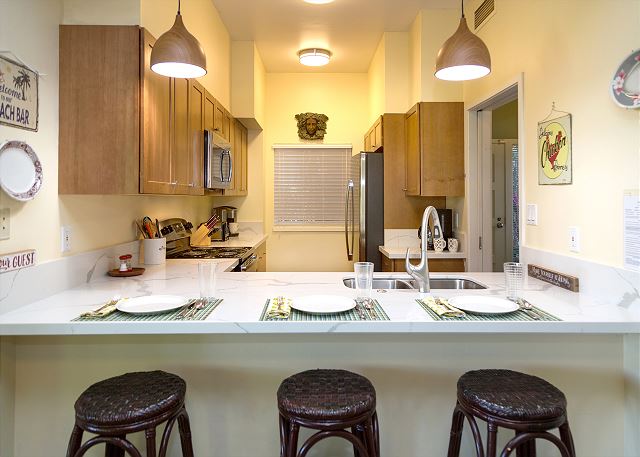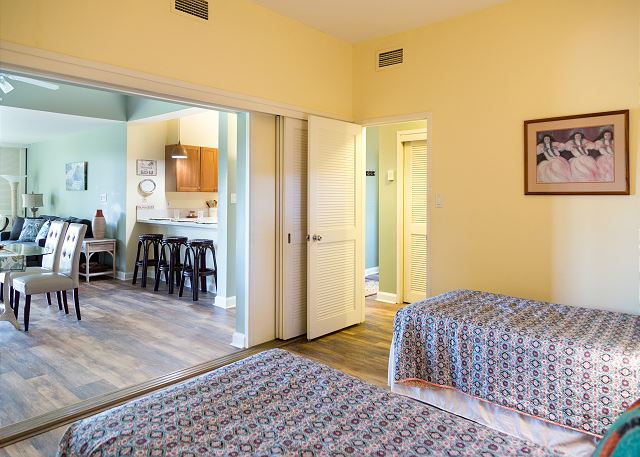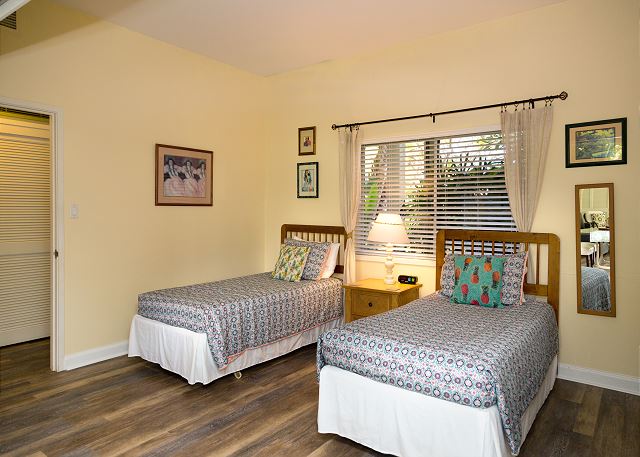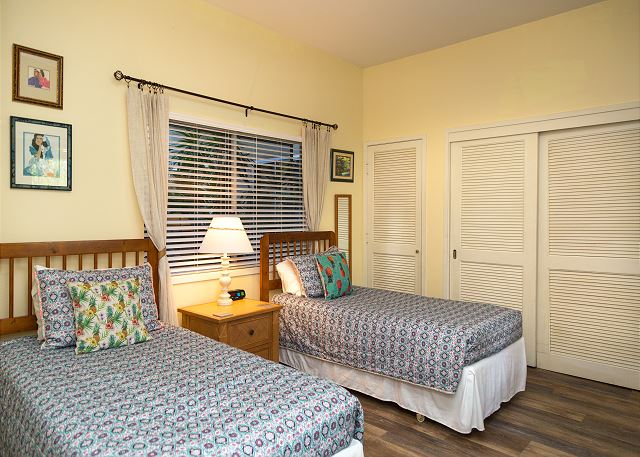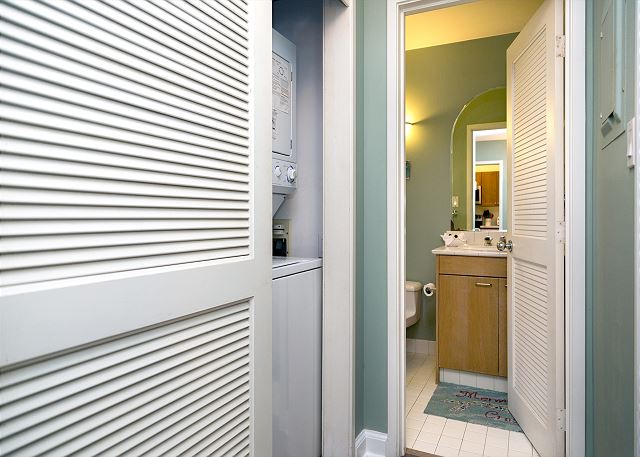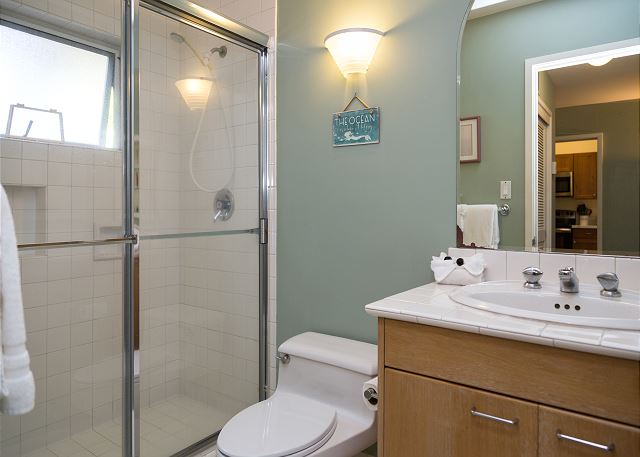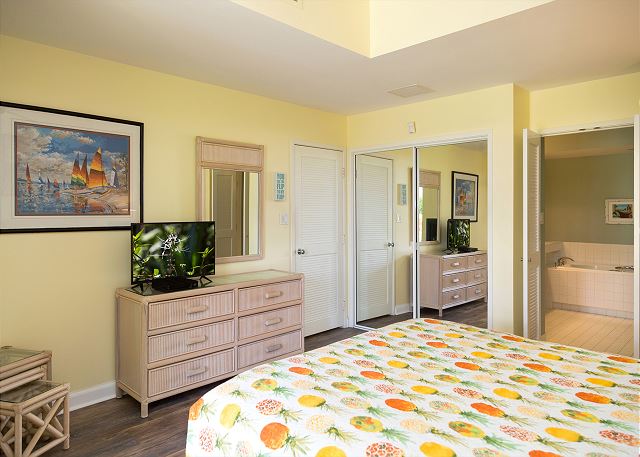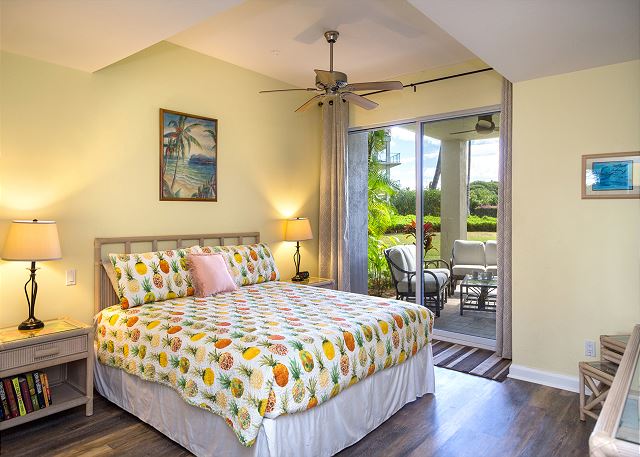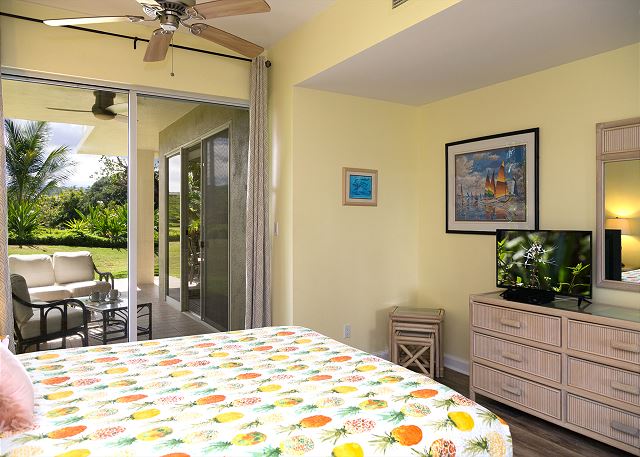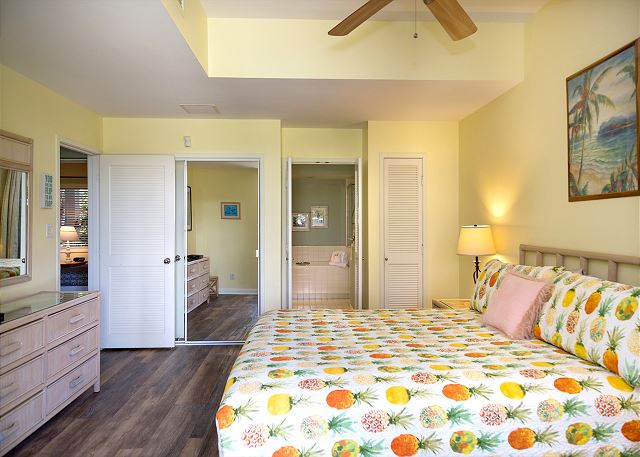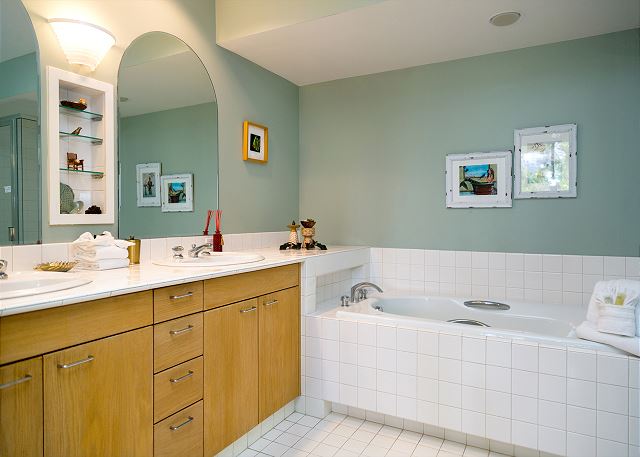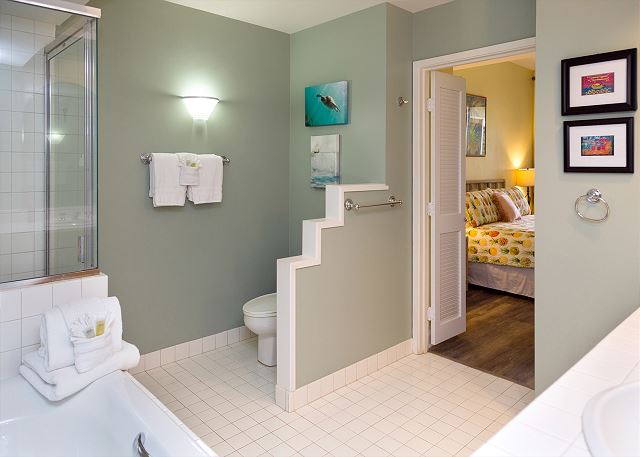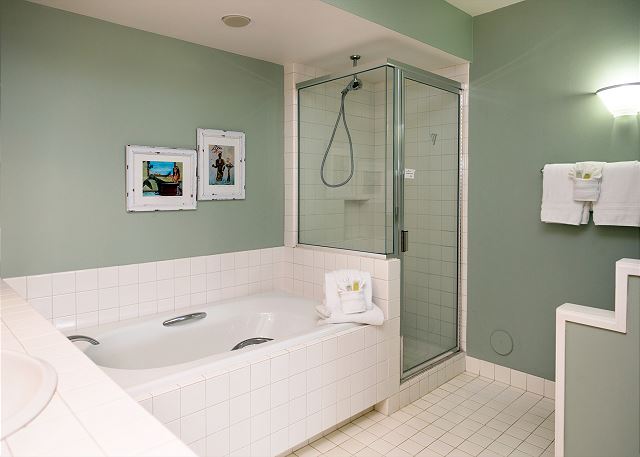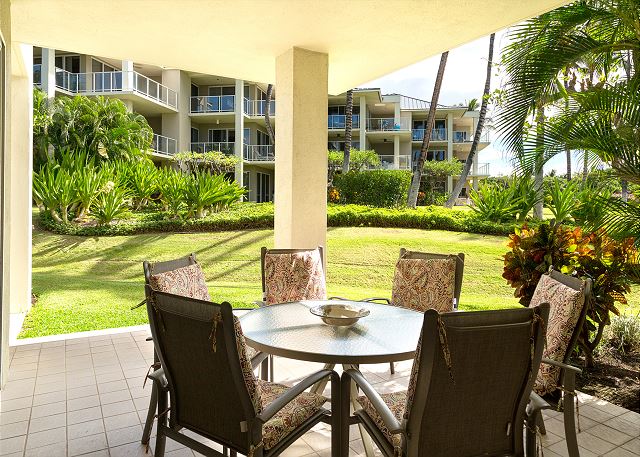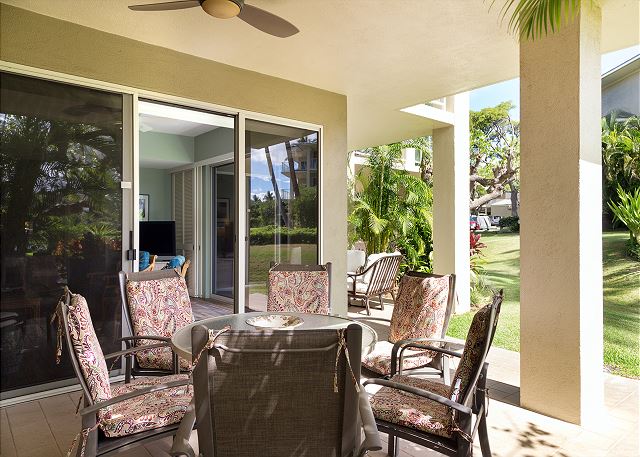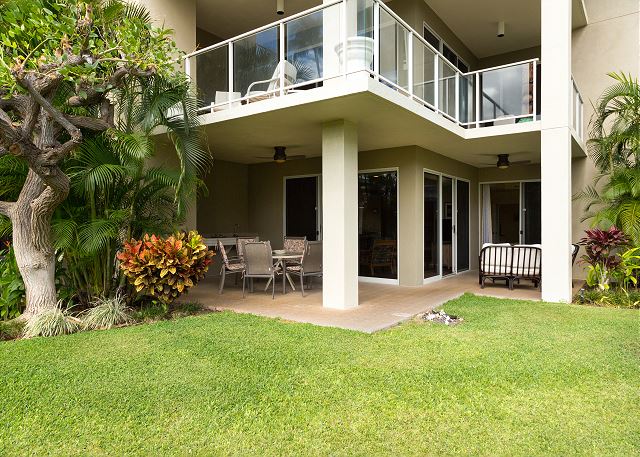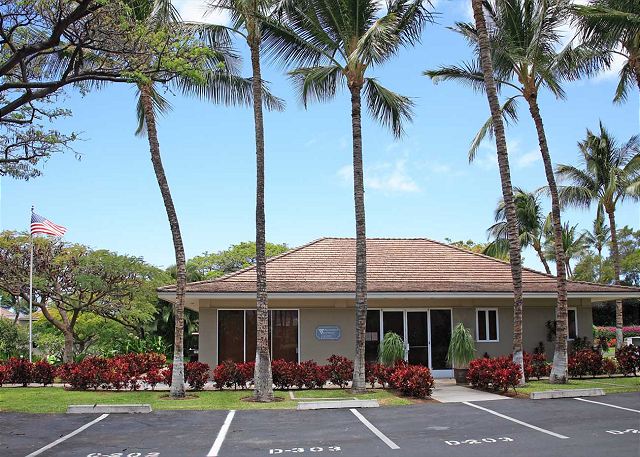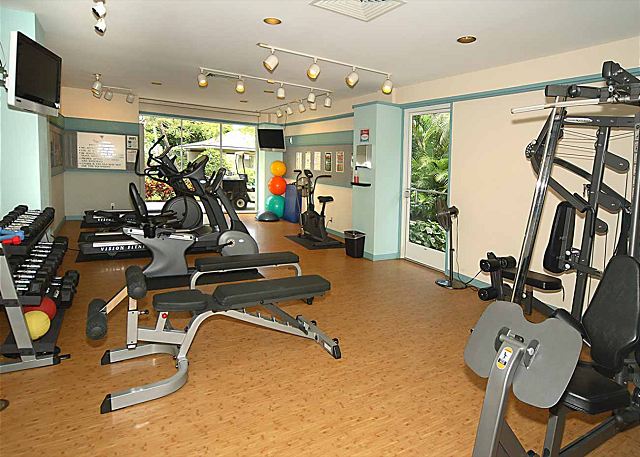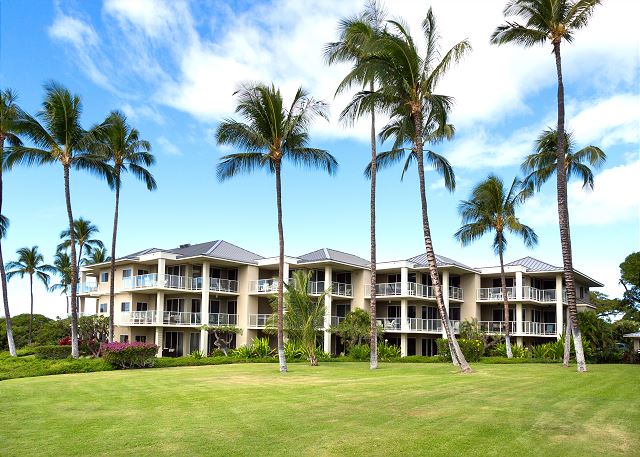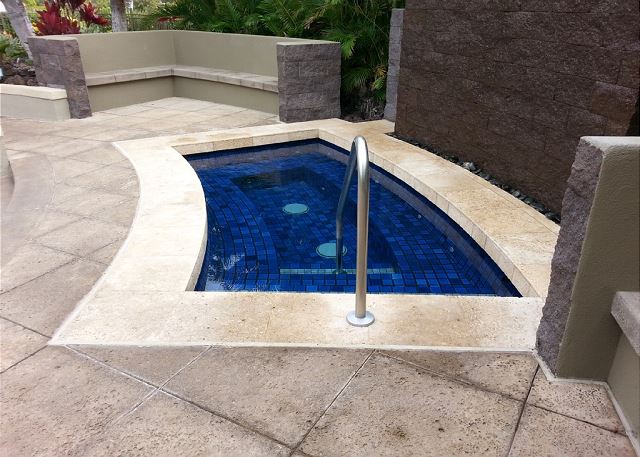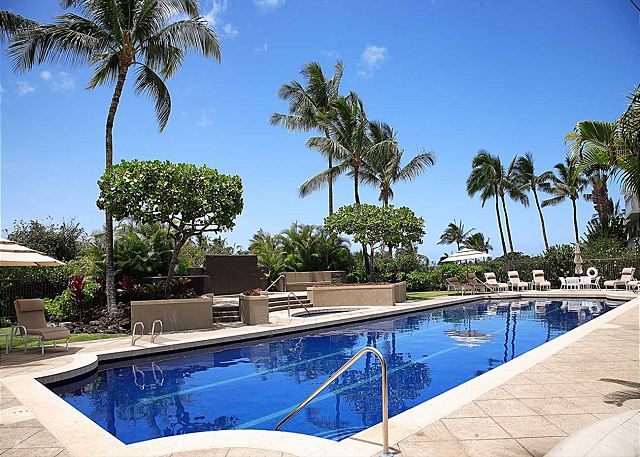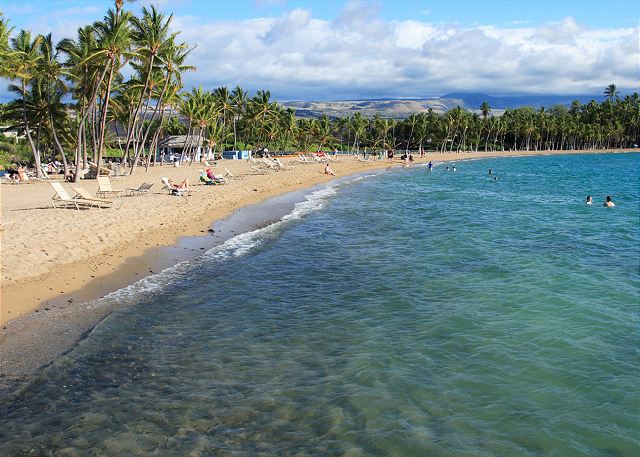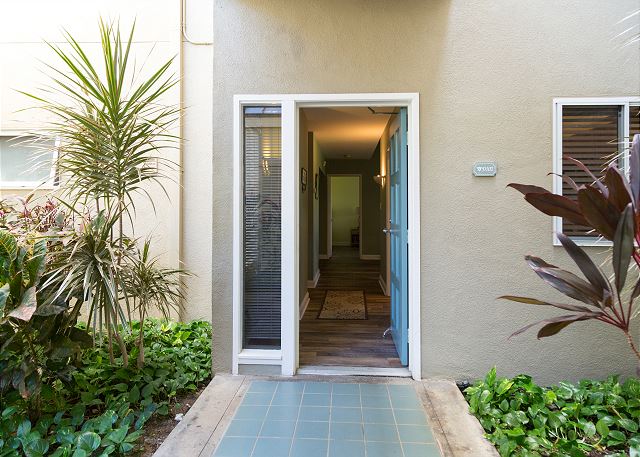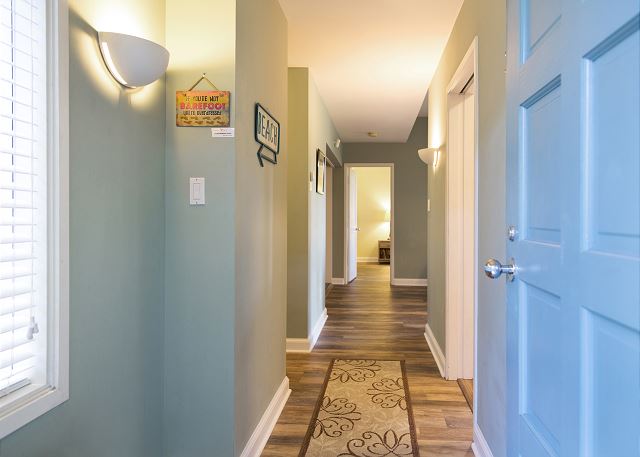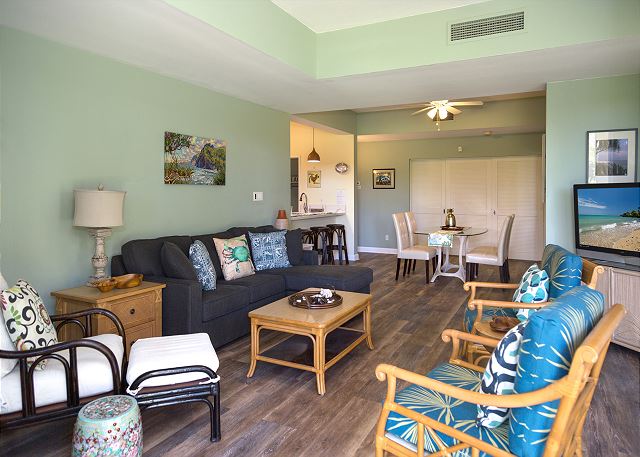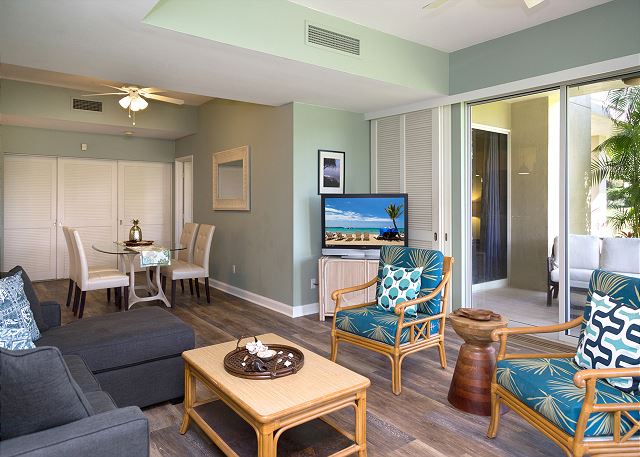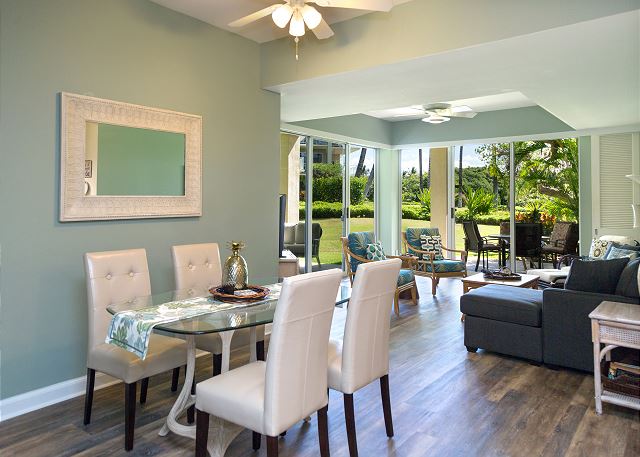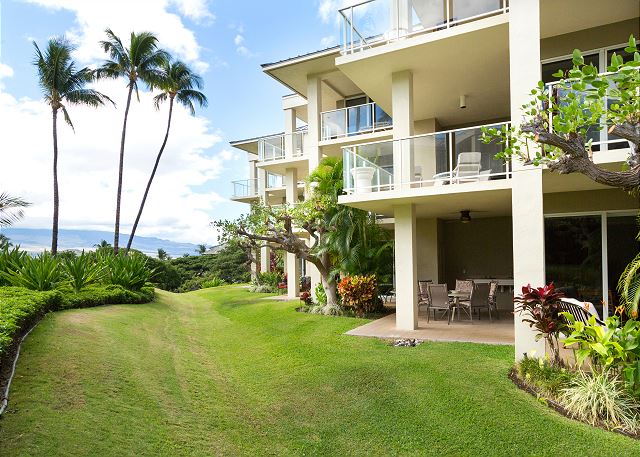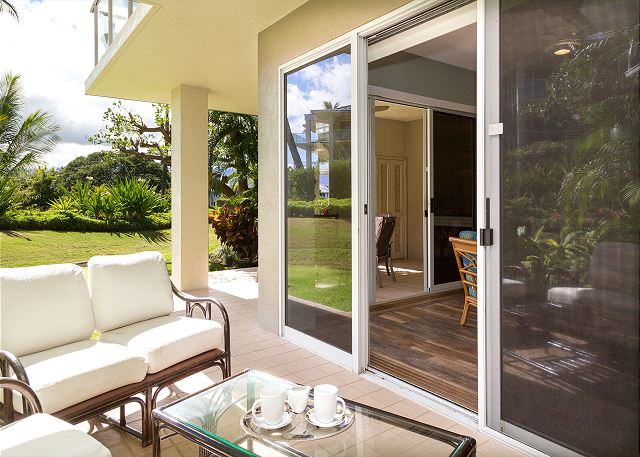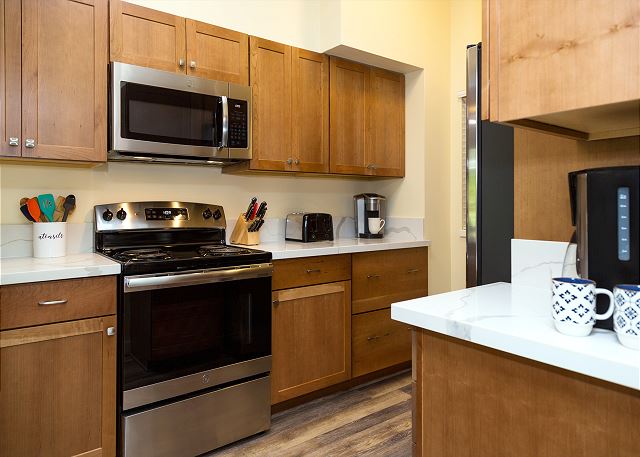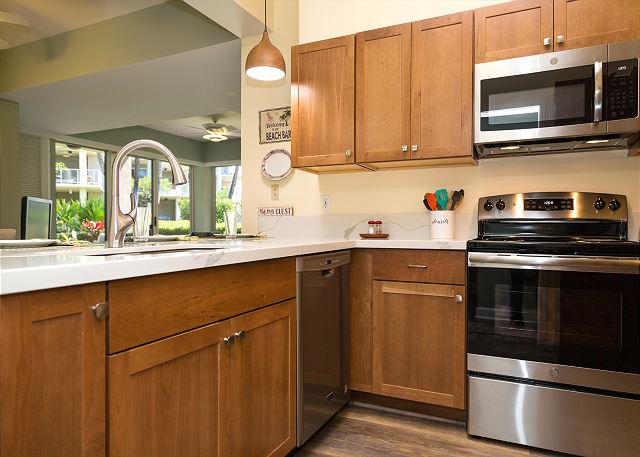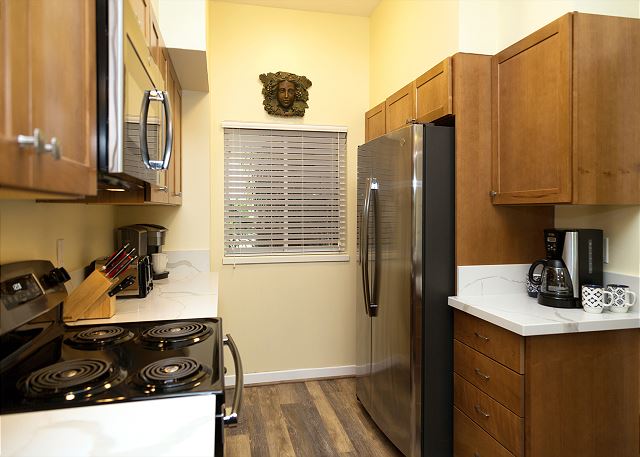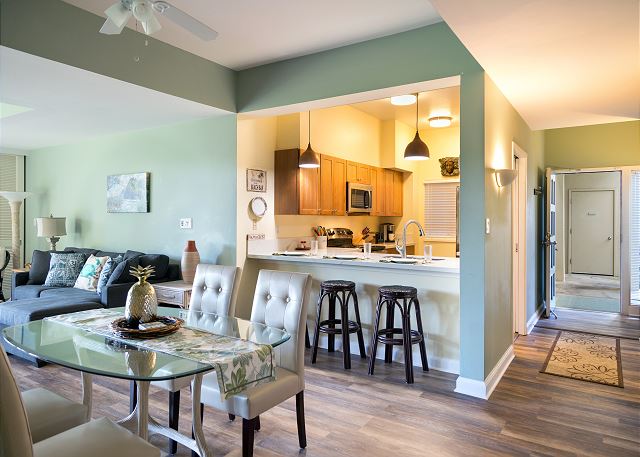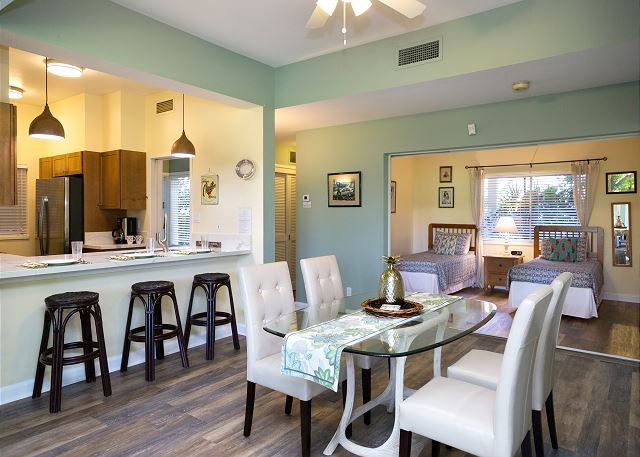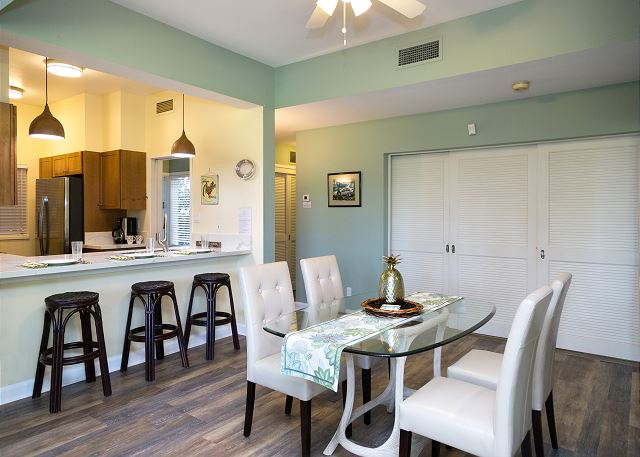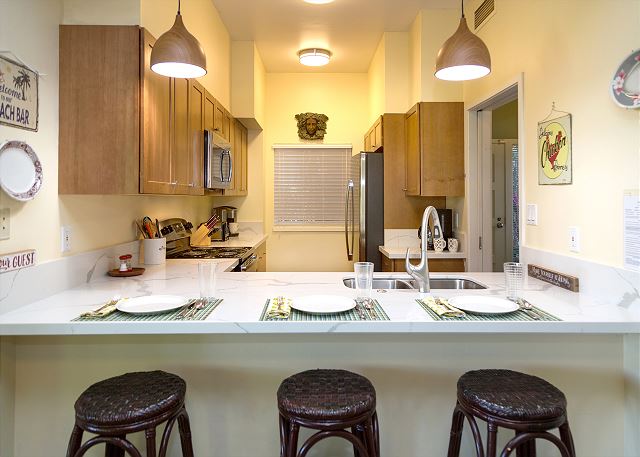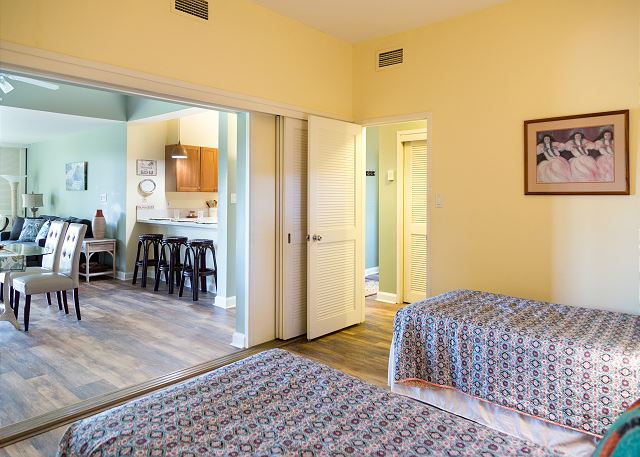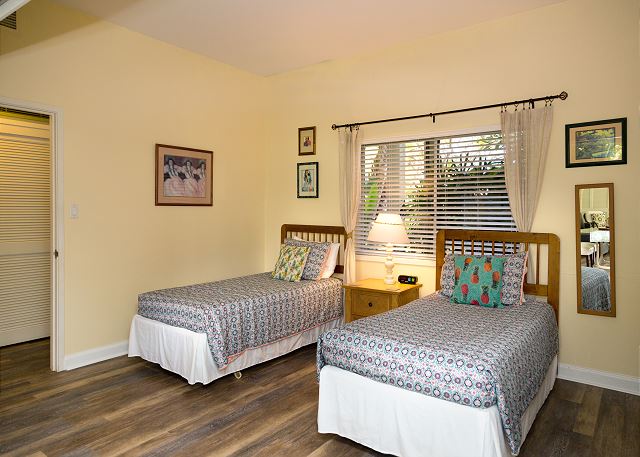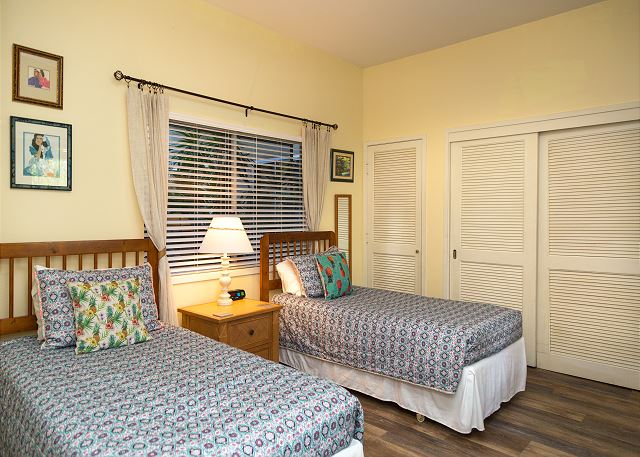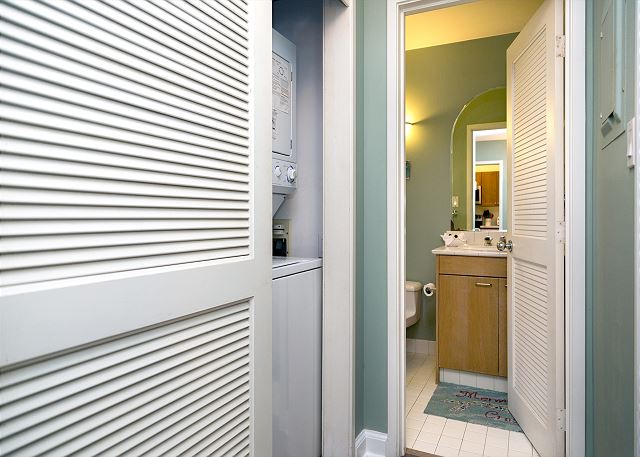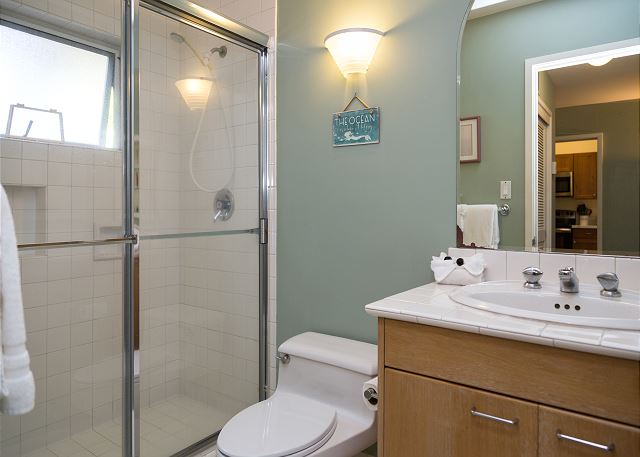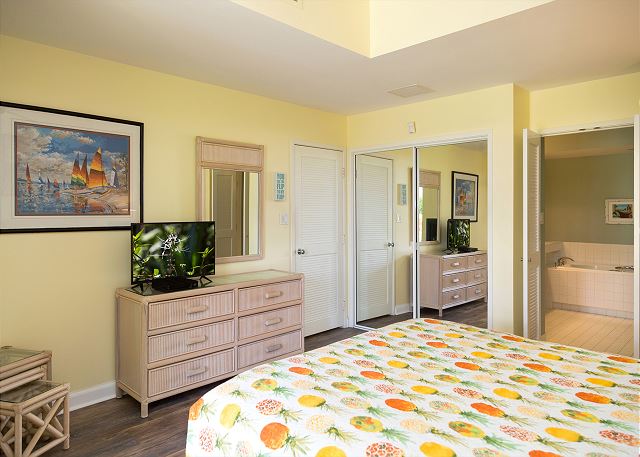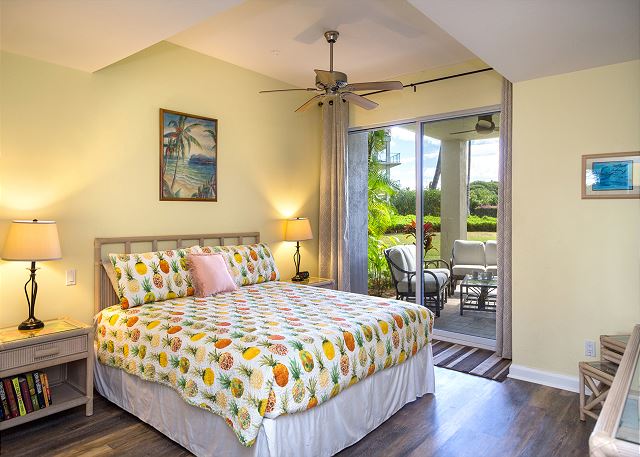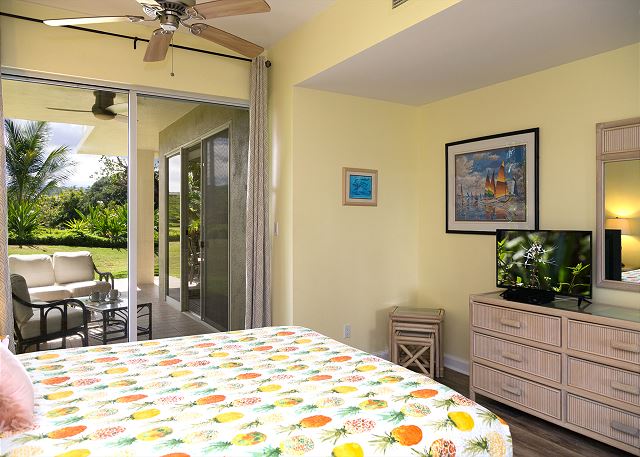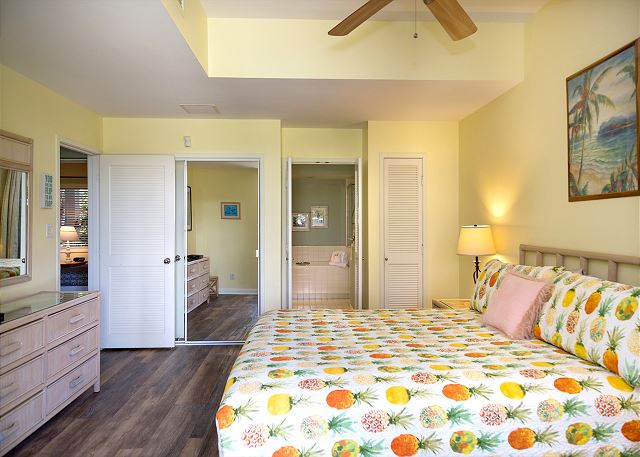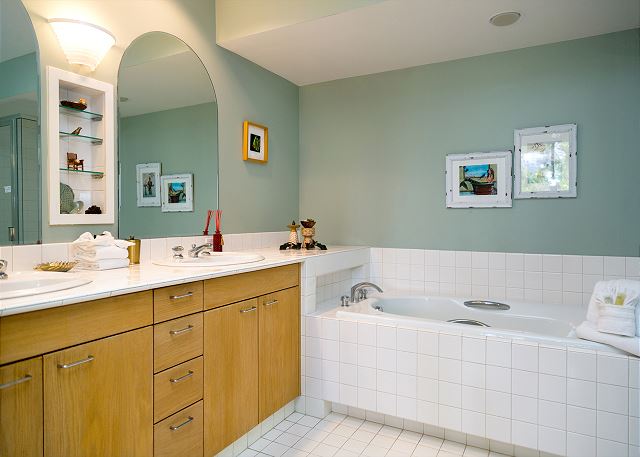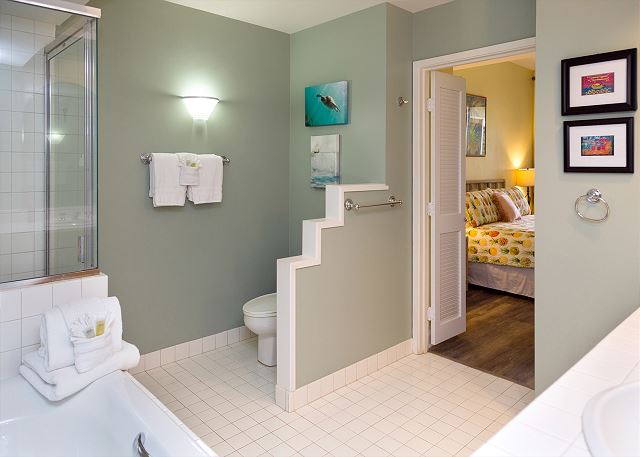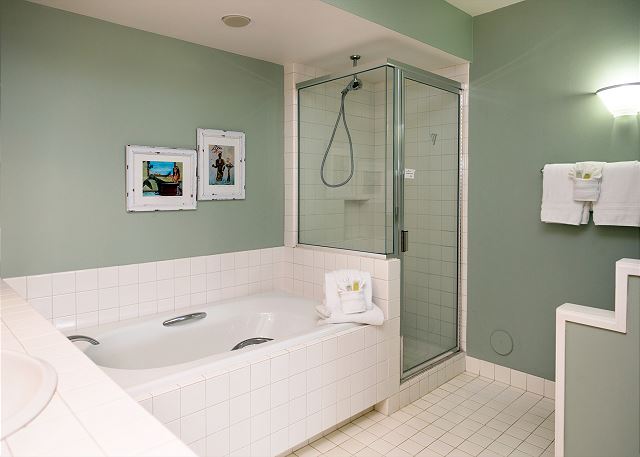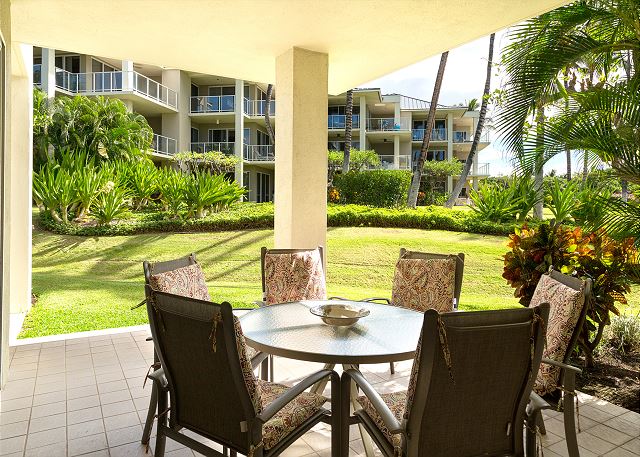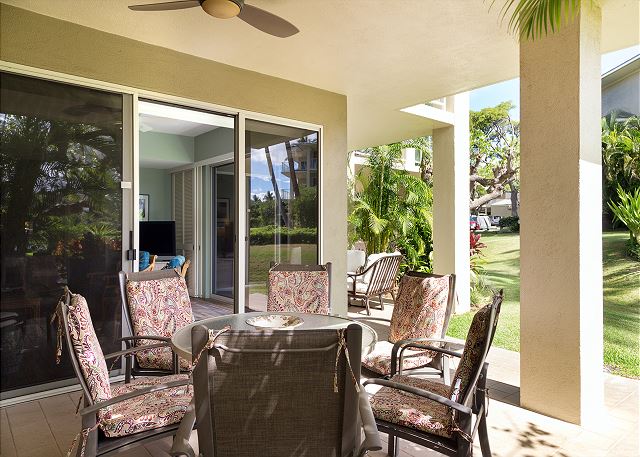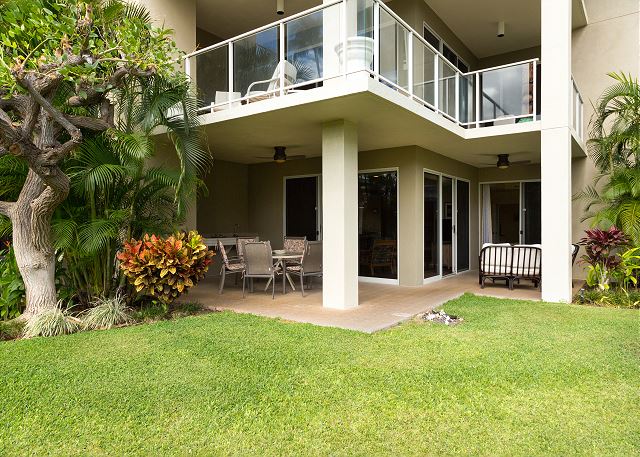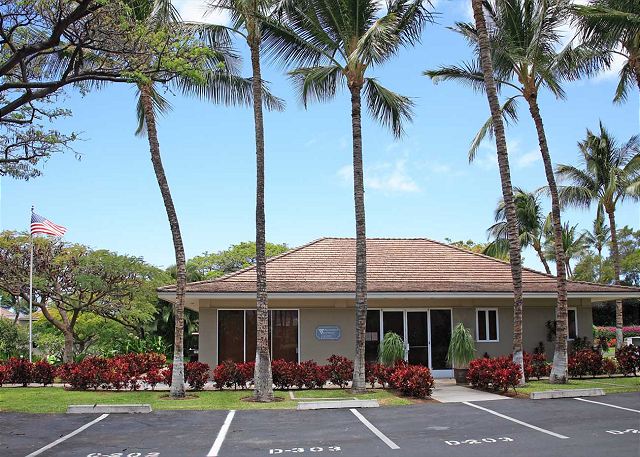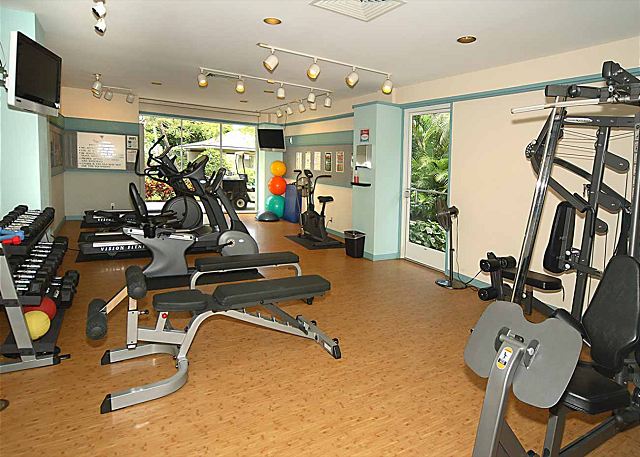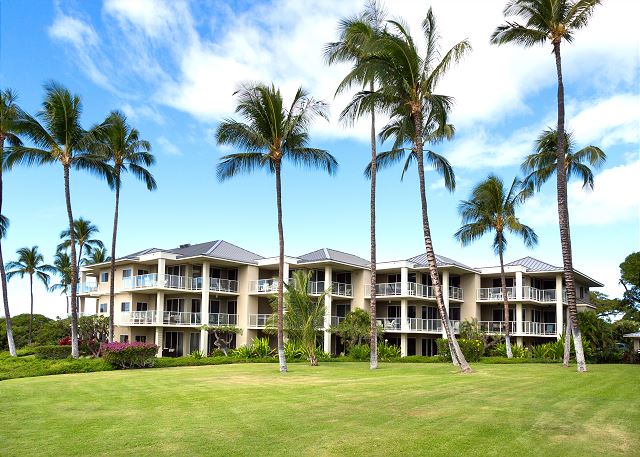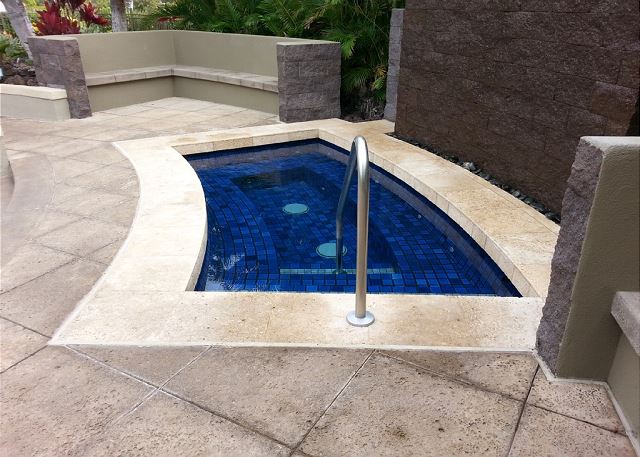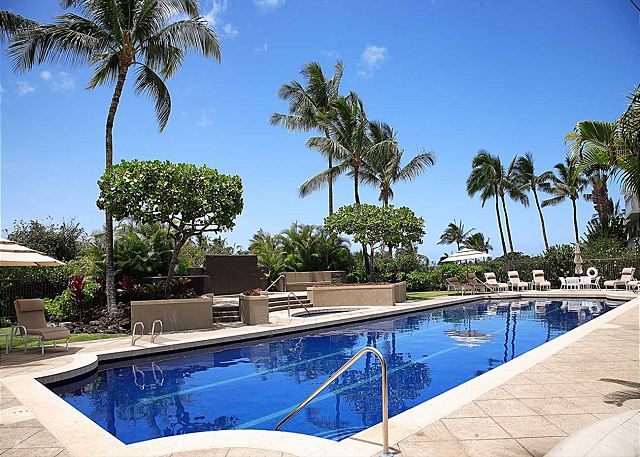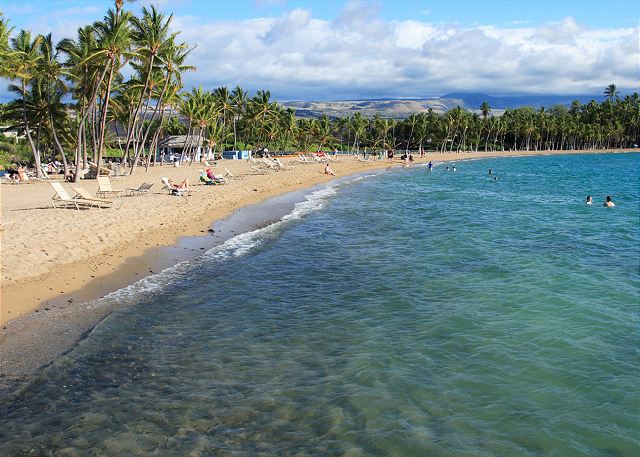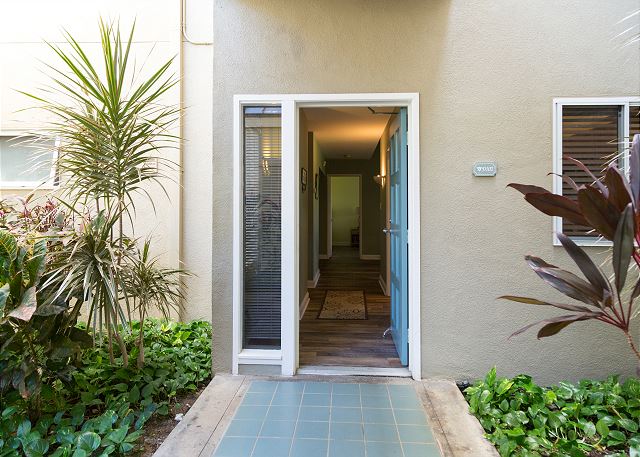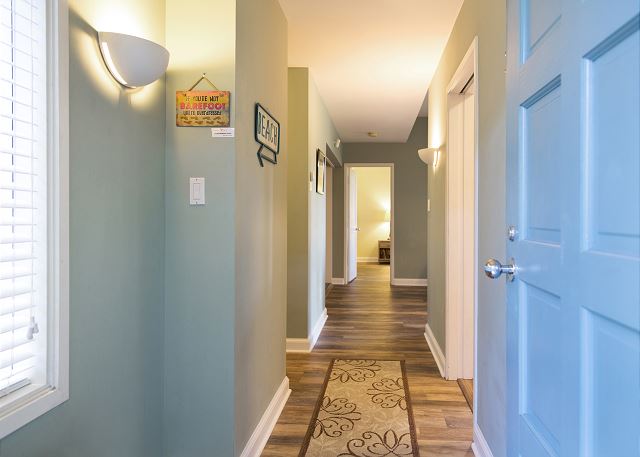 Description
Our beautiful villa has a fully equipped newly renovated kitchen to your convenience. New flooring installed throughout. The oversized flat screen has cable and a DVD player. Master bedroom has a king size bed with on suite full bathroom. Guest bedroom has 2 twin beds. The outside Lanai has a sink, a dinner table with 4 chairs and 2 lounge chairs to catch some sun!!! This is a very bright and sunny villa. It's done in beautiful colors and is extremely clean!!! It's has great lighting throughout the day and you seldom have to use the AC. The breeze is very pleasant. FREE WIFI AND PARKING.



The AAA 3-Diamond rated Vista condominiums are larger than most properties and have extra living space and ceiling fans for natural ventilation.



Just 20 minutes North of Kona International Airport, Vista Waikoloa resides in a unique and historic setting at Waikoloa Beach Resort. It is located in the center of the resort providing varied views and easy access to many of the resort's finest amenities. With a short walk you'll find a white sand beach ("A" Bay), the Hilton Waikoloa Resort, the Waikoloa Marriott Hotel, tennis courts, the beach trail, and the King's Shops.



The Vista's recreation center has a swimming pool large enough to appeal to the fitness lap swimmer, two whirlpools, changing rooms and plenty of space for just relaxing and getting a golden tan in the privacy of the Vista Waikoloa complex.



The Vista is a very special property. The is VERY VERY quiet and private. It's a safe gated community with many amenities. The newly renovated pool is known to one of the best on the island!!! It is salt water and has two huge hot tubs. One hot and the other hotter. It is a large pool with over stuffed new cushions on the lounge chairs. Guests that have stayed in here in the Vista's come back year after year!! They are the best built condo's in the Beach Resort. That makes them very private and you can't hear upstairs guests!!!



The Pavilion is a great place to enjoy the scenery while you BBQ. There four new BBQ's so waiting is never a problem. There are table, chairs and a little kitchen and ice maker.



The fitness room is all brand new and has cold AC. The office has everything you will need to attend to business if needed.



You can hear the Marriot Luau's drums and music a few times a week in the evenings!! Dining, Shopping and Live Entertainment are only a short walk to the Kings' Shops and Queens' Marketplace. The famous A-Bay beach is also a short walk!!



SPECIAL – Spend the day at the Hilton Waikoloa Village, you can buy a discounted DAY PASS to the pool/waterslide or relax at the spa with a SPA PASS. More info will be provided upon booking with us.



FREE WIFI

FREE PARKING

WASHER AND DRYER

BEACH CHAIRS, COOLER, BEACH TOWELS

BEACH/SWIM GEAR

A/C – CENTRAL AIR

BBQ AT POOL AREA

CLOSE TO POOL, BEACH, SHOPPING AND RESTAURANTS



This villa is cleaned by a professional cleaning company using EPA approved products for use against COVID-19. And cleaning process is following guidelines received from World Health Organization and the Centers for Disease Control.

For our guest that need to do the 14 day quarantine, we can provide grocery pick up and please inquire for more information.

Hawaii County ordinance to regulate Short-Term Vacation Rentals application for this property was accepted.



**** WE DO NOT TAKE WIRE/BANK TRANSFERS******



HAWAII SHORT TERM VACATION RENTAL# 19-375544

HAWAII GE/TAT TAX ID# 074-181-9392-01



TMK 6-9-007-009-0053
Calendar
October 2021

| S | M | T | W | T | F | S |
| --- | --- | --- | --- | --- | --- | --- |
| | | | | | 01 | 02 |
| 03 | 04 | 05 | 06 | 07 | 08 | 09 |
| 10 | 11 | 12 | 13 | 14 | 15 | 16 |
| 17 | 18 | 19 | 20 | 21 | 22 | 23 |
| 24 | 25 | 26 | 27 | 28 | 29 | 30 |
| 31 | | | | | | |
November 2021

| S | M | T | W | T | F | S |
| --- | --- | --- | --- | --- | --- | --- |
| | 01 | 02 | 03 | 04 | 05 | 06 |
| 07 | 08 | 09 | 10 | 11 | 12 | 13 |
| 14 | 15 | 16 | 17 | 18 | 19 | 20 |
| 21 | 22 | 23 | 24 | 25 | 26 | 27 |
| 28 | 29 | 30 | | | | |
December 2021

| S | M | T | W | T | F | S |
| --- | --- | --- | --- | --- | --- | --- |
| | | | 01 | 02 | 03 | 04 |
| 05 | 06 | 07 | 08 | 09 | 10 | 11 |
| 12 | 13 | 14 | 15 | 16 | 17 | 18 |
| 19 | 20 | 21 | 22 | 23 | 24 | 25 |
| 26 | 27 | 28 | 29 | 30 | 31 | |
January 2022

| S | M | T | W | T | F | S |
| --- | --- | --- | --- | --- | --- | --- |
| | | | | | | 01 |
| 02 | 03 | 04 | 05 | 06 | 07 | 08 |
| 09 | 10 | 11 | 12 | 13 | 14 | 15 |
| 16 | 17 | 18 | 19 | 20 | 21 | 22 |
| 23 | 24 | 25 | 26 | 27 | 28 | 29 |
| 30 | 31 | | | | | |
February 2022

| S | M | T | W | T | F | S |
| --- | --- | --- | --- | --- | --- | --- |
| | | 01 | 02 | 03 | 04 | 05 |
| 06 | 07 | 08 | 09 | 10 | 11 | 12 |
| 13 | 14 | 15 | 16 | 17 | 18 | 19 |
| 20 | 21 | 22 | 23 | 24 | 25 | 26 |
| 27 | 28 | | | | | |
March 2022

| S | M | T | W | T | F | S |
| --- | --- | --- | --- | --- | --- | --- |
| | | 01 | 02 | 03 | 04 | 05 |
| 06 | 07 | 08 | 09 | 10 | 11 | 12 |
| 13 | 14 | 15 | 16 | 17 | 18 | 19 |
| 20 | 21 | 22 | 23 | 24 | 25 | 26 |
| 27 | 28 | 29 | 30 | 31 | | |
April 2022

| S | M | T | W | T | F | S |
| --- | --- | --- | --- | --- | --- | --- |
| | | | | | 01 | 02 |
| 03 | 04 | 05 | 06 | 07 | 08 | 09 |
| 10 | 11 | 12 | 13 | 14 | 15 | 16 |
| 17 | 18 | 19 | 20 | 21 | 22 | 23 |
| 24 | 25 | 26 | 27 | 28 | 29 | 30 |
May 2022

| S | M | T | W | T | F | S |
| --- | --- | --- | --- | --- | --- | --- |
| 01 | 02 | 03 | 04 | 05 | 06 | 07 |
| 08 | 09 | 10 | 11 | 12 | 13 | 14 |
| 15 | 16 | 17 | 18 | 19 | 20 | 21 |
| 22 | 23 | 24 | 25 | 26 | 27 | 28 |
| 29 | 30 | 31 | | | | |
June 2022

| S | M | T | W | T | F | S |
| --- | --- | --- | --- | --- | --- | --- |
| | | | 01 | 02 | 03 | 04 |
| 05 | 06 | 07 | 08 | 09 | 10 | 11 |
| 12 | 13 | 14 | 15 | 16 | 17 | 18 |
| 19 | 20 | 21 | 22 | 23 | 24 | 25 |
| 26 | 27 | 28 | 29 | 30 | | |
July 2022

| S | M | T | W | T | F | S |
| --- | --- | --- | --- | --- | --- | --- |
| | | | | | 01 | 02 |
| 03 | 04 | 05 | 06 | 07 | 08 | 09 |
| 10 | 11 | 12 | 13 | 14 | 15 | 16 |
| 17 | 18 | 19 | 20 | 21 | 22 | 23 |
| 24 | 25 | 26 | 27 | 28 | 29 | 30 |
| 31 | | | | | | |
August 2022

| S | M | T | W | T | F | S |
| --- | --- | --- | --- | --- | --- | --- |
| | 01 | 02 | 03 | 04 | 05 | 06 |
| 07 | 08 | 09 | 10 | 11 | 12 | 13 |
| 14 | 15 | 16 | 17 | 18 | 19 | 20 |
| 21 | 22 | 23 | 24 | 25 | 26 | 27 |
| 28 | 29 | 30 | 31 | | | |
September 2022

| S | M | T | W | T | F | S |
| --- | --- | --- | --- | --- | --- | --- |
| | | | | 01 | 02 | 03 |
| 04 | 05 | 06 | 07 | 08 | 09 | 10 |
| 11 | 12 | 13 | 14 | 15 | 16 | 17 |
| 18 | 19 | 20 | 21 | 22 | 23 | 24 |
| 25 | 26 | 27 | 28 | 29 | 30 | |
Available
Unavailable
Check-In Only
Check-Out Only
Seasonal Rates
| Date Range | Daily | Weekly | Monthly |
| --- | --- | --- | --- |
* Seasonal rates are only estimates and do not reflect taxes or additional fees.
Location
Guest Reviews of
Vista Waikoloa D-102
Waikoloa, HI
---
Vacation Rental Reviews by
stars based on
Great location, nice property
Review by
Patricia S.
We are a family of 4 and had a wonderful stay. The location is great although we recommend a rental car and the condo is beautifully decorated and equipped with beach toys, towels and boogie boards. The pool, one of the kids' favorites, is a very short walk and we enjoyed having the big patio and lawn just outside the living room. Communication with Michelle was great.
4 out of 5 stars
Wonderful Stay in Beautiful condo
Review by
Christine S.
My mother, young daughter, and I had a great stay in this beautiful condo. It is very spacious and comfortable. We had an issue with the lock when we first arrived, but we fixed it and didn't have any trouble after that first day. Also, we couldn't figure out the dining room lights but that may have been user error. The beds are super comfortable and the outdoor area was wonderful for breakfast every morning and for my daughter to run around on the grass. The pool and hot tubs were also very nice. I would highly recommend.
4 out of 5 stars
Lovely Beach Vibe
Review by
Kim L.
Loved the colors and flooring. Ground level so was very accessible for my parents.
5 out of 5 stars
Great condo
Review by
Karolina K.
Great place to stay, the apartment was very clean, the furniture and beds were in good shape, I liked that there was a hard floor. The kitchen was well equipped. The air conditioning was a bit noisy but other than that a great place to stay! I have not seen the swimming pool but I have not looked for it because the beaches were beautiful.
5 out of 5 stars
Very beautiful
Review by
Michael C.
This was very beautiful and staff were amazing.
5 out of 5 stars
Manager Response:
We appreciate our vacation guests and want to make your stay the best ever. Please come back soon and stay with Kohala Coast Vacation rentals on the Beautiful Big Island!
First time on Big Island
Review by
Tatyana F.
The rental had everything we needed,very spacious, the grounds are beautiful and when I had a question/request, I quickly got an answer from the management. The surrounding resort area had the shopping and dining. The nearby beach is great as well and was perfect for my kids, the waves were mellow and the water perfectly warm. We had a wonderful stay and would definitely stay at this property again.
5 out of 5 stars
Great Stay!
Review by
Bert W.
Nice ground level condo. As advertised. Kohala Coast Properties was very responsive and flexible. Highly recommend.
5 out of 5 stars
Great location, clean condo
Review by
Jennifer S.
The condo is very spacious and worked well for us and our 2 small children. The condo had just about everything you needed for a great vacation. The mattresses were getting a bit wore out and could use to be replaced. In all it was very clean and a great place to stay.
5 out of 5 stars
great place
Review by
Dipali K.
very nice
5 out of 5 stars
Review Claire
Review by
Claire L.
It was very nice; the appartment was perfect
4 out of 5 stars
Stay at Vista Waikoloa
Review by
Lisa B.
The house was beautifully presented. It was clean, tidy and with all the amenities we required. Our family enjoyed the surroundings and were able to enjoy the sites as there was dedicated parking available. Over all, an awesome holiday on Big Island!
4 out of 5 stars
Great location and comfort
Review by
Great location and comfort
5 out of 5 stars
Good family spot
Review by
Great location. Overall kid friendly. Unit was great for our family of 5 (Two adults and three kids).
4 out of 5 stars
Beautiful location
Review by
Very bright, spacious condo in an excellent location with beautiful facilities. We had a few issues, most were addressed promptly by Marissa (thank you!!). There was no land-line (an issue for Canadians who have costly roaming plans) not all the beach gear was available as described..chairs, umbrella and cooler were provided on request. There were boogie boards, inflatables, snorkels and fins, but no masks. Unfortunately, the screen doors need adjustment - they did not close completely so we had some unwanted visitors that managed to crawl in (a giant centipede!)! It also meant that we did not leave the doors open as much as we wished to. Beautiful lanais, grounds, and walking distance to beaches & shopping. The kitchen appliances are getting old, but the basics were there. We are missing watching the sun rise with our breakfasts on the lanai Thank you!
4 out of 5 stars
Fantastic
Review by
Patti W.
Were some problems when we arrived and the management was awesome and took care of all issues immediately. Already recommended the property to friends. P
5 out of 5 stars
Waikoloa dive on
Review by
Steven O.
The 2 BR / 2 Ba ground floor condo met all our needs and wants. The pool is wonderful for daily lap swimming because saltwater, 25 yards and heated. The location is a short walk or drive to beach, shops, Lava Lava Beach club, and activities. The condo has six great grills for man food pre to give the ladies a break. We dove Blue wilderness was tops for scuba diving get the 10 dive pack a real deal. We will return. This trip ws 10 weeks in Hawaii. Three at Puna rain forest, 3 wave crest Molokai, 4 Waikoloa, 5 days B&B Kona. Waikoloa is vety easy to enjoy.
5 out of 5 stars
Waikoloa lodging at Vista Condos
Review by
Dave P.
Excellent Accomodations....After spending some days on the South of the island (hiking Volcano NP, etc), we relocated to the Vista condo at Waikoloa. The place was just perfect for our needs.. actually much more spacious than required as most of the days we were out at beaches or hiking. Beds were comfortable, plenty of space and quiet and clean, nice pool and Jacuzzis. Only a couple of minor issues.. one of the sliding doors to the lanai was very difficult to slide and lock (just out of adjustment)and the cleaning fee was a quite steep in my opinion at $150 for a 4 days stay. Also, there was remodel construction going on across the courtyard (tile cutting all day long) so we weren't able to use the outdoor lanai table for lunch or breakfast which would have been nice... As it turned out, we needed one more night as we were flying out the day after our reservation ended (we knew the condo was booked going into the rental) and Michelle went WAY BEYOND what I would ever have expected in providing assistance and suggestions on alternative options. She was absolutely EXCELLENT and her efforts were truly appreciated. She even texted some suggestions to me at 9pm to try to help out. Thank you Michelle! All in all a great place to stay and we will probably be back!
5 out of 5 stars
My recent trip to Paradise
Review by
Loren K.
I recently had the opportunity to spend eight nights at Kohala Coast Properties Inc. The unit was spacious, and immaculate. The furnishings were tastefully appointed. I recently retired from our family furniture business, with a degree in Interior Design, so I am well aware of how nicely a place can look.Bravo!!!!!
5 out of 5 stars
Kona paradise
Review by
Darcy B.
Great Experience. The app was extremely useful putting all necessary information in one place. The accomodations were excellent and in a perfect location.
5 out of 5 stars
Wonderful stay
Review by
Richard H.
Vista Waikaloa condo is a fantastic property. The location is centrally located to the beach, restaurants, shopping, groceries and the Hilton. The grounds of the property is very clean and beautifully landscaped. The pool is large and great for swimming laps. The unit itself is very spacious. Clean and bright. The buildings are made of solid concrete so there was almost no noise from other units. The décor is somewhat dated and some of the kitchen utensils and cookware could use replacing. Having said that I would not hesitate to rent this unit again.
4 out of 5 stars
Great location !!.Great customer Service !!
Review by
Ronald P.
Wonderful!! we had exceptional assistance from Melissa, who was very attentive to all our needs.We certainly recommend you company, the few issues we had were hanled very professionally..thank you !!....the room was OK clean, (carpet needs to be replaced)..other than that issue, nice quiet location, the cleaning crew came back initally to do some spot cleaning, overall...a very good experience. Please extend our special "THANK YOU" to Melissa...take care, the Paton's
4 out of 5 stars
Business
Review by
Derek W.
Great place. Was on business for 3 days and needed a little more time and they worked with me to accommodate my needs.
5 out of 5 stars
The grounds were lovely and close to everything .
Review by
Janet W.
Close to most everything. 18 miles from airport and not in a congested area like Kona.SHop and get gasoline at Costco if possible. The volcano was active and the stars were awesome from the Mauna Kea telescope area that is free nightly from 6 to 10 p.s. WEAR warm clothing at 9300 ft up. The unit itself was in working condition except for refrigerator which was fixed the following day! Needs a few carrying trays for those who enjoy patio eating.Pool and spa were nice and outside BBQ working.
4 out of 5 stars
Great condo and location but....
Review by
Mary S.
The condo itself and location were great but the place was not clean. We had to wash dishes before using them. Most of the linens were grey and needed bleaching. The rugs and blinds all needed a thorough cleaning.
3 out of 5 stars
condo rentel
Review by
MIke and Deidre M.
It needs a new fridge and the pool was a little warm but everything was great and we realy enjoyed our stay.
4 out of 5 stars
Wonderful value!
Review by
Larry G.
I would stay again if in the area. Enjoying to say the least and overall a 90 out of a 100%
5 out of 5 stars
Vista Waikoloa D102
Review by
We rented this property because of the price. The location and the resort were outstanding. Meticulously groomed grounds outstanding pool area. The Condo itself is in need of some attention. (again we paid half the price of the condo just above us) The light colored carpets were very stained. The air conditioning was non existent. The fridge took 3 days to get cool and leaked water. The toilets only flushed if you held down the lever the whole time.
4 out of 5 stars
d 102
Review by
Alesia was very professional and thorough and attentive to our every need.
4 out of 5 stars
Vista's D102
Review by
Joanne K.
Hello, this is a great unit for the price, a little dated in decor, carpet and kitchen. Great layout and location of the unit,it's light and bright, with a great outdoor space. Also, the condo area in Kona is great, close to everything, we had a car and friends were staying in Mauna Lani that's where we spend most of our time. We are two women in our 50's but this could work well for a family. We didn't cook in the unit so not sure how well equiped it is for cooking meals. One suggestion for property management is letting guests know it located between Marriott and Hilton Hotels. The weather was beautiful and Kona beaches so pretty.
5 out of 5 stars
Excellent communication and great place!
Review by
Lashika M.
Stayed here during a conference. Replies from management to queries given within a day. Lovely condo, especially the master bedroom w/ ensuite.
5 out of 5 stars
We took Alesia Krueger's suggestion to stay at that property and it was wonderfull!! it was close to the pool and the pavilion.
Review by
Pricilla A.
We would certainly stay at your properties again.
5 out of 5 stars
Contact Us