Vista Waikoloa E-105 (Condominium)
2 Bedroom(s) | 2 Bathroom(s) | Sleeps 5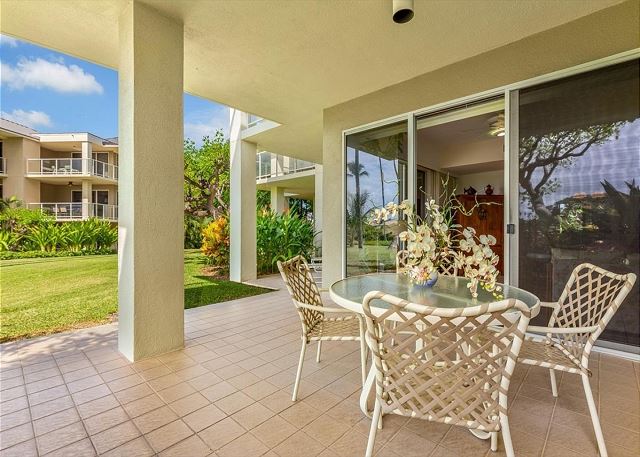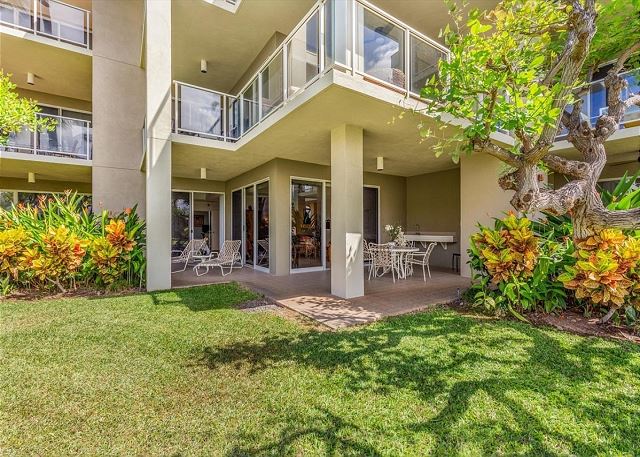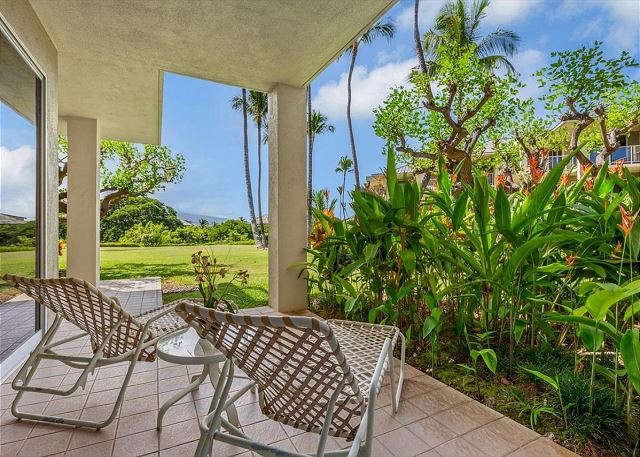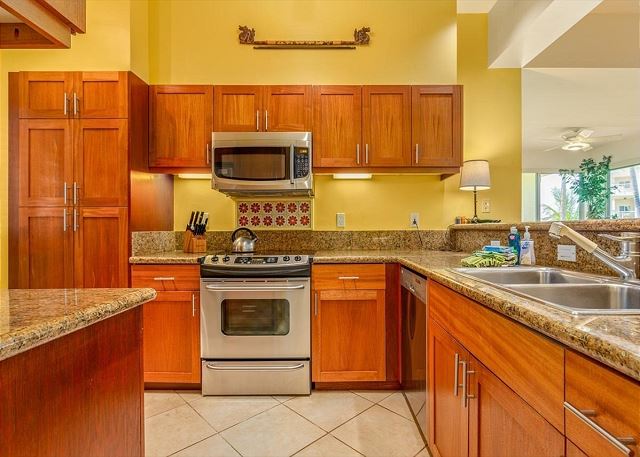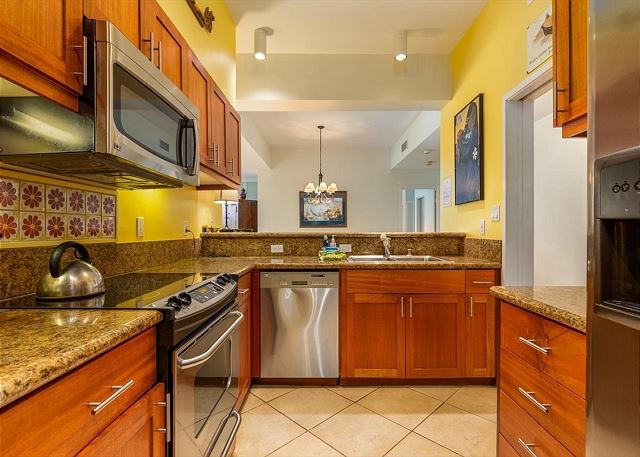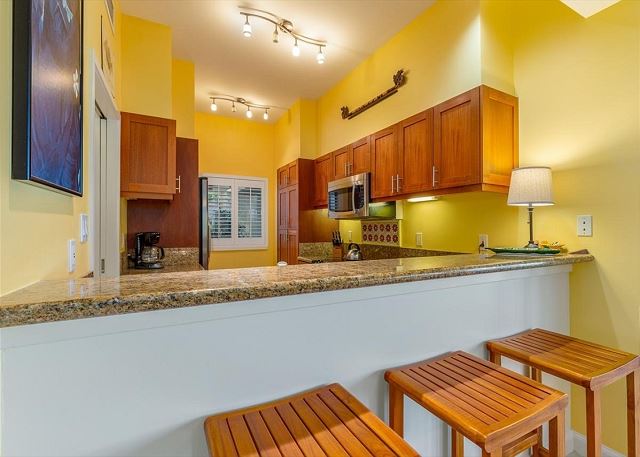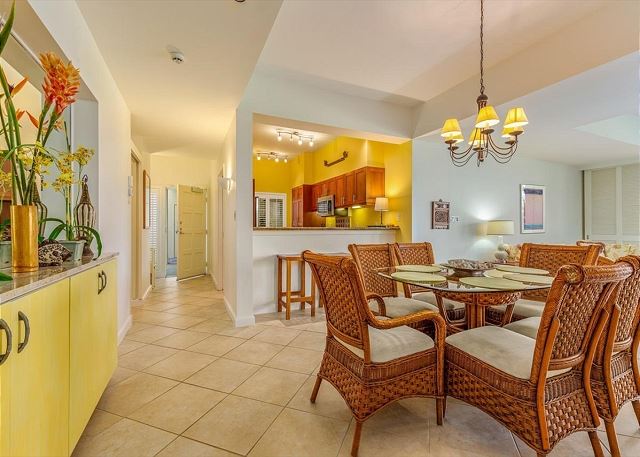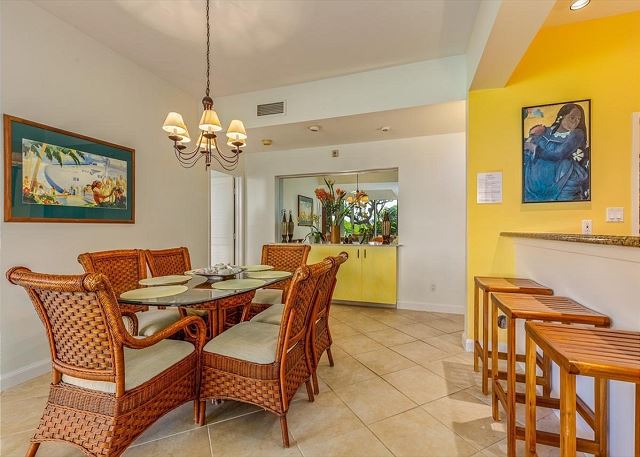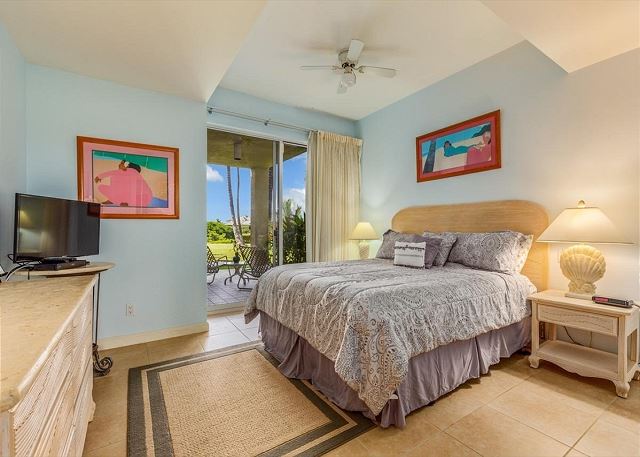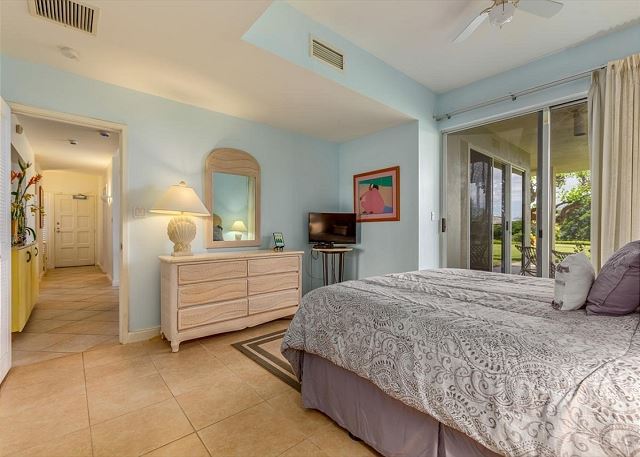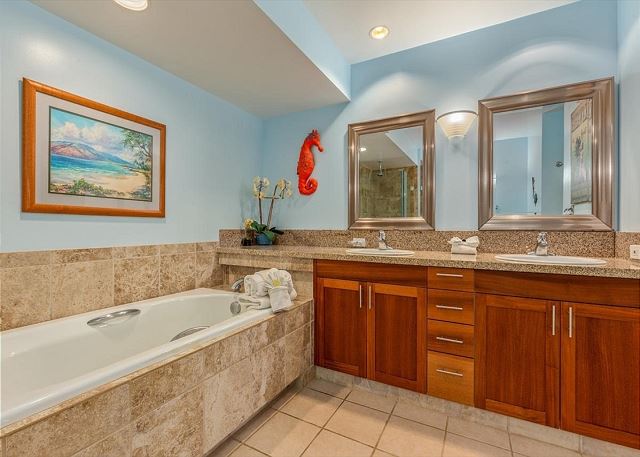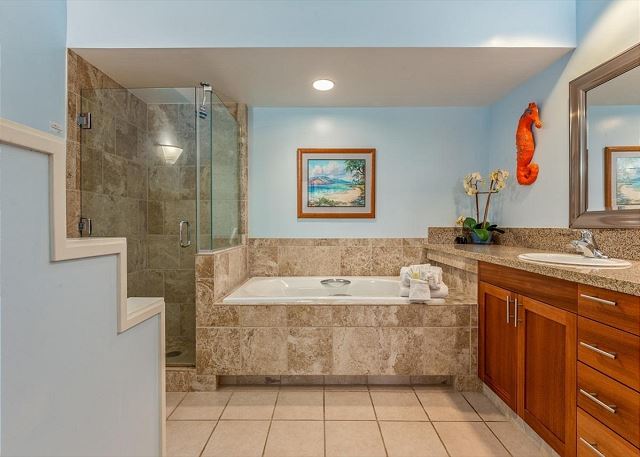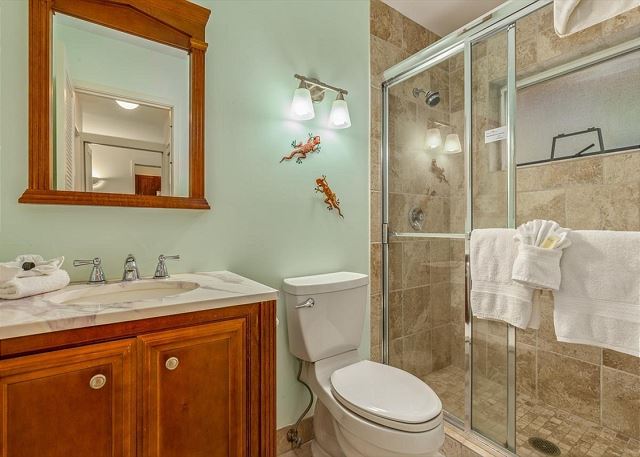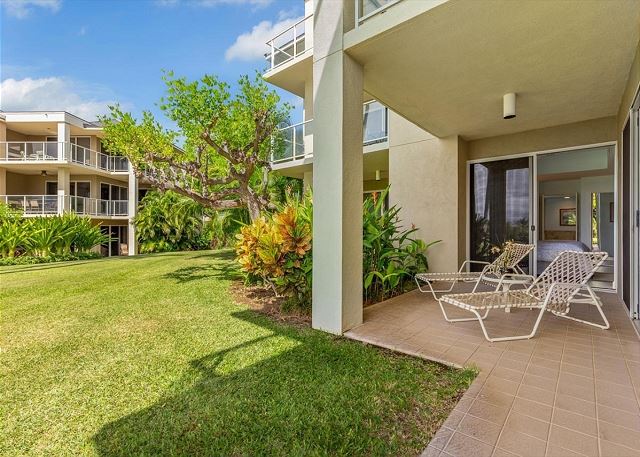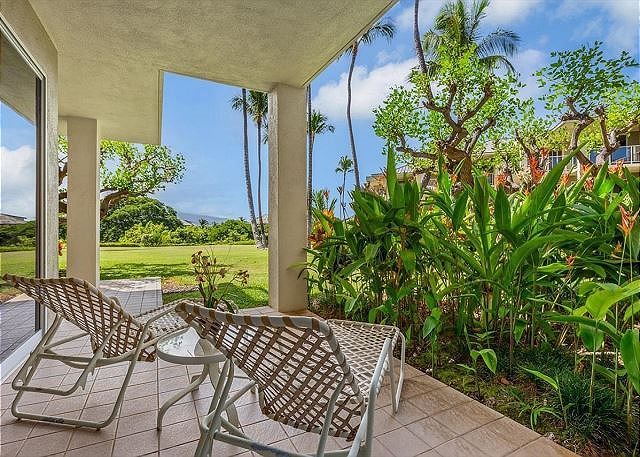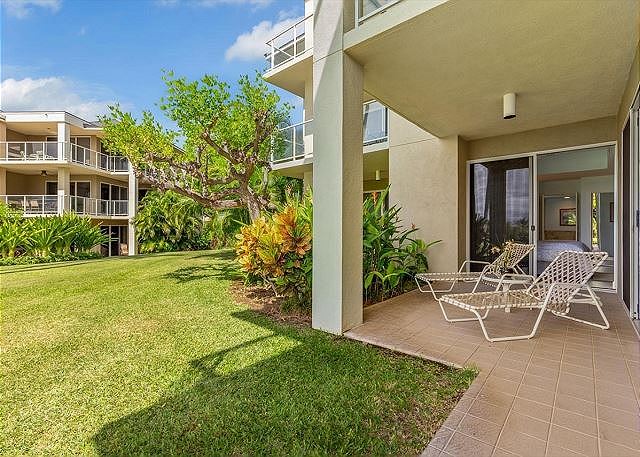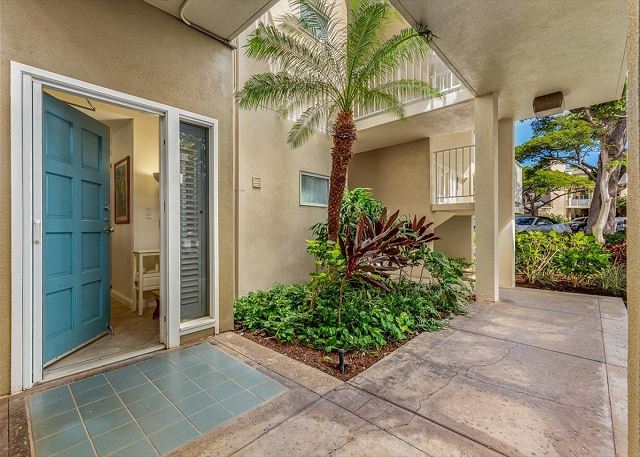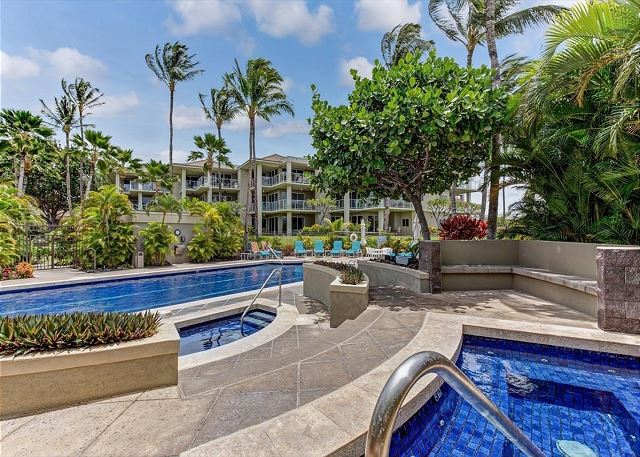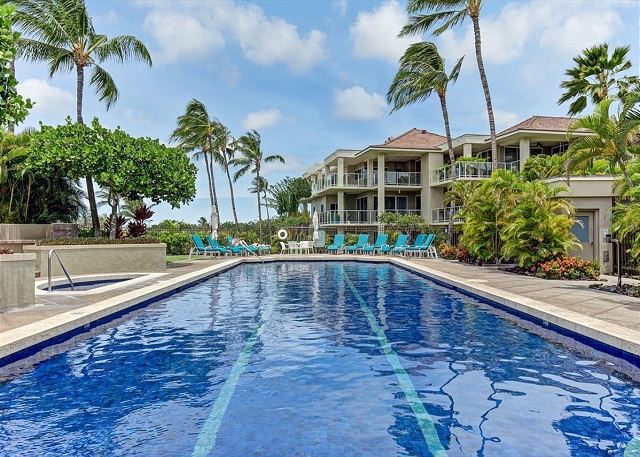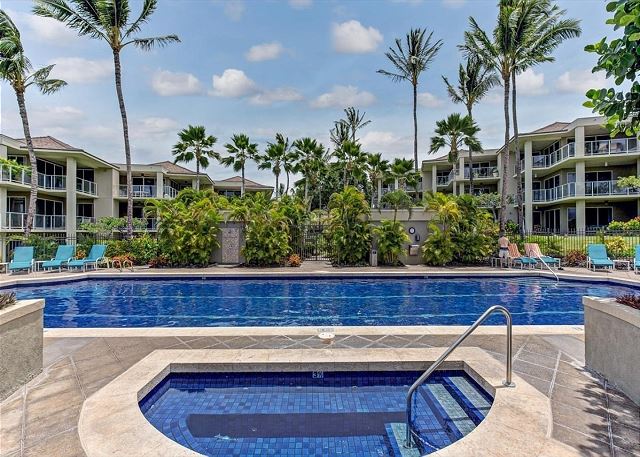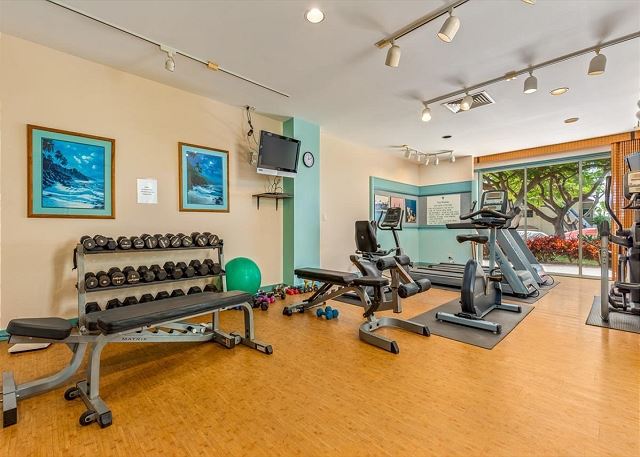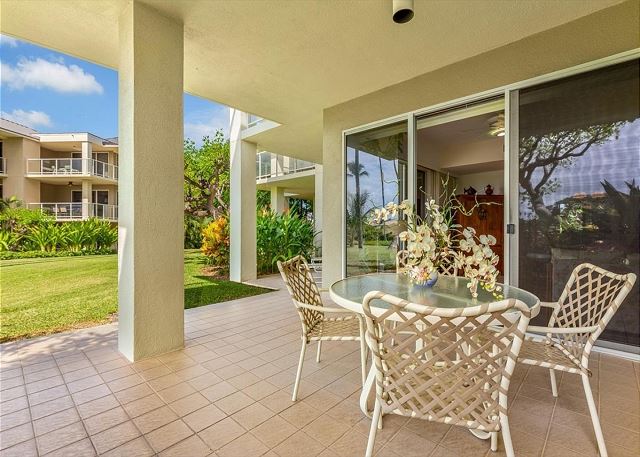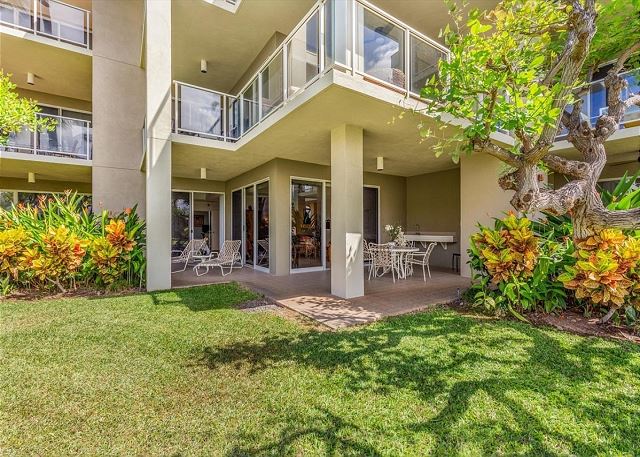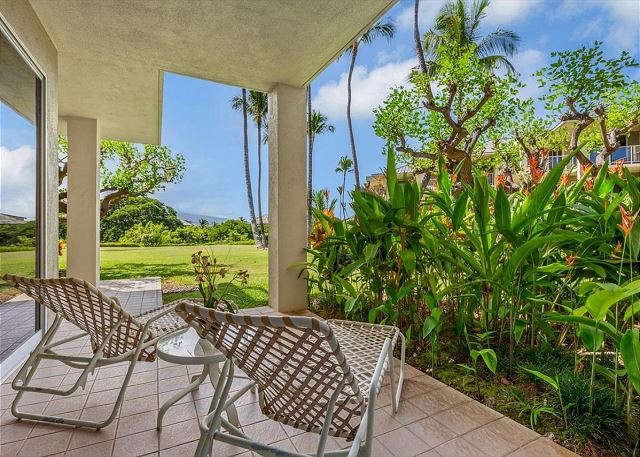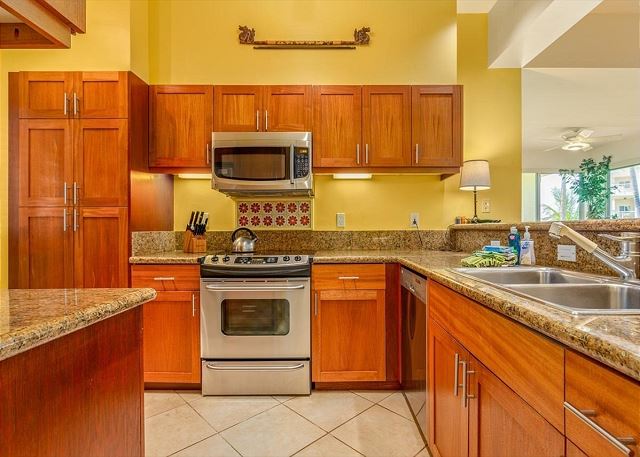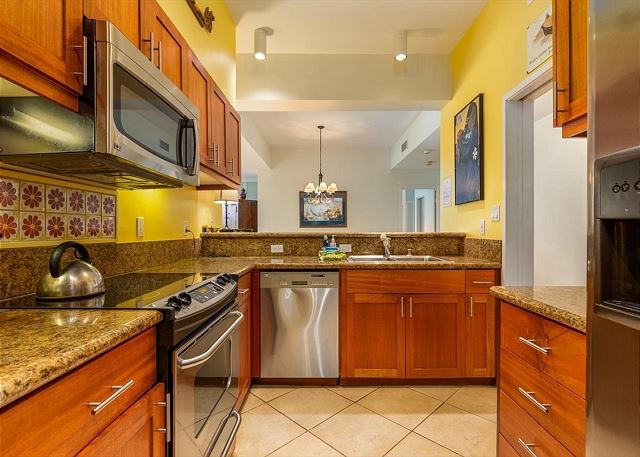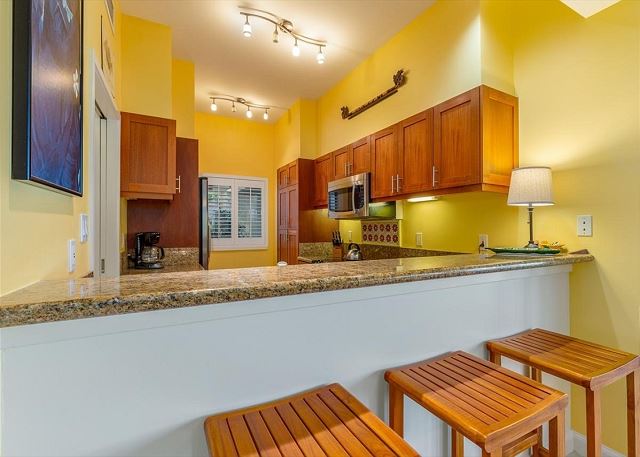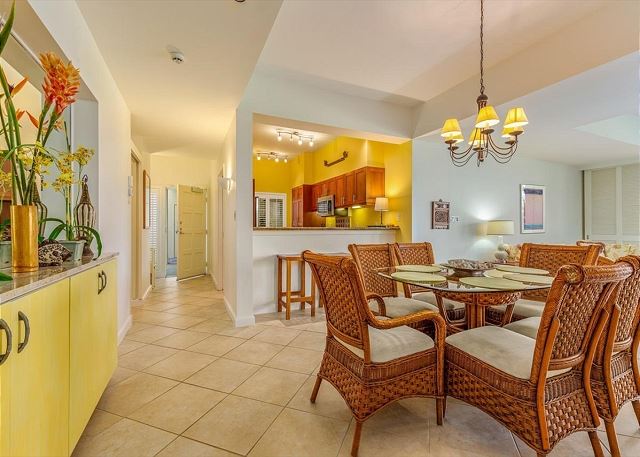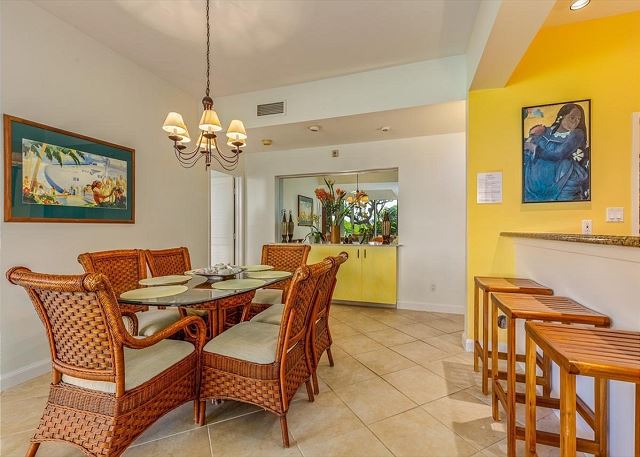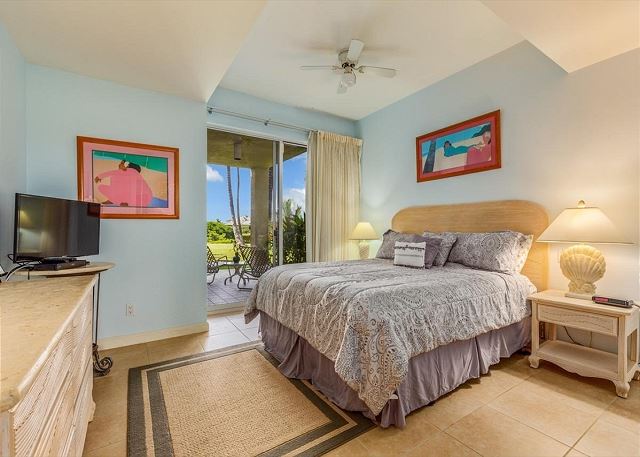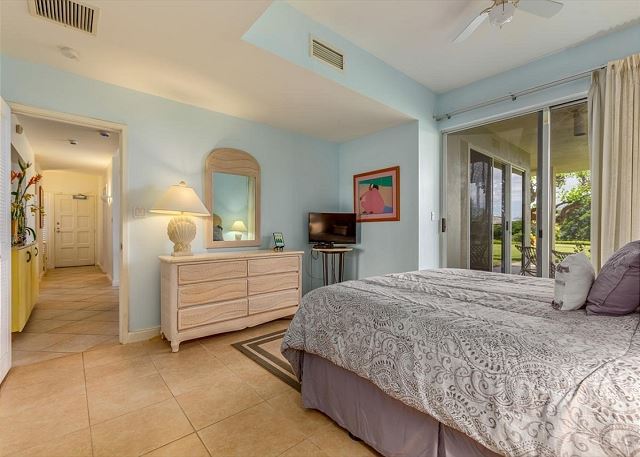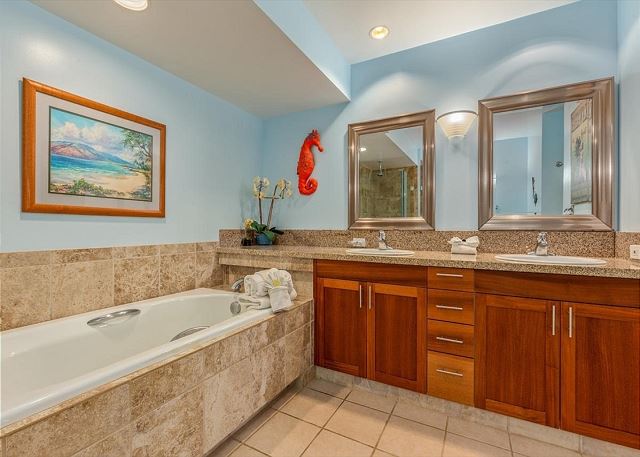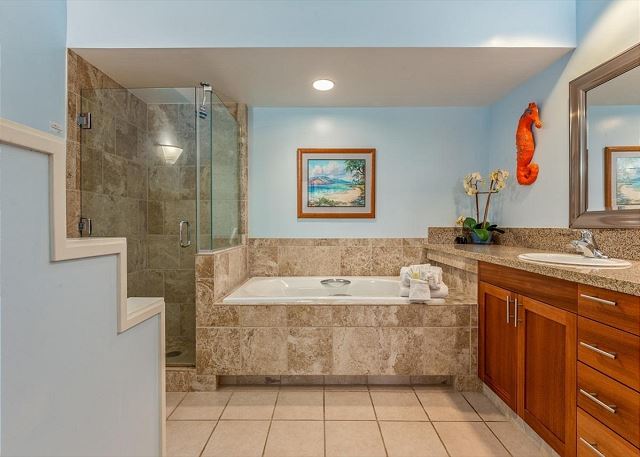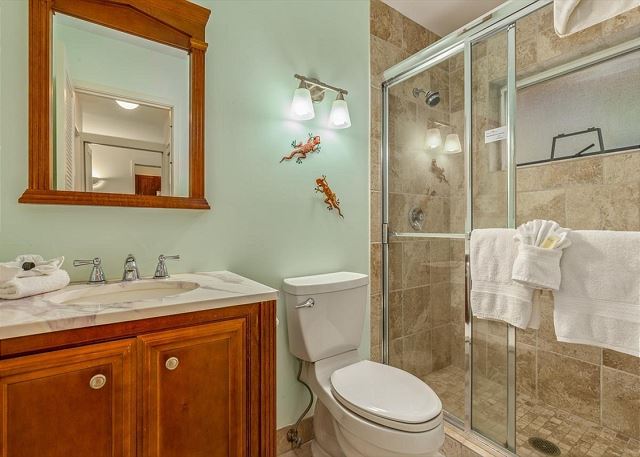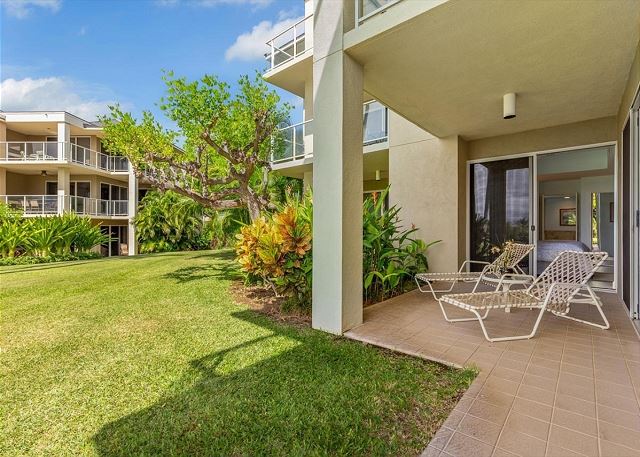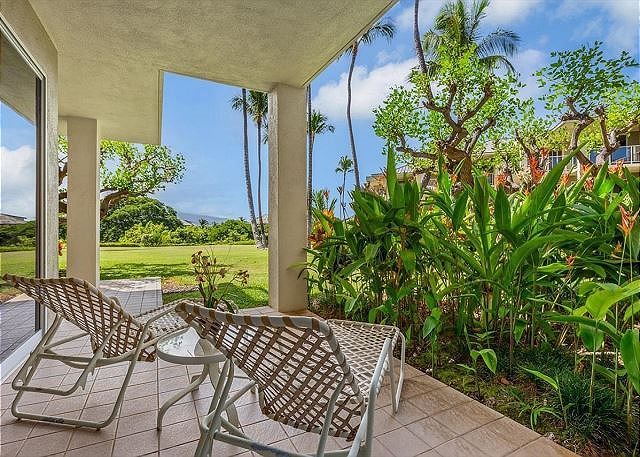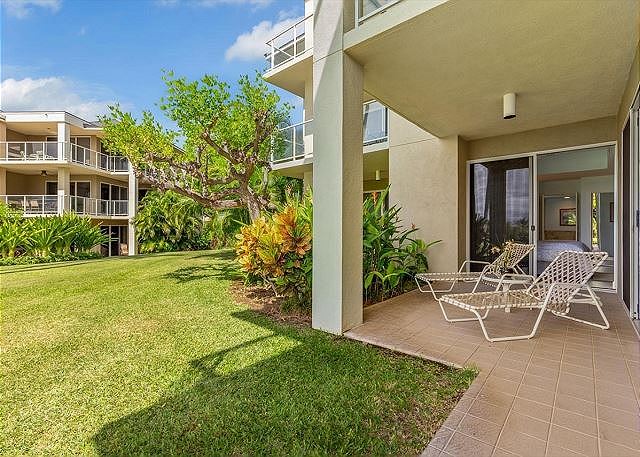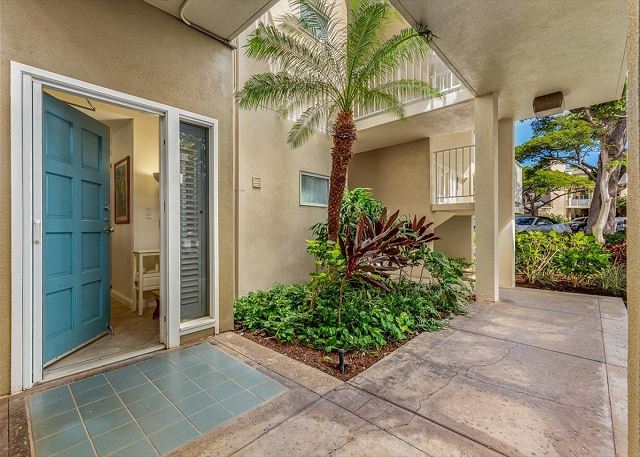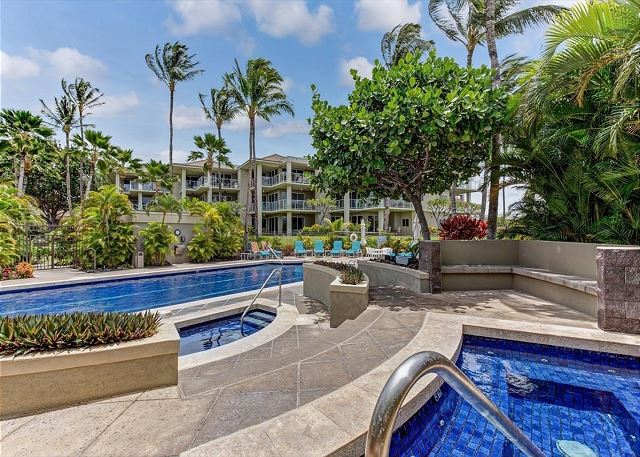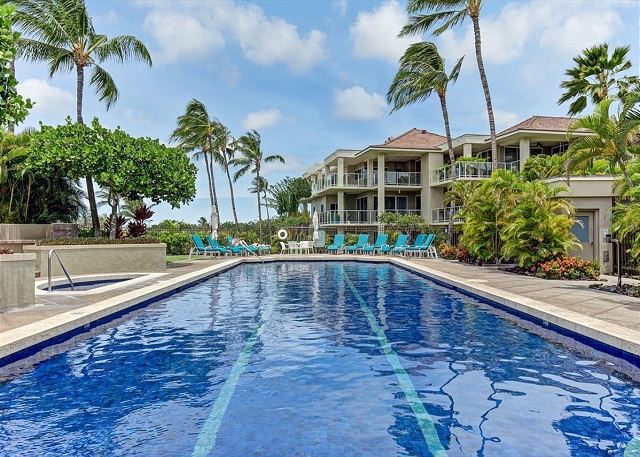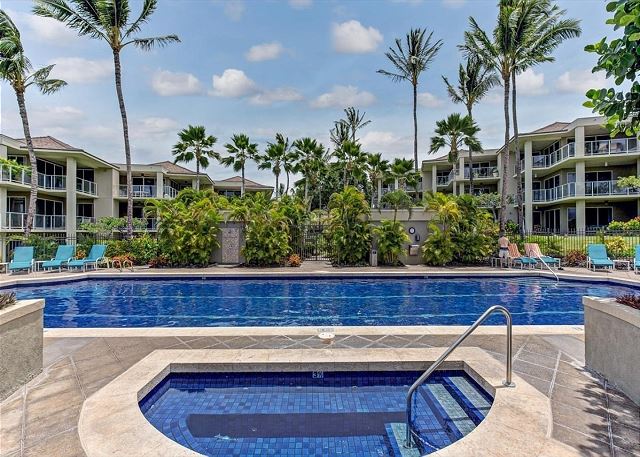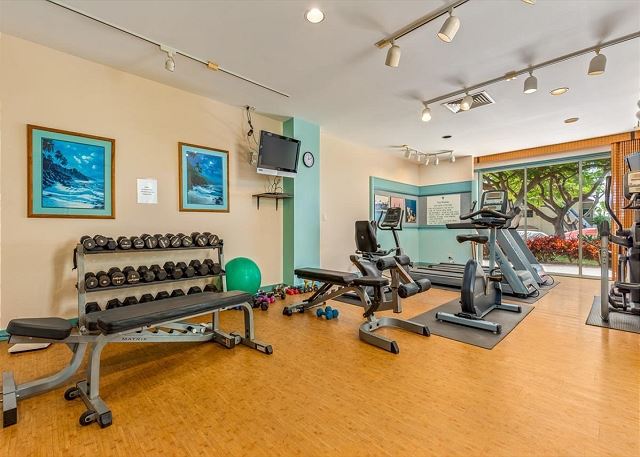 Description
Our beautiful 2 bedroom / 2 bath villa has a fully equipped kitchen to your convenience. The oversized flatscreen has cable and a DVD player. The outside Lanai has a sink, a dinner table with 4 chairs and 2 lounge chairs to catch some sun!!! This is a very bright and sunny villa. It's done in beautiful colors and is extremely clean!!! It's has great lighting throughout the day and you seldom have to use the AC. The breeze is very pleasant. FREE WIFI AND PARKING.



The AAA 3-Diamond rated Vista Waikoloa condominiums are larger than most properties and have extra living space and ceiling fans for natural ventilation. Unit has air conditioner.



Just 20 minutes North of Kona International Airport, Vista Waikoloa resides in a unique and historic setting at Waikoloa Beach Resort. It is located in the center of the resort providing varied views and easy access to many of the resort's finest amenities. With a short walk you'll find a white sand beach ("A" Bay), the Hilton Waikoloa Resort, the Waikoloa Marriott Hotel, tennis courts, the beach trail, and the King's Shops.



The Vista's recreation center has a saline swimming pool large enough to appeal to the fitness lap swimmer, two whirlpools, changing rooms and plenty of space for just relaxing and getting a golden tan in the privacy of the Vista Waikoloa complex.



The Vista is a very special property. The is VERY VERY quiet and private. It's a safe gated community with many amenities. The newly renovated pool is known to one of the best on the island!!! It is salt water and has two huge hot tubs. One hot and the other hotter. It is a large pool with over stuffed new cushions on the lounge chairs. Guests that have stayed in here in the Vista's come back year after year!! They are the best built condo's in the Beach Resort. That makes them very private and you can't hear upstairs guests!!!



The Pavilion is a great place to enjoy the scenery while you BBQ. There four new BBQ's so waiting is never a problem. There are table, chairs and a little kitchen and ice maker.



The fitness room is all brand new and has cold AC. The office has everything you will need to attend to business if needed.



You can hear the Marriot Luau's drums and music a few times a week in the evenings!! Dining, Shopping and Live Entertainment are only a short walk to the Kings' Shops and Queens' Marketplace. The famous A-Bay beach is also a short walk!!



SPECIAL – Spend the day at the Hilton Waikoloa Village, you can buy a discounted DAY PASS to the pool/waterslide or relax at the spa with a SPA PASS. More info will be provided upon booking with us.



FREE WIFI

FREE PARKING

WASHER AND DRYER

BEACH CHAIRS, COOLER, BEACH TOWELS

BEACH/SWIM GEAR

A/C – CENTRAL AIR

BBQ AT POOL AREA

CLOSE TO POOL, BEACH, SHOPPING AND RESTAURANTS



This villa is cleaned by a professional cleaning company using EPA approved products for use against COVID-19. And cleaning process is following guidelines received from World Health Organization and the Centers for Disease Control.

For our guest that need to do the 14 day quarantine, we can provide grocery pick up and please inquire for more information.

Hawaii County ordinance to regulate Short-Term Vacation Rentals application for this property was accepted.



**** WE DO NOT TAKE WIRE/BANK TRANSFERS******



HAWAII SHORT TERM VACATION RENTAL# 19-375548

HAWAII GE/TAT TAX ID# 189-697-5360-01



TMK 6-9-007-009-0074
Calendar
October 2021

| S | M | T | W | T | F | S |
| --- | --- | --- | --- | --- | --- | --- |
| | | | | | 01 | 02 |
| 03 | 04 | 05 | 06 | 07 | 08 | 09 |
| 10 | 11 | 12 | 13 | 14 | 15 | 16 |
| 17 | 18 | 19 | 20 | 21 | 22 | 23 |
| 24 | 25 | 26 | 27 | 28 | 29 | 30 |
| 31 | | | | | | |
November 2021

| S | M | T | W | T | F | S |
| --- | --- | --- | --- | --- | --- | --- |
| | 01 | 02 | 03 | 04 | 05 | 06 |
| 07 | 08 | 09 | 10 | 11 | 12 | 13 |
| 14 | 15 | 16 | 17 | 18 | 19 | 20 |
| 21 | 22 | 23 | 24 | 25 | 26 | 27 |
| 28 | 29 | 30 | | | | |
December 2021

| S | M | T | W | T | F | S |
| --- | --- | --- | --- | --- | --- | --- |
| | | | 01 | 02 | 03 | 04 |
| 05 | 06 | 07 | 08 | 09 | 10 | 11 |
| 12 | 13 | 14 | 15 | 16 | 17 | 18 |
| 19 | 20 | 21 | 22 | 23 | 24 | 25 |
| 26 | 27 | 28 | 29 | 30 | 31 | |
January 2022

| S | M | T | W | T | F | S |
| --- | --- | --- | --- | --- | --- | --- |
| | | | | | | 01 |
| 02 | 03 | 04 | 05 | 06 | 07 | 08 |
| 09 | 10 | 11 | 12 | 13 | 14 | 15 |
| 16 | 17 | 18 | 19 | 20 | 21 | 22 |
| 23 | 24 | 25 | 26 | 27 | 28 | 29 |
| 30 | 31 | | | | | |
February 2022

| S | M | T | W | T | F | S |
| --- | --- | --- | --- | --- | --- | --- |
| | | 01 | 02 | 03 | 04 | 05 |
| 06 | 07 | 08 | 09 | 10 | 11 | 12 |
| 13 | 14 | 15 | 16 | 17 | 18 | 19 |
| 20 | 21 | 22 | 23 | 24 | 25 | 26 |
| 27 | 28 | | | | | |
March 2022

| S | M | T | W | T | F | S |
| --- | --- | --- | --- | --- | --- | --- |
| | | 01 | 02 | 03 | 04 | 05 |
| 06 | 07 | 08 | 09 | 10 | 11 | 12 |
| 13 | 14 | 15 | 16 | 17 | 18 | 19 |
| 20 | 21 | 22 | 23 | 24 | 25 | 26 |
| 27 | 28 | 29 | 30 | 31 | | |
April 2022

| S | M | T | W | T | F | S |
| --- | --- | --- | --- | --- | --- | --- |
| | | | | | 01 | 02 |
| 03 | 04 | 05 | 06 | 07 | 08 | 09 |
| 10 | 11 | 12 | 13 | 14 | 15 | 16 |
| 17 | 18 | 19 | 20 | 21 | 22 | 23 |
| 24 | 25 | 26 | 27 | 28 | 29 | 30 |
May 2022

| S | M | T | W | T | F | S |
| --- | --- | --- | --- | --- | --- | --- |
| 01 | 02 | 03 | 04 | 05 | 06 | 07 |
| 08 | 09 | 10 | 11 | 12 | 13 | 14 |
| 15 | 16 | 17 | 18 | 19 | 20 | 21 |
| 22 | 23 | 24 | 25 | 26 | 27 | 28 |
| 29 | 30 | 31 | | | | |
June 2022

| S | M | T | W | T | F | S |
| --- | --- | --- | --- | --- | --- | --- |
| | | | 01 | 02 | 03 | 04 |
| 05 | 06 | 07 | 08 | 09 | 10 | 11 |
| 12 | 13 | 14 | 15 | 16 | 17 | 18 |
| 19 | 20 | 21 | 22 | 23 | 24 | 25 |
| 26 | 27 | 28 | 29 | 30 | | |
July 2022

| S | M | T | W | T | F | S |
| --- | --- | --- | --- | --- | --- | --- |
| | | | | | 01 | 02 |
| 03 | 04 | 05 | 06 | 07 | 08 | 09 |
| 10 | 11 | 12 | 13 | 14 | 15 | 16 |
| 17 | 18 | 19 | 20 | 21 | 22 | 23 |
| 24 | 25 | 26 | 27 | 28 | 29 | 30 |
| 31 | | | | | | |
August 2022

| S | M | T | W | T | F | S |
| --- | --- | --- | --- | --- | --- | --- |
| | 01 | 02 | 03 | 04 | 05 | 06 |
| 07 | 08 | 09 | 10 | 11 | 12 | 13 |
| 14 | 15 | 16 | 17 | 18 | 19 | 20 |
| 21 | 22 | 23 | 24 | 25 | 26 | 27 |
| 28 | 29 | 30 | 31 | | | |
September 2022

| S | M | T | W | T | F | S |
| --- | --- | --- | --- | --- | --- | --- |
| | | | | 01 | 02 | 03 |
| 04 | 05 | 06 | 07 | 08 | 09 | 10 |
| 11 | 12 | 13 | 14 | 15 | 16 | 17 |
| 18 | 19 | 20 | 21 | 22 | 23 | 24 |
| 25 | 26 | 27 | 28 | 29 | 30 | |
Available
Unavailable
Check-In Only
Check-Out Only
Seasonal Rates
| Date Range | Daily | Weekly | Monthly |
| --- | --- | --- | --- |
* Seasonal rates are only estimates and do not reflect taxes or additional fees.
Location
Guest Reviews of
Vista Waikoloa E-105
Waikoloa, HI
---
Vacation Rental Reviews by
stars based on
Beautiful place, great location.
Review by
Sam S.
Large, clean, comfortable unit with beautiful lanai. Great jacuzzi in master bathroom. Beautiful grounds, huge saline pool with two large hot tubs. Great location, within 5 minute walk to both Marriot and Hilton. Manager was very helpful. One minor issue: one of the TV cable boxes didn't work and was never fixed, but we didn't go to Hawaii to watch TV!
5 out of 5 stars
Relaxing
Review by
Russell S.
It was an seamless last minute experience no problems and very accessible and clean
5 out of 5 stars
Wonderful week on the Big Island
Review by
Andrea N.
We really enjoyed staying in Vista Waikoloa E105 - it was perfect for our family of five. Good location for accessing all parts of the island, great pool and hot tubs, comfortable beds and well-equipped kitchen. We would stay there again for sure!
5 out of 5 stars
Vista Waikoloa E105 - July 2021 stay
Review by
Anita S.
The villa was clean inside and spacious for a family of 5. We enjoyed eating in the lanai until the lawn was mowed and the debris covered the lanai.
4 out of 5 stars
Wonderful Place to Stay
Review by
We stayed for 1.5 weeks in Waikaloa Village and this great 2 bedroom condo. Could not have been a more perfect location. Walking distance to shops and restaurants, well kept and safe. The property managers were also very responsive. Would highly recommend this condo!
5 out of 5 stars
Great condo at a great location.
Review by
Loved everything, great size, great view - truly home away from home. It's not right on the ocean but still walkable to the beach, and a short walk to restaurants and shopping. A car is highly recommended to explore the island and other beaches. The unit is not hot at all because it's on the first floor and the sun only comes in late in the day. The pool and hot spa on the property is pretty cool too to relax after a long vacation day.
5 out of 5 stars
Choose on late vacation
Review by
REDAWN. Hideaki H.
I always stay in Waikoloa, but I tried it for the first time. If there is a car, nothing is inconvenient. Quiet and good facilities.I want to use it next year.
5 out of 5 stars
Terrific Family vacation
Review by
Elane S.
My family and I (13 Members) stayed in 3 units of Vista Waikaloa for 2 amazing weeks. The two units that we rented through Kohala Coast were well maintained and nicely supplied with extras such as boogie boards and spices in the cupboard. When there was an issue, it was dealt with nicely.
5 out of 5 stars
What is not to like! Large open floor plan, comfortable, quiet.
Review by
George D.
We have been to the big island 8 times and this is the best lodging yet. Location, quiet, price, plenty of shops and places to eat nearby. Right on the golf course but we don't golf. Loved it. I have never submitted a review until now. Great folks too.
5 out of 5 stars
Lovely time
Review by
Our stay was amazing. the condo was just perfect for our family with 2 teenagers. The proximity to shops and the beach was just right. We enjoyed it very much.
5 out of 5 stars
Great stay at Vista
Review by
Jean B.
Our family of 5 enjoyed the Vista E105. The condo was much nicer then the pictures. Plenty of space, very clean and comfortable. There is no BBQ but they are located just a short walk away. We also used the pool which was great. The condo had everything we needed to do our cooking. It was also stocked with boogie boards and beach umbrella. It also had beach chairs but they were not comfortable. Communication with Kohala was also great. The AC went down one night in the whole complex and we got answers even after business hours. Beaches close by were also great. Would recommend.
5 out of 5 stars
Excellent Upgrade
Review by
Quiet and private with meals on the lanai
5 out of 5 stars
Outstanding experience!
Review by
Lil S.
Overall this location is perfect, although I was there on business; it is the perfect place to call home; while away. Everything was beautiful and exceptionally well maintained. Our condo was very nice and clean. Great property. Beautiful grounds and view of golf course and the location is next to the King's Shops, for meals and shopping its a great spot! Michelle is the best, her service is second to none; she is great to deal with and always very responsive to our needs. The location is very easy to check in and out of and easy to find. This was just an outstanding rental experience!!
5 out of 5 stars
Very Nice! Just as described
Review by
This was an excellent property that was exactly as described. If anything, it was larger and more spacious than we imagined. Everything worked well with a few minor exceptions: the bathtub drain plug didn't work (we engineered a work-around) and the beach equipment was pretty destroyed (think of a mask without a snorkle, flippers without heal straps, etc). With a tiny boost, this property would be ideal! I'll bet, if we cared enough, a simple call could have remedied the beach equipment issue and drain. Everything else was amazing. I especially appreciate the ample dishes, silverware and cooking appliances (rice cooker, too). Well outfitted. Definitely a good place to stay. A bit far from the beach (maybe 8 minute walk once you find the short-cut), and A-Bay beach isn't as sandy and nice as Hapuna, but still. We'd stay here again and would seek out this particular property!
4 out of 5 stars
Vista Waikoloa
Review by
Michele B.
Nice place in a great location
4 out of 5 stars
Fantastic Family Vacation!
Review by
Donna K.
We had a wonderful time in Hawaii, and I would recommend staying at this property. It was a great location, and had all the amenities. We loved the pool, beach and close shopping. Michelle was so helpful and was always there to answer questions.
5 out of 5 stars
Lovely Wakiola
Review by
Denise L.
My brother, sister-in-law and myself had our first two week stay in Kona, Hawaii at this lovely condo. It met all our expectations and more especially coming from small town, wintery Northern Ontario, Canada. We would definitely book this well appointed, clean, away from home property. The grounds were safe and outstanding; the pool a lovely spot with friendly people and a good length for laps. All in all a great experience and would love to come back some day. Dealing with Michelle Coupe from the agency was always a positive and friendly experience. Would just recommend that the company keep codes current for the pool and office. Mahalo for a great vacation.
5 out of 5 stars
Great unit!
Review by
We thoroughly enjoyed our recent stay at Vista E105. The unit was everything we expected and more! Kitchen was well stocked and the unit was very clean and had everything we needed. We would definitely stay here again. It would have been nice if there was some information in the unit about the area, shopping, beaches, dining etc.
5 out of 5 stars
nice place
Review by
Lovely place and all needs were met. Was cleaned properly before our arrival and no stains or anything on bedding!! Great location and just peacefully setting in general. Shopping and eating close by and made the Hawaii vacation just that much more enjoyable!!
5 out of 5 stars
Excellent alternative to the standard resport or hotel
Review by
Very nice accommodation, quiet and comfortable, much more value than getting a hotel or resort room. Close to activities and shopping without the resort and parking fees!
5 out of 5 stars
Wonderful
Review by
Jeannie M.
It was very nice and exactly as described. The rental had everything we needed for our stay. The management was very friendly is helping with the booking process. I would defiantly stay again!!
5 out of 5 stars
Great place!!!
Review by
Michael O.
This was our second stay at this two bedroom condo.We absolutely loved it! Very, very nice resort and location. The two bedroom condo is very spacious and nicely updated. When back to Big Island we surly will stay there again.
5 out of 5 stars
First stay
Review by
Marlin D.
It was an incredible stay at this outstanding VRBO. I highly recommend this property and will definitely return.
5 out of 5 stars
Very nice property
Review by
Bonnie E.
We had a great vacation at this property. We could not believe how quiet it was! Hardly heard a noise from any other place. Neighbors were very friendly. Michelle and Marissa were very helpful--coffee pot would not work the first day and a single text brought us a new coffee pot that day. Only thing that took away from a perfect stay was that it was not as clean as it should have been. The dishes were covered with spots. Dust was thick on the doors, under the beds and behind furniture.The dishwasher has a terrible smell when you open it--like it had not been used for awhile or needed a REALLY good cleaning. In the second bedroom, the beds were very hard. The closet had only 1 boggie board --and it was falling apart, but we did make use of the 2 beach chairs and the little cooler. Otherwise, the condo was very well set up. The washer and dryer worked well-but they too needed a good cleaning.
4 out of 5 stars
Beautiful Home
Review by
Brenda K.
Beautiful place, well equipped, would definitely stay again.
5 out of 5 stars
Great Stay at Vista Waikoloa
Review by
Andrea G.
Very convenient. Great property in general. This unit is fairly basic, but they had good basics: kitchen supplies, beach towels/chairs, furniture and beds were confortable. Stayed for one week and had a great time.
5 out of 5 stars
Lovely and relaxing stay at Vista E105
Review by
Our stay was very nice. The condo is in a great location. It would be great if there was a area map left for guests so they can see how easy it is to access the Hilton and other hotel common-areas on foot from the condo. The only recommendations we would make is that the dishwasher might not be working as well as it should and dishes were not getting that clean. Otherwise it was a great vacation.
5 out of 5 stars
E-105
Review by
John S.
We had a wonderful time and the rental was great!
5 out of 5 stars
Bright and Cheery
Review by
HOLLY G.
This condo is situated on the main floor and made the Lanai feel even larger. The grounds are immaculate. The Condoo is very spacious and decor pleasant. The King size bed was very comfortable and appreciated the ceiling fan above. The kitchen was well stocked with many pots and utensils. The pool was beautiful and heated perfectly and the lawn chairs very comfortable.
5 out of 5 stars
Visiting Kona for a week to see Ironman
Review by
Sue M.
The rental itself was very nice, it was spacious, clean, and comfortable. The kitchen was well equipped with pots, pans, and other cooking stuff. Having some inexpensive salt/pepper, and some basic seasonings, would have made it A+. Otherwise, it was excellent and very comfortable.
4 out of 5 stars
Relaxing vacation
Review by
Patricia C.
The Vista was very quiet, loved the heated saline pool. Convenient walk to shops, great restaurants in the area. Home owners at the Vista were very friendly & eager to suggest restaurants & places to see. Hope to book there next year.
5 out of 5 stars
Great Place to Stay
Review by
Sarah T.
Great property, found the other guests to be very friendly and enjoyed meeting new people around the bbq's.
5 out of 5 stars
Five Days in Paradise
Review by
Steven B.
This was our first condo rental in Hawaii, and the experience was great. No hassles in the rental process, and the management company kept us informed from the day we made the reservation. The rental was everything we thought it would be and more. Lot's of space, clean, new furniture. Loved eating breakfast on the patio every morning. Enjoyed walking to the King's Shops and the Queen's market. The local beach was excellent as well. No real complaints. Much better than a hotel stay, especially for the money. Look forward to doing it again.
5 out of 5 stars
Great family stay in Waikoloa!
Review by
Aaron B.
This condo was fantastic for my little family. The kitchen was nicer than mine at home. The location of the Condo is within short walking distance of the Beach the Hilton and the Shops. Kohala Coast Properties were very accommodating and provided quick answer to any questions I had, I would definitely book another rental through them. Thanks for making it easy for us to have a great time!
5 out of 5 stars
Vista Wikolia
Review by
Carlton S.
Great pool for lap swimming.Condo was renovated which made a big difference
5 out of 5 stars
Contact Us