Waikoloa Beach Villas C3 (Villa)
2 Bedroom(s) | 2 Bathroom(s) | Sleeps 6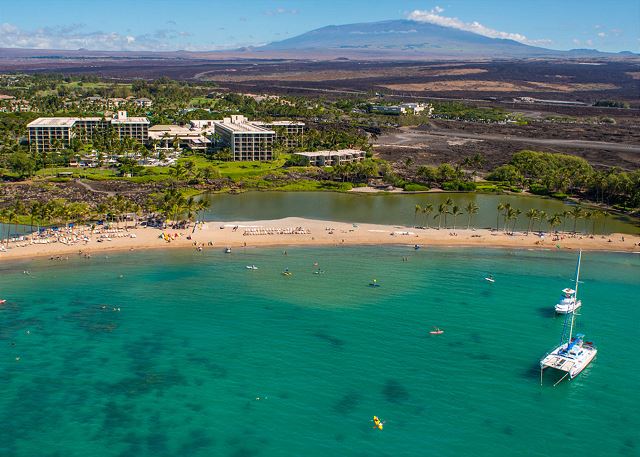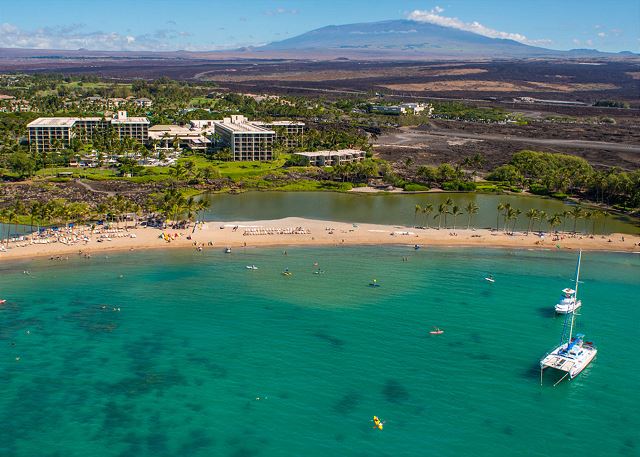 Description
This Villa is in an excellent location right at one of the two lava rock pools that Waikoloa Beach Villas has to offer. The property is located on the ground floor which comes with many benefits. No stairs to climb, which makes bringing groceries and luggage in and out much easier. It is 30 steps from the beautiful pool and spa entrance so it's like having your own pool without the upkeep. If you need to refresh your drink, you are only steps away. Adjacent to the pool is a large thatched roof patio with tables and chairs just waiting for your party. Also just 40 steps away in this magnificent backyard is the perfectly maintained BBQ. Walk right off the lanai in to the lawn area and you are in the perfect setting to enjoy paradise. Or sit at the teak wood table and chairs and enjoy the sounds of the pools waterfall as you sip a cup of coffee or a cocktail. Waikoloa Beach Villas POOLS are now HEATED!!



As for the inside of this beautiful home, the sectional pillow top hide a bed to allows the Villa to sleep 6. The master bedroom has brand new furniture with a Queen pillow top bed. The pride of Ownership comes through in updated beautiful ceiling fans in each room. Also, the blinds throughout the home have been upgraded with teak wood colored blinds and the sliding glass door has been upgraded to a custom teak colored wood weave retractable shade.



You are also a short walk to restaurants and shops at The Queens Marketplace and The Kings Shops. Also a short walk to the white sand beach for a fun day in the Hawaiian Sun...... UNIT INCLUDES FREE PARKING AND WIFI.



SPECIAL – Spend the day at the Hilton Waikoloa Village, you can buy a discounted DAY PASS to the pool/waterslide or relax at the spa with a SPA PASS. More info will be provided upon booking with us.



FREE WIFI

FREE PARKING

WASHER AND DRYER

BEACH CHAIRS, COOLER, BEACH TOWELS

BEACH/SWIM GEAR

A/C – CENTRAL AIR

BBQ AT POOL/FITNESS AREA

CLOSE TO POOL, BEACH, SHOPPING AND RESTAURANTS



This villa is cleaned by a professional cleaning company using EPA approved products for use against COVID-19. And cleaning process is following guidelines received from World Health Organization and the Centers for Disease Control.



Hawaii County ordinance to regulate Short-Term Vacation Rentals application for this property was accepted.



***WE DO NOT ACCEPT WIRE TRANSFERS***



HAWAII SHORT TERM VACATION RENTAL# 19-360792

HAWAII GE/TAT TAX ID# 093-147-2384-01

TMK 6-9-008-014-0015
Calendar
October 2021

| S | M | T | W | T | F | S |
| --- | --- | --- | --- | --- | --- | --- |
| | | | | | 01 | 02 |
| 03 | 04 | 05 | 06 | 07 | 08 | 09 |
| 10 | 11 | 12 | 13 | 14 | 15 | 16 |
| 17 | 18 | 19 | 20 | 21 | 22 | 23 |
| 24 | 25 | 26 | 27 | 28 | 29 | 30 |
| 31 | | | | | | |
November 2021

| S | M | T | W | T | F | S |
| --- | --- | --- | --- | --- | --- | --- |
| | 01 | 02 | 03 | 04 | 05 | 06 |
| 07 | 08 | 09 | 10 | 11 | 12 | 13 |
| 14 | 15 | 16 | 17 | 18 | 19 | 20 |
| 21 | 22 | 23 | 24 | 25 | 26 | 27 |
| 28 | 29 | 30 | | | | |
December 2021

| S | M | T | W | T | F | S |
| --- | --- | --- | --- | --- | --- | --- |
| | | | 01 | 02 | 03 | 04 |
| 05 | 06 | 07 | 08 | 09 | 10 | 11 |
| 12 | 13 | 14 | 15 | 16 | 17 | 18 |
| 19 | 20 | 21 | 22 | 23 | 24 | 25 |
| 26 | 27 | 28 | 29 | 30 | 31 | |
January 2022

| S | M | T | W | T | F | S |
| --- | --- | --- | --- | --- | --- | --- |
| | | | | | | 01 |
| 02 | 03 | 04 | 05 | 06 | 07 | 08 |
| 09 | 10 | 11 | 12 | 13 | 14 | 15 |
| 16 | 17 | 18 | 19 | 20 | 21 | 22 |
| 23 | 24 | 25 | 26 | 27 | 28 | 29 |
| 30 | 31 | | | | | |
February 2022

| S | M | T | W | T | F | S |
| --- | --- | --- | --- | --- | --- | --- |
| | | 01 | 02 | 03 | 04 | 05 |
| 06 | 07 | 08 | 09 | 10 | 11 | 12 |
| 13 | 14 | 15 | 16 | 17 | 18 | 19 |
| 20 | 21 | 22 | 23 | 24 | 25 | 26 |
| 27 | 28 | | | | | |
March 2022

| S | M | T | W | T | F | S |
| --- | --- | --- | --- | --- | --- | --- |
| | | 01 | 02 | 03 | 04 | 05 |
| 06 | 07 | 08 | 09 | 10 | 11 | 12 |
| 13 | 14 | 15 | 16 | 17 | 18 | 19 |
| 20 | 21 | 22 | 23 | 24 | 25 | 26 |
| 27 | 28 | 29 | 30 | 31 | | |
April 2022

| S | M | T | W | T | F | S |
| --- | --- | --- | --- | --- | --- | --- |
| | | | | | 01 | 02 |
| 03 | 04 | 05 | 06 | 07 | 08 | 09 |
| 10 | 11 | 12 | 13 | 14 | 15 | 16 |
| 17 | 18 | 19 | 20 | 21 | 22 | 23 |
| 24 | 25 | 26 | 27 | 28 | 29 | 30 |
May 2022

| S | M | T | W | T | F | S |
| --- | --- | --- | --- | --- | --- | --- |
| 01 | 02 | 03 | 04 | 05 | 06 | 07 |
| 08 | 09 | 10 | 11 | 12 | 13 | 14 |
| 15 | 16 | 17 | 18 | 19 | 20 | 21 |
| 22 | 23 | 24 | 25 | 26 | 27 | 28 |
| 29 | 30 | 31 | | | | |
June 2022

| S | M | T | W | T | F | S |
| --- | --- | --- | --- | --- | --- | --- |
| | | | 01 | 02 | 03 | 04 |
| 05 | 06 | 07 | 08 | 09 | 10 | 11 |
| 12 | 13 | 14 | 15 | 16 | 17 | 18 |
| 19 | 20 | 21 | 22 | 23 | 24 | 25 |
| 26 | 27 | 28 | 29 | 30 | | |
July 2022

| S | M | T | W | T | F | S |
| --- | --- | --- | --- | --- | --- | --- |
| | | | | | 01 | 02 |
| 03 | 04 | 05 | 06 | 07 | 08 | 09 |
| 10 | 11 | 12 | 13 | 14 | 15 | 16 |
| 17 | 18 | 19 | 20 | 21 | 22 | 23 |
| 24 | 25 | 26 | 27 | 28 | 29 | 30 |
| 31 | | | | | | |
August 2022

| S | M | T | W | T | F | S |
| --- | --- | --- | --- | --- | --- | --- |
| | 01 | 02 | 03 | 04 | 05 | 06 |
| 07 | 08 | 09 | 10 | 11 | 12 | 13 |
| 14 | 15 | 16 | 17 | 18 | 19 | 20 |
| 21 | 22 | 23 | 24 | 25 | 26 | 27 |
| 28 | 29 | 30 | 31 | | | |
September 2022

| S | M | T | W | T | F | S |
| --- | --- | --- | --- | --- | --- | --- |
| | | | | 01 | 02 | 03 |
| 04 | 05 | 06 | 07 | 08 | 09 | 10 |
| 11 | 12 | 13 | 14 | 15 | 16 | 17 |
| 18 | 19 | 20 | 21 | 22 | 23 | 24 |
| 25 | 26 | 27 | 28 | 29 | 30 | |
Available
Unavailable
Check-In Only
Check-Out Only
Seasonal Rates
| Date Range | Daily | Weekly | Monthly |
| --- | --- | --- | --- |
* Seasonal rates are only estimates and do not reflect taxes or additional fees.
Location
Guest Reviews of
Waikoloa Beach Villas C3
Waikoloa, HI
---
Vacation Rental Reviews by
stars based on
Great Family Vacation Spot
Review by
Keri Anne P.
Our stay at Waikoloa Beach Villas C3 was beautiful. We were right near the swimming pool and bbq area. We were able to utilize both areas, and enjoyed that very much. It was quiet and peaceful. There was everything you needed in the Villa as if you were at home. The Villa itself was immaculate and very clean and comfortable.Michelle from Kohala Coast Properties was very nice and helpful. When i had a question, she took the time to find me the answer right away. There are stores right across the street and also places to eat so everything that we needed or wanted was close to our Villa.This place is beautiful for anyone, especially families.
5 out of 5 stars
Would not hesitate to rent it again.
Review by
Definitely would rate this condo and the experience very high. Condo was as advertised and had everything we needed and communication with property manager was excellent. Location is perfect and complex was very nice. Condo was clean and with all the amenities you would expect. I would recommend and rent the condo again without question.
5 out of 5 stars
Family holiday
Review by
Doug N.
Unit was clean and very well stocked up with supplies in the kitchen
5 out of 5 stars
Waikoloa Vacation
Review by
William F.
Wonderful stay; #C3 was very clean and conveniently located; they provided lots of toys to play with as well! Will definitely come back again.
5 out of 5 stars
Great condo and location
Review by
Daniel J.
Really enjoyed our condo. Located right next to everything including quick access to highway. Quiet stay with clean room and property leaves plenty of great things (coolers, floaters) for beach and golf activity.
5 out of 5 stars
Perfect condo for a family
Review by
Christiana F.
This condo is a great place to stay. Everything is available to borrow that's needed for a family on the go. Beach chairs, snorkel equipment, boogie boards, pool toys, and a little portable cooler. Convenient to have a washer/dryer to clean the beach towels provided. Very clean and comfortable. Great location
5 out of 5 stars
Manager Response:
Thank you Christiana! We love to provide of Vacation Guest with the best possible experience. Please come back soon and stay with us again at Kohala Coast Properties vacation rentals on the Beautiful Big Island !
Great Vacation!
Review by
Bonnie H.
The condo was very nice, clean, comfortable, and provided all the amenities you could ask for. We look forward to a return visit, and have recommended it already to a friend.
5 out of 5 stars
Great place to stay
Review by
John F.
As usual, the condo was very clean and stocked with the beach we needed. Location is awesome and Michele was attentive and professional as usual.
5 out of 5 stars
Relaxing stay
Review by
We were very much at home at the villa. Great location.
5 out of 5 stars
Stay in Big Island
Review by
A nice stay in Big Island, Hawaii.
4 out of 5 stars
Contact Us