Waikoloa Beach Villas E33 (Condominium)
2 Bedroom(s) | 2 Bathroom(s) | Sleeps 6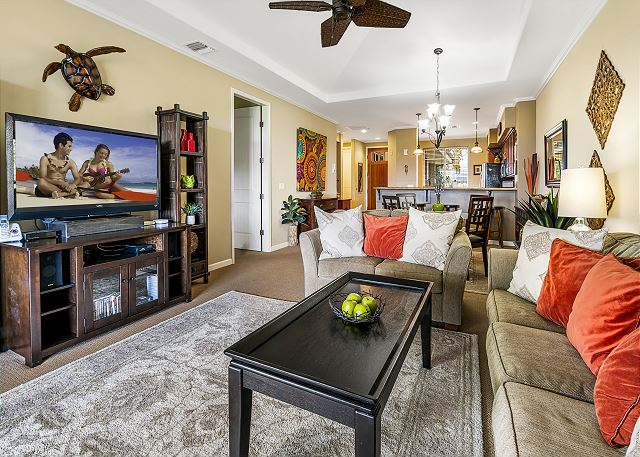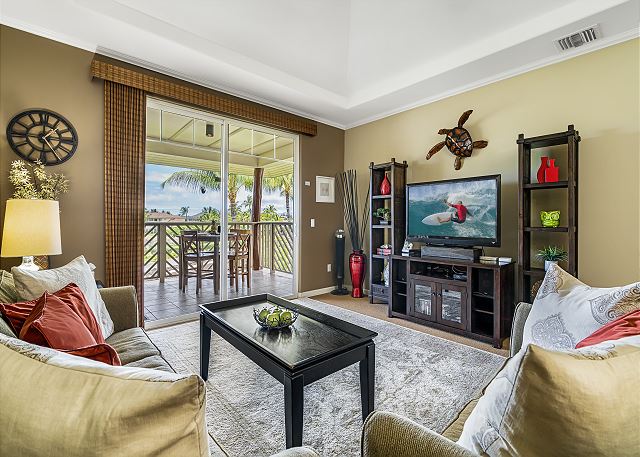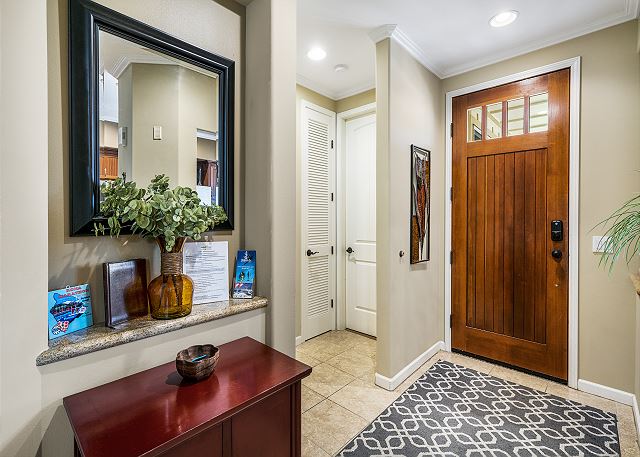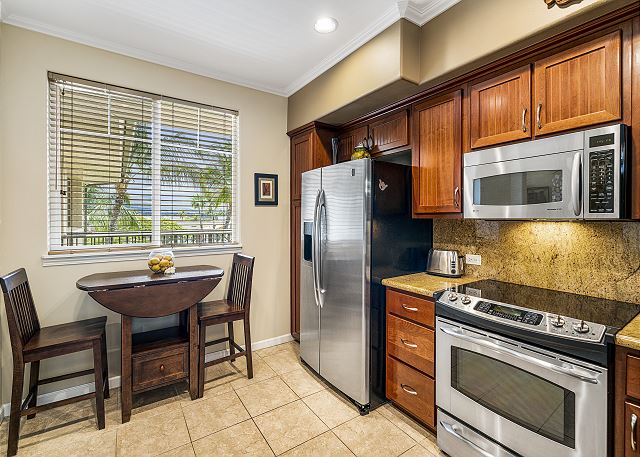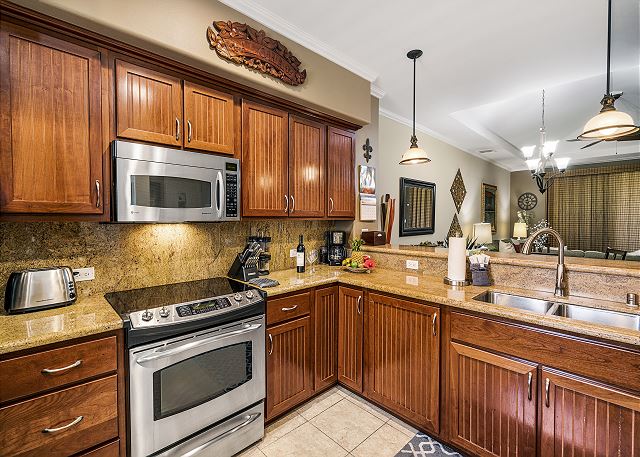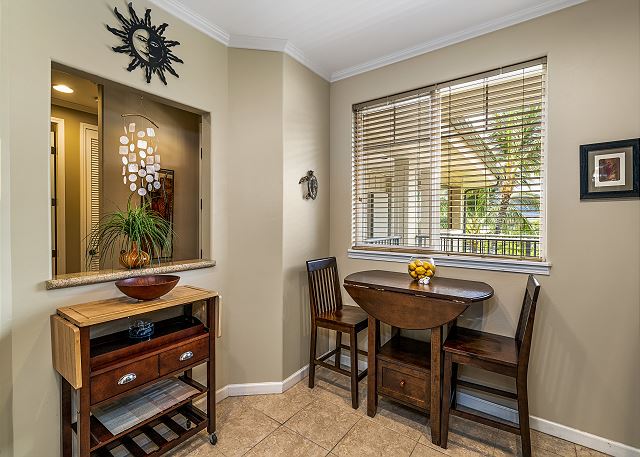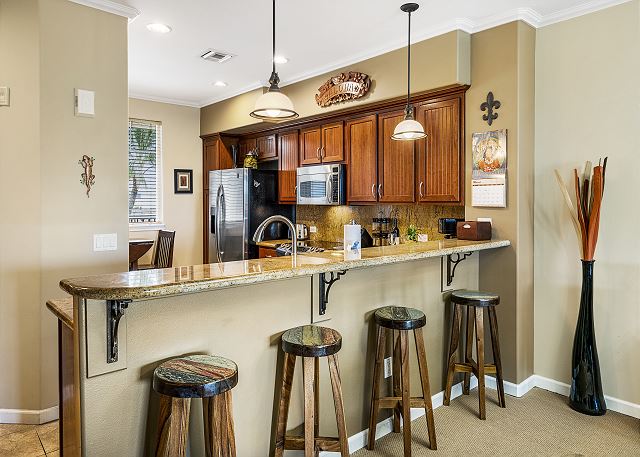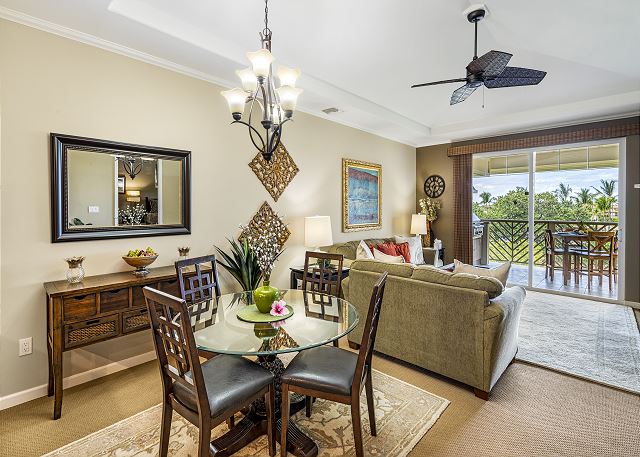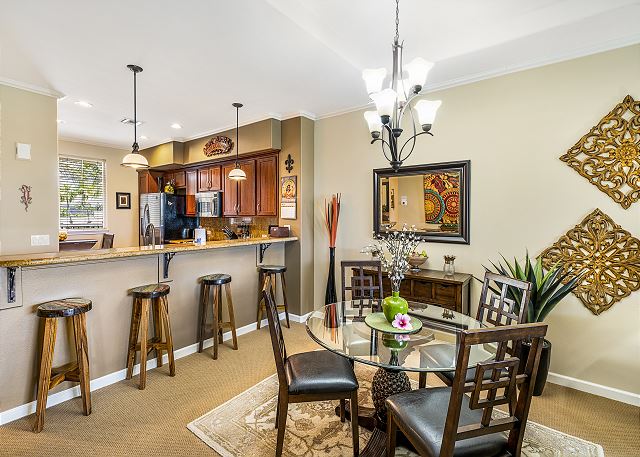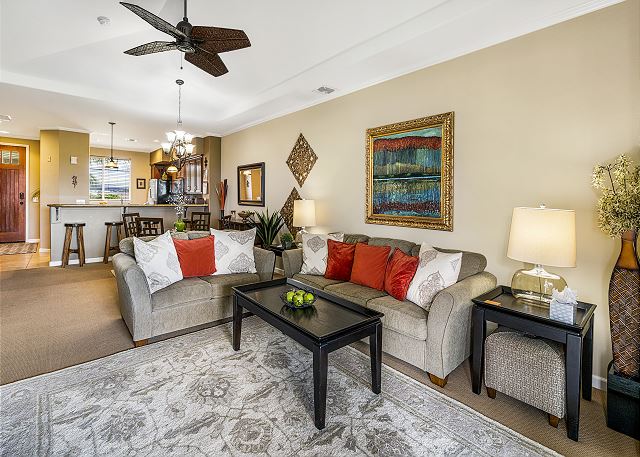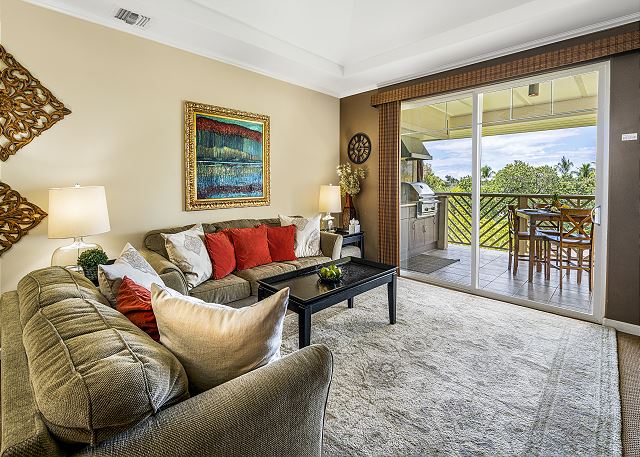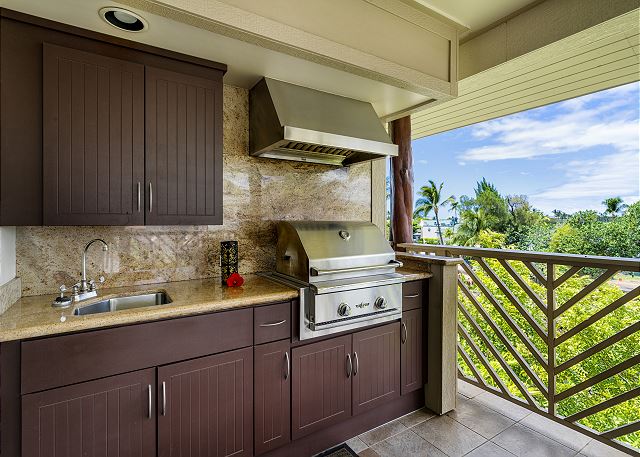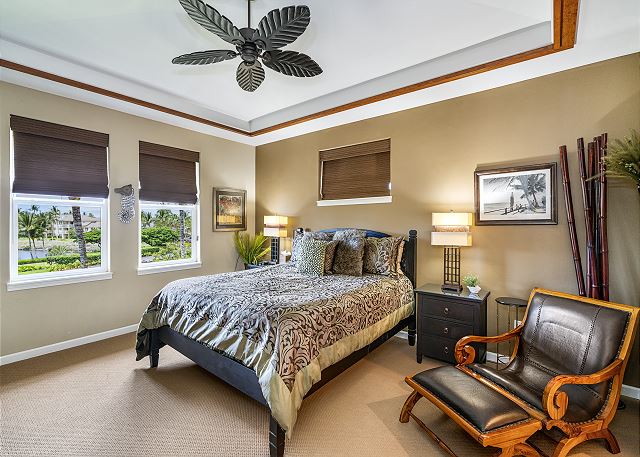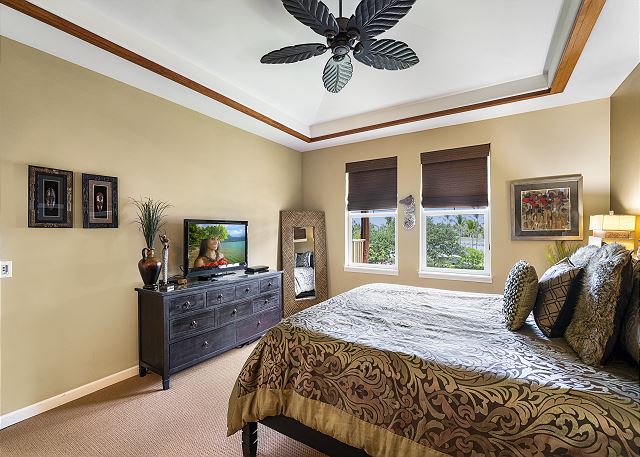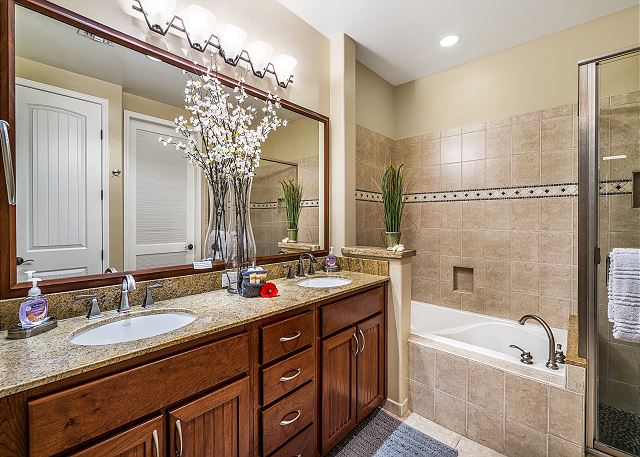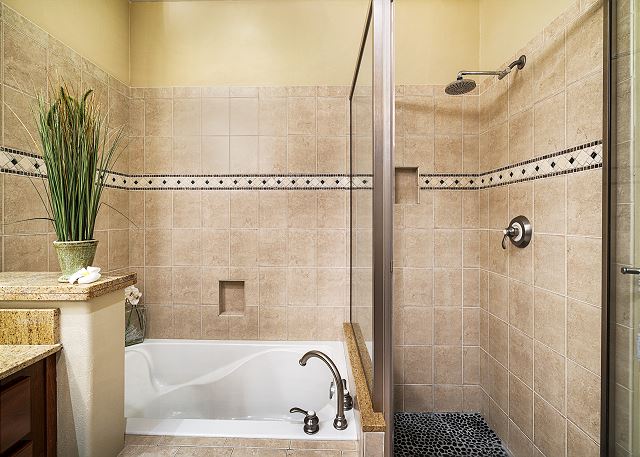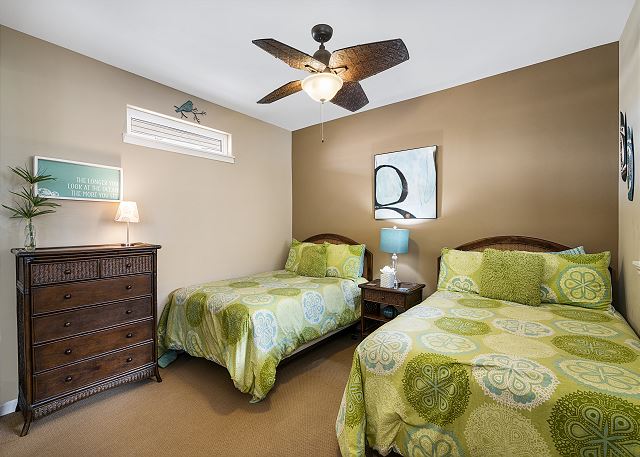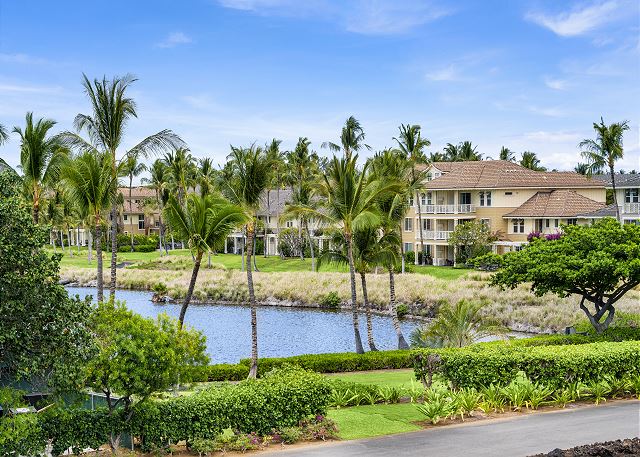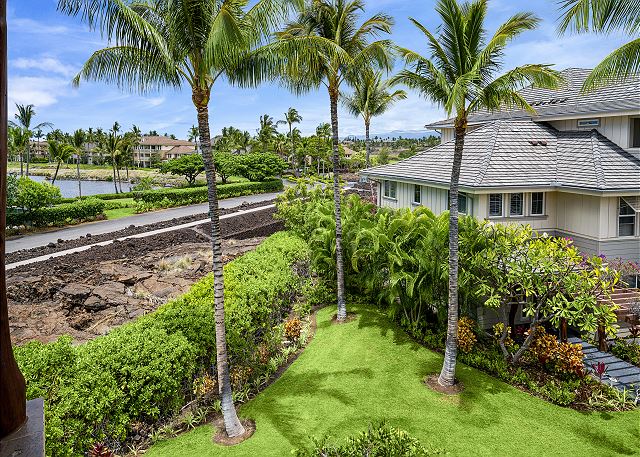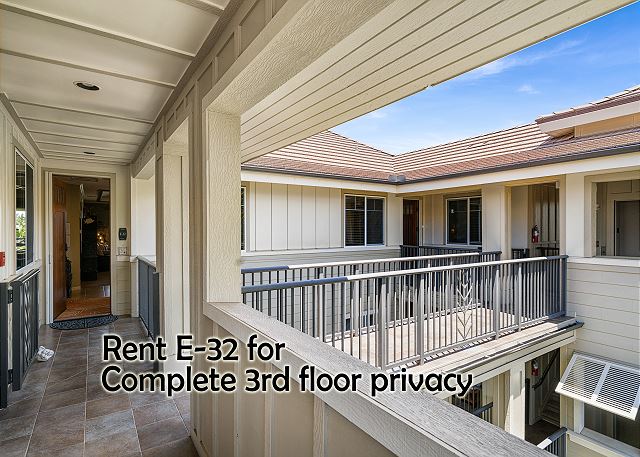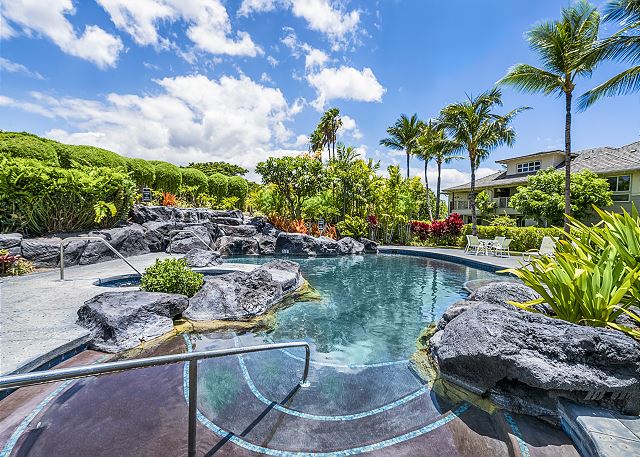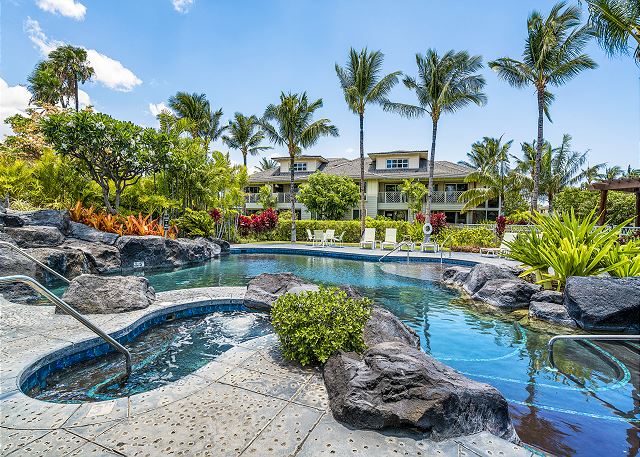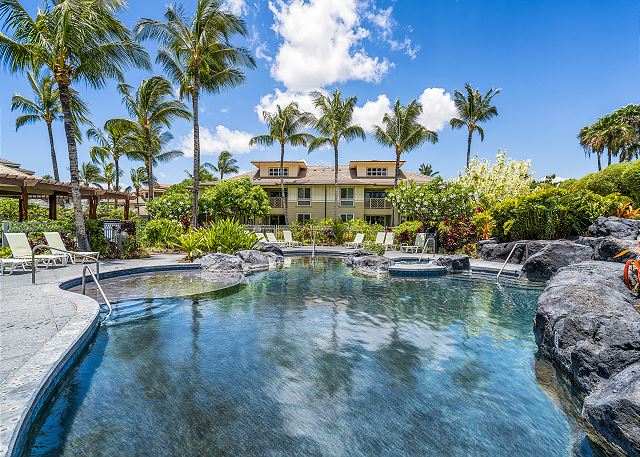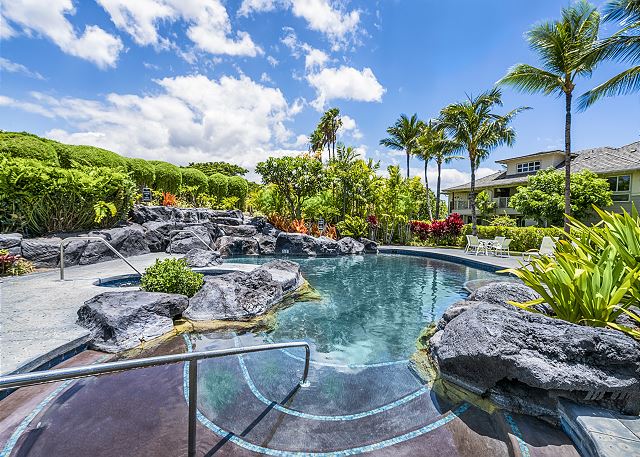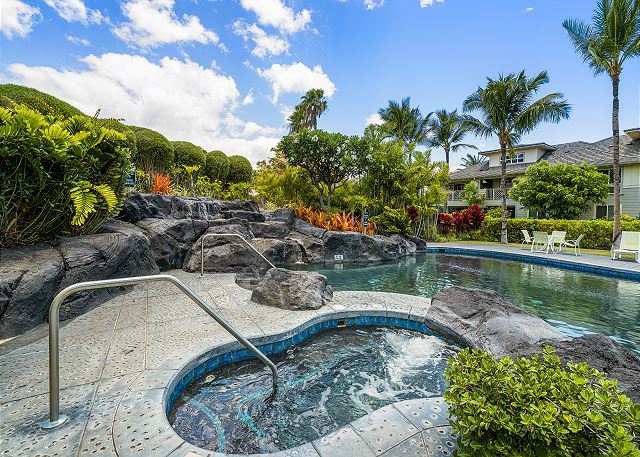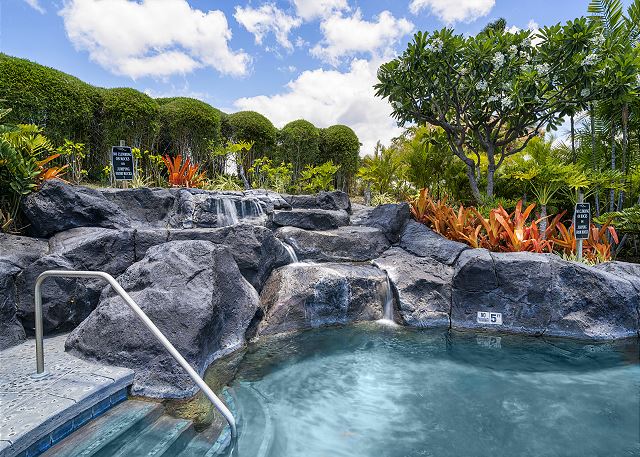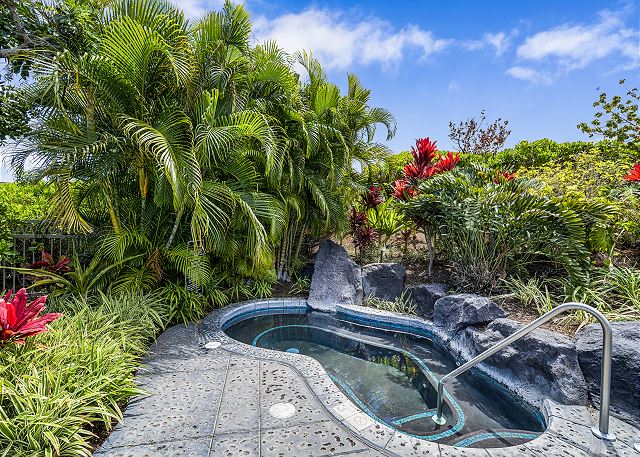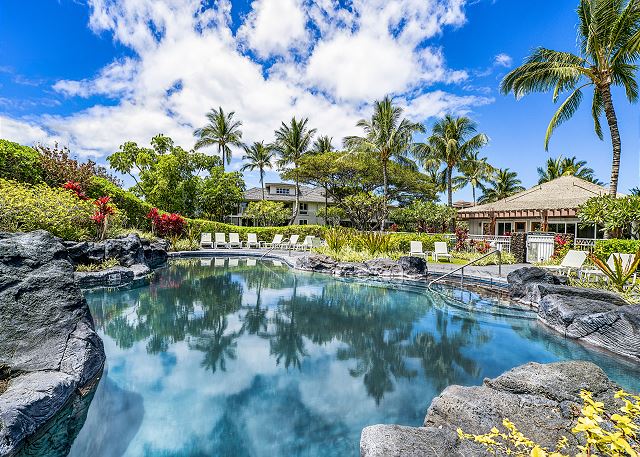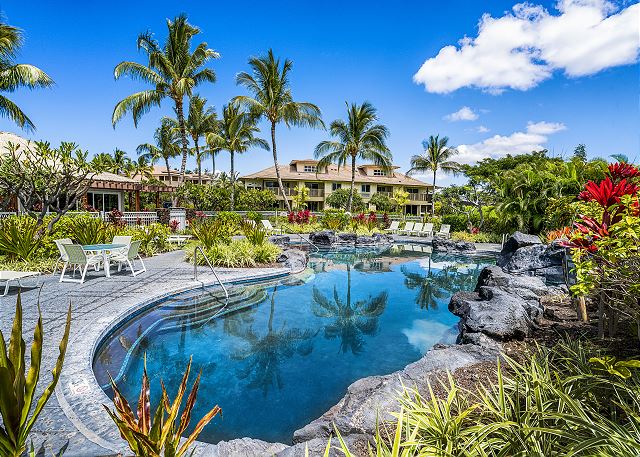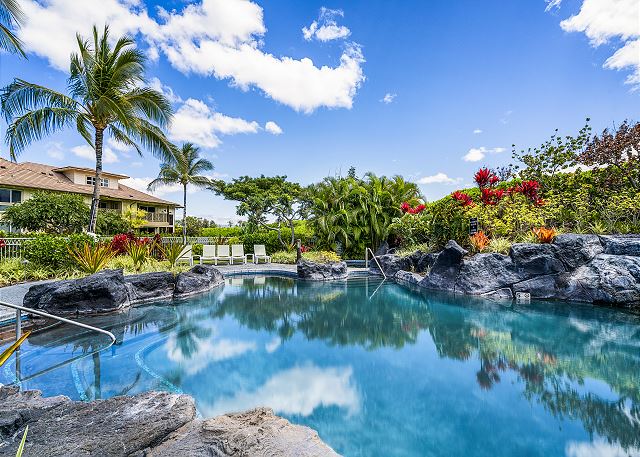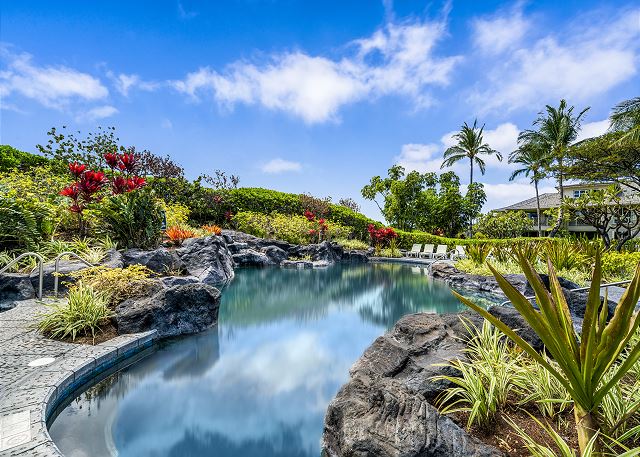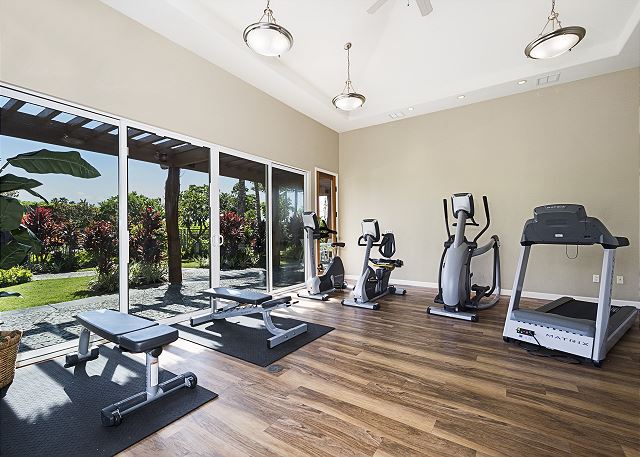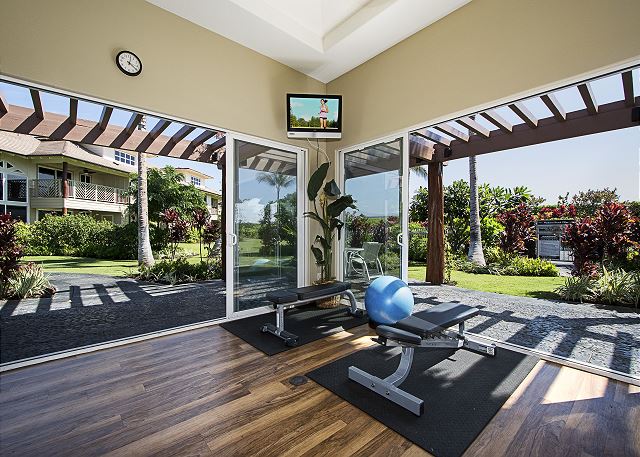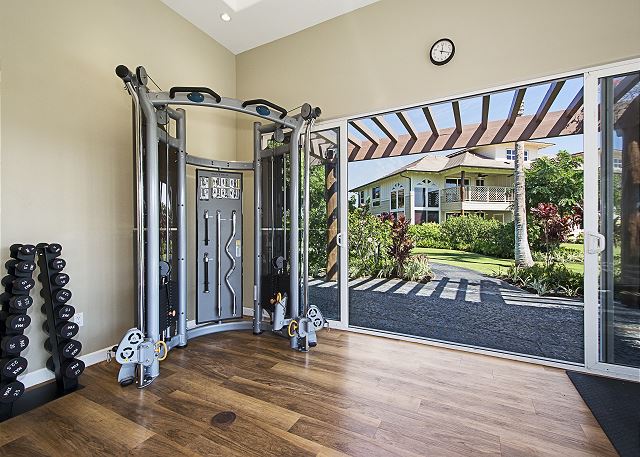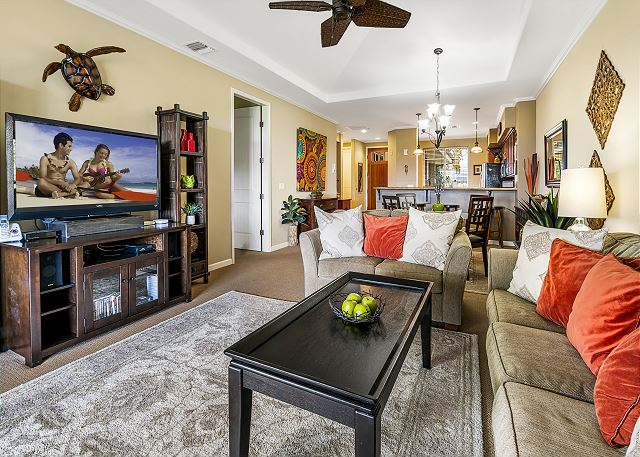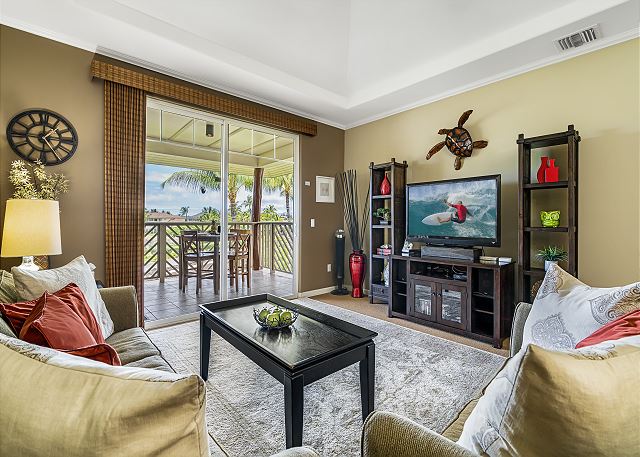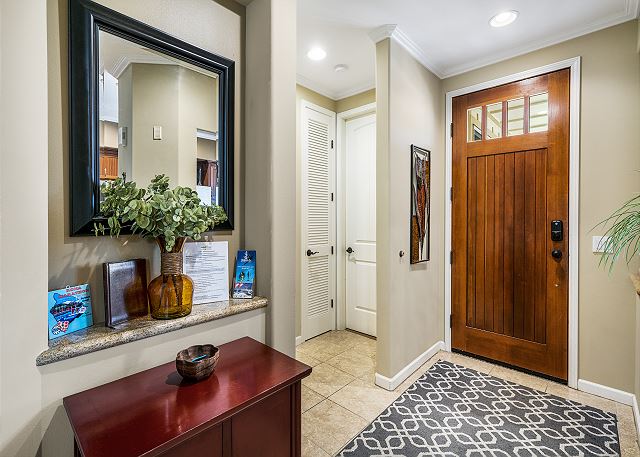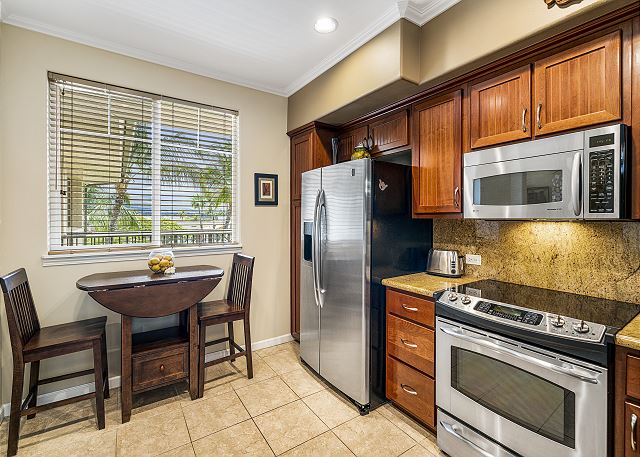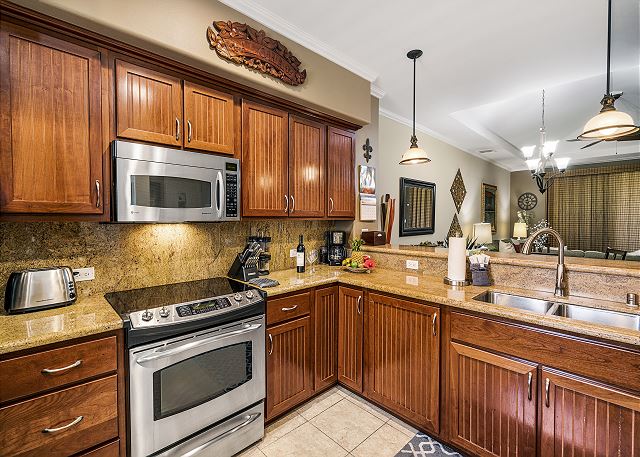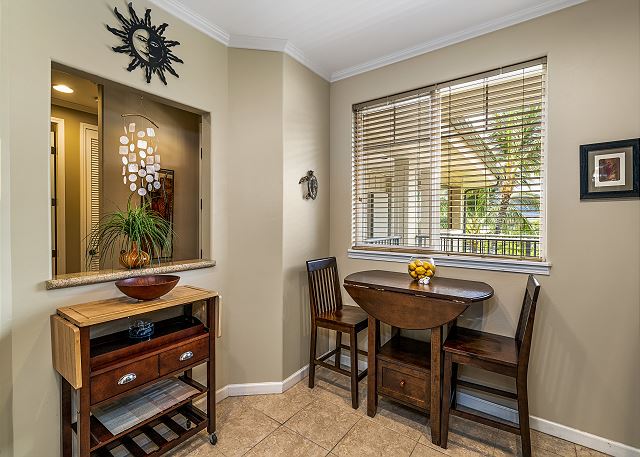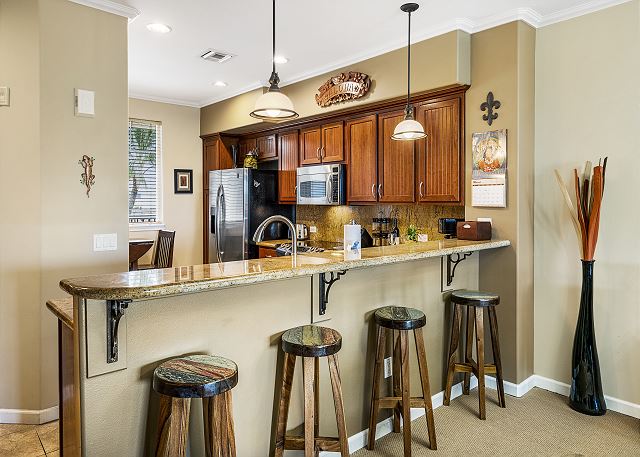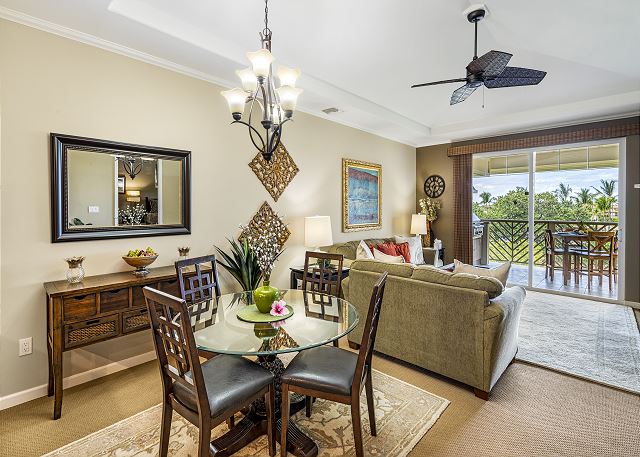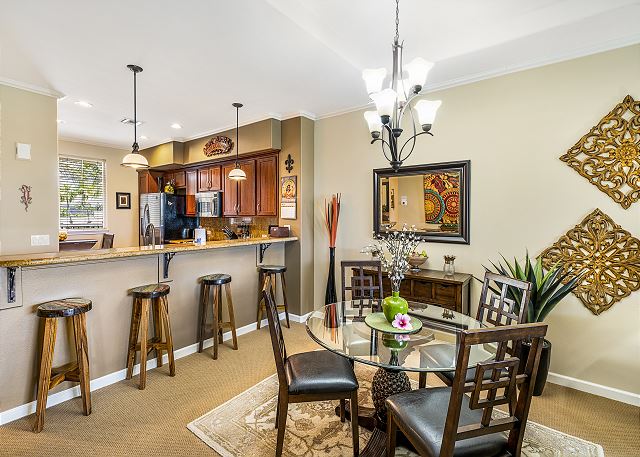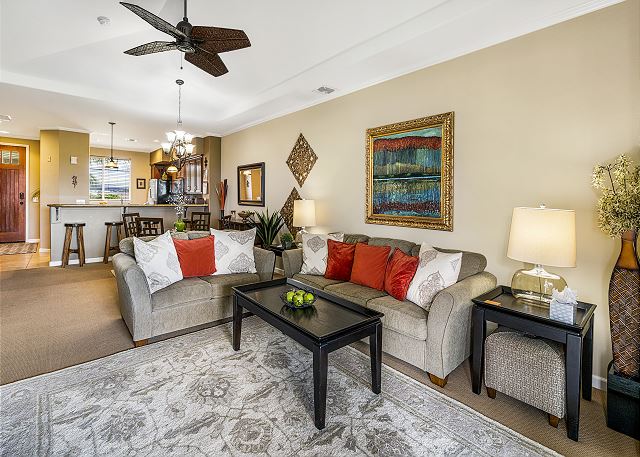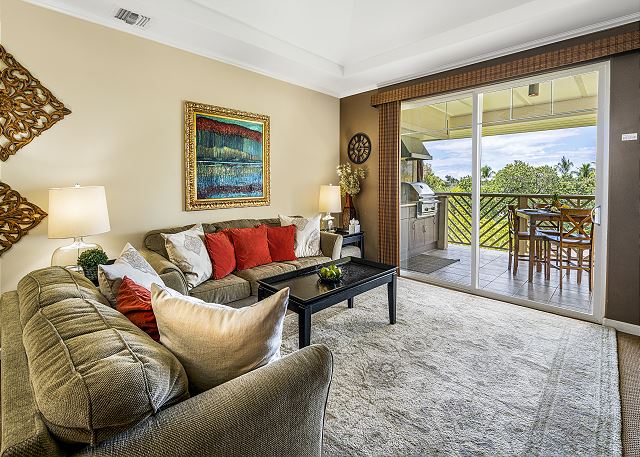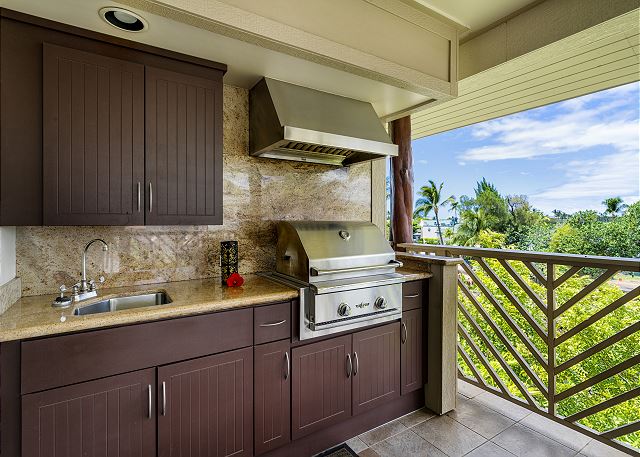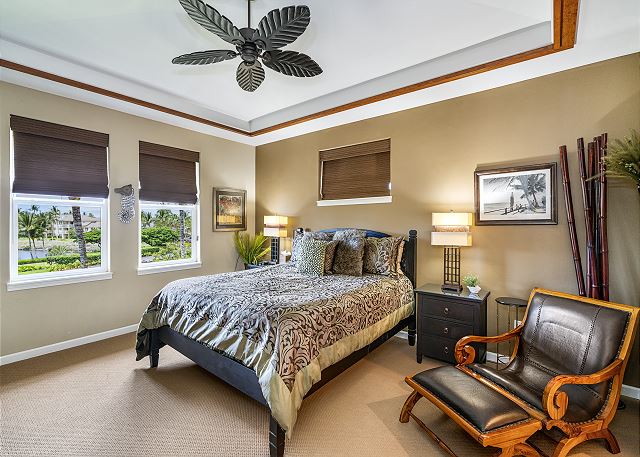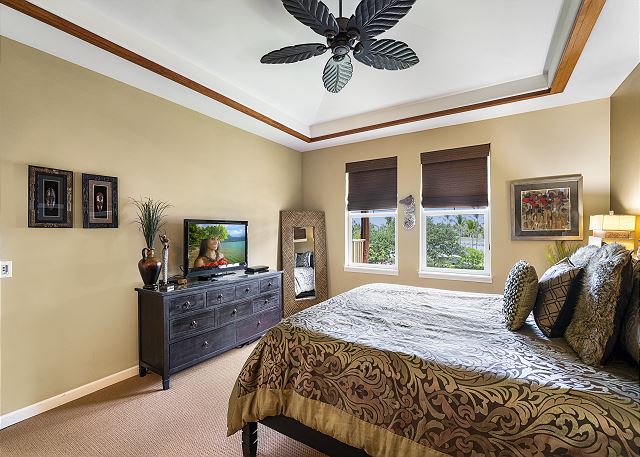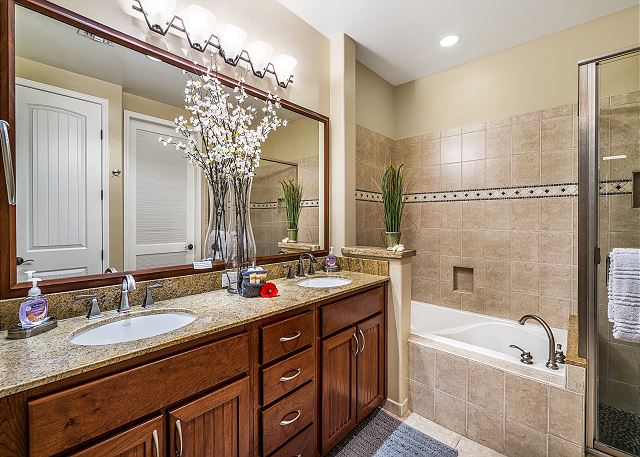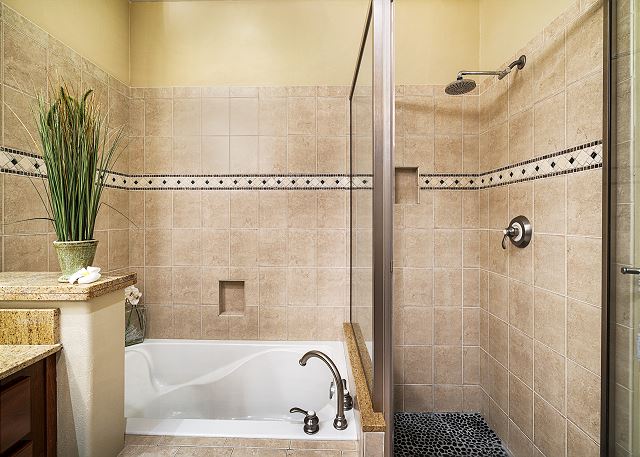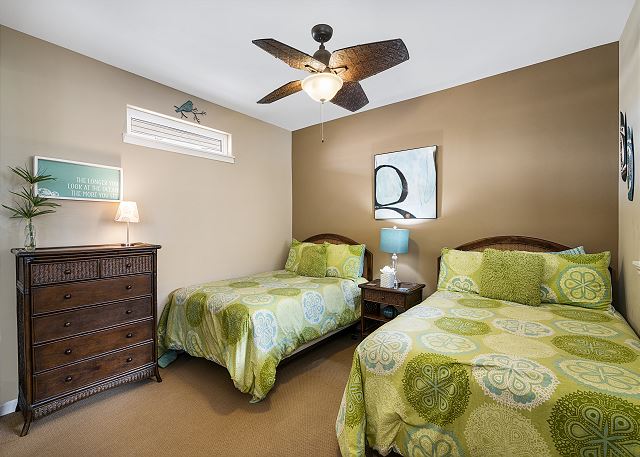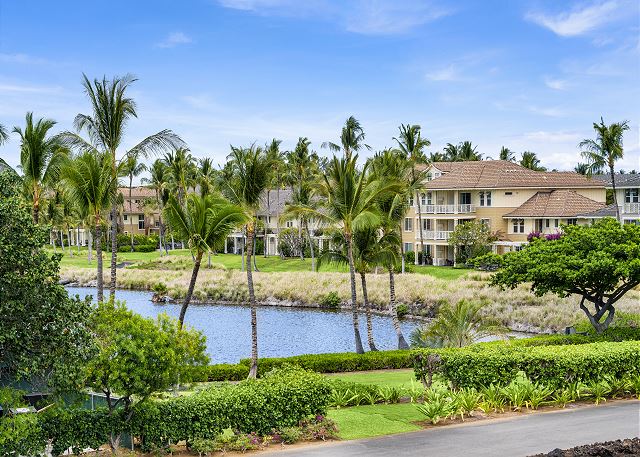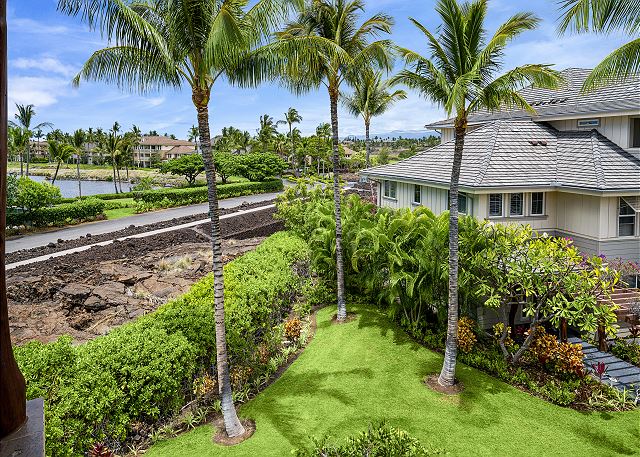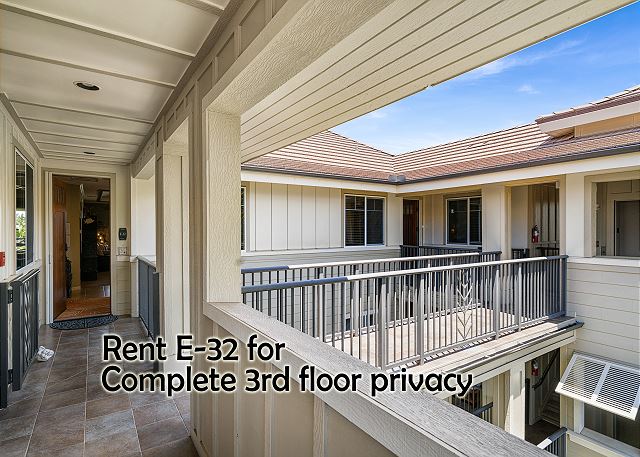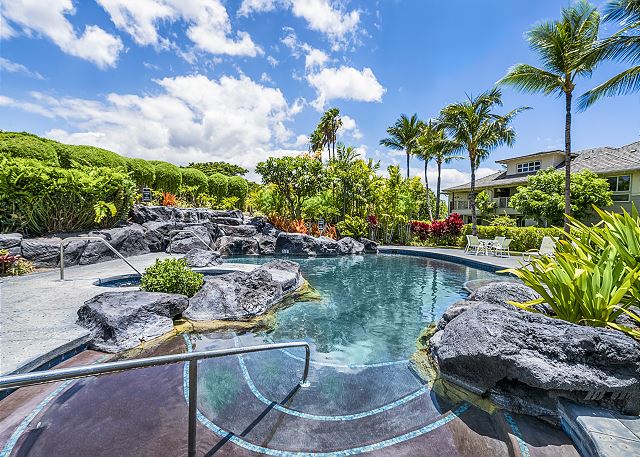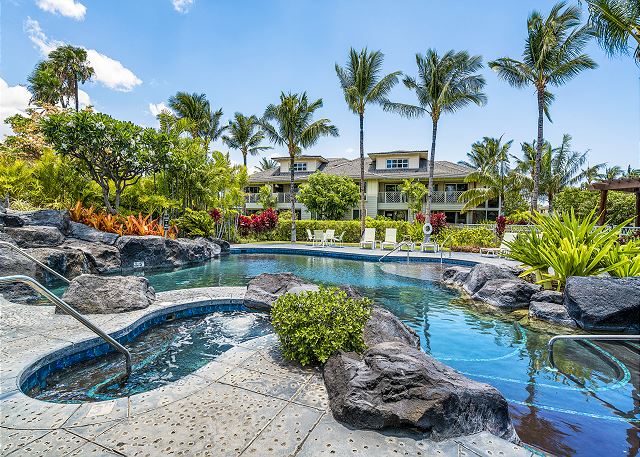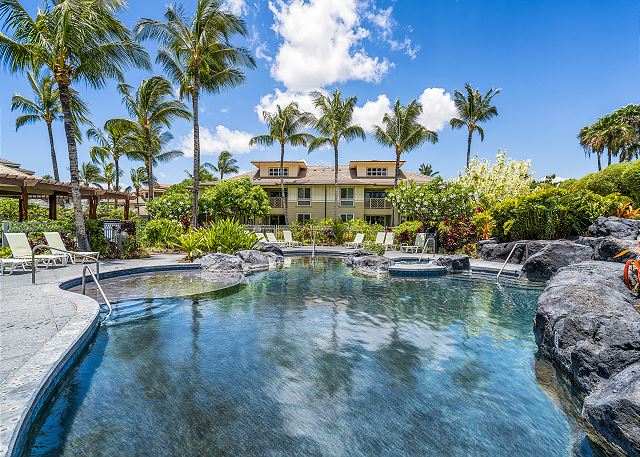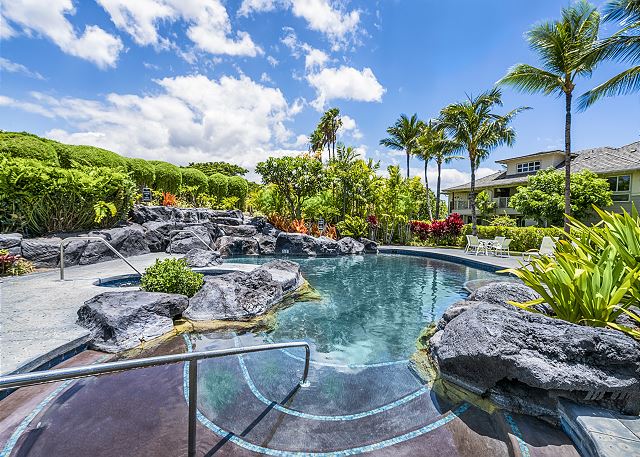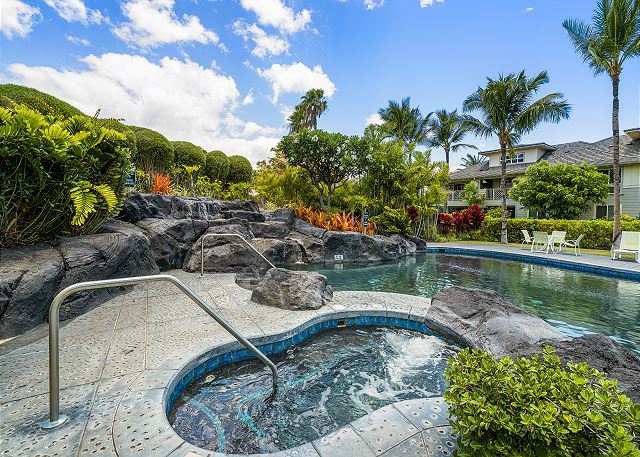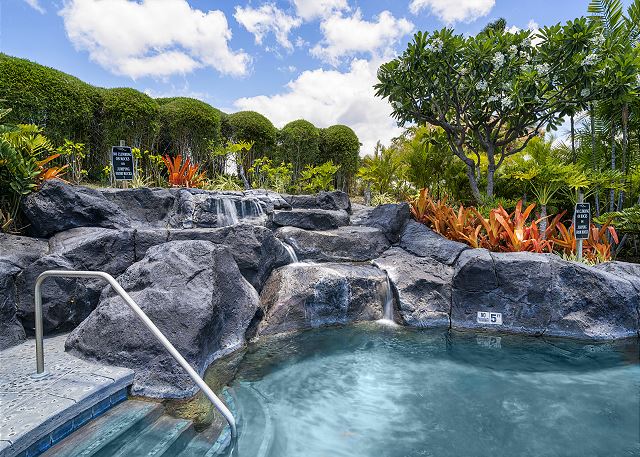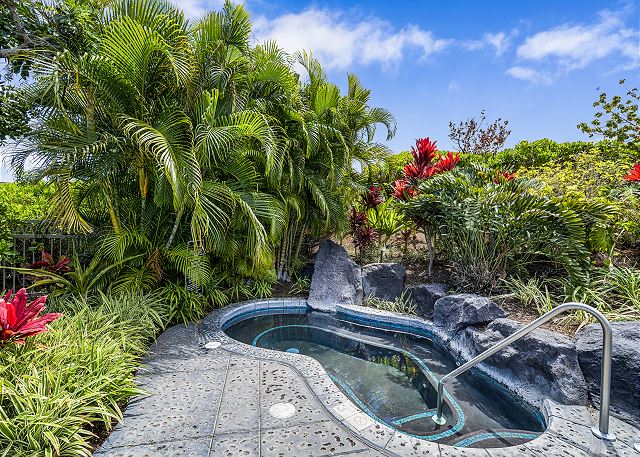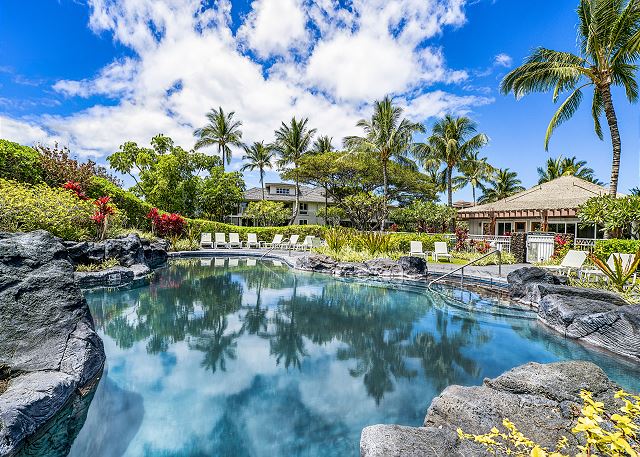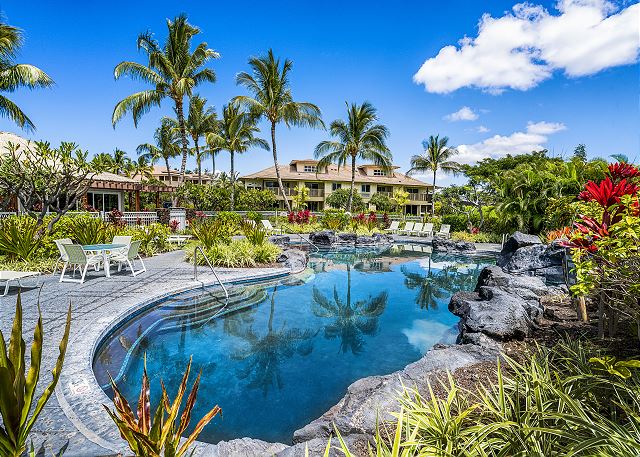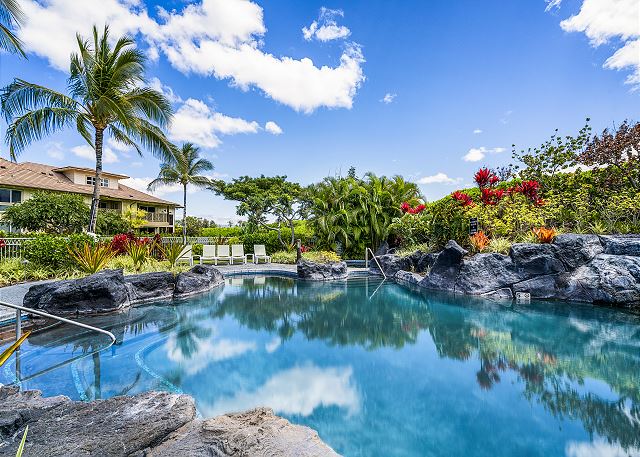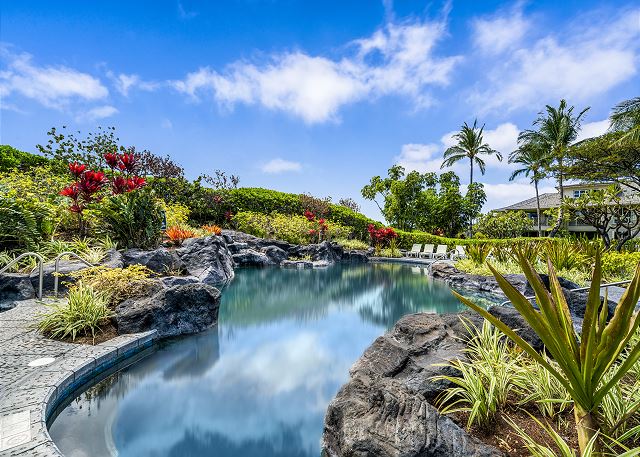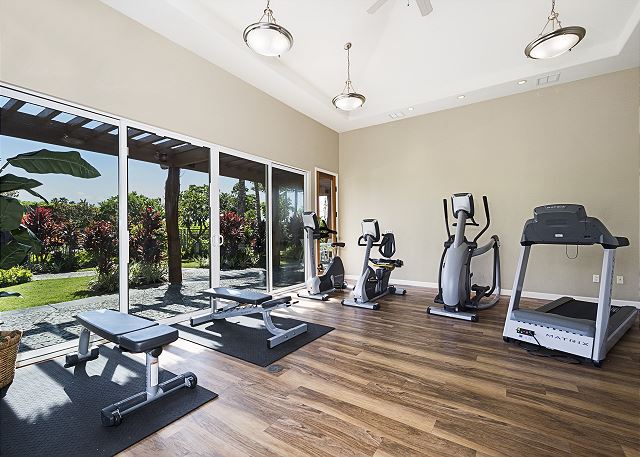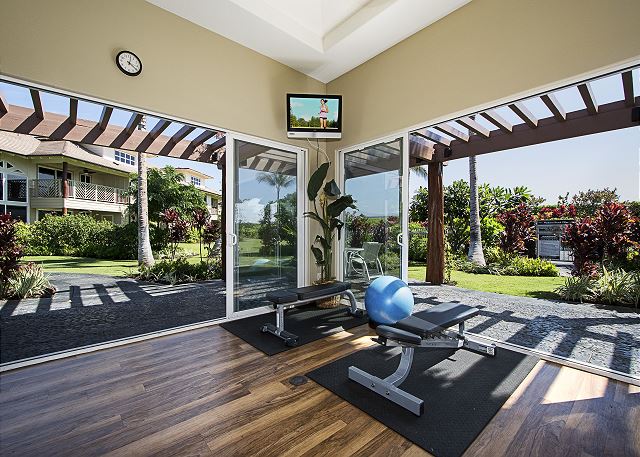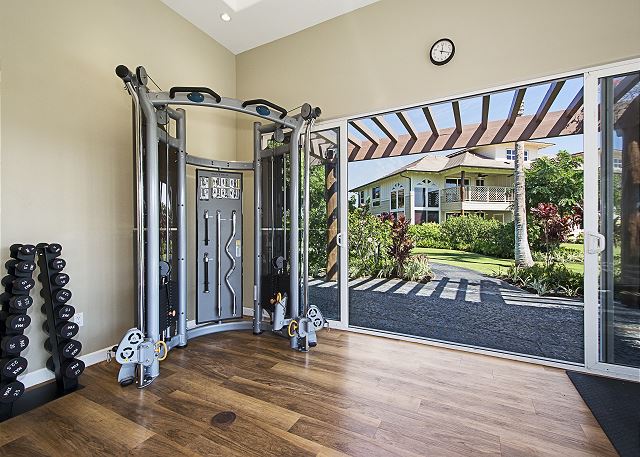 Description
This beautiful 2 bedroom, 2 bath villa has everything you need for a great vacation on The Big Island of Hawaii.

Master bedroom has a king bed and on suite bath. Guest bedroom has 2 full size beds and the living room also has a queen size sofa sleeper. Kitchen is fully stocked with everything you need to prepare meals to enjoy in the dining area or lanai. The living room has comfortable furnishings, a large flat screen TV, and sliding glass doors that open onto the lanai. The lanai has seating for 4 and a BBQ. Unit also includes FREE WIFI and PARKING. You can also rent unit next door E32 and you would have the whole top floor. Waikoloa Beach Villas POOLS are now HEATED!!



You are a short walk to the two swimming pools, two hot tubs and fitness center, and A-Bay Beach is a short 15-minute walk for a amazing time snorkeling, swimming and watching a beautiful sunset.



Located across the street is Queens' Market Place and next door is The Kings' Shops, complete with food court, art galleries, sushi, creamery ice cream, Macaroni Grill, Island Gourmet Market, Starbucks, and many other shops, daily local entertainment, classes and cultural events. Further down the road (10 to 15 minute drive) are other local beaches, whether you want the pristine white sands of Hapuna Beach, or the rocks, trees, and safe entry spots of nearby "Beach 69" (at mile marker 69).





SPECIAL – Spend the day at the Hilton Waikoloa Village, you can buy a discounted DAY PASS to the pool/waterslide or relax at the spa with a SPA PASS. More info will be provided upon booking with us.



FREE WIFI

FREE PARKING

WASHER AND DRYER

ELEVATOR

BEACH CHAIRS, COOLER, BEACH TOWELS

BEACH/SWIM GEAR

A/C – CENTRAL AIR

BBQ AT UNIT

POOL/FITNESS AREA

CLOSE TO POOL, BEACH, SHOPPING AND RESTAURANTS



This villa is cleaned by a professional cleaning company using EPA approved products for use against COVID-19. And cleaning process is following guidelines received from World Health Organization and the Centers for Disease Control.



Hawaii County ordinance to regulate Short-Term Vacation Rentals application for this property was accepted.



***WE DO NOT ACCEPT WIRE TRANSFERS***



HAWAII SHORT TERM VACATION RENTAL# 19-375697

HAWAII GE/TAT TAX ID# 185-047-6544-02

TMK 6-9-008-014-0032
Calendar
October 2021

| S | M | T | W | T | F | S |
| --- | --- | --- | --- | --- | --- | --- |
| | | | | | 01 | 02 |
| 03 | 04 | 05 | 06 | 07 | 08 | 09 |
| 10 | 11 | 12 | 13 | 14 | 15 | 16 |
| 17 | 18 | 19 | 20 | 21 | 22 | 23 |
| 24 | 25 | 26 | 27 | 28 | 29 | 30 |
| 31 | | | | | | |
November 2021

| S | M | T | W | T | F | S |
| --- | --- | --- | --- | --- | --- | --- |
| | 01 | 02 | 03 | 04 | 05 | 06 |
| 07 | 08 | 09 | 10 | 11 | 12 | 13 |
| 14 | 15 | 16 | 17 | 18 | 19 | 20 |
| 21 | 22 | 23 | 24 | 25 | 26 | 27 |
| 28 | 29 | 30 | | | | |
December 2021

| S | M | T | W | T | F | S |
| --- | --- | --- | --- | --- | --- | --- |
| | | | 01 | 02 | 03 | 04 |
| 05 | 06 | 07 | 08 | 09 | 10 | 11 |
| 12 | 13 | 14 | 15 | 16 | 17 | 18 |
| 19 | 20 | 21 | 22 | 23 | 24 | 25 |
| 26 | 27 | 28 | 29 | 30 | 31 | |
January 2022

| S | M | T | W | T | F | S |
| --- | --- | --- | --- | --- | --- | --- |
| | | | | | | 01 |
| 02 | 03 | 04 | 05 | 06 | 07 | 08 |
| 09 | 10 | 11 | 12 | 13 | 14 | 15 |
| 16 | 17 | 18 | 19 | 20 | 21 | 22 |
| 23 | 24 | 25 | 26 | 27 | 28 | 29 |
| 30 | 31 | | | | | |
February 2022

| S | M | T | W | T | F | S |
| --- | --- | --- | --- | --- | --- | --- |
| | | 01 | 02 | 03 | 04 | 05 |
| 06 | 07 | 08 | 09 | 10 | 11 | 12 |
| 13 | 14 | 15 | 16 | 17 | 18 | 19 |
| 20 | 21 | 22 | 23 | 24 | 25 | 26 |
| 27 | 28 | | | | | |
March 2022

| S | M | T | W | T | F | S |
| --- | --- | --- | --- | --- | --- | --- |
| | | 01 | 02 | 03 | 04 | 05 |
| 06 | 07 | 08 | 09 | 10 | 11 | 12 |
| 13 | 14 | 15 | 16 | 17 | 18 | 19 |
| 20 | 21 | 22 | 23 | 24 | 25 | 26 |
| 27 | 28 | 29 | 30 | 31 | | |
April 2022

| S | M | T | W | T | F | S |
| --- | --- | --- | --- | --- | --- | --- |
| | | | | | 01 | 02 |
| 03 | 04 | 05 | 06 | 07 | 08 | 09 |
| 10 | 11 | 12 | 13 | 14 | 15 | 16 |
| 17 | 18 | 19 | 20 | 21 | 22 | 23 |
| 24 | 25 | 26 | 27 | 28 | 29 | 30 |
May 2022

| S | M | T | W | T | F | S |
| --- | --- | --- | --- | --- | --- | --- |
| 01 | 02 | 03 | 04 | 05 | 06 | 07 |
| 08 | 09 | 10 | 11 | 12 | 13 | 14 |
| 15 | 16 | 17 | 18 | 19 | 20 | 21 |
| 22 | 23 | 24 | 25 | 26 | 27 | 28 |
| 29 | 30 | 31 | | | | |
June 2022

| S | M | T | W | T | F | S |
| --- | --- | --- | --- | --- | --- | --- |
| | | | 01 | 02 | 03 | 04 |
| 05 | 06 | 07 | 08 | 09 | 10 | 11 |
| 12 | 13 | 14 | 15 | 16 | 17 | 18 |
| 19 | 20 | 21 | 22 | 23 | 24 | 25 |
| 26 | 27 | 28 | 29 | 30 | | |
July 2022

| S | M | T | W | T | F | S |
| --- | --- | --- | --- | --- | --- | --- |
| | | | | | 01 | 02 |
| 03 | 04 | 05 | 06 | 07 | 08 | 09 |
| 10 | 11 | 12 | 13 | 14 | 15 | 16 |
| 17 | 18 | 19 | 20 | 21 | 22 | 23 |
| 24 | 25 | 26 | 27 | 28 | 29 | 30 |
| 31 | | | | | | |
August 2022

| S | M | T | W | T | F | S |
| --- | --- | --- | --- | --- | --- | --- |
| | 01 | 02 | 03 | 04 | 05 | 06 |
| 07 | 08 | 09 | 10 | 11 | 12 | 13 |
| 14 | 15 | 16 | 17 | 18 | 19 | 20 |
| 21 | 22 | 23 | 24 | 25 | 26 | 27 |
| 28 | 29 | 30 | 31 | | | |
September 2022

| S | M | T | W | T | F | S |
| --- | --- | --- | --- | --- | --- | --- |
| | | | | 01 | 02 | 03 |
| 04 | 05 | 06 | 07 | 08 | 09 | 10 |
| 11 | 12 | 13 | 14 | 15 | 16 | 17 |
| 18 | 19 | 20 | 21 | 22 | 23 | 24 |
| 25 | 26 | 27 | 28 | 29 | 30 | |
Available
Unavailable
Check-In Only
Check-Out Only
Seasonal Rates
| Date Range | Daily | Weekly | Monthly |
| --- | --- | --- | --- |
* Seasonal rates are only estimates and do not reflect taxes or additional fees.
Location
Guest Reviews of
Waikoloa Beach Villas E33
Waikoloa, HI
---
Vacation Rental Reviews by
stars based on
Wished we could have stayed longer!
Review by
Andrea C.
We loved our time at the condo. The location is terrific with the Queen and Kings Marketplace across the street. Easy to get to the market for food and souvenir purchases. And close by to A Bay beach (which we did not go to for the beach but had a memorable sunset dinner at Lava Lava). The condo is very comfortable. We grilled on the Lanai and appreciated the use of the boogie boards, beach chairs and umbrellas! We spent our time on the beaches - so didn't get to fit in any pool time. Maybe next time! (Heads up to all visitors - since June 2021 some beaches now have a parking fee ($10) and per person fee ($5) - it can add up for a family!)
5 out of 5 stars
Perfect for our family
Review by
Eileen M.
This was our first visit to the BI. We were suppose to visit in June 2020 but was able to roll it over with ease to 2021. Thank you!We loved the condo. It was clean, comfortable and everything we needed for 6 people for 11 days. We all cook so there was everything we needed. Having the BBQ on the Lanai was the best! We also had the rented the condo next to us as there were a total of 12 people so this was fantastic. Having all the shops and stores nearby was very handy. Not knowing the area it was perfect. 20 minutes from the airport and Costco's. 10 minute walk to the beach or you can drive and park which we did as we had lots to carry. Yes the gas station is across the street but was never a issue. This area seemed quiet considering what was around us. If we had a complaint it would be the the chairs on the lanai were uncomfortable. When in the condo we spent 90% of our time out there and having comfortable seating would have been nice. The lounge was the only comfortable seating. Thank you for sharing your home.Will definitely be back
5 out of 5 stars
Beautiful condo
Review by
Ed L.
It was such an amazing stay felt like staying at home. The house felt cozy and was filled with character. Loved that its was on the 3rd floor the balcony had a great view for all our meals.
5 out of 5 stars
Excellent Condo for family Vacation
Review by
Our family of 5 spent a week in this superior rental property. We have visited the area previously and were intentional about staying in Waikoloa as it is beautiful and central starting point for many of our day's activities. The location is excellent and short walk to shopping. The unit was clean, the kitchen had everything we needed to prepare all meals during our stay, we really enjoyed barbecuing and eating on the Lanai. We were thankful for the use of the cooler for lunches, beach chairs, umbrellas, boogie boards and snorkels, thanks goodness for the suburban for beach days with family of 5. Our family travels frequently and almost always seeks out a condo unit, this property met and exceeded our expectations, a great home away from home. The community pool is very nice and close to unit, we did not use it much as the older kids prefer beach days now!
5 out of 5 stars
You will not be disappointed !!
Review by
I have been coming to the Big Island and renting condos for many years and this unit has the best presentation of any unit I have stayed in. Well equipped with all the cooking utensils you'll need. Great grill on lanai for outdoor cooking. Parking is an issue but if you have only one car you'll be OK as there is a garage for parking. Good supply of beach chairs and toys for the kids. Stayed here for two weeks and enjoyed every minute. Close to shopping and beach. Very quiet location. Would highly recommend this unit.
5 out of 5 stars
Awesome Vacation
Review by
Kevin K.
Excellent property in great location, we loved it and hope to return soon if not yearly.
5 out of 5 stars
Great place, clean and comfortable.
Review by
Mark S.
it went smooth. no issues. absolutely wonderful.
5 out of 5 stars
Attention to every little detail.
Review by
REDAWN. John B.
The pictures do not do this place justice. Just beautiful, clean and nicely decorated. Our every need was fulfilled.
5 out of 5 stars
Everything you need!
Review by
Theresa S.
We really enjoyed our stay at the Waikola Beach Villas. The condo was the perfect fit and had everything we need. The grounds are gorgeous, great pool and even has a nice little gym. The location is fantastic...quick walk to the beach, restaurants and market. We will absolutely be back!
5 out of 5 stars
Best Place to stay!!
Review by
OG Carol M.
This condo was amazing. It was beautifully decorated and had everything we needed to make our stay great. The location of the condo is perfect-centrally located for exploring and close to so many beautiful beaches. The community where the condo is located is absolutely gorgeous with the landscaping a site in itself!! The view from the lanai was perfect for sunsets. We loved sitting out on the lanai with our morning cup of Kona coffee and at night for either a grilled fresh caught fish on the outdoor kitchen or cocktail before heading out for dinner. We really liked Lava Lava Beach Club. Can't wait to come back!!
5 out of 5 stars
Amazing condo with perfect location
Review by
Elizabeth G.
The condo was perfect and for all of our needs. It is beautifully decorated with all the essential, including beach supplies. The master bedroom bed was VERY comfortable too. The location could be more perfect either. You are within walking distance to A Bay and restaurants in the area. There are multiple beaches just a 10-15 min drive away. We would/will recommend this place to all of our friends and family.
5 out of 5 stars
Family Hawaii Vacation
Review by
Karen W.
It was more than we expected. Very comfortable and decorated very nice.Garage and equipment were nice to have access to.
5 out of 5 stars
Wonderful experience!!
Review by
Erica F.
Beautiful, clean home with lots of great amenetities. Close to beautiful beaches. Everything you need to take to the beach!
5 out of 5 stars
Family Vacation 88.
Review by
Michele K.
Loved this place. Had everything we needed to make our stay fabulous. Would come back again.
5 out of 5 stars
Great condo to spend our vacation
Review by
THAO V.
The condo was very nice looking and very clean, had everything we needed to fix a meal, beach gears, and we felt comfortable after coming back from an outing trip! we really like it here, it's close to the Queen mall and dining area (across the small street), and about a minute away from king shop, also close to beaches and some fancy resorts to take a tour on down time, close to main hwy. Michelle , the manager, was very helpful and lovely, responded to my emails nd phone call promptly should we need any help or information!3?
5 out of 5 stars
Manager Response:
Thank you so much for staying with us! We are so happy you had a great vacation and loved the property. Come back soon! Mahalo, KCP Team
Exceptional location and value
Review by
We loved the condo the minute we walked in! Clean, well decorated, everything we needed was there. Great view, quiet, comfortable, beautiful pool.
5 out of 5 stars
Convenient location.
Review by
Joani W.
Awesome location near grocery, shopping, dining, beach activities.Clean unit with everything one needed. Disappointed that one could always smell cigarette smoke while on the lanai. Some days there was constant noise from the gas station and or mall across the street. Nice place other than that.
4 out of 5 stars
Beautiful condo
Review by
Lovely condo. Kitchen had everything. Bed in master bedroom was comfy. Noisy some mornings with gardeners. Close to shopping centers and restaurants. Nice pool and hot tub.
4 out of 5 stars
Great Place
Review by
Matt M.
We had a great stay. Very nice unit. Very clean. We had an issue with not being able to get in the garage, but it was remedied quickly. I would 100% recommend staying here. Would come back again.
5 out of 5 stars
Contact Us