Waikoloa Beach Villas G2 (Condominium)
2 Bedroom(s) | 2 Bathroom(s) | Sleeps 5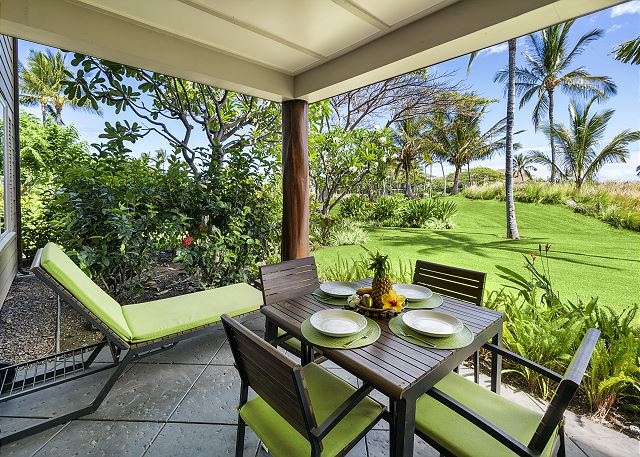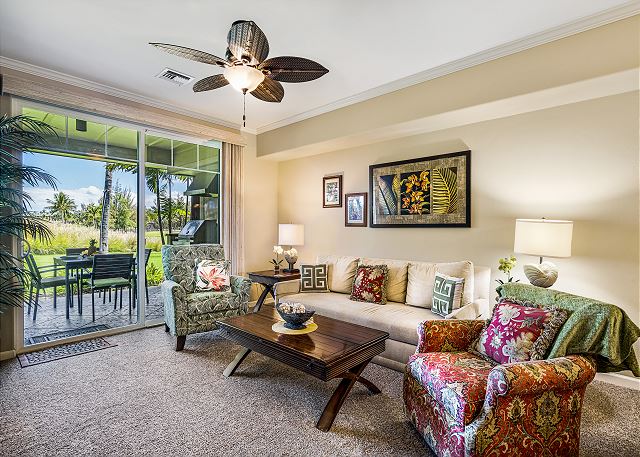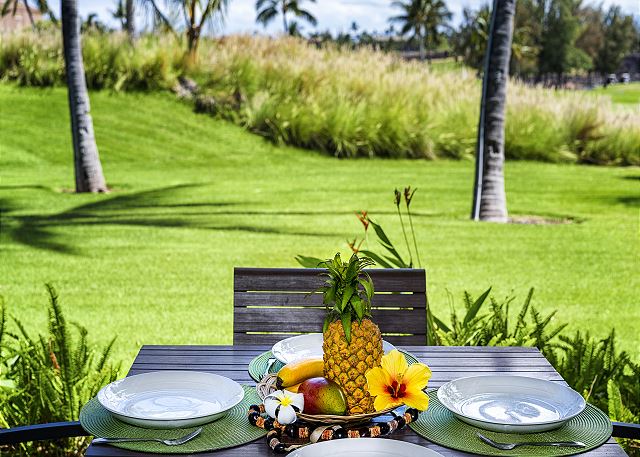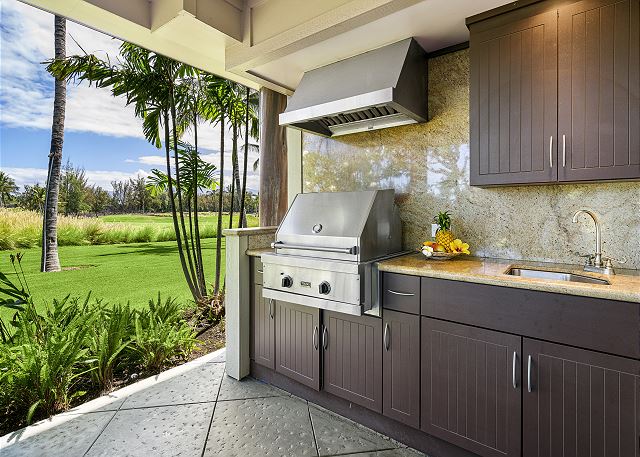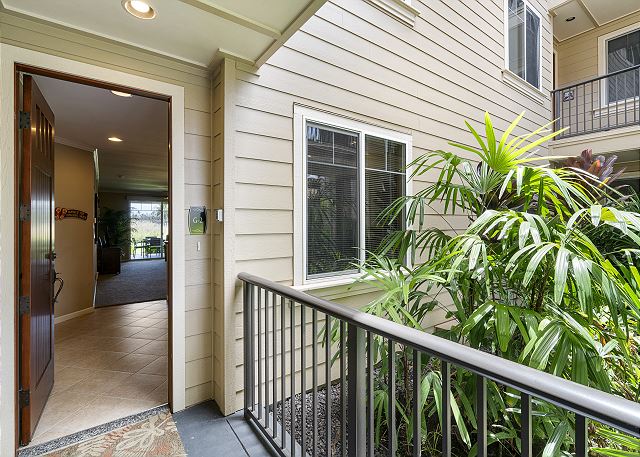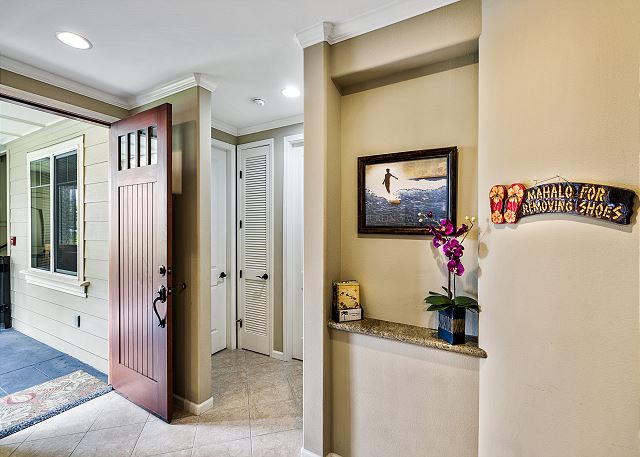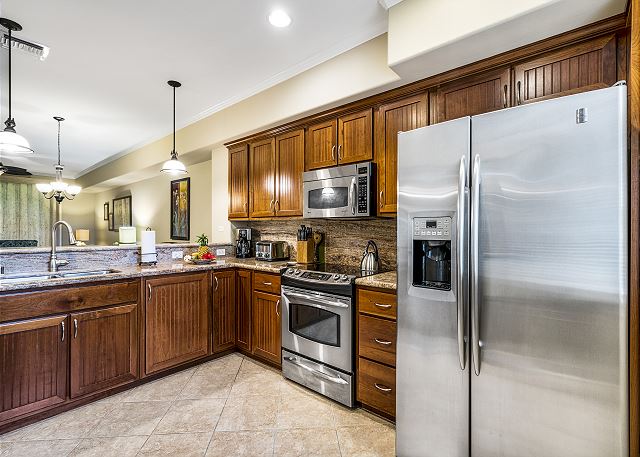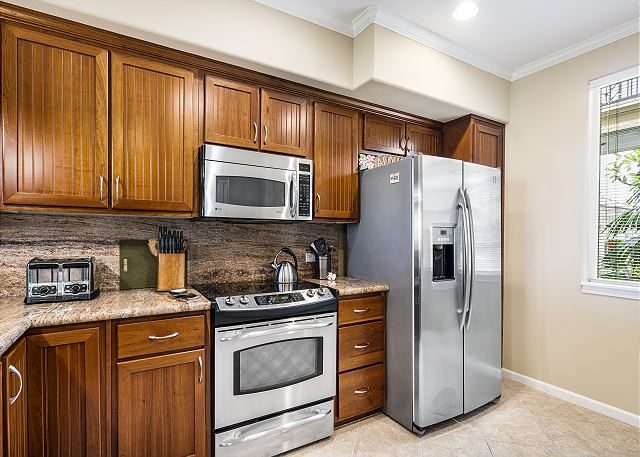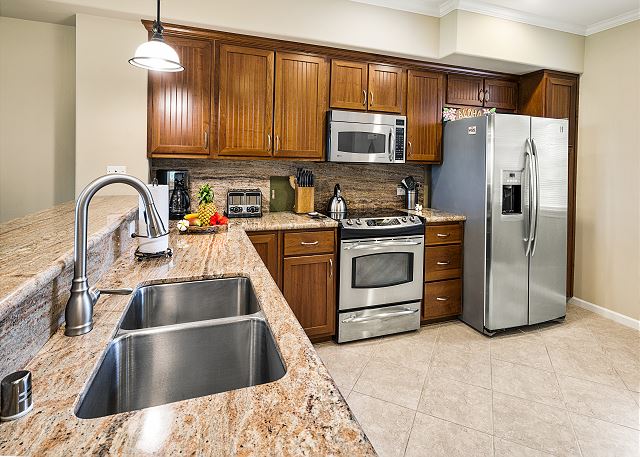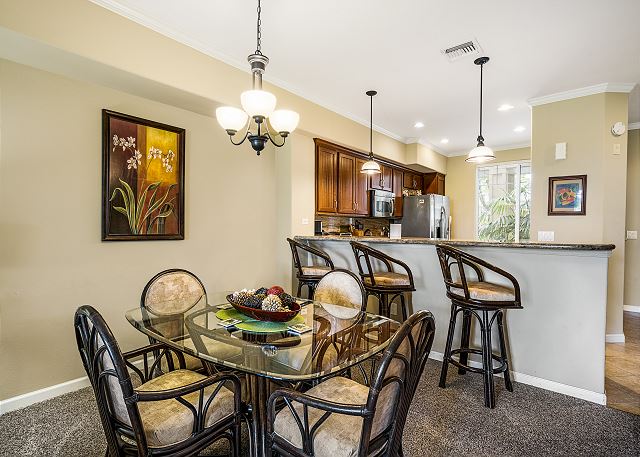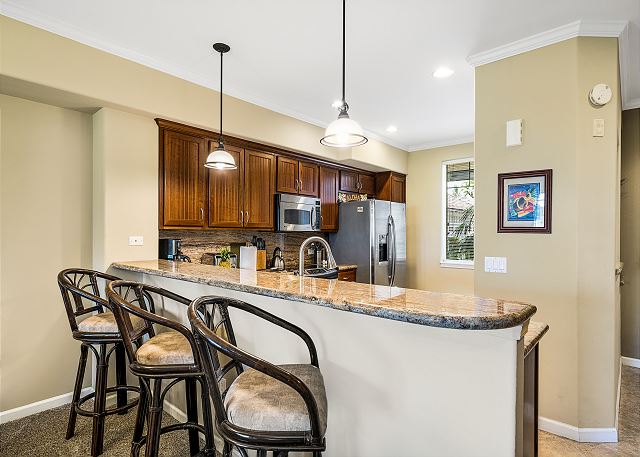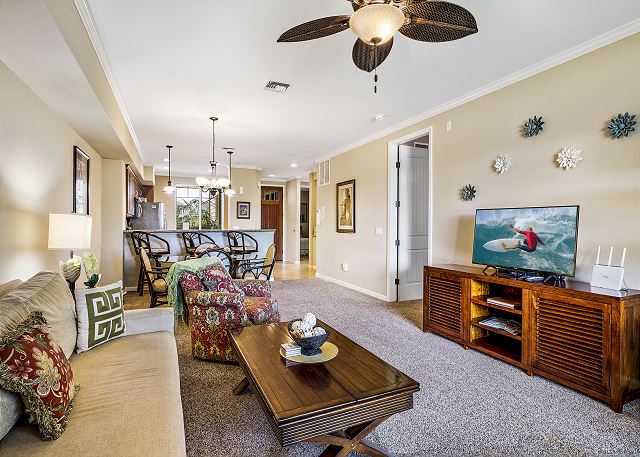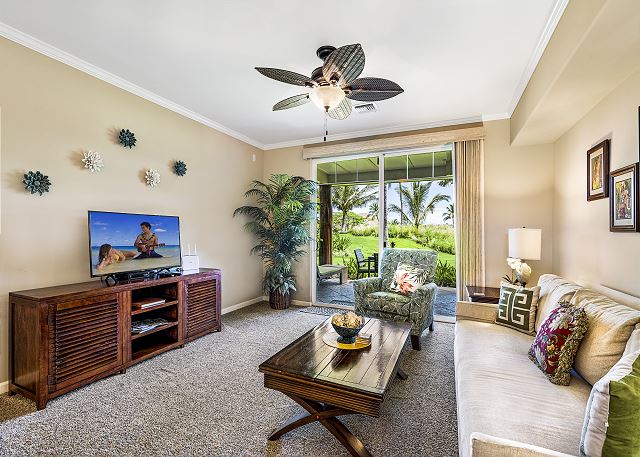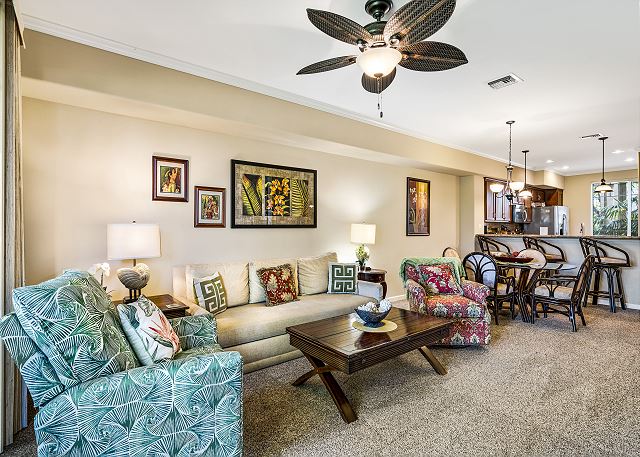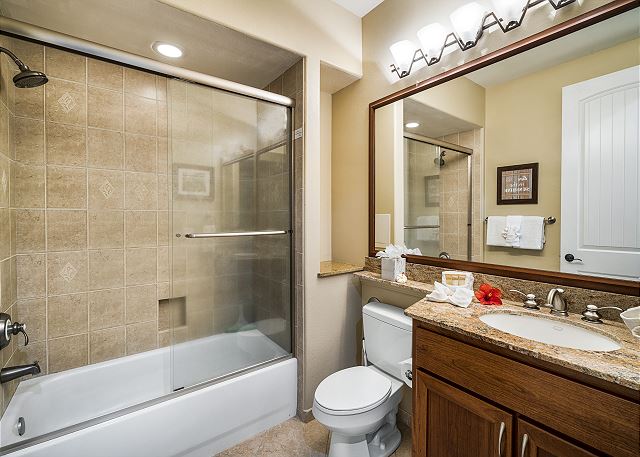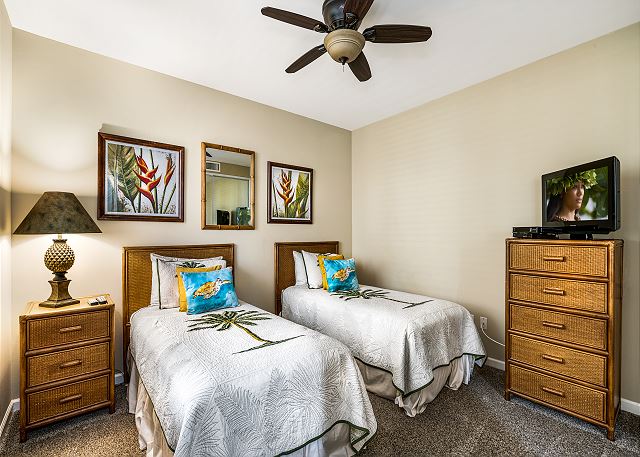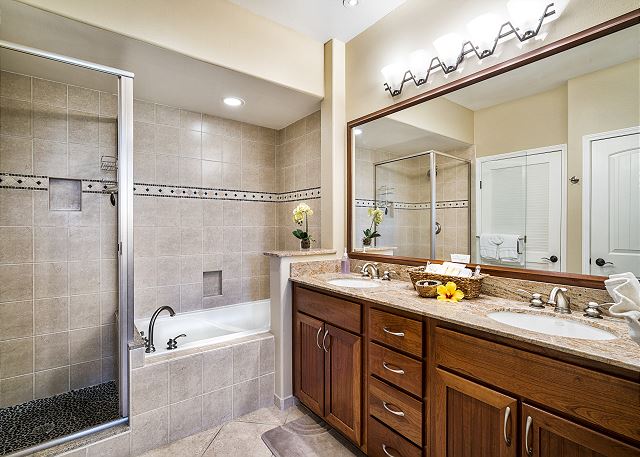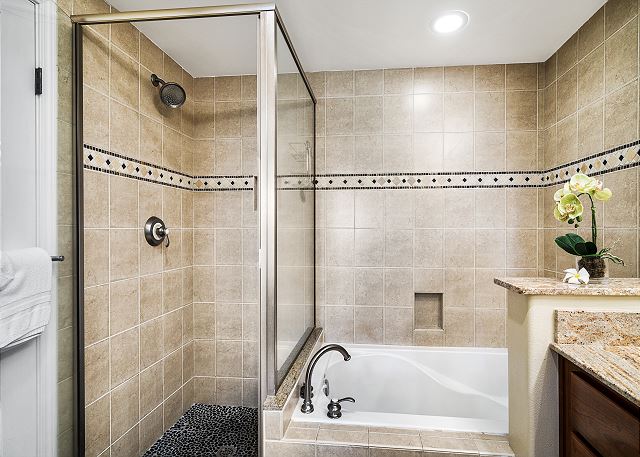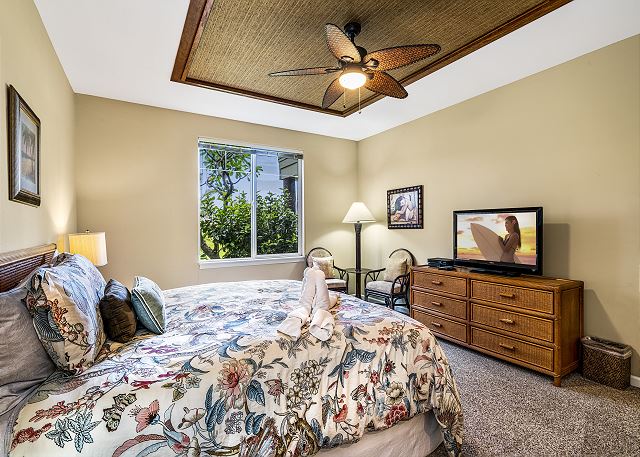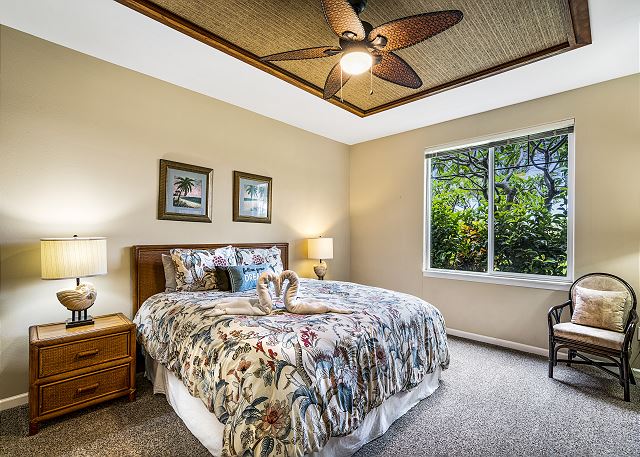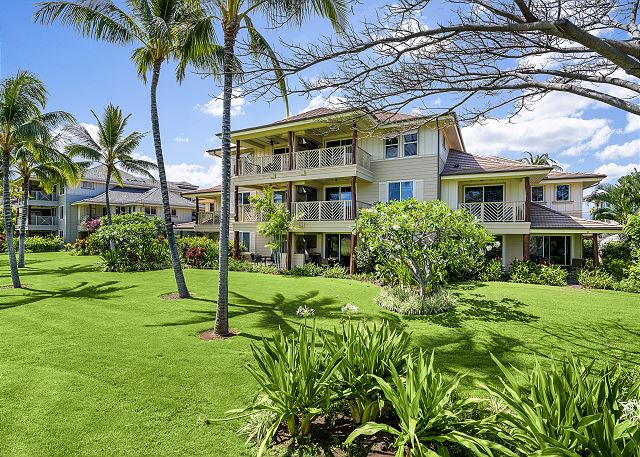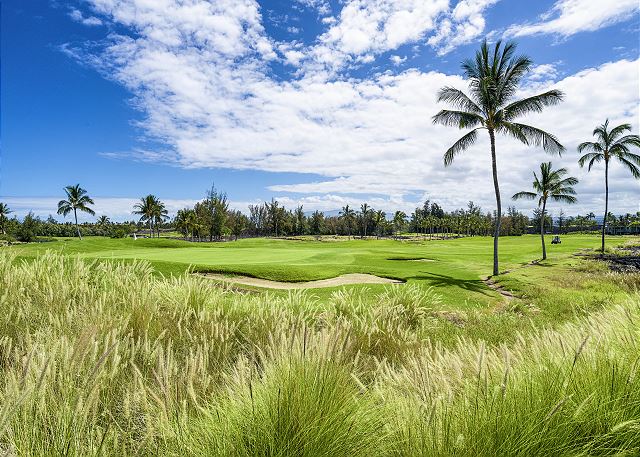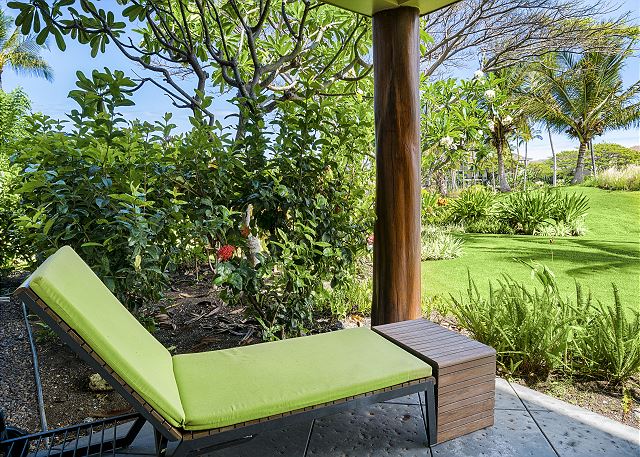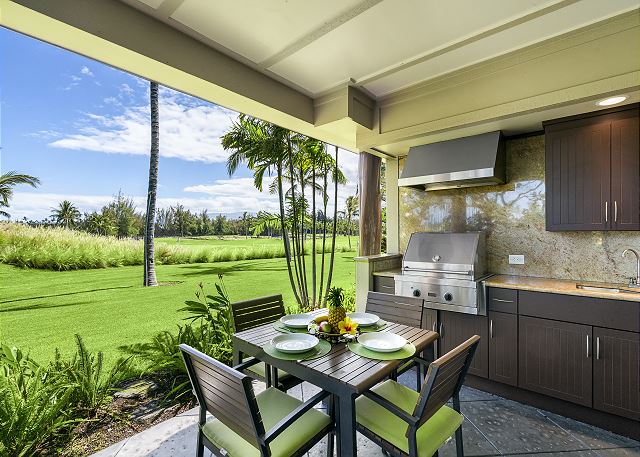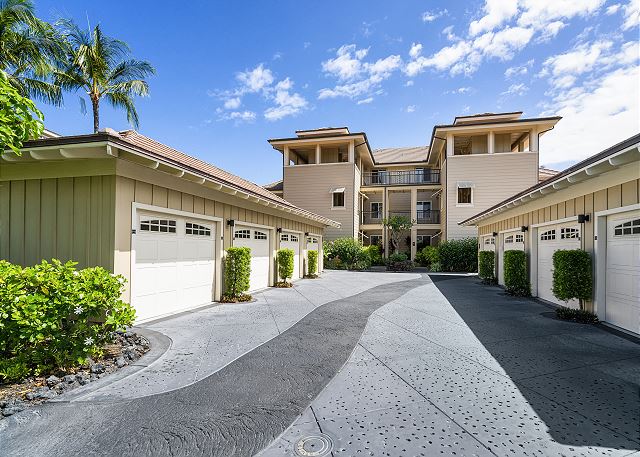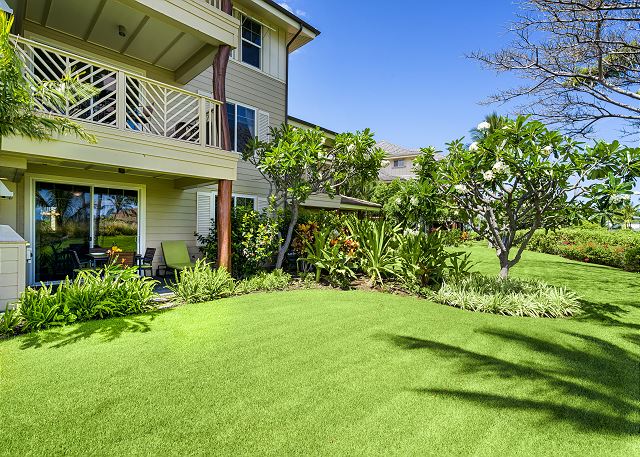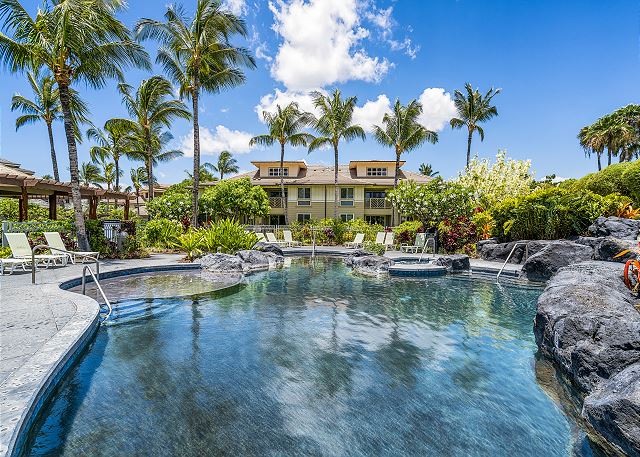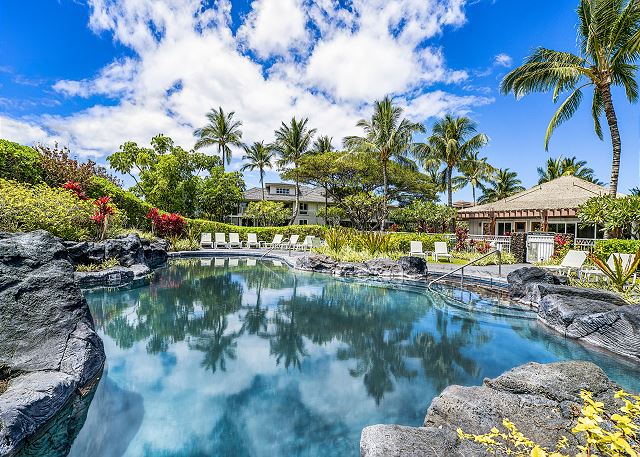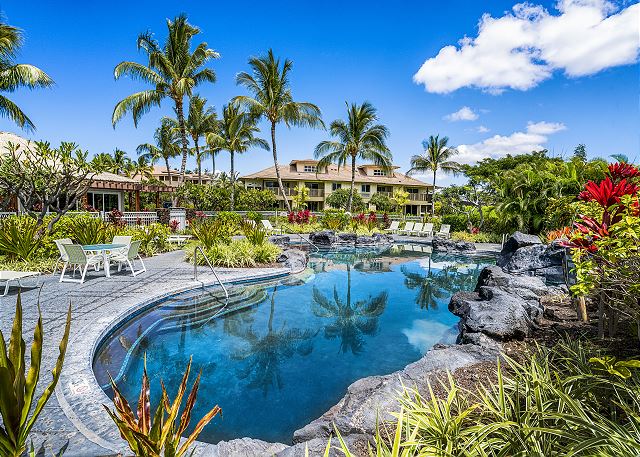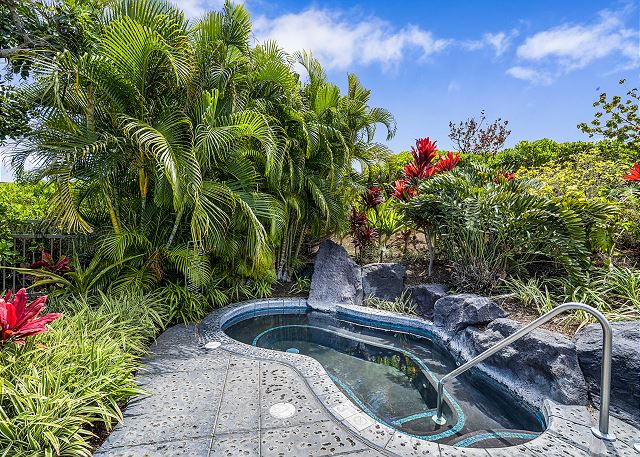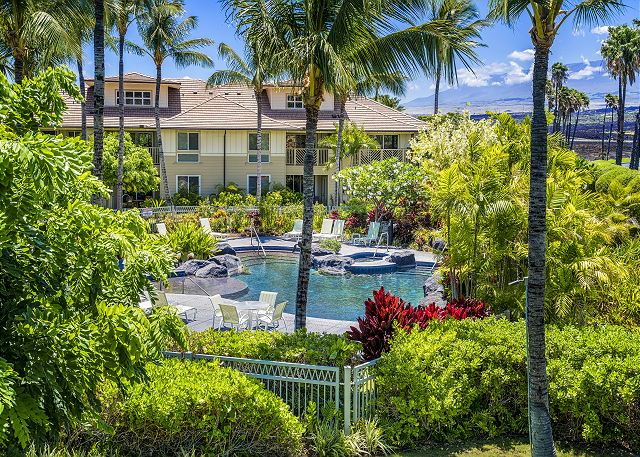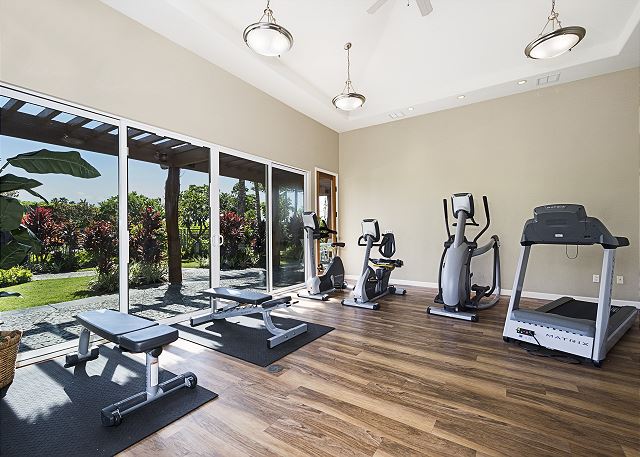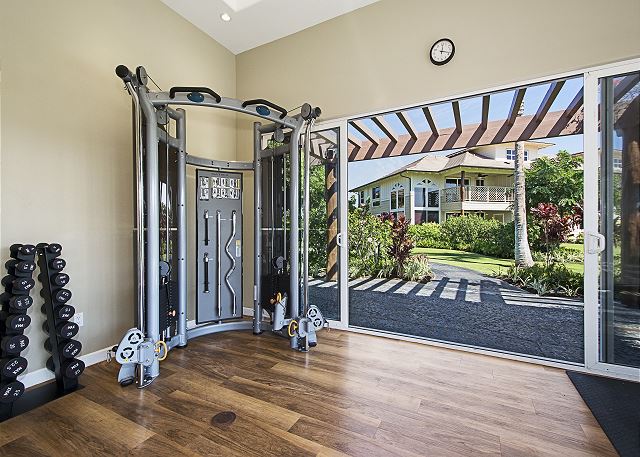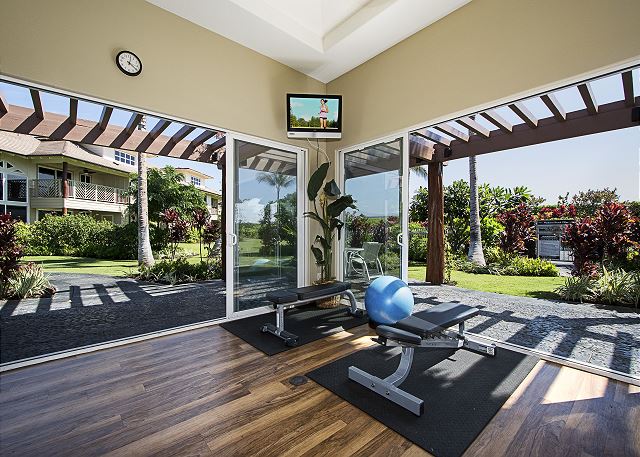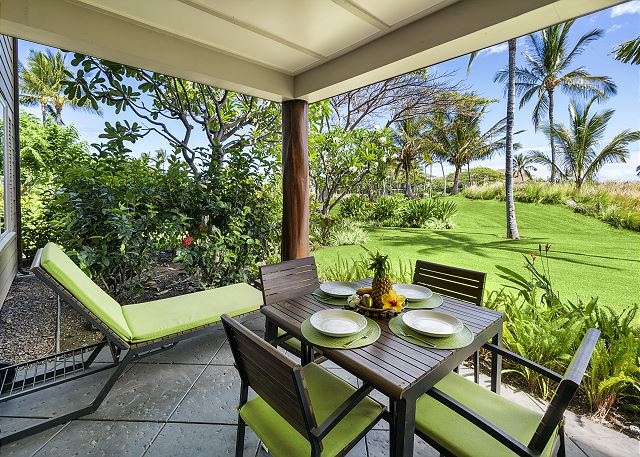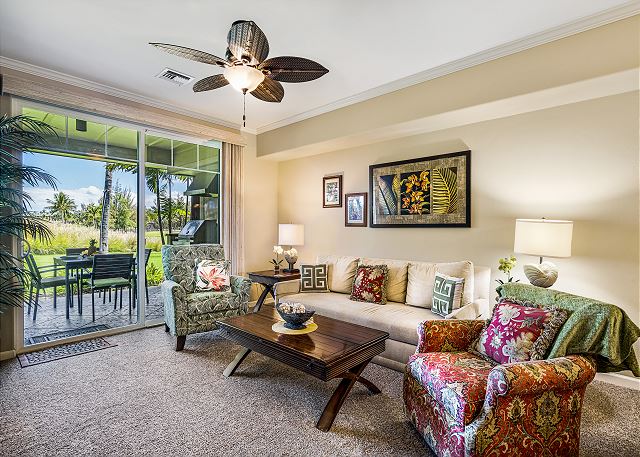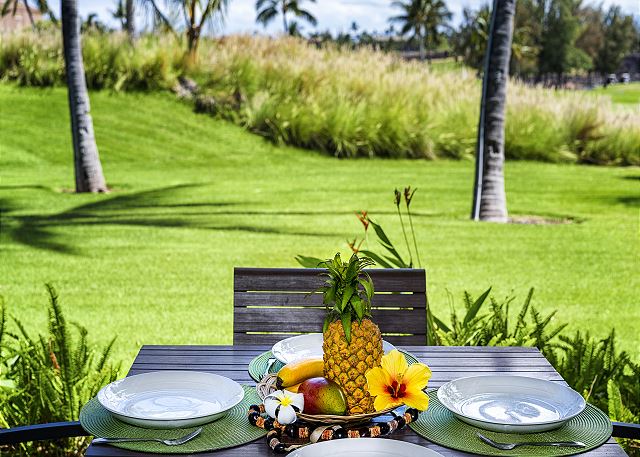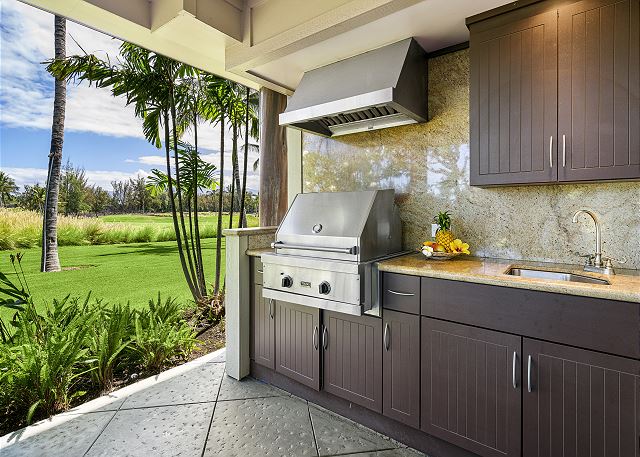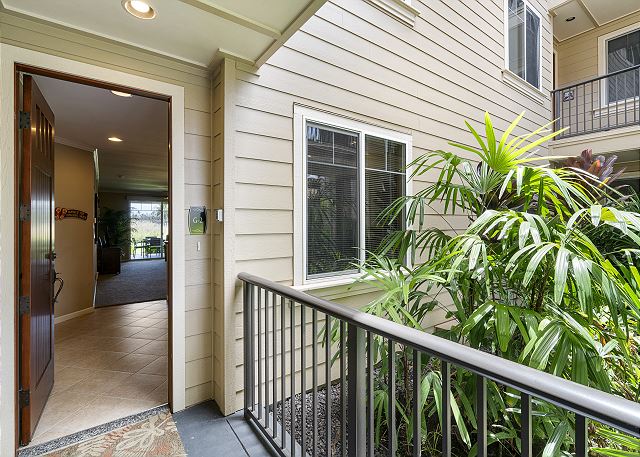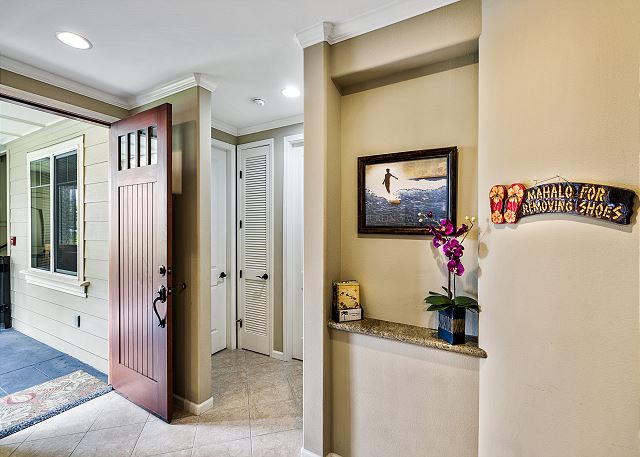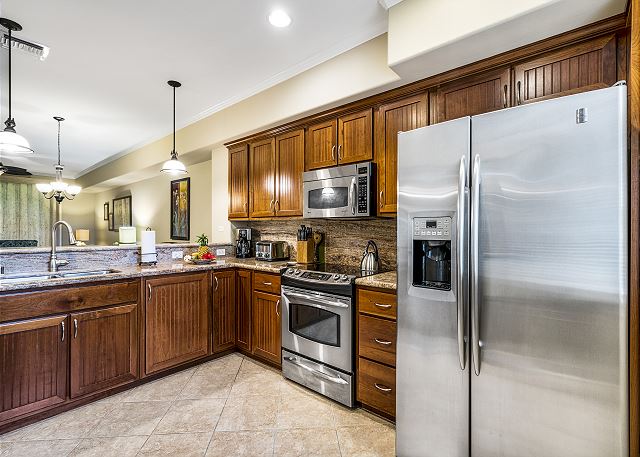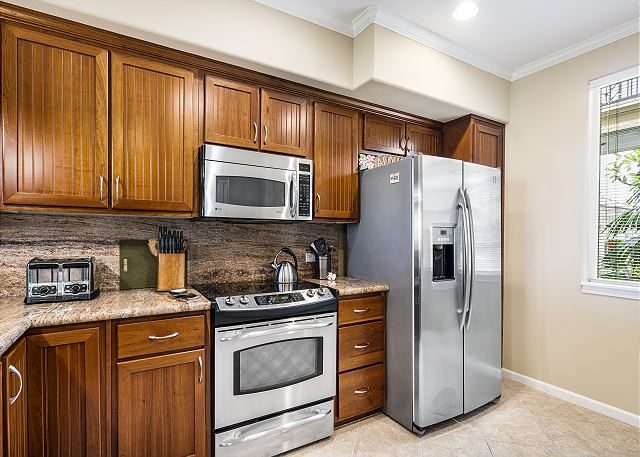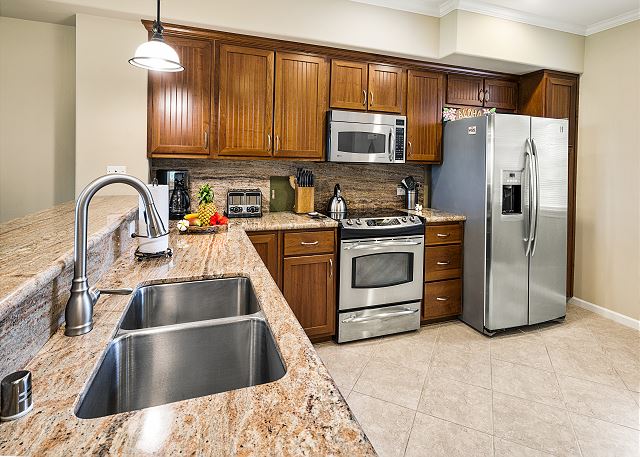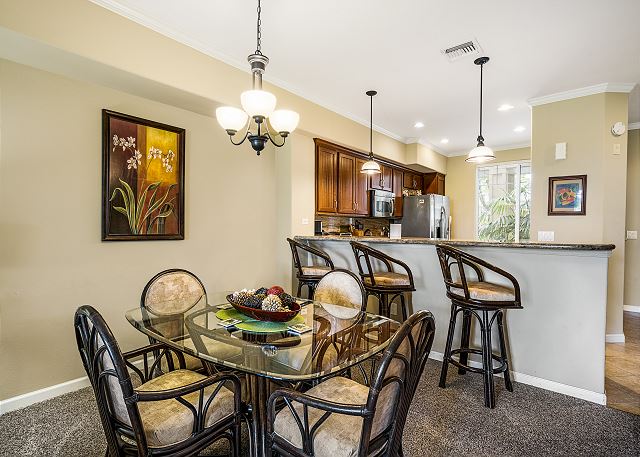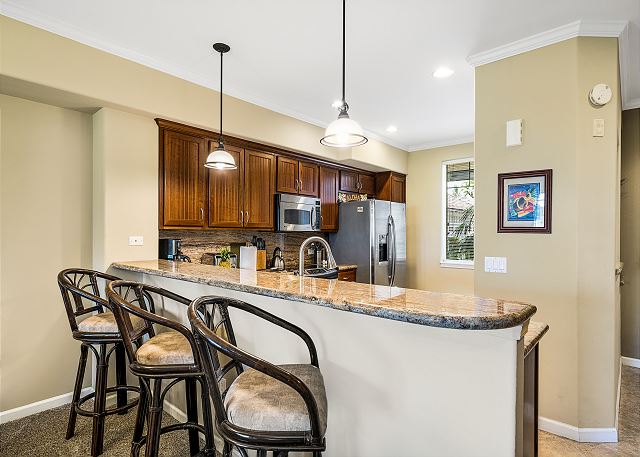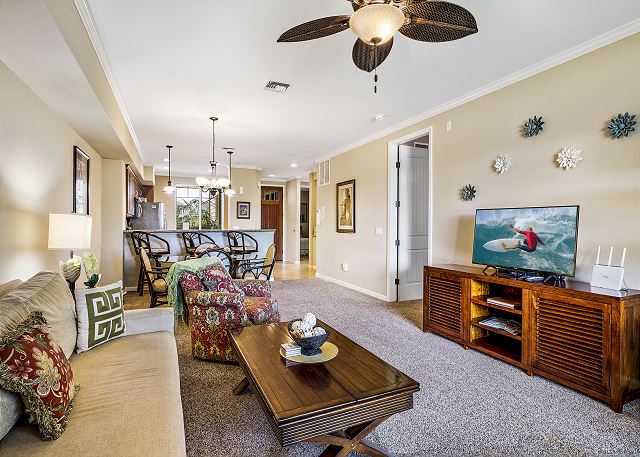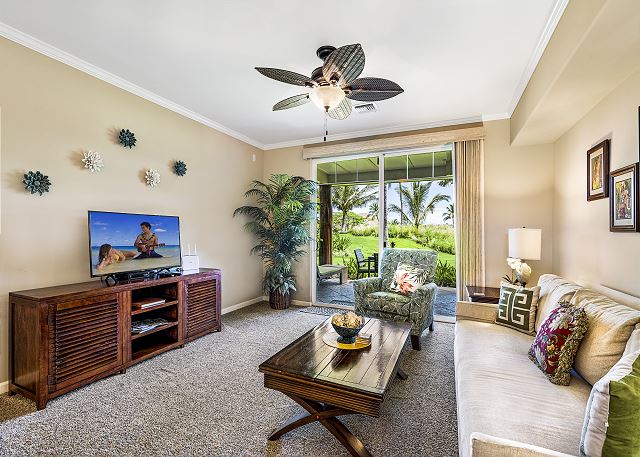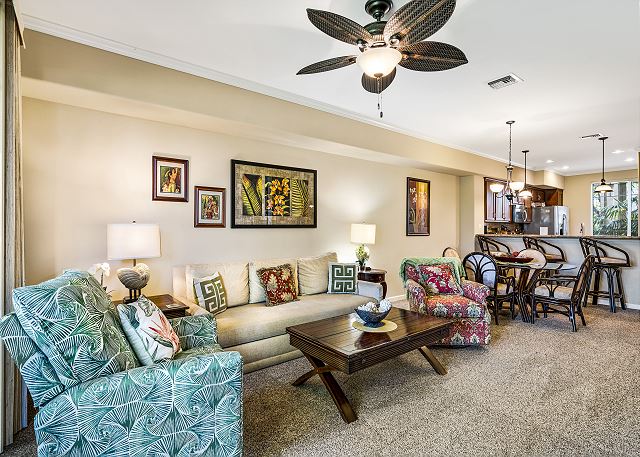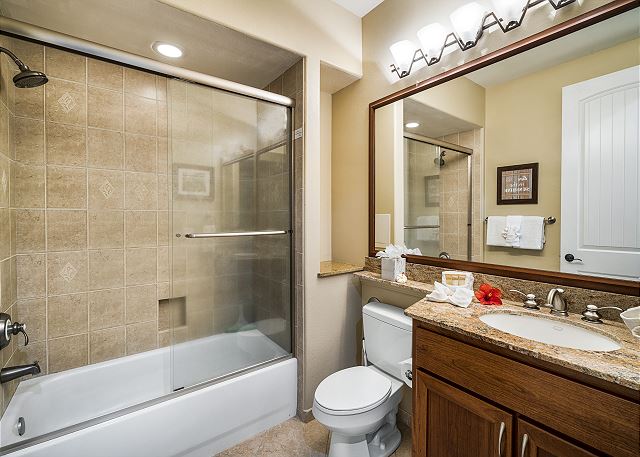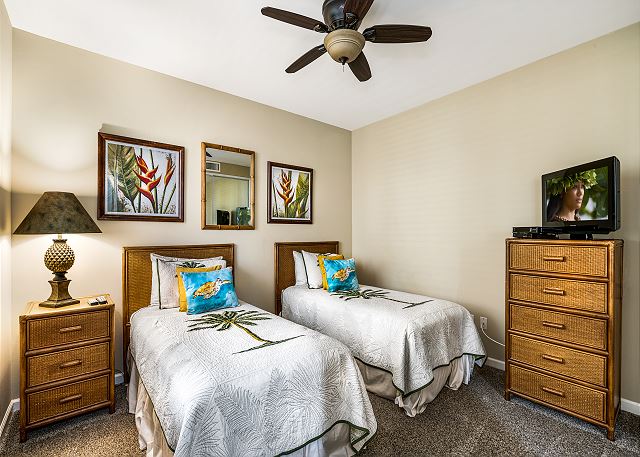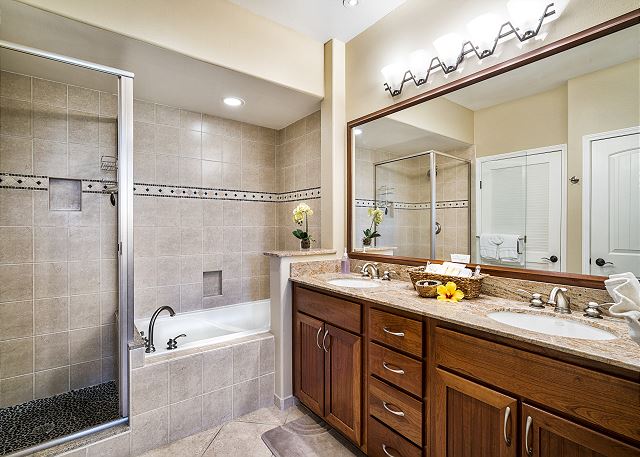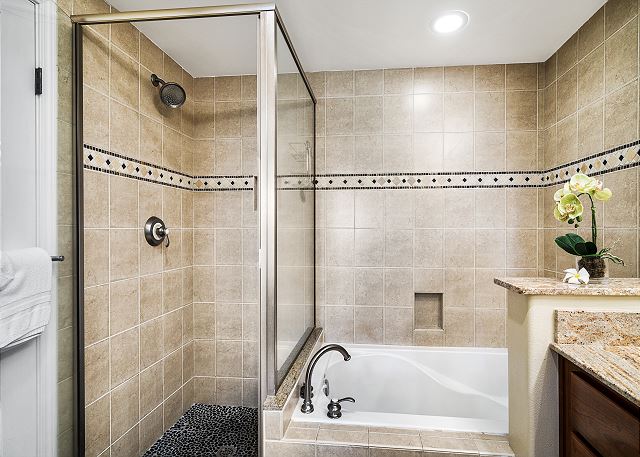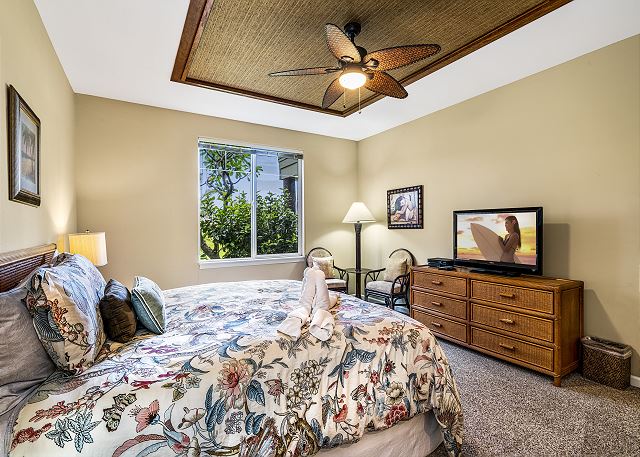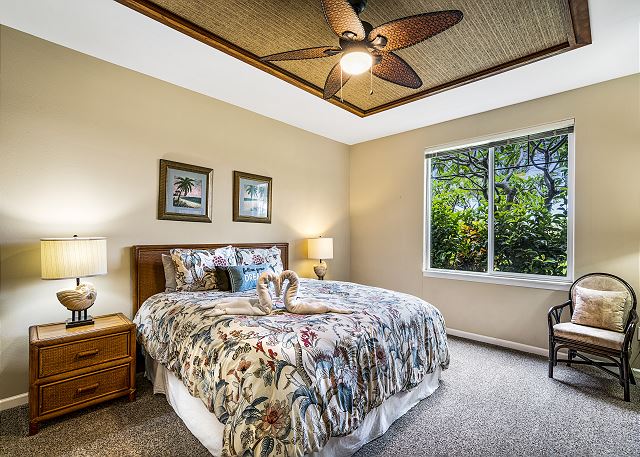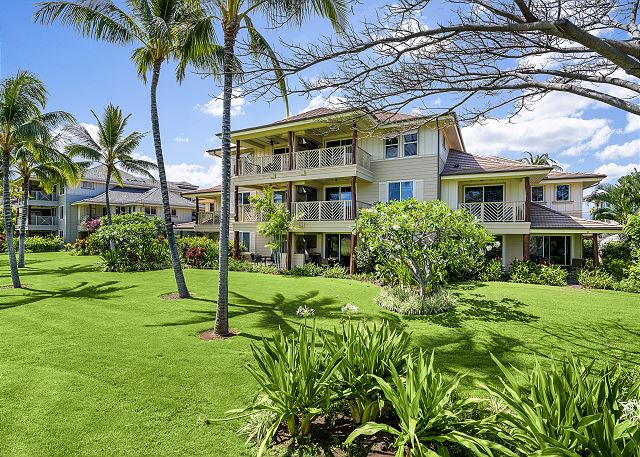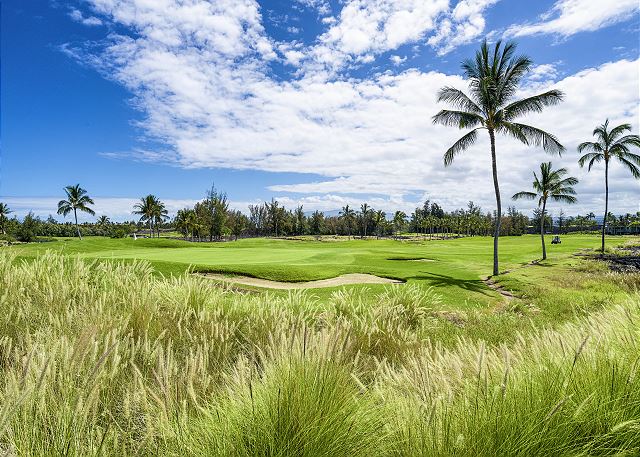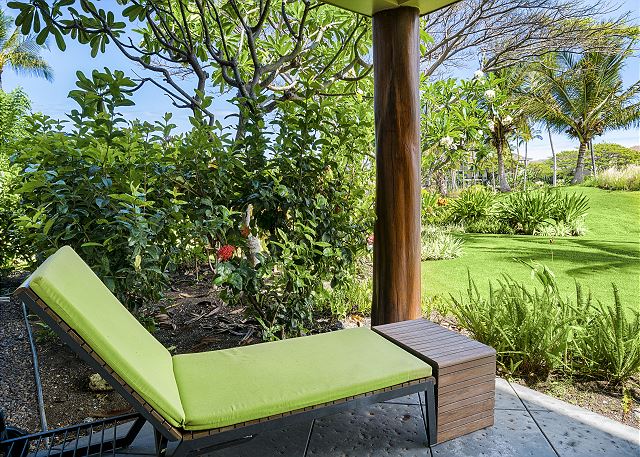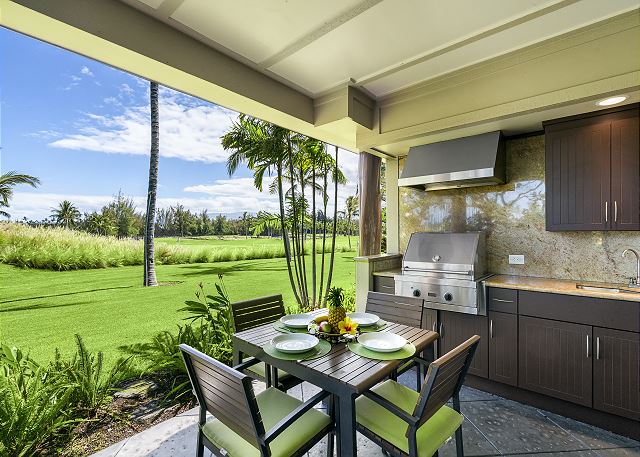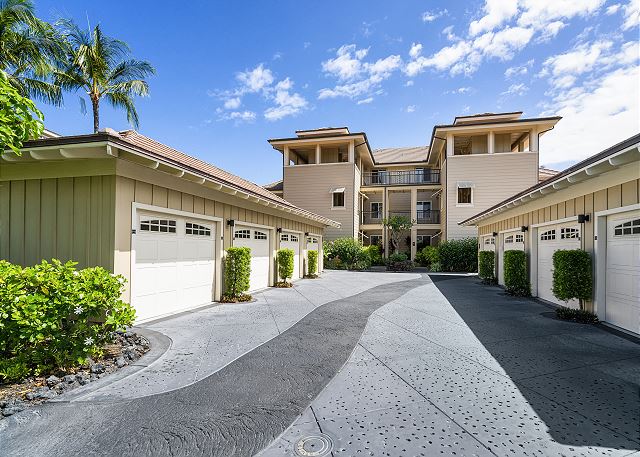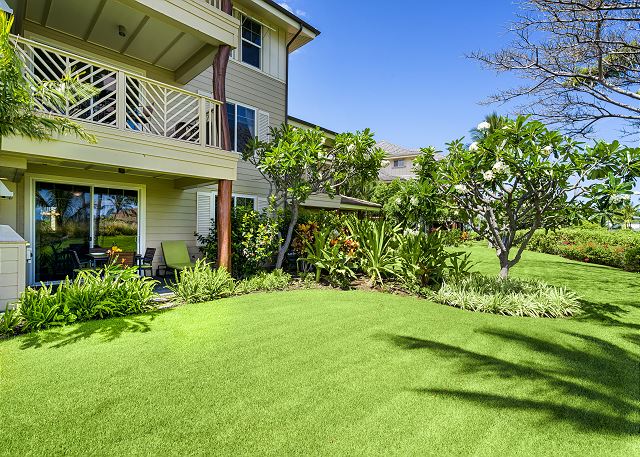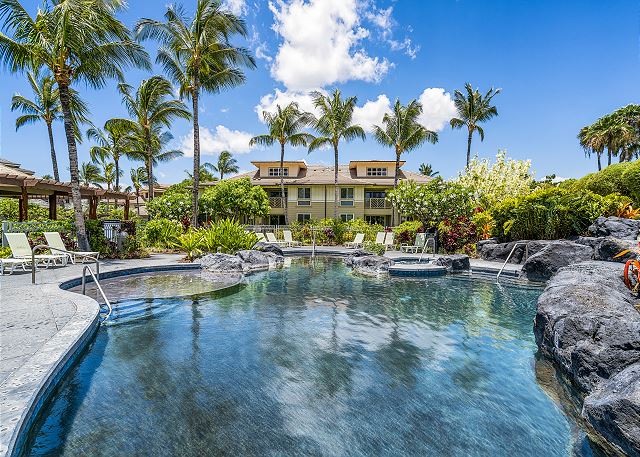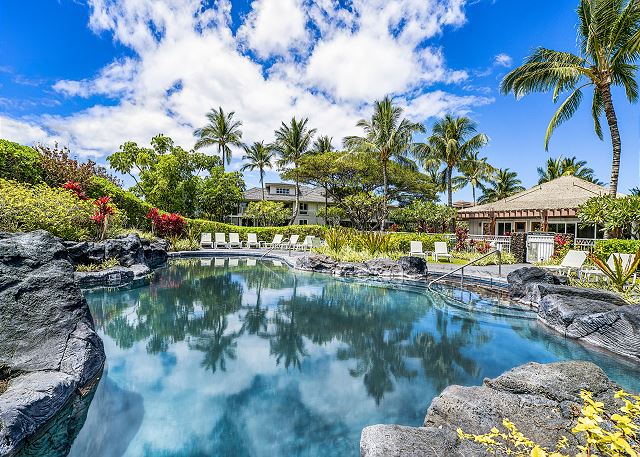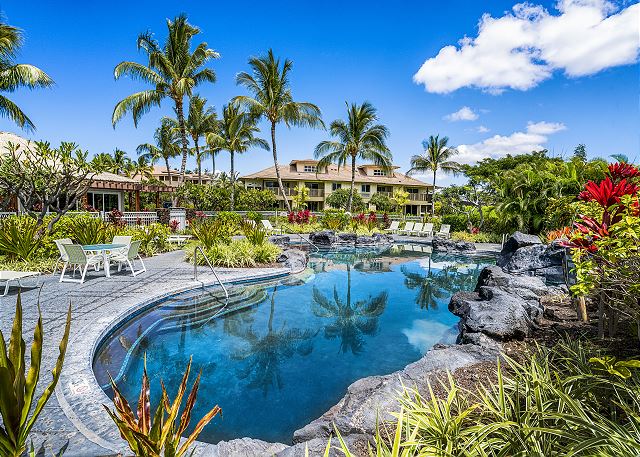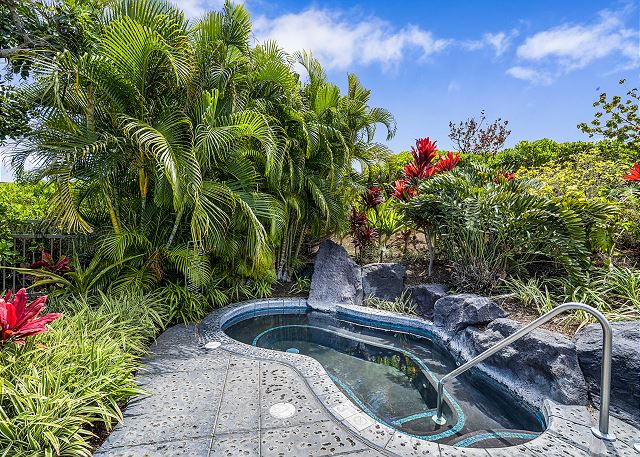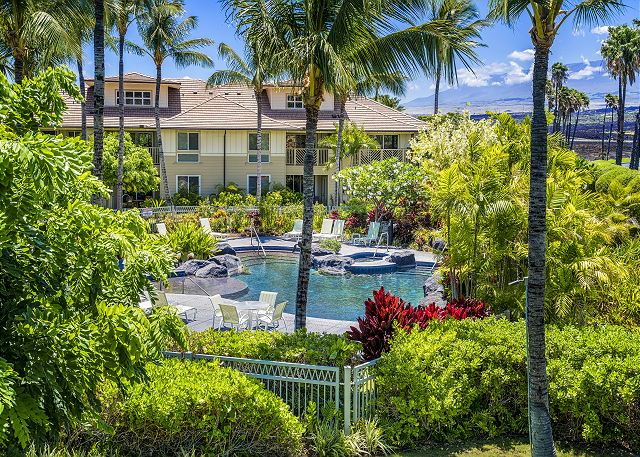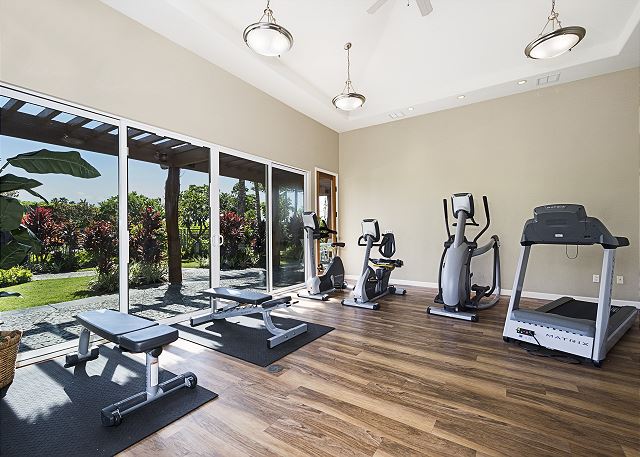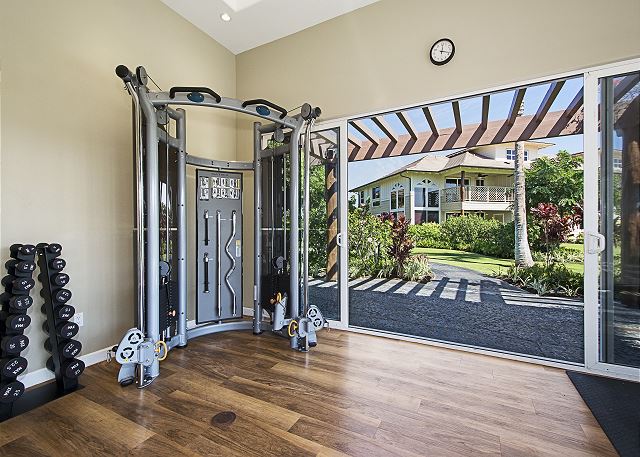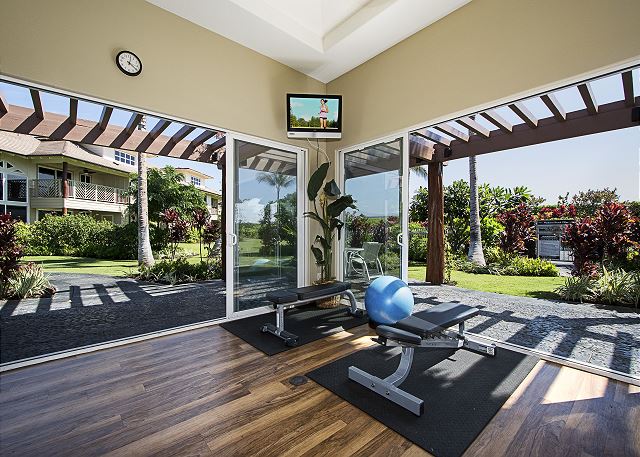 Description
Luxurious top of the line golf vacation home! Away from it all and central to everywhere! Located on the fabulous Kohala Coast of the Big Island – Hawaii. This secluded unit overlooks the third green of the Waikoloa Beach Golf Course.



If you golf, the Beach course offers you beautiful coastal views with challenging holes. This membership allows all of our overnight guests to golf at discounted green fees at Waikoloa Beach Course - $75.00 per person plus tax before 9:30 a.m. - $50.00 per person plus tax after 9:30 a.m. - and Rental Clubs $25.00 per set plus tax.



Twenty minutes north of the Kona airport in the Waikoloa Beach Resort you will be just across the road from the Kings Shops and the Queens Marketplace - both featuring upscale shops and restaurants. Here you will find a gourmet market for all your food needs as well as a great wine shop for those Hawaiian sunsets. More of a morning person? No problem- walk over to Starbucks & take your coffee to the beach as a great start to your day!



If you prefer water sports there is snorkeling, boogie boarding and wind surfing at Anaeho'omalu Bay right across the road. The Hilton Hotel has a great dolphin experience for the kids or if you are more adventuresome, try swimming with wild dolphins in the open ocean with OneLoveOneSpirit. Captain Ray is a great guide and provides a once in a lifetime experience. OneLove also provides whale watching excursions in season. More of a beach bum? No problem. Hapuna Beach Sate Park, a mile long stretch of white sand beach with complete facilities, is just up the road a couple of miles. Or lounge around the pool directly across from your home.



Enjoy sightseeing? Try rain-forest trekking through Akaka State Falls and the Hawaii Botanical Tropical Gardens. Take in Volcano National Park. Hike through the lava tubes and drive along Crater Rim Drive. Visit the Black Sand Beach for sea turtle watching or take in the Place of Refuge (Pu'uhonua o Honaunau Nat'l. Park) for some really beautiful scenery and a picnic lunch.



If you prefer to just hang out at home you will enjoy a fully outfitted gourmet kitchen with granite countertops and stainless steel appliances. Want to grill? There is an outdoor kitchen right on your lanai with a sink and Viking grill. Watch the golfers while you enjoy a little dining alfresco in the privacy of your own home. Listen to a little music. We provide an I-Home Symphony system with wireless speakers. Speaking of wireless – yes – you are provided with FREE Wi-Fi! We have three HD flat screen TV's and a DVD player for your enjoyment.



In this beautiful 2 bedroom/2bath golf condo we have tried to provide you with every amenity including your own garage, washer and dryer, luxury linens, beach towels and beach chairs. Living room has a sofa trundle bed also for your use. Our goal is to provide you with an optimum Hawaiian vacation that you will remember for years to come. Waikoloa Beach Villas POOLS are now HEATED!!



SPECIAL – Spend the day at the Hilton Waikoloa Village, you can buy a discounted DAY PASS to the pool/waterslide or relax at the spa with a SPA PASS. More info will be provided upon booking with us.



FREE WIFI

FREE PARKING



This villa is cleaned by a professional cleaning company using EPA approved products for use against COVID-19. And cleaning process is following guidelines received from World Health Organization and the Centers for Disease Control.



Hawaii County ordinance to regulate Short-Term Vacation Rentals application for this property was accepted.



**** WE DO NOT TAKE WIRE/BANK TRANSFERS******



HAWAII SHORT TERM VACATION RENTAL# 19-375698

HAWAII GE/TAT TAX ID# 106-858-2912-01

TMK 6-9-008-014-0042
Calendar
October 2021

| S | M | T | W | T | F | S |
| --- | --- | --- | --- | --- | --- | --- |
| | | | | | 01 | 02 |
| 03 | 04 | 05 | 06 | 07 | 08 | 09 |
| 10 | 11 | 12 | 13 | 14 | 15 | 16 |
| 17 | 18 | 19 | 20 | 21 | 22 | 23 |
| 24 | 25 | 26 | 27 | 28 | 29 | 30 |
| 31 | | | | | | |
November 2021

| S | M | T | W | T | F | S |
| --- | --- | --- | --- | --- | --- | --- |
| | 01 | 02 | 03 | 04 | 05 | 06 |
| 07 | 08 | 09 | 10 | 11 | 12 | 13 |
| 14 | 15 | 16 | 17 | 18 | 19 | 20 |
| 21 | 22 | 23 | 24 | 25 | 26 | 27 |
| 28 | 29 | 30 | | | | |
December 2021

| S | M | T | W | T | F | S |
| --- | --- | --- | --- | --- | --- | --- |
| | | | 01 | 02 | 03 | 04 |
| 05 | 06 | 07 | 08 | 09 | 10 | 11 |
| 12 | 13 | 14 | 15 | 16 | 17 | 18 |
| 19 | 20 | 21 | 22 | 23 | 24 | 25 |
| 26 | 27 | 28 | 29 | 30 | 31 | |
January 2022

| S | M | T | W | T | F | S |
| --- | --- | --- | --- | --- | --- | --- |
| | | | | | | 01 |
| 02 | 03 | 04 | 05 | 06 | 07 | 08 |
| 09 | 10 | 11 | 12 | 13 | 14 | 15 |
| 16 | 17 | 18 | 19 | 20 | 21 | 22 |
| 23 | 24 | 25 | 26 | 27 | 28 | 29 |
| 30 | 31 | | | | | |
February 2022

| S | M | T | W | T | F | S |
| --- | --- | --- | --- | --- | --- | --- |
| | | 01 | 02 | 03 | 04 | 05 |
| 06 | 07 | 08 | 09 | 10 | 11 | 12 |
| 13 | 14 | 15 | 16 | 17 | 18 | 19 |
| 20 | 21 | 22 | 23 | 24 | 25 | 26 |
| 27 | 28 | | | | | |
March 2022

| S | M | T | W | T | F | S |
| --- | --- | --- | --- | --- | --- | --- |
| | | 01 | 02 | 03 | 04 | 05 |
| 06 | 07 | 08 | 09 | 10 | 11 | 12 |
| 13 | 14 | 15 | 16 | 17 | 18 | 19 |
| 20 | 21 | 22 | 23 | 24 | 25 | 26 |
| 27 | 28 | 29 | 30 | 31 | | |
April 2022

| S | M | T | W | T | F | S |
| --- | --- | --- | --- | --- | --- | --- |
| | | | | | 01 | 02 |
| 03 | 04 | 05 | 06 | 07 | 08 | 09 |
| 10 | 11 | 12 | 13 | 14 | 15 | 16 |
| 17 | 18 | 19 | 20 | 21 | 22 | 23 |
| 24 | 25 | 26 | 27 | 28 | 29 | 30 |
May 2022

| S | M | T | W | T | F | S |
| --- | --- | --- | --- | --- | --- | --- |
| 01 | 02 | 03 | 04 | 05 | 06 | 07 |
| 08 | 09 | 10 | 11 | 12 | 13 | 14 |
| 15 | 16 | 17 | 18 | 19 | 20 | 21 |
| 22 | 23 | 24 | 25 | 26 | 27 | 28 |
| 29 | 30 | 31 | | | | |
June 2022

| S | M | T | W | T | F | S |
| --- | --- | --- | --- | --- | --- | --- |
| | | | 01 | 02 | 03 | 04 |
| 05 | 06 | 07 | 08 | 09 | 10 | 11 |
| 12 | 13 | 14 | 15 | 16 | 17 | 18 |
| 19 | 20 | 21 | 22 | 23 | 24 | 25 |
| 26 | 27 | 28 | 29 | 30 | | |
July 2022

| S | M | T | W | T | F | S |
| --- | --- | --- | --- | --- | --- | --- |
| | | | | | 01 | 02 |
| 03 | 04 | 05 | 06 | 07 | 08 | 09 |
| 10 | 11 | 12 | 13 | 14 | 15 | 16 |
| 17 | 18 | 19 | 20 | 21 | 22 | 23 |
| 24 | 25 | 26 | 27 | 28 | 29 | 30 |
| 31 | | | | | | |
August 2022

| S | M | T | W | T | F | S |
| --- | --- | --- | --- | --- | --- | --- |
| | 01 | 02 | 03 | 04 | 05 | 06 |
| 07 | 08 | 09 | 10 | 11 | 12 | 13 |
| 14 | 15 | 16 | 17 | 18 | 19 | 20 |
| 21 | 22 | 23 | 24 | 25 | 26 | 27 |
| 28 | 29 | 30 | 31 | | | |
September 2022

| S | M | T | W | T | F | S |
| --- | --- | --- | --- | --- | --- | --- |
| | | | | 01 | 02 | 03 |
| 04 | 05 | 06 | 07 | 08 | 09 | 10 |
| 11 | 12 | 13 | 14 | 15 | 16 | 17 |
| 18 | 19 | 20 | 21 | 22 | 23 | 24 |
| 25 | 26 | 27 | 28 | 29 | 30 | |
Available
Unavailable
Check-In Only
Check-Out Only
Seasonal Rates
| Date Range | Daily | Weekly | Monthly |
| --- | --- | --- | --- |
* Seasonal rates are only estimates and do not reflect taxes or additional fees.
Location
Guest Reviews of
Waikoloa Beach Villas G2
Waikoloa, HI
---
Vacation Rental Reviews by
stars based on
Fantastic Accomodations
Review by
expedia PAUL N.
Above and beyond our expectations! Unit had everything you would need for a family vacation. From beach gear to toiletries' to games to plastic ziplock baggies.
5 out of 5 stars
Perfect location.....
Review by
REDAWN. Meghan W.
Perfect location, had a great stay, nice and clean, worked well for our walking distance to everything we wanted. The rental staff was fantastic. I would have liked more bath towels as we were doing lots of exercise and showering multiple times a day. Just a thought.
5 out of 5 stars
Great Stay
Review by
Very comfortable condo with great location and good support from the management company.
5 out of 5 stars
A+ Property
Review by
The property was exactly as advertised. Clean, quiet, all the necessities, and the property management team was quick to respond to questions. I would absolutely recommend to anyone wanting to stay in Waikoloa
5 out of 5 stars
Good condo
Review by
EXPEDIA Jenna G.
Nice condo, close to shops and some restaurants (though I wish they felt less like chain restaurants).
5 out of 5 stars
Great place to stay!!!!
Review by
Shawn B.
What an amazing condo in a perfect location and it had everything we needed.
5 out of 5 stars
Comfortable Condo
Review by
Linda W.
We enjoyed our stay in the Waikaloa Beach Villas G2. The unit was clean, well stocked and had a nice view of hole number 3 on the Beach Course. We were very close to the swimming pool and just across the street is the Queen's Marketplace which has many choices for restaurants and stores to go shopping. Starbucks is a bonus too!
4 out of 5 stars
Condo in Paradise
Review by
Lisa W.
We loved our stay at G-2 Beach Villas. The condo was spacious, well appointed, updated well, was very comfortable, and had a great out door covered patio, built-in BBQ and sink to spend lots of time on the lanai. The golf course view is very serene. We cam as a family of 5 and everyone had their space. This was the perfect accommodation for us while in paradise. Hope to get back there soon.
5 out of 5 stars
Amazing little piece of paradise!
Review by
Tim C.
This two bedroom unit is well stocked with all of the things we needed to enjoy our vacation to the Big Island. Having the full kitchen, with a good compliment of cooking utensils, and the grill on the lanai was amazing. We had a truly comfortable place to call home as we explored the island and it's amazing waters. I would definitely recommend this unit to anyone.
5 out of 5 stars
Waikoloa Beach Villas Never Disappoints
Review by
Tina L.
Always a great stay at Waikoloa Beach Villas. This is our 5th stay over the years and we're never disappointed. Condos are well stocked with essentials, garage a plus for hot days and your own barbecue. Bonus we got condo with the golf discount. Beds were comfortable, unit was clean. Looking forward to our next stay.
5 out of 5 stars
G2WKBV2019
Review by
Ron F.
This is a repeat vacation stay at the same condo. Location is great. Condo is comfortable but getting a little tired, especially king bed in master BR which is past due for a new mattress.Our rental experience with Michelle at Kohala Coast Properties was been excellent as always.
5 out of 5 stars
Waikoloa'sBest
Review by
Cerson L.
Our experience this trip was top of the line. Highly recommend this villa or any other in the Beach Villas. We love to golf so the improved rates were appreciated. So hand to the King and Queen Markets Luxury Theatre etc. Thanks to Michelle for her quick responses to our questions.
5 out of 5 stars
Big Island Paradise
Review by
Lynn M.
A perfect home-base to explore the big island. Only 30 mins from airport. Condo is well-maintained & quiet; kitchen is fully equipped to cook; walking distance to two markets (but prices are higher). Stopped at Safeway before heading to condo (short distance from airport). Eat/drinking out can be expensive. Recommend: Fish & Hogs in Waimea (enjoyed most); Roy's (never disappointed); Lava Lava Beach for sunrise/sunset while enjoying your favorite drink (walk/drive distance); Hawaiian Style Café for loco moco (tasty beef); Country Market in Honoka's (tiny market, but sold local grown beef); The Fish Market (tiny shack north of Waikoloa) for seafood you can cook; Kona Potatoe Chips in Captain Cook (better than Hawaiian Chips plus other tasty products); lunch/tour of Vanilla Farm (vanilla blended with everything you ate).
5 out of 5 stars
Big Island Getaway
Review by
Art Q.
Very nice, modern, clean, well maintained property in an excellent location on Waikoloa Beach.
5 out of 5 stars
Wonderful condo in Waikoloa resort area!
Review by
Kelly P.
Waikoloa Beach Villas G2 was a beautiful condo in a perfect location. The condo was wonderfully maintained and extremely clean. Plenty of beach equipment to take and enjoy at any of the many near-by beaches. Within walking distance of Starbucks, a grocery store, and some fun shops. And, the pool was just across the parking lot. Perfect for our family of 4!
5 out of 5 stars
Perfect [;ace tp stay in Paradise
Review by
Sharon F.
I have stayed at KCP for the last 3 years for 2 weeks around the Kona Marathon Events. Close to everything, easy to get around the whole Resort area. Great restaurants and lots to do.
5 out of 5 stars
Wonderful!!
Review by
We had an amazing time here. It was clean, and had everything we needed. The kids woke up to sit under the palm trees, and checked out the golf course at sunrise. They caught geckos and swam for hours in the pool. We walked across the street for meals at the food court, and used the kitchen for breakfast. We played Hawaiian music over our speaker using the WIFI/bluetooth. We used the beach gear and ice chest for daily trips to different beaches. It was amazing. Memories we won't forget. Thank you so much!!
5 out of 5 stars
Fun time in Waikoloa !
Review by
April V.
There were 4 of us in our group to do the Hawaii 70.3 triathlon. The condo was in a great location to the beaches for swimming, great running and biking. I would highly recommend this place.
5 out of 5 stars
Great Trip to Kona area
Review by
Robert M.
We had a great time and loved all the amenities of the condo we rented.
4 out of 5 stars
Waikoloa Beach Villas - superb accommodation
Review by
Geoff and Anne M.
This apartment (#G2) would rank as one of the best accommodations we've stayed at, and we have travelled quite a bit. It's only disadvantage (which may be viewed by some as a benefit) is it's distance from Kona (25 miles/40km). That said, easy driving to beautiful Hapuna Beach and north of island. Kona has greater choice of "reasonably priced" eating places. Condo is extremely clean, beautifully furnished and well equipped for in-home cooking. We chose to shop at Costco and Walmart (20 mins drive) and cook at home. Gourmet Supermarket at Queens Shopping Centre (200m away from Condo) is expensive. Booking was easy. Property Manager easy to contact and responsive. Property is on the market for sale (Jan 2018) so may not be available in the future.
5 out of 5 stars
Golf and the Best of Hawaii
Review by
John and Beverly C.
Another wonderful visit of golfing and enjoying Hawaii's very best.
5 out of 5 stars
This Place is Paradise!
Review by
Eric A.
Waikoloa Beach Villas Unit G2 couldn't have been more accommodating. They provided all the essentials to ensure that our stay was perfect. Not only was the condo beautiful and spacious, but the proximity to shopping (Kings and Queens shops), restaurants, beautiful golf courses (Waikoloa Beach and Kings Course), and the beach made it the perfect place to stay. The property was extremely clean and well maintained, and I would highly recommend anyone who loves golfing and the beach to stay here. The owners' are extremely accommodating and very helpful! Next time you visit the Big Island, this is the place that you want to stay! I am already looking forward to my next trip here.
5 out of 5 stars
WOW! Beautiful Condo!
Review by
We had a wonderful 8 night stay in unit G2. As soon as we walked through the door, we were amazed by how clean, spacious, and well-stocked the condo is! Everything that we could possibly need for our stay was provided in the unit. We barbecued a few times and it was so nice having a grill right on the lanai. We were pleasantly surprised to find so many beach chairs, umbrellas, and boogie boards in the garage too. Location was fantastic - right across from the pool and walking distance to shops. This condo certainly exceeded our expectations. We hope to be back soon!
5 out of 5 stars
Koala Coast
Review by
Linda T.
Everything at the house was awesome.
5 out of 5 stars
Wonderful stay
Review by
Lesley C.
We thoroughly enjoyed our stay at Waikoloa Beach. The apartment was clean, spacious and very comfortable. It was in a great location within walking distance to two shopping centres and also close to the beach. The whole resort was very pleasant with lovely landscaped tropical gardens.Waikoloa Beach is also well positioned for exploring the Big Island being easy to drive north, close to the road over to Hilo and only 30 mins from Kona.We would highly recommend this apartment and the resort.
5 out of 5 stars
Lovely Vacation
Review by
Kathleen M.
We really enjoyed our stay at Waikoloa Beach!
5 out of 5 stars
Fantastic unit - best we have used in this area
Review by
Craig Y.
We have rented several Waikoloa Beach Villas units and this is one of the best - we will certainly return here again. Clean, well appointed and many extras vs other units we have had. AC works great, Lani with BBQ wonderful- lots of stuff in garage to use. Very comfortable and convenient -- Just wonderful.
5 out of 5 stars
Great place to rent!
Review by
Jessica M.
We stayed here with four adults and a baby, plenty of room for everyone! Spacious bedrooms, kitchen and living room. Property very well maintained. Walk out onto the patio and you're on the edge of th golf course, great to have extra room outside. Lots of extras - beach chairs, umbrellas, cooler, boogie boards, baby sand toys & floatie, snorkel gear and more.
5 out of 5 stars
Waikoloa beach villas
Review by
Brittany E.
Great unit on beautiful property. We travelled with two young children and an infant. The unit was very clean with all of the extras to make the stay comfortable. The floor unit was great and the kids could go outside into the grass and play. Beach toys, chairs, umbrellas and towels made going to the beach a breeze. Location was perfect across from great shopping! I would stay here again in a heartbeat.
5 out of 5 stars
Christmas 2016
Review by
Kerrie S.
Everything was wonderful from start to finish.
5 out of 5 stars
Great stay! Nov 23-29
Review by
Such a great location. Close to beaches, restaurants & golf. Loved the villa with the private bbq, golf course view and proximity to the pool. Would definitely book again.
5 out of 5 stars
Great week
Review by
Tom R.
The condo was very nice and we loved the proximity to shopping/restaurants/golf courses/the beach/snorkeling sites and even the airport
5 out of 5 stars
Our first Hawaii trip
Review by
David B.
Condo was perfect. Very clean, new and in a great area.
5 out of 5 stars
PARADISE CONDO
Review by
Bob and Kim B.
Our stay in G-2 was simply wonderful. The condo had everything we needed and more. It was clean and well kept and the view of the golf course was great. We called the management team once and they responded within the hour to one small thing. The location was perfect in terms of the major things we wanted to do and accomplish. Thanks to all who made this trip such a wonderful experience!
5 out of 5 stars
Hawaii 2016
Review by
Jeff G.
AWESOME!!!
5 out of 5 stars
Awesome Condo!
Review by
Maria M.
Beautiful condo. Great amenities. Very close to pool and garbage (in a good way.) Loved it!
5 out of 5 stars
nice condo and great location
Review by
Jackie L.
We stayed a week at this condo. Everything was just as described. We enjoyed the view each morning and evening. It is private with a partial view of the golf course. The owner and management company were very responsive to a couple of issues and we really appreciated it. Would recommend and would stay here again.
4 out of 5 stars
Great location, and great value
Review by
Kyoko K.
We are a couple of Japanese over 50's and stayed 4 nights. We are golf lovers, so Gold membership rate of Waikoloa Golf Club is bonus. Villa is so clean and well maintained. Also, check-out procedures(promises) are easy, that are very important point for vacation with no stress. Just minus point is that rice cooker was not provided. But we had very precious time. We would absolutely rent again from Susan next year.
5 out of 5 stars
Great Condo
Review by
Kathy B.
The condo was extremely comfortable, clean and fresh, well stocked with kitchen items, located across parking lot from pool, and a short walk to The Queens and Kings shopping centers. The property was very quiet and had great views. We would absolutely rent this unit again!
5 out of 5 stars
Waikoloa Beach Villa Experience
Review by
Cheri W.
My husband and i just returned from a wonderful stay at the Waikoloa Beach Villa property. The property is in a great location and has easy access to guests. We frequented one of the 2 pools daily and found it to be clean and uncrowded with plenty of lounge chairs. Friendly, helpful staff that quickly responded to our need for more propane for the barbecue.
5 out of 5 stars
Contact Us