Waikoloa Beach Villas J32 (Condominium)
2 Bedroom(s) | 2 Bathroom(s) | Sleeps 4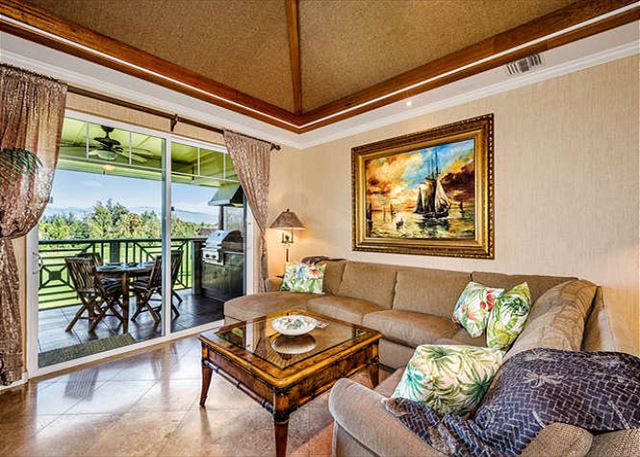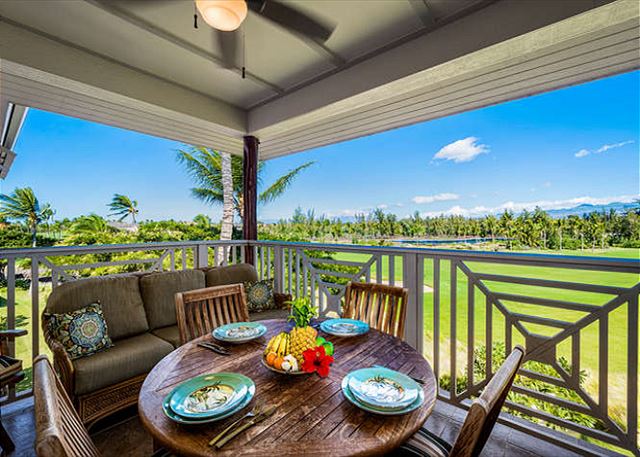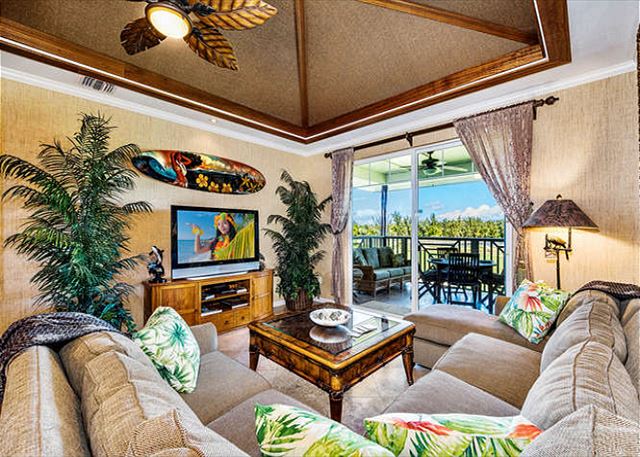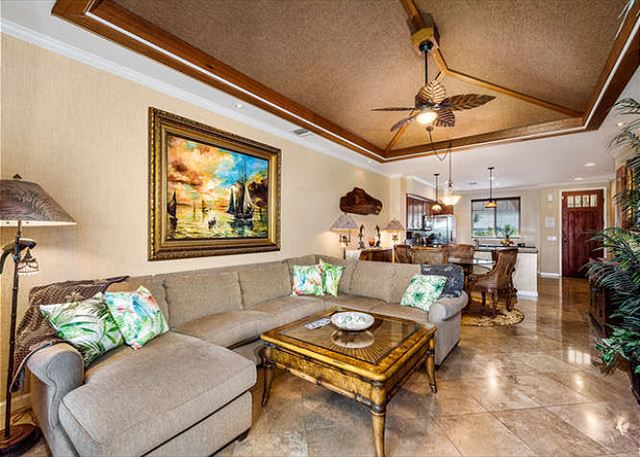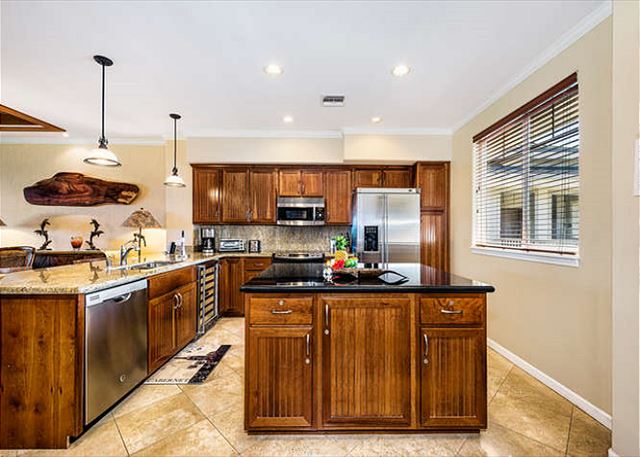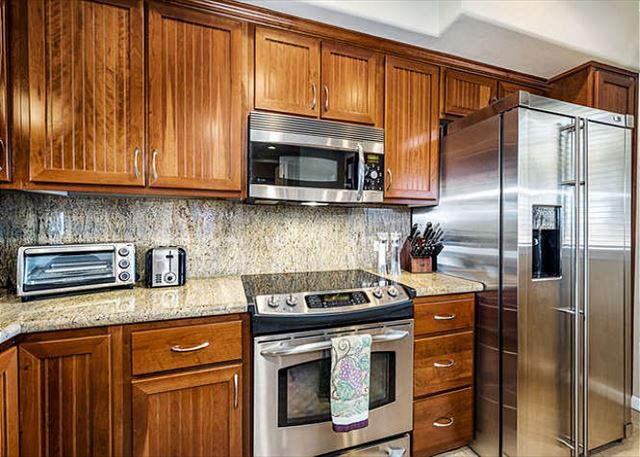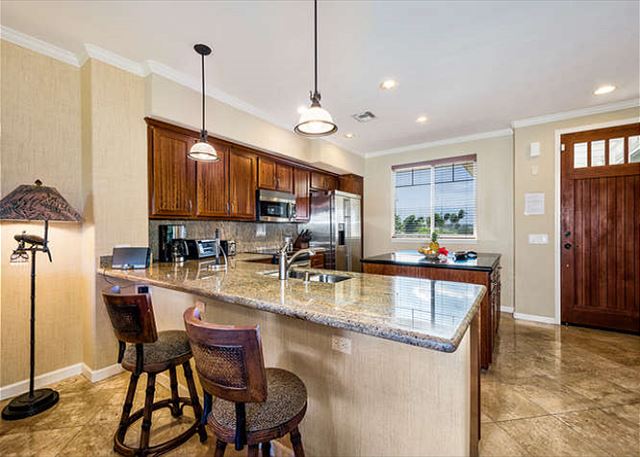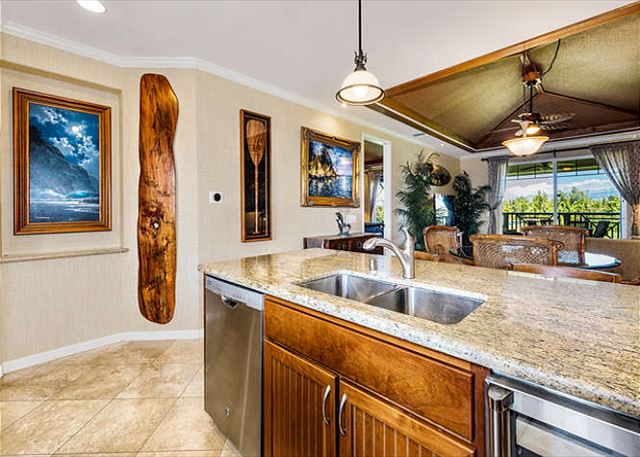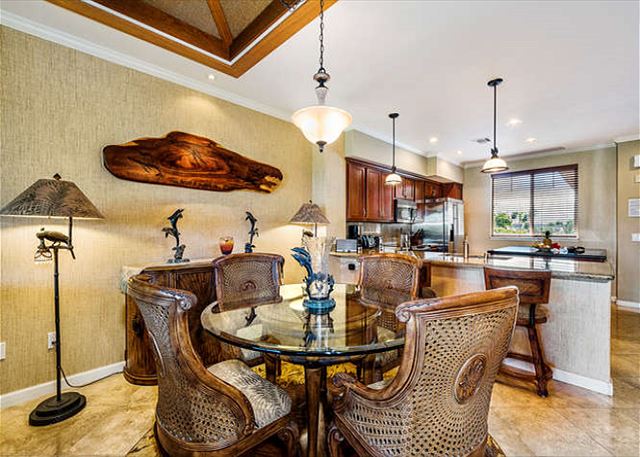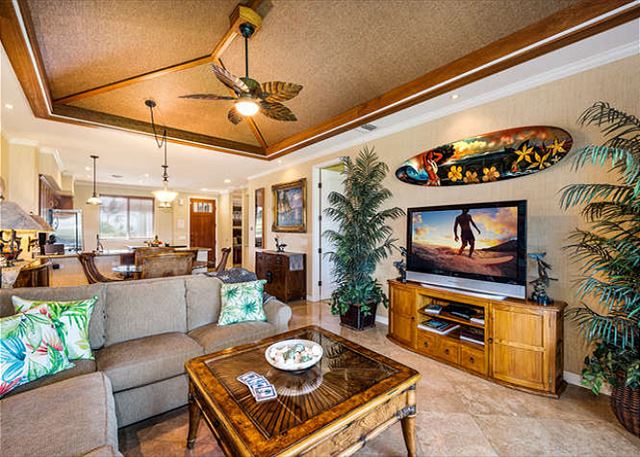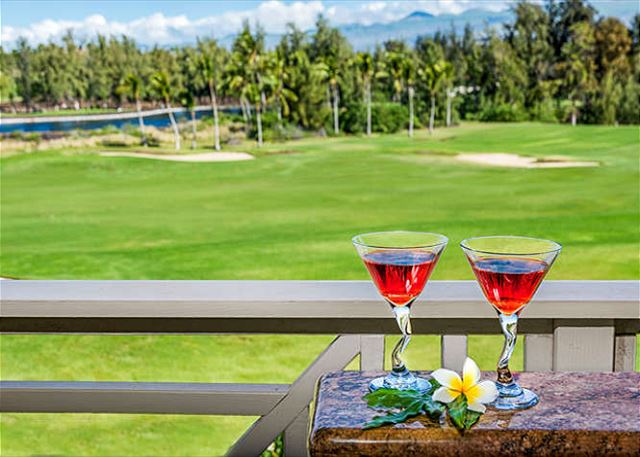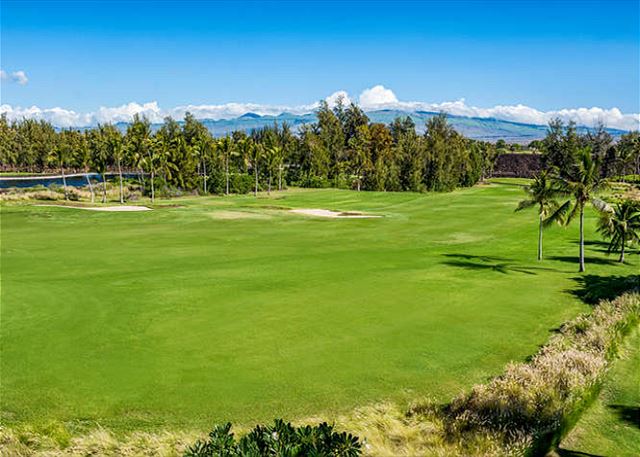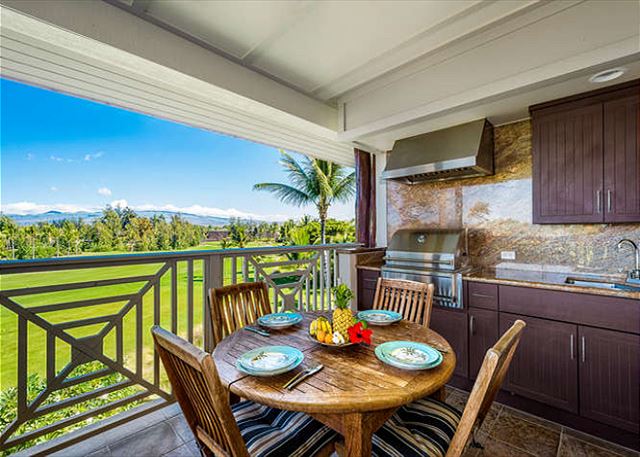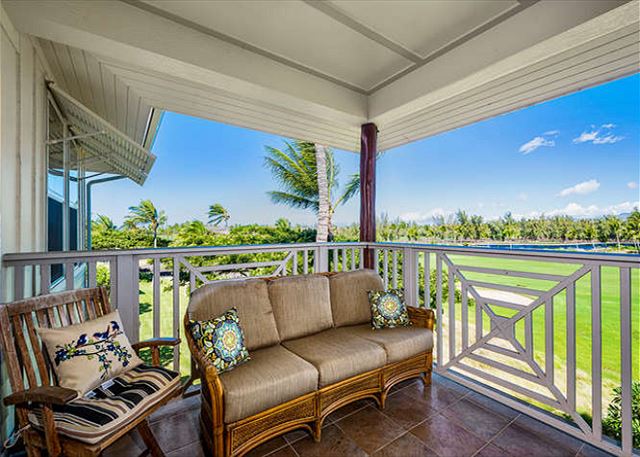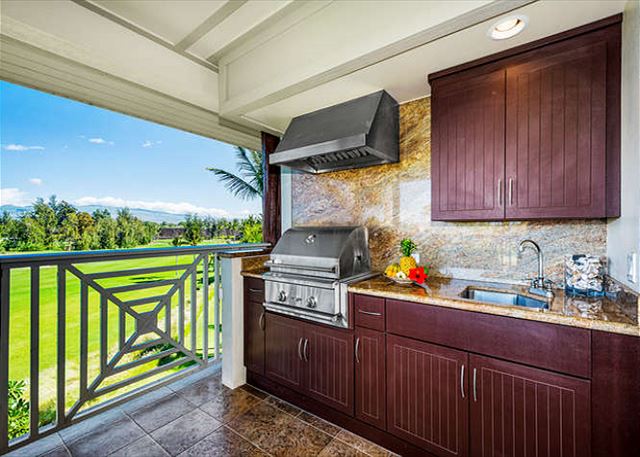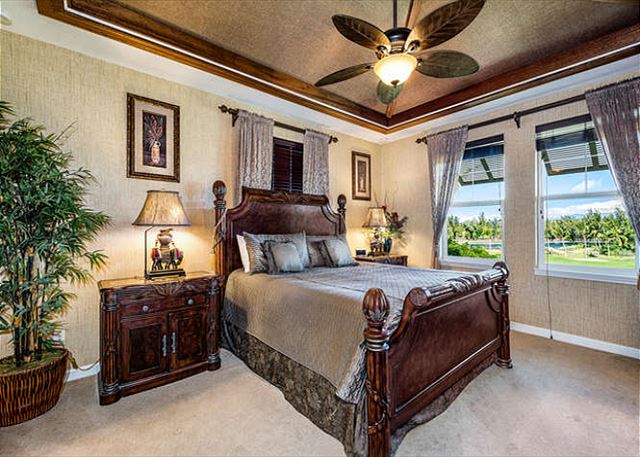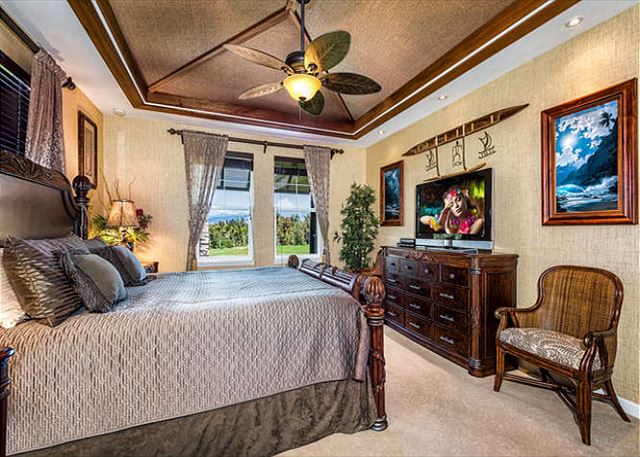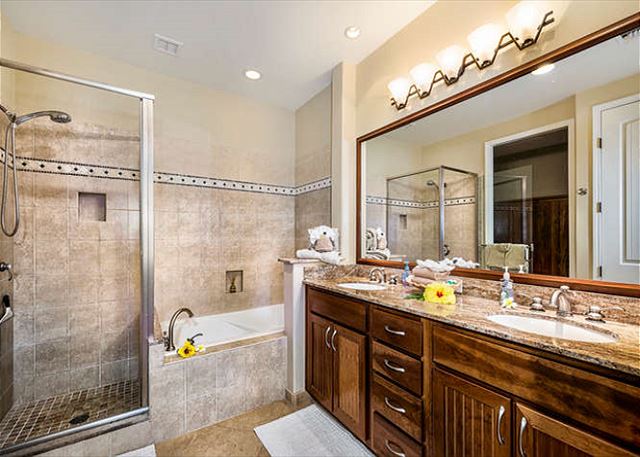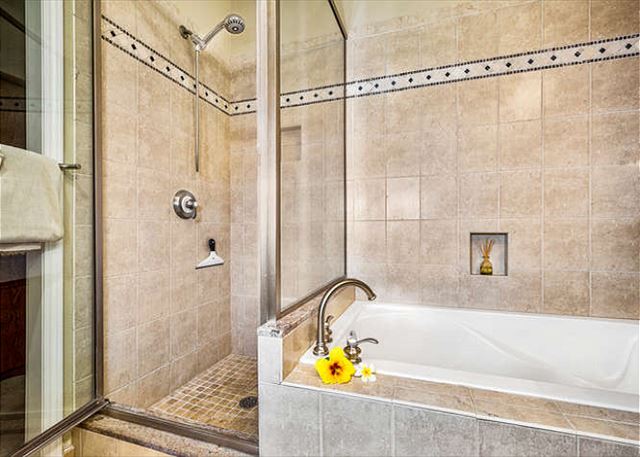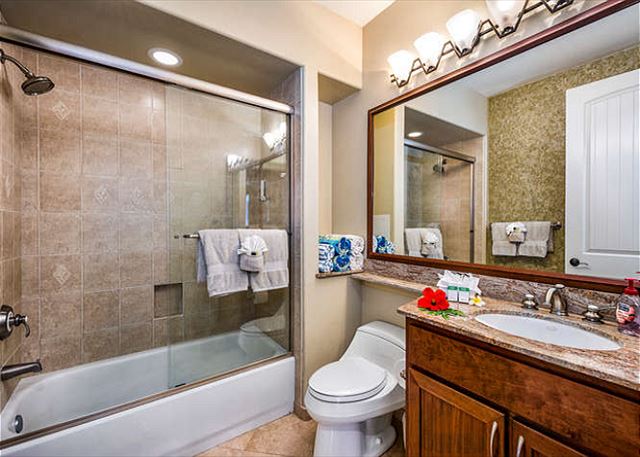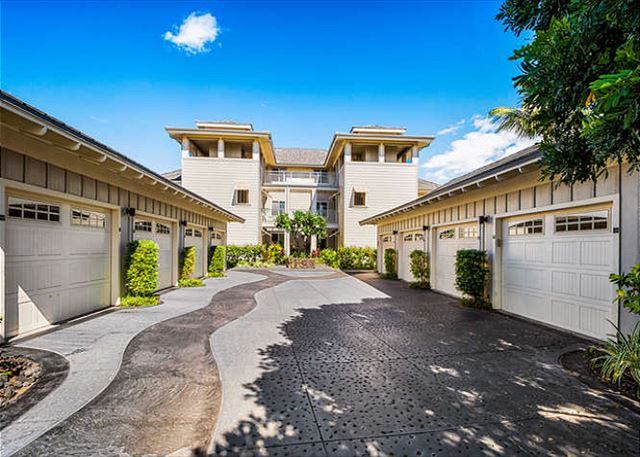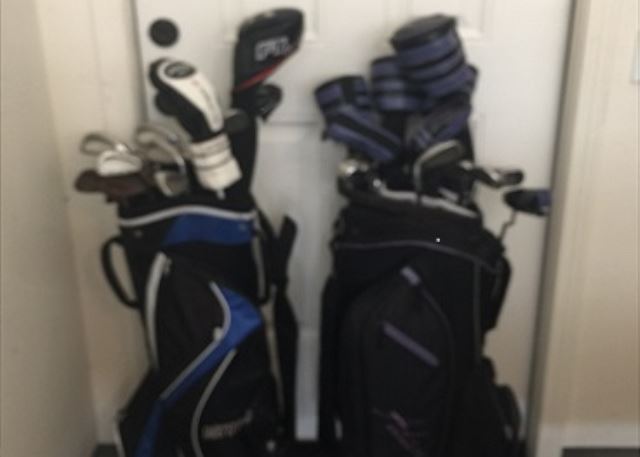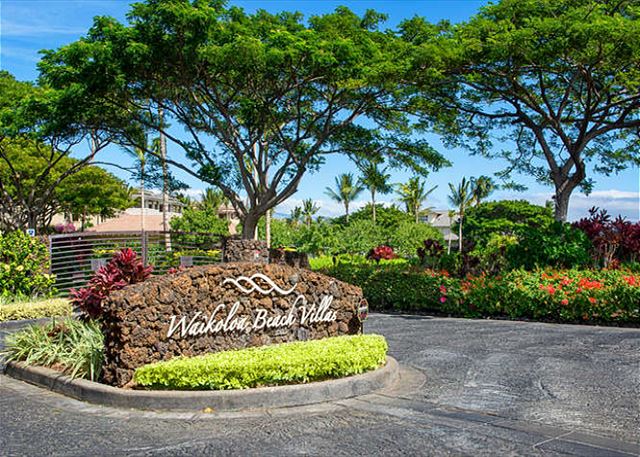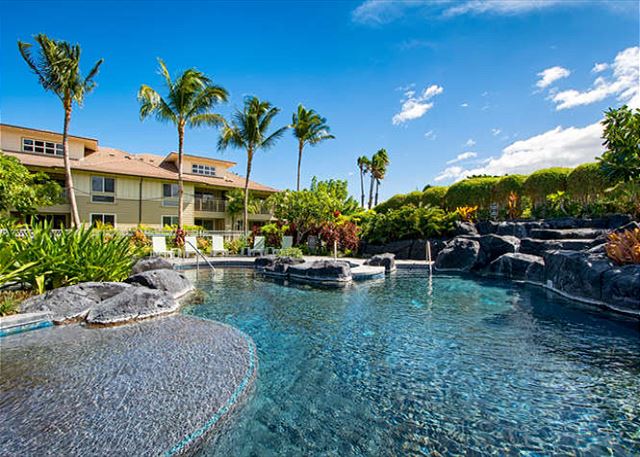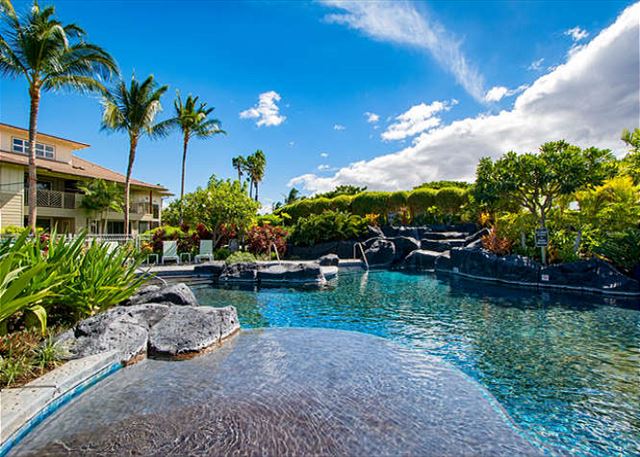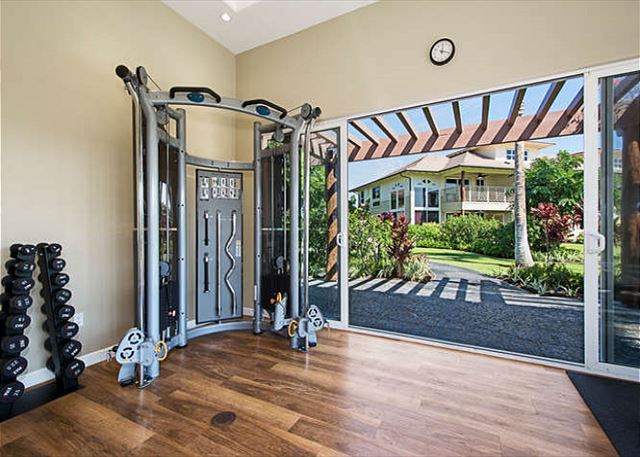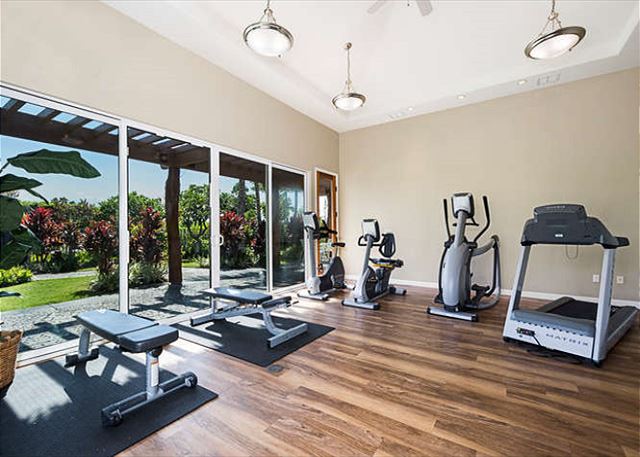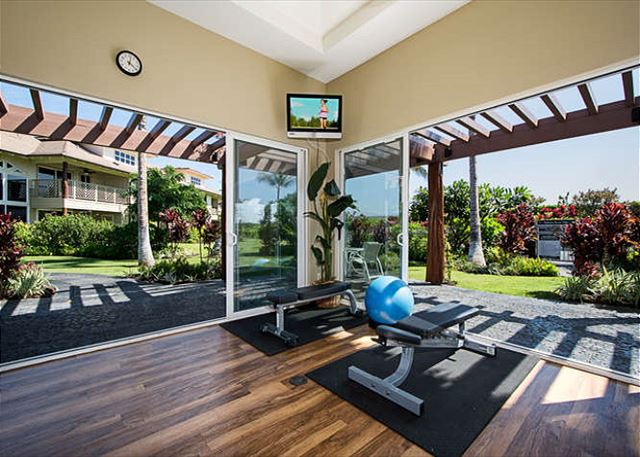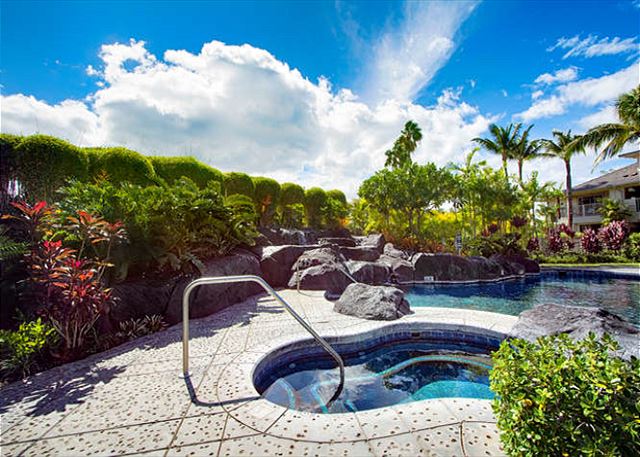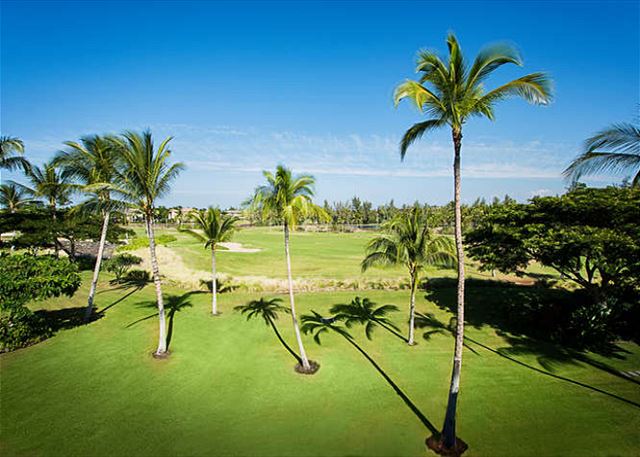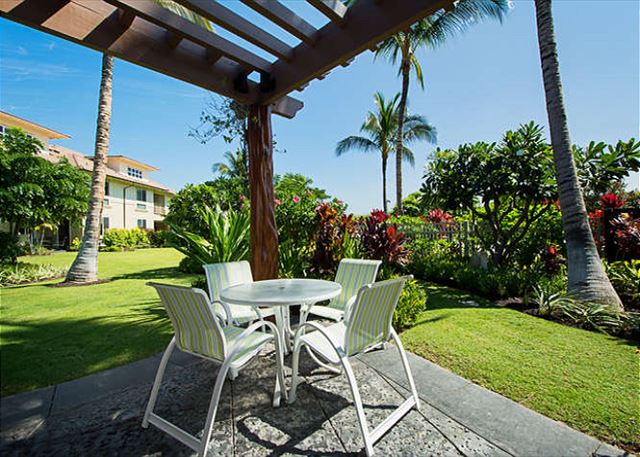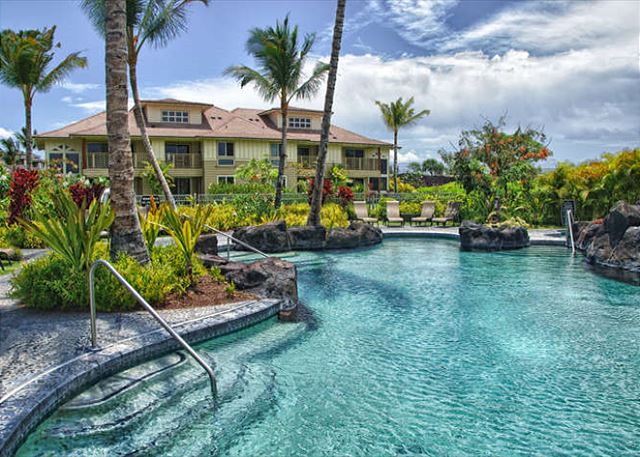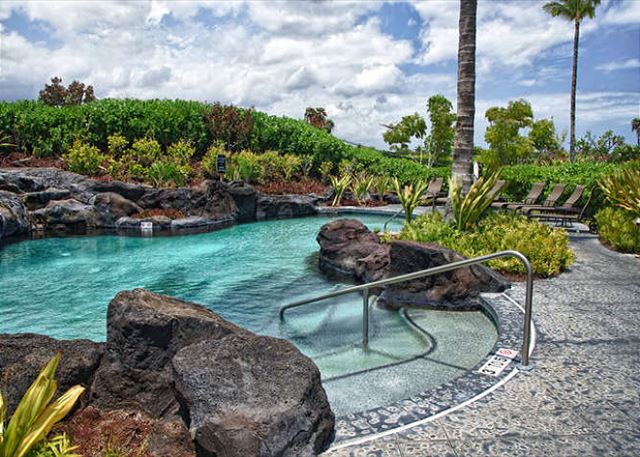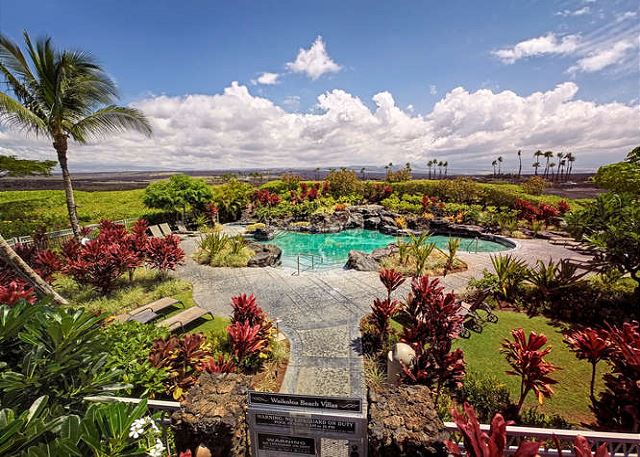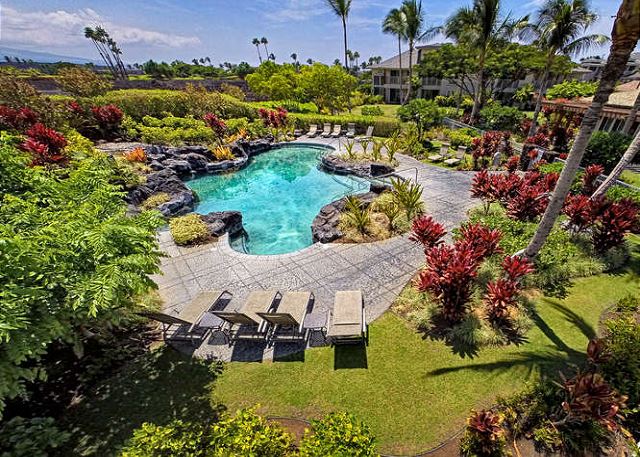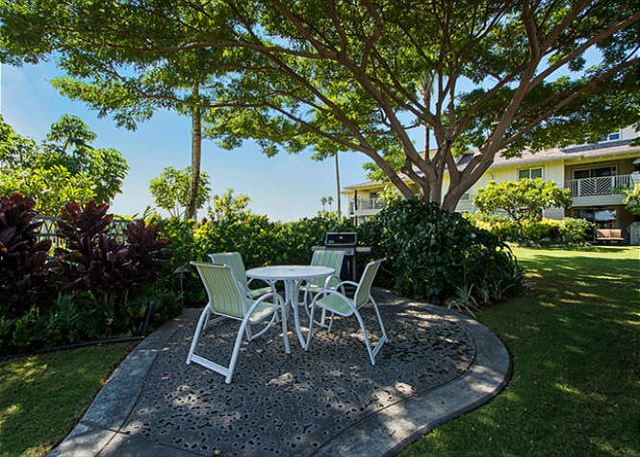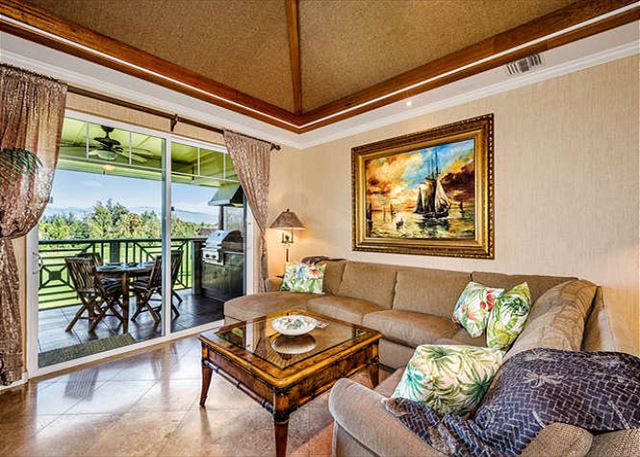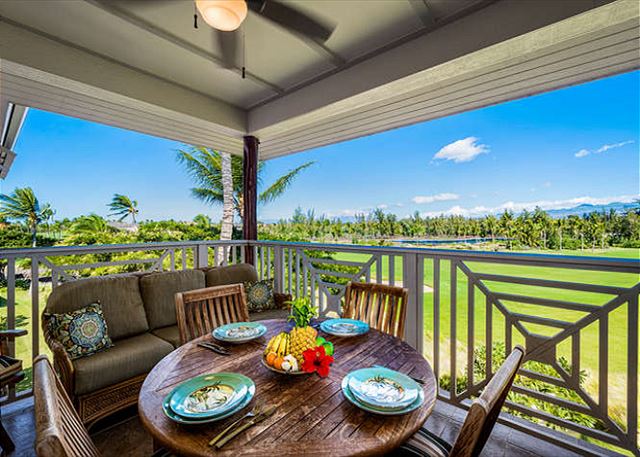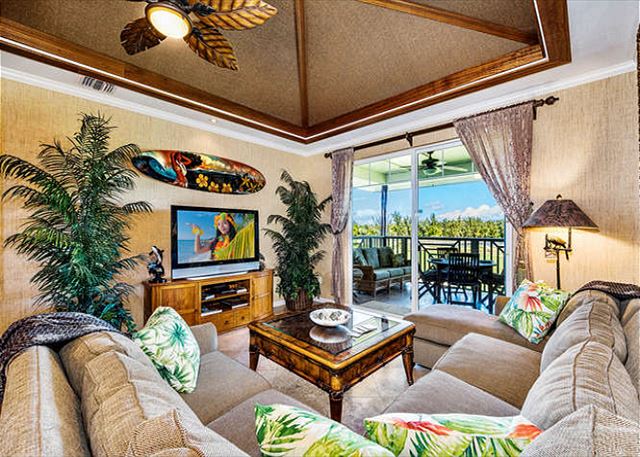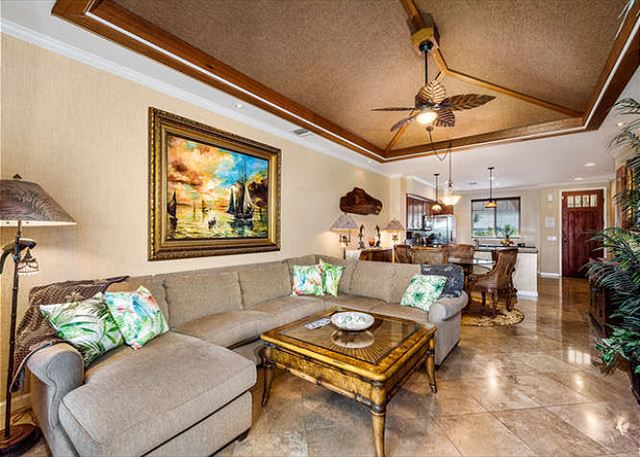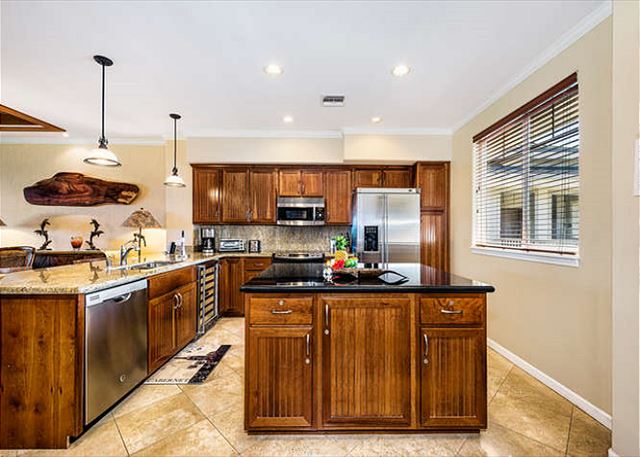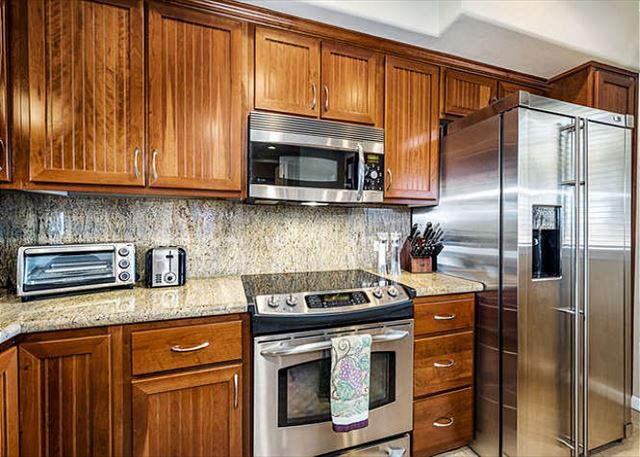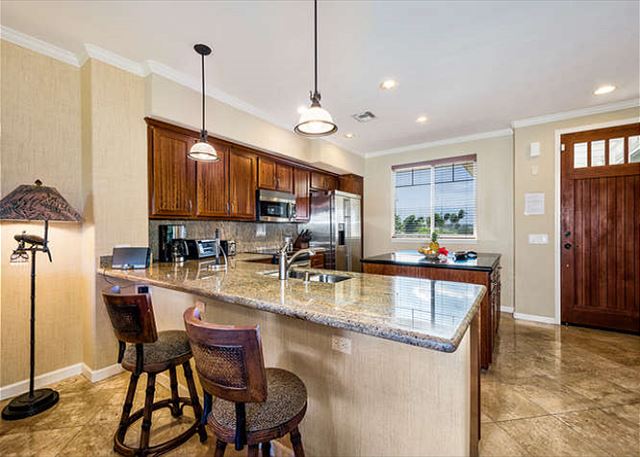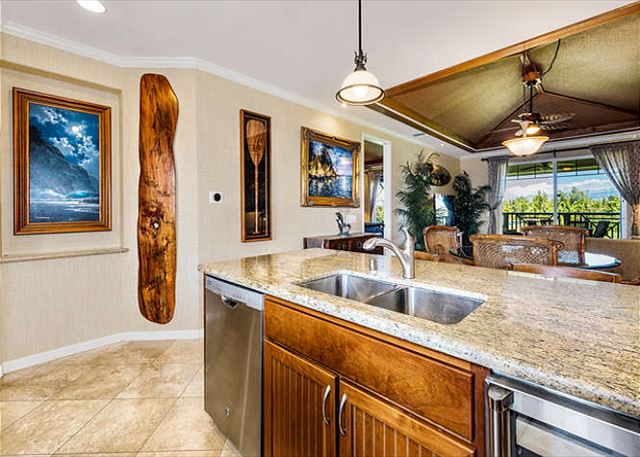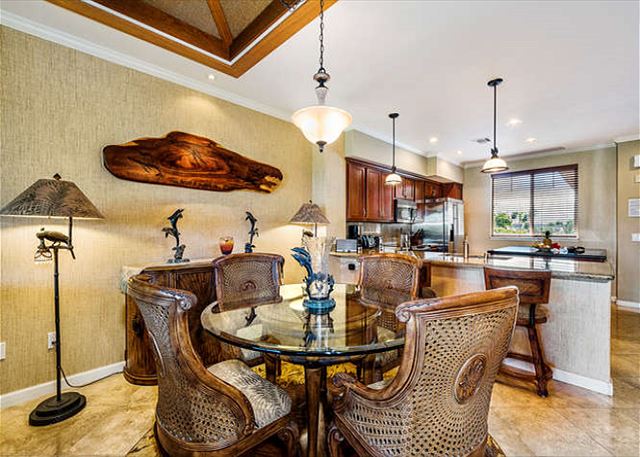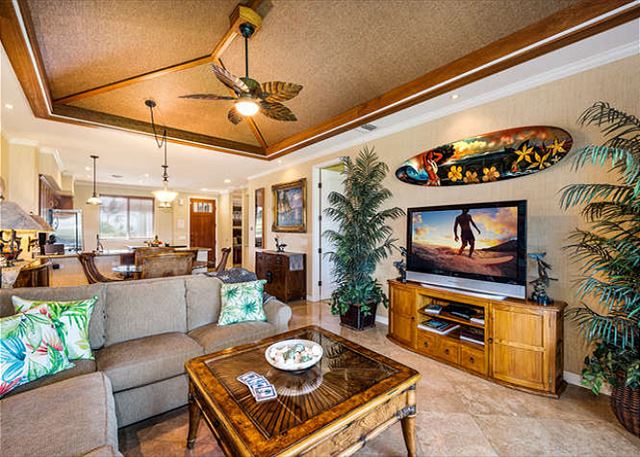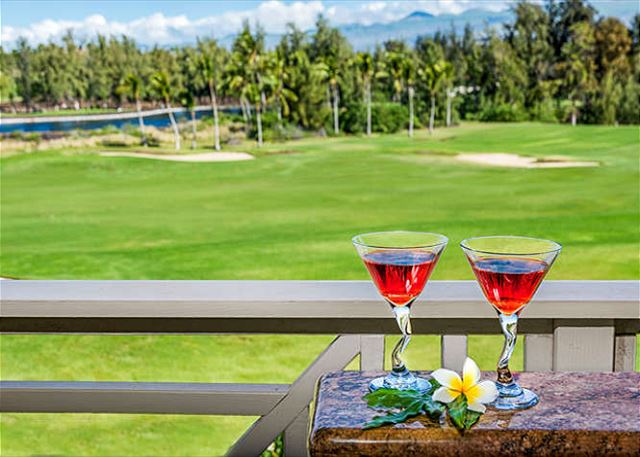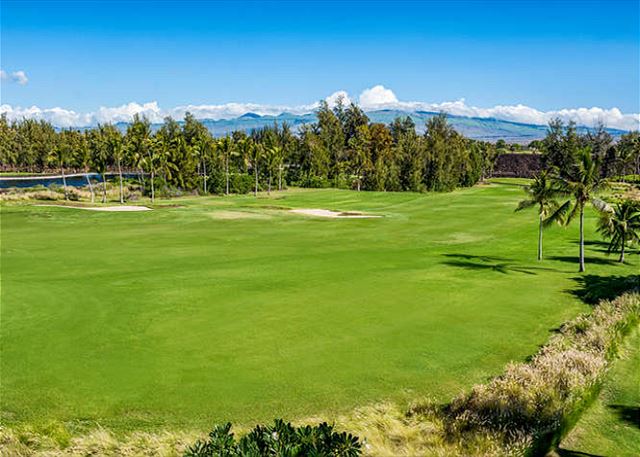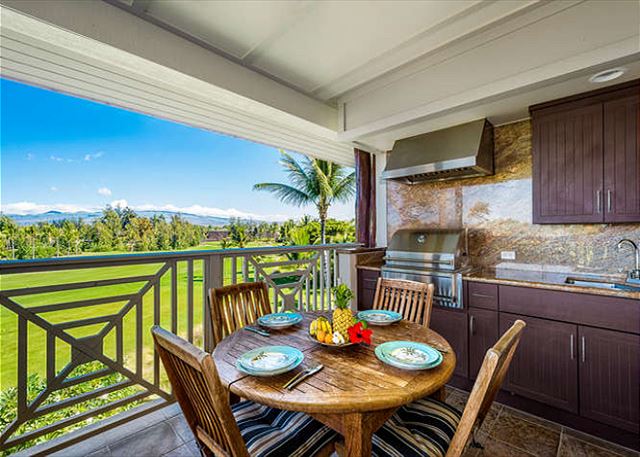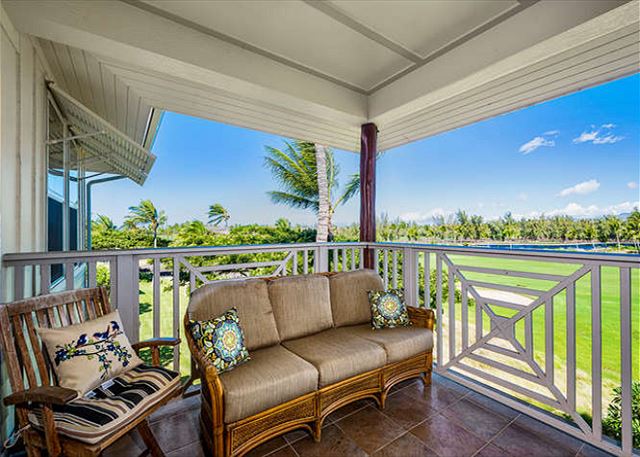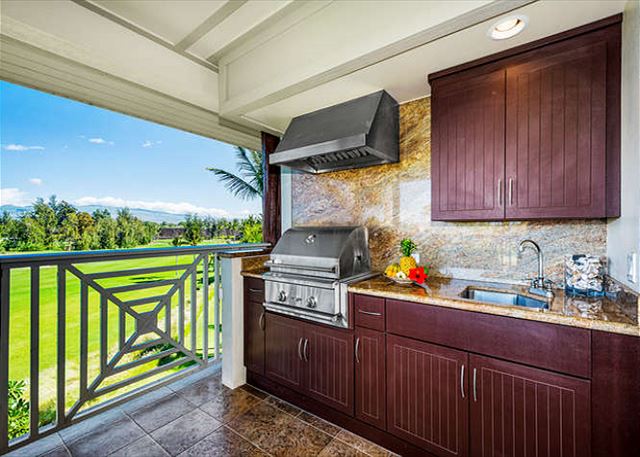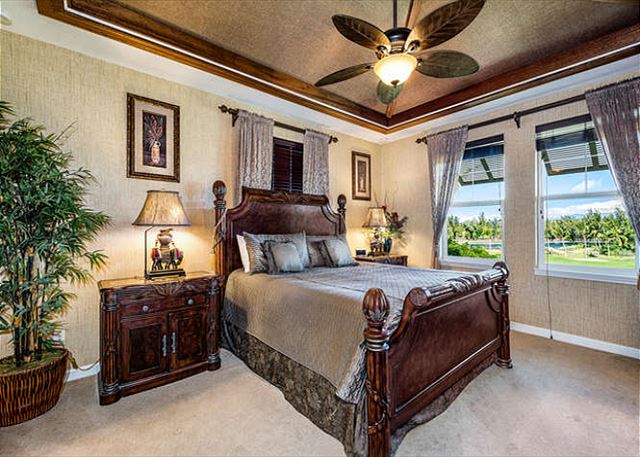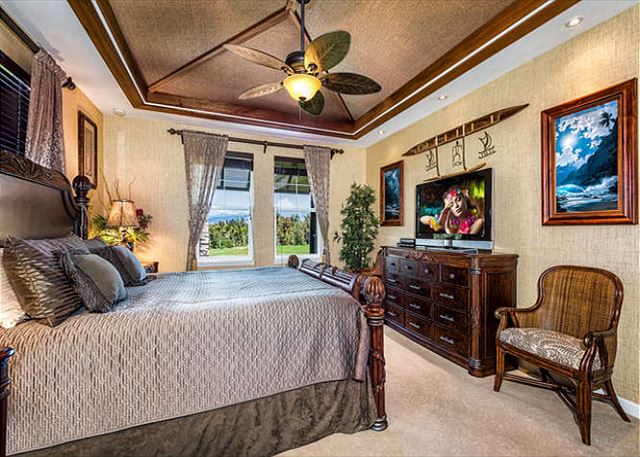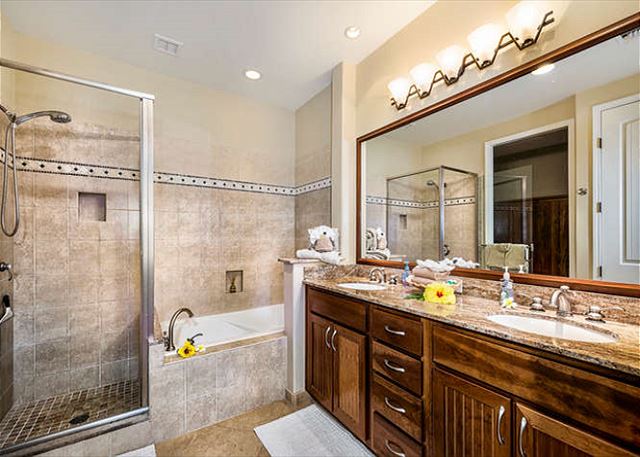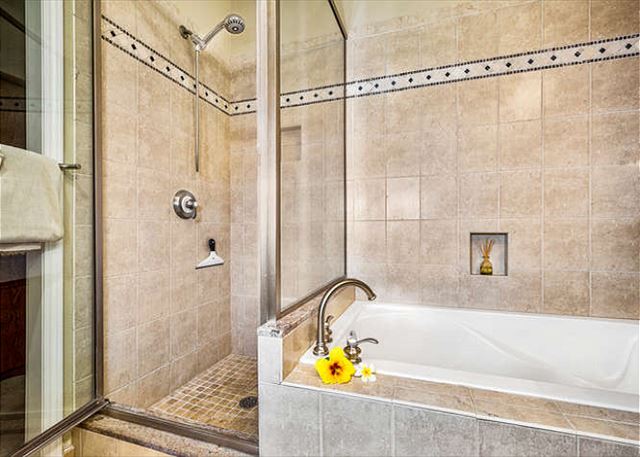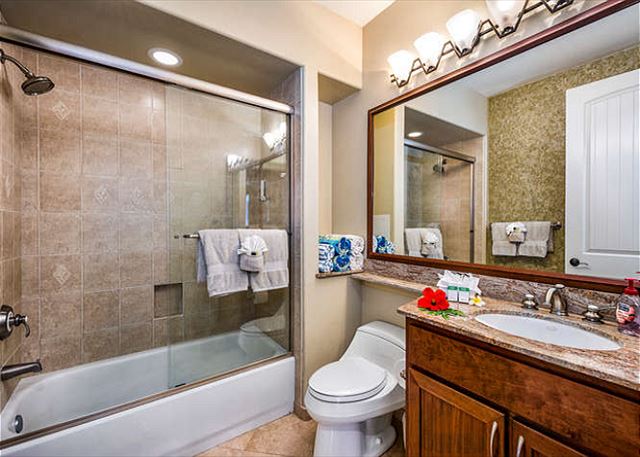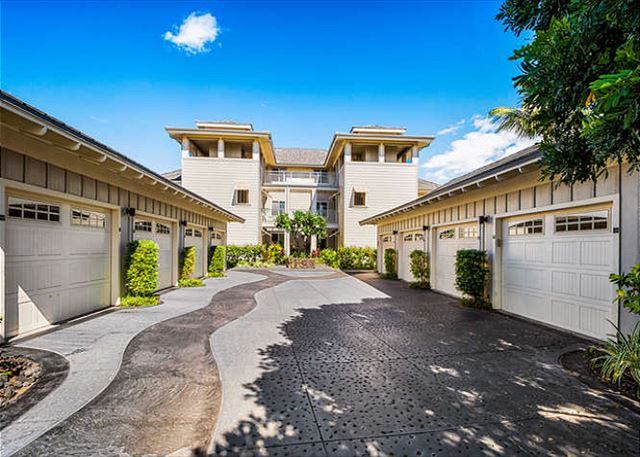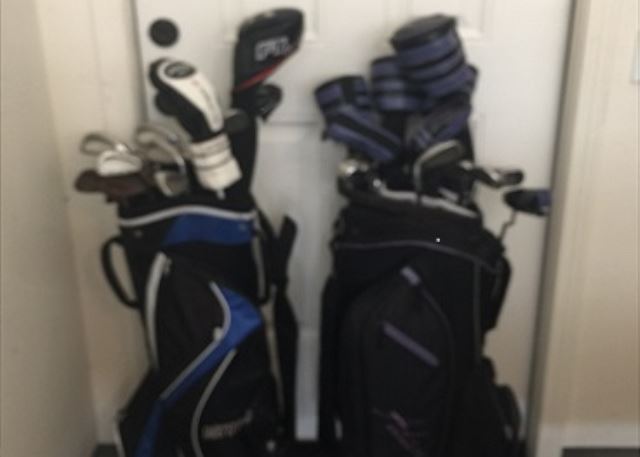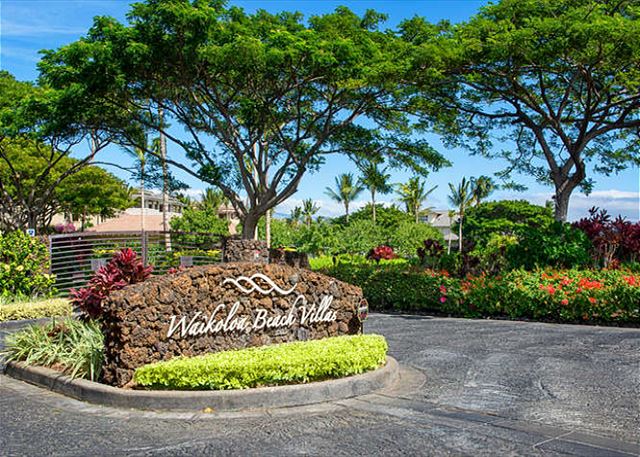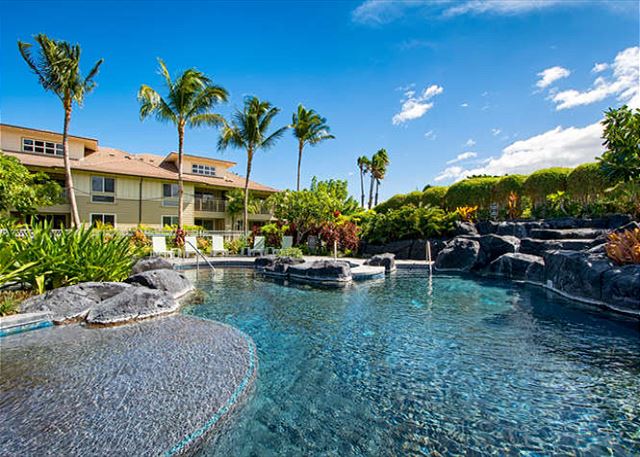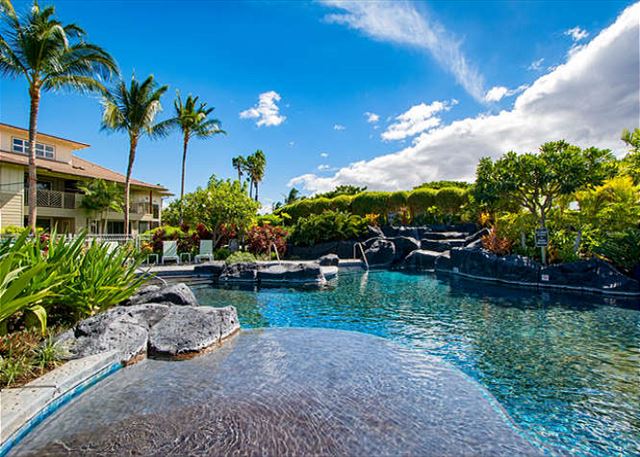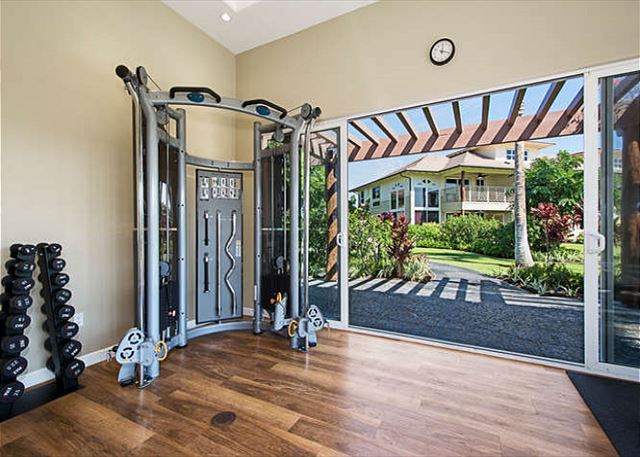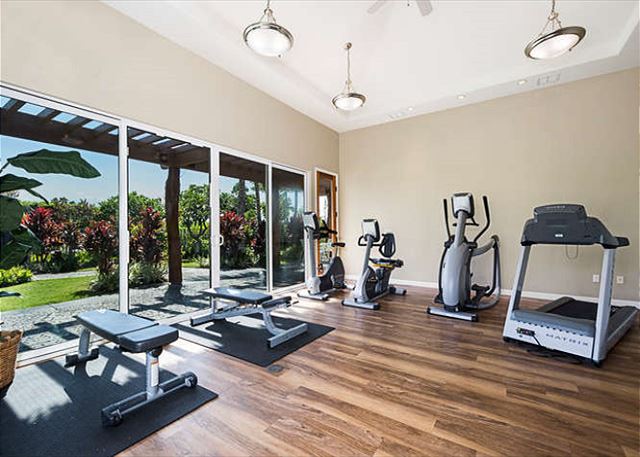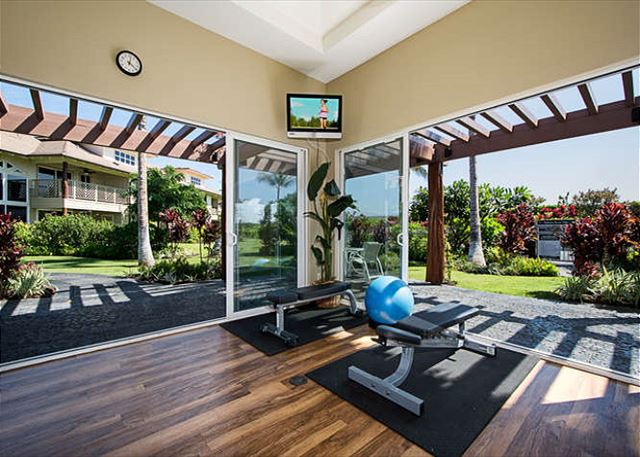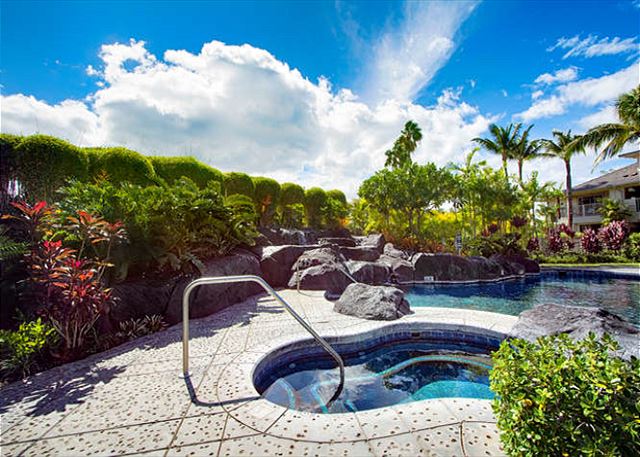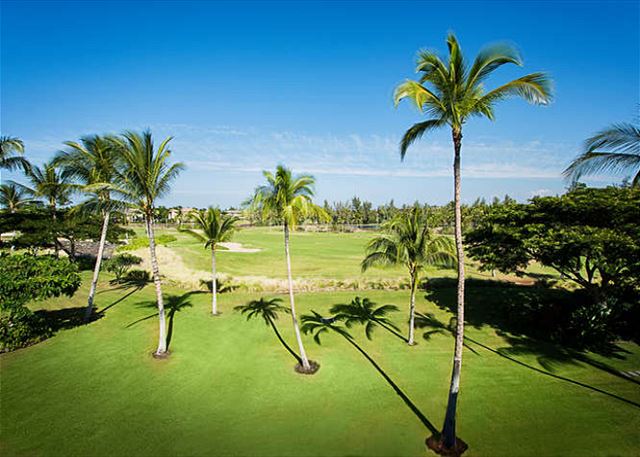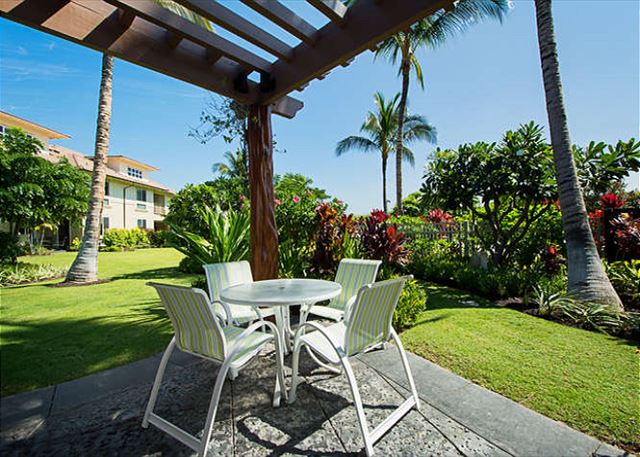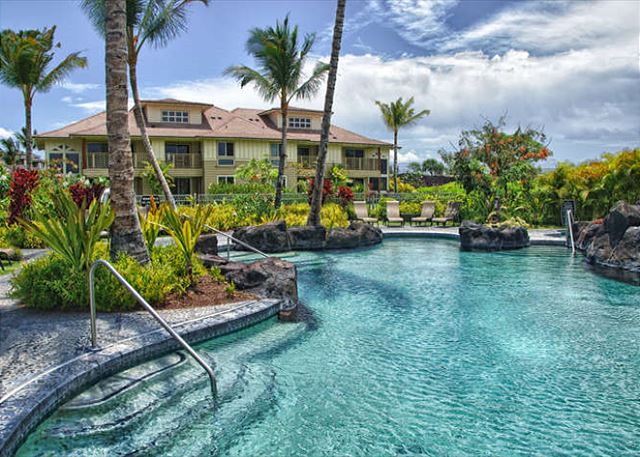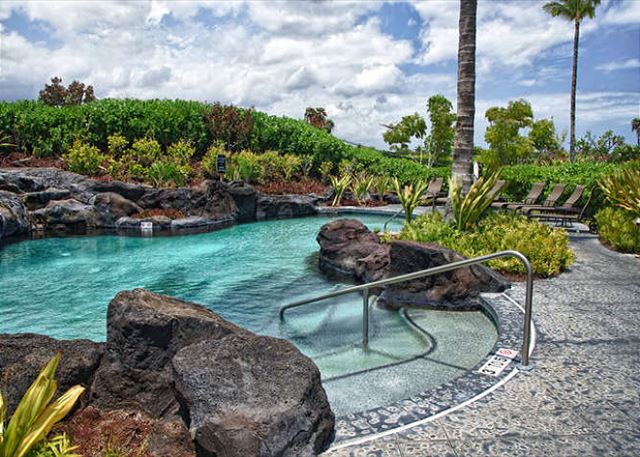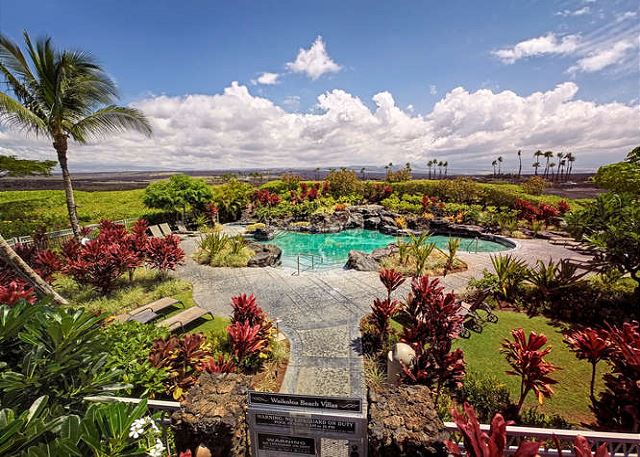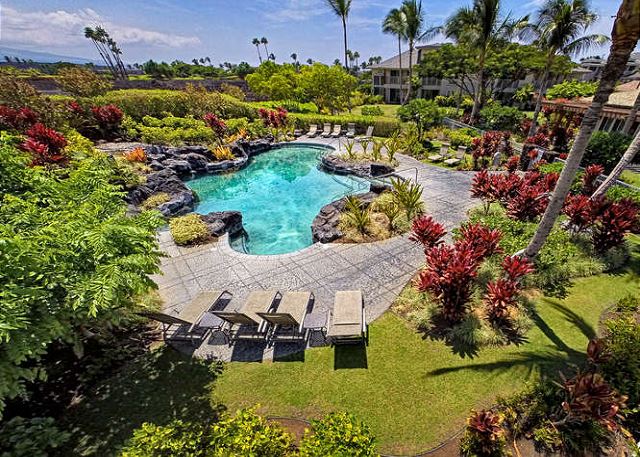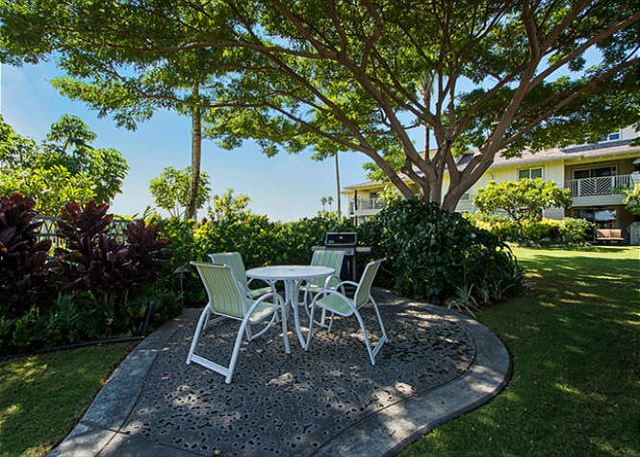 Description
This brand new upscale luxury condo is located in the privately gated new Waikoloa Beach Villas Complex, close to the activity center with two pools, fitness workout room and spa areas. Unit includes discounted GOLD GOLF KINGS' CLUB MEMBERSHIP - green fees at Waikoloa Beach Course - $75.00 per person plus tax before 9:30 a.m. - $50.00 per person plus tax after 9:30 a.m. A set of men's and women's golf clubs are available for your use or you can rent from the Pro Shop for a special rate of $25.



The complex is located in the best area of the entire Waikoloa Beach Resort, conveniently located within easy walking distances to the King Shops, the A Bay Beach, and the new Queens Shops. You can walk to Starbuck's in the morning, go to the beach in the afternoon, or take an evening stroll to one of the many fine restaurants or under the stars from the condo Once you arrive, you don't need a car as everything is so conveniently located. The condo is located on the top floor in the best and most private area of the brand new Waikoloa Beach Villas complex, right on the golf course with spectacular views of the lakes, the golf course, the Kohala mountains, Mauna Kea and the Island of Maui.



Pure luxury is the appropriate term to describe this upscale condo, with designer furniture, wood work trimmed ceilings, large windows, travertine floors, upgraded carpeting, etc. Central Air conditioning and tropical ceiling fans are located throughout. This luxury condo has almost $150,000 in upgrades and furnishings above and beyond standard condos here. It is one of the premier property here in the Beach Villas. Upgrades abound, with wall art, sculptures, designer furniture, etc.



The large gourmet kitchen is almost twice the size of standard, and nicely appointed with with stainless steel appliances, granite counters, large island, wine cooler, comfortable counter seating for entertaining guests, etc.

The dining area is conveniently located next to the kitchen, with a large beautiful round table, designer chairs and stunning sideboard, tropical wall art and sculptures. Also, there is an incredible Bose stereo system.

The extra large living room is appointed with plush designer furniture, sofa bed, an entertainment center including a large 42 inch LED television with cable, DVD & CD player, FREE high speed WI-FI internet, etc.

The large covered lanai area is appointed with a wonderful outdoor kitchen, gourmet stainless steel BBQ, and elegant teak outdoor furniture for entertaining. With fantastic views and over 350 of sunshine a year, this comfortably shaded lanai will certainly be the place of choice of guests to entertain friends or enjoying your morning breakfast watching the sunrise over Mauna Kea while enjoying a cup of the world famous Kona coffee, or evening meals under the stars! Sunsets are also stunning from the Lanai!

The spacious master bedroom is nicely appointed with a designer king-size bed with plush mattress and 400 thread count Egyptian cotton linens. There is a large 42 inch LCD/ plasma television with DVD player.

The large en-suite master bath is luxuriously appointed with a large vanity with double sinks and elegant marble counter, large romantic soaking tub, plush over sized towels, and adjoining walk in closet.

The secondary bedroom is elegantly appointed with a king size bed with beautiful end tables, plush mattress with 400 thread count Egyptian cotton linens, LCD television, and large closet.

The 2nd bathroom is nicely appointed with a shower & bath combination, elegant marble counter, and plush over sized towels. A full size washer & dryer.

Beach chairs, umbrellas, coolers, beach towels provided free of charge! Free PARKING. Waikoloa Beach Villas POOLS are now HEATED!!



This villa is cleaned by a professional cleaning company using EPA approved products for use against COVID-19.



Hawaii County ordinance to regulate Short-Term Vacation Rentals application was accepted.



* WE DO NOT TAKE WIRE/BANK TRANSFERS*



HAWAII SHORT TERM VACATION RENTAL# 19-364350

HAWAII GE/TAT #058-529-1776-0
Calendar
October 2021

| S | M | T | W | T | F | S |
| --- | --- | --- | --- | --- | --- | --- |
| | | | | | 01 | 02 |
| 03 | 04 | 05 | 06 | 07 | 08 | 09 |
| 10 | 11 | 12 | 13 | 14 | 15 | 16 |
| 17 | 18 | 19 | 20 | 21 | 22 | 23 |
| 24 | 25 | 26 | 27 | 28 | 29 | 30 |
| 31 | | | | | | |
November 2021

| S | M | T | W | T | F | S |
| --- | --- | --- | --- | --- | --- | --- |
| | 01 | 02 | 03 | 04 | 05 | 06 |
| 07 | 08 | 09 | 10 | 11 | 12 | 13 |
| 14 | 15 | 16 | 17 | 18 | 19 | 20 |
| 21 | 22 | 23 | 24 | 25 | 26 | 27 |
| 28 | 29 | 30 | | | | |
December 2021

| S | M | T | W | T | F | S |
| --- | --- | --- | --- | --- | --- | --- |
| | | | 01 | 02 | 03 | 04 |
| 05 | 06 | 07 | 08 | 09 | 10 | 11 |
| 12 | 13 | 14 | 15 | 16 | 17 | 18 |
| 19 | 20 | 21 | 22 | 23 | 24 | 25 |
| 26 | 27 | 28 | 29 | 30 | 31 | |
January 2022

| S | M | T | W | T | F | S |
| --- | --- | --- | --- | --- | --- | --- |
| | | | | | | 01 |
| 02 | 03 | 04 | 05 | 06 | 07 | 08 |
| 09 | 10 | 11 | 12 | 13 | 14 | 15 |
| 16 | 17 | 18 | 19 | 20 | 21 | 22 |
| 23 | 24 | 25 | 26 | 27 | 28 | 29 |
| 30 | 31 | | | | | |
February 2022

| S | M | T | W | T | F | S |
| --- | --- | --- | --- | --- | --- | --- |
| | | 01 | 02 | 03 | 04 | 05 |
| 06 | 07 | 08 | 09 | 10 | 11 | 12 |
| 13 | 14 | 15 | 16 | 17 | 18 | 19 |
| 20 | 21 | 22 | 23 | 24 | 25 | 26 |
| 27 | 28 | | | | | |
March 2022

| S | M | T | W | T | F | S |
| --- | --- | --- | --- | --- | --- | --- |
| | | 01 | 02 | 03 | 04 | 05 |
| 06 | 07 | 08 | 09 | 10 | 11 | 12 |
| 13 | 14 | 15 | 16 | 17 | 18 | 19 |
| 20 | 21 | 22 | 23 | 24 | 25 | 26 |
| 27 | 28 | 29 | 30 | 31 | | |
April 2022

| S | M | T | W | T | F | S |
| --- | --- | --- | --- | --- | --- | --- |
| | | | | | 01 | 02 |
| 03 | 04 | 05 | 06 | 07 | 08 | 09 |
| 10 | 11 | 12 | 13 | 14 | 15 | 16 |
| 17 | 18 | 19 | 20 | 21 | 22 | 23 |
| 24 | 25 | 26 | 27 | 28 | 29 | 30 |
May 2022

| S | M | T | W | T | F | S |
| --- | --- | --- | --- | --- | --- | --- |
| 01 | 02 | 03 | 04 | 05 | 06 | 07 |
| 08 | 09 | 10 | 11 | 12 | 13 | 14 |
| 15 | 16 | 17 | 18 | 19 | 20 | 21 |
| 22 | 23 | 24 | 25 | 26 | 27 | 28 |
| 29 | 30 | 31 | | | | |
June 2022

| S | M | T | W | T | F | S |
| --- | --- | --- | --- | --- | --- | --- |
| | | | 01 | 02 | 03 | 04 |
| 05 | 06 | 07 | 08 | 09 | 10 | 11 |
| 12 | 13 | 14 | 15 | 16 | 17 | 18 |
| 19 | 20 | 21 | 22 | 23 | 24 | 25 |
| 26 | 27 | 28 | 29 | 30 | | |
July 2022

| S | M | T | W | T | F | S |
| --- | --- | --- | --- | --- | --- | --- |
| | | | | | 01 | 02 |
| 03 | 04 | 05 | 06 | 07 | 08 | 09 |
| 10 | 11 | 12 | 13 | 14 | 15 | 16 |
| 17 | 18 | 19 | 20 | 21 | 22 | 23 |
| 24 | 25 | 26 | 27 | 28 | 29 | 30 |
| 31 | | | | | | |
August 2022

| S | M | T | W | T | F | S |
| --- | --- | --- | --- | --- | --- | --- |
| | 01 | 02 | 03 | 04 | 05 | 06 |
| 07 | 08 | 09 | 10 | 11 | 12 | 13 |
| 14 | 15 | 16 | 17 | 18 | 19 | 20 |
| 21 | 22 | 23 | 24 | 25 | 26 | 27 |
| 28 | 29 | 30 | 31 | | | |
September 2022

| S | M | T | W | T | F | S |
| --- | --- | --- | --- | --- | --- | --- |
| | | | | 01 | 02 | 03 |
| 04 | 05 | 06 | 07 | 08 | 09 | 10 |
| 11 | 12 | 13 | 14 | 15 | 16 | 17 |
| 18 | 19 | 20 | 21 | 22 | 23 | 24 |
| 25 | 26 | 27 | 28 | 29 | 30 | |
Available
Unavailable
Check-In Only
Check-Out Only
Seasonal Rates
| Date Range | Daily | Weekly | Monthly |
| --- | --- | --- | --- |
* Seasonal rates are only estimates and do not reflect taxes or additional fees.
Location
Guest Reviews of
Waikoloa Beach Villas J32
Waikoloa, HI
---
Vacation Rental Reviews by
stars based on
Great Vacation Rental
Review by
Beautiful and convenient location - walked to many restaurants and shops. Unit was nicely appointed with everything needed.
5 out of 5 stars
Beautiful Home away from Home
Review by
Kathy J.
My husband and I came on our postponed honeymoon. The condo is very well appointed, beautiful kitchen appliances, hot grill, comfortable beds. We didn't want for anything. We enjoyed every morning watching the golfers play through our backyard. The Kings and Queens market are literally steps away with many shops, gourmet grocery/deli, and restaurants to enjoy. Melissa was prompt and helpful, though we didn't even need much support to enjoy this lovely home.
5 out of 5 stars
Another Week in Paradise!
Review by
Julie S.
This was our 4th stay and did not disappoint! Family of four (2 adult kids) with plenty of clean towels, beach towels, kitchen amenities for all of our needs. Comfy beds and pillows and a beautiful lanai over the golf course!
5 out of 5 stars
J32 Luxury Villa
Review by
Thomas N.
This was our fourth stay in J32 over a span of 12 years. It is a beautifully furnished and well appointed unit on the 3rd fairway of the Beach Course.The owners are generous with small details down to robes. We used the golf discount as well as the beach chairs and umbrellas. Guests have use of the garage.Highly recommended!
5 out of 5 stars
Jan 2021 stay
Review by
Richard P.
Excellent as always.
4 out of 5 stars
Exceptional condo! Will return!
Review by
Julia & Lorne Y.
This condo was located close to beach & all amenities! the kitchen was well stocked & we loved the decor.
5 out of 5 stars
Waikoloa Beach Villa J32
Review by
Elizabeth P.
We had a wonderful time! This was our 2nd stay in this condo. It is beautifully decorated & very functional. The bed and other furniture is very comfortable. The kitchen is well stocked with great dishware & other kitchen items.
5 out of 5 stars
First class rental!
Review by
Diana L.
We really enjoyed this rental. The owners thought of everything, from the decor, kitchen fully stocked, the garage with beach supplies, golf clubs.... we thought the beds were soft and comfortable too. Loved the view from the back deck and the closeness to Queen's market!
5 out of 5 stars
Great Stay!!
Review by
Steph S.
This condo is located right next to King and Queens Shops and a short walk to A Bay. It is appointed with everything one would need for an excellent vacation. Boogie boards, beach chairs, umbrella, snorkels, cooler. The condo itself is clean and beautifully decorated. We would definitely stay again!
5 out of 5 stars
Golfer's View
Review by
Great condo, exquisitely decorated, good location and had an elevator! We needed this last one as our luggage averaged over 50# each. We hope to learn how to pack better! Both King and Queen's shopping center were an easy walk away.
5 out of 5 stars
This Condo Delivered
Review by
Never been so comfortable in a rental before. The upgrades made for a relaxing time, the property was quiet, and the location was as promised.
5 out of 5 stars
AWESOME UNIT
Review by
Michelle E.
this unit has everything you can imagine from kitchen to bedroom/bath to patio
5 out of 5 stars
Best trip ever!
Review by
It was great! The villa was very nice!
5 out of 5 stars
Fabulous Accommodations
Review by
Monique R.
Absolutely fantastic vacation rental. WBV #J-32 was very nicely furnished and decorated, as advertised. It exceeded our expectations on all levels. Comfortable, clean, safe area, close to shops, beach, pool. Highly recommend this unit and community.
5 out of 5 stars
Wonderful property!
Review by
Suzanne O.
The condo was exactly as described, well equipped, all the amenities we needed for comfort and a great vacation. Perfect location, quiet but with everything we could need, or wish for, close by. We highly recommend!!!
5 out of 5 stars
Manager Response:
Thank you so much for staying with us! We are so happy your family had a great vacation and loved the property. Come back soon! Mahalo, KCP Team
Relaxing vacation in charming Condo
Review by
Thurston B.
Modern and well-mainainted condo in gated community. We ate on the deck several times and made good use of the kitchen. The furnishings were comfortable and clean. Plenty of towels for beach and showering.
5 out of 5 stars
Perfect in Paradise
Review by
This was the first time we stayed in the Wiakoloa area. If the hustle and bustle of Kona appeals to you then this area might not be the best choice for you but we loved the area. The condo is on the third floor with a wonderful view of the golf course. It is a good ten minute walk to the public beach which is not a sand beach. The sandy State beach is about 12 minutes by car up the road. No expense was spared on furnishings of the condo. It is beautiful.
5 out of 5 stars
Beautifully decorated, well appointed , convenient location
Review by
We really enjoyed the relaxing comfort of J32. Sitting on the private lanai in the morning watching the wild birds such as Nene geese and Herons on the lake across the fairway was very special. Our own outdoor grill was perfect for preparing meats and fish for our at home dinners and lunches. The location was so perfect for walking to all the entertainment and dining options at the Kings and Queens shops. Perfect stay and lovely comfortable , relaxing condo. Everything was thought of. Thank you!
5 out of 5 stars
Waikoloa Vacation
Review by
Very Nice Condo. Close to shopping, restaurants, Lava Lava and A-Bay.
5 out of 5 stars
Contact Us