Wai'ula'ula A202 (Condominium)
3 Bedroom(s) | 3 Bathroom(s) | Sleeps 6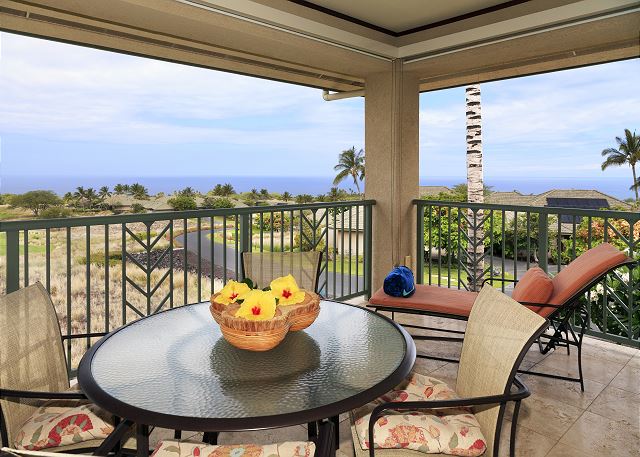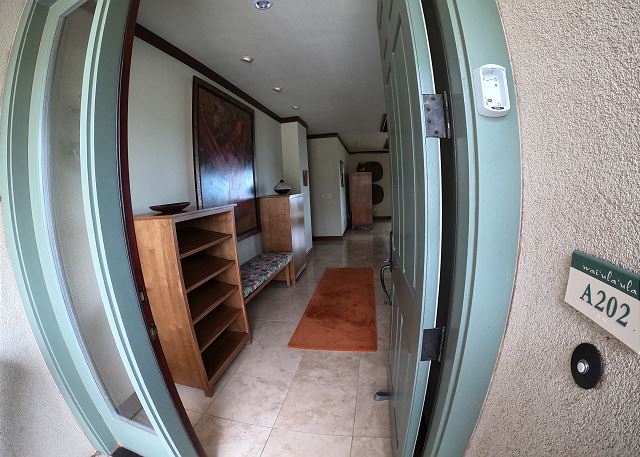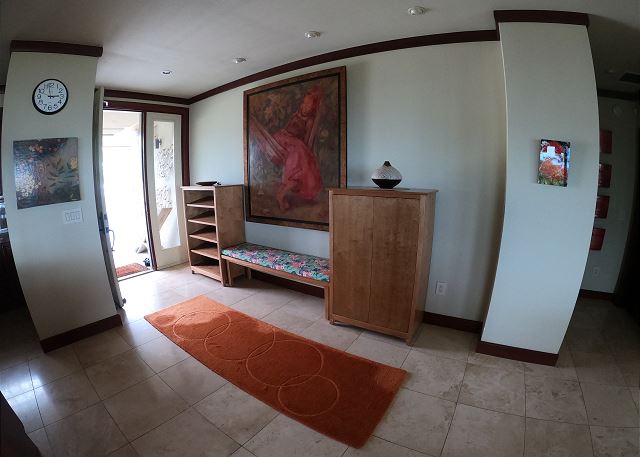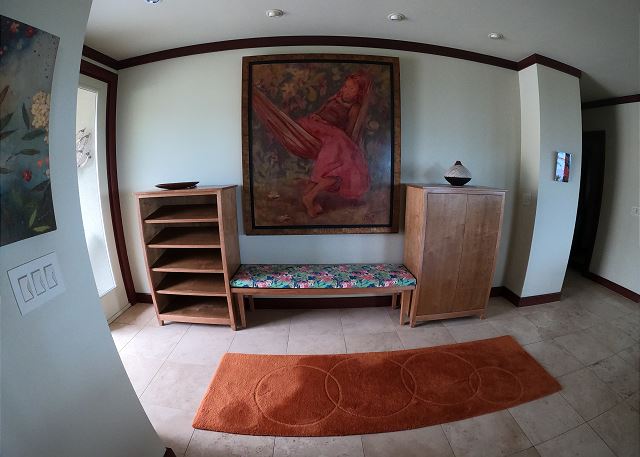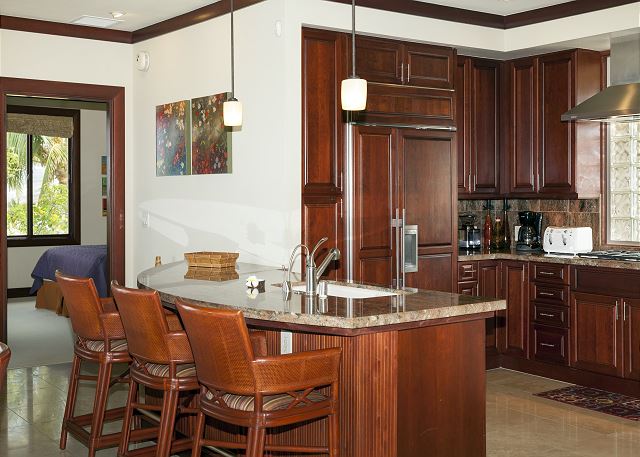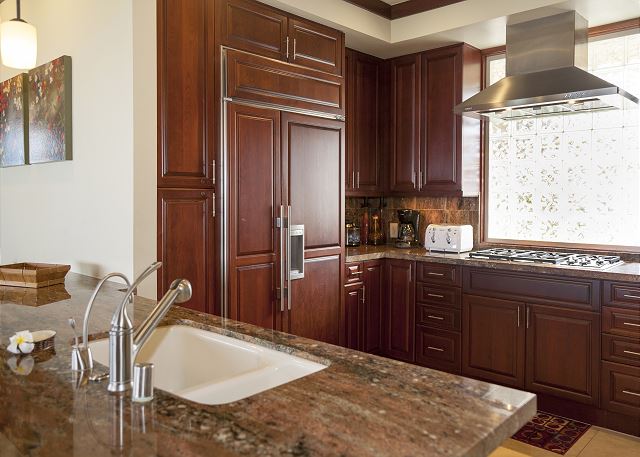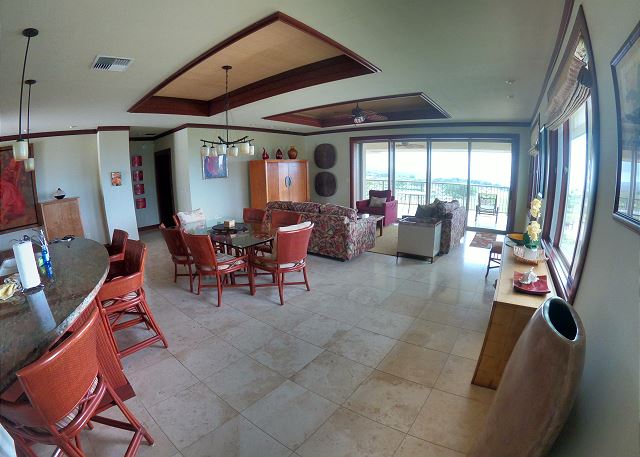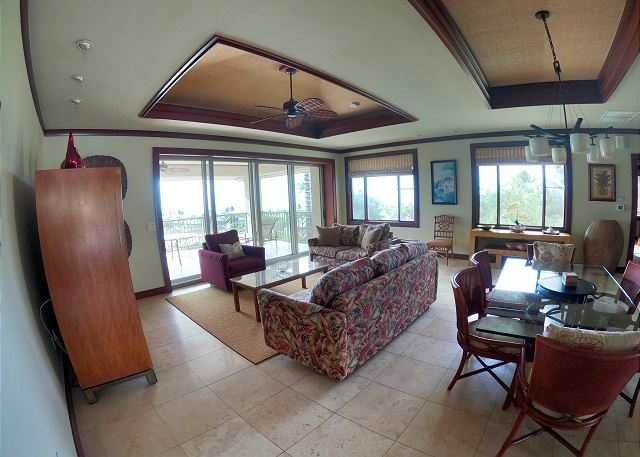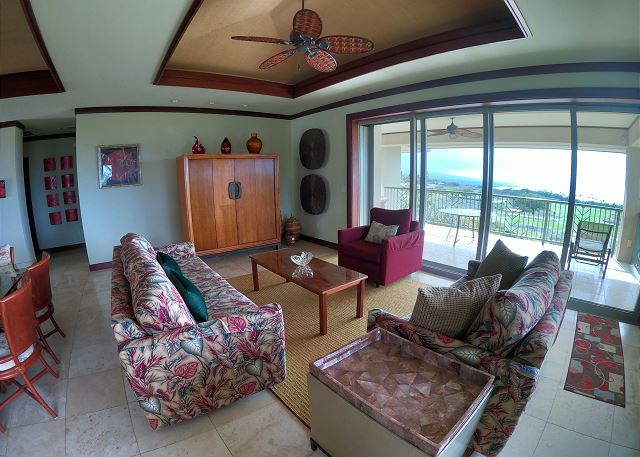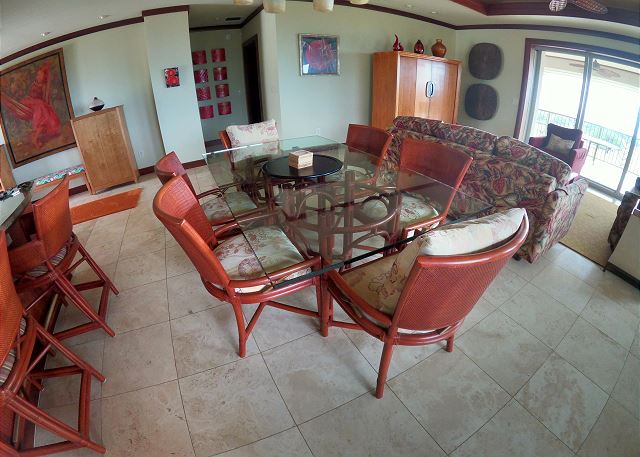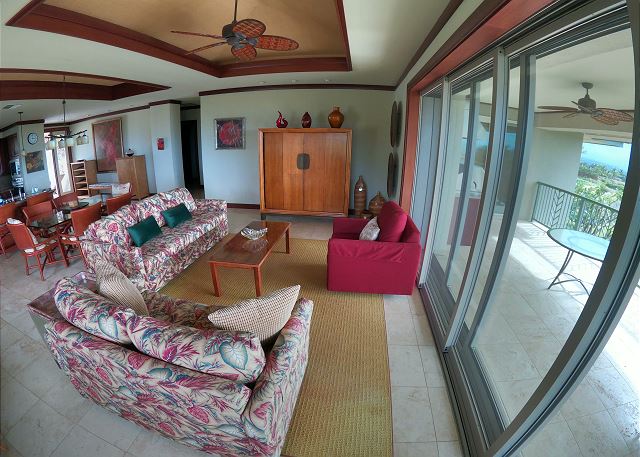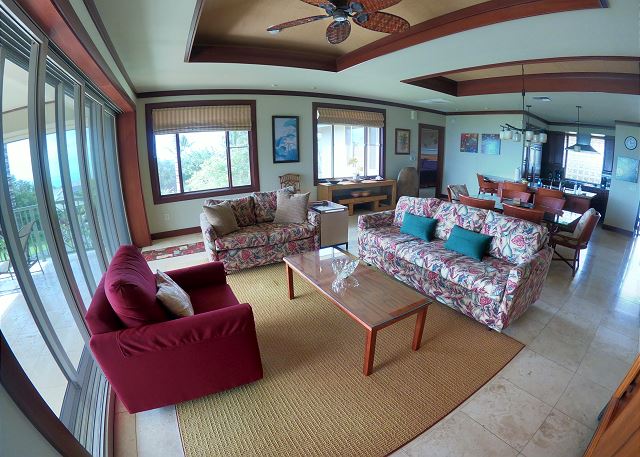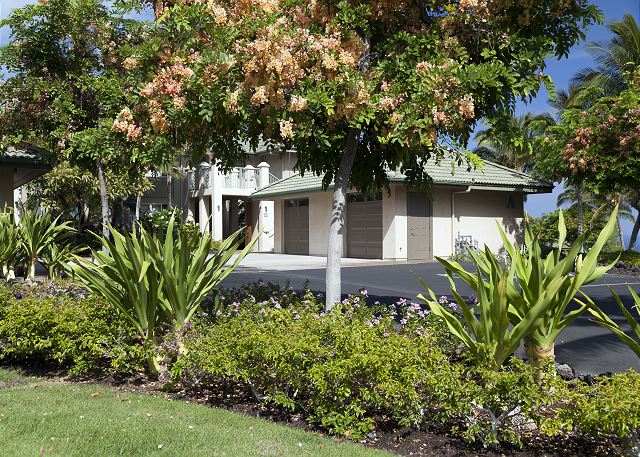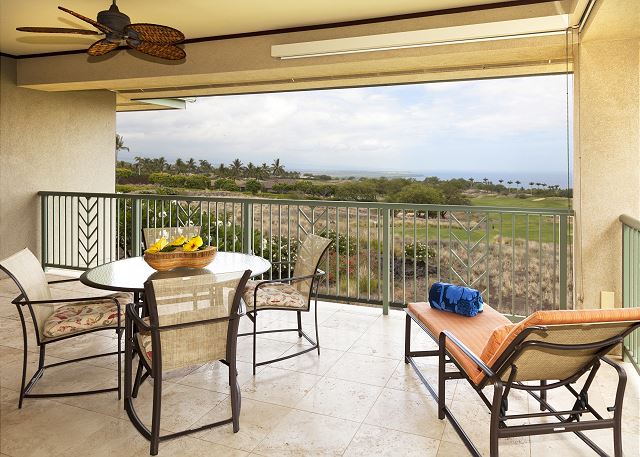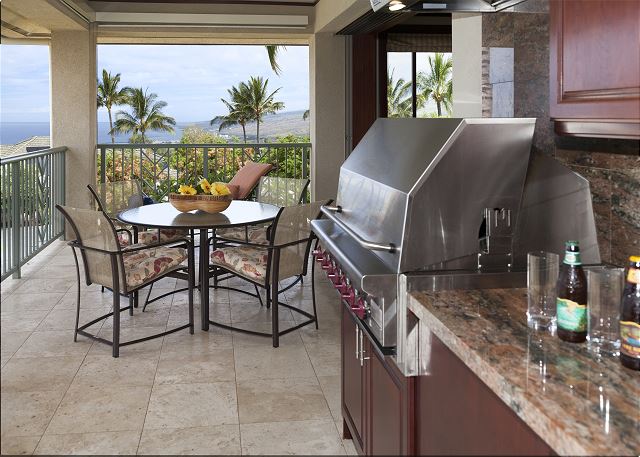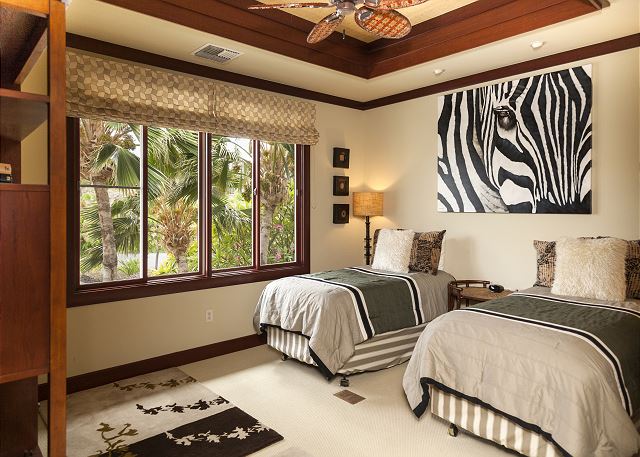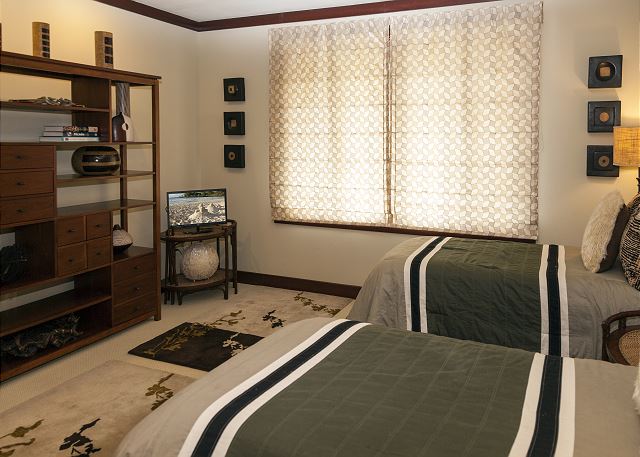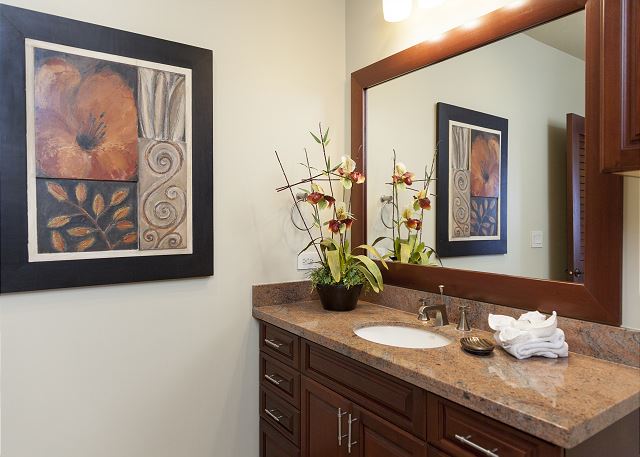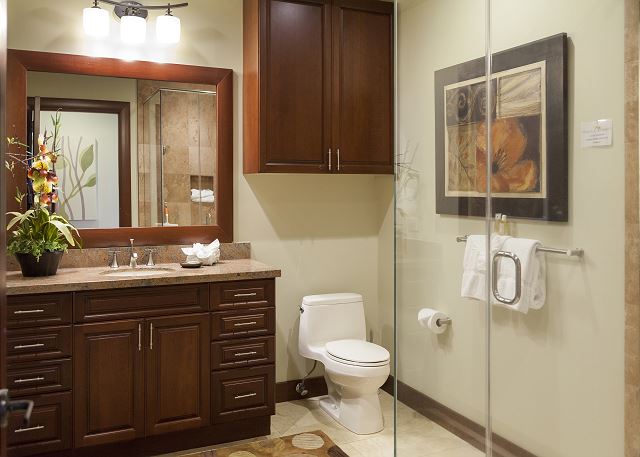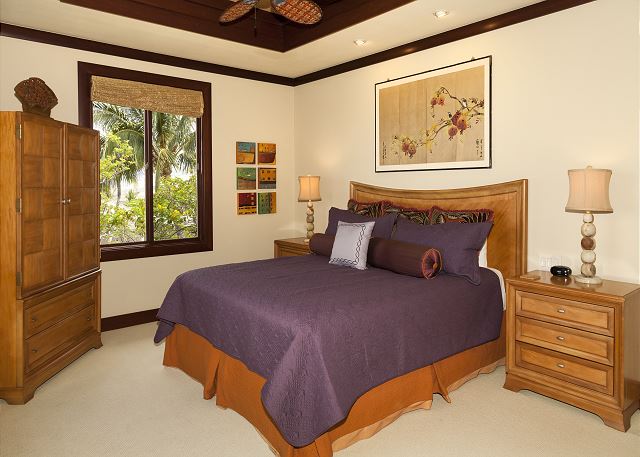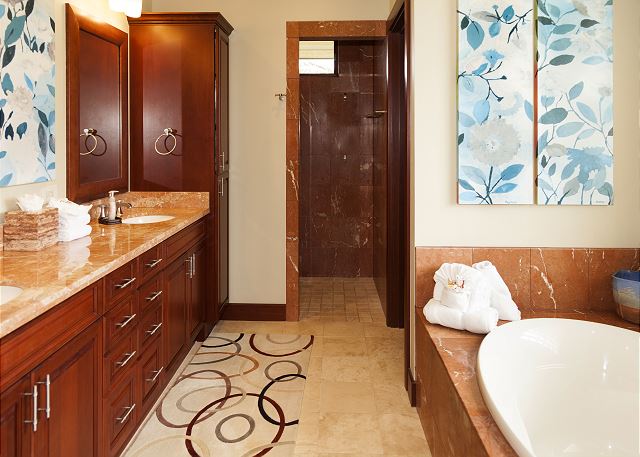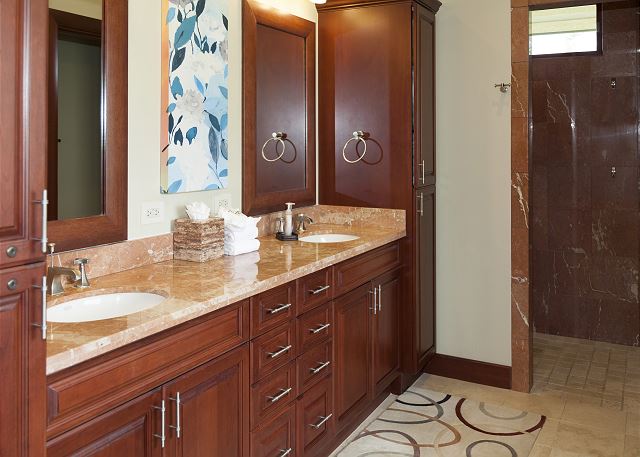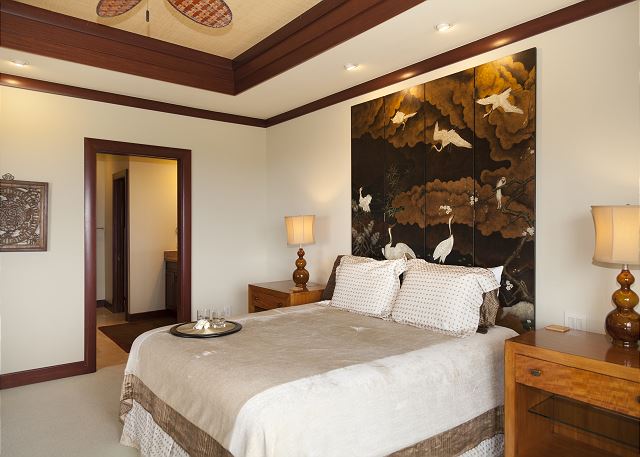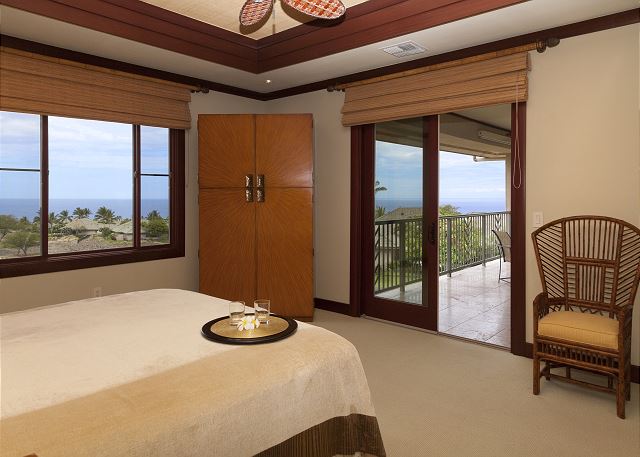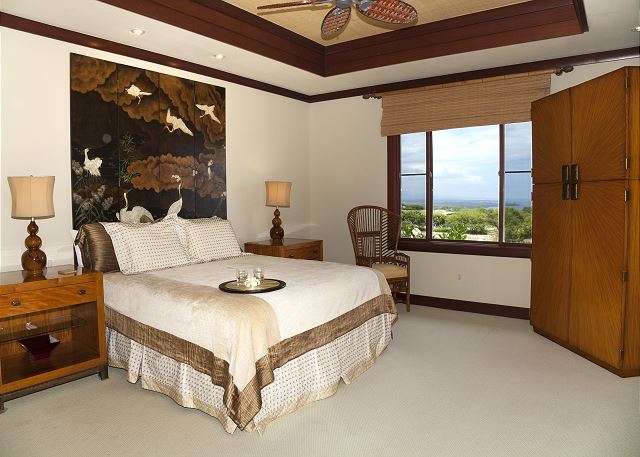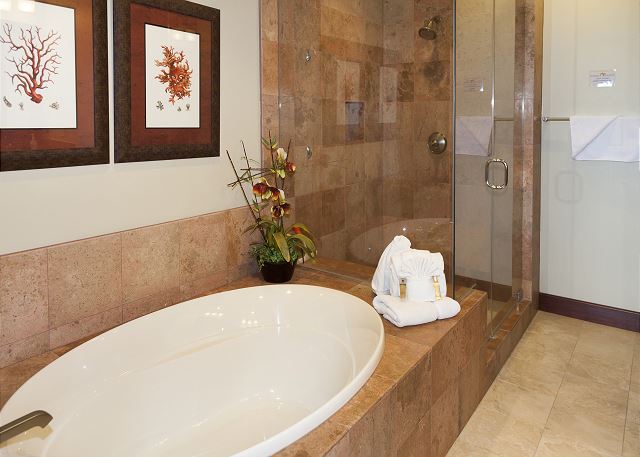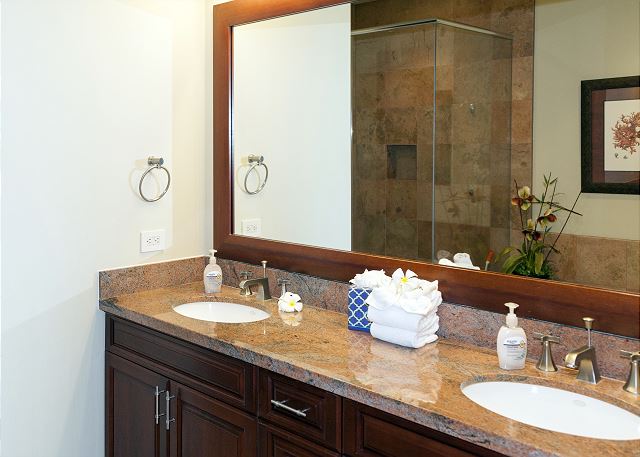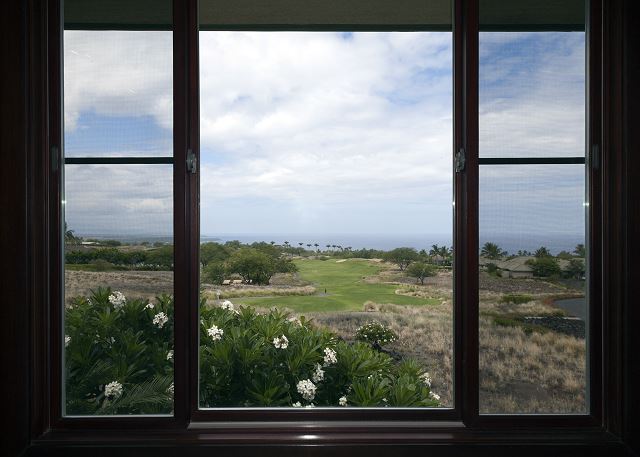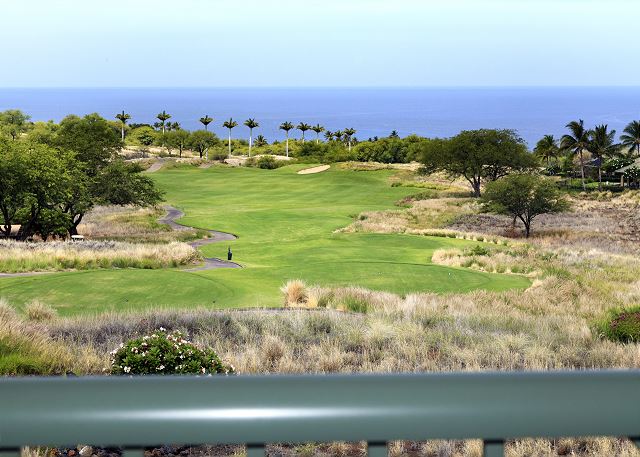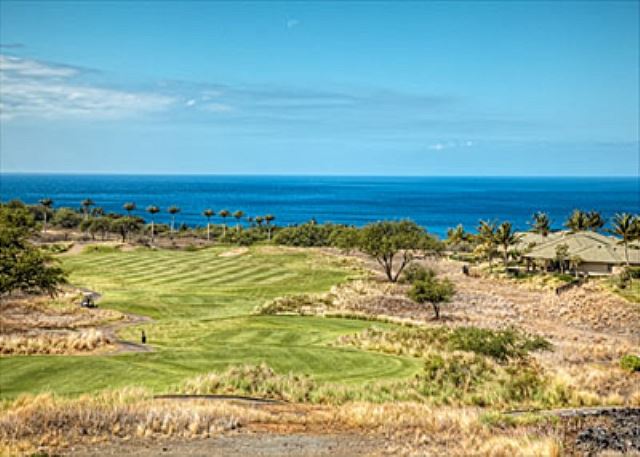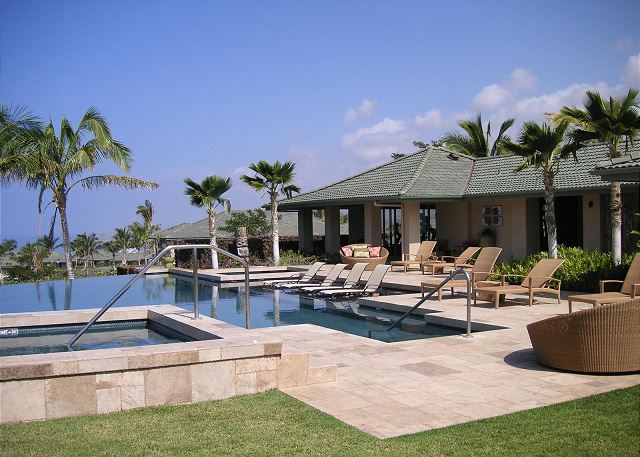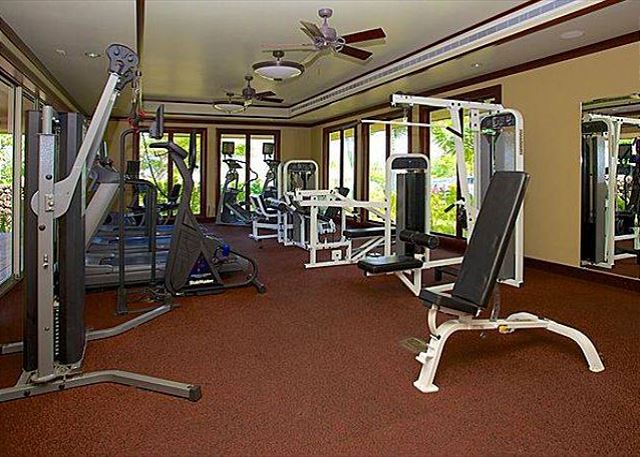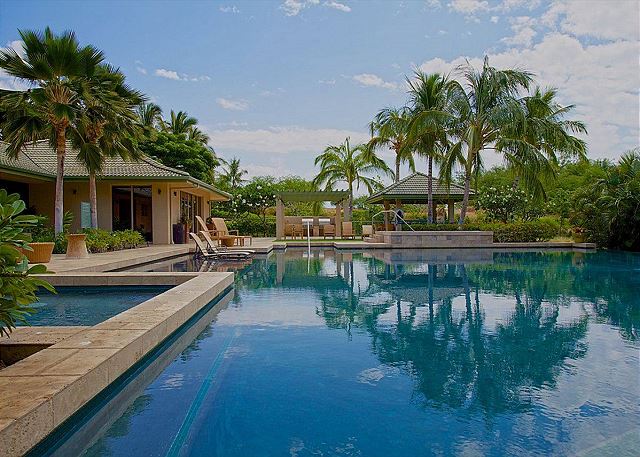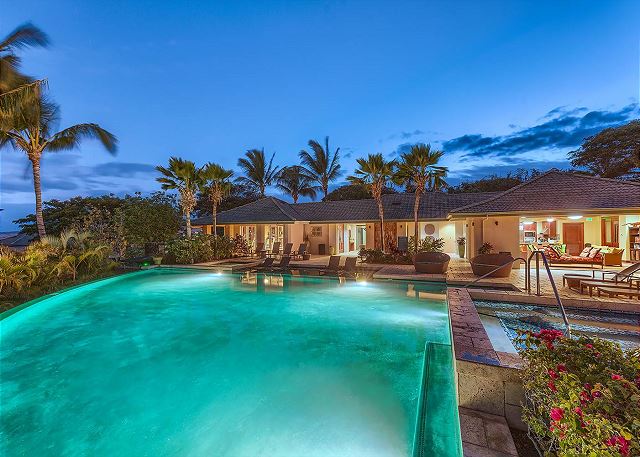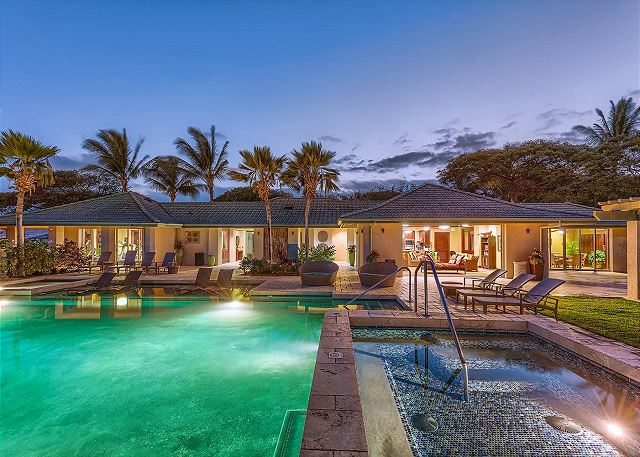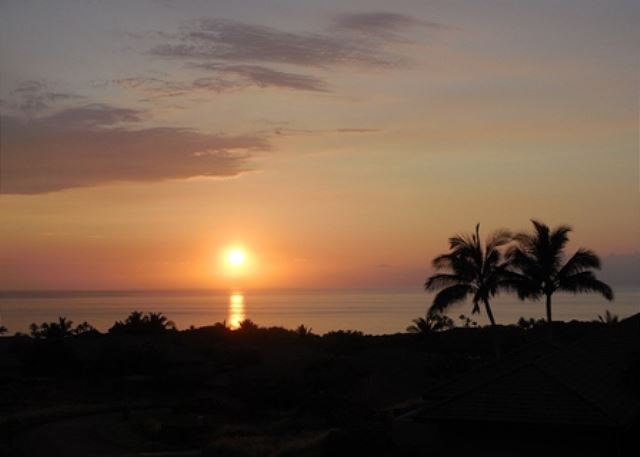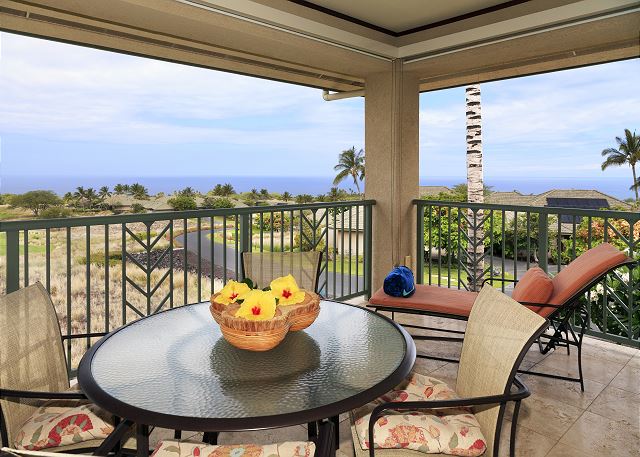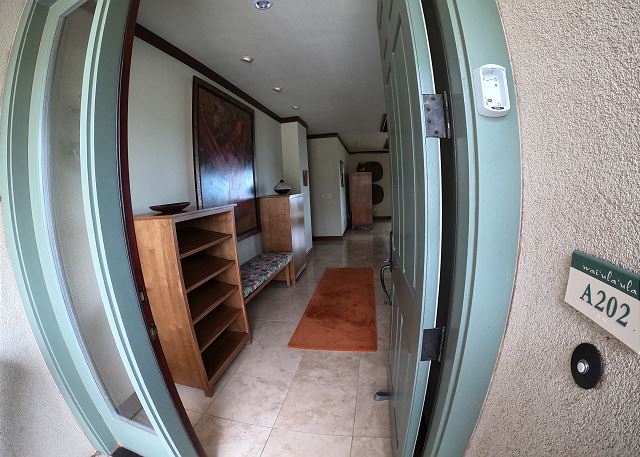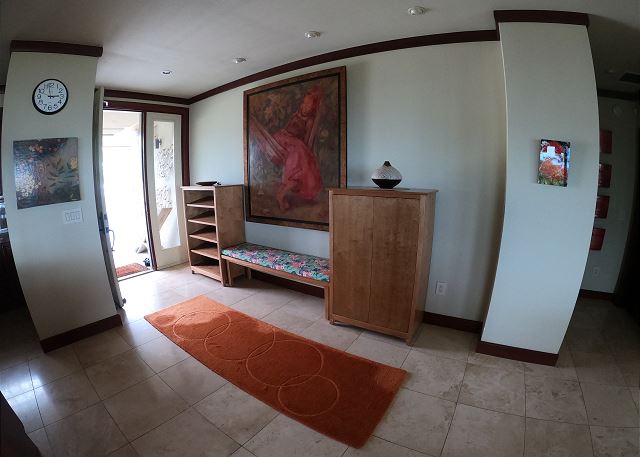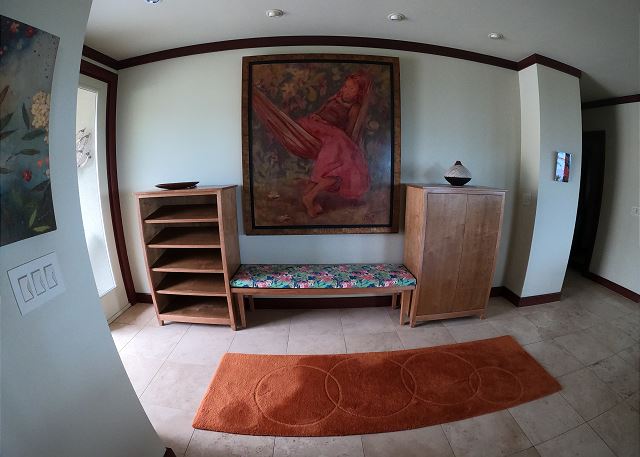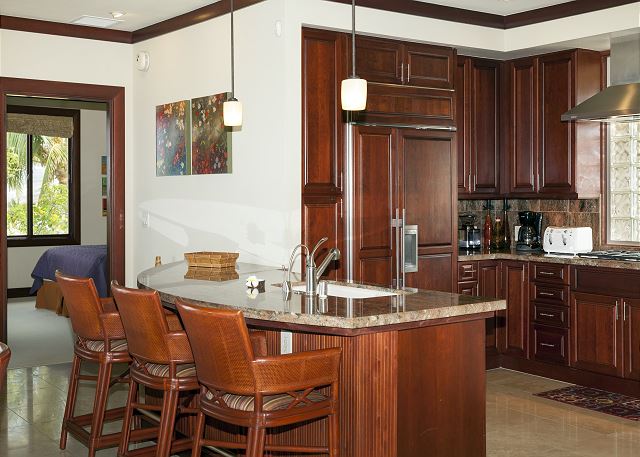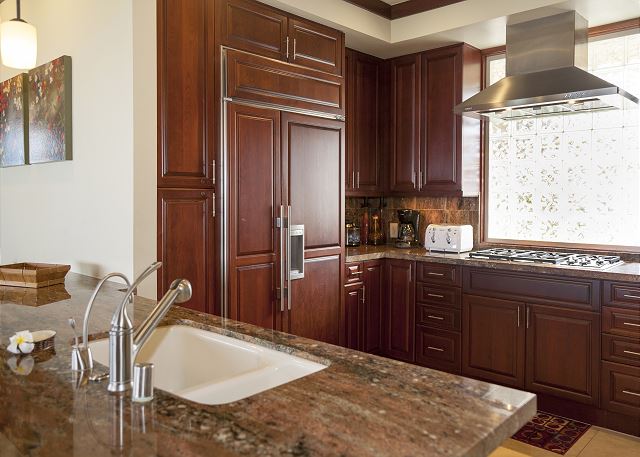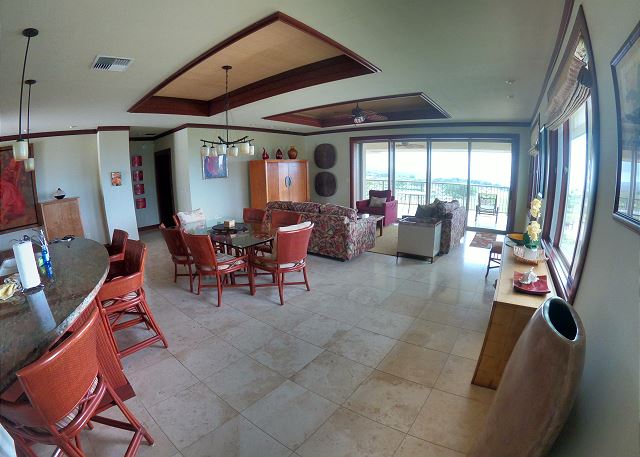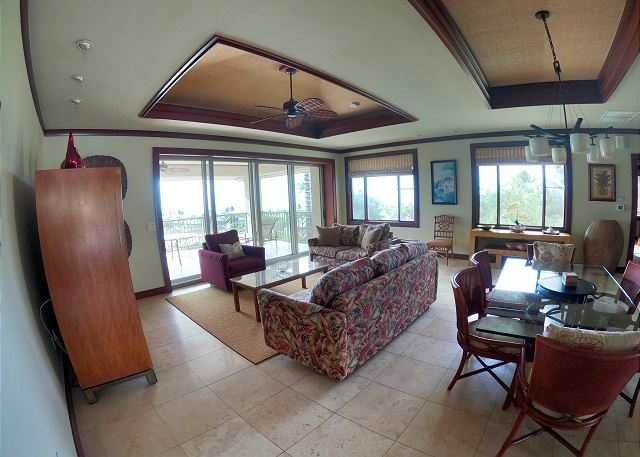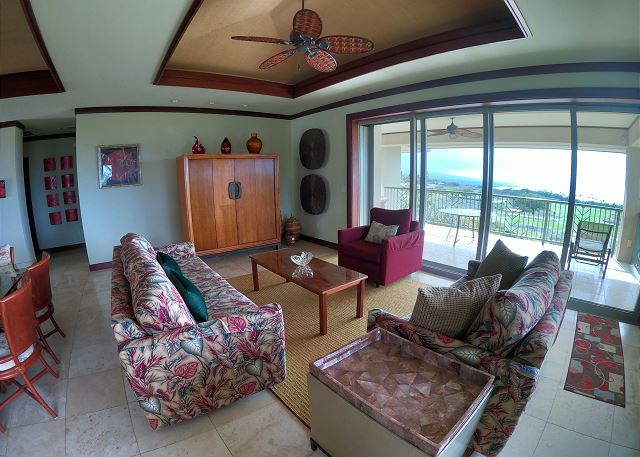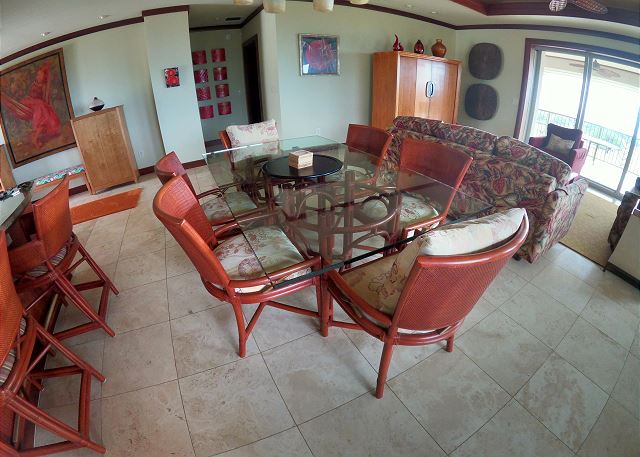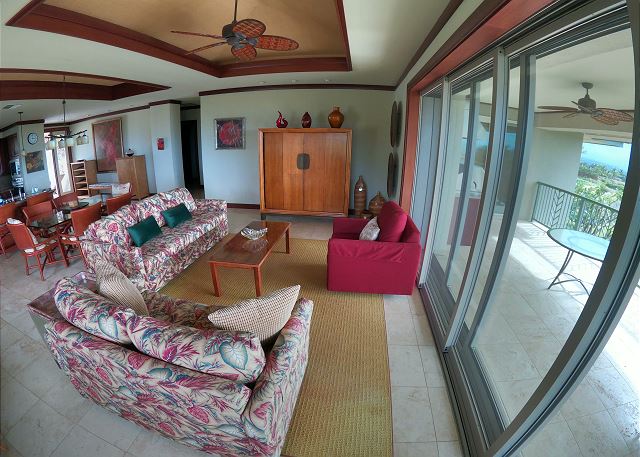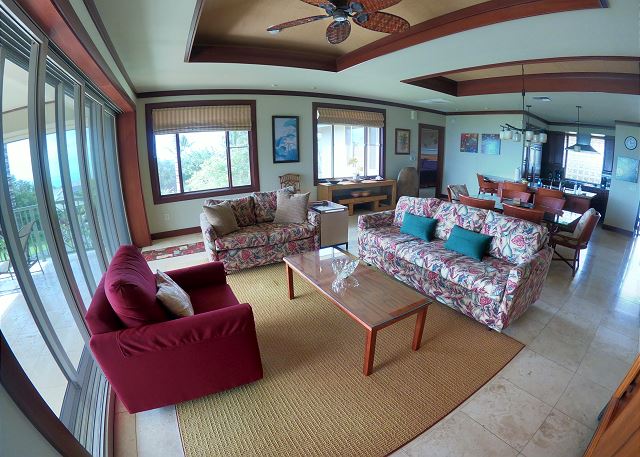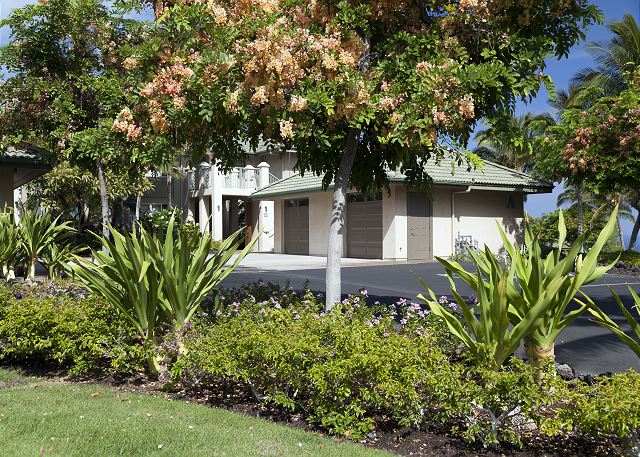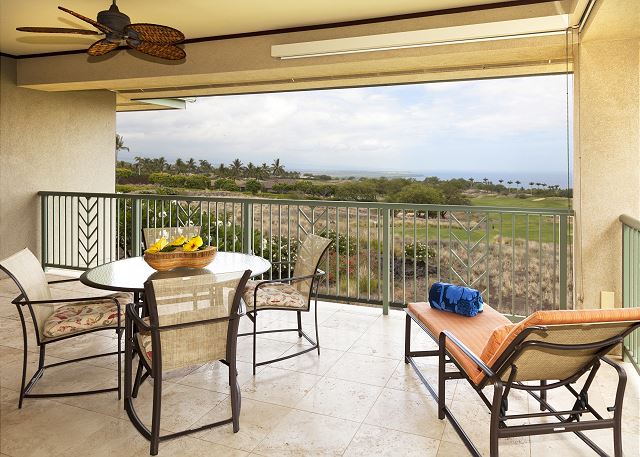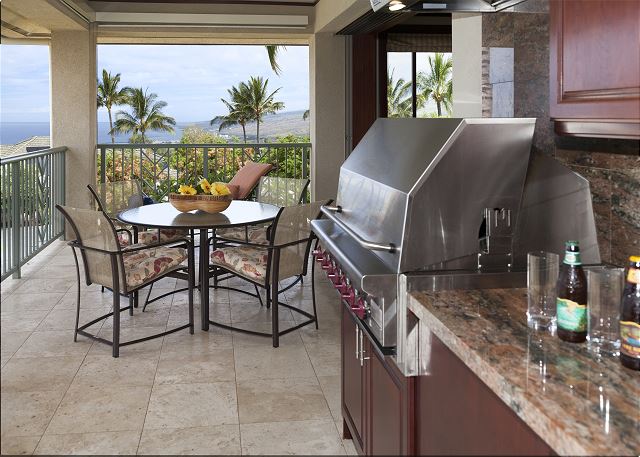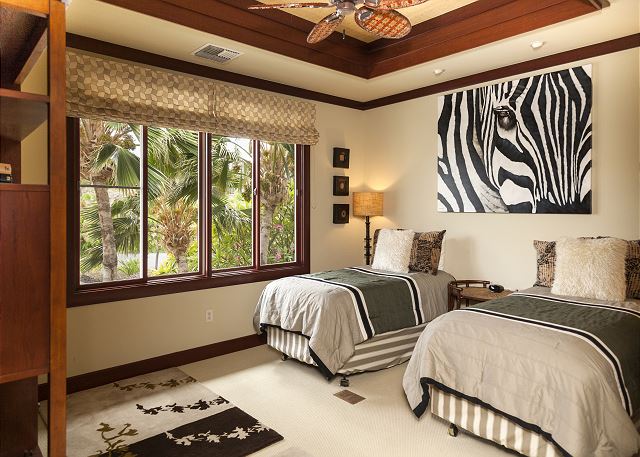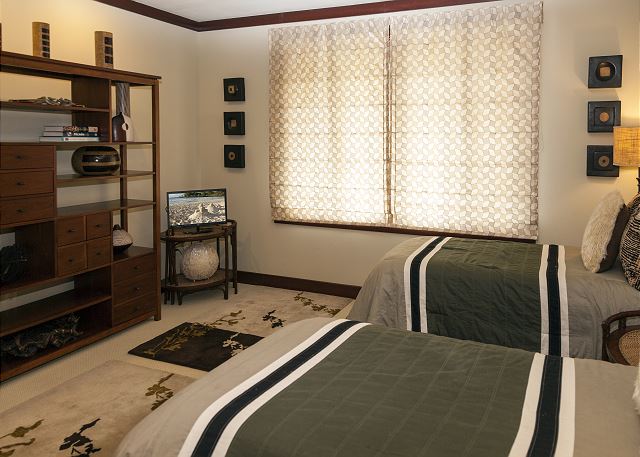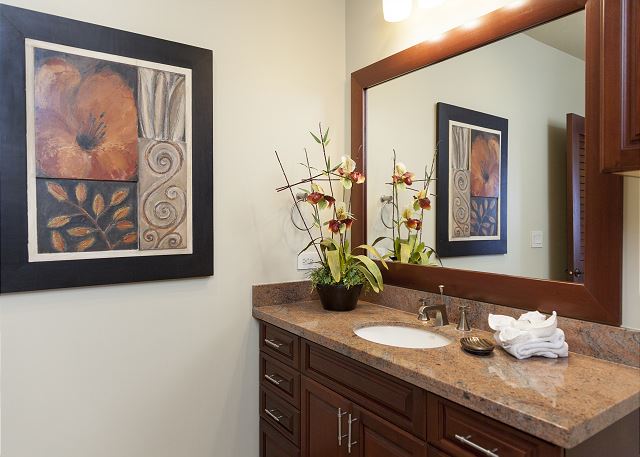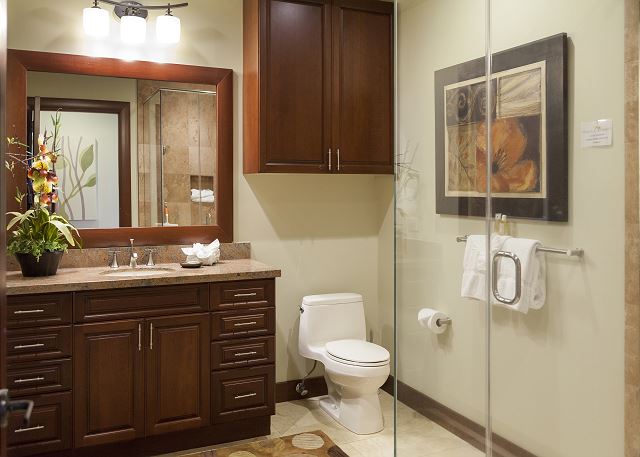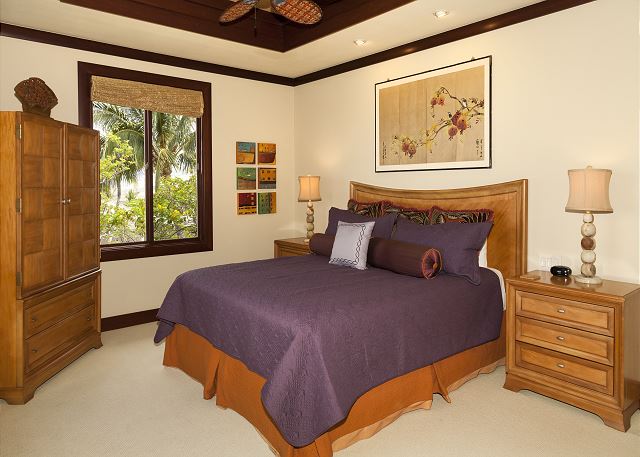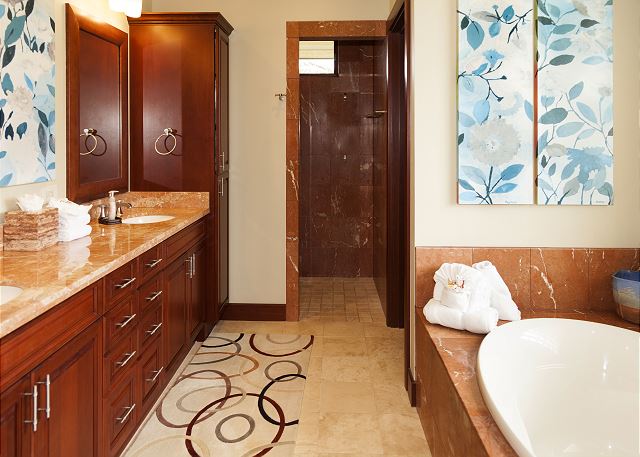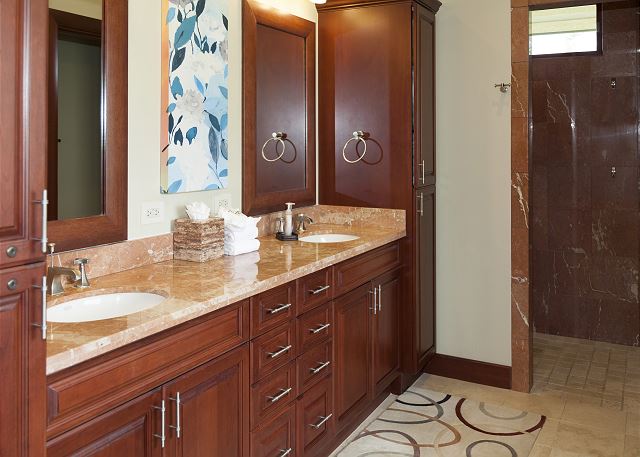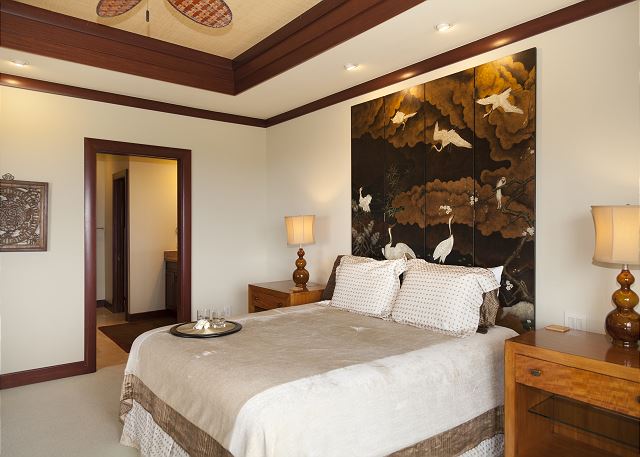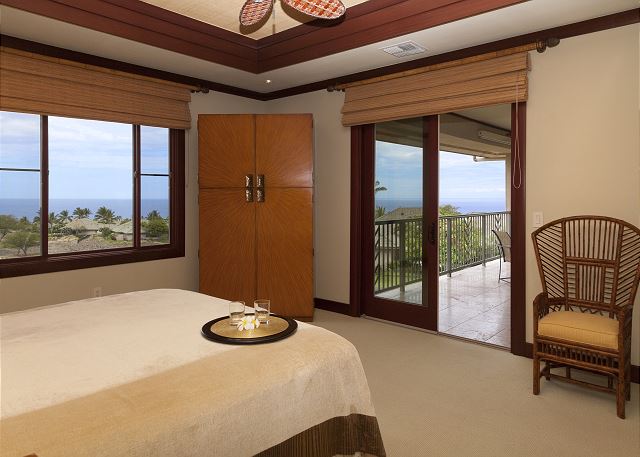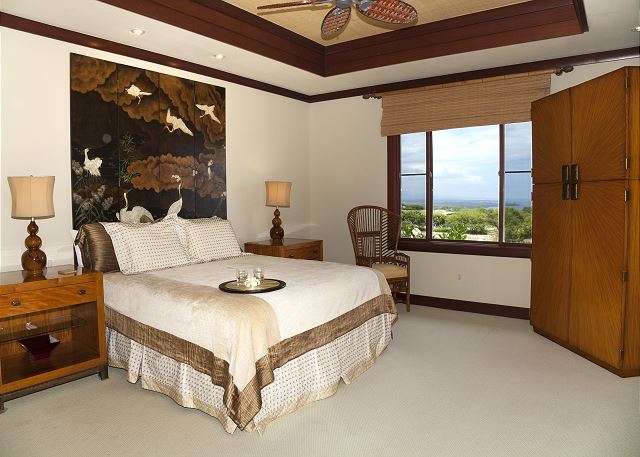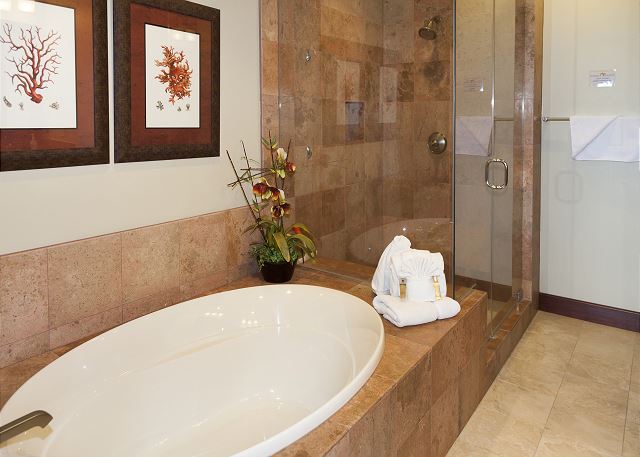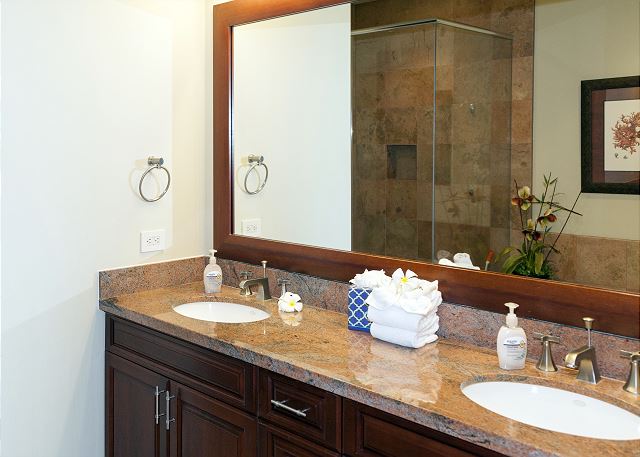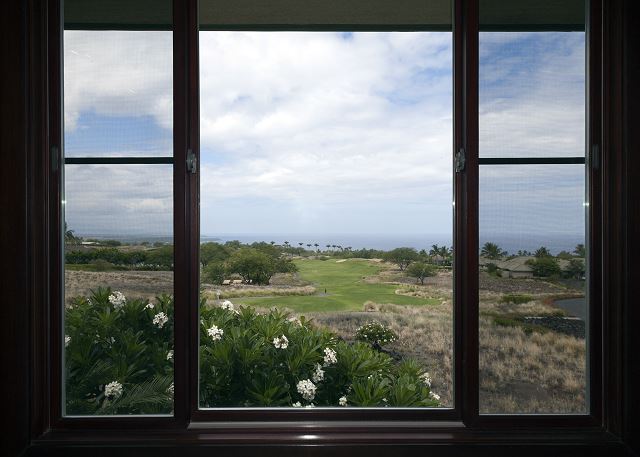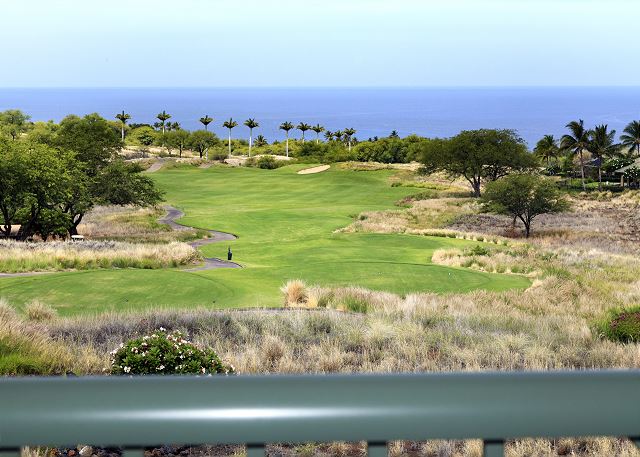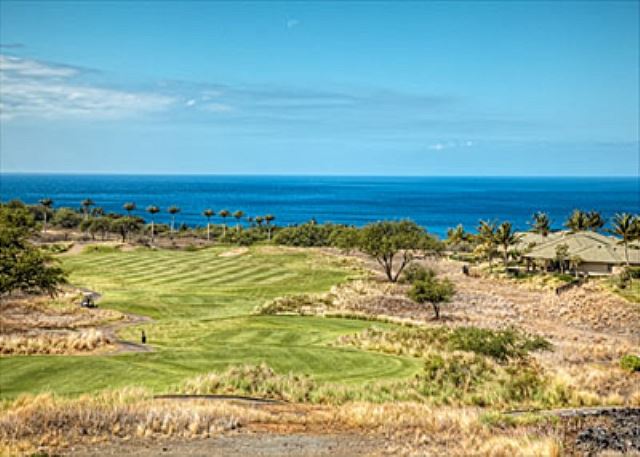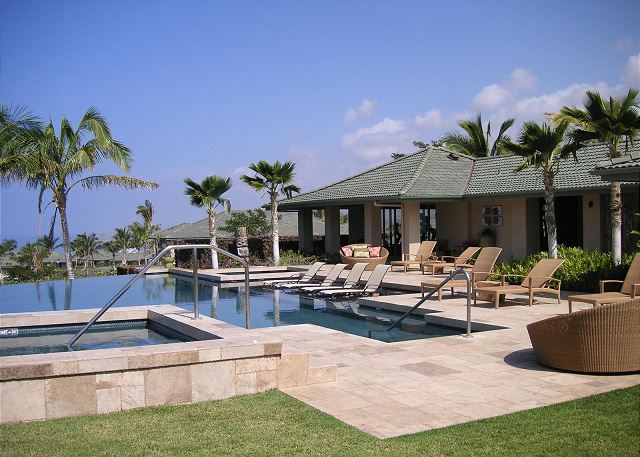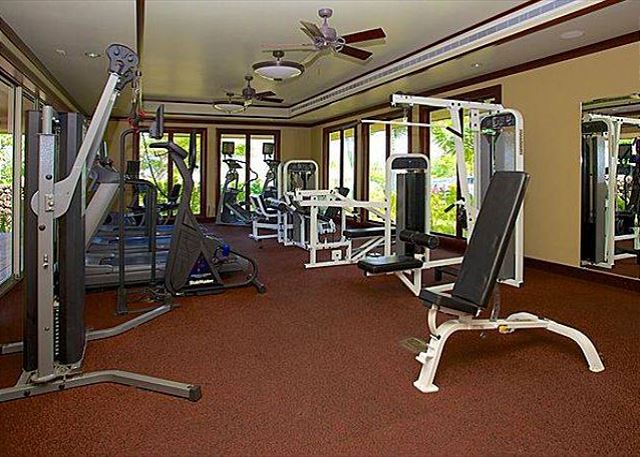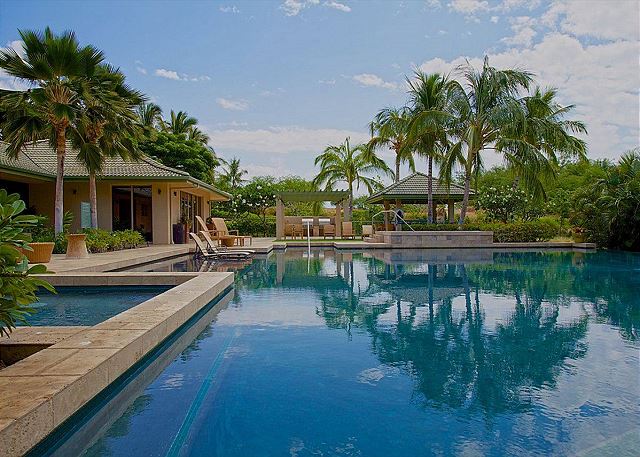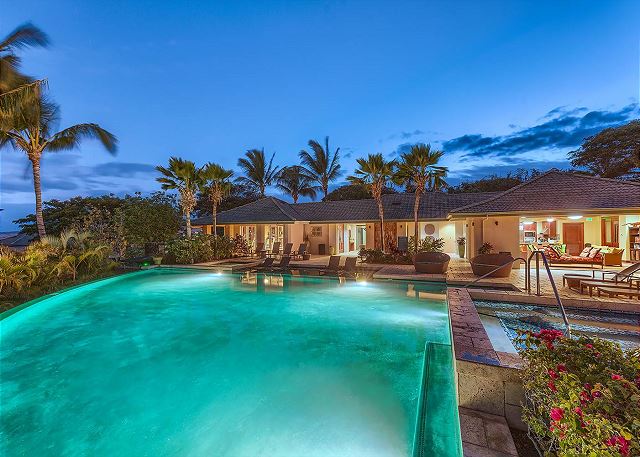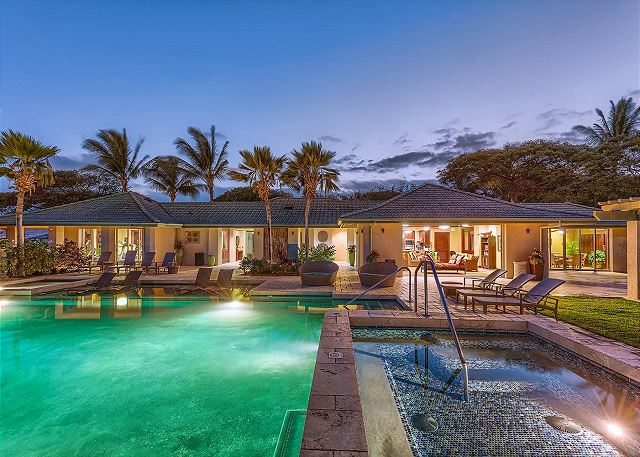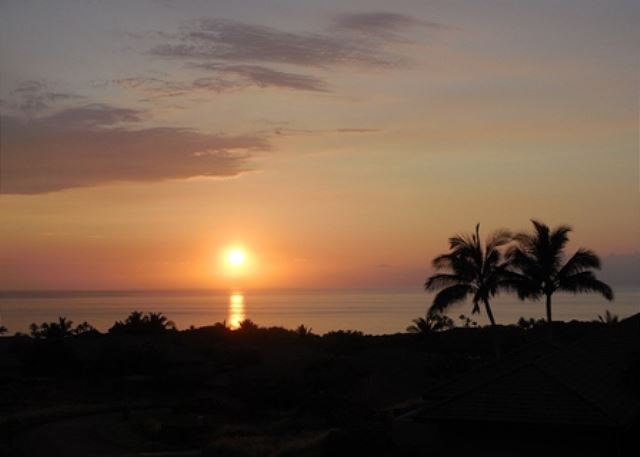 Description
Welcome to Wai'ula'ula at the Mauna Kea Resort! Your vacation will truly be one to remember in this beautifully decorated condominium in the gated community of Wai'ula'ula is located on the Hapuna Golf Course. This recently built luxury development near the Westin Hapuna Beach Resort is part of the world-famous Mauna Kea Beach Resort. If your game is golf or just relaxing at the pool or on the is your perfect vacation spot!



The Mauna Kea Beach Resort and Westin Hapuna Beach Resort Amenity Package is available with rental of this condo and is a additional daily fee. With your guest Amenity Cards you will enjoy the lowest hotel rates on golf & tennis, the use of hotel fitness centers and spa, and access to hotel pools and beaches including lounge chairs, umbrellas, and towels provided by resort staff.

Enjoy warm days and cool evening breezes in this 2100 square foot condominium with panoramic ocean views. Relax and sip a cool drink while you view year-round sunsets from the spacious lanai. A Great Room for relaxing with family and friends. The two master bedrooms have ocean & golf course views. The dramatic pocket door in the main room opens the condo to the comfort and beautiful views of the lanai. The third large bedroom provides the option of twin beds or a king, a desk area for your laptop, and includes FREE Wi-Fi Internet connection. Each bedroom has its own flat screen TV. Three luxurious bathrooms. FREE PARKING.



Hawaiian, Asian, Mexican, and Italian cuisines are available only a short drive away. Several shopping areas are within ten minutes.



While staying at this condo you will be in the building that is the closest to the well-appointed Wai'Ula'Ula Amenity Center with its luxurious infinity pool, spacious hot tub, and workout facility with TVs at every exercise station. After a full day of golf, tennis, hiking, shopping, or enjoying the could be better than a soothing dip in pool or spa, surrounded by all the beauty that is Hawaii!



FREE WIFI

FREE PARKING

WASHER AND DRYER

BEACH CHAIRS, COOLER, BEACH TOWELS

BEACH/SWIM GEAR

A/C – CENTRAL AIR

BBQ KITCHEN AT UNIT

BBQ AT WAI'ULA'ULA POOL/FITNESS AREA

CLOSE TO POOL, BEACH, SHOPPING AND RESTAURANTS



This villa is cleaned by a professional cleaning company using EPA approved products for use against COVID-19. And cleaning process is following guidelines received from World Health Organization and the Centers for Disease Control.



Hawaii County ordinance to regulate Short-Term Vacation Rentals application for this property was accepted.

HAWAII SHORT TERM VACATION RENTAL# 19-364345

HAWAII GE/TAT TAX ID# 095-193-7024-01

TMK 6-2-013-013-0004

**** WE DO NOT TAKE WIRE/BANK TRANSFERS******
Calendar
October 2021

| S | M | T | W | T | F | S |
| --- | --- | --- | --- | --- | --- | --- |
| | | | | | 01 | 02 |
| 03 | 04 | 05 | 06 | 07 | 08 | 09 |
| 10 | 11 | 12 | 13 | 14 | 15 | 16 |
| 17 | 18 | 19 | 20 | 21 | 22 | 23 |
| 24 | 25 | 26 | 27 | 28 | 29 | 30 |
| 31 | | | | | | |
November 2021

| S | M | T | W | T | F | S |
| --- | --- | --- | --- | --- | --- | --- |
| | 01 | 02 | 03 | 04 | 05 | 06 |
| 07 | 08 | 09 | 10 | 11 | 12 | 13 |
| 14 | 15 | 16 | 17 | 18 | 19 | 20 |
| 21 | 22 | 23 | 24 | 25 | 26 | 27 |
| 28 | 29 | 30 | | | | |
December 2021

| S | M | T | W | T | F | S |
| --- | --- | --- | --- | --- | --- | --- |
| | | | 01 | 02 | 03 | 04 |
| 05 | 06 | 07 | 08 | 09 | 10 | 11 |
| 12 | 13 | 14 | 15 | 16 | 17 | 18 |
| 19 | 20 | 21 | 22 | 23 | 24 | 25 |
| 26 | 27 | 28 | 29 | 30 | 31 | |
January 2022

| S | M | T | W | T | F | S |
| --- | --- | --- | --- | --- | --- | --- |
| | | | | | | 01 |
| 02 | 03 | 04 | 05 | 06 | 07 | 08 |
| 09 | 10 | 11 | 12 | 13 | 14 | 15 |
| 16 | 17 | 18 | 19 | 20 | 21 | 22 |
| 23 | 24 | 25 | 26 | 27 | 28 | 29 |
| 30 | 31 | | | | | |
February 2022

| S | M | T | W | T | F | S |
| --- | --- | --- | --- | --- | --- | --- |
| | | 01 | 02 | 03 | 04 | 05 |
| 06 | 07 | 08 | 09 | 10 | 11 | 12 |
| 13 | 14 | 15 | 16 | 17 | 18 | 19 |
| 20 | 21 | 22 | 23 | 24 | 25 | 26 |
| 27 | 28 | | | | | |
March 2022

| S | M | T | W | T | F | S |
| --- | --- | --- | --- | --- | --- | --- |
| | | 01 | 02 | 03 | 04 | 05 |
| 06 | 07 | 08 | 09 | 10 | 11 | 12 |
| 13 | 14 | 15 | 16 | 17 | 18 | 19 |
| 20 | 21 | 22 | 23 | 24 | 25 | 26 |
| 27 | 28 | 29 | 30 | 31 | | |
April 2022

| S | M | T | W | T | F | S |
| --- | --- | --- | --- | --- | --- | --- |
| | | | | | 01 | 02 |
| 03 | 04 | 05 | 06 | 07 | 08 | 09 |
| 10 | 11 | 12 | 13 | 14 | 15 | 16 |
| 17 | 18 | 19 | 20 | 21 | 22 | 23 |
| 24 | 25 | 26 | 27 | 28 | 29 | 30 |
May 2022

| S | M | T | W | T | F | S |
| --- | --- | --- | --- | --- | --- | --- |
| 01 | 02 | 03 | 04 | 05 | 06 | 07 |
| 08 | 09 | 10 | 11 | 12 | 13 | 14 |
| 15 | 16 | 17 | 18 | 19 | 20 | 21 |
| 22 | 23 | 24 | 25 | 26 | 27 | 28 |
| 29 | 30 | 31 | | | | |
June 2022

| S | M | T | W | T | F | S |
| --- | --- | --- | --- | --- | --- | --- |
| | | | 01 | 02 | 03 | 04 |
| 05 | 06 | 07 | 08 | 09 | 10 | 11 |
| 12 | 13 | 14 | 15 | 16 | 17 | 18 |
| 19 | 20 | 21 | 22 | 23 | 24 | 25 |
| 26 | 27 | 28 | 29 | 30 | | |
July 2022

| S | M | T | W | T | F | S |
| --- | --- | --- | --- | --- | --- | --- |
| | | | | | 01 | 02 |
| 03 | 04 | 05 | 06 | 07 | 08 | 09 |
| 10 | 11 | 12 | 13 | 14 | 15 | 16 |
| 17 | 18 | 19 | 20 | 21 | 22 | 23 |
| 24 | 25 | 26 | 27 | 28 | 29 | 30 |
| 31 | | | | | | |
August 2022

| S | M | T | W | T | F | S |
| --- | --- | --- | --- | --- | --- | --- |
| | 01 | 02 | 03 | 04 | 05 | 06 |
| 07 | 08 | 09 | 10 | 11 | 12 | 13 |
| 14 | 15 | 16 | 17 | 18 | 19 | 20 |
| 21 | 22 | 23 | 24 | 25 | 26 | 27 |
| 28 | 29 | 30 | 31 | | | |
September 2022

| S | M | T | W | T | F | S |
| --- | --- | --- | --- | --- | --- | --- |
| | | | | 01 | 02 | 03 |
| 04 | 05 | 06 | 07 | 08 | 09 | 10 |
| 11 | 12 | 13 | 14 | 15 | 16 | 17 |
| 18 | 19 | 20 | 21 | 22 | 23 | 24 |
| 25 | 26 | 27 | 28 | 29 | 30 | |
Available
Unavailable
Check-In Only
Check-Out Only
Seasonal Rates
| Date Range | Daily | Weekly | Monthly |
| --- | --- | --- | --- |
* Seasonal rates are only estimates and do not reflect taxes or additional fees.
Location
Guest Reviews of
Wai'ula'ula A202
Kamuela, HI
---
Vacation Rental Reviews by
stars based on
Perfect Hawaii Home
Review by
Very clean, spacious home with incredible views. In addition, access to Mauna Kea and Westin Hapuna amenities puts this property on the top of our list of places to stay on the Big Island. We would highly recommend this property and we look forward to renting it again in the future.
5 out of 5 stars
Beautiful!!!!
Review by
EXPEDIA Lucila C.
It was fantastic!!! The view from our second story villa was breathtaking. It was spotlessly clean when we got there. And Michelle, the on site manager was the best!! She was so helpful and totally down to earth. I'm sooo looking forward to coming and staying here again
5 out of 5 stars
Wonderful Stay
Review by
A perfect midwinter getaway to the sun! Plenty of space to relax and enjoy time together.
5 out of 5 stars
Hawaii Family Trip
Review by
Philip I.
My family of 5 and I stayed at this place and it was very comfortable. There was plenty of room for the 5 of us. The place was very clean and tidy. We would most definitely come back here!
5 out of 5 stars
Beautiful view
Review by
Russ C.
Had another wonderful vacation in the Wai'ula'ula condo complex. My family had a great time and enjoyed having access to the pool at the complex as well as the two resort amenities.
5 out of 5 stars
Manager Response:
So happy you had a wonderful falmily vacation. The Mauna Kea Resort amenities are the best. Please return soon!
Wonderful stay
Review by
We had a wonderful vacation experience, The sunset views from the lanai were spectacular and the pictures don't give justice to this full ocean view in my opinion. Michelle at Kohala coast properties was very helpful and the unit had everything we could possibly need for a wonderful stay, We did buy the additional amenities to use the services at the Mauna Kea and the Westin ahd we were glad we did so we didn't have to worry about parking or washing beach towels daily, Nice to be in a condo too to cook for ourselves on occasion and not have to eat out every meal with children. There was a fantastic fish shop five minutes away, Great spot for exploring the gorgeous waipo valley area but also close enough to the most beautiful beaches on the kona side, Thoroughly enjoyed,
5 out of 5 stars
Condo A202
Review by
This is a great condo with wonderful location and views.
5 out of 5 stars
Wonderful vacation spot!
Review by
Lily P.
Amazing views, great location and all the amenities of the resort. Nice private space, convenient kitchen and very clean and comfortable.
5 out of 5 stars
Gorgeous view
Review by
Byron Z.
Excellent
5 out of 5 stars
The best VRBO!!!
Review by
This is the best VRBO we've ever stayed in Hawaii. Initially I was disappointed that it's on the second floor, but when you walk in, the view is absoultely amazing. Having two huge master bedrooms and bathrooms was perfect for our family. Everything was impecably clean and well thought out. We'll definitely come back. Thank you very much for the most wonderful stay.
5 out of 5 stars
Da Kine
Review by
Lynn W.
We loved our stay at Waiulaula, very comfortable condos. Michelle has been incredible to work with and extremely helpful!!
5 out of 5 stars
Wonderful family vacation rental
Review by
Jill S.
Loved our time at Wai'ula'ula A202. Condo is beautiful and has everything you could want. Nice balcony and view for enjoying cocktails and dinner in the evening and for breakfast in the morning. Very spacious with two full master suites and additional room with two twins. We had plenty of space! Loved our access to the Mauna Kea and Hapuna Prince facilities. Used them daily. Great location for exploring the Big Island. Would return in a heartbeat.
5 out of 5 stars
Awesome!
Review by
We thoroughly enjoyed our rental experience!
5 out of 5 stars
Beautiful Views
Review by
Ellis B.
We very much enjoyed our stay at this property.
5 out of 5 stars
Needs improvement
Review by
Holly L.
The location of this property is great and has very nice views of the golf course.We had a few problems. First, I noticed a lot of bugs. Yes I understand that it is Hawaii and humid. The amount of bugs was unacceptable due to the amount of money I spent to stay a week there. There was constant bugs in the bedroom, bathroom a few in the kitchen. While I was killing one of the bugs in the bedroom I bent down and saw something under one of the end tables. It was either underwear or shorts and they didn't belong to us.The overall unit could use a fresh coat of a paint, the cabinets were missing hardware in the bathroom and some of the cabinets in the kitchen had stuff all over them that obviously wouldn't come off. The grill was a pain to operate and this is coming from engineer. The rug in the bathroom had a huge stain on it.The living room was spacious and nice. I did contact the management company and told them some of the problems. The mgmt was responsive and nice but asked them not to spray anything while I was there. Outside the condo was very well maintained and so was the pool.Overall this used to be a nice condo but a few things need to be done to update it.
3 out of 5 stars
Best 50th Anniversary Family Vacation
Review by
Susan R.
The condo is beautiful and well suited for the 6 adults one child in our group. Yes, the descriptions regarding location, amenities, and lay out was accurate. The property was very clean and well-maintained. Close to beaches. Management was responsive to problem with clothes washer. We w would love to go back and highly recommend. We enjoyed the Botanical Gardens and Green Sand beach, though both were long drives. Spent lots of time on the beaches.
5 out of 5 stars
Great Stay Great Place
Review by
Curt T.
This unit is fantastic with exceptional views and great location. Quiet, clean with wonderful decor. Enjoyed this place and will return.
5 out of 5 stars
Beautful Unit, Beautiful View
Review by
Kyle J.
This is a beautifully decorated and beautifully maintained high end vacation property. It is better in person than in the pictures. The view from this unit has to be among the best in the complex. The neighborhood clubhouse and pool area are a great amenity and we would definitely also recommend signing up for the Mauna Kea Resort Amenity Program for guest privileges and parking at both hotels since they are located on the best beaches on the island. If you can live with not being on the beach (the view will help) this is a great option. We would return in a heartbeat.
5 out of 5 stars
Spring Break
Review by
Mike H.
Fantastic! Great experience. Rental was clean and had all the amenities we needed for our week.
5 out of 5 stars
Sunny, warm and just like home
Review by
Randy W.
We spent two weeks in this property, one by ourselves and the second with our daughters joining us. We really like the location and the access to the resort. We've stayed within Wai'ula'ula before so we had high expectations and those were met.Would liked to have had six chairs on the balcony as with the dining room since we did eat outside a bit. In addition, only four beach towels - on their last legs I think. Otherwise - everything was great and the property management staff very helpful.
4 out of 5 stars
Spring Break Stay
Review by
Stunning condo with amazing views in a terrific location. Close to both Mauna Kea and Hapuna Beaches We had a fabulous seven-night stay.
5 out of 5 stars
Christmas in Hawaii Paradise
Review by
Amy K.
We had an amazing time on our stay and the unit was beautiful and luxurious. This unit was as described and we had a wonderful family vacation here.
5 out of 5 stars
Contact Us