WaterPointe II #704 (Condo)
3 Bedroom(s) | 2 Bathroom(s) | Sleeps 6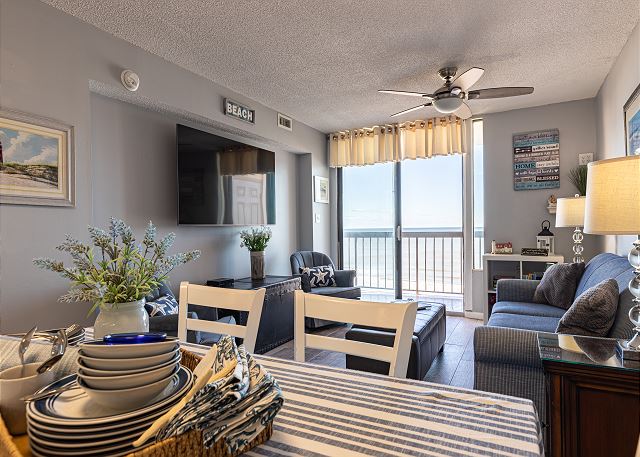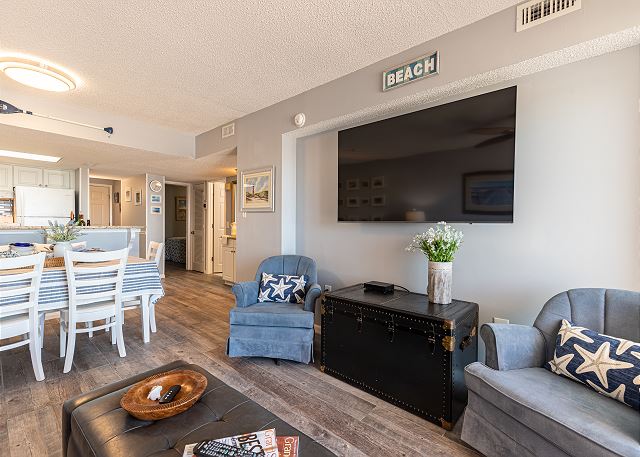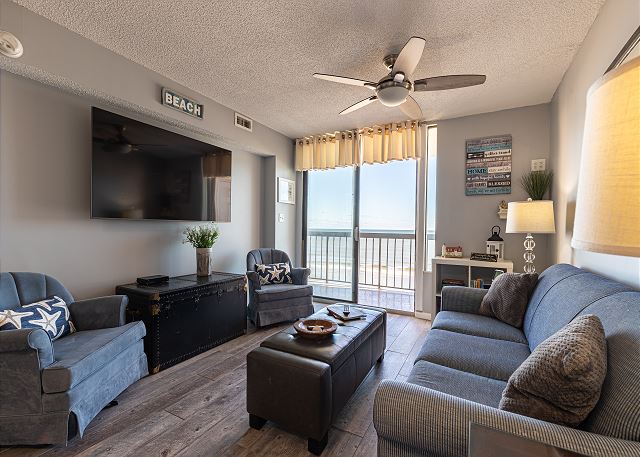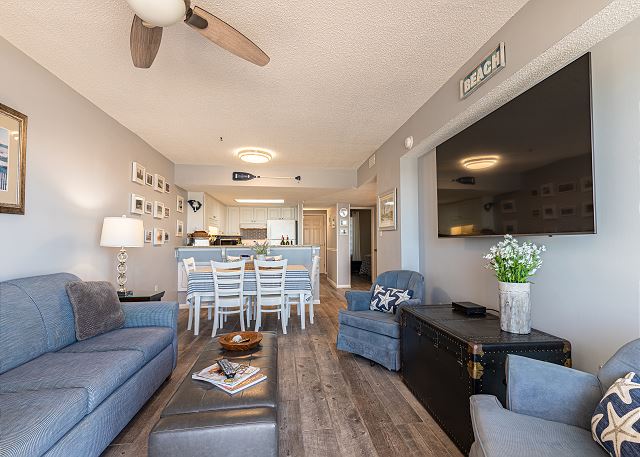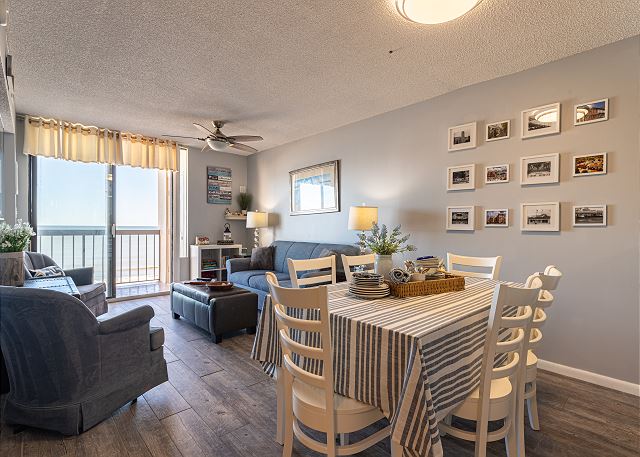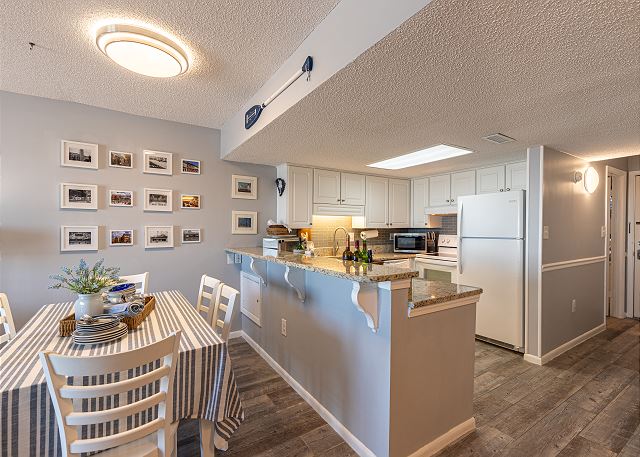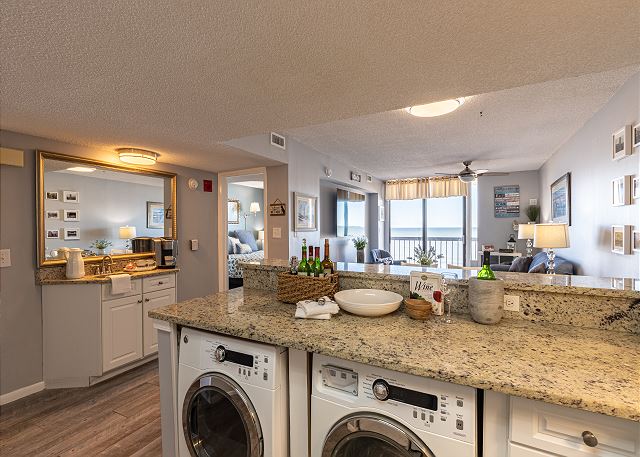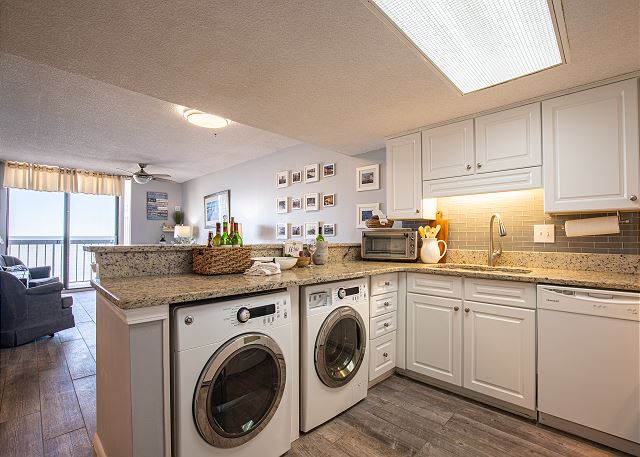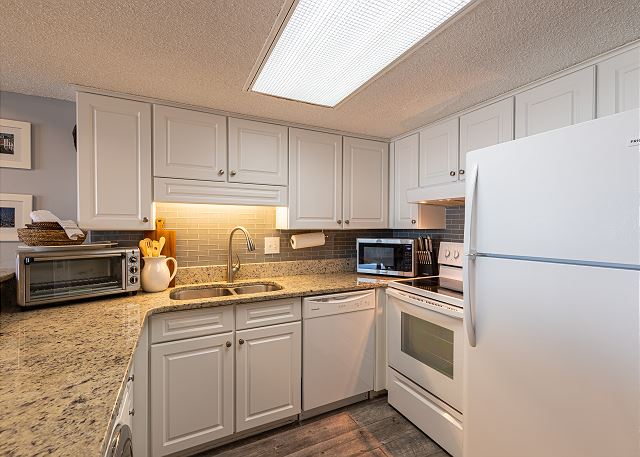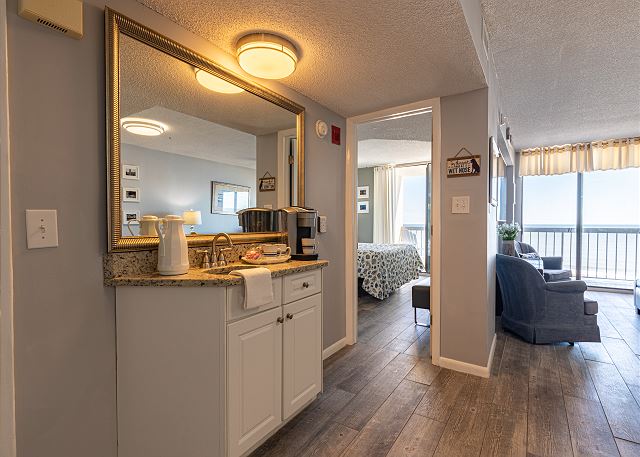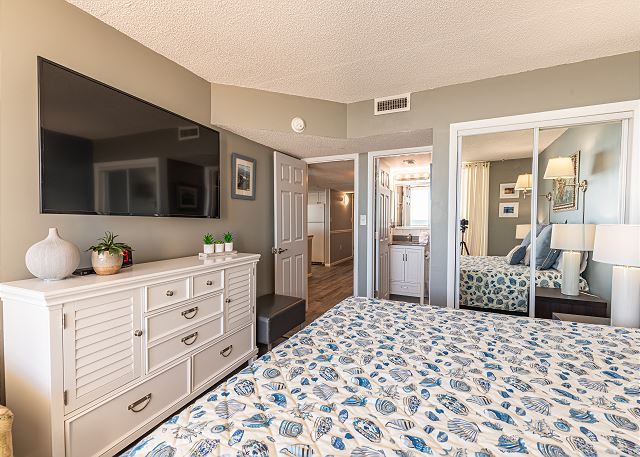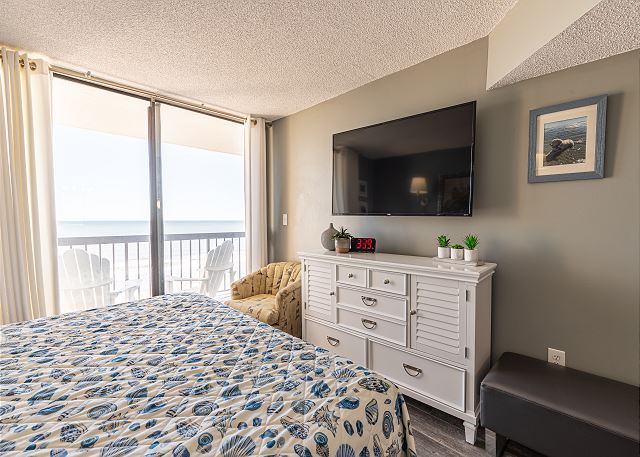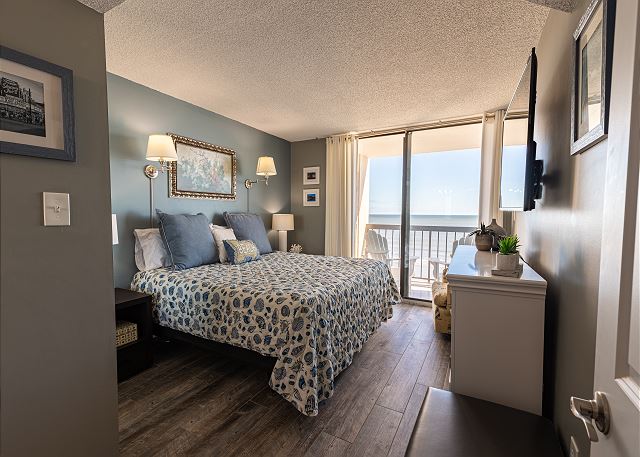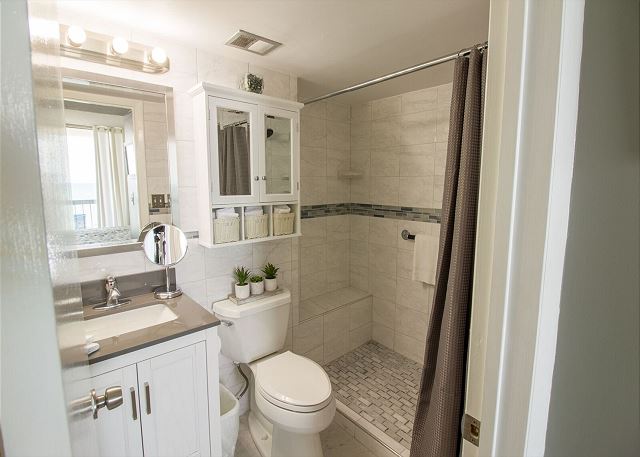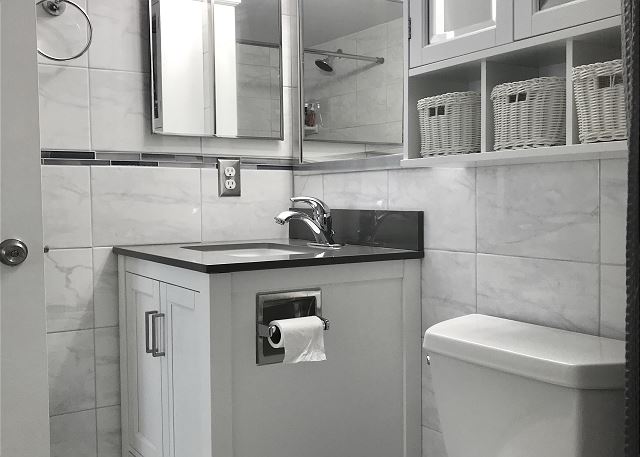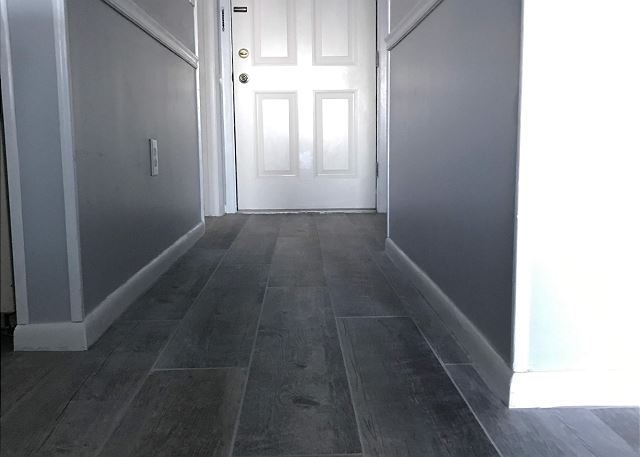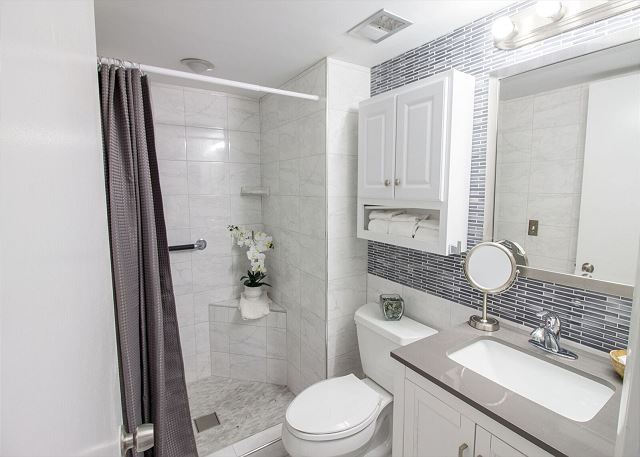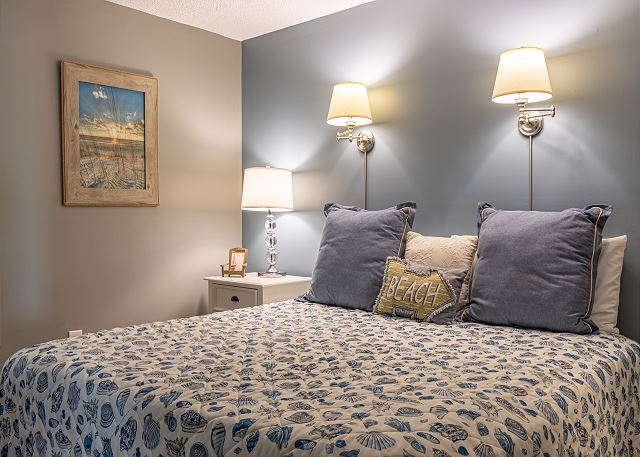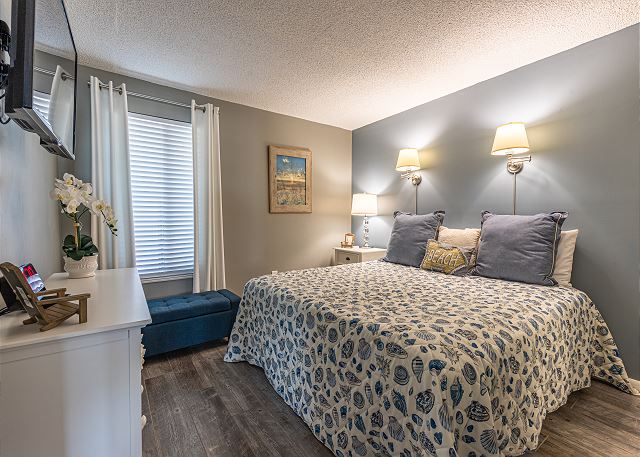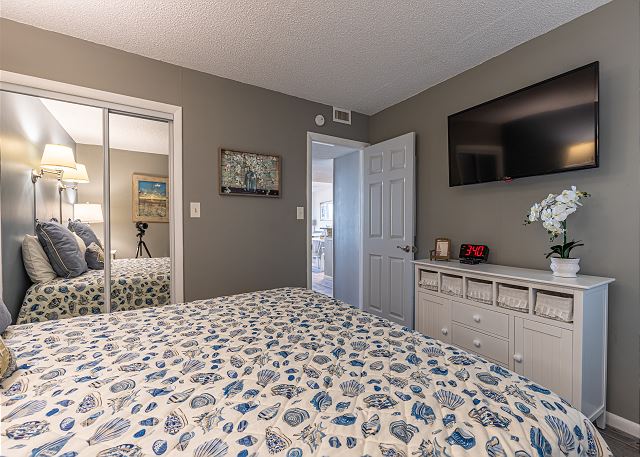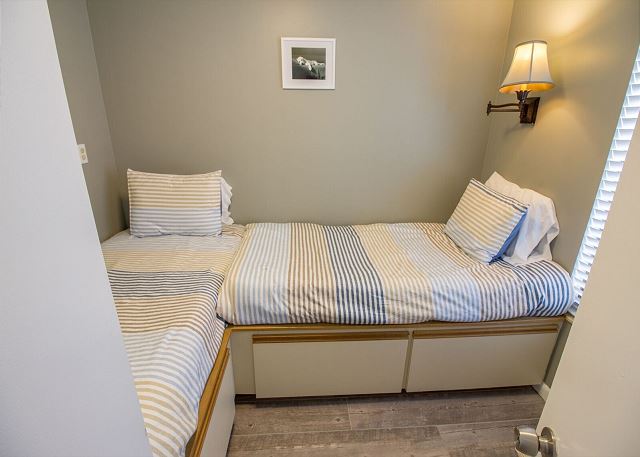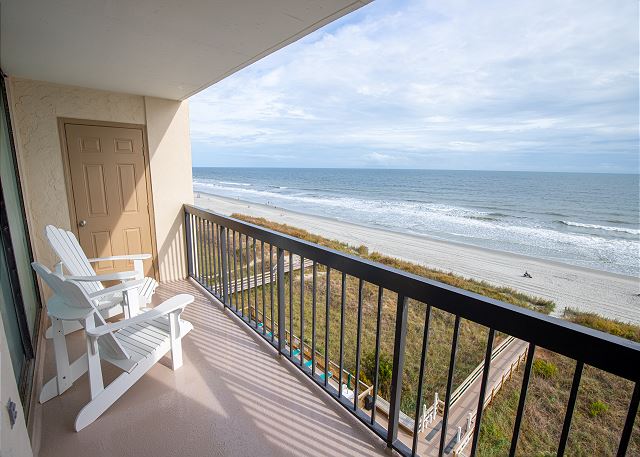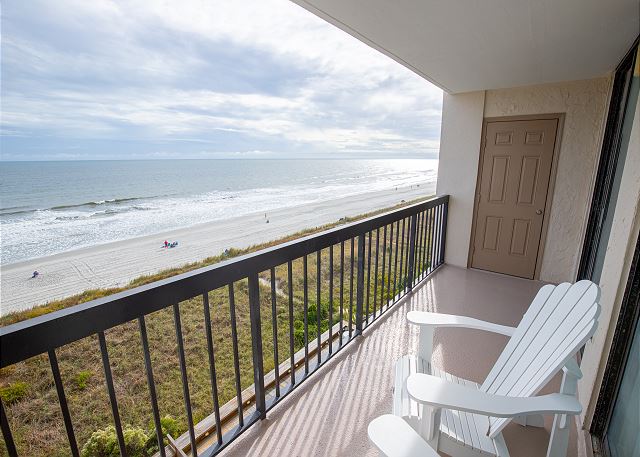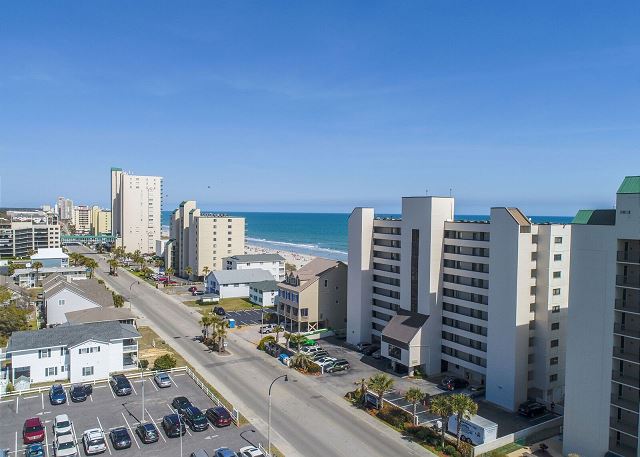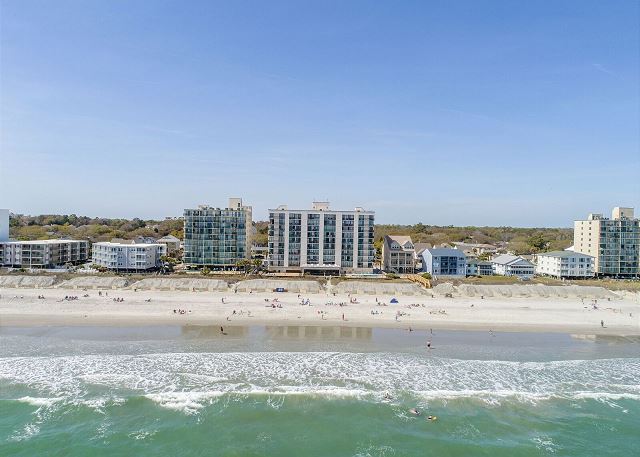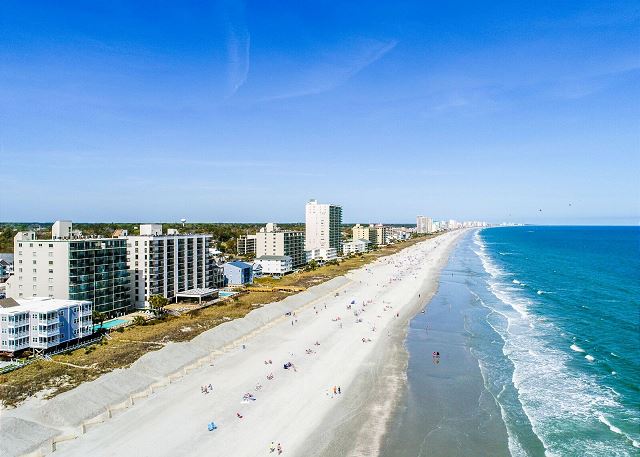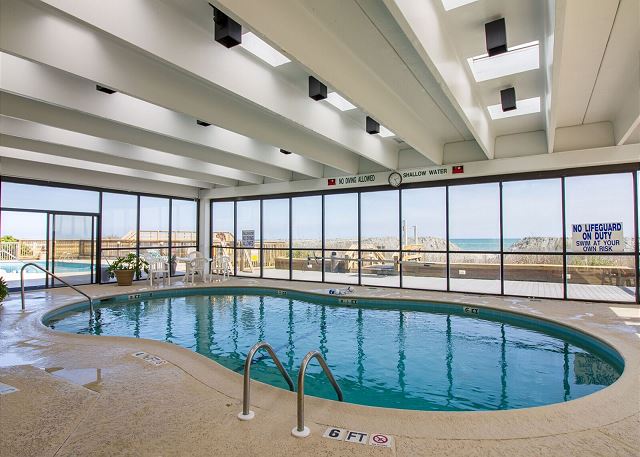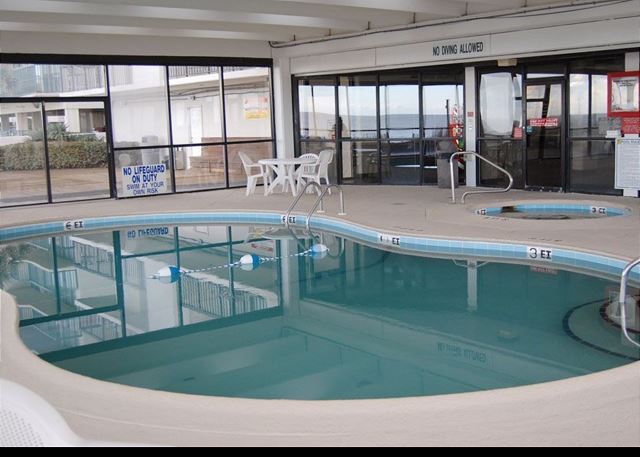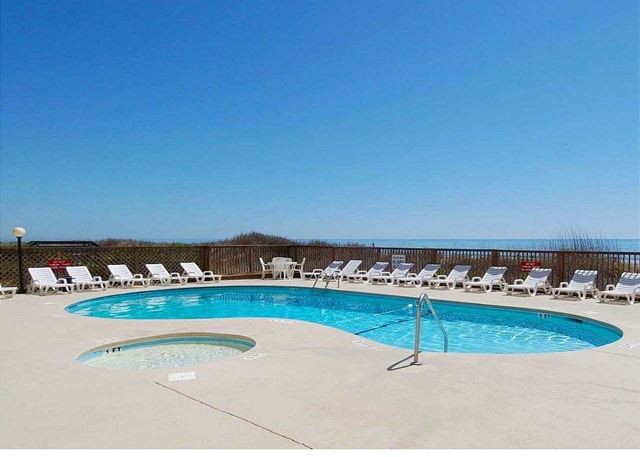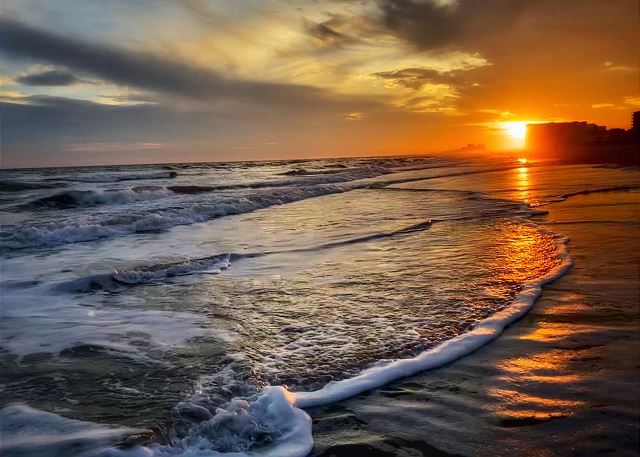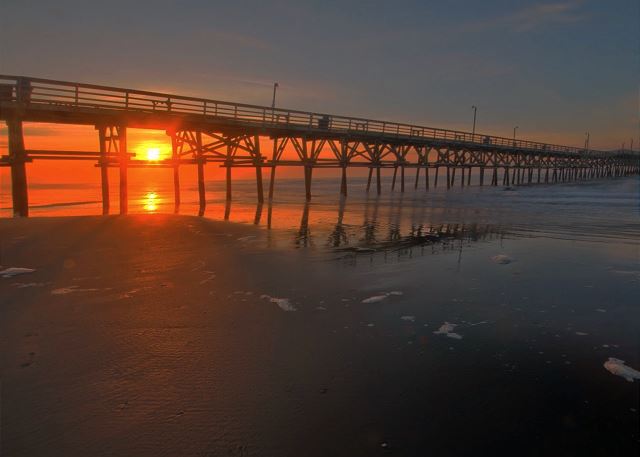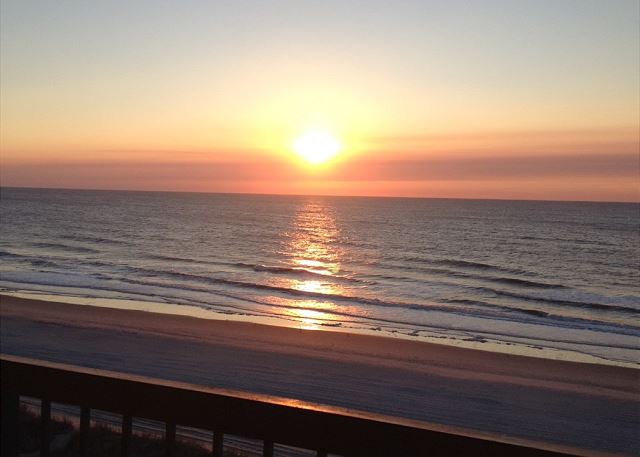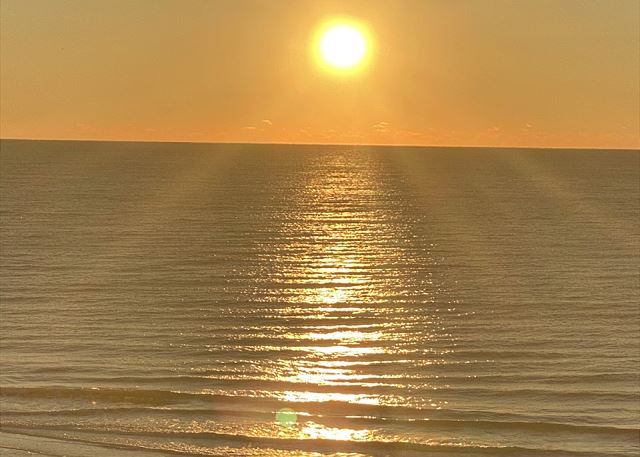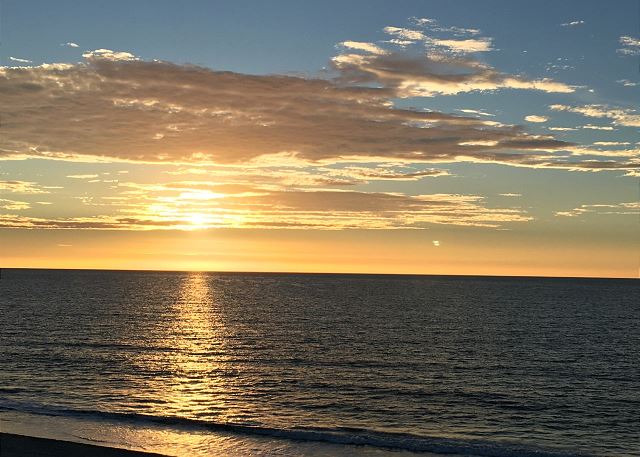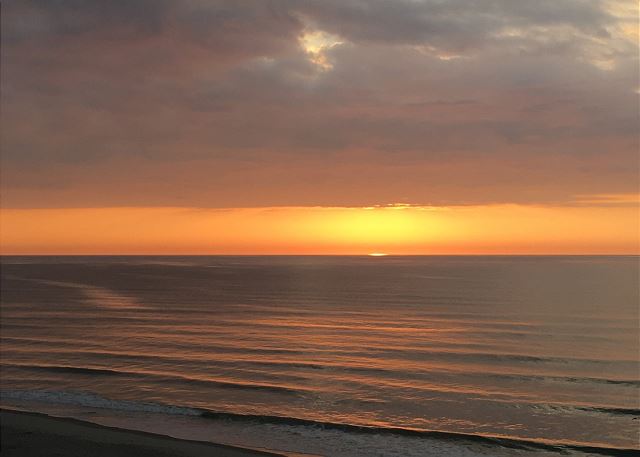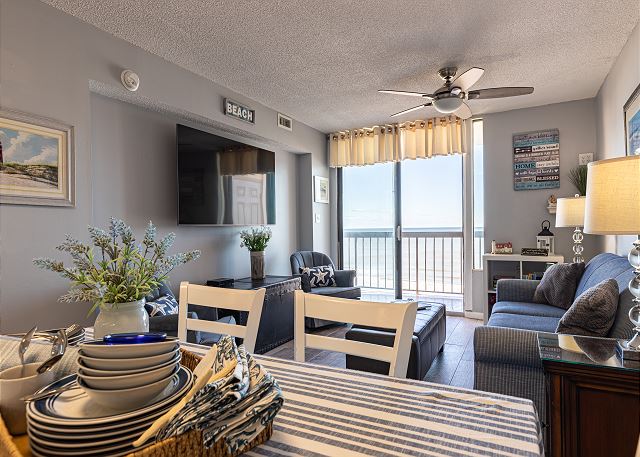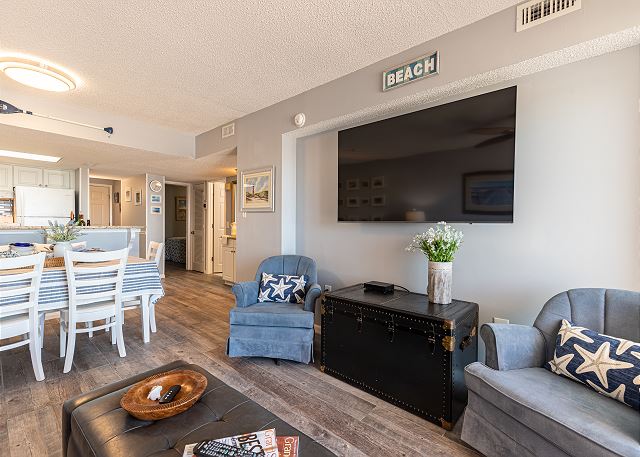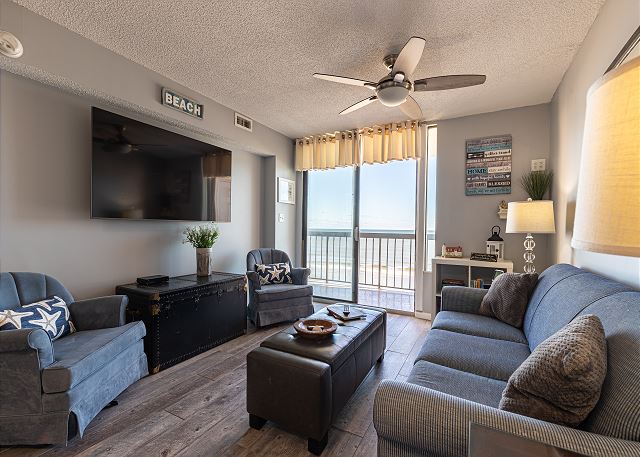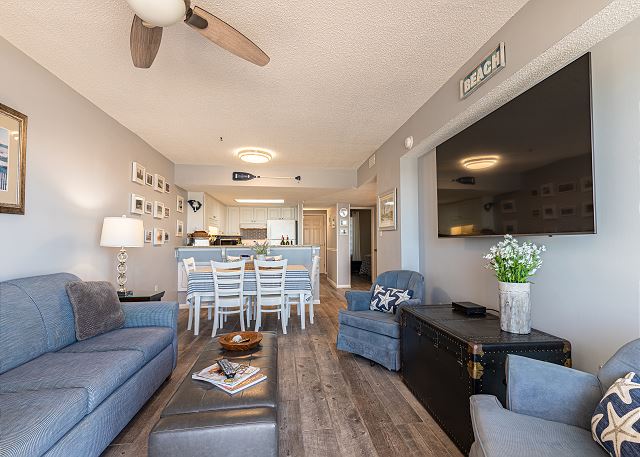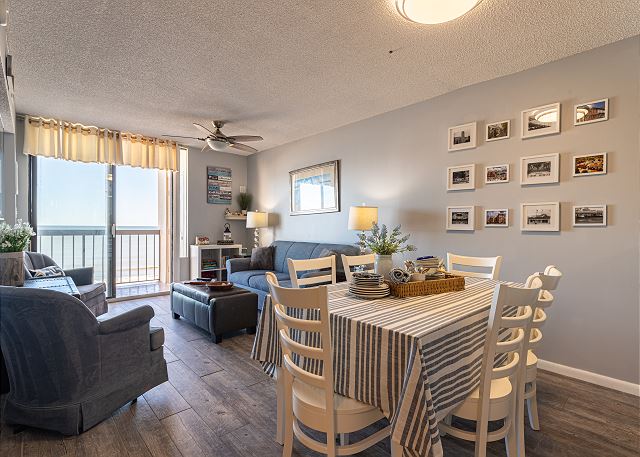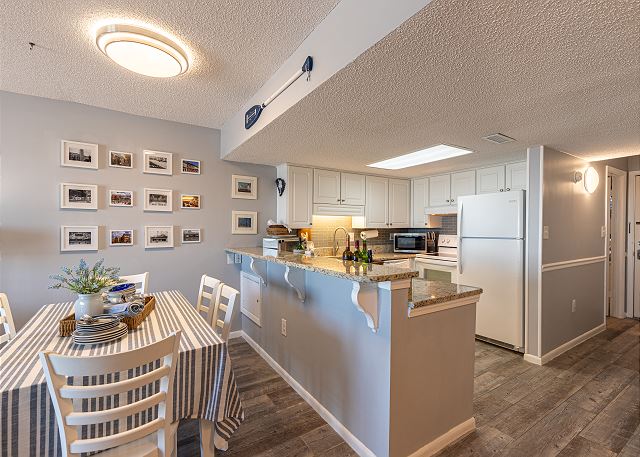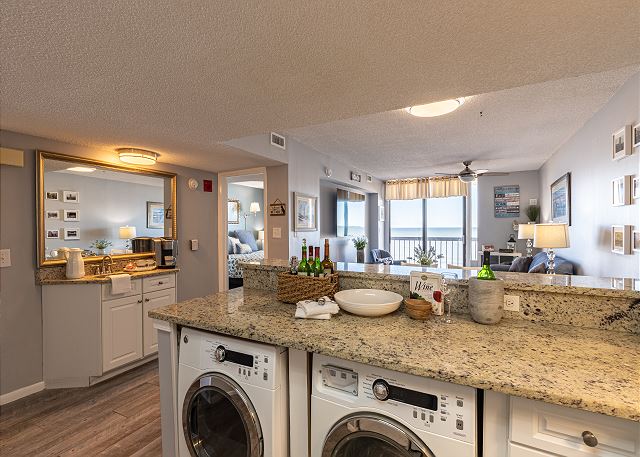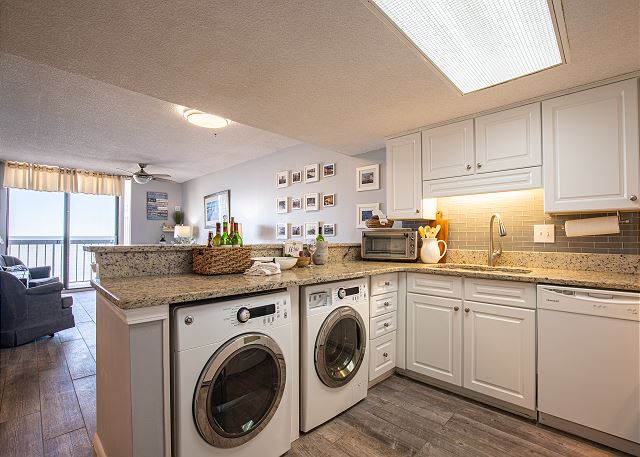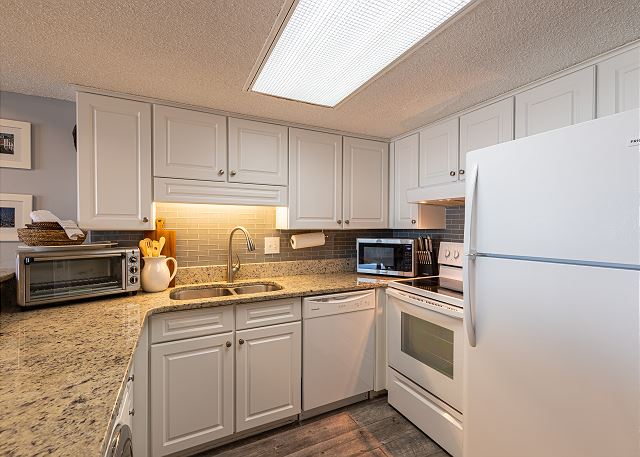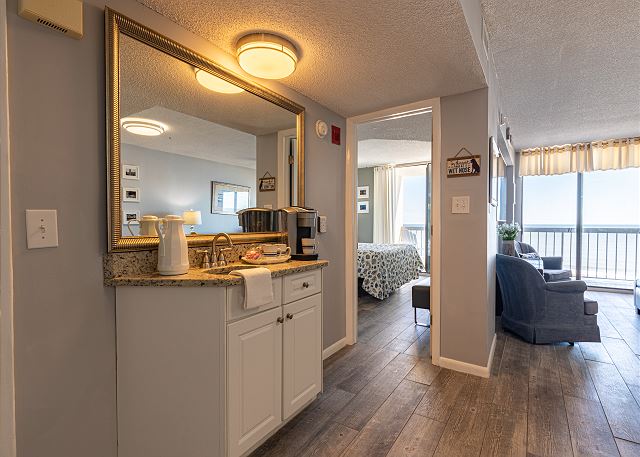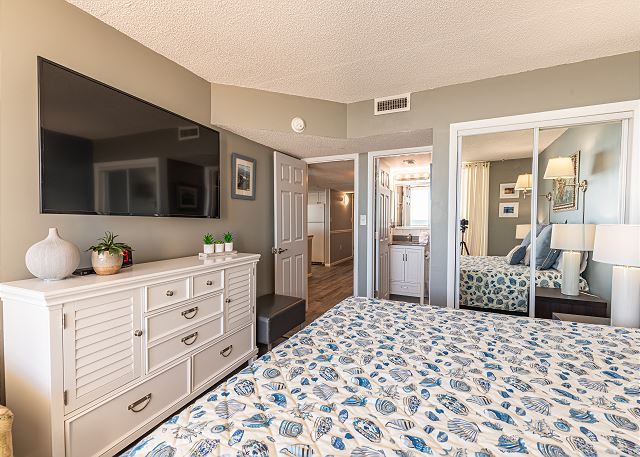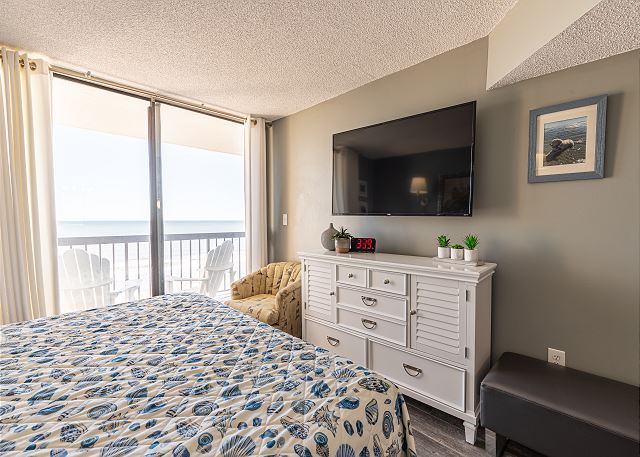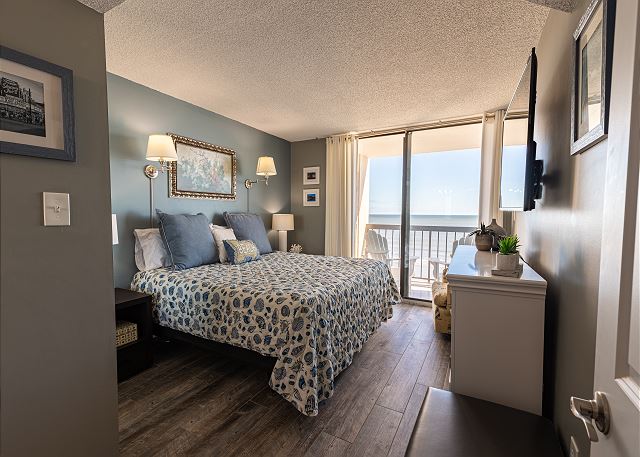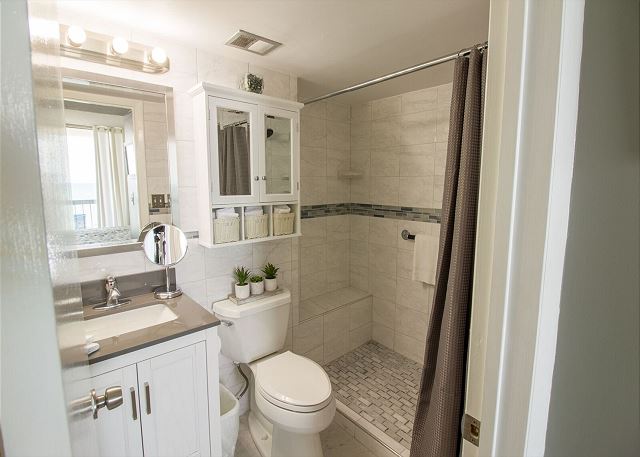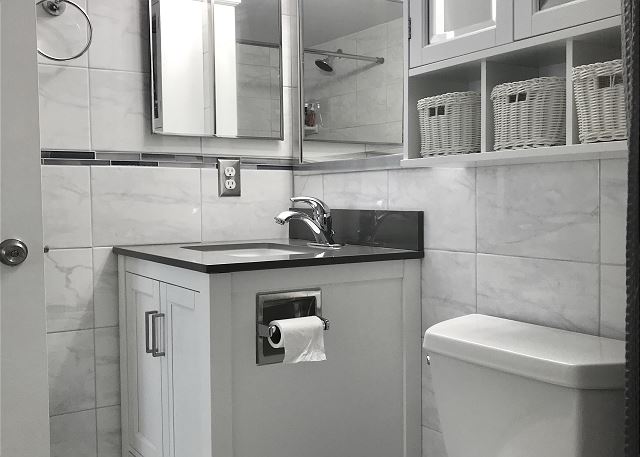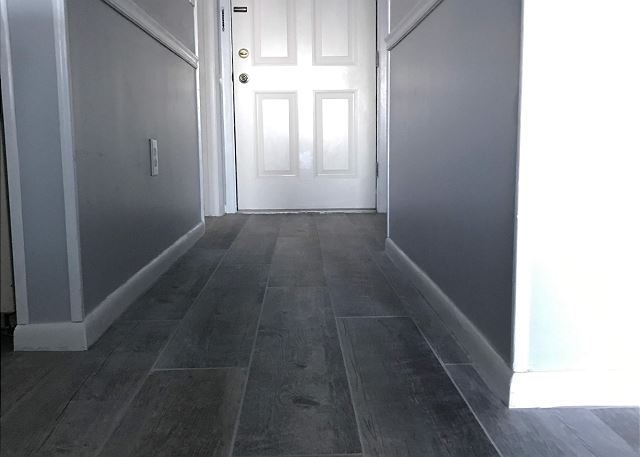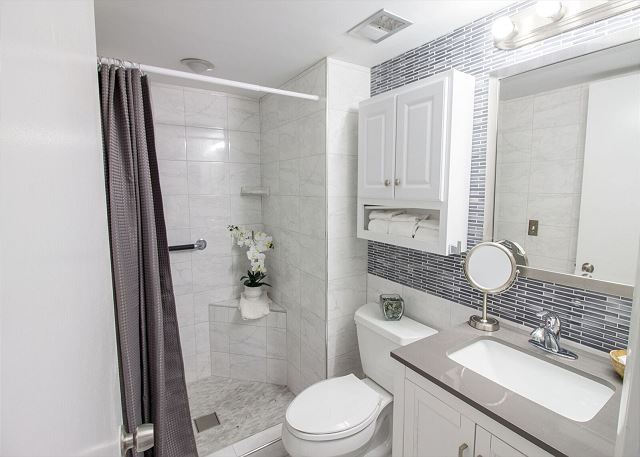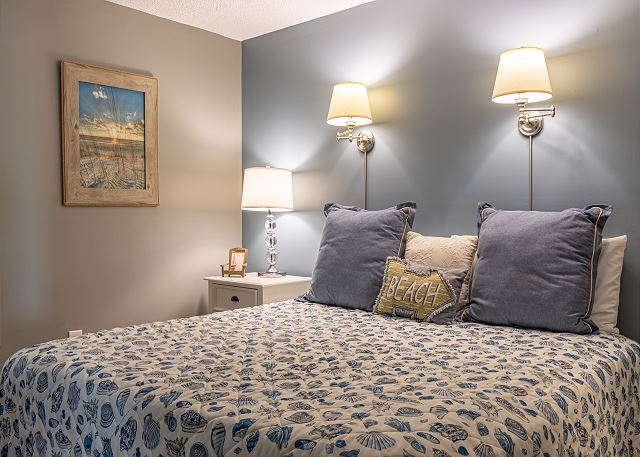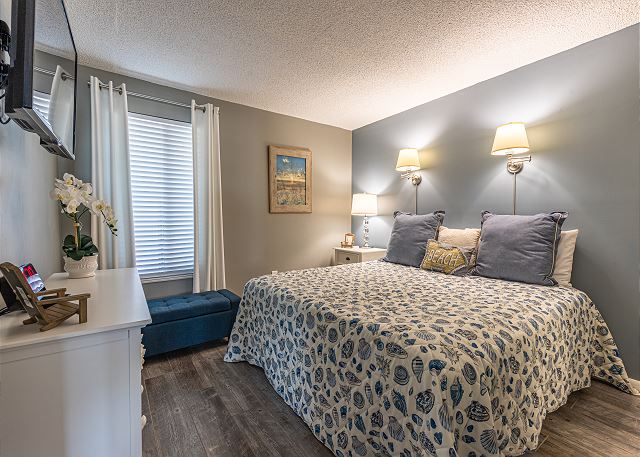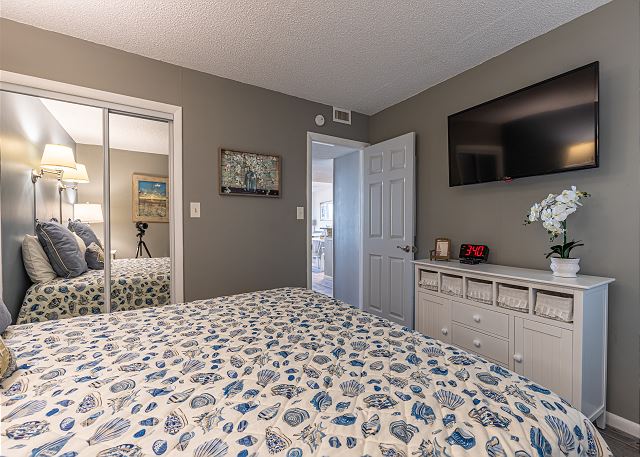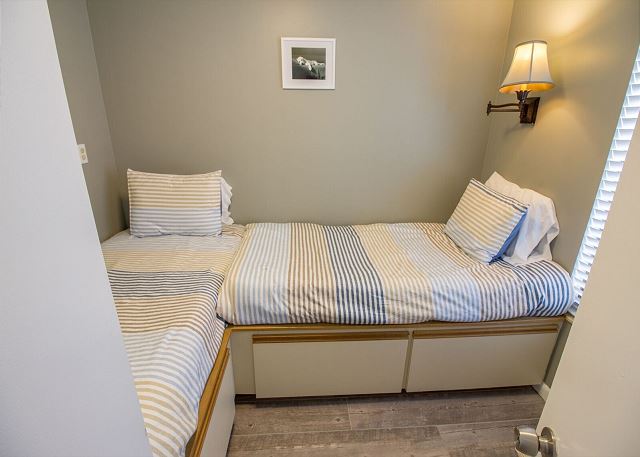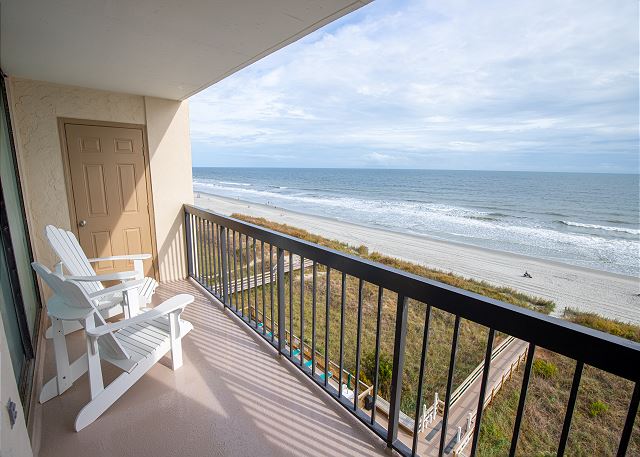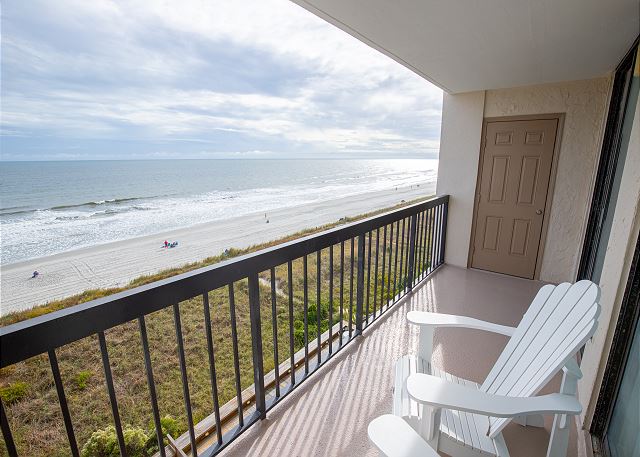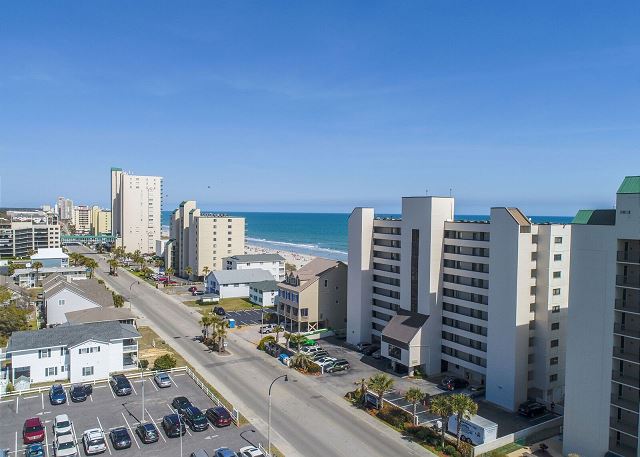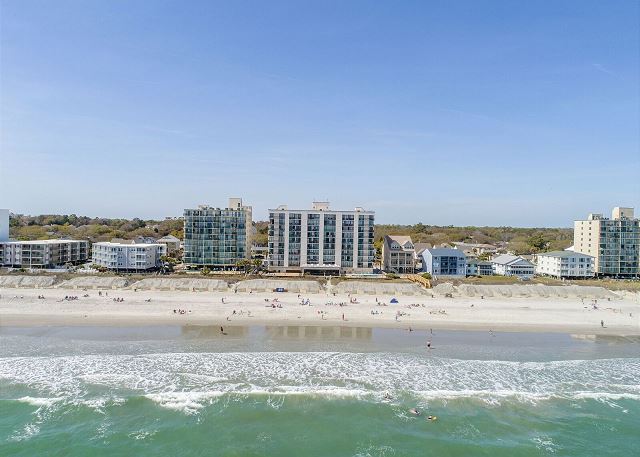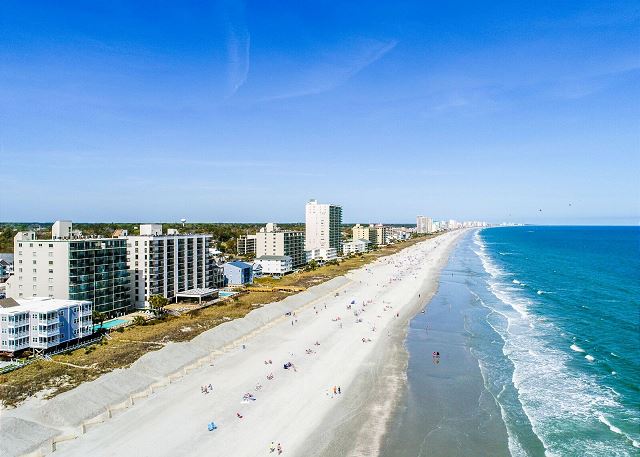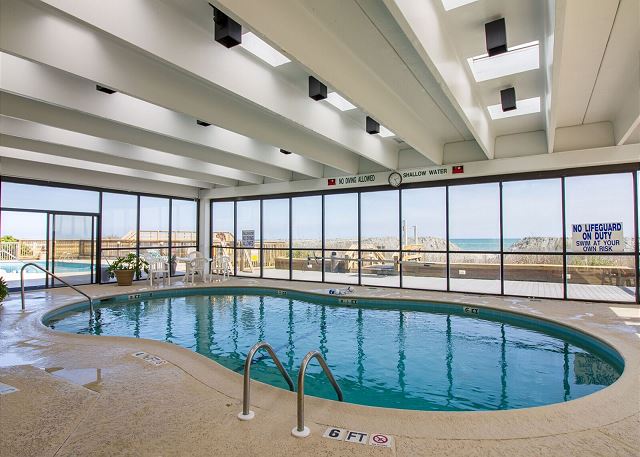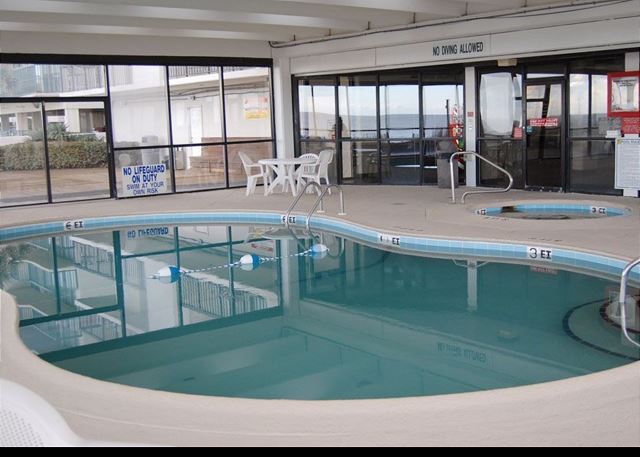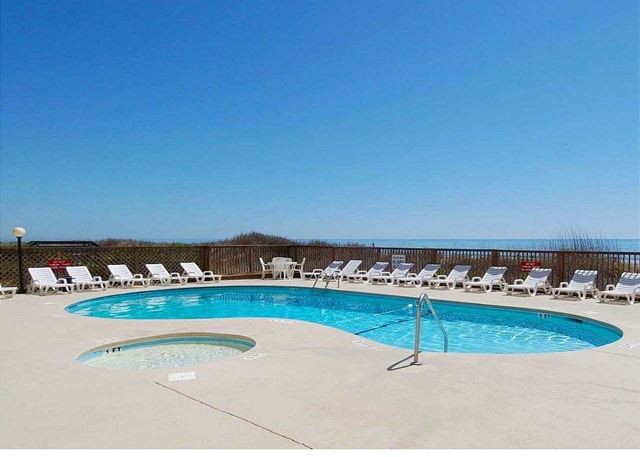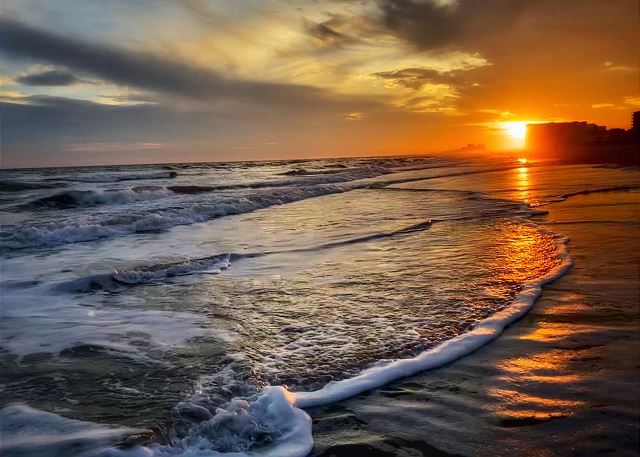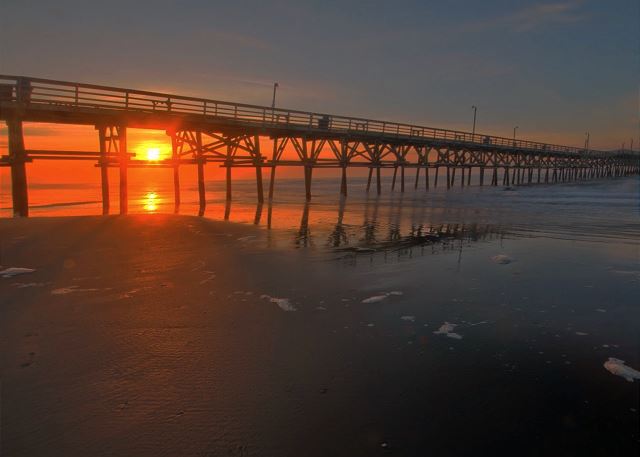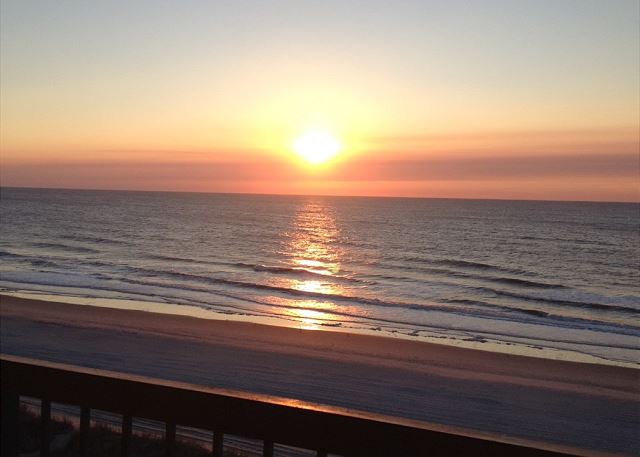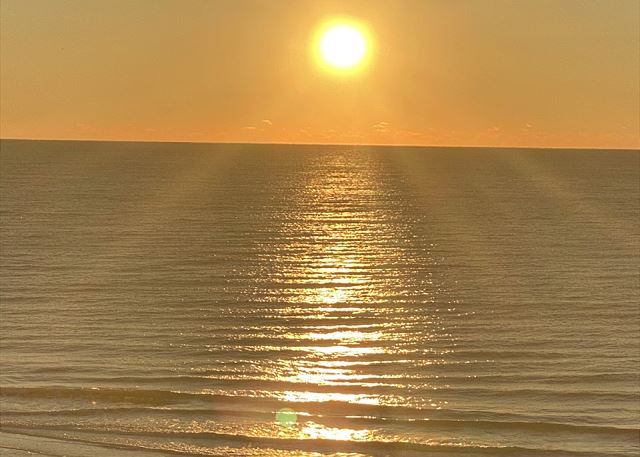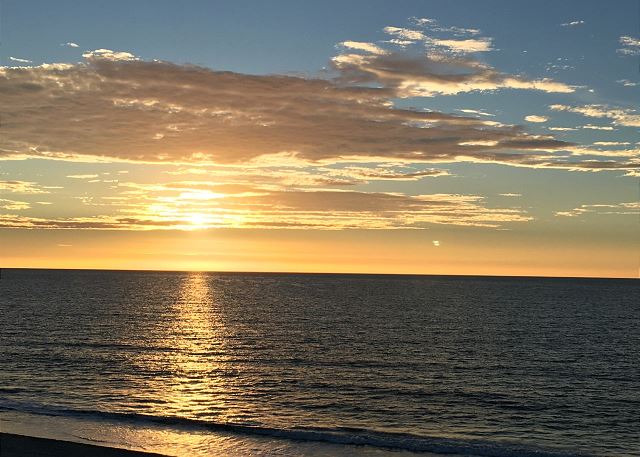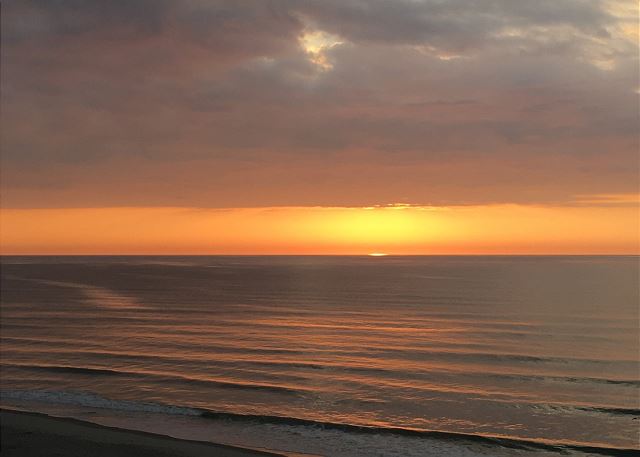 Description
Owner Direct Vacation Rentals in North Myrtle Beach welcomes you to your home away from home! ODVR SC is a local, family owned and operated rental agency - Smiling Faces and Beautiful Places - We want to welcome you to your best vacation destination!

Your bed and bath linens will be fully stocked, beds made freshly upon arrival, and departure cleaning is included.



This magnificent 3 Bedroom/2 Bath condo offers 7th floor oceanfront balcony views of the big blue horizon. Bring will be mesmerized. The condo is beautifully updated with a light & airy coastal interior, & new 65" smart Samsung "Q" TV in the living room.

This property has had a fantastic full remodel, w/ more improvements each of the past 2 years (2019/2020) -- replaced sliding glass doors, fresh paint, new flooring, all new bathrooms and showers, kitchen cabinets, decorative kitchen tile backsplash, refrigerator, microwave, new Keurig, beautiful granite counter tops, and more to impress! The upgraded flooring throughout, is a wood-look ceramic tile in the kitchen, baths, family room and all bedrooms. For your sleeping pleasure, the master bedroom has a brand new Tempurpedic "Supreme Cloud" mattress (October 2019).



Sleeps 6, Beds as follows:

1 King in master + bath; new Tempur-pedic Mattress, flat screen TV 55", balcony access

1 King in guest room ; flat screen TV 42"

2 Twins in guest room; flat screen TV 32"



There is an indoor pool and hot tub, as well as an outdoor pool; 2 charcoal grills; & a small gym. Two building elevators for easy loading & unloading.



Just minutes away, in the heart of Windy Hill, North Myrtle Beach is our most popular destination, Barefoot Landing. Enjoy broadway-style live musical productions at The Alabama Theatre. Famous concert performances are a regular at the House of Blues & over 100 shops and restaurants criss-cross the boardwalks over the open waters. The waterfront complex has undergone a huge makeover in the Spring of 2019 to bring in fresh new specialty boutiques and great eateries. There are kids attractions and weekly summer outdoor concerts to go with the fireworks displays. You'll find everything from the best beach wear, shoe shopping, wonderful sweet shops filled with treats, to LIVE alligators & tigers to amaze. You can rent jet skis on the Waterway, cruise in a dinner boat, rent a pontoon or guided fishing expedition, & even enjoy the views from a number of restaurants.

Just a short 20 minute drive to Myrtle Beach for more excitement. Myrtle Beach has the Sky Wheel, a 200' high view of the coastline in a totally enclosed, air conditioned gondala. Stroll the renovated oceanfront boardwalk area, with gift shops, historic arcades & tourists attractions along the old original Pavilion area. Nearby, Broadway at the Beach will WOW everyone in your group. This huge FUN complex offers unique places to shop, eat, celebrate & play. There are endless specialty shops to seek out the perfect take-home souvenir. Shop till you drop, enjoy the rides & attractions or a great meal & then the exciting night life & entertainment. There are fireworks displays twice a week during the summer season. There are over 35 great restaurants including: Jimmy Buffet's Margaritaville, Johnny Rockets, Dave & Busters, King Kong Sushi, Landry's Seafood, Liberty Brewery, Paula Deene's, Joe's Crab Shack, Wahlburgers & the Grumpy Monk, just to drop a few famous names! Attractions & entertainment include Ripleys' Aquarium, GrandPrix / Nascar Speed Track, Myrtle Beach Pelicans baseball stadium, Wonder Works (science adventure) Myrtle Waves, TopGolf, Hollywood Wax Museum, & so much more......



A newer upscale area of Myrtle Beach is available at Market Commons 40 shops, 8 restaurants and the Grand Cinema 14 are part of a new lakeside residential & sports community. Foot wear, home furnishings, handbags, jewelry & accessories, men's & women's apparel, swimwear, grocery and specialty stores throughout. Sidewalks, bicycle trails, seating & gazebos offer outdoor space to people watch
Calendar
September 2021

| S | M | T | W | T | F | S |
| --- | --- | --- | --- | --- | --- | --- |
| | | | 01 | 02 | 03 | 04 |
| 05 | 06 | 07 | 08 | 09 | 10 | 11 |
| 12 | 13 | 14 | 15 | 16 | 17 | 18 |
| 19 | 20 | 21 | 22 | 23 | 24 | 25 |
| 26 | 27 | 28 | 29 | 30 | | |
October 2021

| S | M | T | W | T | F | S |
| --- | --- | --- | --- | --- | --- | --- |
| | | | | | 01 | 02 |
| 03 | 04 | 05 | 06 | 07 | 08 | 09 |
| 10 | 11 | 12 | 13 | 14 | 15 | 16 |
| 17 | 18 | 19 | 20 | 21 | 22 | 23 |
| 24 | 25 | 26 | 27 | 28 | 29 | 30 |
| 31 | | | | | | |
November 2021

| S | M | T | W | T | F | S |
| --- | --- | --- | --- | --- | --- | --- |
| | 01 | 02 | 03 | 04 | 05 | 06 |
| 07 | 08 | 09 | 10 | 11 | 12 | 13 |
| 14 | 15 | 16 | 17 | 18 | 19 | 20 |
| 21 | 22 | 23 | 24 | 25 | 26 | 27 |
| 28 | 29 | 30 | | | | |
December 2021

| S | M | T | W | T | F | S |
| --- | --- | --- | --- | --- | --- | --- |
| | | | 01 | 02 | 03 | 04 |
| 05 | 06 | 07 | 08 | 09 | 10 | 11 |
| 12 | 13 | 14 | 15 | 16 | 17 | 18 |
| 19 | 20 | 21 | 22 | 23 | 24 | 25 |
| 26 | 27 | 28 | 29 | 30 | 31 | |
January 2022

| S | M | T | W | T | F | S |
| --- | --- | --- | --- | --- | --- | --- |
| | | | | | | 01 |
| 02 | 03 | 04 | 05 | 06 | 07 | 08 |
| 09 | 10 | 11 | 12 | 13 | 14 | 15 |
| 16 | 17 | 18 | 19 | 20 | 21 | 22 |
| 23 | 24 | 25 | 26 | 27 | 28 | 29 |
| 30 | 31 | | | | | |
February 2022

| S | M | T | W | T | F | S |
| --- | --- | --- | --- | --- | --- | --- |
| | | 01 | 02 | 03 | 04 | 05 |
| 06 | 07 | 08 | 09 | 10 | 11 | 12 |
| 13 | 14 | 15 | 16 | 17 | 18 | 19 |
| 20 | 21 | 22 | 23 | 24 | 25 | 26 |
| 27 | 28 | | | | | |
March 2022

| S | M | T | W | T | F | S |
| --- | --- | --- | --- | --- | --- | --- |
| | | 01 | 02 | 03 | 04 | 05 |
| 06 | 07 | 08 | 09 | 10 | 11 | 12 |
| 13 | 14 | 15 | 16 | 17 | 18 | 19 |
| 20 | 21 | 22 | 23 | 24 | 25 | 26 |
| 27 | 28 | 29 | 30 | 31 | | |
April 2022

| S | M | T | W | T | F | S |
| --- | --- | --- | --- | --- | --- | --- |
| | | | | | 01 | 02 |
| 03 | 04 | 05 | 06 | 07 | 08 | 09 |
| 10 | 11 | 12 | 13 | 14 | 15 | 16 |
| 17 | 18 | 19 | 20 | 21 | 22 | 23 |
| 24 | 25 | 26 | 27 | 28 | 29 | 30 |
May 2022

| S | M | T | W | T | F | S |
| --- | --- | --- | --- | --- | --- | --- |
| 01 | 02 | 03 | 04 | 05 | 06 | 07 |
| 08 | 09 | 10 | 11 | 12 | 13 | 14 |
| 15 | 16 | 17 | 18 | 19 | 20 | 21 |
| 22 | 23 | 24 | 25 | 26 | 27 | 28 |
| 29 | 30 | 31 | | | | |
June 2022

| S | M | T | W | T | F | S |
| --- | --- | --- | --- | --- | --- | --- |
| | | | 01 | 02 | 03 | 04 |
| 05 | 06 | 07 | 08 | 09 | 10 | 11 |
| 12 | 13 | 14 | 15 | 16 | 17 | 18 |
| 19 | 20 | 21 | 22 | 23 | 24 | 25 |
| 26 | 27 | 28 | 29 | 30 | | |
July 2022

| S | M | T | W | T | F | S |
| --- | --- | --- | --- | --- | --- | --- |
| | | | | | 01 | 02 |
| 03 | 04 | 05 | 06 | 07 | 08 | 09 |
| 10 | 11 | 12 | 13 | 14 | 15 | 16 |
| 17 | 18 | 19 | 20 | 21 | 22 | 23 |
| 24 | 25 | 26 | 27 | 28 | 29 | 30 |
| 31 | | | | | | |
August 2022

| S | M | T | W | T | F | S |
| --- | --- | --- | --- | --- | --- | --- |
| | 01 | 02 | 03 | 04 | 05 | 06 |
| 07 | 08 | 09 | 10 | 11 | 12 | 13 |
| 14 | 15 | 16 | 17 | 18 | 19 | 20 |
| 21 | 22 | 23 | 24 | 25 | 26 | 27 |
| 28 | 29 | 30 | 31 | | | |
Available
Unavailable
Check-In Only
Check-Out Only
Seasonal Rates
| Date Range | Daily | Weekly | Monthly |
| --- | --- | --- | --- |
| 08/14/2021 - 09/10/2021 | $194.48 | $1,364.00 | N/A |
| 09/04/2021 - 09/23/2021 | $194.48 | $1,364.00 | N/A |
| 09/11/2021 - 09/23/2021 | $123.20 | $862.40 | N/A |
| 09/24/2021 - 12/31/2021 | $130.00 | $910.00 | N/A |
| 01/01/2022 - 03/18/2022 | $115.00 | $774.00 | N/A |
| 01/03/2022 - 04/07/2022 | $115.00 | $774.00 | N/A |
| 03/19/2022 - 06/03/2022 | $243.00 | $1,674.00 | N/A |
| 03/26/2022 - 05/13/2022 | $151.00 | $1,020.00 | N/A |
| 04/08/2022 - 04/22/2022 | $151.00 | $1,020.00 | N/A |
| 04/23/2022 - 05/21/2022 | $162.00 | $1,019.14 | N/A |
| 05/21/2022 - 05/30/2022 | $243.00 | $1,674.00 | N/A |
| 05/22/2022 - 05/30/2022 | $243.00 | $1,674.00 | N/A |
| 05/31/2022 - 06/03/2022 | $225.00 | N/A | N/A |
| 05/31/2022 - 06/02/2022 | $225.00 | N/A | N/A |
| 06/03/2022 - 06/16/2022 | N/A | $1,700.00 | N/A |
| 06/04/2022 - 08/05/2022 | N/A | $1,974.00 | N/A |
| 06/04/2022 - 06/17/2022 | N/A | $1,700.00 | N/A |
| 06/05/2022 - 06/18/2022 | N/A | $1,700.00 | N/A |
| 06/17/2022 - 08/12/2022 | N/A | $1,974.00 | N/A |
| 06/18/2022 - 08/12/2022 | N/A | $1,974.00 | N/A |
| 06/19/2022 - 08/13/2022 | N/A | $1,974.00 | N/A |
| 08/06/2022 - 09/02/2022 | $225.00 | $1,913.43 | N/A |
| 08/12/2022 - 09/18/2022 | $225.00 | $1,550.00 | N/A |
* Seasonal rates are only estimates and do not reflect taxes or additional fees.
Location
Guest Reviews of
WaterPointe II #704
North Myrtle Beach, SC
---
Vacation Rental Reviews by
stars based on
Great Vacation!
Review by
Becky G.
Lovely condo! Very clean with extra amenities such as Keurig coffee maker, great showers, and comfortable beds!
5 out of 5 stars
Manager Response:
Thank you for the review, Becky. Come back to see us in the future! We'd be happy to have you.
Overall good stay
Review by
Patricia L.
Good stay overall would recommend
4 out of 5 stars
Manager Response:
Hi, Patricia. Thank you for the review. We look forward to welcoming you and your family back again next time!
Perfect Spot
Review by
Ann P.
The condo was great-clean, beautifully updated, comfortable bed, fully equipped kitchen and spectacular view. Can't wait to return!
5 out of 5 stars
Manager Response:
Thank you for your review. You mentioned all of the "highlights" that will make the owner pleased to have met your expectations. The updates in this condo are even better than the photographs, just because they are so recently done. We will wait for your phone call about returning, sooner than later. Thanks again.
Great vacation
Review by
Condo is excellent would highly recommend.
5 out of 5 stars
Manager Response:
Thank you for the great review. Please let us know what "cleanliness" issues were troublesome for your stay. Every guests is offered personal phone numbers, for both maintenance and housekeeping department heads, so that any problems can be quickly remedied at check-in. We want your beach experience to be top-notch from beginning to end. Thank you for recommending this condo to friends and family. The owner will be beaming with pride to see your note!
Incredible
Review by
Kristen Z.
Our trip was incredible! The condo was perfect, the beach was awesome, and the area was great. We will definitely return to the location/condo in the future.
5 out of 5 stars
Awesome place!
Review by
The place was beautiful. The building was great. The beach was amazing! Great location. We had a terrific week and can't wait to return!
5 out of 5 stars
Manager Response:
Thank you for the kind review. We agree, this is an awesome condo and an awesome condo owner. They have gone to great lengths to remodel and update this three bedroom in WaterPointe II, so that guests will feel special. Glad to hear that all went well during your stay from accommodations, to blue skies and beautiful beach days! We appreciate that you chose this great property and hope to hear from you to help make your future beach plans.
Water pointe
Review by
Reid B.
Excellent
5 out of 5 stars
Manager Response:
Thank you -- enough said. We, at ODVR, are excited to get that kind of 5 star rating. This owner has done many improvements over the spring to get this condo vacation ready for his guest and it shows. Fresh paint, new flooring and furnishings and remodeled bathrooms just for starters. The WaterPointe II complex is also a great little gem in the heart of Windy Hill so that you can enjoy some of the "best of" North Myrtle Beach within a 5 minute drive. Nearby, BareFoot Landing Resort offers endless shopping, dining and entertainment venues. We thank you again for taking a minute to give us great feedback. Hope to see you return.
Corey from Mattituck NY
Review by
John O.
Condo very clean and comfortable. Excellent view. Located in very nice area. Good price and ODVR very helpful. We will definitely be back next year. Thank you
5 out of 5 stars
Manager Response:
Thank you for that positive response -- it means a lot to us, the ODVR staff, and the condo owner that we are getting things right!!! This owner has put a lot of good energy into updating and remodeling this condo and the wonderful WaterPoint II amenities speak for themselves. So glad that you are already thinking about a return trip. Just give us a call and we will be happy to help you with plans.
Awesome unit. Will be back again.
Review by
This unit at Waterpoint II was a great ocean front condo. The owner has remodeled this unit and it is sharp. We spent 11 nights here and had 6 people and never had cramped. This unit was extremely clean and the resort even though was very nice. Clean pools and hot tub. Quiet part of North Myrtle. Owner Direct was a great group to rent through. Highly recommend unit and rentalagency.
5 out of 5 stars
Manager Response:
Thank you for the stellar review. It means a lot to get such a recommendation about both, the property and our services, being top notch. We do aim to please! The owner has done a full makeover on this unit from furnishings, to paint, floors, and bathrooms, even the deck, and will be pleased that it made a difference for your family vacation. Please do call us again for your next visit to North Myrtle Beach.
Contact Us