Waterpointe II #901 (Condo)
3 Bedroom(s) | 2 Bathroom(s) | Sleeps 8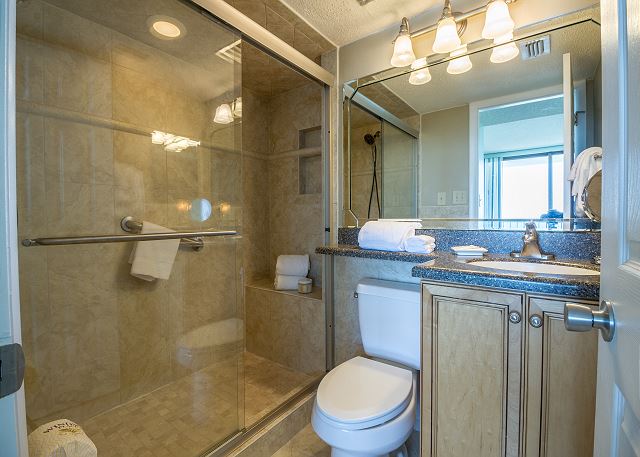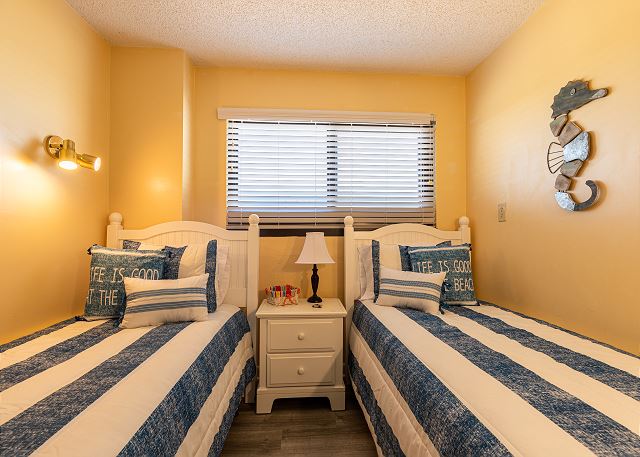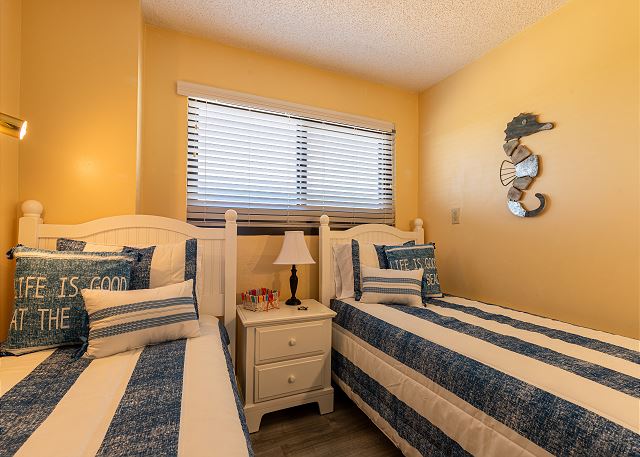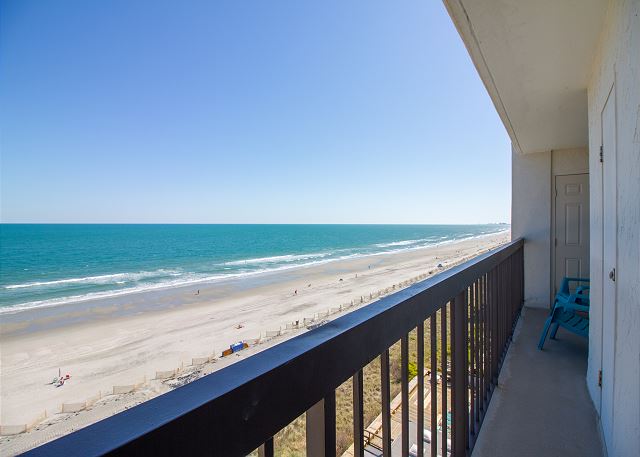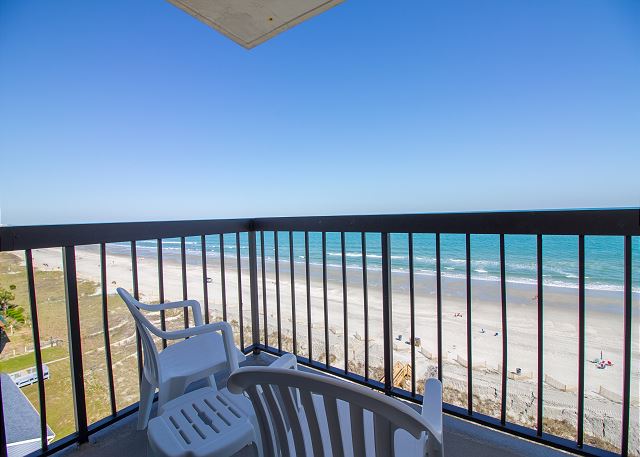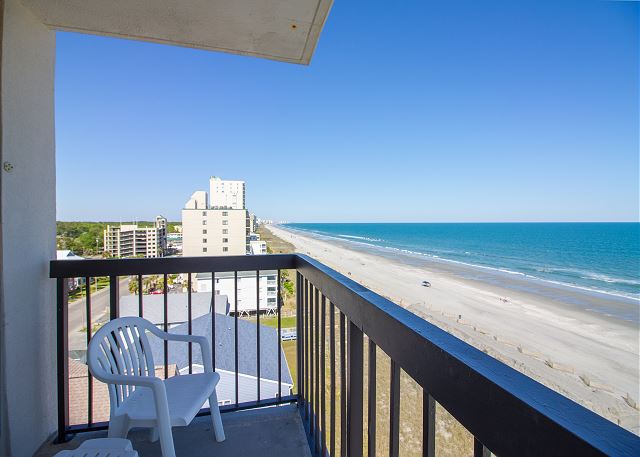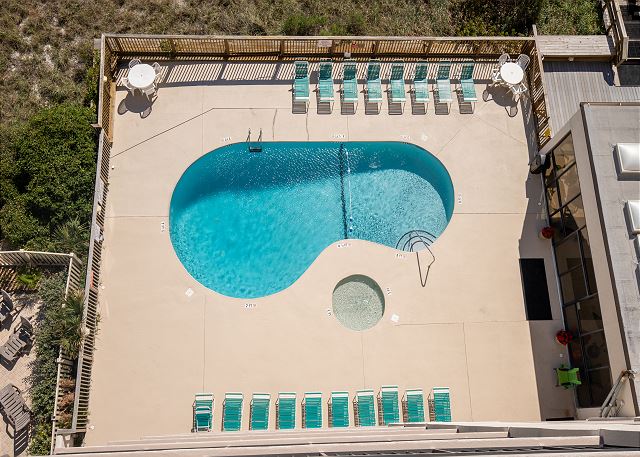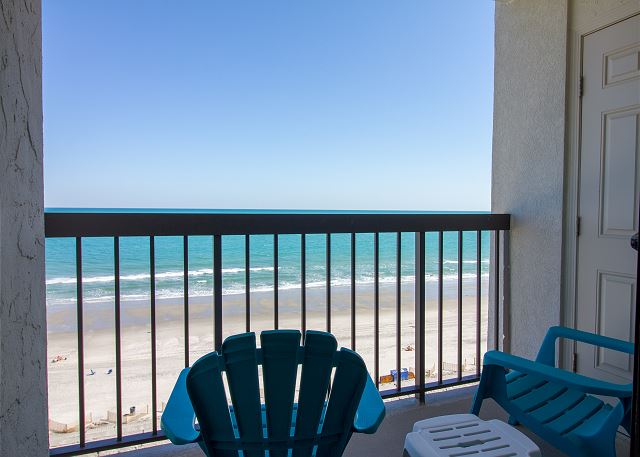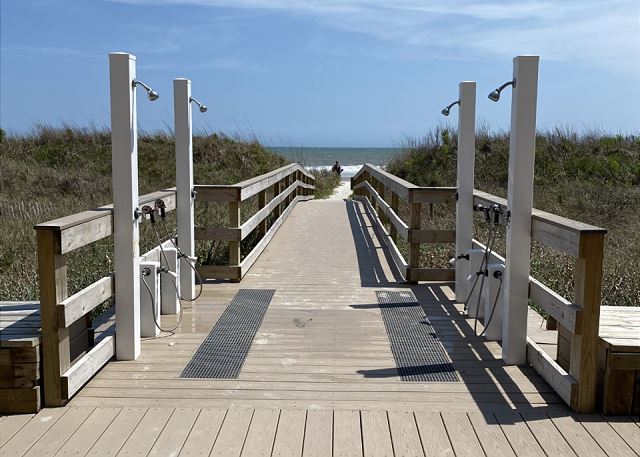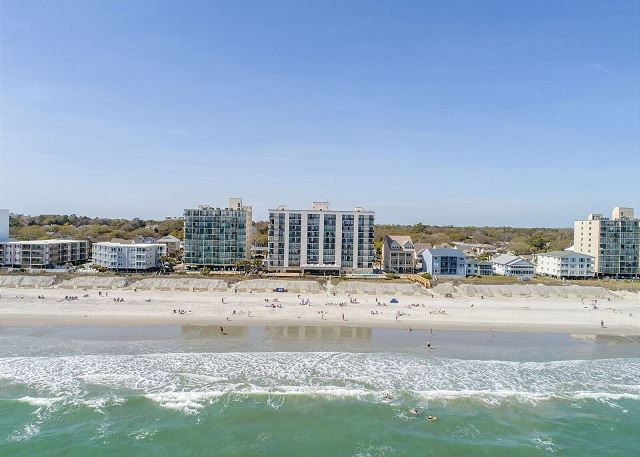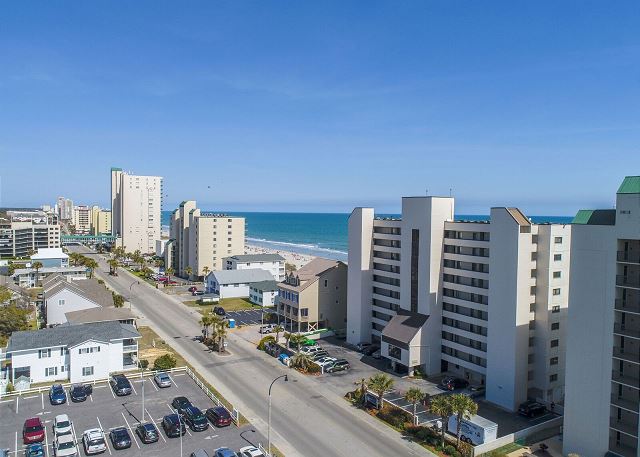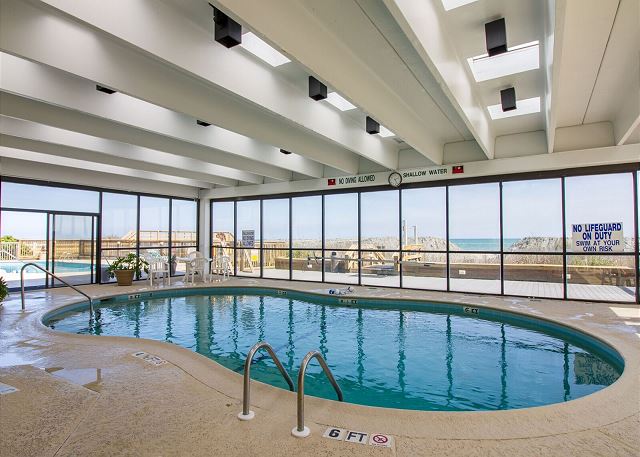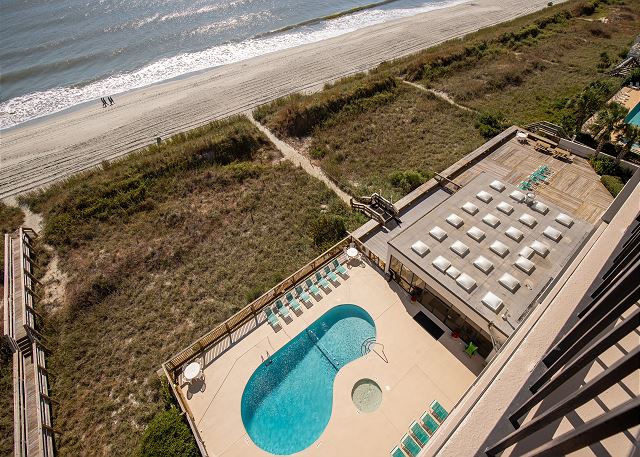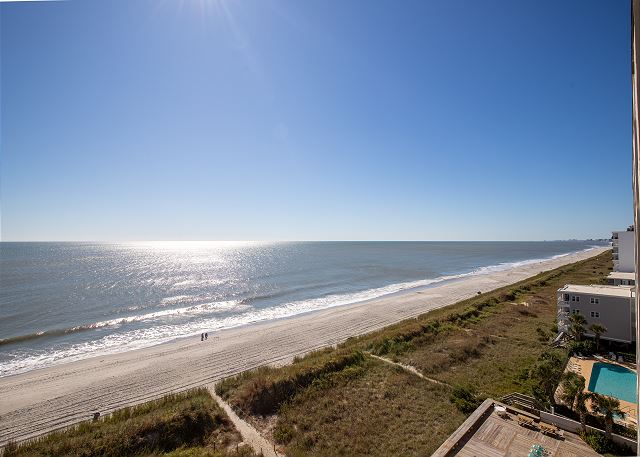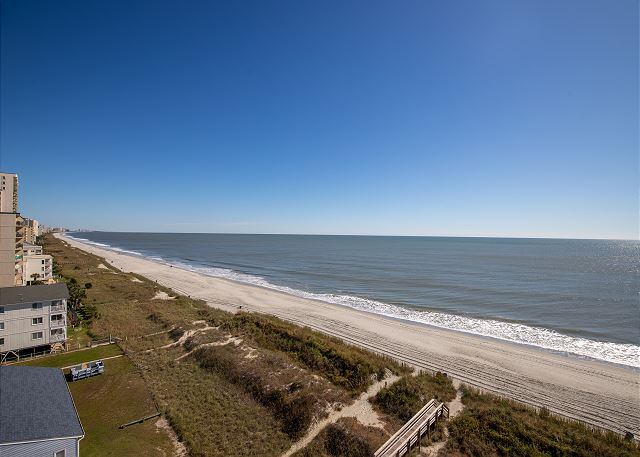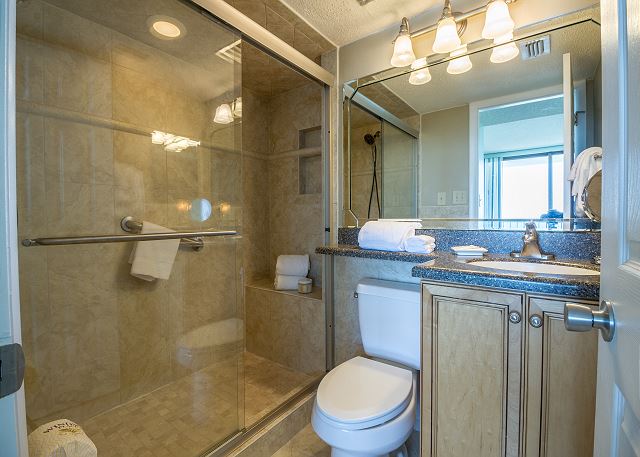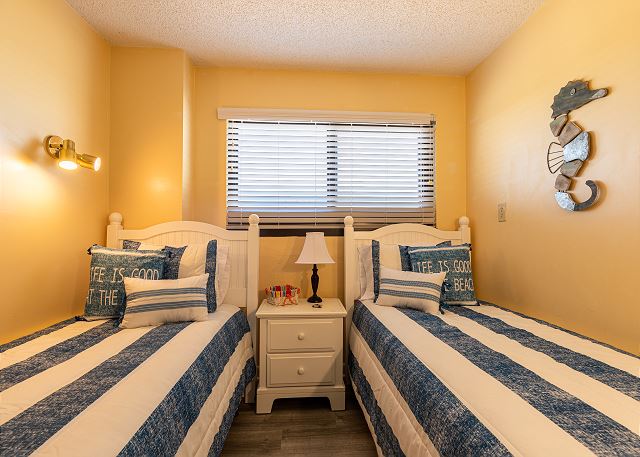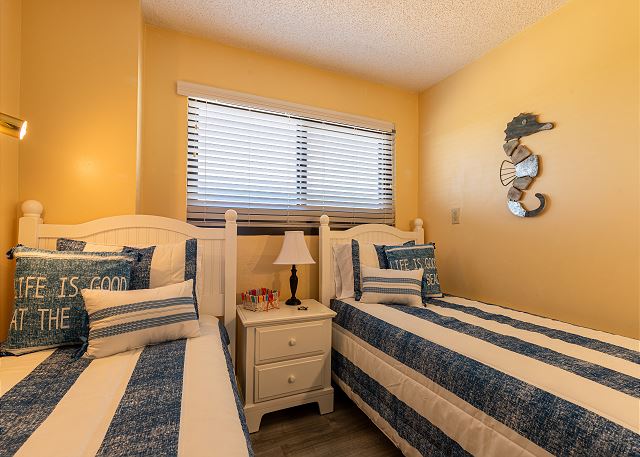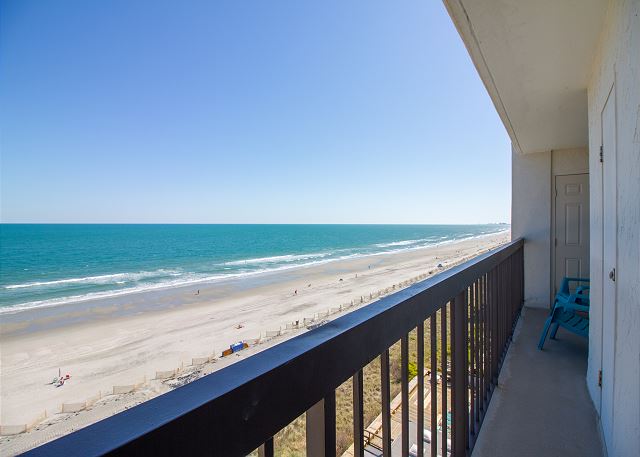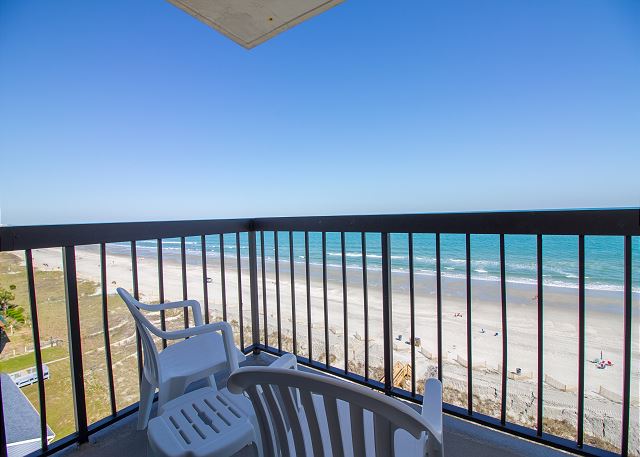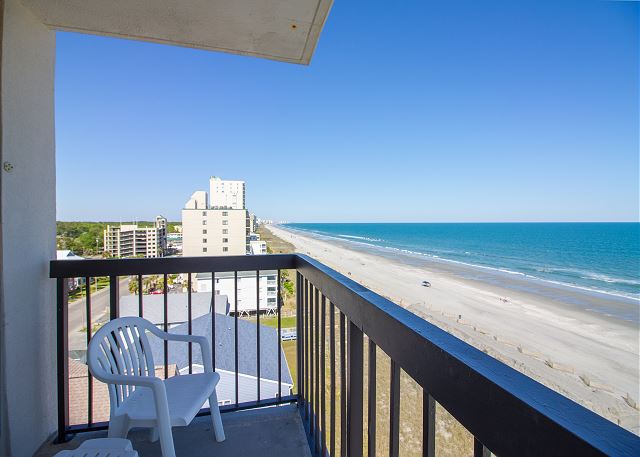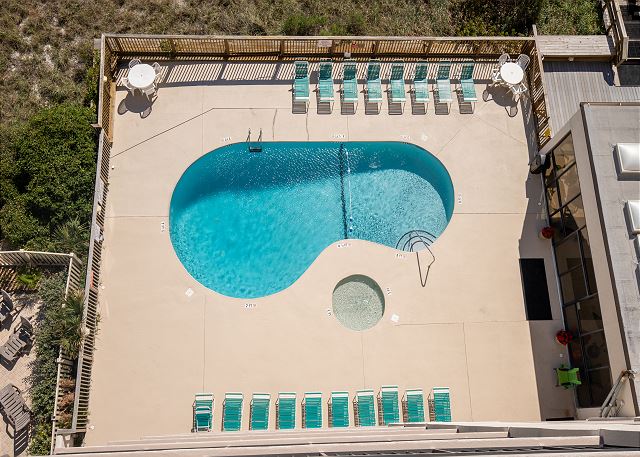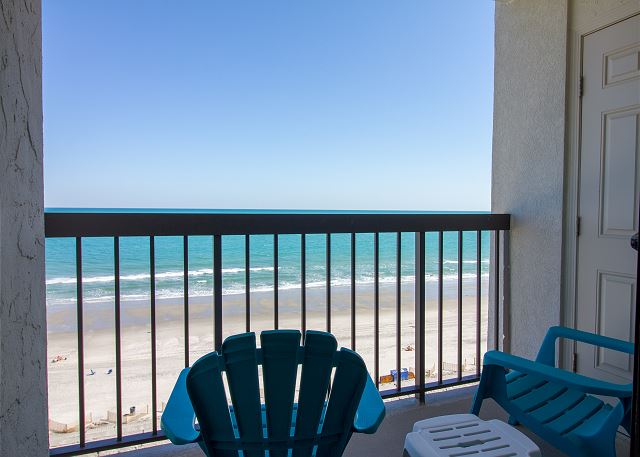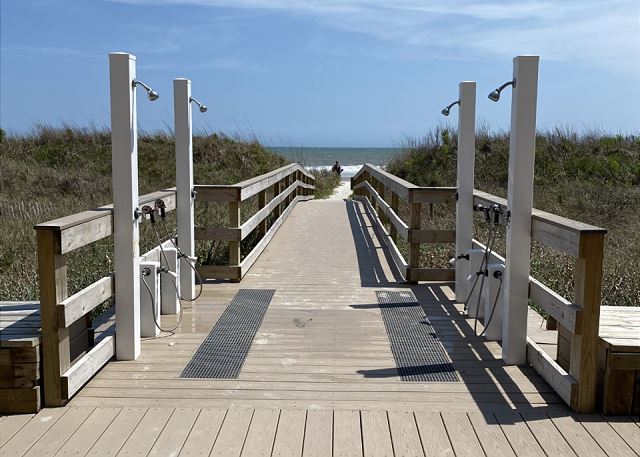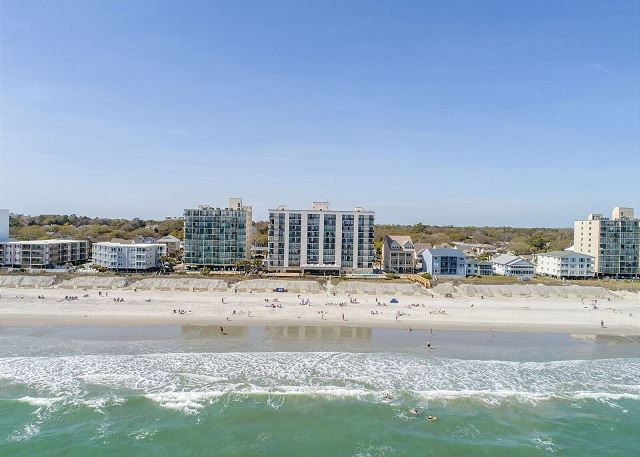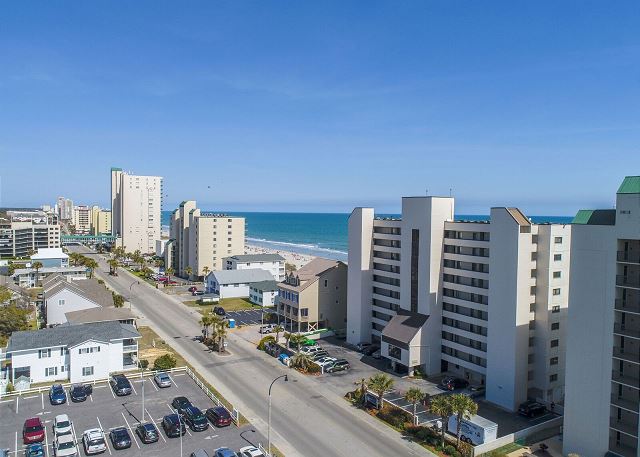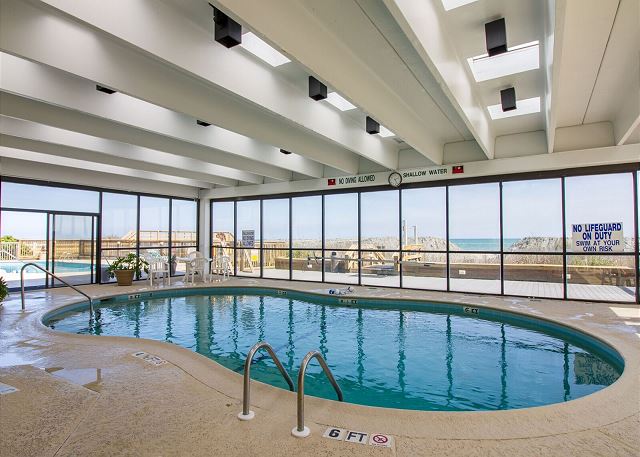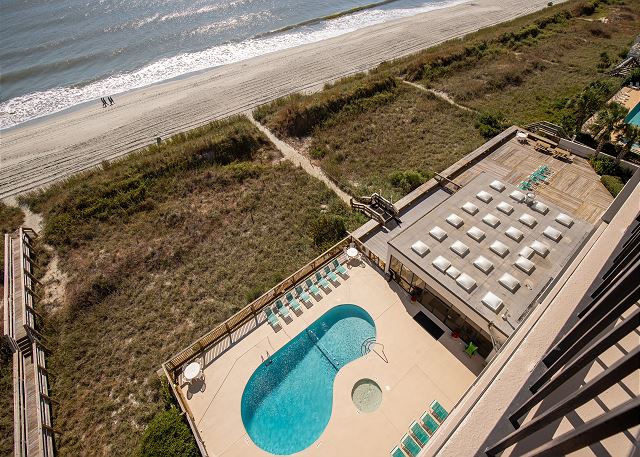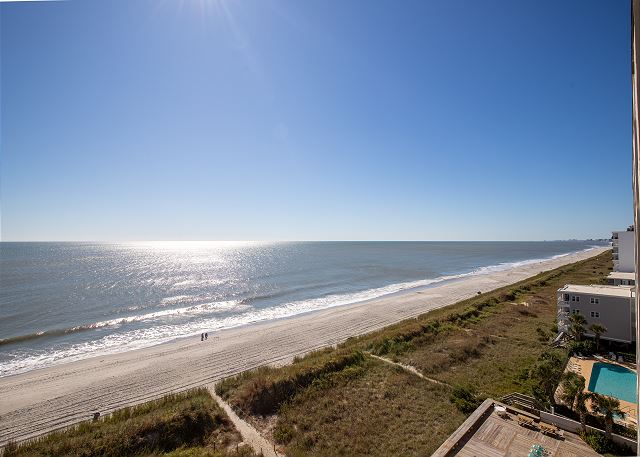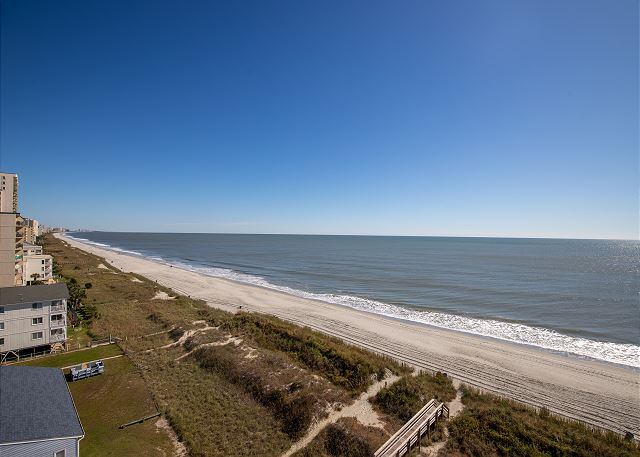 Description
Owner Direct Vacation Rentals in North Myrtle Beach welcomes you to your home away from home! ODVR SC is a local, family owned and operated rental agency - Smiling Faces and Beautiful Places - We want to welcome you to your best vacation rental!



The perfect BEACH spot in Windy Hill - nicely renovated condo (2020) with new laminate flooring (no carpet in this unit), updated bathrooms and great new furnishings! This beautiful 3 Bedroom 2 Bath condo is vacation ready-- The owner has remodeled with new family room comforts, kitchen cabinetry, updated laminate flooring, and new stylish touches including bedding, custom draperies, etc. You will be wonderfully surprised at how open and airy this end unit is. The ocean views are visible in every direction from the kitchen, den and master bedroom in this 9th floor Condo. This unit has both indoor and outdoor pool, and a great hot tub option for soaking.



Living Room Highlights

The oceanfront living room features a large flat screen TV, new sofa and chairs, as well as a new dining set with extra end unit windows and access to the private balcony.



Kitchen Amenities

The fully appointed kitchen features a refrigerator with ice maker, self cleaning oven with radiant cook top, built in microwave and dishwasher. as well as the washer and dryer. The kitchen essentials include a toaster, toaster oven, coffee maker (both Keurig and regular), pots, pans, silverware, dinner ware and bake ware. There's even a wet-bar station for cool frozen summer treats! All the things your family needs for a home-away-from-home vacation!



Master Bedroom Suite

Enjoy the oceanfront master bedroom complete with a king size bed and sliding glass door to the private oceanfront balcony. The master bedroom is well appointed with a king bed, full length dresser and mirror, two nightstands with lamps, and large flat screen TV. The master bath is newly remodeled with a full surround tile shower, a built in bench and glass sliding doors.



Additional Bedrooms

One guest bedroom has a queen bed and the other has 2 twin beds. Fresh and cozy new bedding for 2021. There are flat screen TVs wall-mounted in each bedroom!!



Nearby

Located near Barefoot Landing shops & restaurants, mini-golf, theater shows and many other attractions.



Included

Free WiFi, flat screen TV's, DVD players, unit phone available
Calendar
October 2021

| S | M | T | W | T | F | S |
| --- | --- | --- | --- | --- | --- | --- |
| | | | | | 01 | 02 |
| 03 | 04 | 05 | 06 | 07 | 08 | 09 |
| 10 | 11 | 12 | 13 | 14 | 15 | 16 |
| 17 | 18 | 19 | 20 | 21 | 22 | 23 |
| 24 | 25 | 26 | 27 | 28 | 29 | 30 |
| 31 | | | | | | |
November 2021

| S | M | T | W | T | F | S |
| --- | --- | --- | --- | --- | --- | --- |
| | 01 | 02 | 03 | 04 | 05 | 06 |
| 07 | 08 | 09 | 10 | 11 | 12 | 13 |
| 14 | 15 | 16 | 17 | 18 | 19 | 20 |
| 21 | 22 | 23 | 24 | 25 | 26 | 27 |
| 28 | 29 | 30 | | | | |
December 2021

| S | M | T | W | T | F | S |
| --- | --- | --- | --- | --- | --- | --- |
| | | | 01 | 02 | 03 | 04 |
| 05 | 06 | 07 | 08 | 09 | 10 | 11 |
| 12 | 13 | 14 | 15 | 16 | 17 | 18 |
| 19 | 20 | 21 | 22 | 23 | 24 | 25 |
| 26 | 27 | 28 | 29 | 30 | 31 | |
January 2022

| S | M | T | W | T | F | S |
| --- | --- | --- | --- | --- | --- | --- |
| | | | | | | 01 |
| 02 | 03 | 04 | 05 | 06 | 07 | 08 |
| 09 | 10 | 11 | 12 | 13 | 14 | 15 |
| 16 | 17 | 18 | 19 | 20 | 21 | 22 |
| 23 | 24 | 25 | 26 | 27 | 28 | 29 |
| 30 | 31 | | | | | |
February 2022

| S | M | T | W | T | F | S |
| --- | --- | --- | --- | --- | --- | --- |
| | | 01 | 02 | 03 | 04 | 05 |
| 06 | 07 | 08 | 09 | 10 | 11 | 12 |
| 13 | 14 | 15 | 16 | 17 | 18 | 19 |
| 20 | 21 | 22 | 23 | 24 | 25 | 26 |
| 27 | 28 | | | | | |
March 2022

| S | M | T | W | T | F | S |
| --- | --- | --- | --- | --- | --- | --- |
| | | 01 | 02 | 03 | 04 | 05 |
| 06 | 07 | 08 | 09 | 10 | 11 | 12 |
| 13 | 14 | 15 | 16 | 17 | 18 | 19 |
| 20 | 21 | 22 | 23 | 24 | 25 | 26 |
| 27 | 28 | 29 | 30 | 31 | | |
April 2022

| S | M | T | W | T | F | S |
| --- | --- | --- | --- | --- | --- | --- |
| | | | | | 01 | 02 |
| 03 | 04 | 05 | 06 | 07 | 08 | 09 |
| 10 | 11 | 12 | 13 | 14 | 15 | 16 |
| 17 | 18 | 19 | 20 | 21 | 22 | 23 |
| 24 | 25 | 26 | 27 | 28 | 29 | 30 |
May 2022

| S | M | T | W | T | F | S |
| --- | --- | --- | --- | --- | --- | --- |
| 01 | 02 | 03 | 04 | 05 | 06 | 07 |
| 08 | 09 | 10 | 11 | 12 | 13 | 14 |
| 15 | 16 | 17 | 18 | 19 | 20 | 21 |
| 22 | 23 | 24 | 25 | 26 | 27 | 28 |
| 29 | 30 | 31 | | | | |
June 2022

| S | M | T | W | T | F | S |
| --- | --- | --- | --- | --- | --- | --- |
| | | | 01 | 02 | 03 | 04 |
| 05 | 06 | 07 | 08 | 09 | 10 | 11 |
| 12 | 13 | 14 | 15 | 16 | 17 | 18 |
| 19 | 20 | 21 | 22 | 23 | 24 | 25 |
| 26 | 27 | 28 | 29 | 30 | | |
July 2022

| S | M | T | W | T | F | S |
| --- | --- | --- | --- | --- | --- | --- |
| | | | | | 01 | 02 |
| 03 | 04 | 05 | 06 | 07 | 08 | 09 |
| 10 | 11 | 12 | 13 | 14 | 15 | 16 |
| 17 | 18 | 19 | 20 | 21 | 22 | 23 |
| 24 | 25 | 26 | 27 | 28 | 29 | 30 |
| 31 | | | | | | |
August 2022

| S | M | T | W | T | F | S |
| --- | --- | --- | --- | --- | --- | --- |
| | 01 | 02 | 03 | 04 | 05 | 06 |
| 07 | 08 | 09 | 10 | 11 | 12 | 13 |
| 14 | 15 | 16 | 17 | 18 | 19 | 20 |
| 21 | 22 | 23 | 24 | 25 | 26 | 27 |
| 28 | 29 | 30 | 31 | | | |
September 2022

| S | M | T | W | T | F | S |
| --- | --- | --- | --- | --- | --- | --- |
| | | | | 01 | 02 | 03 |
| 04 | 05 | 06 | 07 | 08 | 09 | 10 |
| 11 | 12 | 13 | 14 | 15 | 16 | 17 |
| 18 | 19 | 20 | 21 | 22 | 23 | 24 |
| 25 | 26 | 27 | 28 | 29 | 30 | |
Available
Unavailable
Check-In Only
Check-Out Only
Seasonal Rates
| Date Range | Daily | Weekly | Monthly |
| --- | --- | --- | --- |
* Seasonal rates are only estimates and do not reflect taxes or additional fees.
Location
Guest Reviews of
Waterpointe II #901
North Myrtle Beach, SC
---
Vacation Rental Reviews by
stars based on
Beautiful views!
Review by
Kathy A.
Great condo. Clean! Fantastic views! Beds were comfortable! Everything you needed was available including batteries for the remote control fir the TV. Owner direct was great to work with also!
4 out of 5 stars
Manager Response:
Good afternoon, Kathy. ODVR is pleased to hear you and your guests enjoyed your stay at our Waterpointe II 901 property back in August. We hope to see you again in the near future. Reach out to us directly when you're ready to book your next trip. This property is lovely, and we have 80+ other vacation rental properties within the North Myrtle Beach area, surely something to suit all of your vacation needs. Take care.
Family trip July 2021
Review by
Paula B.
Unit 901 is a very nice, homey, well decorated condo. The kitchen was clean and stocked with every appliance, utensil, etc. you will need. The owner's do need to replace the washing machine and dryer. They are old and the washing machine stinks even if you leave the door open. The condo overall was clean. One issue (NOT the fault of the owners) was the floors were dirty. Our feet were black from walking barefoot in the condo. We did call the property management company to request the floors be mopped. They said they would send someone out. Although management stated someone did come to mop, the floors were still dirty. I bought a Swiffer wet jet to clean. Again, not the fault of the owners, and it did not affect how much we enjoyed the condo. Just stating a fact. Loved the balcony... gorgeous view of the ocean. All in all, we had a wonderful family trip! We would definitely stay in Unit 901 again.
5 out of 5 stars
Manager Response:
Hi, Paula. We appreciate you taking time to provide feedback about your recent stay at our Waterpointe II 901 property. We apologize for any inconvenience you experienced with the condo during your stay as we did our best to get those floors cleaned to standard upon you notifying our office. We will happily provide the owners of this unit your feedback so they can potentially proceed with purchasing a new washer and dryer to better suit future guests. This feedback is appreciated as we strive on making improvements in each unit we manage. We hope you and your family stay well and come back to see us for your next beach vacation.
Upgrade
Review by
The initial unit we were in had a shower issue. We were there 4 days then they moved us to a different condo. It was an upgrade but it was an inconvenience to have to move in the middle of the trip. Both units were very clean. And had all the amenities. Will use this company again because what happened was not their fault. Just an inconvenience
4 out of 5 stars
Manager Response:
Hello, Sondra. We thank you kindly for writing this review, and we apologize again for the inconvenience you had to endure during your stay. We also appreciate your understanding with the situation as it is never fun or easy when unexpected repairs need to be made to maintain a property. We certainly hope you'll come back to stay with us in the future. Don't hesitate to reach out when you're ready to book. Take care!
great oceanfront condo
Review by
Kenneth and Cathy K.
This condo has had some recent updates, making the place feel very comfortable and relaxing. The beds are comfortable and the newly updated bathroom looks great. I appreciate all the thoughtful touches as well as the indoor and outdoor pools. Everyone can still swim on a rainy day 🙂
5 out of 5 stars
Manager Response:
Thank you for taking time to write this wonderful review about our Waterpointe II 901 property. We are pleased to hear this property suited your vacation needs and that it was everything you thought it would be. Don't hesitate to reach out to us directly when you are ready to book your next beach vacation. We will be more than glad to assist. Take care and see you soon!
Unexpected Visitor
Review by
Catherine B.
A gentleman opened the door with a key and as you can imagine I was startled by the unexpected intrusion. He stated he was a realtor. I guess he could tell by the look on my face I was not pleased. He left thank goodness. We were not very comfortable after that.
4 out of 5 stars
Manager Response:
We apologize profusely. Recently, there was a little confusion when the condo was put on the market. The owner actually has two condos for sale in the same building and our office was trying to coordinate between all involved - HOA, lawyers, realtors, family. It seems that we mixed up the details on which unit was available for inspections / showings. We are terribly sorry to cause you an unexpected inconvenience.
Everything you could need including a beautiful view!
Review by
Jodi B.
Everything that I was looking for. Home away from home. Beautiful view, great location, and beach was not too crowded.
5 out of 5 stars
Manager Response:
Thanks so much for the thoughtful review. We are always glad to know that everything went perfectly and exceeded your expectations. See you next time.....
Great Location!!
Review by
Jill M.
It was great! The beach was wonderful. And so was the view from the balcony. Would totally recommend.
5 out of 5 stars
Manager Response:
Thank you for the great review. The WaterPointe II property offers everything from location to amenities that travelers are seeking. The owner has also done many upgrades and improvements to this particular unit to make it a special destination. Thank you for sharing your experience and we hope you will share it with friends and family too, for the best word-of-mouth advertising.
SURPRISE, SURPRISE, SURPRISE !
Review by
ODVR is always efficient and extremely helpful. We have loved our experience in dealing with them. Unfortunately our recent visit left us frustrated, aggravated and disappointed. We were excited to be able to return to WaterPointe II for the third time this year. Our first two stays could not have been more beautiful. We loved every minute. Units 201 and 304 were perfection! Immediately when we walked into our most recent unit some of the windrow blinds were scattered across the floor and continued to fall throughout the week. We put them up and they would stay for a short period and fall again. FRUSTRATING!!!!! Disappointment soon set in when it was communicated to us that our balcony would be off limits for the duration of our stay. We have always enjoyed the balcony for morning coffee, picturesque sunrises, sunsets and fresh air at night along with starry displays. Unbelievable that was taken from us! Aggravation was prompted by frequent visits (4 different times)from repair men to paint the balcony that needed to dry and more coats applied. Two men sat down inside as two worked on the balcony. We never understood why it took four men - two working and two talking and telling us they were doing as told. "They had nothing to do with our unhappiness!" When we booked the unit - Our options for the week were communicated and when we realized 901 was and end unit we chose it because they would be less obstructed views. Well we were tremendously surprised to find out we could NOT use the balcony!!!!! I do not believe ODVR knew about this work when we booked the unit since I clearly communicated our love for early morning coffee on the balcony etc. Thanks ODVR for letting us know about the exterminator's visit. We knew what to expect. The balcony fiasco was quite the surprise!!!! We look forward to booking with ODVR again. While the overall stay was somewhat disappointing, the location is great. This unit could use some upgrades.
3 out of 5 stars
Manager Response:
Thank you for the kind words about our property management office and for sharing the WaterPointe construction issues with us. We do apologize that the HOA provided our office with no forewarning of this project. We would certainly not have caused you such an inconvenience if it were known to us. I will forward this information to the owner so that he will be made aware of how the HOA handled the situation. Most area complexes do projects during the winter season but rarely during the late summer season. We sincerely apologize for the disruption of your stay and hope you will give us another chance to impress. Thanks again.
Perfect Vacation
Review by
Sabrina R.
Awesome! Loved being steps from the beach. The property description was on point (except there isn't a workout room). There is always staff cleaning the common areas and were extremely friendly. We had friends who were impressed with our accommodations (they own a time share in the area). Thank you Owner's Direct for the perfect accommodations. We look forward to future vacations booked through you.
5 out of 5 stars
Manager Response:
Thank you for this great 5 out of 5 review! I hate that you missed the fitness room! It was located on the 1st floor next to the HOA office. (now you know for next time ) We cant wait for your next visit!
Family vacation
Review by
Travis D.
The condo was very nice.We stayed in a 3 bedroom, the bedroom next to the front door entrance was small so if you have younger kids it will be perfect.
4 out of 5 stars
Manager Response:
Thank you for this review! Glad you and the little ones enjoyed your stay. Hope to see you on your next trip to North Myrtle Beach.
Great Location
Review by
Everything was great except that we had to clean the bathrooms (which is gross upon arrival), the carpet could use either a good steam clean or be replaced and our master bed was rock hard.
4 out of 5 stars
Manager Response:
Thank you for making us aware of the problems you experienced. We are sorry that this was the first impression you encountered at arrival. Our policy at check-in is to make every guests aware that they can call us if anything is unsatisfactory when they first enter the unit and we will gladly correct the problem by sending out housekeeping or maintenance staff promptly. We don't want you to clean, but let us do that, so you can really enjoy your stay from beginning to end. The owner will be made aware of the other items you have pointed out. The mattress comfort is always a subjective issue and hard to gauge -- one guests thinks it's too soft, another guests thinks it's too firm. Thank you for sharing. We do appreciate both compliments and criticisms so that we can improve our systems.
Great vacation
Review by
Bob J.
Absolutely perfect, no problems, great location, clean everything worked, we plan on staying here again.
5 out of 5 stars
Manager Response:
Thank you for your thoughtful review. It's great news that we were able to meet your vacation standards and then some. The owner will be pleased that your stay at this condo was a wonderful experience. The condo is well-appointed and with updated essentials from kitchen to bathrooms. You can comfortably enjoy the fantastic views from this 9th floor perch. The WaterPointe complex is located in wonderful Windy Hill Beach, so all of the best attractions, dining and shopping are within 10 minutes. BareFoot landing will provide entertainment for everyone in your group -- and hope you enjoyed the free fireworks on Monday nights! We know you have a lot of choices when making your beach plans so thank you for choosing us and we will wait eagerly to hear from you again.
Inviting and relaxing
Review by
A inviting and relaxing condo that was very clean and well maintained. Gorgeous beach views from all the living room and master bedroom windows.
5 out of 5 stars
Manager Response:
Thanks so much for an outstanding review. The gorgeous Windy Hill beach views are complimentary with your stay! This WaterPointe II condo is also an end-unit, so that makes the views seem even more private and expansive. Glad that you enjoyed your stay. It's important to go home refreshed after vacation and we are glad that your time with us was relaxing! Thank you again and please keep us in mind when you make future plans for the beach.
Great time
Review by
Lori D.
ODVR people were very helpful and kind. The checking in and out process was easy and they answered any questions that we had promptly. Our unit was clean abd the kitchen was well supplied. We will definitely be staying her again!
5 out of 5 stars
Manager Response:
We appreciate your positive feedback. You have high-lighted all of the things that are important to us, clean and orderly condo, but most important that you felt good about the customer service you received during your stay. Thank you for acknowledging us and we will share your thoughts with the owner, too. WaterPointe II is a great complex, located ocean-front in Windy Hill; so just a matter of minutes to enjoy BareFoot Landing and every other entertainment venue and restaurant that North Myrtle Beach has to offer. We look forward to hearing from you when it's time for your beach plans next summer.
Nice area, nice building, nice unit
Review by
Dean S.
This is the 4th time we have stayed at Waterpointe II building. Each time was a different unit. Each unit was very nice, this one included. Plenty of room for our family, balcony overlooks ocean, and from the 9th floor it is great. My son was concerned about the height with his small children (ages 4 and 2) but the balcony was secure. Furnishings were very nice. Washer and dryer in kitchen area is very convenient.
5 out of 5 stars
Manager Response:
Great Scores, Thank you. We are happy to hear that you enjoyed yourself in our Waterpointe II #901. This owner has put work into his condo to make it ready for his guests to enjoy it, a home away from home. From the amazing oceanfront views to the new counter tops and tiles he has thought of everything. Thank you again for staying with us and we hope you will come and join us again. Sincerely Your ODVR Team (Owner Direct Vacation Rentals).
Family vacation
Review by
This is our 2nd family vacation. We had a wonderful time!
4 out of 5 stars
Contact Us