Wedding Cake Carriage House (Cottage)
1 Bedroom(s) | 1 Bathroom(s) | Sleeps 4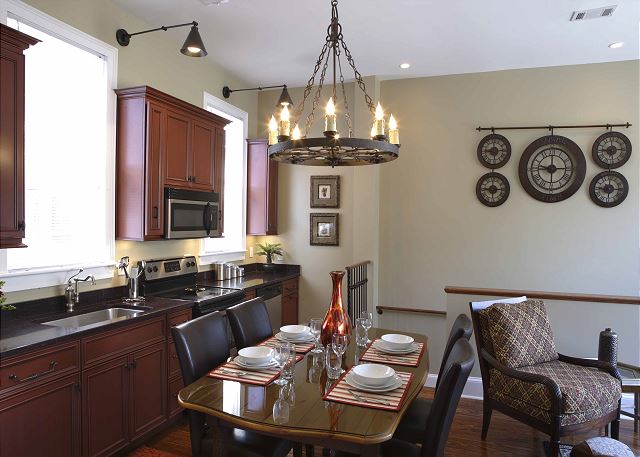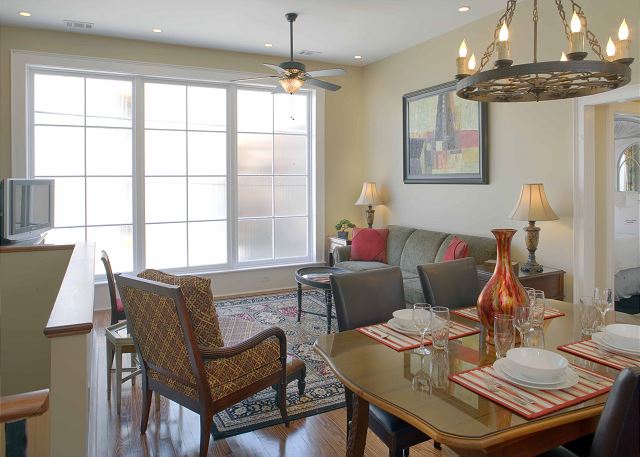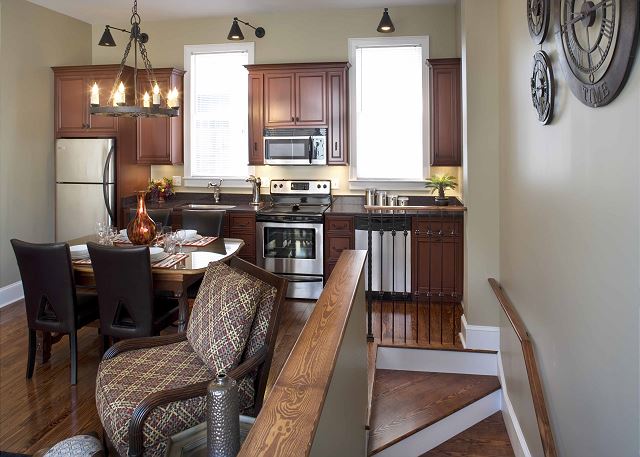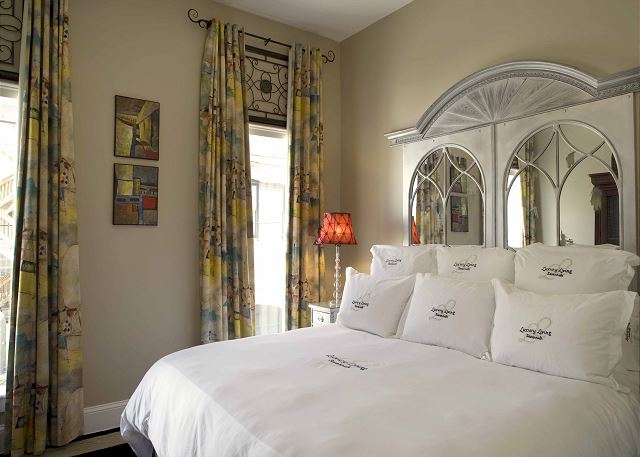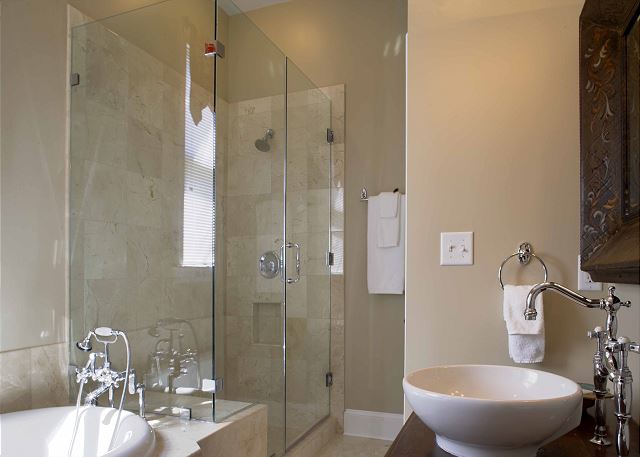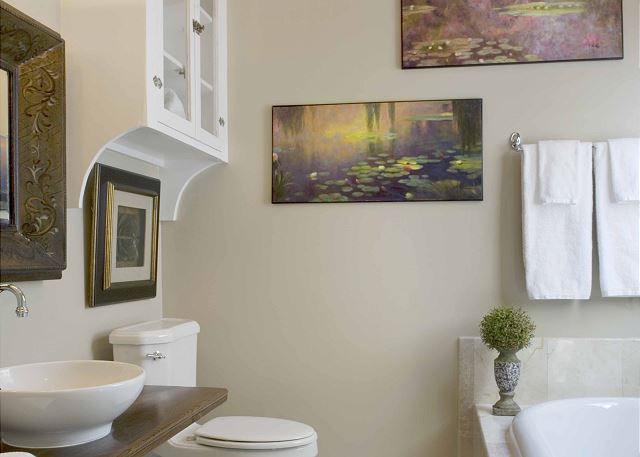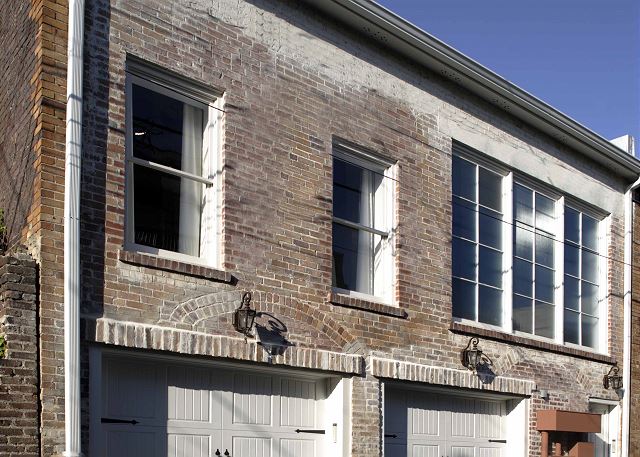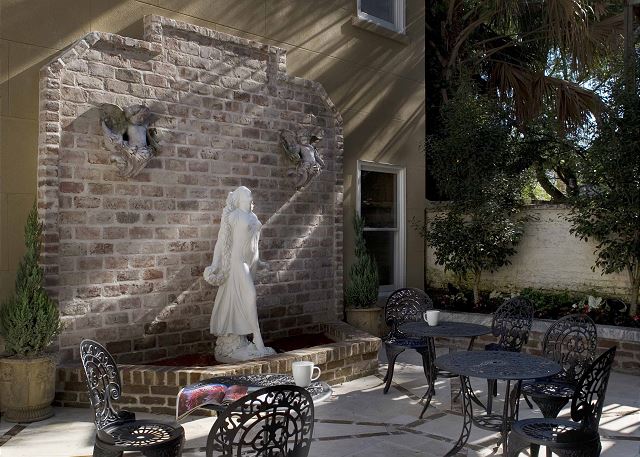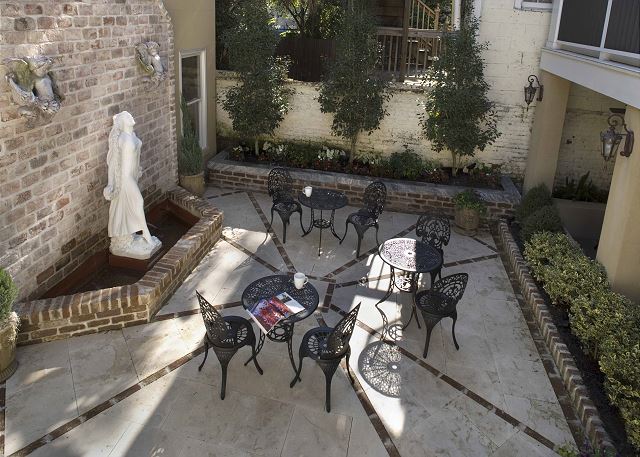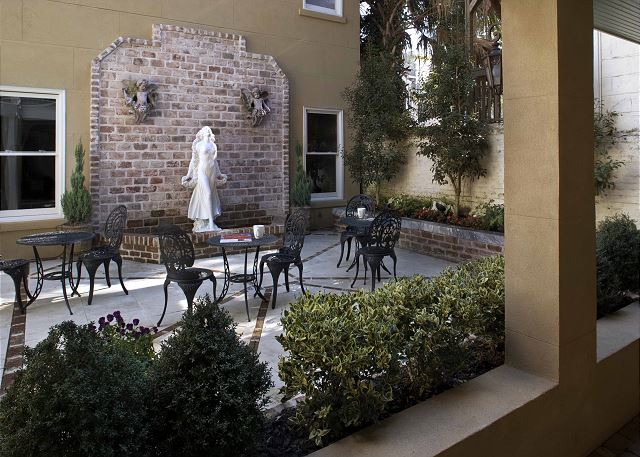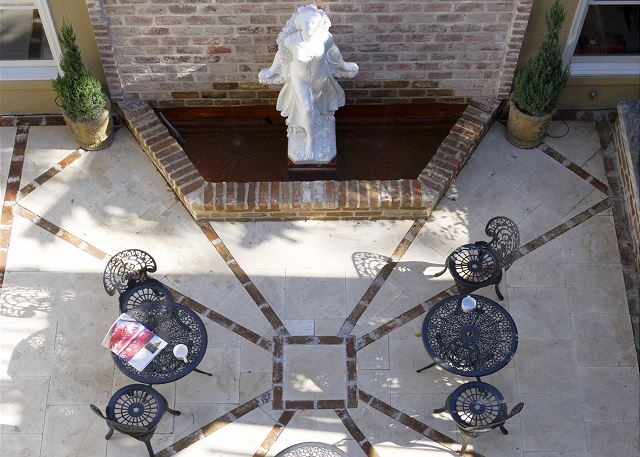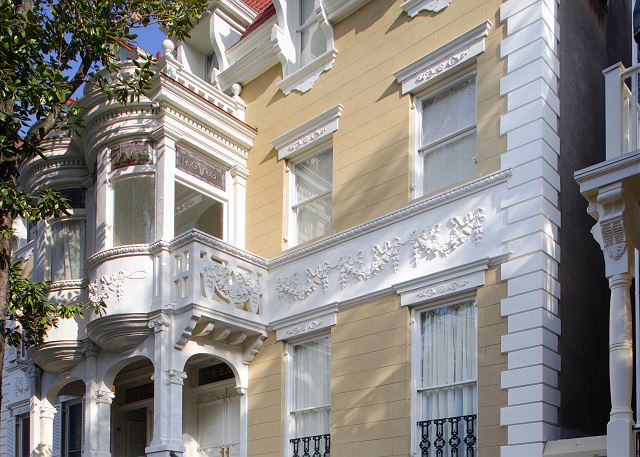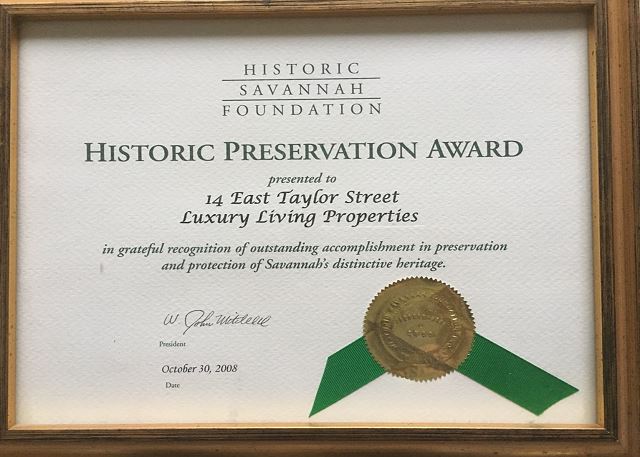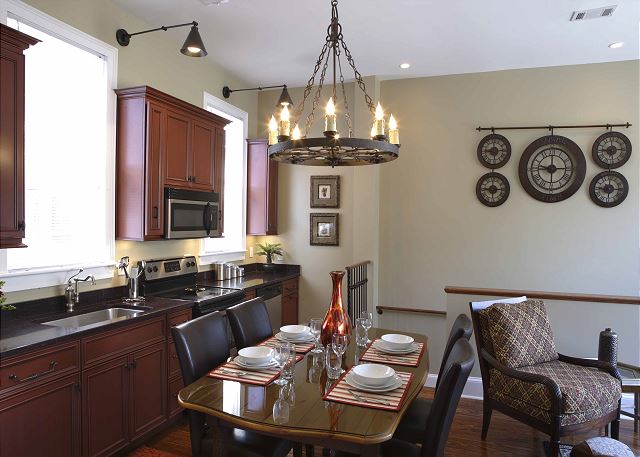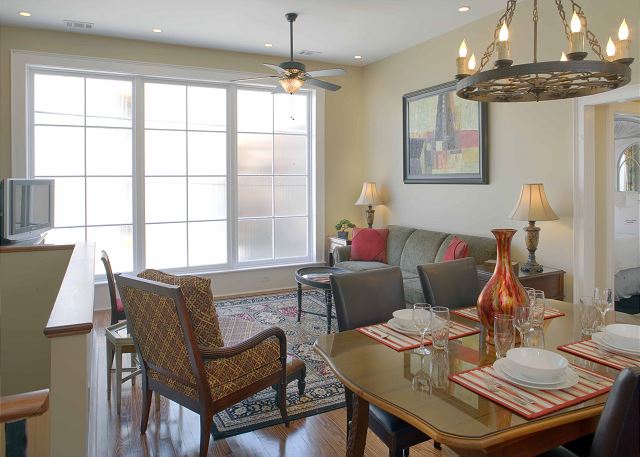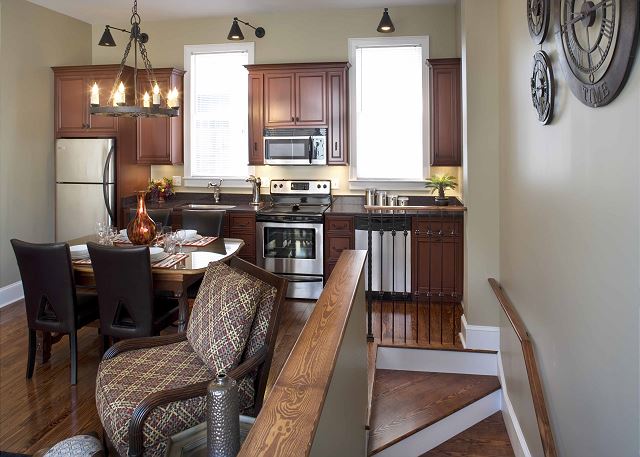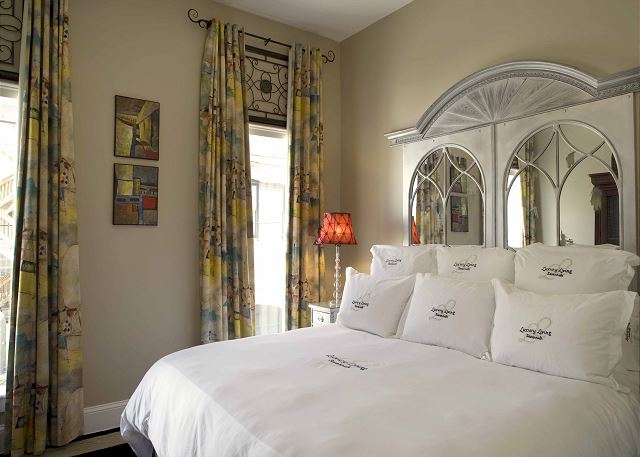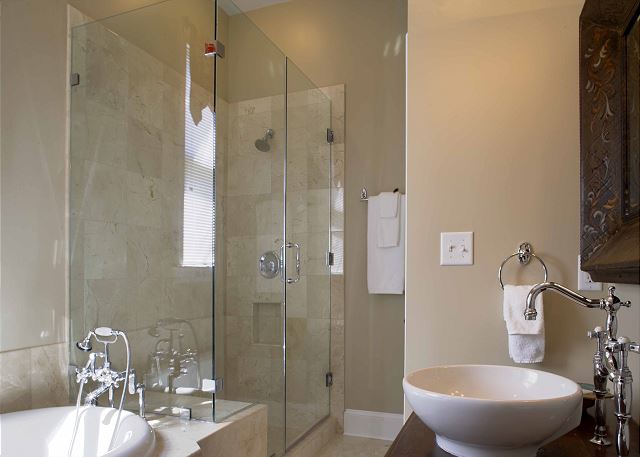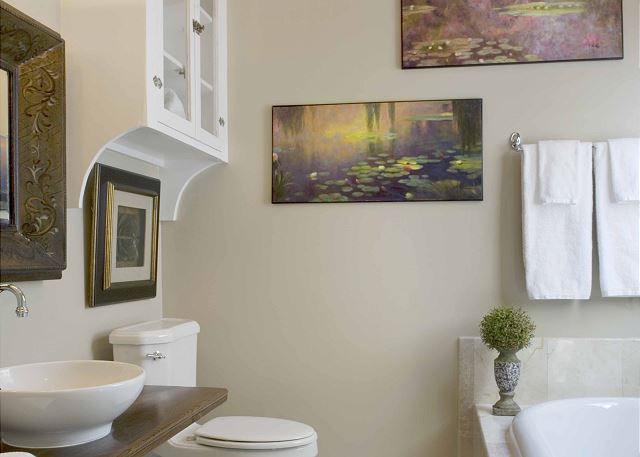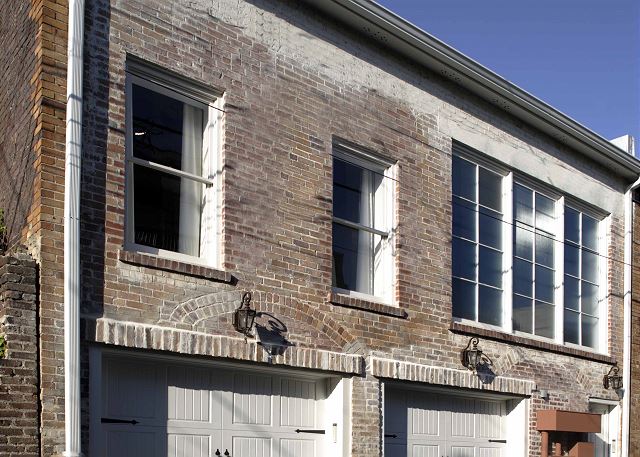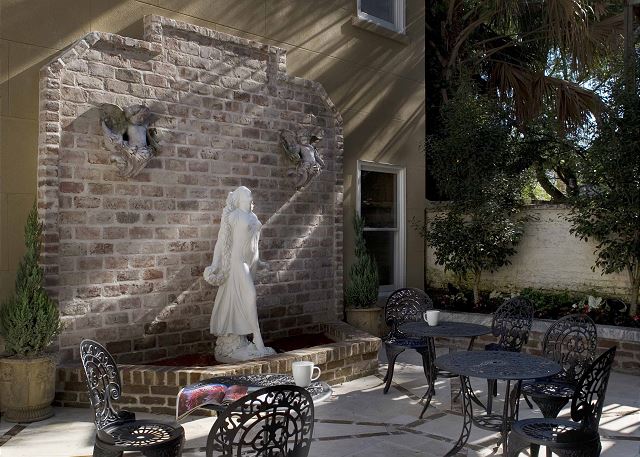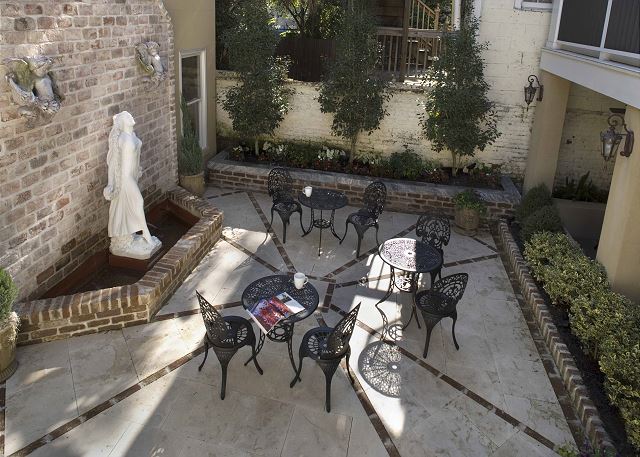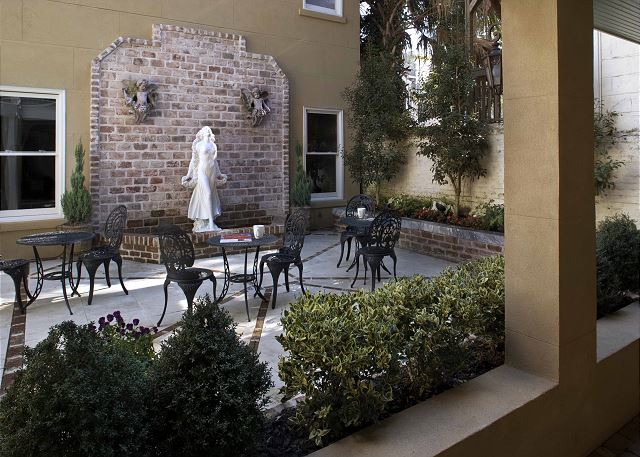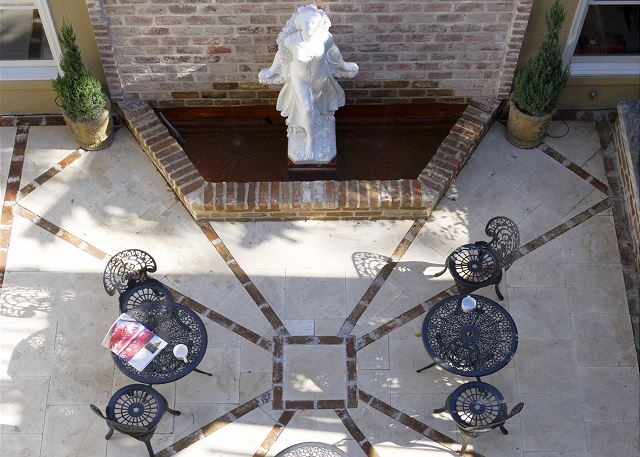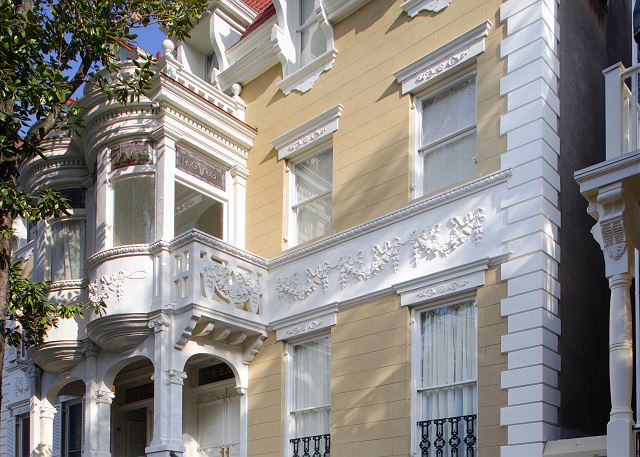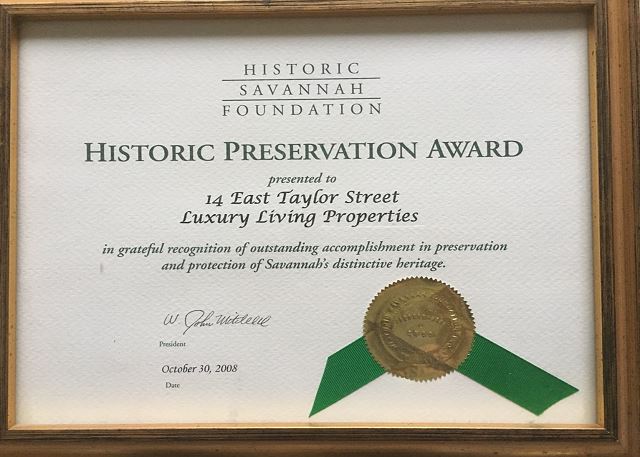 Description
A Perfect Romantic Getaway in one of the countries most magical cities!! The 1869 original Carriage House is a free standing cottage behind the main house with its own private entrance off the lane. It is located on the 2nd floor over the garage like all original carriage houses in Savannah. The carriage house is where the driver lived in the 1800s above the horses and carriages he cared for. The Wedding Cake Carriage House comes with a highly coveted garage parking space.



The unusual design is evocative of a "Manhattan loft" set in a historic 1869 carriage house. This surprise blending of original 1920 - 1940 art deco furnishings and many antique elements creates a fun, casual ambiance. The open and airy open concept living space showcases an entire wall of frosted artist windows, thus flooding the house with natural light. The bedroom with king bed and TV is adjacent to the alluring bathroom with luxurious features such as 6 foot air tub and separate marble shower. The designer red kitchen provides everything you need to whip up a Southern style feast or just grab toast and coffee on the way out your door to take in the cities historical sights that you are just steps out your door!



Enjoy relaxing in the serene courtyard to the sounds of the fountain after a long day of sightseeing.



Free WiFi

All linens and towels provided
Calendar
September 2021

| S | M | T | W | T | F | S |
| --- | --- | --- | --- | --- | --- | --- |
| | | | 01 | 02 | 03 | 04 |
| 05 | 06 | 07 | 08 | 09 | 10 | 11 |
| 12 | 13 | 14 | 15 | 16 | 17 | 18 |
| 19 | 20 | 21 | 22 | 23 | 24 | 25 |
| 26 | 27 | 28 | 29 | 30 | | |
October 2021

| S | M | T | W | T | F | S |
| --- | --- | --- | --- | --- | --- | --- |
| | | | | | 01 | 02 |
| 03 | 04 | 05 | 06 | 07 | 08 | 09 |
| 10 | 11 | 12 | 13 | 14 | 15 | 16 |
| 17 | 18 | 19 | 20 | 21 | 22 | 23 |
| 24 | 25 | 26 | 27 | 28 | 29 | 30 |
| 31 | | | | | | |
November 2021

| S | M | T | W | T | F | S |
| --- | --- | --- | --- | --- | --- | --- |
| | 01 | 02 | 03 | 04 | 05 | 06 |
| 07 | 08 | 09 | 10 | 11 | 12 | 13 |
| 14 | 15 | 16 | 17 | 18 | 19 | 20 |
| 21 | 22 | 23 | 24 | 25 | 26 | 27 |
| 28 | 29 | 30 | | | | |
December 2021

| S | M | T | W | T | F | S |
| --- | --- | --- | --- | --- | --- | --- |
| | | | 01 | 02 | 03 | 04 |
| 05 | 06 | 07 | 08 | 09 | 10 | 11 |
| 12 | 13 | 14 | 15 | 16 | 17 | 18 |
| 19 | 20 | 21 | 22 | 23 | 24 | 25 |
| 26 | 27 | 28 | 29 | 30 | 31 | |
January 2022

| S | M | T | W | T | F | S |
| --- | --- | --- | --- | --- | --- | --- |
| | | | | | | 01 |
| 02 | 03 | 04 | 05 | 06 | 07 | 08 |
| 09 | 10 | 11 | 12 | 13 | 14 | 15 |
| 16 | 17 | 18 | 19 | 20 | 21 | 22 |
| 23 | 24 | 25 | 26 | 27 | 28 | 29 |
| 30 | 31 | | | | | |
February 2022

| S | M | T | W | T | F | S |
| --- | --- | --- | --- | --- | --- | --- |
| | | 01 | 02 | 03 | 04 | 05 |
| 06 | 07 | 08 | 09 | 10 | 11 | 12 |
| 13 | 14 | 15 | 16 | 17 | 18 | 19 |
| 20 | 21 | 22 | 23 | 24 | 25 | 26 |
| 27 | 28 | | | | | |
March 2022

| S | M | T | W | T | F | S |
| --- | --- | --- | --- | --- | --- | --- |
| | | 01 | 02 | 03 | 04 | 05 |
| 06 | 07 | 08 | 09 | 10 | 11 | 12 |
| 13 | 14 | 15 | 16 | 17 | 18 | 19 |
| 20 | 21 | 22 | 23 | 24 | 25 | 26 |
| 27 | 28 | 29 | 30 | 31 | | |
April 2022

| S | M | T | W | T | F | S |
| --- | --- | --- | --- | --- | --- | --- |
| | | | | | 01 | 02 |
| 03 | 04 | 05 | 06 | 07 | 08 | 09 |
| 10 | 11 | 12 | 13 | 14 | 15 | 16 |
| 17 | 18 | 19 | 20 | 21 | 22 | 23 |
| 24 | 25 | 26 | 27 | 28 | 29 | 30 |
May 2022

| S | M | T | W | T | F | S |
| --- | --- | --- | --- | --- | --- | --- |
| 01 | 02 | 03 | 04 | 05 | 06 | 07 |
| 08 | 09 | 10 | 11 | 12 | 13 | 14 |
| 15 | 16 | 17 | 18 | 19 | 20 | 21 |
| 22 | 23 | 24 | 25 | 26 | 27 | 28 |
| 29 | 30 | 31 | | | | |
June 2022

| S | M | T | W | T | F | S |
| --- | --- | --- | --- | --- | --- | --- |
| | | | 01 | 02 | 03 | 04 |
| 05 | 06 | 07 | 08 | 09 | 10 | 11 |
| 12 | 13 | 14 | 15 | 16 | 17 | 18 |
| 19 | 20 | 21 | 22 | 23 | 24 | 25 |
| 26 | 27 | 28 | 29 | 30 | | |
July 2022

| S | M | T | W | T | F | S |
| --- | --- | --- | --- | --- | --- | --- |
| | | | | | 01 | 02 |
| 03 | 04 | 05 | 06 | 07 | 08 | 09 |
| 10 | 11 | 12 | 13 | 14 | 15 | 16 |
| 17 | 18 | 19 | 20 | 21 | 22 | 23 |
| 24 | 25 | 26 | 27 | 28 | 29 | 30 |
| 31 | | | | | | |
August 2022

| S | M | T | W | T | F | S |
| --- | --- | --- | --- | --- | --- | --- |
| | 01 | 02 | 03 | 04 | 05 | 06 |
| 07 | 08 | 09 | 10 | 11 | 12 | 13 |
| 14 | 15 | 16 | 17 | 18 | 19 | 20 |
| 21 | 22 | 23 | 24 | 25 | 26 | 27 |
| 28 | 29 | 30 | 31 | | | |
Available
Unavailable
Check-In Only
Check-Out Only
Seasonal Rates
| Date Range | Daily | Weekly | Monthly |
| --- | --- | --- | --- |
| 03/19/2021 - 11/23/2021 | $220.00 | $1,540.00 | N/A |
| 11/24/2021 - 11/27/2021 | $220.00 | N/A | N/A |
| 11/28/2021 - 12/22/2021 | $220.00 | $1,540.00 | N/A |
| 12/23/2021 - 01/01/2022 | $220.00 | $1,200.00 | N/A |
| 01/02/2022 - 03/15/2022 | $220.00 | $1,540.00 | N/A |
| 03/16/2022 - 03/20/2022 | $270.00 | N/A | N/A |
| 03/21/2022 - 11/23/2022 | $220.00 | $1,540.00 | N/A |
* Seasonal rates are only estimates and do not reflect taxes or additional fees.
Location
Guest Reviews of
Wedding Cake Carriage House
Savannah, GA
---
Vacation Rental Reviews by
stars based on
Lovely Savannah getaway
Review by
Donna T.
The Carriage House is located in a perfect spot among the squares and is beautiful, yet comfortable. Garage parking is a plus!
5 out of 5 stars
Fantastic Carriage House
Review by
John and Linda H.
This rental is pure luxury. All the furnishings are first class. The gourmet kitchen is gorgeous. Lovely dining table. Comfortable seating in the living area with the huge windows. The bedroom was straight out of a designer magazine. Gorgeous window treatments on the two huge windows. The bathroom was spectacular with the huge jetted tub and beautiful big shower. The farm table with the bowl sink was a beautiful addition. It was great having a garage to park in. Plenty big for a Toyota Highlander. Very nice to have a washer and dryer also. The location is perfect. Close enough for a 15 minute walk to River Street and nice to be out of the madness of that. 5 minute walk to Forsyth Park. And just in the alley behind Jones Street(the prettiest street in America). The staff at Luxury Living rentals was exceptional. Always responded to any questions in a matter of minutes. We appreciate all the attention to detail. Thank you for a wonderful 4 nights.
5 out of 5 stars
Wonderful location
Review by
Lori P.
We enjoyed our stay in the Carriage House - it was a great location. We walked everywhere except Bonaventure cemetery which was @4 miles away. Safe neighborhood. Large park nearby for jogging. Apartment was as photos in listing, very nice. Well stocked. Would stay again.
5 out of 5 stars
Great Location & Amenities
Review by
Darlena W.
This was our second stay at Carriage House and its as comfortable as a home away from home. Located very conveniently, but just off the beaten path enough to not be on a super busy road. There's the most amazing air bathtub that I have ever used as well as a separate shower. There are TVs with cable in the living area and the bedroom and decent wifi, too. There's also a washer/dryer so you don't have to go home with a suitcase of dirty clothes! Garage parking is provided, I'd recommend a smaller car or SUV.
5 out of 5 stars
convenient and comfortable - parking space A+
Review by
Nina G.
We had a great stay and enjoyed the convenience of the location to walk around to everything! The parking space was an extra bonus to not have to deal with!!
5 out of 5 stars
Such a great stay!
Review by
Alexa C.
We stayed in the Carriage House prior to staying in the main Wedding Cake Mansion for our wedding. The Carriage House was the PERFECT place for my fiance' to stay for a few days. It is in the heart of the historic district, has TONS of natural light, and an absolutely stunning bathroom. We loved staying here and would definitely stay here again for a long weekend.
5 out of 5 stars
Trip to Savannah
Review by
Arthur B.
Everything was great-from the check-in to the departure. Everything was spotless in the carriage house and we were totally satisfied with everything. The fact that we had inside parking was a huge bonus. Will definitely be returning in the future.
5 out of 5 stars
Carriage House with garage
Review by
Great rental in convenient location to shops, restaurants, museums and more. We were able to walk most everywhere! Rental met all our needs and management was very helpful when tv in living room was not working. Having a garage to park your car was a great benefit as finding parking in Savannah can be challenging.
5 out of 5 stars
Beautiful, comfortable and great location!!
Review by
Very clean, comfortable bed, can walk to any place in the old historic area. Great breakfast, brunch 2 blocks away. The garage is a real plus, we didn't need to worry about parking. Large shower, tub.
5 out of 5 stars
Perfect Getaway
Review by
Jason M.
This carriage house was perfect for our after Christmas getaway. It was clean and had everything we needed. The location was better than I expected and we were able to walk just about every where we went. We took an Uber or the trolley to the all the other places. The garage was an added bonus. We fell in love with Savannah and will definitely be back.
5 out of 5 stars
Beautiful Stay!
Review by
Cara C.
The Carriage house was spectacular. Beautiful light, wonderful fixtures, and an incredibly comfortable, while being luxurious. Would absolutely recommend to anyone! The garage spot was a huge perk for being downtown with a car. Great bathtub!
5 out of 5 stars
Great Home and Location
Review by
Mitchell J.
A really well done property with great amenities in an ideal location. If you are looking to be close to the center of Savannah but still have some peace and quiet, I would recommend this place. It is nice that you can walk one way and be in the shops and music or you can walk the other way and be in Forsyth park.
5 out of 5 stars
Another Awesome Stay!
Review by
Thiis is the third time I've stayed here to work while in Savannah. Love the condo, parking space, and the excellent location!
5 out of 5 stars
Great place to Stay in Savannah!
Review by
Easy check-in, super clean and nice furniture. Great central location that made exploring Savannah a blast!
5 out of 5 stars
Wedding Cake Carriage House
Review by
William P.
My wife and I enjoyed staying here. The home was spotless and we had everything we needed. Even a mornings worth of coffee to get us going!
5 out of 5 stars
Our Savannah Getaway
Review by
Cynthia M.
Great location, garage parking helpful! Decorated nicely, bright living room area 24/7, be prepared if sleeping on sleep sofa. Relaxing bathtub!! Great for couples and romantic getaways!!
5 out of 5 stars
Location! Location! Location!
Review by
We loved staying at the Wedding Cake Carriage House. The garage was perfect. We were able to explore other parts of Georgia and South Carolina, knowing we would be able to park our car safely when we returned to Savannah. We were close to a grocery store and Forsyth Park. The whole area around us was beautiful for walking. The interior of the carriage house was tastefully decorated and it was nice to have so much room for a vacation for two. I would definitely stay here again. I think it is a much better choice over a bed and breakfast or hotel.
5 out of 5 stars
Savannah Get Away
Review by
Great location and loved that garage parking was provided. It had everything that we needed to prepare a meal, it was clean and furnished nicely. Spent some quiet time in the courtyard. It was a short walk to local restaurants and bars or easy Uber. Try the bike taxis, that was fun and you get some history as you go. After your outing, try out the Tub!! We really enjoyed our stay and will stay here again.
5 out of 5 stars
Cozy comfort in beautiful city
Review by
Dow J.
Stayed at the Wedding Cake Carriage House for the Best **** Race 1/2 Marathon and this was the Best **** Rental. Perfect location and very clean. We really enjoyed our stay and when we make it back to Savannah we will definitely try and rent here.
5 out of 5 stars
Great place to stay!
Review by
Jay S.
Great place to stay. Very clean space and the parking spot in garage was a bonus. Property was in central location in downtown area. Getting around town was easy from this location.
5 out of 5 stars
Adorable space, decent location
Review by
Rowan G.
The space is great, huge window for light and high ceilings. We didn't try out the jacuzzi tub but it looked amazing. It is located close to the historic squares but it was a bit of a walk to the shops and river. In the georgia heat if felt pretty darn far from things.
4 out of 5 stars
Beautiful, clean and perfect location to old town Savannah
Review by
We thoroughly enjoyed to history and beauty of Savannah. It was enhanced by the beautiful carriage house we stayed at. We loved the ability to park our car in the garage and enjoyed the comfortable and well decorated home.
5 out of 5 stars
Lovely stay!!
Review by
Jackie S.
Wonderful!! Great location
5 out of 5 stars
Lovely Digs!
Review by
Valerie B.
We loved staying in this sweet place. The shower and the strong AC were both favorites of mine. Also, excellent location!
5 out of 5 stars
Wedding Cake carriage house apartment
Review by
Beautiful apartment fully equipped with all you need. We loved staying here but do wish we were able to put apartment temperature lower than 70 degrees for nighttime sleeping (climate controled).
5 out of 5 stars
Great place for visiting Savannah!
Review by
Suzanne C.
Place was found to be just as described! Very well kept and clean. We thoroughly enjoyed our stay and found it to be in a very central and quiet location. Loved having the garage to park in and not having to worry about paying for parking! We walked everywhere! Would definitely recommend!
5 out of 5 stars
WCCH for Armstrong graduation
Review by
Beverly E.
We found the property in as good or better condition than depicted in the photos. It was very clean, great location for walking to almost anywhere. Having the garage for parking was so nice to not have to worry about moving the car for the street sweepers and safer. We have been coming to Savannah for consistently over the past seven years and have stayed in multiple rentals and I believe this was one of the best/complete package overall for the price. A couple of observations/suggestions: 1. Potential additional items in the kitchen additional pitcher, blender, cutting board. 2. Also, we loved the natural light in the living area most of the time, but for anyone trying to sleep on the pull-out couch, daylight came pretty early and there was no way to cover the windows. I would like to have had some pull-back black out curtains similar to those in the bedroom.
5 out of 5 stars
anniversary trip
Review by
Ann P.
Inside of the property was nice. Great to have a parking spot. You enter this property from the alley. You do not have a view of anything since the frosted window is the alley. If you have someone who is sleeping on the pull out couch, it's bright from the street light. The bedroom was very comfortable. Nice bathroom. Cute courtyard which you enter from going through the garage. Nice location. Overall, nice place. I would recommend a step stool since dishes and cups are super high in the cabinets. Also sofa could use an ottoman or something to make it more comfy. Enjoyed our stay.
4 out of 5 stars
Great stay
Review by
A perfect location. We walked everywhere. Shops, eating, parks, historic homes, all very close. It is decorated in a very charming way and clean
4 out of 5 stars
A little heaven in Savannah
Review by
Garry S.
Great location with very nice furnishings and kitchen equipment. Everything was available
5 out of 5 stars
Great stay at a great rental!
Review by
Lyn M.
Our first real visit to Savannah. We knew very little about ins and outs of the city. This Carriage House is in a great location for walking access to all the great Savannah attractions, restaurants, etc. Beautifully updated and maintained, we loved the rental!Great amenities, and did I mention the location is convenient! 🙂
5 out of 5 stars
Mini Moon home 🙂
Review by
Sasha R.
This was mine and my husband's first experience with air bnb & it was a great first experience! The home was beautiful and within walking distance to everything!! The home was very spacious and we loved that there was a garage too. You can't beat the price either! We will definitely be back and continue recommending others to Luxury Living Savannah.
5 out of 5 stars
Savannah Comfort
Review by
We had a wonderful stay at the wedding cake carriage house during our recent stay in Savannah. The location was perfect, within walking distance to the downtown area and Forsyth Park. The carriage house was very clean, bed was extremely comfortable and located on a quiet street. Having the private, garage parking space was a huge plus. We will definitely book here again on our next visit.
5 out of 5 stars
Enjoyable
Review by
Eljonida K.
The place was perfect for us Access to everything Very satisfied
5 out of 5 stars
Savannah Visit
Review by
Monica J.
Loved this property. Everything was exactly as described. Great location, Clean and roomy. Highly recommend!
5 out of 5 stars
Contact Us