Wedding Cake Garden (Apartment)
2 Bedroom(s) | 2 Bathroom(s) | Sleeps 6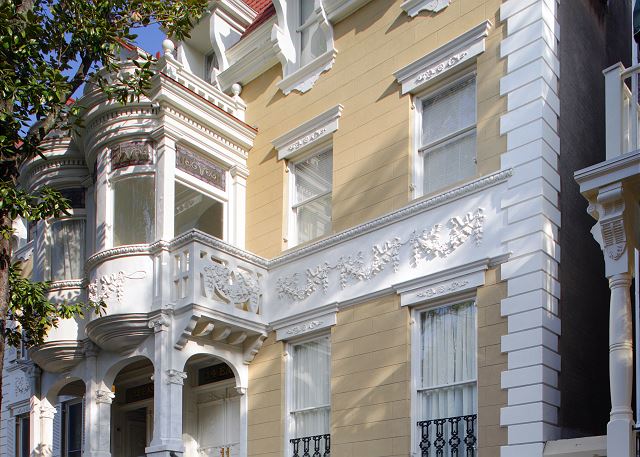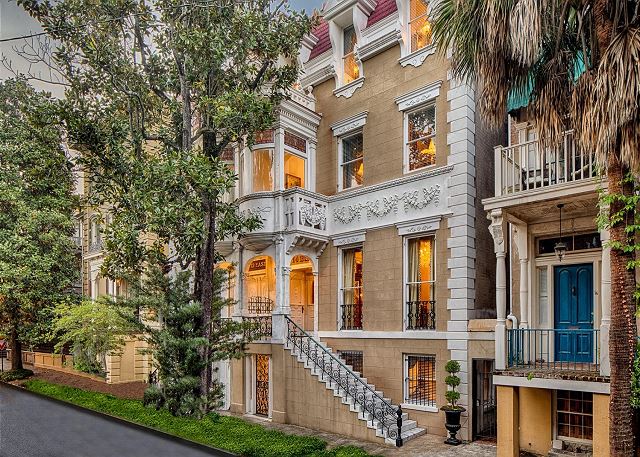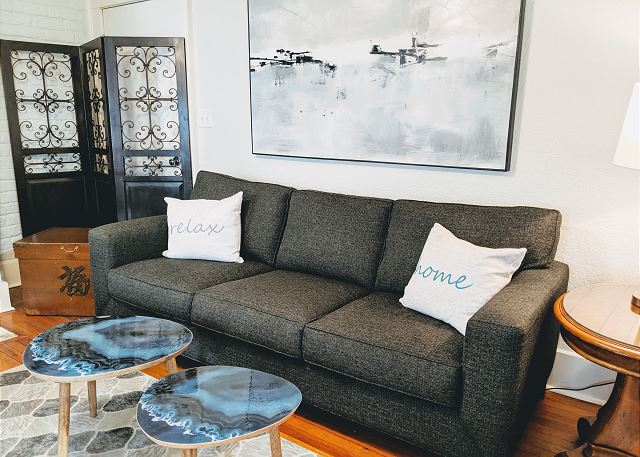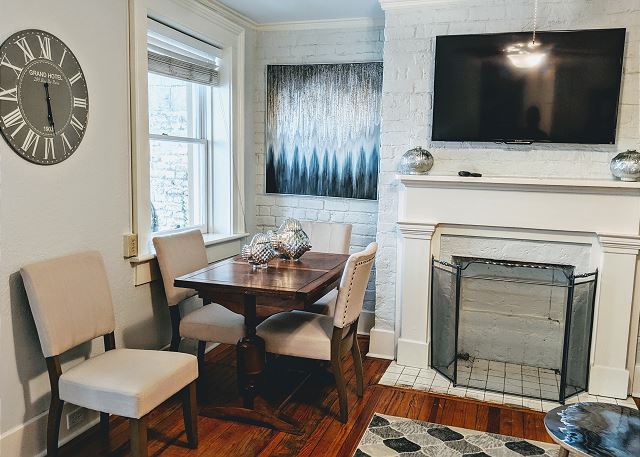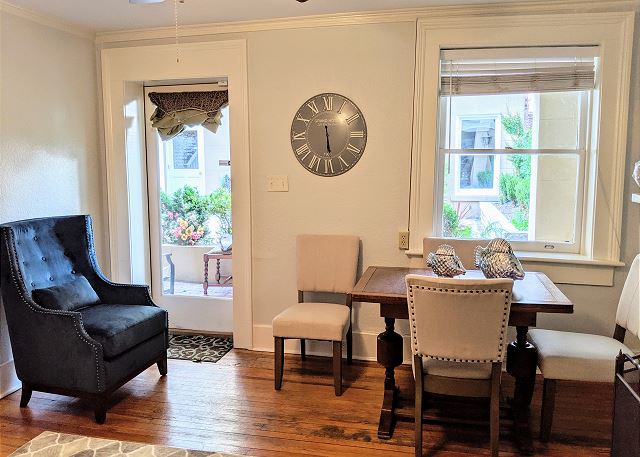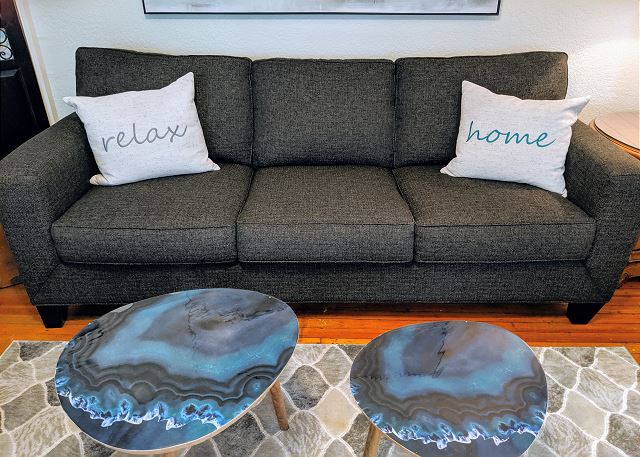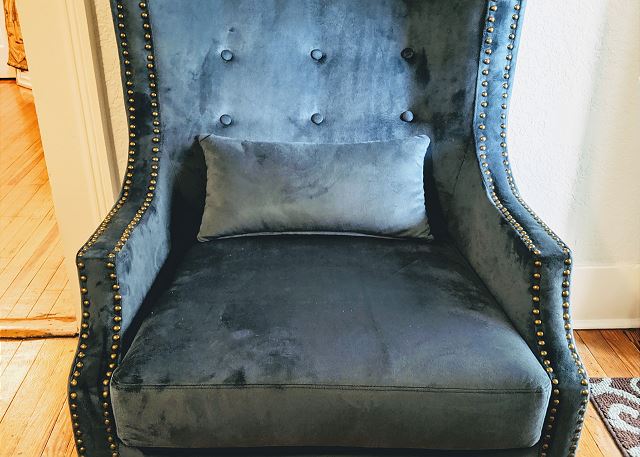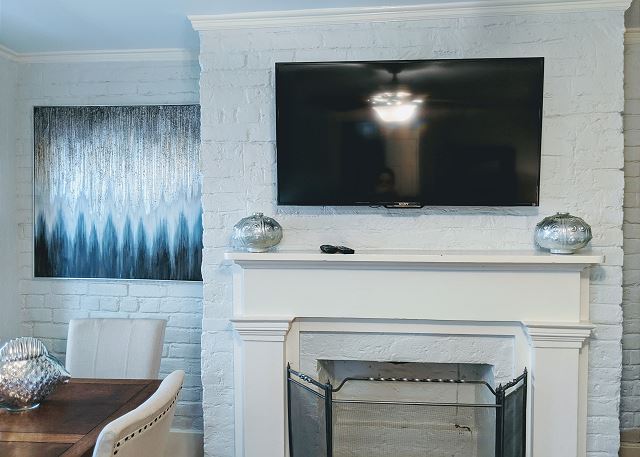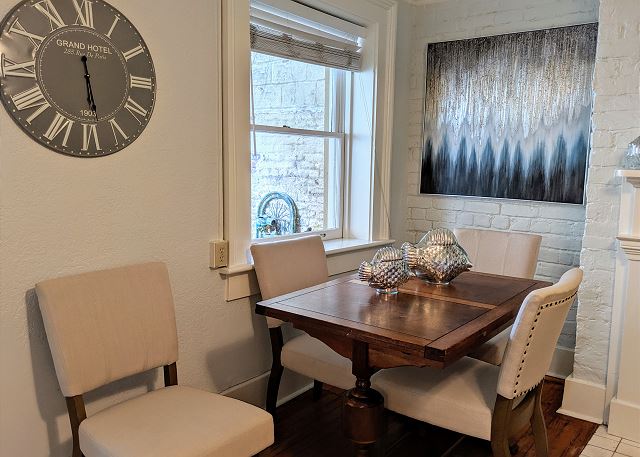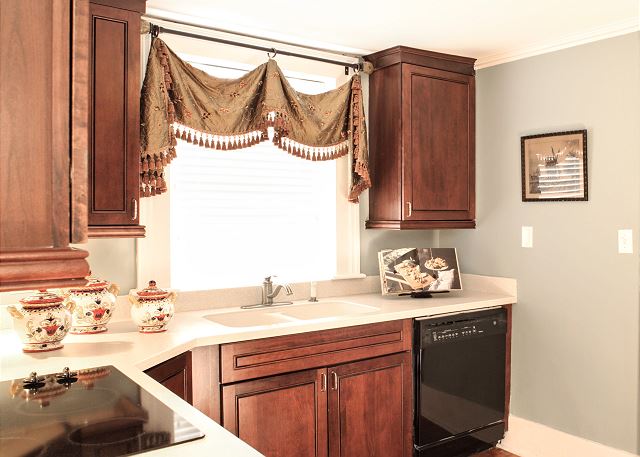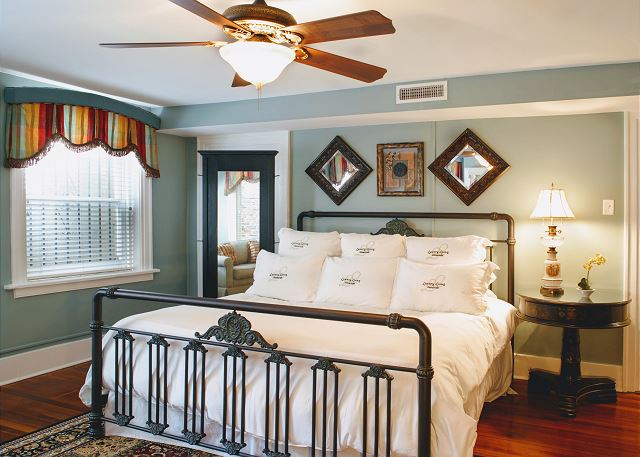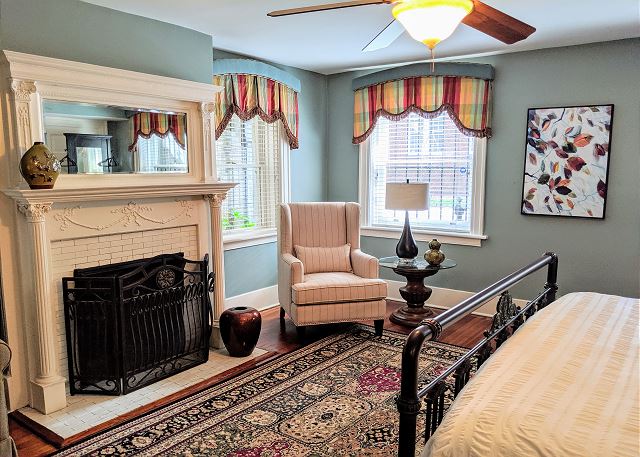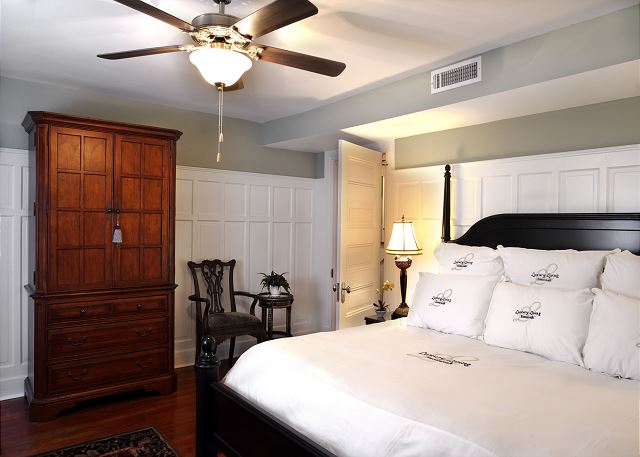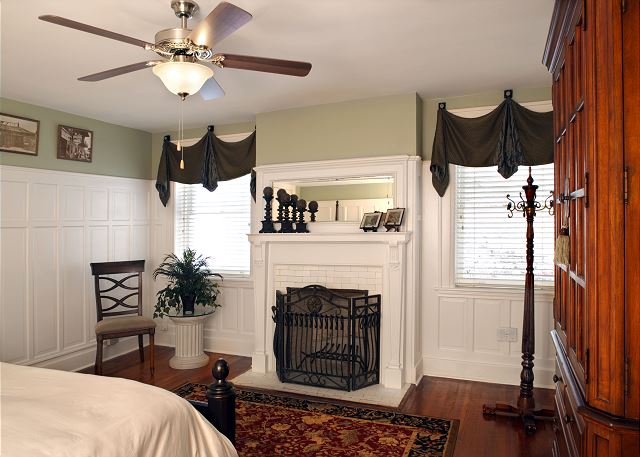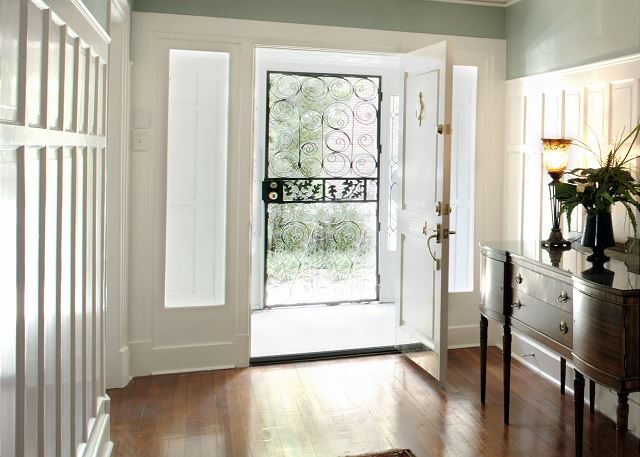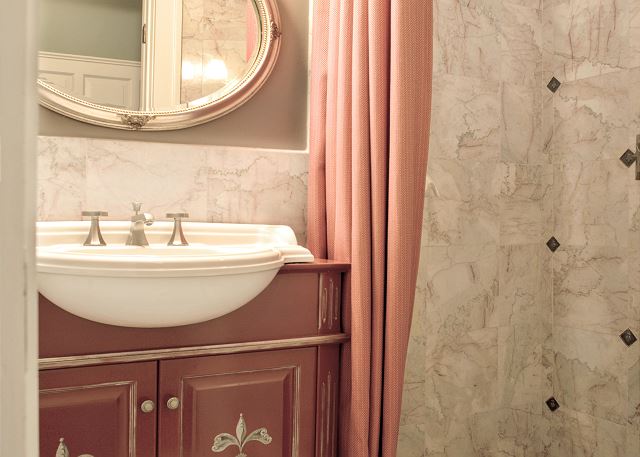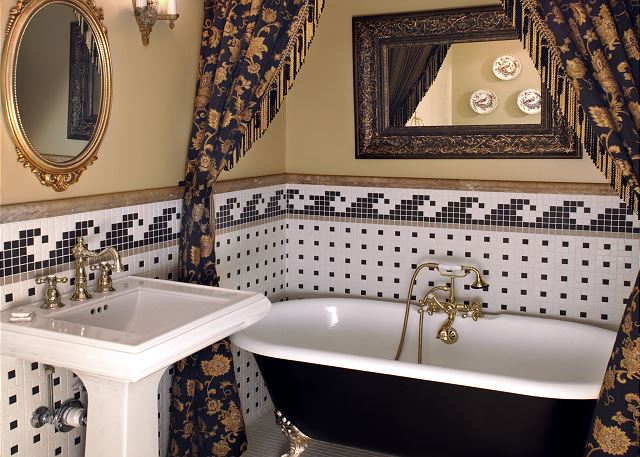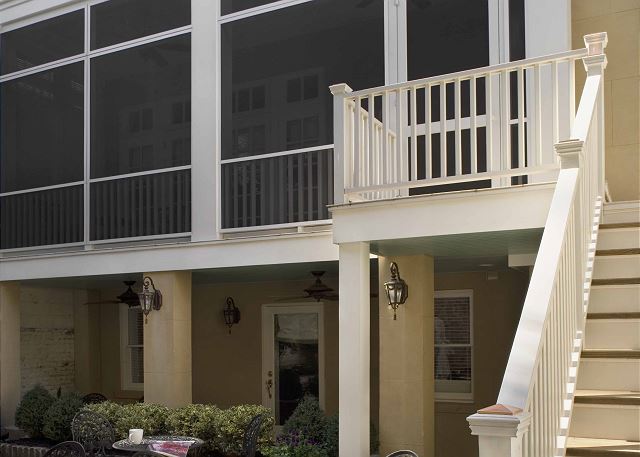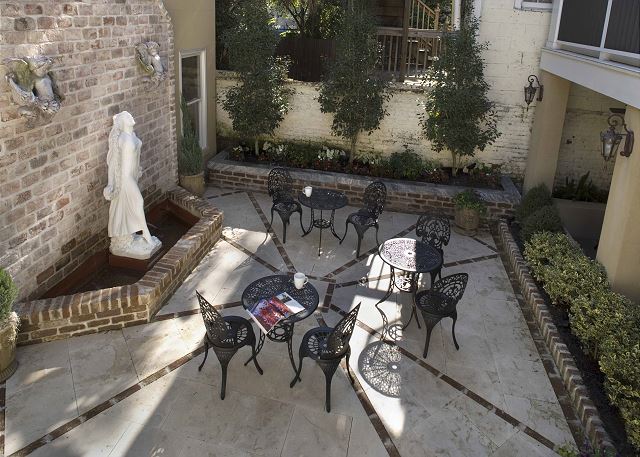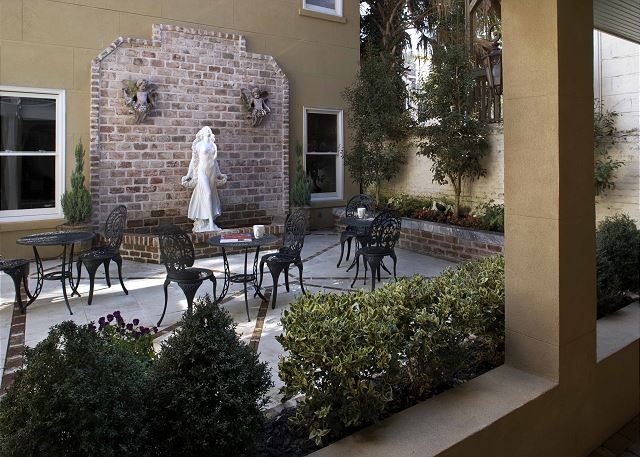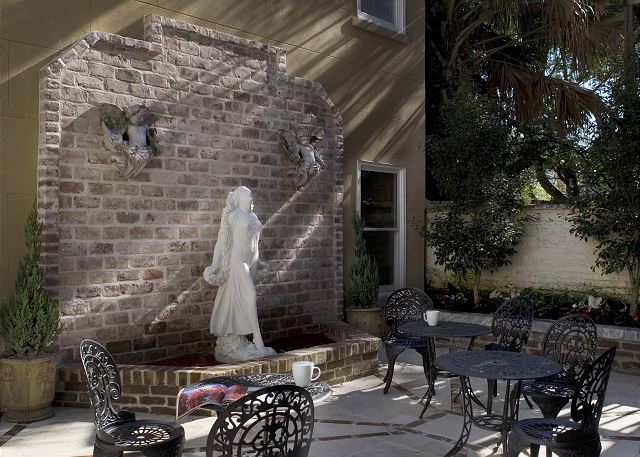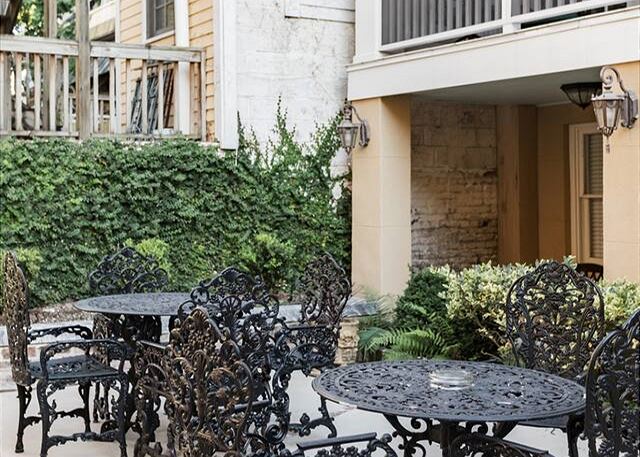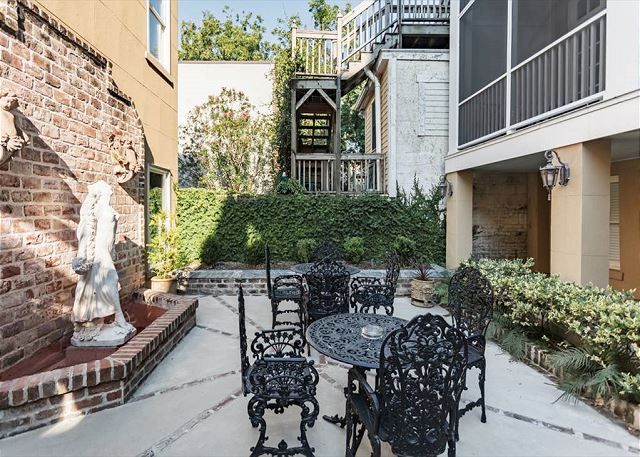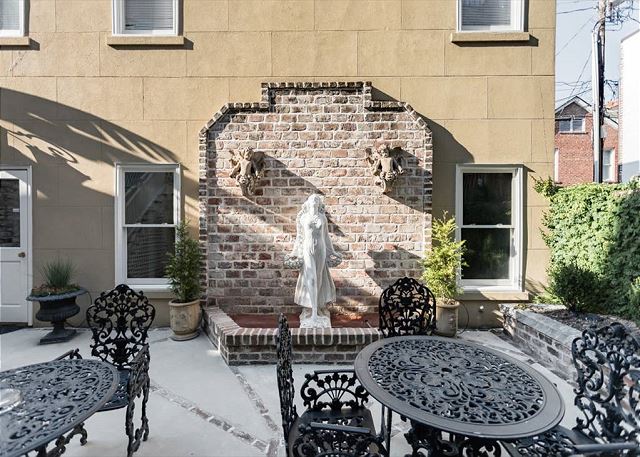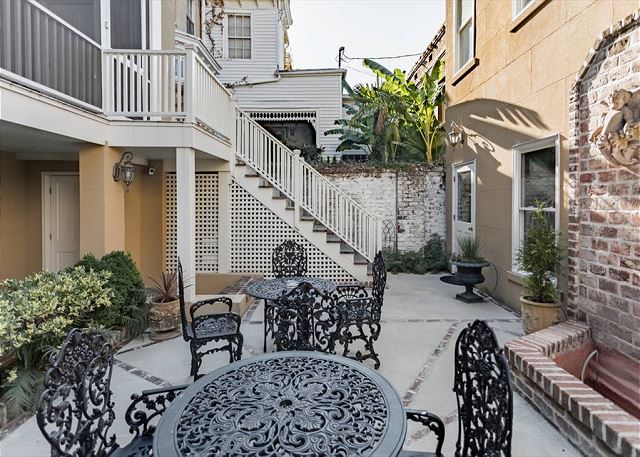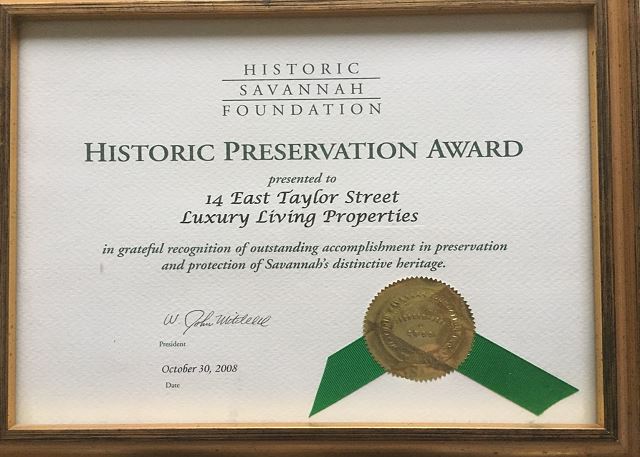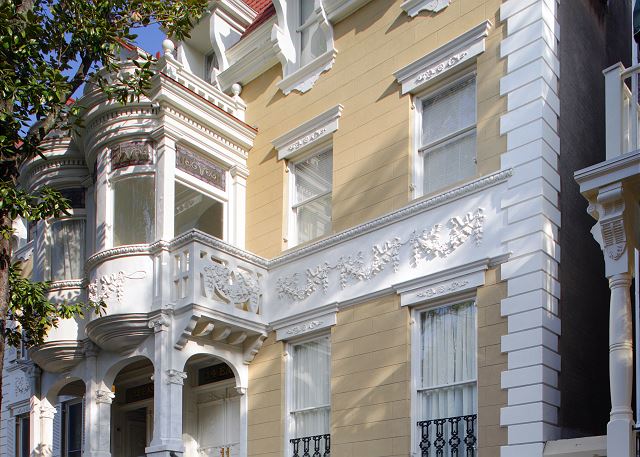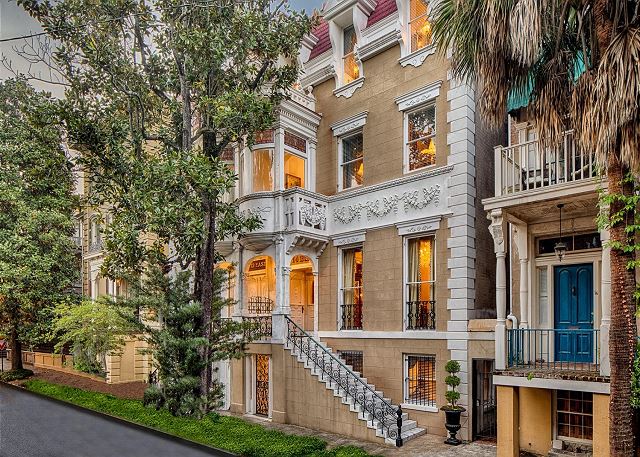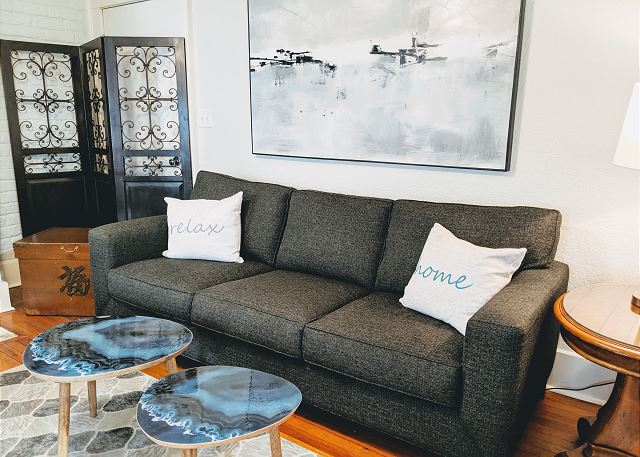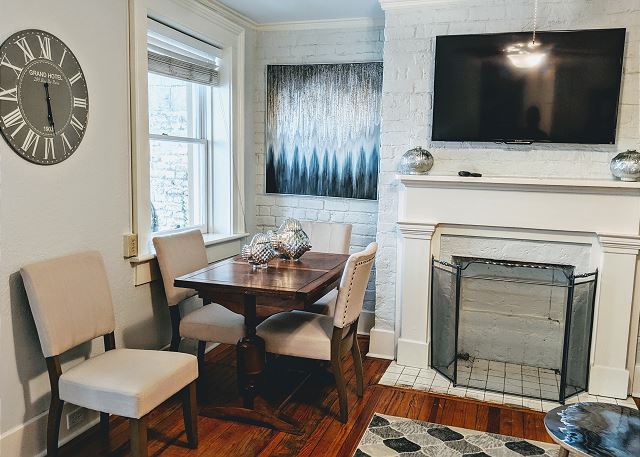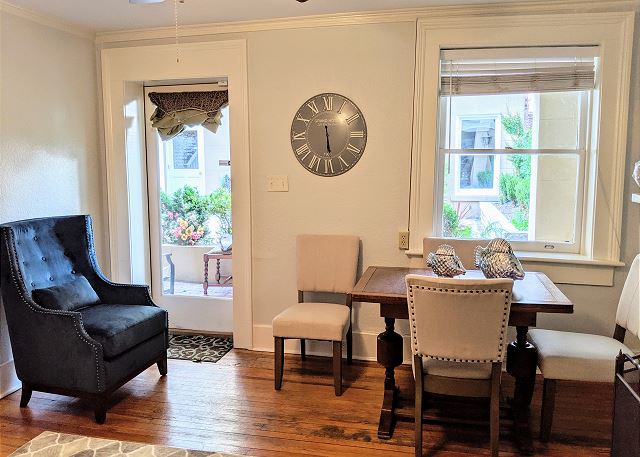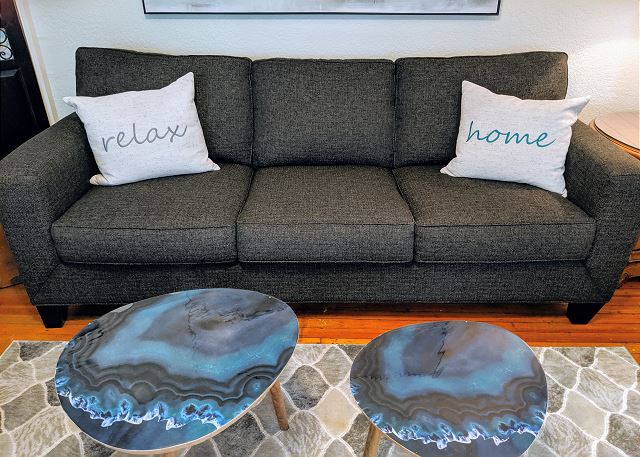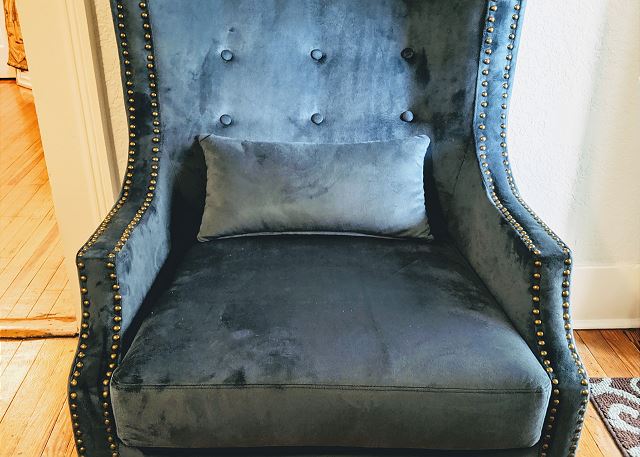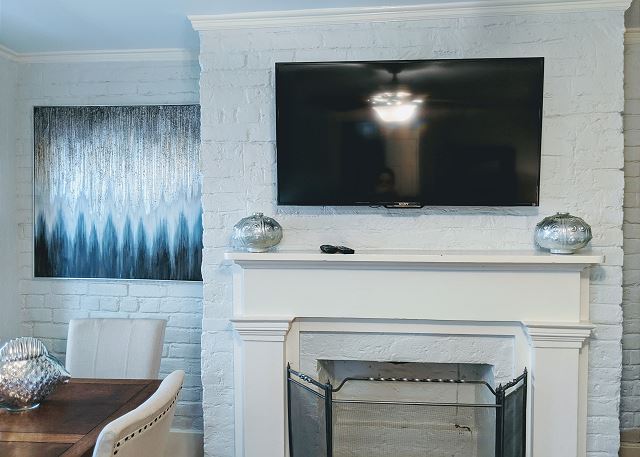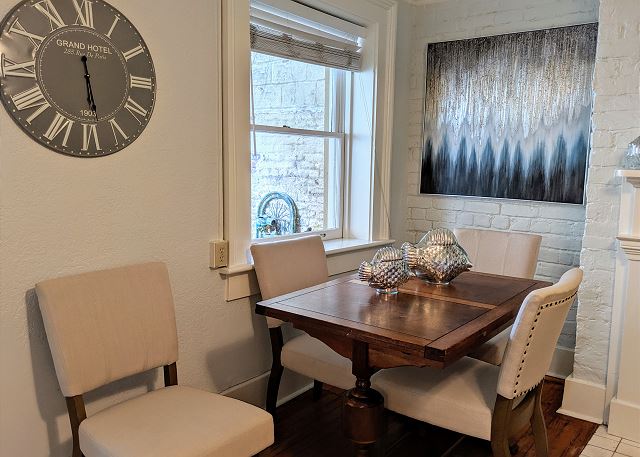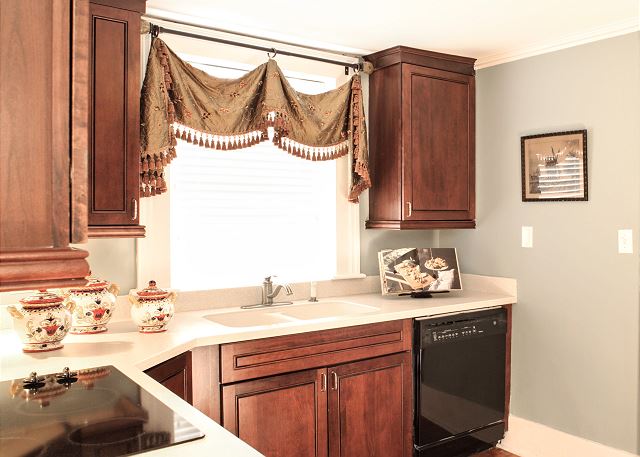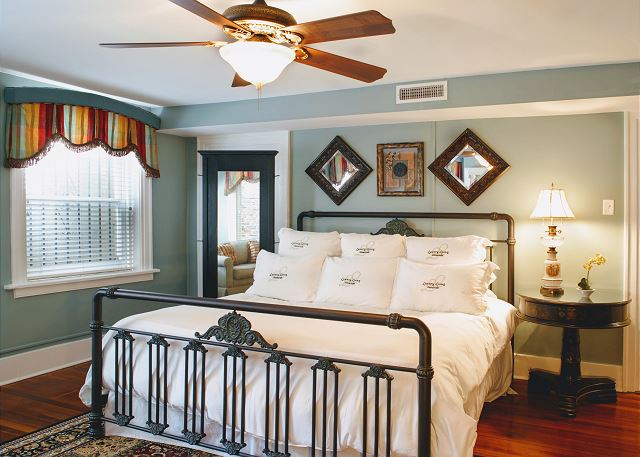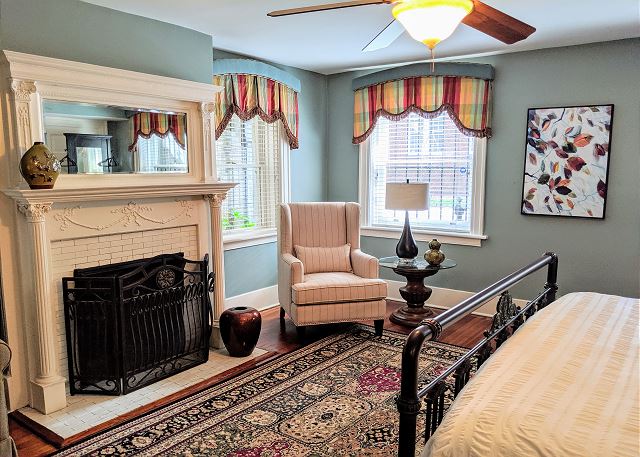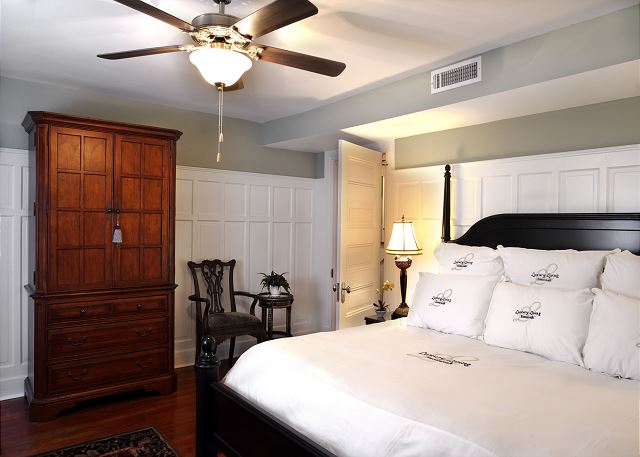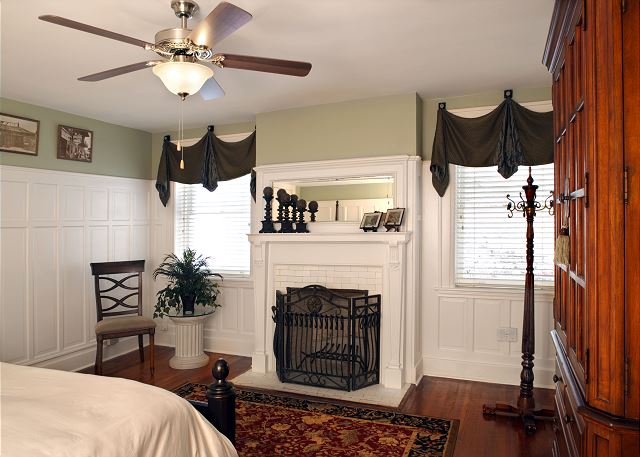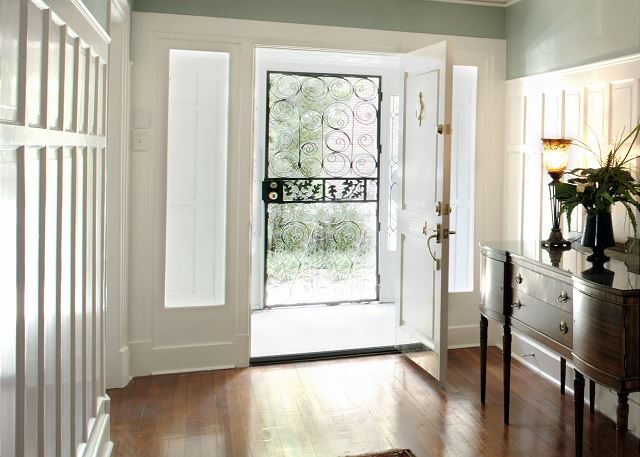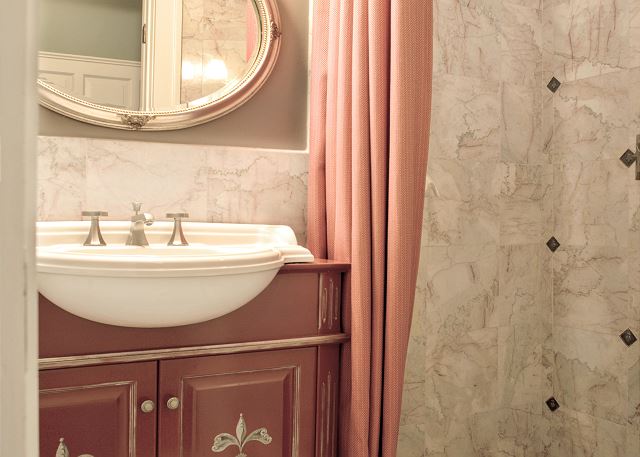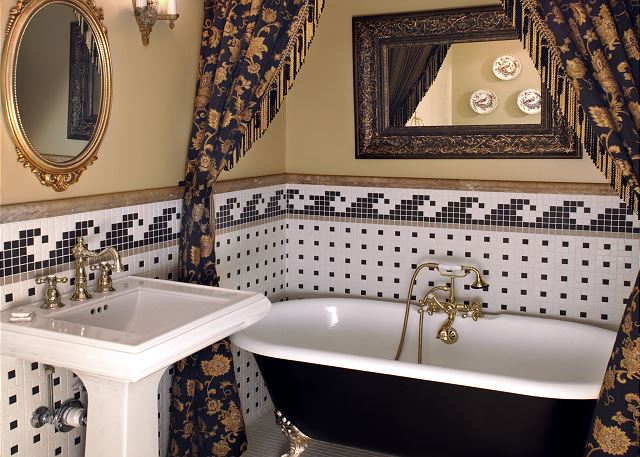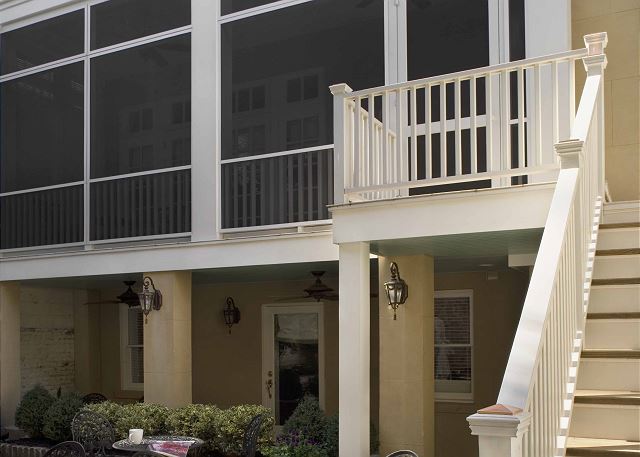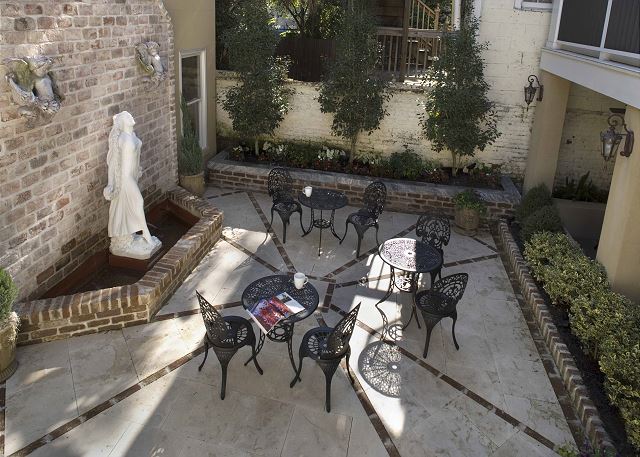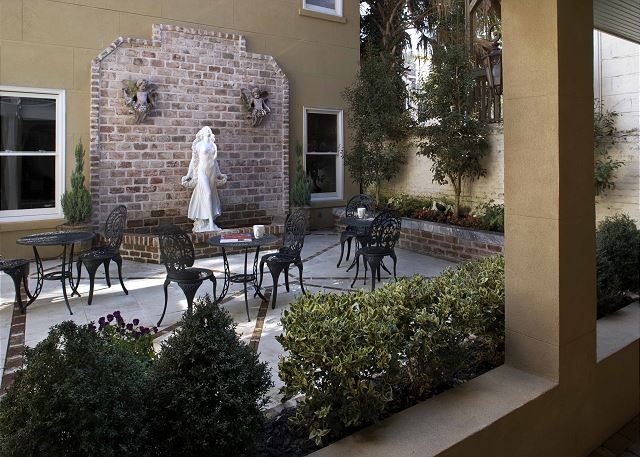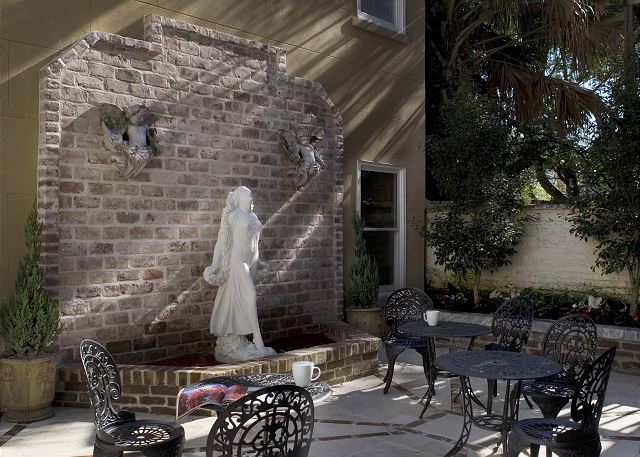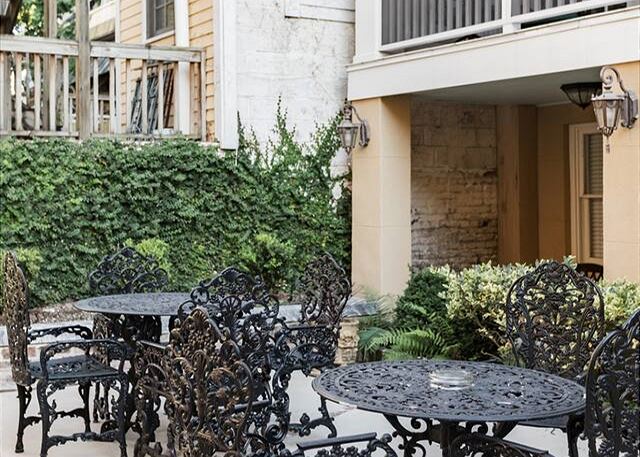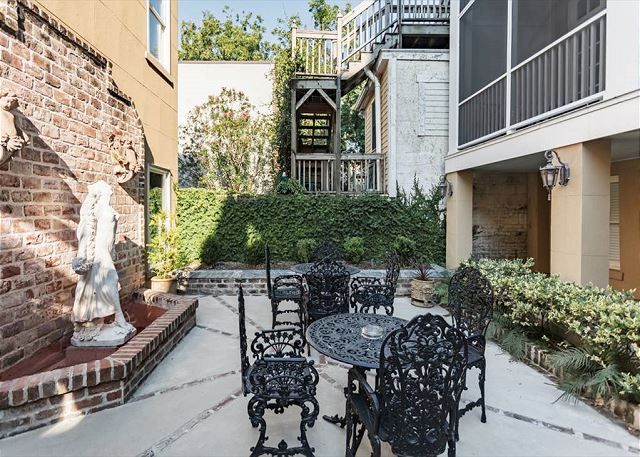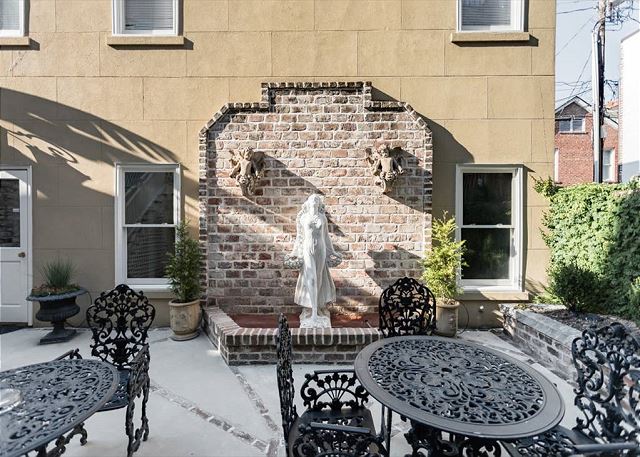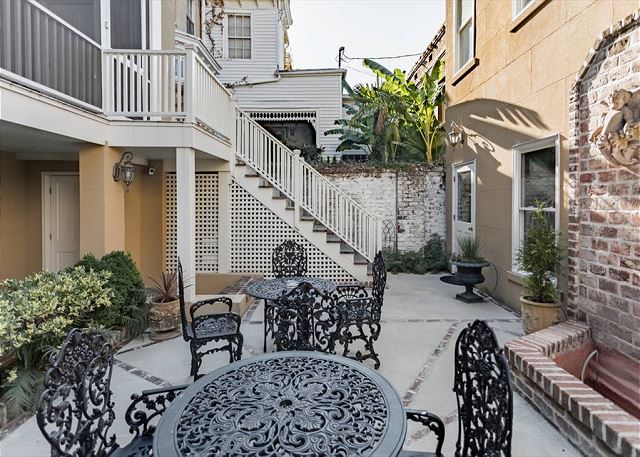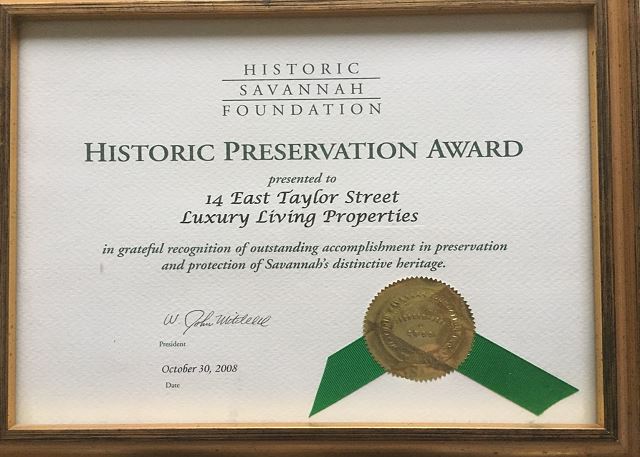 Description
An unforgettable Savannah vacation can be spent in the garden apartment of one of the city's most photographed and famous homes – the Wedding Cake Mansion! The location on famous Monterrey Square is stellar! Walk to everything Savannah has to offer.



This sophisticated suite is at street level (no stairs). It occupies the entire first floor of the Mansion. The 2 bedroom, 2 bath apartment exudes historic elegance in furnishings and original architectural details. There are two over-sized bedrooms each with king-sized beds and two lovely hall bathrooms. One with a walk in shower

and the 2nd with an Antique claw foot tub and European hand shower. Step out of the living area to enjoy your patio and the Mansion's courtyard with its stunning imported Italian Statue, Flora (the goddess of flowers).



The living/dining area has a Smart TV and an additional sleeping option of a Full size sleeper sofa. The Fully outfitted kitchen is close for easy flow and convenience.



Free WiFi

All linens and towels provided
Calendar
September 2021

| S | M | T | W | T | F | S |
| --- | --- | --- | --- | --- | --- | --- |
| | | | 01 | 02 | 03 | 04 |
| 05 | 06 | 07 | 08 | 09 | 10 | 11 |
| 12 | 13 | 14 | 15 | 16 | 17 | 18 |
| 19 | 20 | 21 | 22 | 23 | 24 | 25 |
| 26 | 27 | 28 | 29 | 30 | | |
October 2021

| S | M | T | W | T | F | S |
| --- | --- | --- | --- | --- | --- | --- |
| | | | | | 01 | 02 |
| 03 | 04 | 05 | 06 | 07 | 08 | 09 |
| 10 | 11 | 12 | 13 | 14 | 15 | 16 |
| 17 | 18 | 19 | 20 | 21 | 22 | 23 |
| 24 | 25 | 26 | 27 | 28 | 29 | 30 |
| 31 | | | | | | |
November 2021

| S | M | T | W | T | F | S |
| --- | --- | --- | --- | --- | --- | --- |
| | 01 | 02 | 03 | 04 | 05 | 06 |
| 07 | 08 | 09 | 10 | 11 | 12 | 13 |
| 14 | 15 | 16 | 17 | 18 | 19 | 20 |
| 21 | 22 | 23 | 24 | 25 | 26 | 27 |
| 28 | 29 | 30 | | | | |
December 2021

| S | M | T | W | T | F | S |
| --- | --- | --- | --- | --- | --- | --- |
| | | | 01 | 02 | 03 | 04 |
| 05 | 06 | 07 | 08 | 09 | 10 | 11 |
| 12 | 13 | 14 | 15 | 16 | 17 | 18 |
| 19 | 20 | 21 | 22 | 23 | 24 | 25 |
| 26 | 27 | 28 | 29 | 30 | 31 | |
January 2022

| S | M | T | W | T | F | S |
| --- | --- | --- | --- | --- | --- | --- |
| | | | | | | 01 |
| 02 | 03 | 04 | 05 | 06 | 07 | 08 |
| 09 | 10 | 11 | 12 | 13 | 14 | 15 |
| 16 | 17 | 18 | 19 | 20 | 21 | 22 |
| 23 | 24 | 25 | 26 | 27 | 28 | 29 |
| 30 | 31 | | | | | |
February 2022

| S | M | T | W | T | F | S |
| --- | --- | --- | --- | --- | --- | --- |
| | | 01 | 02 | 03 | 04 | 05 |
| 06 | 07 | 08 | 09 | 10 | 11 | 12 |
| 13 | 14 | 15 | 16 | 17 | 18 | 19 |
| 20 | 21 | 22 | 23 | 24 | 25 | 26 |
| 27 | 28 | | | | | |
March 2022

| S | M | T | W | T | F | S |
| --- | --- | --- | --- | --- | --- | --- |
| | | 01 | 02 | 03 | 04 | 05 |
| 06 | 07 | 08 | 09 | 10 | 11 | 12 |
| 13 | 14 | 15 | 16 | 17 | 18 | 19 |
| 20 | 21 | 22 | 23 | 24 | 25 | 26 |
| 27 | 28 | 29 | 30 | 31 | | |
April 2022

| S | M | T | W | T | F | S |
| --- | --- | --- | --- | --- | --- | --- |
| | | | | | 01 | 02 |
| 03 | 04 | 05 | 06 | 07 | 08 | 09 |
| 10 | 11 | 12 | 13 | 14 | 15 | 16 |
| 17 | 18 | 19 | 20 | 21 | 22 | 23 |
| 24 | 25 | 26 | 27 | 28 | 29 | 30 |
May 2022

| S | M | T | W | T | F | S |
| --- | --- | --- | --- | --- | --- | --- |
| 01 | 02 | 03 | 04 | 05 | 06 | 07 |
| 08 | 09 | 10 | 11 | 12 | 13 | 14 |
| 15 | 16 | 17 | 18 | 19 | 20 | 21 |
| 22 | 23 | 24 | 25 | 26 | 27 | 28 |
| 29 | 30 | 31 | | | | |
June 2022

| S | M | T | W | T | F | S |
| --- | --- | --- | --- | --- | --- | --- |
| | | | 01 | 02 | 03 | 04 |
| 05 | 06 | 07 | 08 | 09 | 10 | 11 |
| 12 | 13 | 14 | 15 | 16 | 17 | 18 |
| 19 | 20 | 21 | 22 | 23 | 24 | 25 |
| 26 | 27 | 28 | 29 | 30 | | |
July 2022

| S | M | T | W | T | F | S |
| --- | --- | --- | --- | --- | --- | --- |
| | | | | | 01 | 02 |
| 03 | 04 | 05 | 06 | 07 | 08 | 09 |
| 10 | 11 | 12 | 13 | 14 | 15 | 16 |
| 17 | 18 | 19 | 20 | 21 | 22 | 23 |
| 24 | 25 | 26 | 27 | 28 | 29 | 30 |
| 31 | | | | | | |
August 2022

| S | M | T | W | T | F | S |
| --- | --- | --- | --- | --- | --- | --- |
| | 01 | 02 | 03 | 04 | 05 | 06 |
| 07 | 08 | 09 | 10 | 11 | 12 | 13 |
| 14 | 15 | 16 | 17 | 18 | 19 | 20 |
| 21 | 22 | 23 | 24 | 25 | 26 | 27 |
| 28 | 29 | 30 | 31 | | | |
Available
Unavailable
Check-In Only
Check-Out Only
Seasonal Rates
| Date Range | Daily | Weekly | Monthly |
| --- | --- | --- | --- |
* Seasonal rates are only estimates and do not reflect taxes or additional fees.
Location
Guest Reviews of
Wedding Cake Garden
Savannah, GA
---
Vacation Rental Reviews by
stars based on
Awesome Savannah
Review by
This place was perfect for our quick trip to Savannah for our family of 4. Great location within walking distance to the shops and restaurants.
5 out of 5 stars
Great Location
Review by
Nedra Z.
The location was perfect! We could walk everywhere.
5 out of 5 stars
Perfection!
Review by
I am a front-line health care provider and needed a respite from the storm. This was the perfect spot. It is well appointed and absolutely lovely. It is right by beautiful Monterey Square, and an easy walk to many recommended attractions. Kitchen appliances, utensils could use some updating.
5 out of 5 stars
Fun Family Weekend
Review by
Very pleasant. The property is quite attractive and well appointed.we had everything we needed, including privacy. That had been a concern as we shared court yard space and there were guests above. However, no problem at all. I would stay there again!
5 out of 5 stars
New Englanders in Savannah
Review by
Coleen and Michael C.
it was our first visit to Savannah and we absolutely loved the historic area, the riverfront and especially Tybee Island. The food was spectacular and the location of the apartment was great. We can't wait to come back.
5 out of 5 stars
Great!
Review by
Kyle B.
Lovely place
5 out of 5 stars
Very beautiful and historic,
Review by
My only issue with this property was the lack of personal touches. My family and I have been using AIRBNB for all our vacations for the last three years. I missed having little special things. Most we have stayed in left us fresh cookies or flowers, little notes on chalkboard, bubbles or a little so.ething for the kids. Other places had movies, books, games.... there wasnt any of this. There was one packet of coffee and that's all. No other spices, tea, sugar or creamer. No napkins, paper towels, foil, ziploc bags.Not even bottles of water. These are the things we have really appreciated when traveling to a new city. To not have to go shopping at 10 or 11 at night. The place was beautiful and immaculate....... just not warm and welcoming
3 out of 5 stars
Delightful stay in a perfect location
Review by
Lisa R.
The garden suite was so lovely. It was sparkling clean, comfortable, and every detail was perfect. The property managers were so easy to work with. Delightful stay in a beautiful spot.
5 out of 5 stars
Dream location
Review by
Gail W.
Lovely restored elegance. Luxury bedding and furnishings. Beautiful courtyard. Instead of just visiting historic homes here you get to live it.
5 out of 5 stars
Geat!!Vaca
Review by
Loved it , very nice
5 out of 5 stars
Beautiful home!
Review by
Clean, as described and close to everything!
5 out of 5 stars
Great location
Review by
Wonderful location near parks, sites, dining and shopping. Convenient parking always found in front of building. Comfortable house.
4 out of 5 stars
Wedding Cake Garden Review
Review by
We shared the rental with another couple. We each had large bedrooms with king size beds that very comfortable. We enjoyed the courtyard in the morning with our coffee. Everything was provided and we were able to walk to most places. Parking was convenient and was very easy to purchase parking passes. Would stay there again.
5 out of 5 stars
Great location and very clean!
Review by
We had a wonderful weekend stay at the Wedding Cake Garden. When we arrived, the key was easy to get to and everything was very clean. It's in a nice, quiet location that's within a mile to everything! We walked everywhere. Also, if you've seen the movie "Midnight in the Garden of Good and Evil," the Mercer Williams house is visible from right outside the front door!
5 out of 5 stars
Great Location
Review by
Tempest G.
The Location of this property was wonderful. It was within walking distance of everything and right on the square. It is also one of the only units we could find with 2 king size beds and the bedroom where large. I feel it was very fairly priced also. The bathrooms are not connected to the bedrooms but are right there in the hall. Only one of the baths has a shower/the other a claw foot tub. The porch is very nice. The living room dark and small but we didn't sit inside so it was ok.
4 out of 5 stars
Historic Savannah Wedding Cake Mansion Stay
Review by
Truly a beautiful place in a great location to easily walk historic Savannah. There were 2 very large and comfortable bedrooms, 2 washrooms (external to bedrooms), kitchen, sitting room, and outdoor area (which is shared, but very quiet). We went for the Savannah Music Festival, which was spectacular with a wide array of talent and great venues. Can't go wrong on Savannah food, though Husk was particularly excellent with all locally sourced foods (read oyster lovers need to go)
5 out of 5 stars
Excellent Lodging in a Beautiful City
Review by
TERESA C.
This is a beautiful property within a 15-20 minute walk of the main shopping/restaurant area. Though it has two bathrooms (neither are ensuite), one has a tub only with a handheld shower. As there are no shower curtains, you can't stand up to use the handheld device. That said, it was wonderful to have a long soak in the tub after a day exploring the city. The property was clean and well maintained. The courtyard was just beautiful, as pictured. Though the bedrooms were large, dining/living area was a bit on the small side, but adequate for our party of 4. I would highly recommend this property and would love to stay there again.
5 out of 5 stars
Lovely Apartment
Review by
Kristina S.
It was a beautiful weekend to enjoy the courtyard. We had everything we needed for our girls weekend. We walked downtown and to local places around this apartment. Loved ordering Chinese delivery our last night and having everything we needed.
5 out of 5 stars
Great stay with only a few snafus
Review by
Philip L.
My partner and I, along with two friends, stayed at the Wedding Cake Mansion during a brief weekend getaway to Savannah. The property was as advertised and the check-in/arrival process was VERY easy and straight forward. The home was equipped with all the amenities we expected. The only nit-picky issues we had were the lack of places to hang things in the bedrooms, and the lack of seating in the living room - we found ourselves congregating in one of the bedrooms because the living room was too uncomfortable to 4 people to relax in. Additionally, during our stay, the apartment above us was rented out by a Bachelor Party. While we understand that this may not be anyone's fault directly, our ability to hear everything that happened upstairs decreased our enjoyment of the did a group from the part upstairs incessantly ringing the upstairs doorbell at 4am for 20 to 25 minutes.
4 out of 5 stars
Historic and picturesque
Review by
Perfectly located on a lovely square, handy to shopping and restaurants, though we never had trouble parking right in front. I would recommend getting a parking pass for the duration of the visit.
5 out of 5 stars
Wonderful experience
Review by
Steve P.
We stayed at the Wedding Cake property in October 2017. there were 2 couples. The property was clean and well furnished. We were advised at the visitors center not to venture out on walks at night or walk back from river street area. We felt safe and had no problems, but adhered to their advice. With free parking at meters on weekends, the street parking was busy. However, we always found a place to park that was close. I would recommend getting a parking parking pass at the visitors center. make sure you have your car license number with you. We were in the lower unit and did have some noise from the people upstairs when they came home late at night, but was not a big problem. The bedrooms each had a king size beds which was a plus. The one bathroom only had a tub, however and for some, might find it hard to get in and out of. Over-all, we would return to this property!
5 out of 5 stars
Contact Us