Whispering Pines (PA) (Duplex)
5 Bedroom(s) | 4.5 Bathroom(s) | Sleeps 10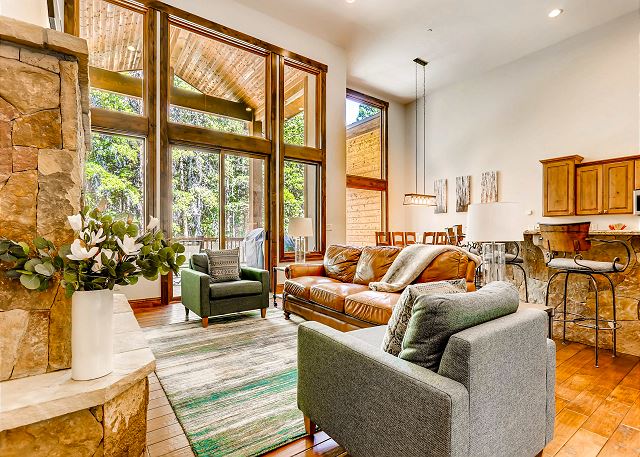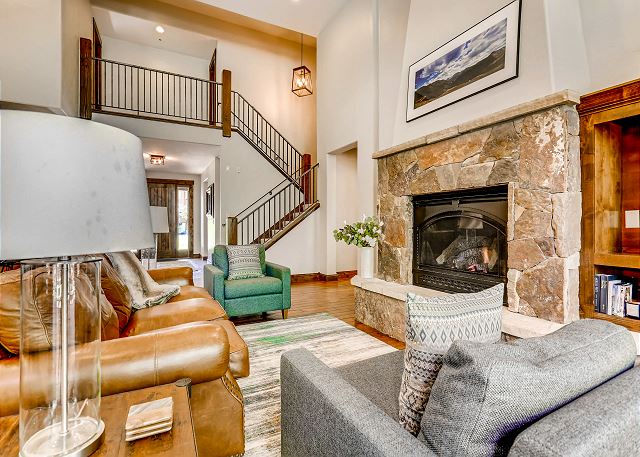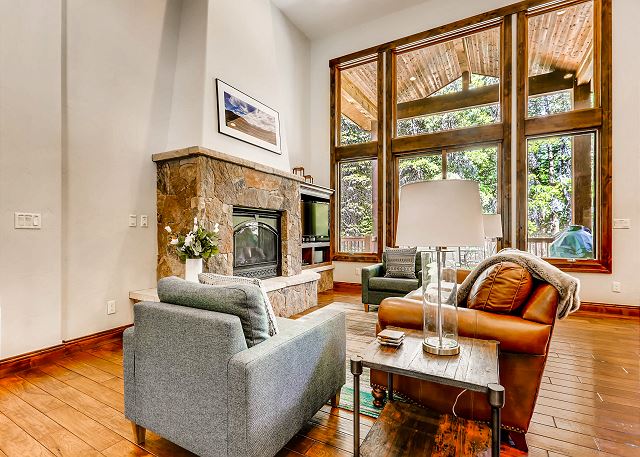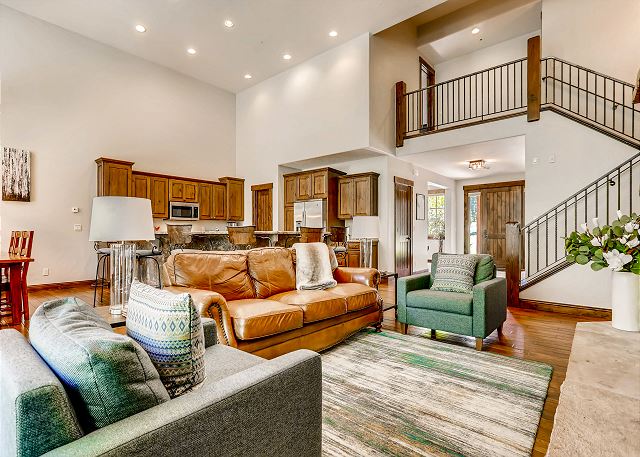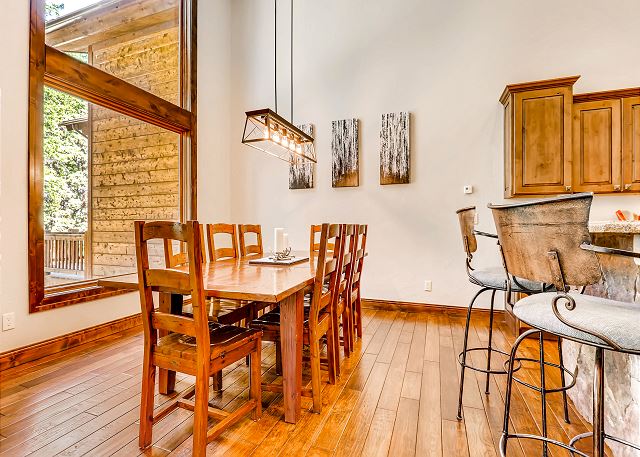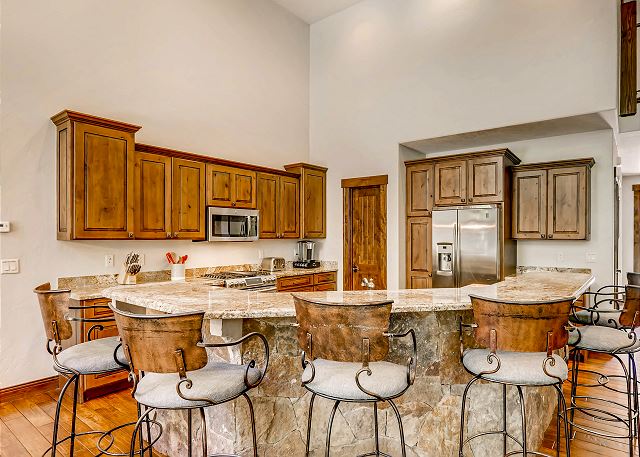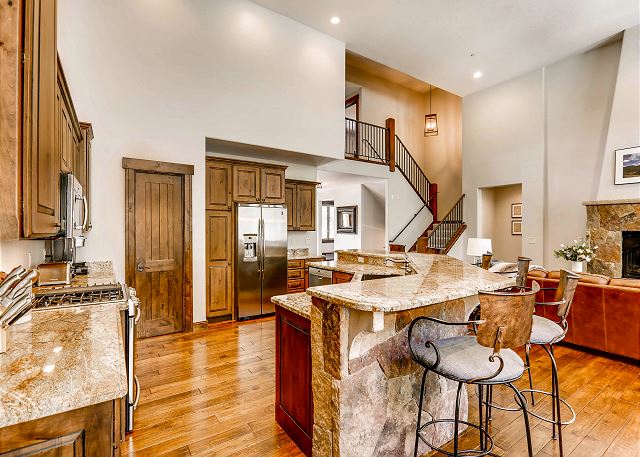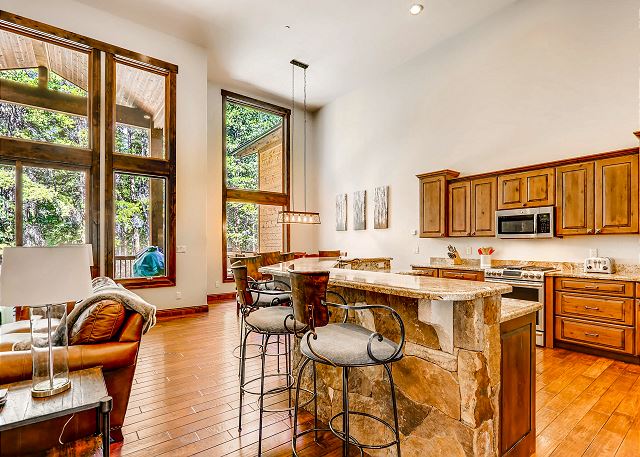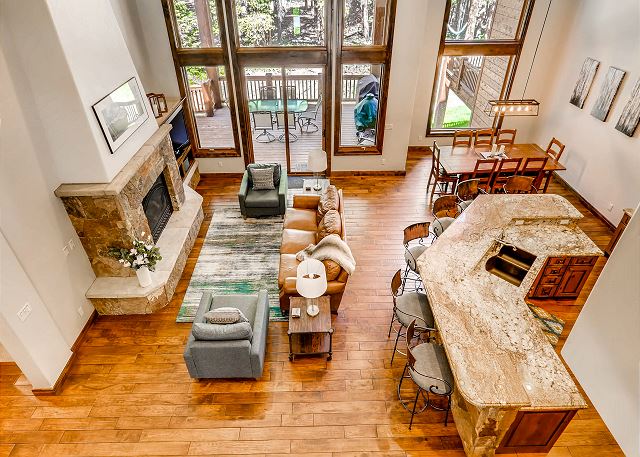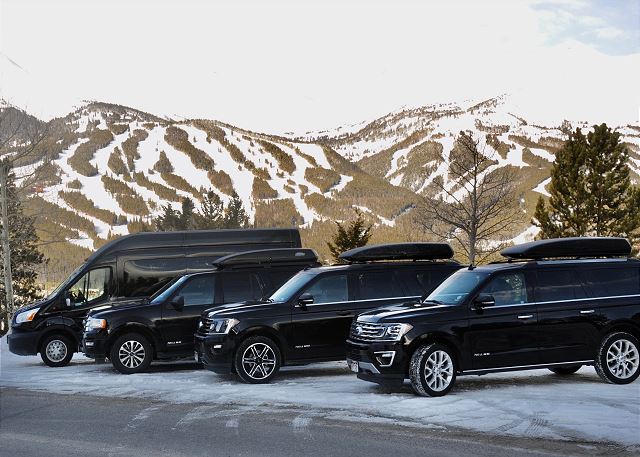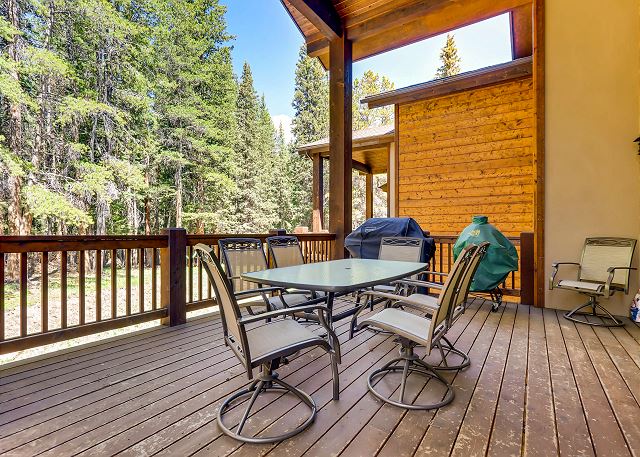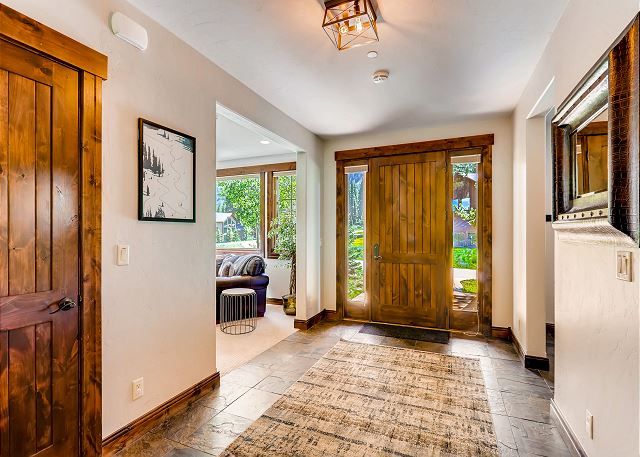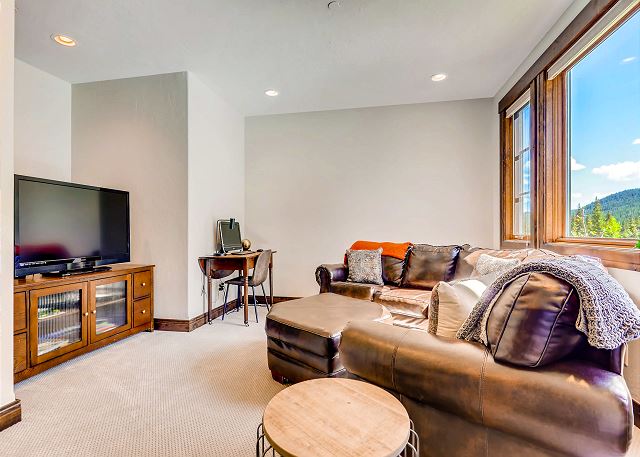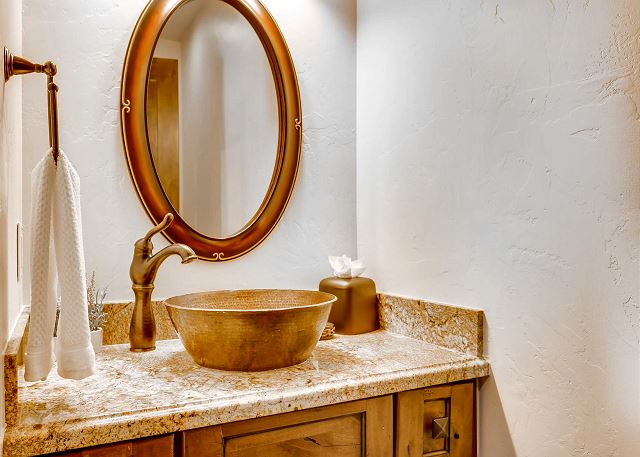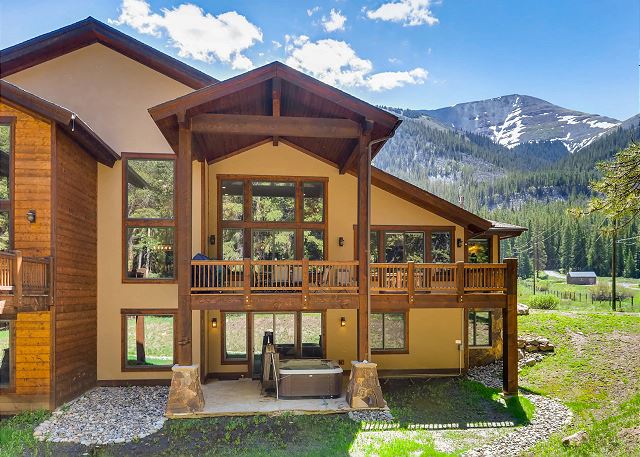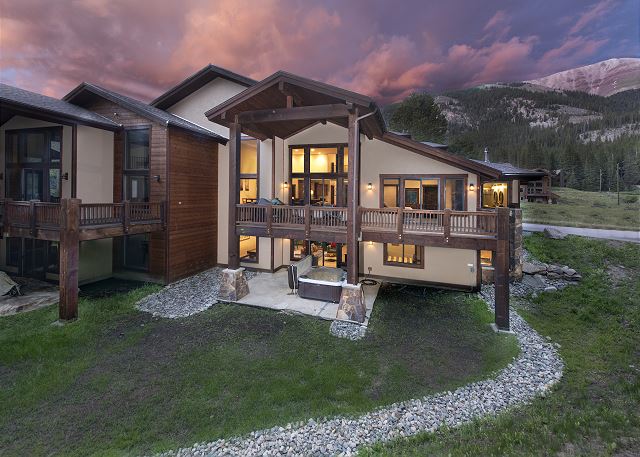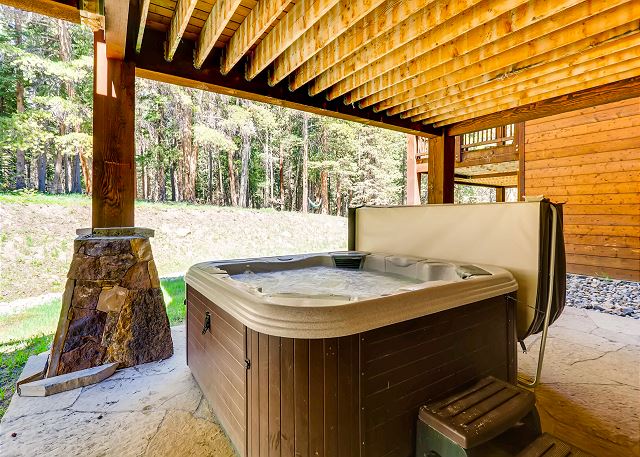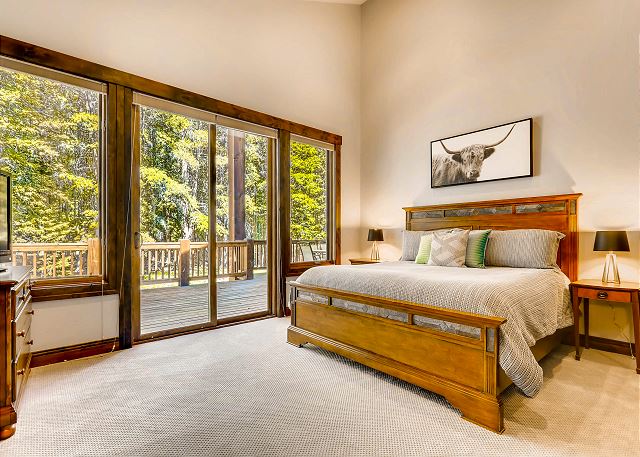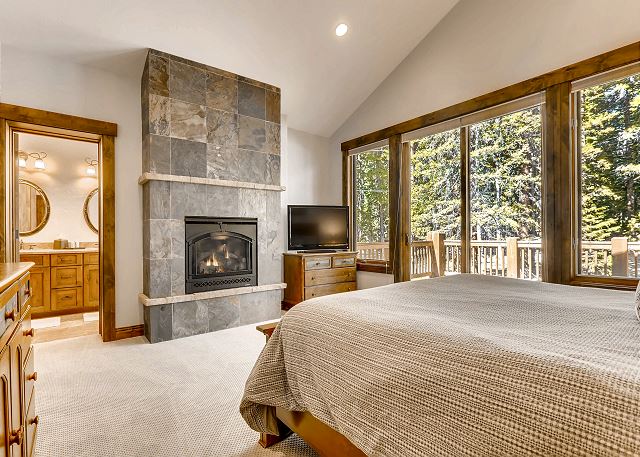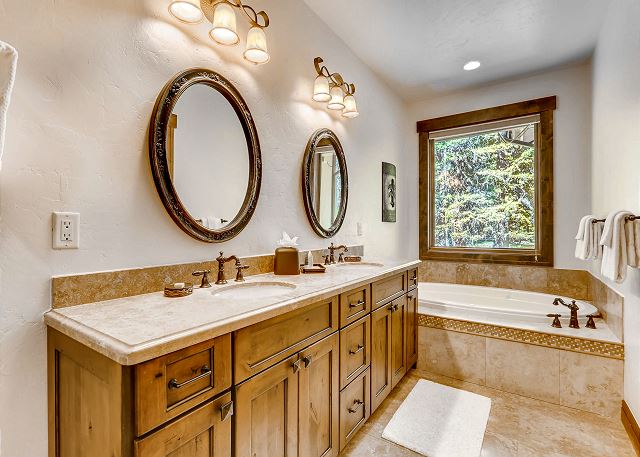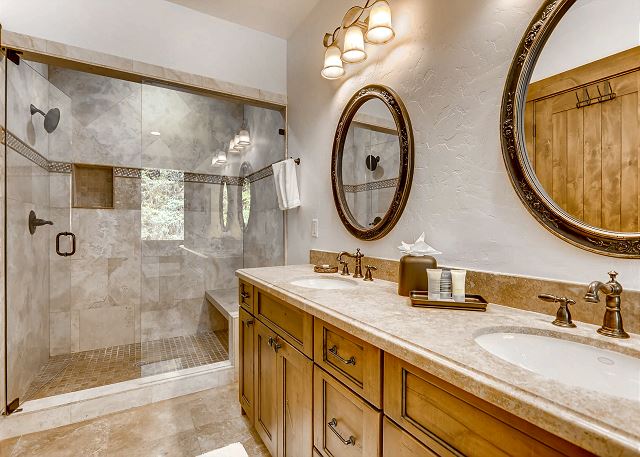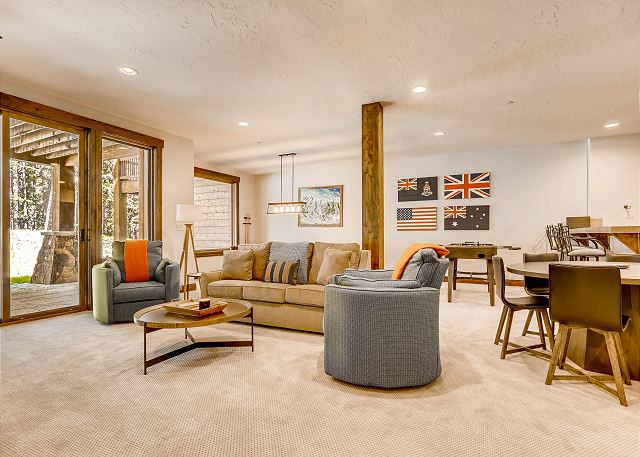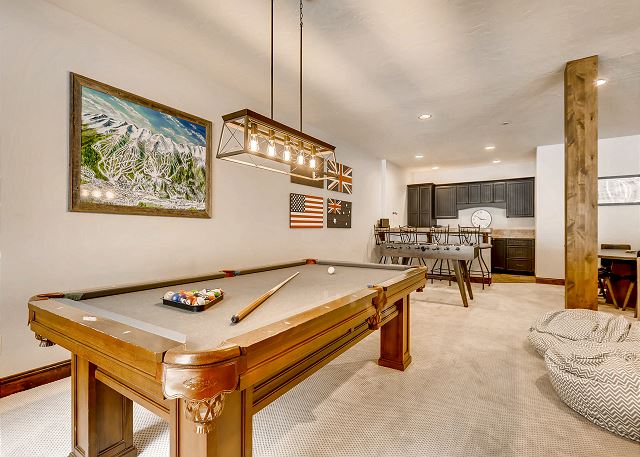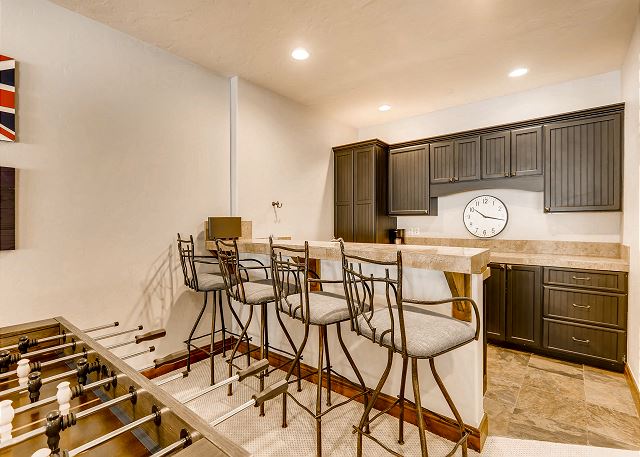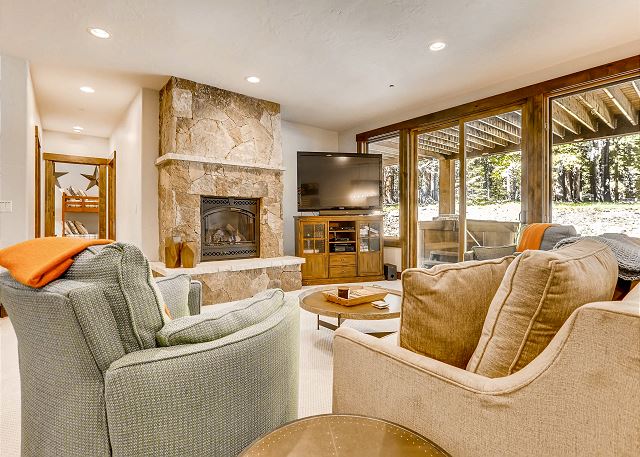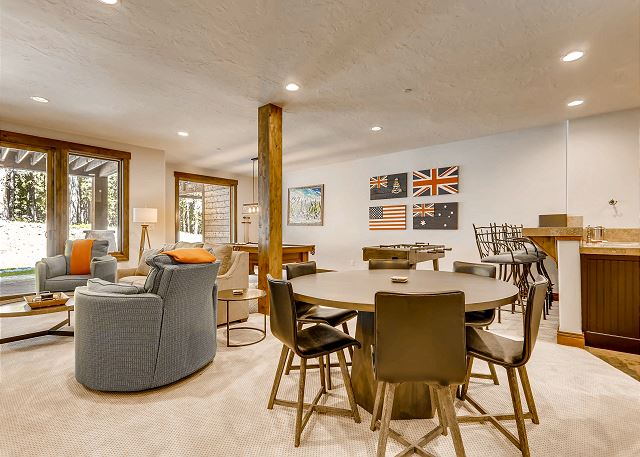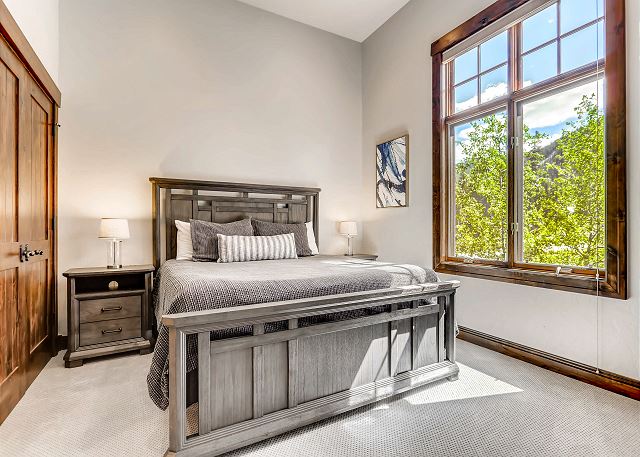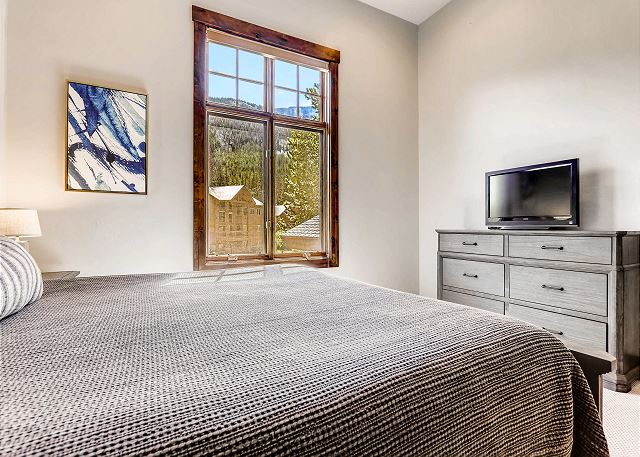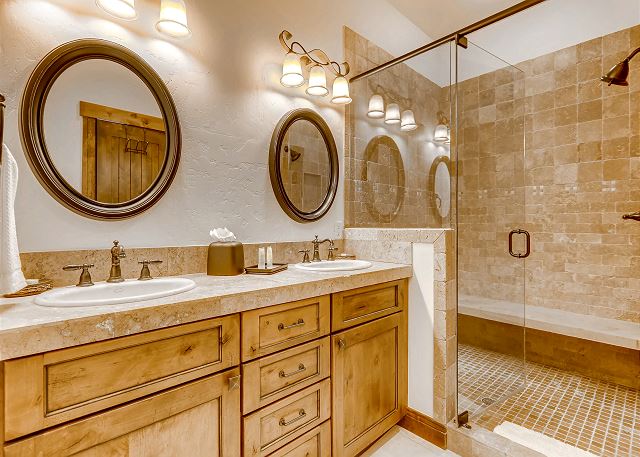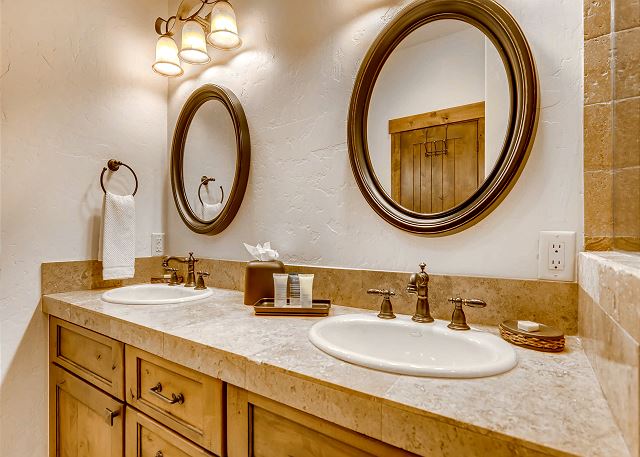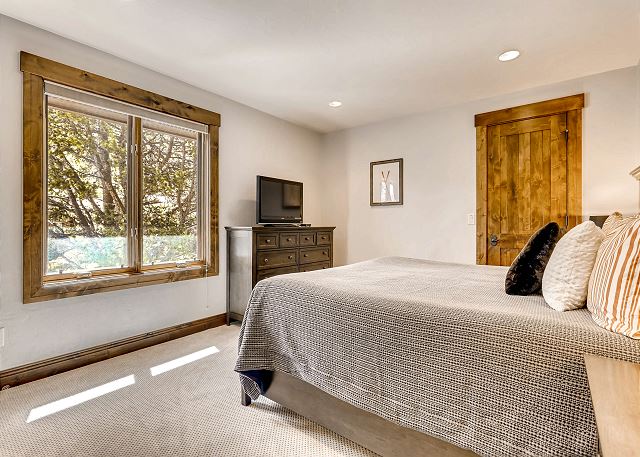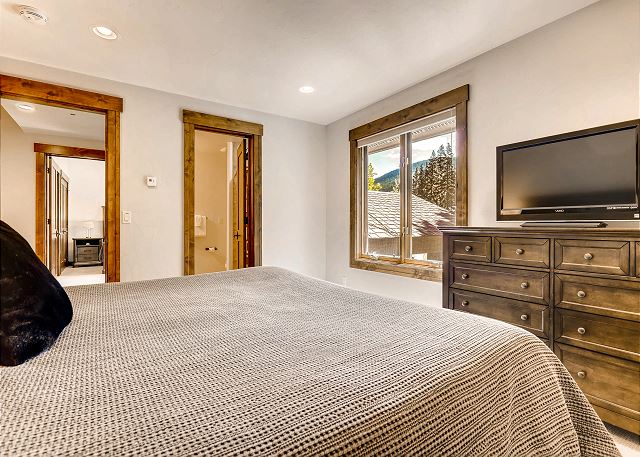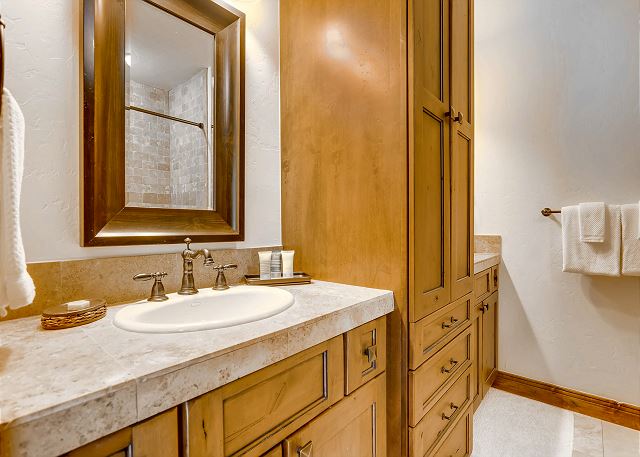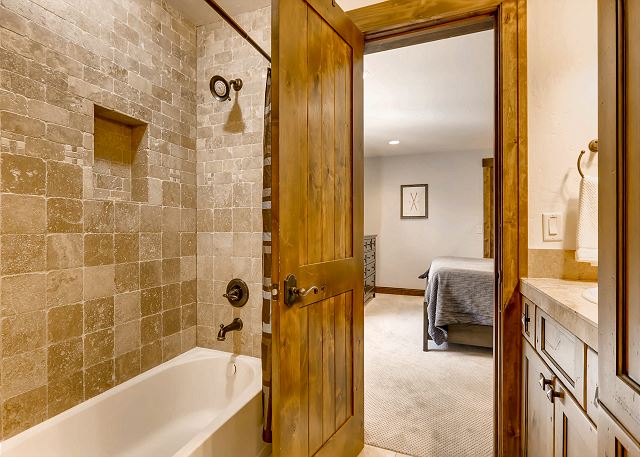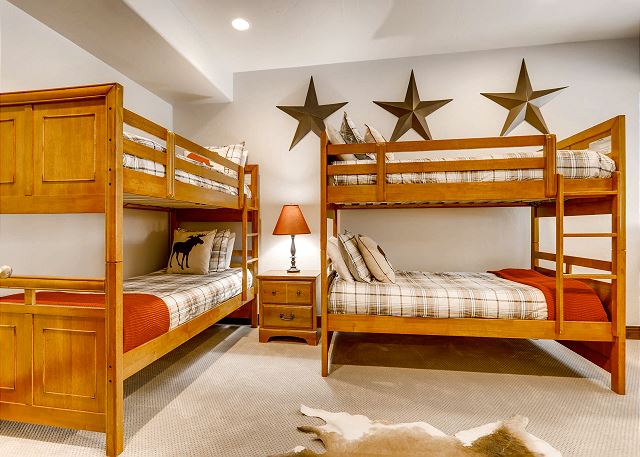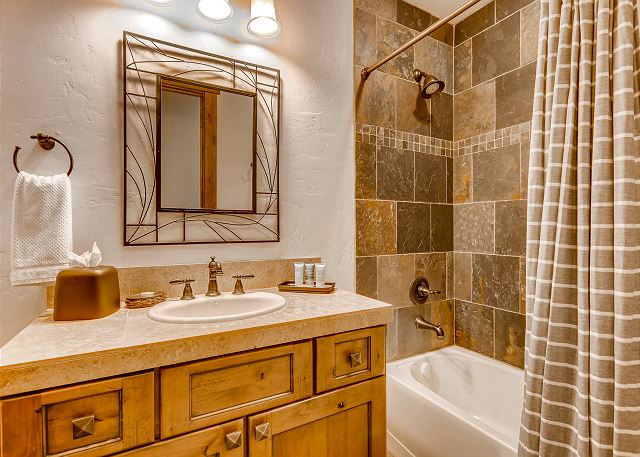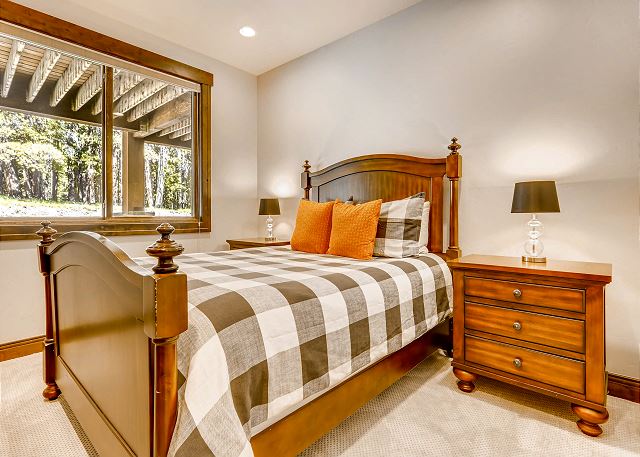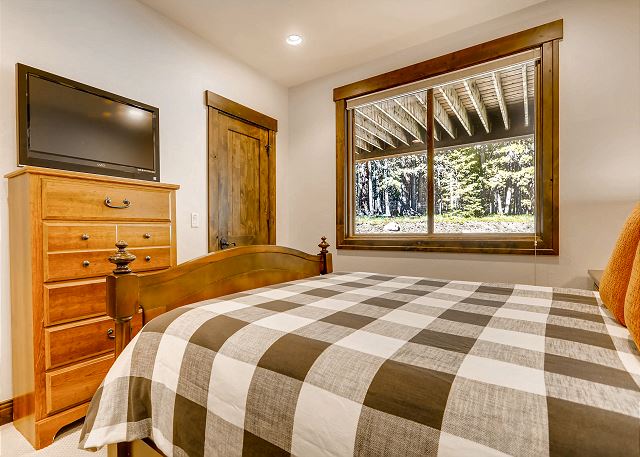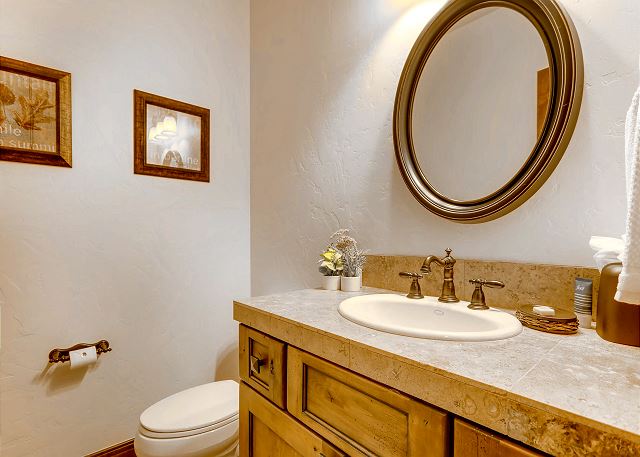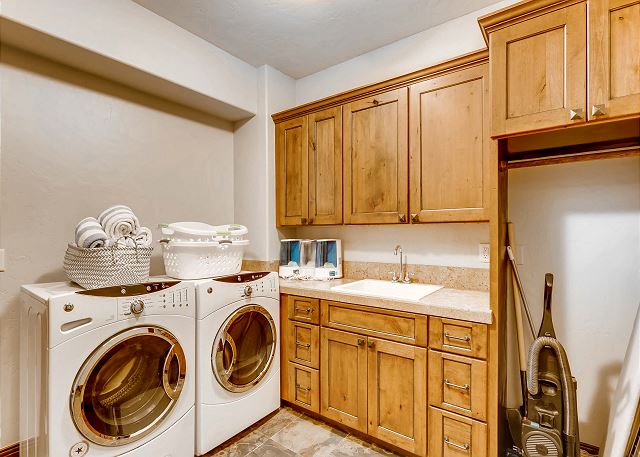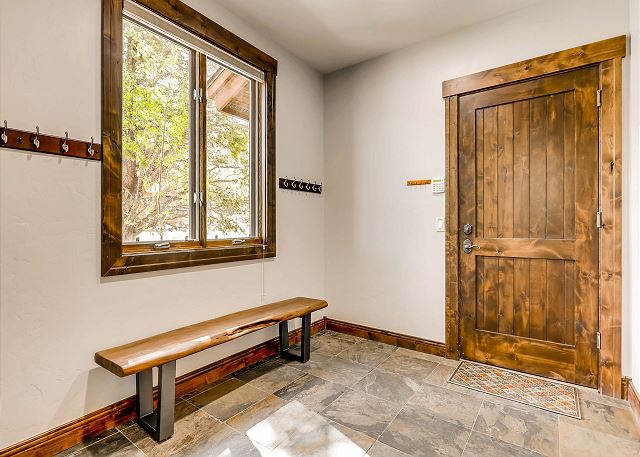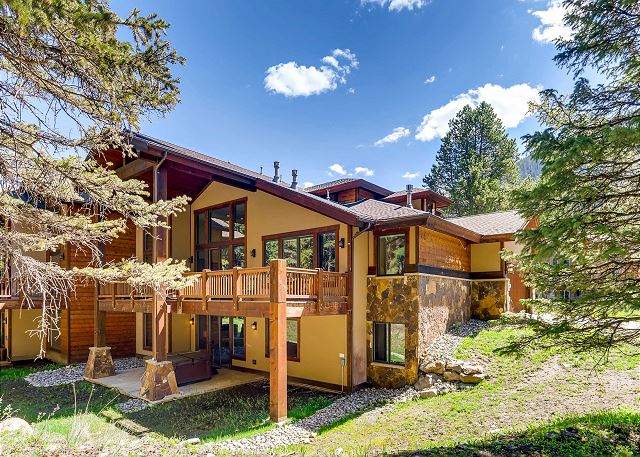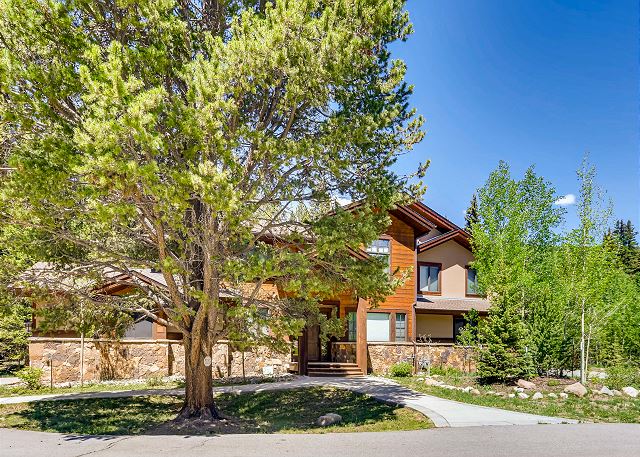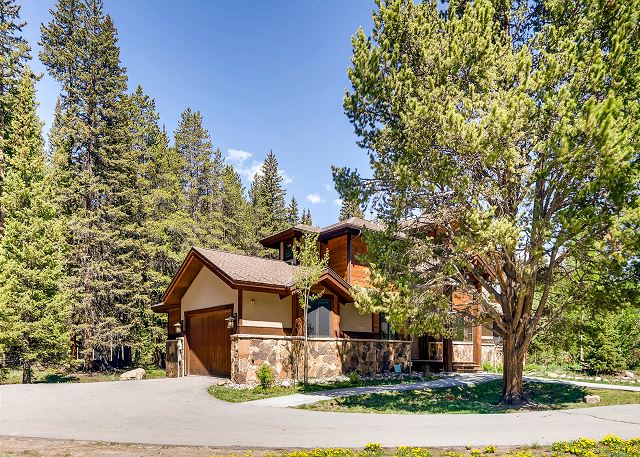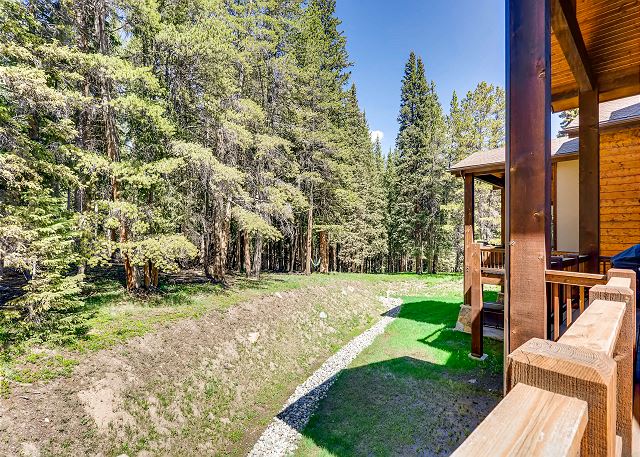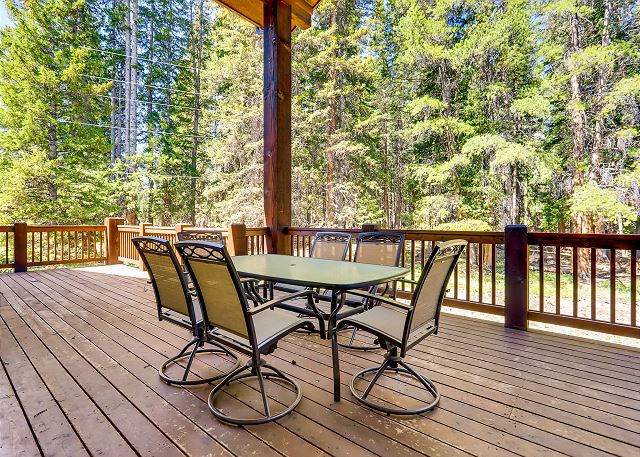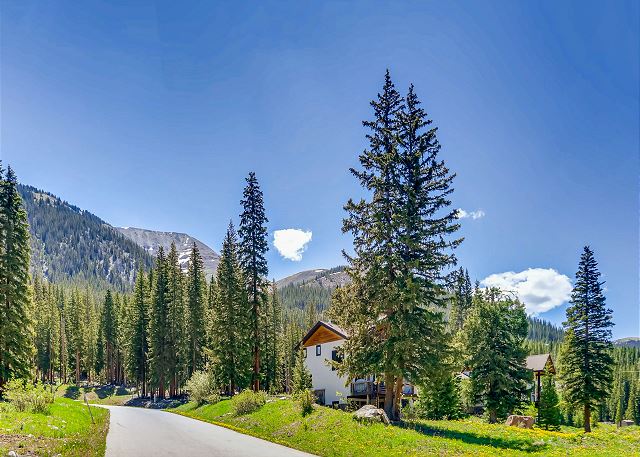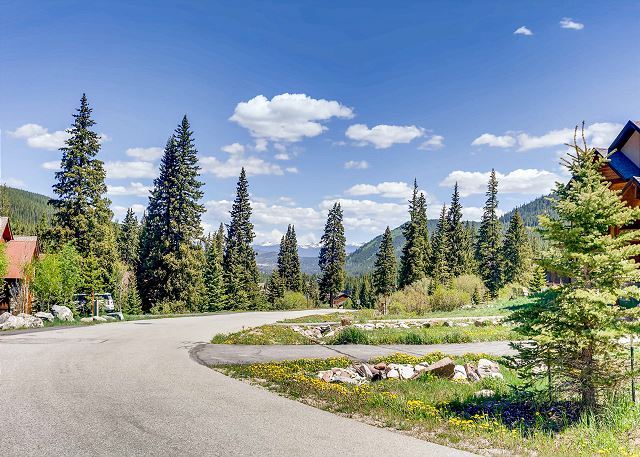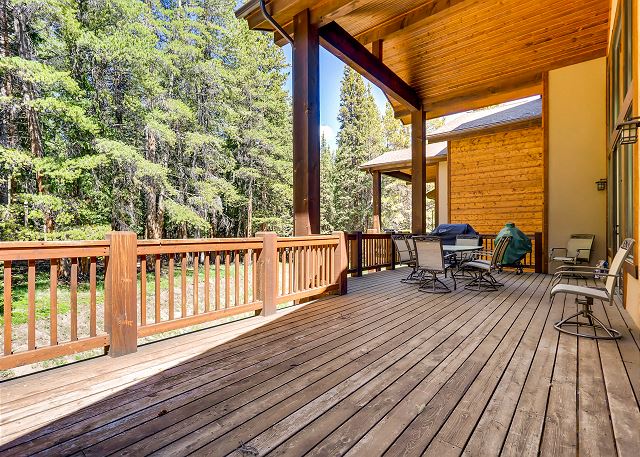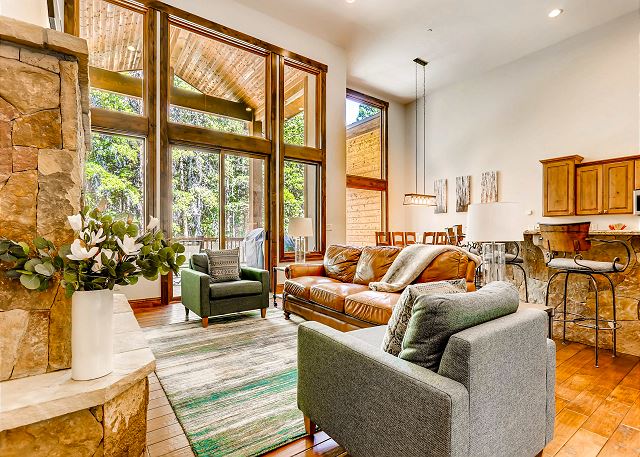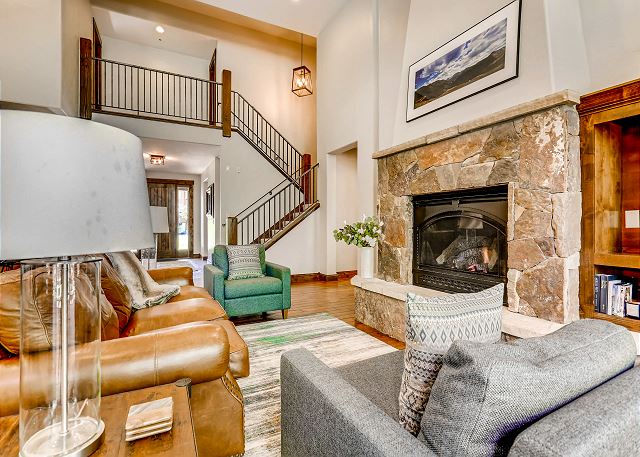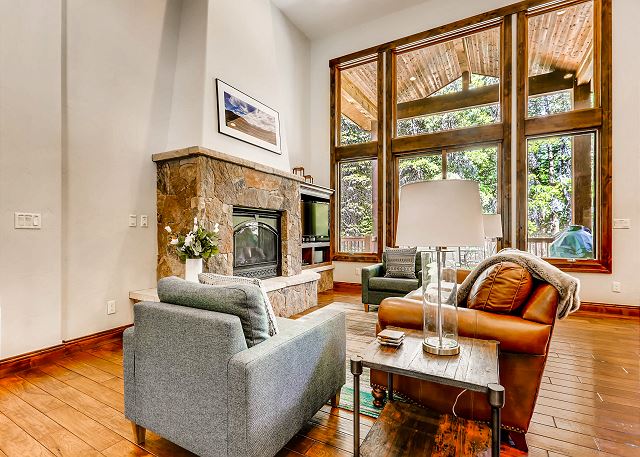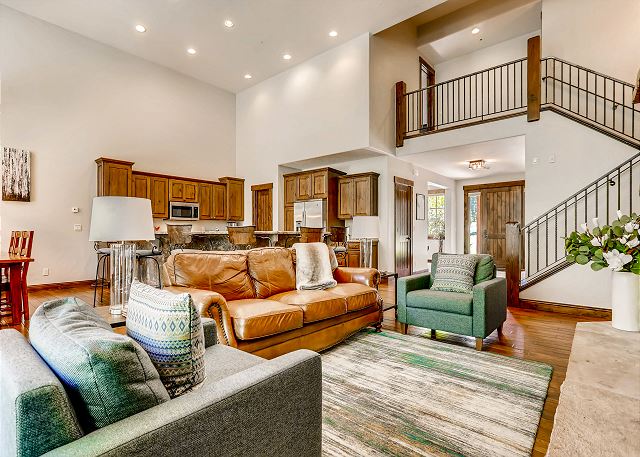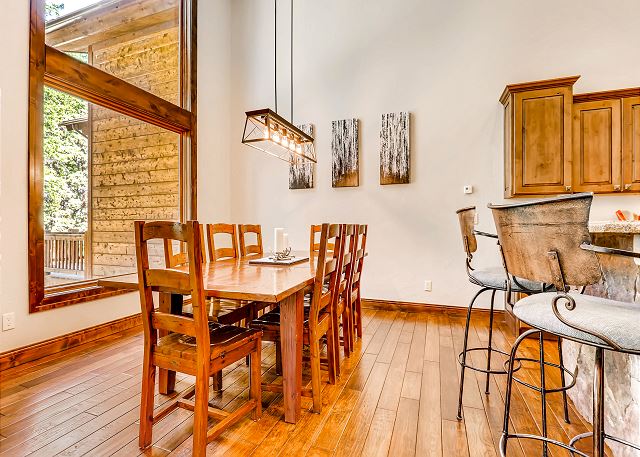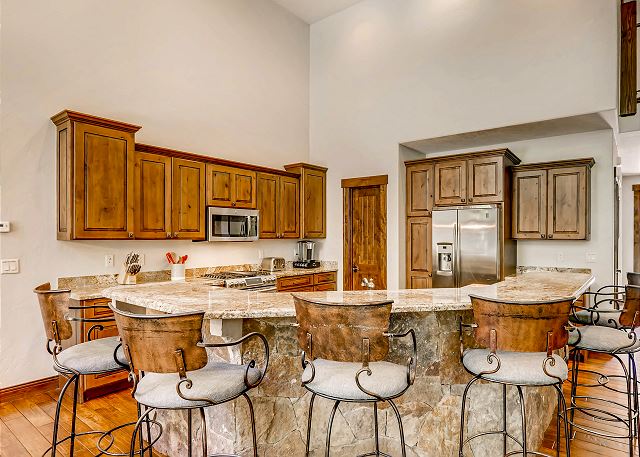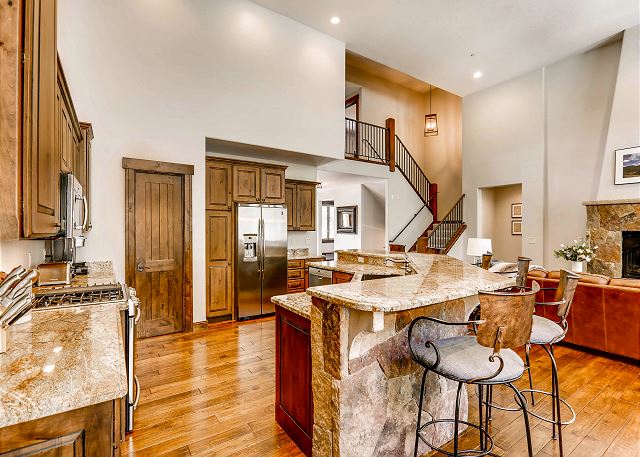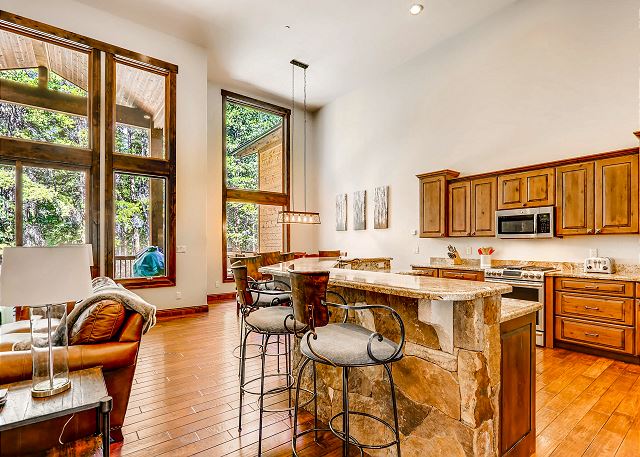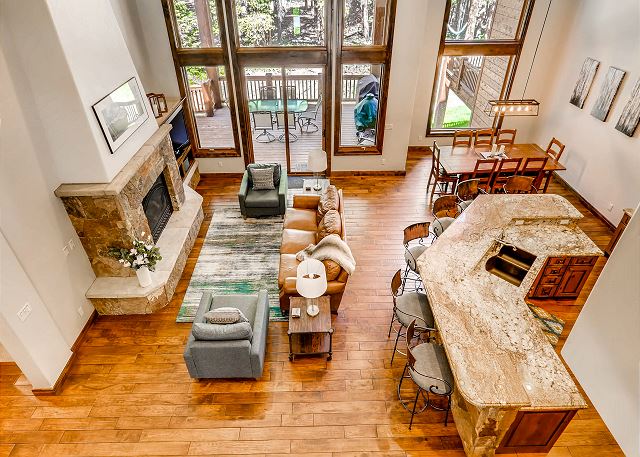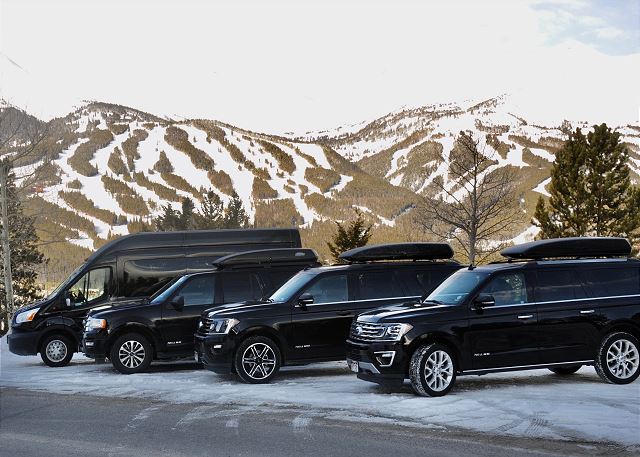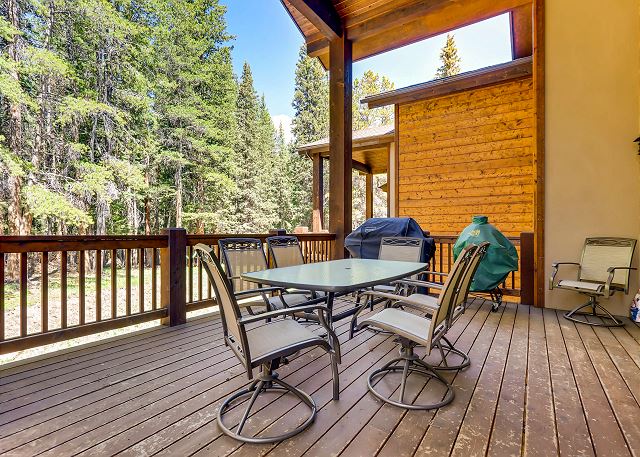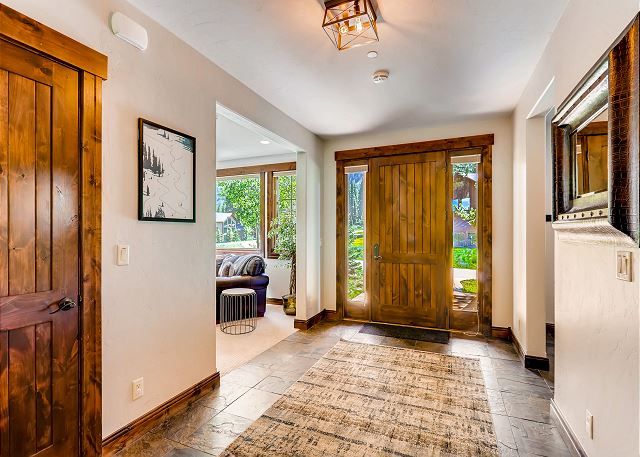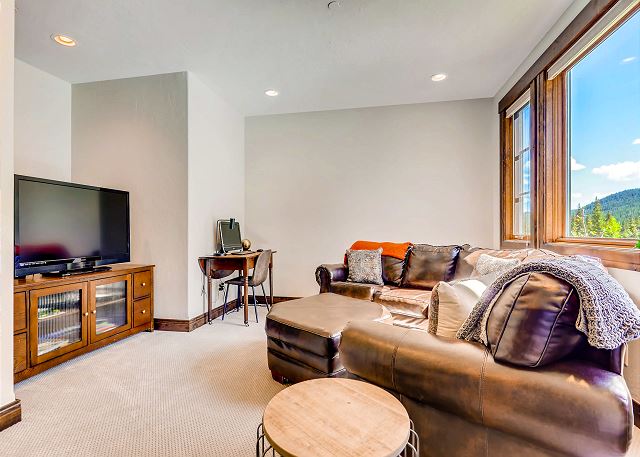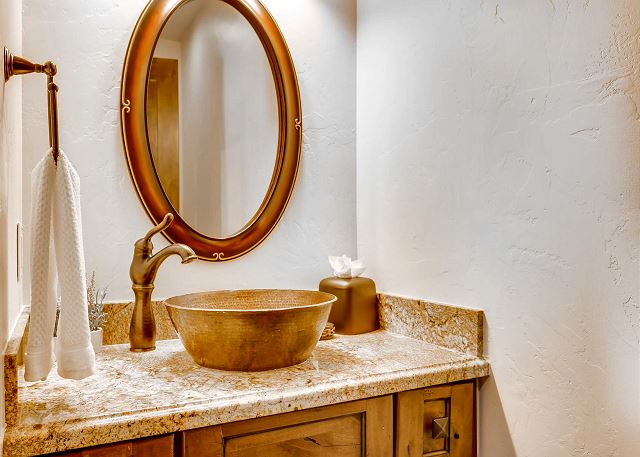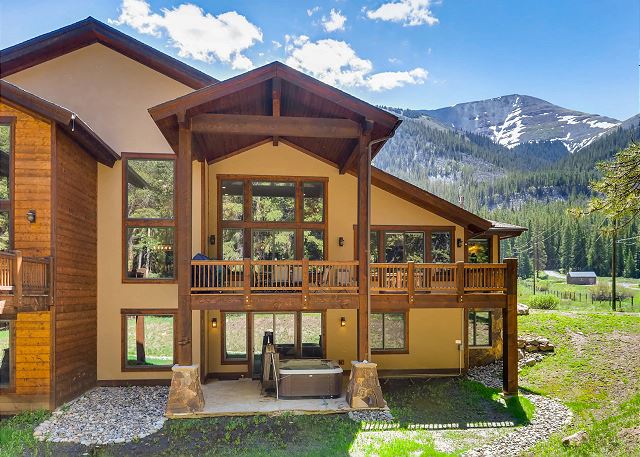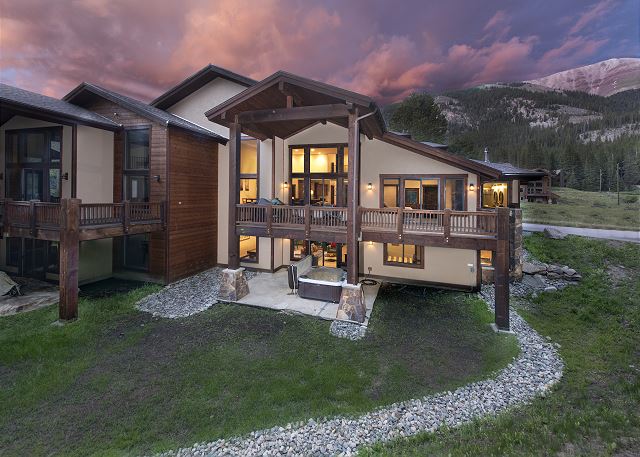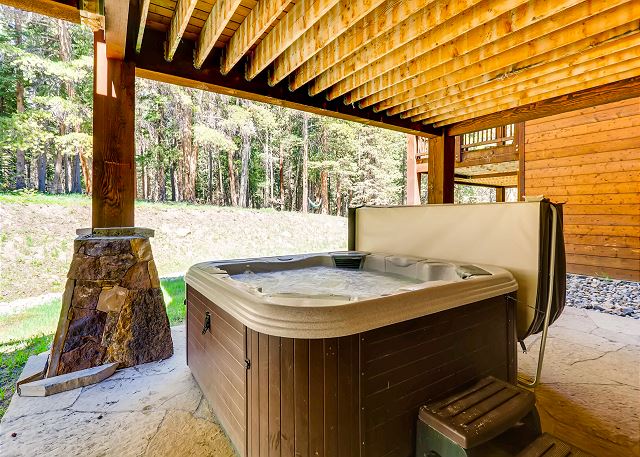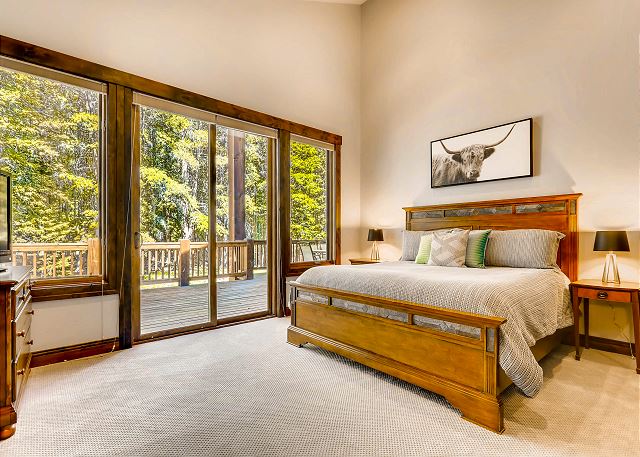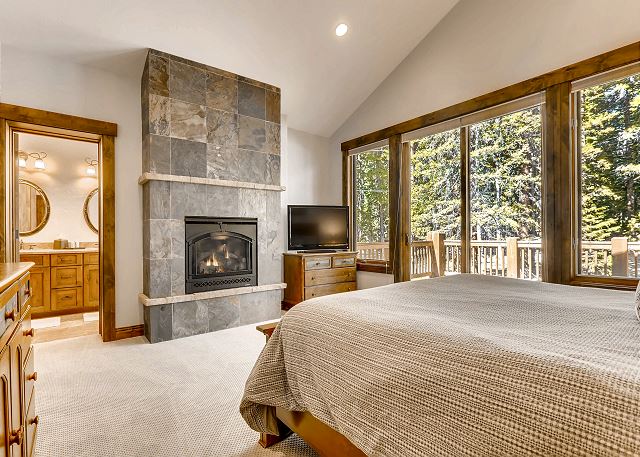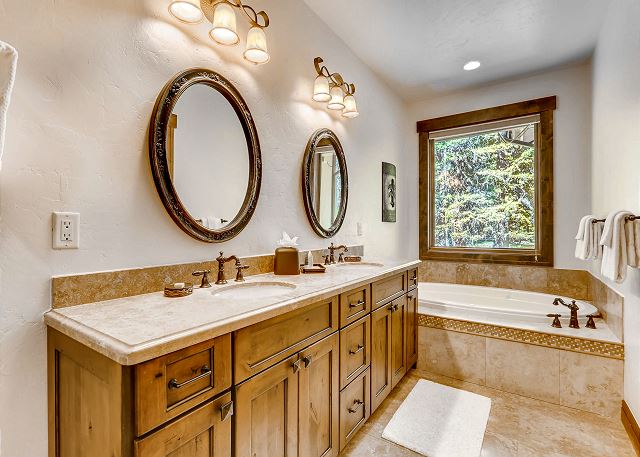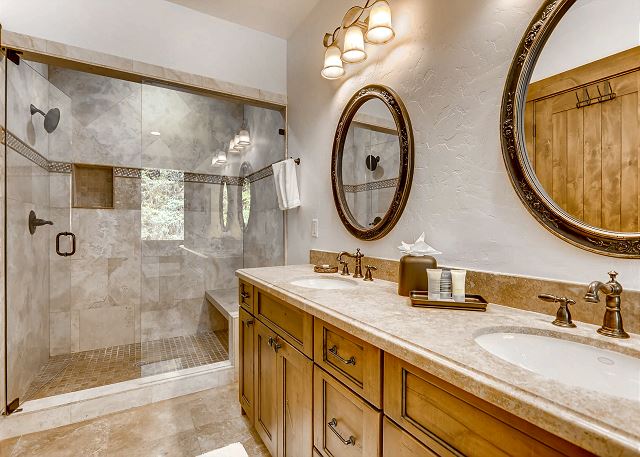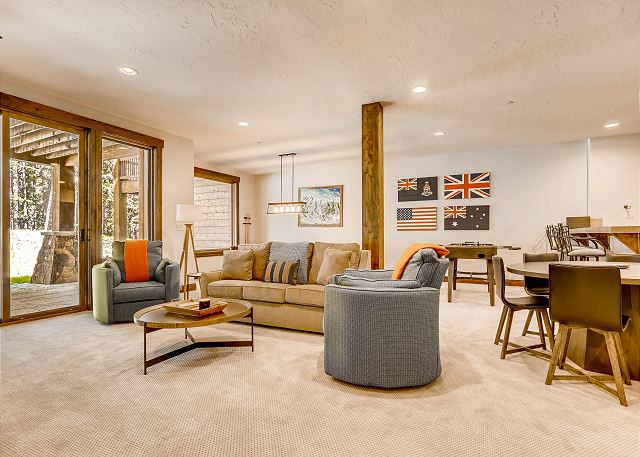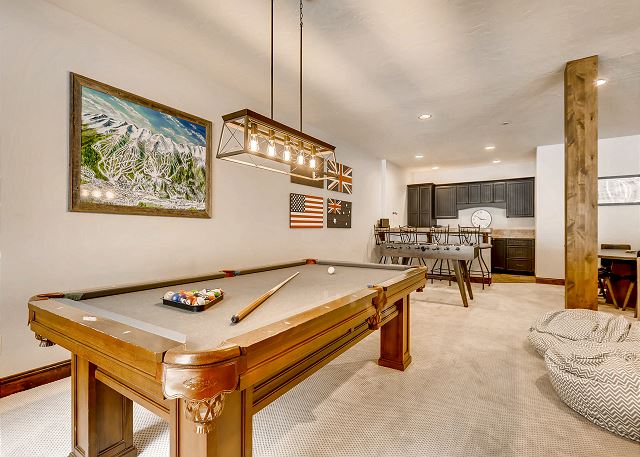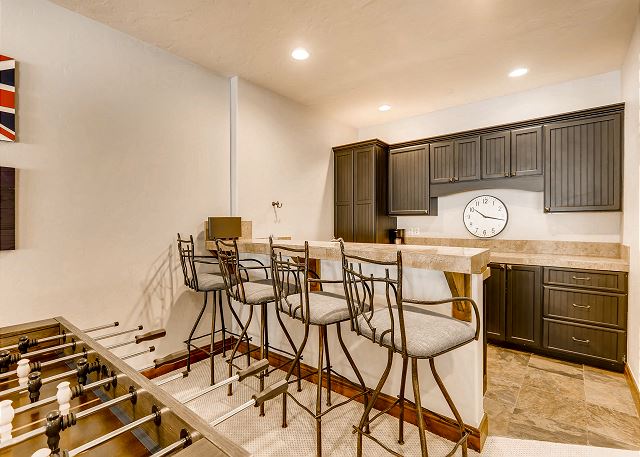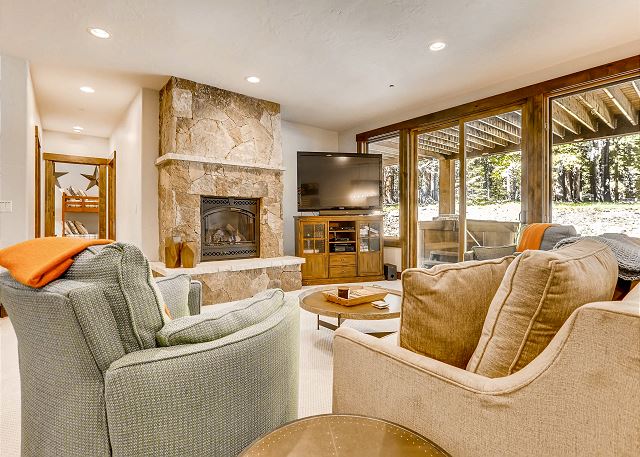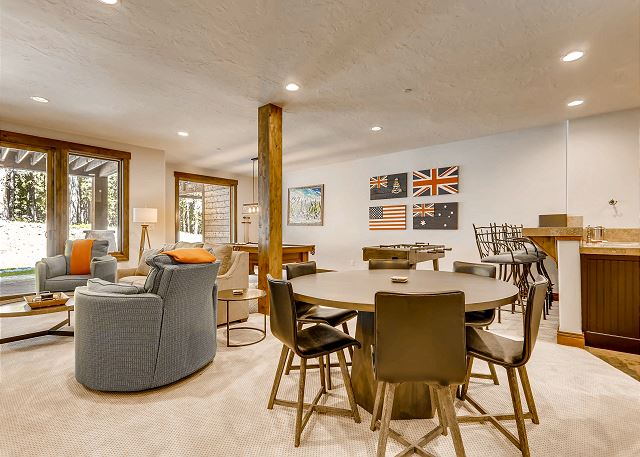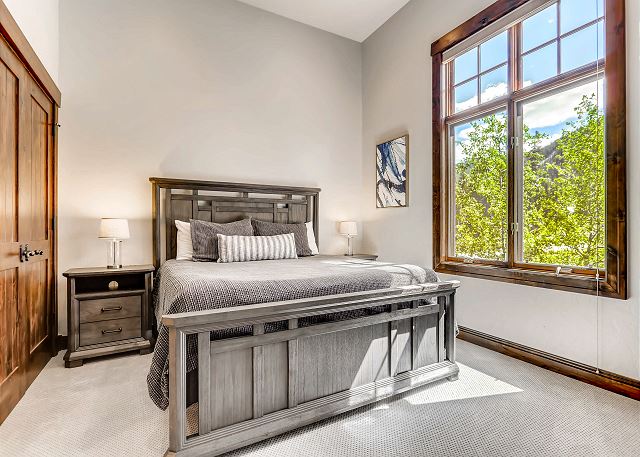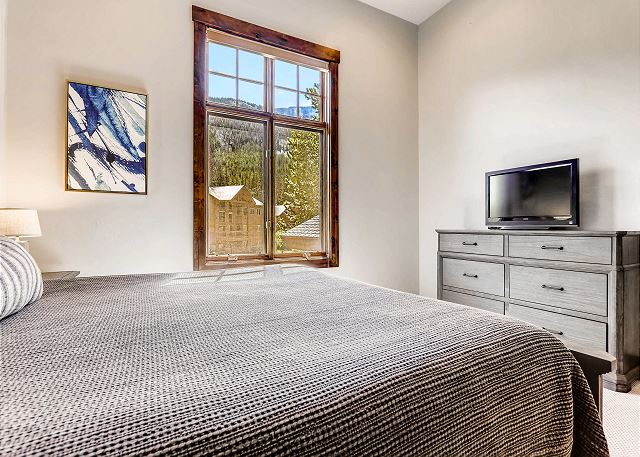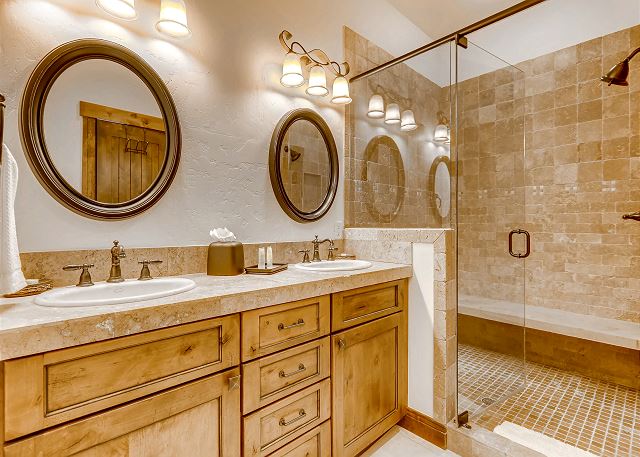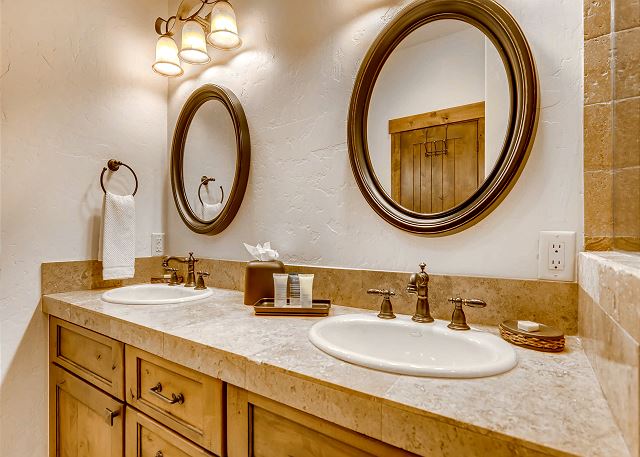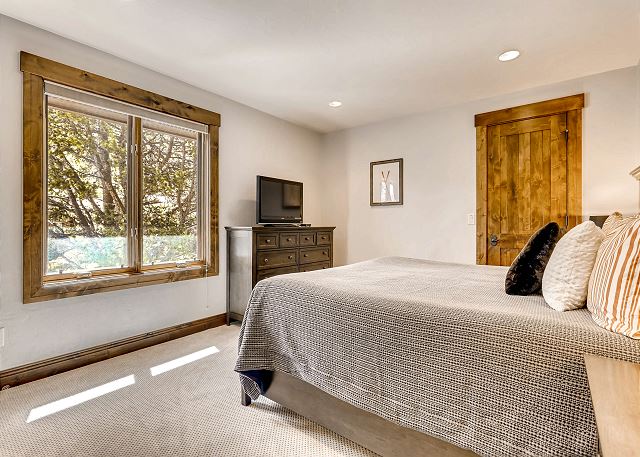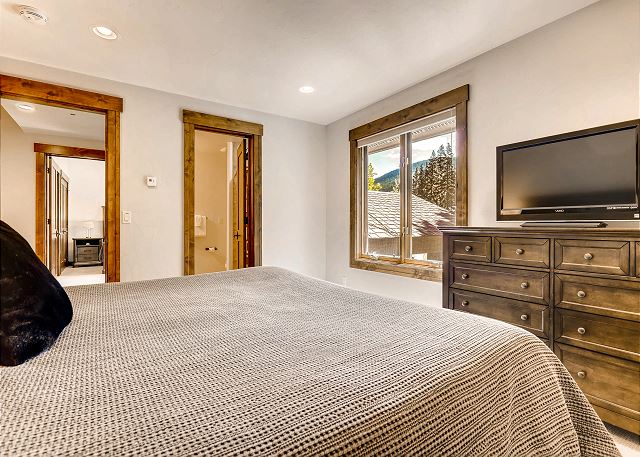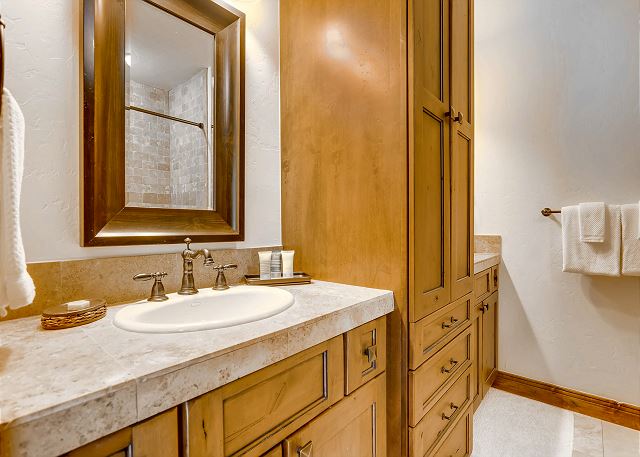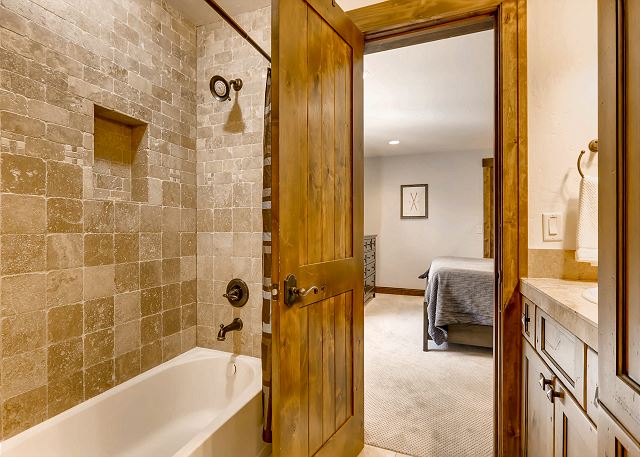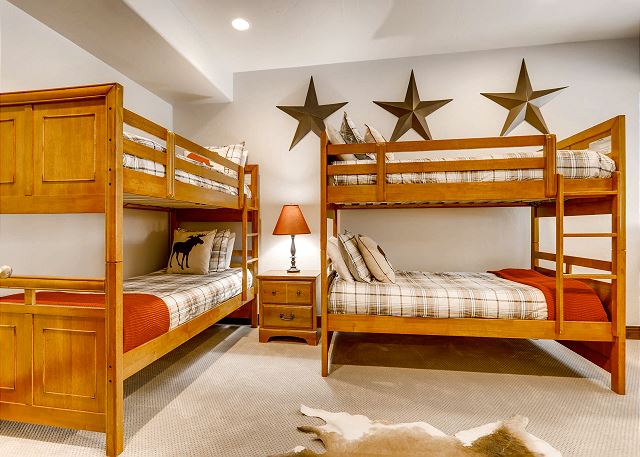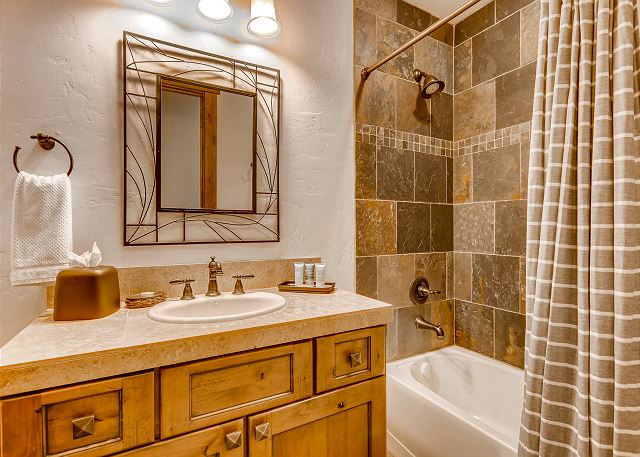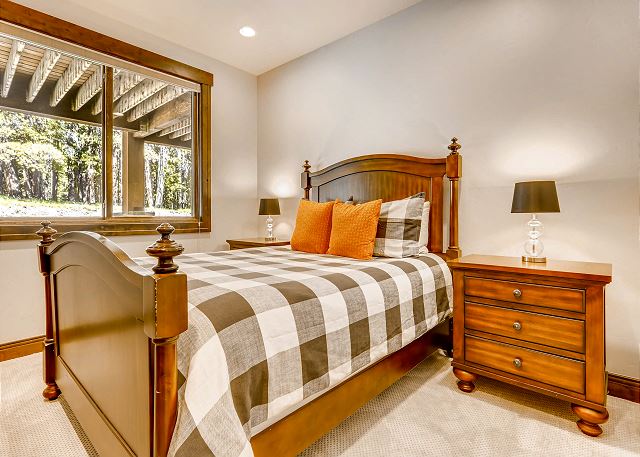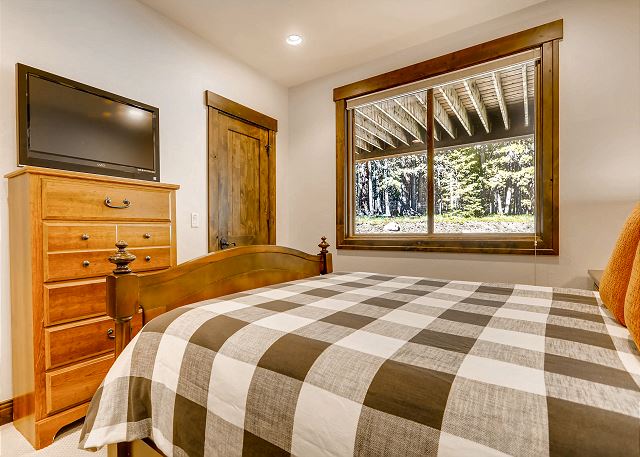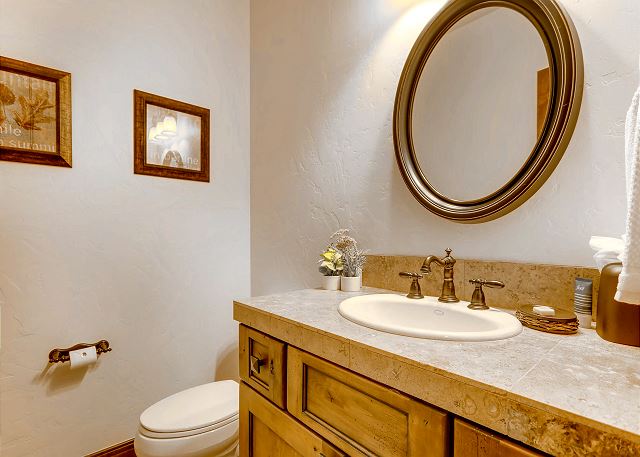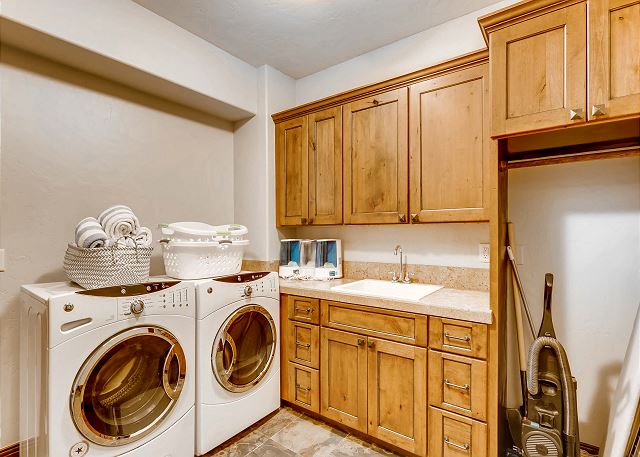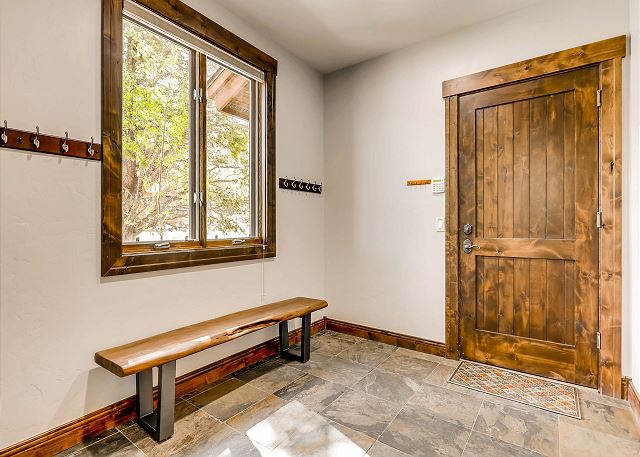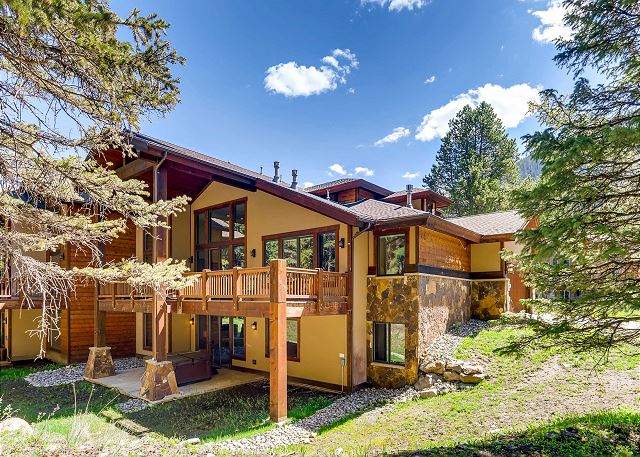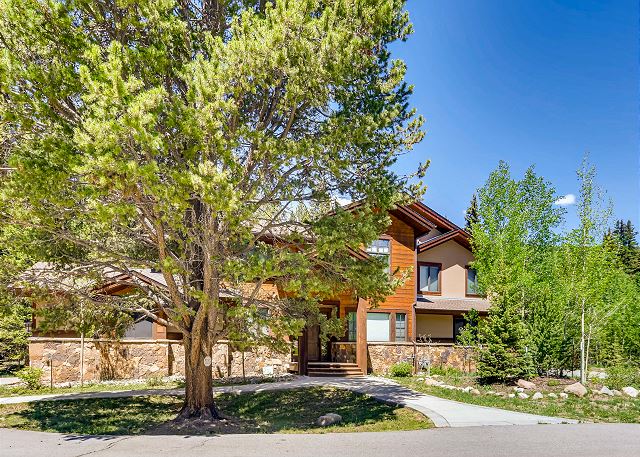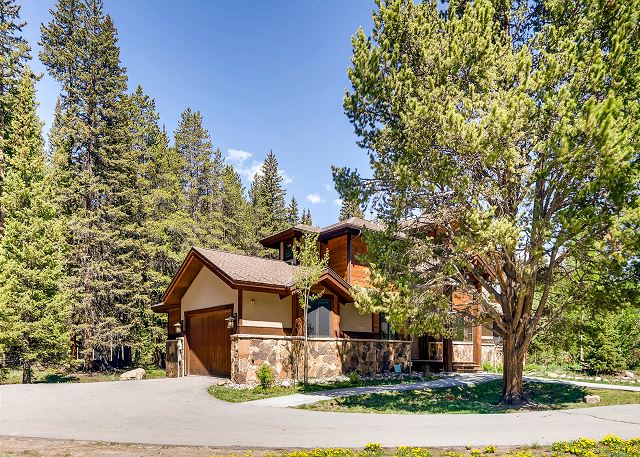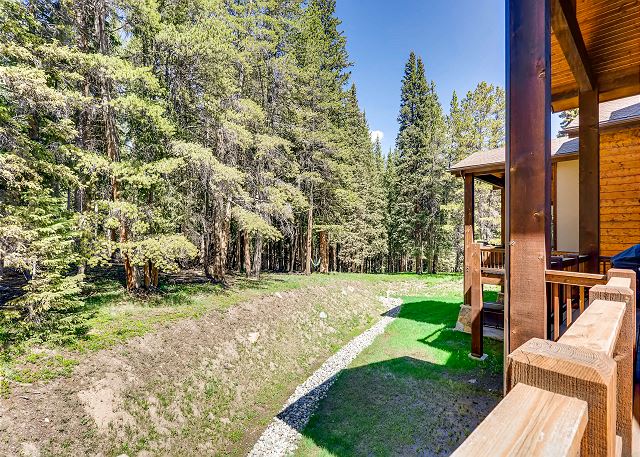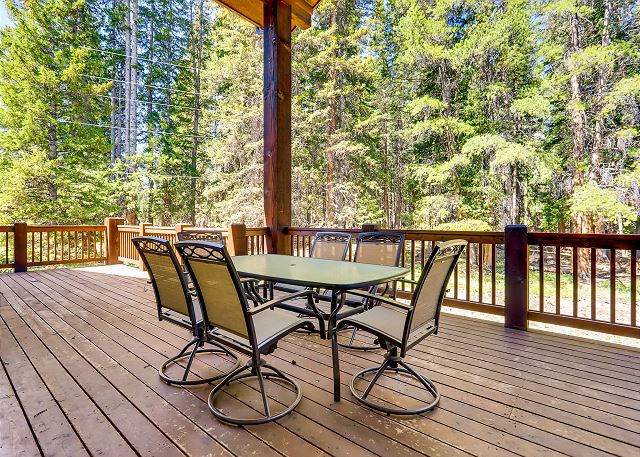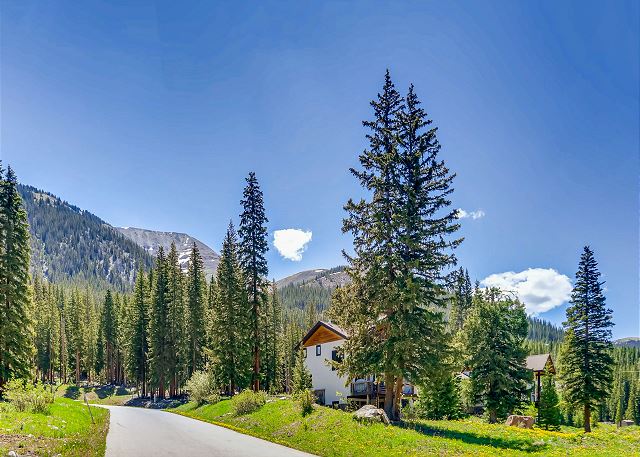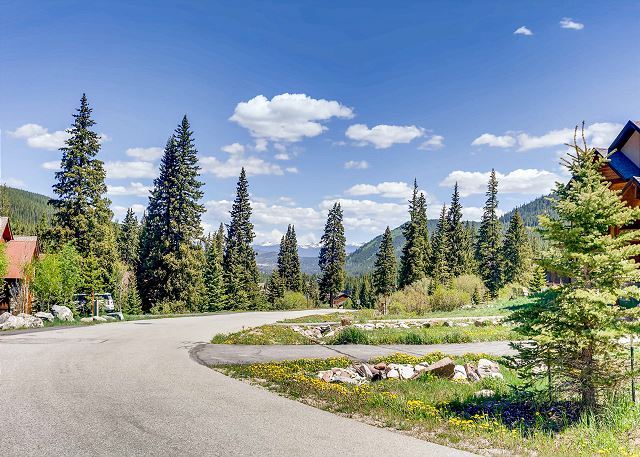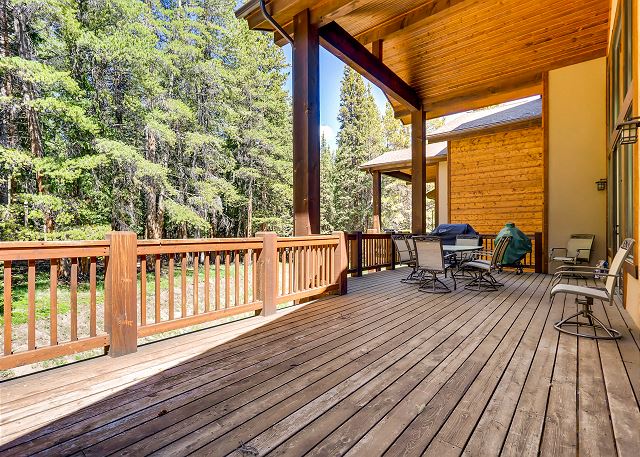 Description
There is something about a home nestled in the trees that eases the mind and soothes the soul. After a day of mountain adventure – maybe hiking the nearby Quandary Mountain, wind down in the private outdoor hot tub while you listen to the whispering winds through the surrounding pines… Welcome to Whispering Pines, an ideal mountain getaway.



Upon entering Whispering Pines, you'll discover a beautiful and open Main Level with large windows and high ceilings – the sliding doors open up to expansive deck with outdoor seating in the summer months and a BBQ gas grill. Back inside, your group will be able to spread out in the open floor plan that combines the Kitchen, Living Area and Dining Area – the spacious kitchen features a gas stove, ample work space and a large island with bar seating. The adjacent dining area offers seating for 8 at the table. After dinner, retreat to the living area and enjoy a nice fire in the gas fireplace and a movie on the flat screen TV!



Just down the hall from the living area is the McCollough King Suite offering its own gas fireplace, a cozy king bed, TV, deck access and a private ensuite bath. The ensuite bath features dual sinks on a large vanity, large soaking tub and separate walk-in shower.



Also on the Main Level you'll find a den / office which offers a quiet place to slip away to complete any work while on vacation or just relax on the sofa with a good book or movie on the large TV. A powder bath is conveniently located in the hallway.



Looking for some exciting evening entertainment and competition while on vacation? Discover the ultimate Rec Room on the lower level complete with billiards, foosball, bar, comfortable sitting area with flat screen TV and a gas fireplace! Whether you prefer a night in with a great movie – or an exciting foosball tournament, this is the perfect space for you! You'll also find the Hot Tub outside the sliding glass door.



Two bedrooms can also be found on the lower level – the Bemrose Queen and Peaks View Bunk. These rooms share a hall bath.



The remaining two bedrooms can be found on the Upper Level of the home. The Tarnwood King Suite features a king bed, TV and private ensuite bath. Across the hall is the Fredonia Gulch King Suite also featuring a king bed, TV and private ensuite bath.



Whispering Pines is on the 2021/22 Paragon Guest Courtesy Winter Shuttle. Operations run from mid-November through mid-April between the hours of 7:30 AM until 5:30 PM. Transportation runs throughout the Town of Breckenridge. Please inquire within for additional details.



EVERYDAY ESSENTIALS

Professionally Cleaned & Sanitized Prior to All Arrivals

Wireless Internet

24/7 local support

Washer & Dryer located on the lower level

Two bay heated garage with parking for 4 cars total

Paragon's personal care amenities – shampoo, conditioner, lotion, locally made specialty soaps



ABOUT THE AREA

Just south of Breck's iconic Main Street sits Blue River, a peaceful riverside community focused on preserving natural beauty. You'll discover endless outdoor adventures in Blue River, year-round including hiking/biking and fishing in the summer months and snowshoeing in winter. The nearby Mohawk Lakes are the perfect place to scope out wildlife and get your daily dose of outdoor adventure.



Breckenridge is easily accessible by car (or shuttle!) in minutes. While staying at Whispering Pines you can easily walk to the Summit Stage shuttle stop in less than 5 minutes.



IMPORTANT POLICIES

4-WHEEL DRIVE vehicle with adequate tires is REQUIRED in winter months

With regret, no pets please

Paragon Lodging in Breckenridge Colorado is the SOLE authorized Property Manager and Rental Agent for Whispering Pines. Paragon Lodging does not advertise Whispering Pines on Craigslist

Paragon Lodging Town of Breckenridge Business License No: 33007

Whispering Pines Town of Blue River Business License No: LR16-00003
Calendar
October 2021

| S | M | T | W | T | F | S |
| --- | --- | --- | --- | --- | --- | --- |
| | | | | | 01 | 02 |
| 03 | 04 | 05 | 06 | 07 | 08 | 09 |
| 10 | 11 | 12 | 13 | 14 | 15 | 16 |
| 17 | 18 | 19 | 20 | 21 | 22 | 23 |
| 24 | 25 | 26 | 27 | 28 | 29 | 30 |
| 31 | | | | | | |
November 2021

| S | M | T | W | T | F | S |
| --- | --- | --- | --- | --- | --- | --- |
| | 01 | 02 | 03 | 04 | 05 | 06 |
| 07 | 08 | 09 | 10 | 11 | 12 | 13 |
| 14 | 15 | 16 | 17 | 18 | 19 | 20 |
| 21 | 22 | 23 | 24 | 25 | 26 | 27 |
| 28 | 29 | 30 | | | | |
December 2021

| S | M | T | W | T | F | S |
| --- | --- | --- | --- | --- | --- | --- |
| | | | 01 | 02 | 03 | 04 |
| 05 | 06 | 07 | 08 | 09 | 10 | 11 |
| 12 | 13 | 14 | 15 | 16 | 17 | 18 |
| 19 | 20 | 21 | 22 | 23 | 24 | 25 |
| 26 | 27 | 28 | 29 | 30 | 31 | |
January 2022

| S | M | T | W | T | F | S |
| --- | --- | --- | --- | --- | --- | --- |
| | | | | | | 01 |
| 02 | 03 | 04 | 05 | 06 | 07 | 08 |
| 09 | 10 | 11 | 12 | 13 | 14 | 15 |
| 16 | 17 | 18 | 19 | 20 | 21 | 22 |
| 23 | 24 | 25 | 26 | 27 | 28 | 29 |
| 30 | 31 | | | | | |
February 2022

| S | M | T | W | T | F | S |
| --- | --- | --- | --- | --- | --- | --- |
| | | 01 | 02 | 03 | 04 | 05 |
| 06 | 07 | 08 | 09 | 10 | 11 | 12 |
| 13 | 14 | 15 | 16 | 17 | 18 | 19 |
| 20 | 21 | 22 | 23 | 24 | 25 | 26 |
| 27 | 28 | | | | | |
March 2022

| S | M | T | W | T | F | S |
| --- | --- | --- | --- | --- | --- | --- |
| | | 01 | 02 | 03 | 04 | 05 |
| 06 | 07 | 08 | 09 | 10 | 11 | 12 |
| 13 | 14 | 15 | 16 | 17 | 18 | 19 |
| 20 | 21 | 22 | 23 | 24 | 25 | 26 |
| 27 | 28 | 29 | 30 | 31 | | |
April 2022

| S | M | T | W | T | F | S |
| --- | --- | --- | --- | --- | --- | --- |
| | | | | | 01 | 02 |
| 03 | 04 | 05 | 06 | 07 | 08 | 09 |
| 10 | 11 | 12 | 13 | 14 | 15 | 16 |
| 17 | 18 | 19 | 20 | 21 | 22 | 23 |
| 24 | 25 | 26 | 27 | 28 | 29 | 30 |
May 2022

| S | M | T | W | T | F | S |
| --- | --- | --- | --- | --- | --- | --- |
| 01 | 02 | 03 | 04 | 05 | 06 | 07 |
| 08 | 09 | 10 | 11 | 12 | 13 | 14 |
| 15 | 16 | 17 | 18 | 19 | 20 | 21 |
| 22 | 23 | 24 | 25 | 26 | 27 | 28 |
| 29 | 30 | 31 | | | | |
June 2022

| S | M | T | W | T | F | S |
| --- | --- | --- | --- | --- | --- | --- |
| | | | 01 | 02 | 03 | 04 |
| 05 | 06 | 07 | 08 | 09 | 10 | 11 |
| 12 | 13 | 14 | 15 | 16 | 17 | 18 |
| 19 | 20 | 21 | 22 | 23 | 24 | 25 |
| 26 | 27 | 28 | 29 | 30 | | |
July 2022

| S | M | T | W | T | F | S |
| --- | --- | --- | --- | --- | --- | --- |
| | | | | | 01 | 02 |
| 03 | 04 | 05 | 06 | 07 | 08 | 09 |
| 10 | 11 | 12 | 13 | 14 | 15 | 16 |
| 17 | 18 | 19 | 20 | 21 | 22 | 23 |
| 24 | 25 | 26 | 27 | 28 | 29 | 30 |
| 31 | | | | | | |
August 2022

| S | M | T | W | T | F | S |
| --- | --- | --- | --- | --- | --- | --- |
| | 01 | 02 | 03 | 04 | 05 | 06 |
| 07 | 08 | 09 | 10 | 11 | 12 | 13 |
| 14 | 15 | 16 | 17 | 18 | 19 | 20 |
| 21 | 22 | 23 | 24 | 25 | 26 | 27 |
| 28 | 29 | 30 | 31 | | | |
September 2022

| S | M | T | W | T | F | S |
| --- | --- | --- | --- | --- | --- | --- |
| | | | | 01 | 02 | 03 |
| 04 | 05 | 06 | 07 | 08 | 09 | 10 |
| 11 | 12 | 13 | 14 | 15 | 16 | 17 |
| 18 | 19 | 20 | 21 | 22 | 23 | 24 |
| 25 | 26 | 27 | 28 | 29 | 30 | |
Available
Unavailable
Check-In Only
Check-Out Only
Seasonal Rates
| Date Range | Daily | Weekly | Monthly |
| --- | --- | --- | --- |
* Seasonal rates are only estimates and do not reflect taxes or additional fees.
Location
Guest Reviews of
Whispering Pines (PA)
Breckenridge, CO
---
Vacation Rental Reviews by
stars based on
Perfect vacation spot!
Review by
Troy R.
Our family of 8 ( 1 toddler) thoroughly enjoyed our family vacation in this beautiful home with great views! There was plenty of space for us to relax inside and out. The deck is huge and very quiet backing up to a pine forest. We even saw moose 3 times. The kitchen had loads of pots and pans, dishes, glassware and wine glasses. We enjoyed the hot tub every day. The home was close to our favorite hike and just a short drive to town. We'd definitely rent this place again!
5 out of 5 stars
Great stay at Breck!
Review by
We loved this house and had a great trip in Jan 2021. We loved the location- 12 minutes from the Village and 14 to Peak 8 parking. The home felt very private, especially with no homes behind it. We loved looking out at trees and the beautiful winter landscape. The house was super spacious, functional, well furnished, stocked, luxurious etc. The mud room with a powder room was great for loading and unloading on ski days. The kitchen was perfect and had everything. The hot tub was amazing and comes with special towels. The house was well stocked. A light bulb died, and we easily found and put in replacements. The lower level family room was a favorite with our kids. The shuttle was super helpful, especially when we had ski school for one kid much earlier than the rest. The service was reliable and quick! Great feature of the home. We did have a cleaning issue in one of the bathrooms, which we shared with management but otherwise the home was spotless. Katie was exceptionally responsive and helpful throughout the booking process and our stay. The neighborhood was beautiful and quiet, but close enough to the slopes and shops. We enjoyed walking around on afternoon. Would definitely stay here again!
4 out of 5 stars
Manager Response:
Dear Naomi, what a pleasure it is to read your review - I am so happy to hear that Whispering Pines suited your group so well. Thank you for taking the time to share your feedback with us - it is so helpful! We hope we have the pleasure of welcoming you back to Breckenridge again soon! Whispering Pines is equally as beautiful in the Summertime - with great hiking nearby! Thank you, Lauren McLoughlin
Perfect Family Vacation Home
Review by
Perfect for our 8 family ski vacation. The house was perfect. We will be back!
5 out of 5 stars
Lovely home for a large family
Review by
Our family had a wonderful stay at Whispering Pines. The house was spacious, clean and well-appointed. In particular the game room on the lower level was very popular with everyone.
5 out of 5 stars
Manager Response:
Game rooms are so entertaining, happy to hear you and the family were able to take advantage, Denis. Thank you for allowing us to be part of your stay at Whispering Pines. We genuinely appreciate your feedback and hope to accommodate you for next summer too! - Lennie & The Staff of Paragon Lodging
House was great
Review by
We had moose join us at the house, it was awesome. Long driveway for the grandchildren to ride bikes and scooters on. Very well appointed home with plenty of space for all. Highly recommend to anyone.
5 out of 5 stars
Manager Response:
What a pleasant surprise to get visited by moose! Seems like you came at a splendid time, Jana. Happy the kids were able to take advantage of the driveway space and the adults, the in-home amenities. Please come back and visit us again soon! - Lennie & The Staff of Paragon Lodging
Great stay, beautiful home, magnificent views & wildlife
Review by
Our family of 10 stayed at this home in July for a family vacation. The home was beautiful and had many things we needed and provided a great environment for creating family memories. We had a great time and enjoyed this home for our summer vacation.
5 out of 5 stars
Manager Response:
Memories are everlasting, Carla. I feel privileged to work for a company capable of providing that opportunity for you and your family. It's lovely to hear that everything you required was available, and the ability to experience our beautiful mountain scenery was firsthand. We hope to host your next memorable vacation. Please come back soon! - Lennie & The Staff of Paragon Lodging
Beautiful home for a large group
Review by
Lucas S.
This home was perfect for our group! Multiple living spaces, spacious rooms and open floor plans. Home was up to date and very nice! Great location, only about a 5 min drive to Breckenridge.
5 out of 5 stars
Manager Response:
Lucas, you were one of the first guests to stay in this new addition to our portfolio of homes! It's such a treat to hear the nice comments regarding the home's layout, furnishings and location. Whispering Pines is definitely a great mountain getaway home. We hope you come back again very soon! - Lennie & The Staff of Paragon Lodging
Contact Us